Looking to launch a WooCommerce shop and start selling products over the Internet? While you can find plenty of information online, the entire process of creating a store that actually looks good can often seem a little overwhelming.
So what if we told you that you could get set up with a great-looking eCommerce store in under an hour…for free?
We know – that's a tall order. But with the combination of Elementor, WooCommerce, and the Astra theme, you can do it. And in this post, we're going to show you the exact steps you need to take to get up and running with your own store in no time.
See All Astra Theme WooCommerce Features
What You Need To Make Your WooCommerce Store
As the title of this post suggests, there are two main tools you'll need to build your store beyond the core WooCommerce plugin:
Astra Theme – this is a free WordPress theme that includes deep customization options, as well as a built-in WooCommerce integration and demo sites.
Elementor – this is a free page builder that will help you customize various pages at your store, like your homepage and about page.
The only thing we'll assume for this tutorial is that you already have WooCommerce installed – we'll cover everything else about making your store look and function great.
If you need a helping hand with setting up WooCommerce, the WooCommerce Guided Tour Videos are a great place to start.
Once you have WooCommerce installed, here's how to make your store look awesome!
Part 1: Setting Things Up With Astra
Beyond its general lightweight design and customization options, Astra specifically helps you with WooCommerce in two main ways. You can…
Import free Elementor WooCommerce templates, as well as WordPress Customizer settings, to quickly create a great-looking WooCommerce store.
Use Astra's dedicated WooCommerce integration to customize important aspects of your store via the real-time WordPress Customizer.
Here's how to use Astra to set up the core of your WooCommerce store: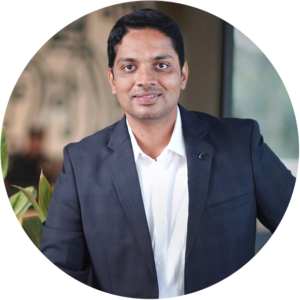 Hello! My name is Sujay and I'm CEO of Astra.
We're on a mission to help small businesses grow online with affordable software products and the education you need to succeed.
Leave a comment below if you want to join the conversation, or click here if you would like personal help or to engage with our team privately.
Step 1: Install Astra Theme And Starter Templates Plugin
To get started, you'll need to install a theme and a plugin. Both are listed at WordPress.org, which means you can install them right from your WordPress dashboard: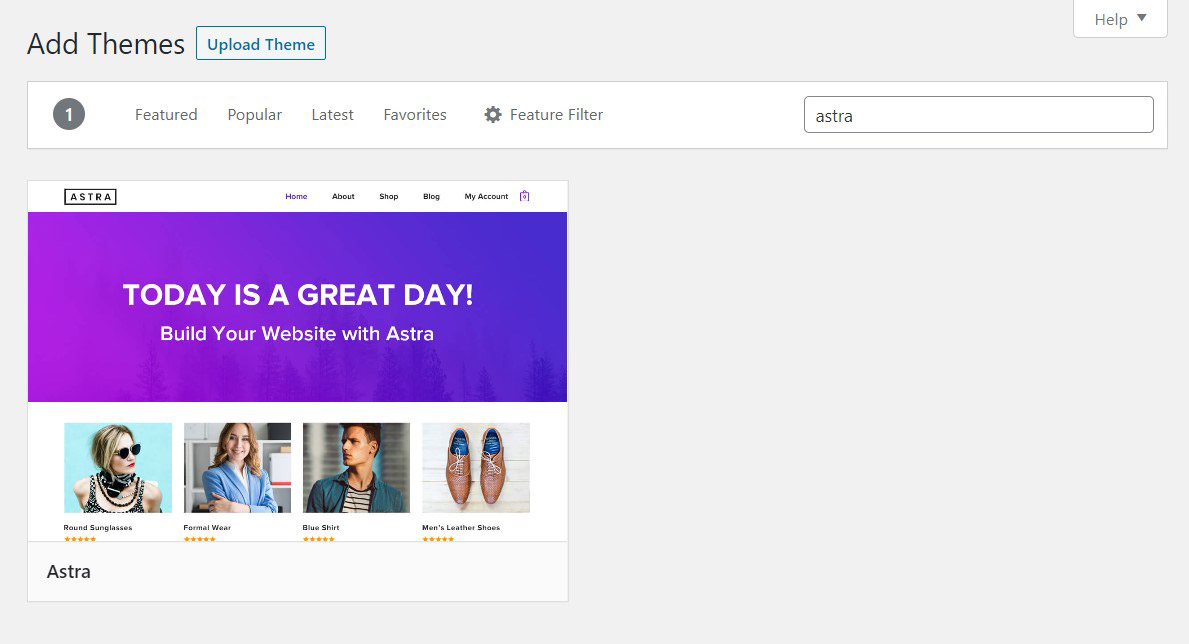 Step 2: Import Astra WooCommerce Starter Site
Once you've installed the Astra theme and Starter Templates plugin, go to Appearance → Starter Templates in your WordPress dashboard to import your demo site (this help article has more information if needed).
Then, select the Elementor page builder: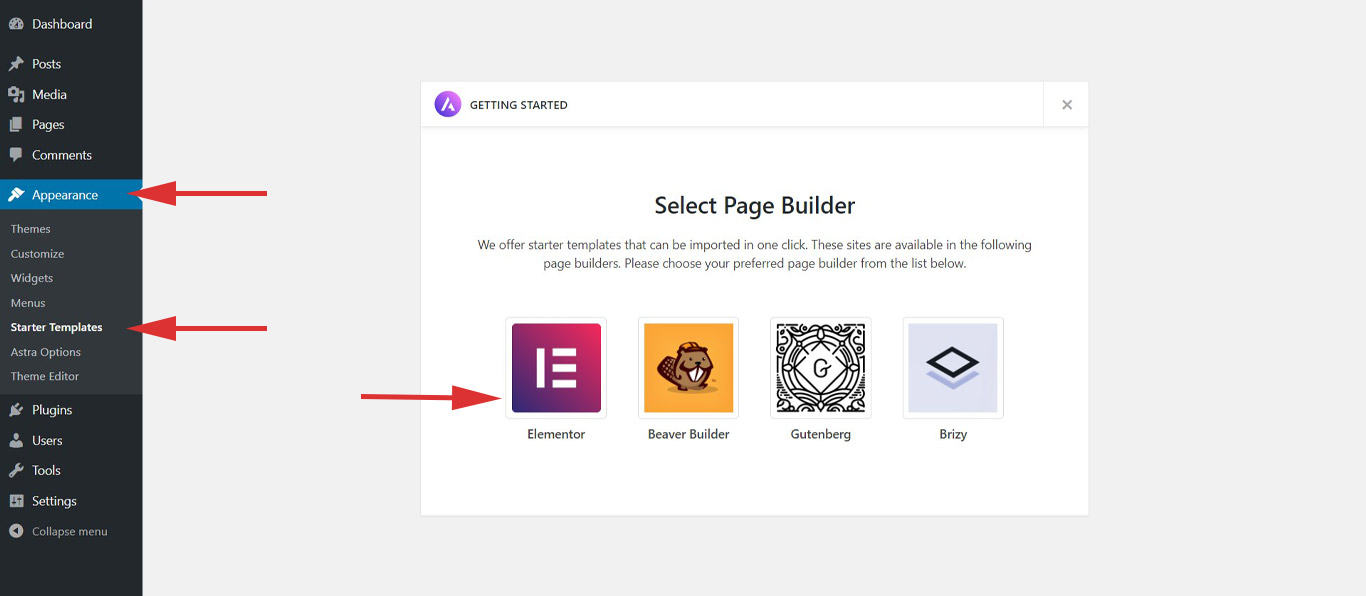 You can then use the filtering options to find the various eCommerce templates.
Some of these templates are free, while others, marked as "Premium" require the Premium Starter Templates plugin that's part of the Astra Essential Bundle and Growth Bundle.
Feel free to pick any demo site that catches your eye. But for this tutorial, we're going to use the free Brand Store demo site: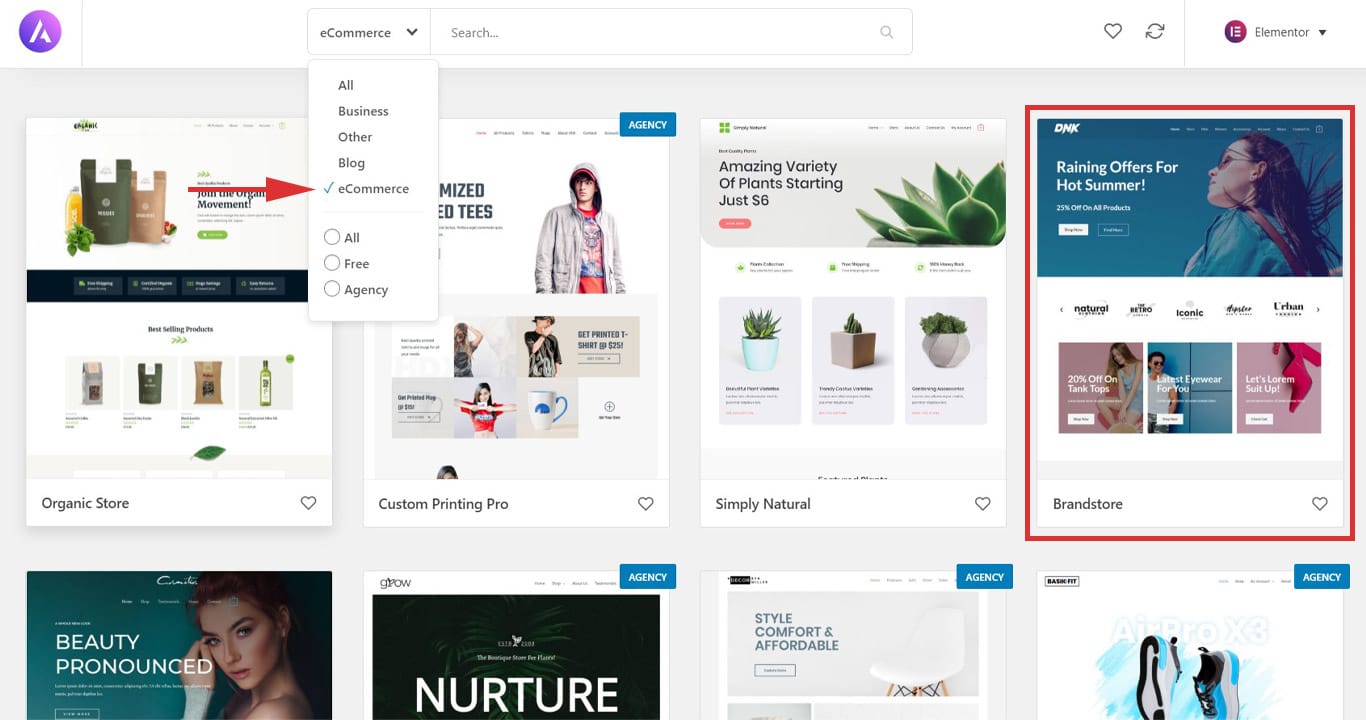 Once you click on your desired demo site, it will open up screenshots along with a live preview of your site.
Click on Import Complete Site to install the required plugins (Elementor and WooCommerce, in this case) and import complete site.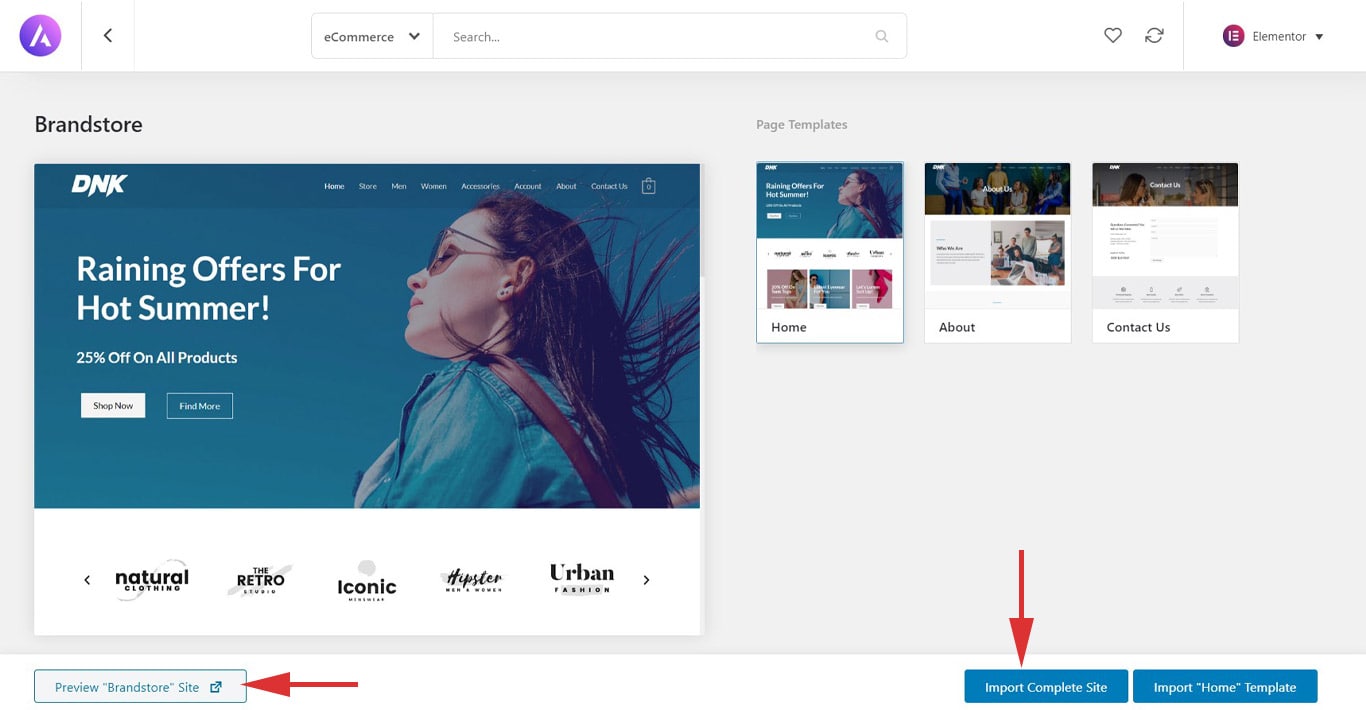 Now, you're ready to make things your own!
Step 3: Use The WordPress Customizer To Make Things Your Own
Astra uses the native WordPress Customizer to help you customize your store's looks. This tool lets you make code-free changes to various aspects of your store and see the results right away on a real-time preview.
To access the WordPress Customizer, go to Appearance → Customize in your WordPress dashboard: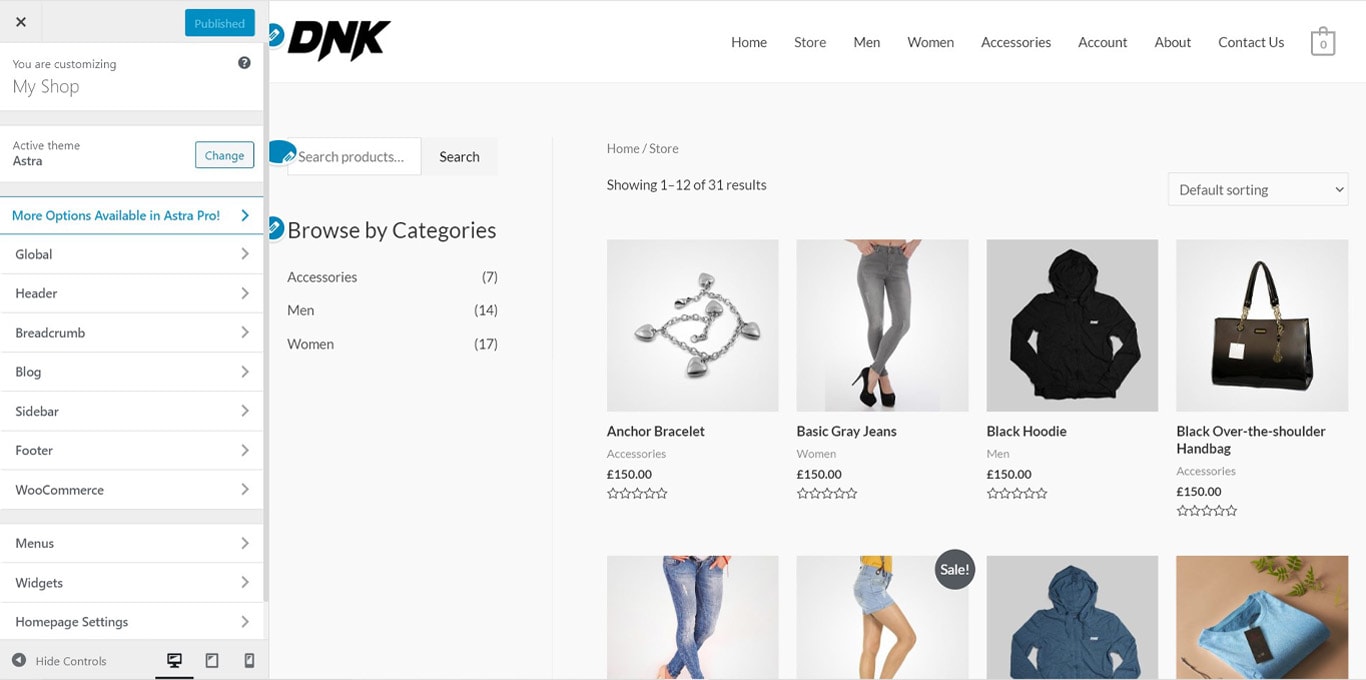 In addition to the WooCommerce-specific settings here, Astra also includes options to help you customize other aspects of your site like fonts, colors, logos, and more.
For a full explanation of these settings, you can peruse the Customizer settings support articles. For this tutorial, though, we'll focus specifically on Astra's WooCommerce integrations.
These let you control aspects of your store like:
How your product listing pages work
Upsells on your shopping cart page
Your product images
Other smaller settings
Most of the WooCommerce settings are located in two main areas.
WooCommerce Settings
To access the set of options, go to WooCommerce in the WordPress Customizer sidebar. Here, you'll see following areas:
Product Catalog – lets you control how many products to display on your shop page, as well as what information to display and how many columns of products to display.
Single Product – lets you disable breadcrumbs.
Cart – lets you enable product upsells on your cart page. Upsells can help boost your sales by showing targeted products related to the products that are already in a user's cart.
Store Notice – lets you enable a storewide notice and customize its text.
For example, if you enable a Store Notice, you'll get this nice sitewide notification banner: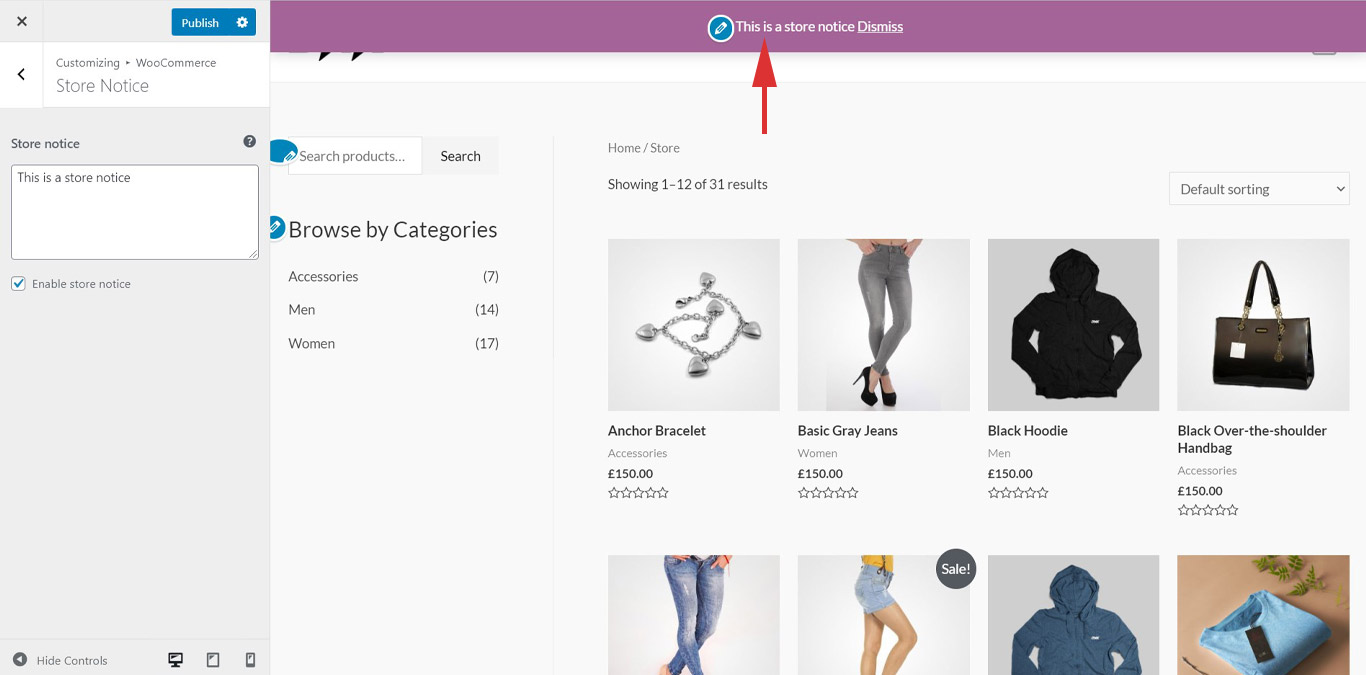 This feature is great for promoting a sale or special offer.
Changing the Shop Columns to 4 adds another product on each row: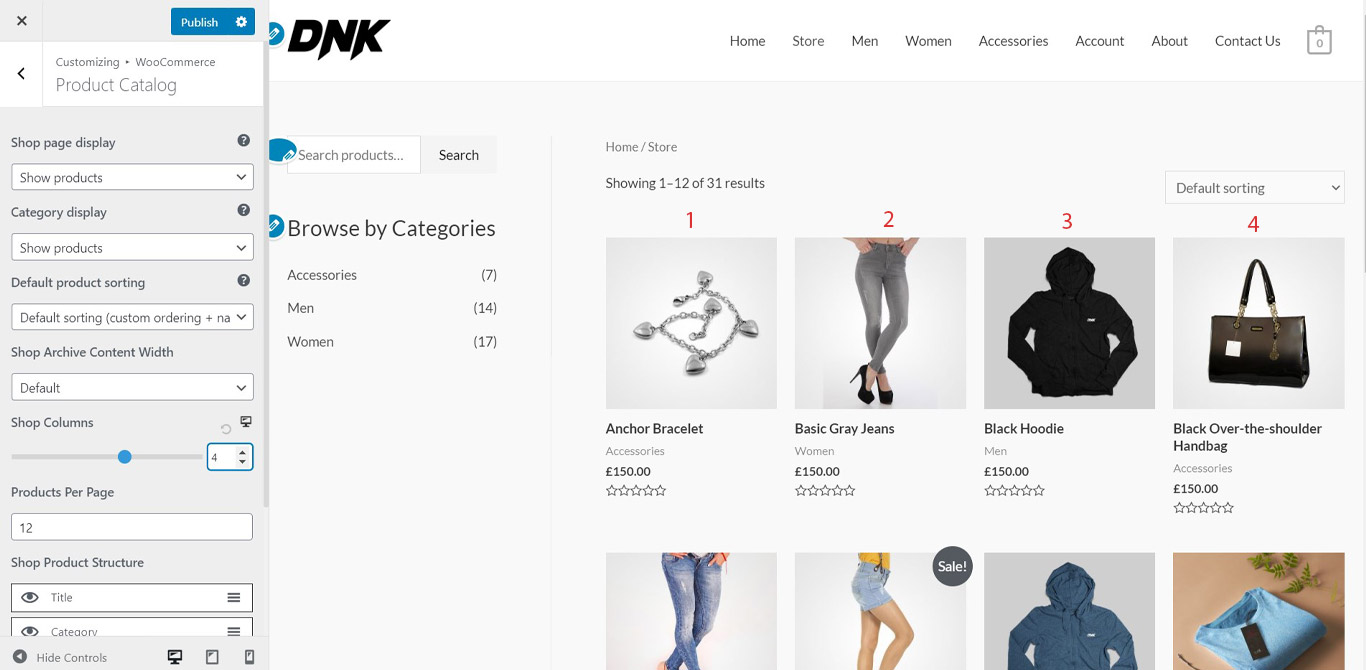 Beyond the WooCommerce part, you can also find WooCommerce settings in:
Global → Container – lets you control the width of the area that your WooCommerce pages occupy.
Sidebar – lets you control the location of your sidebar on WooCommerce pages. For example, by changing it from Left to Right, your product categories list would shift to the right side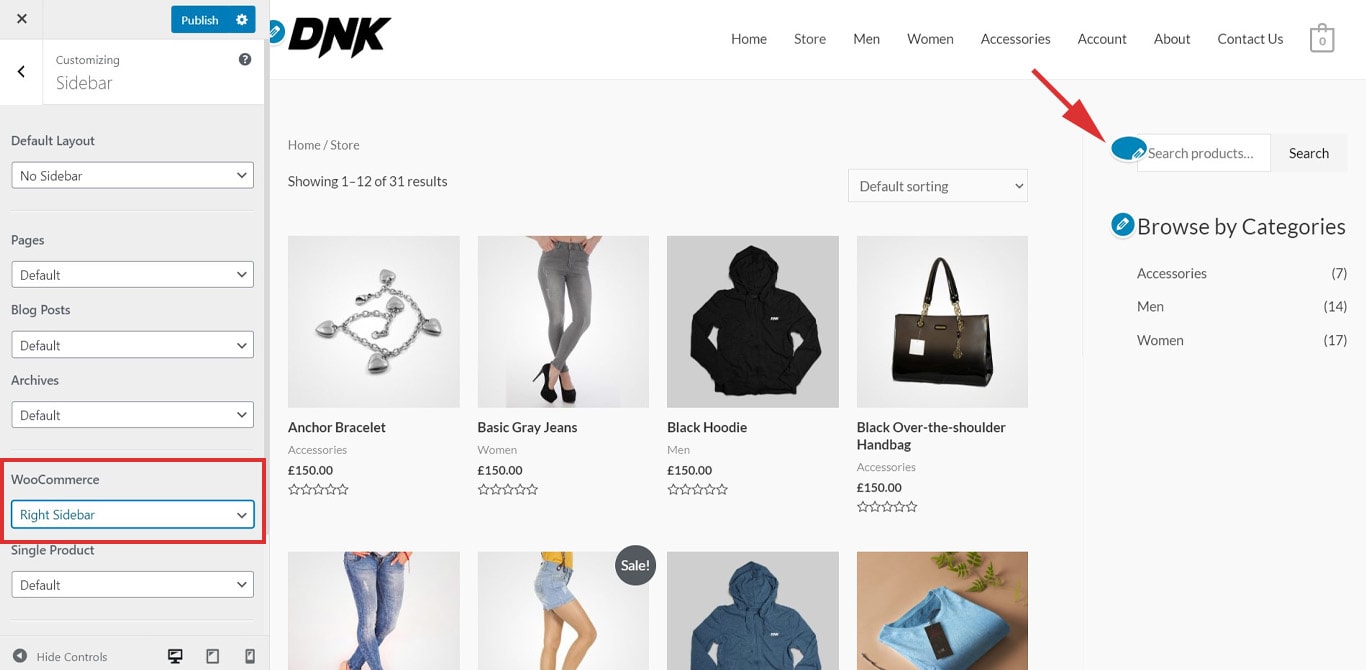 Part 2: Using The Elementor To Customize Important Pages
Astra helps you customize your shop and product pages, as well as your navigation menu and sidebar.
But when it comes to tweaking your Homepage and About Us page, that's where the free Elementor page builder plugin comes in.
To edit your homepage, click the Edit with Elementor. Elementor makes it easy to:
Change text and images
Move design elements around using drag and drop
Add new design elements
For example, to edit the headline on your homepage, you just click and type: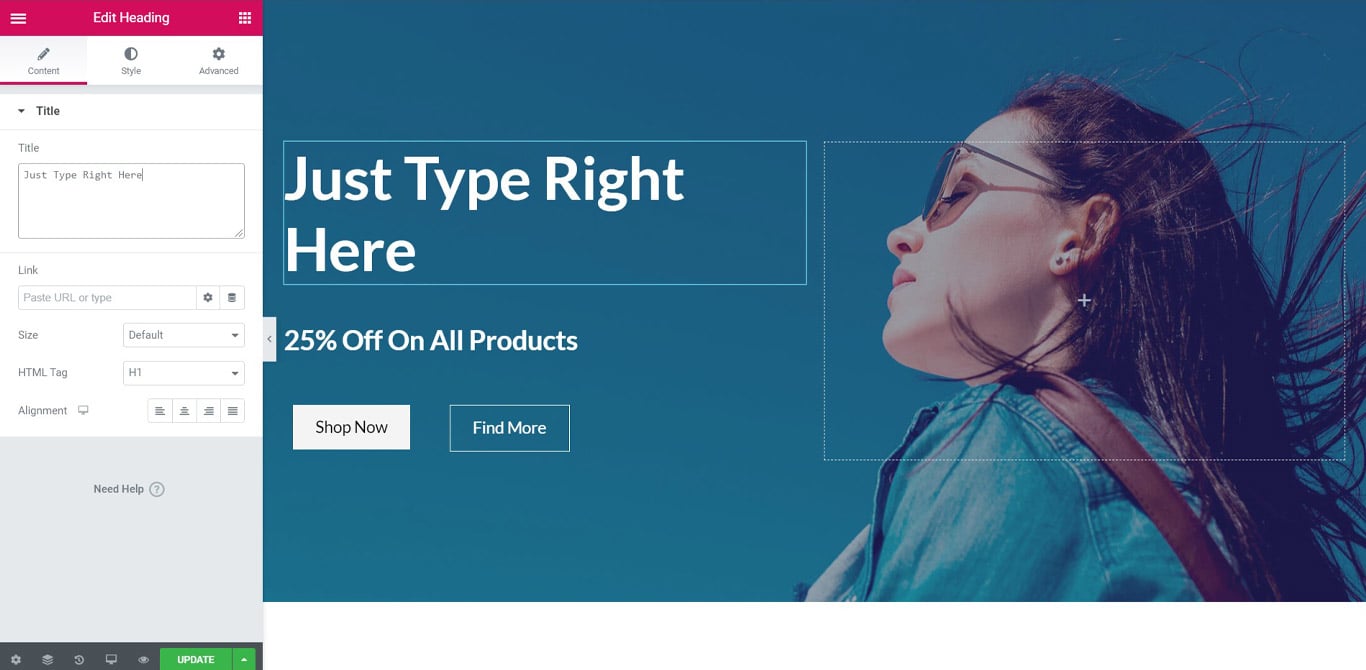 If you need some help using the Elementor page builder to edit your shop's core pages, the official Elementor 101 videos are a great place to learn about Elementor.
Did you know that you can create an entire shopping cart, a checkout page, a customer account page, and so much more by just using a shortcode?
Here's an entire list of WooCommerce Shortcodes that you can explore.
When To Consider Going Pro With Astra Or Elementor
Both Astra and Elementor offer pro versions that can add functionality to your WooCommerce store.
This functionality isn't just eye-candy – it adds features that can make a real effect on your store's bottom line by making it easier for your visitors to shop your products, as well as giving you options to control your store's checkout page:
Infinite scroll for products: More products automatically load as a visitor scrolls down the page. Research from Baymard Institute suggests that eCommerce shoppers tend to view more products with infinite scroll, which is great if your store has a deep catalog.
Off-Canvas sidebar: This lets you add helpful filters without getting in the way of your shoppers' browsing. Quality filtering is an essential aspect of any eCommerce store. Done right, it lets your customers quickly find the right product so that they can make their purchase.
Product Quick View: Shoppers can click a Quick View button when they hover over a product to see more information about that product. This lets them see important details without requiring them to load a new page, which can make for an easier shopping experience.
More checkout options: You can add a distraction-free checkout, or enable a two-step checkout process. You can also choose whether or not to enable the coupon field, as well as a few other smaller settings. All of these options help you tweak your checkout process to ensure that your cart abandonment rate is as low as possible.
White label: If you're building a store for a client, this feature lets you remove all Astra branding from the WordPress dashboard to offer a more customized final product.
Where Astra Pro gives you access to extensive and unique e-commerce features and functionality, Astra Essential Bundle and Growth Bundle lets you use premium ready-to-use websites having "Premium" tags from the starter websites library.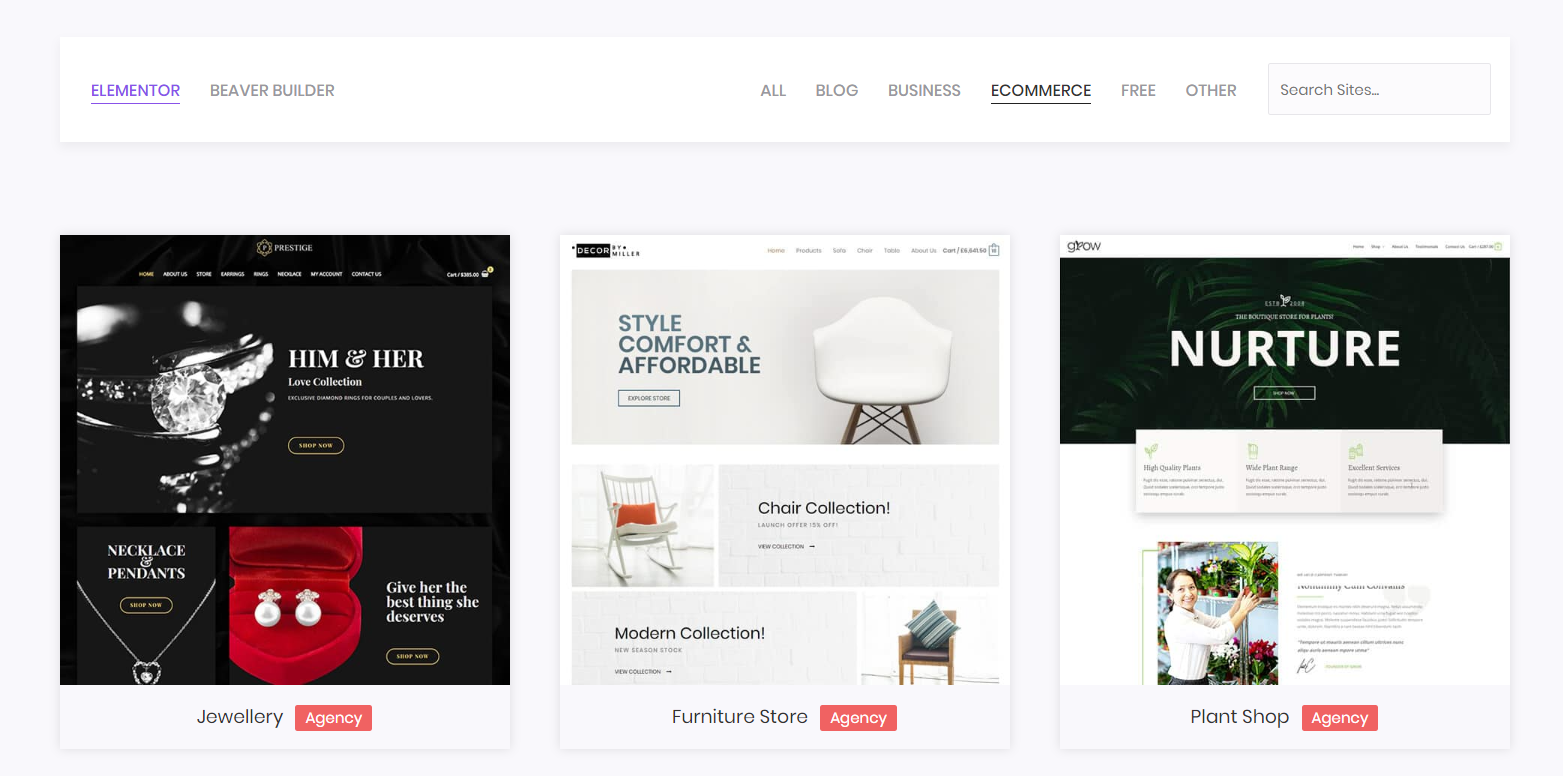 And with Elementor Pro, you'll get access to dedicated Elementor WooCommerce widgets that help you display your products and redesign product pages.
WooCommerce, Astra, And Elementor: Better Together
Put them all together and WooCommerce, Astra, and Elementor are a triple-threat that let you build a completely custom eCommerce store in no time without writing a single line of code.
Remember, all you need to do is:
Install and configure WooCommerce
Import an Astra demo site
Customize your store via Astra's real-time Customizer settings
Edit your homepage and other core pages with the Elementor page builder
Now get out there and start selling your products!