Elementor is one of the fastest-growing and most popular page builders for WordPress and WooCommerce sites. It's a drag-and-drop page builder that helps you create dynamic websites quickly.
Since its launch in 2016, more than 4 Million websites have downloaded and used Elementor to build their websites.
However, with the rising popularity of any software arrives an all too familiar problem — one of the pirated or nulled versions. There are many websites or forums that allow you to download Elementor Pro for free, but are these safe? Short answer — No.
They aren't safe and you shouldn't download and or use a version of Elementor Pro that doesn't come from the original source. Elementor Pro either nulled or pirated shouldn't be used under any circumstance.
In this article, we'll cover the reasons why nulled software shouldn't be used for designing and building websites, or at all. we'll also shed light on the benefits of Elementor Pro, including pricing information, and where you can obtain it.
Why Should You Avoid Pirated or Nulled Versions of Elementor Pro?
I want to shed some light on why nulled or pirated software is more damaging than beneficial.
Most WordPress plugins and themes are licensed under the GPL (General Public License) — a free software license that guarantees the freedom to copy, share and modify the software. However, this paves the way for nulled and pirated versions of said software with no blowback on the person distributing the modified versions.
As a user, you might be tempted to install and use a nulled version of your favorite WordPress plugin or theme. However, you're opening yourself, your computer and your business up to some potential risks in doing so.
Here are a few reasons why you should avoid using nulled WordPress themes or plugins, and that includes Elementor Pro.
1. Risks of Viruses, Ransomware or Malware
According to an extensive study conducted by Microsoft, IDC, and the National University of Singapore — there is a 33% chance of getting malware when installing pirated software. Once installed on your browser or your computer, it can potentially corrupt your data and also the device.
Malware or spyware can also tap into your home or office network. The potential damage can expand beyond just access to your personal and business information.
According to a report, 70 percent of ransomware attacks in 2018 were targeted towards small businesses, and the average ransom demand was $118,000. The potential personal, business and financial risks aren't worth trying to save a few bucks by using a pirated or nulled version of a plugin/theme.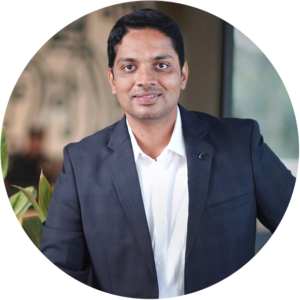 Hello! My name is Sujay and I'm CEO of Astra.
We're on a mission to help small businesses grow online with affordable software products and the education you need to succeed.
Leave a comment below if you want to join the conversation, or click here if you would like personal help or to engage with our team privately.
2. Data Privacy Issues
In the past few years, we've heard a lot about data privacy — whether it's Facebook's testimony to the US Congress or Google being fined by the EU (European Union).
Even though more consumers are spending more time online, they are more concerned about privacy than ever before.
To protect consumer's privacy, lawmakers around the world are constantly launching new privacy laws — GDPR (General Data Protection Regulation, CCPA (California Consumer Privacy Act), and soon more countries & regions will follow with similar laws.
Big names such as Google or Facebook aren't the only ones who are subject to these laws. Every business with a website — membership sites, software companies, publications, online stores are subject to the same rules.
Any time you install pirated software, you're increasing your chance of getting hacked and thus exposing both your own and your customers' data. Hackers can then leverage loop-holes in pirated software to easily steal your customers' identities, passwords, and financial information.
3. Risk That Your Website Will Not Work Properly
WordPress is the most popular CMS (content management system) powering more than 30% of all websites. However, every year 10,000s of WordPress sites get hacked, and about 90% of all hacked websites are WordPress websites.
Extensive studies have shown that the problem does not necessarily lie with the core WordPress platform. The developer community is continually updating the core platform and following the latest web security standards.
Even though websites do get hacked, as long as you follow best practices your WordPress website will remain secure.
Most of the vulnerabilities are caused by either out-of-date or non-optimized WordPress plugins and from other types of cyber-attacks.
The security of your website should never be an afterthought.
The first step is to be careful about the types of plugins you install. The next step is ensuring you have the right WordPress security plugin to protect your website.
4. SEO issues
Website security also has an impact on your SEO and, thus, your organic traffic.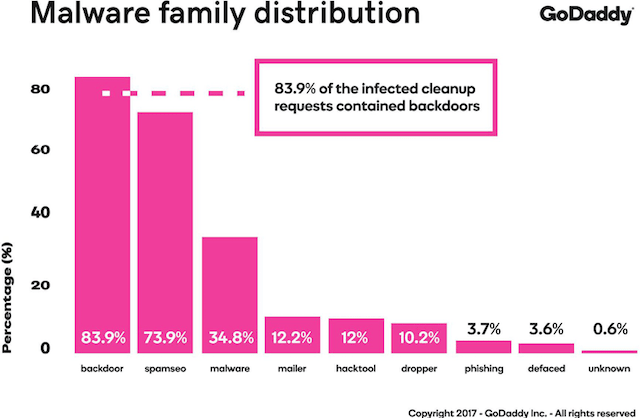 According to a GoDaddy Study, 73.9% of websites hacked are for SEO purposes. As a result of SEO spam, you could potentially see a significant drop in your organic traffic and search engine ranking (and in some cases a drop as large as 77%).
5. Plugin-compatibility Issues
There is a risk that a pirated or nulled plugin may not work well with the latest WordPress updates, and also other plugins that your site uses.
Every reputable WordPress plugin or theme developer wants to ensure that their software is always compatible with both the latest versions of WordPress & WooCommerce.
The team at Elementor isn't any different.
As you can see from their changelogs, they're continually updating both Elementor and Elementor Pro to work seamlessly with the latest versions of WordPress.
6. Lack of Product Updates and Support
We've all experienced software issues, even from major companies such as Microsoft, Google, or Apple. Outages, vulnerabilities, and compatibility issues are all too common in the software world.
If you experience any download issues or compatibility issues, you're usually able to email or chat with the company's support team and receive the required troubleshooting to get your software up and running.
Elementor Pro's support isn't any different. I'll cover the support level provided more in-depth in another section below.
However, you won't be getting any such updates in the case of pirated or nulled software you're usually on your own.
Your website is a significant source of your traffic, customers, and income. When you experience software issues, you want to ensure that you get support to get your site back up.
That's the benefit you lose out on when using any type of pirated software.
7. Hampers Innovation
Most of the companies in the WordPress ecosystem operate on a freemium model. They offer a free version of the software and also provide a pro version with additional features/support.
They use the revenue from the pro version (in many cases it's their sole income source) and they re-invest it back into the WordPress ecosystem — hiring, development, new tools, new features, etc.
If there is an influx in pirated versions then that particular company is at risk of losing revenue, which directly affects their ability to create new tools and features and hire new developers.
In the case of a company like Elementor, this doesn't only affect them, but could also affect the other partner companies in their ecosystem.
A Quick Look at the Free version of Elementor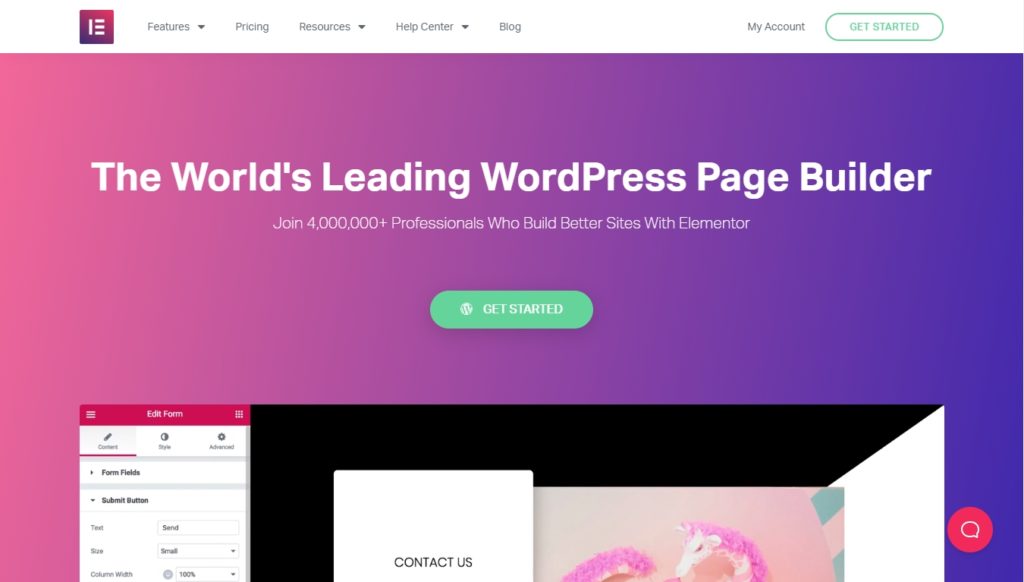 Elementor is the most full-featured free page builder. Its intuitive drag-and-drop editor makes it easier to create or update pages without any coding.
There are lots of benefits to using the Free version of Elementor. In most cases, Elementor is more than sufficient to design and build a WordPress website because of the wide array of features and customization options it provides.
In this section, I'll cover all the features and benefits of using Elementor without having to upgrade to a paid version.
Design & Customization Options:
Elementor has a front-end page builder, which gives you a preview of any changes in real-time. Using its WYSIWYG editor (What-You-See-Is-What-You-Get editor), Elementor makes it really easy to build web pages without having to learn HTML, CSS, or JavaScript.
In the free version, you can choose from over 300+ pre-designed page templates, 300+ block templates, and 90+ widgets, thus making it easier for you to set up a custom website in a short amount of time.

You can also create your own templates & widgets, and then reuse them on other pages.
There's also the option to set Global colors and typography, i.e., make styling changes for the entire site from one place. Elementor also comes pre-built with 800+ different Google fonts to choose from.
The best part is that you can do all this with no coding.
If you're creating multiple websites and would like to transfer your design from one website to another, then Elementor allows you to easily do that. You can easily export your templates (your website) and import that into another site using Elementor.
Mobile-Responsive and Mobile Editing
You can use Elementor to create a website that's 100% mobile responsive. When designing any page, you can get a real-time preview of a page on a smartphone or tablet.
The thing that makes Elementor even more compelling is that it provides you more control over how your pages look on each device (desktop, tablet or mobile).

You can not only preview how the page will look but also make specific changes with control over the margins, padding, font sizes on mobile devices. Ensuring that you can create specific settings for each device, whether it's desktop, tablet, or mobile.
Compatible With WordPress/WooCommerce Themes
Elementor works with almost all free and premium WordPress themes. Theme forest lists over 700 premium themes that are compatible with Elementor.
Elementor works perfectly with our very own Astra theme, a lightweight, blazingly fast WordPress Theme. Here are a few articles that detail how to create a responsive website using both Elementor and Astra:
Speed and Performance
As more and more web traffic shifts to mobile, Google has been emphasizing the importance of page speed, and it's now a ranking factor for Google.
The longer it takes for your site to load on both desktop and mobile, the poorer the visitor experience. Slow page load times also increases your bounce rate, reduces time-on-page, and lowers conversions; and all of this has further dampens your SEO results.
Every WordPress page builder generates code – HTML, CSS, JavaScript, PHP. Any code that appears on your website requires some memory, space, etc. All of these will affect performance and usually has an impact on page speed.


Elementor has been built in such a way that only the scripts needed are loaded on a page by page basis. All CSS files come compiled and minified & they load externally, thus enabling faster loading time. All these help make your website faster and better optimized.
Elementor is also compatible with caching and minification plugins such as WP Rocket and Autoptimize, which further helps improve your page speed.
Plugin-compatibility
Elementor works seamlessly with almost any WordPress (version 5.0+ and higher) or WooCommerce plugins, extensions, or addons.
Since the Elementor ecosystem is vast (3 Million+ websites), there are also Elementor-specific plugins that have been built by 3rd-party developers that extend Elementor's functionality. 
Here's an additional list of 3rd party Elementor add-ons.
Our team at Astra has built addons specifically for Elementor. Ultimate Addons for Elementor is a library of widgets that you can use to customize your website further. Here are just a few of the 30+ widgets that are included:
Ultimate Addons for Elementor is compatible with both Elementor and Elementor Pro.
Developer-Friendly
The Elementor team has ensured that 3rd party developers can build integrations for features, add-ons, extensions easily. Elementor follows WordPress coding standards and best practices set by WordPress.org. All the information is available either on Elementor's code reference library or is accessible via their GitHub repository.

This means that you can build new tools (widgets, design elements) for your own website if you're not satisfied with all the features you find in Elementor.
Multilingual
Elementor is compatible with both LTR (Left-to-Right) and RTL (right-to-left) languages, so definitely translation-ready and multilingual.
Elementor also works seamlessly with widely used translation plugins such as TranslatePress, WPML Weglot, and others.
Support
Whether you're new to using a page builder or an agency that's built multiple websites, the Elementor team has made sure that you're never left in the dark.
You'll always receive the right type of support for your website building journey. There are multiple ways to get support directly from either Elementor or its extensive community.
A Preview of Elementor Pro's Key Features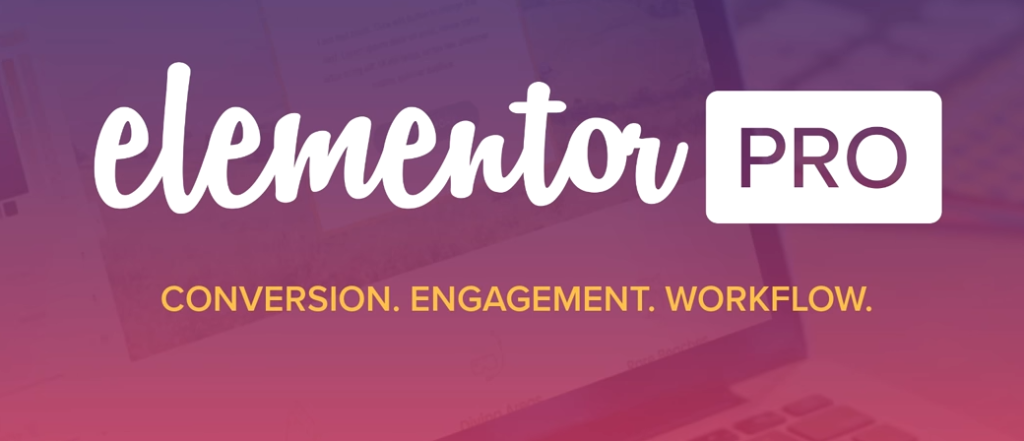 Elementor Pro includes everything we have discussed so far in Elementor — however, there are a few add-ons or features that will enhance your web-building experience. And these additional features also help make your website a high-converting marketing machine.
Let's uncover what some of the key features included in Elementor Pro are.
Additional Widgets
You get an additional 50 advanced widgets in Elementor Pro.
Here are just a few of the advanced widgets and their brief descriptions:
Testimonial Carousel Widget — Show social proof by displaying testimonials on your pages.
Action Links — Connect with other 3rd-party apps to enhance customer communication and collaboration.
Countdown Widget — Add a sense of urgency, especially handy for online sales.
Search Widget — Choose where and how to display the search bar.
Login form widget — Create and customize how your WordPress login page looks.
Facebook Widgets — Display Facebook likes, or Facebook comments, or Facebook page feed, and others.
Blockquote for Twitter — Share your best quotes from Twitter.
Share Buttons Widget — Create custom social media share icons.
Slides Widget — Create custom sliders on your web pages.
CTA (Call-to-Action) Widget — Create custom CTAs on various web pages.
Media Carousel Widget — Create carousels and sliders that showcases your images and videos.
Table of Content Widget — Create dynamic and responsive table-of-contents for your blog posts and featured pages.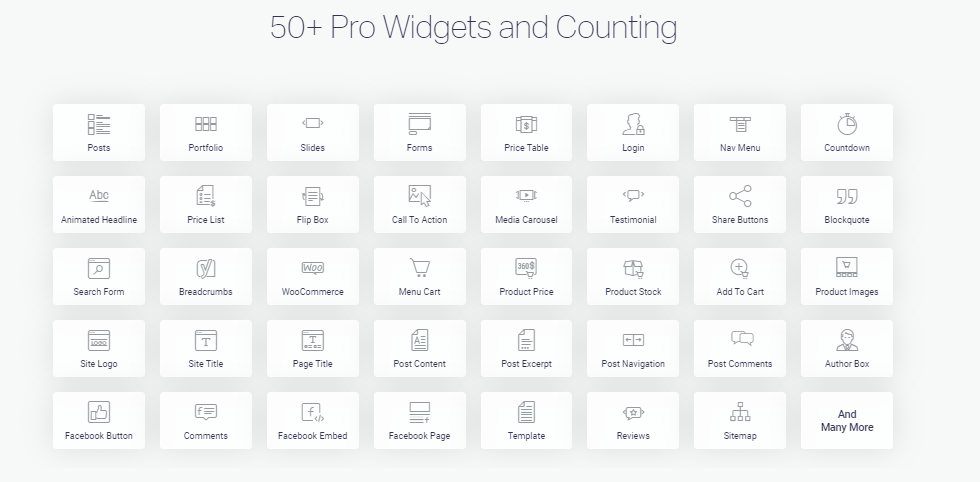 Advanced Customizations
With Elementor Pro, you can customize your web pages further with some additional features.
Using Elementor Pro, you can upload custom fonts to WordPress. You also have the option to add other font libraries to enhance the typography on your website:
Adobe Fonts.
TypeKit Fonts.
Font Awesome 5.
Font Awesome Pro.
Custom Icons Libraries.
reCAPTCHA.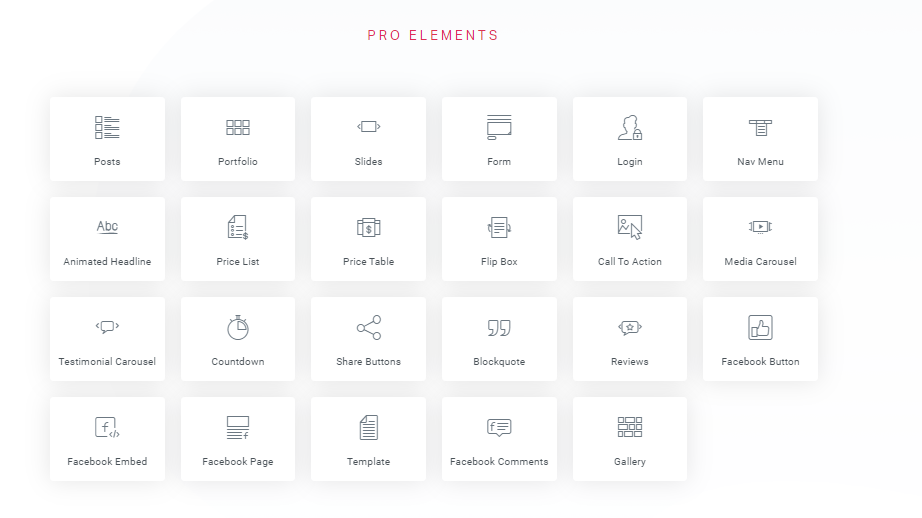 There's also a range of interactions and animation effects you can add to your pages. Here are just a few effects that you can add:
Animated Headlines Widget — Add special effects to your web pages and landing pages.
Flip Box Widget — Create animated boxes that flip to the other side once a visitor hovers over them.
Scrolling Effect — Set a section or widget to be sticky.
You can also add Custom CSS (Cascading Style Sheets) to any section, column, widget or page using Elementor Pro. CSS offers you more control over the way your site looks.
Theme Builder
I've mentioned earlier that Elementor is compatible with most free and premium themes. The biggest challenge of using any WordPress theme is that you can't easily change certain parts of the theme — headers, menus, archive pages, single post pages.
Elementor Pro's Theme Builder allows you to customize these parts with no coding required. You can customize and create templates for each area of your site and display conditions when and where they will show up.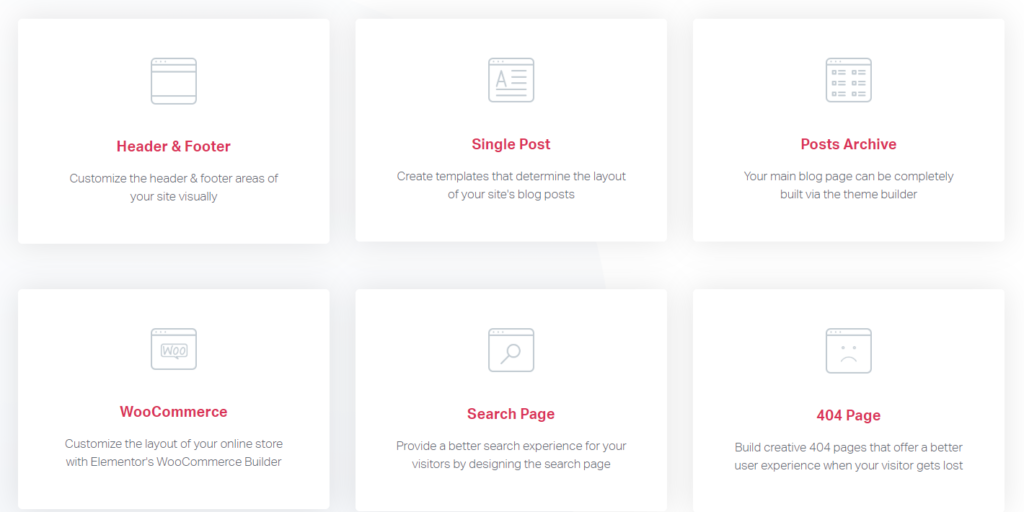 Here are all the elements that you can customize and design with Elementor Pro:
Headers.
Footers.
Single Posts
Posts Archives.
Search Pages
404 Error Pages.
You can create a template for header or footer, and then set up conditions for specific instances where these can show up on your site. In other words, you can create custom headers and footers for various web pages and landing pages instead of using the same universal header.
You can do the same for your blog posts as well. Create several single post templates, and now you can attribute to a specific category or topic.
All the customizations and templates created via the Theme Builder can be used with dynamic content.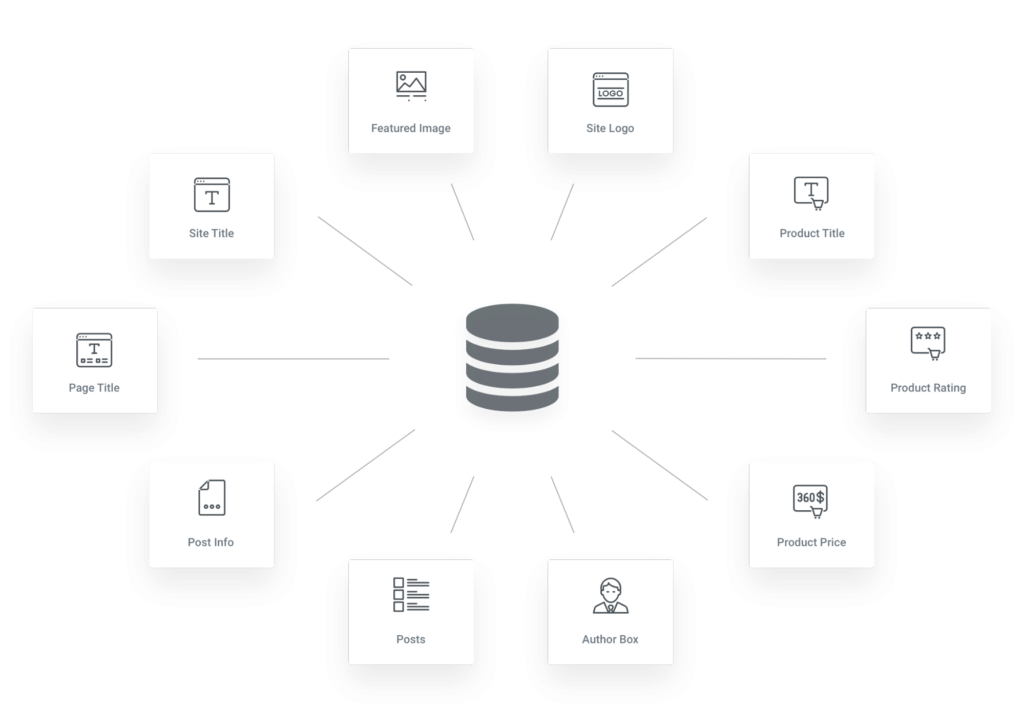 You create the design of the page, set the dynamic parts, and then the content is added automatically. Here are some of the dynamic content tags you can use:
Posts — Title, Featured Image, Meta, Date, etc.
Archive — Title, Description, Meta, URL.
Author — Name, Profile Picture, BIO, Meta.
Comments— URL, number of comments.
Site — Site Name, Site Tagline, Site URL.
General —Current Date.
Popup Builder
Popups are very useful in converting your website traffic into conversions and leads. According to a Sumo study of 2 Billion Popups, they found that the average conversion rate of all popups is 3%.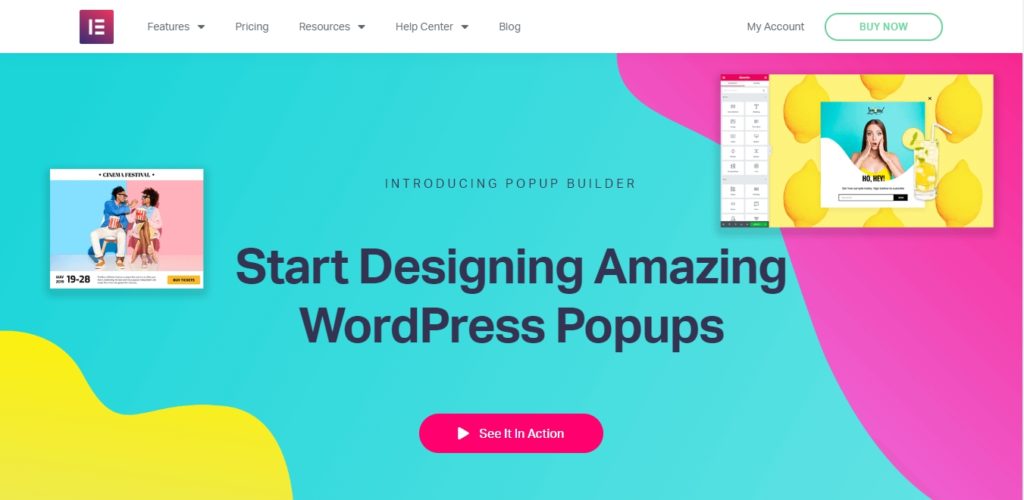 Elementor Pro's Popup Builder allows you to choose from a library of over 100+ pre-designed popup templates, or create your own popups from scratch. The Popup builder works the same as the Elementor WYSIWYG editor with live preview.
You can customize the content, the styling, and surround overlay for the popups. You can also create a unique style for each device.
To help with the right targeting and boost your conversions, you can also create conditions i.e., which pages or posts will display a specific popup. You can also set the triggers or rules on when and how you want a particular popup to show up.

There's no limit on the number of popups you can create using Elementor Pro. Finally, you can integrate the popups with your email marketing platform.
Marketing Software Integrations
Elementor Pro allows you to connect or integrate your forms with 3rd party (non-WordPress) platforms that you use — marketing automation, CRM (customer relationship management), email marketing, social networks.
Here's a list of current integrations with marketing automation platforms: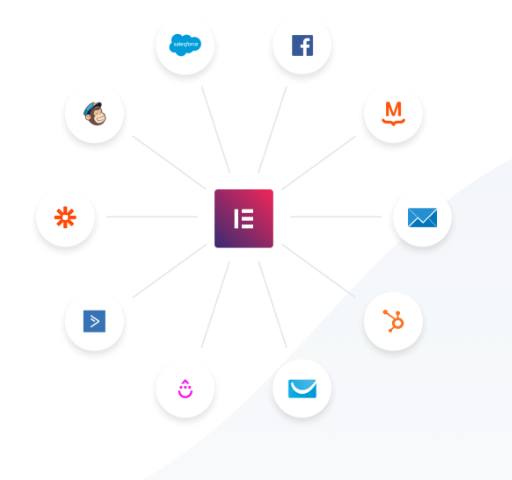 Here's a list of social networks or communities that you can connect your website to using Elementor Pro:
Chat/Communication — Slack, Discord, WhatsApp.
Facebook — Add likes, comments, Facebook Page to your website pages.
Video Streaming sites — YouTube, DailyMotion, Vimeo.
Audio streaming sites —SoundCloud.
Location — Google Maps, Waze.
WooCommerce Builder
The free version of Elementor is compatible with the WooCommerce plugin. You get the same level of customization for online stores and eCommerce website as any other website using Elementor.
However, Elementor Pro has a set of unique features in their WooCommerce Builder that helps you enhance the online store experience for your visitors or shoppers.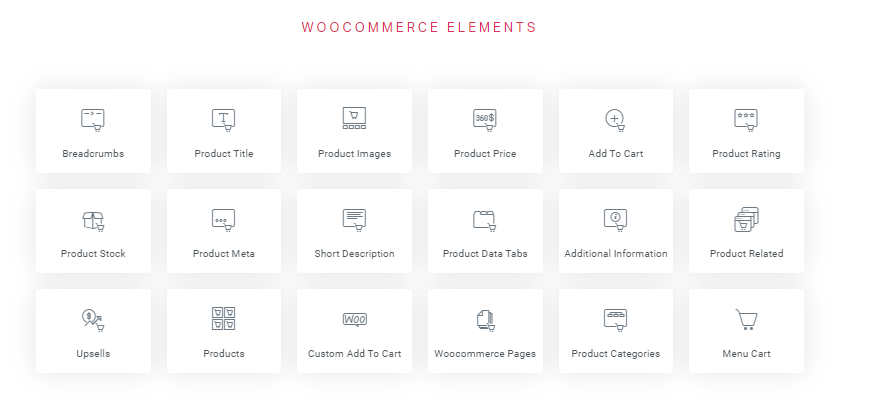 Here are just a few of the templates and widgets that you can get with:
Single Product Template — For creating an ideal product page.
Product Archive Widget — Customize how the product showcase pages look.
Price Table Widget — Create branded and custom price tables.
Add to Cart Widget — Make it easier for your shoppers to add their products to the shopping cart.
Elements Widget — Enhance and speed up the shopping experience with custom checkout pages, order tracking forms.
In total, there are 19 WooCommerce widgets in Elementor, and they are always adding new features.
Support / Upgrades
We covered the extensive support (FAQs, knowledge base, offline events) that you receive with the free version of Elementor.
Elementor Pro users get access to 24/7 Premium Support from their customer team via their priority ticketing system.
Pro users can log in to a dedicated and personalized customer panel and submit tickets.
You'll also receive access to all software updates for 1 year (annual renewal).
How much Does Elementor Pro Cost?
Elementor Pro includes a wealth of options, features, integrations, and premium support, which have been covered in the previous sections.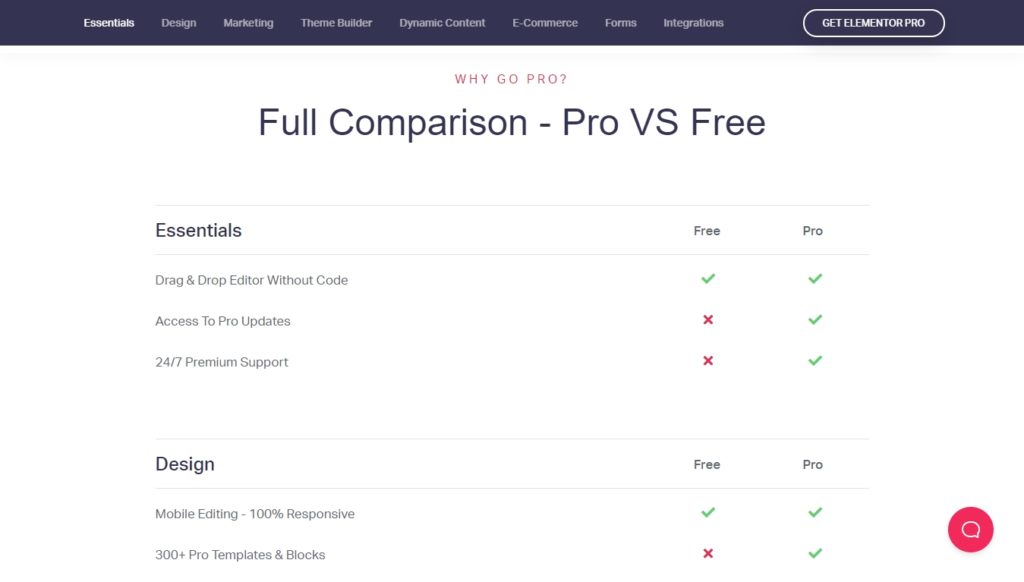 For a full-comparison of the free and Pro versions go here — Elementor Benefits – Pro Vs Free
For Elementor Pro, you can choose from 3 different packages:
Personal — $49 per year (for a single site).
Plus — $99 per year (for 3 sites).
Expert — $199 per year (for 1000 sites).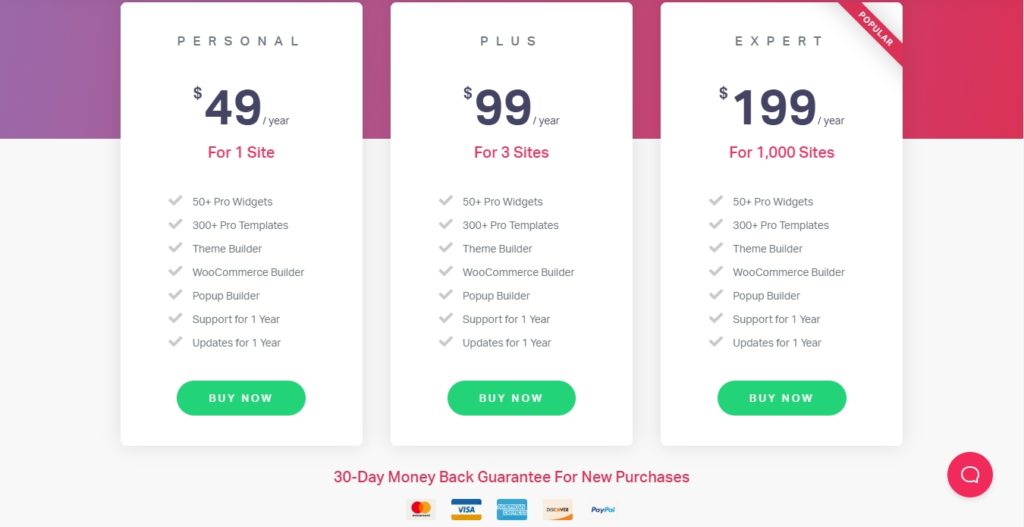 The features-set and the premium support is the same between the 3 pricing packages. The key difference is the number of websites that you can use your license for.
All packages come with a 30-day money-back guarantee. If you're not satisfied with the purchase, you can get a full refund no questions asked.
Can You Download Elementor Pro for Free Safely?
Most Elementor users start off with the free version.
Once you've already seen the benefits of Elementor — the ease of use, flexibility, customization options, and when you're ready to take advantage of the advanced features, then it's time to consider Elementor Pro.
However, you might be a good candidate for using Elementor Pro right away, if you have the following immediate requirements:
To build a more customized web and landing pages.
To enhance your WooCommerce site experience.
To customize your theme settings.
To connect with 3rd party marketing automation platforms.
To use custom CSS to speed up your workflow.
When you purchase Elementor Pro directly from their website, you get a risk-free and 30-day money-back guarantee. You'll also get premium support to ensure that you're able to install and use all the features seamlessly to build your website.
Since you're getting it directly from the developer (Elementor) there's no risk of malware, spyware, or viruses. With over 3 Million+ downloads and over 4300+ 5-star reviews, you can rest assured that your investment won't go to waste.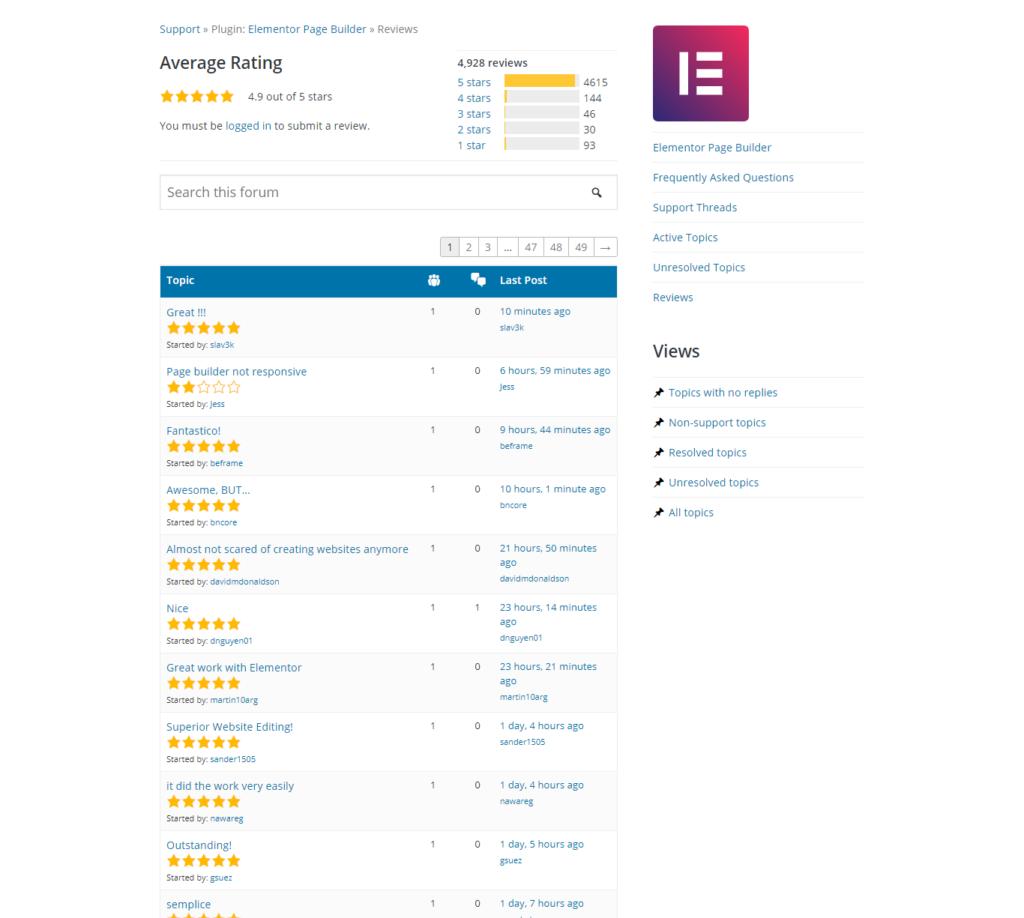 Get Started with Astra and Elementor Pro
The benefits of purchasing Elementor Pro directly from them outweigh all the risks that your website and business face when using a nulled version.
If you're looking for a WordPress theme that integrates seamlessly with Elementor Pro that's reliable, fast, includes stunning Elementor templates, and also has stellar 5-star customer reviews — then consider the Astra theme.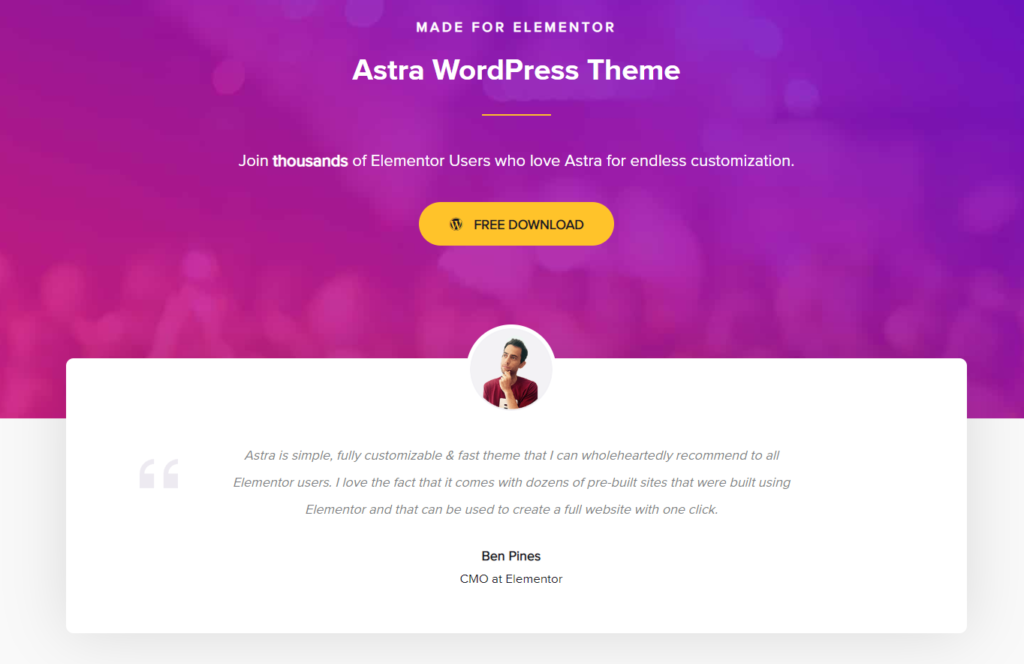 Astra is lightweight, blazing-fast, secure, SEO-friendly, easy to customize, and comes with ready-made templates.
Here's the best part — Astra is available for free to use. Get started with Astra for Elementor Pro today.
Have you used pirated or nulled software before? Maybe you've tried it and been affected by some of the issues we've mentioned in this article? Let us know in the comments below!