Want to build an email list for your new WordPress website? Want to grow your list and maximize your email marketing efforts? Tried OptinMonster and want to see what else is out there?
We can help!
This article explores a range of OptinMonster alternatives. WordPress plugins that deliver the power and utility of the original plugin, without any of the downsides.
Each of our featured plugins aims to take the email list building crown for itself and outperform the market leader.
So how do they fare?
Read on to find out!
What Is Lead Generation?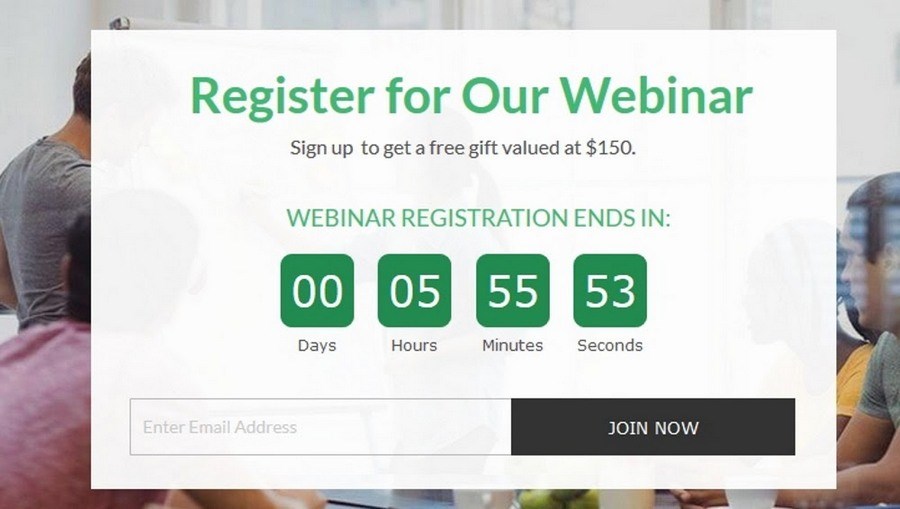 Lead generation is the activity of collecting email addresses from website visitors for use in later marketing. We use lead generation tools to provide the means to collect these details with the visitor's consent using forms, popups, calls to action and other incentives on a web page.
For example, presenting a popup on a web page inviting the user to sign up for exclusive content or a newsletter.
In return for their email address, you provide content or other incentive. You can then use that email address for targeted email campaigns at a later date.
As these contacts are already qualified, i.e., they already willingly provided their name and email address, they can be turned into paying customers much more easily than general website visitors.
Why Email Marketing Is So Powerful
Email is still regarded as one of the most effective forms of marketing and nothing comes close to adding that personal touch to communications.
Here are some other reasons why lead generation is so important:
It's personal – In a world where everyone is just a number, emails can be personalized, be configured to use names and carry personal messages between you and your audience.
It's targeted – Few marketing methods are as targeted as email. The person who provided the details is already interested in what you have to say. All you need to do is ensure that interest is maintained throughout your relationship.
It builds trust – Emails help build relationships, which in turn, help build trust. If you're selling anything, trust is essential. The more expensive your products or services, the higher the level of trust you need. Email marketing can help with that.
It's profitable – The contact is already interested and you're already building trust. Build the relationship in a positive way and those contacts will turn into customers.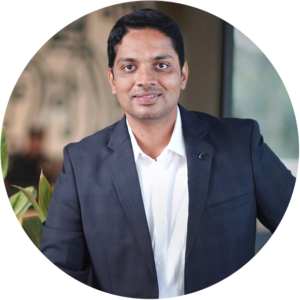 Hello! My name is Sujay and I'm CEO of Astra.
We're on a mission to help small businesses grow online with affordable software products and the education you need to succeed.
Leave a comment below if you want to join the conversation, or click here if you would like personal help or to engage with our team privately.
Why Was OptinMonster the Best Lead Generation Tool?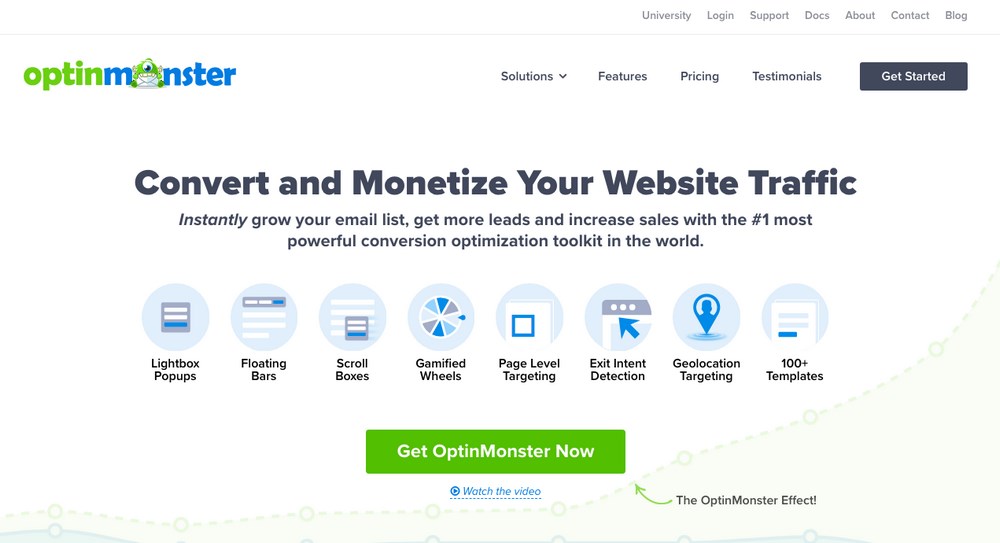 OptinMonster was launched back in 2013 as a pure lead generation tool. Since then, it has been the plugin to beat and has added a ton of features and thousands of users.
It proved exceptionally popular thanks to the range of tools that came with it, the ease at which you could build a popup or subscription form and the built-in A/B testing tools.
Over time, OptinMonster added new tools and features and recently switched from a plugin to a hosted service.
This shift added new tools, a new way of working and new form types.
The combination of drag and drop form builders, eye-catching form designs and ease of use meant OptinMonster was the lead generation plugin to beat for the longest time.
Why You Should Try OptinMonster Alternatives
If OptinMonster delivers everything you need to build email lists and works to steadily improve the product, why look for an alternative?
Two reasons.
Price and that shift to the hosted model.
OptinMonster Pricing
OptinMonster is a premium product costing from $9 for a basic plan up to $49 per month for their top plan. Between the two is a Plus plan at $19 per month and a Pro plan at $29 per month.
That's quite a lot for 'just' building email lists!
It's also out of reach for new bloggers or website owners who just want to begin building their email list.
The Hosted Model
There are many positives to the hosted model. You have no administration, don't have to worry about disk space, managing and updating the plugin or anything to do with how it works.
You also have no control over how and where your data is stored, no ownership of your forms and very little say in when, where and how you use OptinMonster.
Coupled with that pricing, the hosted model is another reason to look for OptinMonster alternatives.
The Best OptinMonster Alternatives
We have 14 OptinMonster alternatives for you to check out. Each does things slightly differently but each is a viable option for anyone who runs their own website.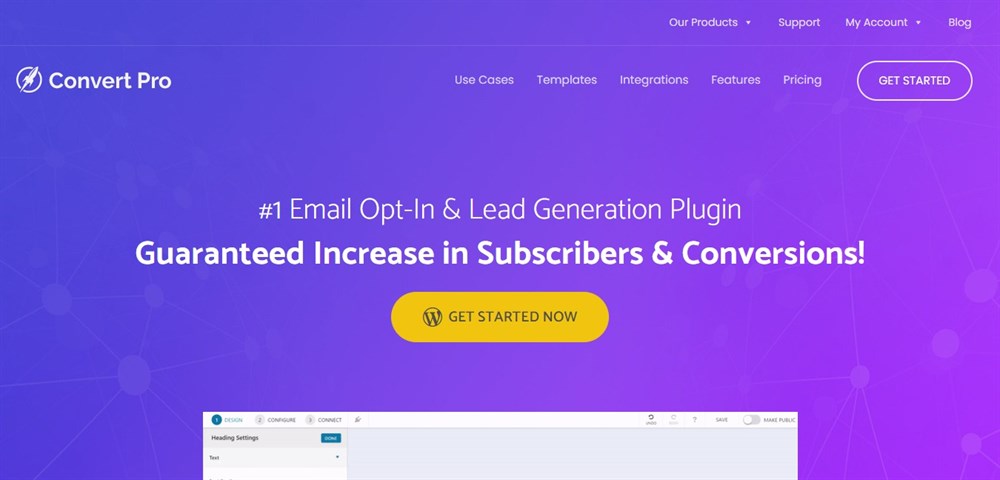 Convert Pro is our own product. We designed it specifically to deliver the same breadth and quality of tools as OptinMonster at a much lower price point. It's easy to use, has a drag and drop form builder to make things even easier and can work in almost any situation.
Two standout features are multi-step popups that add more options to your opt-in forms and behavioural triggers. Two elements that can make forms seem more intelligent and apply themselves in a more focused way.
Convert Pro is ideal for anyone new to email capture but who also wants more from their tool than just a popup form. It's a plugin too, not a cloud product.
Key Features of Convert Pro:
Drag and drop editor
Responsive and 100% mobile friendly
Lots of premade templates and design options
Behavioural triggers for better engagement
Multi-step popups
Advanced targeting tools for even more focus
A/B testing feature
Why is Convert Pro a Better OptinMonster Alternative?
Convert Pro is designed by us here at Brainstorm Force. We're the people behind the Astra WordPress theme. We built a reputation on solid development with value and ease of use at its core. It's cheaper too!
Convert Pro Pricing
Convert Pro costs $69 or $199 per year.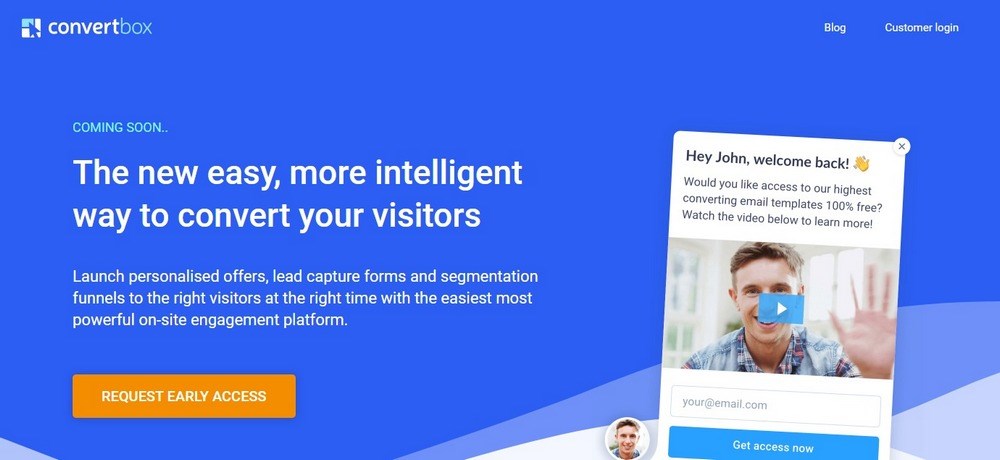 ConvertBox is a combination of cloud platform and plugin. It integrates into your website using a plugin but is powered by the cloud. It's an interesting way of doing things that work well in the right situations.
ConvertBox comes with a range of forms and form types, a detailed tracker for reporting, intelligent targeting tools that can use visitor activity to prompt forms, funnels and other important tools. There is also an A/B testing tool you can use to refine your approach.
ConvertBox is ideal if you tried OptinMonster and want something new with a little more control.
Key Features of ConvertBox:
Combination of cloud and plugin approach
Multiple form designs and form types
Drag and drop form builder
Intelligent targeting using data or behaviour
A/B testing tool
Why is ConvertBox a Better OptinMonster Alternative?
ConvertBox delivers most of the features OptinMonster does. It also retains the plugin and combines it with the cloud to deliver services. The only downside is that ConvertBox is invite only right now.
ConvertBox Pricing
ConvertBox costs $495 for a lifetime licence. Other prices may be announced later.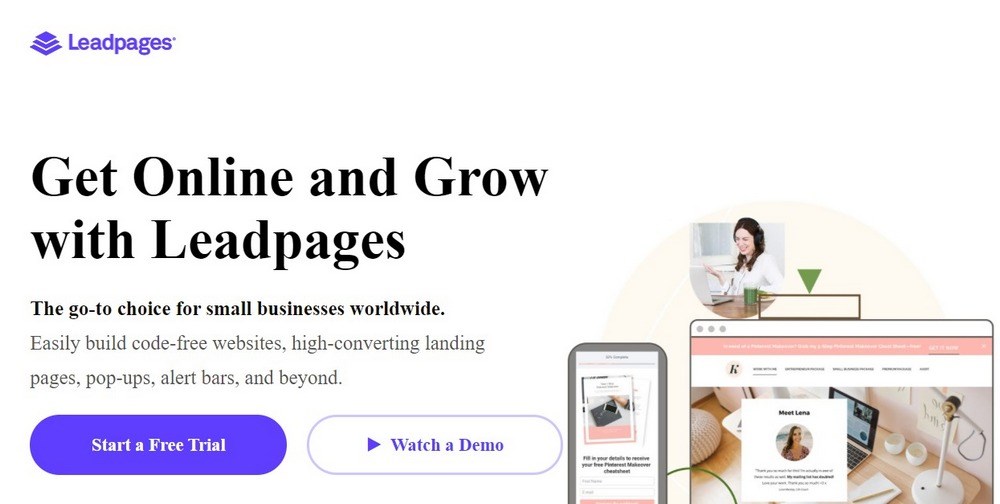 Leadpages is part of a wider cloud suite that includes landing pages, entire websites, popups and lead generation. It's a powerful tool that can offer most of the services a small business might need to help them grow.
We are interested in the popup and opt-in form builders as they compete with OptinMonster. Both use drag and drop functionality to quickly put together a form to collect leads and integrate it into pages. The platform also has an analytics tool for basic reporting and A/B testing tools.
Leadpages is great for those who want a wider scope to their marketing efforts where email is only part of the requirement.
Key Features of Leadpages:
Combination lead generation and publishing tool
Opt-in form and popup builder
Drag and drop functionality
Responsive pages and forms
A/B testing tool
Why is Leadpages a Better OptinMonster Alternative?
Leadpages isn't necessarily better at lead generation than OptinMonster but it does a lot more then collecting email addresses. If you're looking for a platform to handle all your website, landing pages, marketing and publishing needs, Leadpages could be it.
Leadpages Pricing
Leadpages costs from $27 per month for the standard plan up to $239 per month for Advanced.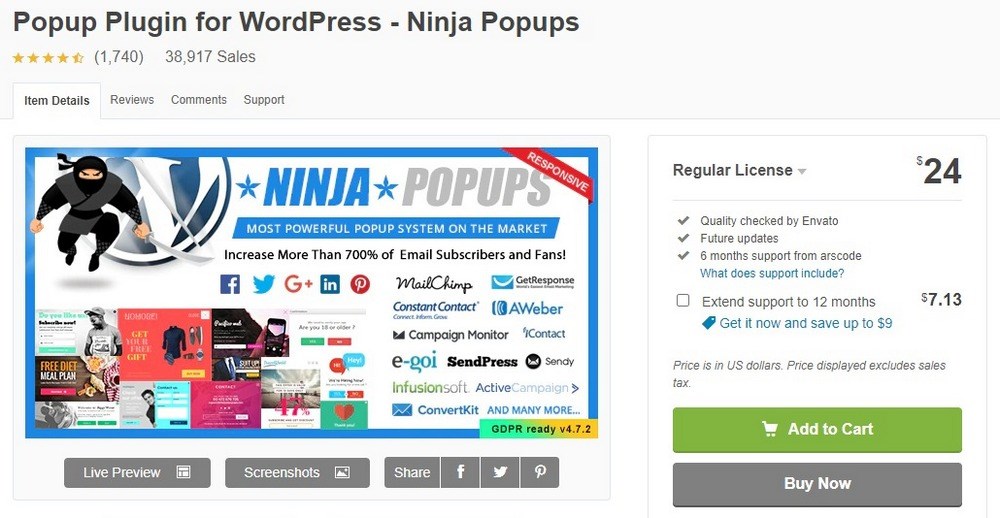 Ninja Popups is a standalone lead generating WordPress plugin and a viable OptinMonster alternative. It uses a drag and drop form builder to help create popups and has 74 animations and effects included in the price.
Ninja Popups has some great designs and comes with the ability to set its position on the page, use opt-in bars instead of popups, lock content behind opt-ins, integrate social media logins and provide reports on activity over time.
Ninja Popups is ideal for startups and small businesses who want full control over their email tools and won't need advanced support.
Key Features of Ninja Popups:
Drag and drop form builder
Includes content locks for opt-ins
Lots of predesigned forms and popups
Reporting tool for analysis
Why is Ninja Popup a Better OptinMonster Alternative?
Ninja Popups is ideal for small businesses or blogs just starting out. It's cheap, easy to use and works entirely within your WordPress installation. If you want something low cost to experiment with or don't want to pay a monthly or annual fee for your plugin, this is the one to get.
Ninja Popups Pricing
Ninja Popups costs $24.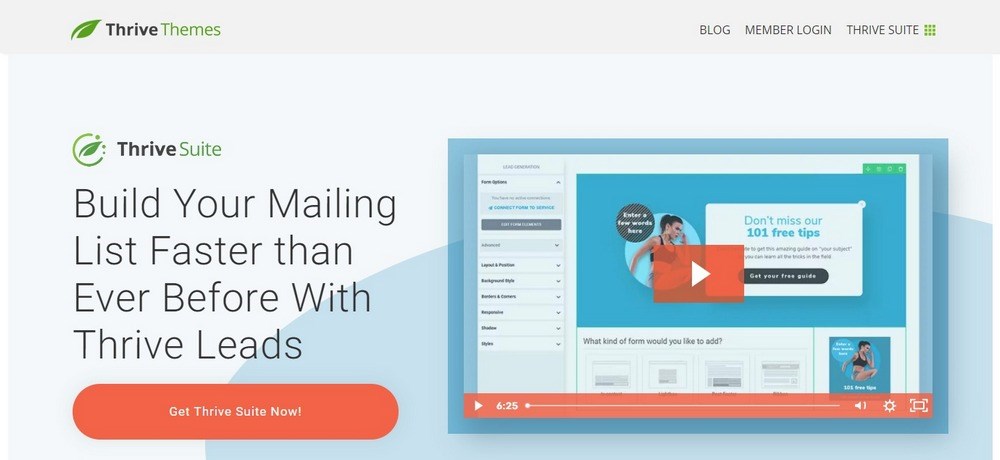 Thrive Leads is from the people behind Thrive Themes. It's a dedicated OptinMonster alternative that provides a selection of opt-in forms and form types. Each is fully responsive, loads quickly and can help deliver the leads you're looking for.
Thrive Leads also comes with a drag and drop form builder, form trigger options, SmartLinks for existing subscribers, intelligent targeting tools, a great reporting system and the ability to A/B test.
Thrive Leads could work for small to medium-sized businesses who have a little more experience with email or want more from their email contact tools.
Key Features of Thrive Leads:
Drag and drop form builder
Intelligent targeting tools
Multiple form types and designs
Fully responsive and fast loading
Why Thrive Leads is a Better OptinMonster Alternative?
The ability to not show the popup to existing subscribers is smart and something that would go down well with users. The overall approach is friendly, approachable and easy to use which is also a significant benefit.
Thrive Leads Pricing
Thrive Leads costs $67 per year up to $147 per year or Thrive Membership costs $19 per month for all Thrive themes and plugins.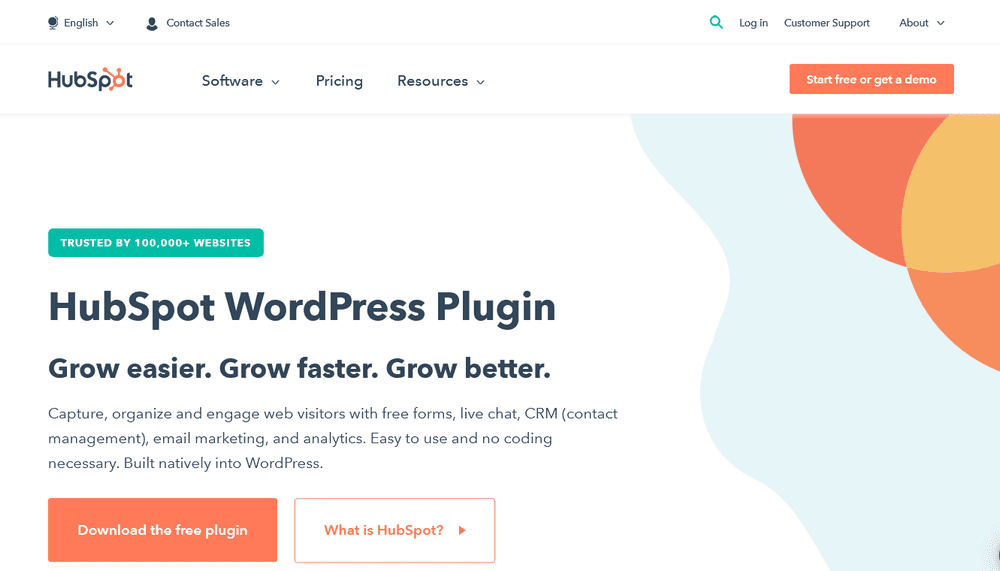 HubSpot is a leading CRM (customer relationship management) platform with tools for marketing, sales, and customer service. It's trusted by over 135,000 customers around the world.
With HubSpot, you can easily create a live chat module that embeds on your website pages. You can also use chatbots to automate meeting scheduling, lead qualification, article sharing, and more!
HubSpot also lets you add several types of forms including popup,banner, and slide-in forms. From there, you can choose from a variety of templates or customize a form from scratch. With an easy drag-and-drop builder, you're able to further customize forms for your unique goals.
HubSpot is perfect for business owners that want an easy-to-use, fully-featured platform that can scale with their company.
Key Features of HubSpot:
Drag-and-drop form builder
Embed forms using shortcode or Gutenberg block
Automatically sync your form submissions with the free HubSpot CRM
Integrate with 1030+ tools including WPForms, Gravity Forms, WooCommerce, and more
Why is HubSpot a Better OptinMonster Alternative?
HubSpot is a CRM and marketing platform, perfect for businesses that want to grow and scale. With their all-in-one WordPress plugin, you can get access to tools like CRM, forms, email marketing, live chat, and analytics — directly from your WordPress dashboard.
HubSpot Pricing
HubSpot starts free and can scale with your business. Paid tiers start at $45/mo and offer additional functionality.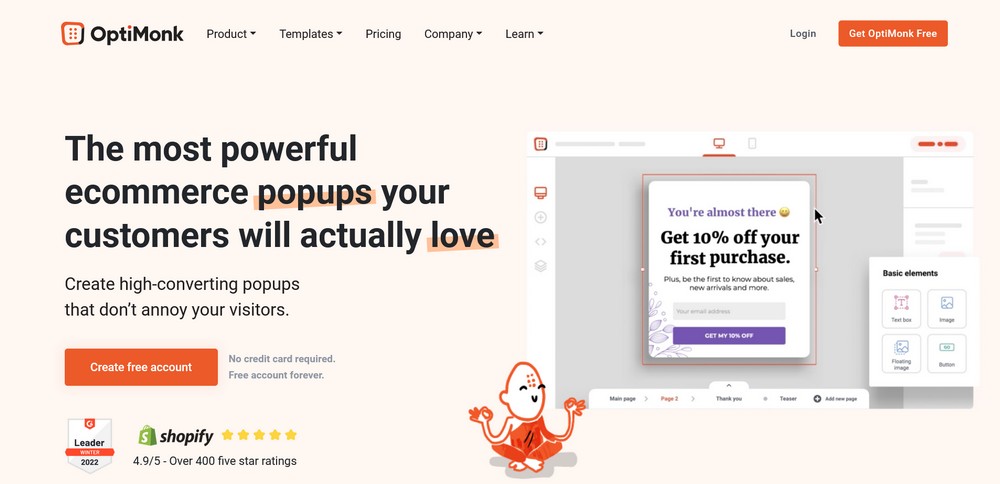 OptiMonk is a powerful popup tool for eCommerce stores. It allows you to create high-converting pop ups that don't annoy your visitors. It's a perfect solution for any eCommerce store that would love to personalize the experience for each visitor. It comes with tons of industry-leading features that let you reach the right visitors with the right message, triggered at the perfect moment.
Key Features of OptiMonk:
300+ professionally designed, ready-to-use templates
Drag and drop editor
Mobile-friendly
Advanced targeting rules
Targeting based on cart value and content
Why is OptiMonk a Better OptinMonster Alternative?
OptiMonk offers all the advanced features OptinMonster does, but it also has a free plan. This makes it a great solution for smaller businesses. All integrations and most of the features are available without a paid subscription, which is the ideal opportunity to try before you buy.
OptiMonk Pricing
Free or from $29 per month.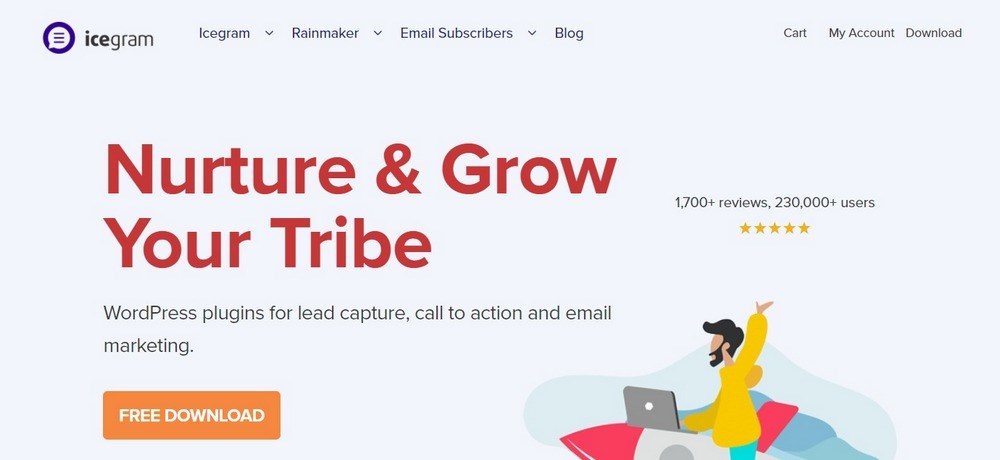 Icegram has a free and a premium version but for the full OptinMonster alternative experience, you'll need premium. This is a WordPress plugin that comes with over a hundred popup designs and slide-ins.
Icegram will integrate with most email applications, works seamlessly inside WordPress, comes with A/B testing tools and a range of configuration trigger rules for intelligent engagements on the page. You can also use geo targeting and page-level targeting for even more focus.
Icegram is ideal for small businesses or websites who want nothing more than to collect email contacts for later use.
Key Features of Icegram:
Easy to use
100+ popup and slide-in designs
Intelligent trigger and targeting rules
A/B testing tool
Fully responsive and fast loading
Why is Icegram a Better OptinMonster Alternative?
Icegram is ideal for websites who don't want the full suite of tools provided by OptinMonster. Icegram delivers popups for building your email list and is focused on that.
Icegram Pricing
Icegram costs $97 per year for Pro and $147 per year for Max. There is also a free version with basic features.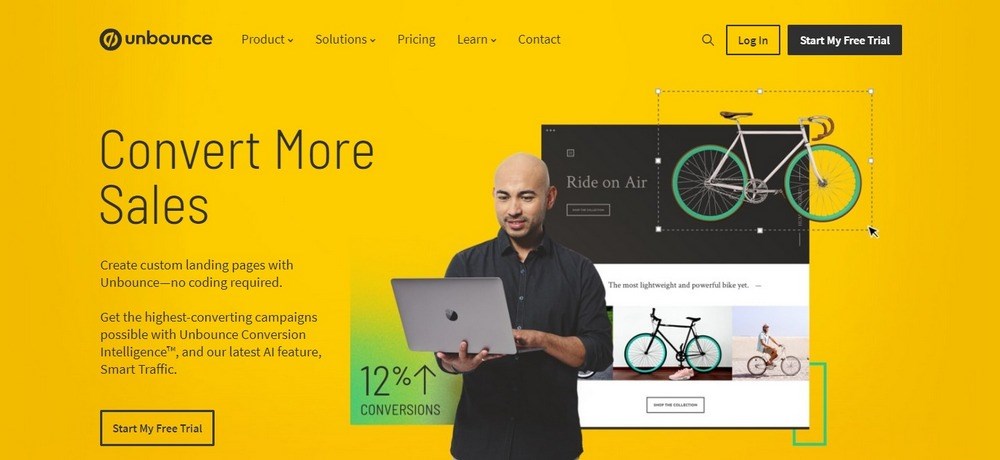 Unbounce is primarily a landing page builder but has expanded to include popups and opt-in bars to help build your email list. It uses the cloud model to deliver services and has a neat drag and drop form builder to help create the perfect look for your pages.
Unbounce has a lot of smart triggers for popups including page activity, location and other metrics. You can also switch keywords depending on whether the visitor searched using a specific keyword or not.
It's a very smart tool that could be ideal for larger websites or businesses who want more from their email lists.
Key Features of Unbounce:
Drag and drop form builder
Part of a much wider landing page and marketing platform
Smart popup triggers
Intelligent popups with keyword switching option
Fully responsive
Why is Unbounce a Better OptinMonster Alternative?
Unbounce has a completely different look and feel to OptinMonster. If you like how it feels, it's a much easier platform to get to grips with. If you're marketing using landing pages or other tools, Unbounce delivers there too.
Unbounce Pricing
Unbounce costs from $80 per month up to $300 per month.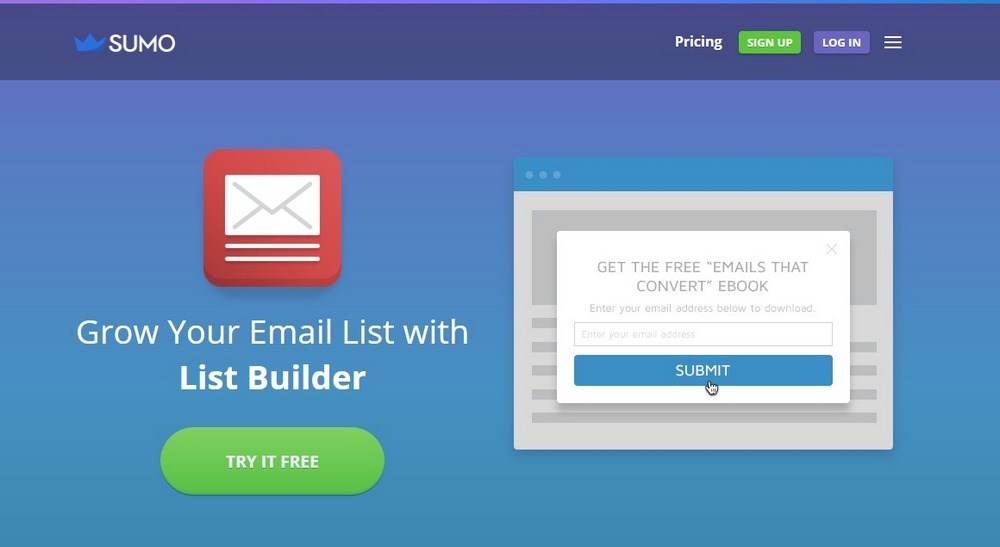 Sumo List Builder is part of a wider Sumo email marketing suite that includes popups, social sharing, email app integration, a drag and drop form builder and lots of tools for building forms and collecting contacts.
The List Builder has a large library of predefined popups and a builder for total control over their look and feel. The main intent of Sumo List Builder is to be easy to use and deploy and while it doesn't have the advanced tools of some other OptinMonster alternatives, it makes up for that by being very accessible.
If ease of use and simplicity is a priority, Sumo List Builder delivers.
Key Features of Sumo List Builder:
Intuitive form builder and customizer tools
Can choose different popups for different visitors
Very easy to get to grips with
Fully responsive
Part of a wider suite of marketing tools
Why is Sumo List Builder a Better OptinMonster Alternative?
Sumo List Builder doesn't have as many features as OptinMonster. What it does have is an intuitive, easy to use interface that can have you building and installing popups in less than ten minutes. If accessibility and ease of use is your priority, this could be the plugin for you.
Sumo List Builder Pricing
There is a free version of Sumo List Builder while premium costs $39 per month.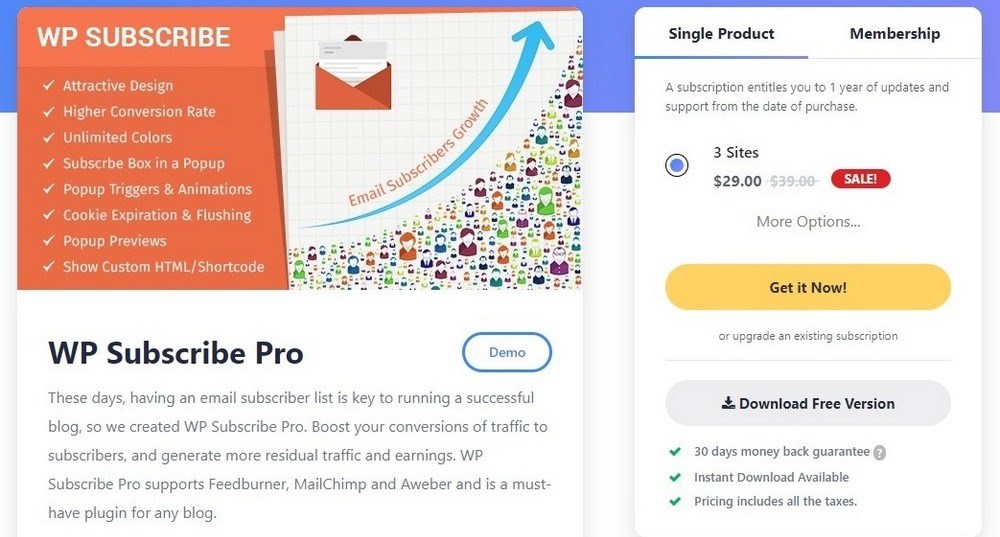 WP Subscribe has been designed to be accessible to anyone and very straightforward to use. It doesn't have as many features as other OptinMonster alternatives but it makes up for it in its simplicity and ease of use.
WP Subscribe uses a drag and drop form builder with a selection of templates, intelligent triggering on entry, on action and on exit. It also integrates with leading email tools, works with WordPress caching tools and most marketing plugins you're likely to use.
WP Subscribe could be the perfect tool for any website that wants a reasonably powerful tool for adding opt-ins and managing them.
Key Features of WP Subscribe:
Drag and drop form builder with lots of options
Fully responsive and fast loading
Integrates with email tools like AWeber and Mailchimp
Multiple popup trigger types
Designed for ease of use
Why is WP Subscribe a Better OptinMonster Alternative?
WP Subscribe is much cheaper and much easier to use than OptinMonster. It doesn't have the depth or breadth of tools but what it does, it does very well. If you're looking for reasonably intelligent opt-ins for a website, this could be all the plugin you need.
WP Subscribe Pricing
WP Subscribe costs $29 per year. There is also a basic free version.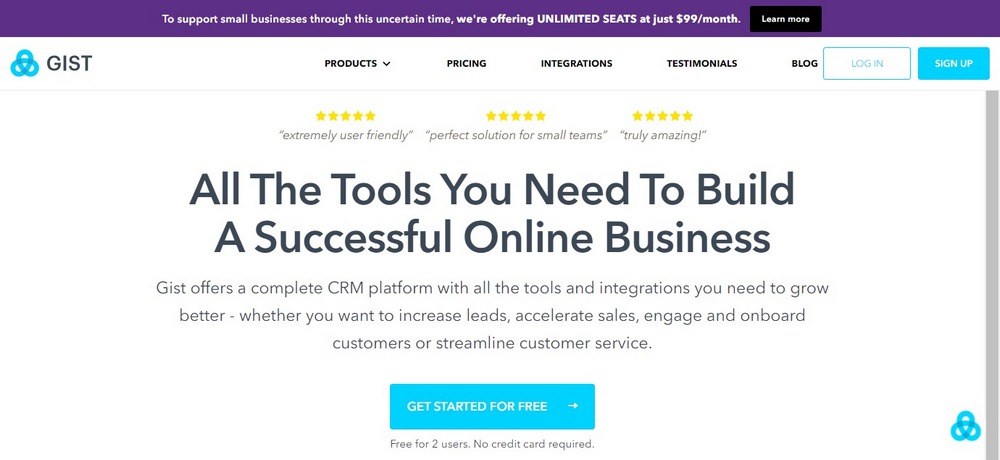 Gist is a feature-rich marketing suite based in the cloud. It offers email, website automation, chatbots, live chat, live meetings, lead capturing and a whole lot more.
Gist is on a different scale to WP Subscribe. This is an entire suite of tools designed to help websites engage better. It is based in the cloud and includes opt-in forms, chat tools and everything you could possibly need to collect leads, engage them and convert them.
Gist is more suited to established websites with an existing income who want to maximize their reach and potential.
Key Features of Gist:
Full marketing suite that includes email
Drag and drop form builder
Supports multi-step forms and popups
Multiple form types that support different triggers
Integrates with the wider suite of marketing tools
Why is Gist a Better OptinMonster Alternative?
Gist competes very closely to OptinMonster. It has a similar wide scope of tools and is based in the cloud. It is also well designed, relatively simple to use and includes some powerful advanced tools and reporting. There's a free version too.
Gist Pricing
Gist has a basic free version and two premium plans costing $19 and $29 per month.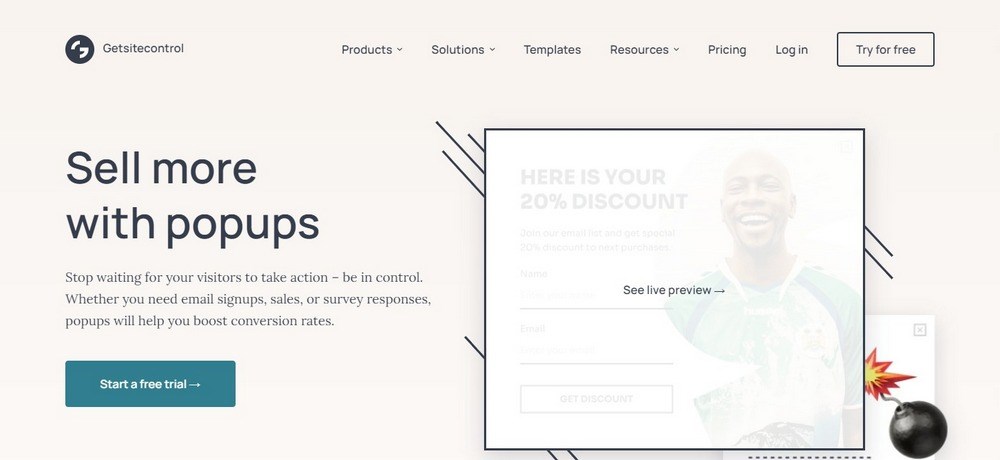 Getsitecontrol is a cloud tool that uses widgets to integrate within WordPress. It specializes in building email lists but also includes live chat tools, notification bars, popups, social media sharing, surveys, contact forms and a whole lot more.
Getsitecontrol has a lot going on but keeps everything manageable with a well-designed dashboard. You can use a drag and drop form builder and then integrate it into your site with a shortcode widget. All tracking and testing can then be performed from your dashboard. It's an elegant solution that works well.
Getsitecontrol is suited to websites with an existing following who want to extend or expand their email engagement.
Key Features of Getsitecontrol:
SaaS solution based in the cloud
Powerful drag and drop form builder
Also comes with live chat, surveys and other tools
Uses behavioural triggers for intelligent engagement
Fully responsive
Why is Getsitecontrol a Better OptinMonster Alternative?
Getsitecontrol feels easier to use but has similar powerful tools to OptinMonster. The inclusion of live chat and social media elements is also in its favour. It is also much cheaper!
Getsitecontrol Pricing
Getsitecontrol has a free option and three premium plans that cost from $7 to $28 per month.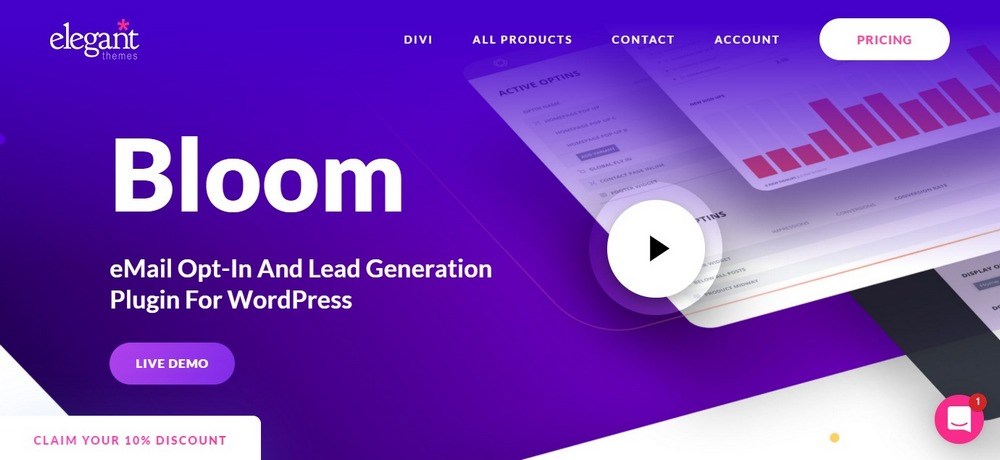 Bloom is an email opt-in plugin from Elegant Themes. It's a fully-featured plugin with its own form designer, over 100 form templates, intelligent triggering, email integration with leading tools like MailChimp and a range of powerful options to make the most of email.
Bloom uses the same design flair and ease of use you see in the developer's themes. The dashboard is easy to use, intuitive to learn and should have you building your own form in minutes. If you don't want to build your own, there is a library of popups, inline forms, slide-ins and others for you to use.
Bloom is a very viable option for existing Elegant Themes members.
Key Features of Bloom:
Superb form design tool
100+ predesigned form templates
Wide array of form types
Intelligent trigger options
Very intuitive dashboard
Why is Bloom a Better OptinMonster Alternative?
Bloom is much easier to use than OptinMonster. It might not be able to do all the things OptinMonster does, but what Bloom does, it does so very well.
Bloom Pricing
Bloom is a premium plugin that requires membership to Elegant Themes to access. That costs $89 per year or $249 for a lifetime licence and includes access to all products.
Features to Consider When Choosing a Lead Generation Tool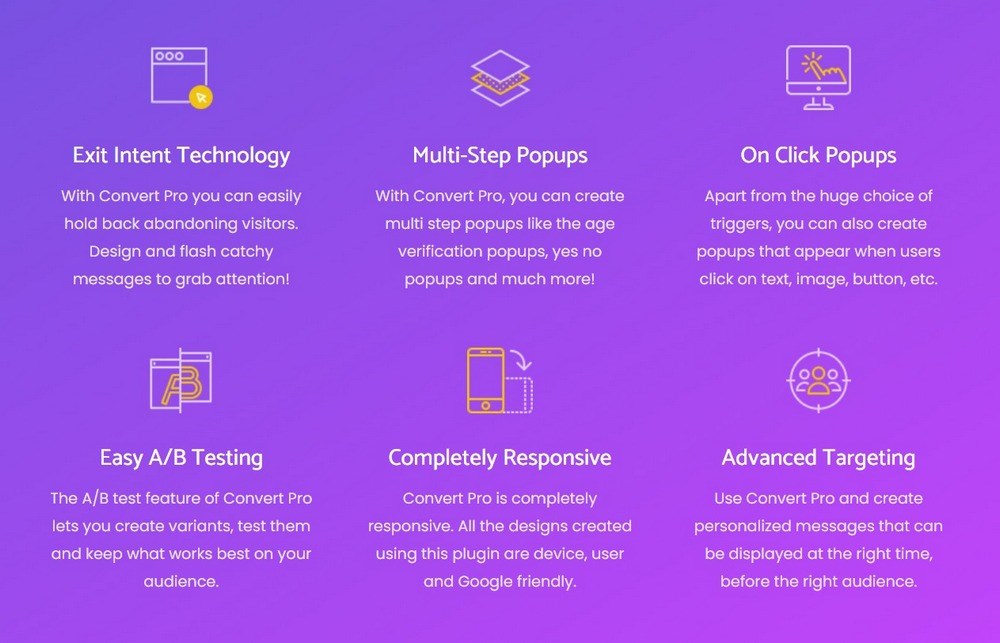 Now you have a good idea of the OptinMonster alternatives out there and what they can and cannot do, let us provide some tips for choosing a lead generation tool.
Namely, the features you should look for when shortlisting:
Usability
Usability should be at the heart of any product or service you use. Many tools assume existing knowledge of conversion, of HTML or CSS or of how to build forms within WordPress.
Most of the lead generation plugins in our list are easy to use and come with drag and drop form builders. If you're familiar with Elementor or Beaver Builder, you should be able to build your own form in minutes.
Readymade Templates
Readymade templates are a real benefit. If you don't have the time or eye for design to build your own forms, having a library of premade forms to choose from saves time and effort.
If those predefined forms look attractive and can be customized slightly to fit into your website branding, all the better!
Mobile Responsiveness
According to recent reports, over half of internet users now access the web using their phone. In 2020, approximately 50.88% of people used the web using mobile with just 46.39% using desktop.
That means your website and anything you use on your website has to be fully responsive and work on mobile. No website wants to alienate half their visitors!
Analytics
You need to see what works and what doesn't. Even if data isn't your thing, knowing how effective your lead generation efforts are is essential. Where people engage most, where they come from, what they do and so on.
Analytics and A/B testing both contribute to this and is something all good lead generation tools will include.
Integrations With Email Marketing Tools
Generating leads is only half the story. Once you have them, you have to engage them. Most of the OptinMonster alternatives here don't include email outreach tools so you'll have to use one.
Integration with email tools like Mailchimp, AWeber and others means the two can share the email list and work together to help promote your website.
Exit-Intent Technology
Being able to identify where, when and why a visitor is leaving your website can help reduce abandoned carts and increase time on page. You can use exit-intent triggers to show a popup or final form to the user just before they leave the page.
You can use the form to ask for feedback, to show an upsell or to convert using an incentive. It's a powerful marketing tool and something all WooCommerce stores should use.
Advanced Targeting Tools
Advanced targeting is all about showing the right ad to the right person at the right time. Lead generation tools achieve this by offering rules you can configure to control when and where a popup or form appears.
Some tools can also adapt the copy they include to match keywords the user searched for before landing on your site!
A/B Testing
A/B testing is vital for figuring out what works and what doesn't for your audience. By creating two versions of your forms, you can see which works best and refine your approach gradually over time.
You can utilize the better performing forms while steadily improving those that don't perform so well.
It's a slow process but an incredibly valuable one when done right.
Different Kinds of Popups
The ability to use different popup types in different situations can be useful for some websites. Using a popup, slide-in, inline form or something else provides variety so the user doesn't see the same thing all the time and spreads your bets.
Not all users like popups and some will have their browsers block them. For those, you can use inline forms or slide-ins.
Those types of form will also work well for some audiences than others. The ability to use a range of forms means you can appeal to a much wider audience.
Lead Generation and OptinMonster Alternatives
OptinMonster is still a viable lead generation tool that delivers a lot for the money. As with all things, a successful model encourages competition and that's what we have here.
OptinMonster is no longer the only show in town and has some serious competition to cope with.
Some of that competition does everything OptinMonster does while others prefer to work with a much narrower scope.
Either way, these 14 OptinMonster alternatives are giving the incumbent a run for its money and provides you with options when shopping around for lead generation tools!
Which OptinMonster alternative do you use? Do you have any others to suggest? Tell us your thoughts below!