Launching an online business is one thing, and honestly, it's the easy bit. It's another thing to ensure you succeed, which is where the real challenge lies!
Simply taking your business or service online is just not enough. You need to have a clear-cut marketing strategy to reach the target audience. Digital marketing, with its numerous tools, makes this possible.
Creating websites, online ads, and digital marketing are all part of the game. While websites are great for displaying product and service information, they're less effective in turning traffic and leads into revenue.
Are you wondering how to overcome these limitations? How to keep your campaigns fresh? How to track visitors and convert them into prospective customers?
The new age comes with new ideas, and if you've been in the online space for long enough, you will have heard of landing pages.
Using landing pages, you can easily create and optimize dedicated, yet well-planned pages that gain your visitor's attention to a focused goal.
They are fast, easy, and cost-effective. You can customize the landing pages just the way you want!
These small innovations can go a long way in boosting your business.
What Is a Landing Page?
A landing page is like an old-school pamphlet or flyer. It is a single-page marketing website and can also be a standalone page in an existing website. It can easily make a sale or direct a prospective customer where you want them to go.
You can create specific landing pages for particular purposes or audiences.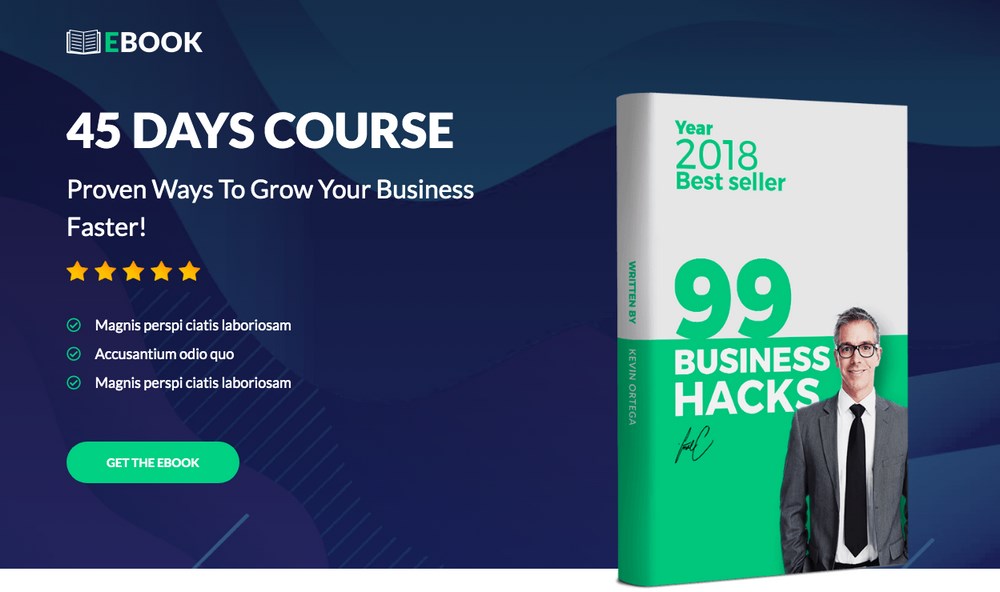 For example, businesses can create a particular landing page for young or more mature customers and focus on particular products as per their requirements.
An appropriate landing page can open up a sea full of opportunities with relevant information and easy-to-take actionable steps. These are very cost-effective in comparison to other business tools.
Why Do We Use Landing Pages?
The benefits are many!
A landing page is an excellent method to drive traffic either to your website as a whole or to a specific product or service. A landing page also helps in brand building and can form an integral part of your PPC (advertising) strategy.
Need more proof? Here are some exciting facts on landing pages,
Considering that a good conversion rate is 10%, the average conversion rate you get from a landing page is 9.7%
While landing pages are the least popular amongst the various types of sign-up forms, they have the highest conversion rate at 23%
There's an average 30% increase in conversion rate when businesses incorporate optimization software into their landing pages
Want to increase the average landing page conversion rates by 80%? Simple, address your buyer's fears on the landing pages
Include personalized CTAs (Calls-To-Action) to improve conversions up to 202%
65% of the top landing pages include the business name in their title tag
36% of the top landing pages include customer testimonials, and 11% of them include reviews.
(Source: HubSpot)
Those are just a few reasons to use landing pages for marketing. When it comes to promoting, brand building, or conversion, landing pages can play a huge role in your success.
Some additional key benefits of using a landing page are,
A landing page is thoroughly dedicated to visitors' attention and focus. It quickly urges the visitor to sign-up for more information or make a purchase.
It is a cost-effective tool to market the business. It is not involved like websites but more straightforward. The costs of creation and maintenance are comparatively low.
Supports marketing campaigns
Landing pages offer considerable support to marketing campaigns by capturing leads and sharing the messages to a particular audience.
It is easy and quick to create and code with any standard CMS, including WordPress.
Considering landing pages can be an integral element in your online marketing strategy, shouldn't you include them in your business?
Fortunately, creating a landing page is easier than you might think. It's all about getting your message across to your target audience.
A well-crafted landing page addresses the customer pain point right up front. It then provides the solution, lists the benefits, and then offers a CTA (Call-To-Action) that will bring you the desired result.
Features of a Good Landing Page
OK. First things first.
Your website home page is not your landing page. Well, technically, it is. But not when you are explicitly promoting a particular product or service.
Ideally, you'll be sending targeted traffic to a specific landing page that provides an appropriate solution and a discounted offer that your prospects can take advantage of. The ideal landing page must have a single focus, a single point and no distractions.
Here's a good example of a landing page…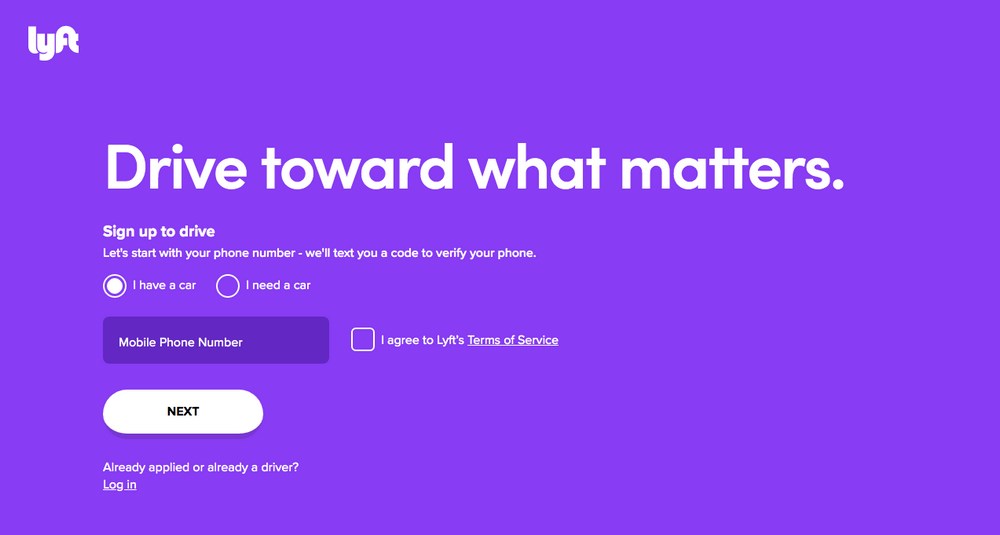 So, what are the features of a good landing page?
A captivating headline catches attention and engages the audience. An exciting headline hooks the reader enough to make them want to read more.
While crafting a landing page, it is essential to put-up a strong call-to-action so that you can guide your visitors into taking immediate action, such as downloading an ebook, or subscribing to your newsletter, signing up for a free trial period, and so on.
Too little or too much copy can be confusing. It is essential to share the right amount of information with the visitor. The idea is to convince them with relevant information and motivate them to take action. You can also highlight specific offers and discounts that are difficult to resist.
Using format tools including bullets, numerals, bold copy, italics, and more helps to guide the reader down the page and towards the call to action while communicating the core message.
Engage through different media
Images, videos and Gifs into a landing page can be exciting and encourages the reader to stay. Landing pages with these rich media tend to get more attention.
Customer testimonials, trust signals, and statistical evidence helps overcome objections, create trust and allay any fears the reader may have.
A simple, well-written form that requires minimal input from the reader is an effective way to encourage engagement and conversion.
17 of the Best Landing Page Builders
Are you wondering how to create effective landing pages?
We've created a list of page builders all set to help you create effective landing pages. Let's begin!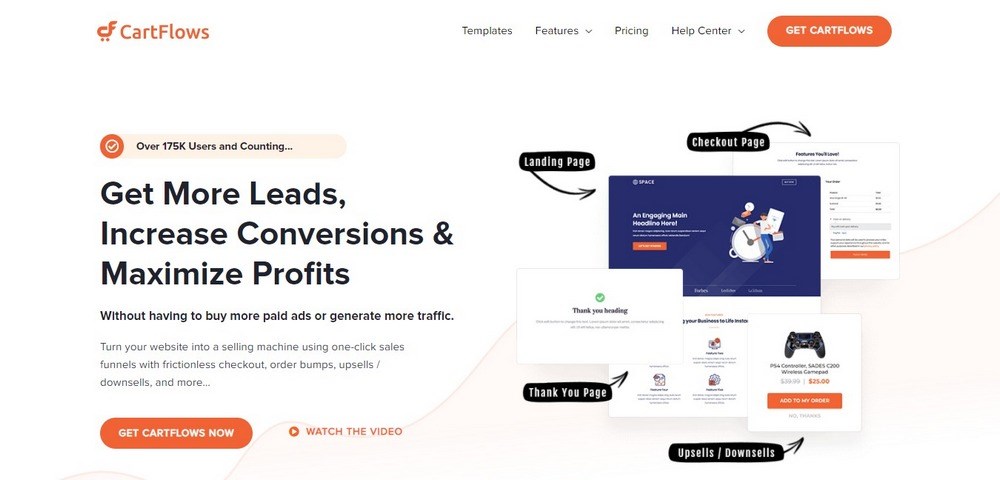 CartFlows works alongside WordPress and WooCommerce to help you quickly create a landing page.
With the available professionally designed templates, CartFlows helps you create highly converting and effective landing pages.
Simply install the CartFlows plugin, import from one of the high-converting landing pages, and you are good to go!
You can import a template based on your preferred page builder.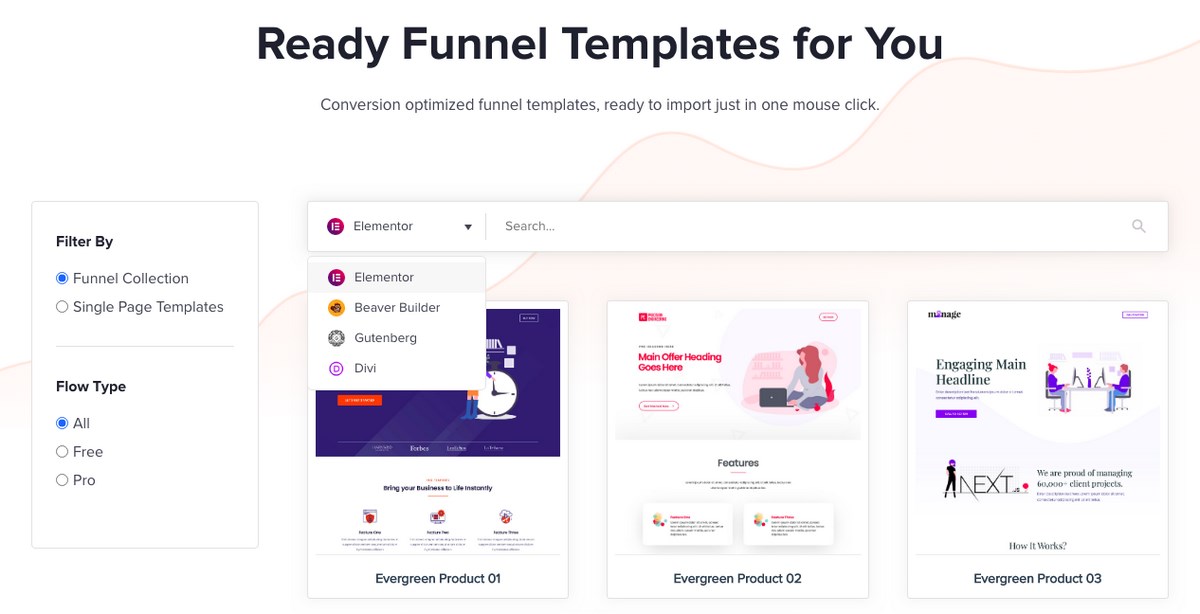 Apart from the default Gutenberg page builder, you have the option to work with other popular page builders, including Elementor.
Elementor is a popular WordPress page builder plugin that substitutes the basic WordPress editor with a better live frontend editor. With this plugin, you can experiment through complex layouts and visually design the page.
To help you easily create landing pages using CartFlows and Elementor, we've included a detailed video tutorial.
Features
Using the CartFlows One-Click Upsells feature, you can easily create several additional offers after the visitor has taken the initial action on your landing page.
Create multiple versions of your landing page and identify which version converts better with A/B split testing.
Choose from a range of high-converting templates or create your own flow. The option is all yours!
Generate leads by creating landing pages on the fly using the CartFlows Optin feature.
Checkout the CartFlows features page for a detailed list of features.
Pricing
You can download and start using CartFlows absolutely for free from the WordPress repository.
However, to exploit the features mentioned above, such as one-click upsells and downsells, and order bumps, on your landing pages, you need to upgrade to the premium version.
The premium version starts from $199 per year for a single site license. You could try the CartFlows Pro plugin for a 30-day free trial period.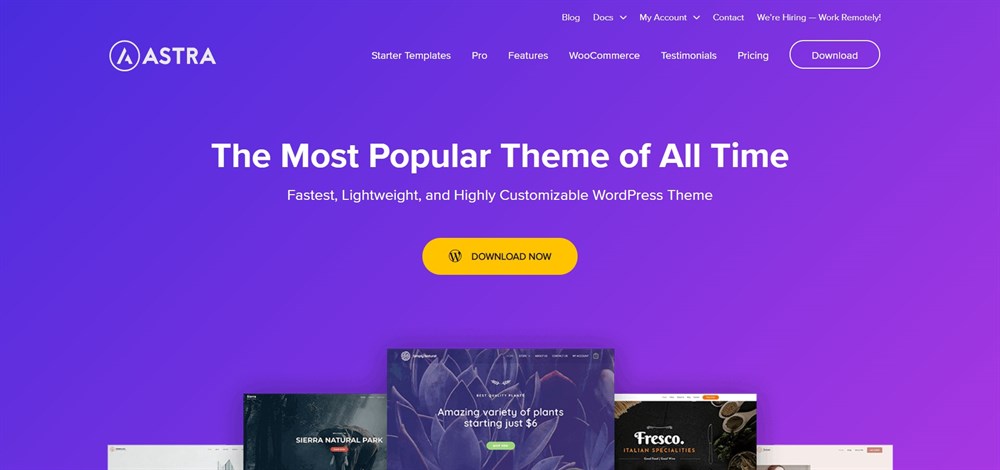 OK. Before we move on to the next few options, it's essential to understand that any page builder can be used to create great landing pages with the Astra theme.
Be it Elementor that's just been covered, or the page builders yet to be covered such as Brizy, Beaver Builder, Thrive Architect, SeedProd, and so on, they all can be used to create landing pages easily.
A landing page typically doesn't have a header and a footer. And once you have installed the Astra theme, you can easily disable the header and footer using the Astra meta box settings on any specific page or post.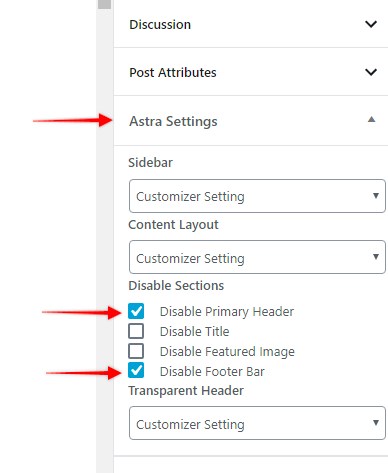 With the number of available starter templates, you can create landing pages for just about any industry and niche.
Now, let's jump on to the individual page builders.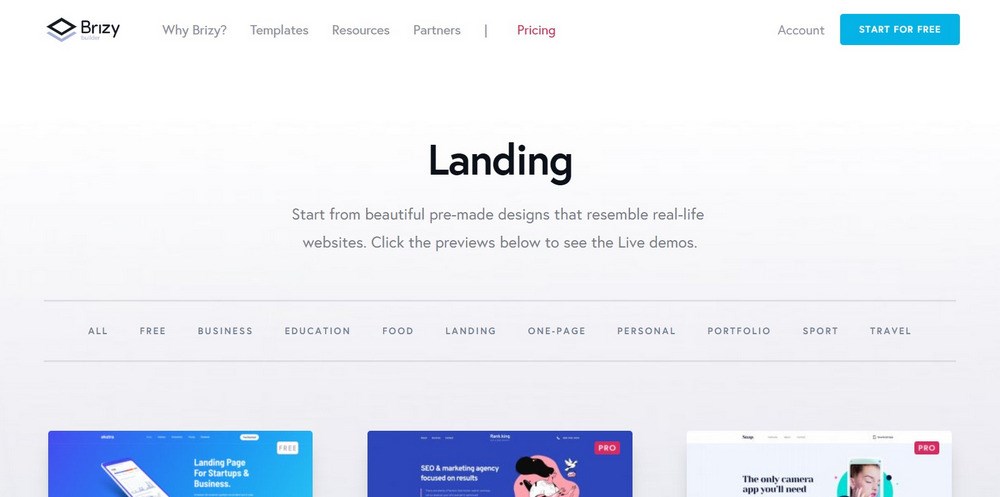 Brizy is a WordPress page builder that allows you to create websites and landing pages easily with just about any WordPress theme. With its intuitive drag and drop feature, 500+ blocks, and more, using Brizy to create sites and pages couldn't be easier.
There are lots of free and premium Brizy templates available in the market that will certainly help building a website with Brizy Builder.
Features
The visual drag and drop builder helps you create awesome websites even if you have no experience creating websites.
Using Brizy's smart content tools, you can speed up your design workflow that shows each element's best options right above it.
Every website and page created using Brizy can be optimized to look perfect on all screen sizes.
Pricing
Download and start using Brizy for free from the WordPress plugin repository. The premium plans start from $49 per year and can be used on up to 3 sites.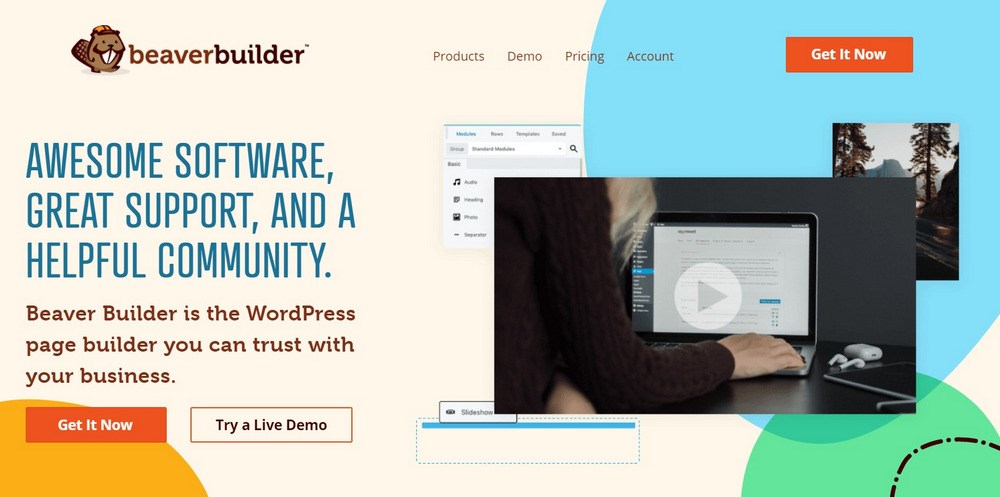 Beaver Builder is a WordPress plugin with a flexible drag and drop page builder. The page builder works perfectly fine with any WordPress theme.
Features
Using Beaver Builder's website builder, you get to work on your WordPress website in real-time.
Use your favorite plugins by easily including shortcodes and widgets.
Any landing page built with Beaver Builder is optimized to work on any device.
The pages are well optimized to show up on search engines.
Choose from the range of templates or create your own.
Pricing
You can start using the Beaver Builder lite version for free, and it can be downloaded from the WordPress plugin repository. To explore features such as contact forms, sliders, pricing tables, blog posts, social icons or pre-designed layout templates, consider going in for the premium version.
It is an excellent alternative to Elementor (Elementor Vs Beaver Builder comparison) and quite beginner-friendly.
The standard plan starts at $99 per year for unlimited sites. Check out the various plans on offer.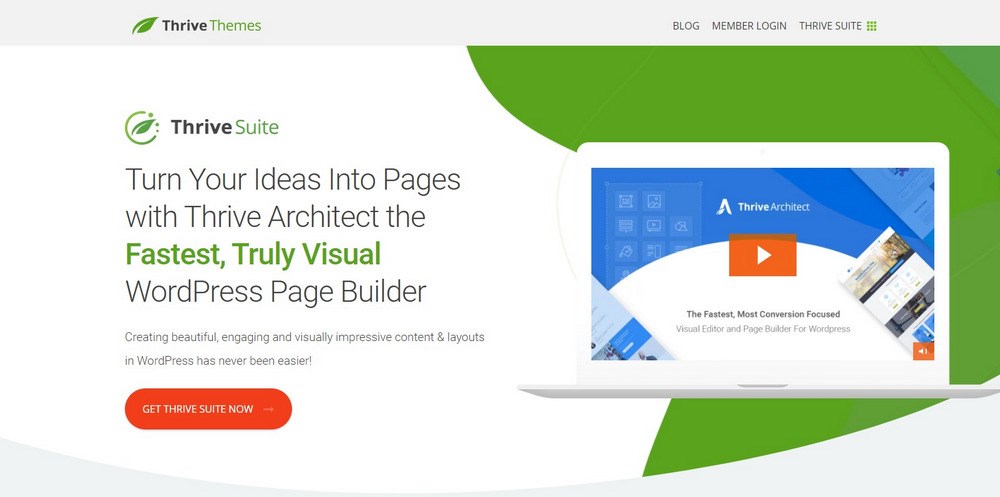 Thrive Architect is a WordPress-based page builder and works perfectly well alongside your current WordPress theme.
Using Thrive Architect's simple drag-and-drop builder along with its 290+ landing page templates, you can have a landing page up and running in no time.
Choose from elements such as countdown timers, CTAs, testimonial blocks, and so on to include on your page and increase conversions.
Features
Create ultra-flexible layouts using the page builder. Easily customize the columns using the drag-and-drop resize columns feature.
Include an attention-grabbing image and text combinations anywhere on your pages.
Using Thrive Architect, you get total control over the typography. With access to 700+ custom fonts, you can create beautiful text layouts.
Instantly preview your landing pages across different screen sizes.
Pricing
To gain instant access to Thrive Architect, you'll need to subscribe to the Thrive Suite. You could opt for a quarterly subscription of $90 or an annual subscription of $228. The subscription allows you to use Thrive Architect on up to 25 websites, in addition to unlimited support and updates.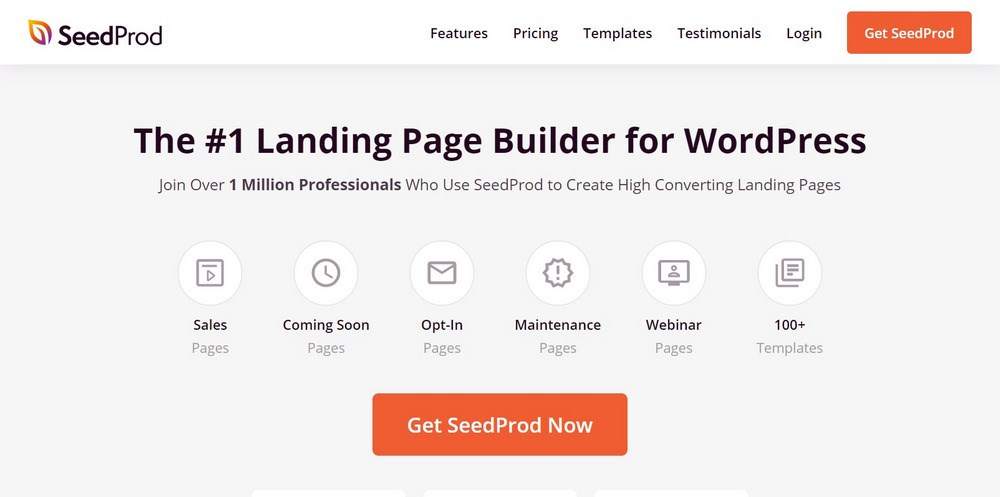 SeedProd is a WordPress plugin that helps you create landing pages and a range of coming soon pages, maintenance mode pages, and custom 404 pages.
Features
Use the drag-and-drop page builder to create high-converting and awesome-looking landing pages quickly.
From sales pages to thank you pages, you can opt-in from a range of landing page templates.
All landing page templates are optimized to display perfectly across all devices.
The landing page blocks are explicitly built to attain the highest conversion.
Get more qualified leads and prospects by using ReCaptcha and protecting your landing pages from bots, spam, and fraudulent submissions.
Create your landing pages and point them to any domain using domain mapping.
Pricing
SeedProd can be installed for free from the WordPress repository. While the free version should do just fine, if you'd like to consider features such as third-party integrations, subscription management, countdown block, and so on, consider upgrading to the premium version of the plugin.
The basic plan starts at $39.50 per year for a single site.
Now that we've covered some of the popular WordPress based landing page builder options, let's look at some SaaS (Software as a Service) based platforms to create landing pages.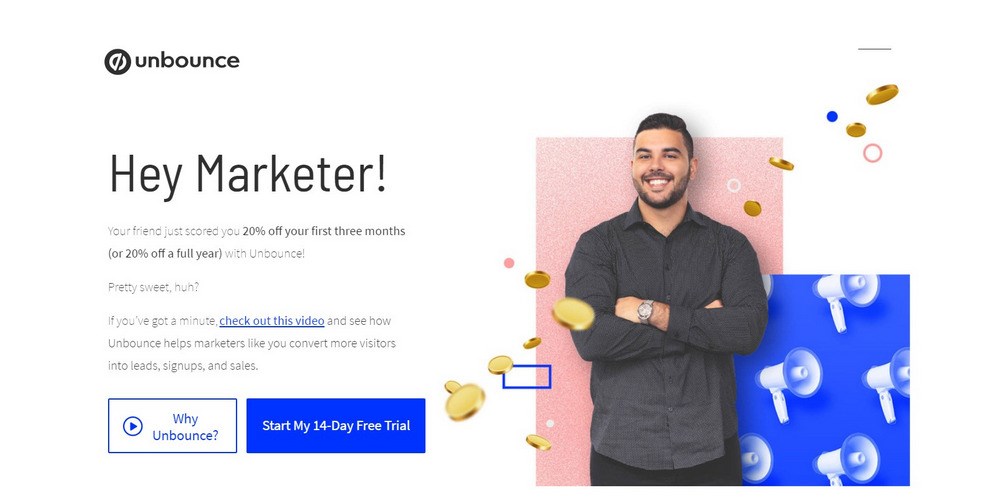 Unbounce is a popular drag-and-drop builder that helps you easily create and publish landing pages. With Unbounce, you can not only create great landing pages, but you can also create popups, sticky-bars, and a lot more.
Features
Some of the features of Unbounce include,
A drag-and-drop builder to easily customize every bit of your landing pages with just a few clicks.
Create landing pages by choosing from a gallery of 100+ high-converting templates. You can also create your own landing page design from scratch.
Easily clone and duplicate landing pages that are performing well.
Once you've customized a landing page, you can copy and paste the elements between pages. This way, you save time and effort from creating landing pages from scratch.
Create Accelerated Mobile Pages (AMP) landing pages that load up to 85% faster, thereby increasing your conversion rates.
Easily publish landing pages to your WordPress site with just a click. Simply install the plugin, and you are good to go!
Publish landing pages to your domain or a custom URL.
Pricing
Based on the number of conversions, website traffic, and the number of domains you'd like to connect, varied pricing plans are available starting from $80 per month. You could try out Unbounce for free using the 14-day trial period.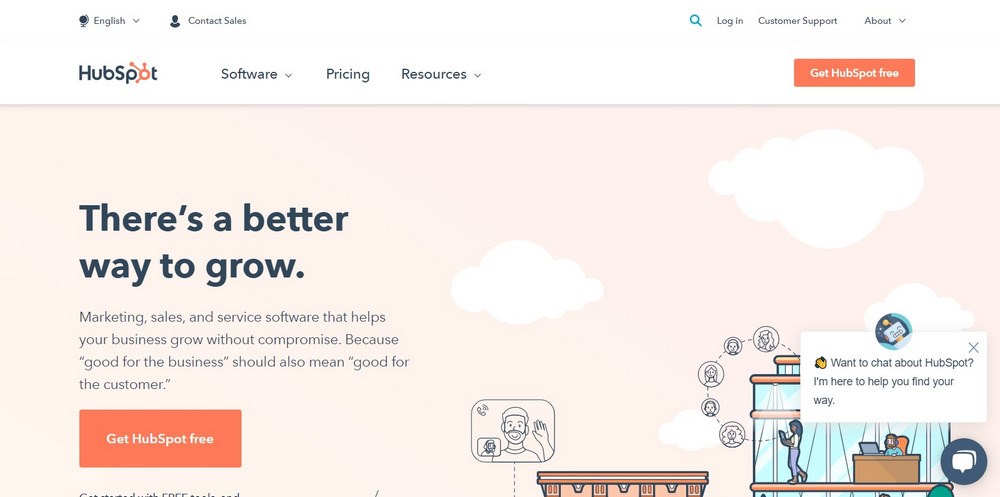 If you are looking for free options to create a landing page, HubSpot is undoubtedly one to be considered. Not only can you create landing pages on HubSpot, but you also get to leverage their range of marketing tools such as forms, live chats, emails, and also bots.
Features
As mentioned, you can start creating landing pages using HubSpot absolutely for free. Some of the features available in the free option include,
Design and launch landing pages from a library of high-converting and responsive templates. Also, create landing pages from scratch using the drag-and-drop editor.
Customizing your landing page's layout, content, forms, and branding was never easier.
Create responsive designs that work well with all devices. Preview your page across various devices before taking it live.
Improve your landing pages' performance by creating personalized content, forms, and Calls-to-Action for every visitor.
Show different content to your visitors dynamically based on their location, device, lifecycle stage, and much more.
Identify the best converting landing page by analyzing, testing, and optimizing for performance, all from the comfort of a centralized dashboard.
Optimize your landing pages for search engines by getting customized SEO suggestions.
Pricing
You can start using the HubSpot landing pages for free. The paid plans are also available. The more you pay, the more features you get.
The starter plan begins at $50 per month. In addition to incorporating live chats, conversational bots into your landing pages, you get to send emails to 5000 contacts. You also get to incorporate up to 3 automated follow-up emails per form and more.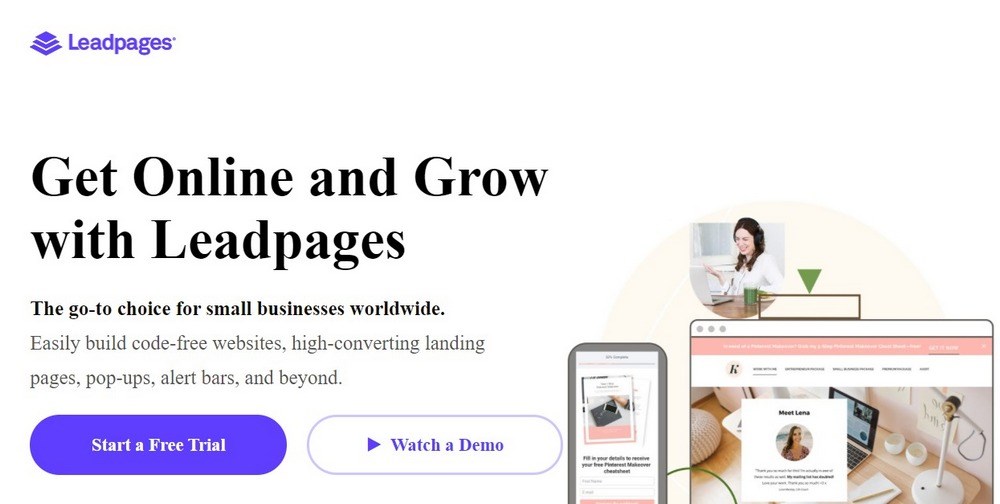 Leadpages is one of the most cost-effective options on the market.
With Leadpages, you can not only create landing pages to collect leads and close sales, but you can also easily create websites, pop-ups, alert bars, and much more.
Using Leadpages, you can get up and running in no time with their DIY websites and landing pages. In addition to the various features available, Leadpages have built-in checkouts that facilitate secure online payments powered by Stripe.
Some additional features include,
Features
Leadpages offers a site builder that lets you create a high-converting website easily with customizations.
Create unlimited landing pages. Your account will also include free hosting using the Leadpages subdomain.
Unlike other landing pages, Leadpages does not place a limit on the leads and traffic.
Capture the contact information from any page by creating unlimited and effective popup forms and sticky bars.
Increase website conversions and improve the user experience with industry-leading page load speeds.
40+ integrations with leading tools such as Google Analytics, WordPress, MailChimp, Infusionsoft, and more. Using Zapier, you can even integrate up to 1000+ apps.
Optimize your landing page for search engines using the easy-to-edit metadata fields and use a wide range of SEO-friendly templates.
Pricing
You can try Leadpages with a free 14-day trial. The paid standard plans start from $37 per month for a single site. With the higher paid plans, you not only get to use Leadpages on multiple sites, but you also get additional integrations and features.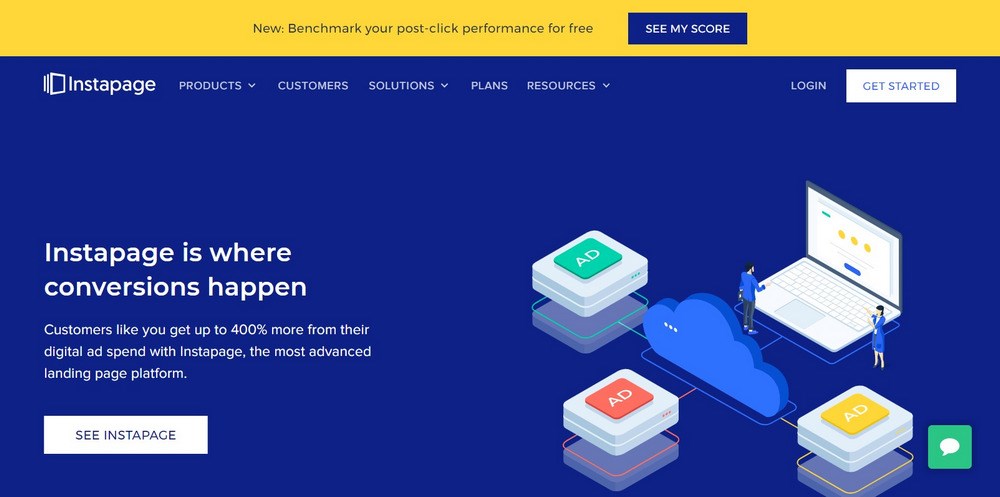 You can instantly create a vibrant landing page using Instapage. Whether you are a solopreneur or an agency, or even a big business house, Instapage is there for you.
With 100s of templates to easy design patterns, you can get it all here.
Furthermore, Instapage is a complete solution for marketers. It helps from lead generation to webinar registrations. Additionally, it also helps in increasing online sales with its mobile-responsive, and high converting and optimized pages.
The easy-to-edit platform makes it unique from all the available landing page builders. The templates are highly customizable, and you can add any image or video. You can do it all without typing a single code.
Use the drag option and create bright landing responsive pages. Instapage supports numerous solutions designed especially for Facebook ads and Google ads.
Features
Instapage features include,
Easily scale with Instablocks, which helps you save, reuse, and update globally.
Launch faster using 500+ professionally designed and customizable layouts built to increase website conversions.
Deliver unparalleled mobile experience using the built-in AMP support.
Pricing
After trying Instapage using their free 14-day trial period, you'll have to consider their paid plan starting from $199 per month.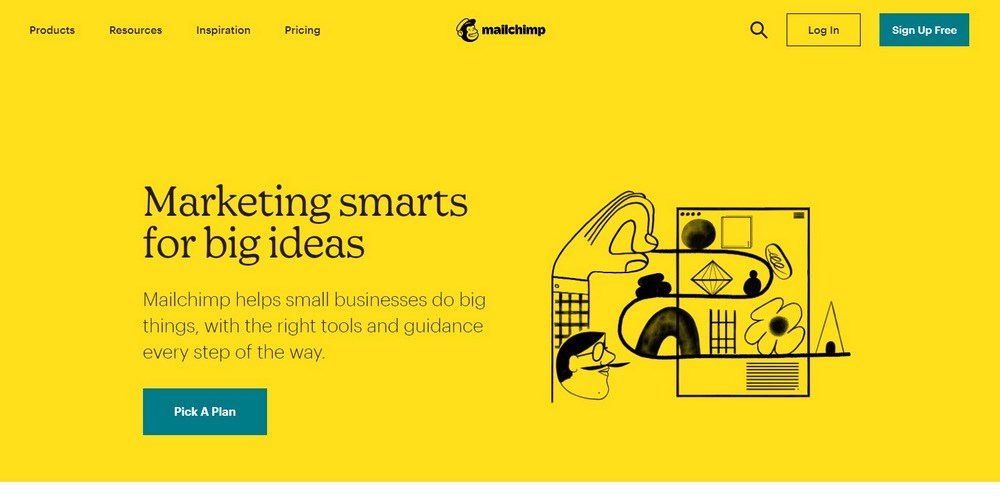 MailChimp helps small businesses take the big plunge with their online presence.
Starting with email marketing, MailChimp now offers impressive features for building landing pages. You can create unlimited landing pages for free.
Features
Easily create responsive landing pages using the drag-and-drop builder. Also, customize the available templates.
Provide the option to sell products and accept online payments right from your landing page without creating an online store.
Use Mailchimp to promote your page on social media and drive traffic directly to your landing page.
Optimize your marketing efforts using the various reports, such as reports based on visitors, clicks and conversions.
Pricing
MailChimp gives you the ability to start for free, up to a limit of 2000 contacts. The paid plan starts from a monthly fee of $10.49.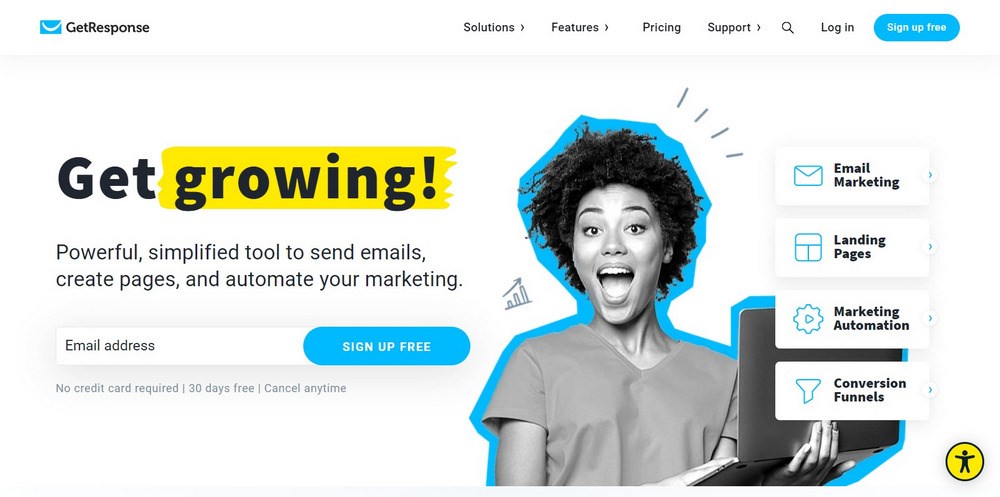 When you sign up for an account with GetResponse, you get to use their landing pages, email marketing, marketing automation, conversion funnels, and much more.
Besides creating stunning landing pages, you can convert your landing pages into a full-fledged online store with conversion funnels.
Features
Choose from various mobile-friendly templates professionally designed for high conversion.
Use the built-in image editor to design your page. Also, choose photos from Shutterstock and gifs from Giphy, all from your GetResponse dashboard.
Use the ready-made sales funnels to display your products and services and watch sales increase.
Easily create landing pages using the drag-and-drop editor. From resize, crop, color, and more, you can customize any element of your page.
Alternate between mobile and desktop view to optimize your landing page for higher conversions.
Run AB split tests to identify the landing pages that are working and those that aren't.
Pricing
Start using GetResponse with their 30-day free trial period. Based on the list size, the basic plan starts from $15 per month. Check out the various GetResponse plans on offer.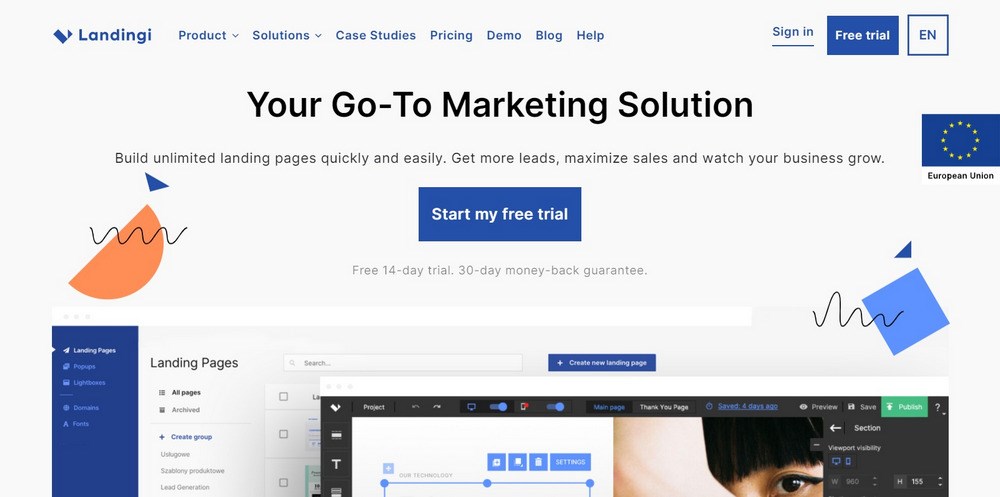 Yet another builder that goes beyond offering just a landing page. Using Landingi, you can create popup builders, sell digital products, integrate payment providers, and a whole lot more.
Features
Build unlimited landing pages easily using the drag and drop editor.
Select from over 300+ highly converting landing pages and popup templates.
Customize each template and element in the landing page, just the way you want to.
Using the smart sections feature, you can save time creating pages from scratch by copying and pasting sections into other landing pages.
Create responsive designs that are accessible across all devices, i.e., mobiles, tablets, and desktops.
Integrate the landing pages into your WordPress website using the dedicated Landingi WordPress Plugin.
Pricing
Start Landingi for free using the 14-day trial period. You can create unlimited landing pages during the trial period and test the platform before deciding on opting for one of their payment plans, starting from $89 per month or $55 per month (if paid annually).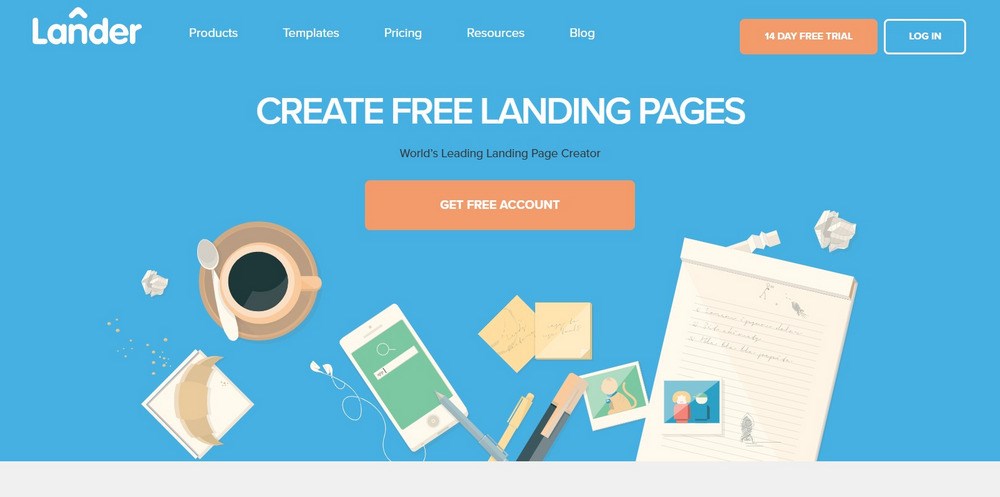 With 100+ pre-designed templates to choose from, you can have a landing page up and running in minutes using Lander. It's visual editor makes it easy for just about anyone to create amazing landing pages.
Features
Using Lander's visual editor and the drag-and-drop elements, you can easily create high-converting landing pages in minutes.
From testing the copy, CTAs, images, color, you can set up A/B testing to identify the landing pages that are converting well.
Integrate your Lander landing page with Facebook. Easily create your Facebook tabs without any other app or coding knowledge.
Pricing
You can try out any Lander plan for free using the 14-day trial period. All the plans include an unlimited choice of landing page templates, A/B Testing, integration with a Facebook fan page, and more.
The basic plan starts from $49 per month, allowing you up to 3000 visitors per month and a single domain.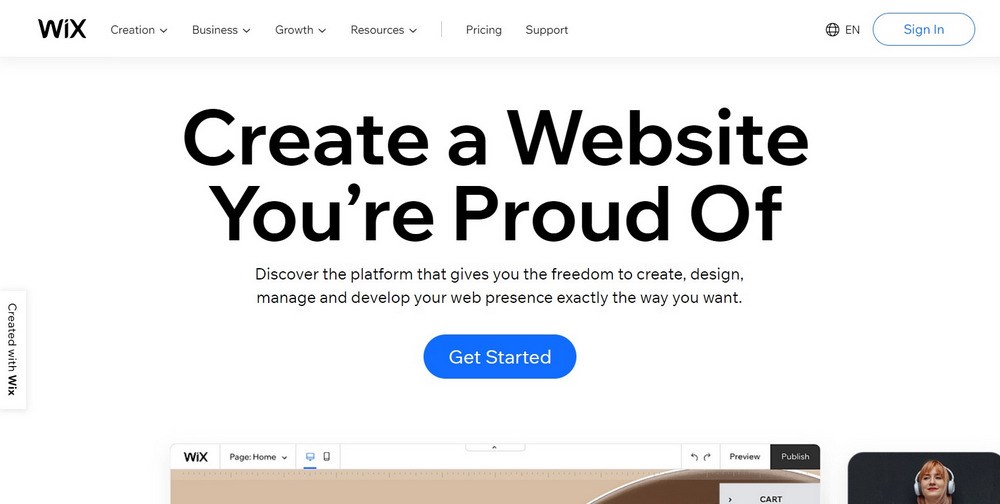 Using Wix's landing page templates, you can create a single-page site or landing page quickly.
In addition to being a website builder, Wix provides complete business solutions. From over 500 optimized and customizable templates, free and reliable web hosting, SEO tools, and 24/7 customer support, Wix provides you with all the tools required to get you started right away.
Features
Some of the features that Wix offers include:
Choose from over 500 stunning templates designed for every business and niche.
Design your website or landing page precisely the way you want to, using the drag and drop editor.
Optimize your page for search engines using your personalized SEO plan.
Create mobile responsive designs.
Pricing
You can start using Wix with a free plan. The free plan gives you 100s of templates to choose from and an option to create unlimited pages. The premium plans start from $13 per month with the Combo plan.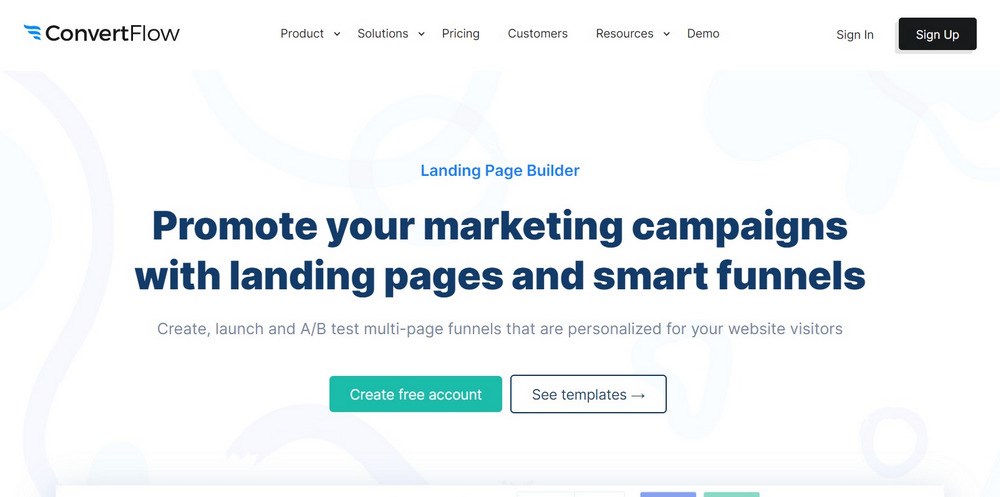 ConvertFlow serves as a complete platform for conversions. It helps create, customize, and launch absolutely everything from popups, surveys, questionnaires, forms, and landing pages with no coding.
Features
Use a responsive visual builder to design and create beautiful landing pages.
ConvertFlow landing pages are all mobile responsive and adjust to any device.
Use multi-step page funnels to increase website conversion rates.
Easily integrate your landing page form fields with your email marketing tools.
Pricing
While you can use ConvertFlow for free, the features are limited. The free plan is perfect for new sites and blogs or testing sites. You can also try out the paid plans, free for 14 days. The paid plan starts from $29 per month.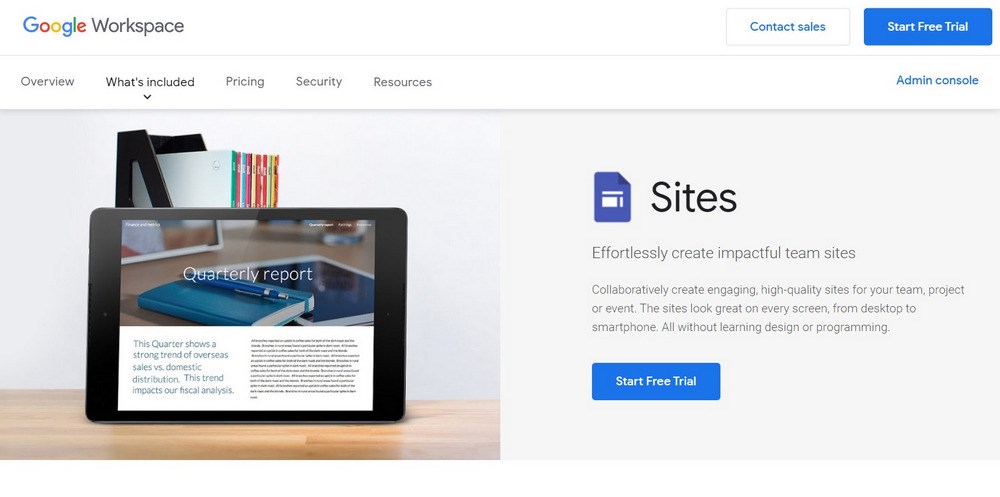 Google Sites comes with a complete solution for those who are looking for easy-to-create landing pages.
It is a free webpage creation and publishing platform.
Creating and managing landing pages on Google Sites is very simple and convenient. All that's required is to follow the steps given, and you will publish an appropriate landing page in absolutely no time.
Pricing
Google Sites is free to use.
Conclusion
Using a landing page is an excellent way to gain your visitor's attention to a focused goal instead of leaving them loose in a world of distraction and noise. More and more businesses are adopting customized landing pages for each of their products and services.
If you have an online business and are not using a landing page, it's about time you did.
While the choice is left entirely up to you, we highly recommend the CartFlows and Elementor option, specifically designed for WordPress and WooCommerce users.
Considering the various features, the range of professionally pre-designed templates to choose from, and the ease with which you can create highly converting and effective landing pages, CartFlows is surely worth considering. Used with an easy to use page builder such as Elementor, creating landing pages has never been easier!
So, which landing page builder option are you using? What product or service are you promoting? Or is there an option we've missed covering in this article? Do let us know!