If you're a podcaster, audiobook author or musician, it's a great idea to host your audio on your website.
Adding audio to your website improves the user experience and connects more easily with people than just text-based content. The multimedia component can also increase engagement, social shares and can even bring in more organic traffic to your website.
If you use WordPress, you can host your own audio content quickly and easily with an audio player plugin.
In this article will discuss the 9 Best WordPress audio players that can enable your visitors to listen to audio content directly on your website.
Why Should You Add Audio Files to Your Website?
If your audience loves to listen, it's a good idea to add audio to your website.
Here are some reasons why adding audio files might be beneficial:
Use as a Lead Magnet
If you're an author and plan on selling your audiobook, you can add a couple of chapters as a preview. In return, you can simply ask for the name and email address of people who try it.
That way, you can start marketing even before your book is launched, and your first customers may even come from this list.
This can work for musician websites as well!
Preview Before Selling
If you sell music on your website, you can add preview clips so a fan can try before they buy. Samples are an essential tool for increasing sales and overcoming hesitancy.
Engage Your Readers
If you write books, magazines or written content, audio is a fantastic way to keep your readers engaged using a different medium.
Adding an audio transcription of your book allows visitors to listen while doing something else. This not only keeps readers engaged but also makes your content accessible to people of all abilities.
With better engagement and higher dwell time, your Search Engine Optimization (SEO) efforts will get a boost as well.
Grow Your Podcast
Hosting your podcasts on your own website allows you to increase engagement, build your brand and grow your audience.
WordPress supports many plugins to get the job done, whatever your requirements may be.
What to Look For in a WordPress Audio Player
Here are some features that you bear in mind while looking for an audio player for your WordPress website.
Playlist feature to organize related audio clips
Integration with the popular podcast or music platforms
Customizable design that enables you to adjust the player design to match your brand
Mobile-friendly UI
Statistics to analyze the performance of your audio
The Best WordPress Audio Plugins You Can Use
Here's a look at some of the WordPress audio player plugins that we will be covering in detail.
1. WordPress Default Audio Player
WordPress includes an audio player by default. You can use it to display and play audio on your website without a plugin. The WordPress player is quite flexible and can be added to any blog post, page, or even turned into a widget.
It also allows you to embed your SoundCloud or Spotify links if you want to embed from these platforms.
How to use WordPress Default Audio Player
To add an audio player into your post:
Click the Add Media button at the top of your New Post page.
Then press Select Files to upload your audio file.
Once added to the Media Library, customize the Attachment Details, then click the Insert Into Post button.
Adding audio to the default player is the same as adding photos or videos. You just have to click on the 'add block' button also seen as '+' and type in "audio" in the search box.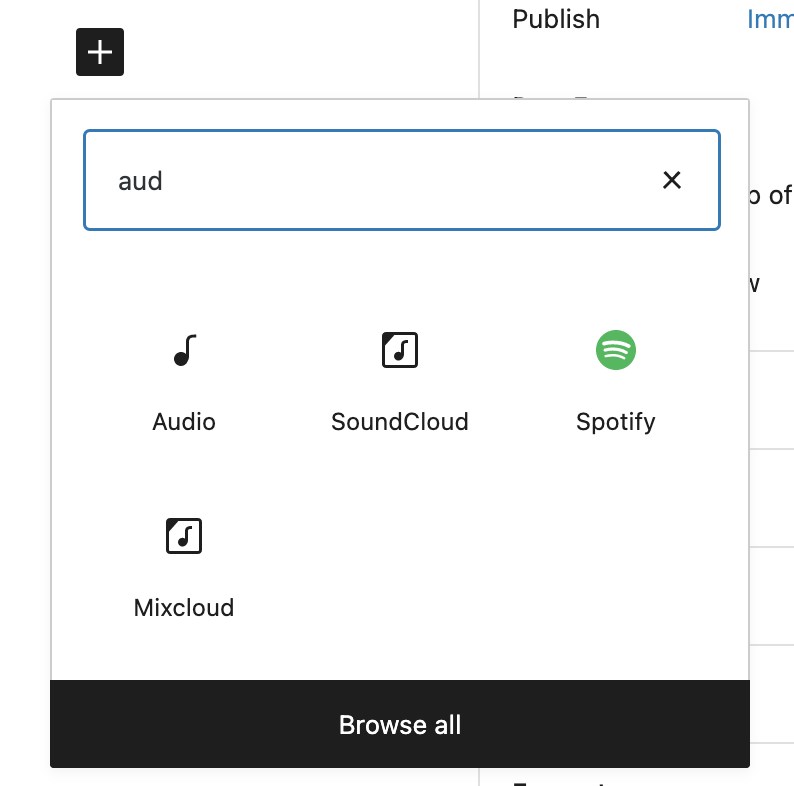 You can choose to embed your Spotify, Soundcloud, or Mixcloud audio depending on your needs.
Or, you can upload music directly into your media library by selecting the 'Audio' option.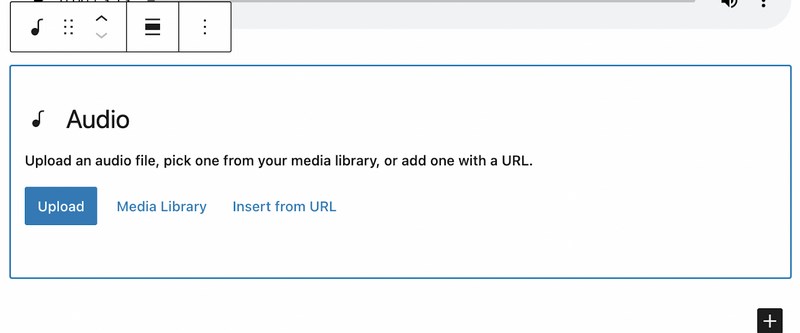 You can directly upload the audio file, which will appear in the shape of a primary audio player.

If you want to add the audio as a widget, simply head over to appearance and go to widgets.
Drag the audio option into any widget you want. Click on 'Add Audio' to add or upload audio files.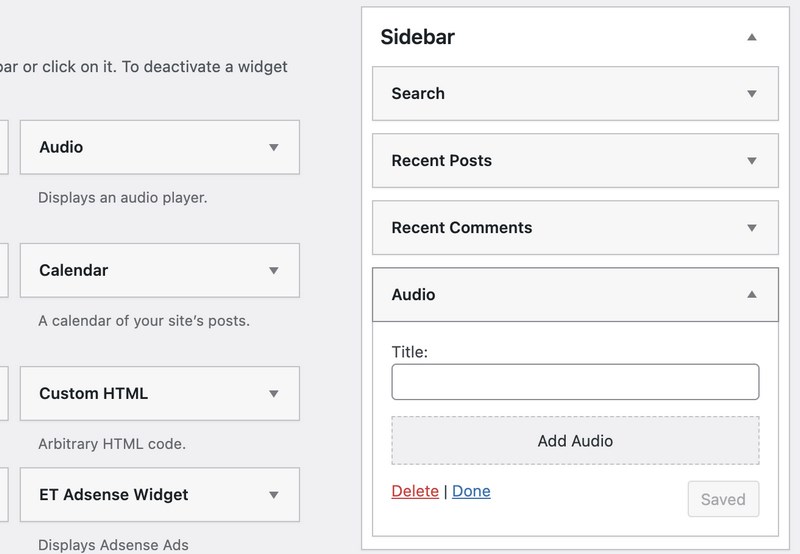 Pros of the Default WordPress Audio Player
The default audio player is pretty sleek and responsive. It can easily fit into any mobile or tablet screen making it very user-friendly. It is perfect for bloggers and business websites who wish to add an audio message to their website.
It supports both .mp3 and .ogg files, and both these formats play seamlessly on any device.
Cons of the Default WordPress Audio Player
The default player lacks functions like sorting your music into a playlist and design customizations.
Price of the Default WordPress Audio Player
The built-in player is completely free to use.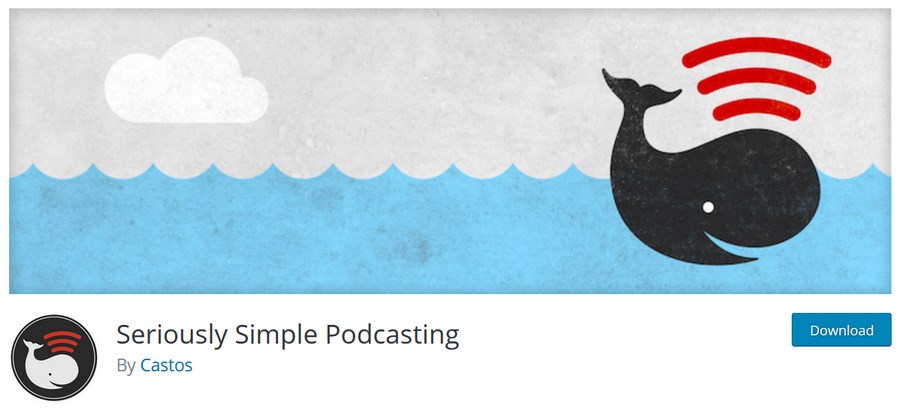 True to its name, the Seriously Simple Podcasting WordPress Plugin is a straightforward and easy-to-use podcasting tool.
This WordPress podcast plugin is perfect for podcasters. You can add episodes and series of episodes just like any popular podcasting site. You can also add a brief write up about your podcasts.
The plugin has an integrated podcast hosting platform called Castos. You can host your episodes on Castos without ever leaving your WordPress dashboard.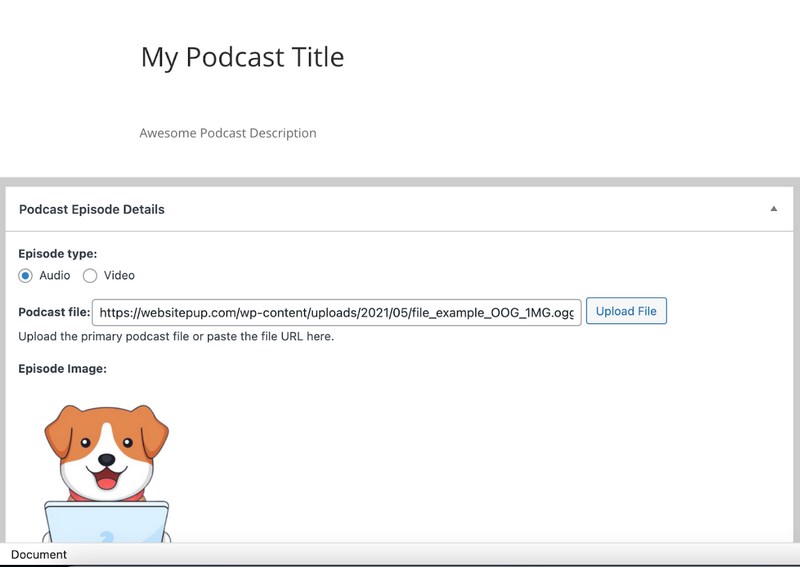 The plugin also allows video and audio format podcasting. It has many extensions where you can check out your podcast analytics, invite multiple authors and even transcribe your podcasts quickly with one click.
The paid feature includes adding your audio to the Castos server which takes the load off your site. This feature enables you to have complete control over your podcasts and still maintain an excellent site speed.
Pros of Seriously Simple Podcasting
One of the best features of this plugin is that every essential need of any podcast website is fulfilled with the free version. The interface is appealing and easy to use. The media player can be customized easily as well.
Cons of Seriously Simple Podcasting
The Seriously Simple Podcasting plugin is great for podcasters and bloggers but you cannot customize the skin in the free plan.
However, with the premium plans, you can get your own customizable podcast web page hosted on the Castos Hosting Platform.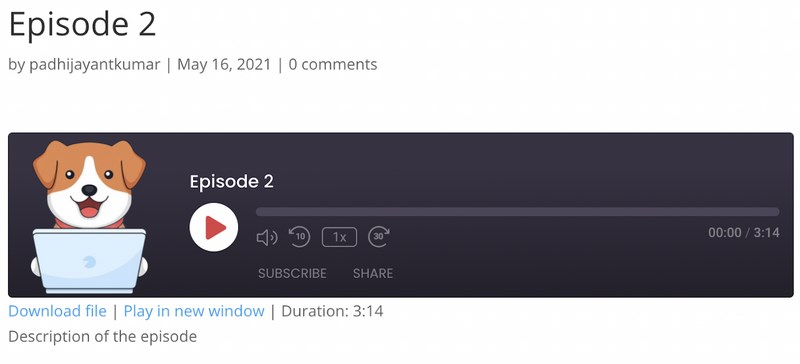 Seriously Simple Podcasting Pricing
The core plugin and most of the addons are free. If you want to host your podcast on the Castos platform, the annual charges come in a 3-tier plan.
Plan
Features
Pricing per year
Starter
Everything in Free
Up to 100 private subscribers
$190
Growth
Everything in Starter
Up to 250 private subscribers
Video republishing to YouTube
Headliner Audiogram Integration without any separate subscription to headliner
$490
Pro
Everything in Growth
Up to 500 private subscribers
Advanced analytics
Video file hosting
$990
All plans come with the podcast editing service by Castos, which is charged per episode.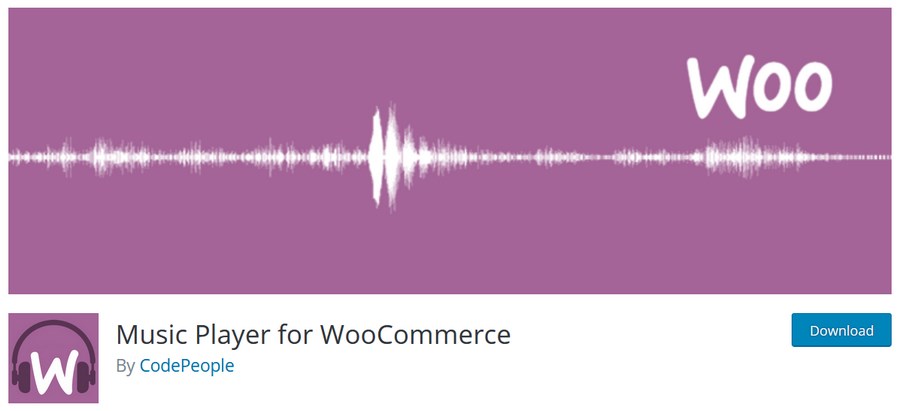 If you are in the business of selling music, this is the perfect plugin for you. The free version covers all the essential functions you will need to add audio to your website.
This plugin integrates seamlessly with WooCommerce and shows up just before the 'Add to cart' button.
In the paid version, you can add a piece of preview music and enable the feature so that your customer gets a sneak peek into your work.
However, the free version only enables the entire file. This allows your customer to listen to the full audio before making a purchase decision but doesn't let you offer a sample to create need.
To bypass this, you can upload preview audio to your eCommerce store and send the final music in the 'Thank You' email after purchase.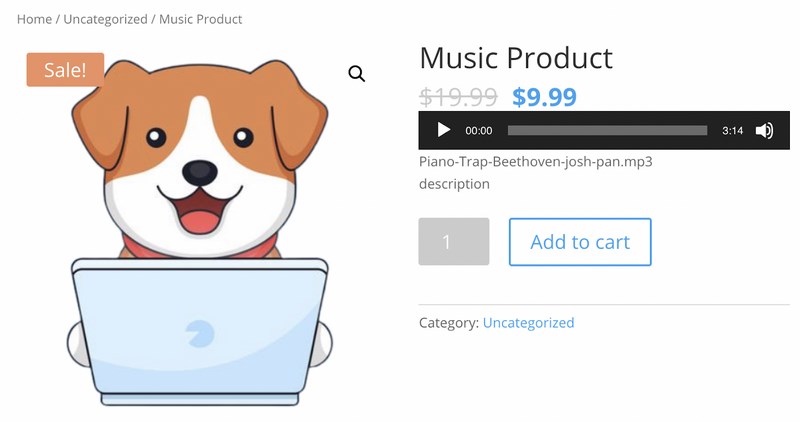 The paid version of this WordPress audio player also allows your customer to play the music in the secure mode, preventing unauthorized download. It supports OGA. MP3, WAV, and WMA music format, which plays seamlessly in all popular browsers.
The free version lacks the variety of available skins in the premium version. Premium also lets you integrate the Music Player for WooCommerce plugin with multi vendor store plugins such as Dokan and WCFM.
You can also create playlists and use shortcodes to add the audio player as a widget, anywhere you want.
Pros of Music Player for WooCommerce
The Music Player for WooCommerce plugin is best for digital product eCommerce, especially audio downloads. Its efficient integration with WooCommerce and almost all WordPress themes make it suitable for use.
Cons of Music Player for WooCommerce
The Music Player for WooCommerce is a great tool if you want to sell your music. But it comes with limited customizations even in the pro version.
Music Player for WooCommerce Pricing
You can get the Music Player for WooCommerce plugin for a one time payment of $30. In the paid plan, you unlock additional skins and integrations with Google Analytics, Google Drive and multi-vendor eCommerce tools.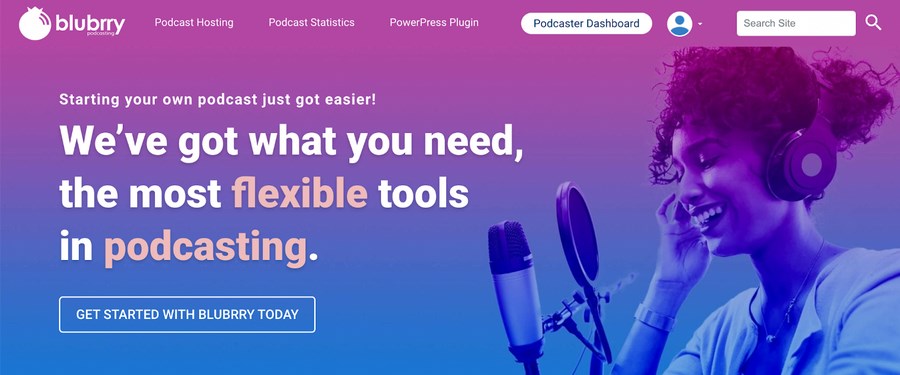 PowerPress By BluBrry is one of the most advanced podcast plugins out there. It is fancier and has many more functionalities than other WordPress audio players on the market.
This plugin's free features deliver many advanced results features compared to similar plugins.
Setting up the podcast is very easy with this plugin. Once installed, you just need to go to the PowerPress Dashboard, and enter your podcast details.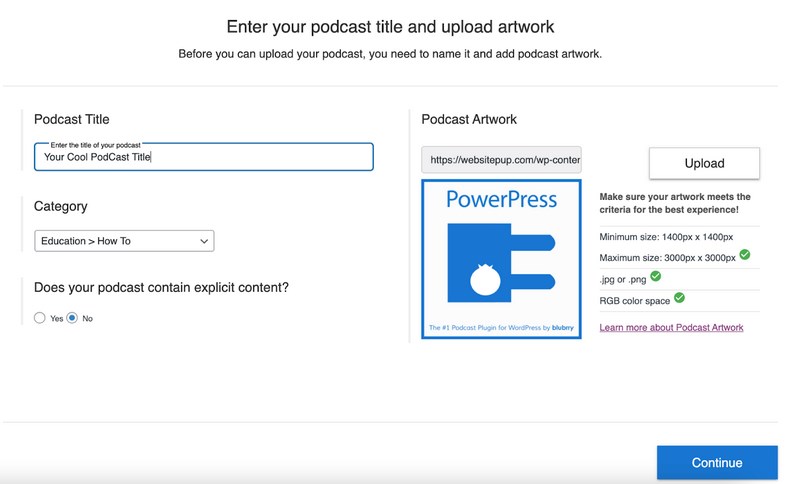 Once set up, you can either host the audio on your website, or you can use Blubrry's paid service where you can host both audio and video podcasts on the platform.
One of the best features of the Blubrry PowerPress Player is that it integrates with major podcast distribution channels such as Spotify, Google, Apple podcast and many others. It also provides a podcast feed for you to submit to any podcast directories.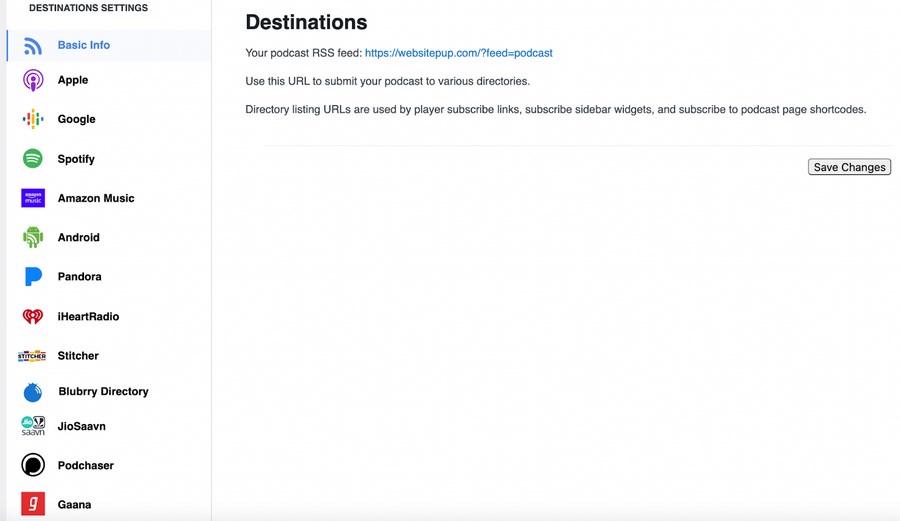 You can easily launch your podcast on any platform once you publish on your website with PowerPress.
Blubrry hosting customers also enjoy a modern audio player that can be completely customized with your brand colors with all the necessary Call-to-Action (CTA) buttons.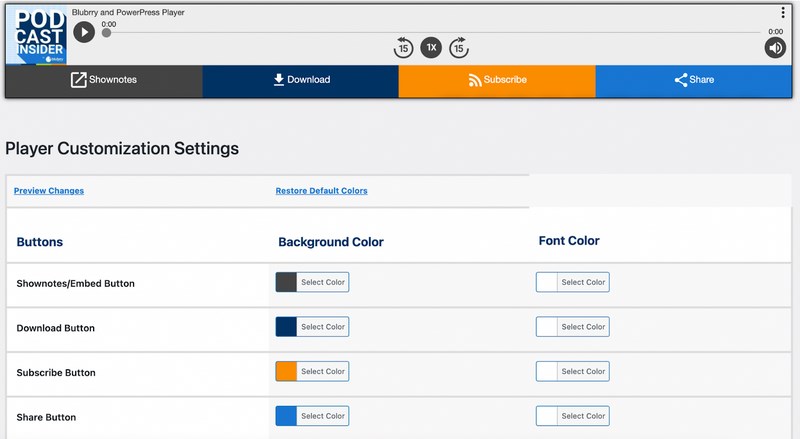 Another great thing about the PowerPress plugin is that the plugin lets you perform SEO, create custom podcast channels, categories, and create playlists with your audio files.
Pros of Blubrry PowerPress
Blubrry PowerPress is one of the advanced WordPress Audio players, and it delivers a lot. The major upsell in this plugin is their podcast hosting plan which, considering the features, is pretty inexpensive.
Blubrry also provides a podcast statistics tool to monitor growth and get insights into the performance of your audio.
Cons of Blubrry PowerPress
The free version of the plugin lacks customization. It is good enough for basic audio functionality, but if you are interested in optimizing your website for the best audio experience, you have to use their hosting service.
Blubrry PowerPress Price
Blubrry has a 5 tier pricing plan, each with better features than the previous. Here is a summary of their pricing.
Plan
Main Features
Pricing Per Month
Small
100MB of monthly storage
Unlimited bandwidth
Podcast statistics
Custom embedded player
Free WordPress site
Free file migration
$12
Medium
Everything in Small
250MB of monthly storage
$20
Large
Everything in Small
500MB of monthly storage
$40
Extra Large
Everything in Small
1000MB of monthly storage
$80
Pro Hosting
Unlimited monthly storage
1TB monthly bandwidth Dynamic ad Insertion
Add-on: advanced Statistics
Network plugin
$100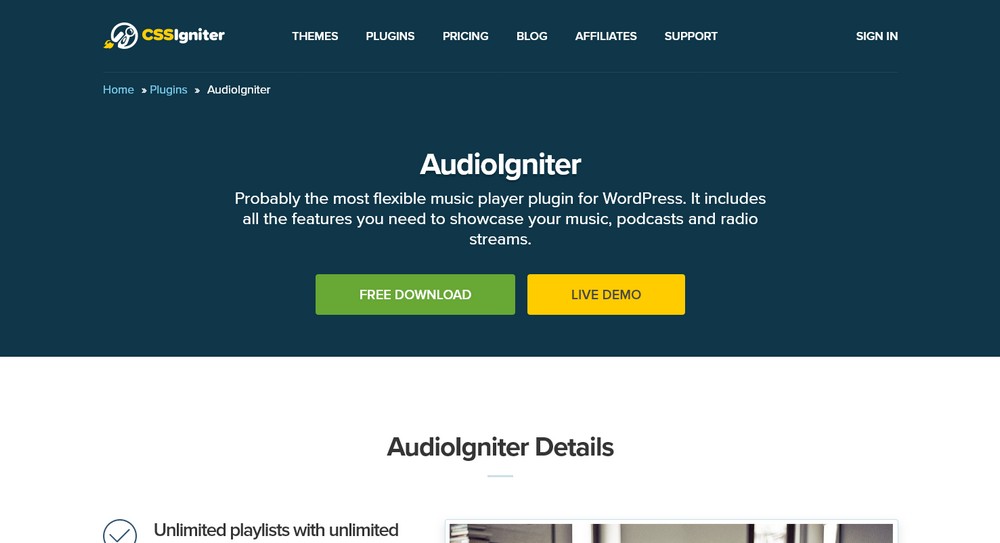 AudioIgniter is one of the most simple, yet powerful, WordPress audio players available. If you're in the music business and love a clean interface, AudioIgniter is the perfect player for you.
The free version displays a clean and professional-looking music player similar to any standalone app with volume control, loops and playlists. The free version of the plugin covers almost all the essential elements needed for a website.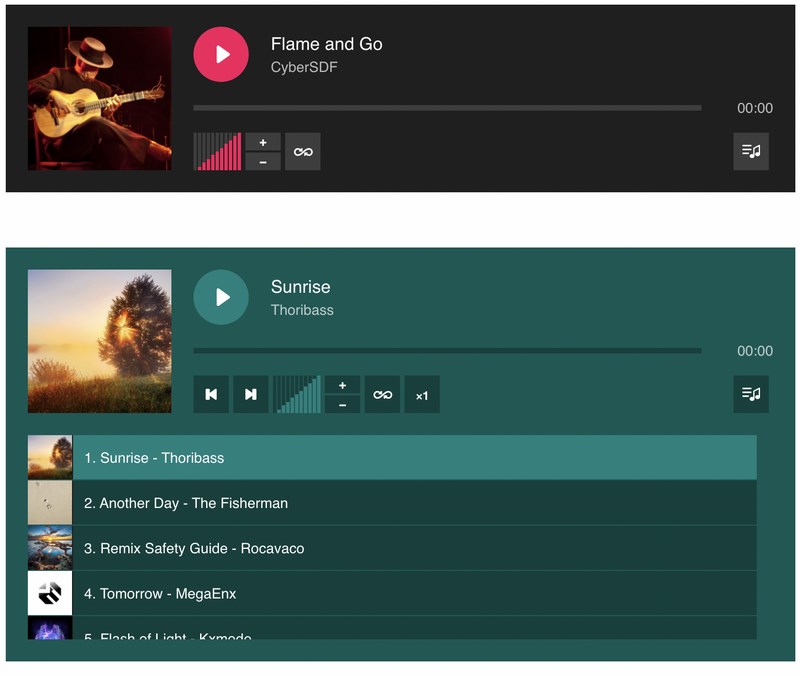 In the Pro version of the plugin, you can customize the skin in your brand colors.
The plugin also integrates with third-party players such as SoundCloud and also supports streaming service through RadioJar.
In addition to that, the Pro version of AudioIgniter comes with Elementor and WPBakery widgets which let you insert the audio player while designing your website.
Pros of AudioIgniter
AudioIgniter is one of the most efficient WordPress audio players on the market. It delivers the same feel as a music company with a beautiful UI and efficient functions.
If you sell music on your WordPress website, you can easily add an "add to cart" button next to the player itself. This will allow your customer to check out quickly which could improve conversion.
Cons of AudioIgniter
Many essential features such as custom styling, track functionalities and website builder widgets are not available in the free version. You need to subscribe to their paid plan to unlock all features.
Audio Igniter Price
AudioIgniter Pro plugin comes with a competitive price of $39 per year. This license can be used on unlimited websites with one year of updates and support.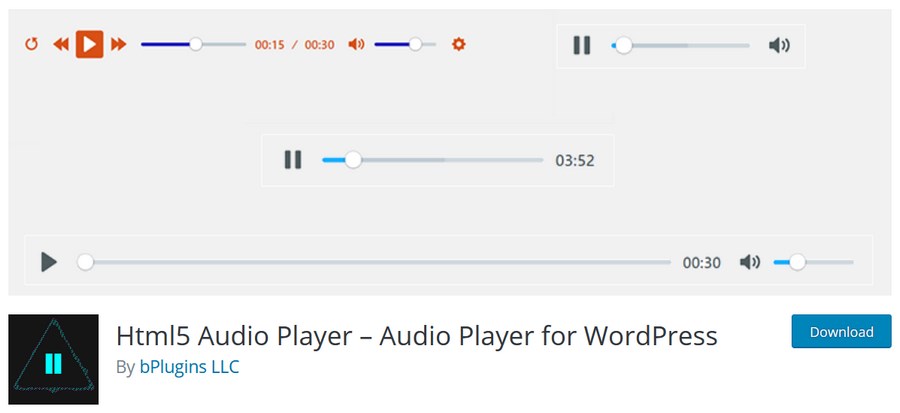 The Html5 Audio Player is a pretty sleek audio player with minimalist looks. This player looks excellent on blog posts and does not consume too much space.
Similar to the other music players listed here, Html5 Audio Player supports WAV, MP3, and OGG files.
In the free version, you'll see a download button next to every player, enabling visitors to download the audio.
In the pro version, you get access to a toggle download button, skin color changer, fast forward and rewind buttons.

Although the audio player is quite responsive and adjusts according to the device, you can also fix the width of the player.
Once a player is created, you can embed it in blog posts, pages, or widgets easily.
Pros of Html5 Audio Player
The interface of the player is minimalist and does not take the attention away from the page content. It is great for anyone wanting to add an audio component to their website that doesn't detract from other content.
The Html5 player has a video add-on feature too. Just install a WordPress video theme and you can host videos on your own website.
Cons of Html5 Audio Player
You cannot track the analytics of the audio you share. This plugin is very much like the WordPress default player, except that it's better looking.
Html5 Audio Player Pricing
The single-site license of Html5 Audio Player costs a one-time fee of $30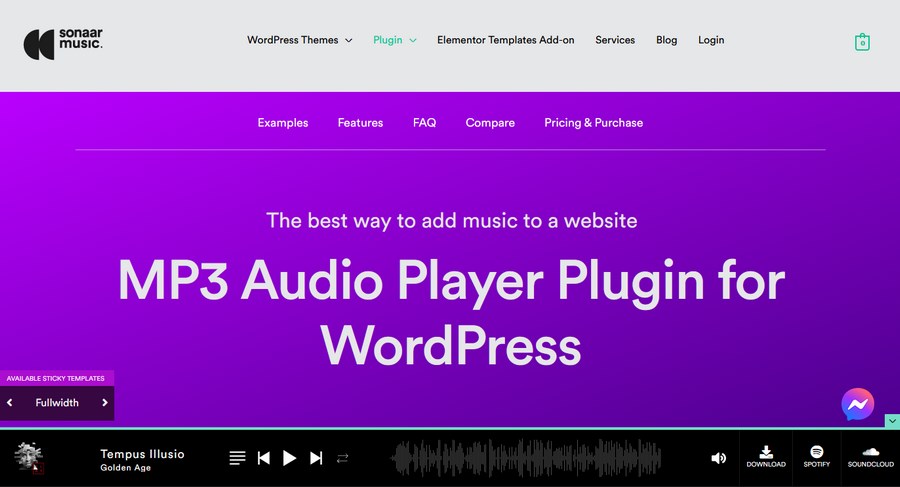 If you want to add a complete audio player to your WordPress website, you need to check this plugin out. MP3 Music Player not only comes with a ton of features, it also exhibits a sleek, professional look as seen in audio streaming services.
It has a cool waveform feature that appears when you play the music. You can control the skin color, font, even the wavefront features in the free version itself. It is excellent for both podcasters and music producers.

With the Pro version, the features become even more exciting. You can play complete albums and playlists on any page or post.
You get a completely customizable sticky footer player that plays the audio just like any professional streaming platform. And, with its seamless integration with WooCommerce, you can include the "Add to Cart" buttons right next to the audio player for easy purchase.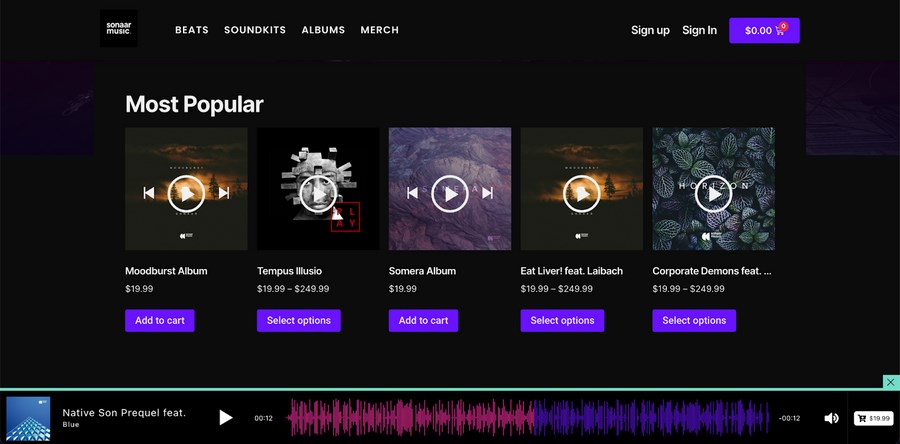 The MP3 Music Player by Sonaar also has an Elementor widget making it extremely easy to include the player in pages while designing them.
Additionally, the analytics feature helps you keep track of your audio performance on the website.
Pros of MP3 Music Player
MP3 Music Player by Sonaar is one of the most powerful audio players in our test. Compared to the other WordPress audio players, this option is much more flexible because it provides customization tools even in the free version.
You can include external links that go to other audio streaming sites such as Apple podcast, Spotify, YouTube Music, SoundCloud, Amazon, and Bandcamp. You can also add a link to download the music or a 'buy' button if you wish to sell.
Cons of MP3 Music Player
The audio player only supports MP3 files, and the files need to be hosted on your website.
MP3 Music Player Pricing
MP3 Music Player by Sonaar has a pretty competitive 4 tier pricing system with lifetime pricing.
Plan
Main Features
Pricing
MP3 Player Pro
1 Website
1 Year of updates
No WooCommerce support
No Elementor addon
$39
1 Website
1 Year of updates
Full WooCommerce support
No Elementor addon
$69
Unlimited websites
1 Year of updates
Full WooCommerce support
Comes with Elementor addon
$99
Lifetime Plan
Unlimited websites
1 Year of updates
Full WooCommerce support
It comes with Elementor addon
$179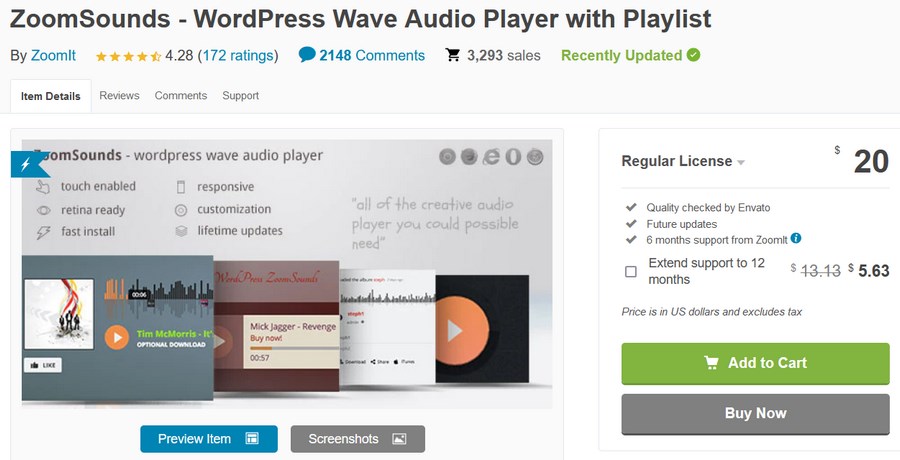 ZoomSounds is a premium audio player plugin available from CodeCanyon. One of the best features of this particular plugin is the eye-catching interface.
The plugin comes with many customization options and is perfect for podcasters and musicians. There are varieties of beautiful skins available with various fonts and color schemes.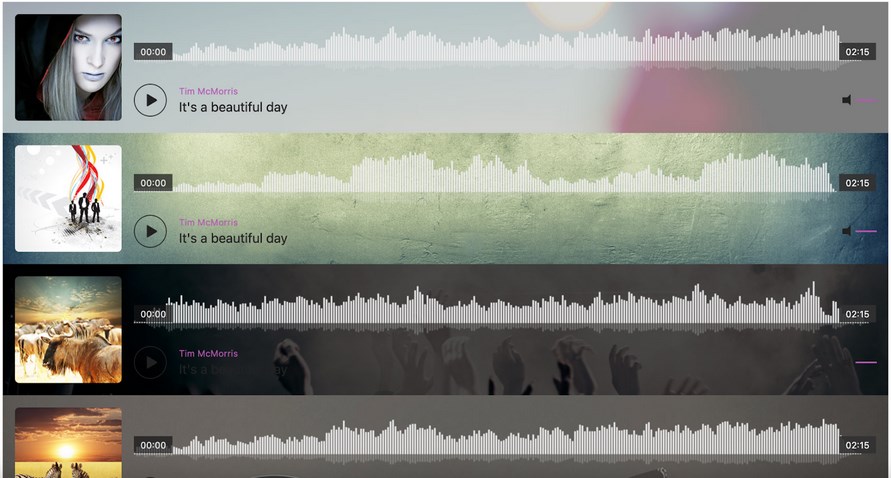 The beautiful waveform feature lets you visualize the beats of the music and delivers an incredible user experience.
With its Audio Portal WordPress addon, you can create a complete audio streaming website with features like playlists, rating functionality, like functionality and display modes.
It also supports a Front End Audio Submit form to accept and play audio from your audience.
Pros of ZoomSounds
ZoomSounds Audio Player has a beautiful design and is excellent for all purposes. With several customization settings, this plugin can fit into websites of any niche.
It supports both MP3 and OGG format similar to any HTML5 player.
Cons of ZoomSounds
This plugin does not provide audio analytics. You will miss out on understanding your most played audio files and best performing audio.
ZoomSounds Pricing
Zoom Sounds comes with a one-time price of $20. This includes all future updates and six months of support.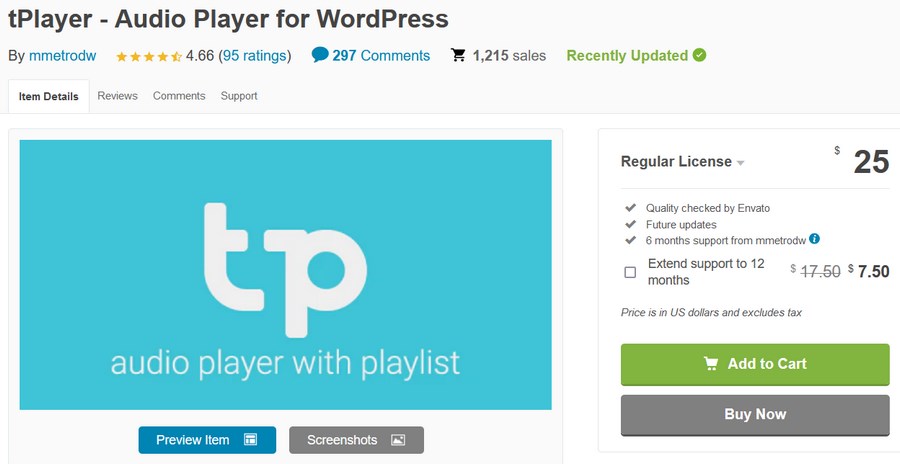 tPlayer is another impressive HTML5 based music player for WordPress websites. It'is a highly versatile player and supports podcasts, radio streams, selling music or audiobooks.
tPlayer has a simple, sleek, and modern user interface.Your listeners can enjoy functions like download, listen-only, fast forward, jump around and share.
One of the best features of the tPlayer is that you can choose to keep your music in another cloud platform such as Google Drive or self host them on your website. You can also link audio, and radio feeds to the player.
It integrates seamlessly with WooCommerce, and you can place a 'buy music' link in the player itself.

With this audio player you get advanced features like analytics, advertisement audio and can generate shortcodes to embed the player anywhere you want on your website.
Pros of tPlayer
tPlayer covers every important aspect of an ideal WordPress audio player and can cater to the needs of a wide variety of users.
It is compatible with popular WordPress builders like Visual Composer, Divi and Gutenberg Editor.
Cons of tPlayer
The player does not have a widget for popular page builders like Elementor and Beaver Builder.
Certain functions like and volume controllers don't work on iOS and Android devices. Your listeners have to increase or decrease the volume manually using phone controls.
The autoplay feature also does not work with popular browsers like Safari, Chrome, or most mobile devices.
tPlayer Pricing
tPlayer comes with a competitive price of $25 for a lifetime license with all future updates and six months of support.
Our WordPress Audio Player Pick
There is no one plugin which is best for all websites. The kind of tool that may suit a blogger may not suit someone into podcasting. A website that sells music may need extreme customizations, and a podcast website may simply need a player in their brand colors.
Hence in this section, we pick the audio player with the most versatility and the most user-friendly design.
If you want to have a podcasting and music streaming website or sell music online, then MP3 Music Player by Sonaar is our first pick. This is because of the incredibly professional looks and advanced features.
If you're a blogger who wants to install an audio component to your blog, then both Zoom Sounds and tPlayer do a fabulous job of delivering the best user experience.
What's Your WordPress Audio Player?
A good audio player enhances the user experience of your website. It helps retain customer attention and allows the potential buyers to select and purchase their favorite audio.
If you're a blogger, adding your podcasts help increase the audience retention time in your blog posts which boosts your SEO.
The WordPress default audio player pretty much covers the basic features. But, having a customizable audio player with a lot more user-friendly features, gives that extra push to your marketing efforts.
Pair it with a music website template and you're good to go.
We hope this article helps you pick the right kind of audio player for your WordPress website. Let us know in the comments, what is it that you look for in a WordPress audio player?