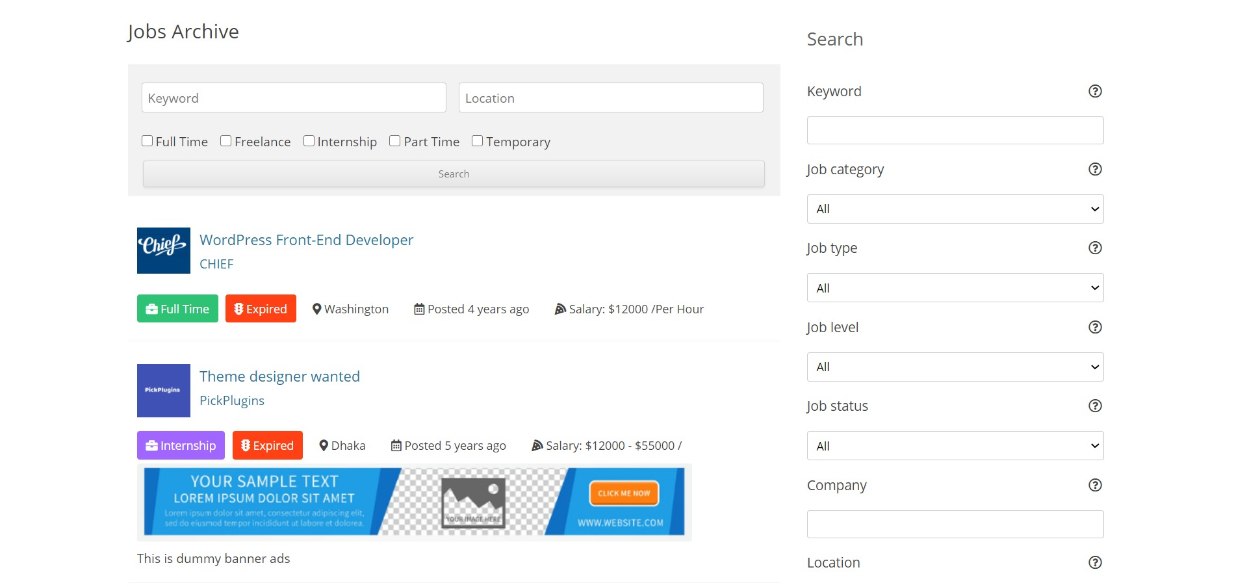 There are hundreds of online job boards covering everything from sports to science and everything in between. If you have visited some of these boards and thought, 'I could do better', this article is for you!
We have compiled a list of what we consider the best WordPress job board plugins available. Combined with a flexible and beautiful WordPress theme like Astra, you could have your very own job board up and running in no time!
This page is going to outline exactly what you'll need to set up your own WordPress website complete with a job board.
We will then outline the best WordPress job board plugins around and provide the information you need to make an informed buying decision.
Creating a Job Board Using WordPress
You only need five things to build your very own job board:
Domain and hosting
WordPress
WordPress theme
A WordPress job board plugin
Time and energy
1. Domain and Hosting
You need domain name and web hosting before you do anything else. Your domain name is how people will find you. The www. name you type into a browser. You can buy these from the web host when you buy hosting.
Web hosting is server space rented on a web server. Different packages allocate different amounts of server resources to be able to serve your website to visitors. Not all web hosts are created equal so research is required before you settle on a host.
2. WordPress
WordPress is the CMS (Content Management System) used to create the framework of your website. It's a database-driven website where everything is controlled from a central database.
WordPress creates the posts, pages and other features, handles comments and manages everything behind the scenes of your website.
WordPress is free and open source. You can download it from here or install it directly within your web hosting package.
3. WordPress Theme
A WordPress theme is a skin you install to replace the basic WordPress theme to make it look more attractive. WordPress has some basic themes which can work okay for blogs but you're going to need an impactful design to make your job board stand out.
There's where a WordPress theme comes in. It installs into WordPress and provides almost unlimited opportunities to create your signature look. You have thousands of options when choosing a WordPress theme but we suggest checking out Astra. We discuss Astra further later in the article.
4. WordPress Job Board Plugin
The WordPress job board plugin you choose can make or break your job board. A plugin installs into WordPress to add or improve features.
In this context, the plugin adds the elements required to list and post jobs, allow employers to post vacancies and perform all manner of tasks relevant to running a job board.
You may also benefit from using other WordPress plugins that add even more utility to your site. We have listed a few plugins we recommend every website uses towards the end of the article.
5. Time and Energy
All websites require an investment of time and energy but the jobs market is vibrant and fast moving. Whatever times we are living in right now, people will always need to work and companies will always need workers.
The pace at which the industry moves requires a job board to be up to date at all times. That's going to require some automation that some of these WordPress job board plugins deliver as well as lots of manual administration.
That's where you come in.
The 14 Best WordPress Job Board Plugins
Now you have an idea of the building blocks required for your job board, now it's time to look at those plugins!
| | | | |
| --- | --- | --- | --- |
| Plugin | Price | Developer | Rating |
| WP Job Manager | Free with paid addons | Automatic | 3/5 |
| Apply Online | Free | WP Uploaded | 3.5/5 |
| Simple Job Board | Free with paid addons | PressTigers | 4/5 |
| FreelanceEngine | $89 up to $299 | Engine Themes | 4/5 |
| WPJobBoard | $97 or $199 | WPJobBoard | 3/5 |
| Job Board Manager | Free or $149 per year | Pick Plugins | 3.5/5 |
| Jobseek | $39 | Coffeecream | 4/5 |
| JobRoller | $69 or $199 | AppThemes | 4/5 |
| JobEngine | $89 up to $199 | Engine Themes | 4.5/5 |
| JS Jobs Pro | Free or $79 up to $179 | Joomsky | 3.5/5 |
| WP Job Hunter | $30 | Pantherius | 4/5 |
| Job Board | Free | BestWebSoft | 3.5/5 |
| Posts Table Pro | £59 to £199 | Barn2 | 4/5 |
| WP Job Openings | Free or $34 | AWSM Innovations | 3/5 |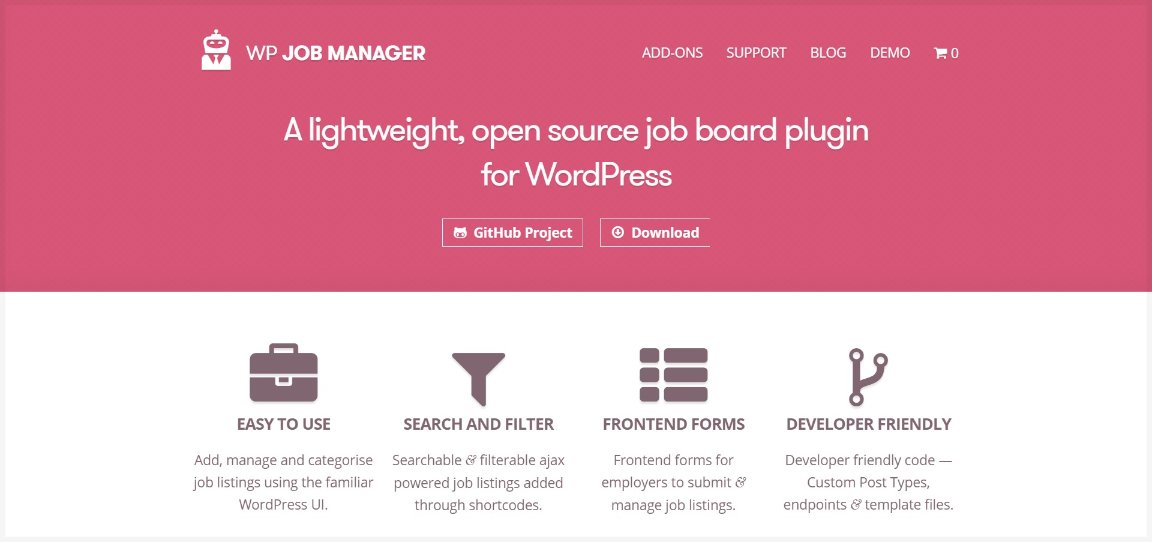 WP Job Manager is a well-designed WordPress job plugin that uses shortcodes to keep things simple. The plugin provides a WordPress-style dashboard for managing listings and simple tools for editing, deleting and managing listings and applications.
The plugin also includes filters for users, a submission form for applications and the opportunity to style everything to suit your theme. It helps to have a little CSS knowledge for the styling but otherwise, this WordPress job plugin is very easy to use.
Features of WP Job Manager:
Free plugin with paid extras
Uses shortcodes to manage listings
Simple dashboard to control every listing on your board
Job filter to help applicants search
The WP Job Manager plugin is free but addons cost from $19 to $39 per year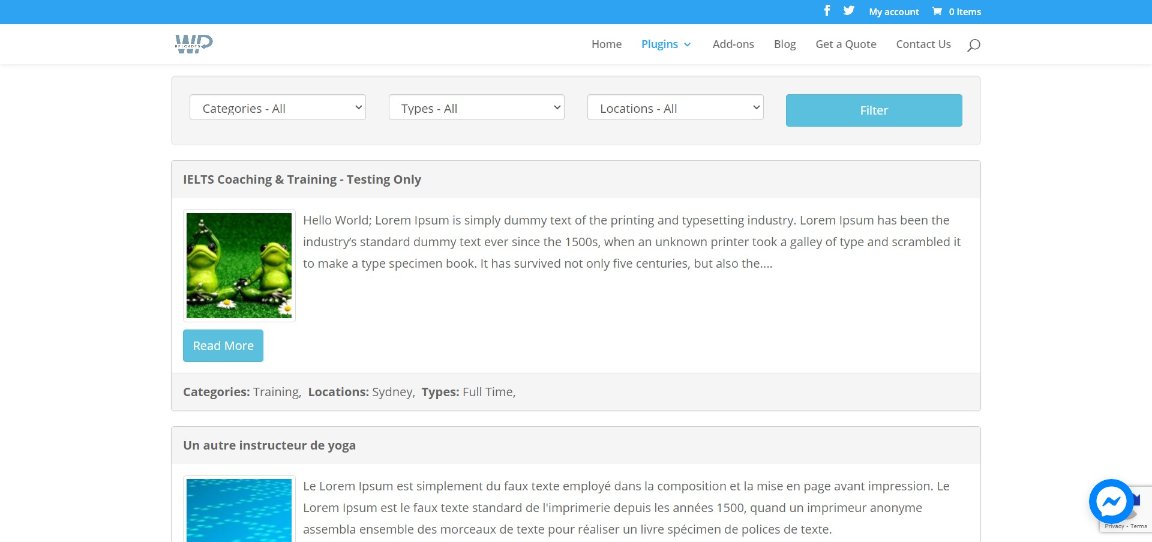 Apply Online is a free and very efficient WordPress job application plugin. It uses a drag and drop form builder to help with the application side of a job board. It's a flexible plugin that enables applications for jobs, classes, special offers and any situation where someone might need to complete a form to apply.
It works quickly and lets you customize it, add images, configure buttons, add attachments and manage those applications. It also comes with an email notifier for acknowledgements or messaging. While suitable for any type of application, it works well for jobs.
Features of Apply Online:
Efficient WordPress job application plugin
Handles forms and manages email replies
Can customize most elements of the plugin
Free to use
Apply Online is free to use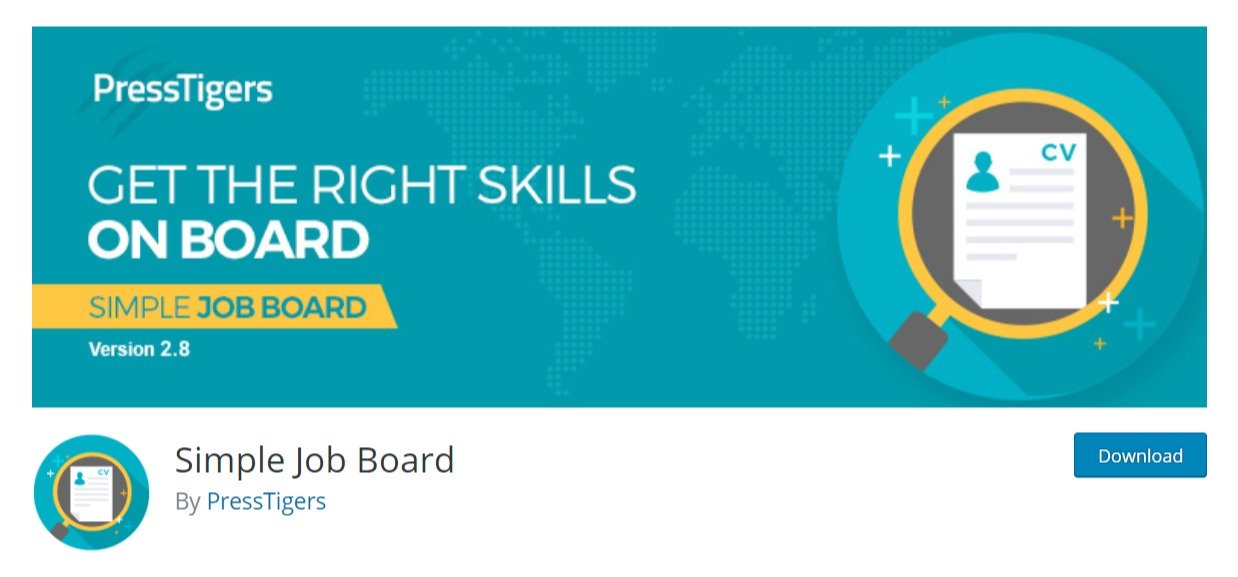 Simple Job Board is a complete WordPress job board plugin. It provides the means to list jobs, display them on your web pages using shortcodes, add an application form and process every stage of that initial job application.
Simple Job Board uses the WordPress dashboard for listings to keep things familiar. It enables user-submitted vacancies, filtering by location, job type, attachments, email verification and replies and every aspect of what a job board should do. It's an excellent option for building a usable job board with the minimum of fuss.
Features of Simple Job Board:
Uses the familiar WordPress dashboard to manage
Helps with listings, applications, email replies and more
Works with attachments for extended role specifications
Uses shortcodes for maximum flexibility
Simple Job Board is free but offers premium addons for more features.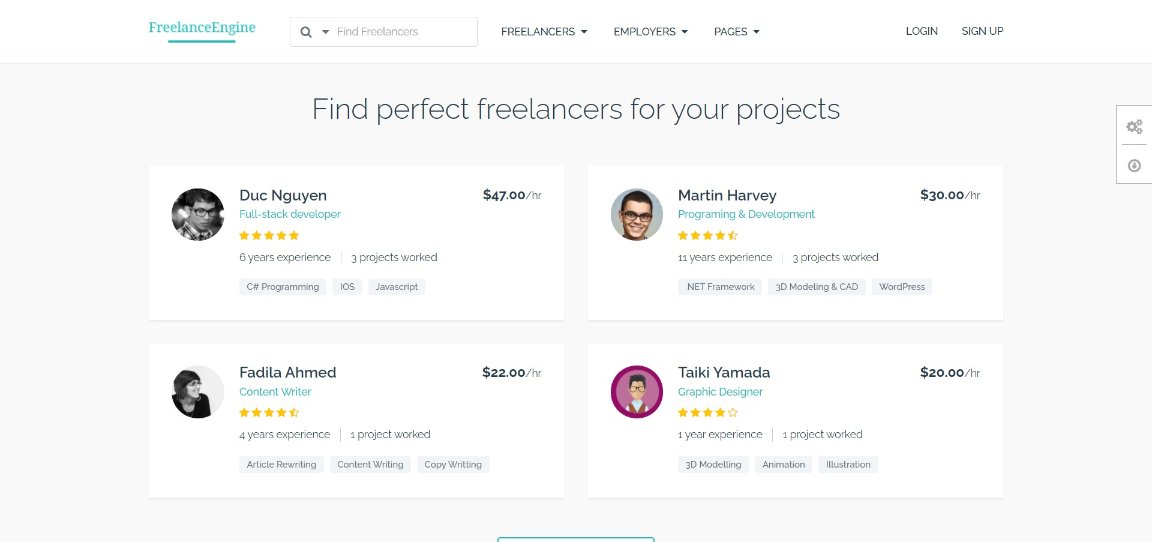 FreelanceEngine is a complete WordPress theme with corresponding job board elements to help you build your own freelance jobs site with ease. If you have designs on being a better version of Upwork or Fiverr, this theme can help.
The package comes with a theme designed specifically for freelance marketplaces and the forms and layouts necessary to deploy a fully operational site. It even comes with a built-in escrow system and supports multiple payment gateways as well as secure messaging and other features.
Features of FreelanceEngine:
Full WordPress theme with job board elements built-in
Includes an escrow system and payment gateway compatibility
Secure messaging option for discussions
Optional extra addons for even more features
FreelanceEngine costs from $89 up to $299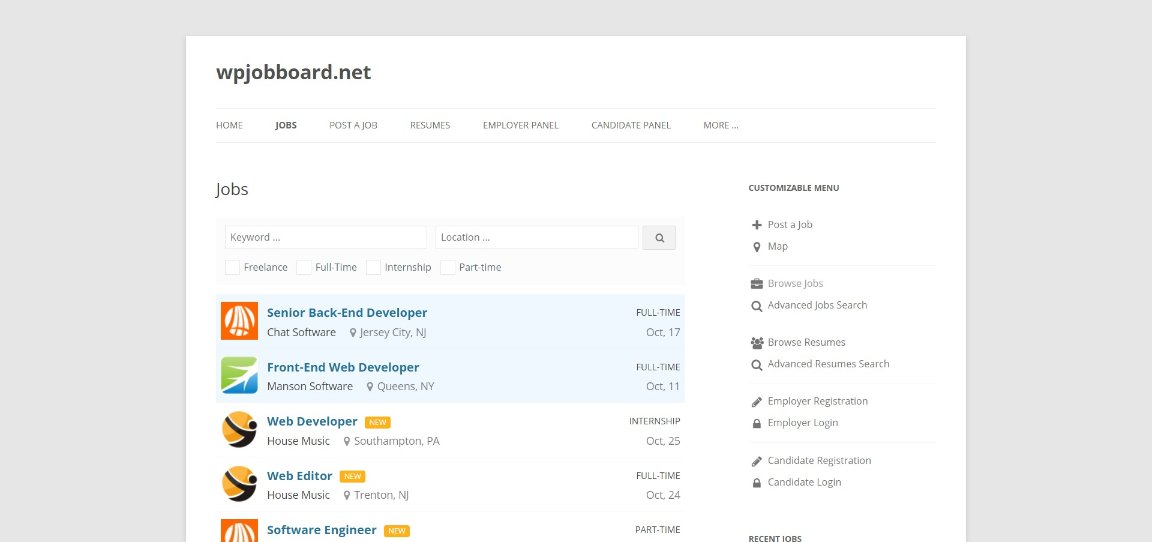 WPJobBoard is another complete WordPress job board plugin that handles every aspect of running a job board. The plugin includes a theme, front end dashboards for employers and for applicants, a listing section, payment gateway, a drag and drop editor and everything you need to build a jobs website.
WPJobBoard uses the WordPress dashboard to manage listings and has clear outlines to show you exactly what's going on, what ads are live, which are new and which have elapsed. Users can submit applications and resumes, employers can check them and you can set email alerts for whatever you like. All from a single plugin.
Features of WPJobBoard:
Complete WordPress job board plugin covering most of what you'll need
Includes separate candidate and employer dashboards
Allows easy application and resume submission
Compatible with major payment gateways
WPJobBoard costs $97 or $199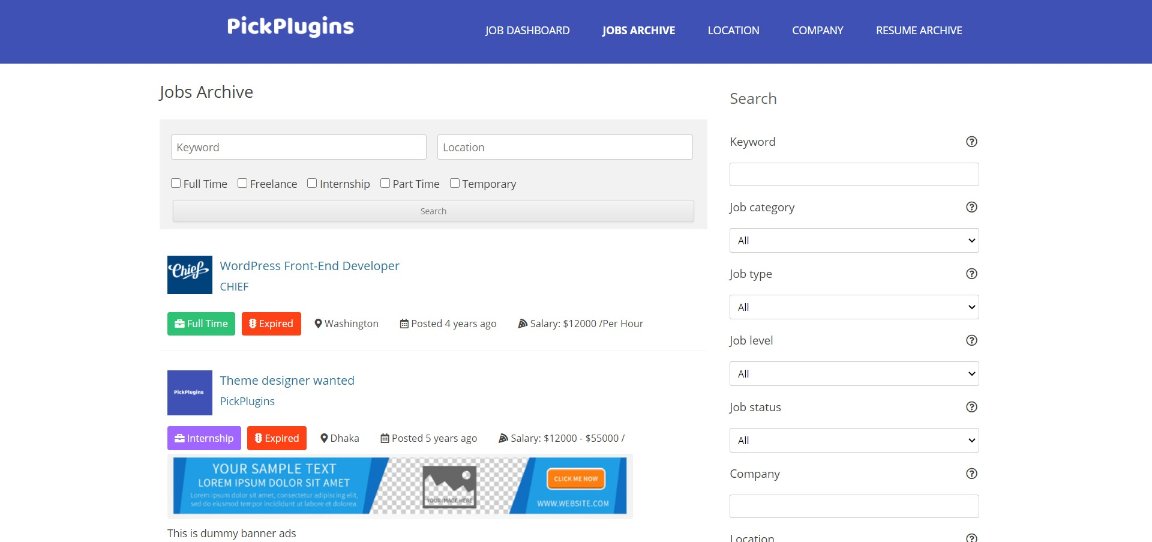 Job Board Manager comes with all the ingredients necessary to build your own jobs board. It's a deceptively simple looking plugin that includes forms for listing vacancies, application forms, user admin and more. It uses a clean design and shortcodes to keep things simple yet delivers the functionality you need to manage a job site.
It has a simple dashboard with employer section and user section, simple job listings section, search and filtering, application form, user account dashboard and lots of SEO and markup options. The basic plugin is free but a premium option adds more options.
Features of Job Board Manager:
Very usable plugin with ease of use at its core
Uses shortcodes for maximum flexibility
Simple user and employer admin sections
Forms for everything
The basic Job Board Manager plugin is free but premium adds more functions and starts at $149 per year.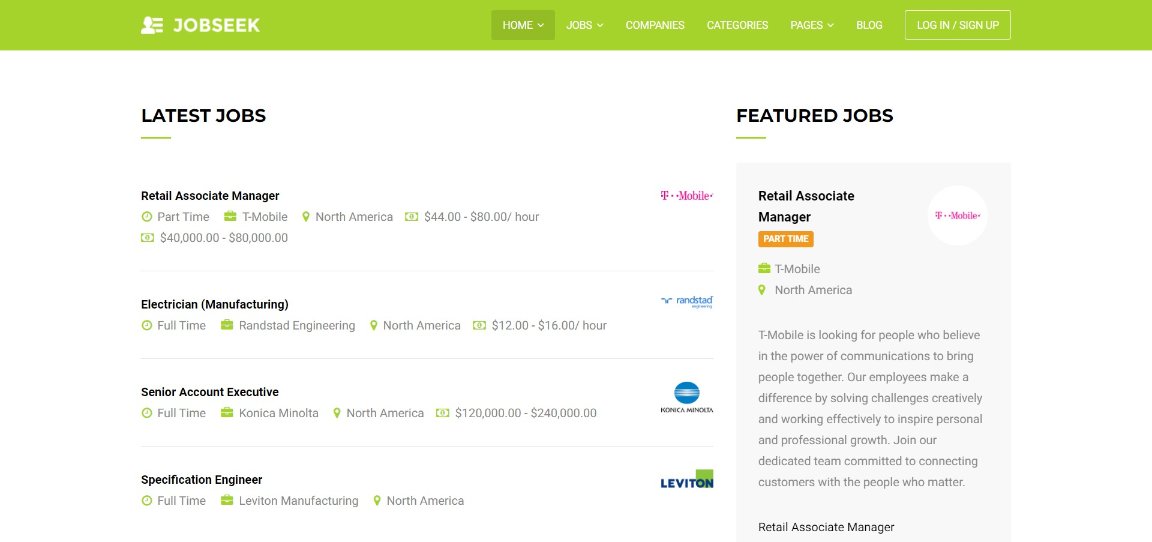 Jobseek is a WordPress job board theme with many functions built in. It's an attractive theme with modern design and a fast job filter front and centre. The theme includes a job submission form, application form, single listing templates, WordPress dashboard and a resume manager for applicants.
Jobseek integrates with WooCommerce for paid listings and packages and FacetWP for filtering. You can also set up email alerts, deadlines for applications, allow candidates to bookmark vacancies and other useful features. It's a feature-rich theme with a lot of the tools you'll need to run a jobs board.
Features of Jobseek:
Complete WordPress job board theme
Many job board functions built in
Integrates with WooCommerce and FacetWP
Attractive theme and page designs
Jobseek costs $39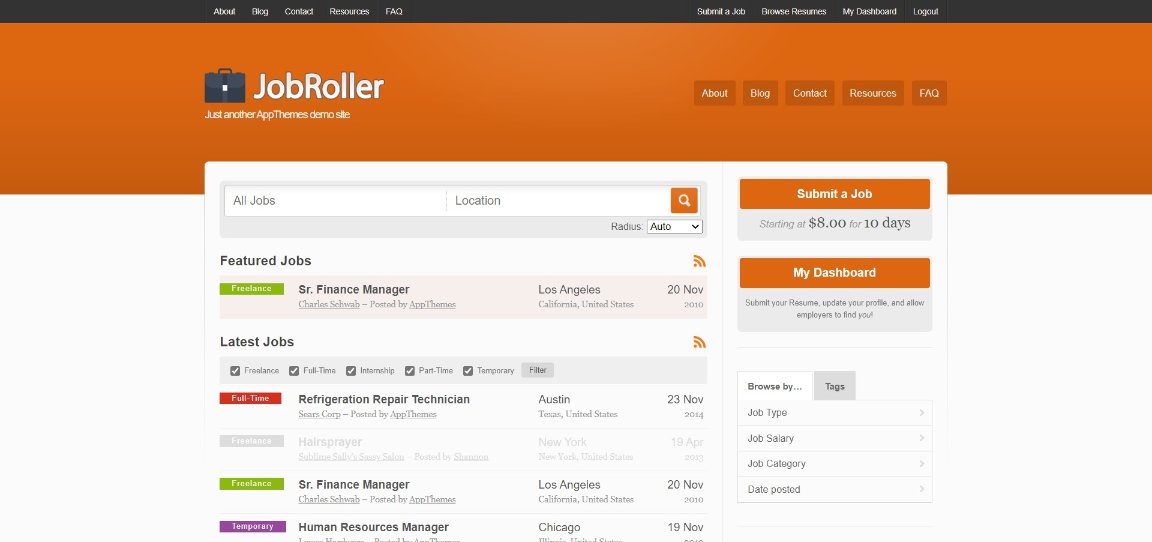 JobRoller is another WordPress job board theme complete with essential functions. It's an attractive theme with minimal design, a strong colour and easy to use interface. The job board functions cover most of what you'll need including options for listings, monetization, user and employer dashboards and a very usable admin dashboard.
JobRoller covers most of what a job board requires. It uses an Ajax search and filter section, has a user account section, employer sections, resume manager and a full reporting function for logging. It also comes with markup tools so roles featured on your site can be quickly picked up by Google.
Features of JobRoller:
Full WordPress job board theme with many functions
Attractive design with functionality at its core
Ajax job search and filter function
Uses structured data in listings for SEO
JobRoller costs $69 or $199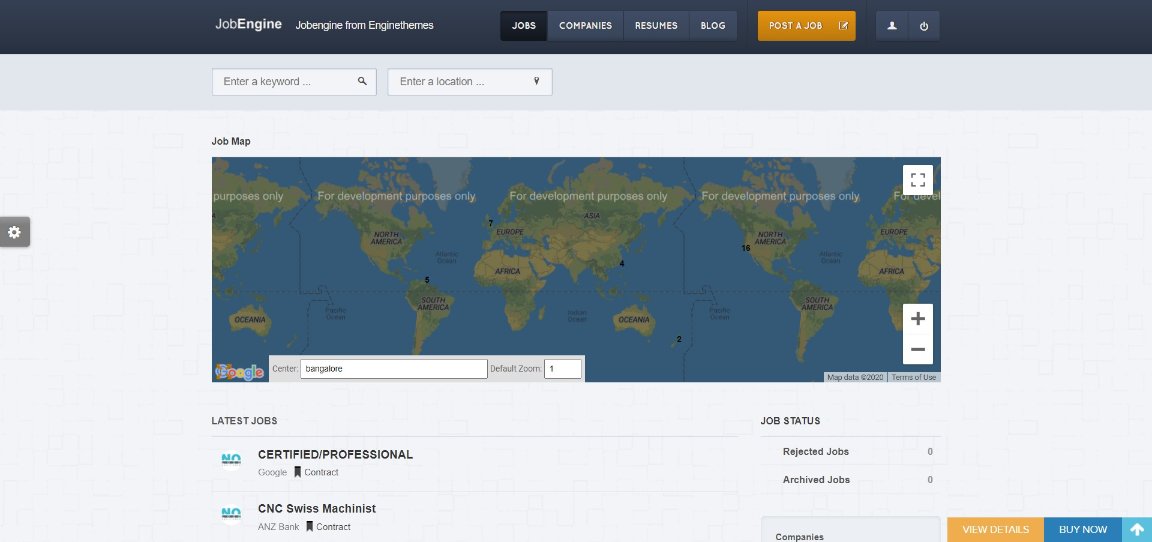 JobEngine is a self-contained WordPress job board theme with many of the tools you need to begin operating. It includes a simple but very effective theme with colourful job listings, search and filter and Google Map integration.
The theme looks professional and would definitely appeal to a wide audience. The job board tools include user and employer dashboards, listings manager, listings templates, monetization options for paid listings, landing page builder and a resume manager. Everything you need to begin your new venture!
Features of JobEngine:
Attractive WordPress job board theme
Monetization options
Attractive templates for listings
Resume manager
JobEngine costs from $89 up to $199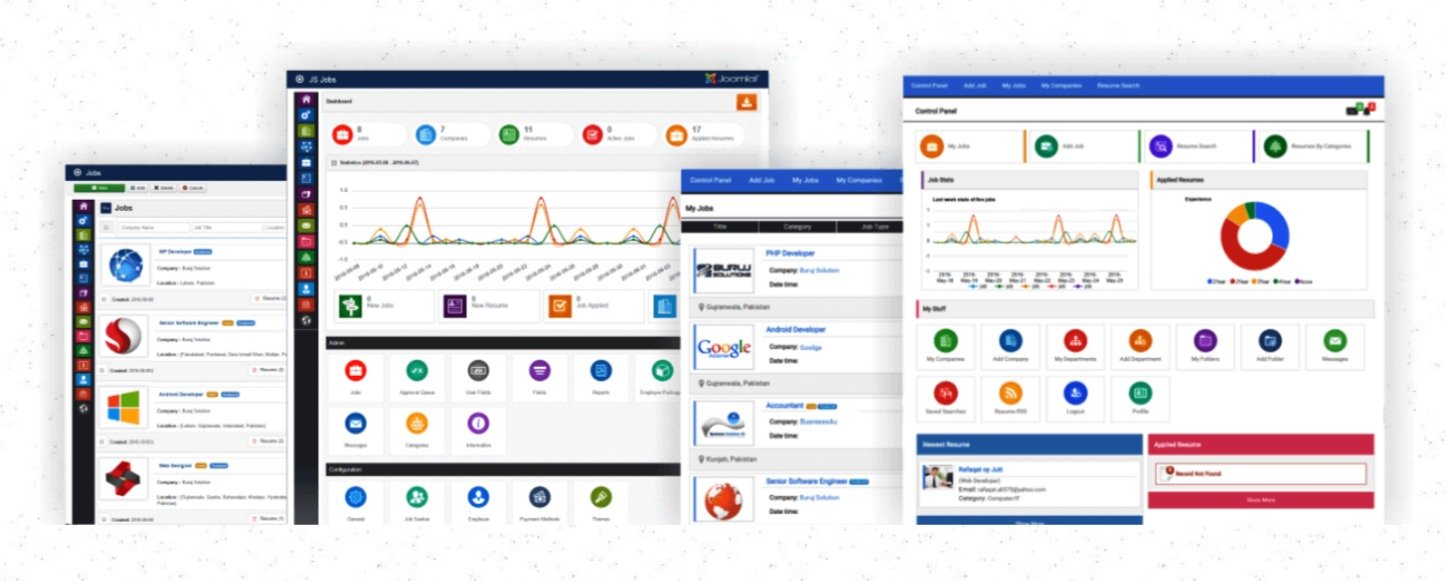 JS Jobs Pro is a well-established WordPress job board plugin that includes all the features you need to set up and run your own job board. The design is simple but effective and most importantly, easy to use.
It's a feature-rich plugin that includes responsive design, search functions, shortcode listing tools, user and employer pages, social media application function, Google Map integration and a whole lot more.
Features of JS Jobs Pro:
Complete WordPress job board plugin with all the features you need
Lots of listing functions including bookmarking and highlighting
Social media application feature
User submission form for easy job listing
JS Jobs Pro has a free version and the premium option costs from $79 up to $179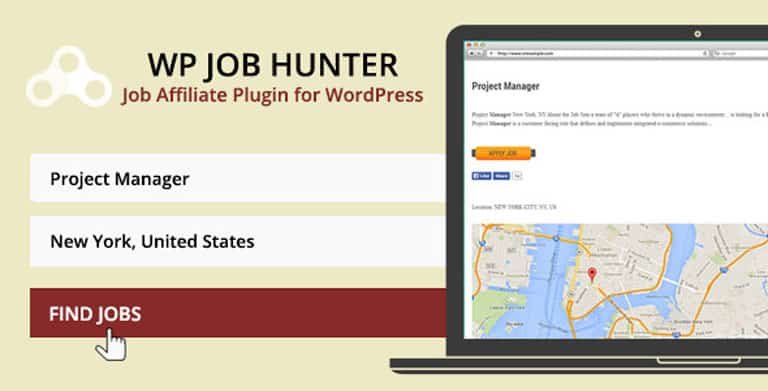 WP Job Hunter is a job affiliate plugin you can install on your website to list roles. This isn't a plugin to list your own candidates but rather register with career portals such as Indeed, Careerjob, Simply Hired and others and use their listings. It's a simple and effective way to add jobs listings to your website.
You won't get rich from affiliate earnings but it's a useful extra feature for your site. Simply install the plugin, register for an affiliate account on the portals you want to use, set up filters in the plugin, add your affiliate code and place the listing on a page. That's it!
Features of WP Job Hunter:
An affiliate job plugin that works well
Compatible with many leading jobs portals
Compatible with all WordPress themes and plugins
Simple and effective way to add jobs as an extra feature
WP Job Hunter costs $30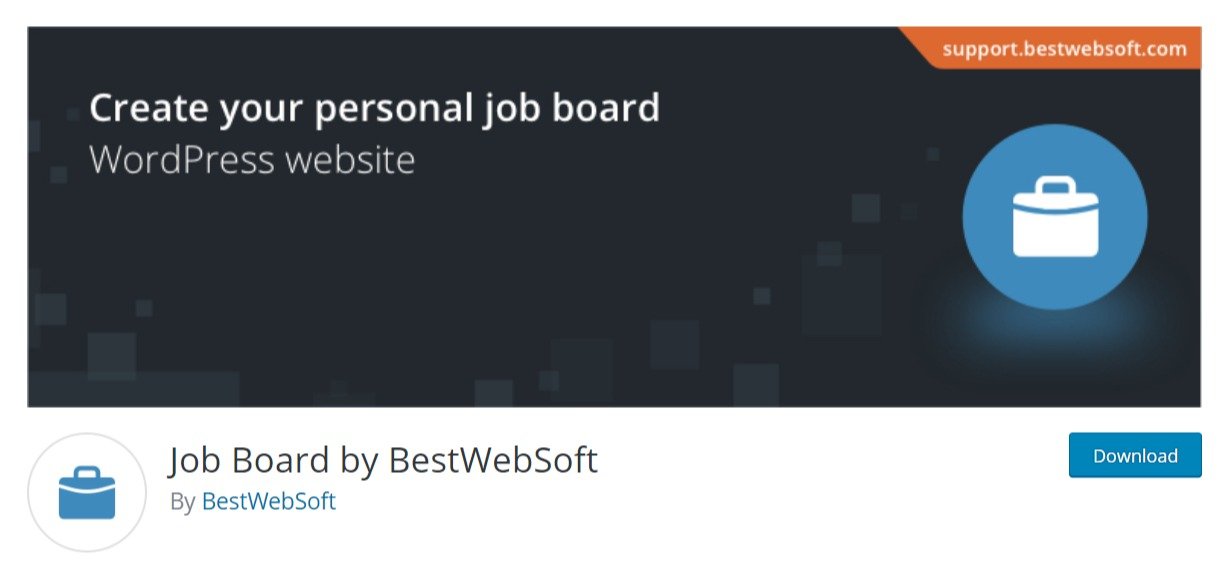 Job Board is a simple but effective WordPress job board plugin that covers many aspects of running a jobs board. It's a no-frills plugin but has plenty to offer. It uses shortcodes for easy listing, can handle user submissions, job filtering, expiry dates, freelance opportunities, custom post types and everything you're likely to want to list.
Job Board is GDPR compliant for EU users, has an employer and a user dashboard, can handle location searches, different currencies, applications, resume management and a whole lot more.
Features of Job Board:
Simple but complete WordPress job board plugin
Easy to install and use
Uses shortcodes for maximum flexibility
Lots of options covering most of what you'll need
Job Board is free to use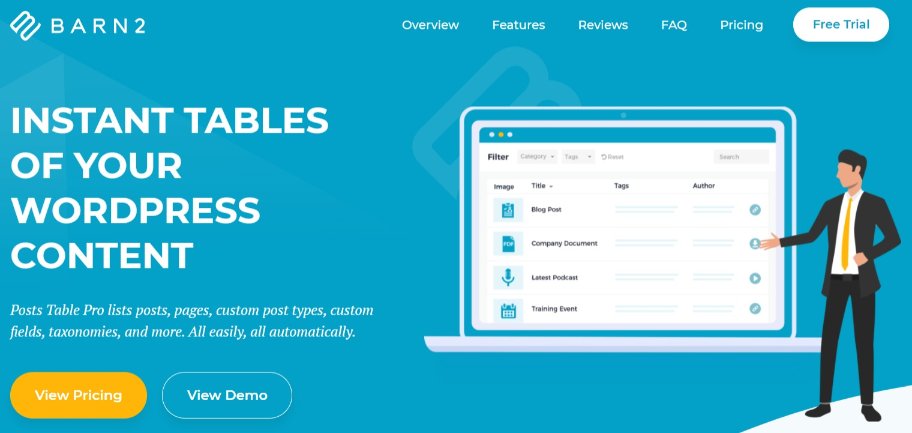 Posts Table Pro is not a dedicated WordPress job board plugin but it can definitely help you create one. It's a table manager for WordPress that allows you to create simple but very effective tables on your website. One use for these tables is job listings.
Posts Table Pro will take more configuring than many of these readymade plugins but has the advantage of being useful for all kinds of websites.
Features of Posts Table Pro:
Flexible table manager for WordPress
Can be used for job listings with some configuration
Compatible with most WordPress themes and plugins
Can build multiple job listings for multiple niches
Posts Table Pro costs from £59 to £199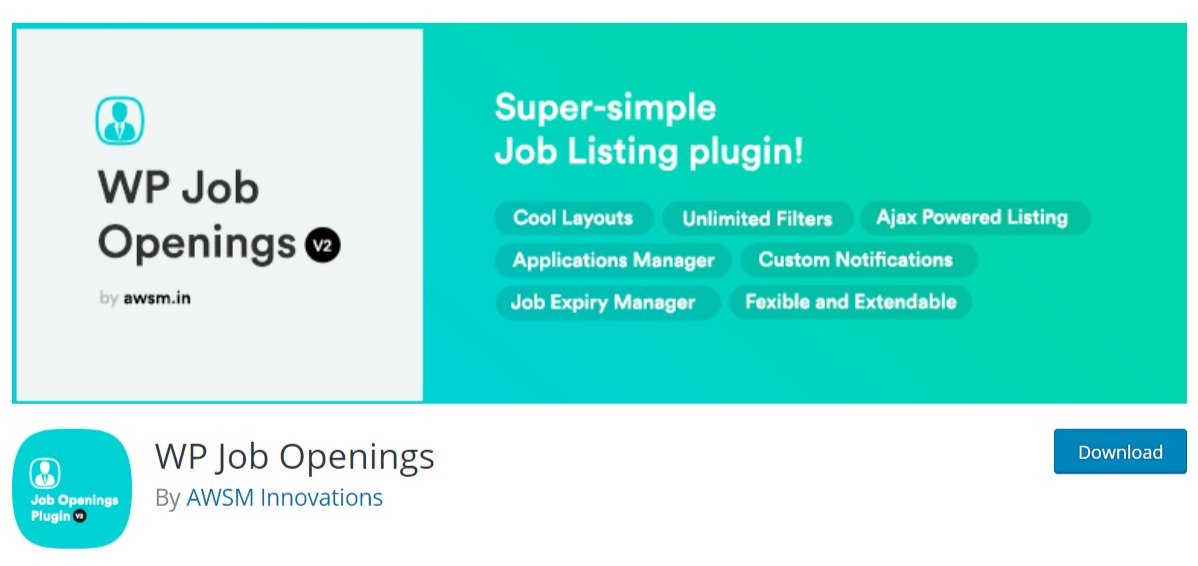 WP Job Openings is one of the highest rated WordPress job board plugins on WordPress.org and for good reason. It's a very straightforward plugin to use but comes with a wide range of tools and features to help you create and manage a jobs board.
The plugin includes two layouts, grid and list, clean UI, Ajax filtering and search, easy application form, notification manager and is compatible with the JobListing Schema for Google.
Features of WP Job Openings:
Easy setup and maintenance
Ajax search and filtering
Compatible with Google JobListing Schema
Optional premium addons for added features
WP Job Openings is free with a Pro Pack of addons for $34
Recommended Plugins for Job Board Websites
Now you have a good idea of the WordPress job board plugins available, we will briefly cover some other plugins that every WordPress website should be using.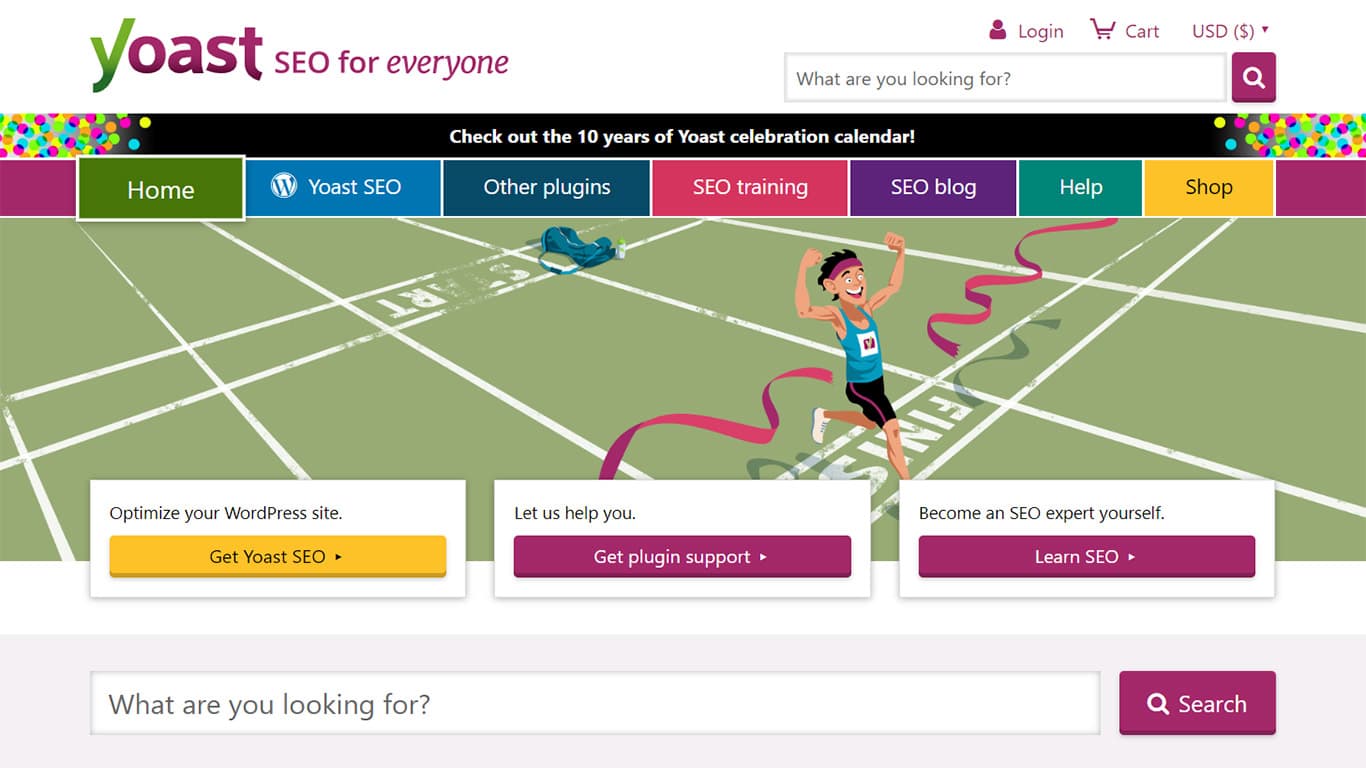 Yoast SEO is a free SEO plugin for WordPress with a premium version. The plugin includes many of the basic SEO tools you're going to need when you first set up a website and uses a very straightforward dashboard to manage everything SEO-related.
The free version includes the basic tools for meta, sitemaps, snippets and more while the premium adds much more detailed keyword optimization options.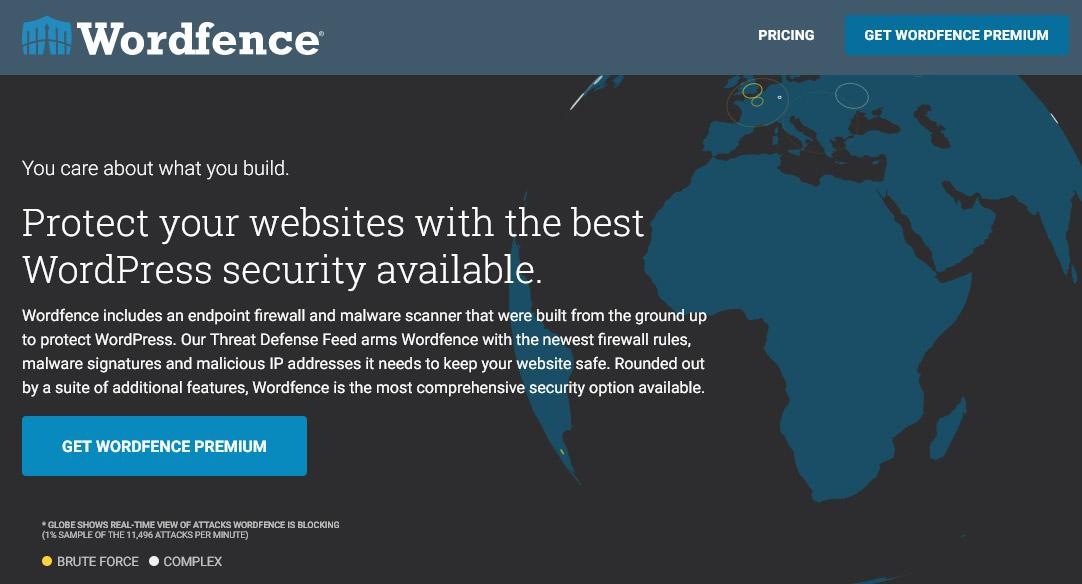 You need to secure your WordPress website in order to protect your investment. Wordfence is an exceptionally popular WordPress security plugin. It includes a firewall, malware scanner, password protection, traffic monitor, user and IP address whitelists and blacklists, country IP blocking, two-factor authentication for users and a lot of advanced features.
Wordfence is free with a premium version that adds real time updates, reputation checking and access to cloud protection.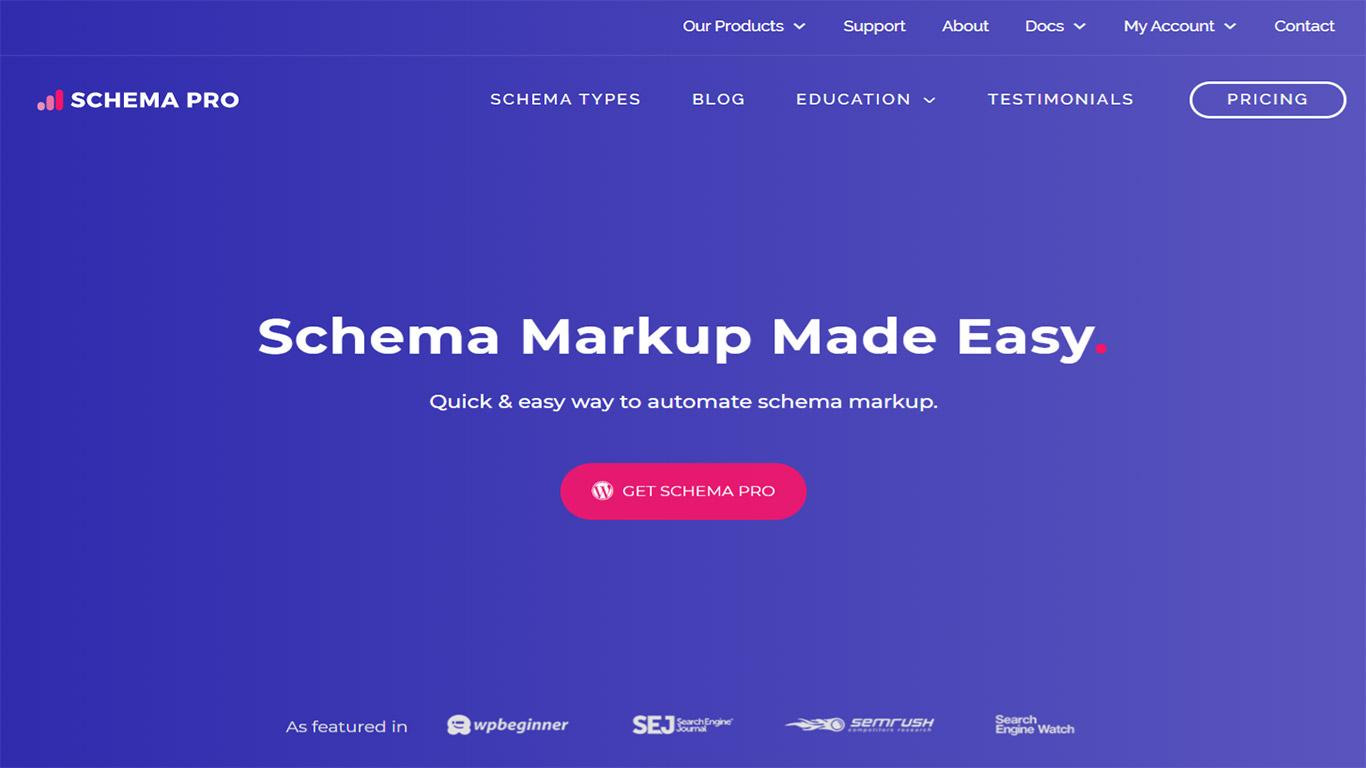 You need to use schema for SEO. If you run a jobs website and want to rank on search engines, you're going to need to embrace schema early. A couple of the WordPress job board plugins we list handle schema for you but Schema Pro handles it sitewide.
This powerful plugin takes care of every schema you're likely to need and turns it from a chore into a quick and easy process you can soon forget about. Another must-have plugin for WordPress!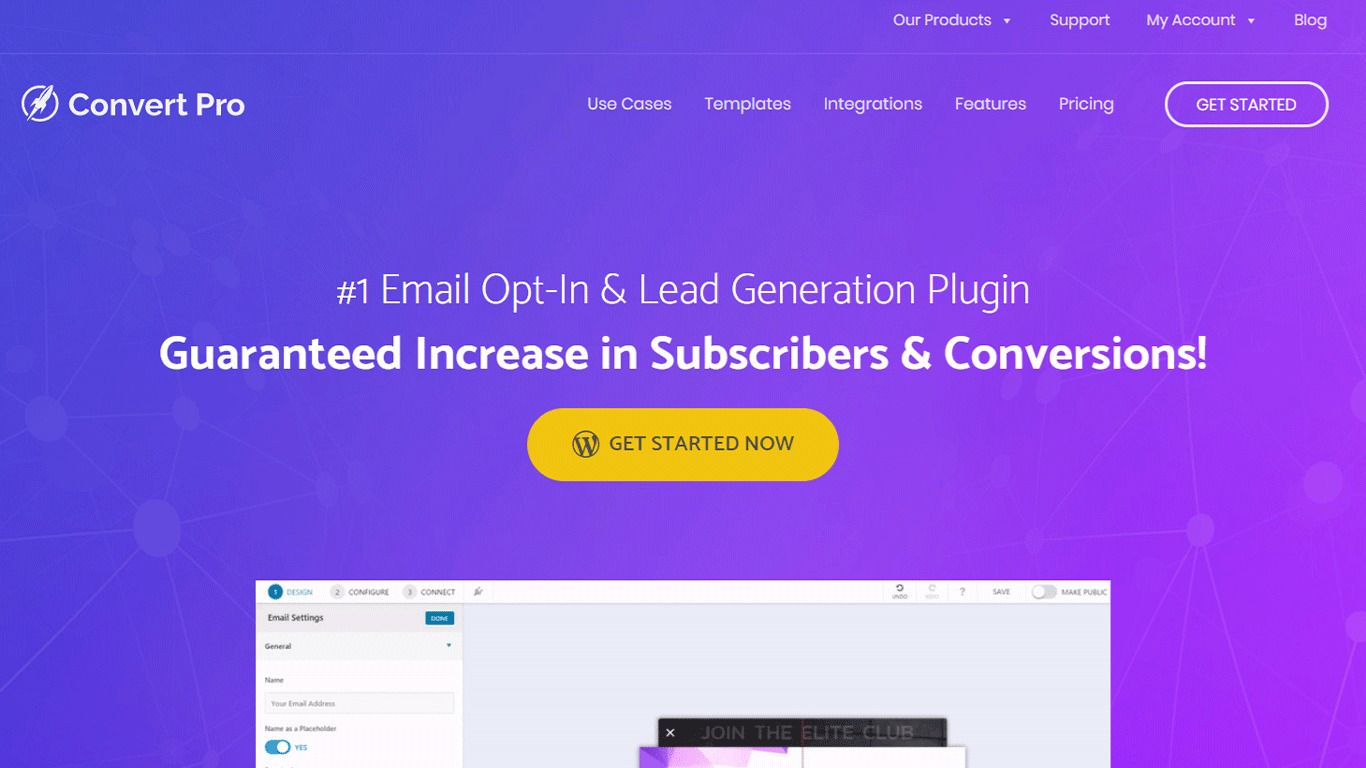 Convert Pro is another must-have WordPress plugin. It's a highly effective lead generation plugin that makes short work of collecting leads, adding subscription forms, opt-in forms and the many ways you can collect qualified leads from any website.
Convert Pro uses an intuitive drag and drop editor to help create popups and forms and provides templates for easy integration. They load fast, are fully responsive and can cover every conceivable audience. If you're looking to generate leads on your website, this is the plugin to use!
Best Theme for Your Job Board Site
We included a couple of WordPress job board themes already but none of them come close to the power and ease of use of Astra.
Astra comes with dozens of attractive demo websites covering most industries and each uses a one-click installer. The theme also utilizes drag and drop page builders to help create your site quickly and with the minimum of WordPress knowledge.
Themes are very attractive, use clean code, load exceptionally quickly and are genuinely the easiest themes to customize and manage. With a range of built-in plugins, compatibility with Elementor, Brizy, Beaver Builder and Gutenberg, it has never been so easy to design and deploy your own website.
Finally, Astra is compatible with all WordPress job board plugins in this list. What more could you need?
Final Thoughts
We think this list of the best WordPress job board plugins represents some compelling options for anyone thinking of launching a job site. Combined with the power and ease of use of WordPress, these plugins can help you deliver a top performing job site with the minimum of fuss.
Used in conjunction with those essential WordPress plugins and perhaps the Astra theme, there is no reason why you couldn't build the next Indeed or Simply Hired!
Do you use any of these WordPress job board plugins? Have feedback to offer? Have any alternatives to recommend? You know what to do!