Today we're excited to announce the release of Astra 2.2! ?
Astra 2.2 is a culmination of passion, expertise, and creativity from our team here at Brainstorm Force.
Inspired by you, our loyal users, customers, and first-time installers. No matter where you are on your journey with Astra, Astra 2.2 changes the game yet again.
What's New in Astra 2.2?
We're pleased to show the new heading options, allowing you greater flexibility over your design. Stand out from the crowd and let your design skills shine. ?
Along with heading, the theme button now has new options that will ease down the process of designing and save your time.
Heading Options
With Astra, we've always known the importance of headings to a site, and so we are adding some useful options, which makes it easier to impress readers with your words, in language, and in style.
Global Line Heights
There are now new additions to the Astra Customizer!
Added line heights for heading levels 1 through 6, also known as H1-H6.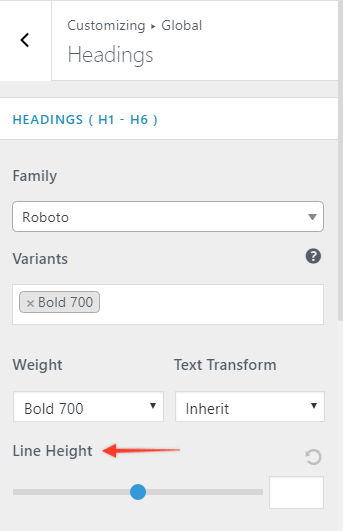 This new option makes it easier than ever to get the perfect alignment for your headings that you need.
In case you're wondering if this new option works globally, it's as simple as setting it once and using everywhere, imagine all that time saved.
Global Heading Colors
Following on rapidly from new line-height options is the new global heading color option, let your designer inside you run wild and set any color you want for your headings H1-H6. ?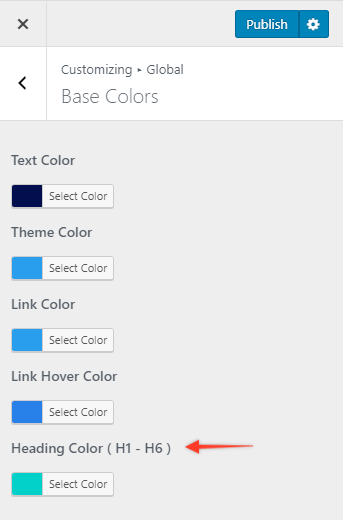 Once again, this option works globally, set it once, and all the headings will be updated globally across your site. Easy as 1…2…3.
Heading Typography
A typeface makes a site, you can have a website with fantastic content, great branding, but using comic sans will make it look like you're stuck in the 1990s.
To make your headings stylish, we are adding typography options.
These new options are available across heading levels 1-3 and in Astra free! Yep, that's correct, you don't need to use Astra Pro. Yet if you want to use Astra Pro, it includes a range of even more features, check it out here.
These new options include:
Font Family.
Font Size.
Font Weight.
Text-Transform.
Line-Height.
Buttons Made Better
Here at Astra, we know that buttons are a critical aspect of any marketers' toolkit and vital to an excellent website. After all, an enticing call to action with a well-designed button makes the difference between a mediocre business and a thriving one.
That's why with Astra 2.2, we're excited to introduce a raft of new button options to make your buttons stand out.
Button Typography
A button will now have following typography options giving you more control over the style of the button –
Font Family
Font Size
Font Weight
Text Transform
Line Height
Letter Spacing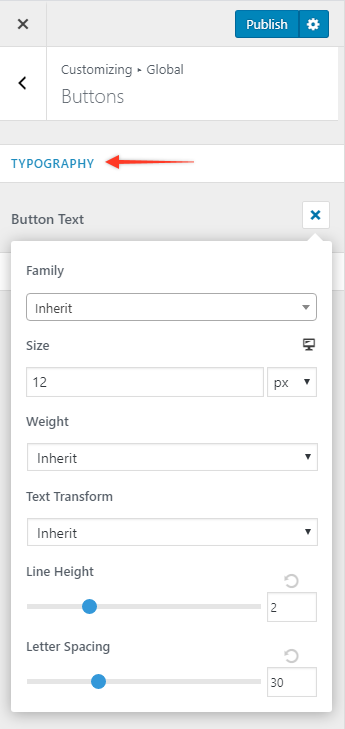 Border Options
Make your button shine with the new border options including:
Width settings (top, right, bottom, left)
Color
Hover Color
Border Radius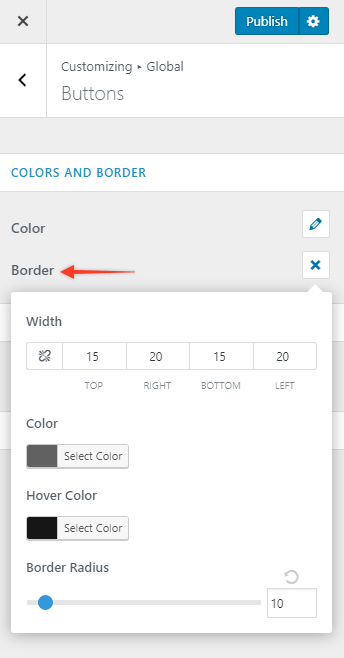 Just like the other options we've introduced, these settings are also global, update them, and the settings will be applied globally across your site to every button created using Astra.
Padding Options Galore
While it may not seem so at first glance having fine control over padding on each side of an element can allow you to produce even more creative designs than you thought.
That's why in Astra 2.2, we're pleased to present to you our all-new and improved padding options for buttons allowing you to control each side of the element (the button).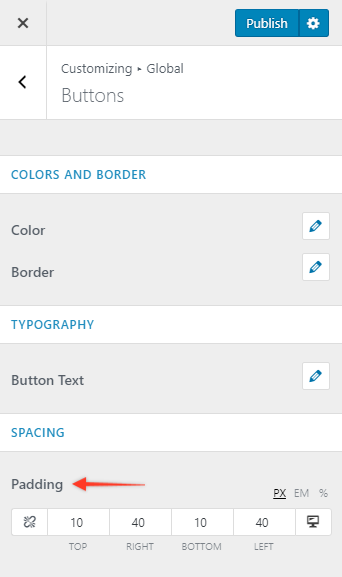 This means that the existing option of vertical and horizontal padding is replaced with a single parameter that has four options allowing control on the top, right, bottom, and left side.
Something we haven't mentioned, though. That new padding option is fully responsive! Making it incredibly easy to set a font size for desktop, tablet, and mobile.
Now rather than sitting there, writing custom CSS and spending an hour plus making sure the padding is perfect, it takes just 2 minutes and 3-clicks with Astra, giving you more time in the day for what's important to you.
Once again, this is a global option and will apply to every button created with Astra.
Questions?
We know you might have questions about that, and below, we answer some of the most common ones we expect and rest assured our expert support team is here every step of the way with you, to answer any concerns you may have.
What Happens for Existing Users With These New Options?
When developing Astra 2.2, we knew that these options would have a broader impact on the future development of Astra and the current way customizer settings are applied.
Because of this, the new Astra 2.2 options won't be automatically applied to your existing Astra powered site.
Why? There's nothing worse than an update having an unexpected effect on your website, that's why we made it a crucial aspect of our development and testing to ensure that the new changes aren't applied over your current settings.
To use the new options in Astra 2.2 as an existing user, you'll need to use a small piece of custom code. Don't worry, though! We've got this already done for you; just copy and paste the code required, which you'll find in our documentation.
Preparing for Even More Exciting Developments
This release forms the foundations of Starter Templates 2.0. Because in the upcoming Starter Templates 2.0, website styling will be applied from the theme customizer to the imported demo site.
With this improvement, it'll mean that color and typography options will be set from the customizer, saving you time updating the demo's site content to match your existing branding.
Conclusion
Our team is excited to bring you these improvements and look forward to what the next year and the new decade brings.
Every day you, our users, and customers inspire us to do better, improve, and push forward with the latest innovations and creative thinking.
We already have a range of exciting improvements planned, and can't wait to show you all more throughout the year.
Wherever you are in the world, we wish you a Happy New Year! Thank you for growing with us, and we hope you enjoy the new Astra 2.2 release. 🙂