2023 has just begun and we at Brainstorm Force are starting the new year with a bang.
We are proud to announce the latest release of our WordPress theme – Astra 4.0.0!
This new release includes a range of exciting new features and improvements designed to enhance your website experience.
Some of the highlights of this release include a new redesigned admin dashboard and a new mega menu management panel that will make Astra even easier to use.
We have also added some new features that will surely enhance the user experience including a redesigned narrower layout and smooth scroll functionality.
While some of the new features are only available in the Pro version of Astra, we have a special treat for users of the free theme.
Keep an eye out for it at the end of the list of new features!
We would love for you to join the Astra Pro users family though! We hope that the new features will encourage you to upgrade.
Let's see now what's new in Astra 4.0.0 and how you can use it for your or your customers' websites.
Astra in 2022
Astra is a theme that is constantly being updated to provide you with the best experience and the latest features.
So far, the theme has received hundreds of updates.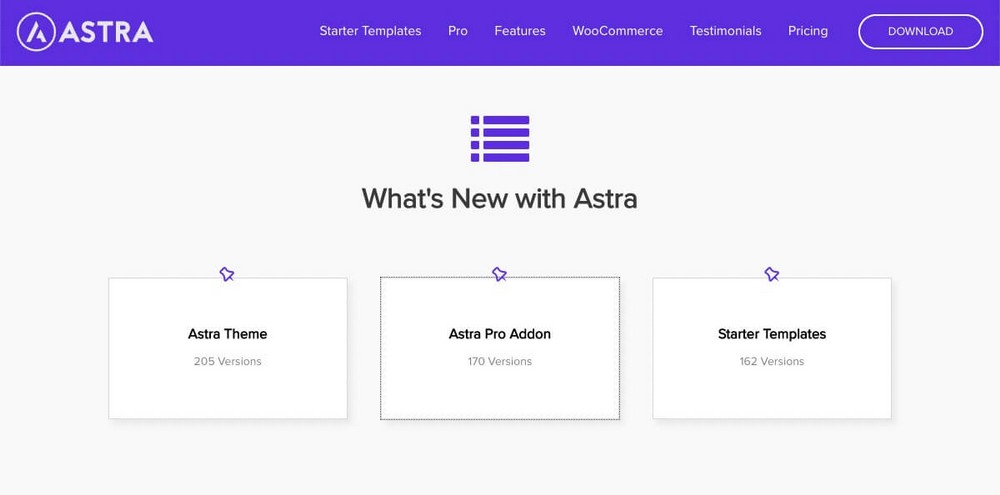 Two of the most relevant features that have been added in 2022 were:
Dozens of fixes and small improvements were also made to Astra to make it faster and more efficient!
Astra 4.0.0 – Get ready for all the new features!
Let's take a look at the updates and improvements that the Astra team has been working on.
You'll automatically get them when you update the theme from the WordPress admin panel.
| | | |
| --- | --- | --- |
| Feature | Available on free plan | Available with Pro |
| Redesigned admin dashboard | Yes. But Pro modules are disabled | Yes |
| Redesigned admin mega menu | No. Mega menu is only available with Astra Pro | Yes |
| Narrow width layout | Yes | Yes |
| Better layout support for custom post types and new banner style | Yes | Yes |
| New default homepage | Yes | Yes |
| Smooth scroll to ID | Yes | Yes |
| Quick edit links (headers and custom layouts) | No. Custom layouts and custom headers are only available with Astra Pro | Yes |
| New default colors and typography | Yes | Yes |
| Scroll to top | Yes | Yes |
To get the most out of Astra we recommend using Astra Pro.
We strive to keep adding value to Astra, so consider joining or upgrading to a lifetime license to continue receiving these upgrades for life. 🙂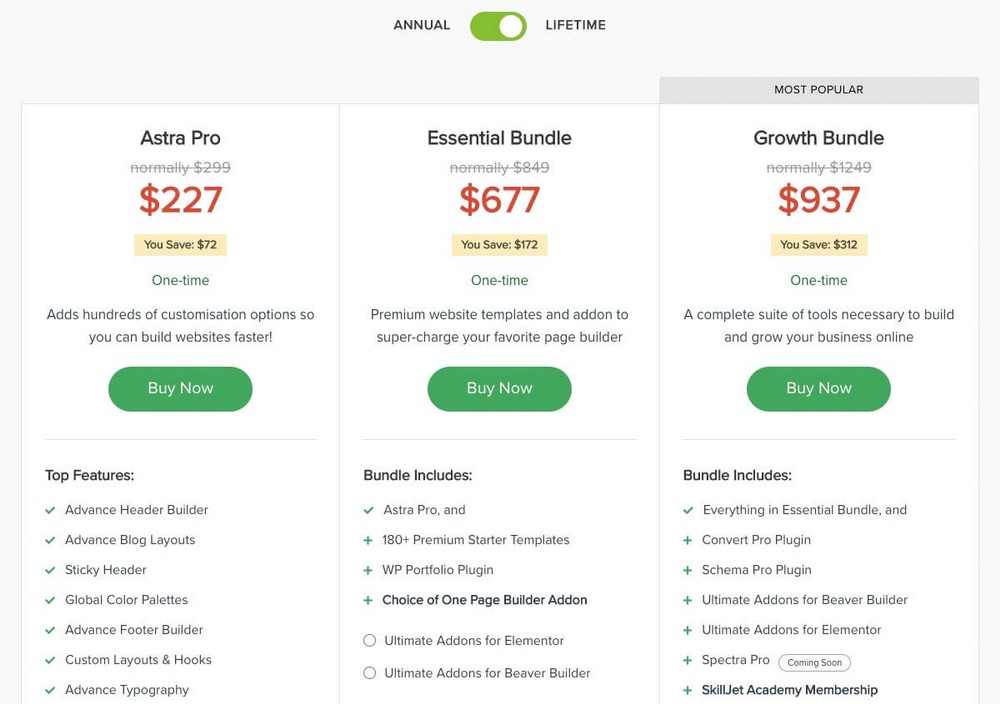 Redesigned admin dashboard
In the past, the Astra dashboard was located in the Appearance > Astra options submenu.
This made it difficult for new users to find these options.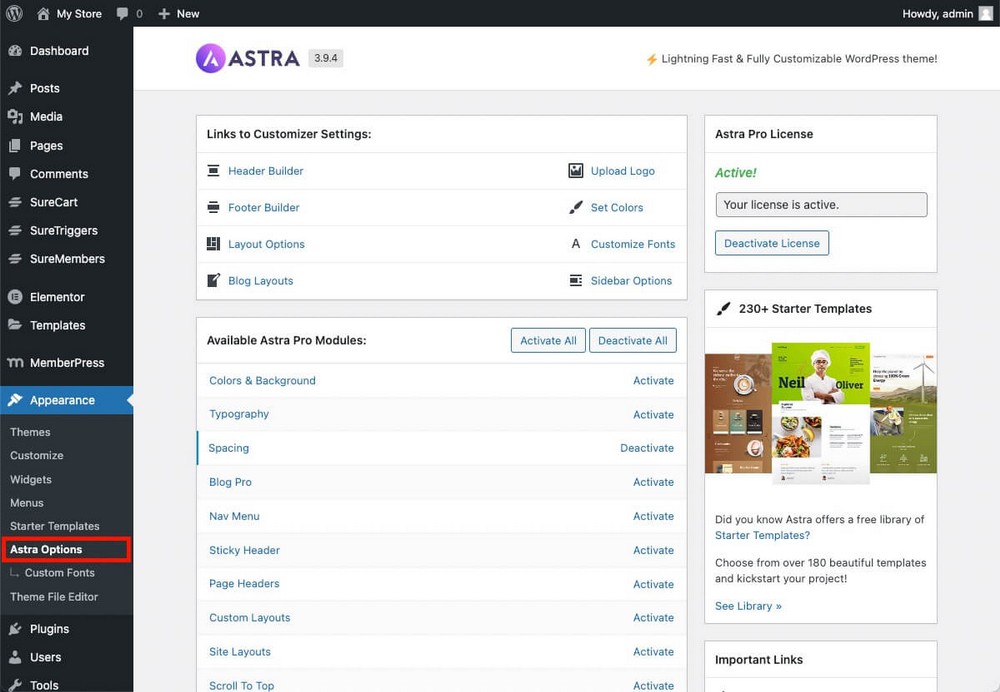 In the latest update the new Astra administration panel can be found directly in the sidebar.
A more accessible location for such an important element of your site.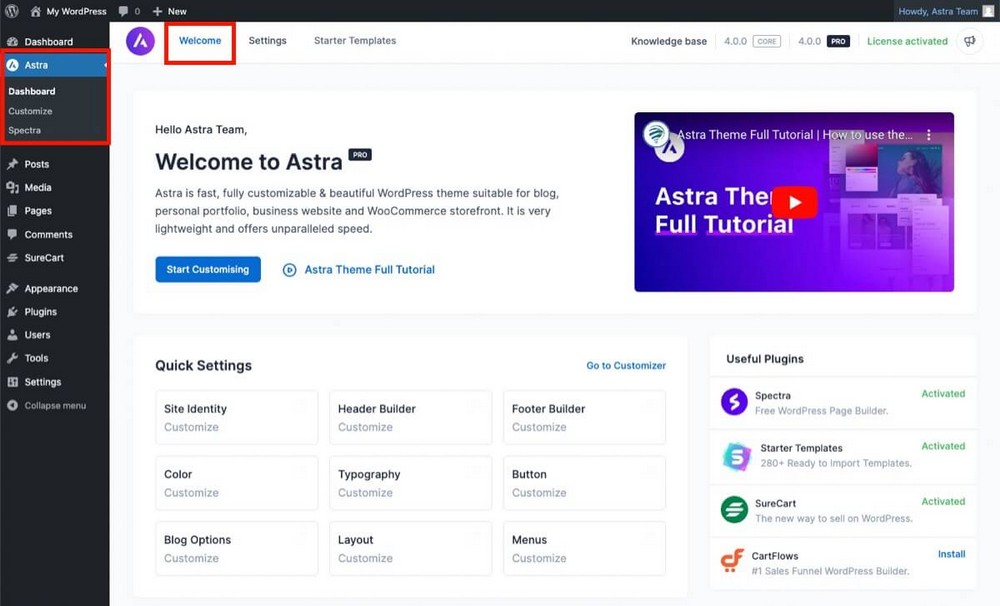 Quick settings
Inside the welcome tab you'll find a quick access button to the customizer.
The WordPress customizer offers so many options, some of them hidden in submenus.
That's why this dashboard now includes a quick settings section to get you to the area you want to work on faster.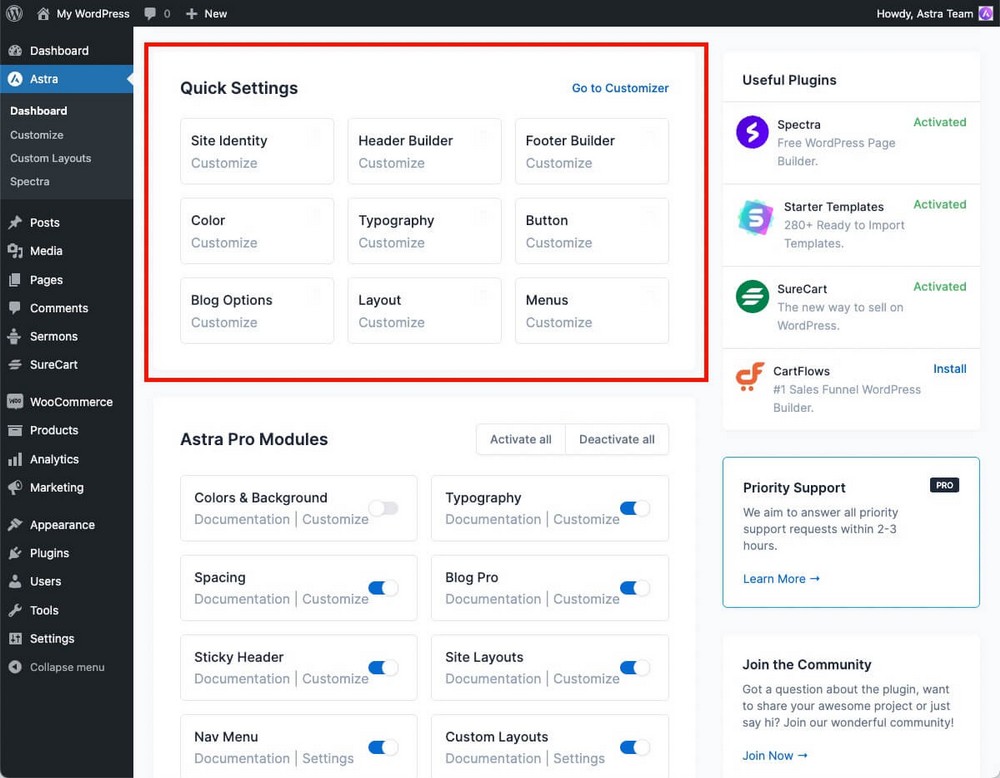 This tool will save you time every time you need to make small tweaks to your site.
If you are an agency that uses Astra for clients, this new layout should also reduce the number of support requests.
Users will be better able to easily locate what they need to change without asking you!
Pro modules management
You'll find another section that allows you to easily activate or deactivate your preferred Pro modules in a very straightforward way.
Each module includes a direct link to its documentation and settings panel.
Configuring and discovering new modules that we might add in the future or that you may have missed is now a breeze.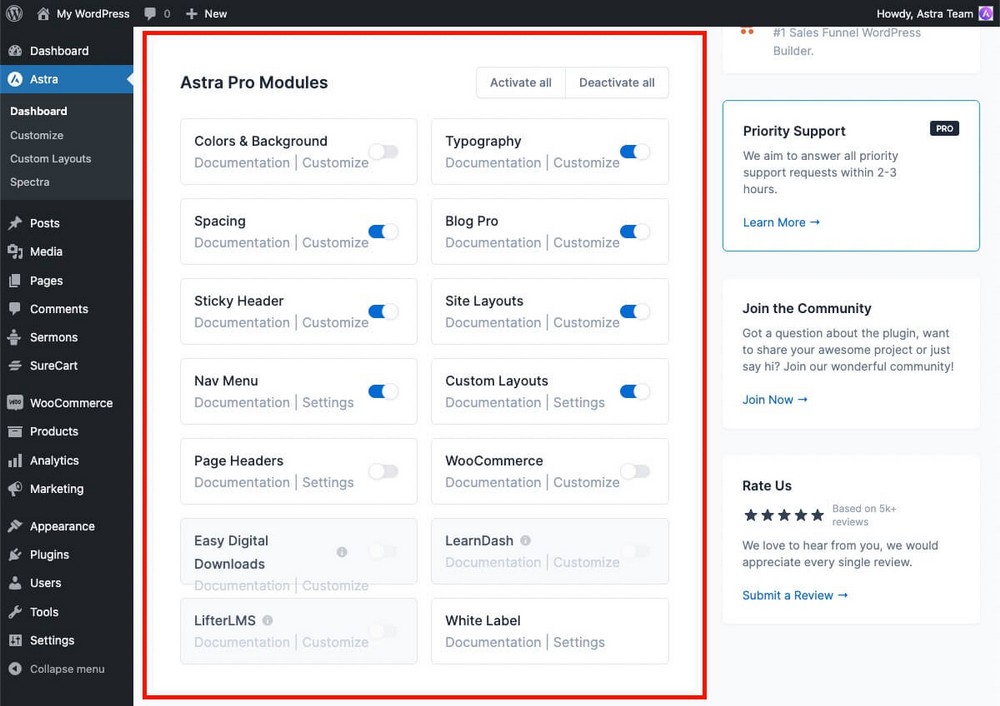 General settings
The options that were previously spread around the old dashboard are now conveniently located and organized within the general settings tab.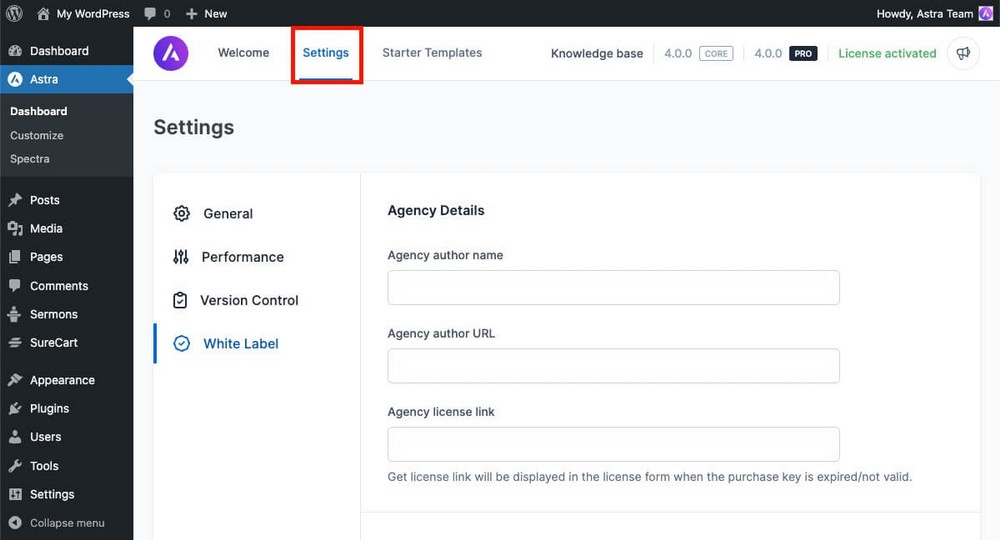 An example of this is the Pro feature that enables you to customize Astra with your own branding, known as white labeling.
Other useful shortcuts
The last tab in the top menu of this dashboard will take you to the Starter Templates wizard. Here you can quickly change the look of your website using one of our hundreds of professional-looking templates.
You can also find links to install plugins that can help you even more with your business.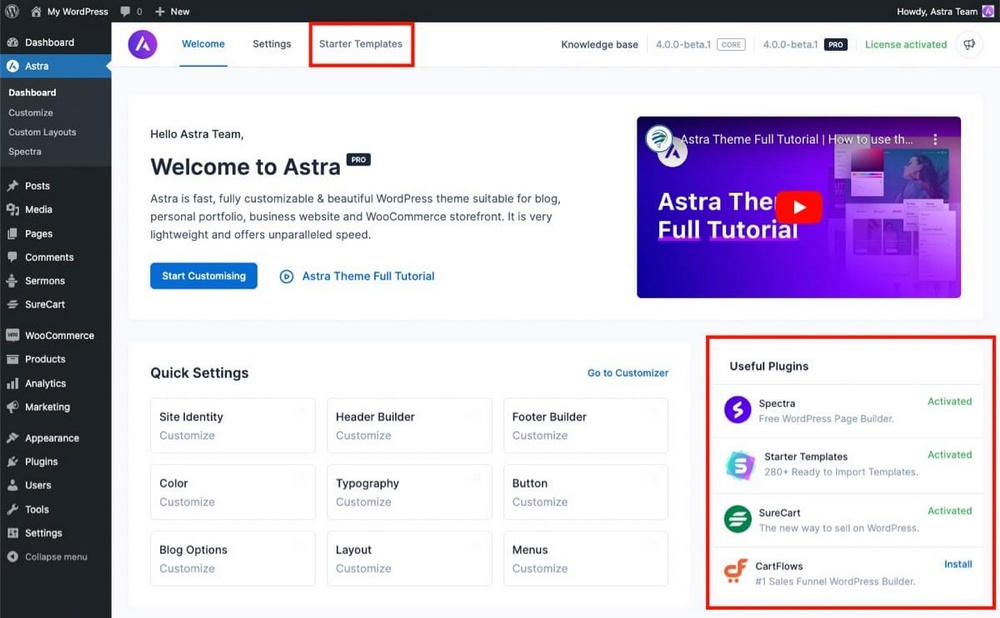 Those plugins include:
Spectra – Our free page builder.
SureCart – Turn your WordPress into a powerful eCommerce platform.
CartFlows – Create effective sales funnels within WordPress.
Redesigned admin mega menu
The mega menu is an Astra Pro feature that you can enable with the Nav Menu module (now you know where to find that module quickly!)
This addon lets you create big menus with multiple options.
Very useful for websites with large amounts of content or many sections or categories.

You can open the mega menu settings from WordPress Admin Panel > Appearance > Menus > Astra Menu Settings.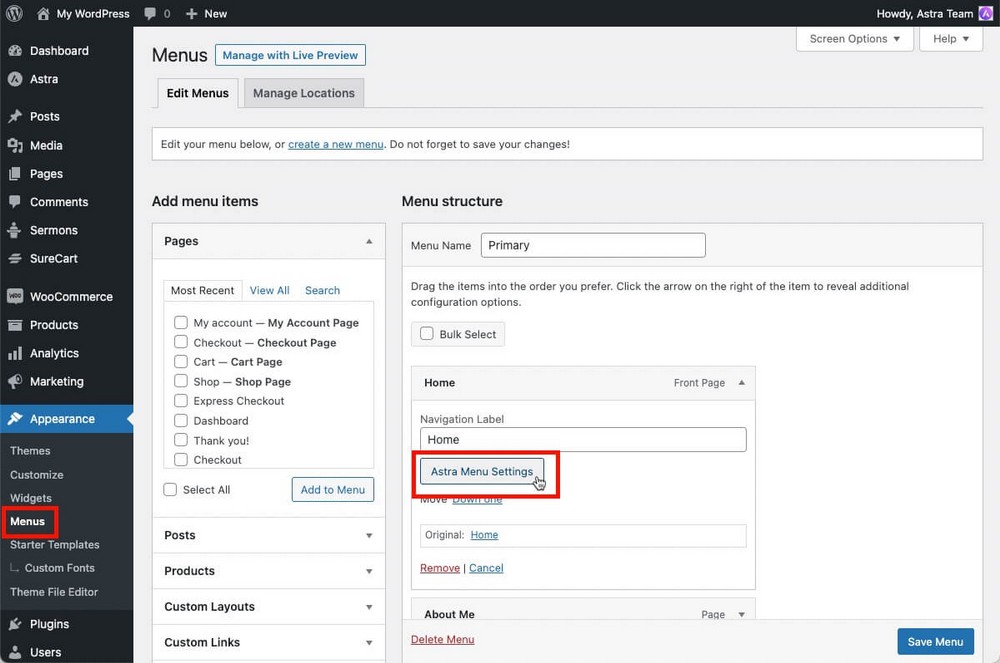 When pressing this button:
Before: A modal window covering all the content appeared.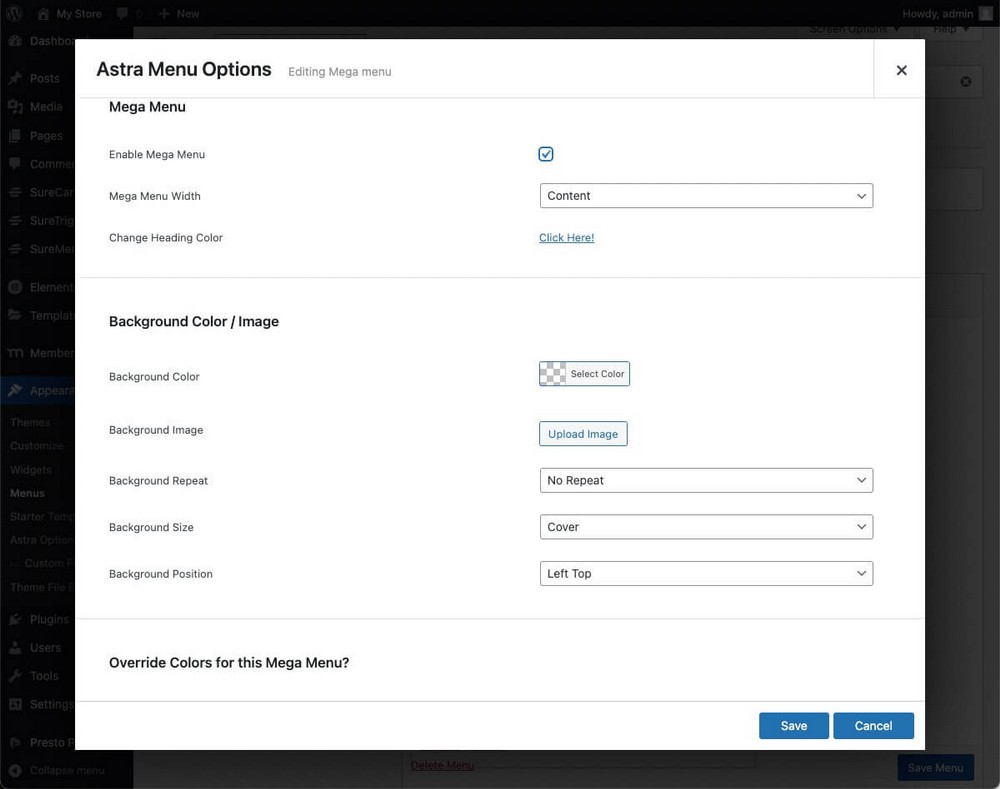 Now: A small off-canvas menu appears.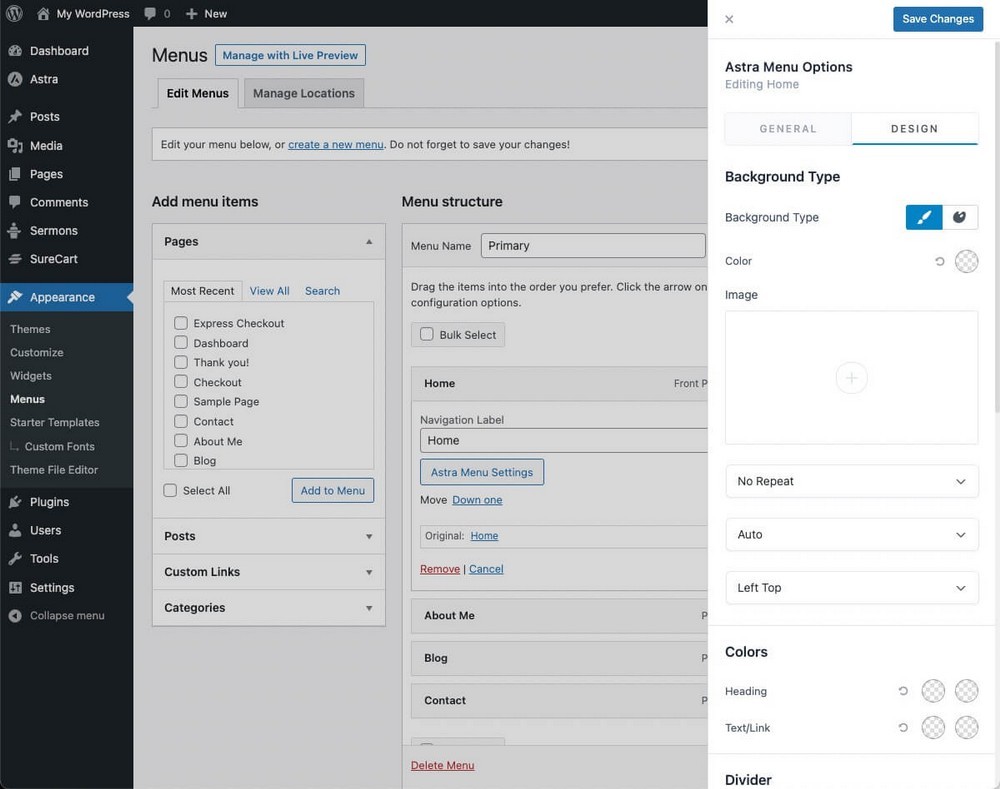 Visual space is better optimized and you will have more context about what you are working on.
And some mega menu extra features
In addition to making these menus easier to create, we have also added 4 extra options so you can tailor menus more to your style:
Custom icon position support and styling for mega menu items: If you add custom icons to your menus you can now modify their position from the general tab.
NOTE:
The styling options can be found in the design tab.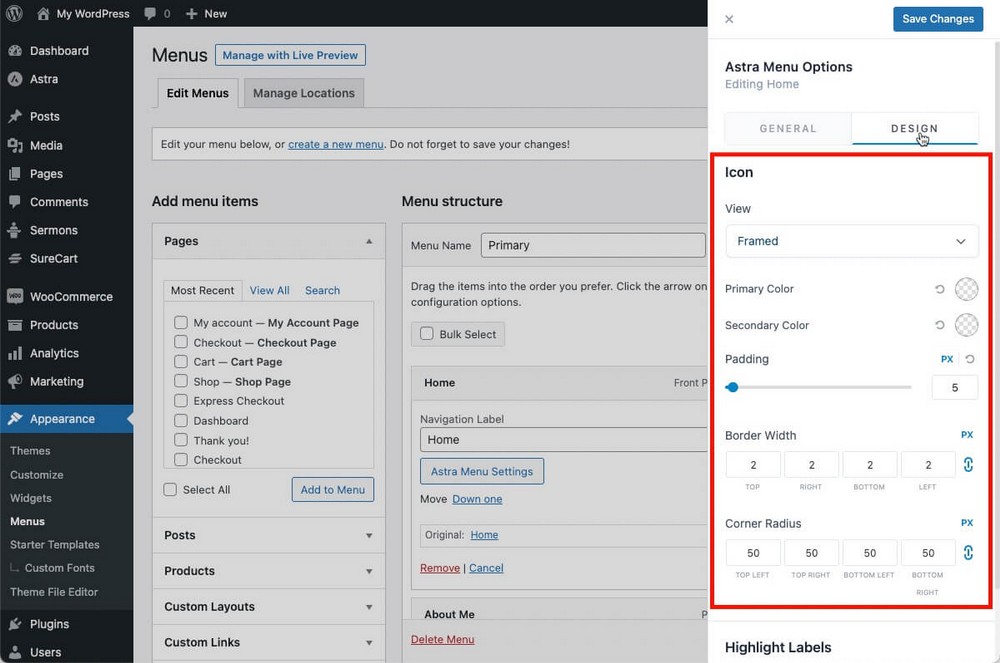 Header color added for mega menu items: Now you can add colors to this element as well for normal and hover states.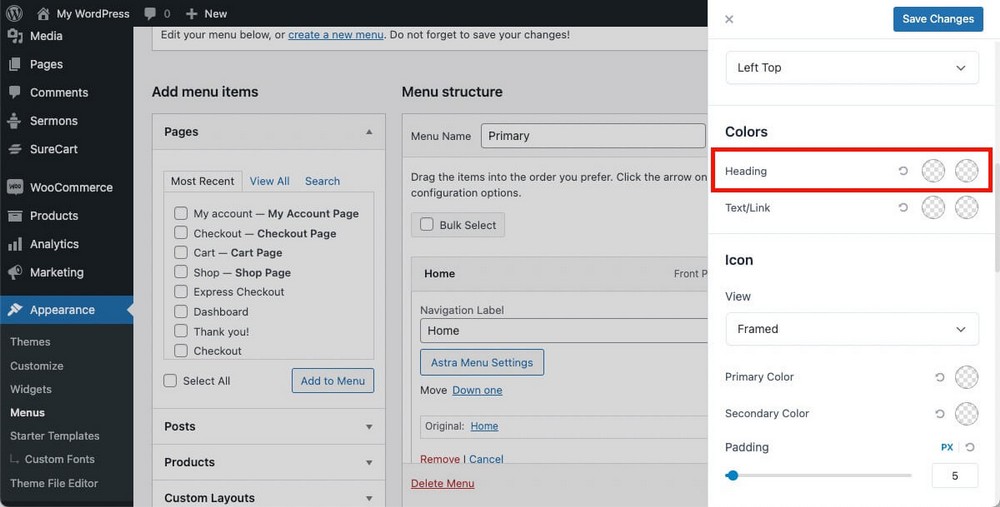 Background gradient added for mega menu items: Create more eye-catching menus using linear or radial gradients as backgrounds.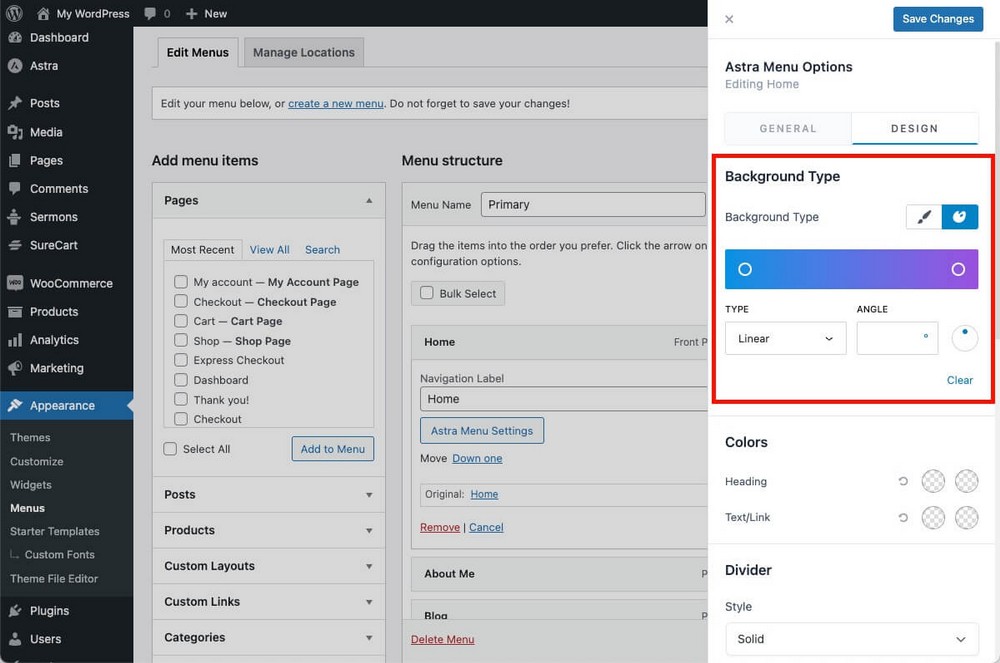 Divider color and styles for mega menu items: Emphasize the distinctions between sections even more with solid, dotted, dashed or double styles.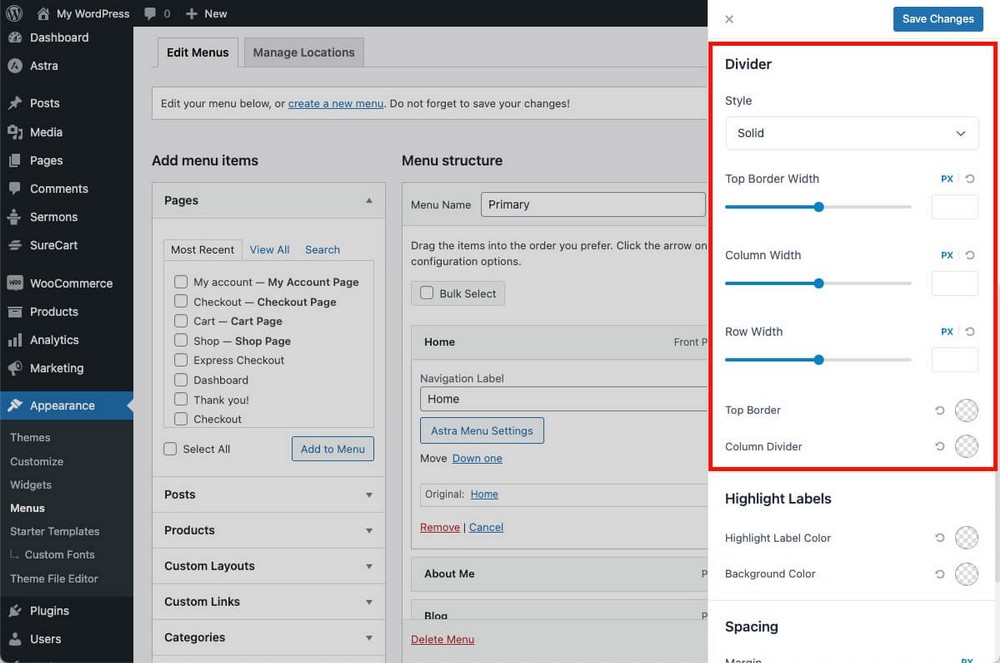 A new narrow width layout
Astra allows you to choose between many layouts for your posts and pages.
From now on you'll find an option called narrow width layout that will let you display content in a more minimalist and elegant way.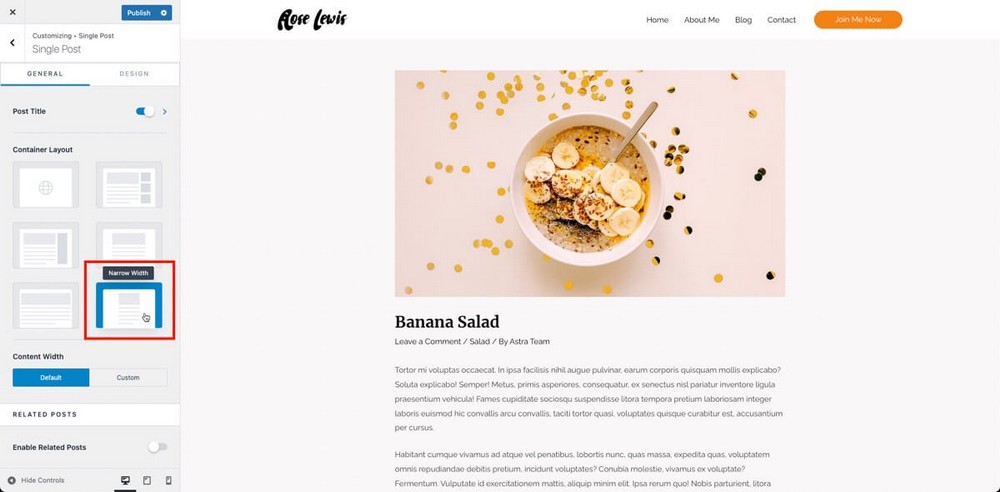 In addition to posts and pages, you can also modify the width of blog pages, archive pages and custom post types.
You can modify this width individually for each element or globally from Customizer > Global > Containers.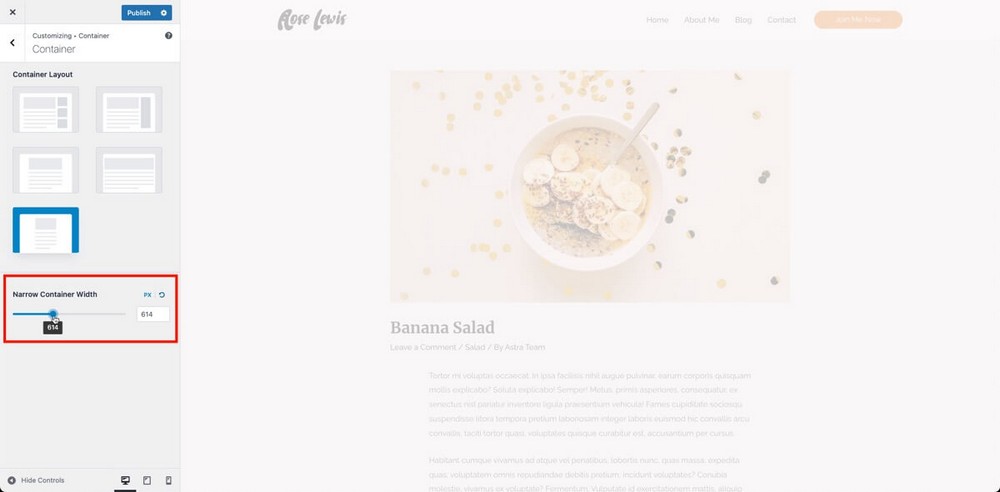 Better layout support for custom post types
Previously we had content layout and sidebar layout support only for limited post types: post, pages, and some custom post types (CPT) from WooCommerce, EDD and some LMS.
From now on you'll be able to use different layouts for every custom post type you use.
Let's say you've created a website for your church.
Before you were constrained to use the same content and sidebar layouts for the CPT "sermons" and for your blog articles as everything was considered the same element.
Now you can use one layout for your articles and a different one for your sermons CPT.
Just go to the Customizer > Custom Post Types > Select your CPT (single or archive) and pick the layout you wish to use.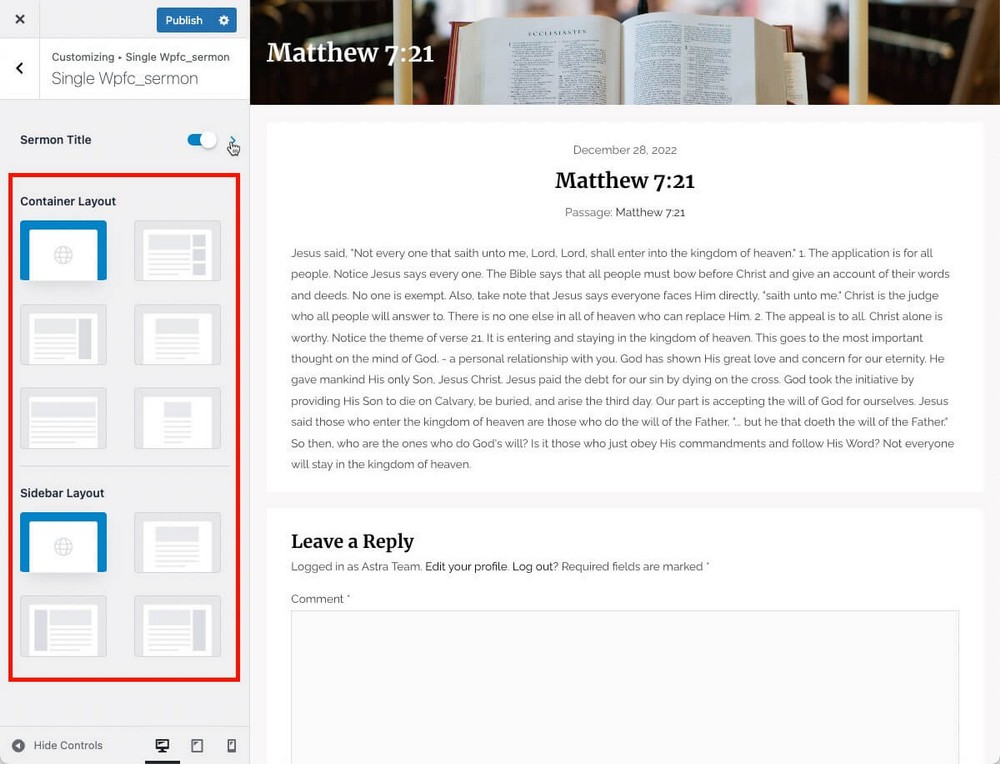 A new banner style
There's also a new banner setting in Astra 4.0.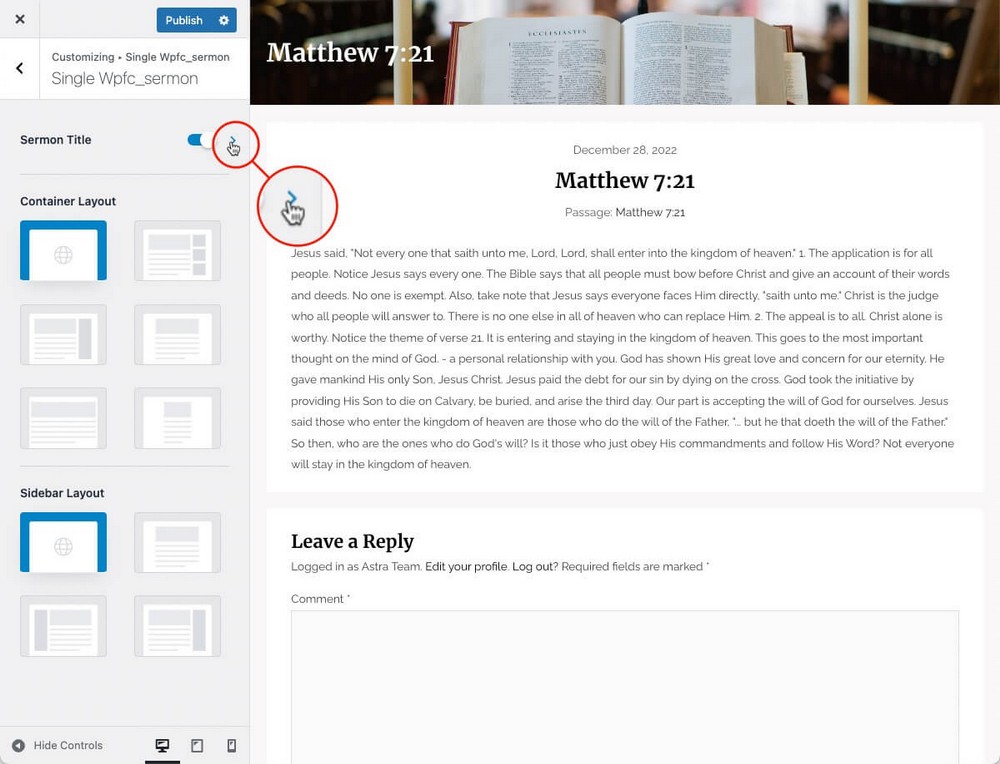 You'll get to a new panel where you can pick a different banner layout for the post type you are customizing.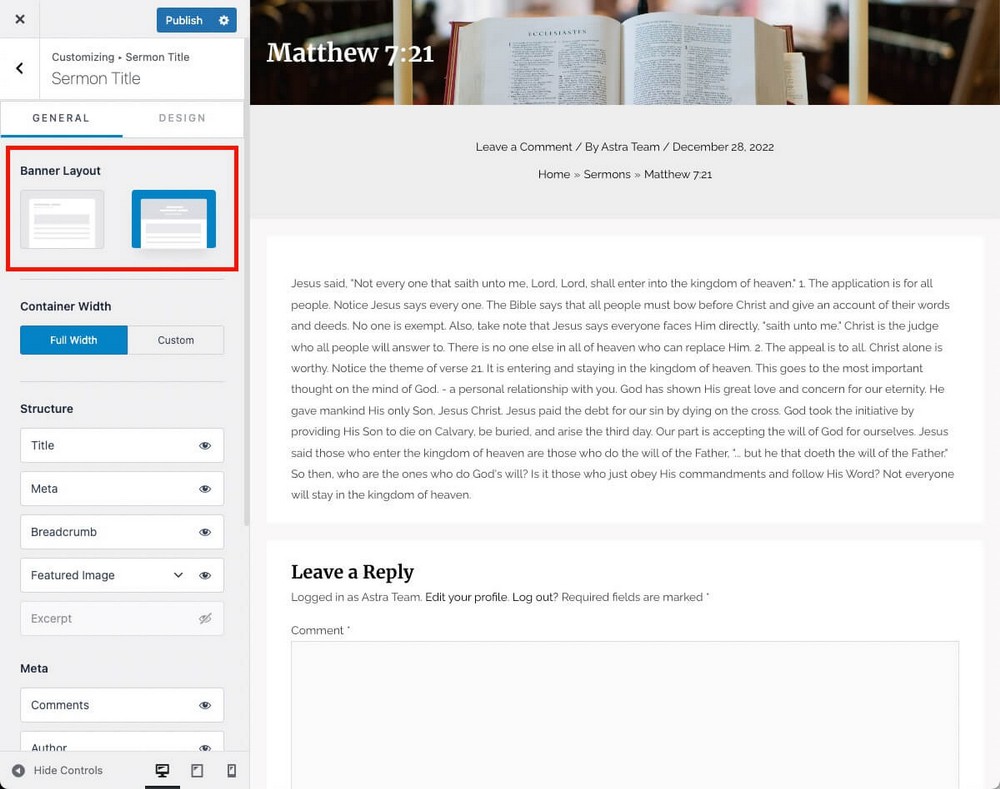 Depending on whether you choose the first layout or the second you'll see different options below:
Container width: Full or custom. Only available on the second layout.
Order and visibility of some structure and meta elements: Such as the Title, breadcrumbs or the excerpt.
Horizontal and vertical alignment of those elements.
Don't forget to visit the design tab, as you'll find there even more options to fully customize your post type.
Remember that this upgrade works for posts, pages or any custom post type, and it will be commonly known as Dynamic Customizer.
New default homepage
If you're installing Astra for the first time, you'll have to enable it from the WordPress administration panel > Appearance > Themes.
You'll find 2 options there: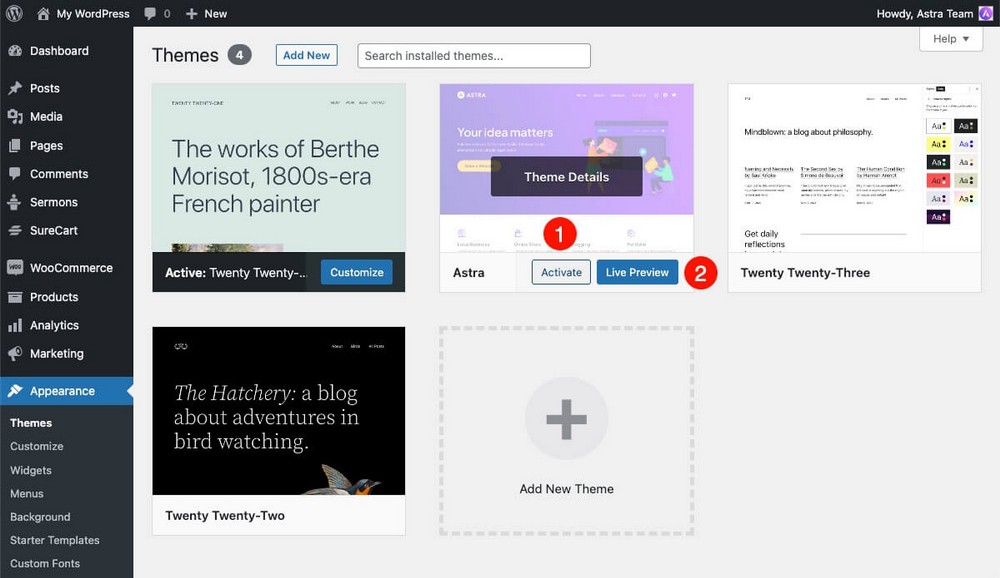 If you click on Activate your homepage will showcase your latest post as your homepage.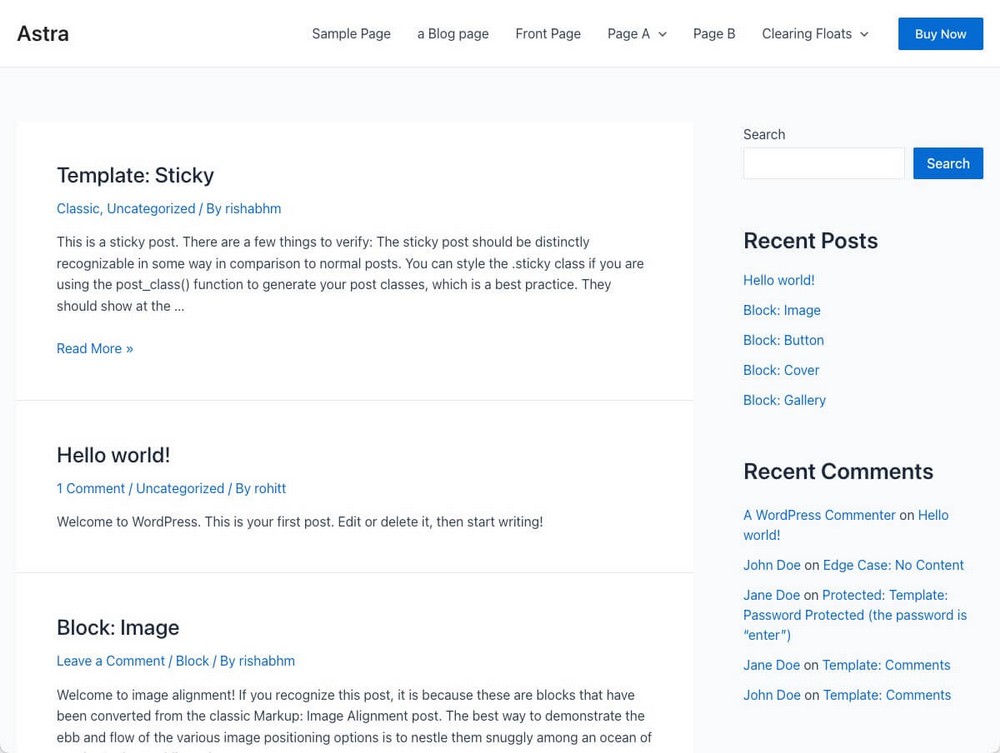 If you open the live preview you'll see the new and renewed Astra 4.0 homepage. You can activate it from there.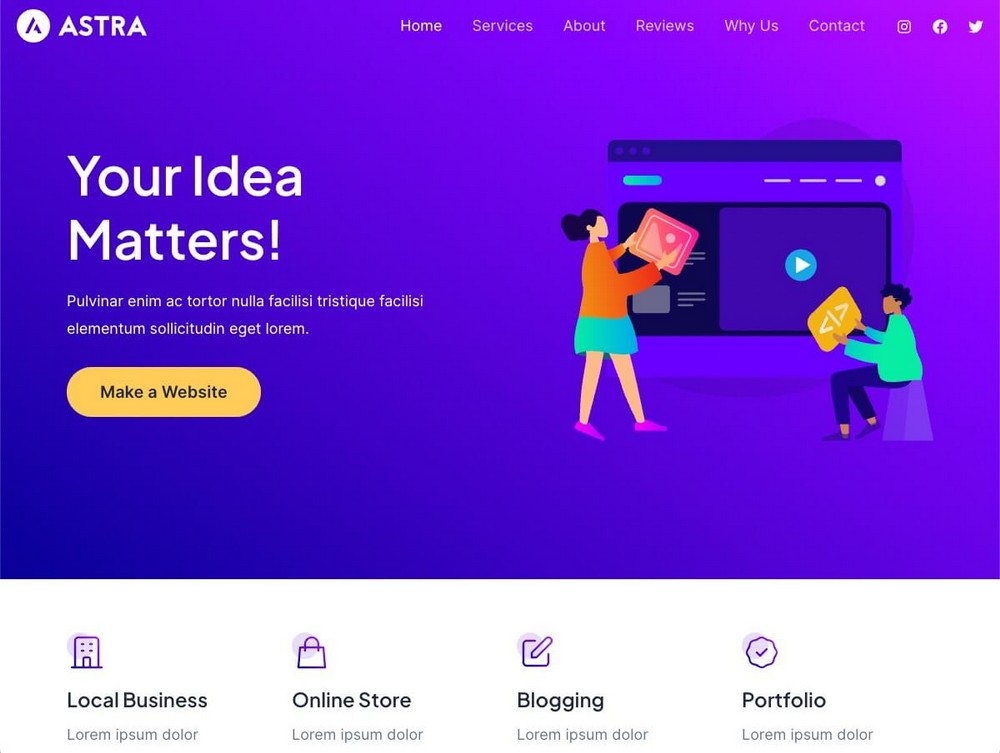 Later, if you want to display the most recent post instead of the default homepage, you can do so by navigating to Settings > Reading.
Then, select the option: Your homepage displays > Your latest posts.
Smooth scroll to ID
Previously, navigating to a section (a specific part of the same page) wasn't visually appealing as you just jumped there without any animation.
Now you can enable smooth scroll to smoothly transition to the desired section rather than jumping immediately to it.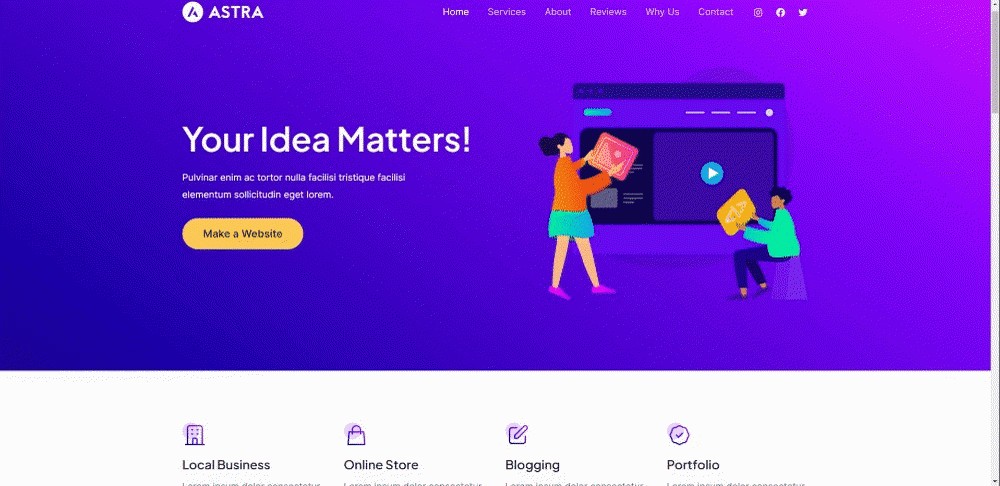 You can enable this feature with just one click from Customizer > Global > Misc > Enable Smooth Scroll to ID.

Quick edit links for custom layouts and page header
If you use custom layouts, one of the most powerful features of Astra Pro, you'll find this little update really interesting.
To give you more insight into what custom layout or custom header a page is using, a small Astra icon will show up in the frontend displaying the active layouts and a direct link to edit them.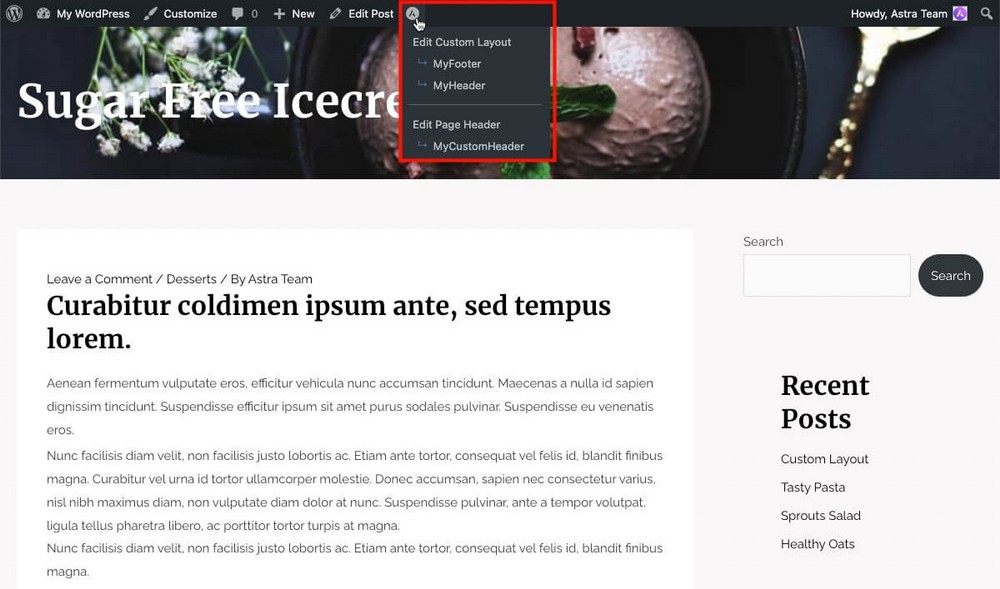 New default colors and typography
In Astra you can easily modify the typography and colors of your website.
If designing is not your thing, the default font and colors that the theme uses will give you a clean and minimalist website design that is well-suited to modern tastes.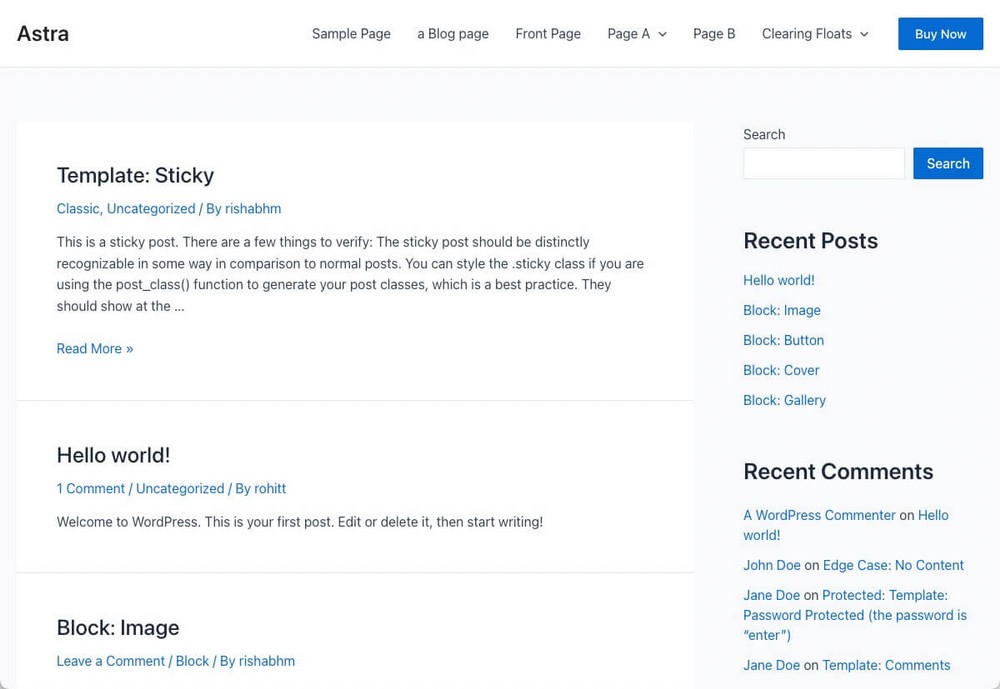 Our present to you: Scroll to top becomes a free feature!
The button that allows users to return to the top of your page with a single click is now a free feature of Astra!
You can find this option on Customizer > Global > Scroll To Top.
You can easily modify its position, visibility by device, size and color as you see fit.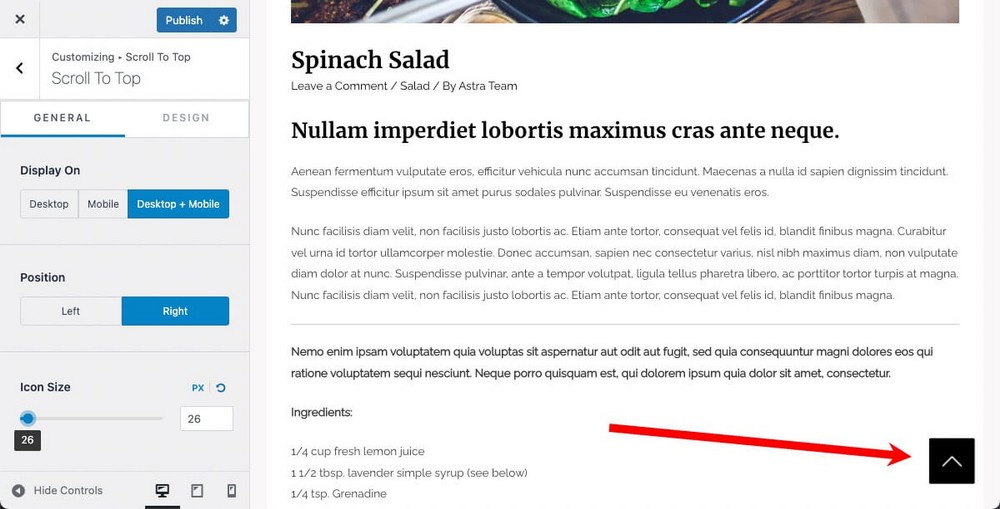 Wrapping up
The Astra team has put in a lot of effort to deliver significant improvements that make working with the theme easier than ever.
The redesigned dashboard and mega menu, along with the ability to quickly see and edit custom layouts, will improve your efficiency in managing websites.
The narrow layout, scroll to top, smooth scroll and the new typography will make your users have a better browsing experience.
We can't wait for you to try out all these new features!
While unlikely, if something is not working as you would expect, Astra has a rollback option to quickly return to a previous version.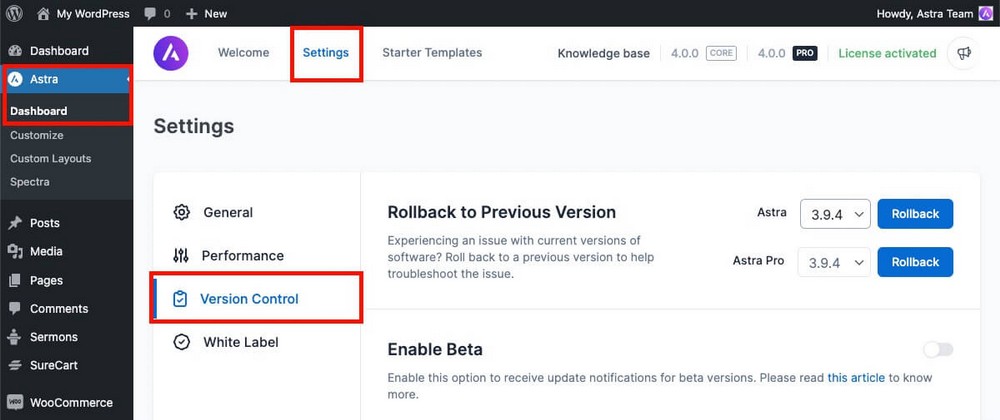 Our support team will be happy to help you with any questions you may have about this update.
Thank you for all your support along this journey.
We hope you enjoy the new Astra 4.0!
Don't forget to leave a comment below telling us what you would like to see in future updates!