If you've been in the online space long enough, you surely would have come across a CTA – Call To Action. Be it in a blog article, in a video description, inside an ebook, well, just about anywhere.
CTA is what marketers extensively use to encourage their audience to take the next step. A step towards getting the ideal customer into your sales funnel.
Here is an example of a CTA within a blog article –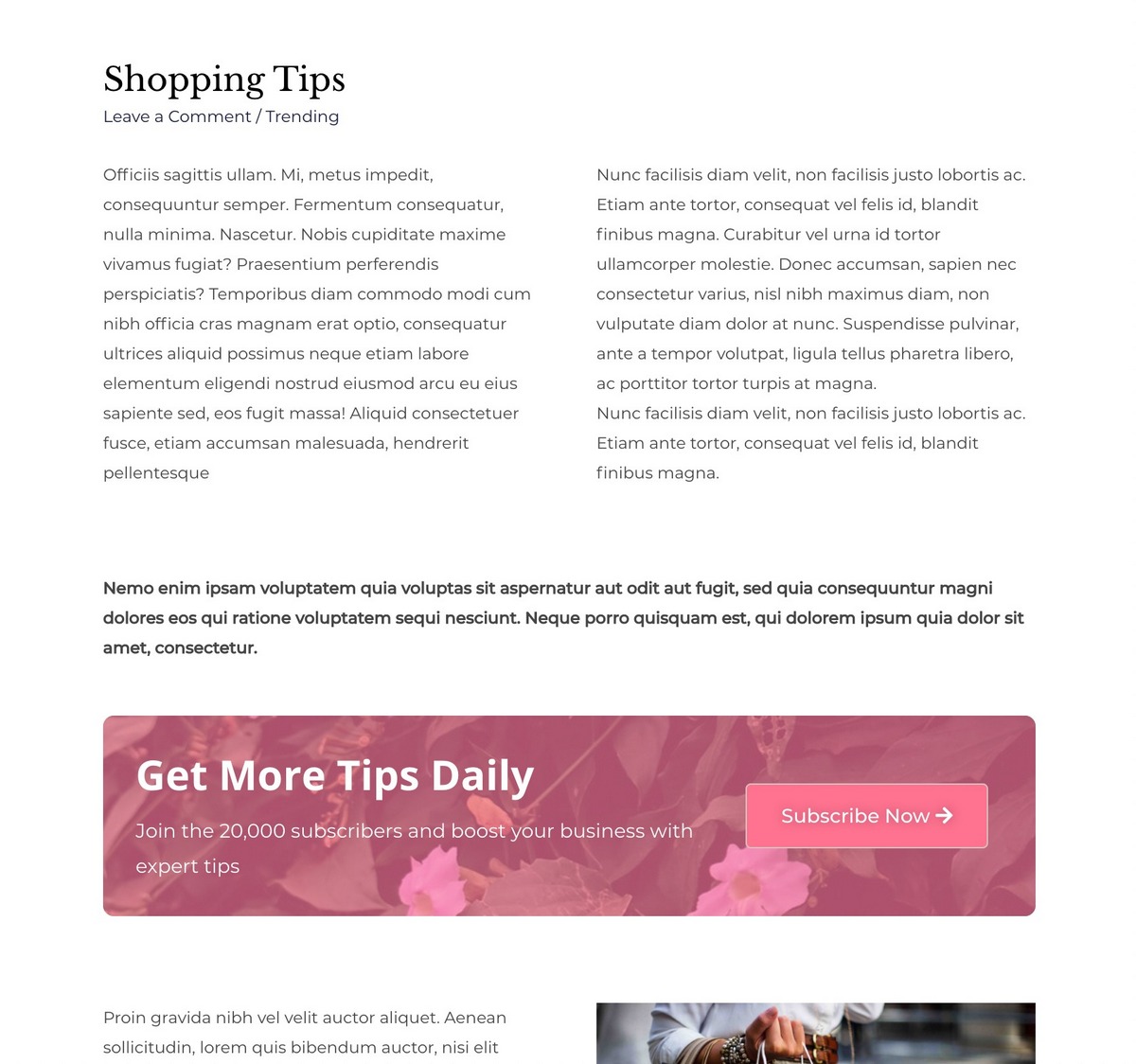 Creating such calls-to-action helps website owners generate more leads and eventually, more business!
So, do you want more leads and more business? Do you want to easily create similar CTAs and announce your latest offers, discounts, subscriptions, and more on your website?
We're guessing that's a big yes!
The good news is with your favorite Astra theme and its pro addon, you can easily design attractive CTAs and place them anywhere on pages and posts.
Let's understand this new feature –
Design Once, Display Anywhere on Pages/Posts
Having CTAs on the website is beneficial but adding them to the website can be an overwhelming process.
Let's say your website has over 100 blog posts and you need to add CTA to all your posts.
You can easily design the CTA but imagine the time and effort that will go into editing each post, adding a CTA, and saving the post. Even if you only need to update or edit even a small part of the CTA you will need to repeat the entire process again. That sounds very time consuming, right?
But not with Astra!
Astra is all about speed and efficiency, so we have developed a new feature – Custom Layout inside Gutenberg pages.
This new feature helps you design your CTA once and display them anywhere on your Gutenberg pages and posts with just a few clicks.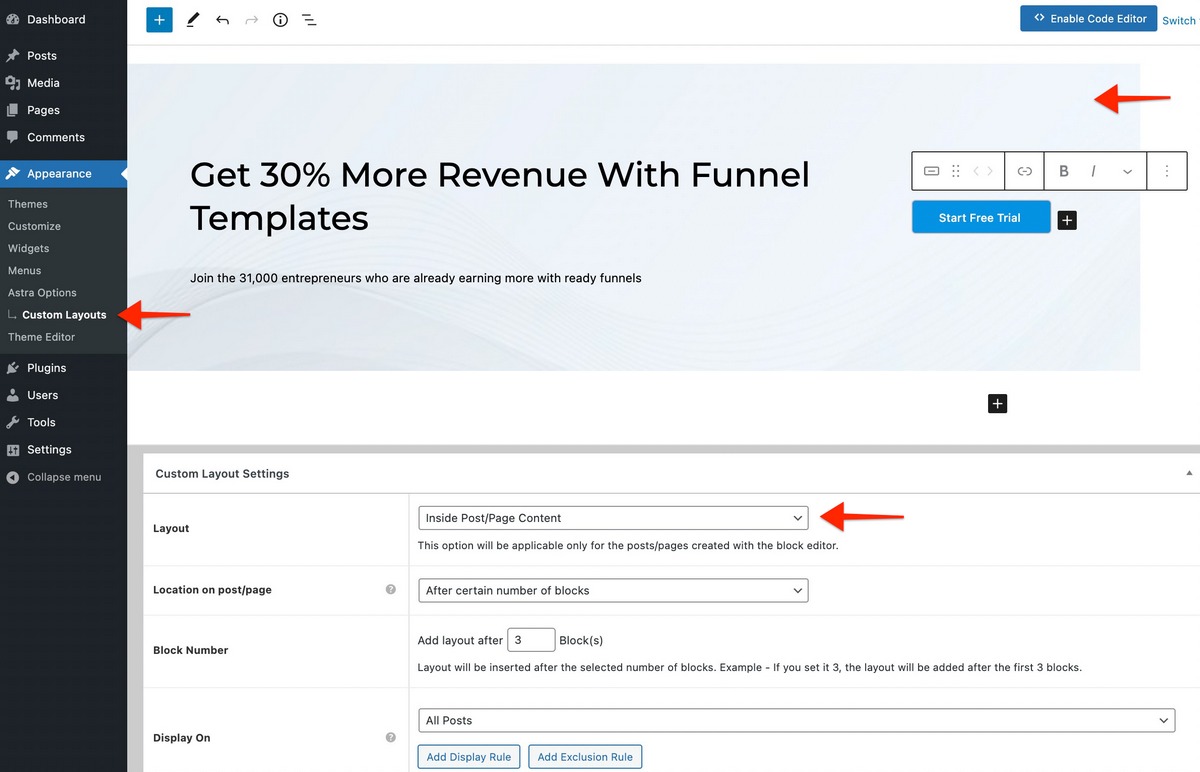 This feature is available with Astra Pro's Custom Layouts module.
Custom Layouts is a powerful module that allows you to design a custom section easily and set it as your website header, footer, 404 page, or at various locations in the website with hooks.
Additionally, you'll now be able to create a custom section and include it inside Gutenberg pages and posts.
Here are reasons to love this new feature –
Easy to use: Simple UI and powerful controls to design CTA.
Native with theme and addon: Use your favorite Astra theme and Astra Pro addon to easily manage CTA.
No third-party plugins required: No need to add extra plugins to manage design or display locations.Everything available right inside Astra Pro.
Set preferred location easily, and change it easily: Manage everything from one place.
Time-saving: Save time by simplifying the entire process of adding CTA.
Let's see how to use this feature –
How To Add Custom Layouts Inside Gutenberg Pages
Activate your Astra Pro plugin to start.
Step 1: In the WordPress dashboard, head over to Astra options to activate the Custom Layout module.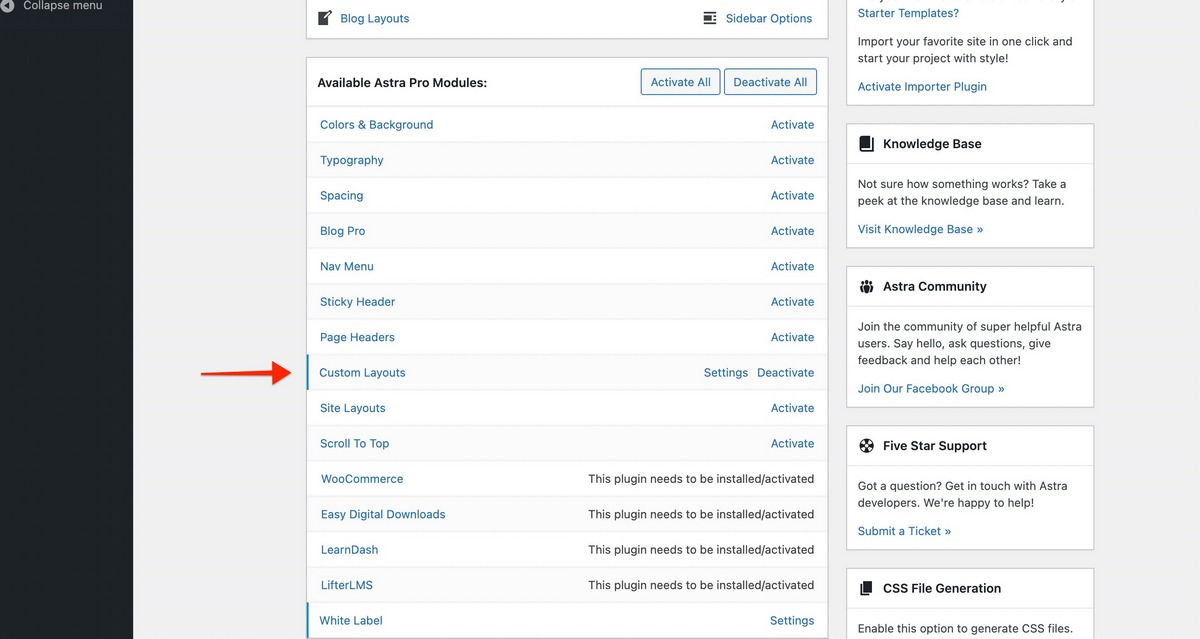 Step 2: Under Custom Layouts settings, unleash your creative side and design a nice section using the Gutenberg block editor. You can even use Elementor or Beaver Builder to design the section.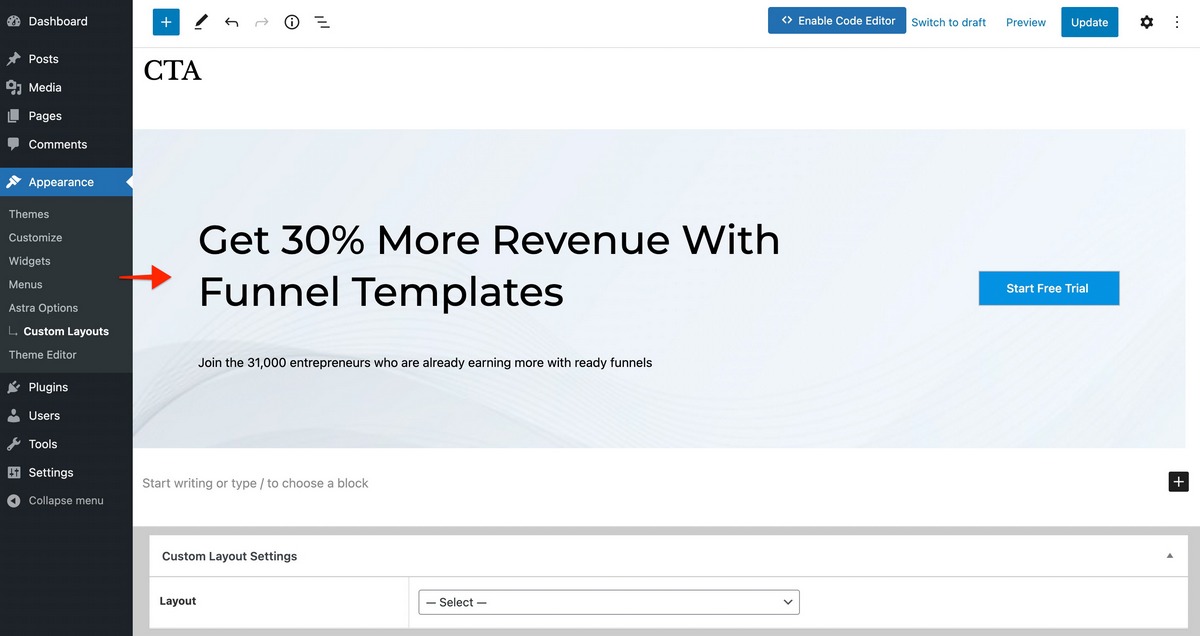 Step 3: Once you've completed the design, it's all about displaying this section. From the layout settings, choose – Inside post/page content.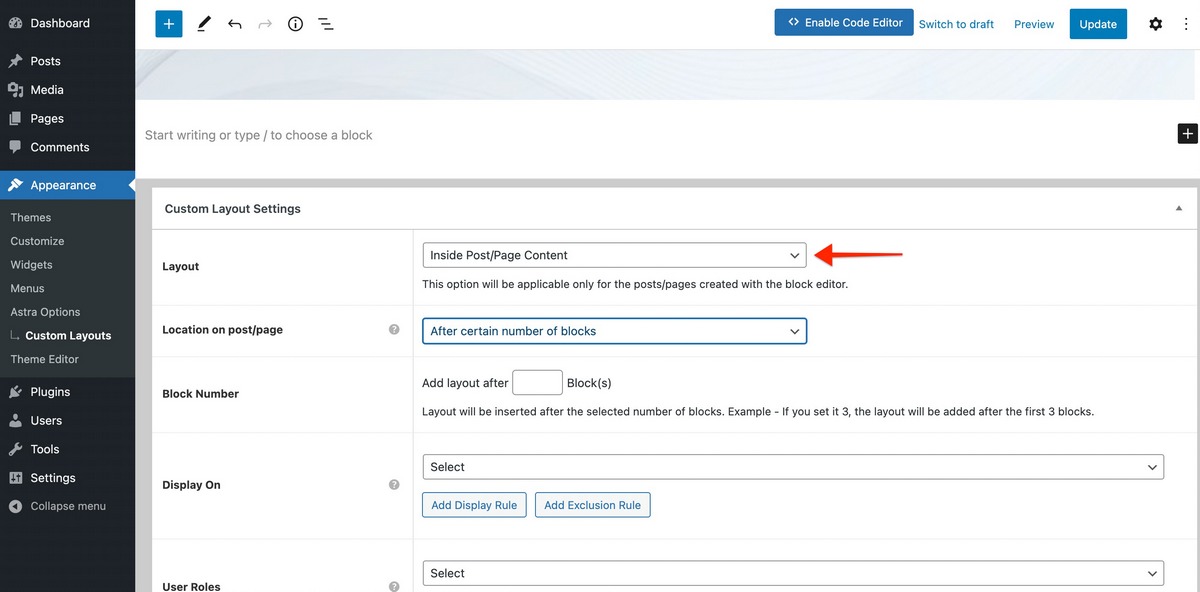 Step 4: You'll notice two options under Location on the post/page.
The first option…
After a certain number of blocks – This option will allow you to display your custom layout after a selected number of blocks on the Gutenberg page or post. Here you can set the number of blocks after which your custom layout can be displayed.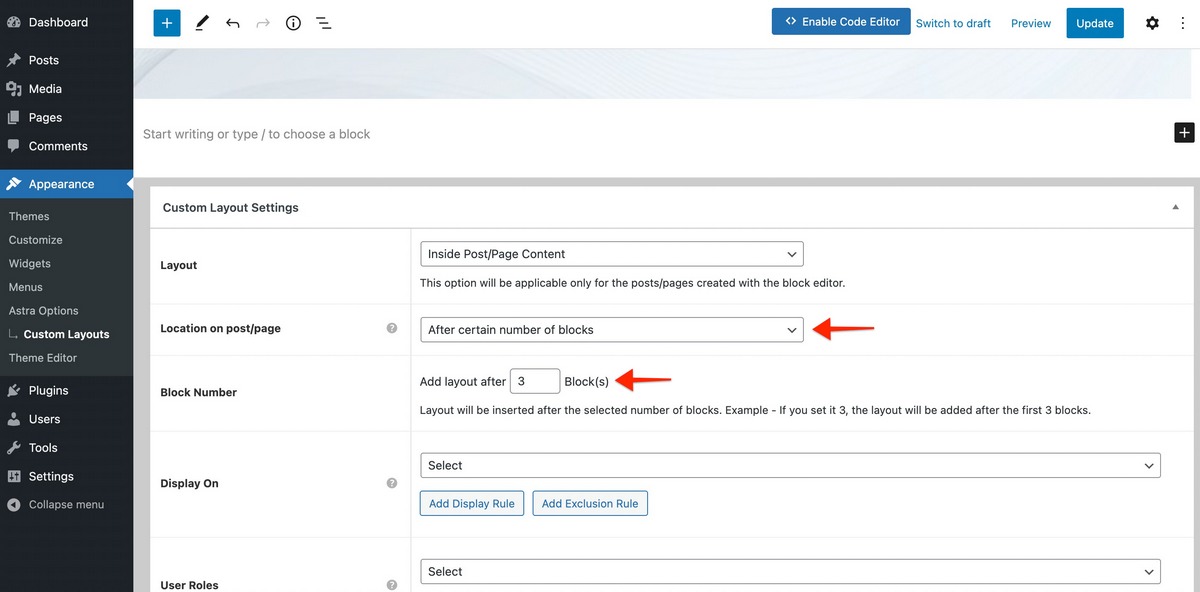 Example – If you set the Block Number as 3, your custom layout will be displayed after the 3rd block on the selected Gutenberg page.
As shown below, this is how it will appear on the front end of your website, after the 3rd block.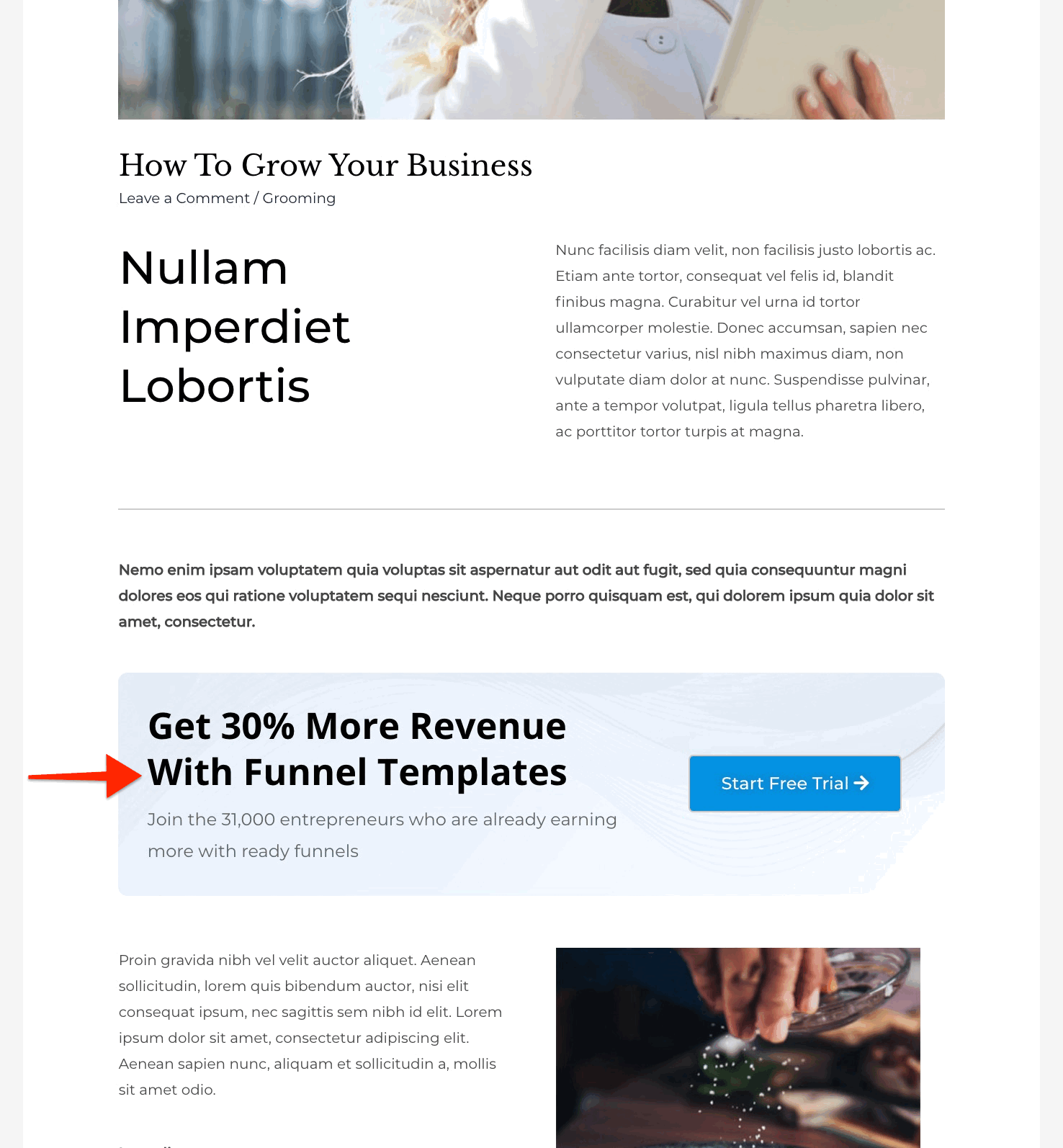 And the second option…
Before a certain number of Heading blocks – This option will allow you to display your custom layout before the selected number of Heading blocks (applicable only on the native Gutenberg Heading blocks) on the Gutenberg page/post.
Here you can set the number of Heading blocks before which your custom layout can display.
Example – If you set Heading Block Number as 3, your custom layout will be displayed just before the 3rd Heading block on selected Gutenberg pages/post.
Again, as shown below, this is how it will appear on the front end of your website.
Step 5: Now that we know how to set the exact position of the custom layout on the Gutenberg page or post, the next step is to choose where the custom layout is to be displayed.
This can be achieved by setting up some Display and Exclusion Rules.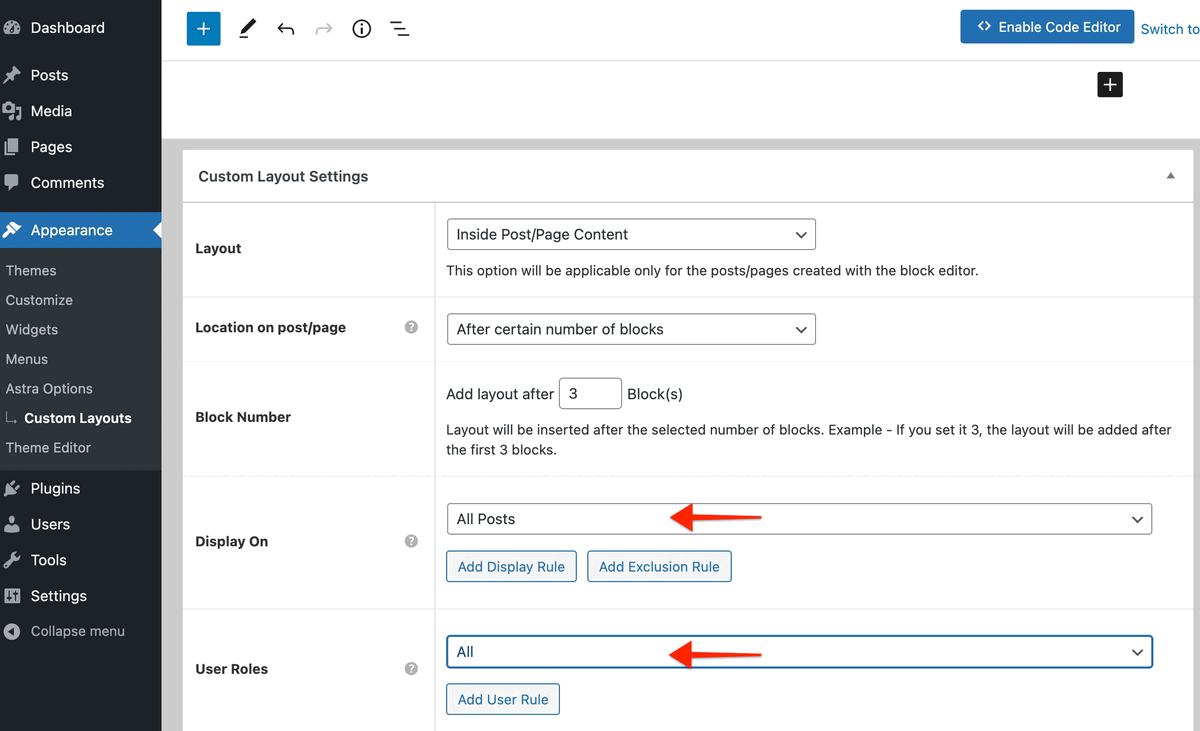 Under the Display On option, you can select the exact pages or posts. Simply select the required display locations from the dropdown.
If you wish to restrict this custom layout visibility to users based on certain roles, you can do so with the User Roles option.
And, just like that, you are done!
That's how you can easily include your Gutenberg section anywhere on pages or posts!
Start Adding Attractive CTAs Today!
You've seen how easy it is to include a CTA on your website.
Just design a section and include it anywhere you want to. If you need to edit this section, simply visit the custom layout and update it.
To get started, update to the Astra Pro version 3.2 today and make use of this feature. Add attractive announcements, promo ads, subscriptions, discount offers, and so on, right inside your Gutenberg page and posts.
With every Astra update, we are pushing the boundaries even further to help you build a successful online business.
Let us know how you like this update in the comments below.
Stay tuned for more exciting updates!
Cheers!