When was the last time you took a good look at your "Contact Us" page?
Are you still using the same WordPress contact form plugin you chose years ago?
Take a moment to think about how your site has evolved over the years and whether your contact form is still living up to your expectations.
For example, I've been using Jetpack's contact form for years. It was a simple, effective feature of the plugin when I was just starting out.
But as my website has grown, my needs have too.
I need a contact form that does more than accept simple messages.
So today we're looking at 16 of the best WordPress contact form plugins to suit a wide range of needs.
| | | | |
| --- | --- | --- | --- |
| Plugin | Features | Free Option? | Price for Pro |
| WP Forms | User-friendly and Quick to Setup. Readymade Form Templates. | ✅ | $79 / Year |
| Gravity Forms | Over 30+ Form Fields. Conditional Logic. | ❌ | $59 / Year |
| HubSpot WordPress Plugin | Email Marketing, Live Chat & Chatbots. | ✅ | N/A – 100% Free |
| Ultimate Addons for Elementor | Total customization. Honeypot protection and Google reCAPTCHA. | ❌ | $69 / Year |
| Ninja Forms | Entry management. Basic Email Marketing Integration. | ✅ | $99 / Year |
| Formidable Forms | Visual Style. Repeater Fields. | ✅ | $149 / Year |
| Formstack | Payment Processors. Conditional Logic. | ❌ | $19 / Month |
| Contact Form 7 | Multiple Forms. Shortcode to Embed Form. | ✅ | N/A – 100% Free |
| Caldera Forms | Conditional Logic, File Uploads, Multi-Part Forms | ✅ | $99 / Year |
| Wufoo | Over 400 Templates. Easy Form Builder. | ✅ | $14.08 / Month |
| Visual Form Builder | Easy Drag and Drop Interface. Fully Compliant with GDPR. | ✅ | $29 for 1 Site |
| Jetpack Forms | Multiple Contact Forms. User-Friendly Editor. | ✅ | N/A – 100% Free |
| Contact Form Builder | Custom HTML Between the Fields. Data Validation. | ✅ | $30 for 1 Domain |
| Form Maker | Submission Management. Payments Collection. | ✅ | $45 for 1 Domain |
| Happy Forms | Dashboard Analytics. Pop-up Form. | ✅ | $69 for 1 Site |
| KaliForms | Multi-page Forms. Predesigned Templates. | ✅ | $19 for 1 site |
What Makes a Great Contact Form?
Before we look at some of the best contact form plugins, it's important to know what features a quality contact form should have.
Here are some great features to look out for:
Drag & Drop Builder: A way to build forms visually by dragging and dropping different form elements. This removes the need for coding knowledge.
Conditional Logic: A function that lets you show or hide fields, sections and elements based on the selections a user makes.
Multi-Page Form Support: This allows users to fill in forms section by section instead of one long form. This speeds up the process and makes it easier for people to use your forms.
Entry Management: Manage and sort through entries submitted via your contact forms. Having everything in one place, optimizes your workflow.
Accept Payments: Allow users to make purchases or sign up to subscriptions all within your contact form.
Spam Protection: Prevent unsolicited and unwanted emails.
File Uploads: Allow users to include attachments with their message.
Email Marketing Integrations: Connecting to services like Mailchimp and Aweber, lets you provide the option for users to opt-in to receiving future communications from you.
When deciding on which plugin to use, think about the following questions:
Does the form have the type of fields you need?
Is it easy to use?
How much does it cost?
Is the plugin reliable and well maintained?
How many active installs are there?
How do WordPress users rate the plugin?
With these questions in mind, let's jump in and look at what's available.
16 Best Contact Form Plugins
1. WPForms – Free and Paid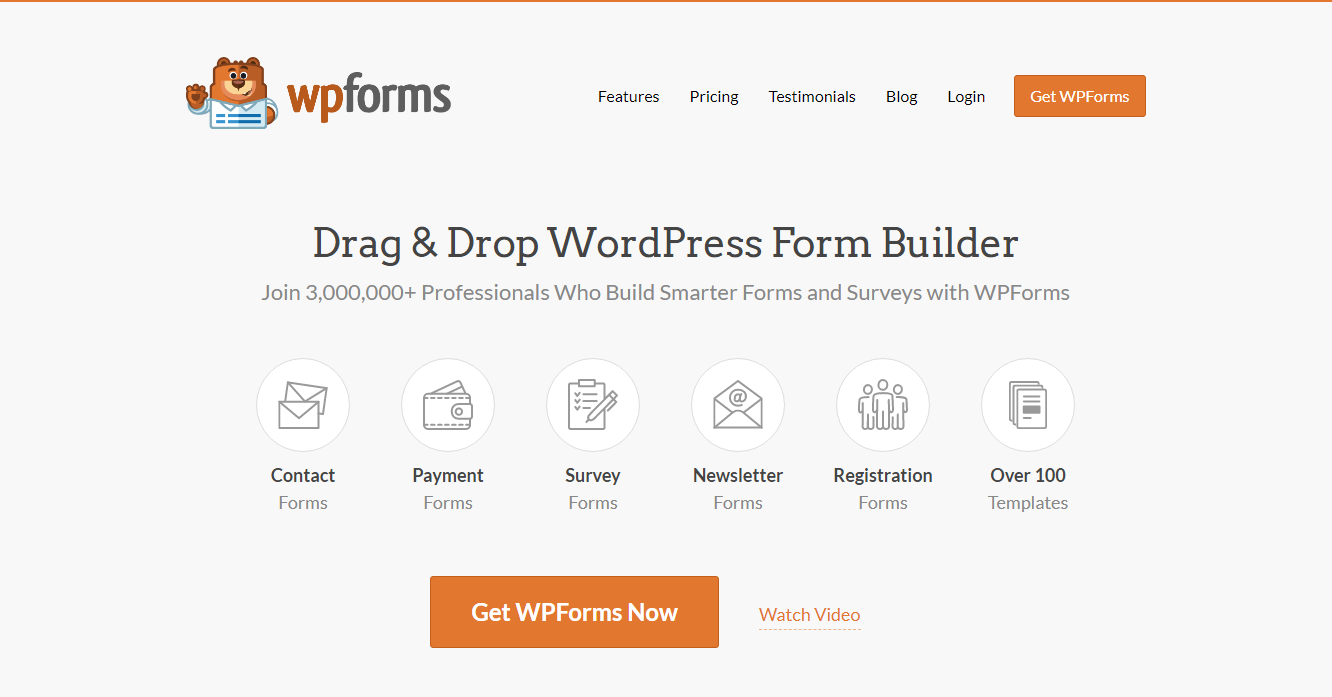 WP Forms is a plugin full of features that are easy to get to grips with. Its drag and drop form builder is user-friendly and quick to setup.
To begin with, you're given 4 pre-built templates which are ideal if you need something quick and simple.


Other features included in the lite version of this contact form plugin include honeypot protection and ReCaptcha fields to help combat spam.
However, to get full functionality from WPForms, it's best to try out their paid version.
WPForms Pro includes:
Conditional Logic
Multi-Page Form
Entry Management
Payment Acceptance
Spam Protection
File Uploads
Email Marketing Integration
Form templates
Instant notifications
User registration
Price:
The WPForms pro plugin starts at $79 per year for one website and one year of updates.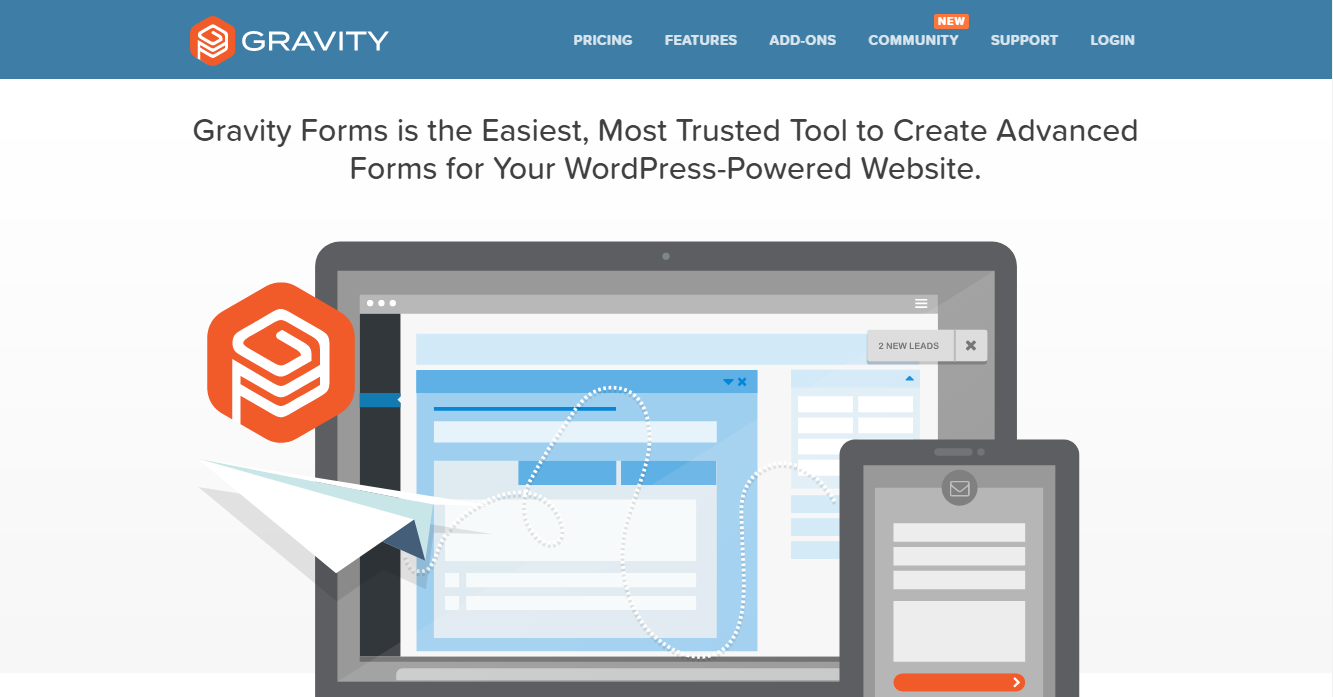 Gravity Forms is a WordPress contact form plugin that has all the tools you need to build professional forms for your website. With quick and easy form-building options, it's designed to save time and get you up and running in minutes.
Choose from over 30 fields for your form and move them around with the drag and drop builder. You can limit and schedule your forms to control how and when you capture data.
And with the calculations feature, you can perform advanced calculations on submitted field values.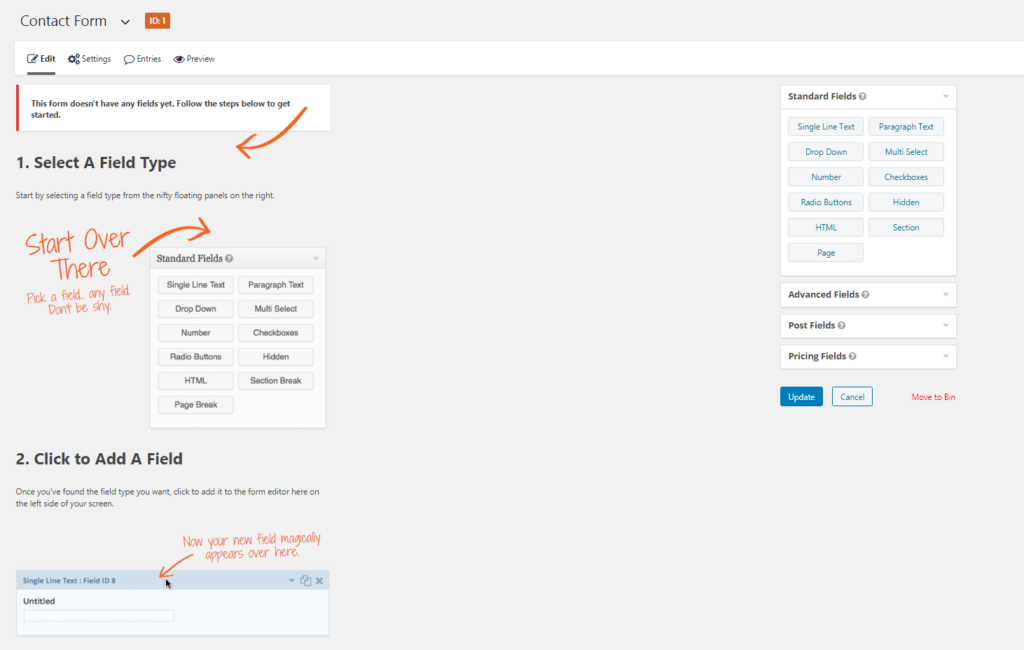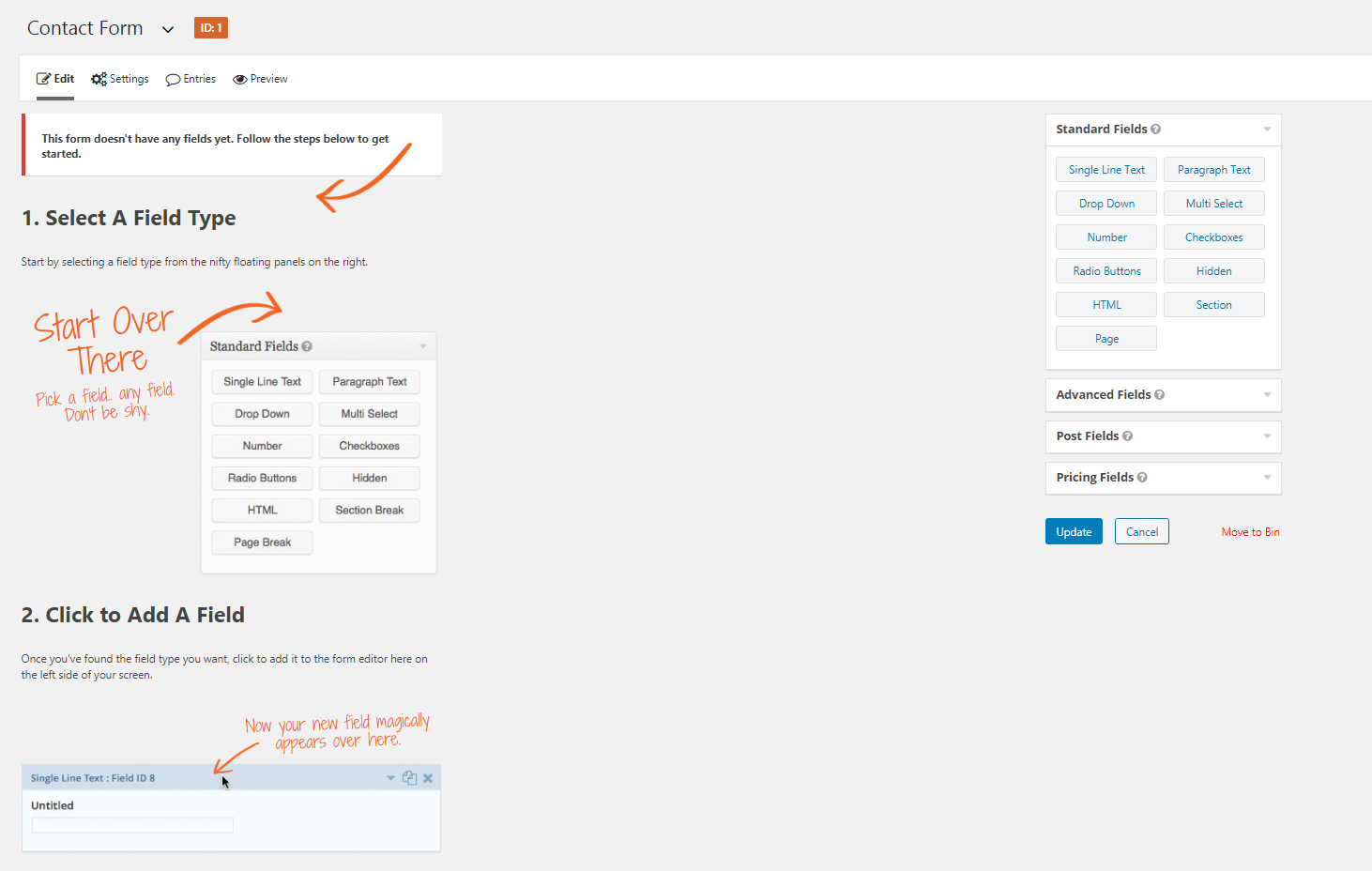 If user-generated content is a large part of your site, this contact form plugin easily creates posts for you with front end forms.
Gravity Forms include:
Conditional Logic
Multi-Page Forms
Entry Management
Accepts Payments
Spam Protection
File Uploads
Email Marketing Integration
Mobile responsive design
Save and Continue
Email Autoresponders
Price:
Gravity Forms is a premium plugin that starts at $59 per year for one website, core features and basic addons.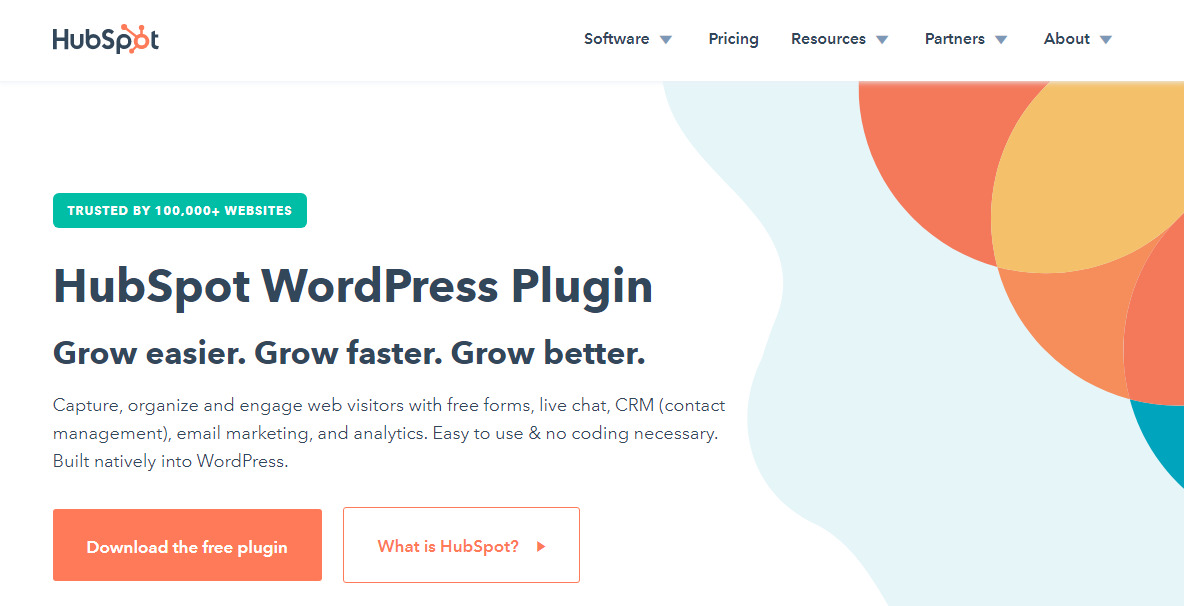 HubSpot's free WordPress plugin makes it easier to grow your business by helping you attract, engage, and delight all of your contacts and customers. It brings powerful, easy-to-use contact management, email marketing, ads management, live chat & bots, forms, analytics, and much more to WordPress.
Among other features, HubSpot's WordPress plugin has an array of functions including a robust contact form creation tool. The drag-and-drop form builder is easy to use and the plugin allows for easy access to all of HubSpot's other marketing tools and CRM, meaning you can easily track contact form submissions and build email lists to keep your users and visitors engaged.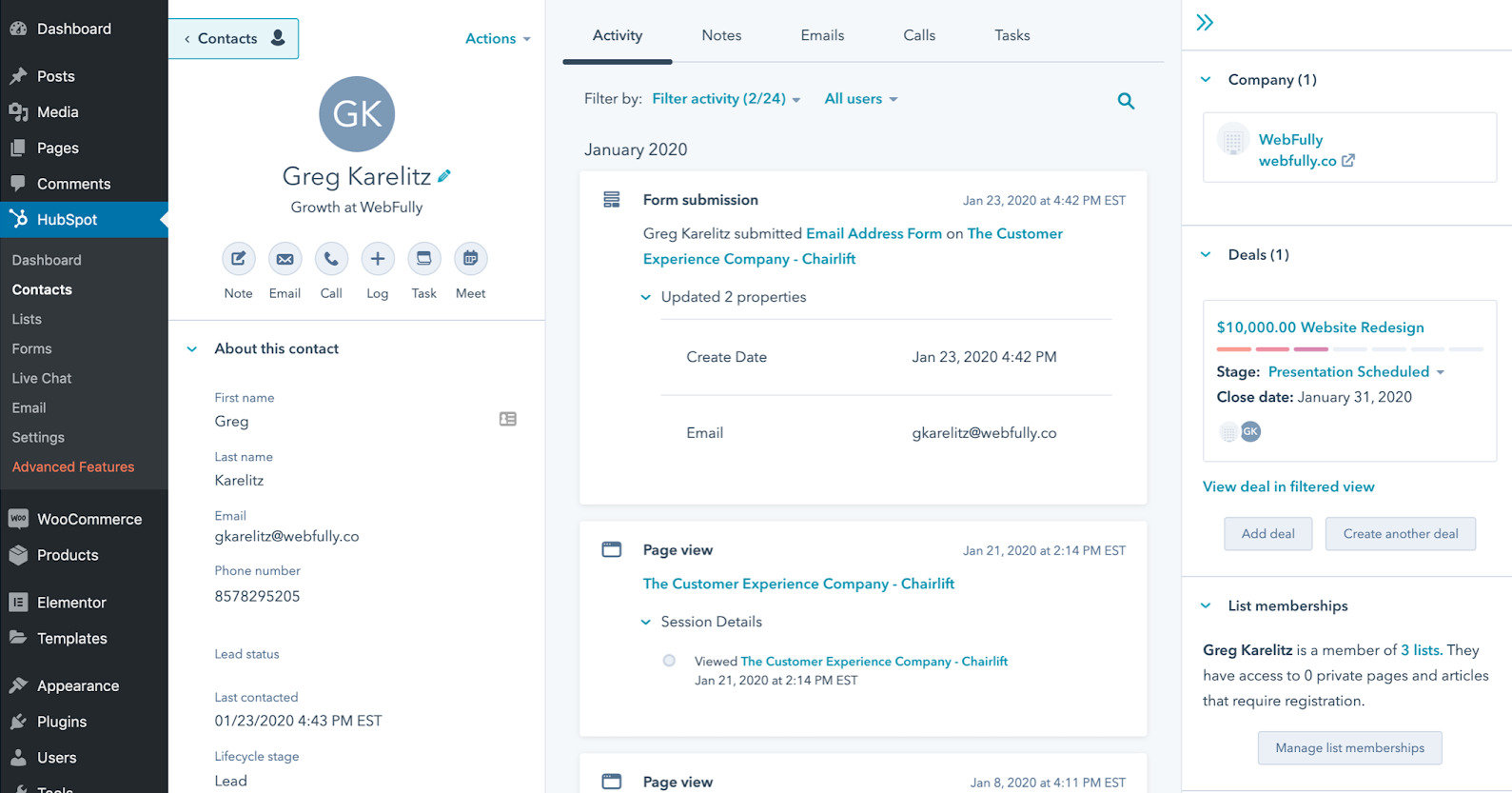 HubSpot WordPress Plugin includes:
Free-forever CRM (unlimited contacts) & Contact Management
Email Marketing, free for up to 2000 emails sent/mo
Live Chat & Chatbots
Contact forms & Popups
Analytics
Seamless integration with over 400 apps including Gravity Forms, WooCommerce, Stripe, and more.
Price:
HubSpot WordPress is a free plugin.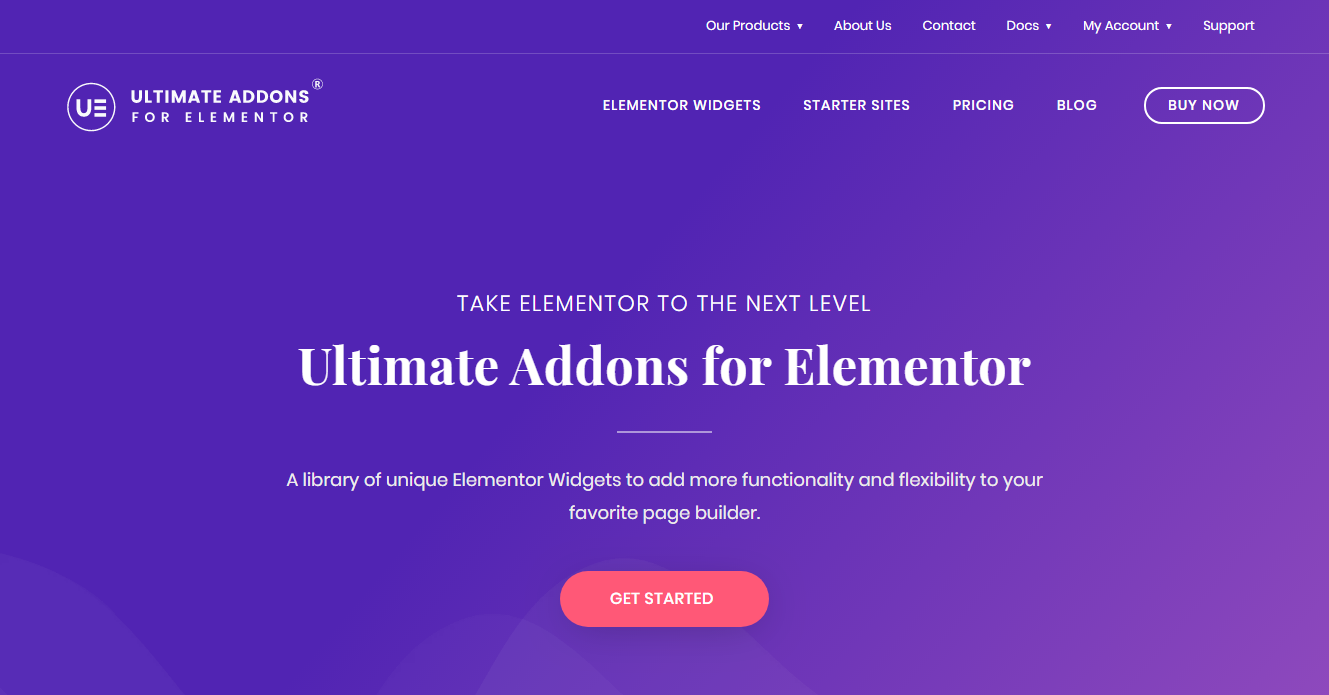 Ultimate Addons for Elementor is a library of unique widgets that add extra functionality to the Elementor page builder. It offers a User Registration Form widget.
The User Registration Form widget allows you to build custom forms and take control of its appearance. Everything on the form is customizable, including the ability to add more fields.
Advanced form actions enable you to redirect, send an email or even hide the form after a user registers.
And because all forms are 100% mobile responsive they'll look great across all devices.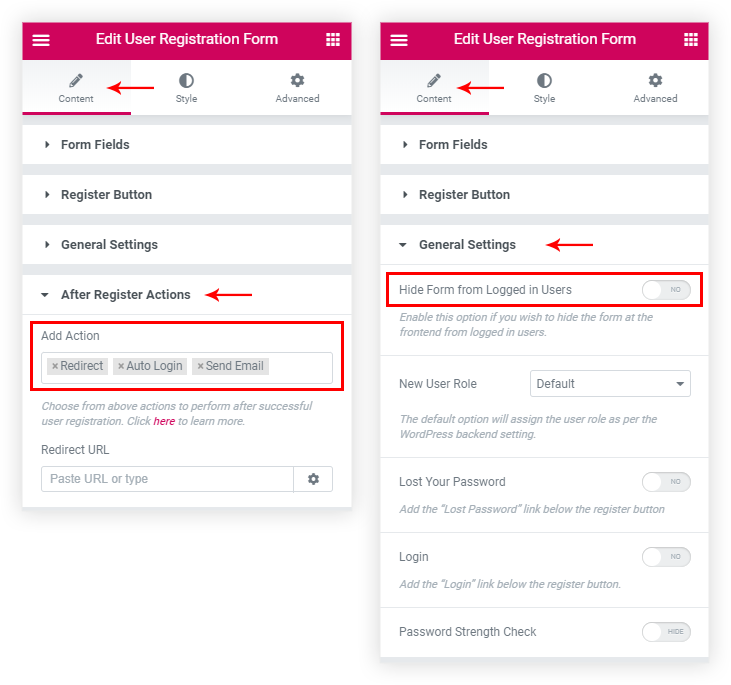 To fight spammers and fake registrations, Ultimate Addons uses Honeypot and Google reCAPTCHA.
Your forms are also built using a different registration link than the default WordPress link spammers regularly target.
Full features include:
Build custom registration forms
Drag and drop page builder
Customize everything from fields to color and styling
Add more fields than the default options
Advanced form actions to customize the user experience
Spam protection
Access to a growing library of Elementor widgets
White label branding
WooCommerce widgets
Unlimited website usage
Translation ready
Extensive training
Astra Pro addon with the agency bundle
Price
Ultimate Addons for Elementor starts at $69 annually for use on unlimited websites.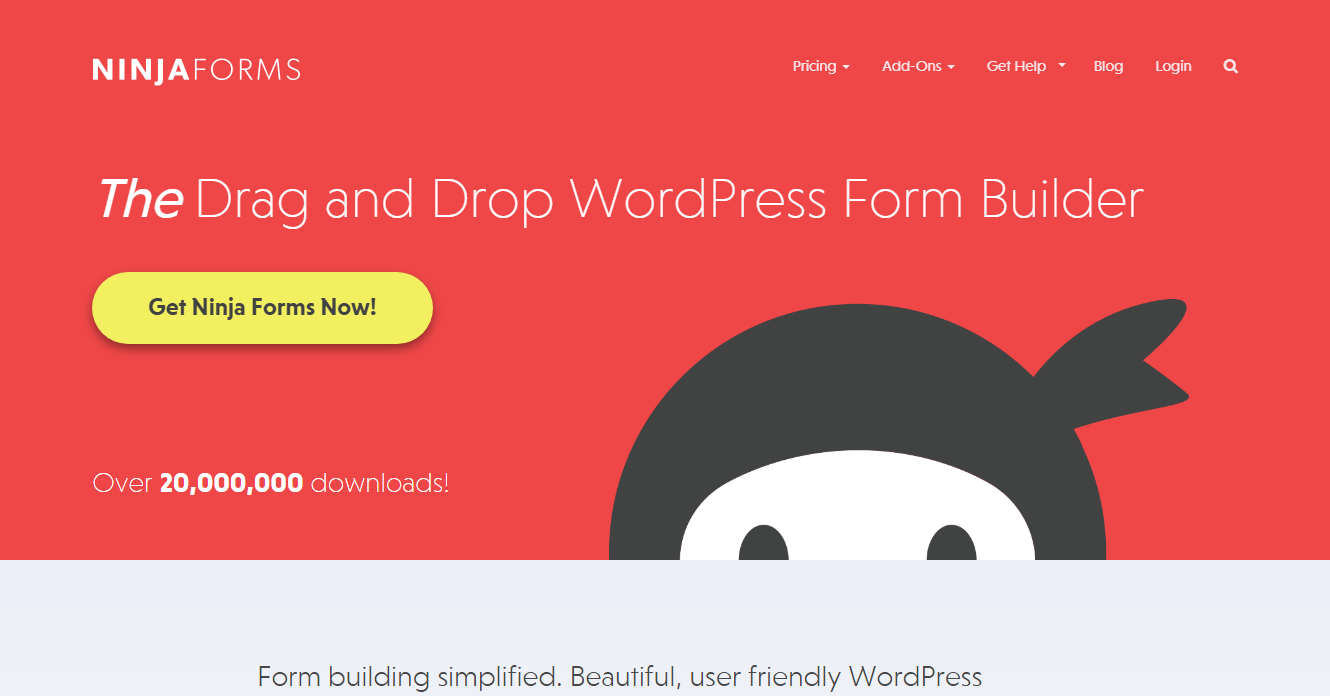 Ninja Forms is more than just a simple WordPress contact form plugin.
Not only are the basic, core functions free to use, you're also able to use it for subscription forms and any other form type you can think of.
Entry management, basic email marketing integration and spam protection are also included for free. And the drag and drop form builder is a delight to use.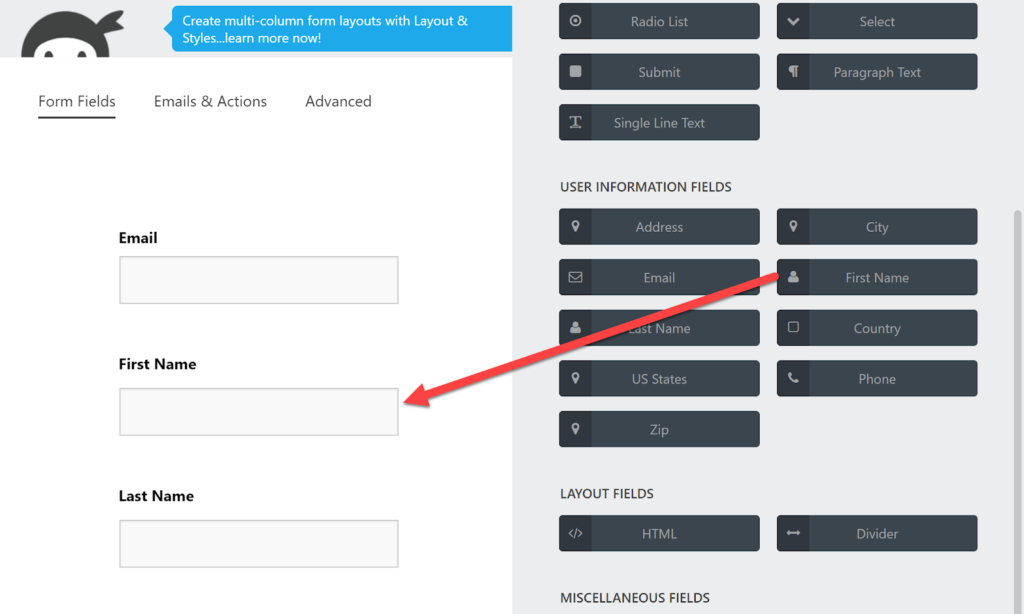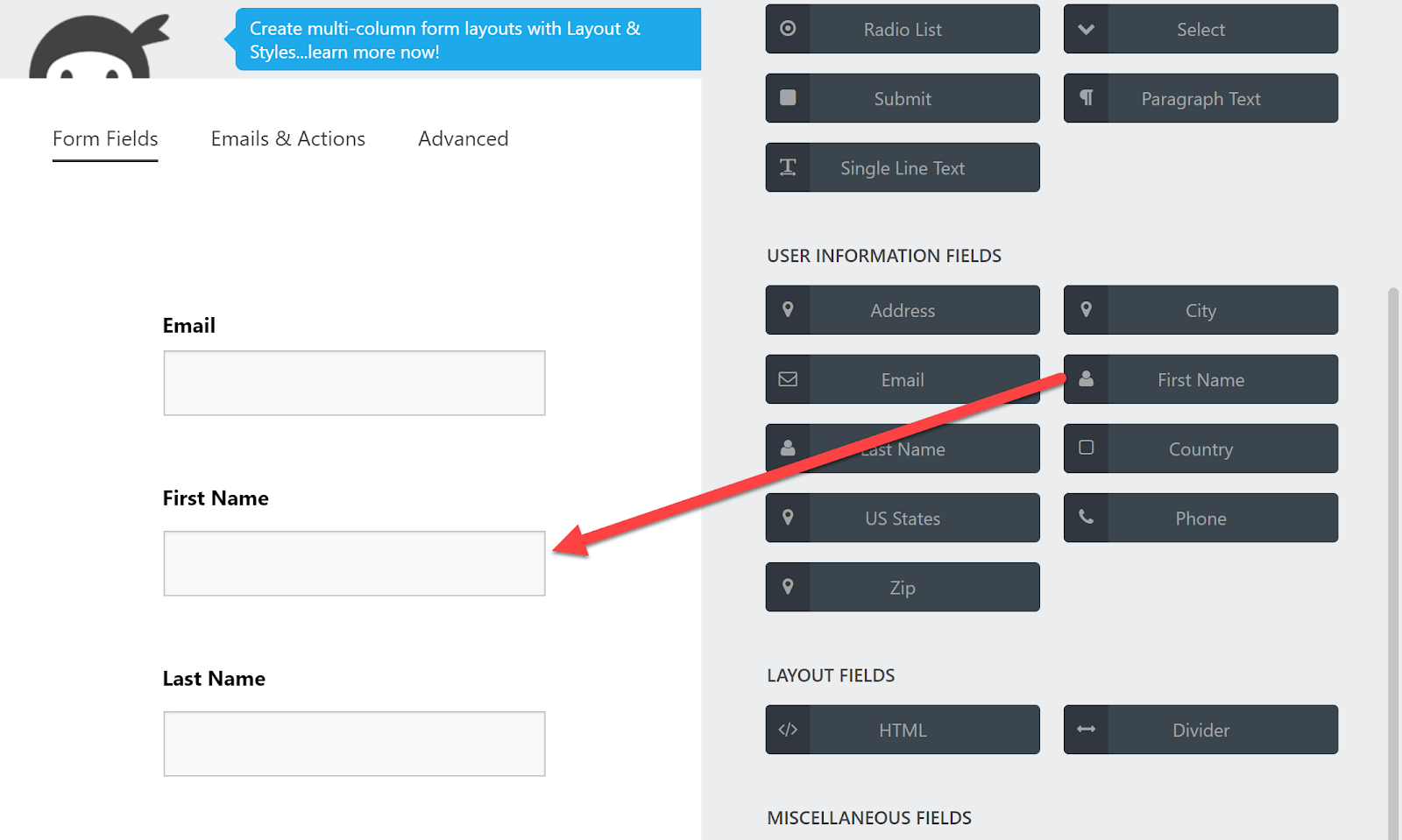 The addons for Ninja Forms is where the functionality really shines through. With over 40 extensions for the likes of Slack, Zapier, and Trello, you can stay productive and organized.
More premium features include:
Conditional Logic
Multi-Page Form
Payment Acceptance
File Uploads
Email Marketing Integration
Front-end Posting
Multicolumn Layouts and Styles
User Analytics
Price
The standard version of Ninja Forms is Free, while premium plans start at $99 per year for a single site.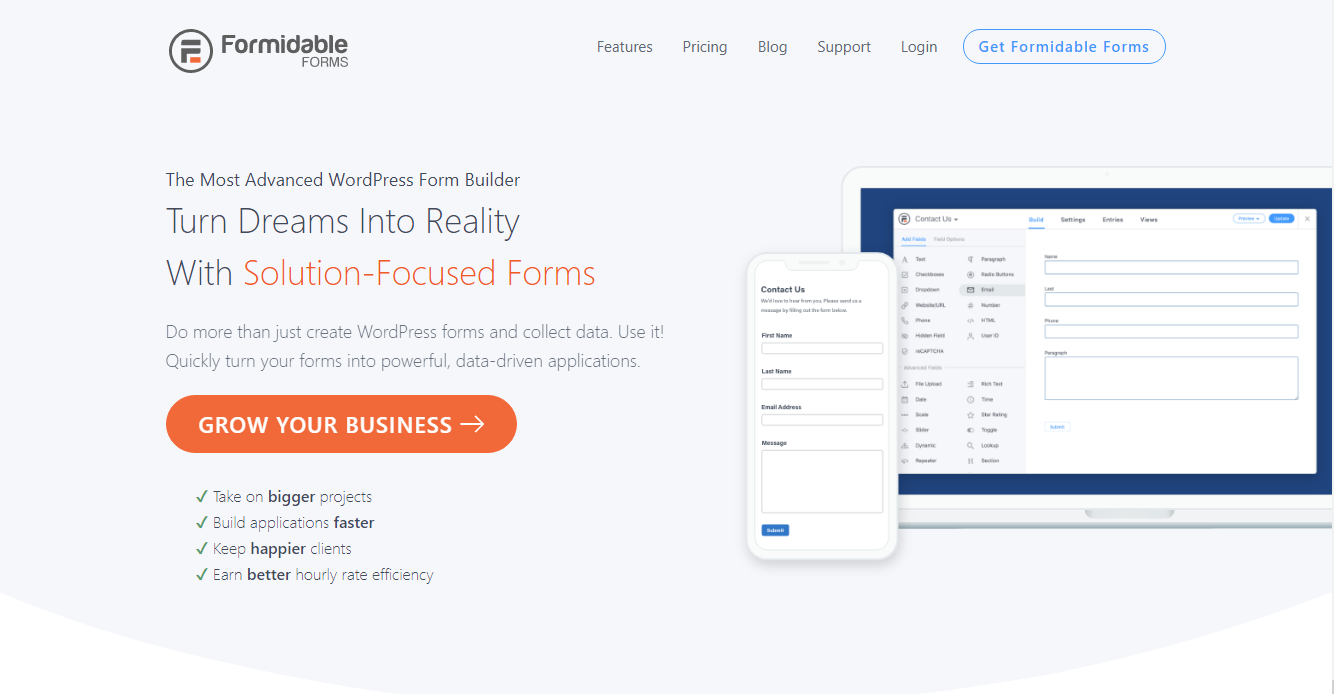 The focus of the Formidable Forms plugin is on building solution-focused forms to help you get more done in less time.
Formidable goes beyond simple form creation, allowing you to create complex forms for quizzes, payments, registration and more.
You can use repeater fields to collect several sets of data like work history and events. Dynamic fields automatically populate form fields with saved data and user meta information.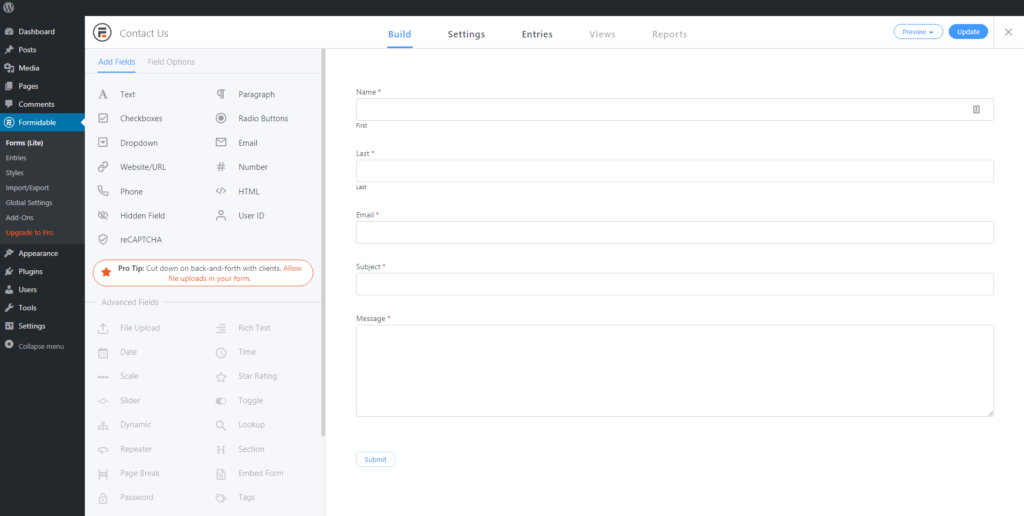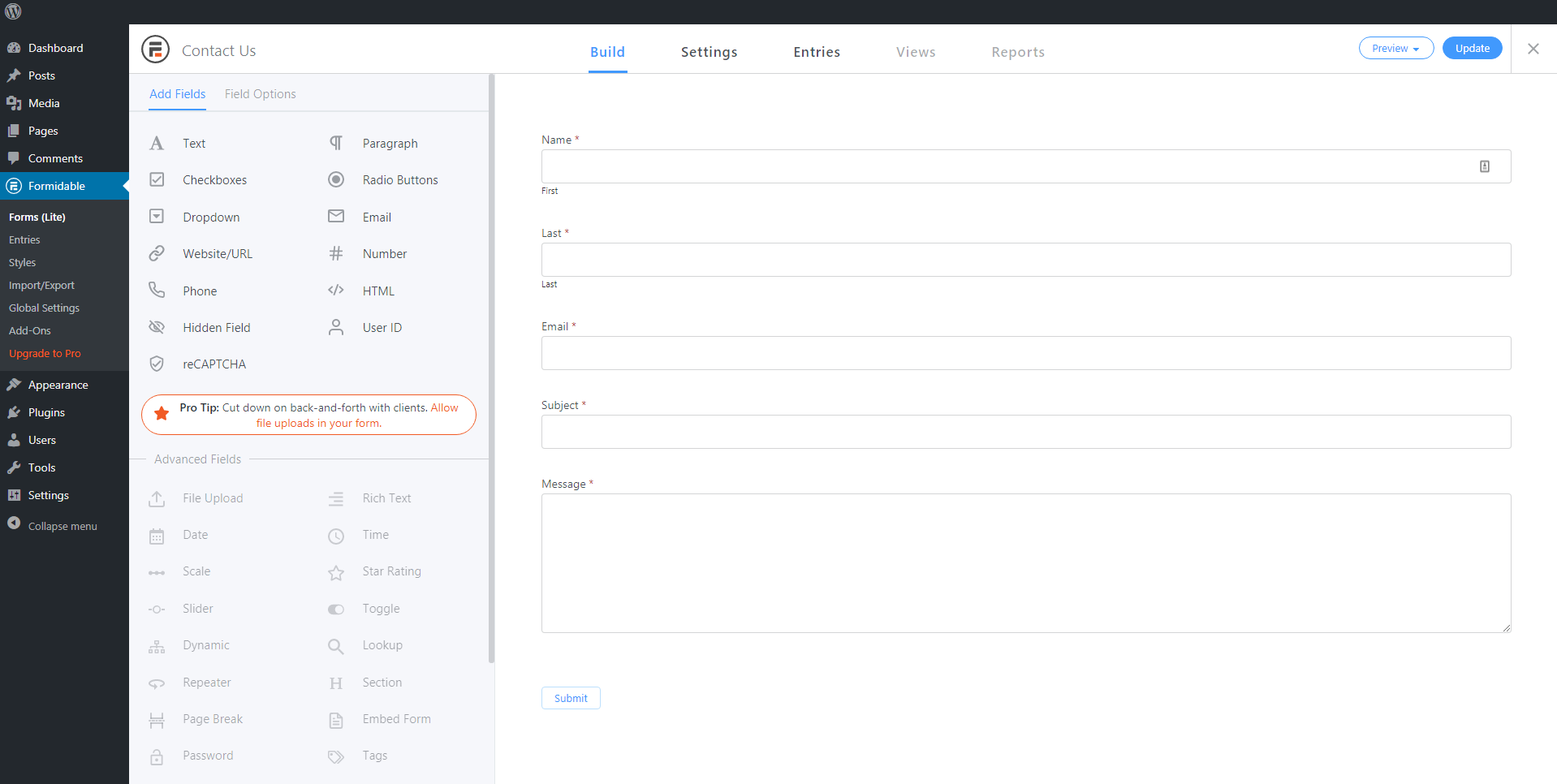 If you're in need of a GDPR compliant form, Formidable has you covered for this too. Simply turn off IP tracking, the save form submissions feature or insert a checkbox into your form to collect user consent.
There's a good deal of functionality included in the free version of Formidable Forms. Those features can be enhanced further with the premium version or add-ons.
Further features include:
Drag & Drop Builder
Conditional Logic
Multi-Page Forms
Entry Management
Payment Acceptance
Spam Protection
File Uploads
Email Marketing Integration
Quiz Maker
Calculator Forms
Surveys and Polls
Cascading Dropdowns
Form Scheduling
Mobile-Friendly Forms
Price
The pricing for Formidable Forms starts at $149 per year for a single site and one year of updates.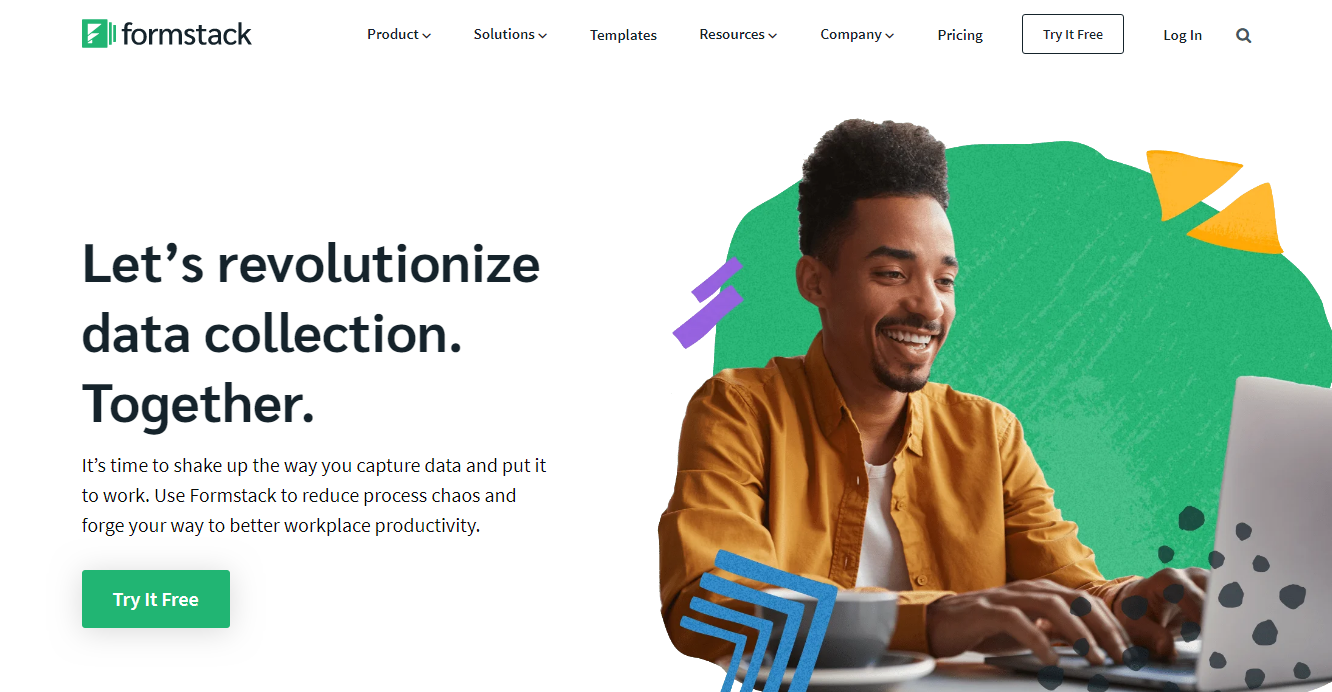 While Formstack isn't primarily a WordPress contact form plugin, it does have it's own plugin to allow you to integrate the online form builder with your WordPress website.
This contact form solution aims to shake-up how you collect data, leading to a more streamlined and productive workflow.
You can create professional-looking forms with the drag and drop form builder. For a better mobile experience, choose to display one form question at a time.
A/B testing lets you compare the performance of two forms against each other. While field validation ensures you get the right information the first time.
Even more great features include:
Conditional Logic
Multi-Page Forms
Entry Management
Accepts Payments
Spam Protection
File Uploads
Email Marketing Integration
Analytics
Partial Submissions
Email Logic
UTM Tracking
Price
The pricing for Formstack starts at $19 per month for one user and 5 forms.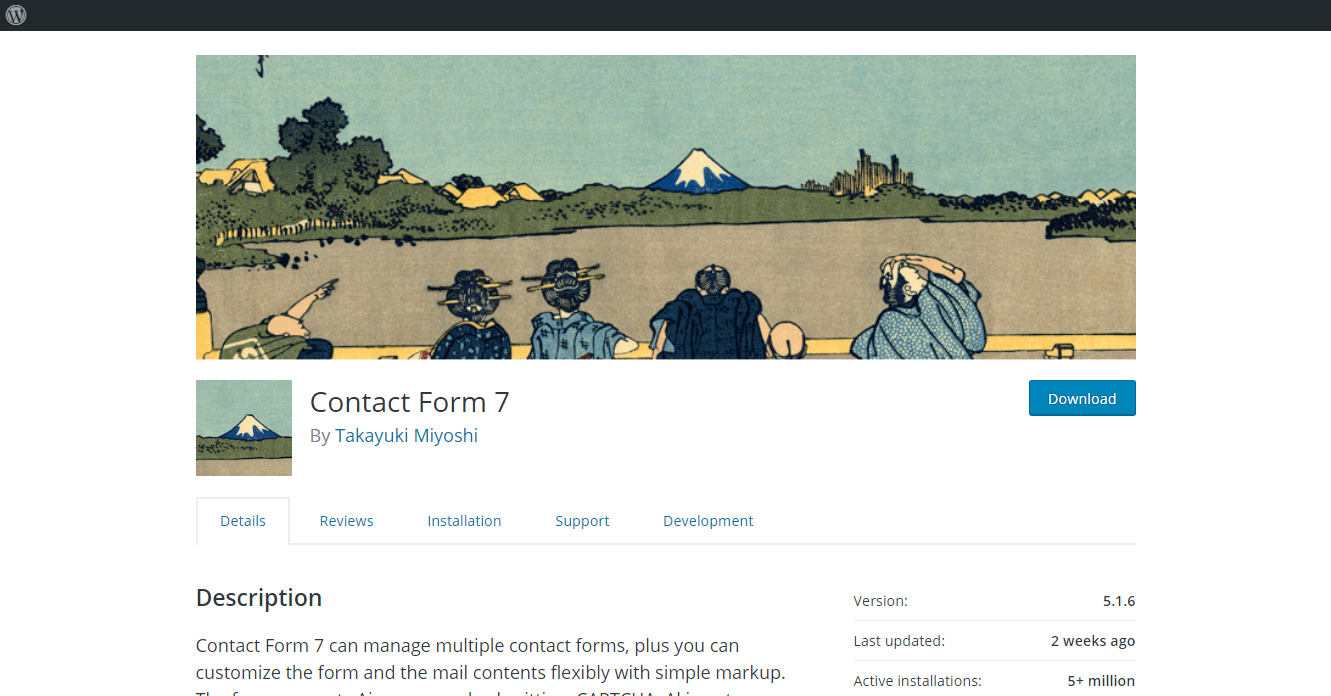 Any list of WordPress contact form plugins isn't complete without including Contact Form 7.
One of the most widely used contact plugins, it's free to use on as many WordPress websites as you'd like.
The core features of this plugin are limited to basic functionality. You can easily create simple contact forms and embed them using a shortcode onto any page of your site.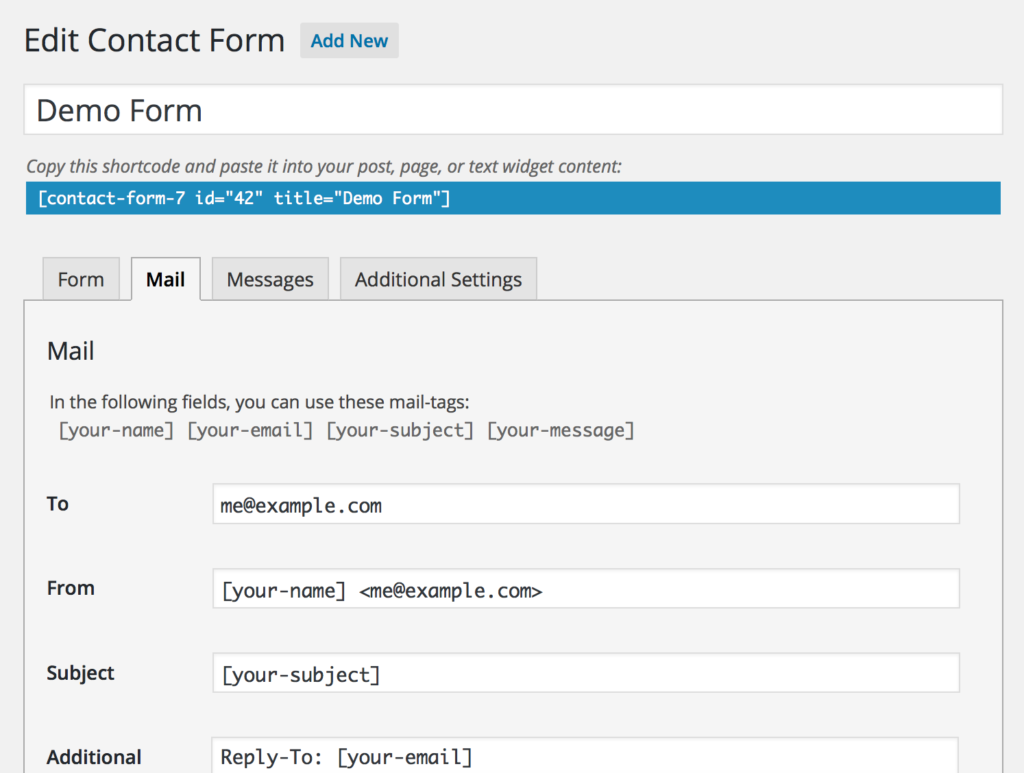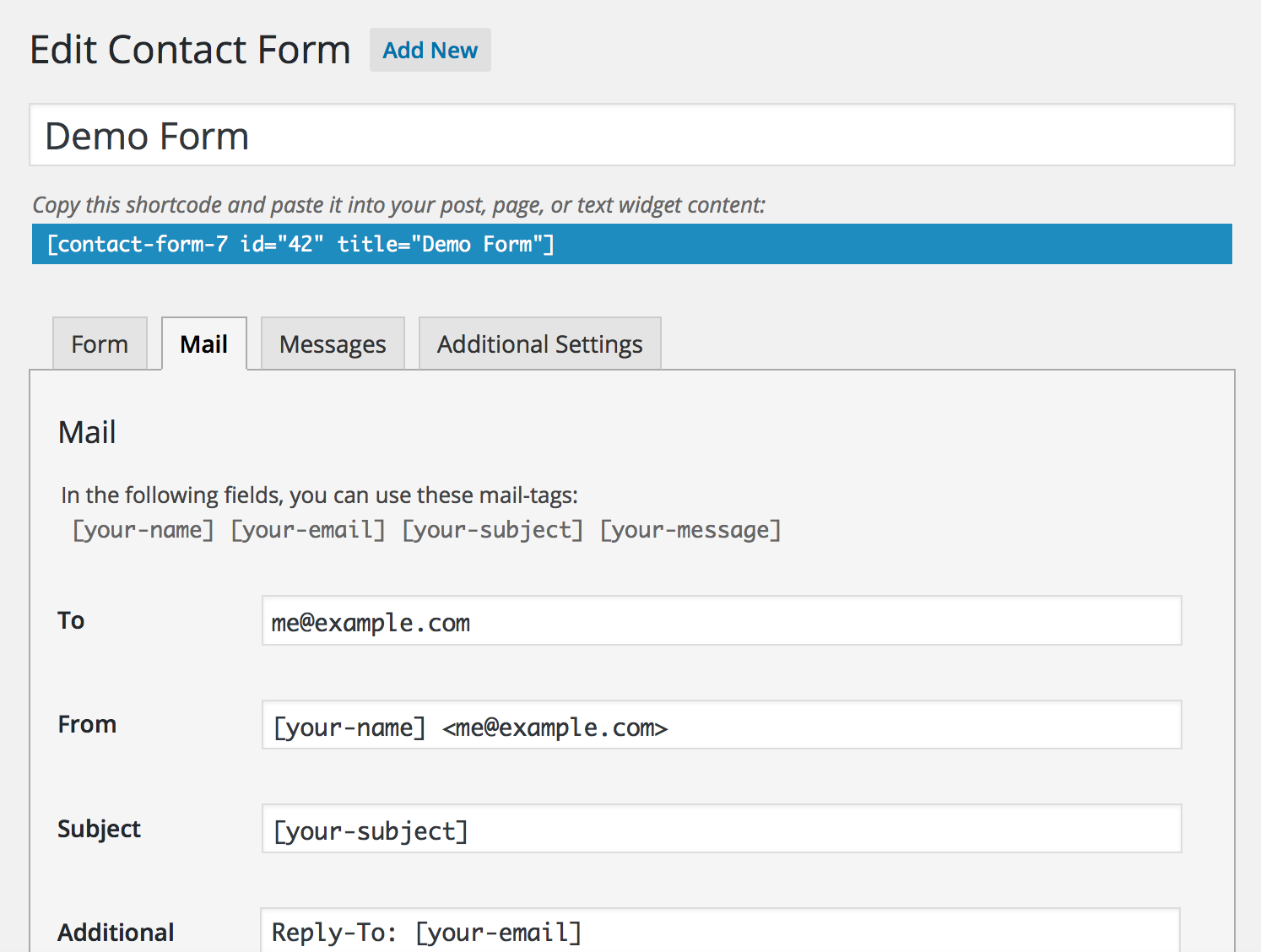 It integrates with Constant Contact by default. And for spam protection, it works well with CAPTCHA and Akismet.
To get more functionality from Contact Form 7, there is a range of plugins that will add features like:
Drag & Drop Builder
Conditional Logic
Multi-Page Forms
Entry Management
Payment Acceptance
More Email Integrations
Better Spam Protection
Popup Messages
Cost Calculators
Price
Contact Form 7 is free to download and install. Many of the additional plugins that enhance the core features are also free, while some of the more sophisticated ones have a small fee.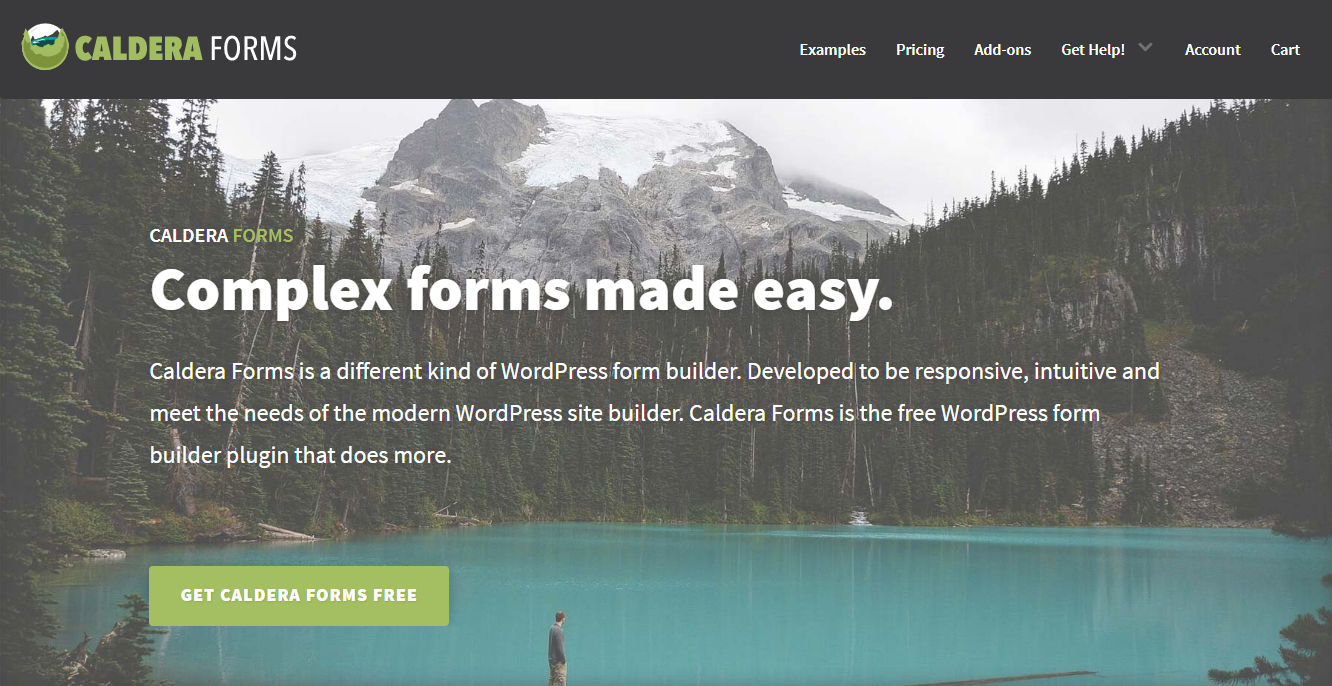 Caldera Forms is a WordPress contact form plugin that claims to have more free features than any other contact form plugin.
Many of these free-to-use features include conditional logic, file uploads, multi-part forms and much more.
You can build forms quickly with caldera forms using their drag and drop form builder. With the use of multiple templates that ship with the plugin, you can set up forms in no time at all.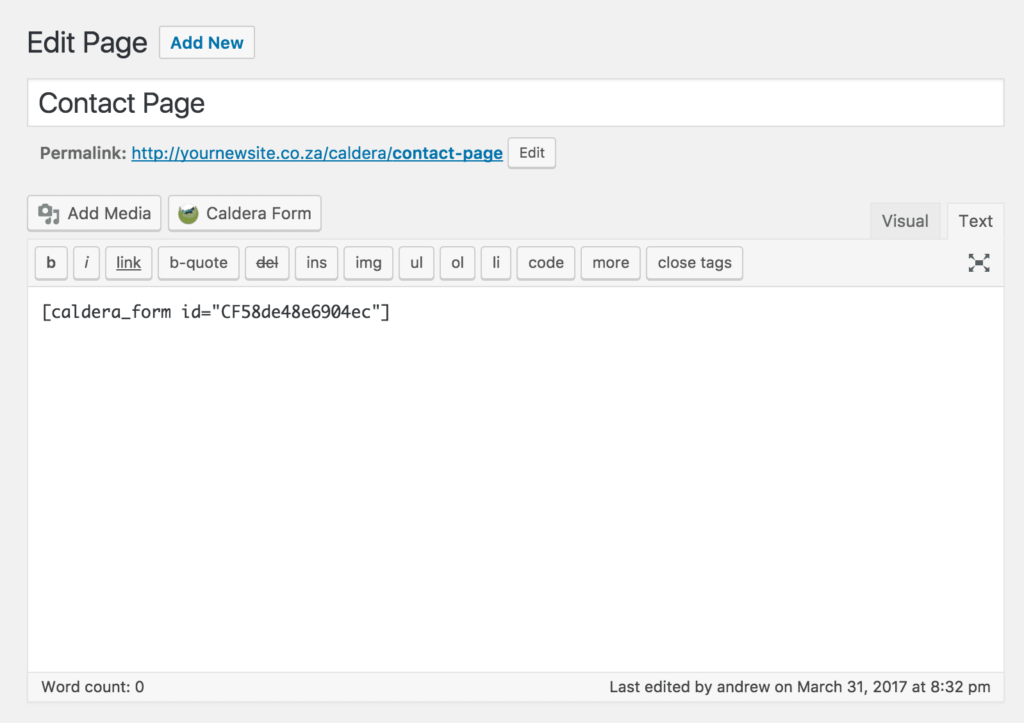 The free version has no limitations on the number of forms, fields or submissions. But to get more features, you'll likely need to use one of the many addons.
Additional features unlocked when using add-ons include:
Email Marketing Integration
Various Payment Processing Options
Limit Form Entries
Use Forms to Create and Edit Posts
Geolocation Fields
Slack Notifications
Zapier Integration
YouTube Signups
Easy Digital Downloads Integration
Price
Premium pricing for Caldera Forms starts at $99 per year.
10. Wufoo – Free and Paid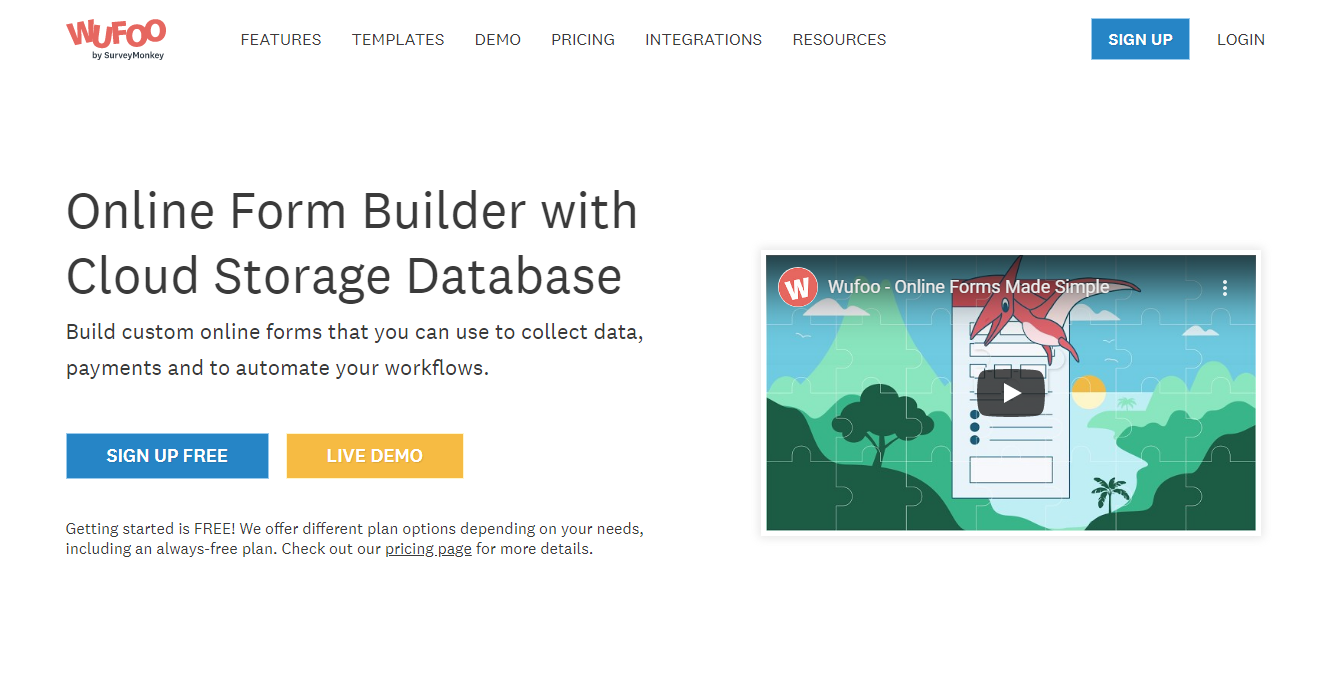 Wufoo forms is a form builder that's independent of any platform. Yet it allows you to publish forms on any website including WordPress, so it warrants a mention in this list.
The form designer helps you create more than just contact forms. You can build invitations, registration forms and much more.
There are over 400 templates to choose from and with the award-winning drag and drop form builder, you can create forms in minutes.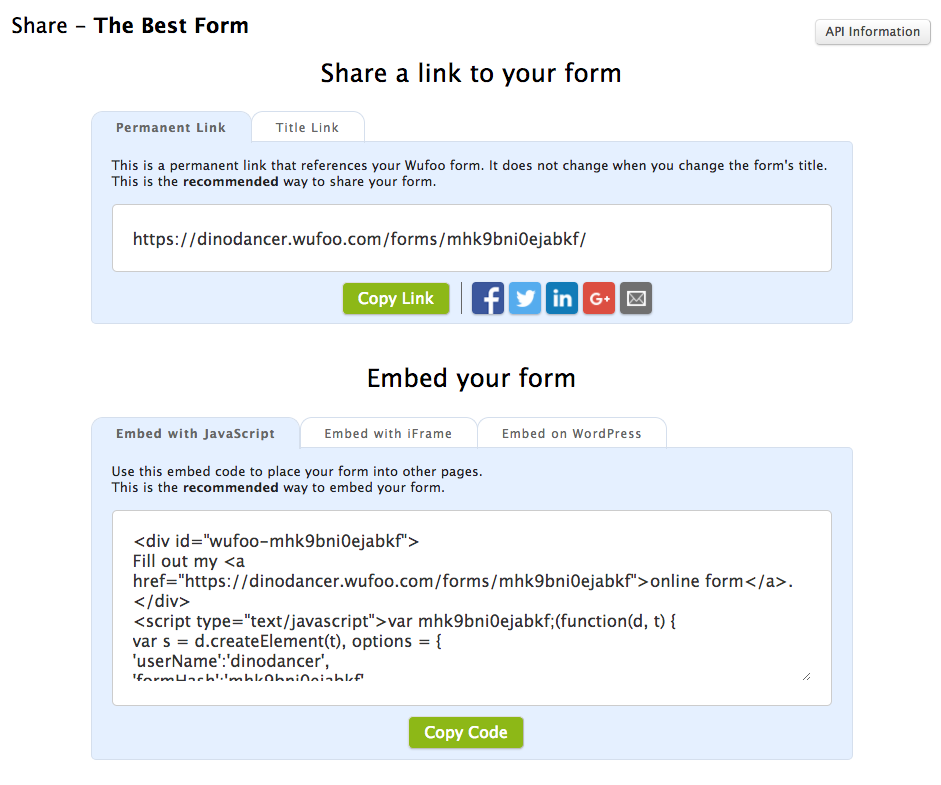 Online stores can collect payments by integrating with one of their popular payment providers. Wufoo also allows you to collect almost all file types through your form. You can even access those files from within your account.
Some of their excellent features include:
Form Rules
Google Analytics Tracking
Custom Confirmation Pages
Filed Encryption
Password Protection
Field Validation
REST API
Social Sharing
Custom Responses
Multiple Integrations
Data Export
Price
Wufoo has a free version with limited usage. Premium pricing starts at $14.08 per month billed annually for 1 form and 10 users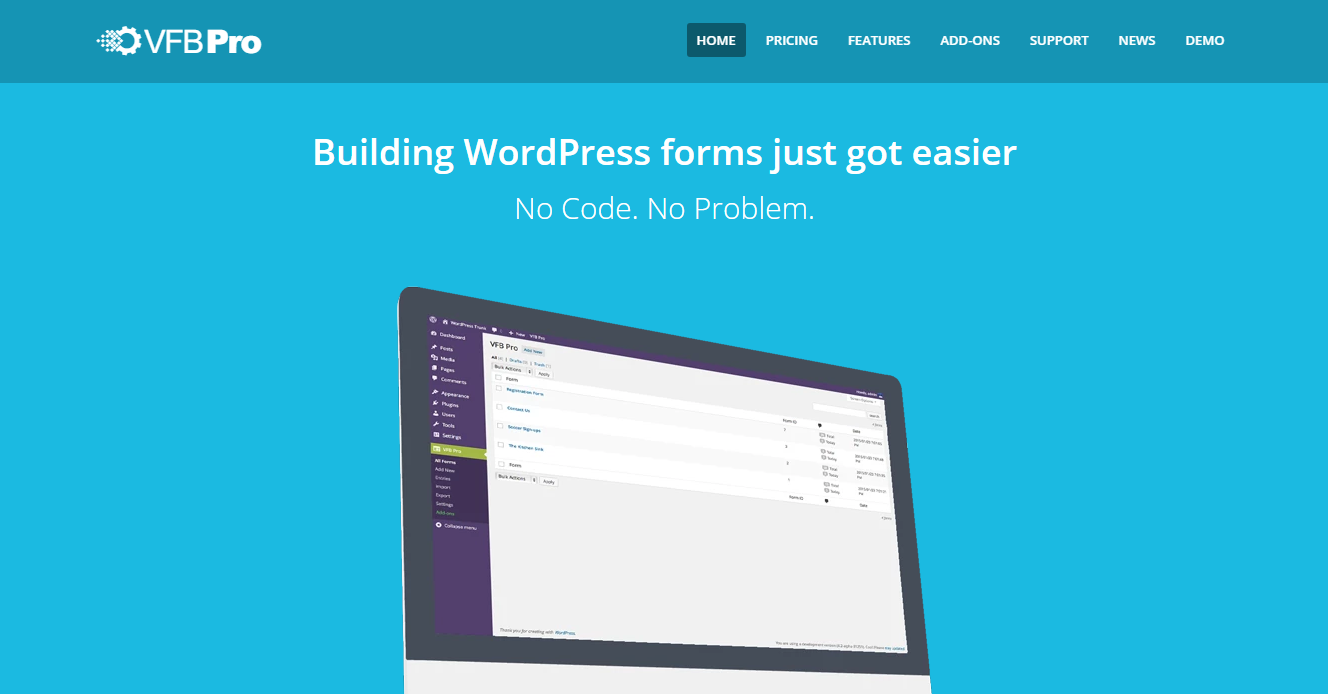 Visual Form Builder is a largely free WordPress contact form plugin with the option to purchase addons separately or as part of a subscription plan.
Creating your forms and managing them is easy with the drag and drop interface. There are a variety of form fields to customize your form and the email designer lets you fully customize the look of the emails sent.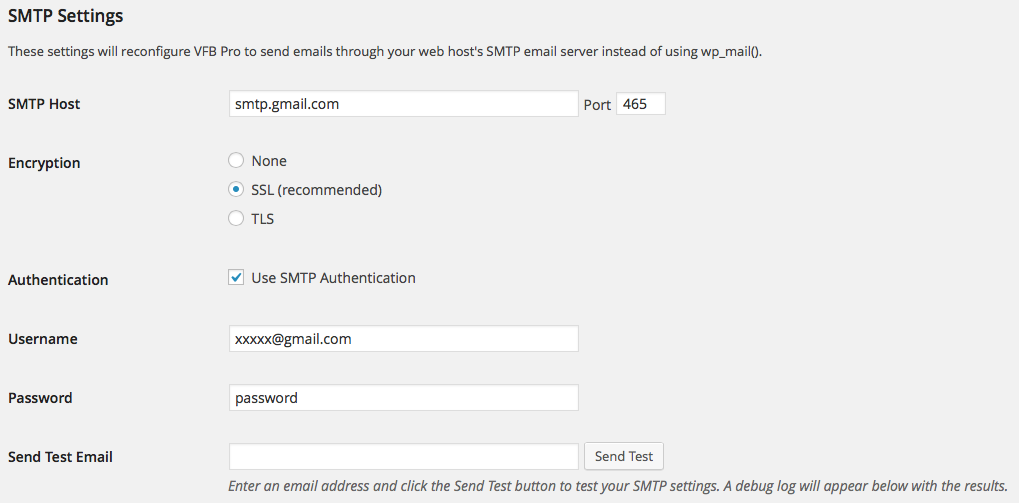 All form submissions are saved in the database so you can easily manage them. With conditional logic, you can create dynamic forms based on the rules you create.
Visual Form Builder is fully responsive, so it will adjust to any screen size. And the Pro version is fully compliant with GDPR.
Further features include:
Field Validation
File Uploads
Data Migration
Scheduling
GPLv2 License
Bulk Add Options
Scheduling
Limit Form Entries
Autoresponder
Payment Processing
Price
Premium pricing for Visual Form Builder starts at $29 for 1 site with add-ons purchased separately.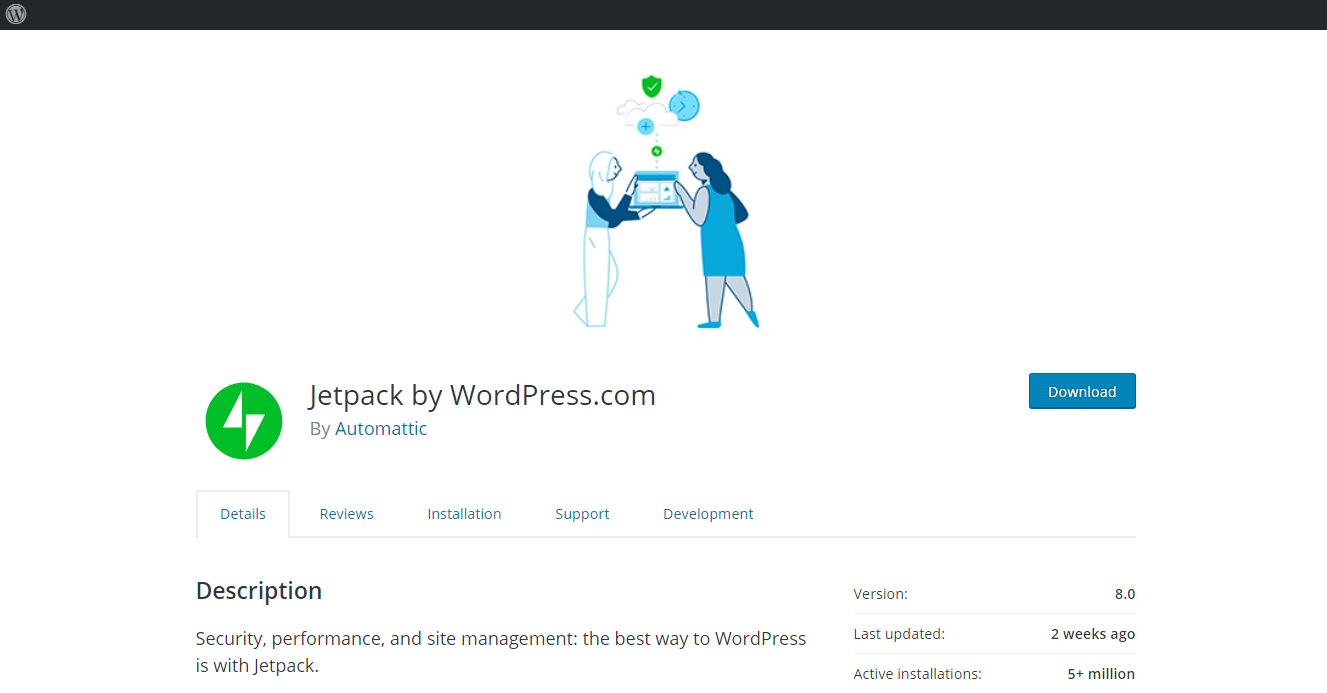 Jetpack is a popular plugin that's widely used across millions of WordPress sites. And while many developers have a love-hate relationship with it, its free WordPress contact form is a solid feature.
Multiple contact forms can be made using Jetpack and they can be displayed anywhere on your site.
It takes your WordPress email settings to notify you when a form is submitted. You can also drag, drop and organise form fields in the user-friendly editor.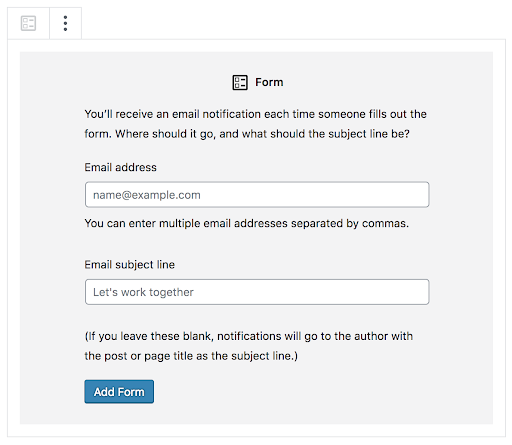 Spam is filtered using Akismet and you can customise the form response messages users will see after submitting their message.
Jetpack lacks many of the more advanced features of other WordPress contact form plugins, such as conditional logic, file uploads, and payments.
Yet, for simple contact form building, it works wonderfully well.
Price
The Jetpack plugin allows you to use the contact form feature for free.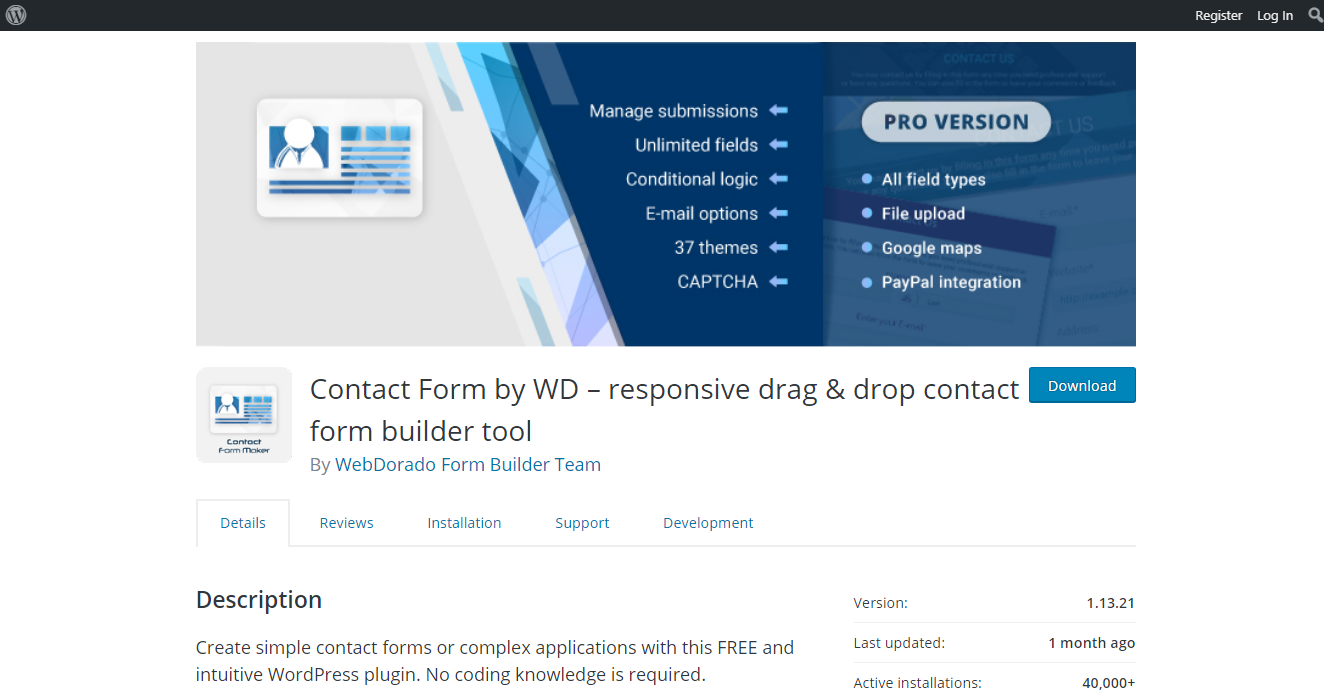 Contact Form Builder is a simple contact plugin that comes with a variety of themes and templates pre-built for use. From a design perspective, you can customize the CSS to get your form to look like a seamless part of your WordPress theme.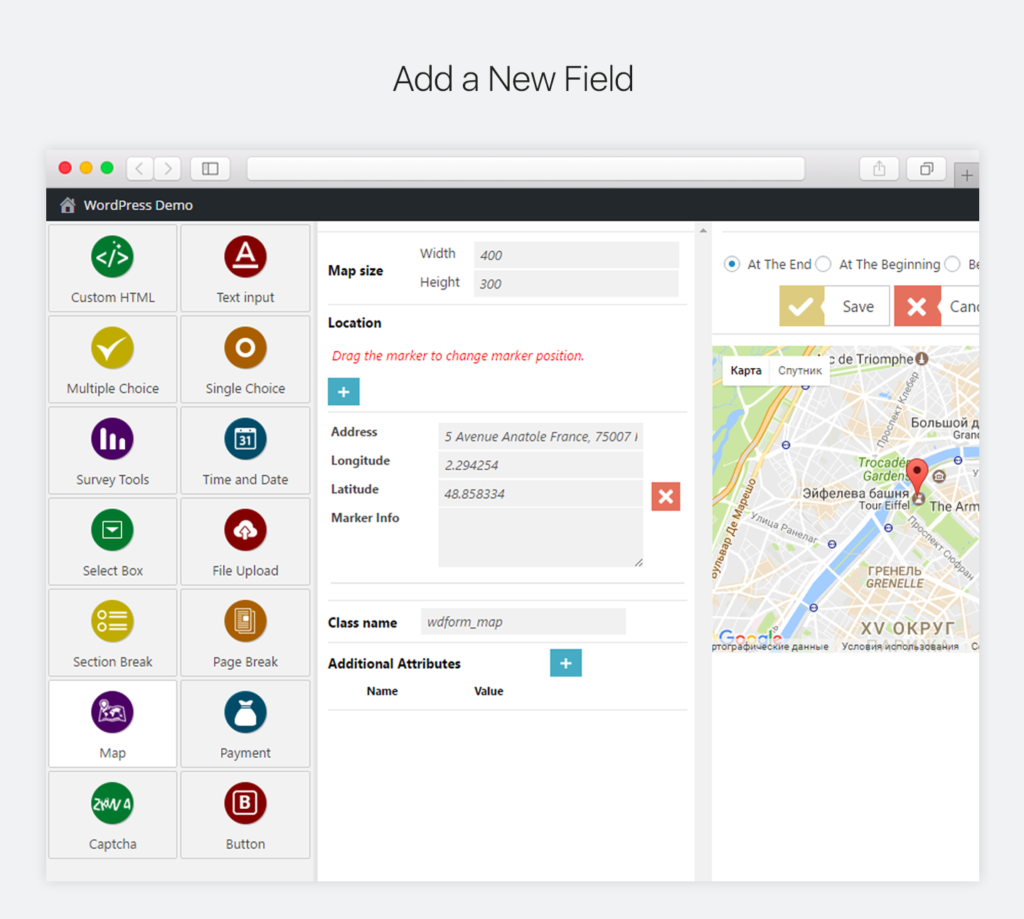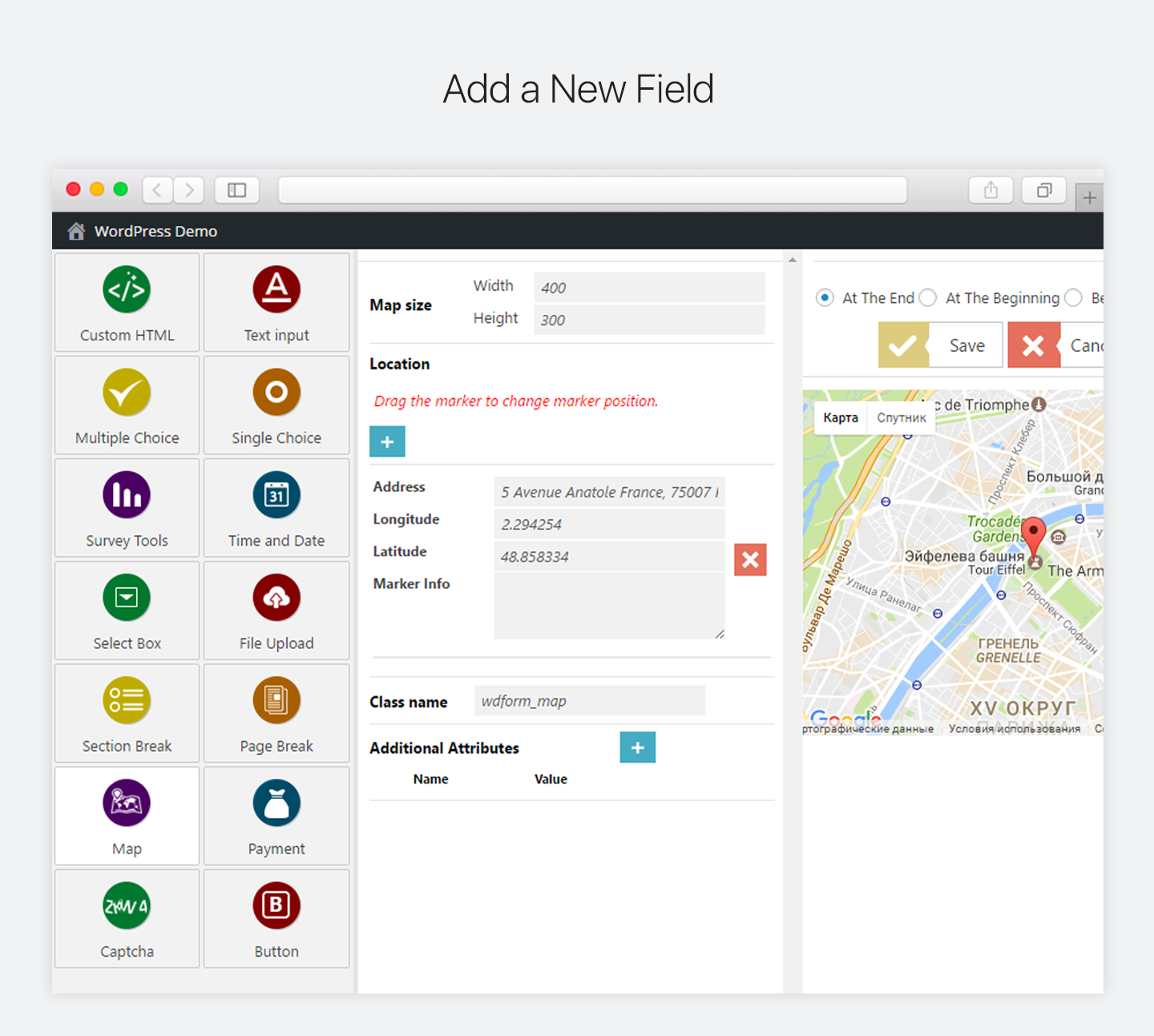 You can make many forms with this form builder including feedback forms and surveys. With Google Maps integration, it's easy to display a brick and mortar location. This is useful for businesses with a physical location.
For limiting spam messages, Captcha and ReCaptcha can be implemented easily.
More features include:
Custom HTML Between Fields
Pagination
Section Breaks
Custom Email Messages for Admins and Users
Conditional Logic
Data Validation
Detailed Field Parameters
File Upload Fields
Stripe and Paypal Integration
MailChimp Integration
Calculator
Price
Contact Form Builder pricing starts at $30 for 1 domain and access to 6 months of updates.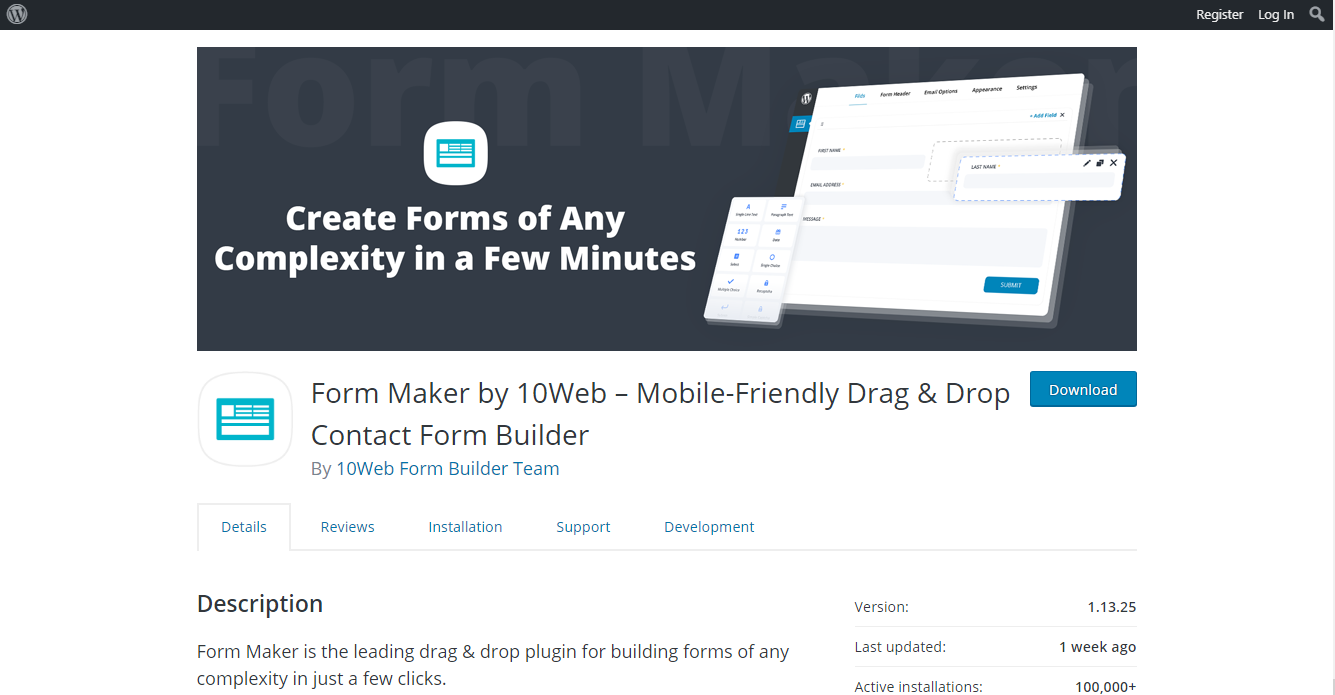 Form Maker is a mobile-friendly drag and drop plugin for building WordPress forms.
Complex forms can be designed quickly and there are plenty of form fields to choose from.
There are a number of ready-made templates to get you started with building your form. And forms can be displayed as scroll boxes, pop-ups and topbars alongside a more traditional form.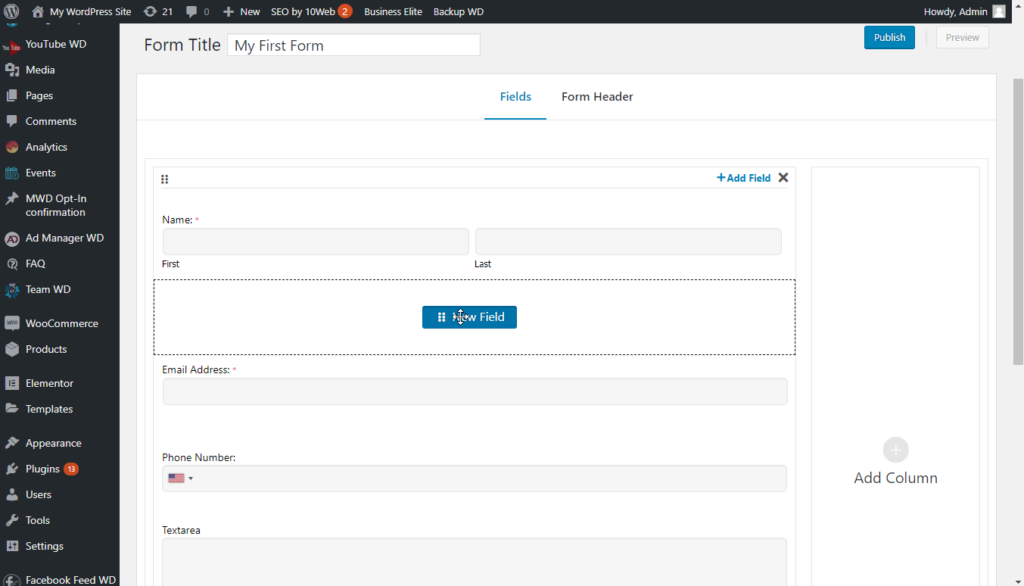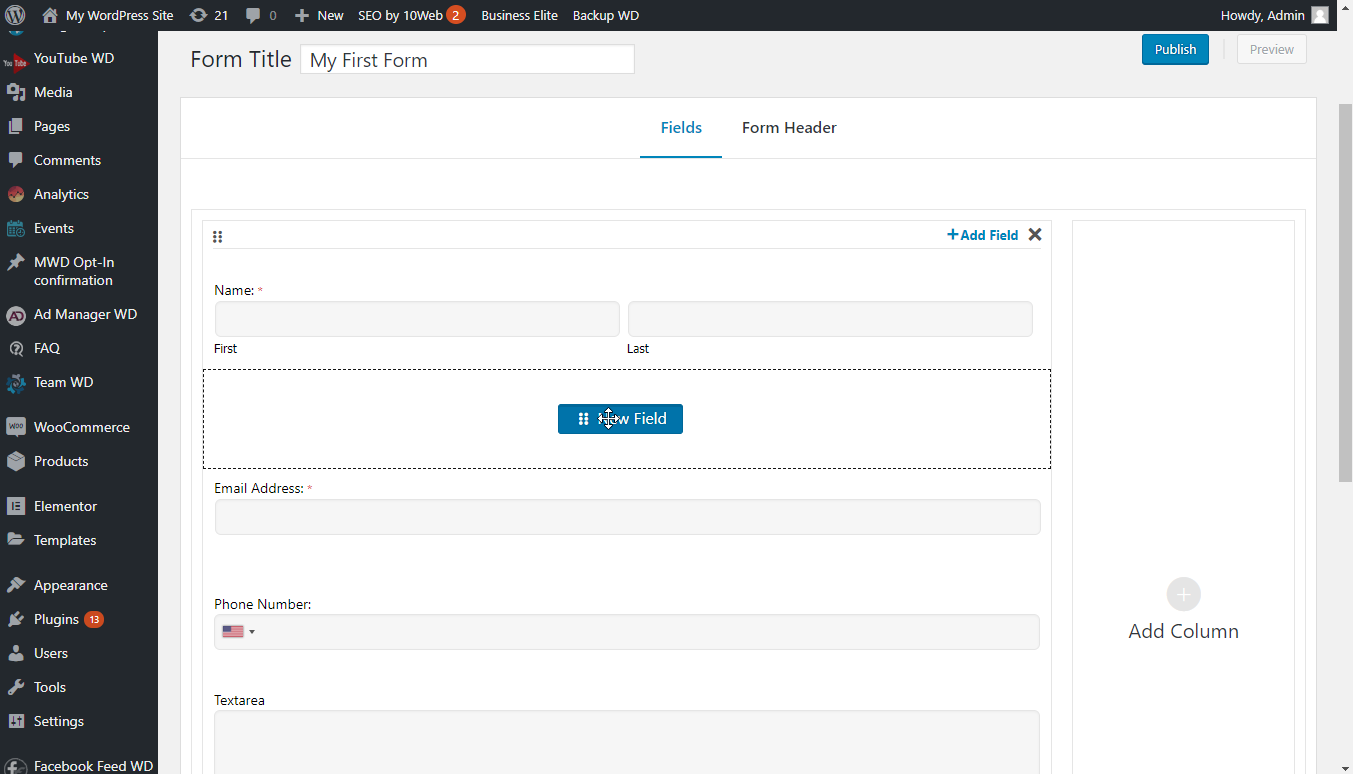 With submission management, you can track and export all your entries.
Conditional logic provides advanced control over your forms and file uploads allow users to submit documents via your forms.
With integrations you can unlock these features:
Push Notifications
Email Marketing Integration
Dropbox and Google Drive Storage
Stripe Payments
Calculator
Multi-page forms
Price
The basic functionality of Form Maker requires no cost at all. But for advanced functionality, prices start at $45 for 1 domain.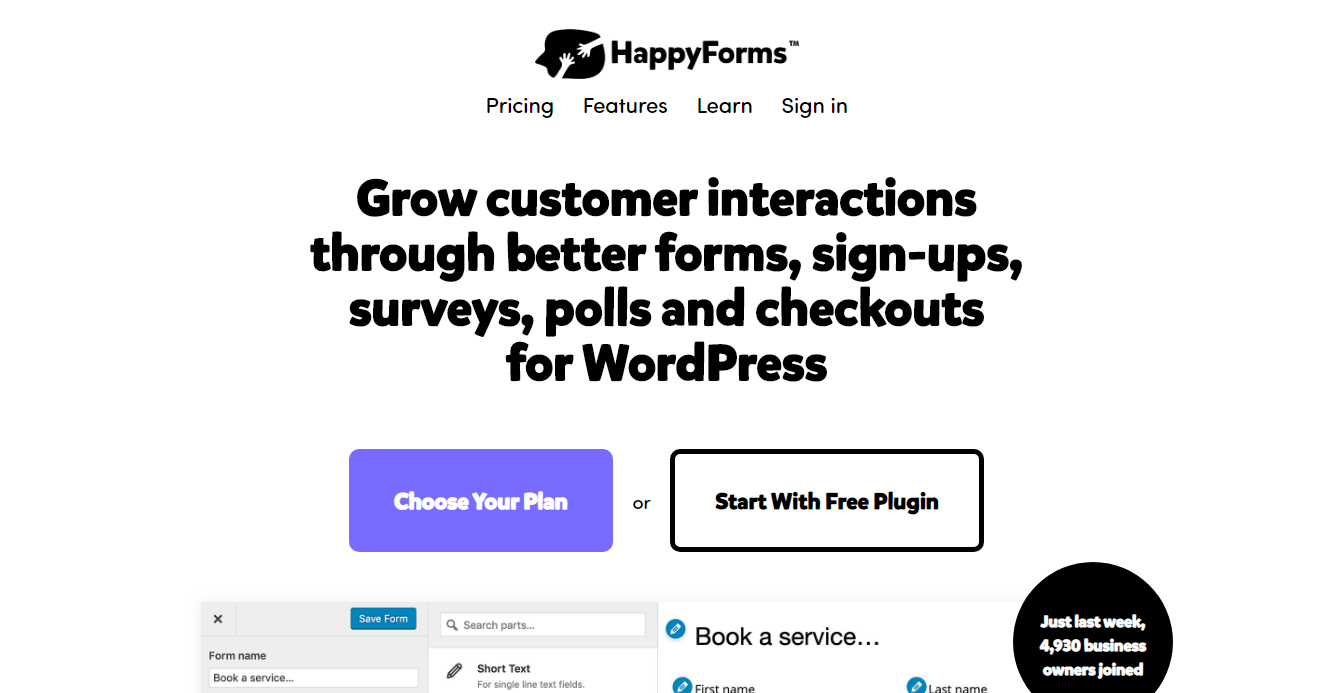 Happy Forms is a great WordPress contact form plugin created by The Theme Foundry team.
One of the standout features is its Gutenberg ready drag and drop form builder.
Working seamlessly with WordPress's Gutenberg Editor, creating a form is a simple experience. What's even better is you can preview your forms as you build them.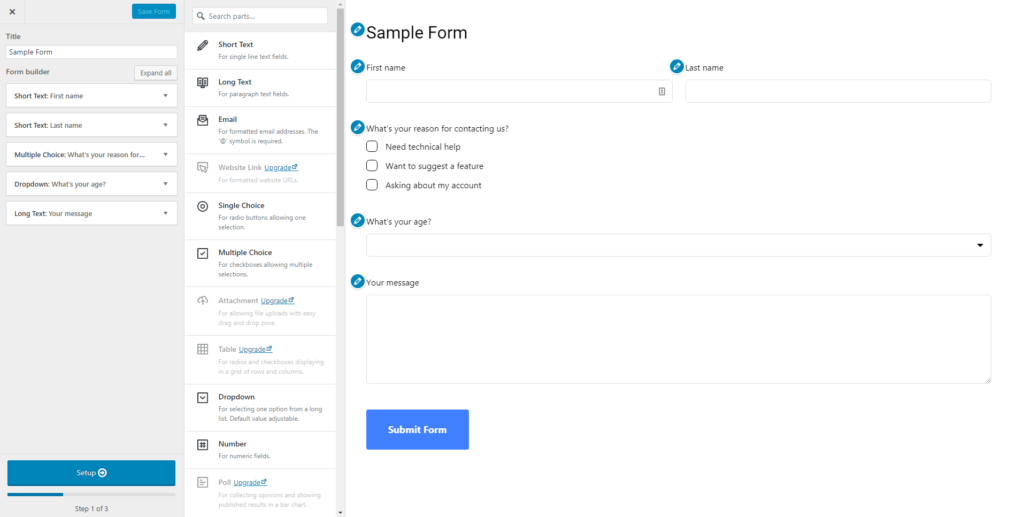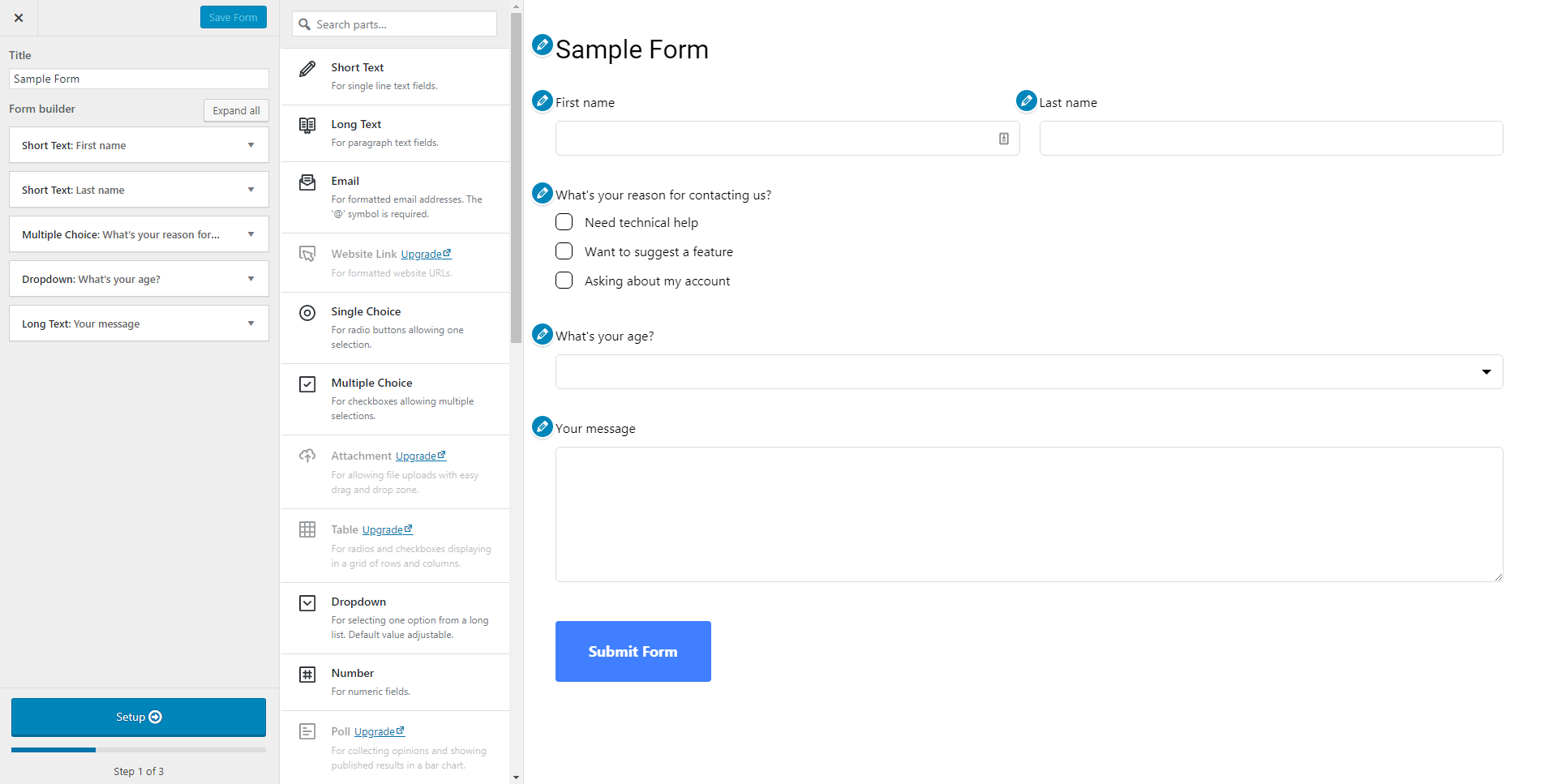 Forms can be added to almost any part of your website. And to make things easier, multiple forms can be used on the same page.
You can create multi-column layouts with a single click. Regarding user data, it includes GDPR and 508 compliant forms.
Other important features include:
Easy Form Duplication
100% Mobile Responsive
Submission Confirmation Messages
Multiple Form Parts
File Uploads
Password Protection
Built-in Analytics Dashboard
ReCaptcha Integration
MailChimp Integration
Stripe Integration
Price
There is a free version of Happy Forms that includes solid functionality.
Features like stripe payments and Mailchimp integration requires upgrading to a paid version. Prices start at $69 for 1 website and 1 year of updates.
16. KaliForms – Free and Paid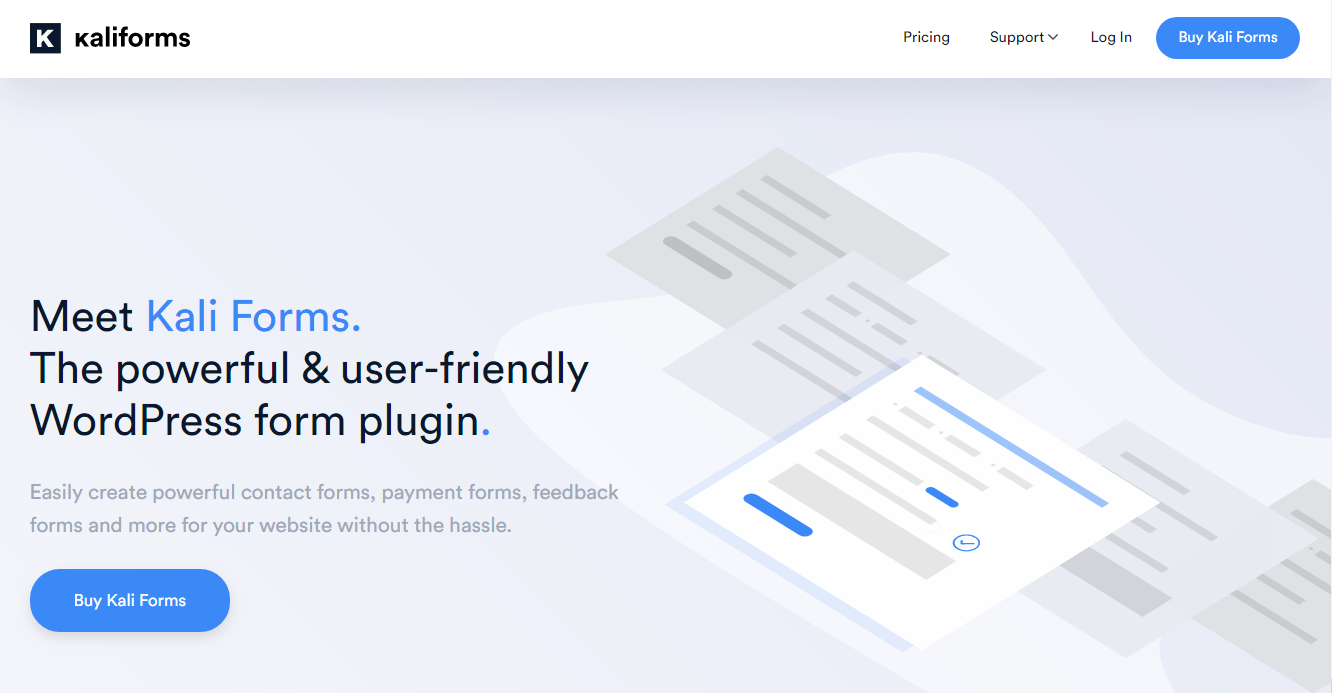 KaliForms is a WordPress contact form plugin that allows you to build forms in a matter of minutes. Using the drag and drop form builder forms are easy to create. Or for something simpler, you can use one of the pre-built templates.
Because KaliForms is built on React, performance issues shouldn't be a problem. All forms are also 100% mobile responsive.


A combination of Google's ReCaptcha and spam honeypot system helps protect you from unwanted spam messages. And connecting to third-party services is achieved through API.
This is all included in KaliForms Free plugin.
Additional features unlocked through the pro version includes:
Multi-Page Forms
Pre-Designed Templates
Conditional Logic
Email Notifications
File Uploads
Advanced Fields
Submissions Handling
PayPal and Wire Transfer
Price
The premium version of KaliForms starts at $19 for 1 site.
Which Contact Form Plugin Is Best For You?
All of the WordPress contact form plugins I've covered above have a range of features to suit many different needs.
When deciding which contact form builder is the right choice for you, it's important to look at the features that suit what you require.
Here's a quick rundown to help you out:
If you're looking for a simple, straight-forward contact form that doesn't cost a thing, Jetpack Forms and Contact Form 7 will do everything you're looking for, without any extra bells and whistles.
For a contact form plugin that covers more complex form options and with additional features like Conditional Logic and File uploads, WPForms, Gravity Forms, Ninja Forms, and Formidable Forms are all great options. HubSpot can be a good option too since it comes with great features for free.
And if you're looking for the ideal WordPress Theme pair with your chosen Contact form, checkout the Astra theme. It's packed full of customization options and works well with the majority of these plugins.