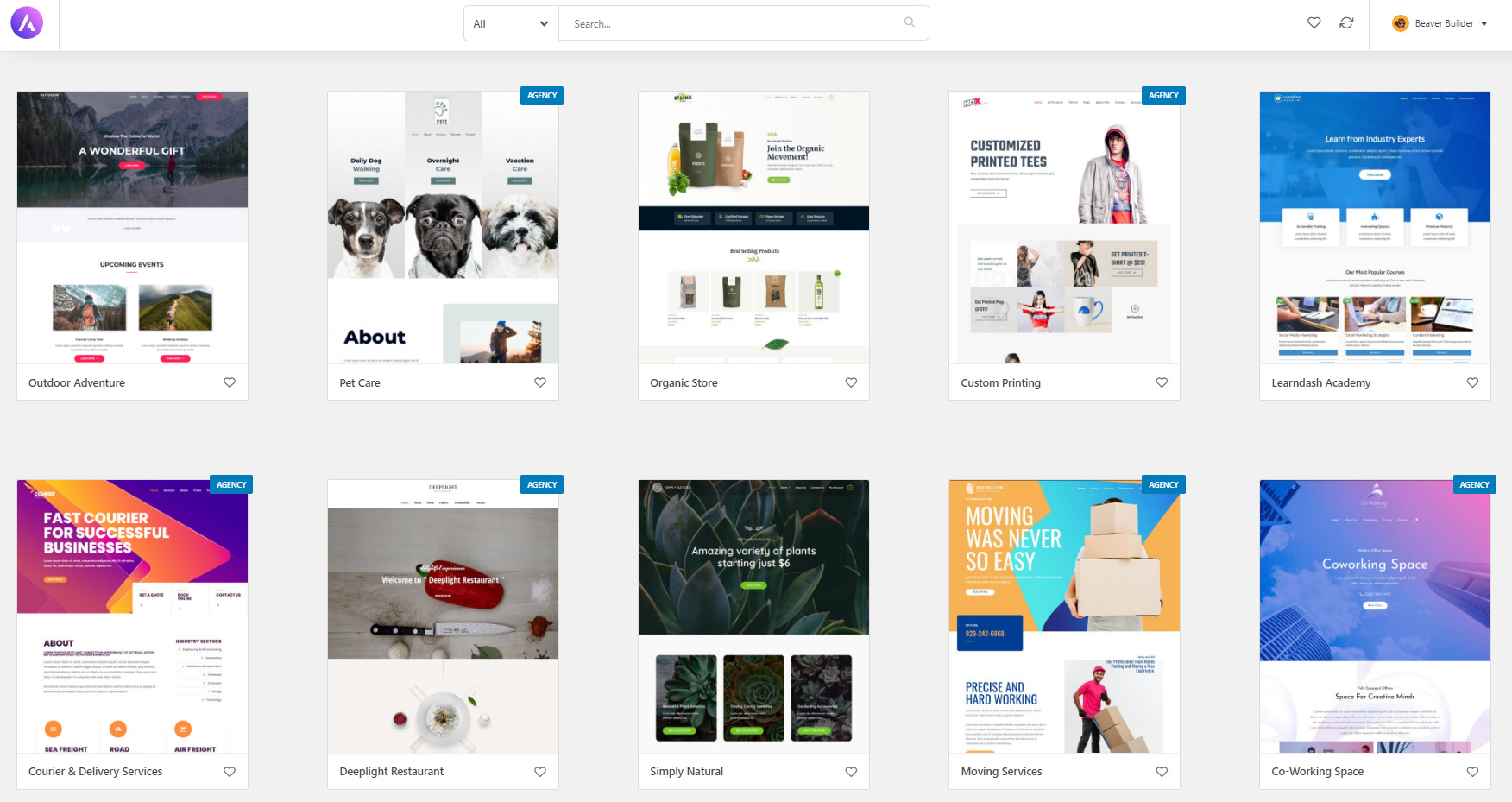 Starter Templates plugin allows you to import ready and beautifully built demos onto your site. These templates come with sample content, images, and style that you can customize and personalize any way you like to make it your own.
That way you no longer have to spend hours coming up with your own designs.
In this article, we will guide you through using the plugin and helping you import complete Starter Site Templates directly from your WordPress Dashboard. We will cover both the free and Agency Templates.
*Read more about FREE and AGENCY Starter Templates here.
Importing Free Templates
The plugin provides two sets of templates, free and Agency. The first step to importing the free templates, is to install the Starter Templates plugin.
You can download this plugin directly from WordPress.org. If you're having any problems, here's an easy to follow guide to help you out.
Then, to start importing the templates, activate the plugin, and follow the steps below.
Importing Agency Templates
Agency Templates are those that come with your Agency Subscription with Astra and you can see Agency tag on them in the template library.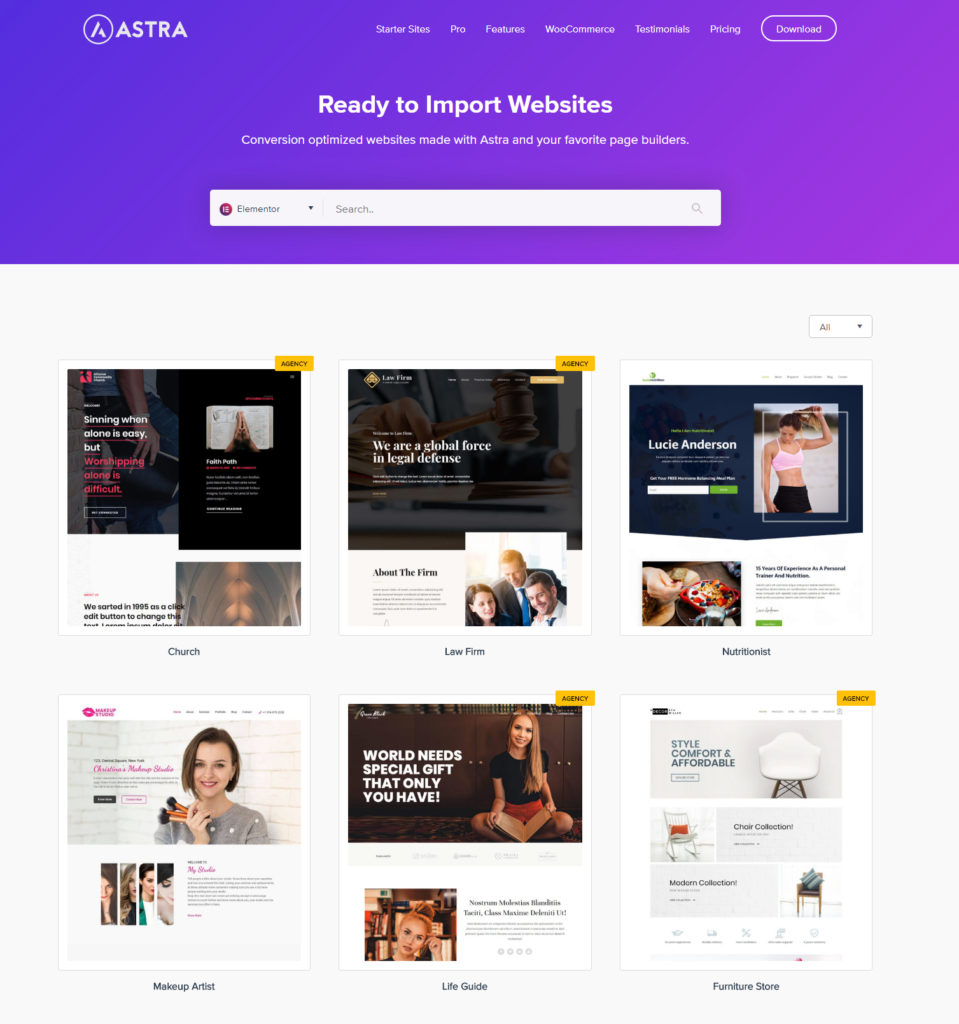 To import Agency site templates, first, install the Premium Starter Templates plugin from your store account.
Once you've installed and activated the plugin, you need to activate the license. If you're having problems, here are the detailed steps.
To start importing the premium Agency templates, follow the steps below.
Recommendation:
Though not required, it is a good idea to import a site template on a fresh WordPress install. If you're working from an existing site, you can reset your current WordPress installation to start from a fresh and brand new site. Here's a quick guide to help you do just that.
Importing process –
Step 1 – Navigate to Appearance > Starter Templates. In the right-top corner you can see available page builders. From Elementor, Beaver Builder, Gutenberg, Brizy select your preferred page builder.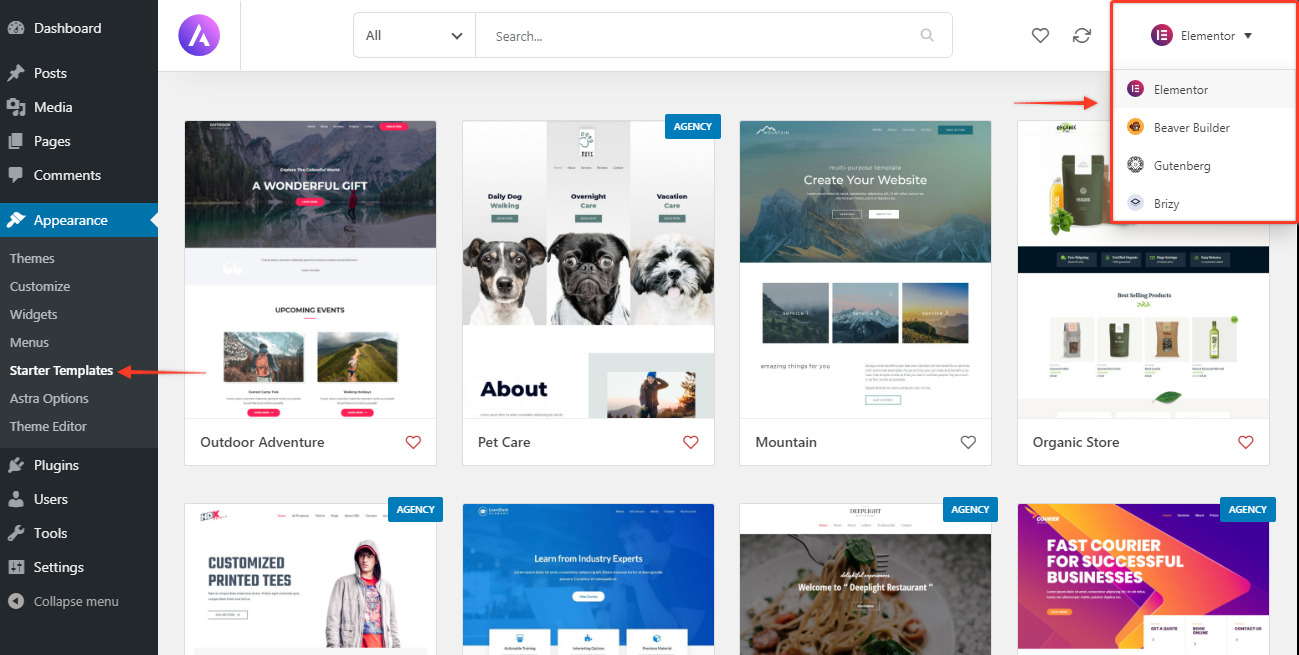 Step 2 – You can browse through the library to see the beautiful templates. Once you find one you like, click on it. You should see a 'Preview Site' button in the bottom-left corner. This will give you the exact preview of the starter site.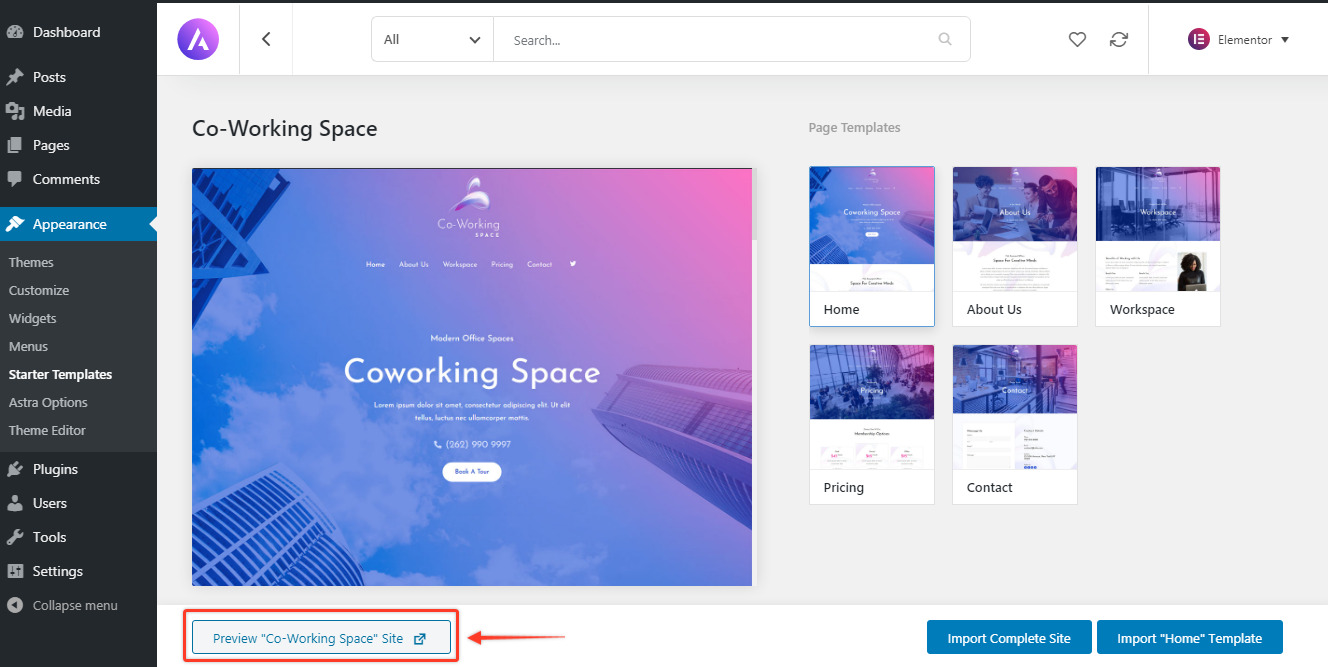 You can preview the individual pages within the selected template. Please have in mind that the page preview is available only for the pages for which our team has created unique designs. You can import each of these pages individually too.
On the other side, when importing the complete site, the imported template will also come with all needed plugins and other content. This includes some additional pages that use the default designs (depending on the template – for example, WooCommerce pages) and our premade dummy content (for example, Products in your WooCommerce Shop) too, though the page previews are not available for these additional pages. These page previews are not available as they are not available for download as individual pages.
Step 3 – If you're happy browsing through the preview, go back to the Dashboard and click on the "Import Complete Site" button. [Are you seeing the "Get Access!" button? Check out the rest of the article to know more about this.]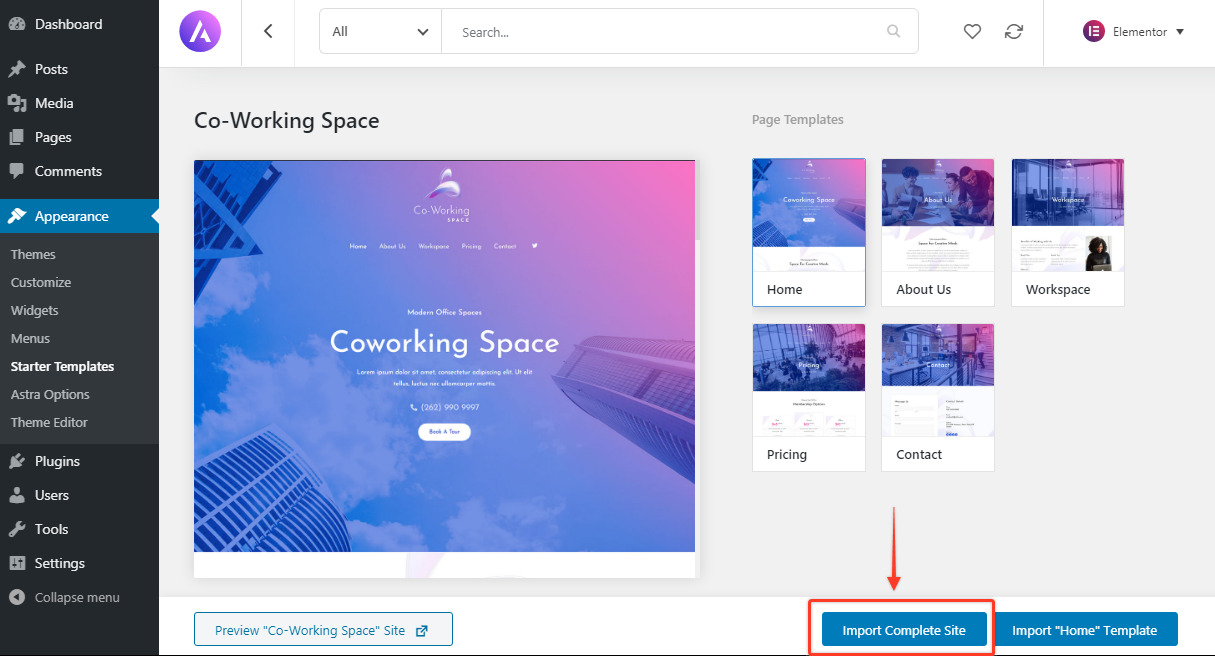 Step 4 – After you click "Import Complete Site" a popup will appear with the following options –
Delete Previously Imported Site – In case you have imported a previous starter site, you can opt to delete it automatically.
Install & Activate Astra Theme – Starter Templates are designed with the Astra theme. In case you don't have it installed/activated yet, tick the option to do so automatically. If you skip this option, the imported template will inherit current theme customizer settings and might look different than its preview in the library.
Install Required Plugins -The Starter Templates plugin will automatically install and activate the required plugins. No other manual action needed.
Import Customizer Settings – Each site template has its own typography, layout, color, button set from the Astra customizer. Skipping this step will inherit these settings from your current theme's customizer.
Import Content – Enabling this option will import content (text) and images for the site template. If you only need to import the structure of the site you can skip this.
Import Widgets – This will import the widgets used in the site template (especially with header and footer).
*Ideally, we recommend to select all these settings to make sure you're imported template is exactly the same as the preview.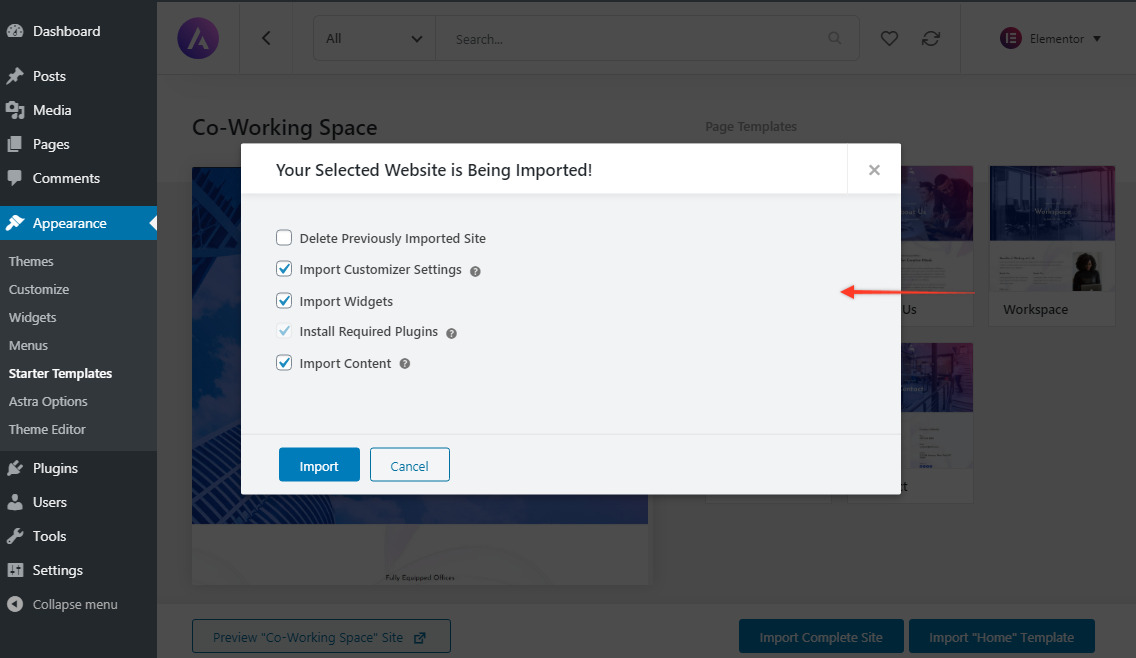 Step 5 – If you're confident with the options you selected, Hit the "Import" button. Do NOT close the window until the site is finished importing.
Step 6 – Once the import process completes, just hit the "Preview Site" button so that you can view it.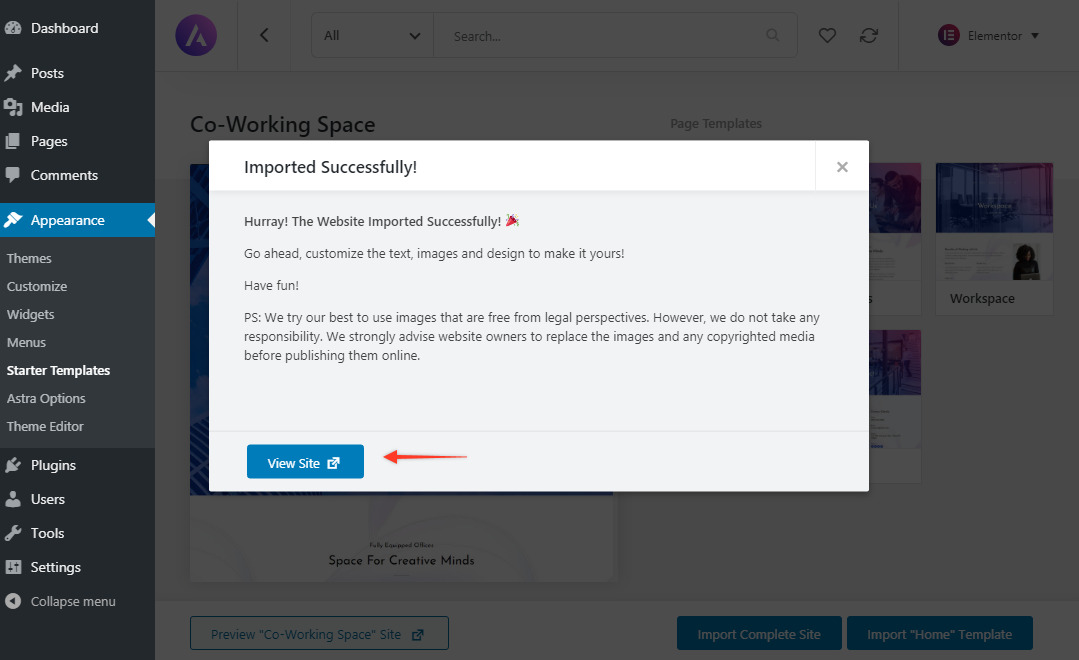 You can see a quick screen recording at the end of this article.
---
Importing "Agency" Starter Template? / See "Get Access!" Button?
Templates with the AGENCY tag are premium templates and are available with Mini Agency and Agency Bundle. You can read more about it here.
To import AGENCY templates you need to first need to activate the license. Here's how:
Step 1 – As mentioned above, if you are using the free plugin and trying to import an "AGENCY" template you will see the "Get Access!" button at Step 3.
Click on this button to show the activate license box.You can copy the license key from your store account and paste it in the popup input field.
Step 2 – Once the license is activated, go back to Step 3 above and proceed.
---
Here is a quick screen recording of importing process –
Note:
Although we try to use stock and non-copyrighted images on all of our Starter Sites/templates, we cannot take legal responsibility for any claims. We highly recommend replacing the images after importing.
Need to import site templates on an existing website? Check out this article.
---
Related Articles
Starter Templates — Basics and FAQs
How to Import Single Page Starter Templates?
Starter Templates with Other Themes
Starter Templates – Elementor Popup
Starter Templates – Free Images from Pixabay