It is common to refer to WordPress as a CMS, or Content Management System. But what does this term actually mean? And why are CMS so useful? Let's find out!
In this post, we'll explain what a CMS is, look at some examples of different Content Management Systems, and answer why they are so useful.
Then, we'll look at the different parts of a typical CMS, including the dashboard, content editor, plugins, and other features.
Finally, we'll help you decide which particular CMS is best for your particular project.
Ready to begin?
What Is a CMS?
CMS stands for Content Management System. A software system that lets you publish and manage your content. Pretty simple!
While you might not be familiar with the term CMS, you've almost certainly heard of a CMS or two. WordPress, Drupal, Joomla, and Magento are the most popular CMS.
A CMS lets you create websites and manage your content easily. Instead of having to edit and upload HTML, CSS, and JS files yourself, you can use a CMS to have it all managed for you. For example, with WordPress you can easily create a website in less than 60 minutes.
All you need to do is create your content and publish!
As you can imagine, this is extremely useful, as it dramatically cuts down the amount of time required to set up and manage your website. You can start a blog and focus on writing your content, not managing the technical details.
It also allows non-technical people to work on your website. Prior to the invention of the CMS, it was very time consuming to create a website and publish content on it.
Types of CMS
There are a few different kinds of Content Management Systems. In general, they are differentiated by what type of website they are designed to build.
Multipurpose: WordPress is perhaps the classic example of a multipurpose CMS. It can be used for just about anything, including eCommerce (via WooCommerce), blogging, forums, news magazines, and more.
Blogging: Some CMS are better for blogging. WordPress, for example, started with a focus on bloggers, although it now can be considered multipurpose. Joomla is another strong contender for a blogging-focused CMS. Shopify, on the other hand, has somewhat limited blogging capabilities.
eCommerce: These CMS are designed for running an online business. Shopify and Magento are prominent examples. However, Drupal and WordPress also make it easy to make eCommerce sites.
Some Examples of a CMS
While there are dozens of different CMS, only a few of them are well-known.
Let's examine each of these five and discuss their pros and cons: WordPress, Shopify, Joomla, Drupal, and Magento.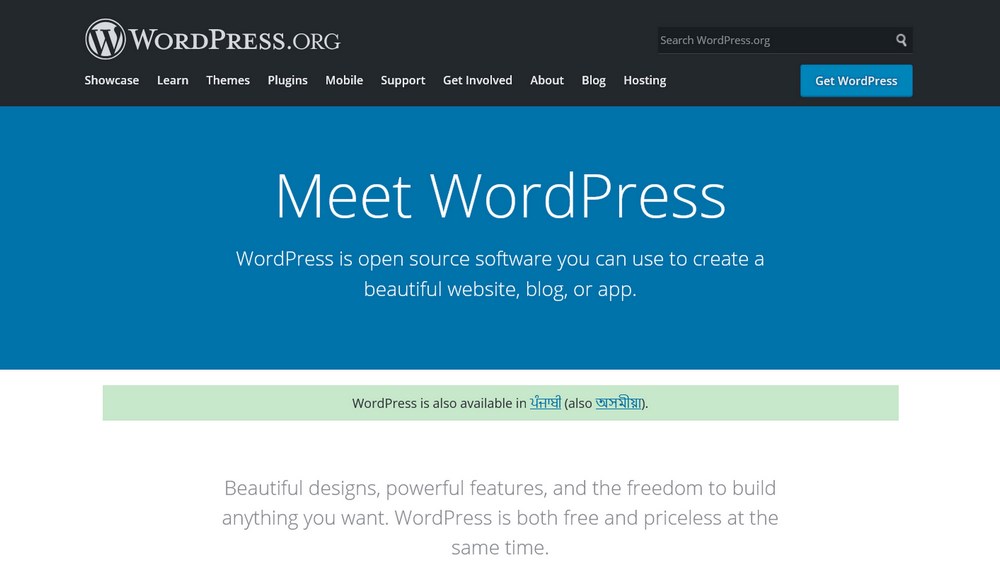 WordPress is the single most popular CMS — and for good reason! It is extremely flexible and can be modified to create just about anything.
With over 50,000 plugins and 10,000 themes, it's also easy to add functionality in a few clicks. As of May 2021, WordPress is used by 41.4% of the top 10 million websites!
WordPress includes all the basic features like pages, posts, comments, plugins, themes, users, and everything else that a CMS should include. You can create your entire site without writing any code, but, if you're a programmer, making modifications is easy.
WordPress was originally designed as a blogging platform, which means it has a strong content focus. However, other plugins like WooCommerce or bbPress make it easy to create an online store or web forum.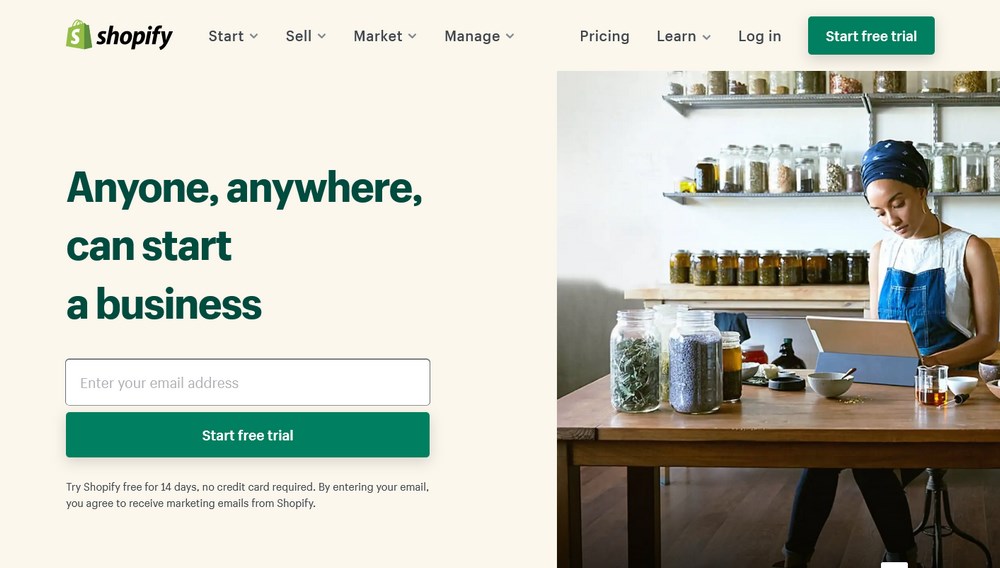 While Shopify is not typically considered a CMS, it has all of the features of one and tends to be included in lists of "Top CMS", so we will include it.
After WordPress, Shopify is the second most popular CMS on the market. As of May 2021, it powers around 1,700,000 businesses in approximately 175 countries.
As the name suggests, Shopify is designed for creating online shops and other eCommerce businesses.
It has extensive features for launching your business, keeping track of your inventory, selling products on social media and in marketplaces, and performing other business management tasks.
Shopify is often compared with WooCommerce, which is WordPress's eCommerce plugin and ecosystem.
However, Shopify does not have a large variety of plugins or themes and its blogging capabilities are quite limited. Shopify is thus designed almost exclusively for eCommerce users.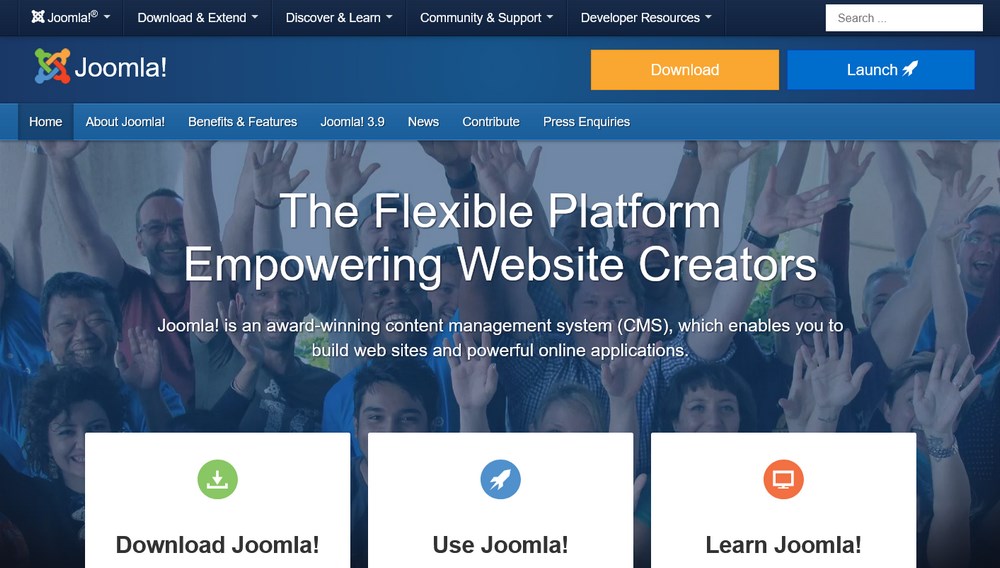 After WordPress and Shopify, Joomla! is the third most popular CMS on the market today. It comes with many built-in features (like multilingual support, for example) and also works with thousands of extensions.
The Joomla community is quite large and very helpful, so you can be sure that you'll get help with any issue you may have.
While there are more features built-in, the dashboard can be a little confusing and does have quite a learning curve.
Adding extensions is also more difficult than WordPress, and the number of available extensions is far less.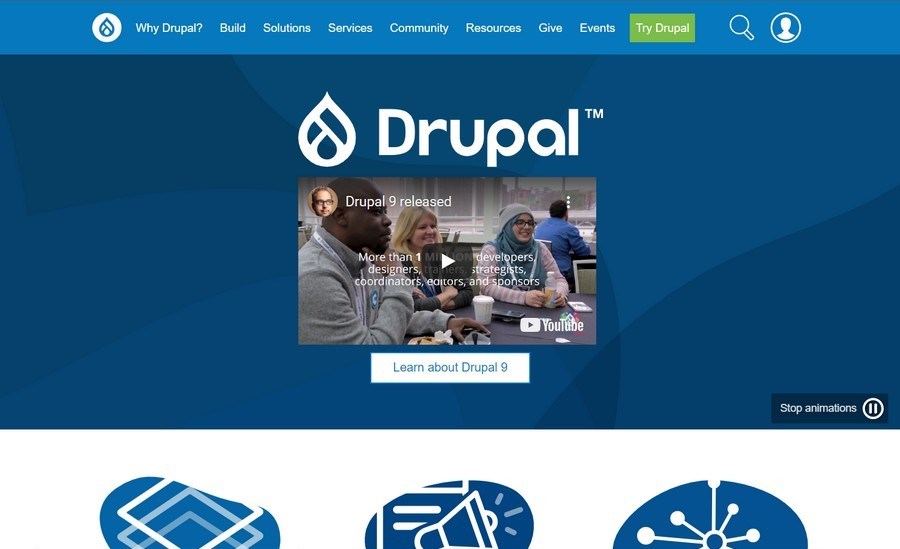 Drupal powers about 13% of the top 10,000 websites, making it a popular choice.
It's known specifically for its strong security features, and as such is used by many governmental entities and nonprofit organizations. This includes the Government of the State of Colorado, the Rainforest Alliance, Greenpeace, Redhat, and The Economist.
Drupal has a rich feature set, including multilingual support, marketing automation, personalization, and a unique ability to have the front and back ends of your site be separated, so you can scale content across different platforms.
While powerful, Drupal does have a learning curve and is generally not intended for use by individual bloggers or small businesses.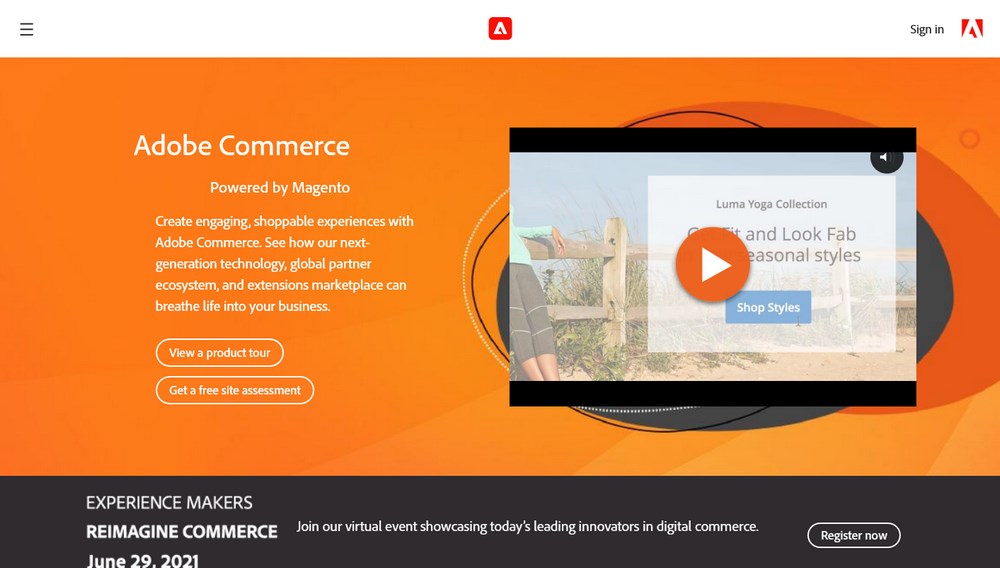 Last, but certainly not least, is Magento. Originally launched in 2008, Magento is designed with eCommerce in mind. It was acquired by Adobe in 2018 and as of 2019, it had roughly 30% of the online eCommerce ecosystem according to Toptal .
Magento is a complex but powerful CMS that is endlessly customizable. It has an extensive list of features, including a page builder, product recommendations, live search, customer segmentation, merchandising, and more.
On the whole, it is designed for more technical users that need extremely complex customizations for their eCommerce businesses. As such, it is likely too complicated for those new to web development or eCommerce.
What Problems Does a CMS Solve?
Now that we've looked at a few examples of CMS, let's examine the idea itself.
Why exactly should you use a CMS? What makes it better than just creating your own website with HTML, CSS, or PHP?
No Coding Knowledge Required
Probably the single biggest advantage of using a CMS is that it requires zero programming knowledge. You can build a website and create content without writing a single line of code.
This makes it easier for non-technical people to start websites, generate content, and create online businesses.
No Building From Scratch
When you use a CMS, you don't need to create a website from scratch, using HTML, PHP, JS, or similar. Depending on the complexity of your site, this can be a difficult and time consuming process. WordPress, for example, comes with dozens of different file types.
You can just install the CMS and you're ready to go. Everything is set up ahead of time and you don't need to worry about reinventing the wheel for things like blogging or accepting payments.
Focus on Publishing Content
Most CMS are designed to stay out of your way and let you focus on publishing your content. You don't need to worry about maintaining your site, coding extra features, or modifying complex files to make minor changes.
For the most part, you just need to keep your themes and plugins up to date, which is a straightforward and simple process.
Schedule Content Ahead of Time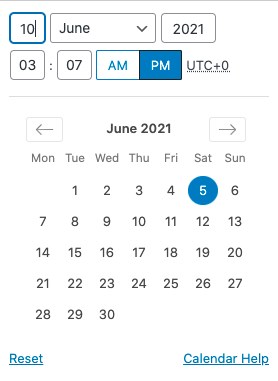 If you run a popular news site, blog, or magazine, you know how important planning ahead is. Trying to do everything at the last minute is a recipe for failure!
Thankfully, with a CMS, you can prepare and schedule all of your content. Want to publish a post automatically every Monday? Not a problem. You can easily set custom timelines for all of your posts and other content, especially with autoresponders.
Collaboration With Other Users
CMS are popular among businesses and large organizations for many reasons, but perhaps above all because of the collaboration features.
They let you create an unlimited number of user accounts, which is essential if you want to have multiple team members log into your site and add content or make modifications. Without this, you'd be unable to have more than one person editing a file on your site at a time.
In addition, you can create different user types, each with their own levels of access.
For example, you can give certain team members the ability to edit posts but not delete them, or allow guest writers to work only on a specific post.
Plugins and Themes to Add Extra Designs or Functionality
One of the strongest advantages to using a CMS is not the software itself, but its ecosystem of plugins and themes. These are listed in the WordPress Repository.
These extensions can add a significant amount of functionality to your site and include nearly anything you can imagine. This includes pop-up forms, discussion forums, email newsletters, and other tools.
For example, you can use the Astra Widget plugin to add widgets to your site's header, footer, and other locations.
In WordPress alone, there are over 50,000 plugins and 10,000 themes, including Astra, the most popular theme.
In Magento, there are thousands of different plugins. Other Content Management Systems like Joomla and Drupal have similar amounts of plugins, although WordPress has the most by far.
Multilingual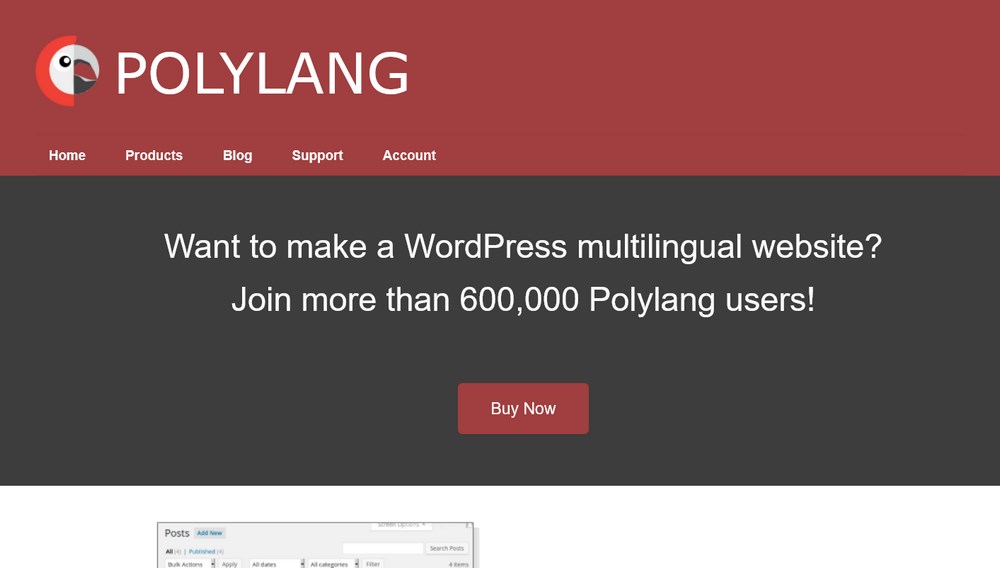 The internet is global, which means that your website should be available in multiple languages. Luckily, a CMS makes this an easy task.
Most CMS have multilingual support, either built-in or with add-ons. WordPress, for example, has a number of translation plugins that can translate your site into hundreds of languages. These include Polylang, WPML, and many others.
SEO Tools
Finally, a CMS can help you optimize your content to get better search engine optimization, SEO. By using a WordPress SEO plugin, you easily add things like keywords or meta descriptions to all of your pages and posts.
While you can add these yourself manually, it takes significantly longer. With a CMS like WordPress or Magento, it's effortless.
You just need to install a SEO plugin, make some minor configuration changes, and then add your data to your posts. Setting up SEO with WordPress is very simple.
How a CMS Works
How does a CMS work? Let's examine the different parts to see what you can do with it.
While each CMS is slightly different, they mostly tend to have the same overall structure. Each includes the following aspects:
Dashboard / Interface
Content editor
Themes
Front-end design editor
Plugins and extensions
User accounts
Dashboard / Interface
Every CMS has a dashboard. This is where you can manage everything from your content, plugins, themes, and other aspects of your site.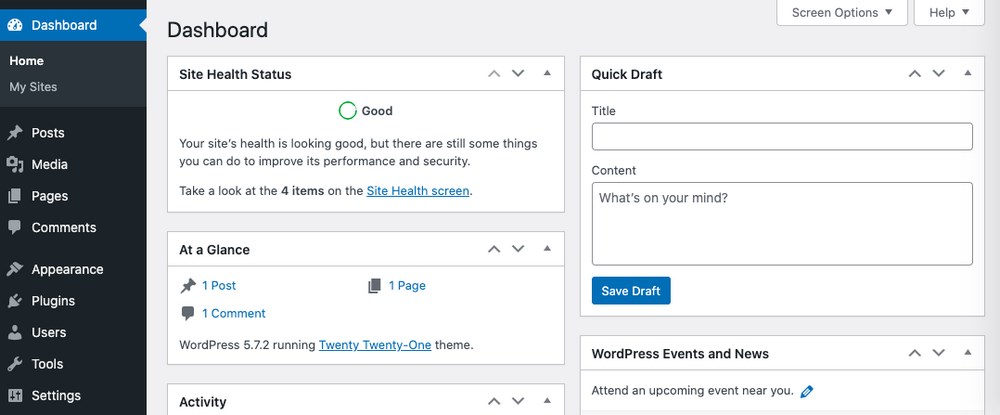 In WordPress, for example, you can access the dashboard by going to YourSite.com/wp-admin. This is the WordPress dashboard, where virtually everything is accessible.
Here, you can manage your posts, pages, plugins, themes, and every other part of your website.
Content Editor
This is where you edit your content directly. Most CMSs have the same basic features, which include:
Modifying the text font, size, and color
Aligning text (left, right, center, justify)
Adding bold, italics, underline to text
Adding links
Uploading images
Putting text in blockquotes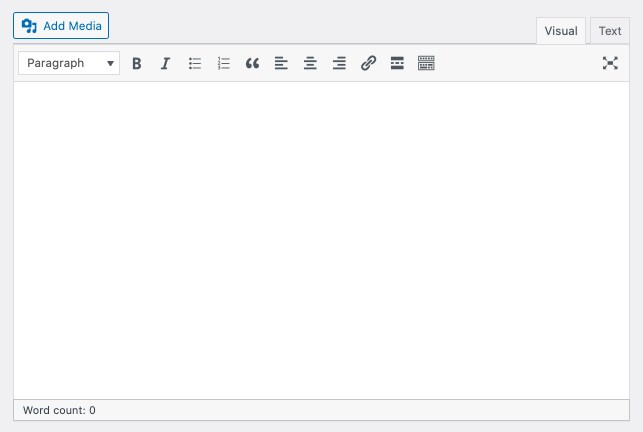 In WordPress, you have two options for editing your content. Historically, everything was in a simple text editor window. Other CMS programs operated the same way.
You can still edit your posts this way using the Classic Editor plugin.
In 2018, WordPress launched Gutenberg, a drag-and-drop page builder system.
Gutenberg is now the default, and preferred way, of creating pages and posts in WordPress. In Gutenberg, you can create pages by adding "blocks" of different types. These include things like paragraphs, featured products, headings, and more.

Themes
Themes are like "skins" that lay on top of the structure of your site. They keep the content the same, but change how that content is displayed.
Themes are very useful, as they make it easy to modify the appearance of your site without having to recreate everything from scratch. You can change the theme in a single click.
Prior to the invention of WordPress and Joomla in the early 2000s, you had to directly change the HTML and CSS code if you wanted to make any design changes to your site. This, as you can imagine, was hugely inefficient and took a long time to even make basic changes.
Luckily, CMS makes changing your theme a matter of minutes, not days or weeks!
Many themes also come with templates, which help you set up a website with a premade style and layout.
Astra has over 150 templates, for example.These are designed for yoga studios, bloggers, small businesses, and dozens of other types of websites.
Front-End Design Editor
Most CMS have a visual design editor that lets you modify and fine-tune your theme, mentioned above.
In WordPress, you can do this in the Customizer: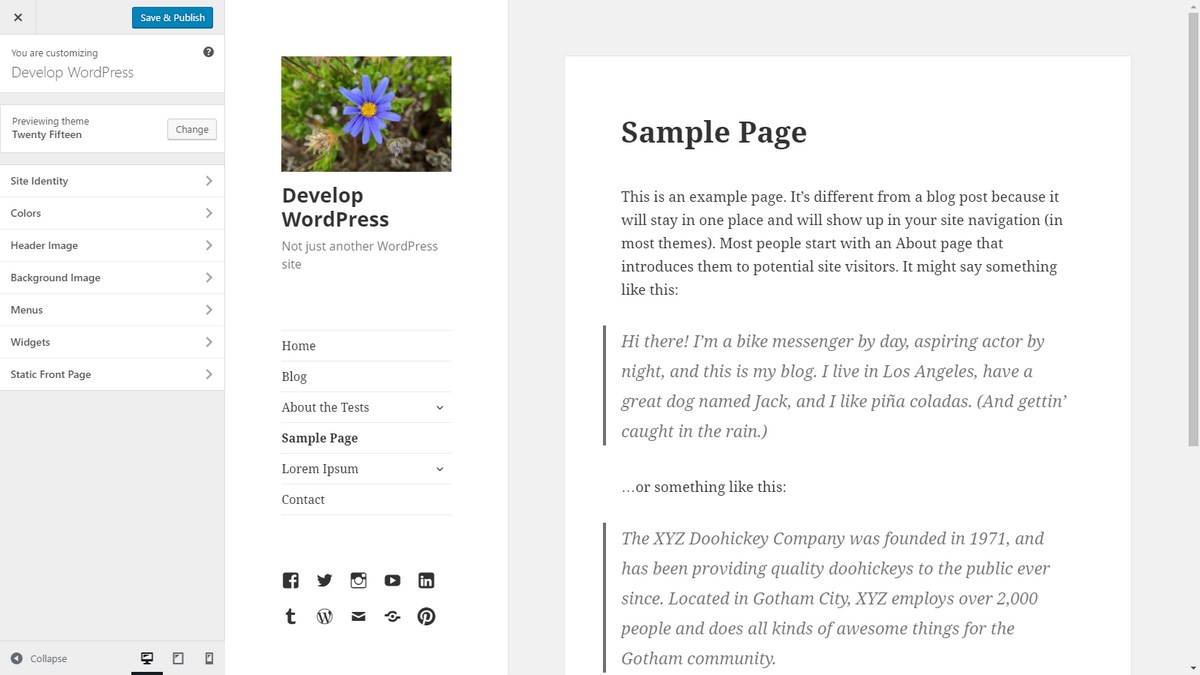 Here, you can change nearly every aspect of your website and immediately see how it looks. This allows you to quickly experiment with different colors, fonts, header images, and other elements of your site's design.
You can also activate other themes to preview what your site would look like with them.
Plugins and Extensions
Virtually every CMS has a plugin system that allows you to selectively add new functionality to your site. WordPress has plugins, Magento has extensions, and Shopify has apps. These extensions cover everything from email marketing to forums and bulletin boards.
ConvertPro, for example, is a popular plugin that helps you collect email addresses and perform other conversions on your site. Adding it to your WordPress site takes only a few minutes and adds powerful marketing and outreach tools.
User Accounts
Finally, every CMS has a user account system. This allows you to have different accounts for individual members of your organization, instead of requiring everyone to access the site via a single account (as is the case with a standard website.)
Most CMS also let you have varying levels of access or authority. In WordPress, these are called User Roles. For example, User, Editor, or Administrator.
By default, there are six predefined roles in WordPress: Super Admin, Administrator, Editor, Author, Contributor and Subscriber.
For each role, there is a set of allowed tasks, which are called Capabilities. These are completely customizable and you can add or remove your own user roles.
By having different user roles, you can give a variety of people access to your site without worrying if they'll delete or modify something important.
For example, you can add Editors, which have the ability to edit posts but not delete them. If you run a magazine or news site, this is a very useful feature.
What Is the Best CMS to Use?
For nearly any situation, WordPress is the best CMS to use. It is free, flexible, comes with a powerful set of features, and can be extended and modified with over 50,000 plugins and 10,000 multipurpose or specific purpose themes.
You can add everything you need, or easily modify it to match your needs. This is why WordPress is by far the most popular CMS, with over 60% of the market.
The types of sites you can build with WordPress include (but are not limited to):
Blogs
Magazines and newspapers
Directories and classifieds
Financial companies
Forums
Videography and photography portfolios
Yoga studios
Event listings
Conference and concert planning
Landing pages
eCommerce
Internal company websites
Consulting firms

With Astra, the most popular WordPress theme, you can use one of 150 templates to create your perfect website. These templates are designed for every type of website you can imagine, including freelancers, yoga studios, and more.
However, there are a few instances where you may want to consider a different CMS:
Ready to create your own website? Using WordPress, it's really easy!
A Guide to the Content Management System (CMS)
In this post, we learned what a CMS is, how they work, and why they're so powerful. We also examined the five most popular CMS in the world today, each of which has its own strengths and weaknesses.
Overall, we recommend using WordPress, as it is the easiest and most flexible option available. The combination of flexibility, ease of use, and content focus makes it a strong choice for creating virtually any type of website. If your business grows or changes focus, it's also easy to modify and expand a WordPress site.
If you've used a CMS other than WordPress, what was your experience like? What did you like or not like? Let us know in the comments!