Are you looking for a new look for your car dealership? Starting a new business and want to get off on the right foot? Realize that to sell big ticket items, your website has to look the part? Want to start a car blog to share your passion with the world?
If you answered yes to any of those questions, this post is for you!
Today we are discussing WordPress car dealer themes. Designs created specifically to showcase cars, SUVs and the many vehicles we know and love.
We have scoured the internet looking for the very best automotive WordPress themes. We tried them, tested them and only listed those we consider worthy.
That's what you see here, a list of the best automotive WordPress themes available.
If you're setting up an automotive website of any kind, you'll find the perfect theme right here!
What to Look for in a Car Dealer WordPress Theme
We have had a strong relationship with cars since those very early days of solid wheels and starter handles. That relationship and the passion many of us feel for our cars has to be reflected in your automotive WordPress theme.
You also have to build trust. Cars are big ticket items and require significant investment. The car industry doesn't have the kind of reputation that encourages immediate trust, so you have to work harder than other industries to generate it.
Creating trust begins with your website.
Both can help create a positive first impression.
Ideally, any automotive WordPress theme you choose should have some of all of the following:
Professional Quality Design
Every website deserves professional quality design, but the more expensive the product, the more professional you need to appear. When you're selling big ticket or luxury items like cars, having a flawless professional persona is essential to begin building the trust necessary to help people make such a purchase.
Attractive Typography
There is a lot of psychology around typography and it's something not enough themes give enough attention to. We think the themes in this list provide some great default fonts while also offering the opportunity to customize them to suit your own brand.
Drag and Drop Page Builder Support
There is no longer a need to learn HTML or CSS to build websites. The advent of page builders is one of the best things to happen to WordPress and to WordPress themes.
Any theme that supports page builders like Elementor, Brizy, Beaver Builder or Gutenberg has usability in mind. Time saved not designing your website could be better spent elsewhere in your life!
Search and Filter Functions
Search and filter functions are an essential feature of car dealer WordPress themes. The more stock you sell, the more important these filters are.
Most visitors don't have the time or patience to browse your entire inventory so having a search function or filters helps them find what they want quickly and efficiently.
Those who like to browse can still do so but the more task-oriented visitor can also get what they want.
VIN Decoder
A VIN decoder is an optional extra that some car dealer WordPress themes include in the package. This is a tool that lets you unlock the Vehicle Identification Number of any car to see where and when it was built and other useful information.
Some visitors will like to use a VIN decoder while others won't bother. That's why we consider this an added benefit rather than an essential feature.
What You Need to Build an Automotive Website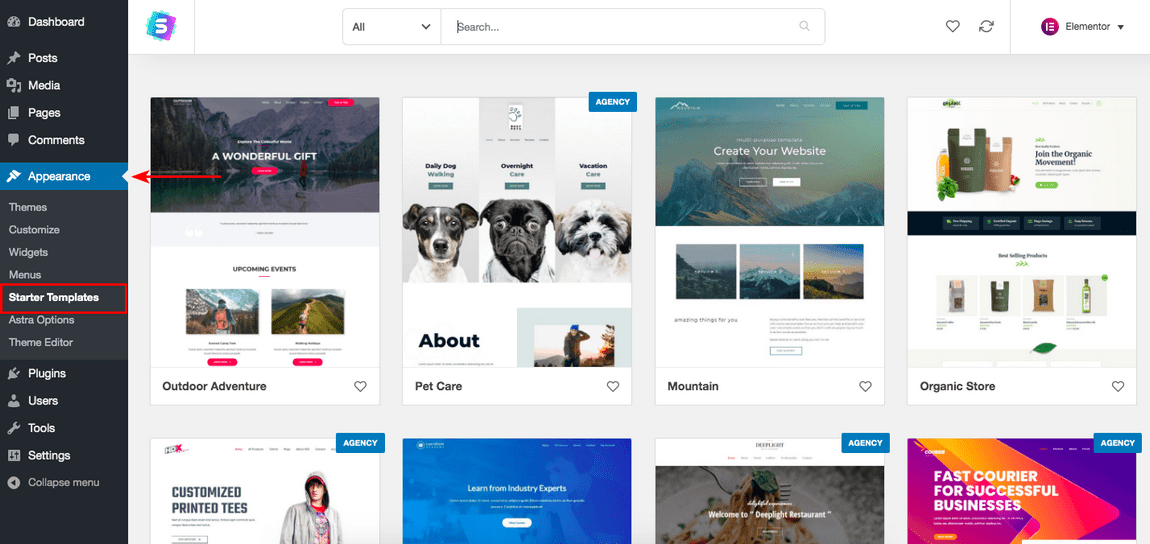 Building an automotive website is very straightforward. You will need a working WordPress installation and one of these amazing automotive WordPress themes to get started.
Let's use Astra as our example.
Log into your WordPress website
Select Appearance and Themes from the left menu of your WordPress dashboard
Type 'astra' into the search box at the top right
Select Install and then Activate Astra
Select the new Starter Templates menu on the left
Select your theme from the page
Select the 'Preview Site' button at the bottom left to check
Select the 'Import Complete Site' button at the bottom right to install that theme
Select to install the desired options and select the blue Import button
Allow the process to complete
Select the blue View Site button to see the results
Installing the Astra theme is quick and easy. If you bought the Pro bundle, you have access to even more great quality themes than the free version!
Now your basic website has been themed and is ready to customize. Where you take it from here is entirely up to you!
19 of the Best Car Dealer WordPress Themes
If you don't have time to read the entire post, the table below offers a quick breakdown of the 5 best car dealership themes you can use.
Every single theme we outline throughout the post is worth checking out, otherwise it wouldn't be here. However, we all have our favorites, and these five are ours.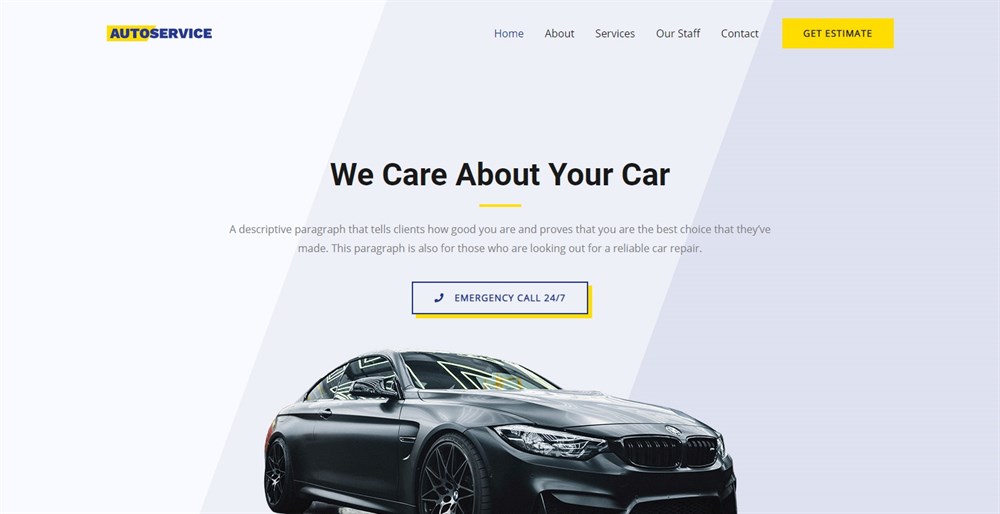 Astra is a lightweight multipurpose theme with over a hundred templates to choose from. Any of our themes can be used for an automotive website thanks to support for leading page builders and their inherent flexibility. We do have two specifically designed for automotive websites though.
Themes are well designed, provide the building blocks to create stunning car websites, load quickly and are fully responsive.
Astra themes can also be installed with a single click, so using one of the many demo websites is easy. Install Astra, install the demo website and begin making it your own. It's genuinely that easy!
Astra Automotive Templates
If you're looking for professionally designed car dealership templates you can import and use right away, Astra has you covered.
All our templates can be quickly and easily customized for the automotive industry but we have three all ready for you: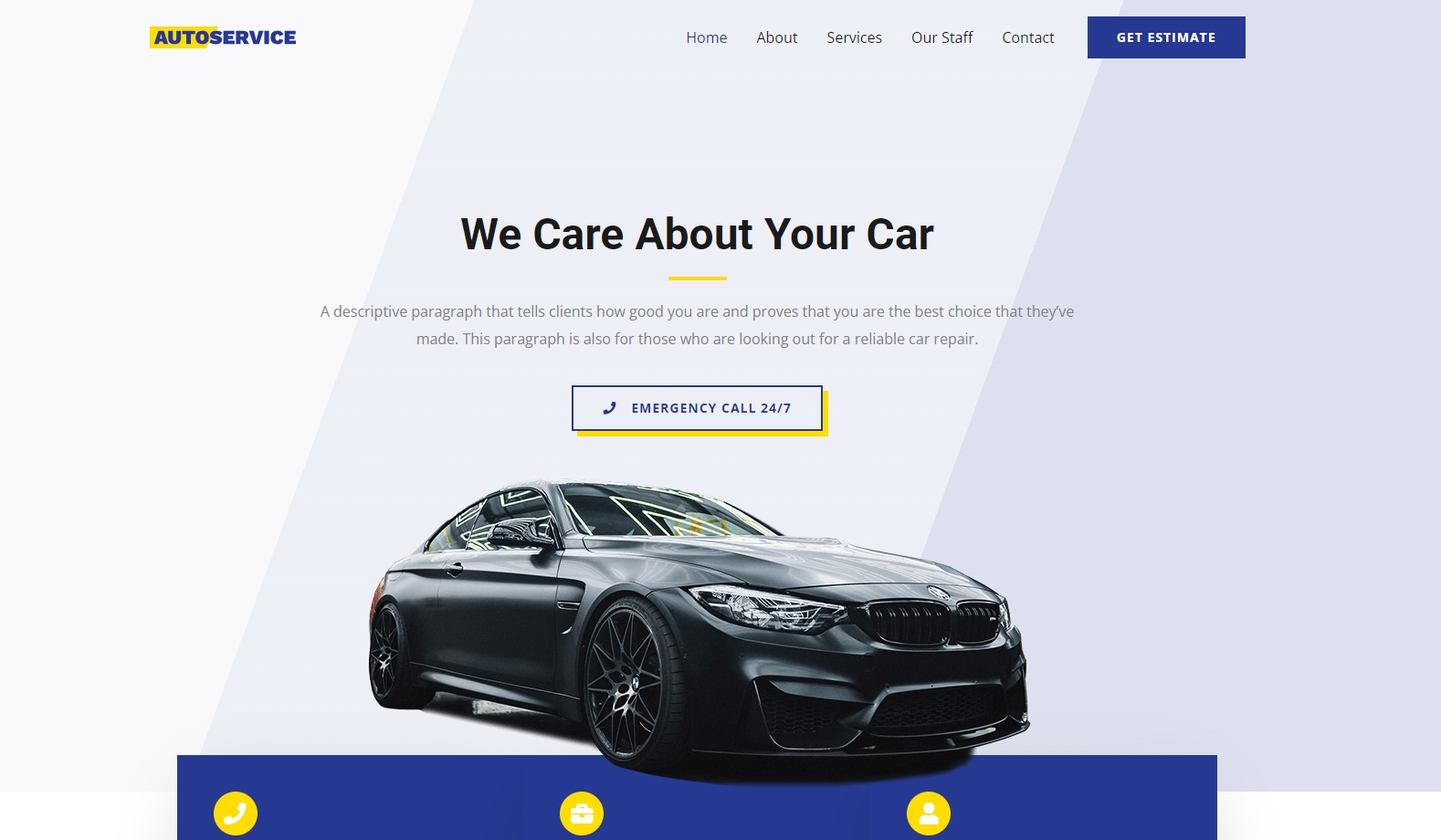 The Car Repair template offers a modern, light feel that could be ideal for auto repair, body repair and a range of automotive services. It's easily customizable, compatible with page builders and has universal appeal.
What's more, all Astra templates can be imported in seconds and be customized using your favorite page builder.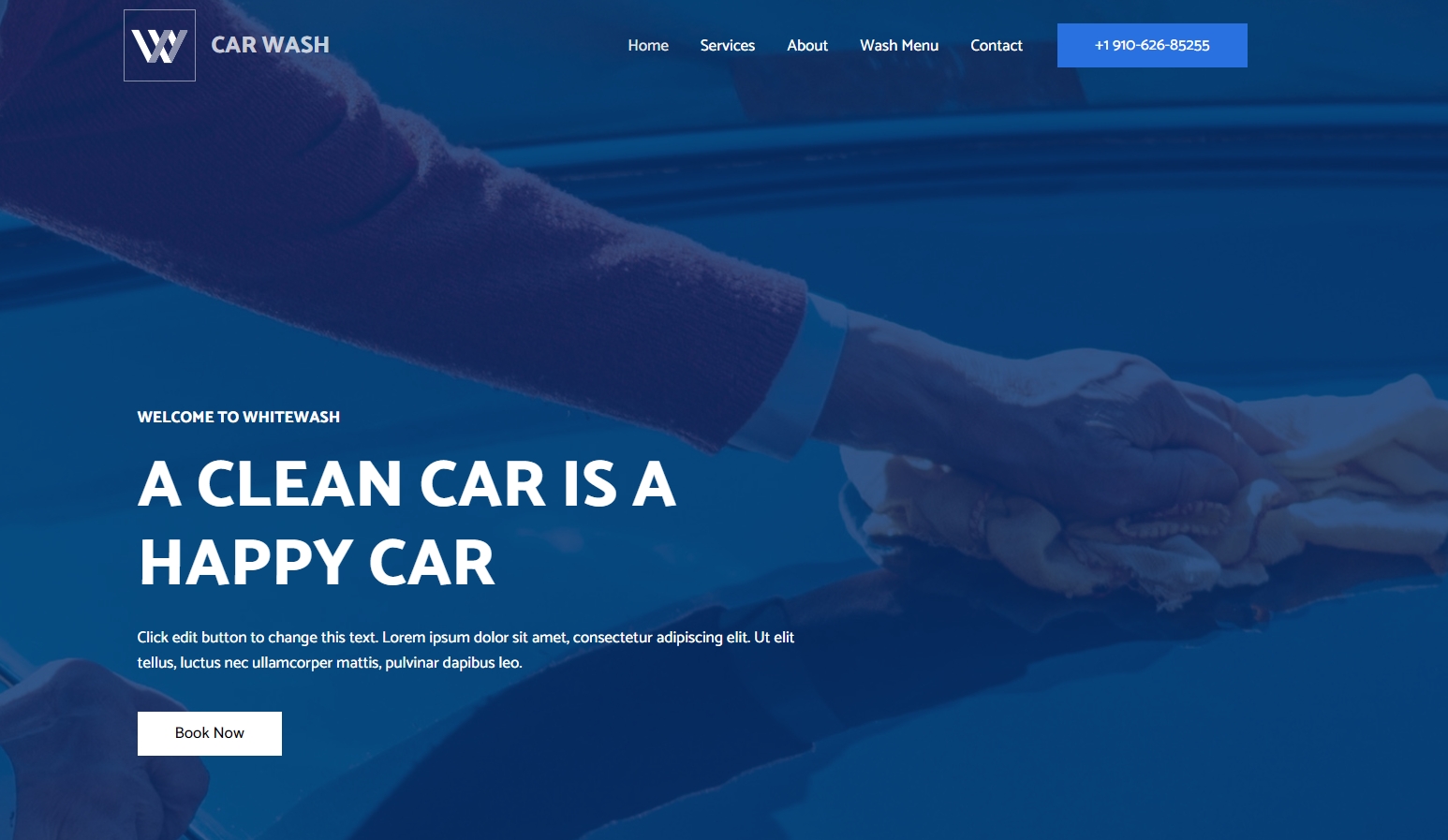 The Car Wash template uses a full screen image to make an instant impact with contrasting white and blue colors. Scroll down to a traditional white background with an engaging parallax effect and the service boxes and page elements you need.
You can customize every aspect of this theme including images, colors, fonts and even the header and footer.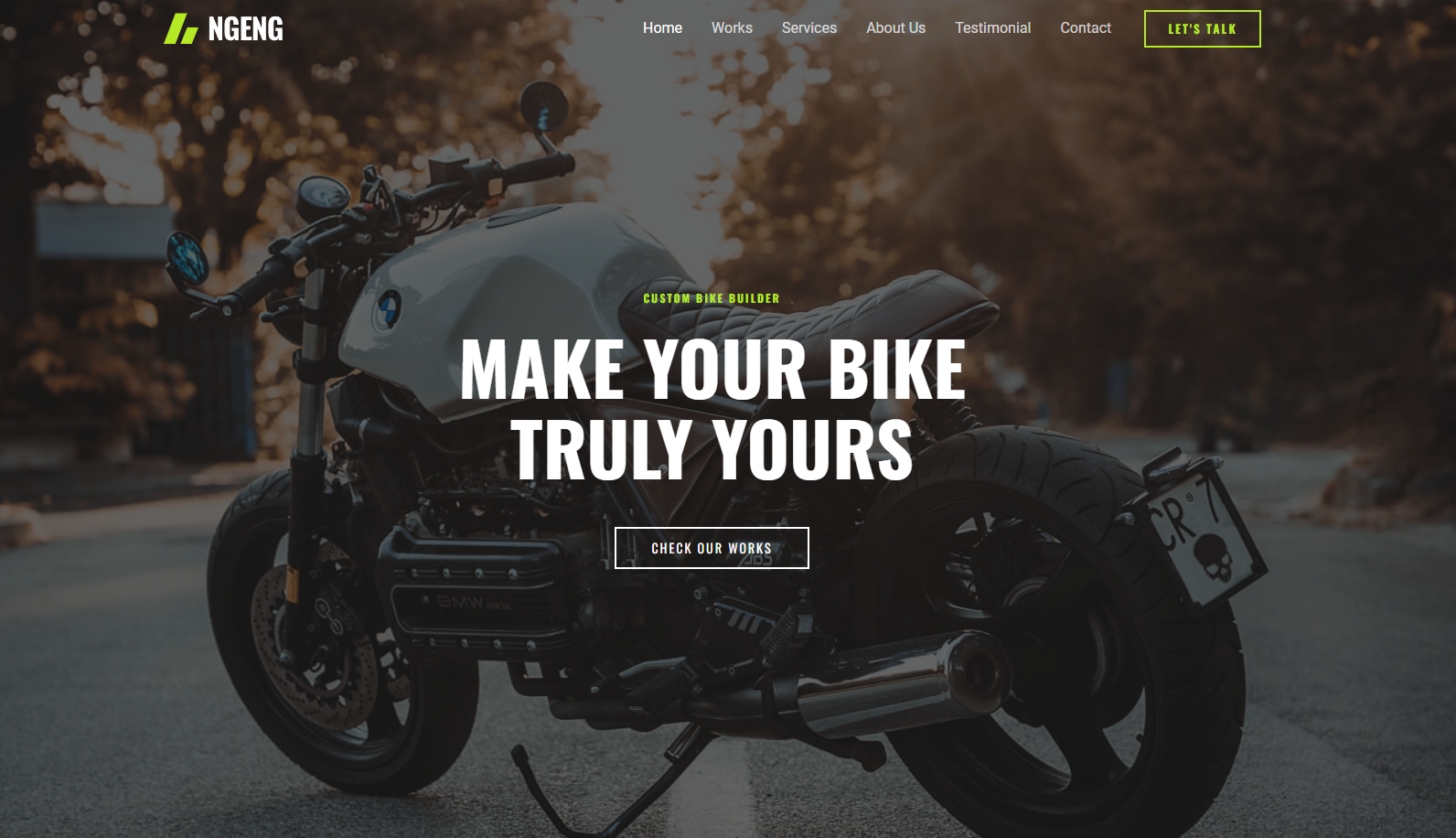 If your business is more involved in two wheeled transport, this is the template for you. It can of course be customized to suit cars too. It's another template that uses a full screen image and strong contrasting font colors.
The use of bright green makes the page memorable but can easily be adapted to suit your brand. The same for fonts, images, portfolio elements and quotes.
Pros of Astra:
Over 100 professional quality WordPress themes to choose from
Compatible with leading page builders like Elementor, Brizy, Beaver Builder and Gutenberg
Designed to be fast and fully responsive
Astra Pro adds lots of extra design tools
Cons of Astra:
Choosing what theme to use can take much longer than you think
Astra Pricing
Astra costs from $47 €0 up to $187 €0 per year.
Opinion of Astra
Astra is one of the most powerful and flexible WordPress themes available. Few other themes come close in terms of power and flexibility for the price!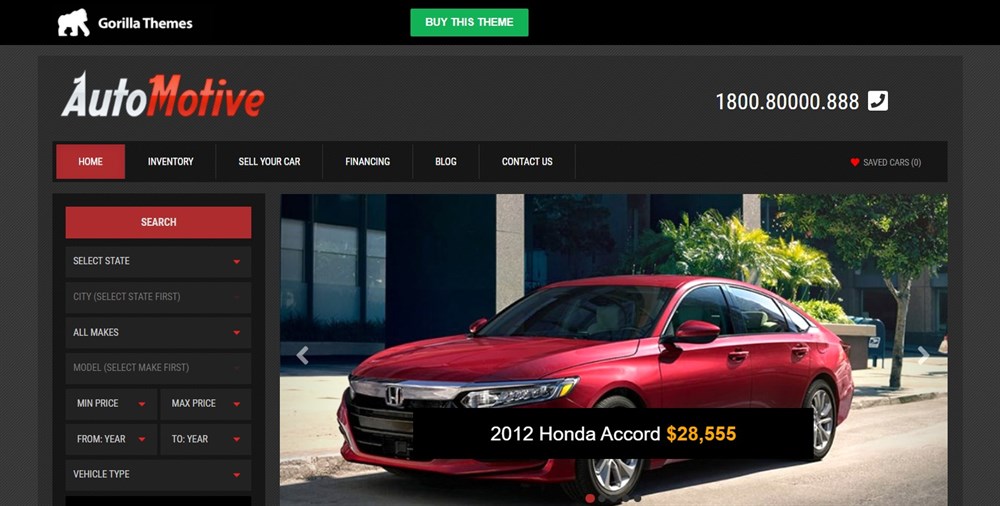 Automotive is built as a car dealer WordPress theme. It uses a dark boxed design with strong images to help create interest. The bold dark and red colours are quite masculine but could be left as is or customized for a much wider appeal.
Automotive comes complete with WordPress Customizer compatibility, a VIN decoder element, user submission form element, XML import tool for maintaining stock, a car window sticker tool for user submissions and PayPal integration for if you want to monetize your website.
Pros of Automotive:
Strong design with impactful colours
VIN decoder ideal for car dealerships
User submission element
WordPress Customizer compatibility
Cons of Automotive:
The masculine colours may need changing for wider acceptance
Automotive Pricing
Automotive costs from $49.95 to $99.95 per year.
Opinion of Automotive
Automotive is a strong car dealer WordPress theme. It showcases cars front and centre, has search and filtering tools and provides the professional persona you'll need to cultivate to be successful.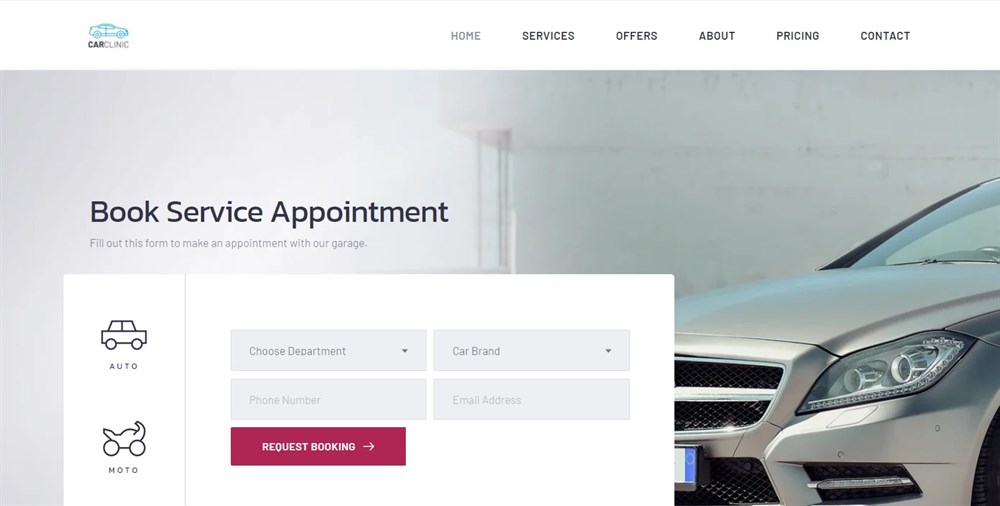 Car Clinic is a very slick design for car repairs and servicing. It's a light, welcoming design with an attractive header image with booking form and simple navigation up top. It is very reminiscent of a well-known car brand so should resonate well with the audience.
Car Clinic is made for the Brizy page builder which makes short work of customization and adding and removing page elements. It's an excellent builder and this theme showcases just what it is capable of.
Pros of Car Clinic:
Very professional design that should help build trust
Light and welcoming demo design
Booking form front and centre
Works with the excellent Brizy builder
Cons of Car Clinic:
Car dealers have a little more work to do if you want to use this theme
Car Clinic Pricing
Car Clinic is part of the Brizy Pro package that costs from $49 up to $299 per year.
Opinion of Car Clinic
Car Clinic is a very accomplished design that genuinely looks as though it could be from one of the big car manufacturers. It is that good.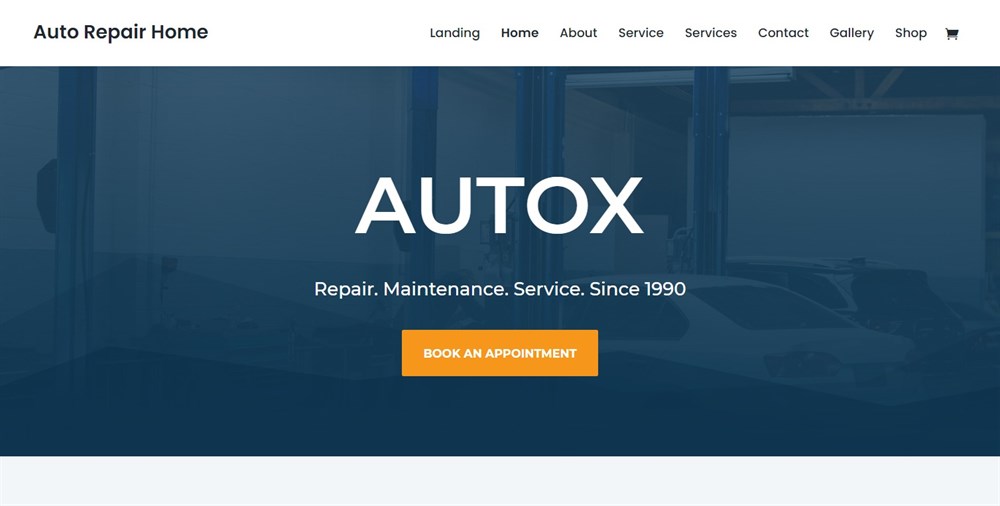 Divi is a top performing WordPress theme that could be used for your next website. It's lightweight, easy to use, compatible with most page builders, has its own Divi Builder and can be customized to suit almost any need.
There is a car specific theme that works pretty well. We feature Divi for its potential rather than the quality of its themes. Compared to Car Clinic, Divi's Car Dealer demo template pales in comparison. But, Divi itself is so good and so well designed that you could build whatever you wanted if you have the patience.
Pros of Divi:
Very flexible and powerful
Compatible with leading page builders
Has its own Divi Builder page builder
Fully responsive and SEO friendly
Cons of Divi:
Themes usually require work to bring them up to standard
Divi Pricing
Divi costs from $89 per year up to $249 for a lifetime licence.
Opinion of Divi
We feature Divi more for its potential and the clean code and customizability than the quality of the demo templates. In terms of build quality, it is second only to Astra. If you have the time to make the most of Divi Builder, you could genuinely create something truly special.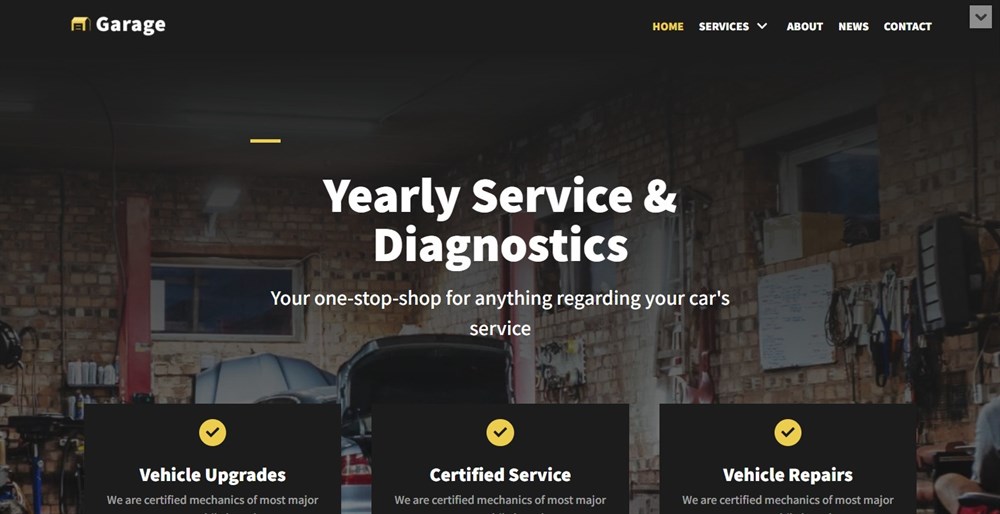 Neve is similar to Divi. It may not have the awesome demo templates of some of these other car dealer WordPress themes, but the core theme and its potential are superb. Neve is light, easy to use, loads quickly and has support for Elementor, Beaver, Brizy and other page builders.
It also has two car demo templates, one of which you see above. Both are light, well designed and suited to their niche. Both use colour and white space well to provide the professional first impression we are looking for.
Pros of Neve:
Supports most leading page builders
Themes are lightweight and load pages quickly
Lots of flexibility in demo themes
Fully responsive and SEO friendly
Cons of Neve:
Not all the demo templates are suitable for car dealerships
Neve Pricing
Never has a free option with premium plans starting at $59 up to $159.
Opinion of Neve
Neve is powerful, accessible and easy to customize. The demo templates may need a little work to make them your own but the core product offers most features a car website needs.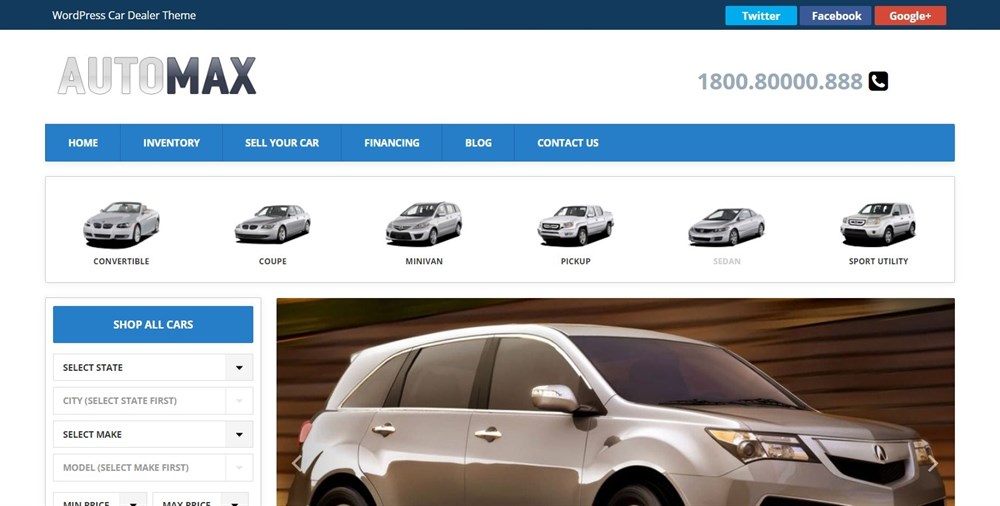 AutoMax is a light and breezy automotive WordPress theme. It has a lot of white space with a boxed layout, calm blue colours and modern typography. It's designed as a car dealer theme with search filters to the left and a selection element at the top. It works well too.
Further down the page you have the opportunity to let images sell while individual car pages give you the chance to add all the information you need. AutoMax comes complete with WordPress Customizer compatibility, VIN decoder, stock import tool and other useful tools too.
Pros of AutoMax:
Light and accessible dealership theme
Search filter option
VIN decoder and stock import tools
WordPress Customizer compatibility
Cons of AutoMax:
The demo design is a little flat and could do with some flourishes to make it more attractive
AutoMax Pricing
AutoMax costs from $39.95 to $99.95.
Opinion of AutoMax
AutoMax is a solid foundation from which you could build a very competent dealership website. The core design is very good and we like it a lot but some tweaks could make it really stand out.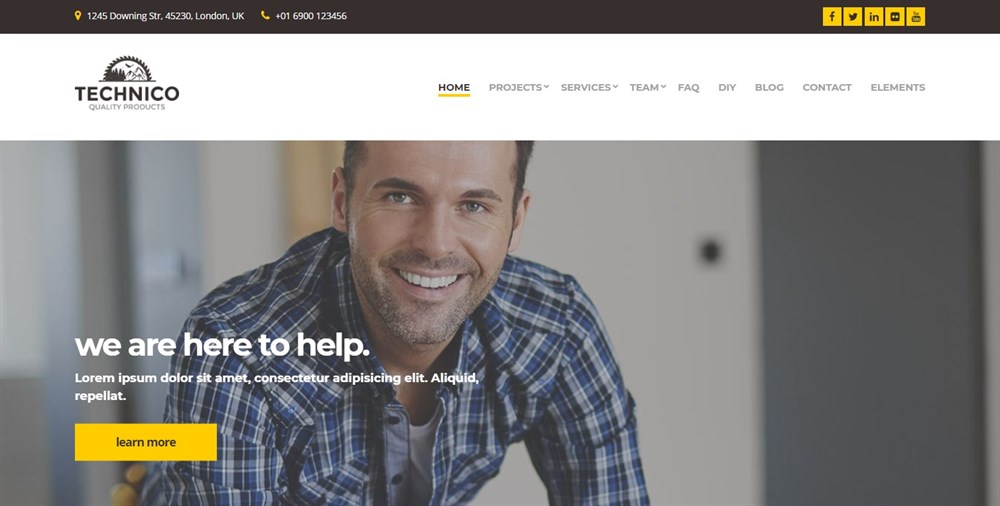 Technico is not actually set up as a WordPress car dealer theme. However, even a quick look at the demo shows its potential. A simple change of images could make it work well for vehicle rentals, servicing, car hire or something else entirely. The main design is so good that we thought it worth highlighting here.
Technico is configured as a standard business template. It includes a header slider, top navigation, service sections, price section and more. It uses images well and simply changing the included ones to cars, would deliver a very professional looking website.
That's why it's here.
Pros of Technico:
Great core design that could be customized easily
Comes with scheduling, map and social widgets
Uses a drag and drop page builder for customization
Theme is well coded and loads quickly
Cons of Technico:
Not designed as a dealership website so will require a little work
Technico Pricing
Technico costs from $49 to $174 per year.
Opinion of Technico
Technico is one of a few themes we include in this list that don't have car themed demos. Yet the quality, and hopefully, the reason we feature them, is clear.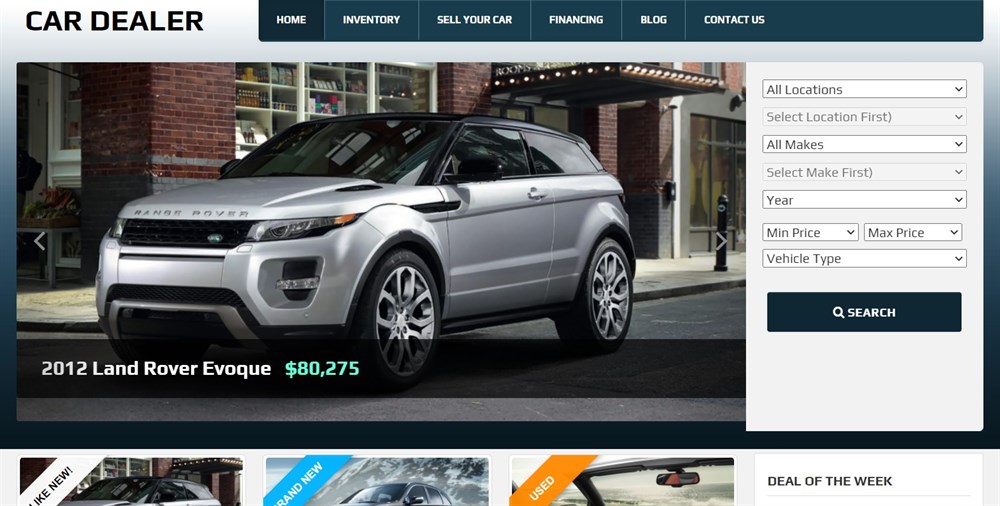 Car Dealer is an upmarket car dealer WordPress theme that could work right out of the box. It's a strong design with immediate impact and uses imagery well to showcase the cars. It's a boxed layout with shaded backgrounds that makes the content shine.
Car Dealer includes search and filters, logical navigation, attractive car pages and the opportunity to change anything you like from the colours to the typography. The theme also supports a VIN decoder, PayPal, user listing submissions, translations and different currencies for a truly global appeal.
Pros of Car Dealer:
Strong design specifically for car dealerships
VIN decoder element
WordPress Customizer compatibility
Pages load fast and are fully responsive
Cons of Car Dealer:
VIN decoder only available on most expensive option
Car Dealer Pricing
Car Dealer costs from $39.95 to $99.95 per year.
Opinion of Car Dealer
Car Dealer is a strong automotive WordPress theme with everything you're likely to need in the box. It's reasonably priced, attractive and projects the kind of professionalism you need when selling expensive products like cars.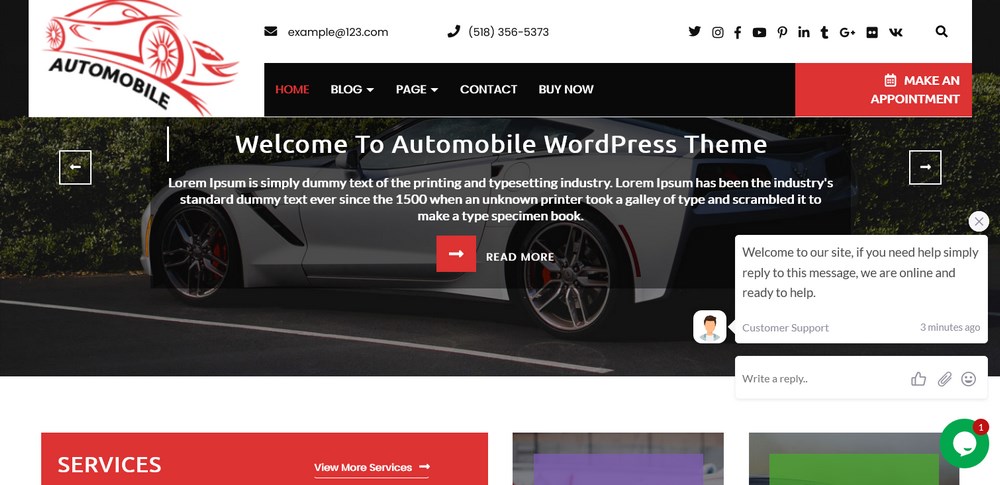 Automobile Car Dealer is a purpose-built WordPress theme for car dealerships. It's modern, attractive and uses a compelling header slider that can showcase the latest models or deals.
There is a free and a premium version of this theme. The free version has all the basic ingredients but will require more work to make it work. The premium version includes a theme customizer, optimized code, Google Fonts support, custom CSS, support for shortcodes and everything you'll need to build a website.
Pros of an Automobile Car Dealer:
Free and premium options
Well designed theme with a nice layout
Ideal for the niche
Works very well with images
Cons of Automobile Car Dealer:
Some core features locked behind premium
Automobile Car Dealer Pricing
There is a free version of Automobile Car Dealer with a premium version costing $39 per year.
Opinion of Automobile Car Dealer
Both the free and premium versions of this theme look and work well. The layout is simple but very effective and careful use of white space makes colors and images stand out.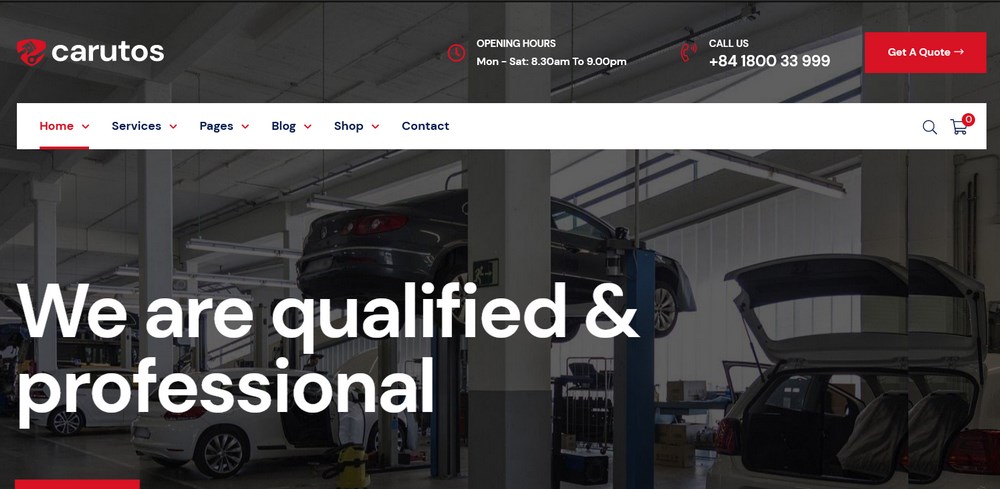 Carutos is a standard business website designed to fit car dealerships. It's well designed with a large background image in the header with a call to action before opening up into the main content below.
The design is smooth, with a nice flow as you go down the page. White on gray always works well and makes the content stand out. The design includes lots of product and service sections, some strong images, a booking form and several versions of the core theme.
Pros of Carutos:
Clean and crisp design
Several versions of the theme included in the price
Works with Elementor
Responsive and SEO optimized
Cons of Carutos:
While a nice design, there is nothing particularly memorable about it
Carutos Pricing
Carutos costs $49 per year with 6 months of support.
Opinion of Carutos
Carutos is good but not memorable or amazing. It's a solid contender as a WordPress theme for car dealerships but will require some imagination from you to make it really stand out.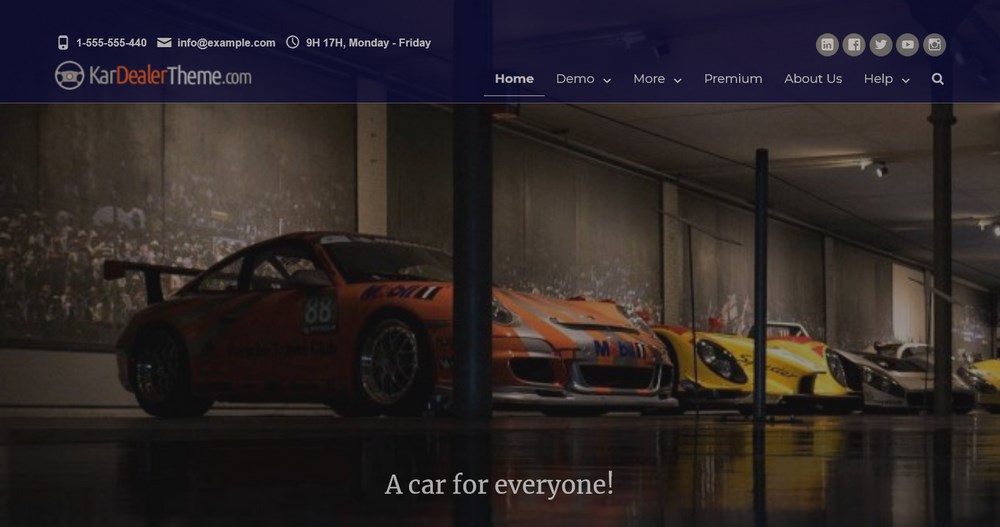 KarDealer is a free WordPress theme for car dealerships and punches way above its weight. The design is pretty good with a full width layout with image header, simple navigation and a useful search block underneath.
Further down the page you have a selection of content elements that you can customize easily to suit your needs. You will need to work with this theme to make it stand out but if you know your way around WordPress, this theme has the foundations already in place for some serious customization.
Pros of KarDealer:
Solid theme with the option to customize
Recently updated
Fully responsive
Fast loading even with images
Cons of KarDealer:
It's a free theme so will need more input from you to make it suit your needs
KarDealer Pricing
KarDealer is a free WordPress theme for car dealerships.
Opinion of KarDealer
KarDealer is a credible free theme with all the basic ingredients necessary to build a competent automotive theme. It will require more work than a premium theme but the reward could be something genuinely unique.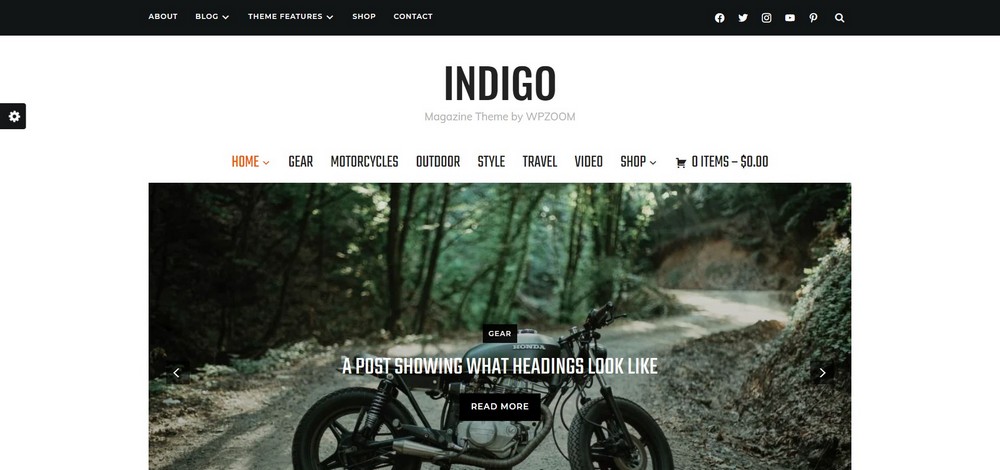 Indigo is another of those themes not initially designed for cars but could easily support them. This is a lifestyle product demo that could work for cars, car accessories or other car-related products. It's clean, attractive and lets the images tell the story, which would work as well for cars as it does for lifestyle.
Indigo is a magazine style WordPress theme with great page balance and a nice flow down the page. It would take minimal customization to make it relevant to cars and the built in customizer will help. The theme also supports WooCommerce so you could sell directly from your site with minimal effort.
Pros of Indigo:
Compelling modern theme that could work well for cars
Flexible visual customizer to help transform the demo
Supports WooCommerce
Fully responsive and SEO friendly
Cons of Indigo:
Will require some customization to make it relevant to the car industry
Indigo Pricing
Indigo costs $79.
Opinion of Indigo
Indigo is one more WordPress theme we think could work well for the car industry. It's modern, well designed, has great typography and is content to let the images shine. All the qualities we look for in a theme!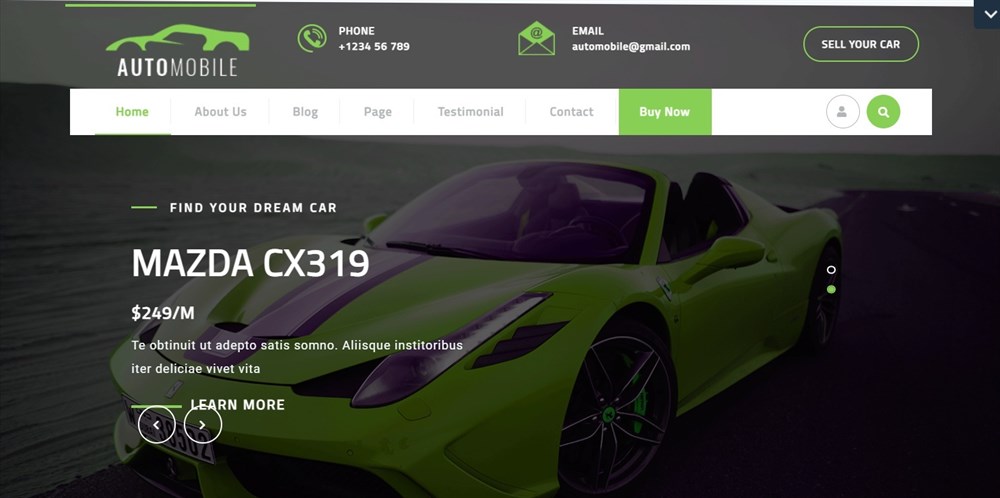 WP Automotive is a pure car dealer WordPress theme designed to impress. From the bold header and choice of colour to the confident layout, this is a theme built to sell.
The theme includes search and price filters, a product showcase, optional content elements and some attractive graphics. It uses the WordPress Live Customizer to make changes, supports WooCommerce and has a selection of supporting features to add even more power to the page.
Pros of WP Automotive:
Impactful design ideal for selling cars
Search and pricing filter is an excellent addition
Supports WooCommerce and other plugins
WordPress Live Customizer compatibility
Cons of WP Automotive:
The documentation could be better
WP Automotive Pricing
WP Automotive costs $40.
Opinion of WP Automotive
WP Automotive is a strong candidate for your next WordPress car dealer theme. It's strong, vibrant and attractive. It also presents that professional persona required to help begin building trust with visitors. That's why it's in our list!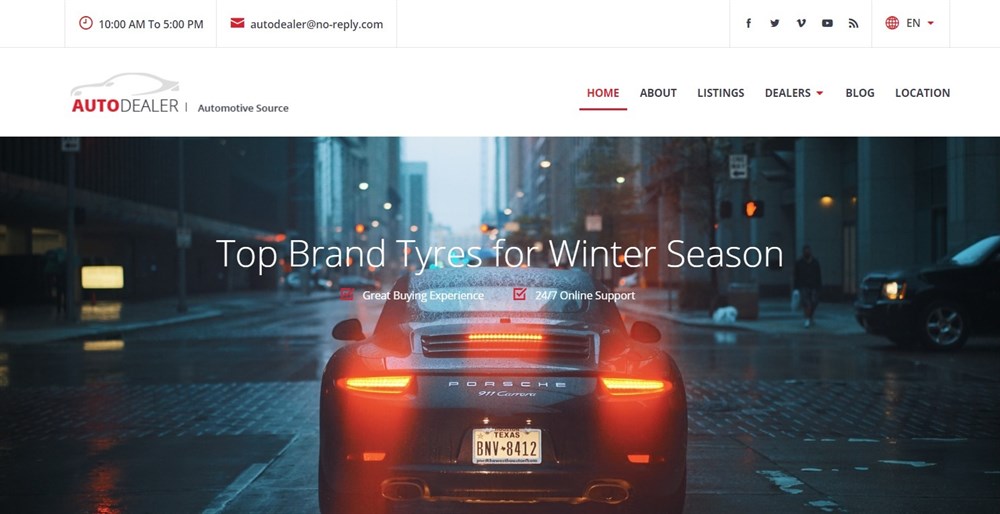 CarListings is a flat modern WordPress car dealer theme. It has an attractive header with built in filter, an attractive brand section underneath, search at the top and car showcase elements down the page. Along with the friendly blue and modern fonts, this is a very approachable theme.
This is a free WordPress car dealer theme, although you wouldn't think it to look at it. That does mean a little more work for you in setting up but you can see that most of the ingredients are already there for you to use however you like.
Pros of CarListings:
It's free
Nice clean design with great typography
Good page balance and colours
Search filters included
Cons of CarListings:
CarListings Pricing
CarListings has a free WordPress car dealer theme
Opinion of CarListings
Considering this theme is free, there is a lot to recommend it. It's light, colourful, modern and has a quality of design we would normally associate with a premium theme.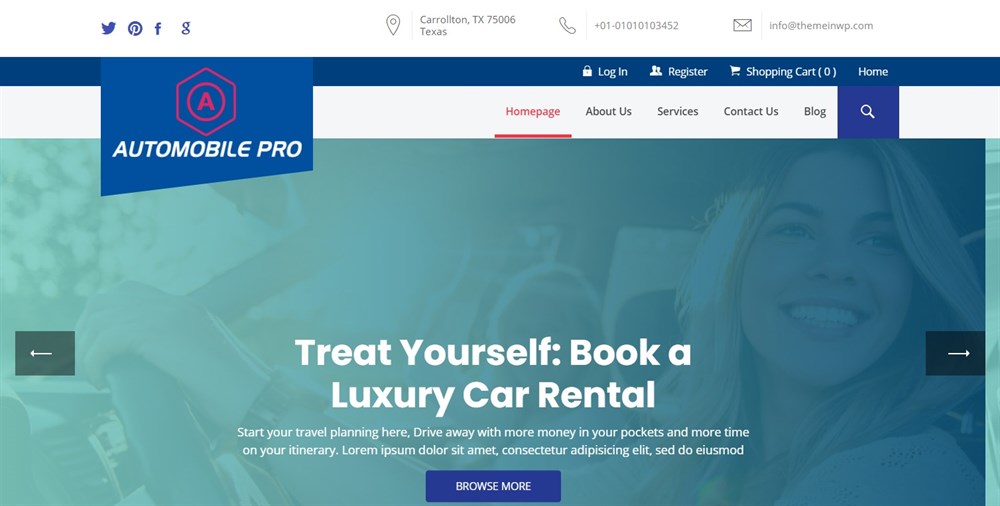 The Automobile Pro is a lively automotive WordPress theme ideal for car rentals, parts, accessories or servicing. It's light, well designed and attractive. All things you want from your car website.
The theme features sticky navigation which is a nice touch and uses calm colours and bold fonts for effect. It uses the WordPress Live Customizer and is compatible with most WordPress plugins. The theme is also fast loading, despite the amount of content on the page.
Pros of The Automobile Pro:
Effective automotive theme
Lively design with nice colours and fonts
Fast loading pages
WordPress Live Customizer compatible
Cons of The Automobile Pro:
Wider page builder support might be nice
The Automobile Pro Pricing
The Automobile Pro costs from $55 per year up to $199 for a lifetime licence.
Opinion of The Automobile Pro
The Automobile Pro is excellent for companies working within the car industry. The theme is attractive, includes a range of content elements and is flexible enough to be tweaked for almost any use.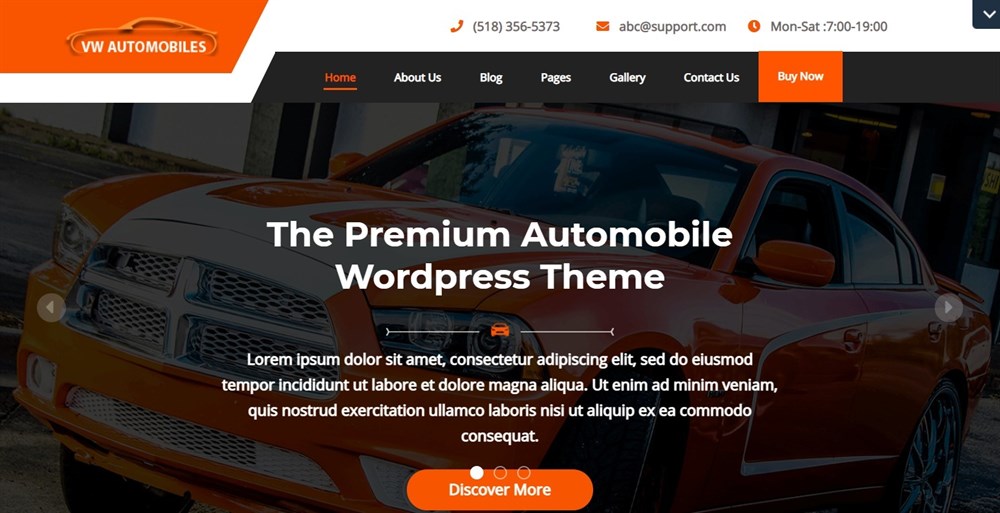 VW Automobile is a bold car dealer WordPress theme that uses a strong orange colour along with a dark header image. It's a stark combination that immediately grabs attention.
The theme unfolds to a search filter, content sections, featured product elements and all those on page sections you should expect to see. Things calm down after that bold header but are no less interesting with animations, pops of colour and high quality images. All things you could leverage to sell cars.
Pros of VW Automobile:
Modern theme with bold colours
Lots of white space below the fold
Well chosen content elements in the demo
WordPress Live Customizer compatible
Cons of VW Automobile:
Documentation could do with improvement
VW Automobile Pricing
VW Automobile costs $40.
Opinion of VW Automobile
VW Automobile is a strong contender in our list of car dealer WordPress themes. It's light, bright, energetic and makes an immediate impact. It also looks professional and would work for any type of dealership which is to your benefit.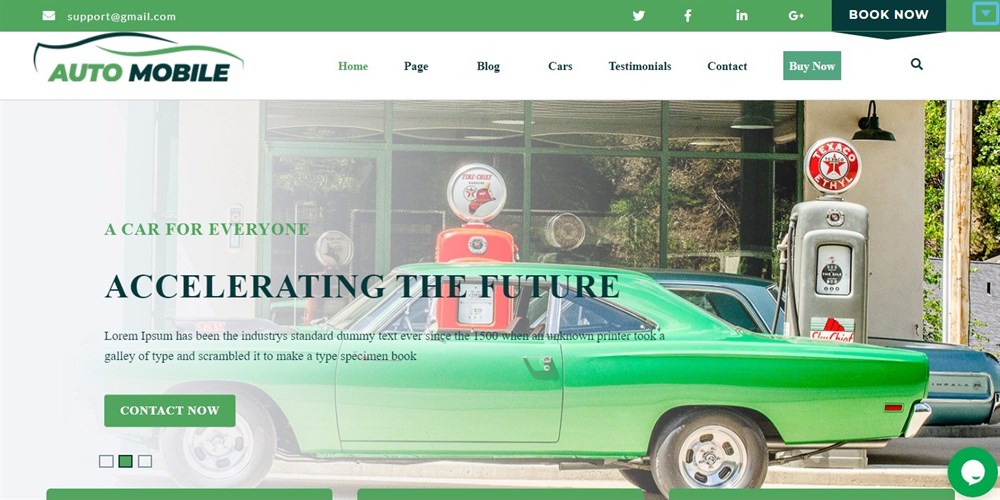 Advance Automobile is something completely different. We like it because it could work exceptionally well for classic cars, collectables or exotics. It's a laid back, relaxed design with a calm green colour and subtle fonts. Both lend themselves well to the classic or collector segment.
The theme has a huge image slider with modest headlines, search and filter functions, product showcase, various contact elements and some nice graphics and effects. It has a totally different look and feel from these other automotive WordPress themes but we think it could work perfectly in certain car niches.
Pros of Advance Automobile:
Different design with unique appeal
Contains all the typical car website elements
Calm colours and fonts
Some nice graphics
Cons of Advance Automobile:
The design will have limited appeal
Advance Automobile Pricing
Advance Automobile costs $39.
Opinion of Advance Automobile
We think Advance Automobile is superb for its desired niche. While that is admittedly a narrow one, we think it fits in perfectly with what visitors would expect. It doesn't disappoint in the features area either so is well worth its place in this list!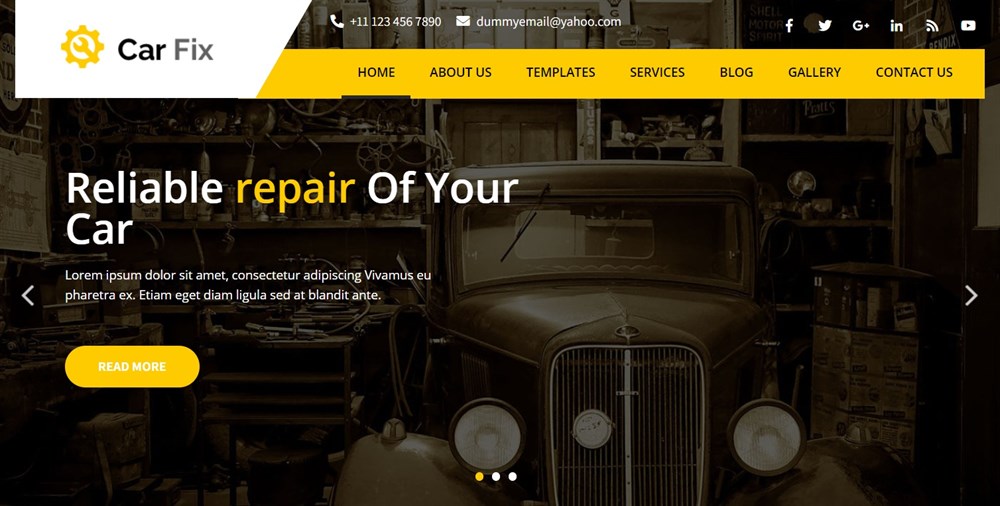 Car Fix Lite, as the name suggests, is a car repair and servicing template. It's a free automotive WordPress theme that doesn't look free. It has a bold design with that strong header and yellow contrast colour but also has wide appeal.
The page opens out into a light, approachable design with appointment booking widget front and centre, service sections, featured elements and supplemental content areas down the page. It's a feature-rich theme that punches way above its weight.
Pros of Car Fix Lite:
It's free
The design looks anything but free
Modern appeal with clear intent
Optional content elements add options
Compatible with most major WordPress plugins
Cons of Car Fix Lite:
Support is usually limited with free themes
Car Fix Lite Pricing
Car Fix Lite is free but there is a premium option that costs $29.
Opinion of Car Fix Lite
Car Fix Lite is another free automotive WordPress theme that belies its price. We doubt anyone would think it was free on first inspection. It is well designed, has vibrant colours and fonts and delivers exactly the experience you want from a car website.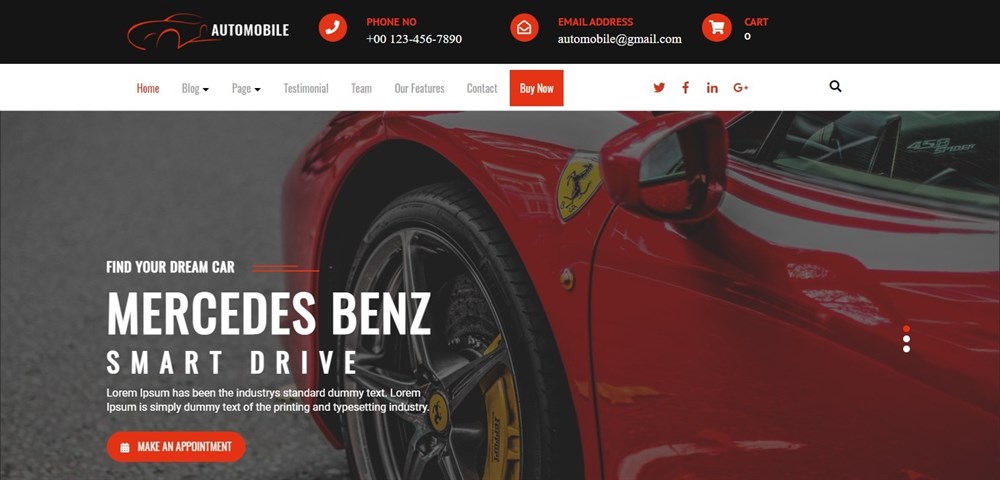 Automobile Hub is another automotive WordPress theme you would never think was free. It has a bold image header with complementing colours, bold modern fonts and smart top navigation. All the essential ingredients you need to make a great first impression.
Automobile Hub opens out into a well balanced page designed around vehicle repair and servicing. It uses the popular combination of white, black and red along with some great quality images to deliver a premium feel.
Pros of Automobile Hub:
Excellent design with effective colours
Great use of white space down the page
Includes most required page elements for cars
Compatible with WooCommerce
Cons of Automobile Hub:
The free version doesn't include demo content
Automobile Hub Pricing
Automobile Hub is free but has a premium version that costs £39.
Opinion of Automobile Hub
Automobile Hub is an excellent example of getting something genuinely good for nothing. Sure you will have more work to do building your website but the theme is of a sufficient quality that you should have no trouble doing it.
Recommended Plugins for an Automotive Website
Now you have a good idea of your next automotive WordPress theme, let's help you start as you mean to go on with three very useful plugins to help you make the most of the opportunity.
All three of these plugins are developed by us at Brainstorm Force.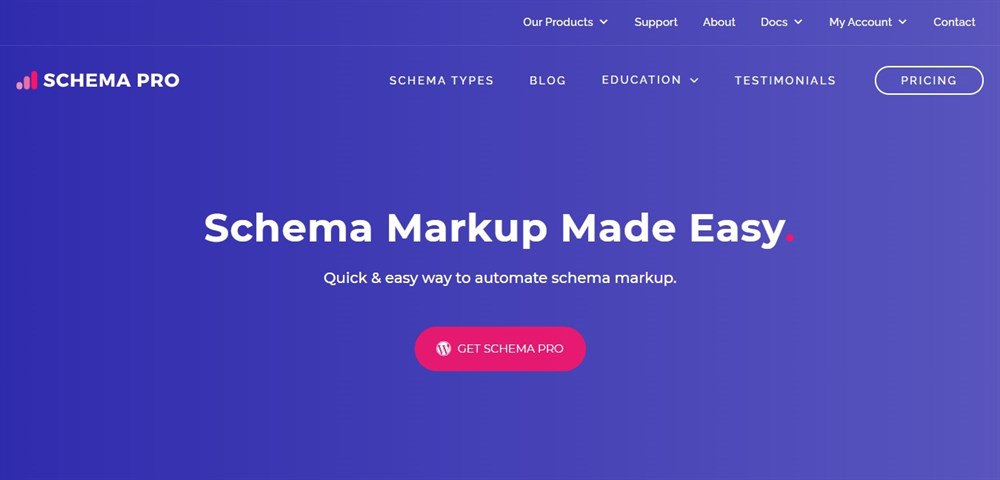 Schema Pro helps your website stand out from the competition by helping you with schema markup. It's our own plugin made to work seamlessly with Astra and makes it easy to utilize the power of schema markup.
Schema markup is the code used to create a rich snippet which can appear in search engine results. These snippets can appear alongside organic search results and help increase click through rates as well as help you outperform the competition who don't use them.
You know those extra areas that appear in Google that highlight recipes or special interests? Those are rich snippets. Adding them to your website could help you appear in those areas!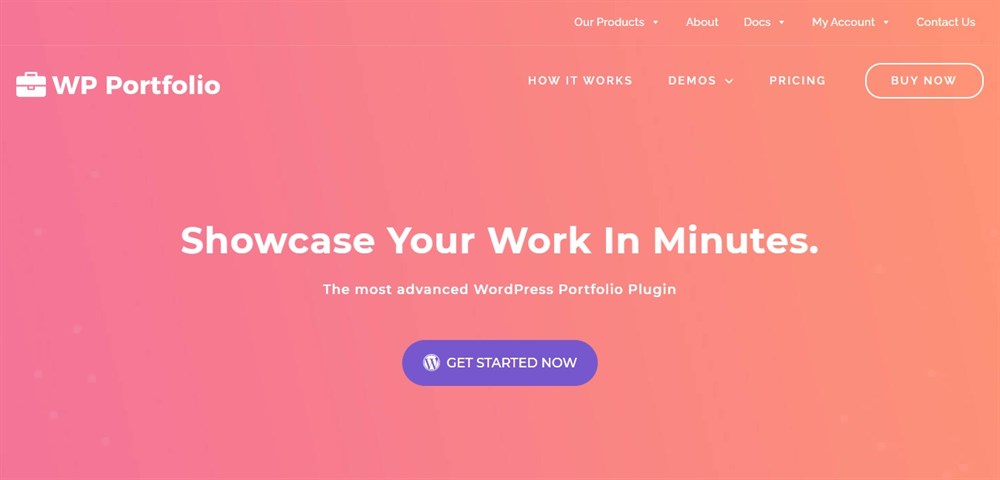 With imagery being so powerful in selling, especially big ticket items like cars, showcasing images is essential. The WP Portfolio plugin makes that easy. It includes some powerful tools to show off your images and provide everything they need to help sell your cars.
WP Portfolio integrates seamlessly into WordPress and offers multiple options, supports portfolios, video and a whole lot more.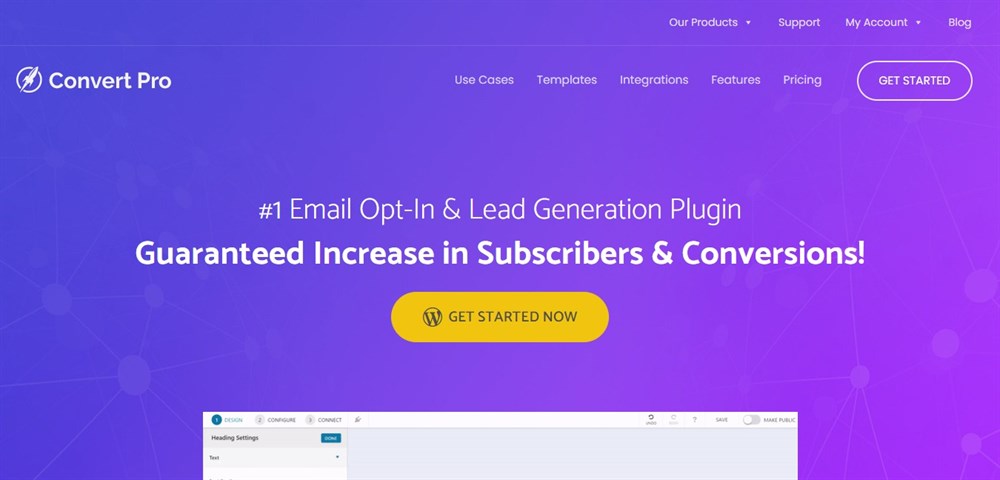 Business is often about who you know more than what you know. Convert Pro is designed to help you get to know your audience. It's a lead generation plugin that helps you build popups and page elements perfect for collecting email addresses and building your marketing list.
If you have ever landed on a web page and saw an attractive popup offering something in return for your email address, chances are the site is using Convert Pro.
It uses a powerful drag and drop editor for building forms and popups, works with most other WordPress plugins and provides a range of powerful options that won't slow down your page or spoil the user experience.
Automotive WordPress Themes
We hope you enjoyed our showcase of 19 of the best automotive WordPress themes!
We think there is a good mix of car dealer WordPress themes, news, themes, blog themes and templates for supporting industries. We believe the list represents some of the best of what's out there right now that delivers the quality and features you deserve.
Plus, as an added bonus, you now know of three powerful WordPress plugins that can help you make even more of your theme!
What do you think of our list? Which automotive WordPress theme would you choose? Share your thoughts below!