We launched Starter Templates back in 2017. Since then, we have been adding more and more professionally designed templates in our extensive website templates library. Which, as it stands today, is a collection of over 150 website templates!
We are committed to giving our customers the best solutions possible for designing your website. As every business is different, we provide exceptional readymade templates that can be easily customized.
Keeping this in mind, every template in our Starter Templates library has been carefully crafted to cater to the widest audience possible.
Each starter template installs with a single click and can provide a fully operational website that requires minimal customization. Additionally, you have a readymade website built for performance and conversion.
Today we are excited to announce the addition of six new awesome templates to our Starter Template library.
So, if you're a food or travel blogger, a fashion influencer, run a budget hotel or a homestay, or even run a heritage hotel, this post is for you!
What Makes Our Starter Templates So Special?
We launched our Starter Templates with our users in mind. We wanted to make building a website as easy as possible while delivering a fully operational website in the shortest time.
Whether you are a blogger, website developer, freelancer, business owner, we want to ensure that building websites is as easy as 1-2-3.
Our Starter Templates offer a library of templates that are:
Professionally designed
Optimized for conversion
Lightweight and performance-oriented
Easy to customize
Suited for a wide range of businesses and niches
Supports popular page builders (Elementor, Beaver Builder, Brizy, Gutenberg)
Use hassle-free import process
Responsive and look great on all devices
The result is our readymade website templates, where every element is so carefully thought out that you can have a website live in a matter of minutes. Well, almost!
Here are a few of the many advantages of using a well-designed website templates:
Enhances Brand Image
Your website may be the first impression a customer has of you so you had better make it a good one. Your website gives you a platform to tell your story in your own words. Tell your story, communicate your values and help build the image of your brand in the eyes of customers.
Information
A good website can address frequently asked questions by users. For example, a restaurant website can answer questions like, what are business hours? , where is your restaurant located? what cuisine do you serve? and so on.
This will create a great user experience for your customers by providing all the relevant information.
Builds Trust
Quality builds trust. Whether that's the quality of your products or services, the quality of your marketing material, or your website. This is even more important in business. If you cannot get your website right, will you fulfill and order right?
Trust is everything whether you're building a business site or not. A professional-looking website helps deliver that trust.
Beat the competition
If you want to compete in a global marketplace, that begins with your website. Your competitors know this and are very likely using the best web designs they can find. Starter Templates help you do the same, only better!
First Look: Our Six New Starter Templates
Alright! Drum rolls, please 🥁
It's time to reveal the impressive six new Starter Templates.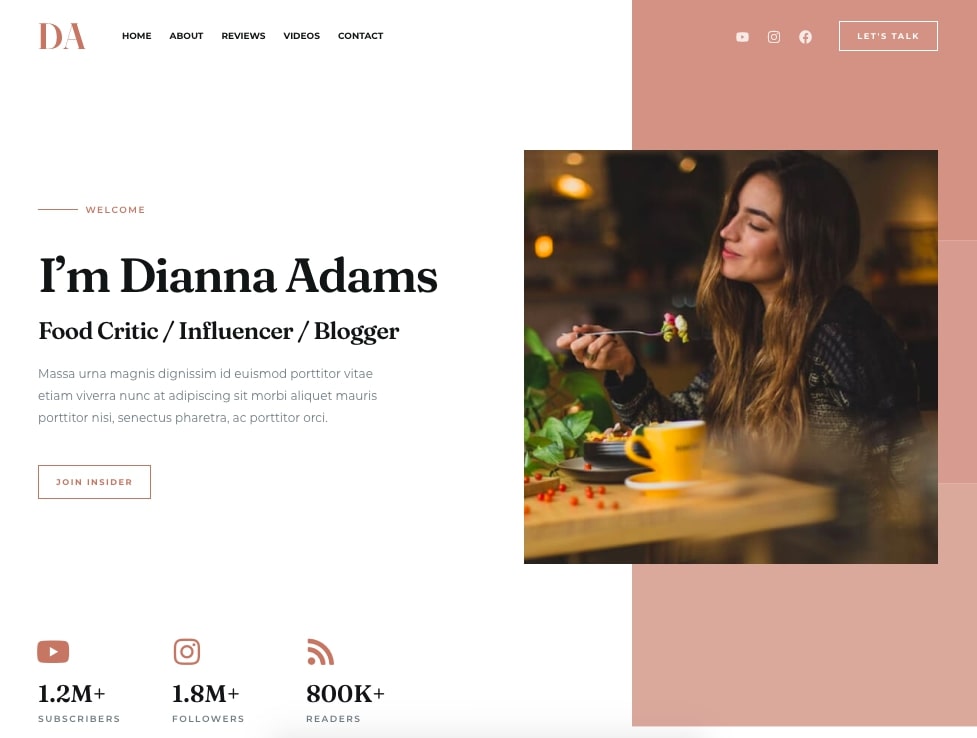 This template has been designed explicitly for the blogger and influencer. It has been designed to deliver that professional look that builds trust and authority while being friendly and accessible.
It is easy to install and gets you started on your blogging journey quickly while looking professional. While it has a clean, minimalist layout, it's got all the right elements in all the right place.
This template makes it easy to include reviews, video testimonials, blog posts, articles, and a whole lot more.
Explore the Food Blogger and Influencer template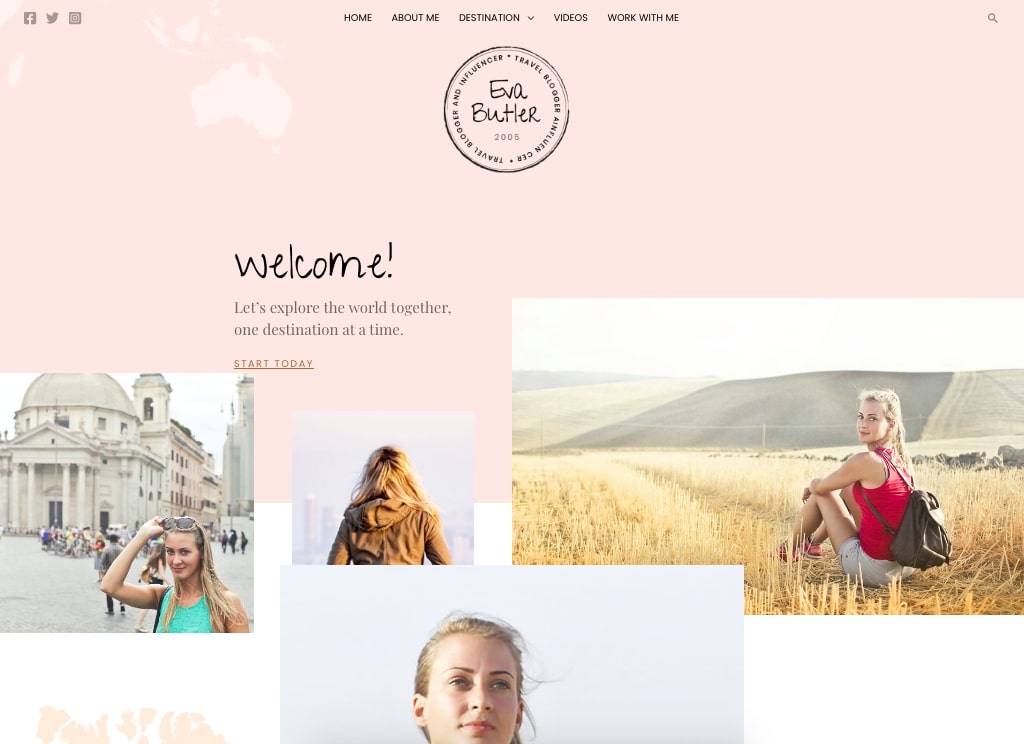 Exotic locations, serene environs, the deep blue sea, enchanted woods, nature at its best. Need we say more? A picture  paints a thousand words and that's exactly what we've focussed on in our travel website template.
Include video reviews of your various destinations. Share pictures by integrating with Instagram. Write articles on destination highlights, hotel recommendations, packing tips, maps and guides, tips on language and the local dialect. There's a lot you can do with this theme!
Explore the Travel Blogger Template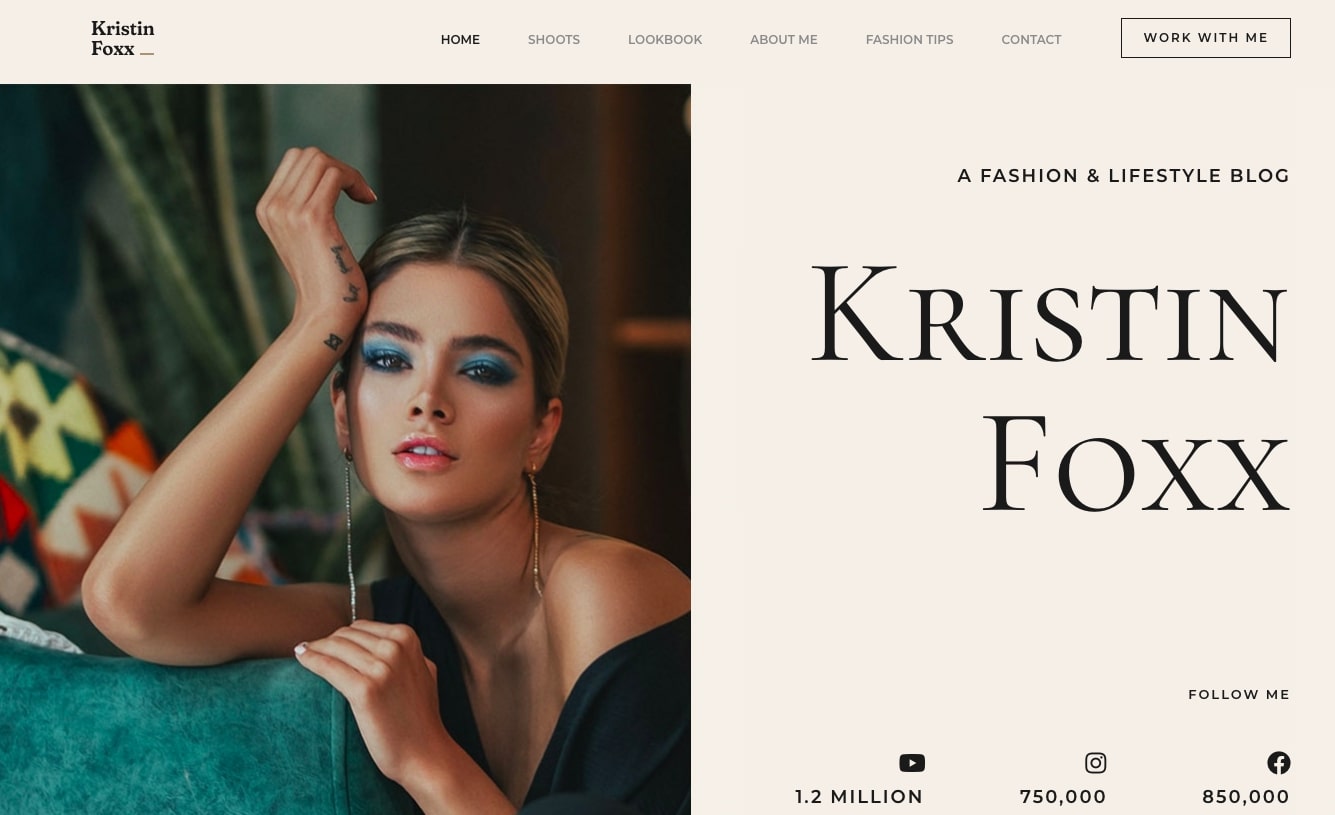 Passionate about fashion and style? Fashion blogs are an excellent platform for influencers to open up a world of opportunities. What better way to build a following than with a professional fashion website templates?
Did you know that top brands and designers spend over a million dollars yearly to advertise with well-known influencers on Instagram alone? (Source: Cyber Click)
Our Starter Templates deliver everything fashion influencers need in a stylish package. Include everything from blog posts to videos, Insta galleries to fashion tips. Anything is possible with Astra!
Explore the Fashion Influencer Template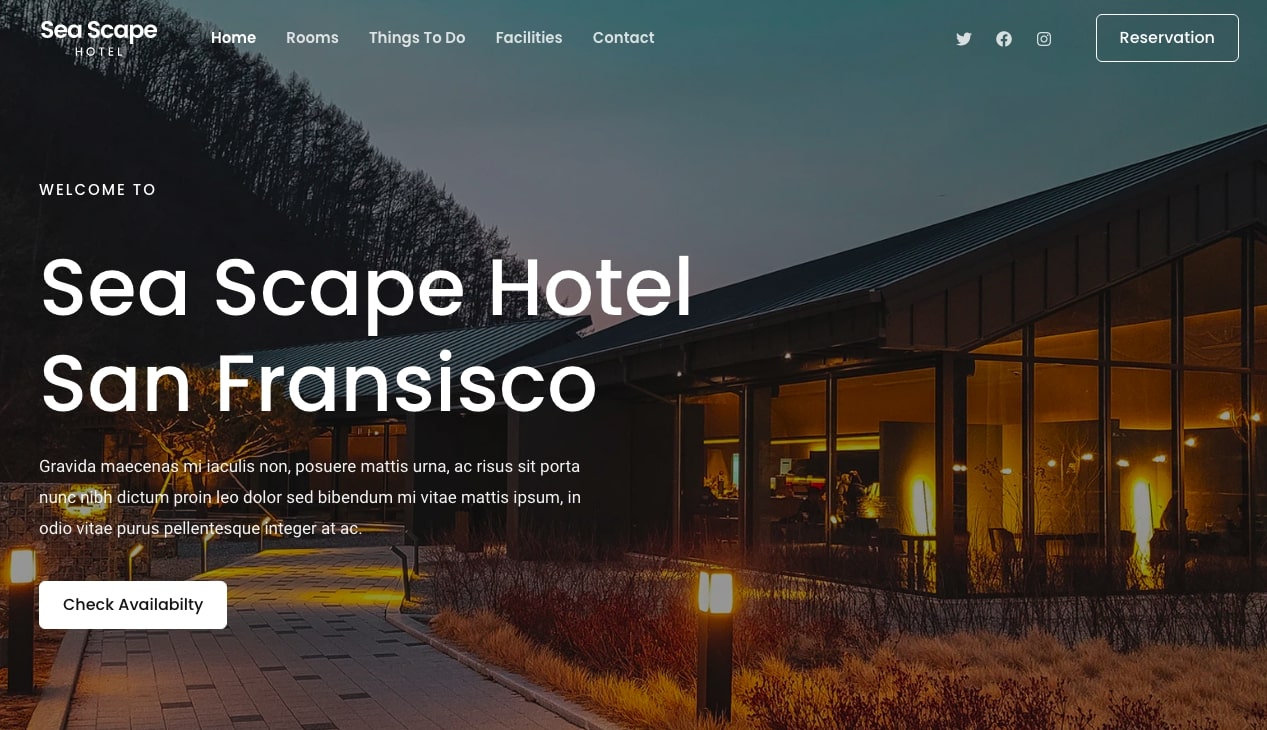 Do you run a budget hotel? Want your website to look a million dollars even if your room rates are much lower?
The Budget Hotel Starter Template offers the chance to showcase your hotel in the best way possible. Use images, include features and benefits and even take bookings through your website.
Integrate room availability, allow customers to make reservations, include resourceful articles such as things to do, facilities, and incorporate a location map. Our readymade website templates help with all this and more.
Simply import the website template, include the content and images and you're good to go!
Explore the Budget Hotel Template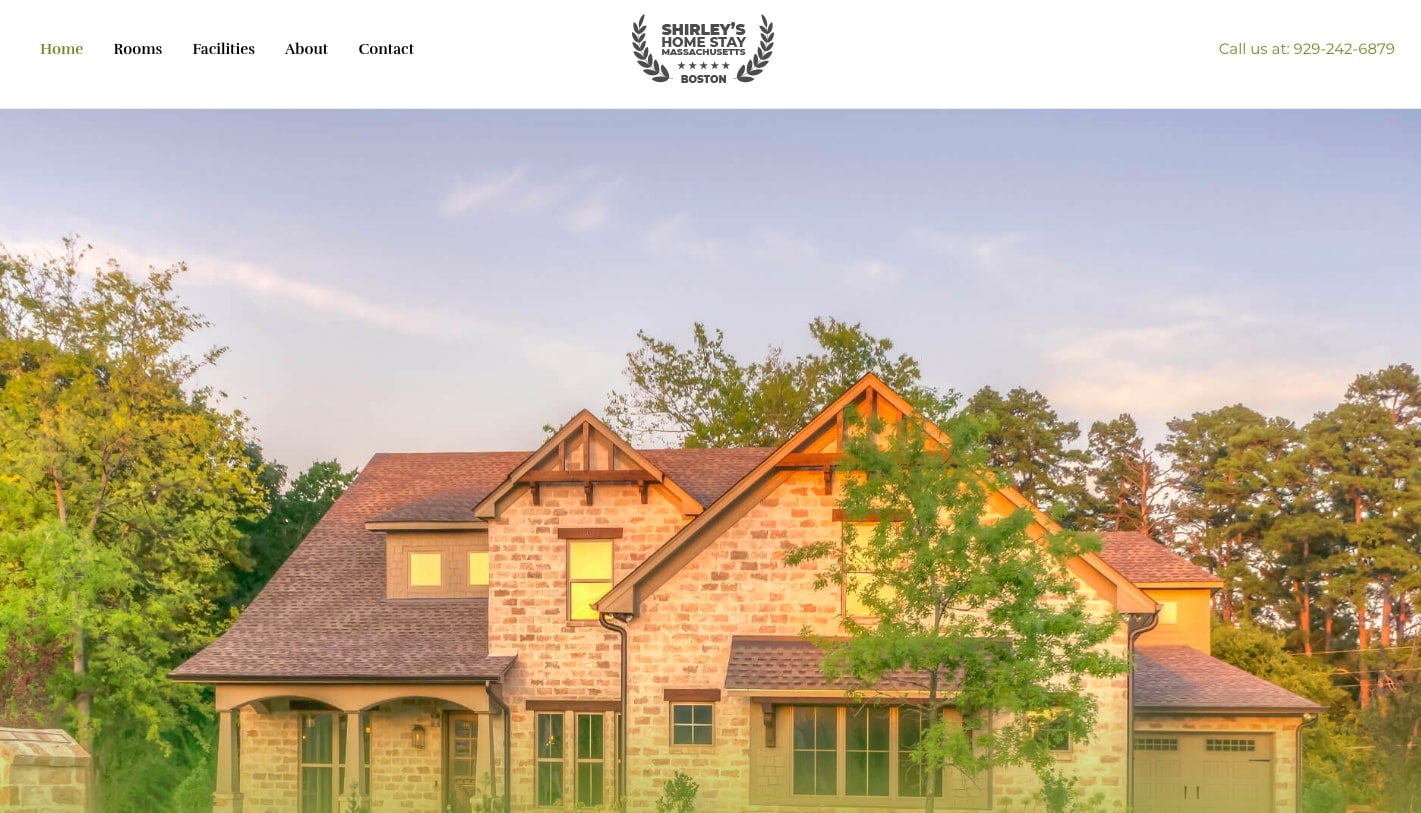 If you run a homestay business, this Starter Template is for you. It helps paint a picture of the lifestyle you're offering to appeal to the widest audience.
Going with the essence of homestay, the design keeps things simple yet includes the right elements to help give your visitors the best user experience.
Property information, high-resolution images, client testimonials, features and benefits, location map, online reservation has all been integrated into this powerful but easy to use website template.
Explore the Home Stay Template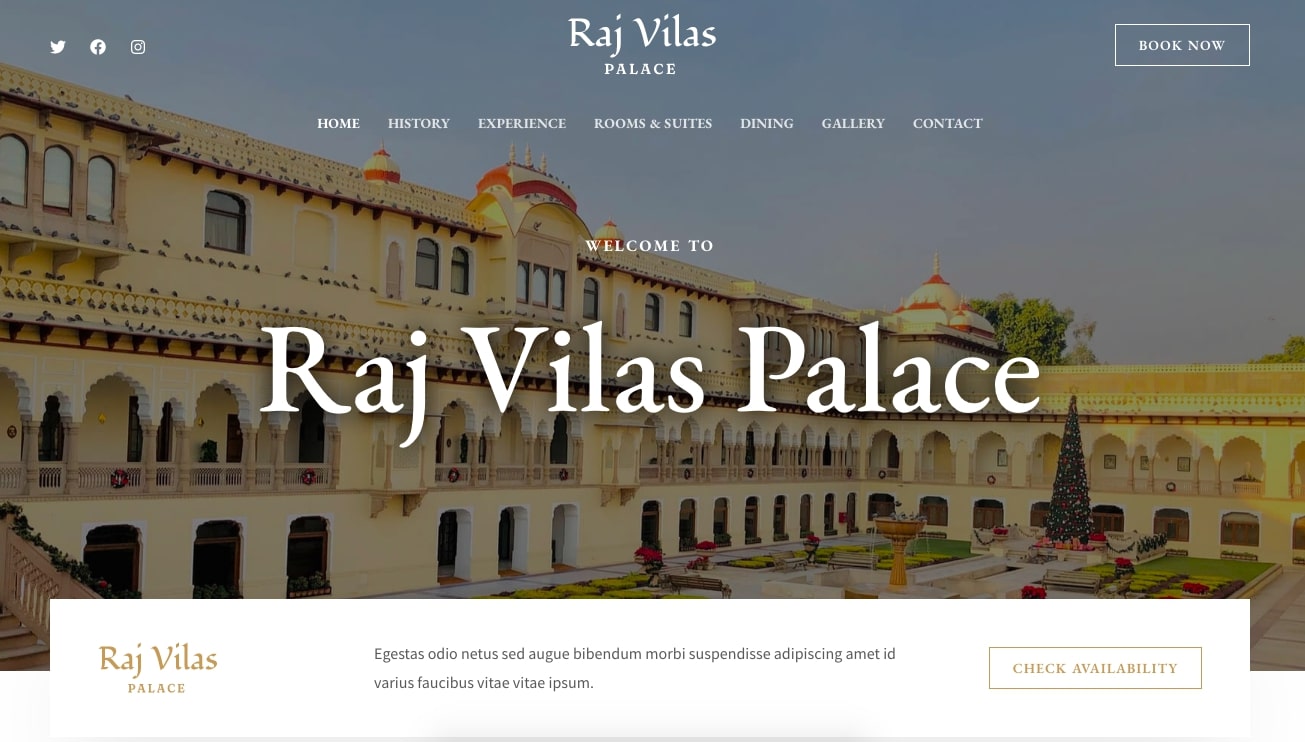 If you run a heritage hotel, signature property or a hotel that's a little different, you'll know that it's all about showcasing the experience . That's precisely what this template delivers.
From showcasing the property with high-resolution photographs to online booking, listing features and benefits to area highlights, we've added all the essential elements you need to help visitors experience your property.
Explore the Heritage Hotel Template
Try Our New Starter Templates Today!
Our new and very impressive Starter Templates are designed to provide the best user experience possible for visitors.
Starter Templates install with just one click. After importing, just add your text, images, and content to your website, and you can go live in no time. Use the Premium Starter Templates plugin to import any of these new templates.
Need help with Starter Templates? Our top-notch support team is always there to answer any questions that you may have.
Every aspect of the Starter Templates can be customized to suit your exact needs. From changing colors to using different fonts, our page builders make it simple. There is no easier or more convenient way to enjoy a professional-quality WordPress template with so little effort!
Go ahead, and start building your website today!