One of the best ways to monetize your WordPress website and build a loyal user-base is by creating a membership website.
Membership websites aren't new. The business model of creating a close-knit online community dates back to the days before social media.
Internet marketers and website owners have successfully built and managed forums, niche websites, and communities as a way to offer value to their members. At the same time, membership websites create a steady income source for the website owner.
Here's just a small list of thriving membership websites:
If you're planning on adding a membership section to your website or creating a brand new WordPress membership website — then this article is for you.
In this article, I'll discuss the benefits of creating a membership website and also review the most popular and widely used WordPress membership plugins.
Let's review 15 of the best plugins to help build your WordPress membership website.
The Benefits of Creating a Membership Site
Increase Your Revenue
Let's start with the most obvious benefit — income.
Membership sites are not new for internet marketers. Before the rise of social media there used to be forums and communities.
Despite the rise of social media communities — Facebook groups, subreddits, Slack groups, etc., many website owners and marketers are still benefiting from the success of exclusive membership websites. A handful of online communities are even exceeding the $100k per year mark.
A paywall or paid subscription model has always existed in the digital publication world. Most newspapers and publications (TechCrunch, Bloomberg, New York Times, Wall Street Journal) offer exclusive content to premium members.
A membership website gives you a similar opportunity to offer premium content (courses, premium articles, forums) to your members, and generate a decent income.
Demonstrate Authority
People often value something more if they are paying for it rather than what's available freely.
Creating a membership site helps establish your expertise and authority in your domain. It helps send the signal that you know what you are talking about and the information that you share can be trusted.
Add More Value to Your Users
There's an abundance of free content available today, and in most cases, readers don't know where to look first. However, once they trust a specific website, they are more likely to re-visit and subscribe to that website.
According to Skyword, the benchmark for returning visitors is around 20-30% of total website visits. If you are not hitting that benchmark, then one of the proven ways to do that is to consistently publish high-quality and unique content to drive those visitors back to your site.
Think about the blogs and publications that you visit daily. Chances are that when you first visited them, they wowed you with awesome content, and built that trust with you. Now, you trust that source and keep going there for more content.
You can do the same on your website.
Once you establish trust using your free content, then you can showcase valuable content behind a paywall. Readers and subscribers know that the paid content will often be more insightful and valuable to them than what they can be consumed for free.
Build an Email List
If you own a website, then you know the importance of building your email list. Email marketing continues to provide one of the highest rates of return for all marketing channels.
Once members are subscribed to your email lists, you can communicate with them directly and also promote your offers and programs. It helps you reduce your CAC (customer acquisition cost) and increase your customer LTV (life-time value) without having to spend a lot of money on digital ads.
However, the rise of popup forms and lead magnets has made it more difficult than ever before to convert visitors to subscribers. Almost every website offers a popup form and it becomes hard to differentiate.
Here's where a membership site can help you.
Instead of enticing them with a weekly newsletter you can offer your subscribers premium content, forum discussions, one-on-one interactions, etc. This will increase your chances of converting them into subscribers or members.
Content Automation
Many of the WordPress membership plugins discussed in this article come pre-packaged with rules and automation that allows you to restrict which content is protected and which content isn't. This becomes otherwise difficult to manually set restrictions for each piece of content.
If you are selling courses then you also probably want to provide your members with drip or sequential content i.e. they can view certain articles or pages only on a certain date of their membership or activity. You can easily achieve this with rule-based automation and content restrictions feature available in many of the plugins discussed below.
What to Look for in a WordPress Membership Plugin?
Ease of Use
Any plugin (not just membership plugins) you install on your website should be easy to install, activate, set up and use.
You should easily be able to configure membership packages, payment options, membership privileges, content restrictions, email notifications without having to write a lot of code or hire a developer.
It should also make it easier for your members to register, purchase memberships, access content and update their settings.
WordPress Themes and Plugins Compatibility
Any plugin you install must be compatible with the latest version of WordPress, and should also work seamlessly with any of the latest WordPress core updates.
It should also work seamlessly with your WordPress theme and plugins. If there are any potential compatibility issues with other plugins, then you should be aware of the potential conflicts or the additional development that would be required.
Most of the membership plugins discussed offer a free trial or a money-back guarantee for you to test the plugin in your environment. You can also access their knowledge base or support forums to investigate further and get extra help if you need it from their support team.
User Access Restriction (or Content Restriction)
One of the primary benefits of a membership plugin is that you can restrict access to certain content (posts, pages, categories, files) on your website only to paid members.
This is one of the many reasons why a potential member wants to join your membership program, so they can access high-quality content.
The plugin should allow you the flexibility to set up and customize content restrictions easily without having to write additional code.
Payment Options
It's important that the membership plugin integrates seamlessly with various payment gateways so you can accept both one-time and recurring payments. This helps to ensure that you are not missing out on any opportunities to generate additional revenue.
Ideally, the plugin should work with your existing payment gateway or solution. Otherwise, it'll need to have APIs to help integrate with your payment solution.
Software Integrations
Running a membership website involves many aspects — registration, accepting payments, email marketing, community management, content creation, etc. A single plugin may not be able to do all of this.
So, it's important for the plugin to have pre-built integrations or developer-friendly APIs that allow you to connect with other tools and software.
If you are already using an email marketing platform, then look for a plug plugin that seamlessly integrates with your software.
Support
Any plugin you install should have the necessary information to help you set up, install and use the software — knowledge base, user guides, tutorials, FAQs, support forums. This ensures that you are able to use the plugin seamlessly to manage your membership website.
Also, having a dedicated support team ensures that you can reach out to the plugin developers directly for any assistance required, allowing you to spend more of your time running your membership website rather than fixing technical problems.
15 Membership Plugins for WordPress Websites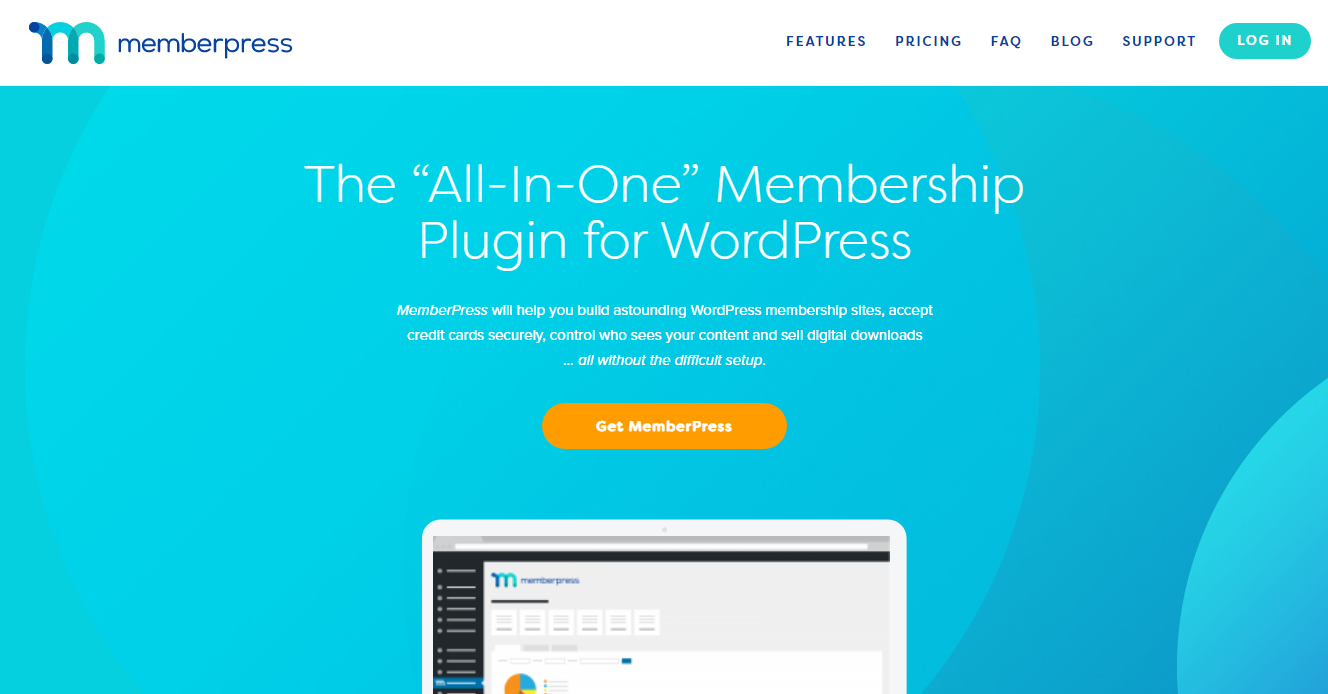 MemberPress is a full-featured and highly-configurable membership solution for WordPress websites that allows you to easily create and manage membership subscriptions and digital products.
The plugin is created and maintained by Caseproof.
Ease of Use:
Configuration — Once activated, there's the flexibility to configure the user permissions, registration process, log in and also how the membership site will look for your users.
Configuring payment settings and marketing integrations to ensure a seamless workflow for your members is also straightforward. Setting up pricing, products, taxes, and any coupons are also possible. The ease makes everything automatic once properly configured.
Member-friendliness — One of the advantages is the self-serve option for your members. It also provides your members the ability to create, update, upgrade or cancel their subscriptions directly from their membership portals.
Content Restriction:
MemberPress allows you to control what your users can see based on their membership or the digital products they have purchased.
The plugin allows you to restrict access to pages, child pages, posts, categories, tags and any other type of files in your WordPress installation.
Creating a password-protected community or forum is also possible.
WordPress Theme/Plugin Compatibility:
Themes — Compatible with any WordPress theme (even custom themes).
Plugins — Compatible with most WordPress plugins. However, there are a few plugins that may not work well with MemberPress.
Integrations:
MemberPress currently integrates with 70+ third-party software and tools.
Email Marketing — ActiveCampaign, MailChimp, AWeber, Constant Contact, ConvertKit, Drip, GetResponse, MailPoet, HubSpot.
LMS (Learning Management Systems) — LearnDash, WP Fusion, Gravity Press, WP HelpDesk and many more.
Forums— bbPress.
For plugins and software that aren't listed above, you're also able to extend the functionality and connection using the Developer tools.
Payment Options:
PayPal — Integration available on all plans (Basic, Plus and Pro).
Stripe — Integration available on all plans (Basic, Plus and Pro).
Authorize.net — Integration is only available in the Plus and Pro plans.
You have the ability to sell individual downloads and also recurring subscription payments.
MemberPress Support:
Extensive User manual and Knowledgebase.
Web support is available with their ticketing system.
Support Hours — 09:00 to 17:00 MST, Monday to Friday.
MemberPress Pricing:
Basic — $249/year (Single Site).
Plus — $399/year (2 Sites).
Pro — $549/year (5 sites).
No free trial.
All Plans allow you to add unlimited members and can be used for unlimited membership options.
All plans come with a 14-day money-back guarantee if you are not satisfied with your purchase and installation.
Conclusion
Now that you have reviewed the list of WordPress membership plugins in detail, where do you go from here?
If you're looking for a WordPress theme that's reliable, secure, loved by the WordPress community, and will work seamlessly with all of the 14 membership plugins mentioned above, then look no further than Astra.
Astra is a lightweight, blazing-fast, SEO-friendly, easy to customize theme that allows you to build a fully-customizable and branded membership website that will win you more subscribers, build member loyalty and increase your revenue.
Here's the best part — Astra is available for free to use for your WordPress membership website. As you grow your website and add more features, then Astra Pro will help you provide more customizations and personalization.
Get started with Astra today.