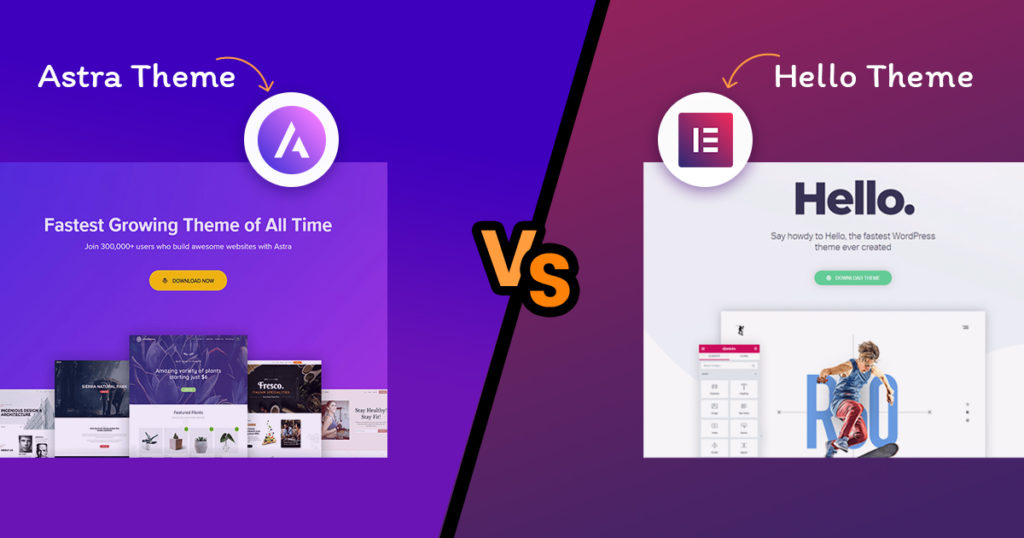 In May 2019, the Elementor team officially got their Hello theme listed at WordPress.org. If you're not familiar, Hello is a barebones theme framework specifically designed to pair with the Elementor page builder.
Thanks to page builder plugins like Elementor, you can now build entire themes – including headers, footers, archive pages, etc. – using a page builder. So now, rather than needing a mega theme like in years past, all you need is a lightweight theme to provide a foundation for the content that you build with your chosen page builder.
Themes Work Best with Elementor?
Elementor works with any WordPress theme you want, but the Astra theme has taken special efforts so the theme works seamlessly with Elementor and saves you many unnecessary clicks and time!
The Hello theme takes that approach to its extreme, offering just about the most lightweight, stripped-down foundation possible. It has no features or integrations – it's basically just a blank canvas on which you can build your Elementor site.
The Astra theme has a similar focus on performance and also has a deep integration with the Elementor page builder, which might have you wondering whether you should use Astra or the Hello theme for your next WordPress/Elementor project.
In the end, both themes are great options, but they're suited to different use cases. To help you choose the theme that's right for you, we're going to go hands-on and compare the Hello theme vs Astra so that you understand exactly what each one offers.
Astra vs Hello: Default Designs
Let's start with the default design of these two themes because you'll see some big differences in how they look out of the box.
With Astra, your site will have styling for all the important elements as soon as you activate it. Your site looks like a "real" website as soon as you activate it and Astra lets you customize everything via the Customizer.
On the other hand, the Hello theme does not add any styling for any of the core WordPress elements, and your site doesn't look like a "real" website immediately after activating the theme. Again, that's because you're expected to use Elementor to design all those elements.
Let's look at some of the core pages/content so that you understand the difference:
Header/Footer
With the Hello theme, there's no real header. You can put either a logo or site title with a navigation menu. Along with header title of the page will keep appearing.
You can see it below: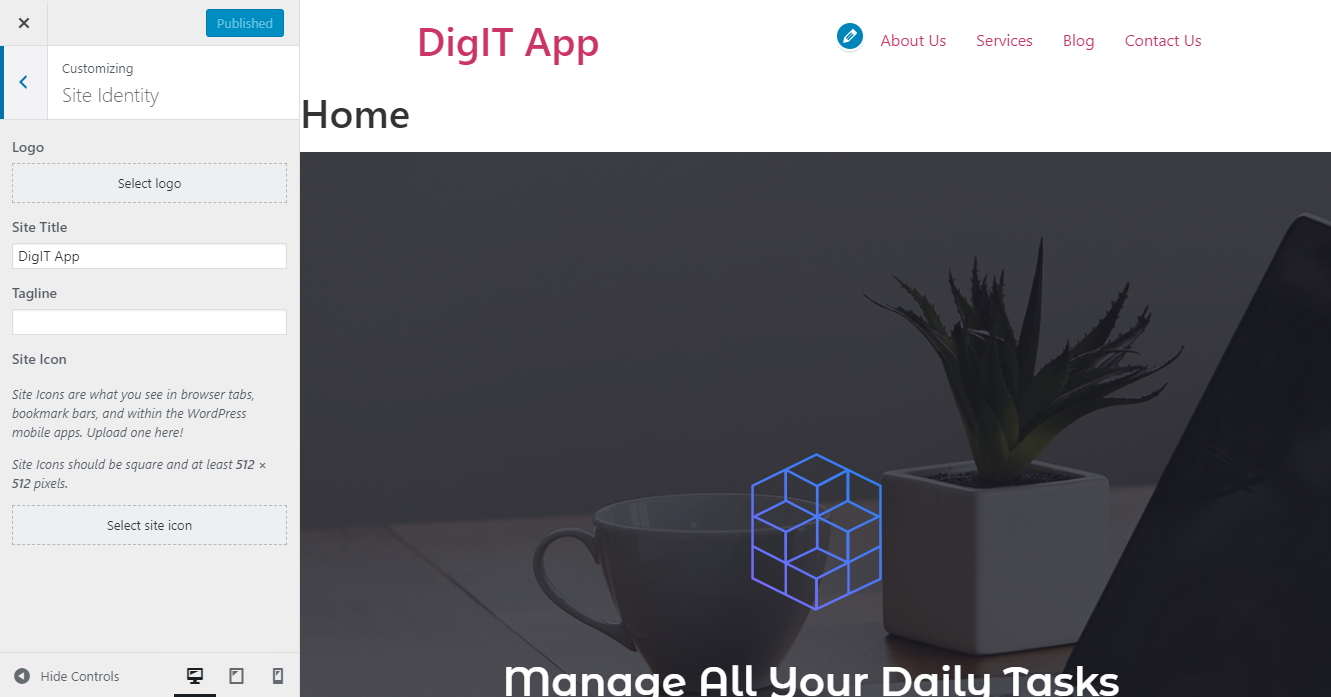 If you want advance header than this you'll need to build your header entirely with Elementor Pro or custom CSS. Additionally, Hello does not add its own footer, so that's another thing that you'll need to design in Elementor Pro.
On the other hand, the Astra theme gives you a fully-functioning header right out of the box, which you can further customize using the native WordPress Customizer. Free Astra theme gives a transparent header. You can even add custom last menu item as a button, widget, text/HTML and much more.
Logo, Site Title and Site Tagline can be added and managed nicely to add attractive design and small information about the website.
Astra also lets you customize your footer via the WordPress Customizer.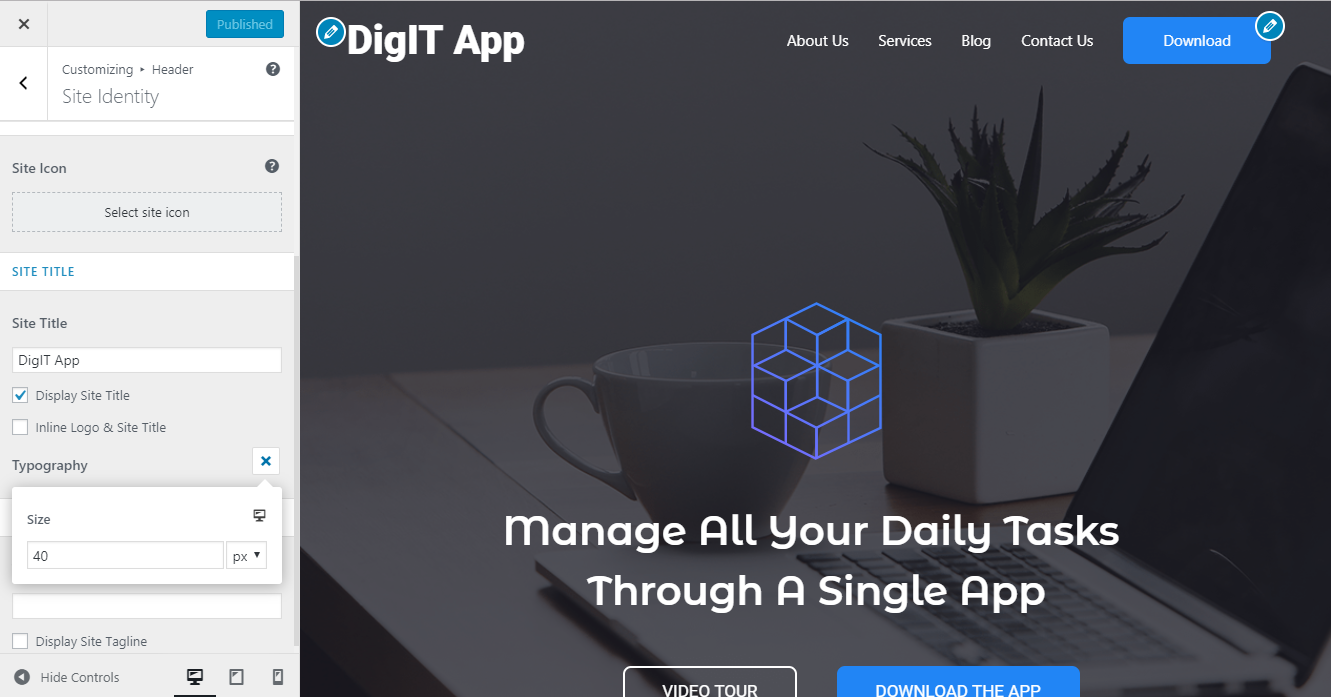 Blog Archive Page
Blog archive page is the page that lists all of your most recent blog posts.
Again, you can see that Hello doesn't add any of its own stylings – it just uses an H2 for the blog title and regular paragraph text for the content:
Additionally, there's no metadata for the posts – it's just the post title and content.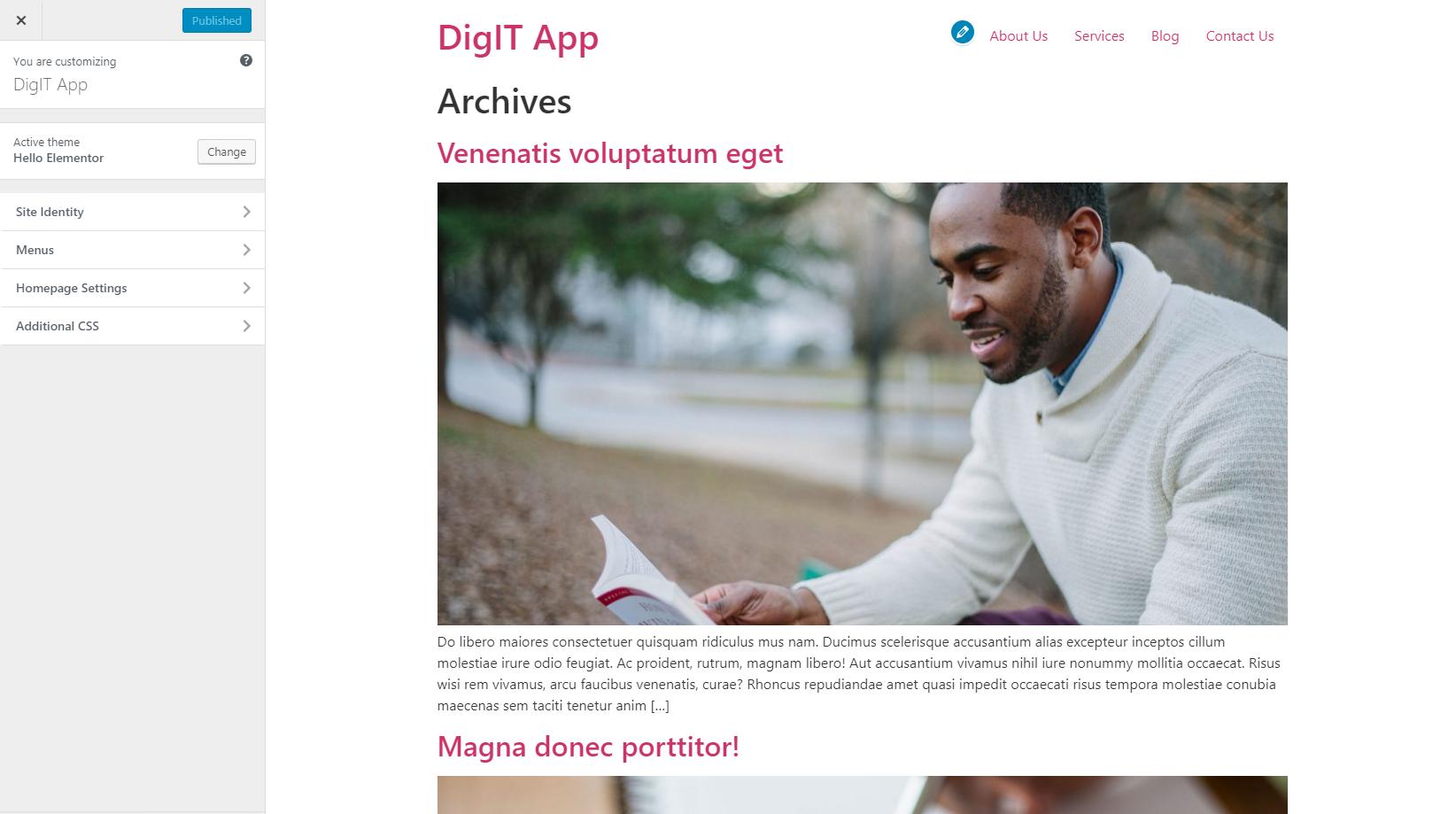 Astra, on the other hand, provides a completely styled blog archive page, along with post metadata for:
Publish Date

Category

Author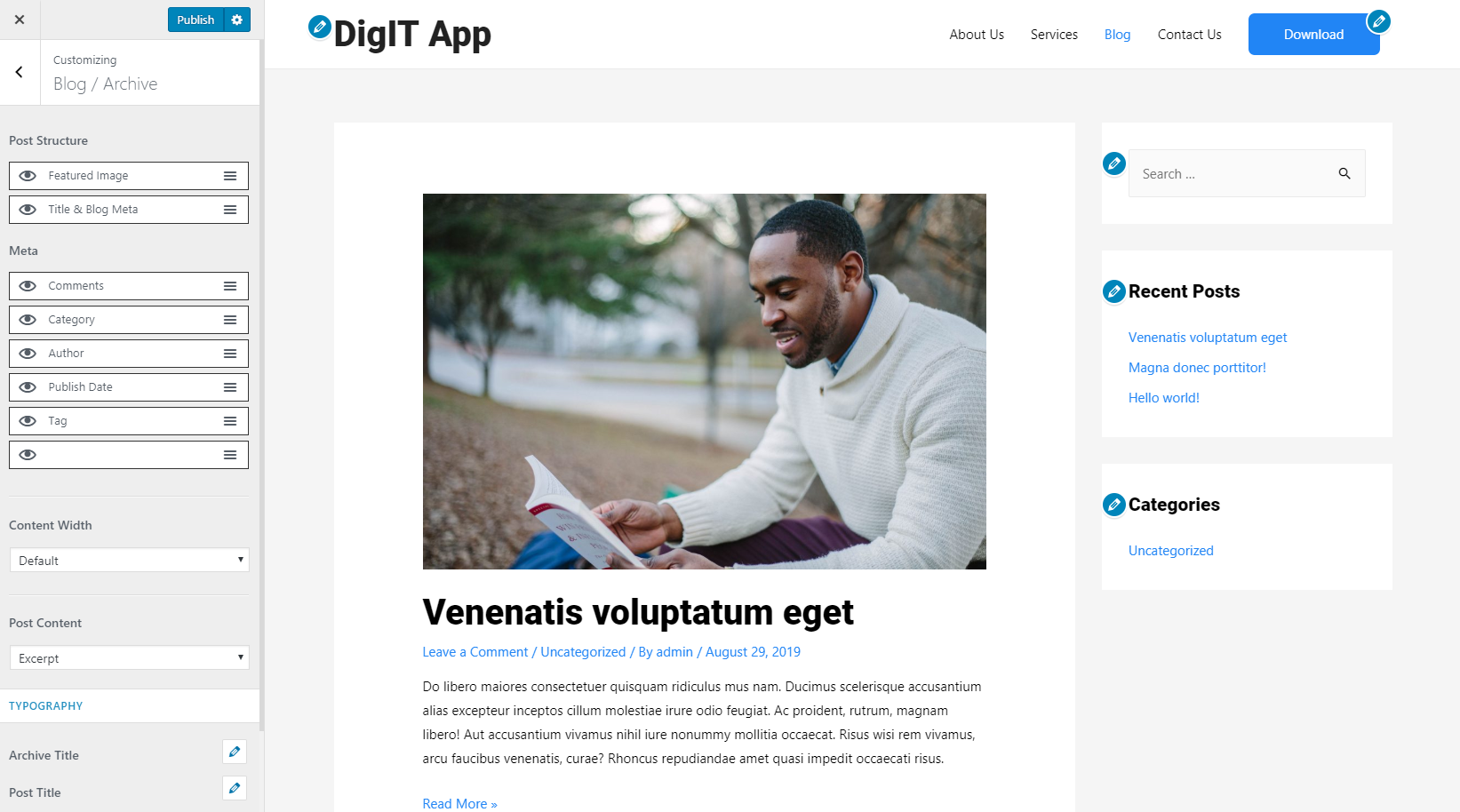 In Astra, you can also control your blog archive layout and metadata via the WordPress Customizer.
Blog Single and Comments Section
You'll see a similar story on the single blog page – Elementor Hello uses an H1 for the post title and regular paragraph text.
It adds some barebones styling for the comments and comment form, but you'll again need to do a lot of work in Elementor Pro to make things look good: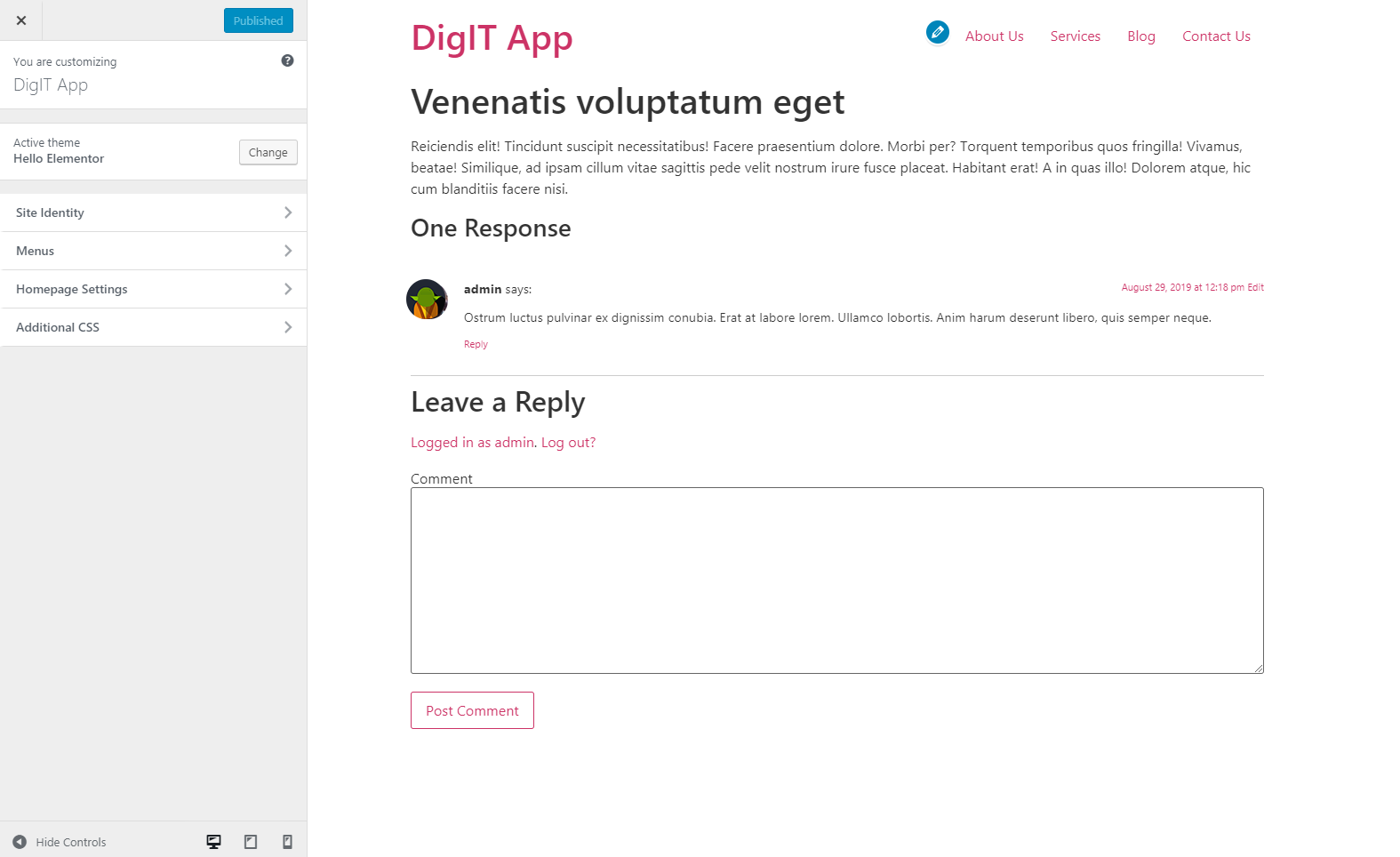 Notice how, as with the blog archive page, Hello does not add featured image or any post metadata for author, category, etc.
Astra, on the other hand, adds this metadata by default and also includes a fully-styled comments section: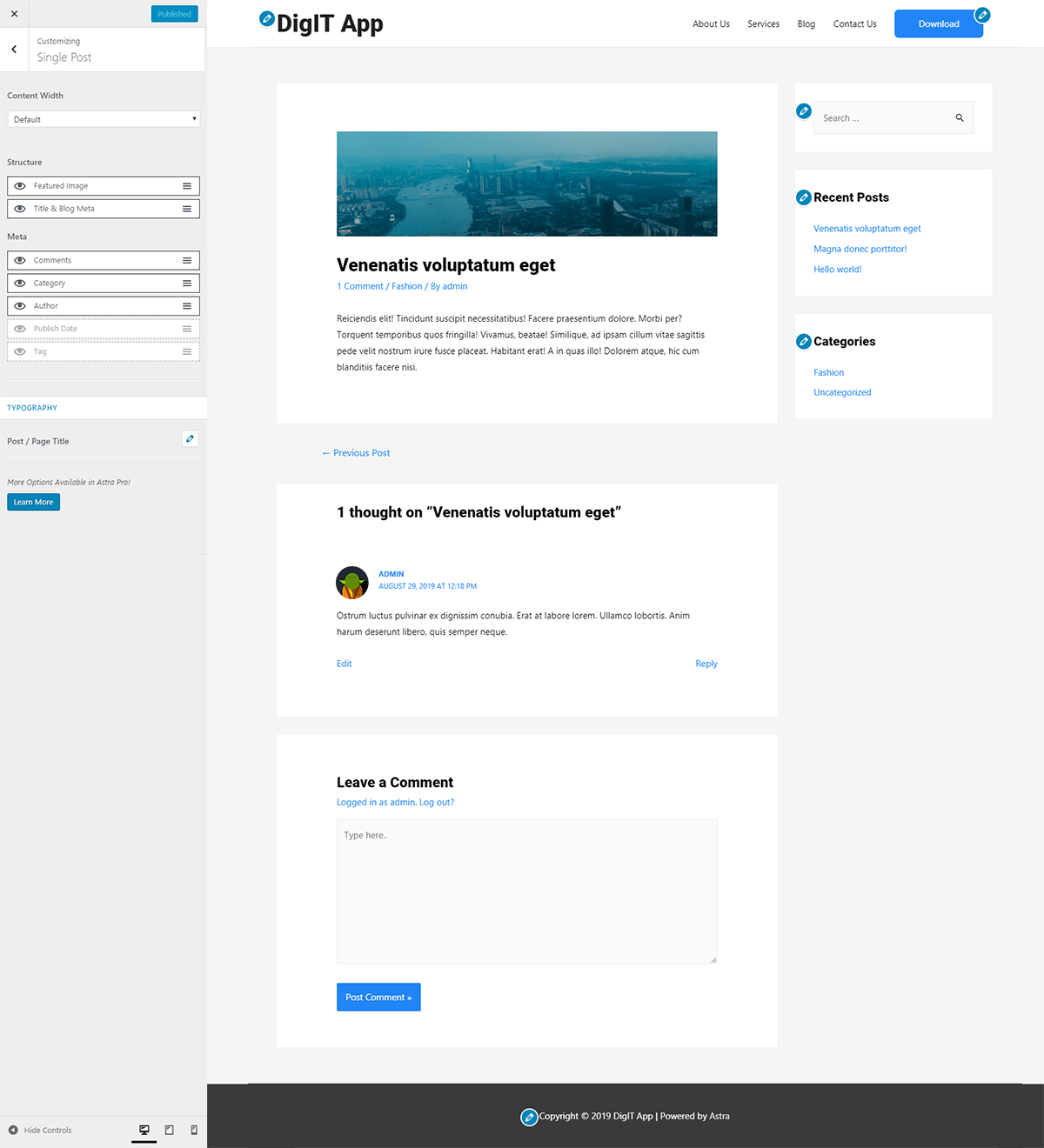 WooCommerce
If you try to use Hello with WooCommerce, you'll kind of get a styled product page via WooCommerce's built-in settings. However, in real life, you'll probably need to build out all your WooCommerce content using Elementor Pro: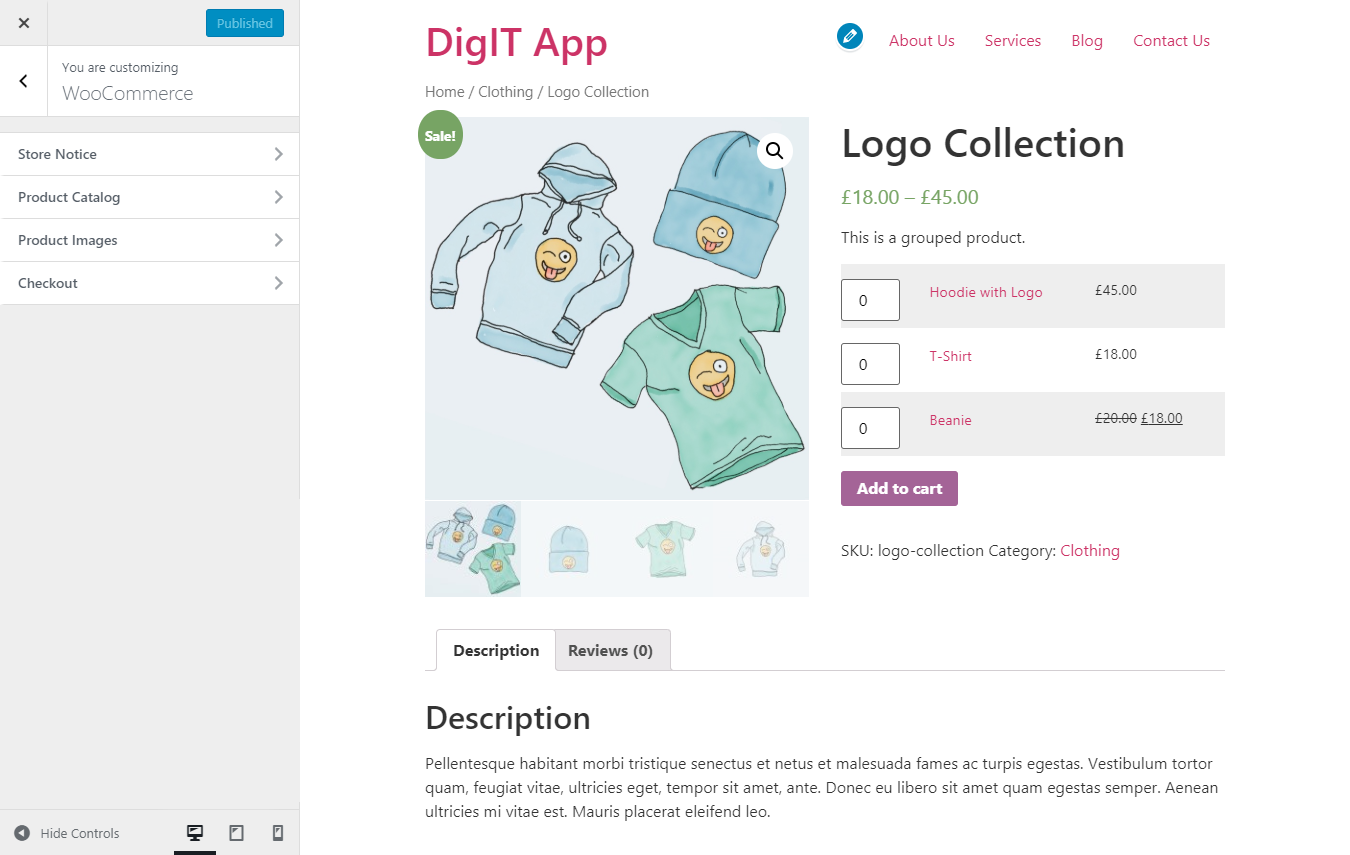 Astra, however, includes its own built-in styling for WooCommerce, and your WooCommerce content will automatically adapt the rest of your site's styling when it comes to colors and typography.
Notice how the WooCommerce Add to Cart button adopts the same blue as the rest of the Astra them. You can even put cart button in the header that allows shopper quickly navigate to checkout page from anywhere on the website.
So the Default Design Comparisons Say…
Basically, these design comparisons should drive home the point that you must use Elementor Pro to design important theme elements if you use the Hello theme. What's more, you have to use Elementor for everything – you won't be able to rely on your theme to do any of the heavy liftings.
On the other hand, Astra already styles these things for you – you just need to tweak them to match your needs using the WordPress Customizer.
Now, this difference is not inherently a bad thing – if you were already planning to design every single page with Elementor, that's no sweat off your back. But it's important to remember that, if you use Hello, you'll be responsible for designing everything from 404 pages to archives, single layouts, WooCommerce product pages, and more.
Astra vs Hello: Performance Comparison
Because of its barebones approach, you'd expect Hello theme to be more performance-optimized than Astra. However – remember that Hello is not "finished" in it's out of the box form. That is, you'll still need to build your header, footer, and other content using Elementor Pro to have a working website.
So to accurately compare the performance of Astra vs Hello, we'll test three scenarios:
Astra
Hello theme without Elementor (not a realistic scenario for a live site)
Hello theme with a basic header/footer from Elementor Pro (a more realistic scenario)
| | | |
| --- | --- | --- |
| | Page Size | HTTP Requests |
| Astra | 38.7 KB | 9 |
| Hello no Elementor | 16.5 KB | 6 |
| Hello with Elementor | 239 KB | 28 |
So as you can see, the barebones Hello theme is indeed a little more lightweight than Astra. However, you can't run Hello without a page builder like Elementor, so that situation isn't realistic for a live site.
If you use Elementor to add a basic header and footer, the difference actually tips back in Astra's favor.
To sum it up, both of these themes give you a performance-optimized foundation to create a quick-loading site. And in real-world use, the difference of just a few KBs isn't going to make a big difference.
Basically, performance shouldn't be a big factor in choosing between Astra vs the Hello theme because both are optimized and the difference isn't meaningful.
Astra vs Hello: Built-in Features
The Hello theme does not give you any features, so this is an easy comparison. Again, that's kind of its selling point – it's literally just the bare minimum and nothing else.
In fact, if you open the WordPress Customizer, you won't see a single option from the Hello them – it's just the generic options that come with every WordPress site: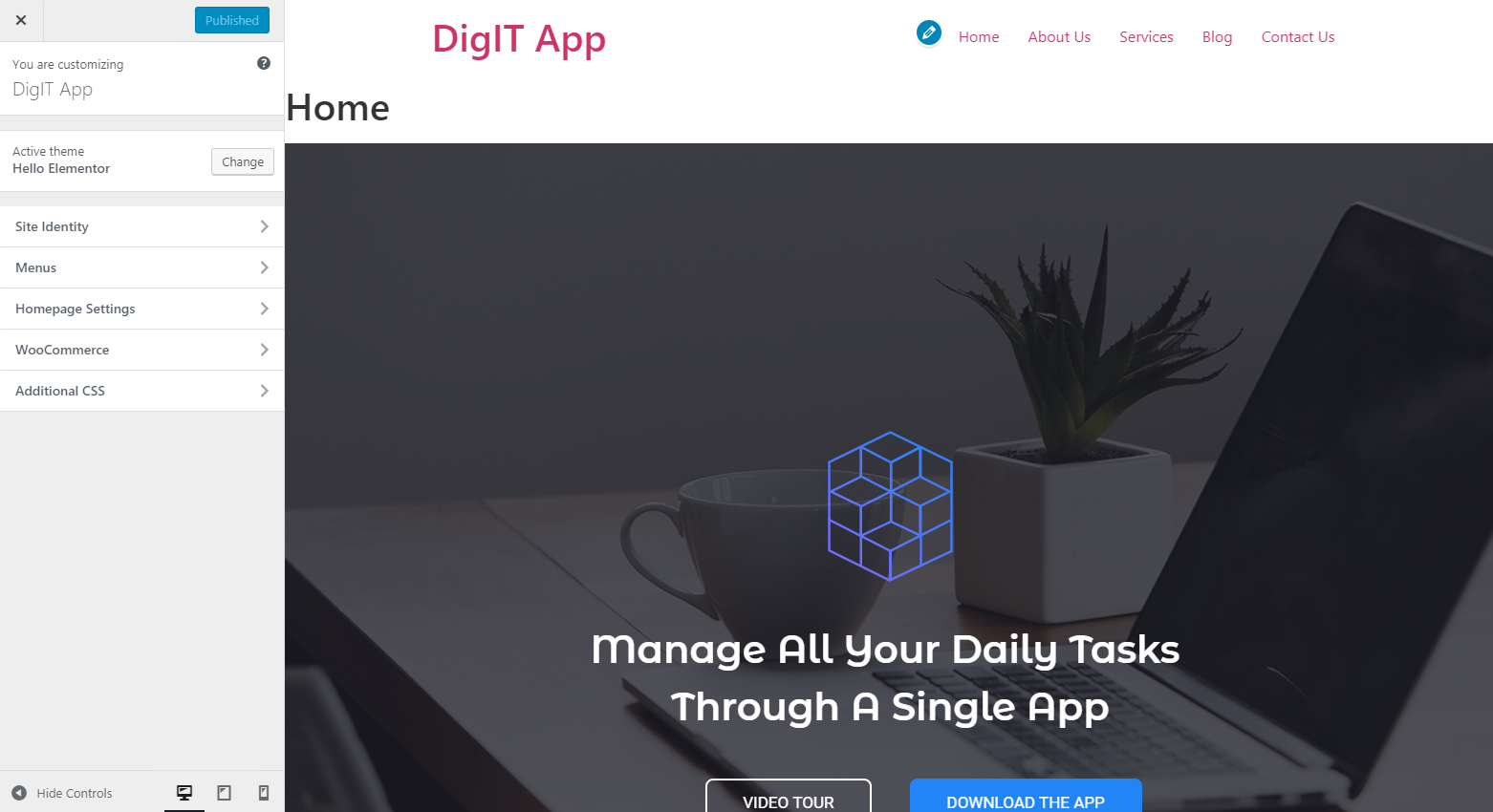 Again, this is because you're supposed to use Elementor to handle everything.
On the other hand, Astra gives you detailed WordPress Customizer controls for:
Headers, including an option to set up sticky headers, transparent headers, and other helpful settings
Global – Typography, Colors, Container Layout, Button
Header – Primary Header, Primary Menu, Transparent Header
Blog/Archive and Single Post
…a lot more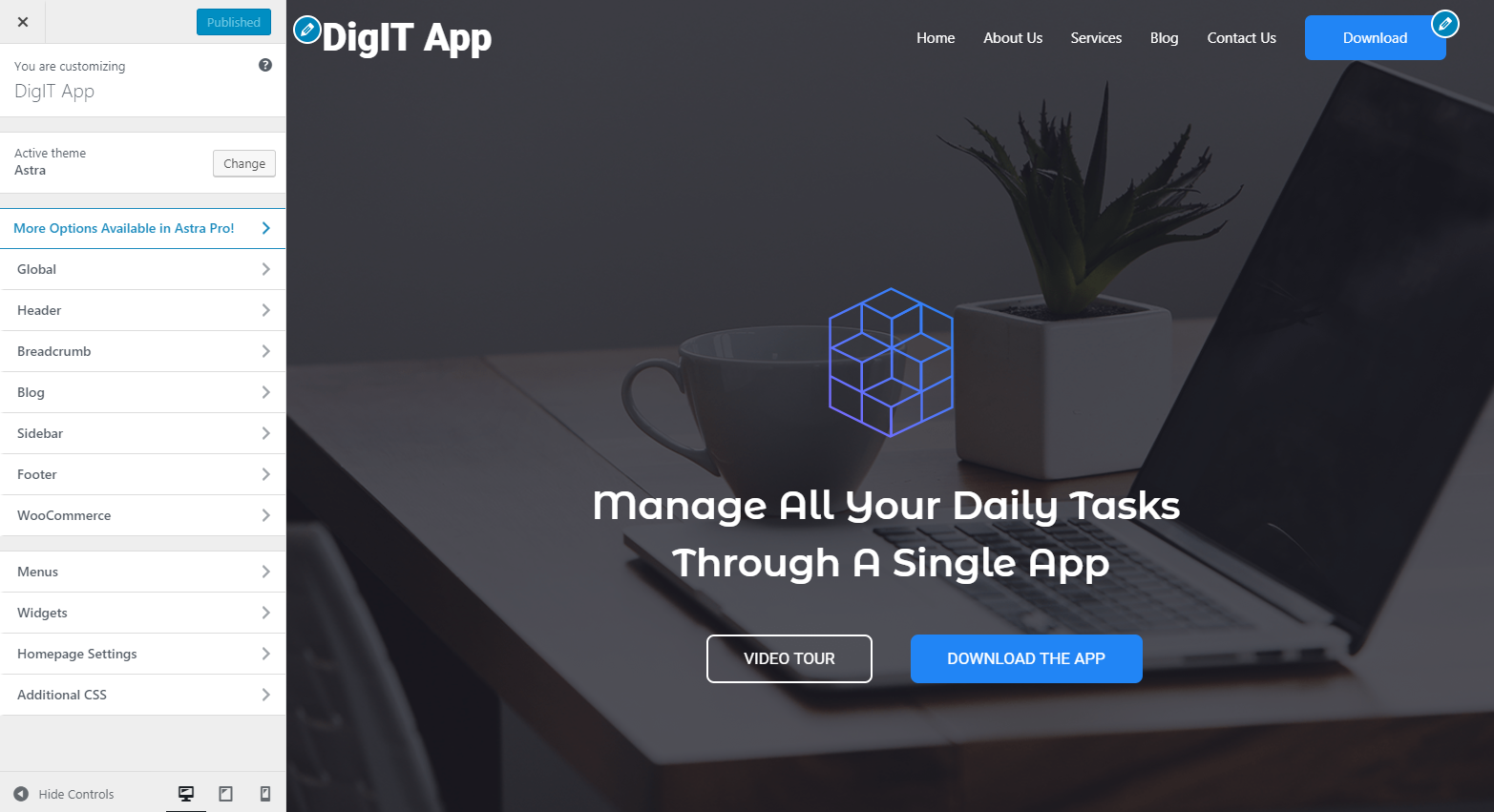 Even if you're still planning to use Elementor to design most/all of your sites, having these Customizer controls can still be helpful. For example, being able to set up global colors and typography from your theme makes it easier to control your Elementor designs and change things up in the future.
To learn more about why you should still care about your theme even if you're using Elementor Pro's Theme Builder, check out our post here.
Astra vs Hello: Plugin Integrations
As you saw with the WooCommerce section of the design comparison above, the Hello theme doesn't have any integrations with popular plugins. Instead, to control how those plugins look and function, you'll need to use the plugin's settings, custom CSS, or Elementor.
On the other hand, Astra comes with built-in integrations for popular e-Learning LMS and ecommerce plugins like:
So, right out of the box, Astra will look great with those plugins.
Plus, you'll get dedicated options in the WordPress Customizer to control how Astra interacts with those plugins. For example, Astra lets you implement a distraction-free checkout with the click of a box, rather than needing to design it yourself.
Astra vs Hello: Importable Free Templates
If you use the Elementor Hello theme, you'll need to essentially build your site from scratch.
While Elementor does offer a variety of page and block templates, you can't import an entire pre-made website.
On the other hand, Astra offers a big library of free Elementor templates (starter templates ) that you can import with a few clicks. Many of these starter templates are built with Elementor, along with all the necessary configuration options for Astra's many WordPress Customizer settings: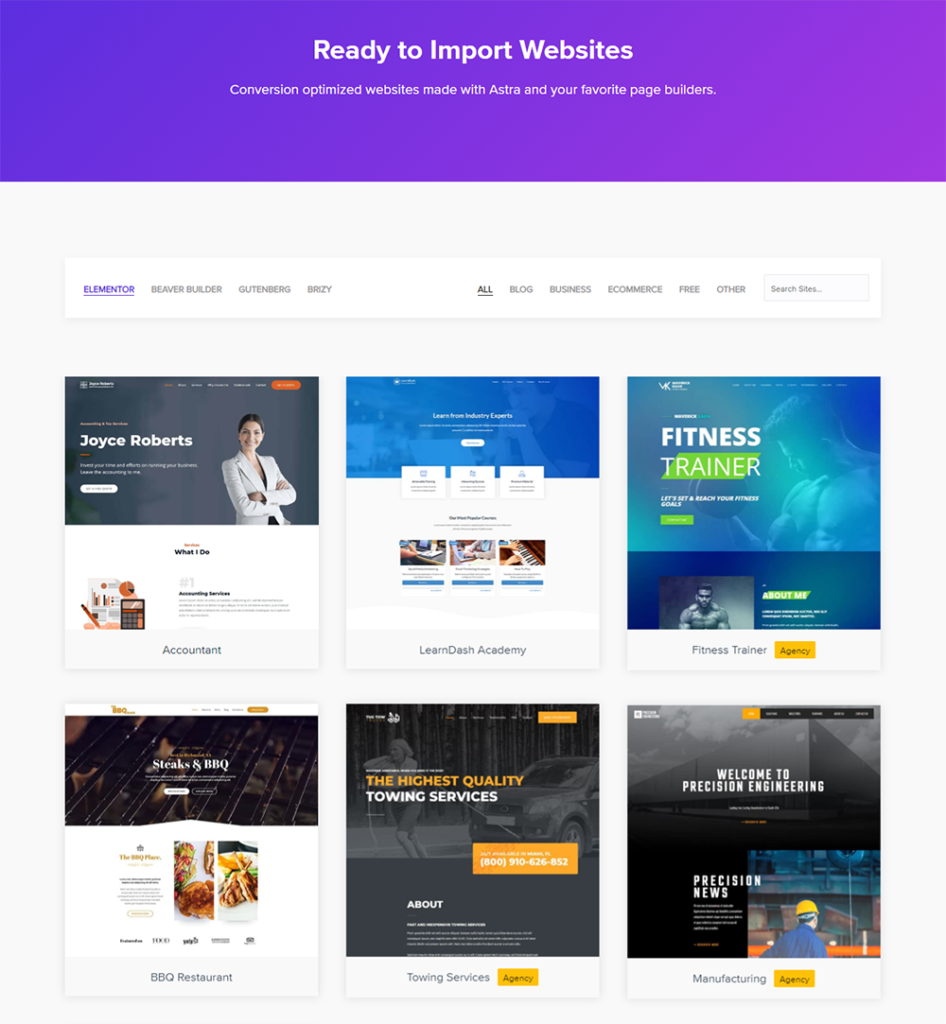 Astra vs Hello: WordPress Block Editor Compatibility (Gutenberg)
For the new WordPress block editor (AKA Gutenberg), Astra offers special Gutenberg compatibility features, while Hello theme does not.
Some of the Gutenberg compatibility features in Astra are:
You can see the frontend styles while working in the block editor, which creates a more visual editing experience in Astra. This includes colors, typography, and even backgrounds.
Astra automatically matches your frontend content width with the width of the block editor.
You can use the block editor's Full-Width alignment option.
Astra offers built-in style support for all the native blocks.
You can also pair Astra with Ultimate Addons for Gutenberg for an even more flexible experience with the new block editor.
Final Thoughts
Hello is a great theme, but that doesn't mean it's automatically the best theme for every site you build with Elementor.
If you've time to use Elementor Pro to design literally every part of your site, and you're fine with using custom CSS to fill in the gaps, Hello might be a good choice.
However, if you're looking for a more complete theme that doesn't require you to build everything from scratch, Astra is a better option for you. It's super lightweight and built to integrate with Elementor. It further will offer you:
Lots of customization options in the real-time WordPress Customizer.
A solid foundation to fall back on. For example, you won't have to worry about creating your own 404 page from scratch!
Built-in support for popular plugins like WooCommerce, Easy Digital Downloads, LifterLMS, and LearnDash.
Tons of importable demo sites.
Detailed support for the new WordPress block editor.
Get started with Astra for free!