Searching for the best WordPress LMS plugin to create and sell courses on your WordPress site?
Like choosing a page builder, picking a WordPress LMS plugin is a long-term decision. And once you build your courses and lessons, switching to a different plugin is not an easy process.
Long story short – it pays to do the research to make sure you get the right LMS plugin from day one.
To help, we've collected the three best WordPress LMS plugins and compared them to help you make your decision. In total, we'll cover:
LifterLMS
LearnDash
LearnPress
Let's jump in!
1. LifterLMS
LifterLMS, along the with the next plugin on our list, is one of the most well-known WordPress LMS plugins.
It's a basic free core plugin that you can extend with a variety of paid add-ons. Let's go through the various options…
LifterLMS Course Options
LifterLMS lets you structure your courses using a simple drag-and-drop interface: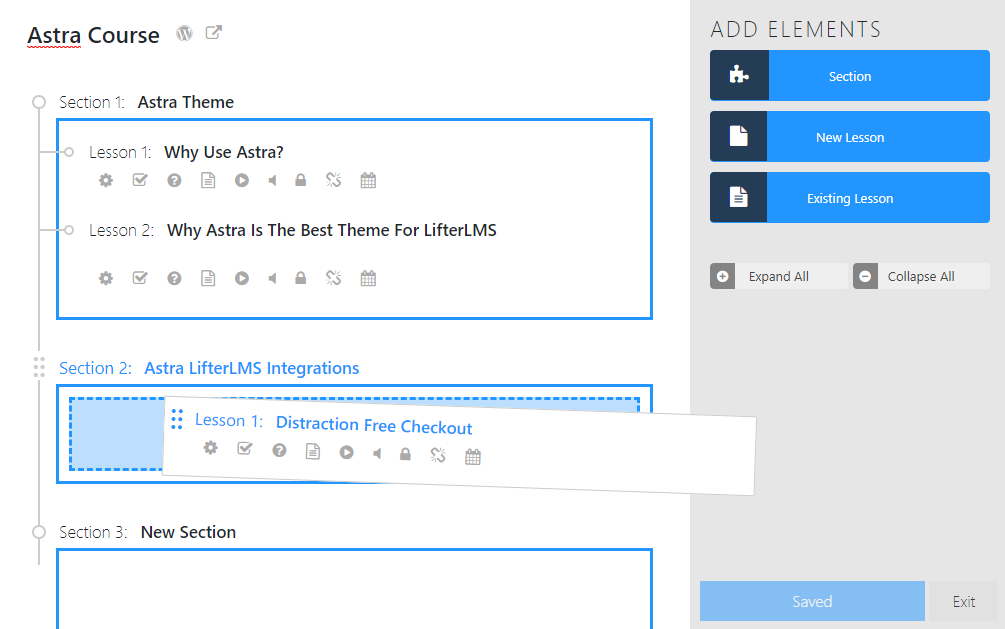 In your courses, you can:
Include multimedia content
Drip course content over time
Require prerequisites to take a course
Add discussion forums
Include lesson downloads
Offer course certificates and gamification badges
And if you want them, you also have access to more structured elements including:
Quizzes
Quiz timers
Assignments
LifterLMS Monetization
With the various paid add-ons, you can integrate LifterLMS with most popular payment gateways.
You can choose between one-time or recurring payments. And you can also mix-and-match different pricing plans using LifterLMS' Access Plan feature. Here's an example of Access Plans in action: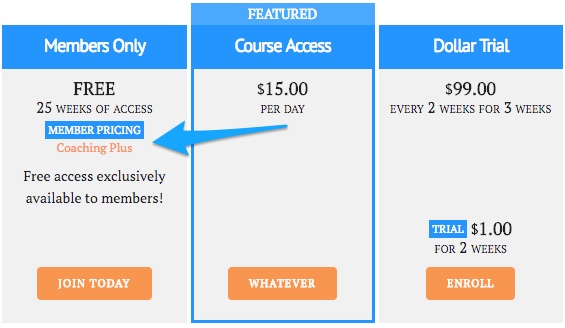 And you also have some other neat options for selling your courses – for example, you can create special course bundles. And you can also upsell one-on-one private coaching.
Styling Your Courses With LifterLMS
If you use Beaver Builder or Divi Builder, you'll appreciate LifterLMS' integrations with those two page builders (the Beaver Builder compatibility seems to be the deepest).
But generally, if you want to style LifterLMS by yourself, you're going to need to rely on a lot of custom CSS. LifterLMS does offer a LaunchPad theme with more styling options – but then you've built your entire WordPress site with it, which isn't ideal for the rest of your site.
If you use the Astra theme, though, you can take advantage of Astra's dedicated LifterLMS integration.
When you combine LifterLMS with the Astra theme, you're able to:
Easily choose how to lay out your courses using the native WordPress Customizer
Enable distraction-free Learning or a distraction-free checkout
Configure the colors and typography for your LifterLMS courses
Give your learners a beautiful custom dashboard
Show motivation-boosting course progress bars
Learn more about Astra and LifterLMS.
Who's Using LifterLMS?
LifterLMS is a popular option for WordPress course providers. Here are some great examples of LifterLMS in action:
WPCrafter – if you love building with WordPress, you've probably seen Adam's content. All his courses are powered by LifterLMS.
WP101 – all WP101's courses run on LifterLMS, as well. Try the free sample of the WordPress 101 course to see it in action.
LifterLMS Pricing Model
LifterLMS has a free core plugin listed at WordPress.org, which should instantly make it attractive if you're on a budget.
If you want to sell your courses for money, you'll need to purchase, at a minimum, one of the premium payment gateway integrations, which cost $99 for use on a single site. Depending on the features you want, that might be all you need to successfully sell courses.
For additional functionality, you can purchase other individual add-ons or bundles of add-ons. The cheapest bundle starts at $299 for use on a single site.
2. LearnDash
Along with LifterLMS, LearnDash is the other big name in the WordPress LMS plugin space. It's used by both large institutions as well as individual instructors.
Let's go through the various features…
LearnDash Course Options
Like LifterLMS, LearnDash gives you a simple drag-and-drop builder to create your courses: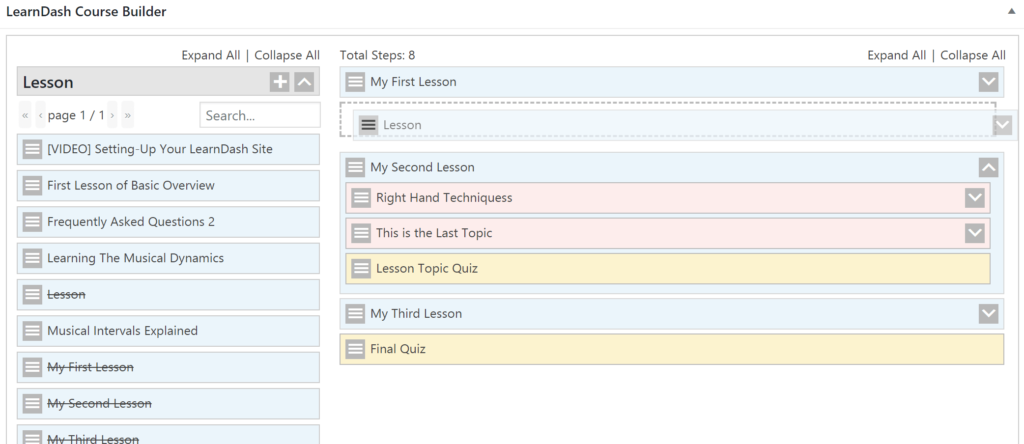 In your courses, you have access to functionality like:
Drip-fed content
Prerequisite courses
Course discussion forums
Course points and gamification badges
Depending on your needs, you can also add:
Quizzes
Lesson timers
Assignments
Finally, there's the ProPanel feature that's available on higher tiers. The functionality in ProPanel is helpful…but most people probably won't need it.
ProPanel gives you real-time activity and an easier way to stay on top of assignments, course results, and quiz progress.
If you're a school using LearnDash for students, you might want that real-time detail. But if you're just selling self-paced courses via your site, you don't really need this much real-time data.
LearnDash Monetization
To sell your courses, LearnDash includes a basic option for one-time payments or recurring subscriptions. But you can also integrate it with other systems like WooCommerce, EDD, and more if you want more flexibility.
LearnDash includes plenty of free add-ons to help you do just that, so the integration process is pretty painless.
Styling Your Courses With LearnDash
Like LifterLMS, LearnDash doesn't include a ton of built-in styling options. If you want to create a great-looking course, you'll probably need to rely on custom CSS or a third-party tool or you can always use LearnDash compatible WordPress themes. That will offer you better design options.
You can find a premium third-party add-on – Visual Customizer – that adds more styling options. And the third-party Divi LearnDash Kit can help you use the Divi Builder with LearnDash.
Like LifterLMS, we also wanted to give Astra users more styling flexibility for their LearnDash courses, which is why the Astra theme also offers a dedicated LearnDash integration.
Like our LifterLMS integration, Astra's dedicated LearnDash integration helps you:
Create the optimal layout to display all your courses
Choose which course elements to display, including an easy distraction-free learning mode
Boost your conversion rates with a distraction-free checkout
Customize all the colors and typography for your LearnDash courses
Create a beautiful customer dashboard
And with our free Custom Template for LearnDash plugin, you can also create beautiful sales pages for your LearnDash courses.
Who's Using LearnDash?
LearnDash happily touts some of its bigger clients on its landing page, including the University of Florida and InfusionSoft.
But if you're looking for some non-enterprise examples of websites using LearnDash, here are some good ones to look at:
LearnDash Pricing Model
The core LearnDash plugin is a premium option that starts at $159 for a single site license. This version lacks the ProPanel, but is otherwise full-featured.
There are also a variety of free add-ons you can choose from. And LearnDash also curates a marketplace of third-party extensions that can add even more functionality.
3. LearnPress
Like LifterLMS, LearnPress is a free core plugin that you can extend with both free and paid extensions.
Because you can sell courses right away via PayPal, it probably has the most generous functionality in its free version, which is part of why it's the most popular LMS plugin at WordPress.org. The other part is that LearnPress comes bundled with a number of popular ThemeForest themes.
LearnPress Course Options
With LearnPress, you build your courses and lessons using regular WordPress custom post types, as well as a helpful Curriculum section that lets you organize sections and lessons with drag and drop: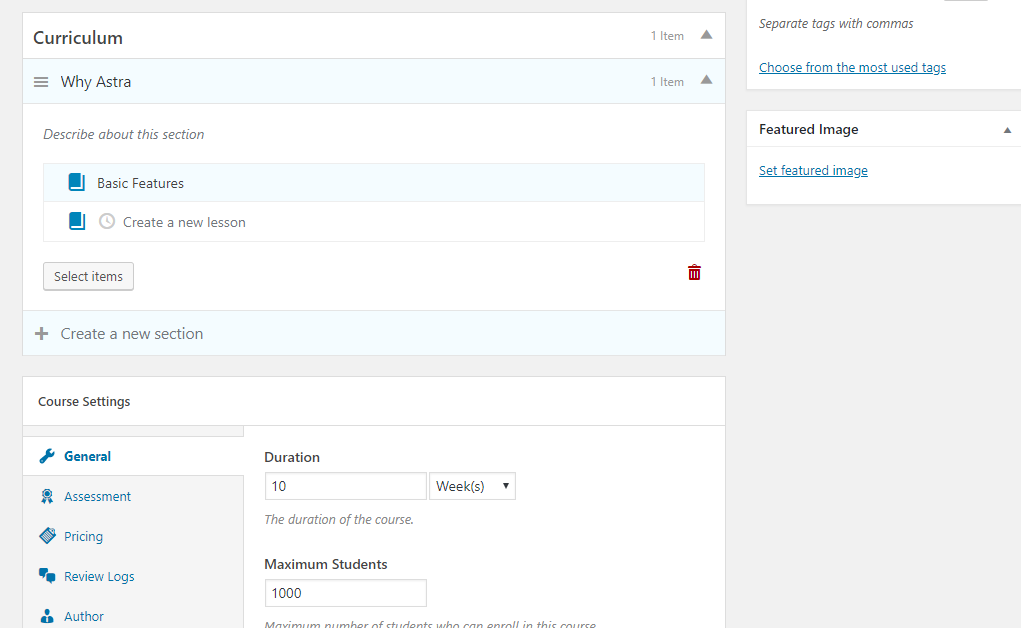 Across the free and premium add-ons, your courses can include:
Quizzes
Drip-fed content
Prerequisite courses
Certificates
LearnPress Monetization
One of the nice things about LearnPress is that it includes a PayPal integration even in the free version. That means it's the only LMS plugin on this list that lets you sell courses for free.
If you want additional payment gateways, you can also purchase separate extensions which cost ~$30 each.
With the core plugin, you can only sell your courses for a one-time fee, though. To get around that, LearnPress has integration add-ons for WooCommerce and Paid Memberships Pro that can get you subscription functionality in that way.
Styling Your Courses With LearnPress
ThimPress, the developer, has a big business selling dedicated LearnPress themes, so you won't get a ton of detailed styling options with the plugin by itself. You get some basic color controls, but that's about it: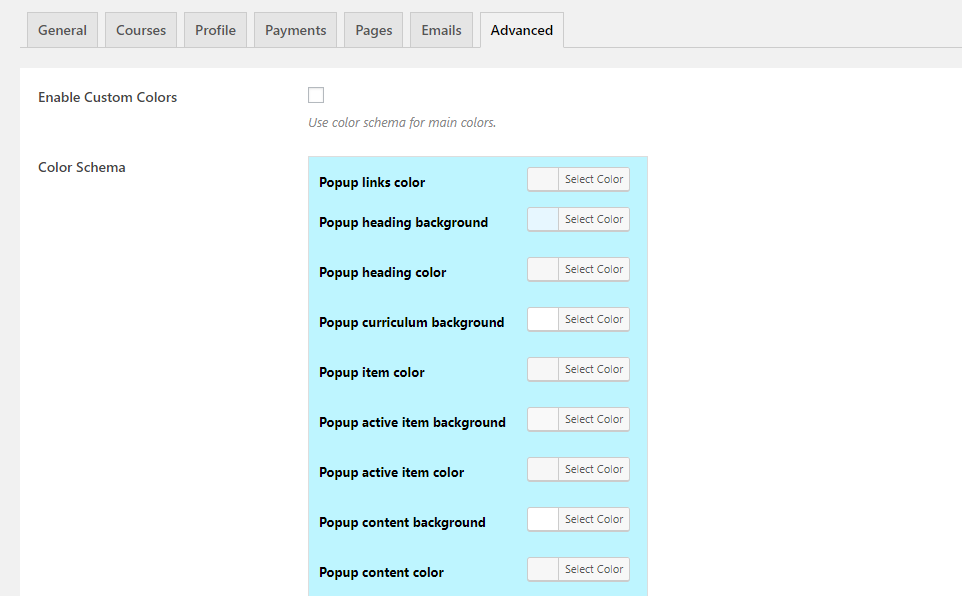 You can also browse all of ThimPress' LearnPress themes if you want an out-of-the-box solution. Again, the downside of this approach is that you're building your entire WordPress site with that theme, which limits you in non-LearnPress areas.
Who's Using LearnPress?
It's tough to find great examples of LearnPress in action. Many of the examples you'll run across are primarily sites using ThimPress' themes, even if they aren't selling courses with LearnPress.
LearnPress Pricing Model
You can download the core LearnPress plugin for free from WordPress.org. You can also find a number of official free add-ons at WordPress.org.
And for more functionality, you can purchase individual LearnPress add-ons or buy a bundle with all add-ons for $249.99.
Final Thoughts On The Best WordPress LMS Plugin
If you're serious about creating and monetizing online courses, your best bet is to stick with either LearnDash or LifterLMS.
These two plugins are not only at the top of the game right now, but they're also continuously pushing out new features and improvements.
LifterLMS has the free version – so if you're just getting your feet wet, that might be a good place to get started. But despite the free core plugin, LifterLMS can quickly start getting expensive if you need more than just a payment gateway.
Basically – you'll need to consider the exact features that you want before you can figure out whether LifterLMS or LearnDash offers better value.
In the end, both LearnDash and LifterLMS will give you the tools to create powerful courses. And to make those courses look beautiful and offer an effective learning environment, you can use Astra's dedicated integrations for easy, code-free changes.