If you've been using the Elementor page builder plugin for a while, we're guessing there's a question that you've been asking yourself lately.
"Do I stick with the Elementor free version or upgrade to Elementor Pro?"
We get it. Elementor is a user-friendly, drag-and-drop page builder using which you can easily create some amazing WordPress websites. It offers limitless design possibilities, and the free version works just fine. We even write an in-depth review on Elementor.
But just like anything out there, you reach a point where you are left wanting more.
Elementor Pro empowers you with more options to speed up your workflow. For instance, while there's always a workaround, creating popups using Elementor Pro is far more straightforward. Want to incorporate an animated text or headline? That's possible too!
Also, on a more technical level, if you want to add in some custom CSS, the pro version allows you to do so quickly and easily.
There's a lot you can do with the free version of Elementor and more you can do once you upgrade to the pro version. Exactly what's the difference and should you invest in Elementor Pro?
That's precisely what we are going to help you out with this post. We'll answer all those questions to help you decide if it will be the Elementor free or the pro version for your next project.
Elementor vs. Elementor Pro: The Main Differences
To summarize,
| | | |
| --- | --- | --- |
| Feature | Elementor | Elementor Pro |
| Drag & Drop Editor | ✅ | ✅ |
| Widgets | 30 | 90+ |
| Theme Builder | ❌ | ✅ |
| Premium Support | ❌ | ✅ |
| Mobile Editing | ✅ | ✅ |
| 300+ Pro Templates & Blocks | ❌ | ✅ |
| Custom Fonts & Adobe TypeKit | ❌ | ✅ |
| Sliders & Carousels | ❌ | ✅ |
| Custom CSS | ❌ | ✅ |
| Scrolling Effects | ❌ | ✅ |
| Animated Headlines | ❌ | ✅ |
| Flip Box | ❌ | ✅ |
| Popup Builder | ❌ | ✅ |
| Sticky Elements | ❌ | ✅ |
| Social Buttons & Integrations | ❌ | ✅ |
| Social Proof Widgets | ❌ | ✅ |
| Call To Action Widget | ❌ | ✅ |
| Form Widget | ❌ | ✅ |
| Theme Elements | ❌ | ✅ |
| Display Conditions | ❌ | ✅ |
| Header And Footer | ❌ | ✅ |
| Sticky Header | ❌ | ✅ |
| 404 Page | ❌ | ✅ |
| Single Post | ❌ | ✅ |
| Archive Page | ❌ | ✅ |
| Role Manager | ❌ | ✅ |
| Contact Forms | ❌ | ✅ |
| Subscription Forms | ❌ | ✅ |
| Login Form | ❌ | ✅ |
| Action After Submit & Redirect | ❌ | ✅ |
When you upgrade to Elementor Pro, you're technically getting some additional Elementor add-ons to the existing free plugin.
That's it! Everything else stays the same.
So, you needn't worry if the upgrade will break your site or cause any other repercussions. It will be just fine!
While we will cover all the pro features a little later in this article, we'd like to start by mentioning the key differences between the free and pro versions.
Elementor Pro Adds More Widgets and Features
If you've been using the free version of Elementor, you'll probably be accustomed to the following widgets.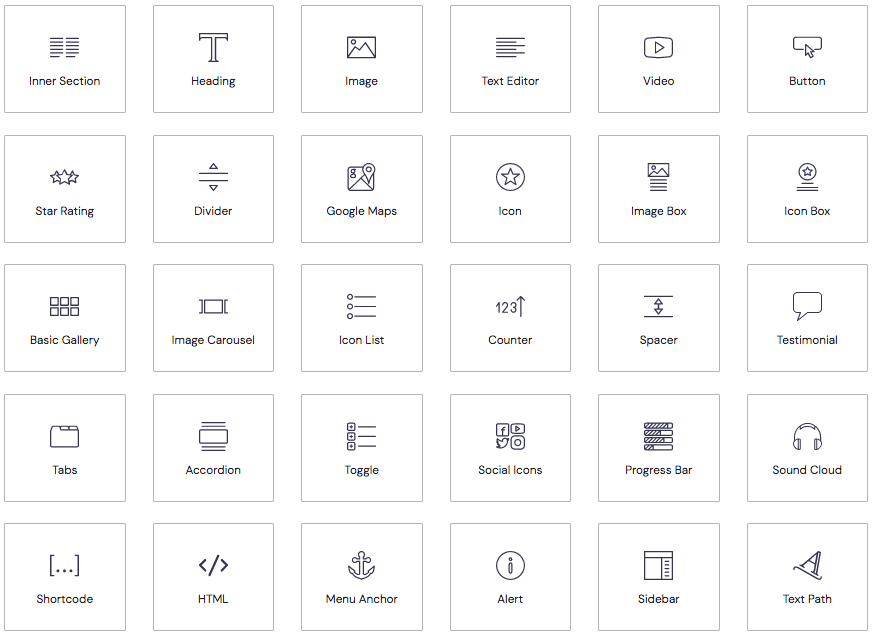 As you can see, there's plenty to get your teeth into.
Upgrading to the pro version increases the number of widgets that you can use. The image below indicates the additional pro features that are made available when you upgrade.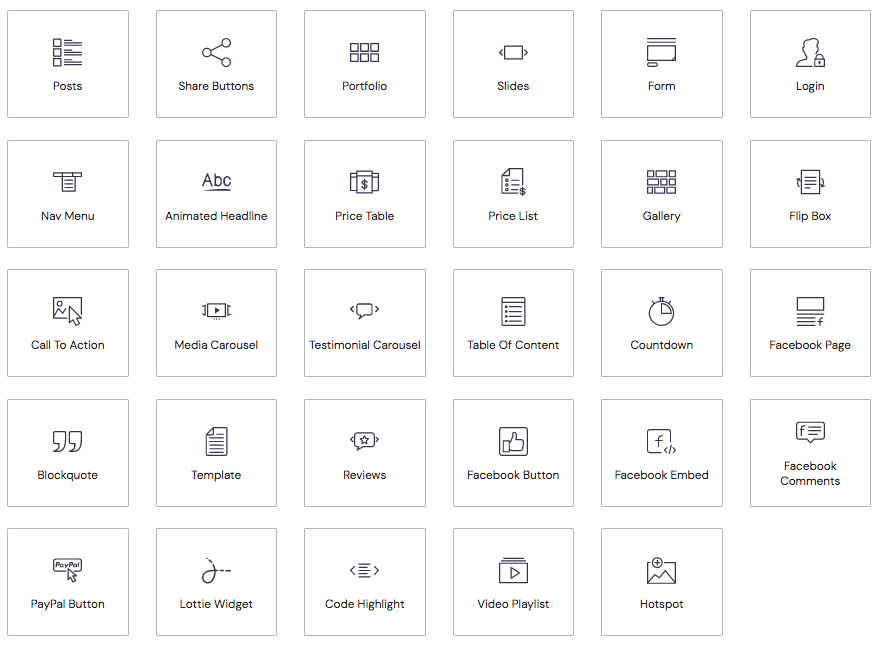 There's more. Here's a look at all the WooCommerce widgets available in the pro version.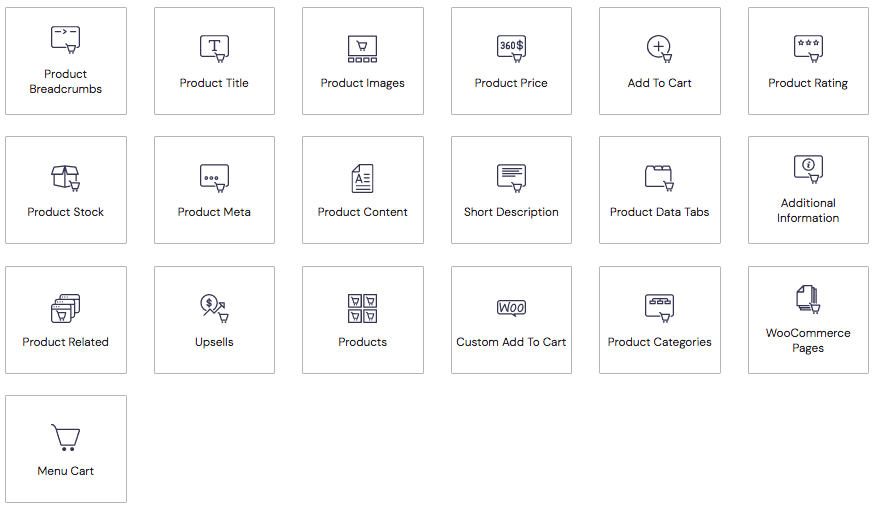 You wouldn't necessarily require all these widgets to build awesome-looking pages, but they can help create more functional designs and pages or speed up the process.
Additionally, by using the Elementor Pro version, you eliminate the need for some third-party plugins.
For instance, using the Form widget, you can build customized forms right from your Elementor interface instead of using a form plugin. Likewise, the Slider widget lets you include performance-optimized sliders, and the Posts widget lets you display your latest blog posts in a grid.
Here alone, you are avoiding the need to install three separate plugins.
Additionally, if you're running a WooCommerce store, you'll love the addition of a variety of WooCommerce-specific widgets.
While we are at it, do you want to create a WooCommerce store using Elementor? We've got a detailed guide on ​​how to build a WooCommerce website with Elementor and the Astra theme.
Elementor Pro isn't the only way to add more widgets, though.
A plugin like Ultimate Addons for Elementor also adds new widgets to the free version of Elementor (as well as Elementor Pro, if you have both).
Elementor Pro Unlocks the Full Template Library
Elementor comes with an extensive template library but the majority of them are restricted to Elementor Pro.
With Elementor Pro, you can use every single page template and block in the library.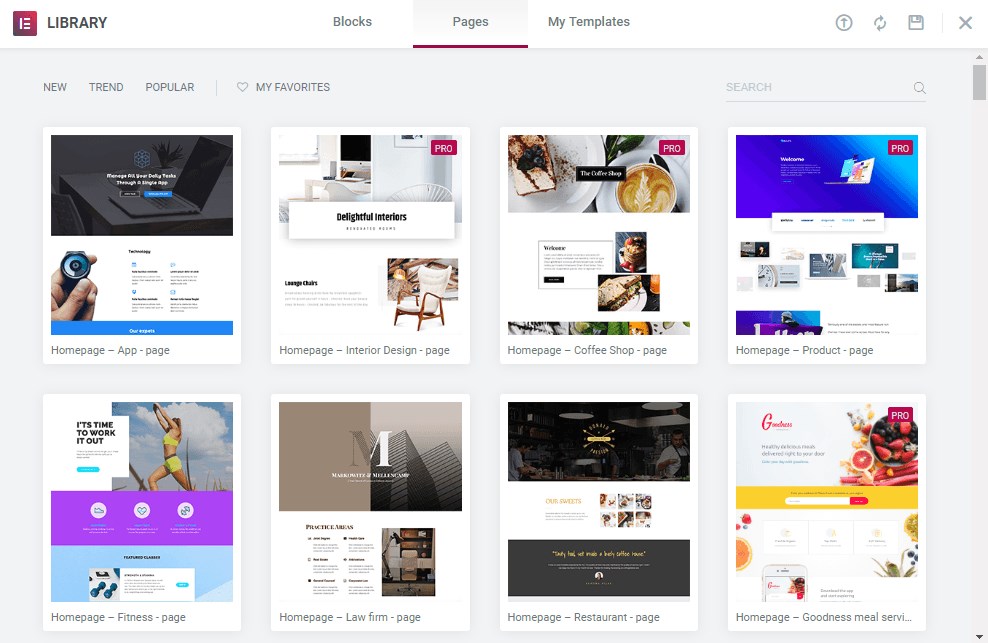 While this is a benefit, you can find plenty of additional templates for the regular version of Elementor without purchasing Elementor Pro.
For example, all of our website templates are built with the free version of Elementor. So if you use the Astra theme, you can still build amazing websites without paying for Elementor.
Elementor Pro's Visual Form Builder
We've mentioned this earlier, where you can do away with unwanted third-party plugins. Well, the Form Builder that you get with Elementor Pro is definitely worth mentioning.
Forms are an integral part of any website. Be it a personal website, corporate website, or an online store. Forms help your visitors get in touch with you, and in turn, help you collect leads.
Using Elementor Pro's drag and drop Form Builder, you can easily create forms.
Customize and build beautiful online contact forms in minutes. You can control every aspect of the layout and all your form submissions can be managed right within the Elementor dashboard.
Want to create a multi-step form? You know, the one where you capture data across a few steps?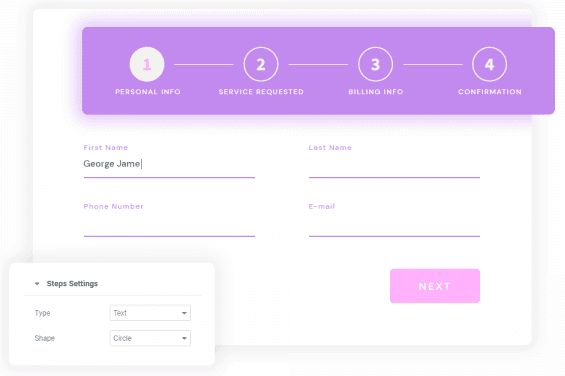 Easily create multi-step forms and improve the user experience using the Elementor Pro Form Builder option.
What's more, you can also integrate your online form with more than thirty marketing and automation tools, such as Zapier, MailChimp, ActiveCampaign and HubSpot.
Enhanced Customizations Using the Elementor Pro Theme Builder
Using the Elementor theme builder, you can control every element of your WordPress website.
From designing custom headers and footers to single pages and single posts, you can easily customize them all.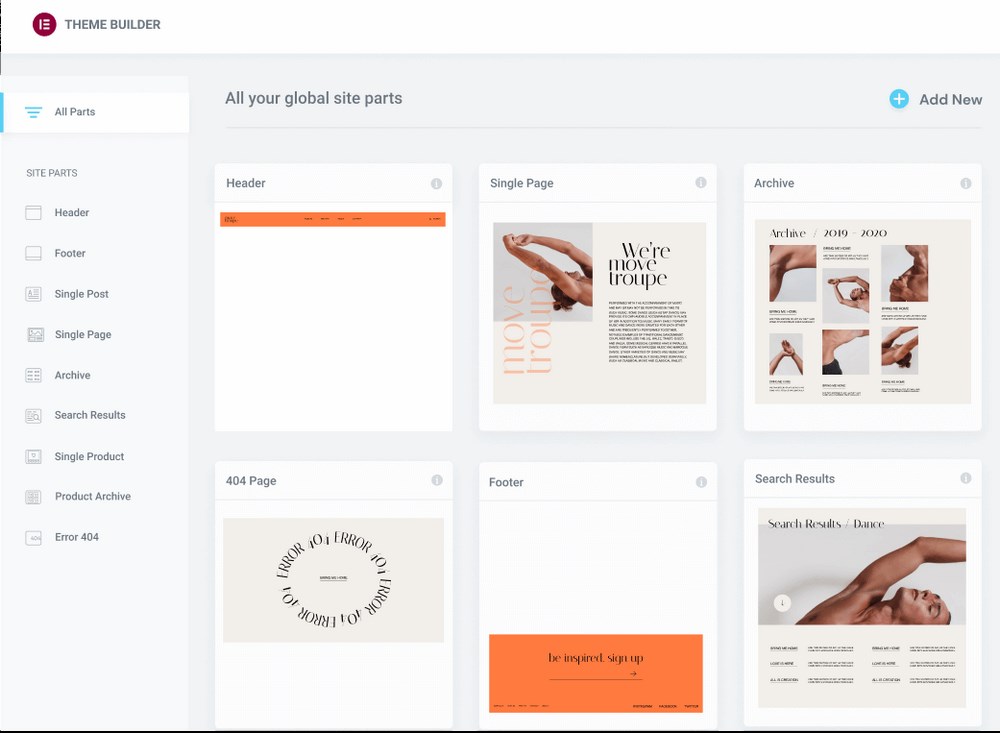 The best bit is, you can visually design them all without knowing how to code, irrespective of the WordPress theme you are using.
Using Elementor's WooCommerce builder, you can customize the layout of your online store too. Just make sure you are using Elementor WooCommerce compatible theme to make things easy.
Want to get creative with your 404 pages? Well, that's easy with the pro version.
If you want to build everything with Elementor, that's a powerful reason to choose Elementor Pro.
If you just want to create a custom header or footer for your site, you don't actually need the pro version. Astra Pro's Custom Layout module lets you design your own custom header or footer without the need for Elementor Pro.
So do all of those new features mean you need Elementor Pro? Well, it depends…
Elementor Pro Pricing
We now know the Elementor Pro version comes with many additional features and widgets to help improve your workflow. It does come with a price tag though.
While there is a variation in the price, it purely comes down to the number of licenses you require and the kind of support you are looking for.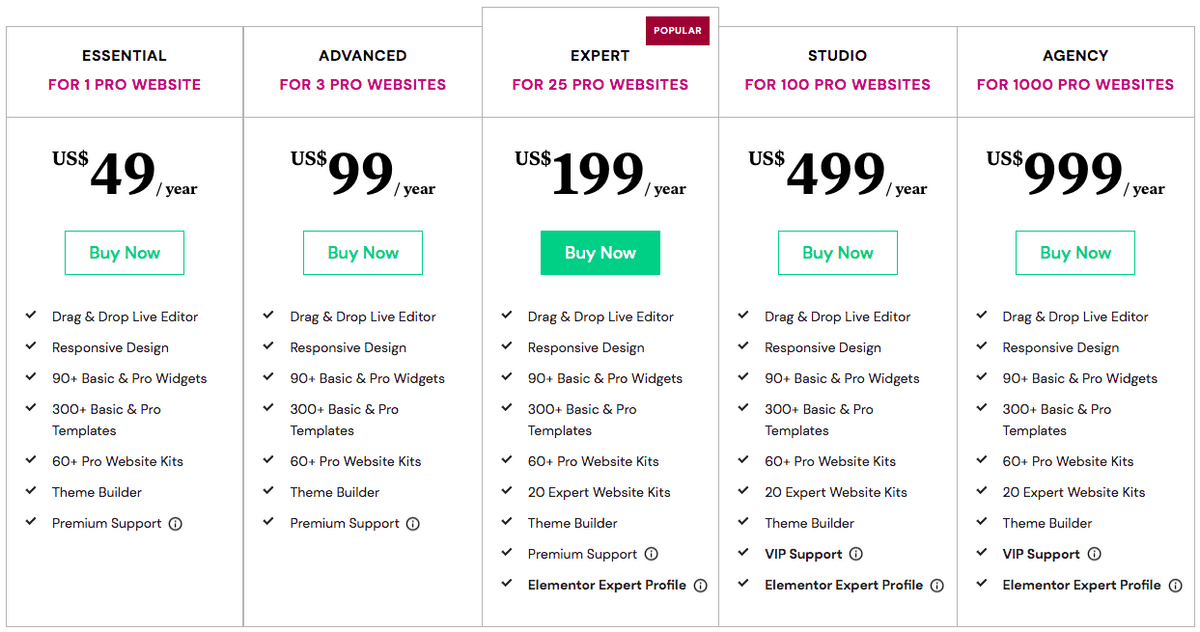 Let's look at the main difference between the various pro versions.
| | | | | | |
| --- | --- | --- | --- | --- | --- |
| PRO PLANS | Essential | Advanced | Expert | Studio | Agency |
| Price (per year) | $49 | $99 | $199 | $499 | $999 |
| Number of website licenses | 1 | 3 | 25 | 100 | 1000 |
| Support | Premium | Premium | Premium | VIP | VIP |
| Expert Website Kits | ❌ | ❌ | 20 | 20 | 20 |
| Elementor Expert Profile | ❌ | ❌ | ✅ | ✅ | ✅ |
Based on the above data, it's pretty evident that if you are working on only a single website, go for the Essential plan.
If you're working on multiple websites and need Elementor Pro for all of them, select a plan based on your requirements.
You'll Probably Be Fine With Elementor If…
If these apply to you, you'll likely be happy with just the free version.
You:
Just want to design some basic but good-looking content. That is, you don't need advanced widgets like pricing tables or forms.
Don't work with custom CSS very often. You'll still be able to add custom CSS classes and IDs, you just miss out on the live code editor for individual widgets and sections.
Are already using a flexible theme. For example, Astra Pro can help give you some of the functionality you'd get in Elementor Pro, like the ability to create custom headers and footers. Here are a few guides.
You Should Definitely Get Elementor Pro If…
If these apply to you, you'll probably want to pay for Elementor Pro.
You:
Plan to build more complex content and landing page design. The extra widgets really come in handy when you start getting outside basic pages.
Are using WooCommerce. WooCommerce widgets give you a ton of flexibility.
Like using your own CSS. Being able to add CSS directly to widgets and sections can really speed up your workflow.
Want to build your entire theme using the Elementor interface. Just remember to still pick a quality theme even if you're using Elementor's theme builder.
Like having access to all the templates. Still useful even though you can use Starter Templates with the free version of Elementor.
Plan to reuse the same widget across multiple pages. Global widgets will be your best friend!
Elementor Pro Main features
We did mention earlier the key difference between Elementor free and the pro version. We'll now get into some of the additional main features of Elementor Pro.
Full Theme Building Functionality
Post Builder
Elementor's Theme Builder lets you design your single post templates from scratch. You can design beautiful blog posts with Elementor Pro.
Want to use different layouts for different blog posts?
For instance, use different templates for a blog post, review post, product post, and so on. The custom single post templates that you create enable you to do exactly that.
With Elementor Pro, you can build your blog post template using dynamic widgets. This way, when you create a blog post, all your dynamic widgets get populated with the actual website content.
Header Footer Builder
Elementor Pro offers complete flexibility and control to visually design your website header and footer areas. This includes the sticky header and over 25 brand-new header-footer blocks that are fully compatible with just about any WordPress theme.
To edit your header and footer, simply head over to Templates > ThemeBuilder from your WordPress dashboard. Add a new template for either your header or footer.
You could either choose from a pre-built header (or footer) template or build one from scratch. Once you are done creating your header (or footer), you can choose where to display it, which by default is across the entire site.
That's how easy it is to create custom headers with Elementor.
While we are at it, you could also check out the Astra Header Footer Builder.
The Astra drag-and-drop Header Footer Builder gives you complete freedom to customize your website navigation without coding.
You can visually build any kind of headers and footers efficiently. While the header builder lets you add a logo, primary menu, secondary menu, buttons, HTML code, social icons, and more, the footer builder lets you add a footer menu, social icons and other widgets in the footer.
To use the Header Footer Builder, head over to the Astra welcome page (assuming you have the Astra theme installed and updated) under Appearance > Astra Options.
You'll notice a button that says 'Use New Header/Footer Builder.' Simply click on the button and start designing your header and footer.
Popup Builder
Popup Builder is an Elementor Pro feature. Using this feature, you can create any kind of popup. From lead capture forms, announcements, subscription forms, ad banners, exit intents, and so on.
Elementor offers pre-built popup templates that you can make use of in projects. You can choose to display the popup on specific pages using certain predefined parameters and triggers.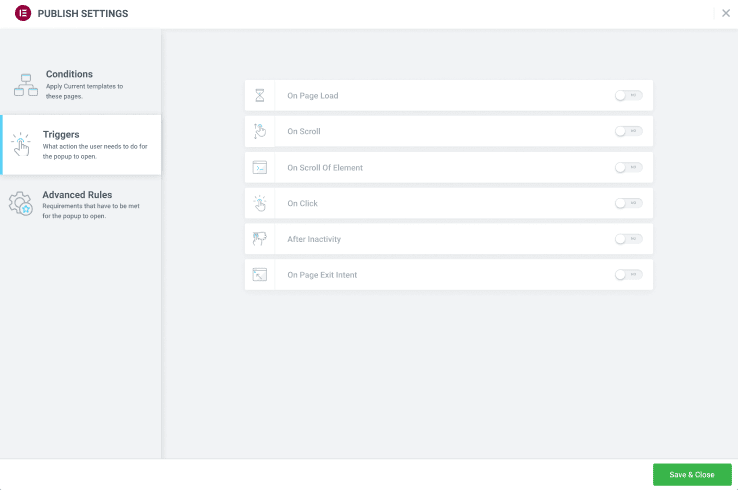 For instance, you can display a popup after a page has loaded completely. You can also display a popup based on customer action, such as a button click.
With Elementor Pro, you can also choose to display your popup as full screen, slide-in, or either on the top or bottom of the page.
WooCommerce Store Builder
Elementor WooCommerce Builder allows you to customize every part of your online store. You can visually create your single product page, archive product page, and other store pages, irrespective of the WordPress theme.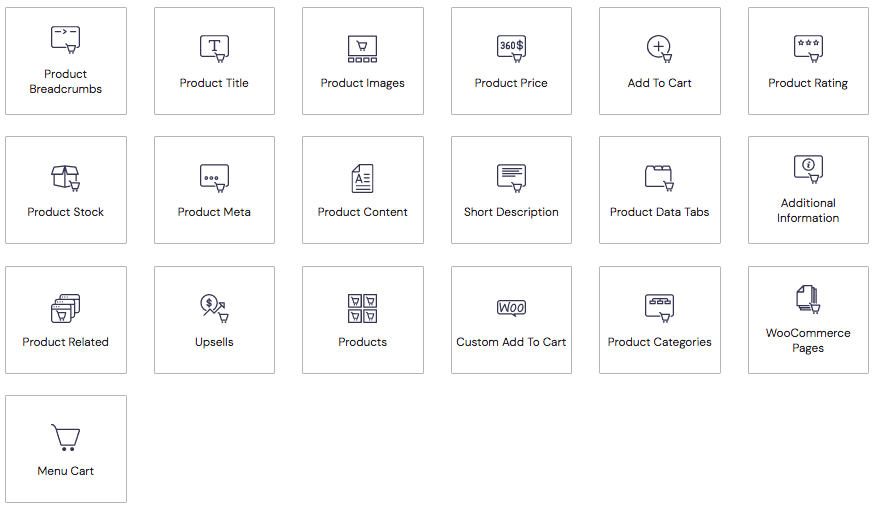 Drag and drop the WooCommerce widgets to customize your store just the way you want.
Some of the widgets that you can use for your product page include:
Add To Cart Button
Product Price
Product Title & Description
Upsells
Product Rating
Breadcrumbs
Product Stock
And many more.
You can also make use of some pre-built templates to create custom store elements.
Check out our list of Elementor WooCommerce themes.
Integrations
Using Elementor Pro, you can seamlessly integrate your favorite marketing and CRM tools to your website. From email marketing tools to third-party WordPress plugins and social networks, Elementor offers you a complete set of integrations.
Here's a partial list of some of the possible integrations with Elementor Pro.
Marketing Tools
AWeber
ActiveCampaign
ConvertKit
HubSpot
MailChimp
Sendinblue
Zapier
WordPress Plugins
LearnDash
MemberPress
Rank Math
Toolset
Tutor LMS
WooCommerce
Yoast
Social Networks
Google Maps
Facebook SDK
Slack
SoundCloud
Spotlight
Vimeo
YouTube
Premium Support
Elementor provides support to all its users. They've got a dedicated support team, articles, knowledge base and video tutorials. All of which can help solve your page builder-related issues.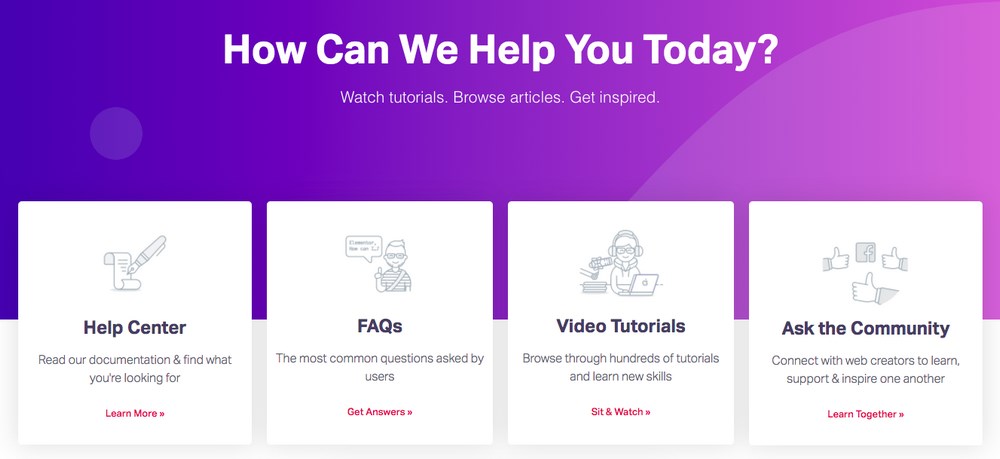 Need some extra help? Elementor Pro users enjoy premium 24/7 support, where your queries are addressed within a day.
There is also VIP support where you can chat live with the support team and receive responses on your tickets within 30 minutes.
While premium support is available with the Essential, Advanced, and Expert plans, VIP support is available only with the Studio and Agency plans.
Other Important Elementor Pro Features
Live Custom CSS
While the free version of Elementor lets you add custom CSS classes and IDs, Elementor Pro lets you directly add CSS styles to individual widgets or sections: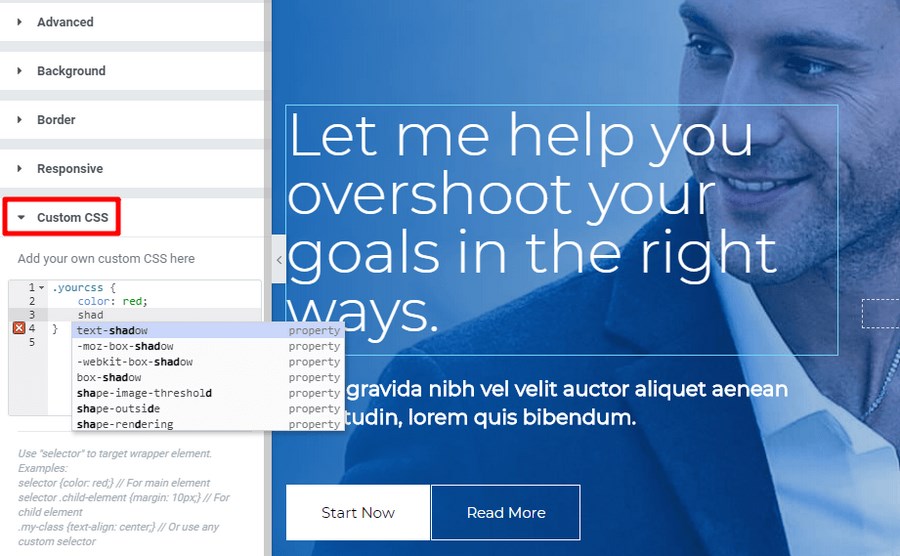 If you like to use your own custom CSS, this is a significant productivity boost.
Custom Fonts and Adobe TypeKit
If all the above features didn't excite you, here's another reason to consider upgrading to Elementor Pro.
With Elementor Pro, you can add your own custom fonts and Typekit fonts across your projects. Additionally, connect to Adobe Fonts and choose from hundreds of Google Fonts.
Want to use icons and upload your own SVG files? All that's possible with the pro version. You also get access to well over 5,300 amazing icons directly from your Font Awesome Pro license.
Motion Effects and Mouse Effects
Elementor Pro's Motion Effects is a powerful toolset that helps create fantastic motion effects and mouse animations.
Some of the effects that you can create using Elementor Pro are:
3D Tilt
Blur
Horizontal Scroll
Mouse Track
Rotate
Scale
Transparency
Web designers needn't incorporate custom code and external libraries to incorporate animations and motion effects using these effects.
Go ahead and bring your site to life using these powerful animations!
Global Widgets
Global widgets will save you a lot of time if you're planning to reuse the same widget on multiple pages.
Similar to saving a widget as a template, they let you quickly reuse the same design…but with a twist.
If you ever want to update a global widget in the future, any changes you make will automatically get pushed out to every instance of that global widget.
Sounds familiar? Yes, the Gutenberg block patterns allow you to do something very similar.
Embed Anywhere
Embed Anywhere lets you insert Elementor templates anywhere on your site using shortcodes or widgets.
For example, you could use this feature to design a CTA that goes in your site's sidebar via a widget.
Combined with theme building, this gives you yet another way to apply the Elementor interface to your entire website.
Elementor vs. Elementor Pro: It Shouldn't Be A Hard Question
Because Elementor Pro is an add-on for Elementor, you shouldn't stress about making this decision right now.
Just start with the free version of Elementor and see if it can meet your needs. If you ever feel limited, you'll be able to upgrade to Elementor Pro just by uploading the Elementor Pro plugin – there's no configuration process, and you won't lose any of your work.
No matter which version of Elementor you choose, the Astra theme is built to be both Elementor and Elementor Pro's best friend.
With Astra, you'll get:
A performance-oriented foundation to make your Elementor designs load crazy fast.
Flexible page controls that let you disable certain page/post elements, so they don't get in the way of your design.
Easy global style controls via the WordPress Customizer to more easily control how your Elementor designs look.
Learn more about why Astra is the best theme for Elementor users. Then, go create something extraordinary with Elementor and Astra!