Starting online businesses are all the hype nowadays. Whether you have a day job and want to sell your craft on the side. An influencer and want to sell merch. Or an established business whose sole focus is to extend the reach of your products. Selling them online is the best way to go.
But before you start, I'm sure you have one question in mind — How? How do I start selling online? What do I need to do? Is it expensive? What skills do I need to learn? And most importantly, how much would it cost?
And that's just what we're here for.
What Is eCommerce?
ECommerce is basically selling products online. Simple as that, right?
While technically selling your products on Facebook and Instagram or other platforms is part of eCommerce, it's much more than that. There are several hundred platforms online that you can use to either automate, expand, or simply process your online orders for your customers' convenience.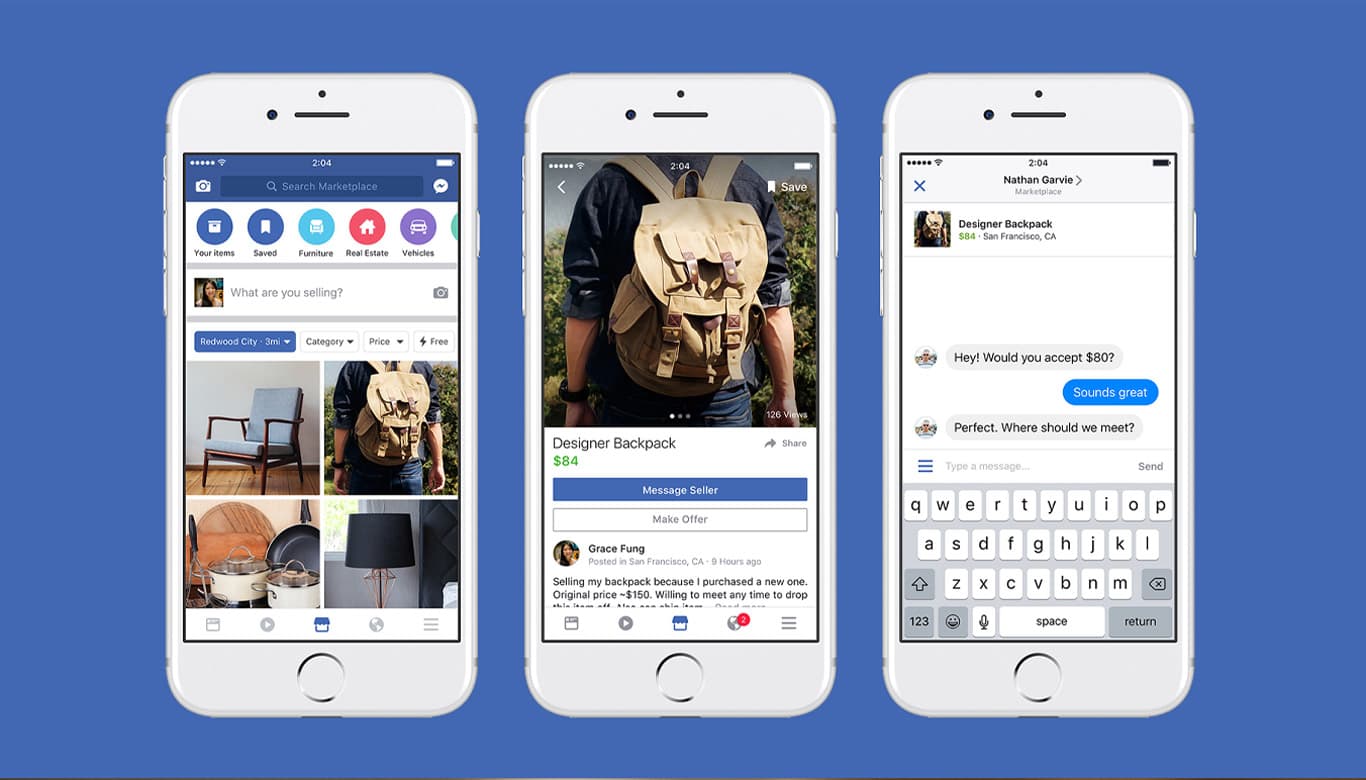 Most platforms offer excellent built-in functionalities, such as boosting your visibility online. Help you reach more people, help with inventory management, and also present your products in a way that engages your customers to buy, thus increasing sales.
But what is the best out there? Well, two come to mind, Magento and WooCommerce.
Where Do WooCommerce and Magento Come Into Play?
Magento and WooCommerce are two of the giants of the online selling world. And I'm sure you've heard of one or the other already.
Although they are quite similar in what they offer their users, they still have each of their unique features.
It's also pretty important to realize that one or the other may not be suited to your needs. There are individual differences that you need to take into account when picking your platform to use.
Although both Magento and WooCommerce are primarily dedicated to being an eCommerce platform, they're not built the same.
WooCommerce is not a standalone platform but needs to work off of a CMS, specifically, WordPress. As a self-hosted platform that offers a lot of flexibility and scalability, all on its own.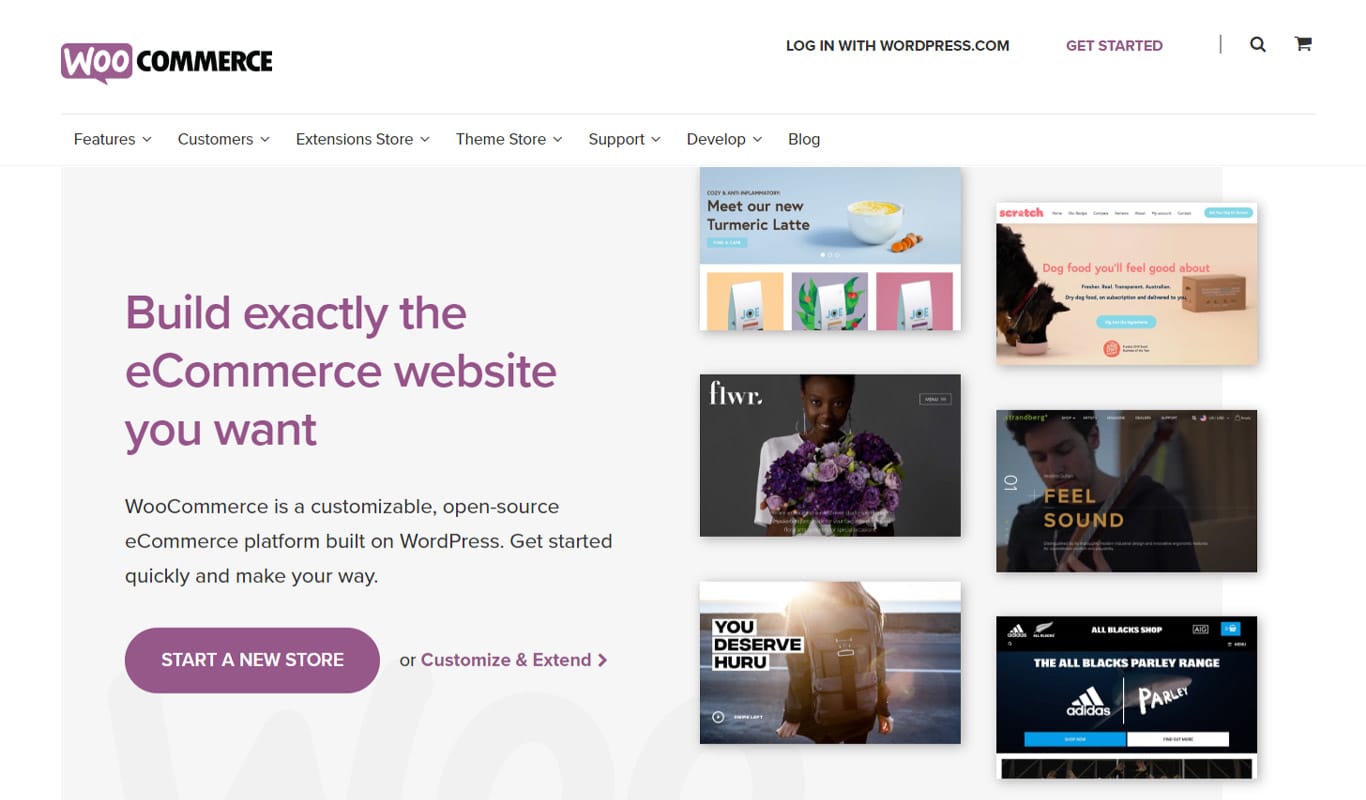 WordPress might seem like just a CMS dedicated to blogging, but it's expanded in recent years to be much more than that. It has become the go-to platform for anything web-related. From memberships to portfolios, even to, yes, you guessed it, selling online.
Magento, on the other hand, was built with eCommerce in mind from the ground up. It's solely dedicated to helping its users build their online store and succeed in owning one.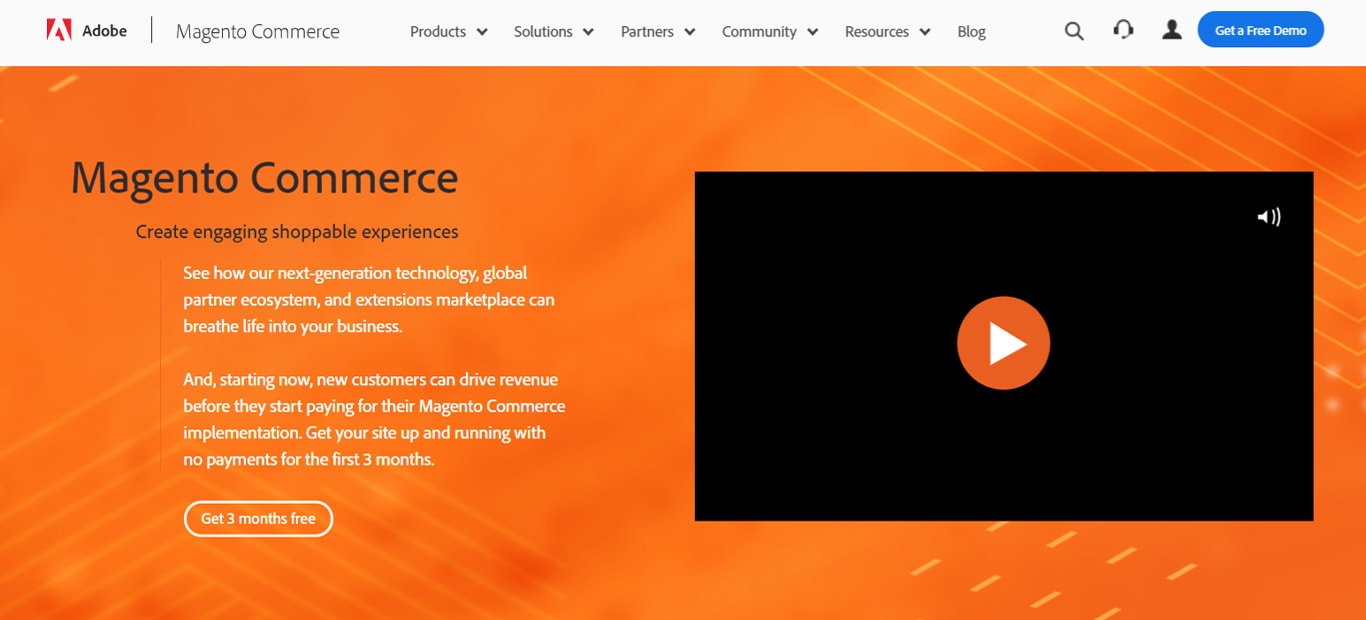 At this point, you might think that you already know what you need, but there's so much more to learn about these platforms. And we're here to explain everything and give our honest feedback! So here we go.
There is a lot to be said from both of these platforms. But we're sure that there's only a few that things you're looking at.
We've listed them out and have taken care of giving you the best information possible on the things that matter:
Cost/Pricing: Upfront and Running Costs — Which one is cheaper upfront and to keep running?
Usability: Ease of Set-up, Maintenance, Changes, and Updates — How easy is each one to set up, use, and maintain?
Scalability — Thinking forward, which platform is more suited for expanding and help your growing business?
Payment Solutions and Integrations — Is there an option to expand the current functionalities of the platform?
Support, UserBase, and Future-proofing — What is the future of each platform and how far-reaching are their user-base?
We know that these aren't all that can be said about these platforms, but those are what we will be covering for now. With how big these platforms are, it's difficult to categorize everything that they offer without getting into the extreme nitty-gritty of things.
But whether you're just planning on starting your online store, or are thinking of switching. These are the most critical pieces of information that you should know.
Magento vs. WooCommerce: A Quick Glance
At a glance, these may seem to be very similar, but diving into them reveals so much more about each platform.
Here's an overview of what we found:
Category

Cost/Pricing: Upfront and Running Costs

From $100 to $100,000 and more

Free to download




Hosting and bundled packages available starting out at $9 a month

Usability: Ease of Set-up, Maintenance, Changes, and Updates

Needs significant skill and time to set up.

Easier to set up

Scalability

Limited by hosting, but virtually limitless scalability

Limited by hosting, but virtually limitless scalability

Payment Solutions and Integrations

Easily available

Easily available

Support, UserBase, and Future-proofing

Very wide community of users, support for the free edition may be harder to come across

Very wide community of users, support is easily accessible.
Let's look into them a little bit more below.
Magento vs. WooCommerce: Cost and Pricing
Whether you're just starting or already have an established business, one of the key points that you're probably looking into is cost. Since, of course, turning a profit is one of the most important things with every business.
What people don't often realize is that there's so much more to it than just the upfront costs. People often get very shocked when they come to find out later on that they have to shell out more to keep the platform running than they intended to.
In this breakdown, we're going to be looking at both the upfront and the running costs of each platform. Whether they're worth it or not, and give our own verdict to where you're going to be more profitable in the long run, with all things considered.
Magento – the Total Costs:
How much does it cost? Simple enough question to ask, right? But that's not the whole story.
See, Magento, on its own, has several different editions, really depending on where it's from, who made it, and who supports it.
Their names change from year to year, but at the moment, they offer the following platform editions:
Magento Open Source (former Magento Community)
Magento Commerce (former Magento Enterprise)
Magento Commerce Cloud
Magento Open Source is a community based, open-source, and free edition of the platform. It's designed mainly for developers and small businesses. Similar to WooCommerce, which we're going to talk about further below, can be downloaded and used completely free of charge.
So that's it, right? Not really. While downloading Magento is free of charge, there's still the matter of setting it up and hosting it somewhere.
If you're not particularly experienced with developing a Magento site, you would have to shell out a few more dollars with coding, configuration, and hosting.
We're not going to sugarcoat anything here. You need to have a pretty decent amount of upfront investment to go with Magento. Since while the open-source edition is free to download, you still have to consider the cost of setting it up.
Here's a pretty detailed breakdown of the cost of setting up a Magento site from Cloudways.com:
Magento Pricing Breakdown
| | |
| --- | --- |
| Phases | Cost |
| Website Development by an Agency | From $25/hr |
| Website Development by a Freelancer | From $10/hr |
| Magento Development by the In-house Team | From $60,000/yr |
| Magento Themes | $0 – $200 |
| Magento Extension | $50 – $500 |
| Graphics and Brand Collateral | $10,000 – $18,000 |
| Domain | $10 – $500 |
| Hosting | From $10/month |
| SEO | $60,000 – $80,000/yr |
| Maintenance | $80 – $125/hr |
| Support | $30,000 – $40,000/yr |
It's easy to conclude that this is already pretty expensive, but the costs can still vary from location to location, specifically with regards to the development costs. If you have the time, or the skill set ready, then you can have significant savings.
Magento Commerce and Commerce Cloud do offer more advanced functionalities, especially for bigger merchants with larger turnovers. The main costs, however, of running these two editions depends solely on your gross sales revenue.
Magento Commerce and Commerce Cloud editions do need licenses to run and install, and they start from $22,000 and can go as high as even $190,000 per year for merchants who generate over $25,000,000.
Aside from those mentioned above, there are undoubtedly other features that we need to take a look at. Like the cost of the themes and extensions that they offer. As with any other, while there are extensions that are available for free, some can go as high as thousands of dollars.
You also need to take picking your themes into consideration, whose prices range from free to $200 and up.
In summary, Magento needs a lot more of your dollars even to start running. There may be ways to reduce those costs, but the bottom line is that if you want a top of the line running shop, you have to be prepared to shoulder the expenses.
WooCommerce is an open-source platform that is completely free to use. However, it does require a WordPress install to run on. Specifically, a WordPress.org (self-hosted WordPress) install.
In starting a WooCommerce site, you first need to have a WordPress site. Here are the things you might need:
WordPress Hosting
SSL Certificate
WooCommerce Compatible Theme
Domain Name
In total, these could cost an easy $100 on their own, but some hosting providers offer them in bundled packages for as low as $9. SiteGround is one of them. They offer bundled packages and even Managed WordPress hosting for those who want to keep everything taken care of.
Admittedly, it is a lot easier to have a WordPress install since it's almost universal and has a broader range of users. As mentioned, a lot of different hosting companies also provide packaged or bundled hosting services to help you save a lot more than you need to.
There are numerous free WooCommerce themes out there, but it's also still worth purchasing a streamlined theme for WooCommerce. It pays off in the long run when you're out there, finicking on how to make your WooCommerce site stand out and display correctly.
Astra is one of those themes. Astra is built with sales conversion, user, and customer experience in mind. Therefore giving you the best experience while managing your site and will surely help you out with increasing your sales.
Extensions are also something to keep in mind with WooCommerce. While it's hard to determine the actual costs of the extensions, the good thing about this is that there is almost always a free alternative to whatever you may need to use.
Unlike Magento, WooCommerce only has one edition, avoiding confusion and further costs for development.
Winner: WooCommerce
Magento vs. WooCommerce: Usability
While there are several other drag and drop eCommerce platforms out there, most of them do not even compete with the functionalities and features of Magento and WooCommerce.
Taking your eCommerce game to the next level will need a more robust platform like these two. But, even with that said, we still want to take into account how easy it is to use both of these platforms.
Aside from the initial set up, maintenance, changes, and updates may also be an important feature to look at.
Magento – How Hard Is It Really?
Magento is a platform built with eCommerce in mind. It's not always the friendliest ecosystem to use, especially if you're just starting.
On the flip side, it's packed with tons of built-in features right out of the box that is mainly built to help you succeed in the eCommerce space.
Most of the set up needs advanced knowledge in the platform and how it's built. Most hosting companies do not even offer one-click installs to set it up.
Installing the platform doesn't leave that much for self-learning and learning as you go. You need to either be versed in the actual platform or ask help from someone who does to be able to do it right the first time.
Once set up, you still need to offer most of your time to learn running the platform. There's also the matter of installing the extensions and customizing the theme. Most of this can be very challenging for beginners.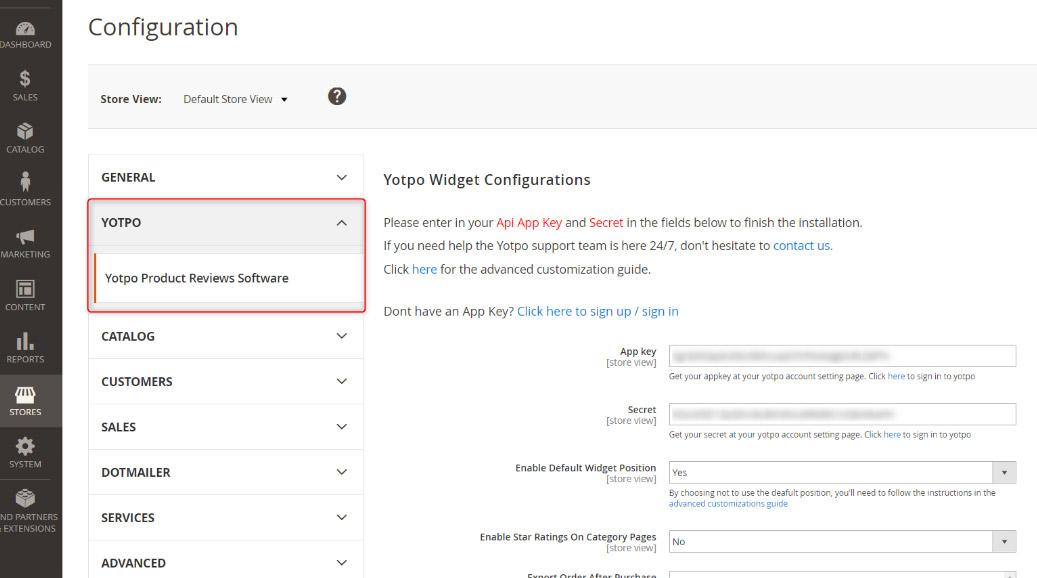 Although, since it's a very widely used platform, there is a lot of documentation available online. However, most of them are written for fellow developers.
Outsourcing the development of a Magento site is one common occurrence with business owners who solely wants to focus on starting their business. That option is undoubtedly the best that you can look into if you want everything to go right on your first try. But depending on where you are, it could significantly rack up the costs of running the platform.
Maintenance and updates have most of the same story. Unless you actually put in the time to learn the source code and learn how everything is set up, you would need to have someone who has the experience to do so by your side.
Overall, Magento is a very powerful platform for eCommerce. The fact that it's built solely for the purpose of selling online speaks volumes on its features. With regards to usability, though, you either have to shell out some dollars outsourcing the work. Or you have to put in some time with learning the platform yourself. Which, based on a quick Reddit search, isn't the easiest thing to do.
WooCommerce – How Hard Is It Really?
WooCommerce is also an open-source platform that is widely available and is free to use. It runs on WordPress and is easily installed and managed from there.
That's pretty much the whole story of WooCommerce. The only thing you need to learn is how to install WordPress. And the good news about it is that several hosting platforms offer Managed WordPress installs. They take care of everything for you.
Aside from the Managed WordPress option, a cheaper solution would be to simply purchase a hosting and install it yourself. Most cPanel based hosting solutions have a one-click installer for WordPress.
Once that's all set up, it's just a matter of installing the WooCommerce plugin. Most themes and hosting providers offer them built-in. But just in case yours doesn't, the guides are widely available on the WooCommerce website.
After that, it's just a matter of filling out the necessary information.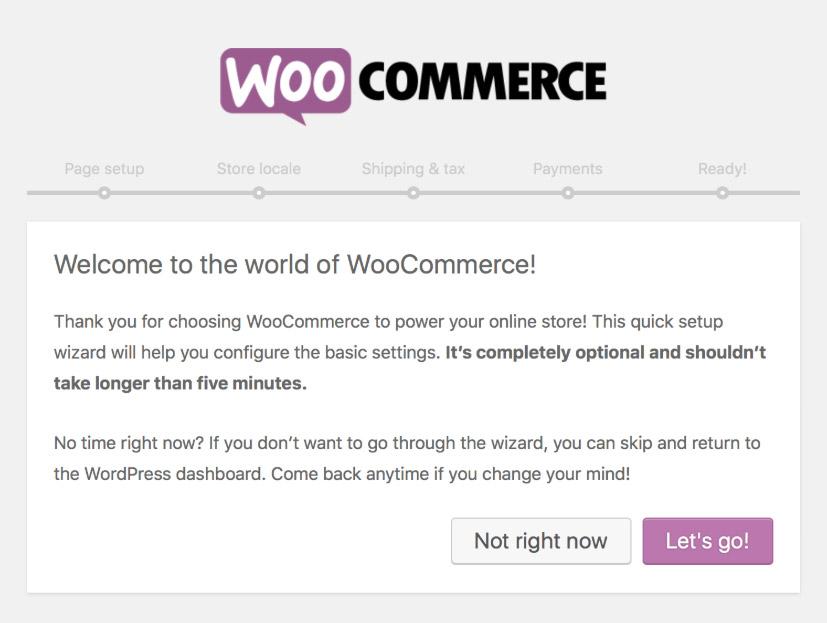 Extensions to WooCommerce are also readily available with each of their own documentation. They can be found either on the WooCommerce website, WordPress.org, or CodeCanyon.
Extensions are a way to improve and extend the features of WooCommerce and your shop. There are premium paid ones available, but since the user and developer base of this platform is exceptionally vast, there will always be free alternatives.
After the initial set-up, maintaining and making changes to your shop all entirely depends on your theme. You will be able to make all the necessary changes as long as you can do it with your theme.
Updates for WooCommerce are also done through the WordPress dashboard. It's far from the complications of Magento, but fair warning, you still need to be careful.
It's just a matter of making sure that you are always up-to-date with your backups before you update your site.
Even with those in mind, it's still leaps away from the learning curve that you have to go through to learn Magento.
Winner: WooCommerce
Magento vs. WooCommerce: Scalability
If you're considering using any of these two platforms, it is apparent that you anticipate the growth of your shop. Although these platforms are built for both the starters and the experienced alike, if you are considering these, you are confident with the potential growth of your shop.
With that in mind, you have to be sure that the platform you are selecting is suited for the job.
Let's see how suited both Magento and WooCommerce are for expansion.
Magento: Built to Grow
Magento is a platform built with eCommerce in mind. It's a powerful and vast solution to everyone who wants to expand their reach and sales online.
Scalability is certainly not outside of its reach. Once you're set up with Magento, scaling up is a breeze.
With the community edition, scaling up means doing everything on your own though. Now, we've already talked about the difficulties involved with this. But Magento is a very resource-intensive platform for the host.
Most likely, you will be offered or would have no choice but to upgrade to a dedicated server or a cloud hosting platform like Amazon Web Services.
While technically possible, the costs would definitely be a factor.
On top of that, since you are in charge of the overall site and maintenance, you have to properly optimize your website for caching, backups, and security. Outsourcing will be your best bet if you don't have the skills for these yourself.
If you're on the other editions of Magento, however, you would have to pay for the business and enterprise-grade solutions that they offer.
Without factoring in costs, scalability is not a problem with Magento. But of course, the main reason why you're starting an online shop is to earn a profit, right? That reason alone is why we thoroughly explained the amount of money you would have to shell out for this.
WooCommerce: Built to Grow
While WooCommerce has most of the same scalability as Magento, your choices are wider. And your costs are way lower.
Scaling up your WooCommerce store is basically just a matter of if your WordPress hosting's resources can handle it.
As your shop grows, so does your traffic. An increased number of people visiting your site and making transactions and purchases. All of which adds up to use up all your hosting server's resources.
The good thing about this is that most hosting providers offer a variety of solutions, up to and including getting your dedicated server.
But before you even get there, the lower tier plans are surely enough for simply selling your products online. There are also hosting providers that give you the option to have unlimited bandwidth and visitors at a much lower cost.
The need for upgrades solely depends on how your site is set up. But even with the fanciest of WooCommerce sites, you're still looking at a lower spending than you would with Magento.
You basically have so many options out there because, unlike Magento, hosting providers do offer a broader set of packages for WooCommerce.
If you don't want to keep worrying about backups and updates and the like, there are also Managed WordPress options from providers like LiquidWeb, SiteGround, and WP Engine.
They make it extremely easy to grow and scale your WordPress-WooCommerce sites.
Aside from that, if you feel like you don't have the time to do all these, generally, outsourcing WordPress development work is comparatively cheaper than Magento.
Winner: WooCommerce
Magento vs. WooCommerce: Payment Solutions and Integrations
One important thing to look into when picking your eCommerce platform of choice is being able to accept payments. As well as how.
Both platforms offer a wide array of payment solutions available and are very similar in both aspects. But we still decided to break them down for you below.
Magento: Payment Solutions
Magento is an extremely versatile platform, offering a robust solution for anyone who wants to spend the time and resources running one.
It's built to handle anything eCommerce. That includes its vast options when it comes to payment gateways and merchants.
It comes pre-built with Authorize.net. PayPal, bank transfer, and even Cash On Delivery.
If those aren't your first choice, they also have extensions available for Stripe, 2Checkout, WePay, Google Checkout, and so much more.
If you have a merchant that is somehow not yet supported by existing extensions, Magento's APIs allow developers to integrate them effortlessly. You can either learn it yourself or hire someone who can do it for you.
It's not a question of what, but a question of how when it comes to Magento.
WooCommerce: Payment Solutions
WooCommerce is a powerful open-source platform for eCommerce. With all that power, payment solutions are certainly not out of the question.
So much like Magento, out of the box, WooCommerce offers PayPal, bank transfer, and cash on delivery.
If those aren't enough for you, there are extensions available for almost anything out there. With how widely used WooCommerce is, someone's bound to need the same thing as you.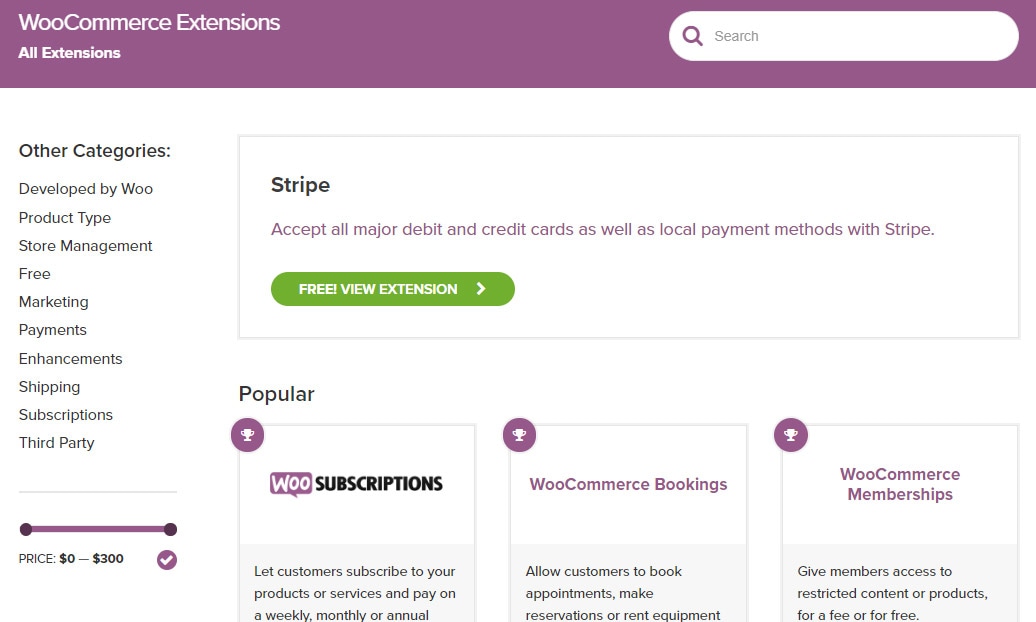 Just in case an extension isn't available yet, your merchant is probably more than happy to prepare an extension for you.
That is the beauty of using platforms that are used by a majority of online users.
Since both of them offer almost the same solutions out of the box and the capabilities to extend them, there isn't much competition in this category.
Winner: Tie
Magento vs. WooCommerce: Support, User-Base and Future-Proofing
With both of these platforms offering almost the same functionalities across the board, I think it's essential to talk about the nitty-gritty of things.
The support, user-base, and future-proofing of these two platforms are important things to take into account.
Keeping your business online is very important, considering that it may be your sole source of income.
It's also important to know when and where you'll look to for help, the community, and what it's future looks like. Just to make sure it doesn't suddenly drop off the Earth.
Magento: Support and the Community
Since Magento has both a community and managed editions, the way you can get support for each of these differ.
With the community edition, you're better off just doing your own research and perhaps hiring someone to help you out. If it's a known bug of the platform, there are ways you can report it.
The Commerce and Commerce Cloud editions, however, do offer support via their website. The level of support you will get, of course, depends on pricing tier that you're on. But we'd imagine there isn't much difference with how they treat one or the other.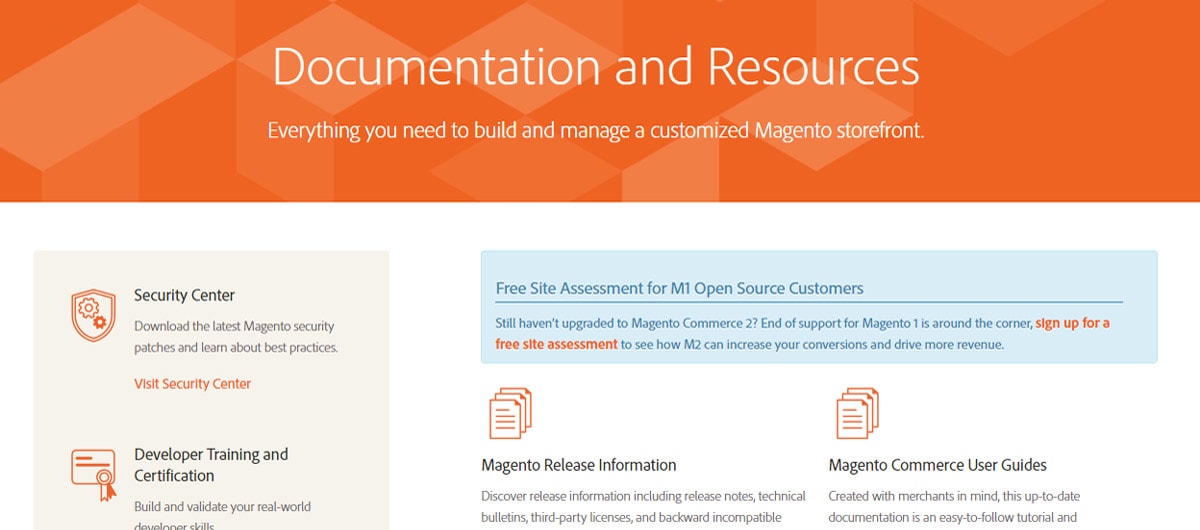 In any event, all of its editions do offer you a choice to submit support tickets if you want to address something specific to the developer's side of things.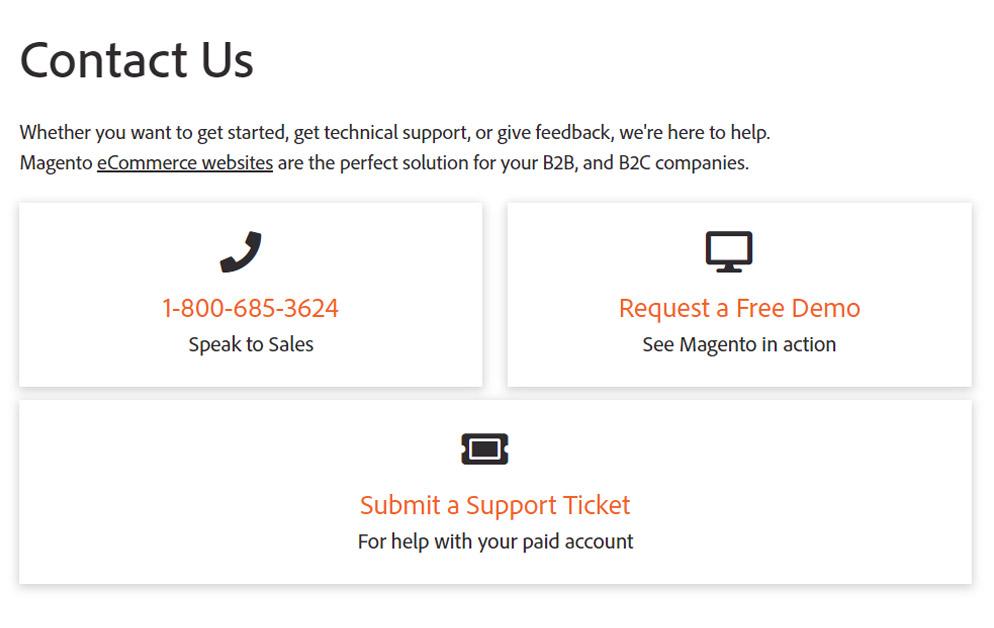 As far as the community is concerned, it's not called a community edition for anything.
Magento does have forums and a vast community dedicated to helping one another and improving the platform. Most of these communities, however, are developer-centric and maybe a little hard to understand if you're just starting out with all this.
But the fact that developers around the world are essentially taking the time to learn the platform means it's future is secure.
On top of that, you know exactly where your files are and where they're hosted. So you don't have to worry about it suddenly just disappearing.
Although the support solutions may be a little hard to reach on your own, the community and the future of the platform are undoubtedly strong.
WooCommerce: Support and the Community
WooCommerce is a platform that basically lets you do everything that you want with your online shop. Support and community discussions are no different.
You can find help readily available with their vast documentation from their own website. The level of detail that is available on the website is to the point that even someone close to a beginner can understand and execute the fixes.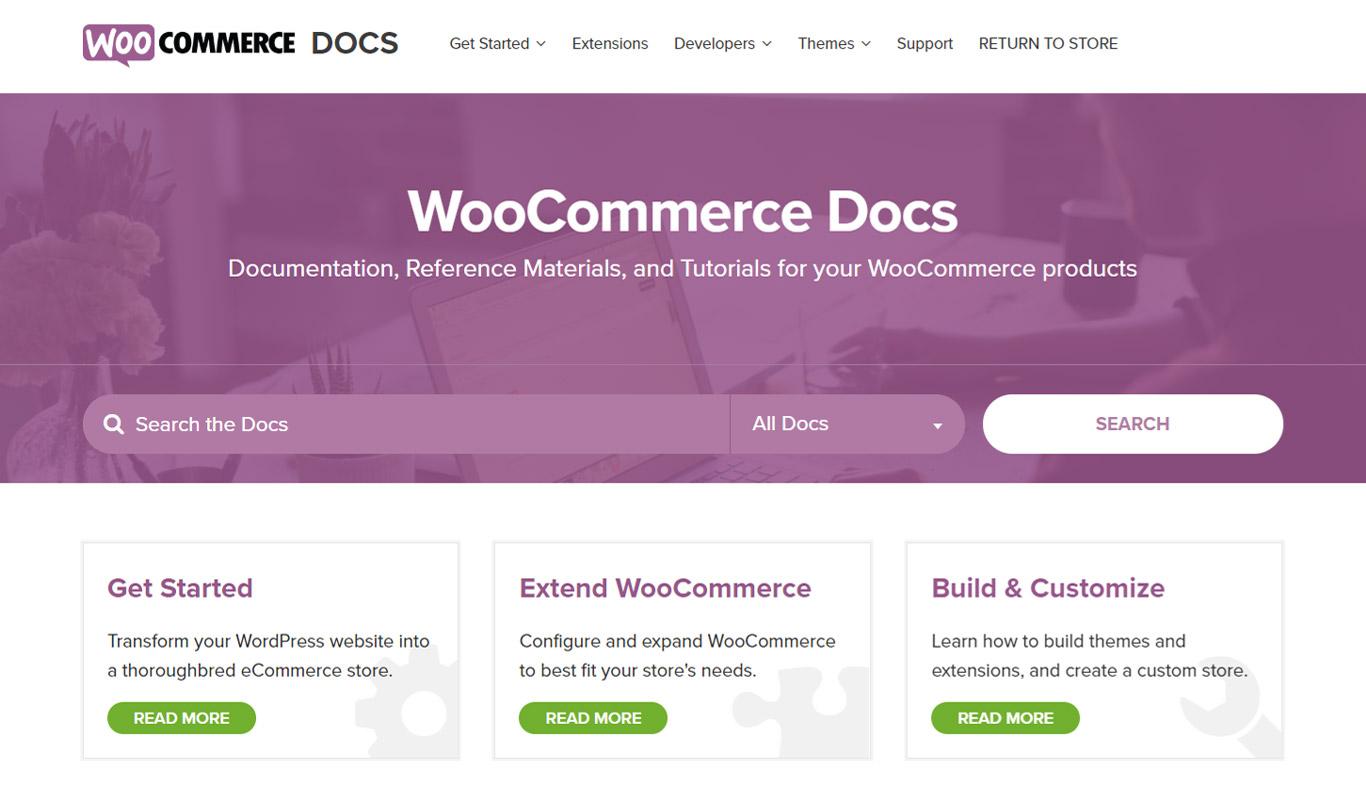 If you can't find the help that you're looking for from there, there's always the community forums.
If you find something that may not be right with the platform, you do have an option to contact the developers directly.
As far as the future of WooCommerce is concerned, it's rock solid. With 28% of the world's online shops powered by WooCommerce, the incentives for new developers and third-party platforms to keep supporting it are immense.
As far as extensions are concerned, you would have to reach out to the individual developers of the extensions.
It's a difficult call, but with simplicity in mind, we've made a close decision.
Winner: WooCommerce
What Is the Best eCommerce Platform?
Magento and WooCommerce are indeed very close in features to call a winner. And before we do, it's still important to remember that it's best to pick a platform that suits your needs.
If you're considering powering an established online store with everything you have, Magento is the clear winner for you.
With its extensive features' list, you can't go wrong. You won't go far without finding a solution for what you need. With the use of extensions, your expansions are essentially guaranteed.
But if you're looking into just starting out and just wanting to put your products out there, WooCommerce is your solution.
Don't fret about expanding; however, it's still quite powerful. Scalability and expansion are in your hands, and the cost is minimal.
WooCommerce is our preferred platform for selling online. From cost to looking out for its users and listening to feedback, you can't go wrong. Powered by WordPress, it's not something that's going away any time soon.
Astra for WordPress and WooCommerce: The Best WooCommerce Theme
Astra is a WooCommerce – WordPress theme built with your sales conversion in mind.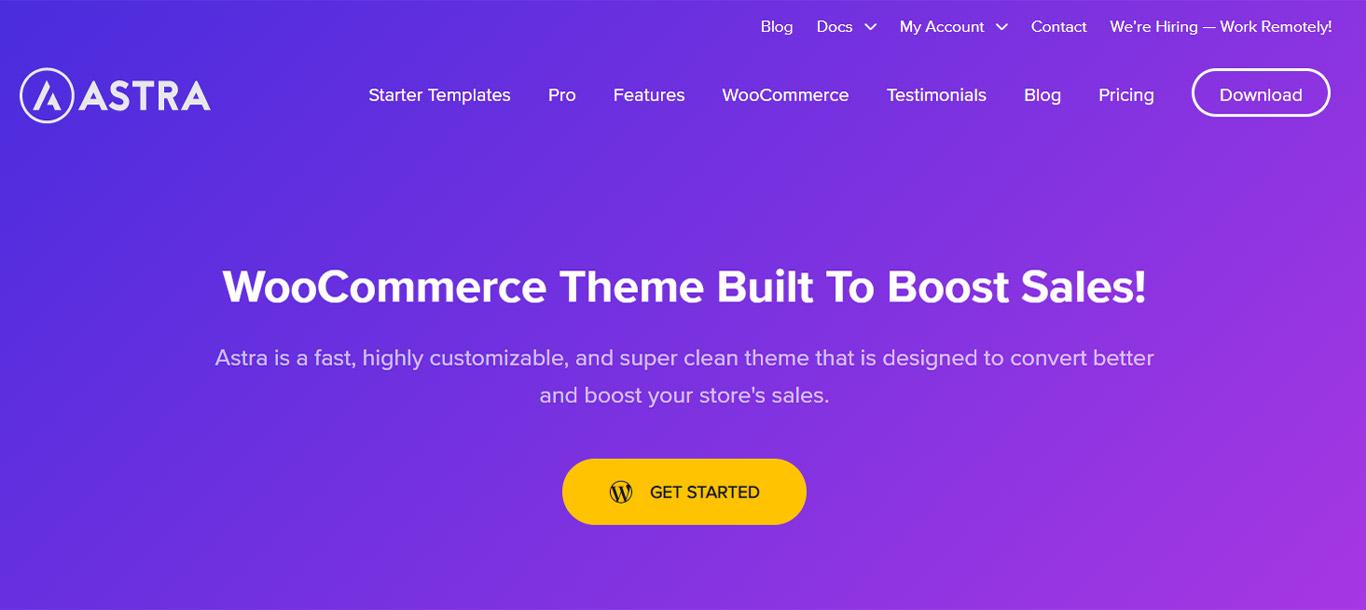 With features like:
Code optimized for speed and user experience.
Code-free customizations for easy development.
Rock-solid core.
Security focused.
There's barely anything else that you would need.
We offer a multitude of pre-built sites so that you can easily set up your own. And have your future in mind with a responsive and dedicated support team.
So if you're looking into starting out your online shop, you already know those basics. And Astra will surely help you on your way to success.