If you're looking to create an eLearning website then you need the best LMS theme for your WordPress website.
An eLearning website allows you to share your knowledge and enthusiasm for a specific topic and makes eLearning possible.
You can structure it the same as a class, with lessons, optional reading, quizzes, and other learning methods.
Using a suitable WordPress eLearning theme, plugins, and tools, you can create a powerful learning website where you can offer classes and training and potentially earn money while you do it.
A WordPress LMS (Learning Management System) theme is a crucial aspect for educational institutions to manage and deliver their courses online.
The theme should be responsive, allowing students to access the content from any device, and extensible to accommodate the growing needs of the organization.
In addition above, the theme should have the ability to manage courses, quizzes, students, staff, and teachers, with ease. It should also have integrated reviews, testimonials, pricing tables, accordions, and events, to provide an all-encompassing solution for educational institutions.
A good WordPress LMS theme should cater to the needs of both tutors and students, ensuring a seamless learning experience.
This article will explore some of the best themes available for your WordPress eLearning website to get you started.
Each of these has been designed with eLearning in mind, so they are perfect for businesses, online colleges and universities looking to provide valuable learning online.
But before we start, let's take a quick look at the idea of a learning management system.
What is a learning management system?
A learning management system (LMS) is a software application – a web based technology that provides the framework to deliver structured learning in the same way you would get in the classroom.
Think of it this way…
You're a teacher with a deep interest in graphic designing and programming who wants to teach online by selling courses.
An LMS allows you to share content, videos, audios, classroom sessions, assignments, and training in an online form.
The global eLearning market is expected to hit $350 billion by 2025. Thanks to the steady improvements in technology, learning is no longer something that has to occur in a classroom.
The rapid growth of learning platforms allow millions of people worldwide to educate themselves online from the comfort of their homes.
WordPress LMS themes to build your eLearning website
Statistics show that since the year 2000, the digital learning industry has grown by 900%, making it the fastest-growing market in the education industry by a large margin.
Building a website with WordPress is simple.
Instead of paying a developer to build your website or spending countless hours working on it yourself, you can use a theme to create the same result in far less time.
These themes are created specifically to help you manage and deliver online learning content to your students with minimal effort.
What to look for in an LMS theme?
You need to consider a few essential factors when choosing an LMS theme.
Intuitive user interface
If your website has an intuitive user interface, every member of your eLearning team can use the site to create meaningful online training videos, courses, and lessons.
For the learners who are on your website, an easy interface makes the work much simpler for them and enables them to expend maximum effort on learning.
Easy customization
Building and running an LMS website is not an easy job. They need to be updated regularly with new content, courses, training videos, and other elements.
Here, a theme with easy customization saves so much time and effort.
The simpler a theme is to use and personalize, the less time you'll spend doing that and the more time you can spend being productive.
Responsive design
With over half of web users on mobile, any theme you use has to have their needs in mind. That is expressed as responsive design. A responsive WordPress theme will automatically adapt to different screen sizes without compromising the user experience.
Having a mobile-friendly WordPress theme allows you to offer online training courses accessible on any device.
Smooth integration with LMS plugins
Not all WordPress themes will play nicely with LMS plugins. Therefore, it's essential to make sure any theme you choose will work.
That could be as simple as offering readymade templates with learning in mind to special features designed to accommodate the unique needs of LMS.
15 best WordPress eLearning and learning management system themes
Let's explore the best learning management system themes that you can experiment with.
Here's a quick breakdown of the five best WordPress LMS themes in this post. While each theme is worth exploring, we have selected the cream of the crop to help your platform grow.
| | | |
| --- | --- | --- |
| Theme name | Pricing | Our Rating |
| Astra | Free / From $49 per year | ⭐⭐⭐⭐⭐ |
| MasterStudy | $69 per year | ⭐⭐⭐⭐ |
| Eduma | From $69 per year | ⭐⭐⭐⭐ |
| Zakra | $69 per year | ⭐⭐⭐⭐ |
| WPLMS | $75 per year | ⭐⭐⭐⭐ |
Discover top-rated WordPress LMS themes for online courses and e-learning websites.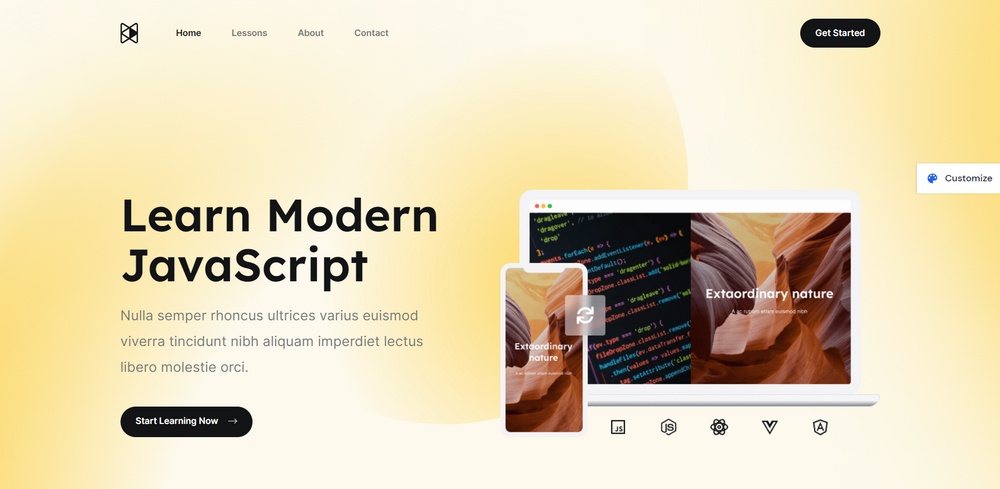 Astra is a fast and lightweight multipurpose WordPress theme that works great for LMS websites. The theme is available with the free Starter Templates plugin that offers several pre-built LMS templates.
Those templates are professionally designed, lightweight and load fast. All without compromising the visitor experience.
It's a powerful and flexible theme perfect for any eLearning platform. The theme includes a built-in drag-and-drop page builder, making it easy to create pages and sections without learning to code. It is fully compatible with most WordPress LMS plugins, especially LearnDash and LifterLMS.
Astra's LMS templates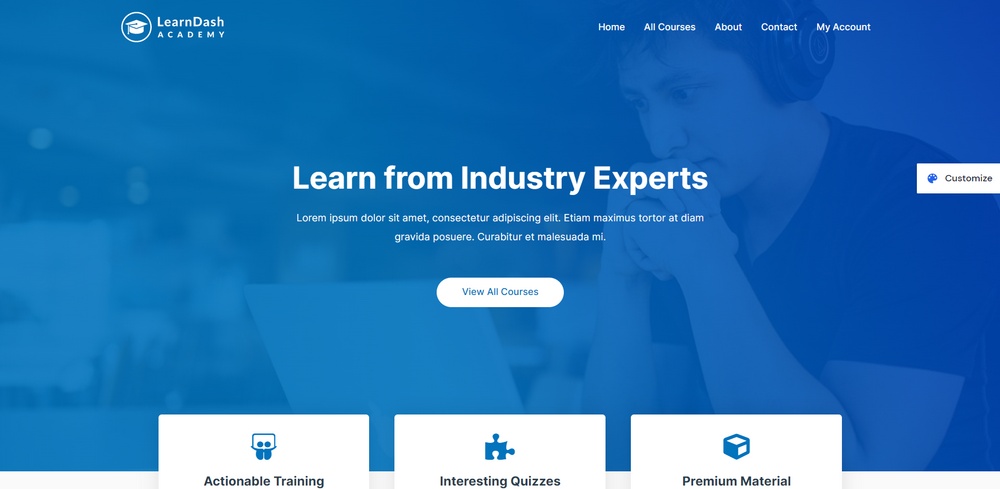 The LearnDash Academy template is a beautiful design for LMS websites. It provides an impressive blue layout with great use of white fonts, simple menu, and space for your logo. The template is highly responsive and offers excellent performance.
You can easily showcase all your popular courses. It also allows you to add training, quizzes, and material sections on the homepage. The template is designed with simplicity and only includes necessary elements.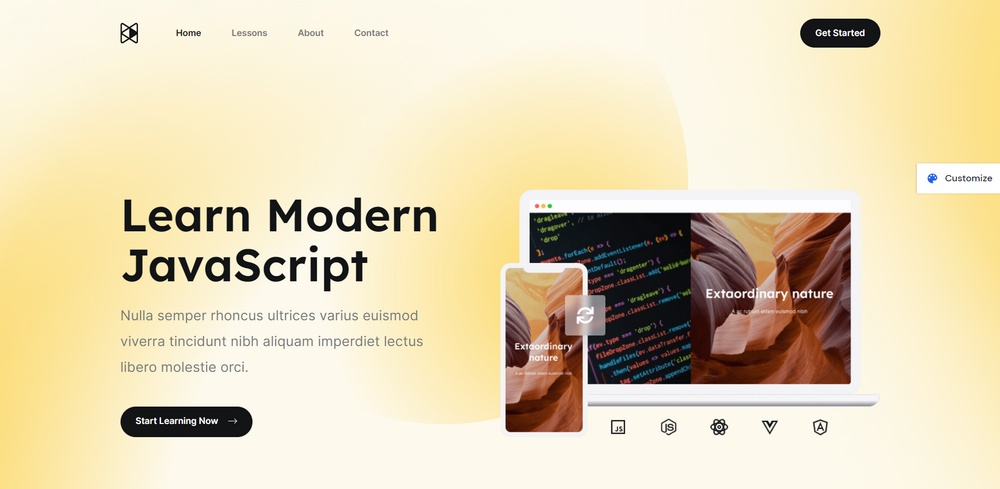 The eCourse template offers a beautiful yellow design with strong black bold fonts to present your LMS website in a visually appealing way. It is perfect for offering online courses and can be easily customized to suit any particular nice. The template provides pre-built lessons, about, and a contact page.
The template allows you to showcase your courses, the teachers or instructors, a section defining the system, and a pricing section for each class. It is a fully responsive template with fast-loading pages.
Pros of Astra:
Fast and lightweight theme
Offers great responsiveness
Easy to customize
Compatible with most page builders
Fully compatible with LMS plugins
Cons of Astra:
Selecting from numerous options can be confusing
Astra Pricing
Astra has a free and a premium version starting from $49 per year.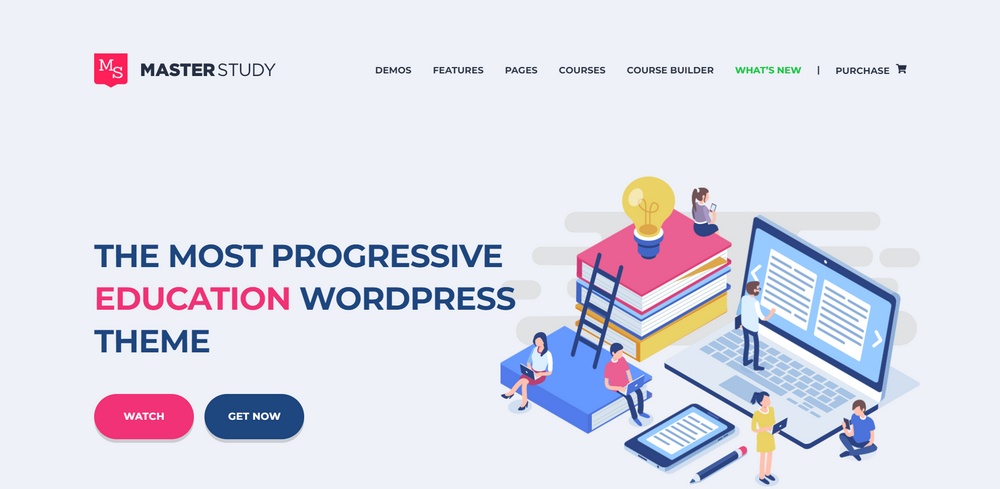 Masterstudy is one of the most popular eLearning WordPress themes and offers pre-built website demos to build all types of learning websites. It is a responsive theme that helps you build a fully functioning LMS website without using any extra plugins.
It is made using the Masterstudy LMS WordPress plugin, a course builder tool simplifying the process of creating online learning content. Masterstudy offers a front-end course builder and options for quizzes and results, student assignments, drip content, course attachments, and course announcements.
Pros of Masterstudy:
Requires no extra plugins
Includes a course builder
Multiple pre-built demo websites for any online course website
Compatible with most page builders
User friendly interface
Cons of Masterstudy:
Customization can be more difficult than other themes
Masterstudy Pricing
Masterstudy is a premium theme costing $69 per year.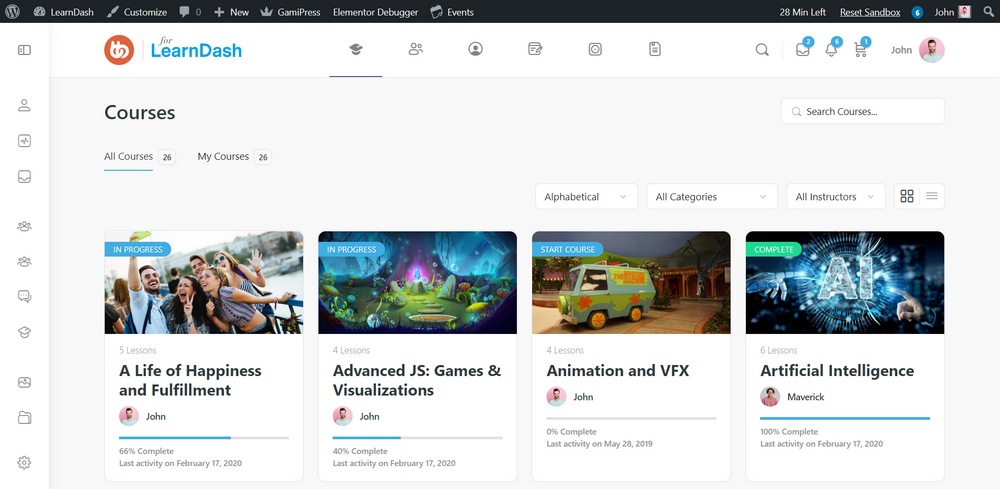 The BuddyBoss WordPress theme is used by some of the top online course websites. The theme is built to take full advantage of the popular LearnDash LMS plugin and can function as a complete WordPress learning management system solution.
It has a customizable learner dashboard assuring that the student gets all the information they need at a glance. It offers drip-feed content with form discussion sections too for extra engagement.
You can build the website with a drag and drop page builder and the theme is compatible with most LMS plugins.
Pros of BuddyBoss:
Offers multi-tier courses and advanced quizzing
Simple management of assignments
Intelligent course builder
Compatible with most WordPress plugins including WooCommerce and LearnDash
Easy to use interface
Cons of BuddyBoss:
BuddyBoss Pricing
BuddyBoss is a premium WordPress theme available for $228 per year.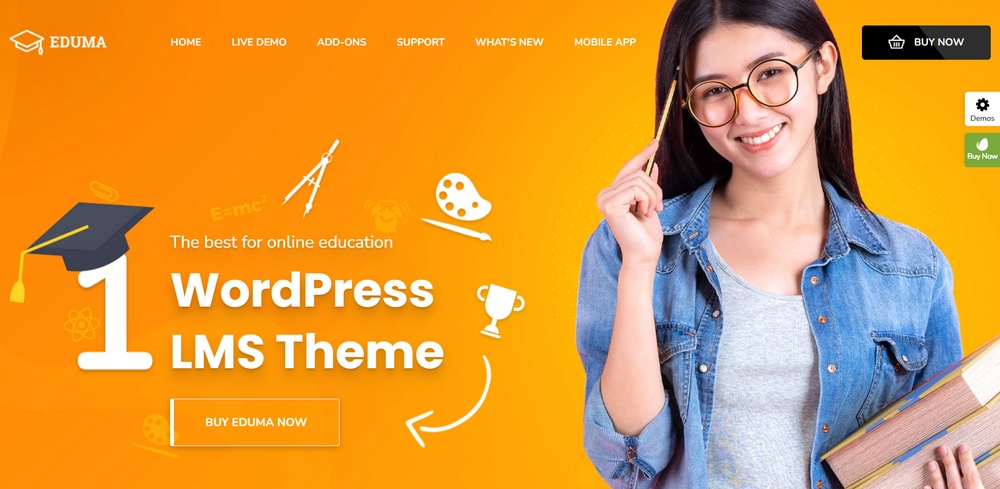 Eduma is a responsive online education, coaching, training, teaching, and learning management system theme. It's fully compatible with WordPress and the Elementor page builder to help you build your online website with ease.
Eduma is compatible with most WordPress plugins to build a robust learning website and offers 20+ demos with a highly intuitive interface and straightforward customization.
The theme offers one-click demo data installation and 5-star customer care. You can select from a library of the pre-built website content, a design that's right for your project, and everything you need to create your website.
Pros of Eduma:
Offers simple LMS courses management
Integrates with many international payment gateways
Compatible with most WordPress plugins, including WooCommerce
Fast and reliable support
Highly responsive theme
Cons of Eduma:
Lacks detailed documentation
Eduma Pricing
Eduma only offers a premium version for $69 per year.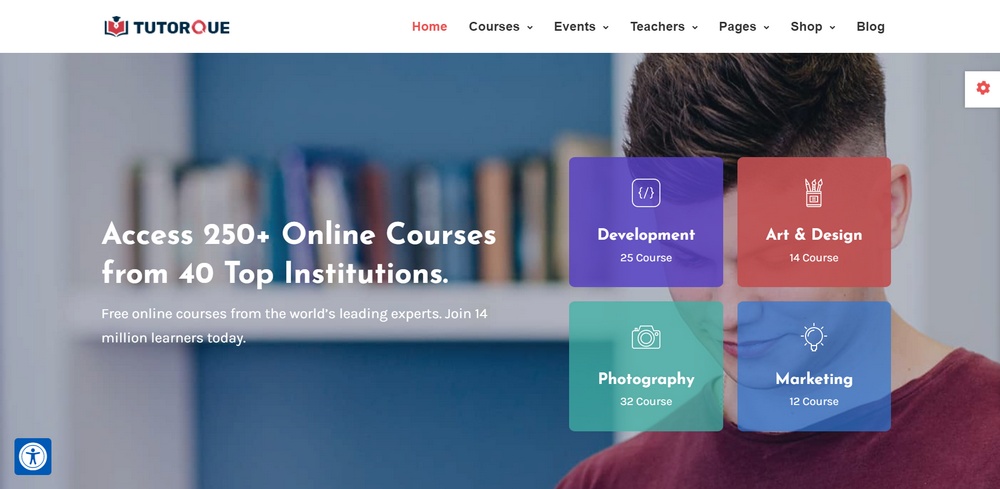 Tutroque is an all-in-one education WordPress theme for creatives. It fits online courses, institutes, language schools, training centers, academies, and schools.
The theme offers several responsive demos to help you make your perfect pick. Each template integrates a seamless function to help you create a site with simple drag and drop.
The theme integrates three popular WordPress LMS plugins to help you build your website and help you deliver online learning.
Pros of Tutorque:
Simple drag and drop page builder
Option to select from 10+ demos
Beautiful color and typography
Multilingual support
Compatible with most WordPress LMS plugins
Cons of Torque:
The plain design might not be suitable for every website
Tutorque Pricing
The theme is available for $49 per year.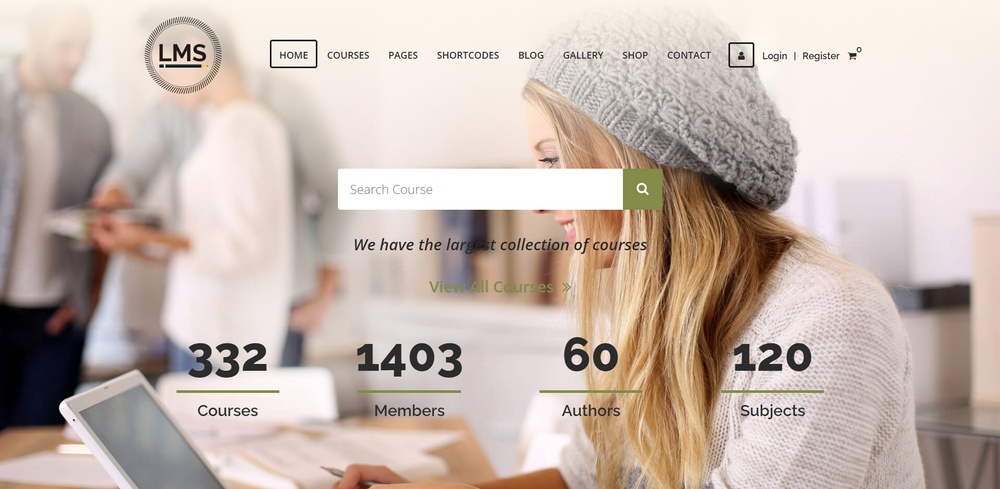 LMS is a responsive WordPress LMS theme with all the features you need to build a learning website. The theme allows you to list your free and paid courses and has the option of adding payment gateways and the WooCommerce plugin to sell courses or merch.
The theme offers users feedback and star ratings for learners. It also allows you to showcase the course length in hours and minutes in each content offering.
LMS is an easy-to-use theme and comes with an integrated visual page builder and custom layouts.
Pros of LMS:
SEO optimized fast loading pages
Multiple pre-built website demos
Compatible with most WordPress LMS plugins
Responsive design
Easy customization
Cons of LMS:
A challenging theme for beginners to use
LMS Pricing
LMS offers a premium version costing $59 per year.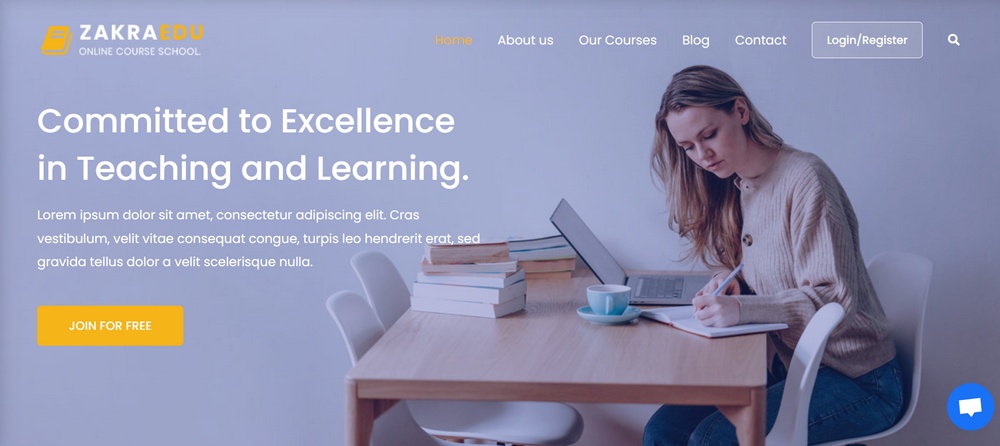 Zakra is a powerful multipurpose WordPress theme perfect for online learning. The theme offers multiple LMS templates to do your online education website justice. It integrates seamlessly with LMS plugins to help you create a responsive eLearning website quickly and easily.
Zakra is a fast, lightweight theme that offers sections like Home, Our Courses, Contact page, and more.
Building an LMS website using the theme is a piece of cake. It is a fast WordPress theme with hundreds of elements to select from and offers simple drag and drop functionality to ease the work of building and customizing the site.
Pros of Astra:
One click demo installation
Well designed template for eLearning website
WooCommerce and WordPress LMS plugin compatible
Regular updates and great customer support
Fast and responsive pages
Cons of Zakra:
The design of the theme may require a little work to make it stand out
Zakra Pricing
Zakra has a free and a premium version starting from $69 per year.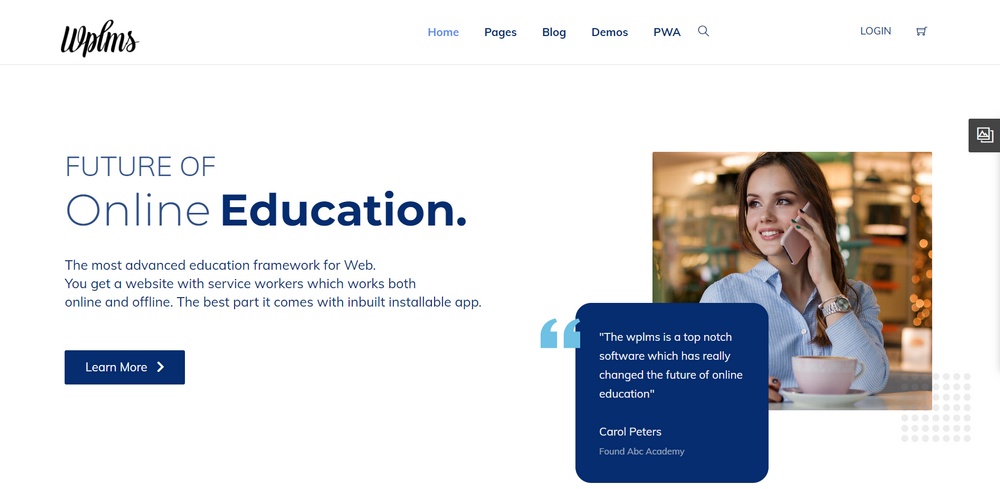 WPLMS is a great WordPress learning management system theme that has both style and function. The theme offers frontend creation for instructors and enables saving unfinished courses as drafts.
WPLMS includes everything to run an education website, from selling courses, providing award certificates, and enabling learning on the go through a mobile app. The WPLMS theme makes it all possible.
Pros of WPLMS:
High quality theme with fast loading pages
Integrates fully with most WordPress LMS plugins
Easy to use and customize
Responsive design and layout
Offers a child theme
Cons of WPLMS:
There's a lot to learn to get the most out of this theme
WPLMS Pricing
WPLMS has a premium version available for $75 per year.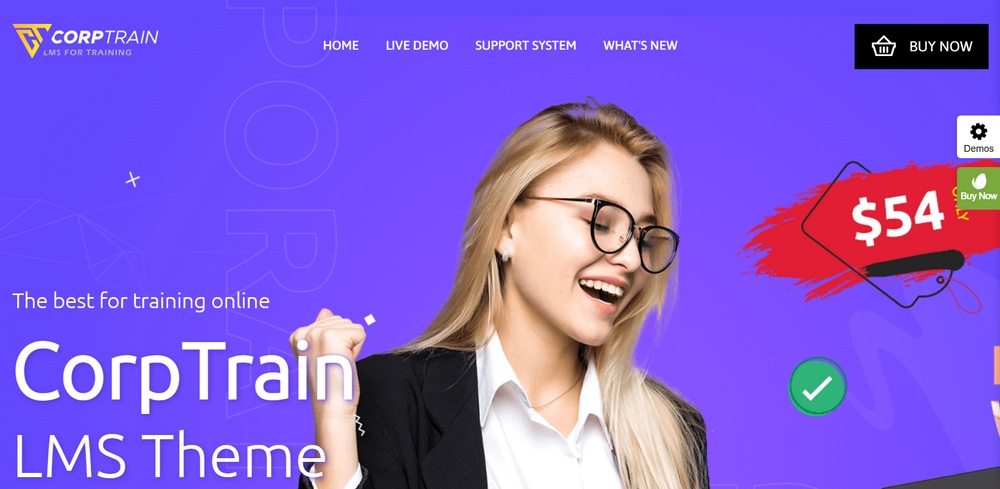 CorpTrain is a corporate training WordPress theme suitable for creating online courses, training websites and educational portals. The theme offers a stylish modern design to make your site appear appealing.
The theme offers nine different demos to select from for building your website. You can find all the elements you need to run an online course within the theme.
CorpTrain offers advanced online course tools complete with assessments, email notifications, payment options, and more. It also has an event management tool to create educational events like training sessions and seminars.
Pros of CropTrain:
Cons of CorpTrain:
The demo templates may not be suitable for everyone
CropTrain Pricing
The theme is available for $49 per year.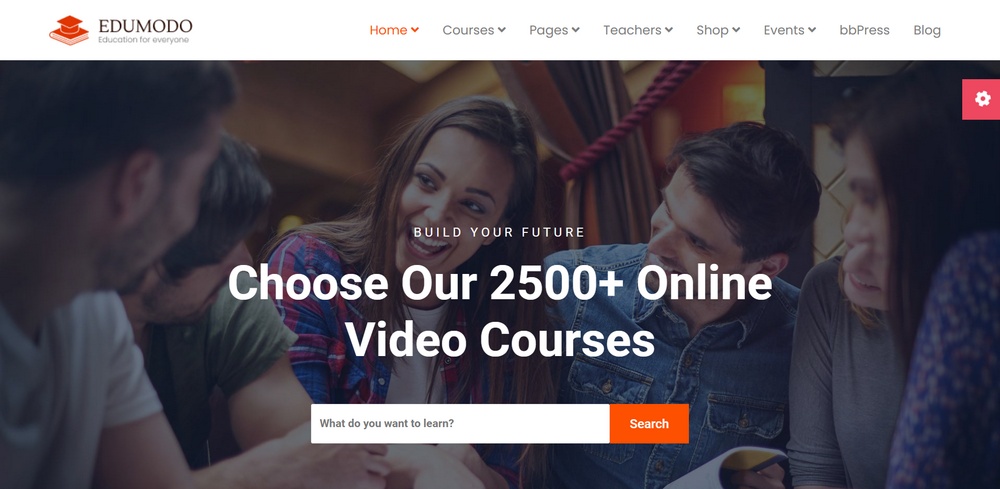 Edumodo is a beautiful responsive WordPress theme. The theme supports some of the most popular WordPress LMS plugins, LearnPress, Tutor, LifterLMS, Sensei and LearnDash.
The theme is compatible with Gutenberg and the Elementor page builder. With these tools, you can build course, quiz, and lesson pages quickly and easily.
Edumodo is also compatible with WooCommerce to help you earn revenue through your website if that's your goal.
Pros of Edumodo:
Great customer support
Responsive and fast loading pages
Easy to use and great flexibility
Simple customization with drag and drop page builder
Compatible with most WordPress LMS plugins
Cons of Edumodo:
The actual website may vary from what is shown in the demo
Edumodo Pricing
Edumodo is a premium theme costing $49 per year.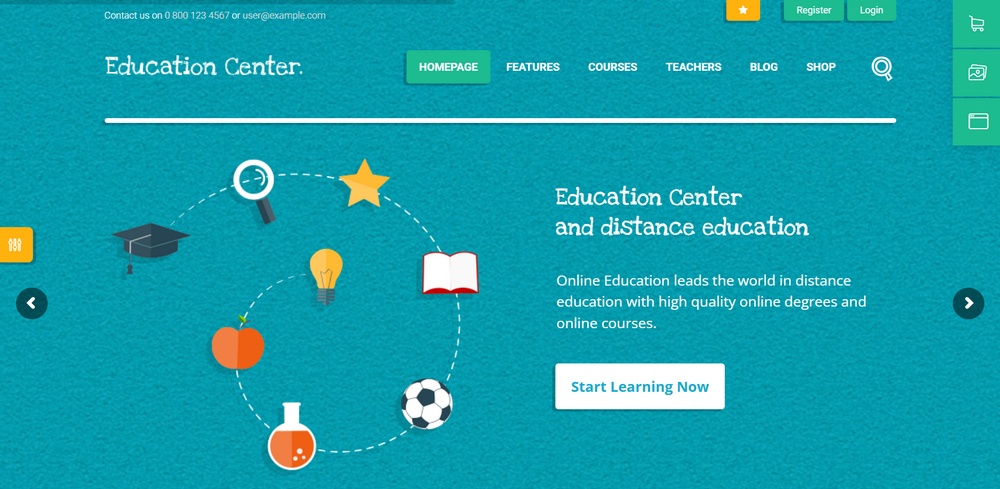 Education Center might be a suitable pick if you want a flexible and modern LMS theme for your education website. The theme offers beautiful designs that focus on engagement and enhancing your website's conversion rate.
The theme is compatible with most WordPress plugins and page builders and offers multiple header and footer styles. It also supports many LMS plugins for maximum compatibility.
Pros of Education Center:
User friendly page builder
Free lifetime updates
Responsive and fast loading pages
Compatible with most WordPress LMS plugins
Offers hundreds of elements to create a unique website
Cons of Education Center:
No social integrations built into the theme
Education Center Pricing
Education Center is a premium theme costing $59 per year.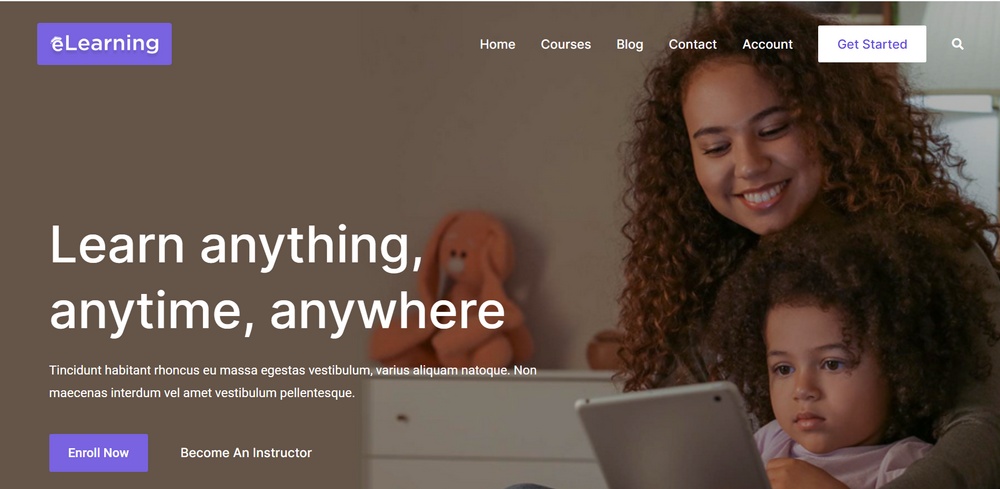 eLearning is a WordPress LMS theme you can use to quickly create and sell online courses. The theme integrates with most LMS plugins to enhance flexibility in creating a visually appealing website with a wide range of customization options.
The theme has multiple header and footer options, great colors and typography, and numerous blog and layout options.
Pros of eLearning:
Compatible with most page builders
Fantastic performance with fast loading pages
Highly responsive theme
Easy customization
Compatible with most WordPress LMS plugins
Cons of eLearning:
The design and layout may be too simple for some
eLearning Pricing
eLearning has a free and a premium version starting at $149 per year.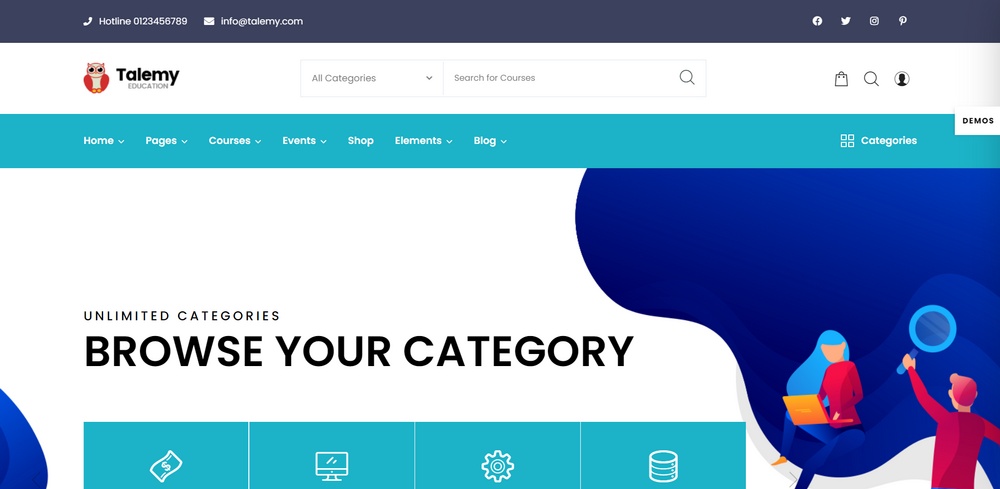 Talemy is suitable for a wide range of education websites. It offers eight different pre-built website demos that can easily work as your project's foundation.
The design is light and accessible and includes most tools you'll likely need to set up an online learning website. All wrapped up in an attractive package.
Pros of Talemy:
Easy customization options
Powerful theme options
Compatible with most page builders
Fully responsive and retina ready
Offers modern, clean, and attractive design
Cons of Talemy:
A beginner may have difficulty using the theme
Talemy Pricing
Talemy is available for $59 per year.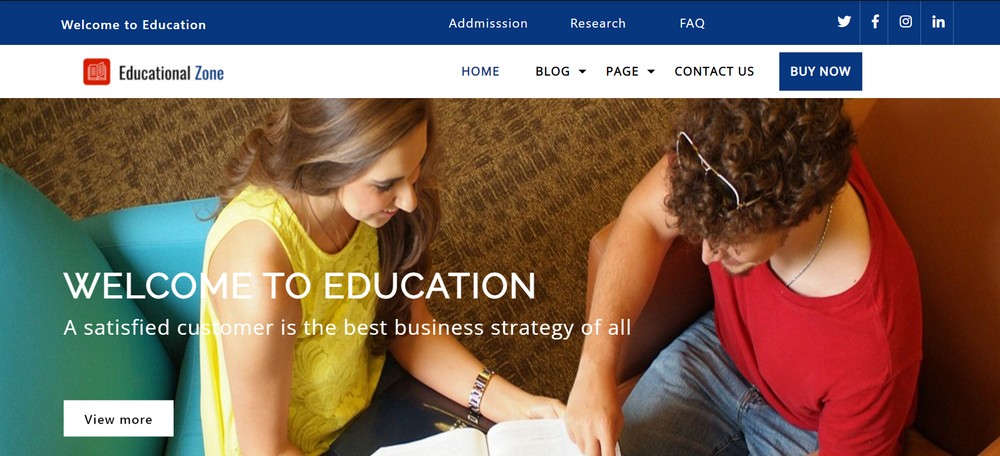 Education Zone is a visually appealing WordPress LMS theme to start your eLearning website. It offers a beautiful homepage showcasing all the courses you teach as well as testimonials and blog sections.
Education Zone is a highly responsive theme with fast-loading pages and SEO optimization. It is compatible with most page builders and LMS plugins.
Pros of Education Zone:
Highly responsive theme
Great support and documentation
Fast loading pages
Number of pre-built pages and layouts to select from
Compatible with most WordPress page builders and plugins
Cons of Education Zone:
The design of the theme may require work to make it original
Education Zone Pricing
It is a premium theme costing $39 per year.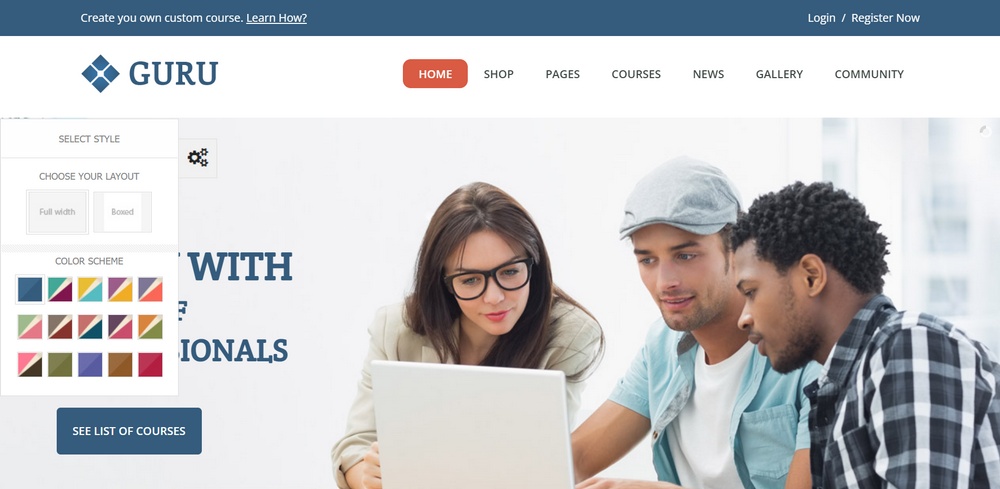 Guru is a powerful WordPress theme created to build an educational website. The theme includes mega menu navigation, multiple blogs, portfolio types, and support for most WordPress LMS plugins.
Guru offers many tools to create your online course with ease. It has extended user profiles, lesson management, video hosting, question systems, and rating and ranking systems, to name just a few.
Pros of Guru:
Seamless WordPress integration
Fast loading pages with SEO optimization
WordPress LMS plugin compatible
Drag and drop page builder compatible
Responsive theme
Cons of Guru:
The theme design is quite formal until you customize it
Guru Pricing
Guru is available for $69 per year.
Best LMS plugins for WordPress
Online courses are a popular way for people to gain new skills and advance in your life as well as career.
If you're thinking of sharing your knowledge online, in the form of courses, you're going to need a suitable WordPress LMS plugin to go with your new theme.
An LMS plugin can offer features like course building tools, course progress counters, enrollment and management dashboards, content dripping, quizzes and tests, financial marketing tools and payment gateways.
They allow you to create a fully-fledged online course website to help you share your expertise with others.
Here are the top LMS WordPress plugins to complement your theme:
LearnDash is built by experts in the eLearning industry. It is the top choice of many looking for an LMS plugin to deliver online courses and for individuals or businesses looking to monetize knowledge.
The plugin features an easy to use drag and drop course builder and all the tools you need to create an amazing eLearning website.
If you use LearnDash, you don't need a separate membership plugin as it protects your course content. The plugin is a perfect suit if you're looking for a high quality robust plugin that includes most of what you'll need.
The plugin offers you features like adding a timer and tracking progress. It offers tons of free and premium addons to extend the functionality of your website.
Features of LearnDash:
Create impressive online courses
Drag and drop course builder
Badges and certificates
Sophisticated marketing and sales
Group management
Detailed reporting
Discussion forums
Leaderboards
Easy integration with third party tools
LifterLMS is another popular WordPress LMS plugin. The plugin offers many features for you to easily create an online course.
It is compatible with major WordPress page builders, themes, and other popular plugins like WooCommerce.
You can use a drag and drop interface to design and build courses in minutes, leaving you more time to create course material or promote your site. The plugin allows you to create appealing lessons by creating multimedia videos, audio, images, and more.
The plugin has built-in Zapier integration that allows you to connect with hundreds of other apps and tools.
It offers the flexibility to create smaller courses or design degree programs and has everything you're likely to need to create an LMS website.
Features of LifterLMS:
Multiple learning styles with video, audio, text, image based lessons
Create dynamic multimedia quizzes
Intuitive multi-tier drag and drop course builder
Drip content
Course tracking
Lessons downloadable offline
Form integrations to collect assignments, contact messages
Multiple payment gateways
Tutor LMS is a relatively new plugin offering a modern and easy to use interface. The plugin has a free version on the WordPress repository and has 60,000+ active installations.
It is a feature packed, robust WordPress LMS plugin designed to help you create and sell online courses.
Tutor LMS allows you to create fun quizzes, interactive lessons, and insightful reports. You can manage and monetize your courses without having to touch a single line of code, making it very easy to learn and to manage.
Tutor LMS offers a drag and drop course builder with a frontend interface allowing you to make changes and preview them live. This is great if you're new to building courses or running websites.
Features of Tutor LMS:
Drag and drop course builder with frontend interface
Modern well designed course pages
Integrated monetization option via WooCommerce, Paid Membership Pro, or Easy Digital Downloads
Powerful addons to enhance core functionality
Minimalistic unified design
Create unlimited courses and lessons
Offers course previews
Student dashboard
Advanced quiz builder
WP Courseware is one of the oldest WordPress LMS plugins out there and does a great job of keeping things as simple as possible. It easily integrates with popular payment gateways which eliminates the need to use any third-party tools.
WP Courseware offers a drag and drop editor to build unlimited courses. The plugin might not be the simplest to use but has tons of features to create large or small courses. Each of the courses you design can have multiple modules, units, and quizzes.
The plugin has content drip features allowing you to release lessons based on the date or number of days that have passed after a student has enrolled.
Being one of the oldest plugins, this LMS plugin has what it takes to build a powerful online course website.
Features of WP Courseware:
Intuitive visual course builder to organize and structure your course effectively
Media rich learning environment for students
No limits to the number of courses you crate
Allows you to host, manage and evaluate an unlimited number of students
Restrict course and access to students who have completed the previous course
Automatically creates course listings to display on the front end of the website
Thrive Apprentice is designed to not just create online courses but to build an online business!
The plugin offers a drag and drop course builder allowing you to easily create the best learning path for your course. You can create modules, chapters, and lessons to keep your courses organized and easy to follow for students.
Thrive Apprentice enables the creation of text lessons, video lessons, or audio lessons. Or you can mix and match these contents as you like. It offers multiple pre-built templates and full flexibility to customize them as well.
The plugin also integrates marketing features that allow you to sell more with ease. Building your online learning website with this plugin is fun!
Features of Thrive Apprentice:
Easy drag and drop course builder to build courses, modules, chapters, and lessons
Multiple payment gateways
Professional pre built templates
Fully customizable
Integrates with other WordPress plugins
LearnPress is a free WordPress LMS plugin by Thimpress. The plugin offers a drag and drop course builder to help you create unlimited courses.
It is the best free WordPress LMS plugin out there. It allows you to create course curriculums with lessons and quizzes included. The plugin offers an easy to use interface. You can quickly create online course websites, and online schools with no coding knowledge required.
What makes LearnPress on this list is its super powerful features designed to help you create a clean and modern online learning website.
Features of LearnPress:
Compatible with most WordPress themes
Excellent user interface for online courses creating options
Multiple payment gateways such as PayPal, WooCommerce and Stripe
Powerful addons to provide extra features
LearnPress is free and always will be
MemberPress is a popular WordPress membership plugin that's not like other standalone WordPress LMS plugins in the list. The plugin launched its own MemberPress Courses addon, allowing you to create a fully fledged online course website.
The plugin allows you to build, design, and develop courses using the WordPress block editor.
It is quite flexible when it comes to payment. MemberPress integrates with PayPal, Stripe, Authorize.net, and manual transactions as well.
We think that MemberPress is a great option to create membership content and build basic courses.
Features of MemberPress:
No coding is required to create a gorgeous online course website
Quizzes and built-in progress tracking
Course certifications
Visual drag and drop builder
Protects your online course with MemberPress rules
Offers targeted marketing and autopilot
Wrapping Up
So these are what we think are the best WordPress LMS themes for eLearning websites. Some of them are free, some are premium, and some have both the free and premium versions. These themes have the qualities we look for when judging excellent web design with the features and focus required for their intended use.
Whatever kind of eLearning website you create, there is bound to be an LMS WordPress theme perfect for your needs right here!
Do you have a favorite WordPress LMS theme? Do you already use any of them? Have anything to add? Tell us about it if you do!