Are you looking for ways to add some spark to your writing? Want to make sure your WordPress website looks the best it can be? Easy-to-read, grammatically correct content is the bare minimum for most readers today.
Most word processors and the WordPress page and post editor come with native spell checkers, but for the best results, you should use a dedicated grammar checker.
These tools typically offer a lot more than spell checking and will help add a professional touch to your writing.
When you're building a website that represents you or your business, typos and grammatical errors can detract from the professional persona you're trying to project.
This is why a grammar check is one of the 29 items to have on your website launch checklist! Online grammar checkers can help with that.
In this guide, we'll walk you through some of the best grammar checkers in 2023. If you use these tools correctly, you'll see instant improvements in your writing!
Why Do You Need an Online Grammar Checker?
When people land on your WordPress website, they are looking for information they can trust. What's one thing that immediately screams untrustworthiness? Basic typos and avoidable grammatical errors.
Don't let these undermine your well-researched and painstakingly put-together content!
No matter your skill level, everyone is prone to making mistakes when writing. This is not only true for online content like blog posts, but it also applies to other forms of communication including, for example, newsletters and effective email communications.
The best practice is to write carefully, edit thoroughly, and use one of the best grammar checkers as an extra layer of protection.
Properly written content is also important for Search Engine Optimization (SEO).
Search engines are always looking for the best content for their users and typically take a few factors into consideration. Two important factors are grammatical accuracy and readability.
Readability is a measure of how easy it is for readers to understand and keep up with your writing.
If users find your content poorly written or hard to read, they'll likely bounce to your competitor's pages. Google, and other search engines, will see this and your ranking in Search Engine Result Pages (SERPs) will take a hit.
Now that we agree (hopefully) on why you need to use a grammar checker to proofread your work, let's outline what to look for in a grammar checker and then take a look at six of the very best.
Features to Look For in the Best Grammar Checker
Before we jump into the best grammar checkers, you'll need to know some of the factors we take into consideration.
They are:
Accurate Spell Checking
Spell checking is the bare minimum for any grammar checker. These tools should be able to catch basic typos as well as slightly less obvious spelling errors such as the misuse of a homophone.
For example, will the tool flag the use of "their" when you mean "they're"?
Readability Analysis
Beyond spell checking, one of the most important uses of a grammar checker is to improve the structure of your writing.
The best grammar checkers will offer suggestions on simplifying your writing, shortening overly wordy sentences, and using less complex words and phrases.
Multi-Language Capability
Do you offer content in a language other than English? Or perhaps you run a multi-language website? Grammar checkers with multi-language features will come in handy.
Sometimes, this might mean that the tool allows you to translate your content into other languages. In other tools, this might mean having the ability to proofread other languages without translating them into English first.
If you're building a multilingual website, here are a few more tips to guide you.
Multi-Platform Integration
Some grammar checkers are only usable online and require that you upload or paste your work into their online editor.
This is less convenient than being able to check your grammar as you write, using either a browser add-on, desktop app, or a direct integration with a platform like WordPress.
Plagiarism Checker
While a plagiarism checker is not strictly a grammar checking feature, it is useful to have for editing.
Plagiarism, using other people's content without giving them credit, is just as bad as poor grammar and should be avoided at all costs.
If you're editing other people's work, it will be convenient to check for both grammatical accuracy and plagiarism at once, in the same tool.
The Top 6 Grammar Checkers
Now, you know what to look for as we consider some of the best grammar checkers out there. There are quite a few, and some offer some unique features.
Here they are: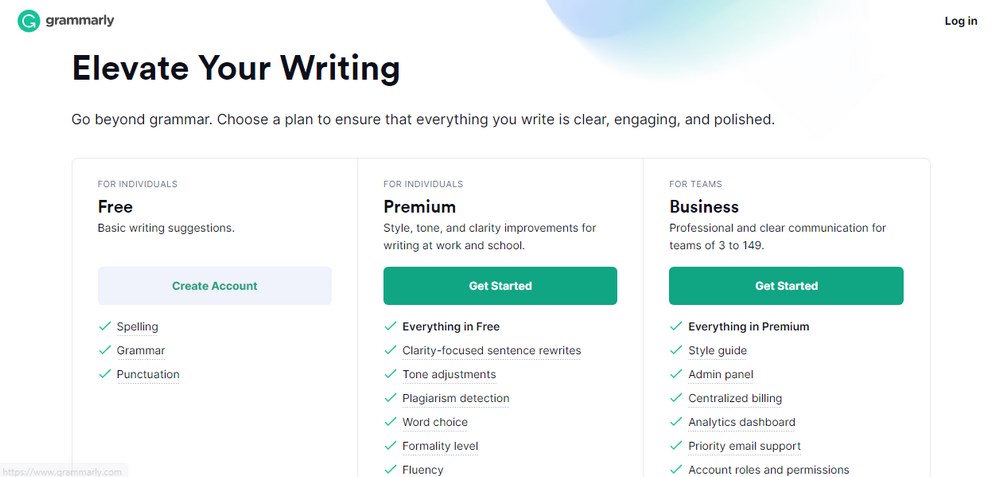 Grammarly is the most popular online grammar checker tool and is trusted by 30 million people.
So what makes it so widely popular?
Grammarly helps to tidy up basic spelling and grammatical errors. Beyond this, the tool also offers suggestions on syntax, structure and conciseness as well as tone.
Used properly, it will make your posts and pages cleaner, snappier and more direct.
Grammarly's free version is feature-rich but it also has premium and business plans that offer even more features. For example, Grammarly's detailed tone analysis feature is only available on its paid plans.
One of the standout features of Grammarly is its flexibility. You can use the app in a browser, download it to your desktop, or install a Chrome extension which will allow you to proofread your content as you work in online spaces such as Google Docs or WordPress.
Grammarly Pricing
Grammarly's entry-level plan is free. Its premium plan costs $30 per month when billed monthly, with its quarterly and annual plans costing $20 and $12 per month, respectively.
Is Grammarly the Best Grammar Checker for WordPress users?
Pros:
Feature-rich free version
Multi-platform integration
Plagiarism checker
Affordable premium plan
Cloud storage
Cons:
No multi-language capability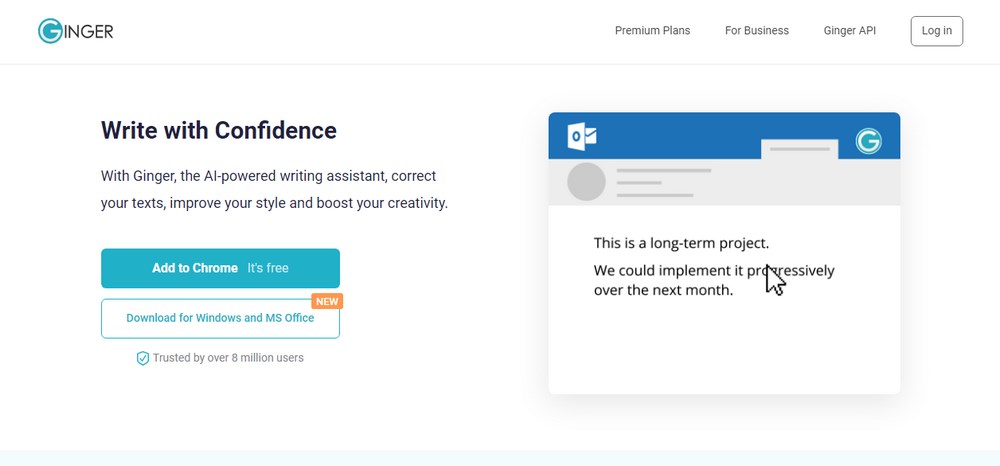 Ginger is a web-based grammar checker with some similarities to Grammarly. While it offers some unique features, it also doesn't have some important ones.
With Ginger, you can check for grammatical accuracy and receive suggestions on how to improve your writing.
One standout feature is that it allows you to automatically fix all the errors in your content without having to go through them individually.
Additionally, Ginger has a sentence rephrasing tool that may come in handy when repurposing some content.
You might also find its speech-to-text feature interesting. While this doesn't necessarily improve the quality of your writing, it might offer some convenience at those times when you simply can't bear to type another word.
Yet another neat feature of Ginger is its ability to instantly translate content into 40 languages. The drawback is that this feature is only available on its premium plans.
Ginger also doesn't have a plagiarism checker.
Ginger Pricing
Ginger is free best grammar checker tool to use but has a single premium plan with the same features, billable on a monthly, annual or biannual basis. The plans cost $13.99, $89.88, and $167.76 respectively.
Is Ginger the Best Grammar Checker for WordPress users?
Pros:
Feature-rich free version
Sentence rephrasing options
Translation in over 40 languages
Mass correction
Cons:
No external integrations
No plagiarism checker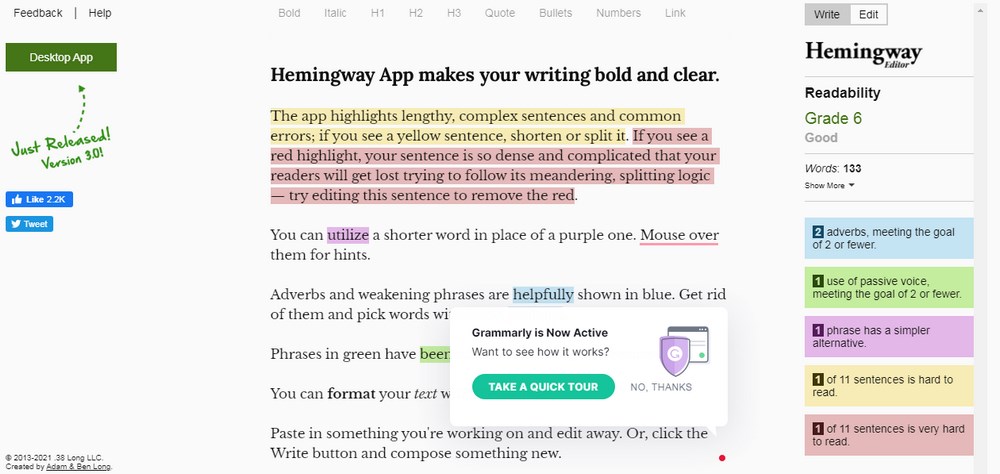 The Hemingway Editor is named after the famous writer, Ernest Hemingway. The app aims to make your writing bold and clear, suggesting sentences that could be rewritten to provide more clarity.
It does this using a rating system that shows how easy reading would be for readers at various grades of schooling. Grade 6 is the recommended level, and the idea is that good content should be easy enough for grade six readers to understand.
The app will also underline grammatical errors but this is not its primary focus. It merely highlights these errors without going into much detail.
The free version of Hemingway is entirely web-based so you won't be able to use it as you work in WordPress.
If you would like to have seamless integration with your writing tools, you can upgrade to the Hemingway desktop app for either Mac or Windows.
Hemingway Editor Pricing
Hemingway Editor is available for free online, but you can purchase the desktop version for $19.99.
Is Hemingway Editor the Best Grammar Checker for WordPress users?
Pros:
Arguably the best value-for-money with its free version
Publish directly to WordPress or Medium from the desktop app
Cons:
External integrations are not available in the online version.
No support for translation or other languages apart from English
No plagiarism checker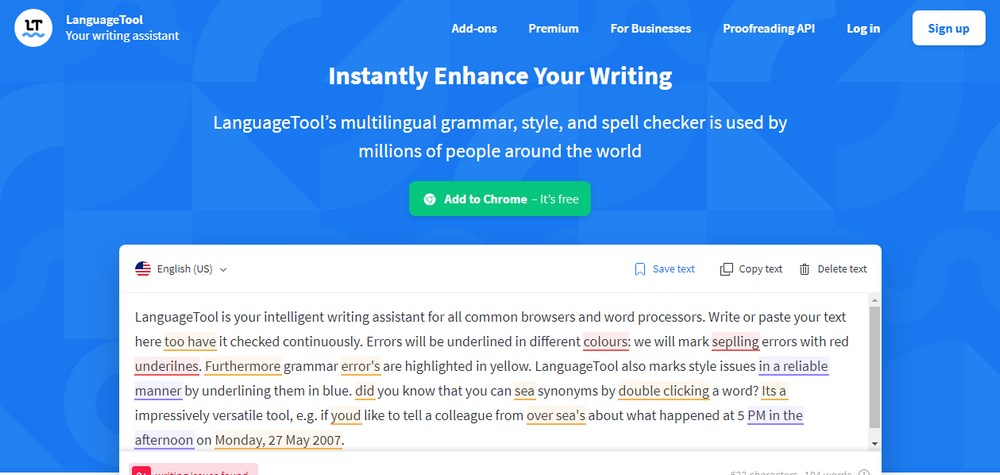 The LanguageTool is available for use both offline and online. You can also use it as a free add-on in Chrome, Firefox, Edge, Safari and Opera.
Add-ins are available for Google Docs, LibreOffice, and OpenOffice. You can also simply upload and edit your content in your browser.
Whatever your preference, the LanguageTool comes with some interesting features. For example, grammar checking is available in English, French, Portuguese, German and Spanish.
It is also sophisticated enough to recognize incorrect numbers.
The one notable drawback to using the LanguageTool is its limitations on use. This is capped at 10, 000 characters per check on the free plan, and 60,000 characters per check on its paid plans.
The LanguageTool Pricing
There is a free version, an Individual plan that costs $4.92 per month, and a Teams plan that starts at $8.85 per month for two users.
Is the LanguageTool the Best Grammar Checker for WordPress users?
Pros:
Multi-language capability
Feature-rich free plan
Capability of recognizing incorrect numbers
Cons
Character limits are not suitable for editing lengthy documents
No plagiarism checker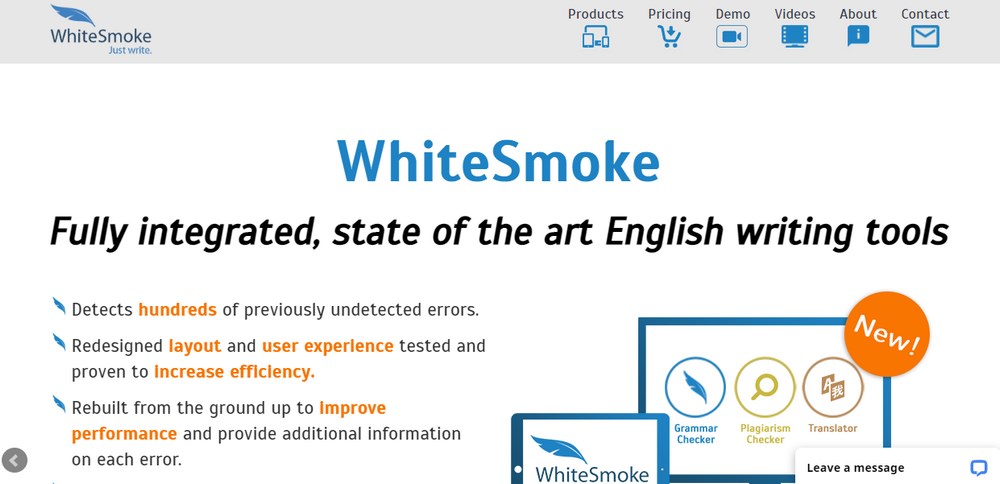 WhiteSmoke offers the basic features you would expect of a grammar checker, with more features available in its advanced plans.
In its entry-level Web plan, you can use its online editor to proofread your grammar and punctuation, check for plagiarism, and translate your content into over 50 languages.
For more features such as one-click instant proofreading, and integration with most writing platforms including WordPress, you'll need to upgrade to the Premium or Business plans.
WhiteSmoke Pricing
Whitesmoke does not have a free version. Instead, it charges $5 per month for its Web plan, $6.66 per month for its Premium plan, and $11.50 per month for its Business plan.
Is Whitesmoke the Best Grammar Checker for WordPress users?
Pros:
Feature-rich entry-level plan
Plagiarism checker
Extensive multi-language capability
Cons: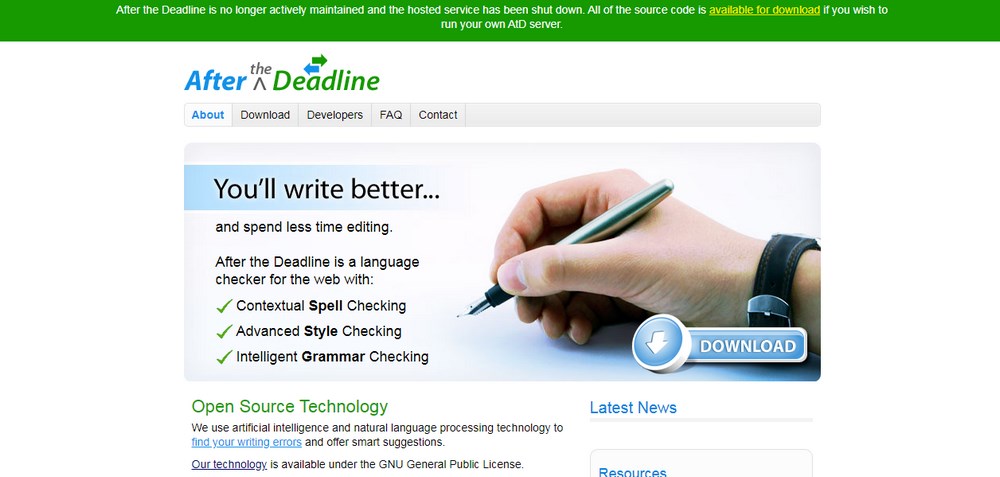 Jetpack is a popular WordPress toolkit that offers a bunch of useful features ranging from security to performance.
One of these features is a grammar checker tool which is an integration of an external grammar checker called After The Deadline.
With seamless integration, Jetpack allows you to proofread your content while working in the WordPress editor.
After the Deadline doesn't provide any advanced features such as a plagiarism checker or multi-language capability so it's not quite as powerful as some of the other grammar checkers on this list.
Additionally, After the Deadline is no longer actively maintained by its developers, and Jetpack doesn't include it in its latest version.
After the Deadline is still available for use and Jetpack still includes it in its older versions.
Jetpack Pricing
To use Jetpack, you'll need to have an account on WordPress.com. Jetpack is free for nonprofits, and businesses can decide how much they would like to pay.
Is Jetpack the Best Grammar Checker for WordPress users?
Pros
Seamless integration with WordPress
Affordable
Cons
After the Deadline is no longer maintained
No plagiarism checker
No multi-language feature
Which Is the Best Grammar Checker for WordPress Users?
It's time for the verdict!
Choosing one of these grammar checkers will be a tough call to make. All of them are great at spotting grammatical errors. Some tools provide a little more by offering features such as a plagiarism checker, and multi-language features.
All things considered, if we had to choose one grammar checker, it would have to be Grammarly for its impressive feature-rich free version.
If you would like to use Grammarly, here are the quick steps to getting started:
Not only does Grammarly offer sophisticated grammar checking, but it is also available for online use as a browser add-on, or in its web editor. You can also upload and save your content within, and all of these features are available on its free plan.
To get started, using Grammarly online you'll need to create an account on Grammarly.
Once in, navigate to the apps page.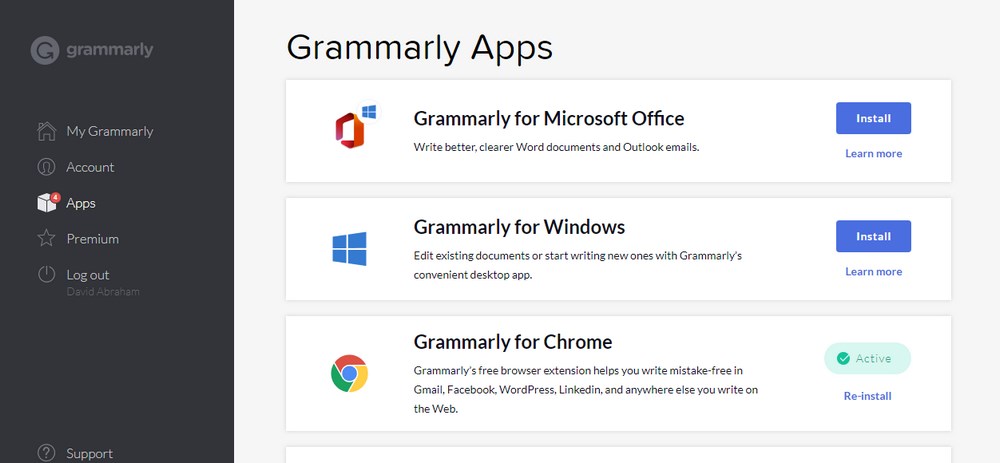 When you click install on the app you would like, you will be directed to the Chrome Web Store.
Click Add to Chrome. A popup will appear, requiring that you confirm your choice–proceed, and that's it!
You can also use Grammarly offline, by downloading the desktop app. Simply click on install from the Grammarly app page and run the resulting download on your laptop.
Getting Started With the Top Online Grammar Checkers for WordPress Users
Now that we have walked you through the top six online grammar checkers in 2023, and how to get started using Grammarly, the next step is for you to get out there and produce some great content.
You may also find that using a combination of two of these grammar checkers may offer better results than using one alone.
A common combination is to use a tool like Grammarly to catch and fix grammatical errors, and then use a tool like the Hemingway Editor to improve its readability.
For more tips on how to improve your blog content, check out this post on how to write your first blog post. Experienced writers can glean some useful tips from this too!
Have you used any of these tools in the past? Tell us, in the comments, which one you think is best, or if you think we have missed a great grammar checker that you would recommend!