Dropshipping using a WordPress website equipped with WooCommerce is about as easy as becoming an online retailer gets.
A reliable content management system with a superb WooCommerce dropshipping plugin and a partnership with a dependable supplier could be set up in an afternoon with minimal outlay.
No wonder more people than ever before are setting up shop with this combination!
If you want to get in on the action, this guide to the best WooCommerce dropship plugins will cover everything you need to know.
We have other articles covering setting up a WordPress website and WooCommerce setup so we will concentrate purely on dropshipping.
What Is Dropshipping?
Dropshipping is an incredibly efficient system for new online retailers. It's a system where the store doesn't keep stock itself. Instead, all orders are sent to a dropshipper who fulfils the order for you.
As long as you work with the right dropshipper, you can sell a huge range of products without having to have a single item in stock!
There are obvious benefits to dropshipping.
You don't have to buy stock. You don't have to acquire significant investment before setting up shop and you don't have to worry about the supply chain at all.
Simply find a reliable dropshipper, set up your store and you're good to go!
What to Look for in a WordPress Dropshipping Plugin
There are lots of plugins on the market right now. We've covered the 12 best WordPress dropshipping plugins in this article. So, how do you decide which one is right for you?
We've listed a few indicators to help you evaluate and decide for yourself.
Easily Import Products
Once you've signed up with a dropshipper, you'll have full access to their products. Instead of manually adding products from their platform to your store, you'll want a plugin that eases this entire import process.
We guess this has to be on top of your list while selecting a WordPress dropshipping plugin. It's undoubtedly going to save you a lot of time!
Manage Imported Products
Keeping track of your inventory is critical when running an online store. You wouldn't want to end up with unfulfilled orders, would you?
Look out for a dropshipping plugin that allows you to manage the inventory of your products from your dashboard.
Import Real Customer Reviews
When you are purchasing a product, it's pretty natural to look around for customer reviews. Nothing sells like authentic customer reviews. Good or bad, it definitely impacts sales.
Wouldn't it be great to have genuine customer reviews in your dropshipping store?
Just like importing products from your dropshipper's platform, you can import customer reviews too. We strongly recommend using them!
Handle Payments Easily
New order received – check
Payment received – check
Order placed with the vendor – check
Fulfill order – Done
Wouldn't it make life a whole lot easier if all you had to do was a single click to fulfill an order? Consider this feature, too, while narrowing down on your ideal dropshipping plugin.
Easily Customizable
The WooCommerce dropshipping plugin you choose should ideally allow you to customize just about every element. The plugin has to blend with your WordPress site and enable you to customize features both at the front and back end.
Automatic Notification to Suppliers
One reason for the popularity of dropshipping is that you don't have to invest in any inventory.
You place an order with your supplier when you, in turn, get an order. The faster you notify your supplier about an order, the faster it gets processed and sent across to your customer.
If you had a plugin that notifies your supplier automatically, even better!
Easy WooCommerce and WordPress Integration
This should probably be first on our list. After all, we are creating a dropping store using WordPress and WooCommerce!
The WooCommerce dropshipping plugin must seamlessly integrate into your WordPress ecosystem. We ideally want it to install and begin working instantly without causing any issues.
How to Set up a Dropshipping Store With WordPress
Setting up a new dropshipping store is actually very straightforward. We won't go into it in huge detail here, but the process looks a little something like this:
Set up WordPress with a domain name and hosting
Install the WooCommerce plugin into your WordPress installation and configure it
Install the dropshipping plugin, configure it and connect it to WooCommerce
Set up your arrangement with a dropshipper
Add the items the dropshipper can supply into your store
Launch your store
The items you can sell using this method depends entirely on the dropshipper you end up working with. There are enough of them now for you to be able to sell almost any product you can think of.
The hardest part is selecting a dropshipper to work with. The good news is that each entry into our best WooCommerce dropshipper plugin list will handle that for you.
Some plugins work with specific dropshippers such as AliExpress, Amazon, Etsy, eBay and others. Some plugins have a curated list of dropshippers you can select from within the plugin. Others use a combination of both.
Summary of WooCommerce Dropshipping Plugins
While we will be covering each plugin in detail, here's a quick look at the list of WooCommerce dropshipping plugins that we feel work best.
The Best WooCommerce Dropshipping Plugins
The WooCommerce dropshipping plugin is at the heart of your new eCommerce venture so it's a decision you want to get right.
These are what we think are the WooCommerce dropshipping plugins available right now.

AliDropship is a WordPress dropshipping plugin for the Chinese retail giant, AliExpress. It's a straightforward way to feature the many thousands of products on the AliExpress platform on your own eCommerce website.
The plugin installs quickly, enables you to list any item currently available on AliExpress, allows you to change prices, set profit variables and control how everything works and looks on your site.
It's a flexible WordPress dropshipping plugin that has the power of one of the world's largest retailers behind it.
Features of AliDropship:
Has a huge range of products to choose from
One-click order fulfilment one you make a sale
Lots of customization options at the front and back end
Single purchase includes lifetime updates
Easy to set up and use
Automatic search and import
Order automation
Notification to suppliers 
Product assignment to suppliers
Fulfill orders automatically 
Auto order tracking
Discount and coupons 
Abandoned cart recovery
All-in-one dashboard
Payment gateway integration
The AliDropship plugin costs $89 as a one-time fee.

WooDropship is another WooCommerce dropshipping plugin that works with AliExpress. It works in a similar way to AliDropship but also includes a neat Chrome extension that allows you to add a product to your store while browsing the AliExpress website. It's a cool addition that makes it easy to add inventory to your store.
The rest of the plugin works in a similar way to AliDropship. Find products on AliExpress, add them using the plugin, set your price or profit margin and customize the look and feel of the front end.
WooDropship also allows you to use AliExpress images and edit them, customize product descriptions and control everything about how those products appear on your site.
Features of WooDropship:
Full control over products and how they appear
A very smart Chrome extension makes it simple to add products
One-click order fulfilment
Built-in image editor and plugin customizer
Straightforward navigation and tools
Product search and import
Inventory auto updating
Fulfills order automatically
Free updates and team support
Automated price update feature
Custom store option
Removes image watermarks
WooCommerce support
The WooDropship plugin costs $97 as a one-time fee.

DropshipMe diverges from AliDropship and WooDropship by using a range of specially-selected dropshippers instead of just AliExpress. DropshipMe uses a curated list of products and suppliers so you have a little less freedom but those suppliers are vetted for reliability so should work efficiently.
The plugin is free and showcases thousands of products across hundreds of lines. Rather than pay for the plugin, you pay for 'packages' that include a set number of items you sell. It's a convoluted system but you get used to it.
Other than that, the plugin works in a similar way as these others. Install, set up, add products, set profit margins and you're good to go.
Features of DropshipMe:
Ready-optimized product listings and images
Simple to import descriptions
Curated dropshippers should be reliable
Can also import real customer reviews for social proof
The plugin is free
Super easy to start with a 100% free plan available
Additional plugins and extensions
50,000+ handpicked hottest products
Recommended pricing markup
Easy search
Order notifications to suppliers
The DropshipMe WooCommerce dropshipping plugin is free but you need to pay for packages to sell.

WP Amazon Shop is an Amazon affiliate WooCommerce dropshipping plugin. This plugin allows you to sell any of the millions of products featured on the platform and quickly add them to your own store. It's a relatively simple procedure that won't take long to master.
The plugin is straightforward to use. Set it up, create an Amazon Affiliate account if you don't already have one, import products and set them up. The plugin adds your affiliate ID to every sale so you should get your cut and allows you to add your profit margin to make sure it's worth your while.
This WordPress dropshipping plugin is very straightforward to use, which is just as well because the documentation is not very good at all!
Features of WP Amazon Shop:
Easy to set up and use
Utilizes Amazon and the well-established affiliate network
Simple to add products and change prices
Offers granular control over products
Includes Ajax features for extra interest such as 'load more' options
Easy and quick installation
Live demo and documentation
Display products by keywords
Load more products for search results
Import products with basic information
Add to cart redirected to Amazon page
Star ratings and reviews count
Simple customization
WP Amazon Shop costs $59 for a single site, $99 up to 5 sites or $139 up to 10 sites.

WooCommerce Dropshipping is a very powerful WordPress dropshipping plugin. It works with Amazon, AliExpress and other dropshippers to offer the widest possible product portfolio.
It's a powerful plugin that can import products directly from the plugin, from a Chrome extension or even import using a CSV file. You can import images and product descriptions, edit them and use them on your site. You can then set the profit margin and begin selling.
Behind the scenes, the plugin will automatically notify the relevant dropshipper when you receive an order. There is also a provider section where they can log in and access relevant order data should they need to.
Features of WooCommerce Dropshipping:
Uses a selection of dropshippers including AliExpress and Amazon
Import via the plugin, Chrome extension or CSV file
Automatic notification to suppliers for every sale
PDF packing sheet included with each order
Simple setup with usable default settings
Includes AliExpress integration and Amazon affiliate support
Local suppliers dropshipping and fulfillment
Quickly importing inventory per suppliers
Custom emails, packaging slips, and invoices for suppliers and customers
Supplying tracking number of products
Free Google chrome extension
Bulk import products
WooCommerce Dropshipping costs $49 per year.

Spocket is a WooCommerce dropshipping plugin that uses US and EU dropshippers. You can sell globally but all products will be fulfilled from the US or EU.
Spocket is a simple plugin to use. Install it, start a free trial, add dropshippers and products from within the plugin, set your profit margin and begin selling. It uses a selected list of dropshippers for fulfilment and enables you to add products quickly from within the plugin.
Spocket offers decent wholesale rates, so while the plugin isn't quite as powerful as some of these other WooCommerce dropship plugins, you could make more profit with it.
Features of Spocket:
Good wholesale rates to add profitability
One-click order fulfilment
Powerful search and filters for adding products
Huge selection of products to choose from
Easy to install and use
Spocket costs from $12 per month up to $299 per month depending on the size of the store.

Spreadr is a slightly different WooCommerce dropshipping plugin as it isn't designed to be a complete store plugin. A requirement to use the plugin is to have an existing website with existing content. That makes this plugin better for websites that want to add a store as an extra rather than dedicated eCommerce sites.
Spreadr uses Amazon to fulfil orders in one of two ways. You can work as a standard Amazon Affiliate and earn the minimum while doing minimal work or work using a traditional dropshipping arrangement and make more money with a little more work.
The rest is easy. Sign up for the relevant selling option and add products using the plugin and product URL. Amazon takes care of the rest.
Features of Spreadr:
Can list any non-Amazon Prime product on the platform
Two options, affiliate or dropshipping
Bulk import tool for adding entire categories
Decent commission rates for certain products
Better for existing websites than new stores
The Spreadr WordPress dropshipping plugin costs from $6 per month up to $60 per month depending on store size.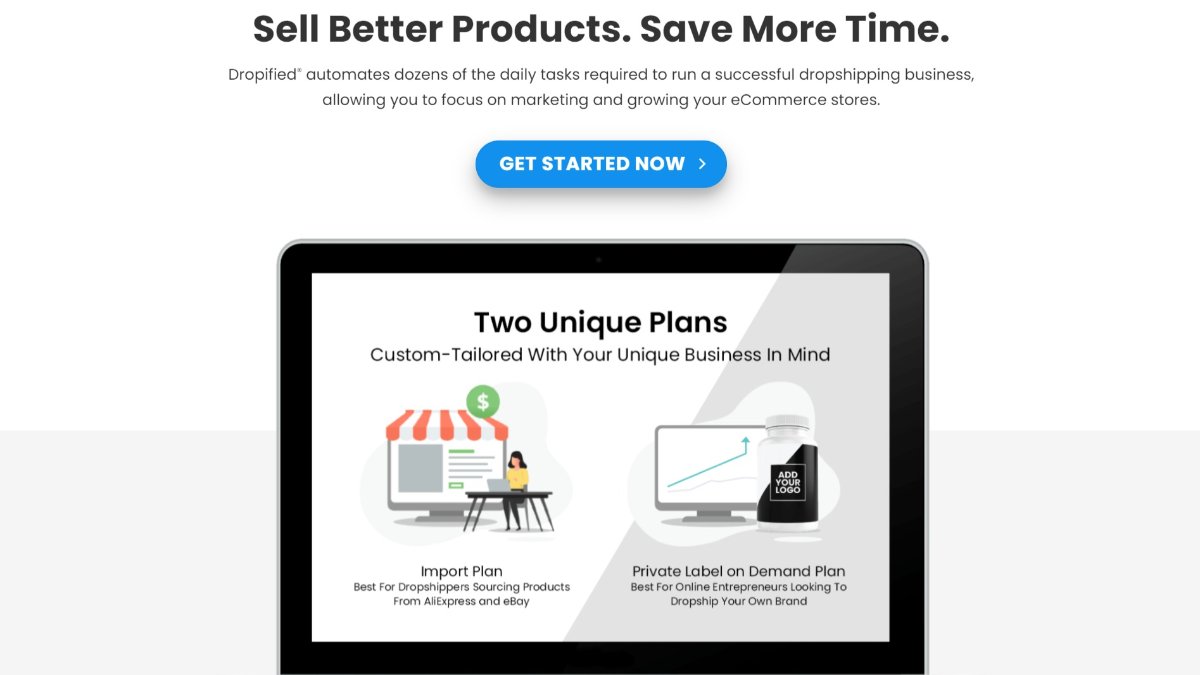 Dropified works seamlessly with WooCommerce to provide a viable dropshipping plugin that uses AliExpress and others to fulfil orders. It also uses the Chrome extension that enables you to quickly add AliExpress products to your site with a single click.
Dropified also supports eBay, Amazon, Costco and over a hundred other dropshippers for a more rounded approach. You can add products from within the plugin and list them quickly. There is also a powerful research tool that enables you to thoroughly research products so you only sell the most popular or most profitable.
Order fulfilment is automatic and the plugin even includes an image editor for upgrading often questionable product images to your own needs.
Features of Dropified:
Quickly add products using a variety of means
Superb research tool offering more insight into products
Import product reviews to help convert
Supports a wide range of dropshippers
Automatic fulfilment process
Dropified costs from $47 up to $197 per month depending on the size of your store.

Printful is a slightly different WooCommerce dropshipping plugin in that it specializes in printed products. Items such as printed mugs, t-shirts, hoodies and other products that can be printed and sent via the dropshipper from locations in the US and EU.
Printful is an on-demand print service that includes a range of printed products you can resell on your store. Setup will take a while because there are a lot of specialist options but once done, you can leave the plugin to handle everything.
The range is fairly limited compared to other eCommerce options but where Printful stands out is in the print quality. Read any review to see just how good that quality is.
Features of Printful:
Powerful mockup generator to help design products to sell
Seamless integration with WooCommerce
Print quality is very good
You can create your own products as well as allowing custom ones
Simple to connect to WooCommerce and manage using the app
The Printful WordPress dropshipping plugin is free to use.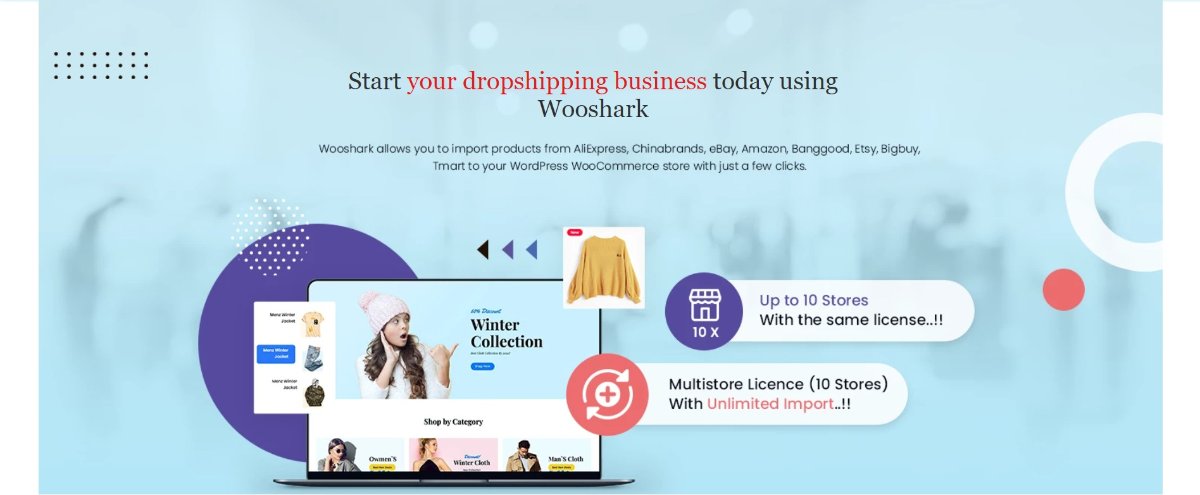 WooShark WooCommerce Dropshipping is a standard plugin that utilizes Amazon, AliExpress, eBay, Etsy and other suppliers to fulfil your orders. It's relatively straightforward to set up and allows customization of all products before they go live.
WooShark WooCommerce Dropshipping is a more hands-on plugin as it enables full control over every element of every product. You could use the default settings but they may not fit your needs. Otherwise, the plugin makes it simple to add products and has a bulk importer tool for entire categories.
WooShark is simple to use once you get used to it and makes short work of managing a store. Order fulfilment is simple as customers are automatically directed to the dropshipper's checkout page to complete, which saves sending orders yourself.
Features of WooShark WooCommerce Dropshipping:
Works with a number of notable dropshippers
Allows full customization of product listings and prices
Includes a bulk import tool for easy listing
Easy to install and use
Automatic fulfilment with redirect to the dropshipper's checkout
WooShark WooCommerce Dropshipping costs from $25.99 up to $59.88 as a one-off fee.

Knawat offers the standard dropshipping services with something extra. They offer to collect orders from multiple suppliers and fulfil orders on your behalf. It's a small thing but if you're selling using multiple dropshippers, Knawat will handle everything in a single shipment making you look much more professional.
Knawat installs easily and makes it simple to add products, customize the descriptions and images and add a profit margin. The app syncs with availability and can support multiple languages and currencies too.
Knawat specializes in fashion and accessories but works with other dropshippers too.
Features of Knawat:
Simple product import tool
Dropshipping and fulfilment is easy
EU and Turkish fulfilment
Automatic order fulfilment
Can handle multiple packages from multiple dropshippers
Knawat costs from free up to $129 per month depending on the size of your store.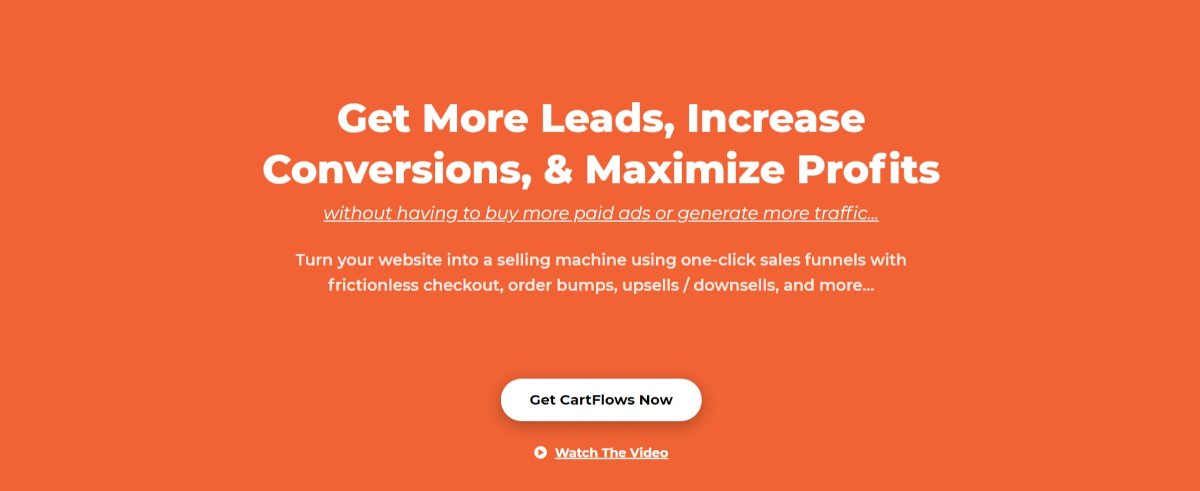 Cartflows is the best WooCommerce dropshipper plugin if you want to include a sales funnel to increase conversion. It's a much more involved plugin than these others but it can achieve a lot more too.
You know the 'people who bought X also bought Y' messages you see when you view or select a product? Cartflows helps you add that kind of funnelling to your online store.
Cartflows is a powerful added extra that makes WooCommerce checkout more attractive, adds features to upsell, adds extra opportunities before, at or after checkout and generally adds some important features to your store.
It can also make the very bland WooCommerce checkout page a lot more attractive!
Features of Cartflows:
An excellent companion to WooCommerce
Adds powerful funnelling features to existing stores to make more profit
Includes templates for every step of the process
Works fast and seamlessly with WordPress and WooCommerce
Enables special offers and other incentives
Cartflows costs $299 per year.
Summary of the Best WooCommerce Dropshipping Plugins
If you're thinking of setting up your own online store, there's no need to buy an expensive readymade store. You can easily set up a store using WordPress.
Just install one of these WooCommerce dropshipping plugins and find a dropshipper. The entire process is simple, cheap and accessible to anyone.
Some plugins even handle the dropshippers for you. How easy is that?
Do you use one of these WooCommerce dropshipping plugins? Have any others to suggest or recommend? Tell us your thoughts below!