Are you interested in starting an eCommerce store? At the same time, not very keen on handling the inventory, staff, packaging, shipping logistics, among other aspects of a typical online store? Well, dropshipping could be a perfect fit.
Dropshipping means you can create your online store and never have to worry about stock. It's up to the dropshipper to source and deliver items, leaving you free to promote your business!
Dropshipping is an online business model that shows no signs of slowing down. According to reports, in 2018, the global dropshipping market was valued at $102.2 billion and is estimated to register a CAGR (compound annual growth rate) of 28.8% from 2019 to 2025.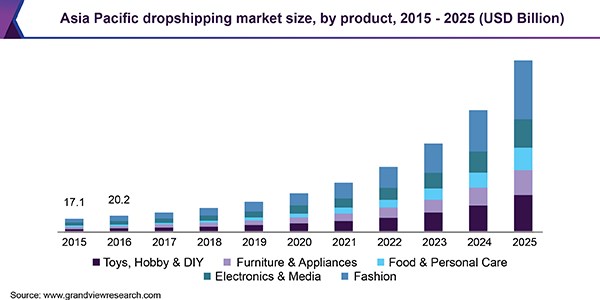 (Source: Grand View Research)
Some of the reasons for the popularity of dropshipping is its ease in setting up, no stock requirement, zero upfront investment, and a more hands-off operation. You could have a full-fledged dropshipping store up and running in less than an hour. It's that simple!
This in-depth guide will cover everything you need to know about dropshipping. We will also cover how to identify vendors, procure products and promote your WooCommerce store.
So, let's dive in and understand what dropshipping is and how it works.
If you already know what dropshipping is and are looking for something specific, you can use these quick links to jump straight in:
What is Dropshipping and How Does it Work?
Dropshipping is a retail model that delegates stock and order fulfillment to the dropshipper, leaving you free to promote and grow your store. The products, packaging, and shipping are all taken care of by the vendor.
All you need to do is create an online store in WooCommerce, have your products listed online and promote the store. When you receive an order and the payment into your account, you would, in turn, place the order with the vendor at the wholesale price. The vendor then ships the product directly to the customer.
Let's explain this in detail.
In a typical eCommerce model, once you've settled on a niche, you will need to invest and procure the products and stock up on inventory. You may also invest in a product photoshoot for promotional images and have them listed on your online store.
You also have to arrange a courier for deliveries, buy all the packaging materials and wait for orders.
Once you receive an order, you will need to pick and pack the product, arrange a courier collection and ship it to the customer.
What happens if you don't get any orders? What happens to your inventory? it's all money down the drain!
By using dropshipping, you remove all those concerns. Stock, order fulfillment and delivery are all handled by the dropshipper.
All you need to do is make sure they get paid!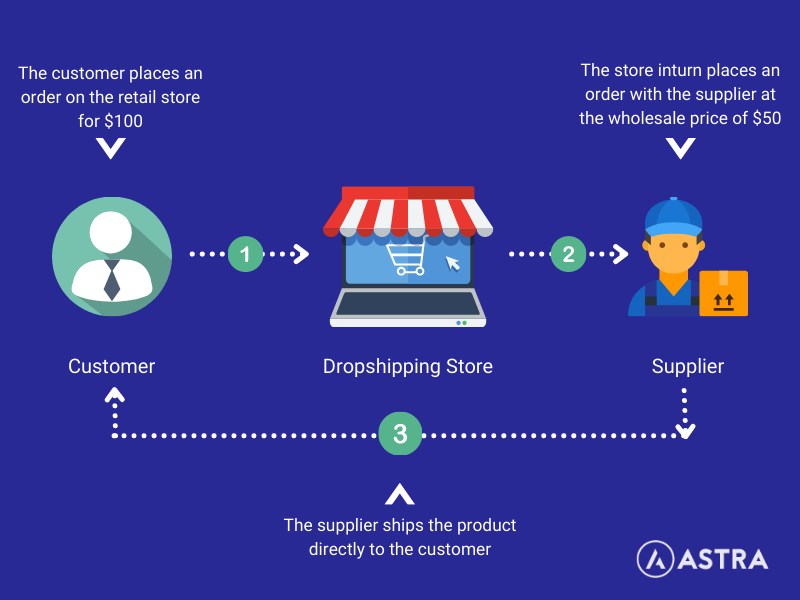 Based on your niche, you need to identify vendors who are reliable and have a good rating. The vendor shares the product's images, thereby eliminating the expenses towards a product shoot, and more importantly, the time required to carry it out.
You'd then create your online store and have the products updated online. You set up the payment gateway with providers such as PayPal, Stripe, and others.
The customer visits your online store and places an order. You receive the full payment for the product. You then place an order with the vendor and pay the wholesale price. The vendor ships the product directly to the customer, thereby taking care of the packaging and shipping.
Your involvement is in only promoting your online store and placing an order with the vendor only after receiving an order yourself. You also have apps and WooCommerce Dropshipping plugin such as AliDropship, WooDropship, WooCommerce Dropshipping, that help you automatically place and fulfil the order with your vendor.
Let's explain this better with an example. And, for the sale of this article, let's consider the fashion niche.
The following image is of a product showcased in a fashion store.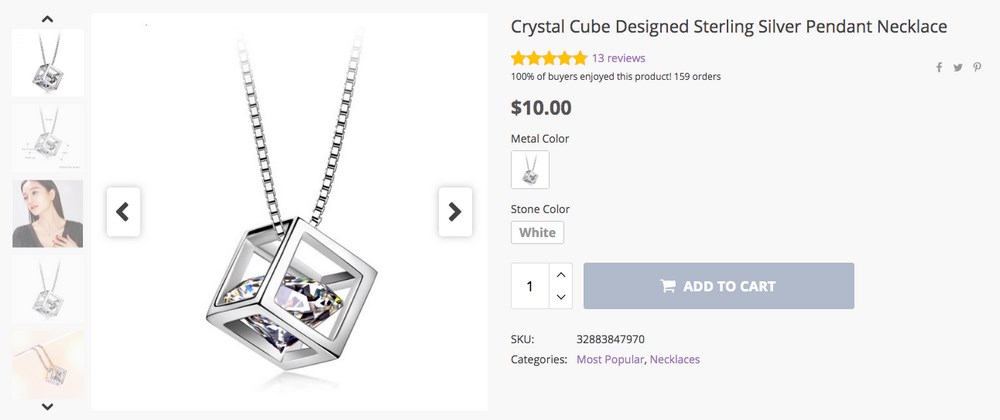 The product is being sold for $10.
Now, let's say you've identified a vendor who sells the same product for $0.78. That's right! This would mean you make well over $9 as a profit if you listed it for $10!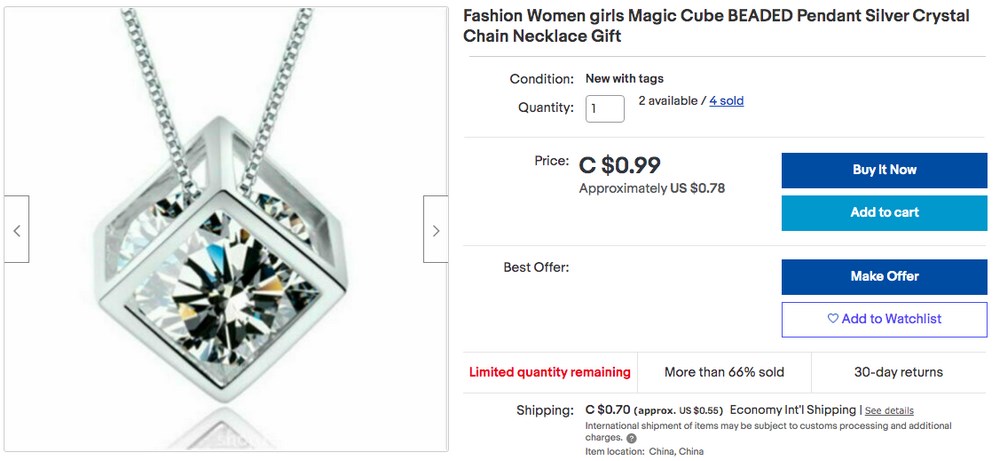 You place the order with the vendor only after you've received payment from your store.
Once you place the order and share the customer details, the vendor, in turn, dispatches the product to the buyer.
And that, my friend, is how dropshipping works!
Dropshipping can be manual or automatic with plugins, which we will cover a little later in this guide.
Advantages and Disadvantages of Dropshipping
By now, you should be excited to create your dropshipping store. As you no doubt realize, dropshipping can be a very lucrative online business model. One that you can start with minimal investment.
However, just as any business, dropshipping also has its share of advantages and disadvantages. Let's get the disadvantages out the way first, shall we?
Disadvantages of Dropshipping
1. Reliable dropshippers
The last thing you need is to list products in your store only for your dropshipper to run out of stock without telling you.
We recommend you look out for vendors who have a good rating, who are reliable, and preferably vendors who can automatically update you on inventory levels.
Look out for suppliers who'd provide you with systems or apps, such as Inventory Source, to keep track of inventory. That way, when a product is no longer in supply, you can unpublish the product or set the product quantity to zero.
2. Delivery
Have you ever accepted responsibility for a mistake that wasn't your fault?
When it comes to fulfilling orders, even the best dropshipping suppliers make mistakes. Since it's your store, you have to take responsibility for these mistakes. Dealing with mediocre and low-quality suppliers will cause neverending frustration with misplaced items, low-quality packing and botched shipments, which can damage your reputation.
3. Shipping
If you're working with multiple dropshippers, don't forget they might charge different rates for different regions. This can overly complicate your shipping costs.
Let's say you receive an order for four items in your store, all of which are available from different vendors. Needless to say, you'll incur four separate shipping charges for sending each item to the customer.
And, it's not wise to pass on these charges to the customer. Even if you were to charge the customer, automating these shipping charges into your website backend can be complicated.
4. Limited Customization
As you may have realized, dropshipping doesn't always give you much control over the product itself, unlike in print on demand or custom-made products. The products are usually designed and branded by the vendor with little input from you.
In some cases, vendors do accommodate product changes or even your business branding on the product. However, this usually requires a minimum order quantity to make it viable and affordable for the manufacturer.
Advantages of Dropshipping
1. Zero Upfront Investment in Inventory
This is THE most significant advantage. You don't have to buy stock and build inventory.
2. Work From Anywhere
Yet another huge advantage. You are not tied to a particular location and can work from just about anywhere. That's right. You'll only have to monitor the orders that come in. Once you receive an order, you coordinate with your vendor and arrange for the shipping. Easy!
3. Flexibility
Since you're not purchasing and holding on to any inventory, you have complete freedom to try different niches. If a particular niche is not working, it's cheap and straightforward to try another one.
4. Low Risk
By not holding any inventory, you are eliminating the biggest risk in the online business. Unsold inventory means your capital is on hold and isn't working for you.
There is much less risk with the dropshipping model since you're not investing upfront. You're only promoting the product you want to sell!
5. Easy to Start
Have you ever wanted to start an online business but didn't because it looked complicated and expensive?
With the dropshipping model, you needn't worry about packing and shipping your orders, paying for a warehouse, tracking inventory, handling returns, ordering products, or managing stock levels. It's all handled by the vendors!
Set up the store, list the products, and let the dropshipper handle fulfillment. It gives you more time to market your store without having to worry about stock!
6. Easy to Test
Are you considering starting your own product line? It does take a lot of time and investment, doesn't it? And once you've launched your products, what if there are no buyers?
One of the main advantages of dropshipping is promoting and selling products before committing to buying or investing in a large amount of inventory. If it doesn't sell, you can always change your product line.
On the flip side, if it's a hit, you could consider buying in bulk or even launching your very own product line.
7. Easy to scale
With the dropshipping model, most of the work to process additional orders will be handled by the vendors. This allows you to expand without having to worry about where you're going to store products or handle the extra deliveries.
8. White Label
Have you ever wanted to sell products with your name on them? Want to offer branded products to corporate clients? White label arrangements can deliver that.
With a long term association in mind, you can have your products branded. This way, the customer knows the product is from your store.
Great! Now that we're done with the advantages and disadvantages of dropshipping, let's start building our dropshipping store!
How to Start Dropshipping
Step 1: Identify Your Niche
To kickstart your dropshipping journey, you'd need to identify your niche. That niche will influence the products you sell. If you can combine a hobby or passion within that niche, all the better!
When deciding on a niche product to sell in your online store, we recommended you spend some time researching what works and what doesn't. You could also check out the best-selling items on other popular eCommerce stores such as Amazon or Walmart to get inspiration.
To help you get started, here's a list of our recommended dropshipping niches, listed alphabetically.
Bicycles
Game Room Equipment
Home Bar Accessories and Equipment
Home Gym Equipment
Kids Workspace
Kitchen Accessories and Supplies
Outdoor Furniture
Outdoor Kitchens
Pet Supplies
Water Recreation Equipment
Wine Refrigerators
Of course, you don't have to use any of these. If you have a hobby, passion, or particular expertise, that's the niche you should choose!
Step 2: Selecting a Product and Vendor
Once you have decided on your niche, the next step is to identify your products and a reliable dropshipper.
As we mentioned earlier, look out for vendors who've been in business for a while and who have good reviews. Most directories we cover below will provide you with this information.
Another critical point to note is to check if your dropshipper operates and delivers in your region. And check on their delivery times. You'd have to mention that in your store so you need to get that right!.
Here's a list of dropshipping suppliers that you could choose from: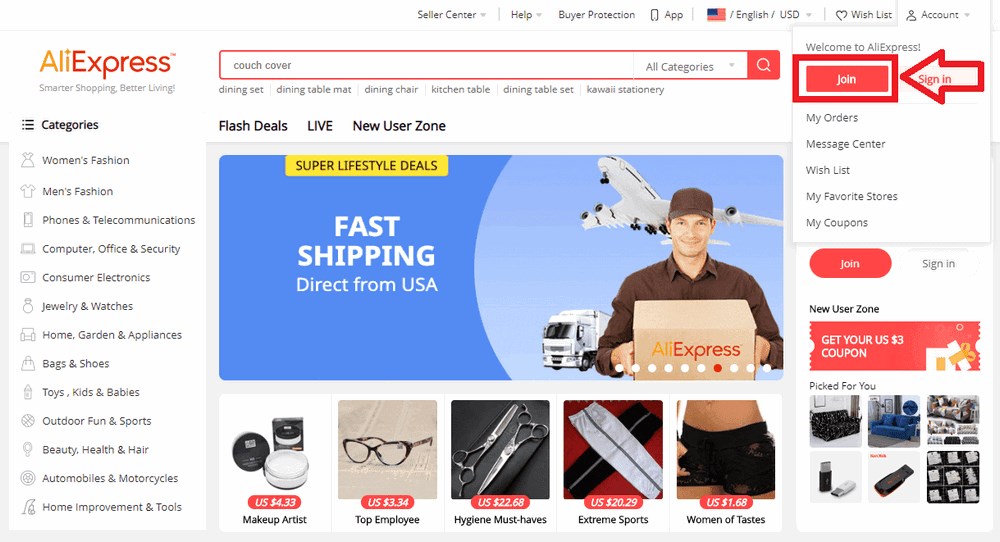 The first on our list is AliExpress. It is the largest online marketplace of suppliers in the world. AliExpress comprises businesses in China and other locations, such as Singapore, offering millions of products to international online buyers.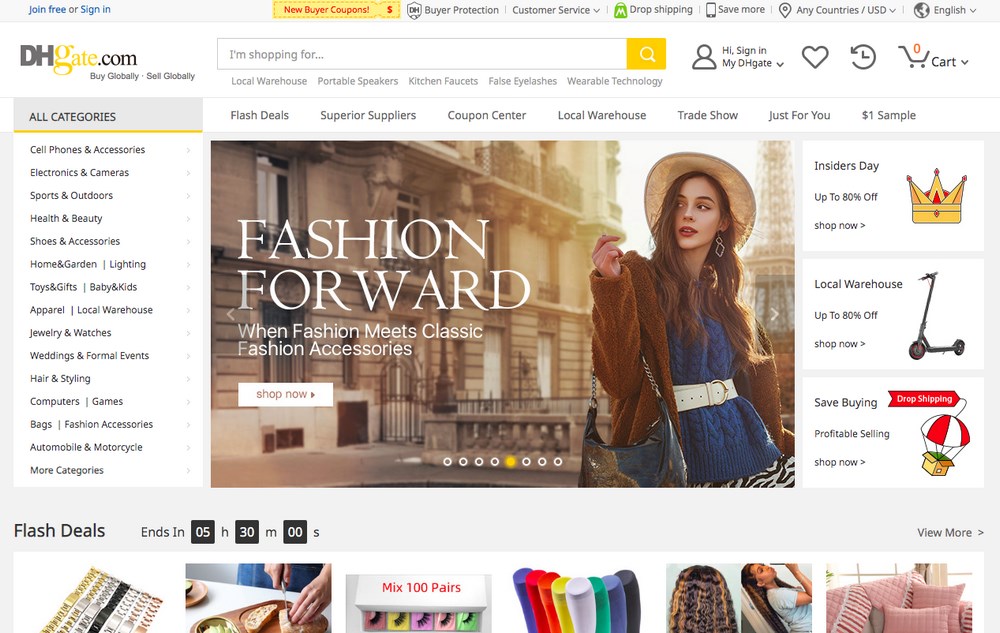 DHgate is yet another Chinese eCommerce platform that promotes products from various suppliers to small and medium retailers. It is one of the largest B2B eCommerce platforms in China.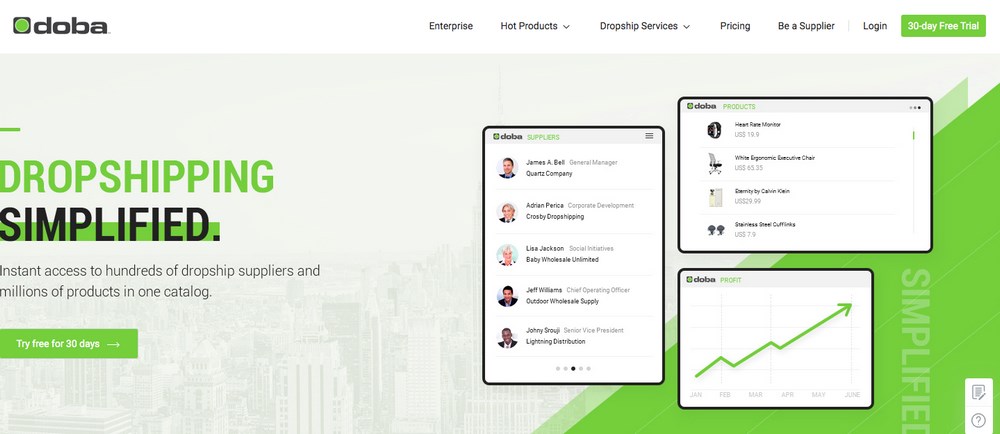 Doba allows retailers and dropshippers of all sizes to connect quickly and do business. However, Doba offers a subscription-based model starting from $24.99 per month. You could sign up for their 30 day trial period.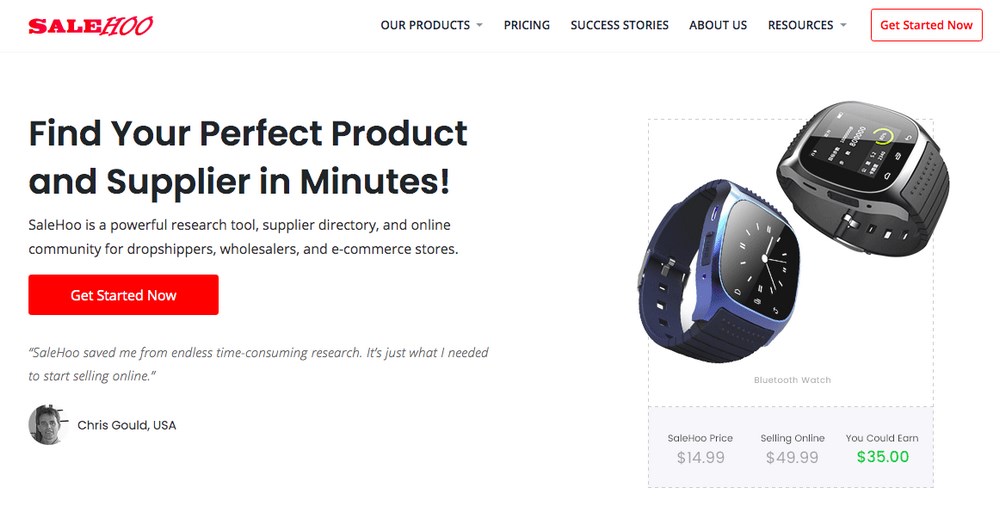 SaleHoo is a robust online community for dropshippers, wholesalers, and eCommerce stores with 8,000+ trusted wholesalers and suppliers to choose from. SaleHoo also operates on a subscription-based model.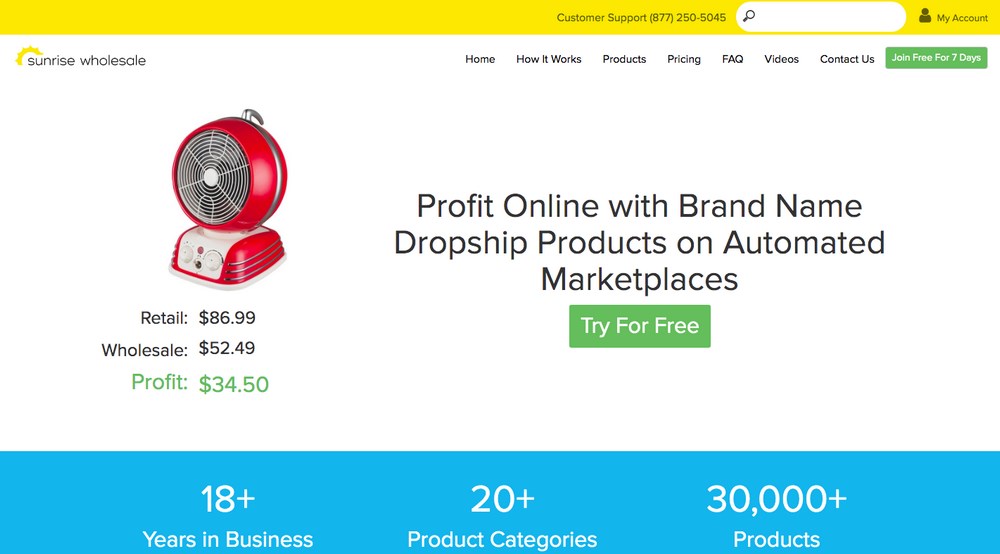 Sunrise Wholesale Merchandise is a wholesaler partnered with industry-leading dropshippers to provide over 20,000 products. You could join their 7-day trial period before opting for their monthly membership plan.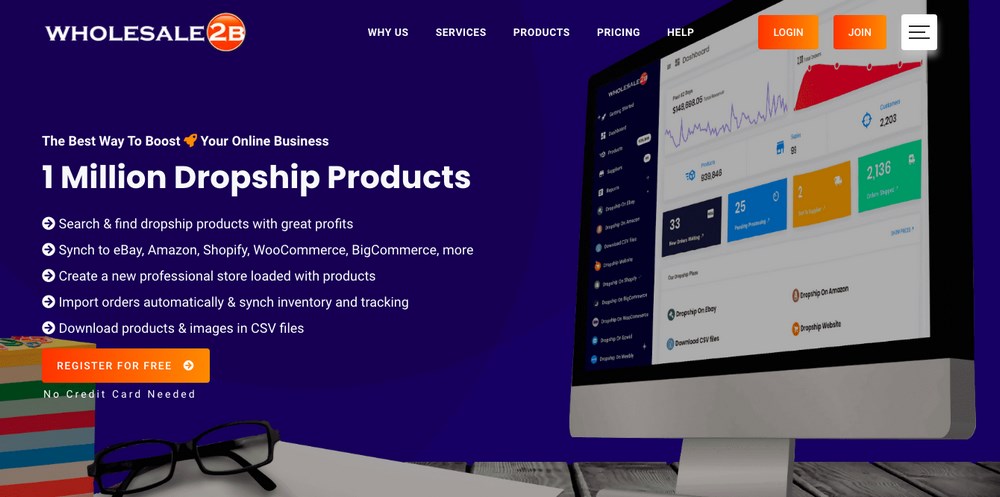 Wholesale2B integrates products from the best dropshipping suppliers into a single account. You don't have to sign up with individual suppliers. Wholesale2B even handles orders and returns for you.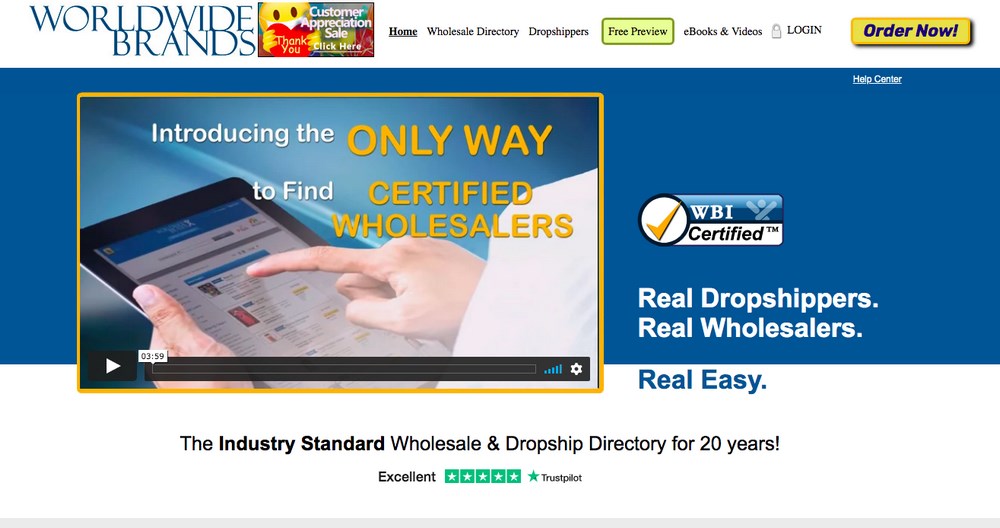 One of the oldest platforms connecting wholesalers and dropshippers with retailers of all sizes.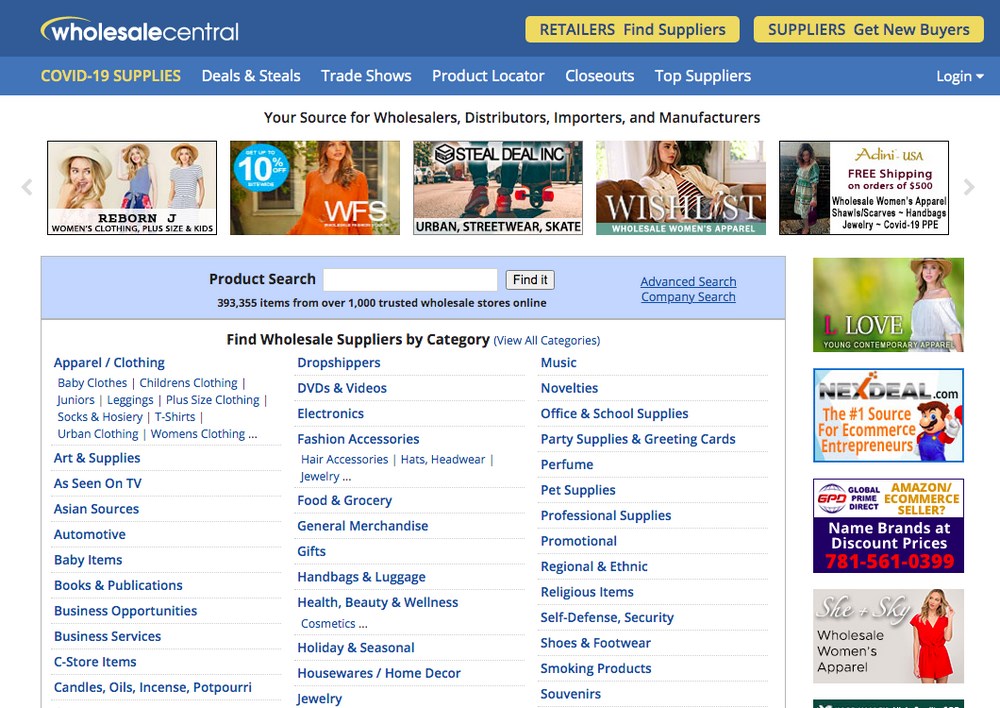 Wholesale Central is yet another directory that connects wholesale buyers with suppliers and products. Through Wholesale Central, you can connect directly with the supplier and conduct business with them directly.
There are lots of dropshipping suppliers out there, but you get the idea…
Step 3: Create an Online Store
Now that you've identified your niche and your vendor, the next step is to create your online store.
You could choose from eCommerce website builders such as Shopify, BigCommerce, Squarespace, and Wix, but we will create a WooCommerce dropshipping store in this article.
There are just four simple steps to create a WooCommerce dropshipping store.
Create a WooCommerce Dropshipping Store
Step 1: Buy Domain and Hosting
Want to create an online store? First, you have to invest in a domain name and a hosting service. Your domain and hosting are some of the only investments you have to make when creating your WooCommerce dropshipping store.
The cost of purchasing a domain name ranges anywhere from $10 to $20 a year. You could buy a domain name from just about any domain name registrars.
Some of the most popular ones are,
We recommend buying your domain and hosting at the same time, as the host will usually set everything up for you!
Some of the popular hosting service providers are,
We highly recommend going with SiteGround.
The main reason we recommend SiteGround is their fantastic customer support. In particular, their WordPress support. Their support team is by your side 24/7 to handle your website's issues, however trivial they may be. Good support is ideal for WordPress and WooCommerce newbies.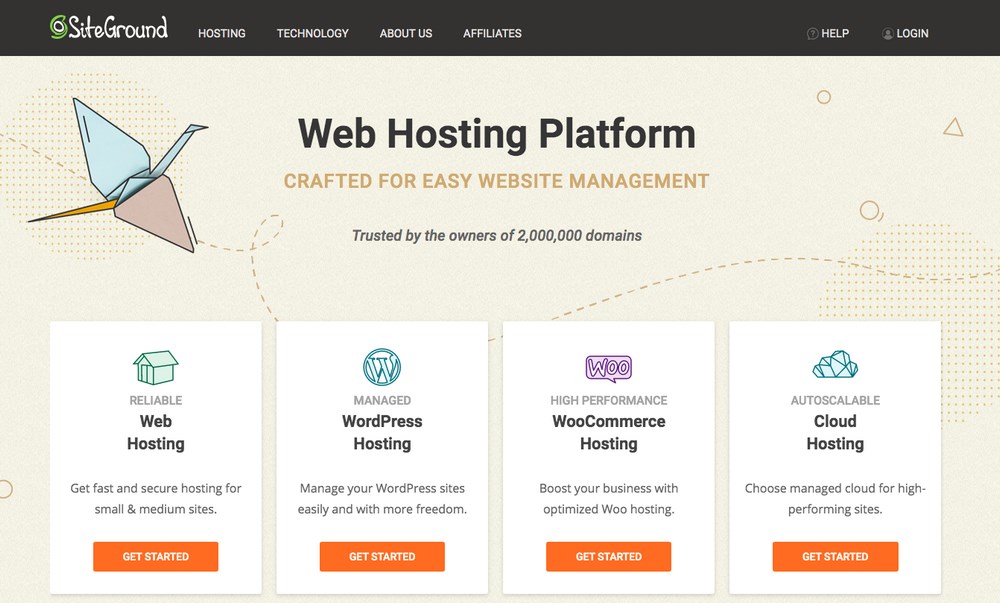 Head over to SiteGround and click on 'Get Started' under 'WordPress Hosting.'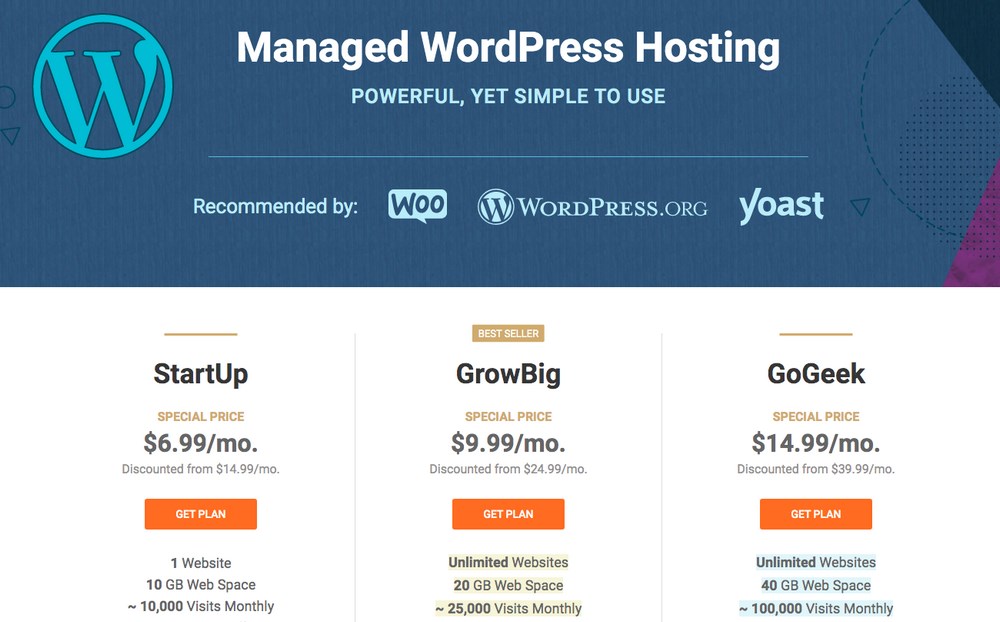 Choose a plan that is best suited for your needs. If you'd like to host multiple websites, you could choose from either the GrowBig or GoGeek plans. Alternatively, if you plan to host only one website, go ahead with the StartUp plan.
After deciding on your plan, the next step is to decide on a domain name.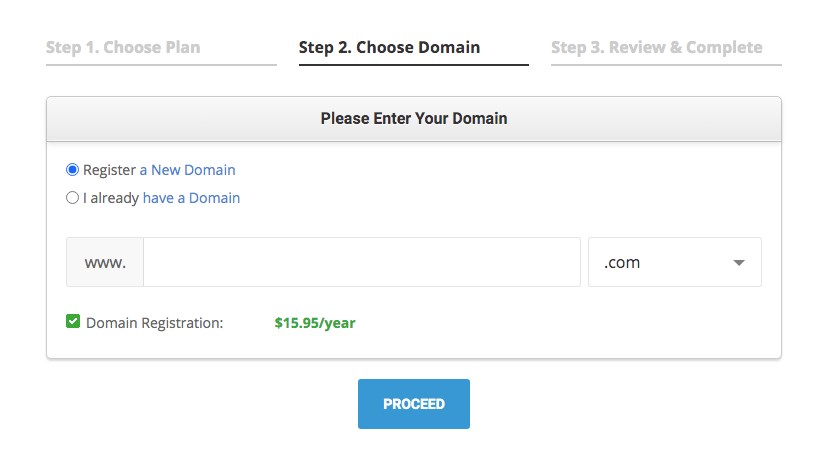 If you already own a domain, select the 'I already have a Domain' option and enter the name in the field provided.
If you'd like to purchase a new domain, retain the default selection of 'Register a New Domain' and enter the domain name you'd like to purchase.
For this article, we'll go ahead and search for the domain name 'mywpastrasite.com.'
If your domain name is available, you'll see a success message, as shown in the image below.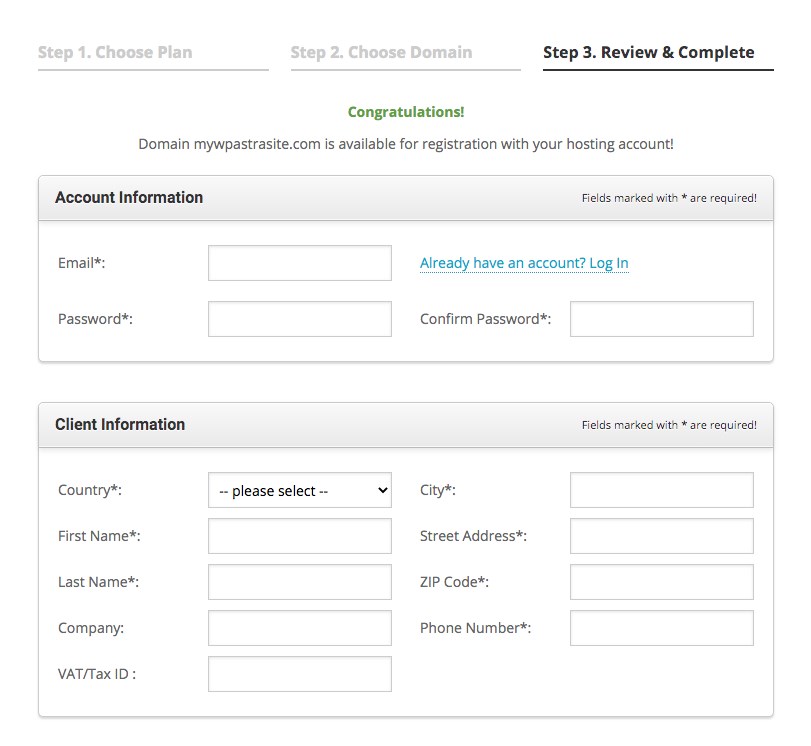 Fill in all the required fields in Step 3.
While most of the fields are self-explanatory, we'd like to draw your attention to Data Center and Extra Services.
Through Data Center, you have the option to choose where your data will be stored. This depends on your location and also where your primary traffic is coming from. You can choose between the USA, Asia, Australia, United Kingdom, Germany, and Europe.
The benefit of choosing a local data center is that your website loads faster. And we recommend you select a data center closest to the region where your store would operate.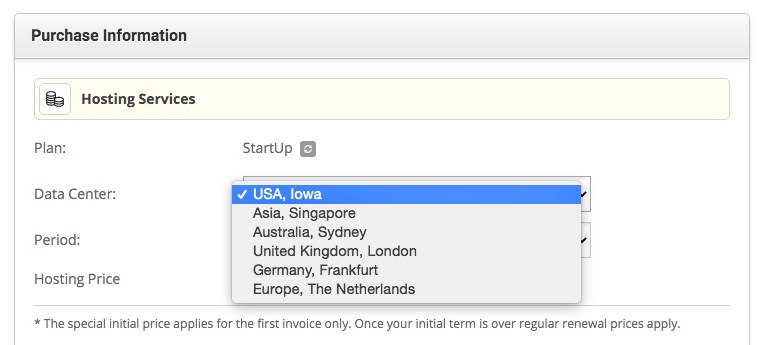 Would you like to display your contact information publicly? If that's a no, you could consider opting for the Domain Privacy option under Extra Services.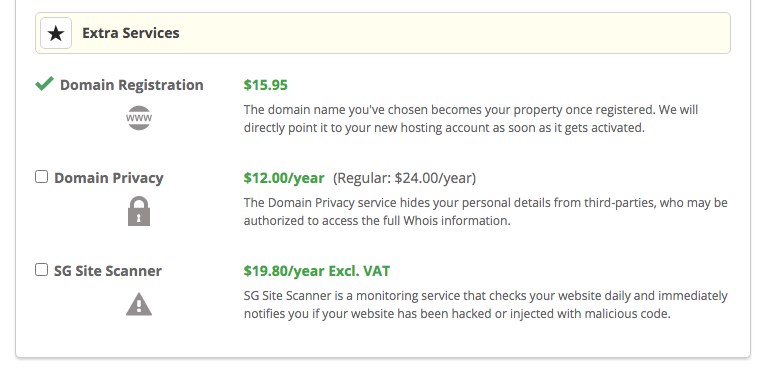 You may or may not choose to display your contact information on the contact page of your website. That is different from the Domain Privacy option mentioned here.
Every domain has what is called a WHOIS record. The WHOIS record displays the registrant information, which can be accessed by just about anyone. If you'd like to hide that record, you could consider purchasing the Domain Privacy service.
This is purely a personal preference.
Once you've completed all the above steps, click on Pay Now. On successful payment, you will receive a confirmation mail.
Congratulations! You've just purchased your domain name and the hosting service!
Step 2: Install WordPress and WooCommerce
Most hosting service providers make it easy to install WordPress through their control panel. With SiteGround, they make it even easier with a straightforward control panel and WordPress auto-installer.
Once you have logged into your SiteGround dashboard, click on Install & Manage.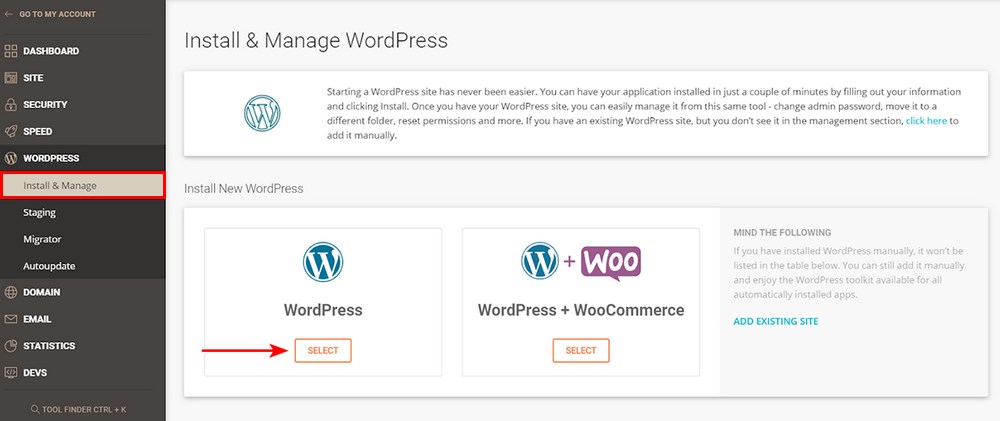 Select WordPress and complete the easy step-by-step installation process.
You will be prompted to provide a username and password. Keep these safe as you'll require this to log into your WordPress dashboard once everything is up and running.
Once your installation is complete, you can access your WordPress dashboard through yourdomain.com/wp-admin, where yourdomain.com is the domain name you just purchased.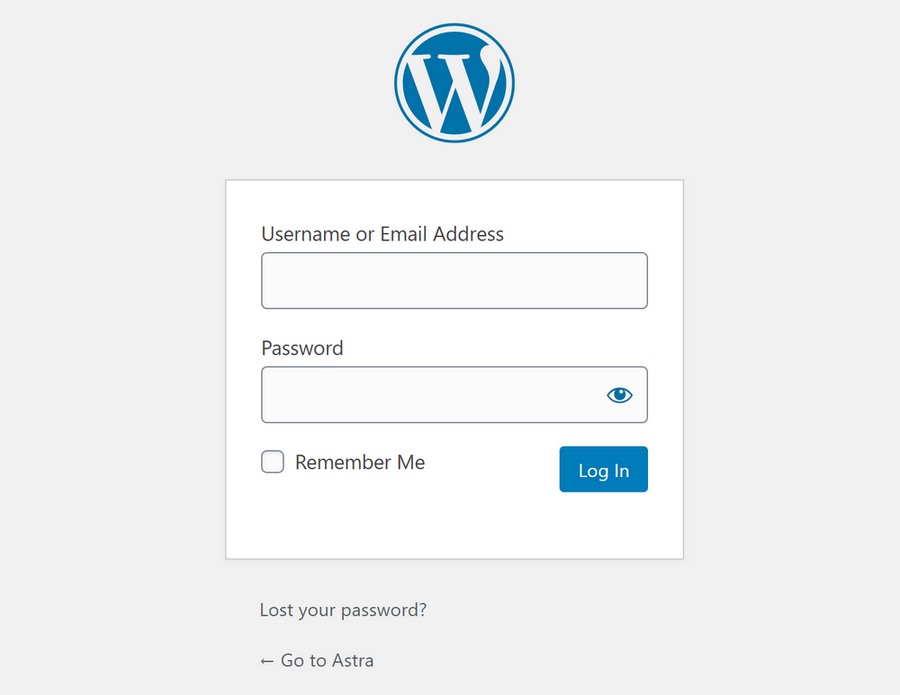 Use the credentials created during the WordPress installation to log into your WordPress dashboard.
Based on the hosting service provider you've selected, your dashboard may vary slightly. Usually, once you've logged in, you will arrive at the following screen.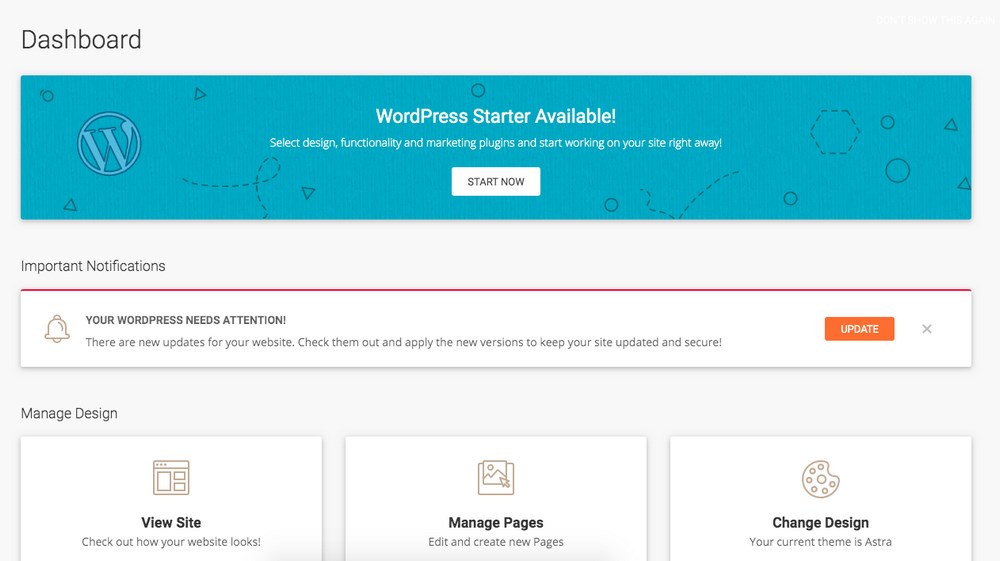 There are some must-have plugins we recommend you install. Check out our article on the Must Have Plugins For Every Successful WordPress Website.
Now that you've installed WordPress let's go ahead and install WooCommerce.
Head over to 'Plugins > Add New.' Search for WooCommerce. Install and activate it.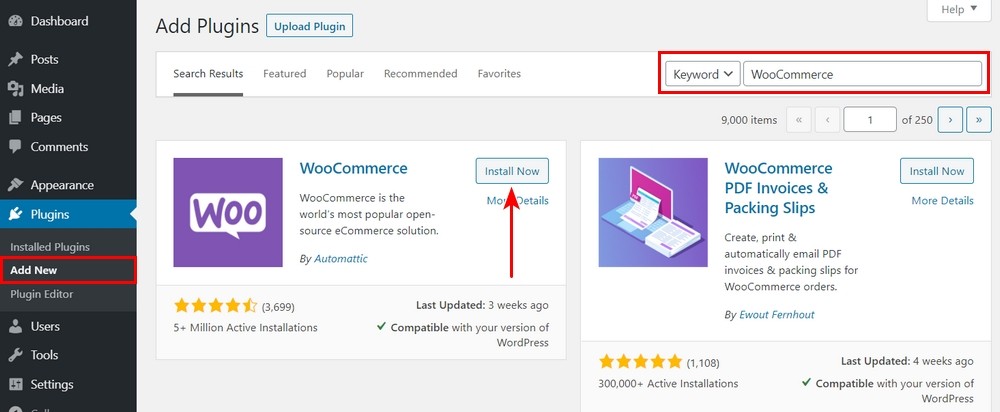 Once WooCommerce has installed, you'll notice a set of new links on the left hand side of your WordPress dashboard.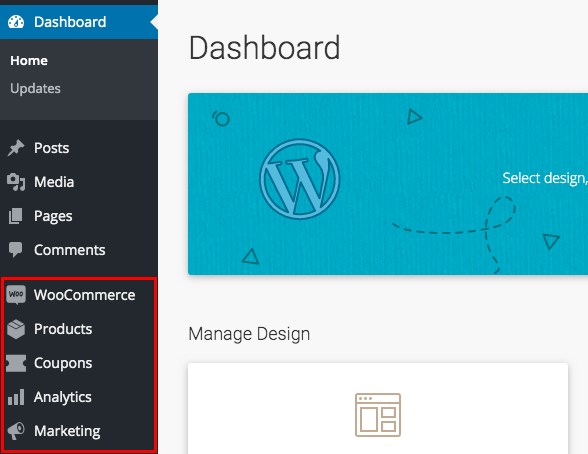 Great! We've completed step 2. It's now time to apply a theme and make use of our Astra starter templates!
Step 3: Select a Starter Template
The theme controls the look and feel of your website. The fonts, the colors, the layout, all these and more are defined within the theme. Themes make your website look more attractive, helps you create a website faster, and with the right lightweight theme, it also helps your website load more quickly.
To make use of our Astra starter templates, we'd have to install the Astra theme.
Here's how:
Head over to Appearance > Themes. And click on Add New.
The default theme will be Twenty Twenty-One.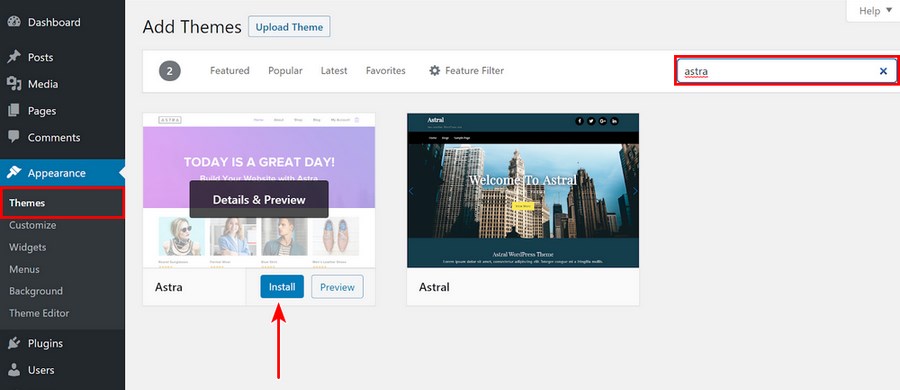 Search for Astra, install and activate it. Once the Astra theme is activated, head over to Appearance > Astra Options. You can click on activate Starter Templates on the right-hand side.
An alternate method to activate starter templates is by going over to Plugins > Add New and searching for Starter Templates.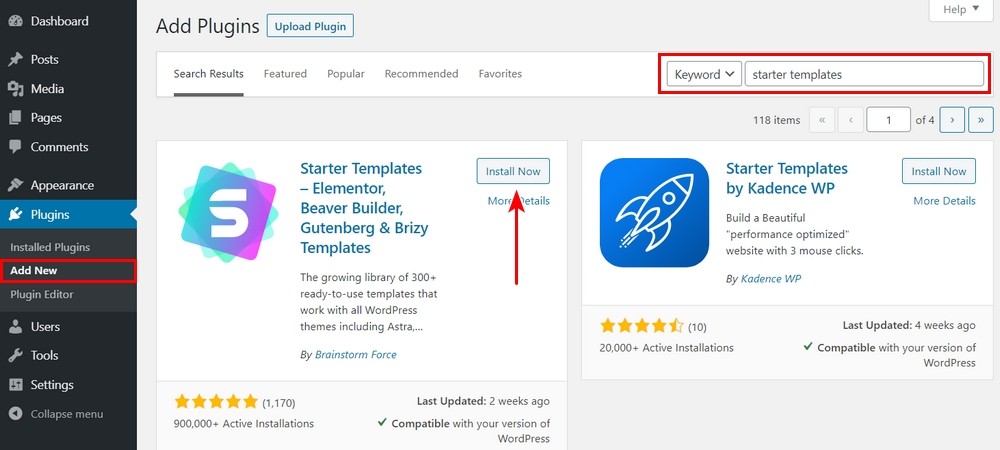 Once activated, head over to Appearance > Starter Templates.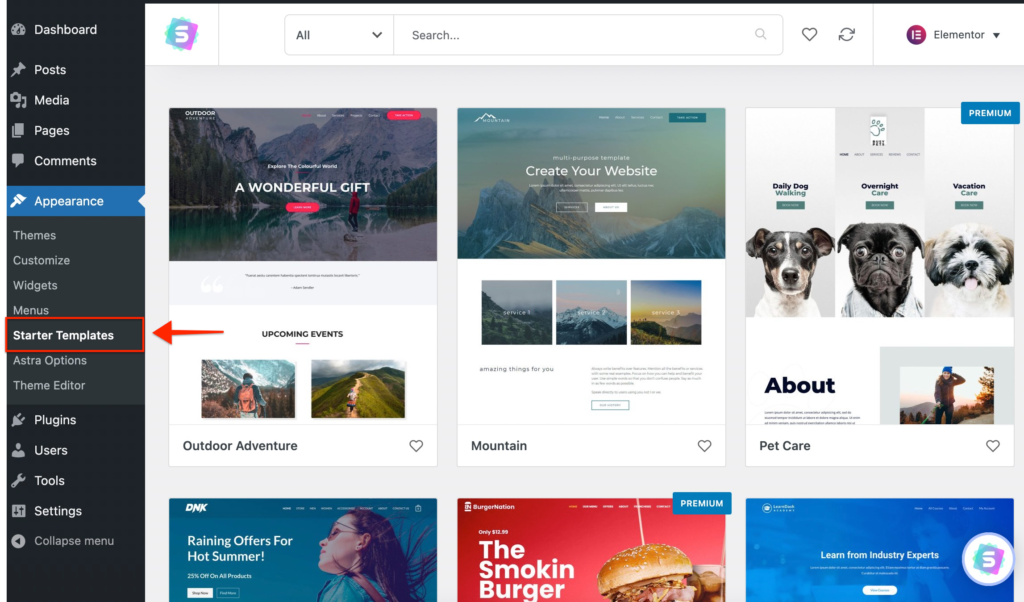 You should now select a starter template of your choice. Ideally, it should be a template that reflects your niche. Using the above dropdown, select a template.
The templates listed here are a mix of both free and premium. The templates with the Premium tab are available with our Astra Essential and Growth Bundle.
Since we are setting up a WooCommerce dropshipping store, let's search for the keyword 'Store.' We'll apply a filter to search amongst the Free templates.
You'll notice, the page builder selected by default on the right is Elementor.

Elementor is a very easy to use WordPress page builder. Other popular page builders available are Beaver Builder, Gutenberg, and Brizy. Choose a page builder that you are comfortable using or leave it set at Elementor.
From the available starter template options, we'll choose the Custom Printing template.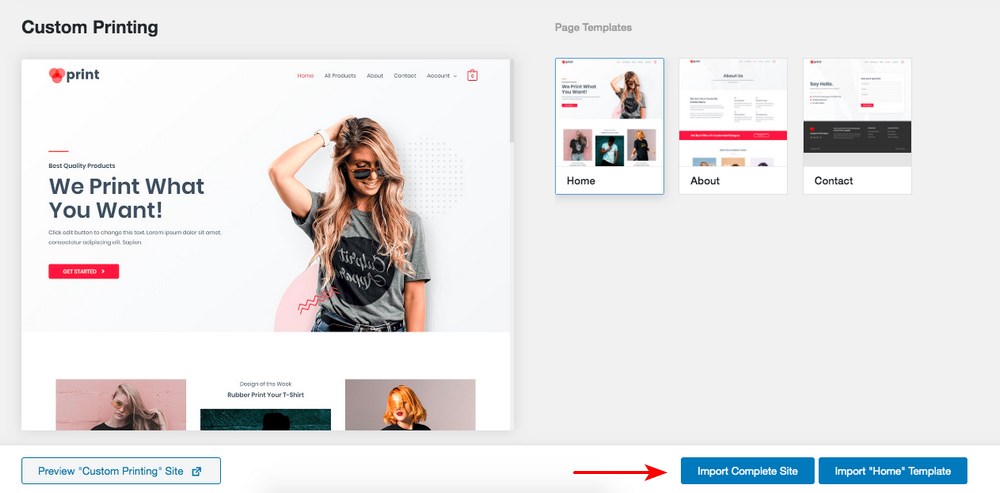 Using the options available, you could preview the template, import the complete site or import a particular template.
We'll go ahead and click on Import Complete Site.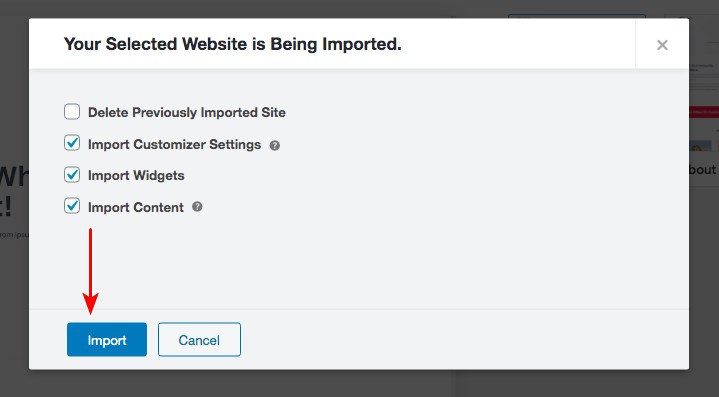 Click on Import when prompted.
If you have a previous site or template installed, you could choose to delete the previous installation. Since we are installing the template to a fresh WordPress installation, we can leave the Delete Previously Imported Site option unchecked.
Your website imported has started.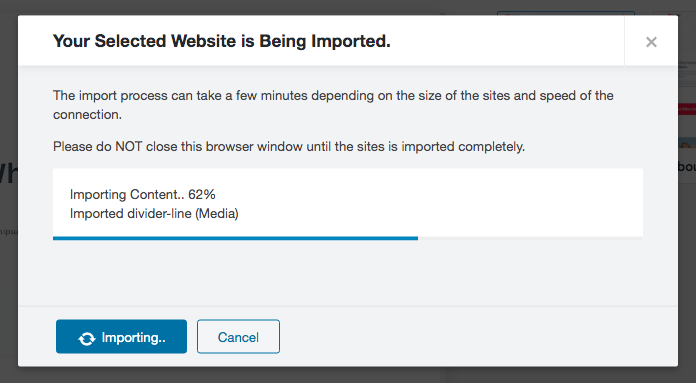 And just like that, within a couple of minutes, your website is ready!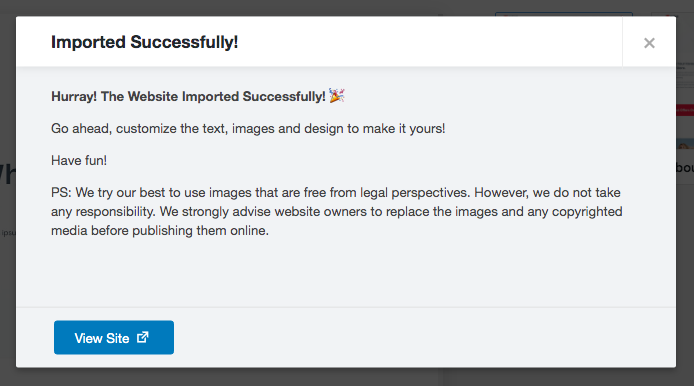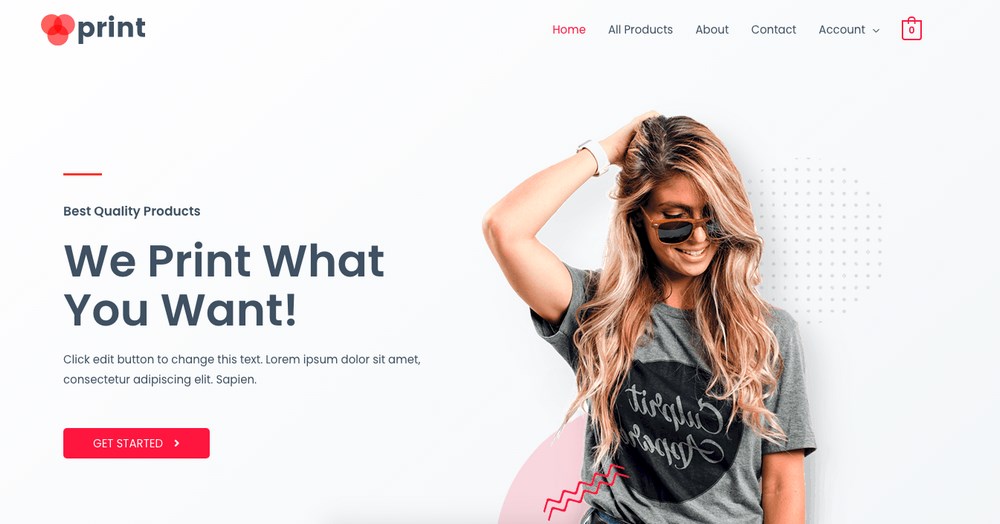 Your full-fledged WooCommerce store is ready. Yes, you've still got to add in actual content and products, but, by and large, your WooCommerce store is up and running.
If you've reached this point, pat yourself on the back. We've covered a lot. Great work!
Step 4: Set up Payment Methods
What are the probabilities of coming across an online store offering products for free? Very slim, I presume. At least legally!
Every online store needs a payment method. We need to integrate a payment method for our online store to accept payments. Some of the top payment gateways include PayPal, Stripe, Amazon Pay, Skrill, 2Checkout, CC Avenues and Authorize.Net.
While selecting a payment gateway provider, ensure that the customer payment experience is secure and comfortable. This helps build trust among the customers and helps gain repeat business.
Also, as a store owner, consider checking out the payout timeframe and the ease of integration with your online store.
To set up a payment method, head over to WooCommerce > Settings and click the Payments tab.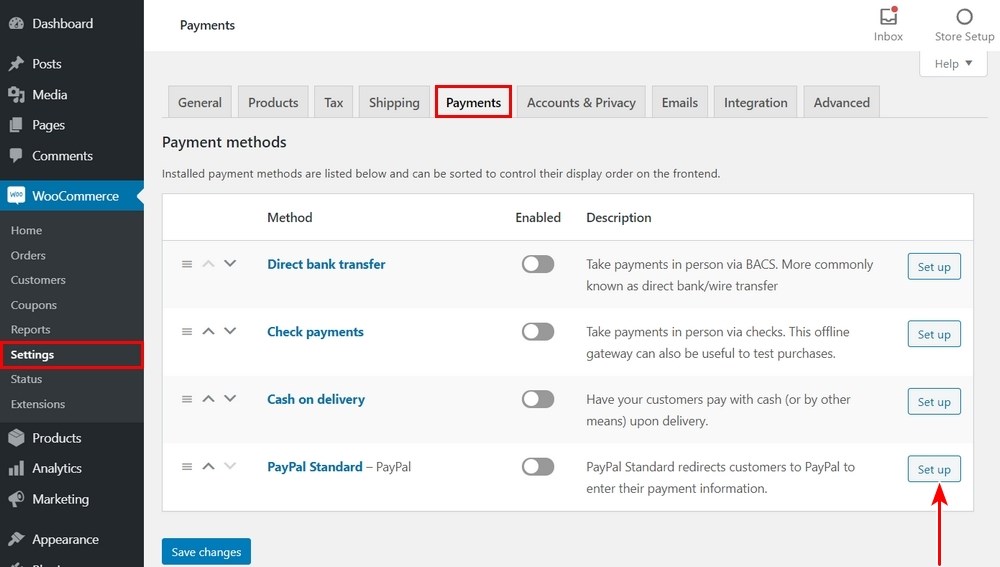 Enable the payment method you'd like to use for your WooCommerce store and complete the setup process.
For example, if you'd like to use PayPal as your preferred payment method, click on Set up against PayPal Standard.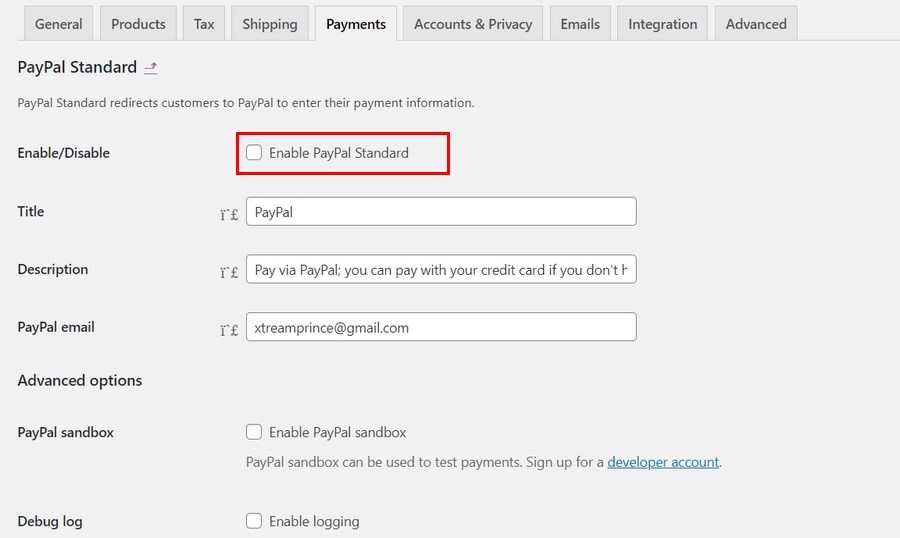 Assuming you already have a PayPal business account, enter your PayPal email address in the relevant field, as shown above.
For testing purposes, you could enable the PayPal sandbox option. However, don't forget to uncheck this option when you do take your store live. Often, store owners fail to uncheck this option, only to receive orders without receiving payments for purchases!
Once you've entered all the relevant details, enable PayPal Standard and click on Save changes. You've now successfully added PayPal as a payment method.
If you'd like to add additional payment methods, such as Stripe, we have a complete step-by-step guide on How to Set Up Stripe in WordPress.
Step 5: Set up a Shipping Method
In addition to accepting payments, another integral part of an online store is shipping.
Even though we're using dropshipping, you will still need to set up shipping in WooCommerce.
A workaround for this is to offer free shipping, which would eat into your profits or add a blanket shipping charge, irrespective of the actual cost.
Many online store owners offer free shipping as an incentive to purchase in their store.
Did you know that the average cart abandonment rate is a little under 70 percent? Any guess what the number one reason for cart abandonment is? It's the extra costs such as shipping, taxes, and fees added to the product during checkout.
If you'd like to create seamless checkout pages and flows for your online store and integrate upsells and downsells, check out our very own Cartflows. It's a fantastic plugin for maximizing profits!
With Cartflows, you can turn a website into a selling machine using one-click sales funnels, order bumps, and much more.
To set up your shipping method, head over to WooCommerce > Settings and click on the Shipping tab.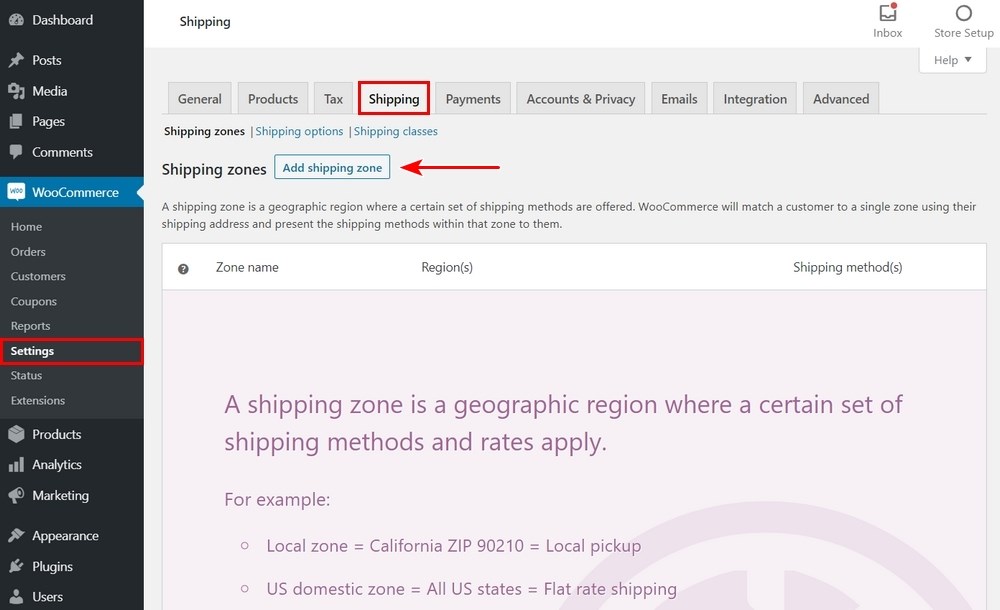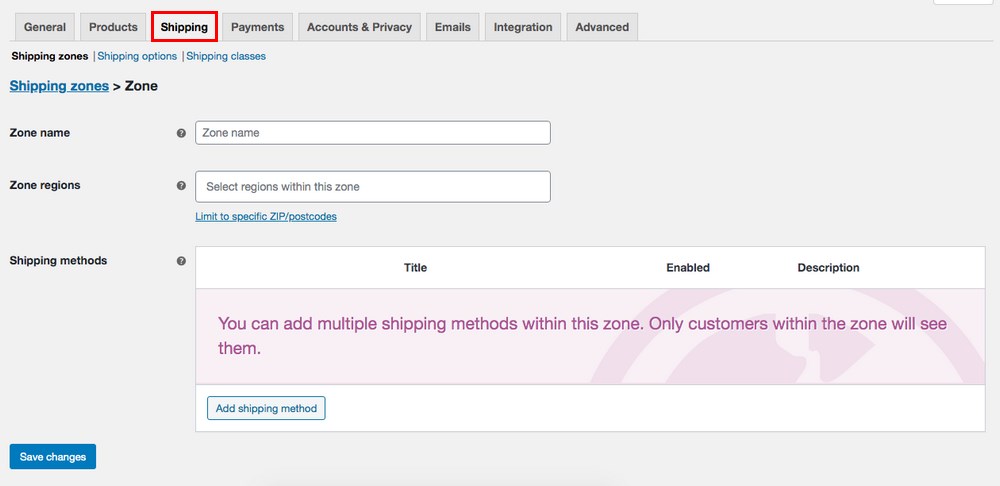 You should add multiple zones based on the locations you are catering to. The Zone name is for your internal reference. Once you've entered a Zone name, select the regions you'd like to include in this particular zone.
By clicking in the Zone regions field, a drop-down appears with the various locations.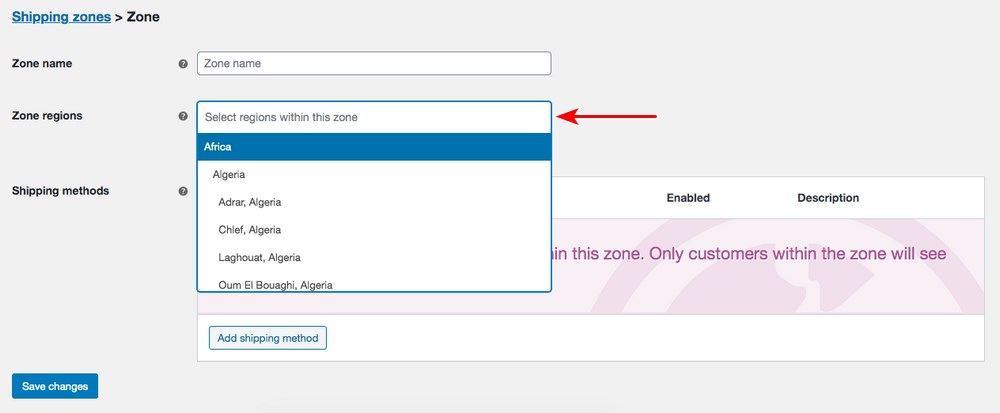 For example, as shown below, we've named our zone as the US. Under Zone regions, we've selected the United States (US). You could go very specific by keying in the postcodes you are catering to in the text area displayed.

Once you've identified your regions, we've got to set a shipping method and rate for them. For this, click on Add shipping method.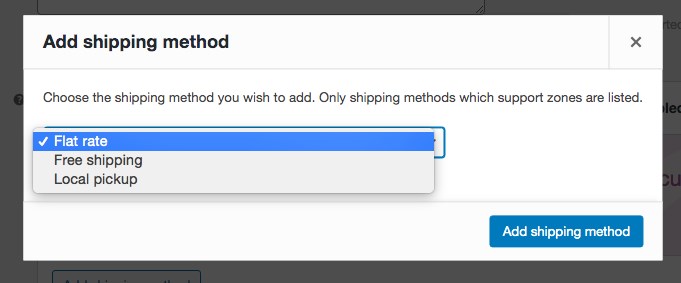 The options you can choose from are Flat rate, Free shipping and Local pickup. Add a shipping method you'd like to offer for the zone you've created.
We're going with the Flat rate option. Click on Add shipping method.

You'll notice your shipping method has been added to your zone. Hover on Flat rate and click on Edit.
This will open up a new window, as shown below.

The tax component will vary depending on your location and also the area you are servicing. We recommend checking with your local tax office for specifics in your region. Add the applicable Cost in the relevant field.
Once you've completed, click on Save changes.
Similarly, you could create multiple zones and set the shipping charges accordingly.
As mentioned earlier, it is a lot easier to provide free shipping to all your customers. Not only could you save yourself from adding the various tax components based on location, you also make purchases seamless with free shipping.
And that completes step 5 of setting up a shipping method!
WooCommerce: An Overview
While we have covered the essential elements of WooCommerce in the previous sections, we will run through a few key WooCommerce options here to familiarize ourselves.
WooCommerce > Settings
WooCommerce > Settings, the General tab is where you'd include some of your store's basic information.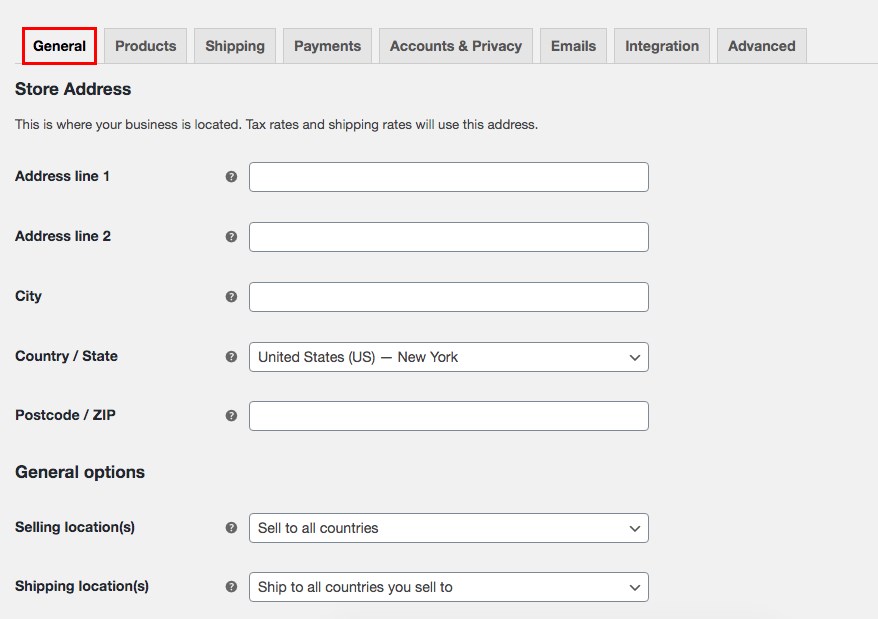 For example, you can add store location details, the locations you are selling to, and the shipping locations. However, the most important aspect in the General tab are the Currency options.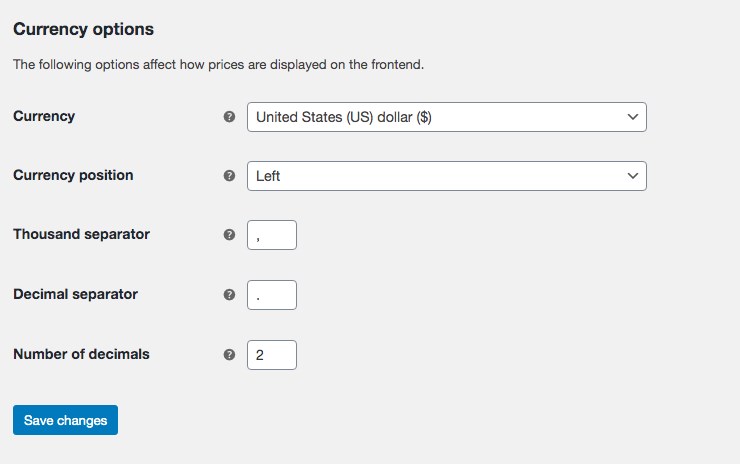 You can set the currency on your store's front end. You could also choose to customize the position of the currency, among other available options. Once you've completed the settings, click Save changes.
WooCommerce > Home
Once you've completed the basic store settings, head over to WooCommerce > Home. If this is your first visit, you'll be prompted with a welcome message.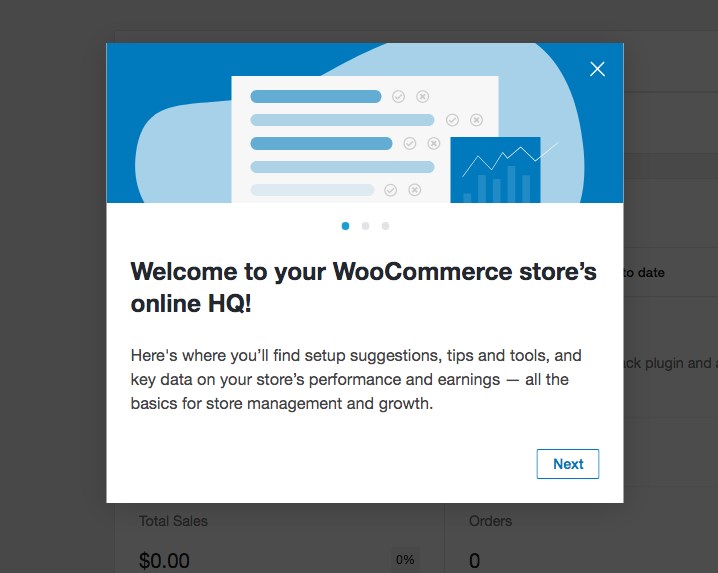 You can choose to scroll through the welcome messages or close the window.
You are now on the dashboard of your WooCommerce store.
The dashboard is quite comprehensive and helps you with a summary of your online store. From stock management to reviews and traffic reports, your dashboard provides you a concise report of everything that's going on.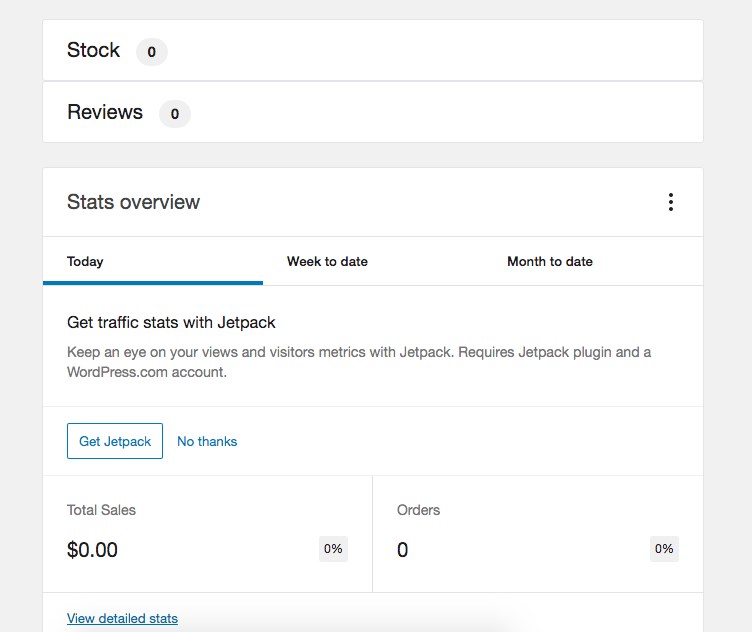 You could also choose to customize the look of your dashboard. Simply click on the Display icon on the top right and select either a Single column view or a Two columns view.

On selecting the Two columns view, your dashboard changes accordingly.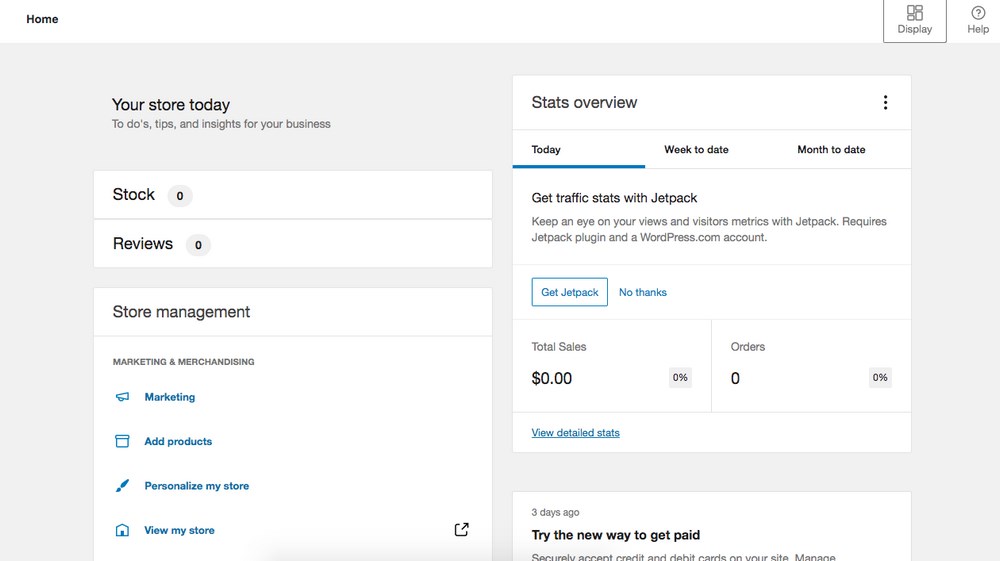 Clicking on the three dots against Stats overview allows you to customize the fields to be displayed.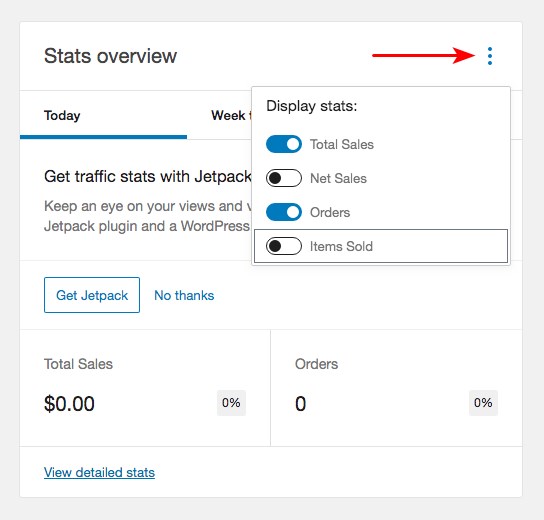 As shown above, you could choose to display or hide the fields.
WooCommerce > Orders
Since we haven't started receiving any orders so far, the WooCommerce > Orders section will appear empty.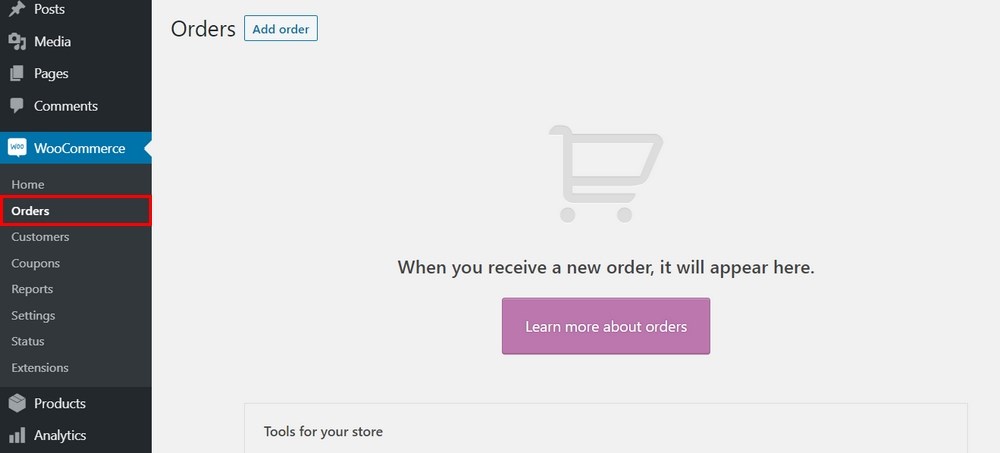 If you have received an offline order, you could add the same to your WooCommerce store. This helps to manage your inventory and track orders. To add an order, click on Add order.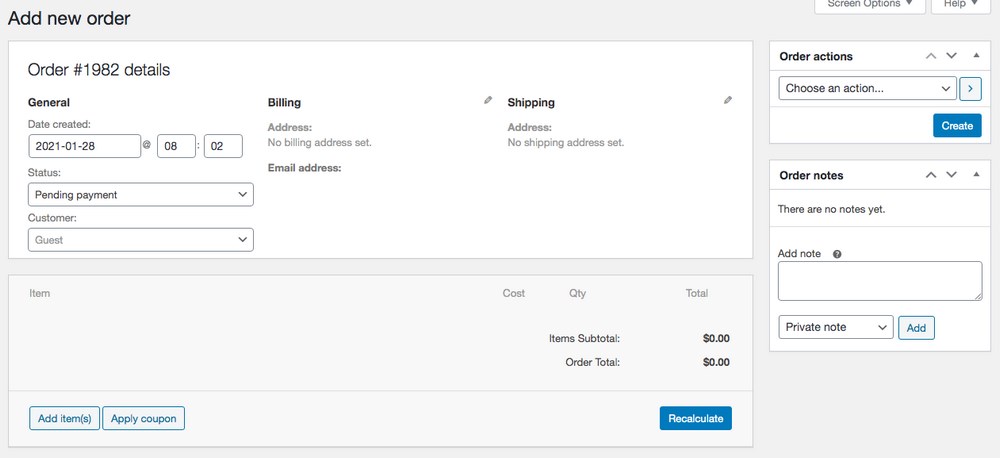 Once you've included details of the purchase, customer details, billing address, click on Create.
WooCommerce > Customers
If you are starting a new store, there will be no data to display as yet.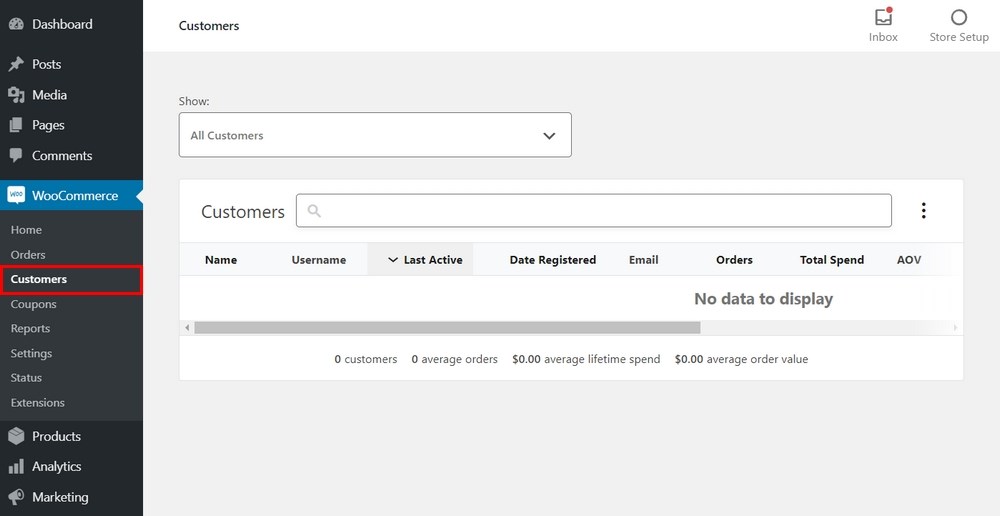 Slowly but surely, with more orders coming in, you'll have details related to your customers, such as email addresses, orders, total spend, among other metrics displayed here.
WooCommerce > Reports
If you want detailed reports to be generated for your online store, you needn't go beyond WooCommerce > Reports.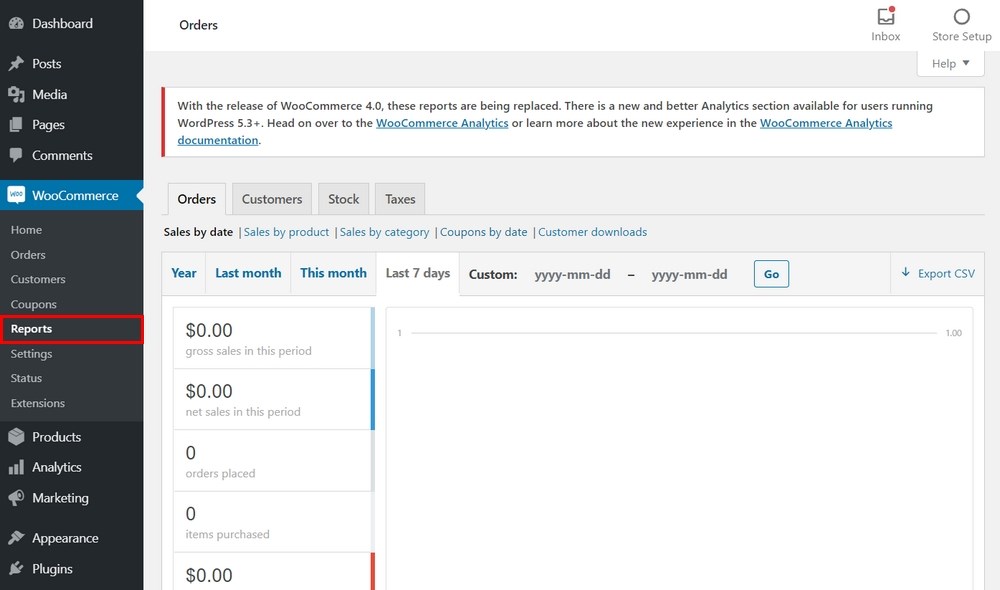 You can report on net sales, orders placed, items purchased, refunds, worth of coupons used for a particular period.
Not only can you generate reports based on sales, but you can also create reports based on the product, category, coupons, and customer.
WooCommerce > Cart Abandonment
Do you want a report on how many customers are abandoning their shopping cart? Well, head over to WooCommerce > Cart Abandonment.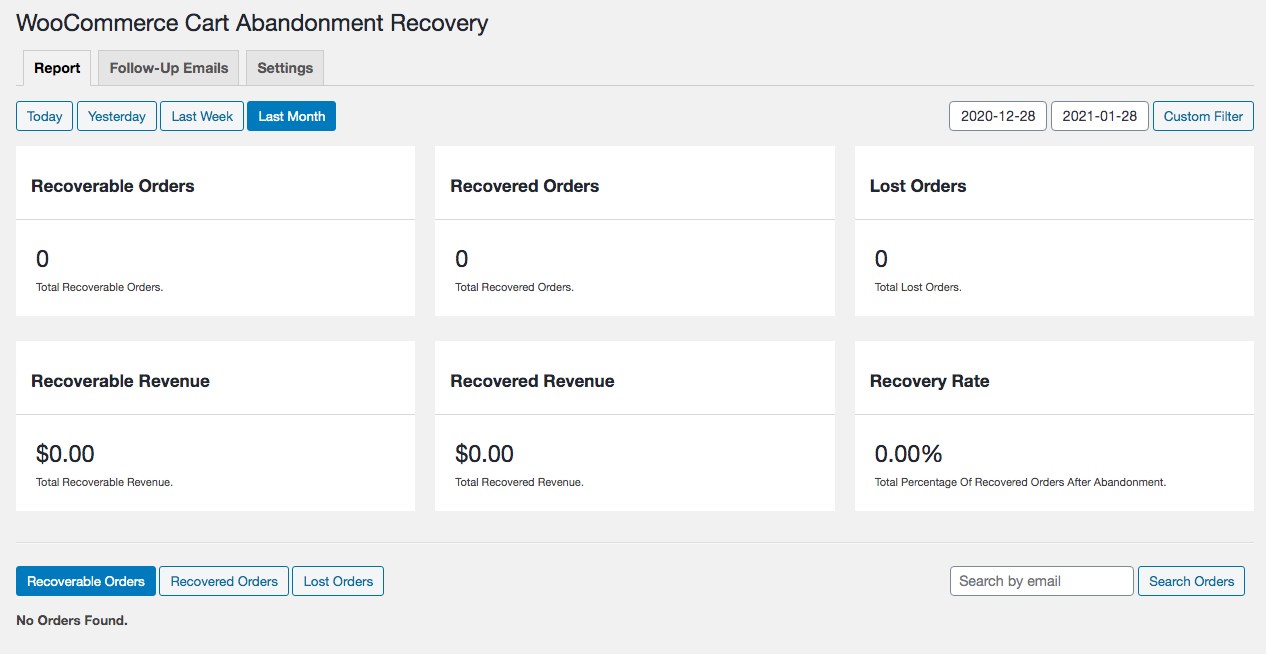 You can also create some automatic follow-up emails to be sent to recover the abandoned sale.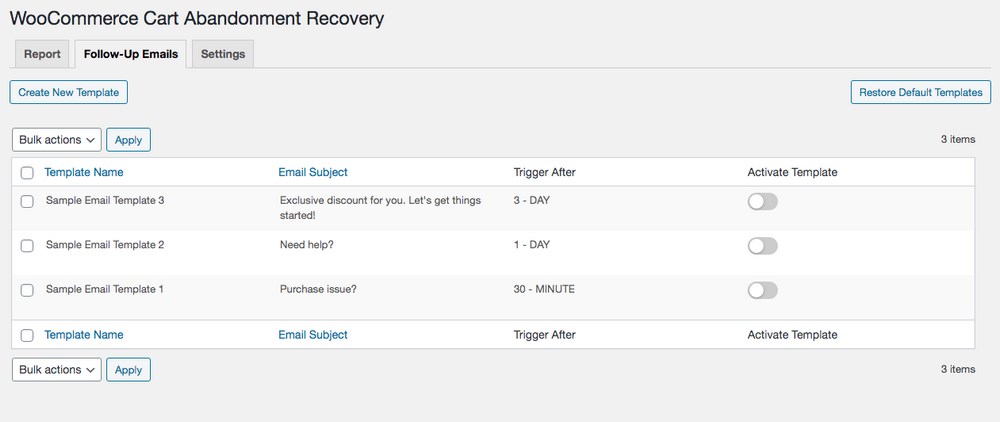 There are a few ready-made templates that you could make use of under the Follow-Up Emails tab.
Under the Settings tab, you could set preferences on when the follow-up emails are to be sent.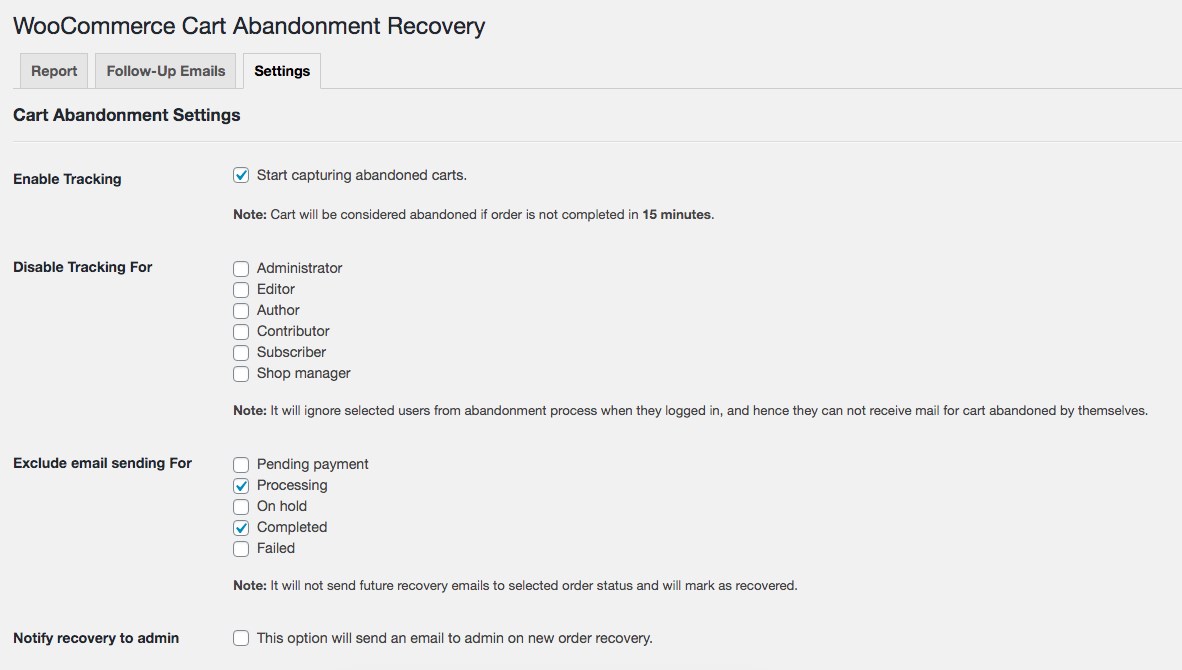 For example, you could exclude sending follow-up emails for orders that are being processed and those that are completed.
Products
All your product-related information will be available under Products. To view all your products, head over to Products > All Products.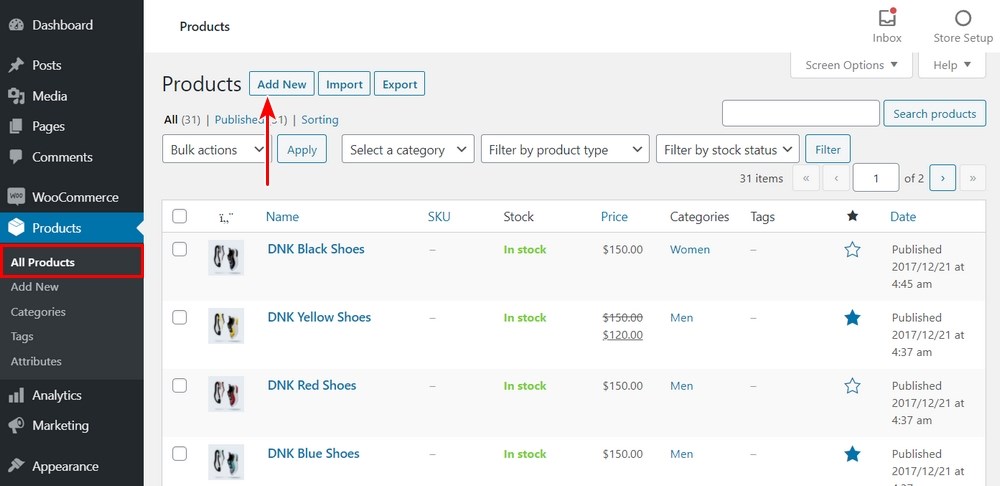 We haven't added any products so far. However, you'll notice several products displayed. These are the sample products added to your store when we imported the starter templates.
PRO TIP:
It is a good practice, especially when you WooCommerce, to view those default products. It gives you a good indication of the information and fields you will need to enter while adding a new product.
Products > Add New
To add a new product, head over to Products > Add New.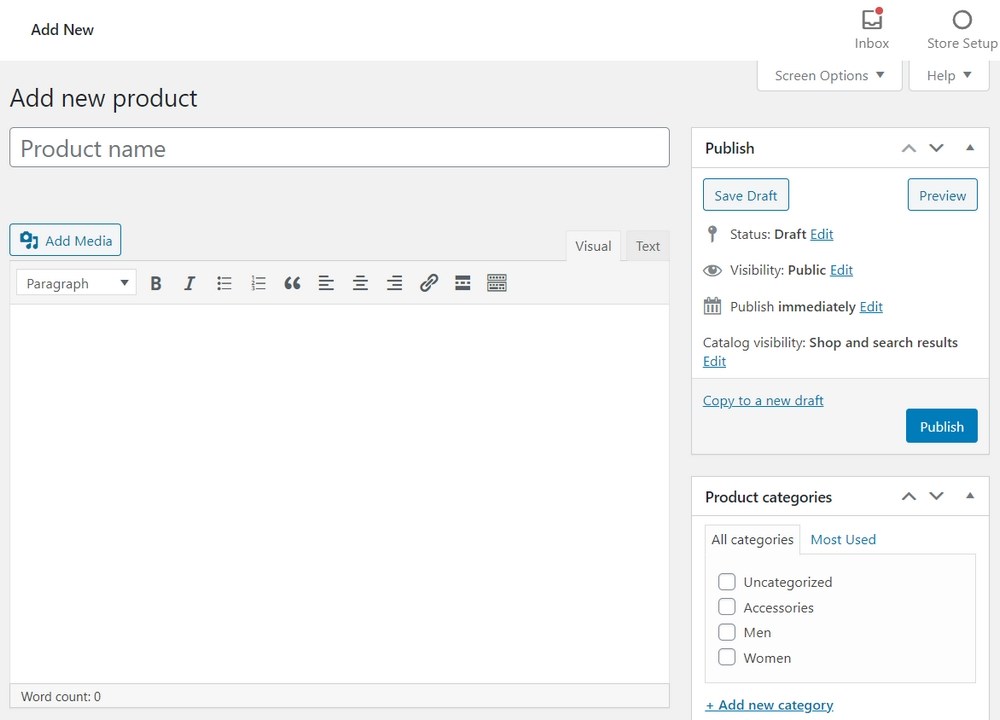 Add the product name and the product description in the fields shown above.
As you scroll down the page, you'll notice the Product data section.

This section is where you'd include details related to your product, such as regular price, sale price, current inventory, the stock status, shipping details, attributes (color, size, etc.), among many more options.
We recommend you check out the various options included here. You could also add a short product description if you scroll further below the page.

Products > Categories
We highly recommend you categorize your products appropriately. In addition to it being a good practice, it helps the customer navigate your store and locate what they are looking for easily.
Check out other popular online eCommerce stores, such as Amazon, to see how they categorize their products. If you've noticed, they've got multiple categories and sub-categories before landing on a particular product. This makes it very easy to navigate through their exhaustive range.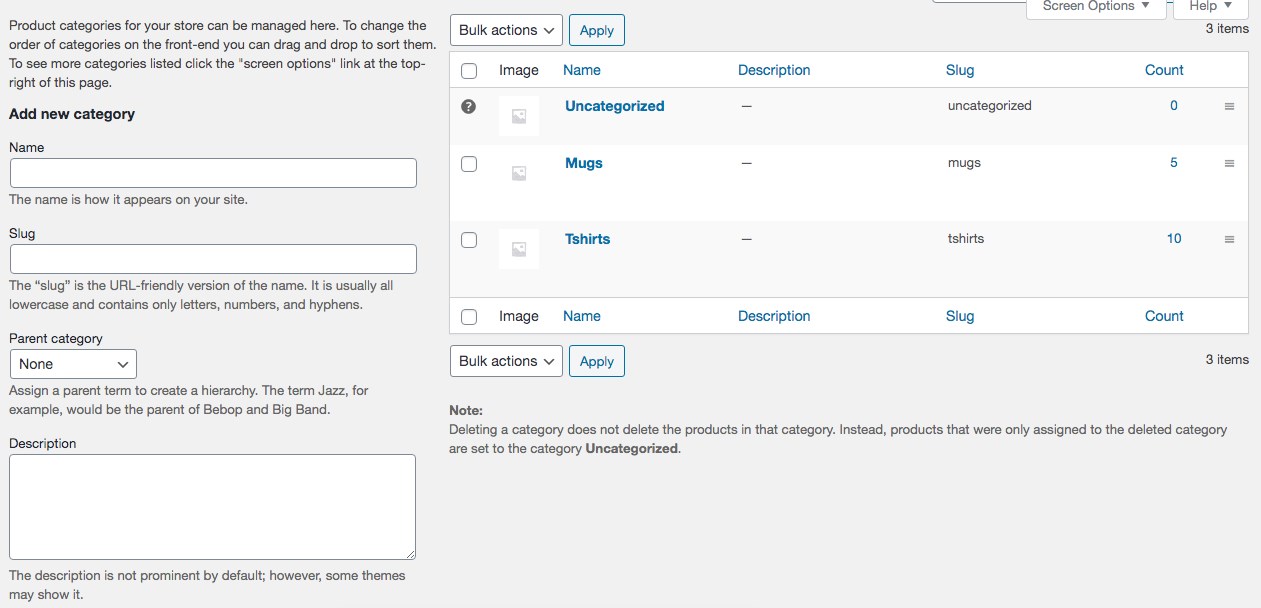 In addition to it helping customers navigate through your store, categorization also helps you promote a specific category if the need arises.
For example, under Products > Categories, as shown in the above image, you'll notice the two existing categories, i.e., Mugs and T-shirts.
Let's say we'd like to promote only T-shirts or only Mugs. We could run a promotion with the target URL being one of the category landing pages.
To create a new category, simply enter the Name of the category in the appropriate field. The Slug can be left empty. You could choose to add a Thumbnail image. Once done, click on Add new category.
Products > Attributes
Attributes are the extra data you add to your products. Product attributes are particularly essential when creating variable products, i.e., products that come in various colors, sizes, etc.
To create an attribute, head over to 'Products > Attributes'.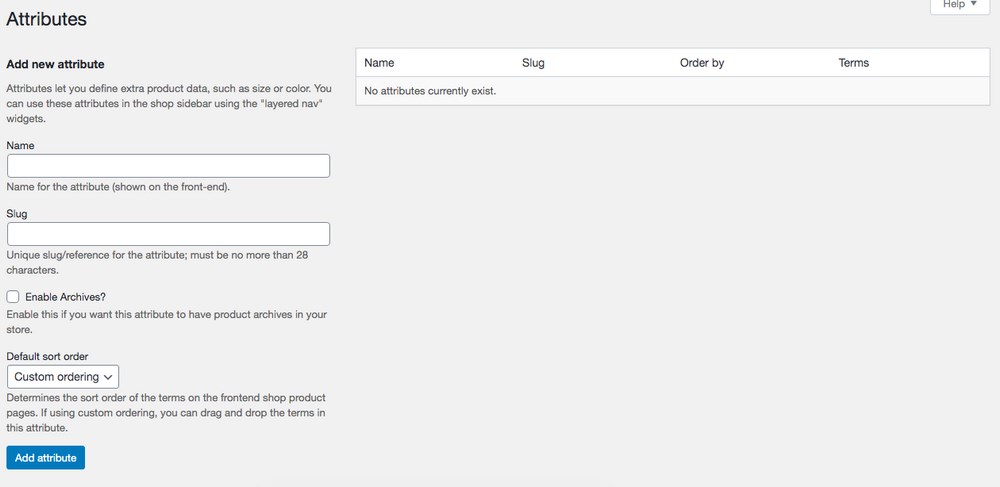 For instance, let's create the attribute Colour. Enter Colour in the name field and click Add attribute.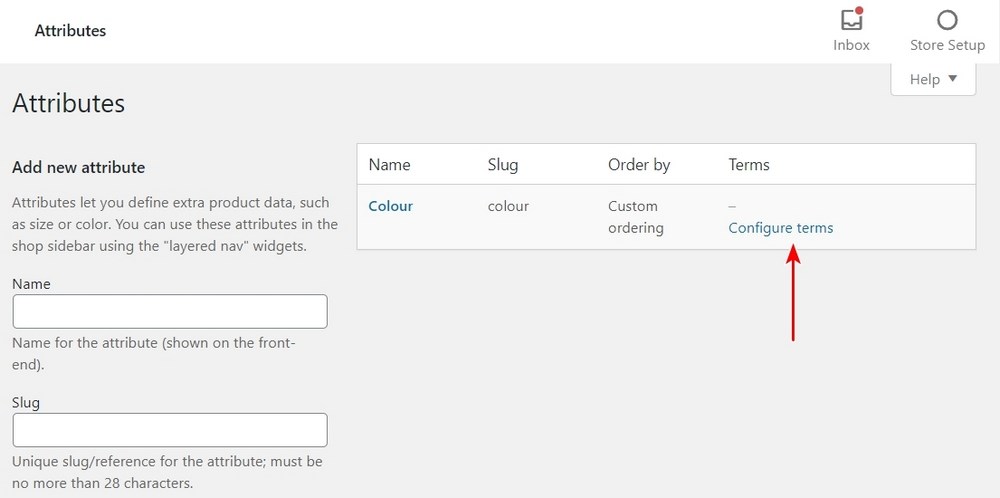 Now, click on Configure terms against the Colour attribute.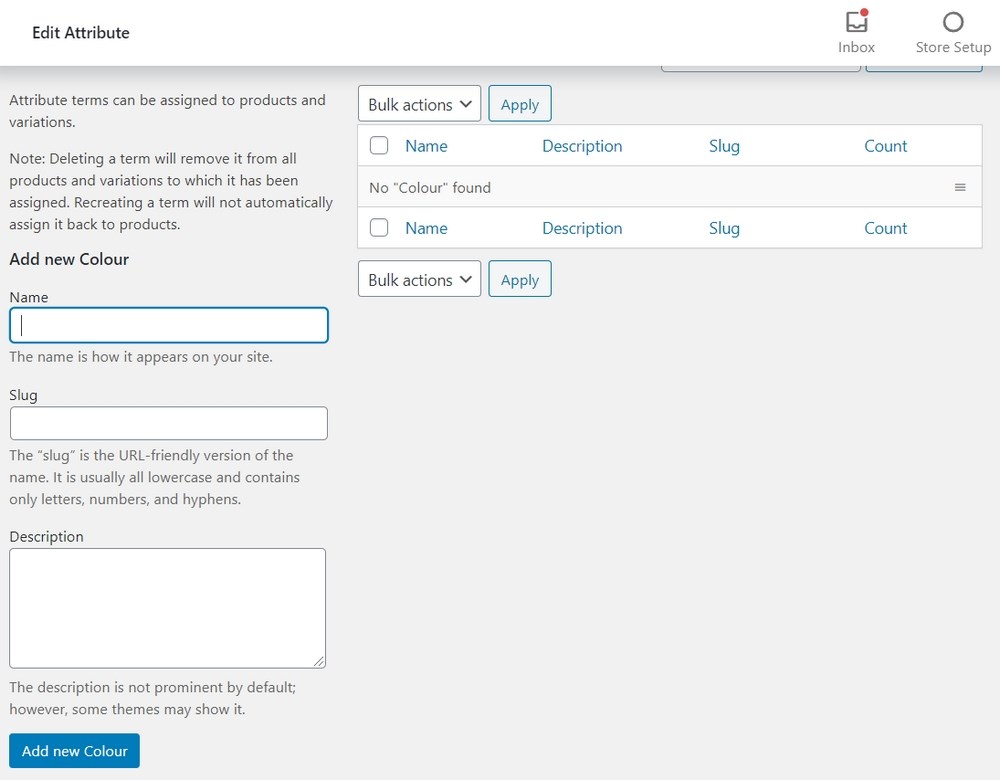 We will add Black, Blue, Red, and White under our Colour attribute.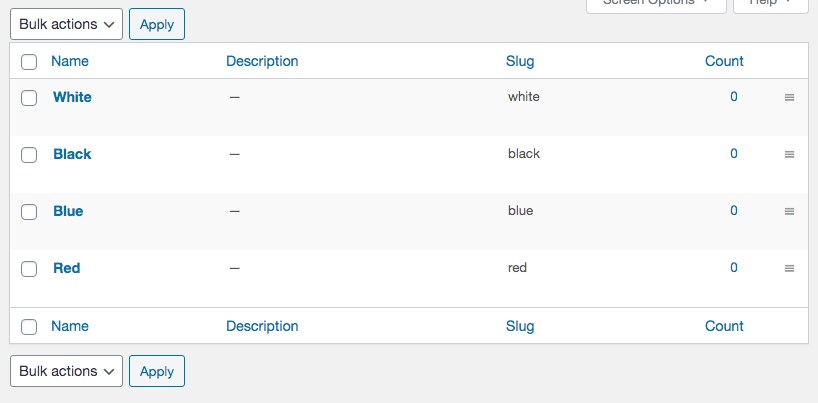 Once you are done, you'll notice the various colors against the Colour attribute.

Similarly, you could add the attribute Size and include S, M, L for small, medium and large respectively.
If you're running a clothing store, you will need to be very familiar with this section. Everything you stock will have different options and they will all need to be reflected on product pages.
Analytics
Analytics is a reporting and analysis tool to help manage your WooCommerce store. The platform allows you to generate reports based on the product, revenue, orders, and more.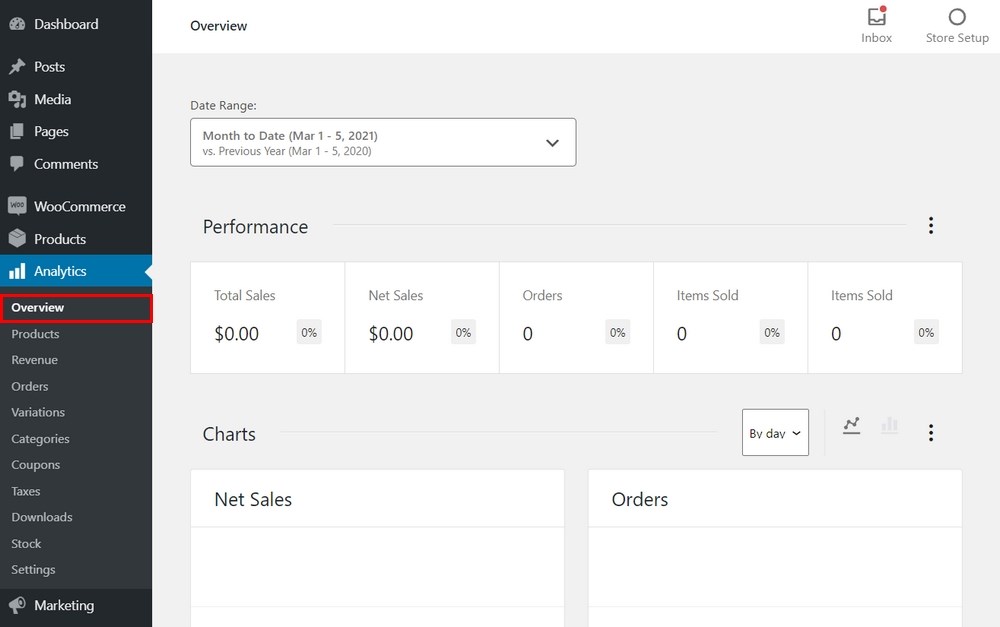 You have the option to download the data into a CSV file and customize the dashboard to monitor the various key metrics of your store.
Marketing
Your next tab is Marketing. And no prizes for guessing, this section deals with how you can promote your online store. You will probably spend more time marketing than running your store. Especially if you're dropshipping. This is another section you'll become very familiar with!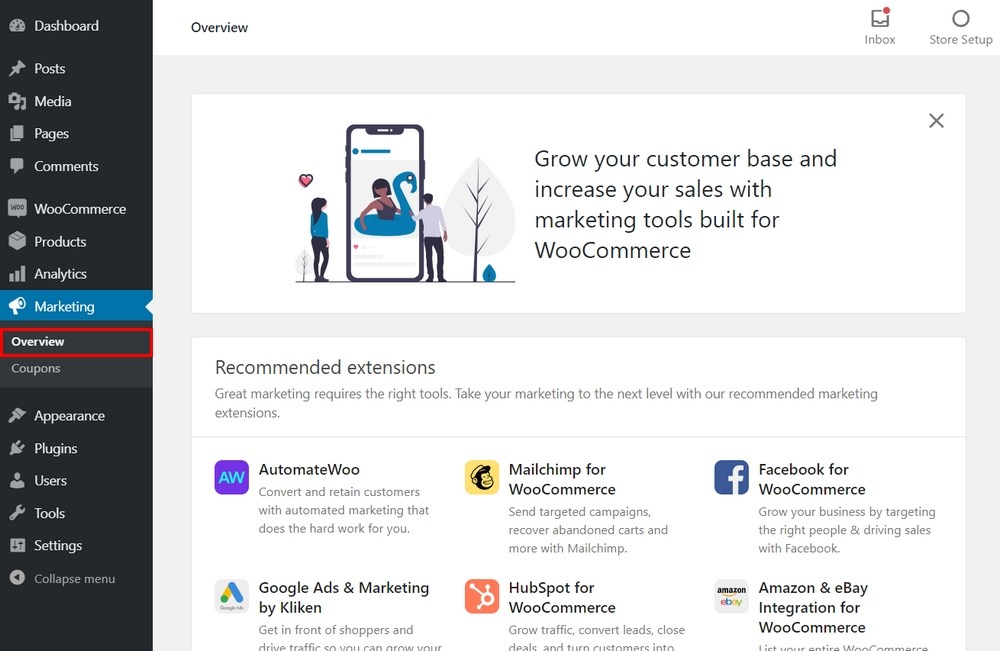 You can also create coupons from Marketing > Coupons.
We will be discussing several ways to promote your WooCommerce dropshipping store and the benefits of marketing later on in this article, under Promote Your Online Store.
We hope this section has helped you get an understanding of WooCommerce and its possibilities. As you may have realized by now, you can create a full-fledged eCommerce or dropshipping store using WooCommerce!
In our next section, we'll cover how to add those all-important products to your WooCommerce dropshipping store.
How to Add Products in WooCommerce
By now, we're guessing you are confident enough to add products on your own.
However, we'll cover how to add products to your WooCommerce dropshipping store, both manually and also by using a plugin.
Option 1: Add Products in WooCommerce Manually
While you can add any product of your choice, we've decided to add our Astra Growth Bundle.
To begin, head over to Products > Add New.
You start by adding a product name, which in our case is the Astra Growth Bundle.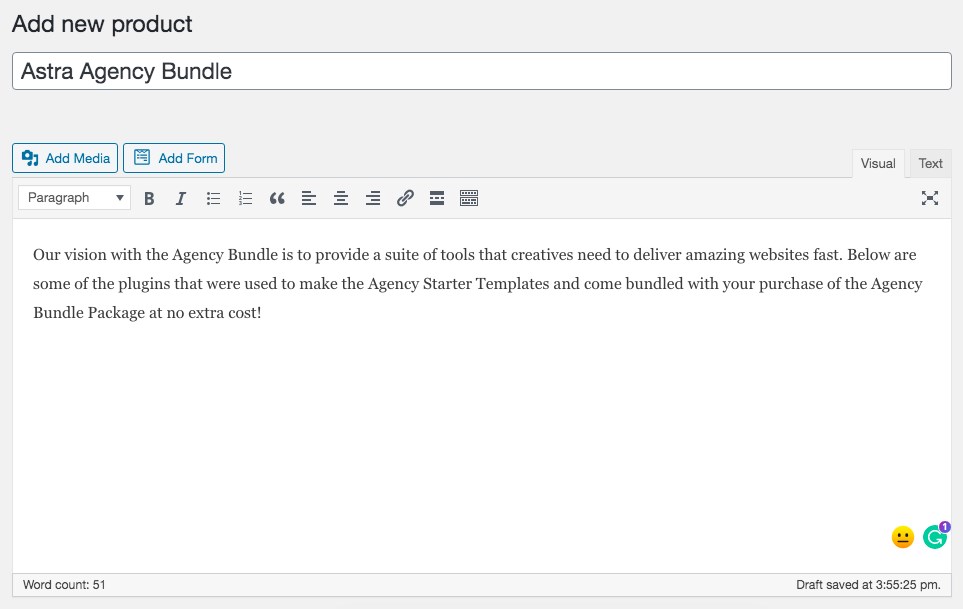 Add the product description in the relevant field. As you scroll down, the next section is Product data.

From the Product Type dropdown, select Simple product. Your product could be a simple product, a group of products, an external/ affiliate product, or a variable product.

At the point of creating this article, we're running a sale offer on our Astra Growth Bundle.
The annual offer is priced at $199, which is at a discount of 20%. You save more on our lifetime deal, which is priced at a one-time investment of $559.
Hence, as shown in the image above, we've mentioned the Sale price ($) as $199 and the Regular price ($) as $249.
Also, add a short description in the relevant text field, as shown below.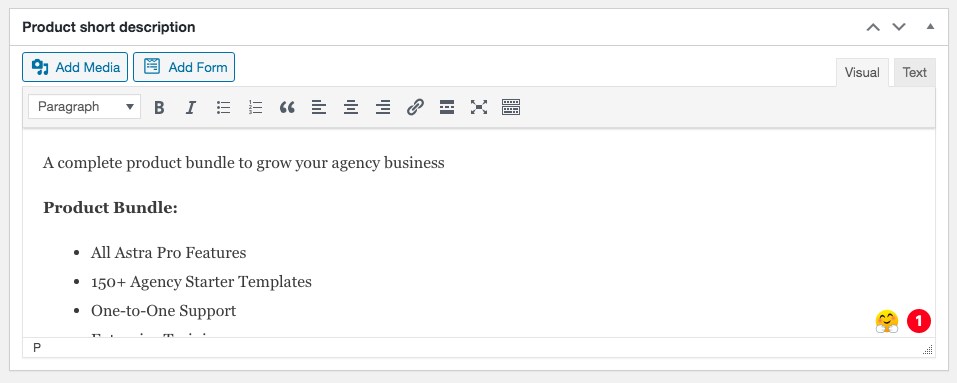 As mentioned earlier, it is always a good practice to categorize your products. In our case, we will add the Astra Growth Bundle under a category – WordPress Themes.
Considering we do not have this category already, click on +Add new category.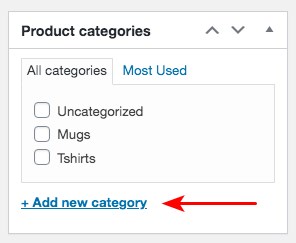 Enter WordPress Themes as the parent category and click on Add new category.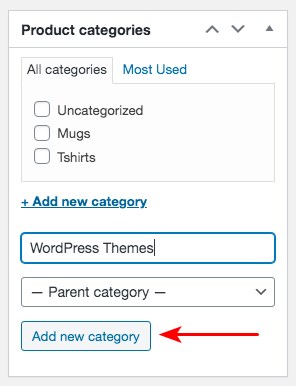 Also, don't forget to add a product image.
Have you come across a product listing on any eCommerce store such as Amazon, eBay, with only product descriptions and no images? Have you gone ahead and purchased a product without seeing the image or based on a very blurry image? We're guessing you haven't!
If you want to sell online, you definitely need the product images. And not just any image, you require high quality images. It's a bonus if you have multiple images shot at various angles.
You could choose to set a single image or add multiple images to create a product gallery.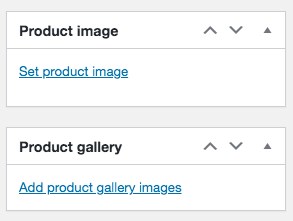 Once you've completed all the above steps, click on Publish.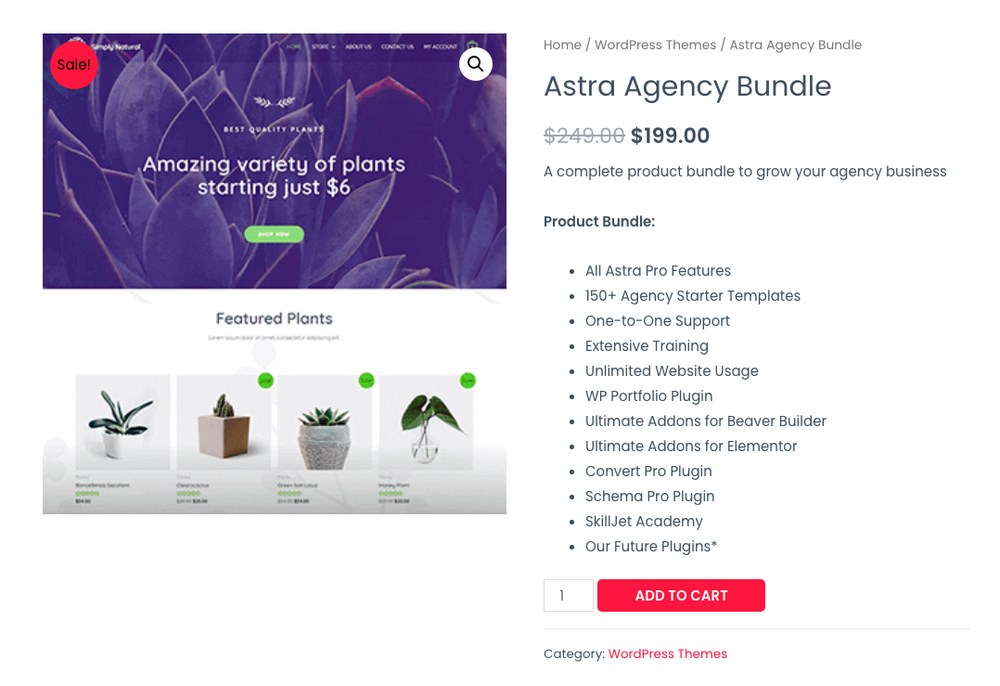 And just like that, you've created your product in WooCommerce. Wasn't that easy?
Option 2: Add Products in WooCommerce Using a Plugin
An alternate method to add products to your WooCommerce dropshipping store is by using a plugin. Plugins allow you to easily import the products from vendors with a single click.
While it's a personal preference, you could consider investing in one of these plugins.
These plugins help you save a lot of time importing products, images, product descriptions, reviews, and more to your store using their single click feature.
The top 3 WooCommerce dropshipping plugins are:
1. AliDropship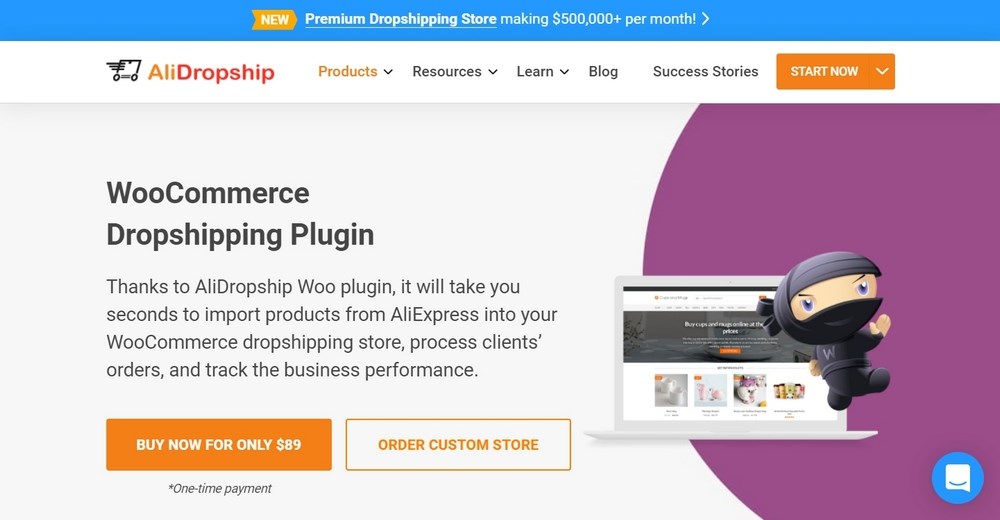 Using the AliDropship WordPress plugin, and in particular, using their one-click import feature, you can import products directly from AliExpress into your store in just one-click. The product, along with all the images, descriptions and variants, will be imported to your store.
2. WooDropship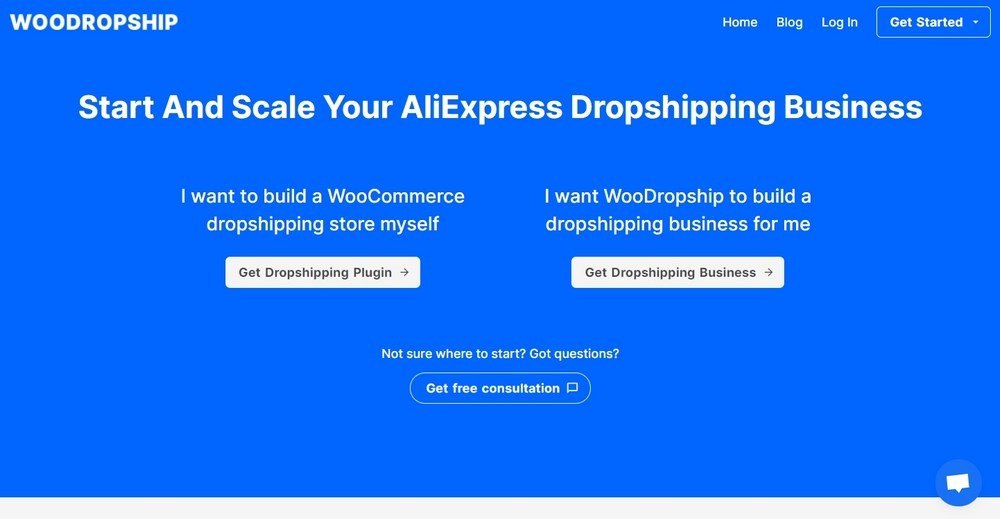 Yet another WordPress plugin that allows you to import AliExpress products directly into your WooCommerce dropshipping store.
3. WooCommerce Dropshipping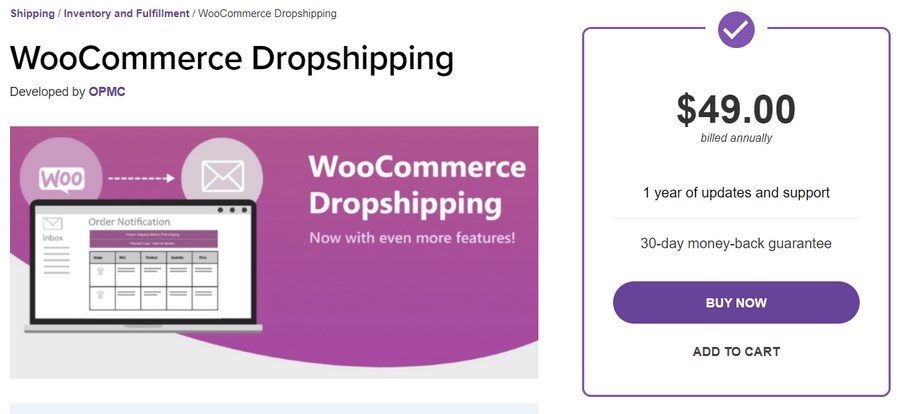 WooCommerce Dropshipping is a store management tool for dropshipping stores. A notable feature is how you can automatically notify suppliers when their products are purchased through your store.
Promote Your Online Store
Alright! We now have our products listed, our payment gateways are set up, and we've even set up our shipping details. Now it's time to see the cash registers ringing. Show me the money!
We need sales. That's the bottom line.
One of the most significant advantages of running an online store is that you can reach a much wider audience from the comfort of your home. This doesn't mean it's a "now that we're online, customers will come" kind of a situation.
We need to drive traffic to our WooCommerce dropshipping store.
Typically, your customers will come from, those who have shopped with you before and know about your store, those looking out for products that you offer, or those who want the product you offer. If they knew about your store.
That's where marketing comes in.
For the first kind of audience, i.e., people who know about you, you should already have a direct communication line with them. Either through email, WhatsApp, SMS, content marketing, social media, and so on. Ideally, consider platforms where you can communicate with them directly and for free.
For the second kind of audience, you'll need to identify channels for them to discover your products and store. This would involve content creation (like blogging), search engine optimization (SEO), and search engine marketing, also referred to as paid ads (SEM/PPC).
And for the third audience, you'll need to think in terms of brand awareness. Are you offering a solution for a problem they don't know about yet? The answers to these will have an impact on how you approach your marketing.
In this section, we'll cover some of the best ways for you to get your WooCommerce dropshipping store in front of the people who want to buy.
Build an Email List
HubSpot's report states that email generates a return of $38 for every $1 spent, which translates to an astounding 3,800% ROI, making email marketing one of the most effective options available. (Source: HubSpot)
Building an email list takes time. You'll notice a clear difference in user engagement when a customer has opted for your mailing list versus a customer from a database you've purchased. A customer who opted into your mailing list is interested in your content, product, or service and will be much more likely to buy.
There are several tools to help you create opt-in forms and generate leads.
One such plugin that we highly recommend is our very own Convert Pro plugin. With the all-new drag and drop editor, creating high converting opt-in forms and lead magnets is easy and fast.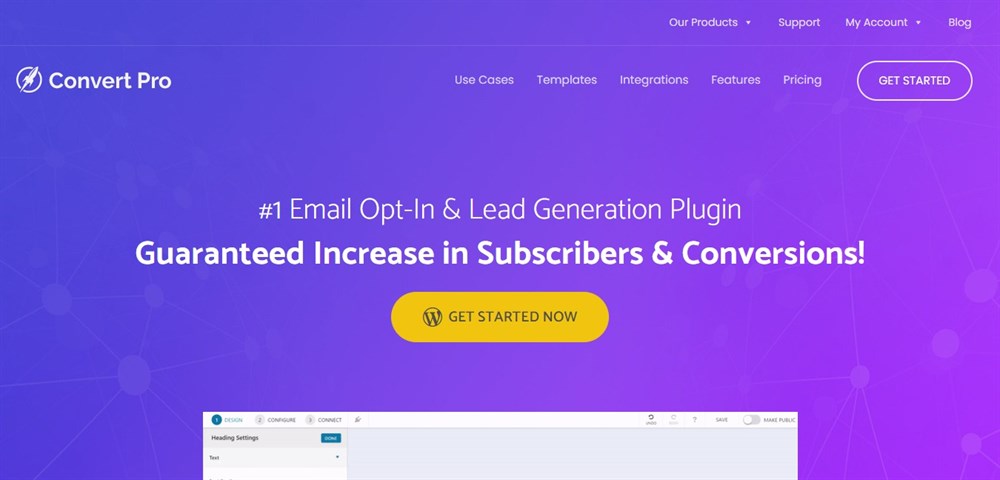 Search Engine Optimization (SEO)
SEO is the backbone of any online business. SEO is the process of ranking your website on search engines such as Google for relevant keywords.
The quality of leads and customers coming in from search engines are way better than those from social media or even paid ads. Why? Because there is genuine search intent.
Customers coming to search engines are doing so to find a solution to their problem. They have an evident intent behind their search. An intent that you can satisfy.
And if you've worked on optimizing your content and website to show up on the top of the SERP (Search Engine Results Page), you could be receiving up to 32% of the total search volume for that particular keyword. (Source: Backlinko)
To make this simple, consider the US search volume for the keyword 'WordPress Themes.'
Based on the keyword volume report from UberSuggest, a very popular tool for keyword research, this particular keyword receives an average monthly search volume of 33,000 in the US.

If you manage to get your page to rank number one for this keyword, you will have 33% of the search traffic, i.e., 10,923 of the users visiting your website per month. And guess what, all this is for free. Isn't that cool?
Another useful keyword research tool you could use is SEM Rush.
To optimize your website and content, you've got to work on both the On-Page and Off-Page SEO factors. Use popular WordPress plugins such as Yoast SEO plugin and RankMath. Have one of these installed and activated on your WooCommerce dropshipping store and optimize your content for On-Page and Off-Page SEO factors.
FAQ Pages and SEO
Another great way to rank on search engines faster is by creating a FAQ page. Consider installing any schema plugin and create an FAQ schema. You'd be surprised at how soon your page can get listed on the search engines.
Remember. Google and other search engines love answering users' queries. And if your FAQ page and content provides in-depth information and value, guess what, you could get a bump up in the search results page!
Again, while several schema plugins are available in the WordPress repository, we recommend our Schema Pro plugin.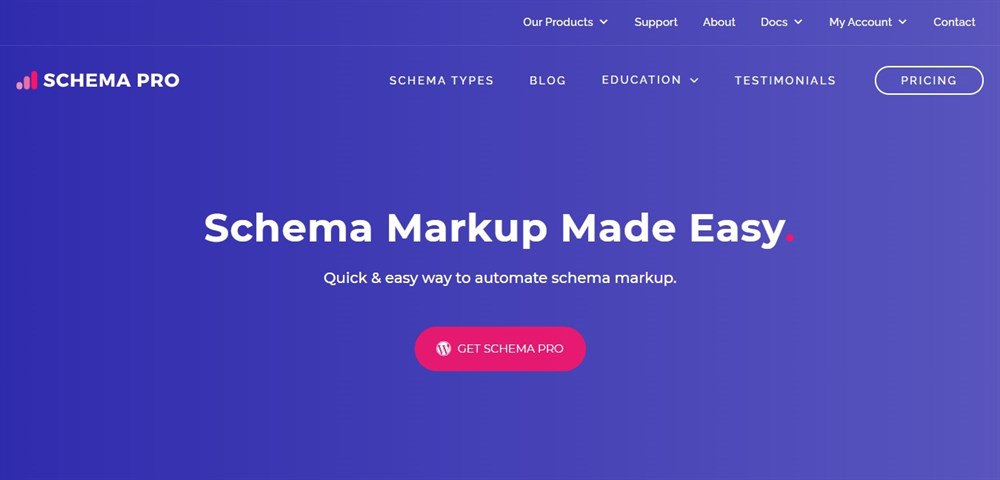 To learn more about our Schema Pro plugin, check out our video on Schema Pro Setup Wizard Tutorial (Complete Tutorial)
Start Blogging
While blogging may not give you immediate results, a blog is a great way to establish yourself as an authority in your industry. It serves as an indirect way to help promote your online store.
Businesses are churning out more content than ever before and are using blogs as part of their marketing strategy. While you can use your blog for marketing, the primary reason behind creating a blog is to educate the audience regarding the product or service.
Through blogs, businesses educate and nurture the audience, get them into their ecosystem, and build their email list. Yes, blogging does take time. But in the process, you are building authority in your niche, helping improve your website SEO, answering customer questions, and building a long-term relationship with your audience.
PRO TIP: Do not blog just for the sake of it. Your content has to be good. The content has to offer value and solve a problem your audience has.
Quality blogs also help you gain social shares and engagement, which we'll cover in the next section.
Wondering how to build a blog? Check out our step by step article on How To Build A Beautiful Blog With Elementor And Astra In Under An Hour.
Promote on Social Media
The easiest and most effective way to boost engagement is to focus on your social media channels. Great ways to leverage social media are using stories, hosting giveaways and contests, partnering with fellow bloggers who're active in your niche, and using appropriate hashtags.
Through social media marketing, you can increase brand awareness, tap into the huge audience available on various platforms, improve search engine rankings, engage with your audience and start a two-way conversation. You can also improve brand loyalty.
If you already have a substantial presence on social channels with a core audience, this is the time to leverage that. Increase your social media post frequency and invest time in creating high-quality images, product shots, and engaging videos.
Try to boost engagement with your followers. This in turn, increases the chance of your brand awareness with their followers.
Create coupons
Coupons are yet another excellent method to drive sales on your online store.
Everyone loves a great deal. Be it to save money or try out new products. Creating coupons can be a powerful incentive, which is why we recommend using them!
Another reason why coupons work well is that coupons create a sense of urgency and a fear of missing out on a great discount and saving some money.
You could create different types of coupons in WooCommerce. From a blanket discount across all the products to BOGO (Buy One Get One) deals and gift coupons, you could create various coupons for your online store.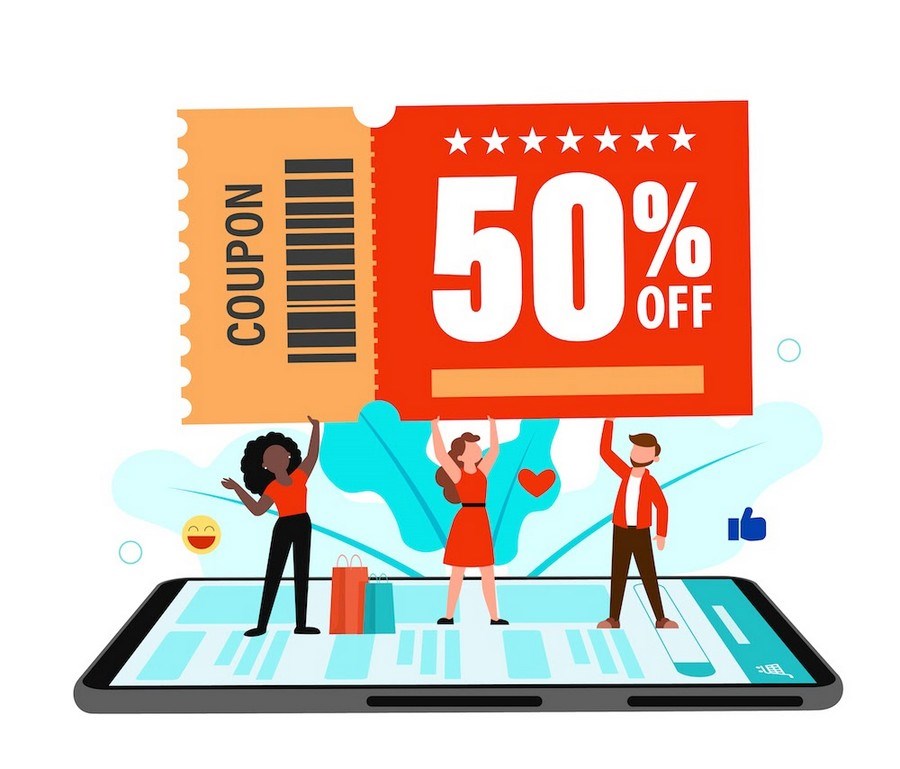 Paid Ads (SEM and SMM)
The promotional methods we mentioned so far are all free, but it does take time to drive traffic. If you are considering driving immediate traffic to your online store, consider running paid ads on Google and social media.
Search engine marketing (SEM) is a great way to promote your online store and drive new traffic. You'll get the desired results in real-time, and you can also adjust your marketing campaign based on performance as you go.
Running paid ads cost money and is a good way to kickstart a new store while organic SEO starts working.
Social media marketing (SMM), be it on Facebook, Instagram, Twitter, and others are great channels to focus your ad spending. Mainly because your potential audience is spending time on those social platforms.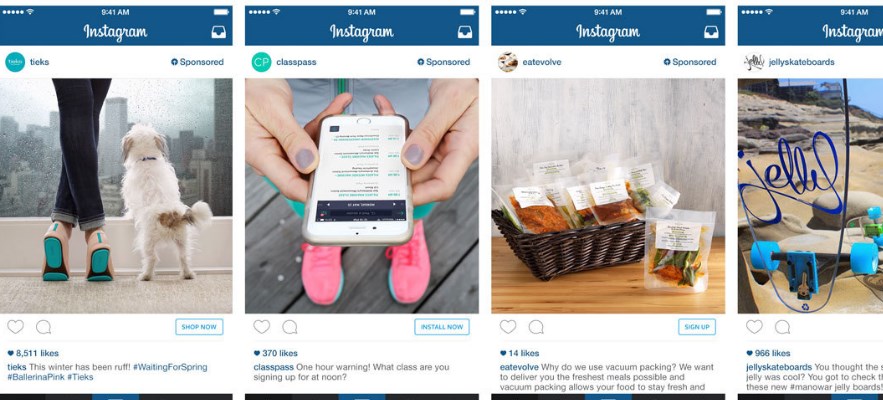 (Source: Later)
However, consider the channels you'd like to target. For instance, if your target audience is the younger demographic and spends more time on Instagram, then you'll want to focus your ad spending there.
Influencer Marketing
Influencers are individuals who have a large online following. They have the power to "influence" the audience into purchasing a product/service.
An influencer with millions of followers can have a massive impact on sales. Just one mention from them and you could have thousands of new customers in no time!
Influencer marketing tactics include writing a blog post about your product or posting social media content reviewing or demonstrating your product. Then tagging or contacting the influencer to gauge their interest.
FAQs on Dropshipping
In addition to what's covered in this article, we do get several questions and queries related to dropshipping.
What is dropshipping, and how does it work?
Dropshipping is a fulfillment method where the store doesn't hold on to any inventory and products. Instead, the online store merely promotes a product, and when an order is received, the store purchases it from a vendor, and the vendor ships it directly to the customer. As a result, the store doesn't have to handle the product at all.
How do I start a dropshipping business?
You can start a dropshipping business by identifying a viable product, a vendor to supply you the product, creating an online store and promoting it. You could also follow this WooCommerce dropshipping guide! We've covered it all, from identifying your niche to sourcing vendors to creating your full-fledged WooCommerce online store.
How profitable is dropshipping?
Dropshipping can be very profitable. Based on a report, the top dropshipper, Irwin Dominguez, went from zero to $1M+ in less than 12 months. (Source: Oberlo)
These numbers would vary depending on your niche and target market.
The profits eventually depend on your margins too. However, as shared early on in this guide, dropshipping is a modern online business model with no signs of slowing down. And according to reports, the global dropshipping market is expected to register a compound annual growth rate (CAGR) of 28.8% from 2019 to 2025.
How do I dropship on Amazon?
You can start dropshipping on Amazon by creating an Amazon seller account. Once you've got your seller account set up, identify your niche and a vendor who will offer you a high-demand yet low-competition product. And finally, list your product(s) on Amazon.
Can you lose money with dropshipping?
Simple answer, yes you could lose money with dropshipping. Having said that, which business is 100% foolproof? Just as in any business, there is always an element of risk. You'd try to minimize the risk by evaluating your options and ensuring you leave no stone unturned. With high competition in the dropshipping business, you'd have to reconsider your profit margins. And also, ensure you do not lose money when it comes to shipping charges. Do your research, and then get into the dropshipping business.
Is dropshipping legal?
Dropshipping is legal. While the entire process of setting up a dropshipping store may appear simple and you have minimal involvement, dropshipping is an entirely legal online business ready to compete across the world.
What companies do dropshipping?
A number of companies offer dropshipping. There are individual companies as well as dropshipping directories. We've listed several companies under selecting a product. Check them out.
How much money is required to start dropshipping?
You don't need much money at all to start dropshipping! One of the most significant advantages of dropshipping is that you can start with nearly zero investment. The only investment you'd require is your domain and hosting. You may consider investing in running paid ads or purchasing premium WordPress plugins. Aside from that, you have no investments to make.
Conclusion
Dropshipping is a simple form of order fulfillment. It's a great way to go if you'd like to test the market before developing your products and getting into the nitty-gritty of running an online store.
Just like any other business, dropshipping has its share of advantages and disadvantages. If you are looking for a lucrative online business, we suggest you consider dropshipping.
If you do want to try it, we do hope this WooCommerce dropshipping guide helps you launch a successful, and more importantly, profitable business.
Do you run a dropshipping store? Is it profitable? Have any advice for new store owners?