Are you planning on building your first online store but are overwhelmed by the choices you have to make? Or do you already have one but aren't happy with your current platform?
In this digital age, even mom and pop's store needs a website to market their business to a wider audience. A wider audience, meaning the entire world! And it's not as hard as you might think.
Topping the "how-to" searches that you might have done are these two eCommerce platforms. Whether you're on the beginner or expert's end of the rope, odds are, you've come across them. Shopify and WooCommerce — the giants of the eCommerce space and the dominating platforms for selling online.
But what are they exactly? And what makes one different from another?
Shopify vs. WooCommerce: Overview
Shopify and WooCommerce are two of the biggest platforms online that can help you sell your products.
Among other smaller platforms, these two are the ones that stand out, having a lot of users to back each of them up. And with all that user-data, they can get enough feedback to keep improving significantly towards what their users want.
But deciding which one to use can be a challenge. Ultimately it boils down to how you plan on selling your products, your level of expertise, and your budget.
The beginners among the group might opt to use the much simpler platform that is Shopify.
It's a platform that takes care of everything from the actual website to the hosting, domain, and even sourcing products for dropshipping.
WooCommerce, on the other hand, is a little more complicated than that. It's a plugin that's run on WordPress. A platform that requires its own set-up and maintenance to start working.
We're going to dive a little deeper on the two platforms and explain which of them is better for your business in the long run. Since simplicity now, doesn't necessarily mean success in the future.
Our Points of Comparison
Before you start your online shop or switch platforms, there are things to consider. We will be comparing these two platforms in terms of the following categories:
Price and actual running costs — The initial costs of getting the shop set up and the long-run costs in running and maintaining the store.
Ease of set-up — The time and expertise needed to set them up and keep them running and running well.
Usability — The experience while using the platform both at the start and in the long run.
Payment methods and solutions — The number of supported payment options and solutions available to each platform.
Updates and support — How easy it is to ask for help from the support team and how often bugs are fixed and updated.
Add-ons and integrations — How easy it integrates into existing systems and CRMs you may be using or use in the future.
Scalability — Your business is bound to grow, is the platform ready to adapt to it? And at what cost.
Users' support and future-proofing — Nothing stays the same forever, what is the future for these platforms?
Shopify vs. WooCommerce: Which Is Better — at a Glance:
Here is a quick comparison table between Shopify and WooCommerce
| | | | |
| --- | --- | --- | --- |
| Category | Shopify | WooCommerce | SureCart |
| Cost | $29 Basic plan | Free but requires a WordPress Install. Roughly $7 for bundled packages. | Basic plan is free. The plus plan costs $199 per year |
| Ease of setup | Easy guided setup | Need to set up WordPress hosting, domain, and SSL | Easy to setup and use |
| Usability | Drag and drop builder | Depends on the theme and WordPress setup | Visual drag and drop builder |
| Payment methods and solutions | Compatible with a vast number of payment methods | Compatible with a vast number of payment methods | Compatible with a vast number of payment methods |
| Updates and support | 24/7 Customer support | Vast FAQs and documentation available | Documentation, FAQs, and 24/7 Customer support |
| Add-ons and integrations | Has a number of free apps, most are paid | Has a vast number of both paid and free extensions | Offers two types of integrations: Syncing with a plugin installed on your website and via SureTriggers |
| Scalability | Limitless scalability for a price | Limitless scalability depending on hosting capabilities | Limitless scalability |
| User's support and futureproofing | Stable market value and user base | Stable and continuous growing user and developer base | Continuous growing user and stable market value |
| Sales features | Available in paid apps | Available in paid extensions | Advanced sale features available on the pro plan |
| Marketing tools | Impressive range of marketing features like multichannel selling | Relies on plugin for its marketing tools | Relies on plugins for marketing |
| SEO | Limited SEO apps to offer which may be restrictive in the long run | Code optimized for SEO and offers great plugins and guides to make you SEO pro | Compatibility with SEO plugins to enhance the performance |
| Security | Self hosted platform that comes with SSL certificate | Need to set up SSL and PCI-DSS compliance yourself | Need to set up SSL and PCI-DSS compliance yourself |
| Customer support | 24/7 | Documentation | 24/7 |
Price and Running Costs: Shopify vs. WooCommerce
Money is everything, right? Understandably, you would want to be able to sell your products online and expect to turn a profit. However, that's not always the case. As with anything, there are costs involved with running a business online, regardless of what platform you use.
There are subtle differences between the upfront costs and running costs between these platforms. We dug deeper and broken them down below. We've also provided insights into what's more profitable and would need less investment with higher returns.
Shopify — the Visible and 'Hidden' Costs
Shopify is a dream to use for beginners. It essentially makes it relatively simple to start building your online shop.
They start with a Basic $29/month plan, and if you're just starting. That's more than enough.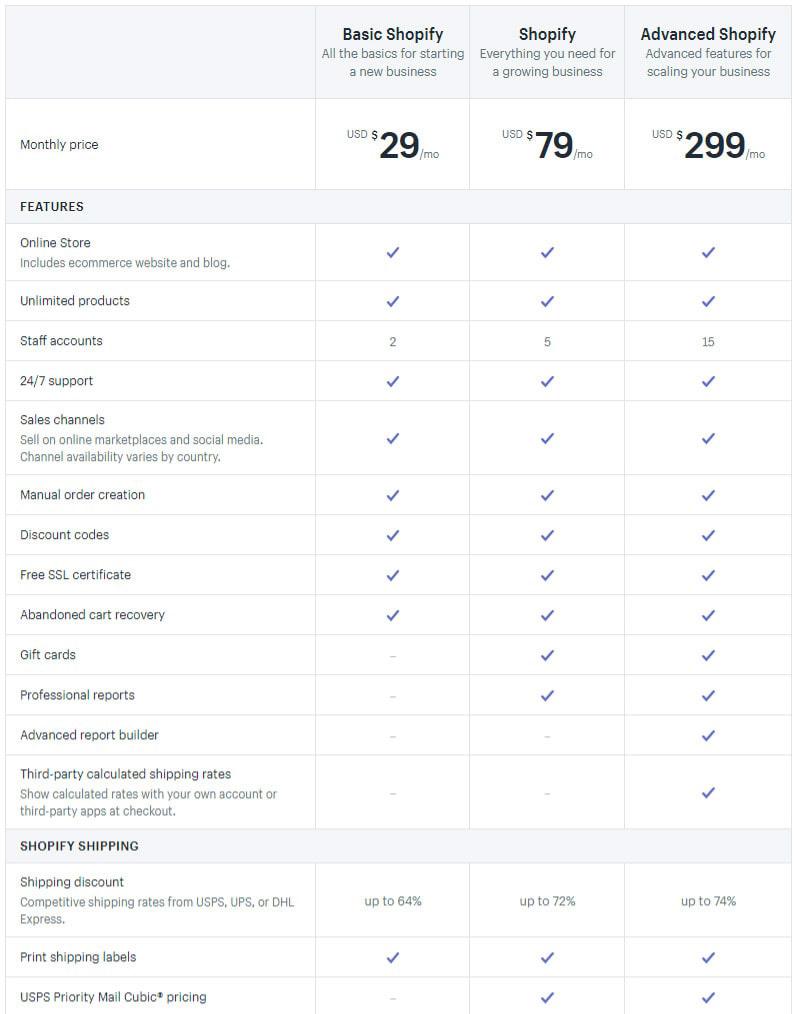 The basic plans already allow you to add unlimited products, have two staff accounts, create discount codes, and have access to their 24/7 support channels.
You have the option to upgrade to their $79 and $299 per month plan later on. The list of features expands as you go up the plans.
All of them include everything you need to start an eCommerce site and blog — domain, site builder, blog page, SSL Certificates, the works. Of course, you need to still put in the time to build your shop, but mainly all the tools that you need are there.
Now for the juicy part, the "other" charges.
With any shop, you would need to be able to accept payments. We will go deeper into this later on, but basically, Shopify charges 2.9% + 30¢ for every online credit card sales.

If you use other payment channels or your own merchants, Shopify offers a flat 2% fee. But you can bring this down to 0.5% with the advanced plan for $299 per month.
In addition to those charges, you'd need other add-ons to make your shop work seamlessly. Although several ones are being offered for free and have trials, this is what could rack your costs up.
If you're just starting up, these prices might seem reasonable. But imagine growing your business to the point that you're selling hundreds or even thousands of products per month. The fees do add up. That's one thing you would want to consider.
These charges aren't hidden per se, but it's one of the most neglected costs that businesses don't take into consideration when signing up with the platform.
WooCommerce — Is It Really Free?
WooCommerce (Woo) is a different story. It's free to use and download from the get-go. The costs, or lack thereof, however, does not end there.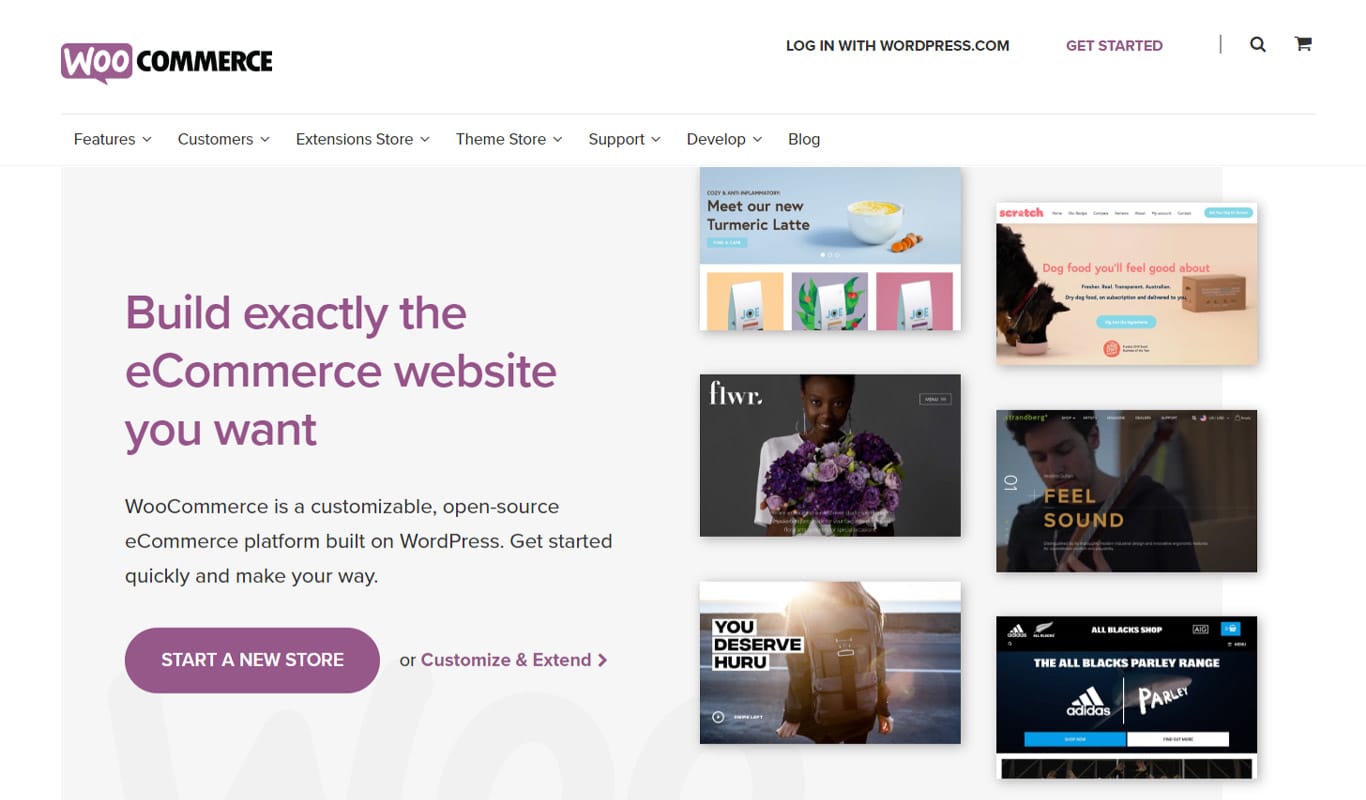 WooCommerce is an eCommerce plugin that needs its own platform to work off. Specifically, you'll need a self-hosted WordPress site (i.e WordPress.org). Odds are, you've heard of WordPress before if you're considering using WooCommerce.
You need to have your own website hosting, SSL Certificate, and domain name, and a WooCommerce optimized WordPress theme to be able to start using WooCommerce.
Broken down, here's what you're typically looking at:
WordPress Hosting – $9.99 per month
Domain Name – $19.99 per year
SSL Certificate – $49
WooCommerce theme – $69
We recommend SiteGround since they have a lot of money saving bundles for you.
Most good hosts now offer Let's Encrypt for a free SSL Certificate
That in itself is an upfront cost of $147. It seems like a lot, right? But don't fret, there is a vast majority of hosting providers who offer a streamlined WooCommerce/WordPress plan for significantly discounted rates. Great news, if you're just starting out.
You can even start for as low as $4 a month with certain providers.
We recommend SiteGround since they actually offer a Managed WordPress Hosting starting at $14.99. But if you're really expecting for a higher traffic and more features, for a few more dollars, they have a $24.99 a month plan. This will surely have you covered.
Compared to Shopify, with WooCommerce, you can create an affordable eCommerce website. You can see how a lot of users prefer using WooCommerce only by just looking at the cost breakdown alone.
There are also a lot of add-ons available to expand the functionality of WooCommerce. Still, as with anything WordPress, there will always be free alternatives.
WooCommerce also does not charge a transaction fee for every purchase. The only other cost that you need to worry about is the payment processing fee by third party merchants.
There are a lot of ways to overcome this, though. For one, you can offer direct bank transfer, check payments, and even cash on delivery. But for the online seller, Paypal is the number one choice.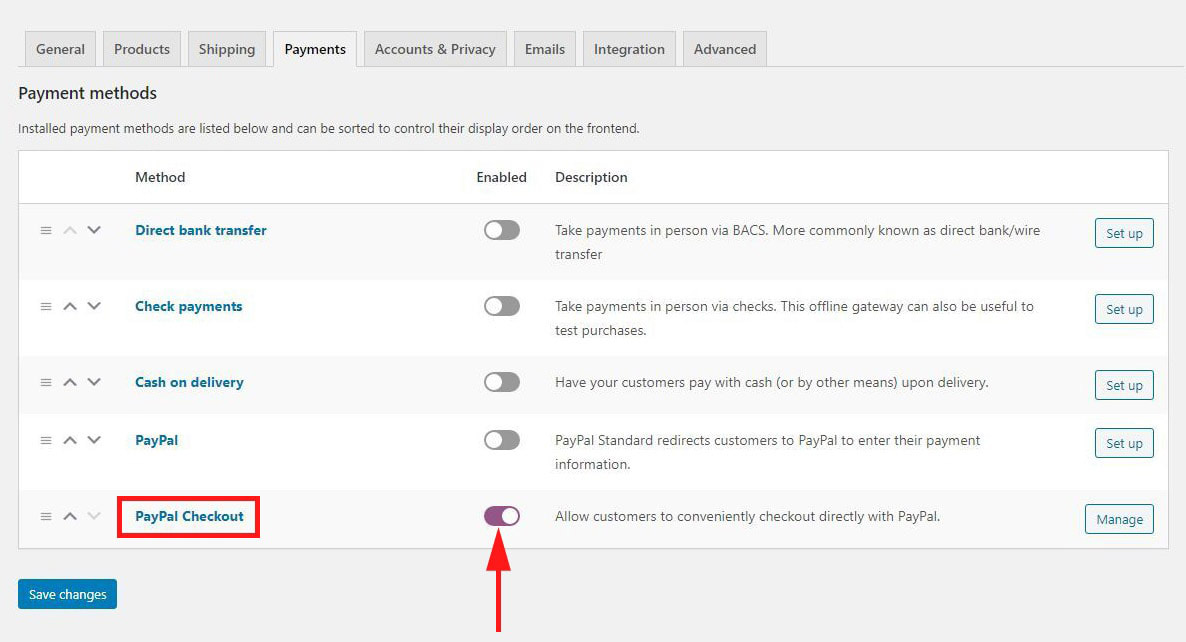 With all things considered, WooCommerce is the clear winner. Especially for beginners. The only other additional cost you have to shell out is your own hours with setting up everything up.
WooCommerce is the clear winner in this category.
Setting Up: Shopify vs. WooCommerce vs. SureCart
Not everyone who wants to start an online shop has expert-level skills. Although it's not rocket science, the number of setup steps can be overwhelming.
From the eyes of a total beginner, we'll compare these three platforms in terms of how easy they are to set up and keep running.
Shopify— Beginner's Dream
We've said it before, and we'll say it again. Shopify is as easy as signing up, paying, and building your site.
No complicated code needed, no gazillion choices, and no guessing what to do first.
Shopify guides you throughout the process of building your site. After signing up, all you need to do is type in the information required (name, domain, etc.).
Once done, you'll then get to choose a design and then you're good to go.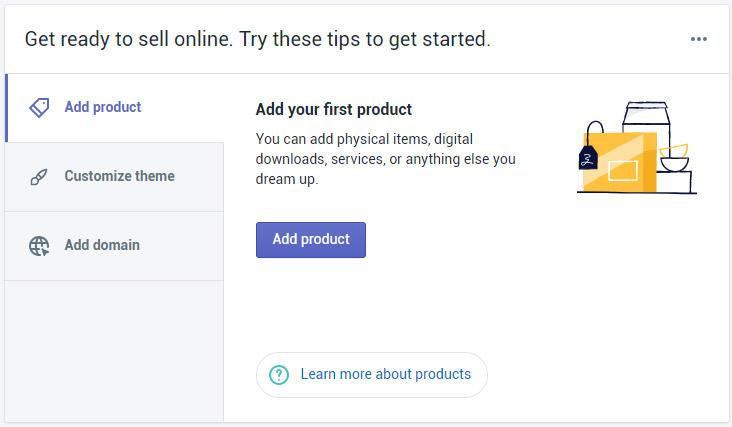 The builder itself is a straightforward drag and drop interface. You'll see prefabricated structures and sections for you to choose from.
You can even make your campaigns and start categorizing your products to your heart's desire.
The usually tedious part of uploading your products, managing inventory, setting up sales and discounts is a total walk in the park.
Shopify never fails to help you along the way with tips and helpful tricks all around the interface.
This is extremely helpful to those who have no experience with building websites. For the more experienced users, this may be a drawback due to the lack of customization and personalization available.
With Shopify, you are limited to what's in front of you. The available development tools are minimal.
On the other hand, there are loads of extensions and addons that are available to help you out and get as close to the functions that you want.
A majority of users find that this is enough for them, especially if you're just starting out with your online store.
WooCommerce — Anything Is Possible
WooCommerce is open-sourced and needs its own WordPress installation to work.
Even though setting up WooCommerce on its own is relatively simple. The prep work needed is something to think about too.
There are a lot of WordPress plugins available that can do all of the maintenance tasks for you.
On top of the prep work that's needed, setting up products and payment methods may look overwhelming — especially to those who have no experience with WordPress.
The good news is that there is plenty of documentation available to help you out. Not to mention the countless YouTube videos that are available too.
WooCommerce also offers excellent flexibility thanks to extensions.
There are hundreds available that can allow you to customize your site to your heart's desire from pop-ups to sticky headers and anything you can think of.
SureCart – Building an eCommerce Website Doesn't Get Any Easier
SureCart is the eCommerce plugin designed to make your life as simple as possible.
It offers a clean and easy to understand controls, allowing you to quickly add new products and perform store maintenance tasks.
Being a relatively new product, you will not find much information about it on the internet yet.
However, SureCart has a dedicated YouTube channel where there are videos, tutorials, and news.
SureCart is a simple plugin that has a very modest learning curve. If you can use WordPress, you can use SureCart.
Get started with the plugin by simply installing, activating, and configuring a few elements.
Each eCommerce plugin has its strengths and weaknesses, the simplicity of Shopify still manages to entice a lot of beginner online sellers. But, the combination of power and ease of use means SureCart is the clear winner.
Usability: Shopify vs. WooCommerce vs. SureCart
One of the main factors that you are surely considering is how friendly the user-interface is. Besides, the main point of setting up an online store is making sure you get your products sold.
One sure way of doing that is being able to make changes on the fly, making day to day work and management on the site as easy as possible.
It's not easy to compare this category, but there are some factors where one plugin stands out more than the others.
Shopify— It's Just Like a Real Shop
After the initial guided setup, maintaining and working on your Shopify store is easy as can be. Clearly, the developers put a lot of effort into helping you out and making you feel like you're in control.
From managing inventory to redesigning your shop, it's all a breeze. It's just a matter of finding out where all the buttons to do them are.
When you want to set up campaigns and discounts, a look to the left on the dashboard and you're there.
Want to change how your site looks? A simple drag and drop interface is going to be your best friend. Just pick what you need to move and change it — it's that simple.
And if you get lost, there's always the user guide.
There will be limits to what you can do, but you may not even realize that you need them if you don't see them, especially when you're just starting out.
Individuals and even large companies often prefer using Shopify since it's fairly easy to delegate the task of taking care of the site.
Not much training is required. And that's where the staff accounts also come into play.
Instead of sharing your logins, you can simply add another person or organization to take care of your shop on your behalf.
Shopify is also ready to take care of your shipping and marketing concerns. You can set up and take advantage of their own marketing options and capabilities. Or decide to expand by using their available apps and addons.
Everything you may think you need is all here.
WooCommerce — Building a Completely Online Marketplace
WooCommerce is a little more tricky to manage and manipulate on a day to day basis.
A lot of the problems facing WooCommerce is the inability to make changes on a whim.
There are a lot of factors that you need to consider before doing so. Especially if you have a somewhat complicated site.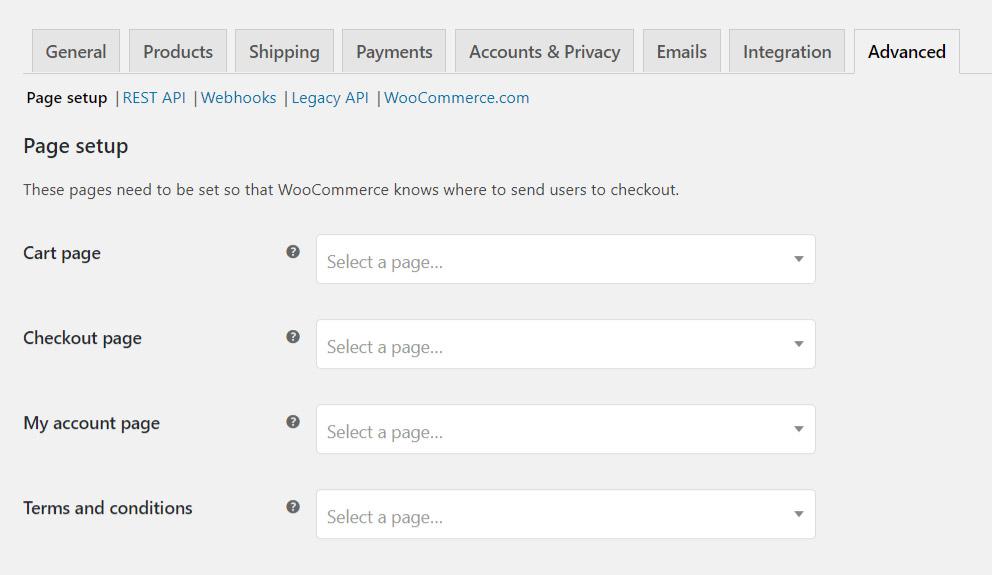 Small changes may cause a significant difference in what you see on the front end. At worst, it may even create a significant negative customer experience.
Since WooCommerce is a plugin, it needs and relies on a whole bunch of systems to work together and be compatible with each other. From the plugins, themes, hosting, and even WordPress core.
There is a bright side.
Since WooCommerce is extremely widely used, they have forums, online groups, subreddits, and even YouTube channels dedicated to helping you solve all issues.
The flexibility that comes with it is very understated. For as long as you have the skill-set and experience to do so, you can pretty much do a lot of what you want to be done with your WooCommerce store.
From making changes to running your site on the day to day, there isn't much to talk about. WooCommerce runs as it should be unless something changes. Typically updates within the WordPress install.
Fair warning, updating and adding features and functionalities to your WordPress site can require attention. Especially if you already have a big store. Make sure to always have backups at the ready.
Aside from that, you shouldn't have any problems with running your shop. You can have all of the same features, as does Shopify with the use of plugins and extensions.
There are countless free and paid extensions and addons that can expand your shop's capabilities beyond measure. Speed it up or slow it down, it's all in your hands.

The starkest difference between these two platforms with regards to usability would be how all the buttons and settings are presented.
With Shopify – they're all there and laid out. With WooCommerce- often, there's a lot of finicking around trying to find out where it is.
SureCart – Headless Platform Designed for Performance
SureCart is a completely new way of selling in WordPress. We call it a 'headless' platform meaning that the backend management is completely separated from the WordPress plugin.
It means you can run a store without slowing your site down or bloating the database. The plugin offers high performance and a better user experience.
You can have more control over the design, layout, content, presentation, and user interaction. SureCart offers you the flexibility that Shopify and WooCommerce can't afford.
SureCart works without product pages, a shop archive, or adds to cart features. All you need to do is create a sales page, add product details and add a purchase button.
Upon clicking on the button, your potential customer will be redirected to a custom checkout page.
Creating and customizing a new checkout form is simple with SureCart. You can also embed the block or by pasting the shortcode.
SureCart makes it easy for bloggers and digital product creators to sell digital products. It's also a preferably great option for membership programs and course creators.
The trophy goes to SureCart for this category. It's easy to use, works exactly like WordPress, has very simple controls but can help you achieve great things.
Payment Methods and Solutions: Shopify vs. WooCommerce vs. SureCart
Starting an online store means that you want to get paid, right?
Payment solutions range from the very simple – receiving payments from a credit card. To the complex– memberships, recurring charges, taxes and EU VAT.
Shopify, WooCommerce and SureCart have almost the same offers with a few unique quirks here and there.
We've broken them down for you.
Shopify — Taking Care of It for You
It's relatively simple. Shopify takes care of it for you.
Yes, Shopify offers its own payment solutions (appropriately named Shopify Payments) if you simply want your customers to pay using their credit card.
But of course, you have to consider the per-transaction fee we discussed earlier.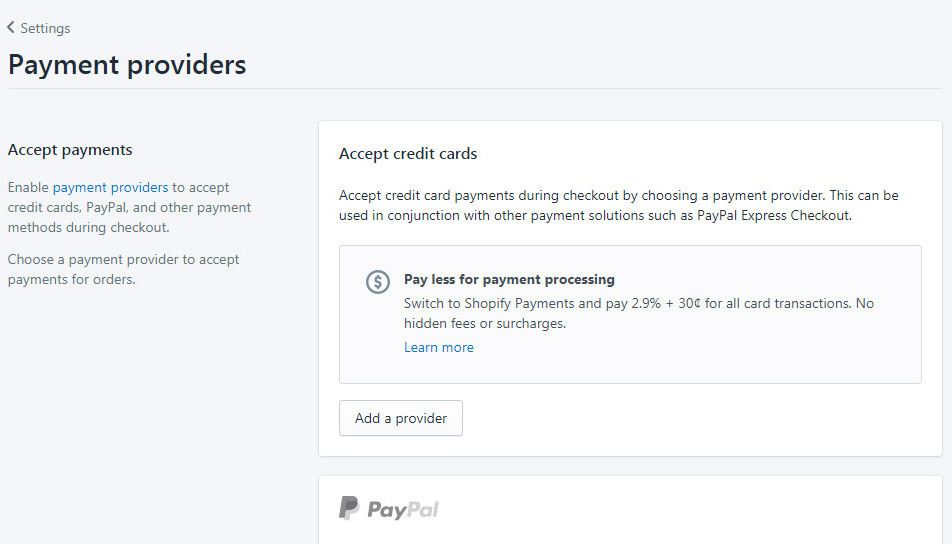 With Shopify Payments, you no longer need to sign up with other merchant accounts like Stripe or Authorize.net. Although, the option to have them is still there and available, with their own fees, of course.
Shopify collects the shipping and payment information of your customers once they pay. This way, they can check out faster next time.
Shopify itself also allows you to make use of other payment methods such as:
Apple Pay
PayPal
Amazon Pay
Google Pay
Cryptocurrency
You have to be careful with setting this up and make sure you test them out thoroughly as they can prove to be finicky.
It's also important to consider where you're selling to when setting up your payment providers.
Different countries may have different options available. Conveniently Shopify offers a list of available payment gateways per country.
Also, you have the option to put in the payments manually. Such as in cases where you offer bank transfers and cash on delivery (COD). You can simply approve the order manually, and the order will be fulfilled.
A lot of options at your fingertips, right?
WooCommerce — Everything's There for You
WooCommerce offers the same flexibility, but you'll need to use extensions.
Right off the bat, you're offered the option to accept payments via COD or bank transfer. Paypal is also a built-in option since it's almost used universally.
With Paypal, you can already accept credit card payments. So that's one of the easiest options to use.
There are dozens of other payment gateways available. Just look for the ones you need, sign up and get the extension ready in WooCommerce.
Here are some of the top payment gateways available with WooCommerce, including seamless integration for setting up PayPal payments in your online store.
PayPal
Stripe
Square
Amazon Pay
Authorize.Net
Sofort Uberweisung
2Checkout
Alipay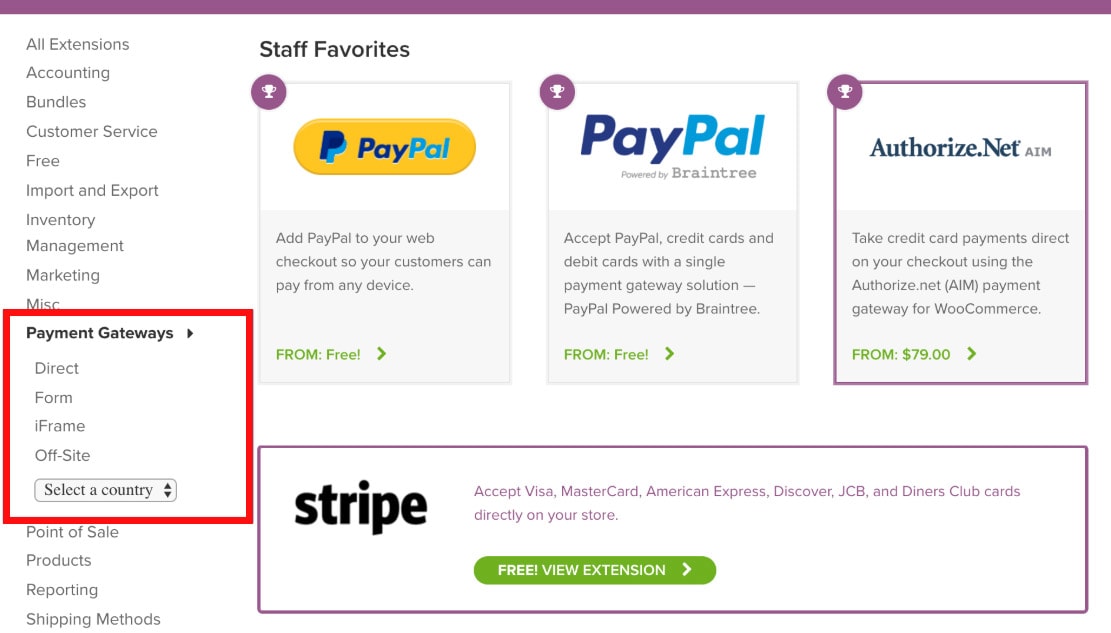 As you can see, wherever you are in the world and wherever you're selling to, you're covered.
The only downside here is that you will need to compute the charges with the individual merchants.
Since using WooCommerce on its own costs nothing, it's these merchants that may charge you more or less around the 2% mark.
Similarly, you can even set up memberships, discounts, and other features from WooCommerce or the payment gateways. It all depends on how you plan on running everything.
SureCart – Easy Payment Processor Integration
SureCart supports payment gateways Stripe and PayPal at the moment. They are planning on integrating many more payment processors over the coming months.
Integration is going to be a great selling feature of SureCart. The plugin is built with SureTriggers, which connects your plugins to function smoothly.
SureCart, however, is a bit behind on the payment gateways availability compared to Shopify and WooCommerce.
The flexibility and payment solutions available for all three platforms are almost identical, albeit set up differently. So you're almost certainly covered and would have backups up, just in case.
For that reason, we're declaring a tie for this category.
Updates and Support: Shopify vs. WooCommerce vs. SureCart
For most of us, one of the most important things is to find help when you need it. Luckily for you, all these platforms offer customer support services.
The only difference is how to get it and when.
Ideally, as busy people, we need to be able to find help as soon as we need it.
Here's how it is for both platforms.
Shopify— 24/7 Customer Support
Not only does Shopify offer an extensive library of FAQs, but their support is also quite literally award-winning.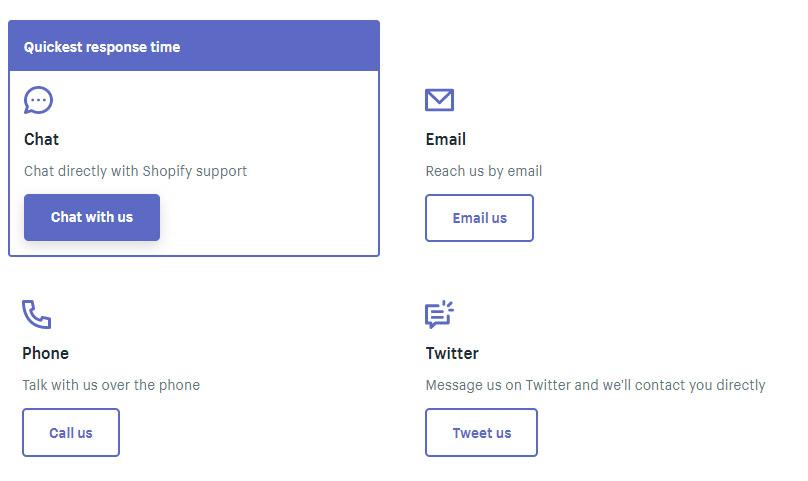 Part of their selling point is that you'll be able to find the help that you need when you need it.
They offer four convenient ways of contacting their support team, namely:
Chat support
Email
Phone
Twitter
Whatever the method, you're sure to find the help you need. But of course, the quickest way is to chat with them.
On top of that, you also are given the option to hire a Shopify Expert in case you need more hands-on assistance with your site. All these options are available from your Shopify dashboard.
The only limitation is that they do not support third-party apps and integrations you may have installed.
Your only option here is to contact the developers directly with your issues.
Finally, Shopify doesn't have updates per se, since the whole platform is your site itself. They take care of fixing bugs and improving the overall usability with just releases now and then.
WooCommerce — You're on Your Own, Kid
WooCommerce is the most popular and widely used platform in the eCommerce space. You're sure to find extensive and community-driven FAQs and documentation anywhere online.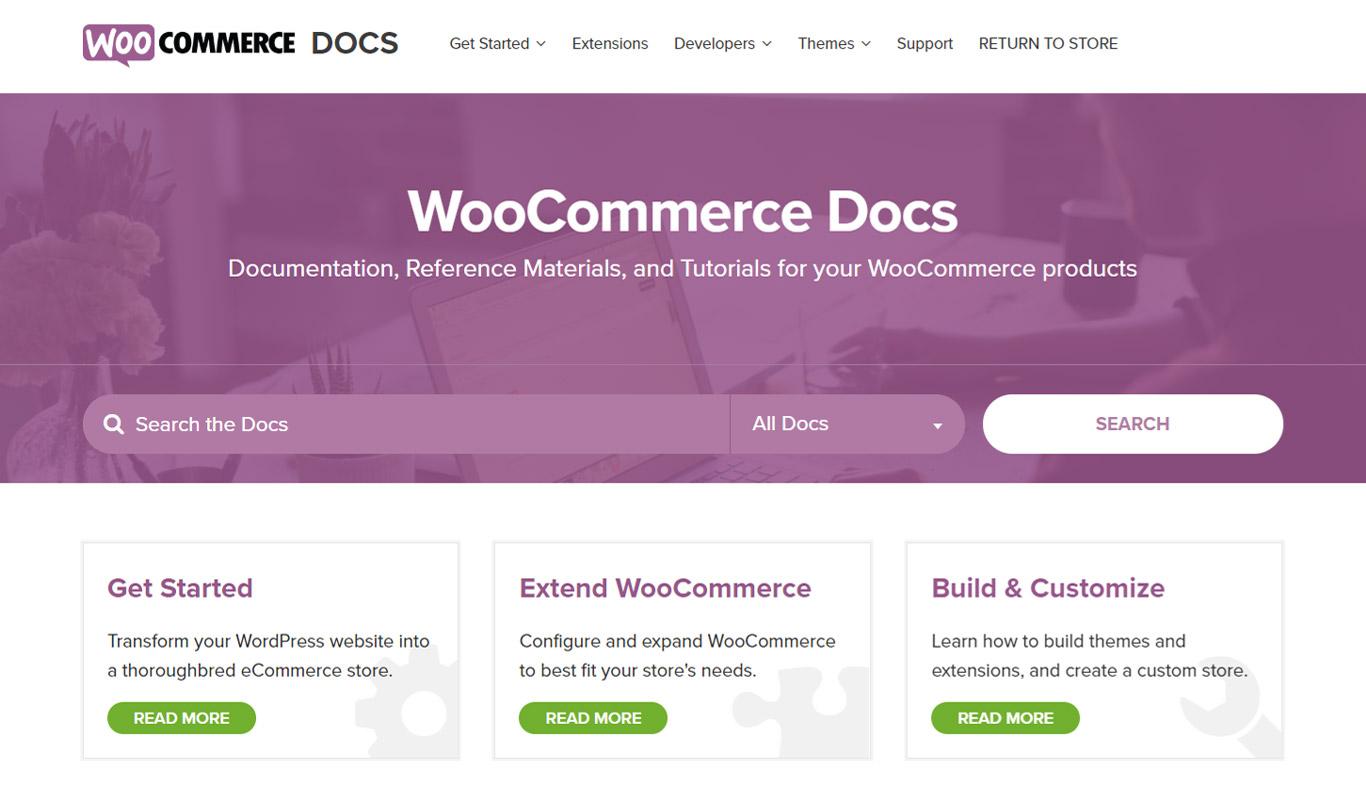 WooCommerce itself does not have many support avenues since it is self-hosted. Your hosting provider is responsible for solving all server related issues.
If you are having issues with your plugins or extensions, the developers are mostly in charge of taking care of that for you.
A little self-help and reading will go a long way, though. WooCommerce is incredibly simple to use and logical in how it works. There will be very few issues you won't be able to work out.
As far as updates are concerned, WooCommerce does regularly update to keep up with WordPress changes. Not to mention keeping compatibility with hosting requirements, plugins, and themes.
It's not necessarily a hard thing, but WooCommerce updates tend to need more attention since there's a lot at stake. So backing up your data is a good idea.
SureCart – Here For You and Your Website
SureCart offers top-notch support.
The plugin is relatively new, meaning it'll have many more updates in the coming years, adding or improvising the feature to enhance your selling experience.
The team has developed extensive documentation and a video tutorial to provide complete support on the plugin's usage.
They also offer 24/7 support to all their users. Even though it's new, there are helpful videos, Facebook groups and more resources online.
Plus, the plugin is so easy to use, it's rare you'll ever need help!
When it comes to customer support and updates, Shopify and SureCart win by a landslide. The mere fact that they offer 24/7 support is indicative of how easy it is to get the help that you need.
Addons and Integration: Shopify vs. WooCommerce vs. SureCart
When it comes to expanding your shop's built-in functionalities, all platforms give you a lot of flexibility.
All these apps, extensions, addons and plugins can give more life to your online shop.
Let's take a closer look at each of the available add-ons for both platforms.
Shopify — The Shopify App Store
From wanting to start your dropshipping site to wanting to add Facebook integration to your website, Shopify has you covered.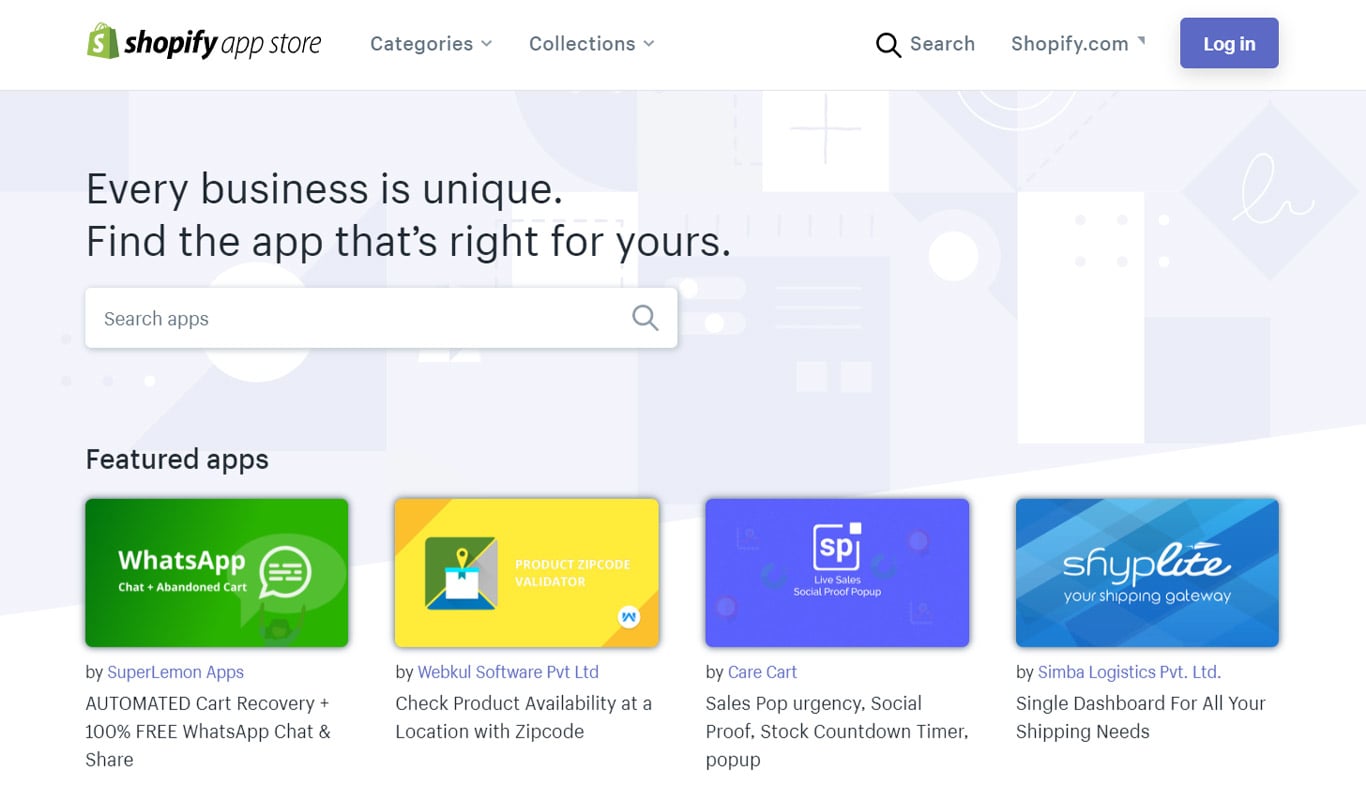 You can also easily find where these are. On the right side of the dashboard, just click apps, and you're good to search for them.
They make it as simple as possible for you. They even have these sorted into categories and collections to help you out even more.
The only downside of this is that most of the available apps on the Shopify app store are premium.
Although some have free trials available, you still have to pay for them in the long run.
You may be able to find alternatives to these paid apps that suit your needs. You'll quickly discover that you still need to purchase the paid ones to make sure that they work as needed.
The only limitations with Shopify are the cost that would quickly accrue when you purchase these apps.
WooCommerce — Extensions and Plugins
What you have to understand with WooCommerce is that it is used by millions of people. According to their own homepage, "WooCommerce powers over 28% of all online stores."
It's that fact that creates a positive feedback loop.
With more and more users, an increasing number of developers would also be enticed to create their own extensions.
With more extensions means an increased number of features. The enhanced features would attract more people to use it and the loop continues.
The WooCommerce Extensions store is found on its website. Since it is self-hosted, you may find some WooCommerce streamlined plugins from the WordPress back-end directly.
But most of the vetted ones are on the WooCommerce store.
A quick search on WordPress.org returned over 6,000 plugins with 'WooCommerce' in the title.
The CodeCanyon marketplace sells 1,543 WooCommerce plugins and WooCommerce.com sells 286 official WooCommerce plugin extensions.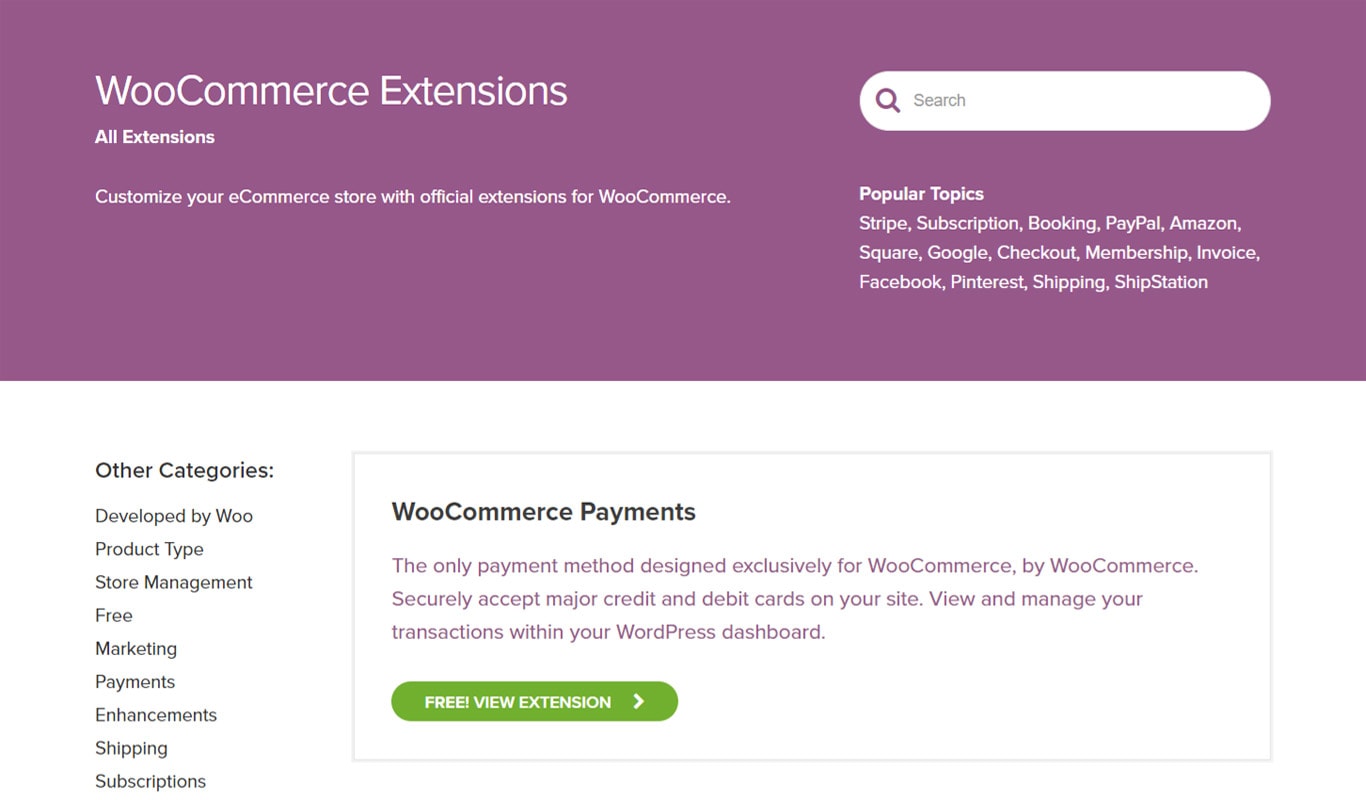 As with anything, there are fees and paid extensions, although you can still find free alternatives for the paid ones. A number of which is found on WordPress.org itself, all for free.
WooCommerce can give you the absolute flexibility to expand your site and make sure that it works the way you want them. Regardless of what that need is.
Since WooCommerce is open-source, this also means that you can customize it yourself if you have the skill-set to do so. Alternatively, you can hire someone to do it for you.
SureCart – Easy and Direct Integrations
SureCart has advantages over Shopify and WooCommerce for the extensive catalog of integrations it offers.
Integrations are easy with SureCart.
The plugin allows you to sync each product sold through LearnDash, LifterLMS, or Memberpress. It is compatible with most WordPress plugins and can use SureTriggers to integrate with hundreds of other services.
This new automation tool works inside WordPress and allows you to create powerful integration.
Here's a video on what SureTrigger is and how it powers SureCart!
You'll not have to worry about third-party applications with SureCart!
SureCart will connect your products to the rest of your WordPress website.
For example, you can add customers to a Google Sheet, and send Slack messages using SureTriggers on SureCart.
Considering the number of users per platform and the way these apps are made and are available, it's safe to say that SureCart offers more flexibility than Shopify and WooCommerce.
Especially if it comes to the sheer number of alternatives that you can find.
Scalability: Shopify vs. WooCommerce vs. SureCart
Scalability simply means being able to grow or expand your shop. All three platforms handle them differently.
You have to consider the long term costs that it would entail along with your actual capability to expand it yourself.
Shopify — Scalability That's off Your Hands
Shopify handles most of the technical side for you.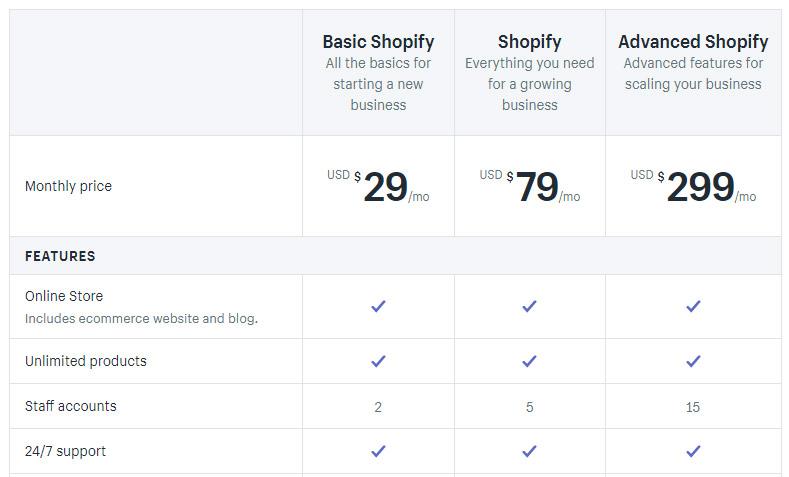 You may never even encounter the words "caching, optimization, and server capabilities." It's all because Shopify wants you to focus on your shop as much as possible instead of worrying about other things.
The more you expand, the more features you may need. But it's as easy as upgrading your plan. They even offer Shopify Plus, which is an enterprise-grade solution.
It doesn't matter how many products you have or how many changes you make in the long run. Shopify can handle the load.
The only cost you need to take care of is the monthly fee. But with the increased profit from your products, these can easily be offset.
WooCommerce — A More Hands-on Approach
When it comes to expanding your shop with WooCommerce, you need a more hands-on approach.
Since it's self-hosted, the only limitations with expansion depend on the capabilities of your hosting provider.
The more you expand, the more customers visit your site, the more it takes a toll on your servers.
Thankfully, there are a lot of hosting solutions that can help you out with this. Most hosting solutions offer up to enterprise-grade solutions to give you more resources.
You can also manage the way your shop works by optimizing the content, images, and by using available plugins.
These, of course, will increase the cost of running your website. SiteGround offers hosting solutions that can help quickly scale up your site.
SureCart – Extends as Your Business Grows!
SureCart is promising and seems to have a great future ahead. The plugin is developed to sell in a whole new way in WordPress.
Most eCommerce plugins do online selling traditionally. That's why SureCart is designed to grow your business effortlessly.
With SureCart, you don't have to worry about expensive hosting and it's management.
The plugin does all the jobs from its server.
Being a new plugin, it has a lot to do in the years to come.
The free and three different premium plans make it simpler for you to decide on what you want.
You can let your plan grow as your business grows with SureCart.
The bottom line is that all three platforms can easily handle scaling up your website. WooCommerce gives you more control over what you want. In addition to only paying for what you need.
SureCart does this and more, which is why it gets the award for this category.
User Support and Future Proofing: Shopify vs. WooCommerce vs. SureCart
All three platforms are incredibly stable in the sense that they won't magically disappear. But it's still worth looking closer in case you need a little help.
Shopify — Your Future in Their Hands?
Shopify takes care of hosting the site and everything else in the back end.
Meaning you have no idea where your actual site files are. This may either terrify you or not matter at all.
The historical data of Shopify has seen a constant uptrend in its market value. This means that you don't have to worry about it shutting down operations any time soon.
The user base is also expansive. It's a multinational company, which means that its users span the globe. A company with this number of users doesn't have to worry about sudden disappearance.
On the flip side, the fact that you don't know where your site files are and that it's all managed by Shopify means that you can't easily change platforms.
You also don't have a way to get a hold of a backup for your files.
Although realistically, it's not a possibility, if they do close, you'll be left with just memories of your site. But again, it's a remote possibility.
A more realistic case would be if you will be changing platforms, you'll have to rebuild your site from scratch.
You can't easily transfer the files over from Shopify to the next. It is possible though.
WooCommerce — 28% of the Worlds Online Shops
WooCommerce gives you full control of where you put your files and how it's managed. It's more work but you have far more control.
There are a lot of factors that would determine the future of your store. Considering a perfect hosting solution, you can quickly move your files from one provider to another.
You can even easily switch platforms since all your files and content are already there.
The future is bright for WordPress and WooCommerce. Based on the latest statistics, WordPress accounts for 42% of the internet.
That's a lot of websites, which can only mean that the platform is not going away any time soon.
The fact that you know where your files are and that you have a clear picture of the future of the platform, which is great news if you use it.
SureCart – From the Most-Trusted WordPress Theme and Plugin Developer
SureCart is built by the same team behind some of the most popular WordPress products like the Astra Theme, Spectra, Schema Pro and Ultimate Addons for Elementor.
As of now, SureCart has a SureCrafted Facebook group of 4.4 k members.
Even though all these platforms are at the top of their game, it's reassuring to know that your files are where you want them. And with the uncertainty of the future, you can quickly just zip up a backup anytime you want worry-free.
Both WooCommerce and SureCart leave you in control of your data and your future. That makes this a tie between those two.
Shopify vs. WooCommerce vs. SureCart: Which Is the Best Platform?
Determining the best platform among these three giants is a hard call.
All three platforms offer each of their strengths and weaknesses, each of their own similar and unique features.
The best call here is to determine if you're just starting out and your budget.
For total beginners with no budget, SureCart is the best! With SureCart, you can create a website and start selling your digital goods and products right away.
In the case, you're on a budget, Shopify is a great solution. Since all you need to worry about is how you want your shop to look like. Setting it up is a breeze, and you mostly have unlimited scalability.
The support and ease of use are also one of the best selling points for Shopify. It will be more expensive over the long term though.
For more experienced users, WooCommerce is a great bet. The flexibility, scalability, and cost savings you would get are the most significant benefit.
The fact that it's self-hosted means that you have all the control with what you want.
SureCart is a whole new way to sell on WordPress.
It's easy to use, integrates seamlessly, works with most WordPress plugins and is inherently secure.
In the end, you won't be sorry if you use any of these platforms. Each has its pros and cons but delivers a lot of features.
Our vote has to go to SureCart. It may be new but it's powerful, flexible and has a new way of doing things that provides lots of flexibility.
If you are already a Shopify user and heavily considering WooCommerce, then our guide on migrating from Shopify to WooCommerce will come in handy!
Astra – The WooCommerce Theme Built to Boost Sales!
Astra is a WordPress theme that is seamlessly streamlined for WooCommerce.
With both user and owners' experience in mind, we built this theme to cover all bases.
With performance-optimized code, worrying about your site speed is a thing of the past. With increased site speed and load times, the higher you rank on Google. In turn, more sales and customer retention.
With Astra, full control is also in your hands without worrying about learning to code. However unique your site is, you can customize it to your heart's desire.
You also don't need to worry about updating and scaling your store. Astra is rock solid and is fully compatible with the vast array of WooCommerce plugins.
These and many other amazing features, including an outstanding support team to back you up.
It's the perfect combination!