The process of building a website can be overwhelming. Should you use Wix, WordPress, Squarespace, Weebly, or any of the other hundreds of options available?
Trying to decide on one can be a bewildering experience for those unfamiliar with technology.
In this article, we'll compare Wix and WordPress, two of the most popular ways to create a website. We'll analyze both of them on every metric imaginable, from cost to support and everything in between.
To jump to a particular section, use the table of contents below.
A Brief Overview of WordPress and Wix
Before we jump into the comparison, let's briefly cover both Wix and WordPress. If you are just starting out with web design, you may not be familiar with either platform.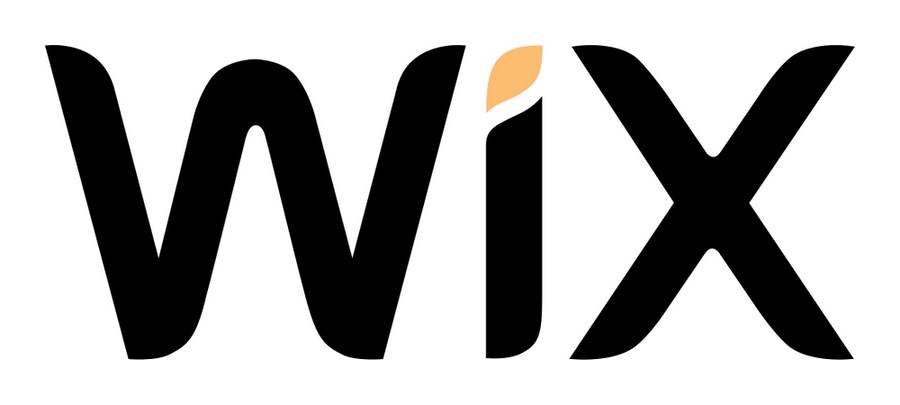 Wix is a hosted drag-and-drop website builder. With over 180 million registered users, it is one of the most popular options for creating a website. Wix has a variety of built-in tools and features, all of which are accessed and used directly on the Wix.com website.
While there is a basic free plan, it is quite limited and includes on-page ads. So, to make use of most features, you'll need to sign up for a paid plan. These start at roughly $14 per month, but vary depending on what features you want to use.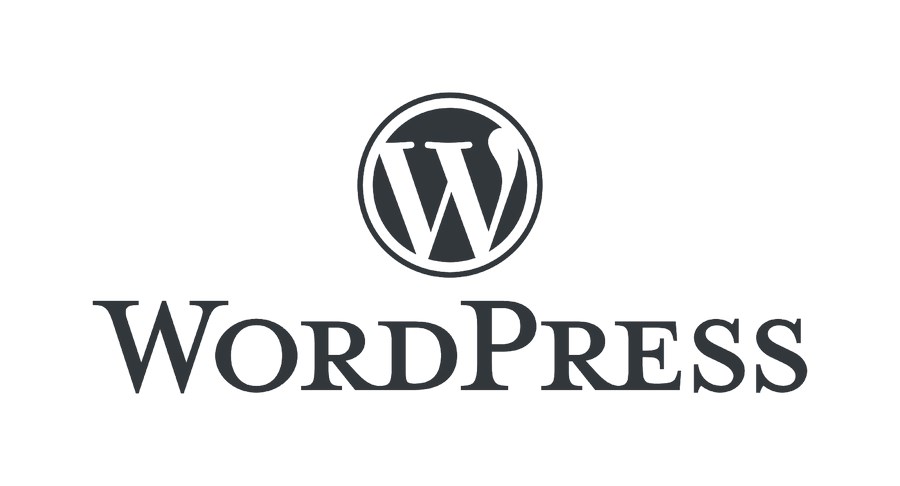 WordPress is a content management system (CMS). WordPress is used by over a billion websites and powers 35% of the Internet. Unlike Wix, WordPress is a free, open-source software package that you download and then install on your own web host. While you'll need to pay for a domain and hosting, the actual WordPress software itself is free.
With over 50,000 plugins and thousands of themes available, WordPress is immensely flexible and can be modified to fit pretty much any need.
It's also important to realize that there are two versions of WordPress: WordPress.com and WordPress.org. While sharing a name and a similar design, they are actually very different things.
WordPress.com is a hosted web platform. In order to use the service, you need to sign up for a subscription plan. These range from free to $45/month. Everything is specific to the WordPress.com platform and you can't install new third-party plugins or custom themes.
WordPress.org, on the other hand, is a downloadable software package that you install on your own web server. It is completely free, open-source, and can be used in any way you like. There are over 50,000 available plugins and thousands of themes — including Astra, our theme, which is the most popular theme available.
WordPress.org is generally considered the "real" WordPress and is more popular than WordPress.com. As such, we'll only be talking about that version in this article.
Wix vs WordPress
When it comes to cost, installation, security, and other metrics, how do the two options compare?
Below, we'll analyze WordPress and Wix on a variety of factors.
| | | |
| --- | --- | --- |
| | Wix | WordPress |
| Cost | 💲💲💲 | 💲💲 |
| Features | ⭐⭐⭐ | ⭐⭐⭐⭐ |
| Installation and Learning Curve | ⭐⭐⭐⭐⭐ | ⭐⭐⭐⭐ |
| Learning Resources | ⭐⭐⭐⭐ | ⭐⭐⭐⭐⭐ |
| eCommerce | ⭐⭐⭐⭐⭐ | ⭐⭐⭐⭐⭐ |
| Mobile Friendly | ⭐⭐⭐⭐⭐ | ⭐⭐⭐⭐⭐ |
| Blogging | ⭐⭐⭐ | ⭐⭐⭐⭐⭐ |
| Long-Term Investment | ⭐⭐⭐ | ⭐⭐⭐⭐ |
| Security and Ongoing Maintenance | ⭐⭐⭐⭐ | ⭐⭐⭐⭐ |
| Design Options and Themes | ⭐⭐⭐ | ⭐⭐⭐⭐⭐ |
| Plugins, Extensions and Add-Ons | ⭐⭐⭐ | ⭐⭐⭐⭐⭐ |
| Support | ⭐⭐⭐⭐ | ⭐⭐⭐ |
| Email Marketing | ⭐⭐⭐⭐ | ⭐⭐⭐⭐ |
| SEO (Search Engine Optimization) | ⭐⭐⭐⭐ | ⭐⭐⭐⭐ |
| Moving to Other Platforms | ⭐ | ⭐⭐⭐⭐ |
Pricing and Cost
How much does each platform cost? What are extra fees or add-ons that you'll inevitably need to purchase?
In this section, we'll cover all of the possible costs you may incur for both Wix and WordPress.
WordPress
WordPress itself is completely free to install and use. However, you will need to purchase a domain name and web hosting to install WordPress on. The costs of both vary widely, however, .com domains typically cost about $8 per year.
Domains are always purchased for a period of one year or more. To purchase a domain for less than a year, you'll need to rent it from someone else, which can get complicated.
Hosting is usually purchased on a monthly basis, but paying for a year or more upfront will lower the per month cost. Prices tend to start at around $40 per year (or ±$4 per month) but can vary depending on the host, your web traffic, length of contract, and other factors.
Another option for WordPress users is managed hosting. Managed WordPress hosts cost $10 to $20 more per month, as the host takes care of updates, security, and other aspects of maintaining the site.
These hosting plans start at around $30, but vary depending on how much you want managed.
WordPress has over 11,000 themes available. Many of these, including the official WordPress themes, are completely free to use. Other themes typically cost around $50 – $100, although prices vary widely.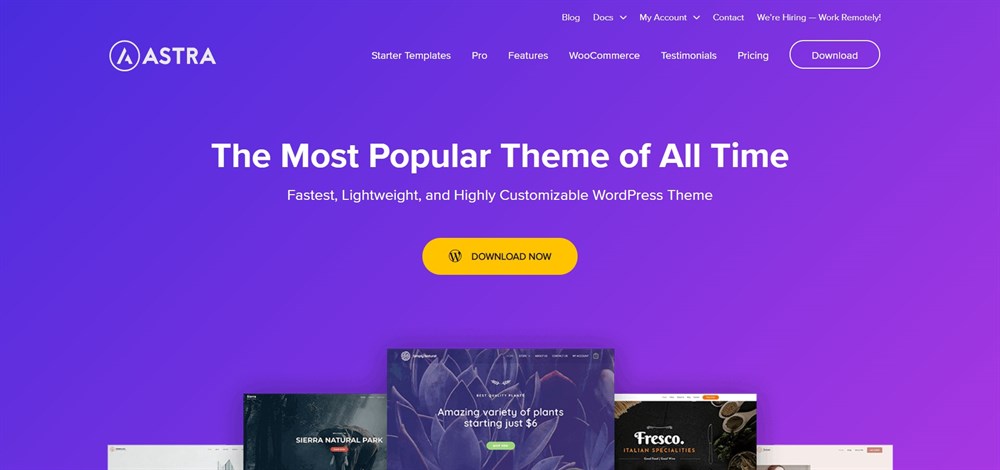 Our Astra theme, which is the most popular theme for WordPress, has both free and paid versions. The paid plans start at $59 per year and include starter templates, one-on-one support, and other features.
As with themes, there are a wide variety of free and paid options available. Many plugins are completely free. Others range from $15 to $500. As an example, our Schema Pro plugin starts at $63, while our Convert Pro plugin starts at $79.
Free plugins tend to have a limited feature set, with paid upgrade options available for more advanced functionality.
When you purchase themes and plugins, you download the code itself in a zipped file package. For all intents and purposes, this means you now own the plugin, indefinitely, although you may need to pay for technical support or new features.
This is unlike Wix, where plugins are merely installed on your Wix site and cannot be downloaded and used at a later date. You don't own Wix plugins. Instead, you merely rent them.
In total, a basic WordPress website will cost, at minimum, about $50 per year + $10-$500 each for any additional themes or plugins.
Wix
Wix has various plans available. Plans are divided into two broad categories: 1) Website and 2) Business & eCommerce. Each of the individual plans has different features and it can be difficult to determine precisely which one you should use.
Note that the prices listed below are based on the annual subscription plan and are higher if you only pay per month.
All of them include a domain name for the first year. After that, you'll need to pay approximately $15 per year, depending on the TLD you use (.com, .net, etc.). Even if you use Wix, we don't recommend registering your domain with them. Other options like Namecheap are significantly less expensive.
These packages are designed for creating a content-focused website like a portfolio or blog. You won't be able to accept payments or use some of the more eCommerce-oriented features, like creating customer accounts or selling on social media.
| | | | |
| --- | --- | --- | --- |
| Combo | Unlimited | Pro | VIP |
| $14/month | $18/month | $23/month | $39/month |
| Custom domain | Custom domain | Custom domain | Custom domain |
| 3GB storage | 10GB storage | 20GB storage | 35GB storage |
| 24/7 Customer Care | 24/7 Customer Care | 24/7 Customer Care | Priority support |
Wix Business and eCommerce Plan
These packages are designed for businesses and eCommerce shops that want to accept online payments.
They all include a robust eCommerce platform that supports unlimited products, abandoned cart recovery, and similar features.
| | | |
| --- | --- | --- |
| Basic | Unlimited | VIP |
| $23/month | $27/month | $49/month |
| 20GB storage | 35GB storage | 50GB storage |
| Unlimited products | All Basic Features | All Unlimited Features |
| Abandoned cart recovery | Advanced Shipping | Loyalty program with Smile.io |
| Online booking | Subscriptions | Priority support |
The Wix App Market is a marketplace of add-ons and extra features for your Wix site. There are hundreds of options and integrations available, including MailChimp, Quickbooks, Google Ads, and other popular services.
Most of these apps have free plans or free trials available, but you'll need to pay a monthly subscription fee in order to access more advanced features. These fees vary, but can get rather costly, with many at over $75 per month.
In total, a Wix website will cost, at minimum, about $168 per year + $10-$100+ per month for any additional apps.
Is Wix or WordPress More Expensive?
Overall, Wix is significantly more expensive than WordPress. WordPress has more free themes and plugins, while Wix makes you pay for nearly everything.
Wix's pricing plans can be a little confusing to understand, as there are so many of them. It is difficult to determine which features are included in which plan.
Since Wix separates features across pricing levels, you may need to pay for a more expensive plan simply to access a single specific feature. This can dramatically increase the price, even for a simple website.
Features and Flexibility
WordPress
WordPress is an extremely flexible platform that can be customized to make pretty much anything. While it is best suited for blogs and other content-oriented websites, there are plugins for virtually anything you may need, from message boards to membership plans.
Simplicity

WordPress is designed to be simple and require very little technical or programming expertise.

Flexibility

Using plugins, themes, and a little customization, WordPress can be modified to make any sort of website.

Easy Publishing

Publishing content in WordPress is very easy and only requires a few clicks.

User Management

In WordPress, you can create different types of users and give them varying permission levels. You can also set up membership plans and restrict content to certain types of members.

Media Management

Managing your photos, videos, and other media is easy in the WordPress Media Manager. Adding media directly to posts or pages is also simple.

Themes and Plugins

WordPress has over 50,000 plugins and thousands of themes. Many of these are free, while others cost from $15 to $500.

Comments

Enable or disable comments on your pages and posts. You can also use Disqus and other third-party plugins.

SEO

WordPress is natively optimized for Search Engine Optimization (SEO), and other plugins like Yoast make it even better

Language Support

WordPress is available in over 70 languages and is easy to convert to your own, should you want to do so.

Easy Installation and Upgrades

Installing WordPress only takes a few minutes. Keeping it updated takes even less time.

Importing and Exporting to/from Other Options

Moving to WordPress from another service (or vice versa) is straightforward. A variety of plugins make it easy to import or export your data.

Data Ownership

Unlike Wix, Squarespace, or other options, WordPress is completely free and open-source. You own all of your data and have no restrictions on exporting or deleting it.

Community and Support

To put it simply, the WordPress community is gigantic. There are hundreds of support forums and millions of WordPress users ready to help you. And every year, hundreds of WordCamp events are held around the world.
Wix
Wix has a ton of features and options available, although many of them require paying for add-ons or other integrations.
The drag-and-drop editor is easy to use and the premade templates are all attractive and well-designed.
On the whole, Wix is designed more for particular types of websites (like restaurants or photography portfolios) and not as a customizable website platform.
Wix Editor

Create a new website via the drag-and-drop editor, or use one of 500+ templates created by professional designers.

SEO

The Search Engine Optimization plan is personalized for your site and Wix helps you improve your Google search results as much as possible.

Mobile-Friendly

All sites are optimized for phones, tablets, and other mobile devices and no extra steps are required.

Font options

Over 100 fonts are available. You can also upload your own.

Scroll effects

Zoom, parallax, and other effects are easy to add to your website.

Photo/Video Galleries

Display your photos, videos, and other media in a gallery layout.

Wix App Market

Integrate with other apps and websites like MailChimp and QuickBooks.

Wix ADI

Answer a few questions and the Wix ADI will automatically create a well-designed website for you.

eCommerce

Choose from a variety of eCommerce-oriented themes and storefronts, add bookings and appointments, and accept delivery or pickup orders.
Does Wix or WordPress Have More Features?
Both Wix and WordPress have a ton of features.
WordPress is more flexible, easier to modify, can be used for a larger variety of projects, and has a self-organizing worldwide community.
Wix is more limited, but it is a good choice for non-technical users that want to set up a basic website without needing much customization. You can quickly set up a website, but adding extra functionality in the future may be expensive and/or impossible.
Installation and Learning Curve
How easy is it to get started with WordPress or Wix? In this section, we compare installation time, learning curve, and general ease-of-use.
WordPress
Most web hosts have WordPress auto-installers, which will quickly and painlessly install WordPress on your server. Usually this process only requires clicking through a page or two and doesn't take more than a few minutes.
Other hosts will actually have WordPress pre-installed for you.
Once you've installed WordPress, using it is a breeze. Everything is managed through your admin panel, which is located at yourwebsite.com/wp-admin. You can manage the entire site and its content (blog posts, videos, images, etc.) directly from this page.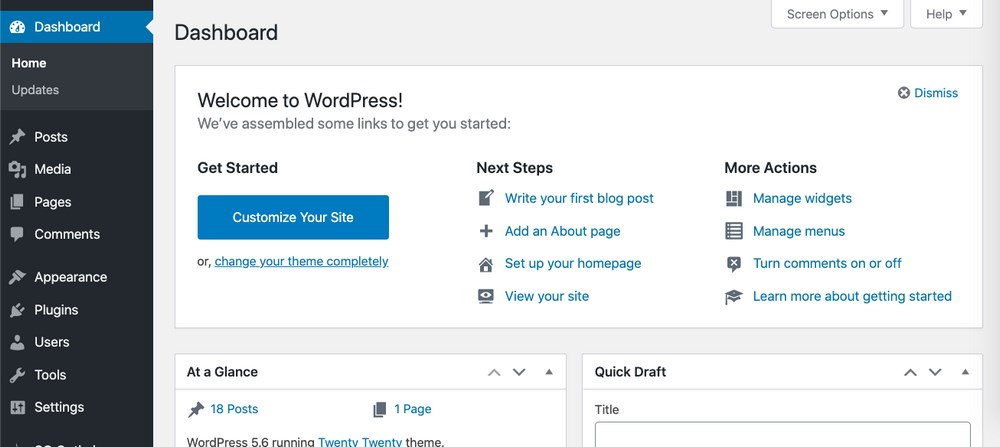 The specific customization options available depend largely on your theme. Many themes have their own separate sections on the toolbar. Others add their options to a page called Theme Options under an already-existing tab, like Settings or Appearance.
Since WordPress is so widely-used, it also has a near-unlimited amount of support guides, forums, and other free learning resources available.
There are countless videos on YouTube that will walk you through installing and using WordPress.
On our Astra blog, we also have a ton of how-to guides, tips, and recommendations.
Wix
Wix is designed to be easier to use for people that aren't familiar with making websites. There is nothing to "install", as the entire platform runs on Wix's servers. You simply need to sign up for a Wix account.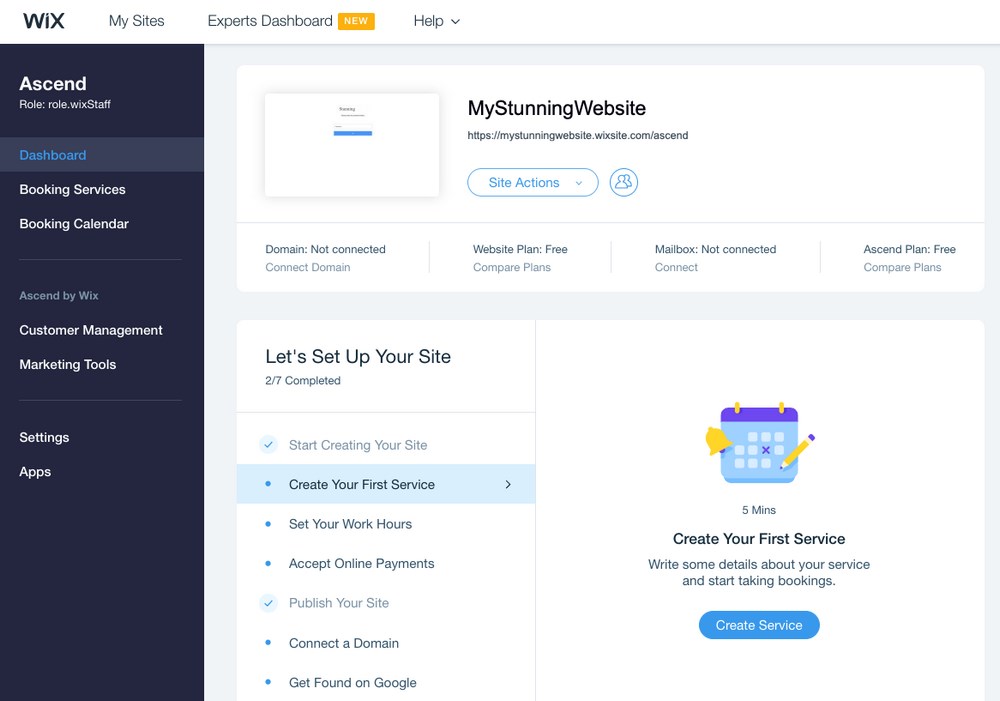 When it comes to creating your site, Wix uses a drag-and-drop editor. It is straightforward to use, but can be somewhat limited if you want to make very specific changes to your website or add custom HTML, CSS, or JavaScript code.
The editor also has its own learning curve. For those used to common web development tools (HTML, CSS, etc.), the Wix Editor can be a little unfamiliar and confusing to use.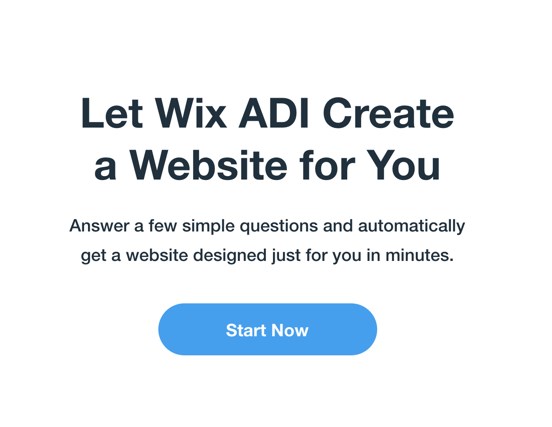 Wix also has a feature called Wix Artificial Design Intelligence, or Wix ADI for short. Essentially, it is a website creation wizard that walks you through a series of questions about you or your business. Based on your answers, it creates a specific website matched to your needs.
Wix ADI is an easy way to quickly create a website, but extra customization is still required if you don't want a generic-looking site.
Is Wix or WordPress Easier to Install and Learn?
Both WordPress and Wix are easy to set up and use. WordPress requires you to purchase web hosting and install the WordPress software on your server, while Wix is hosted entirely on their own company servers.
Learning Resources
How many guides, FAQs, and walkthroughs are available for Wix and WordPress? In this section, we'll look at the number of ways you can learn about using each platform.
WordPress
WordPress is the single most popular content management system available. With over a billion websites using the software, it powers over 39% of the Internet — and continues to grow every year.
Since WordPress is immensely popular, there are tutorials and walkthroughs for pretty much anything you could think of. Paid themes and plugins will often have their own Knowledge Bases and guides.
On our own Astra blog, we also have dozens of guides and recommendations for using WordPress.
Wix
The Wix Help Center is an extensive knowledge base and how-to guide for using Wix. There are hundreds of articles on everything from using the Wix Editor to setting up a members-only area on your site. Wix also has a YouTube channel with nearly 500 videos.

Since Wix is a company and not a nonprofit organization, most learning resources come directly from the Wix team and not from the community, as is the case with WordPress. While you can be sure that a tutorial is coming straight from Wix, the amount of guides and walkthroughs is far less than for WordPress.
Does Wix or WordPress Have More Learning Resources?
Wix's knowledge base is robust, easy to navigate, and includes hundreds of articles on using their software. However, it is more limited in scope than WordPress, as Wix itself is much less powerful and flexible than WordPress.
While WordPress learning resources are scattered around the web and do require some research, the sheer variety of tutorials for building things is nearly limitless.
If you want to create something specific with WordPress, chances are that someone has already created a tutorial for you to follow.
eCommerce Functionality
WordPress
WordPress has thousands of plugins that are optimized for eCommerce. WooCommerce is the most popular one and has been downloaded over 80 million times. With WooCommerce, you can customize your eCommerce site to be exactly what you need.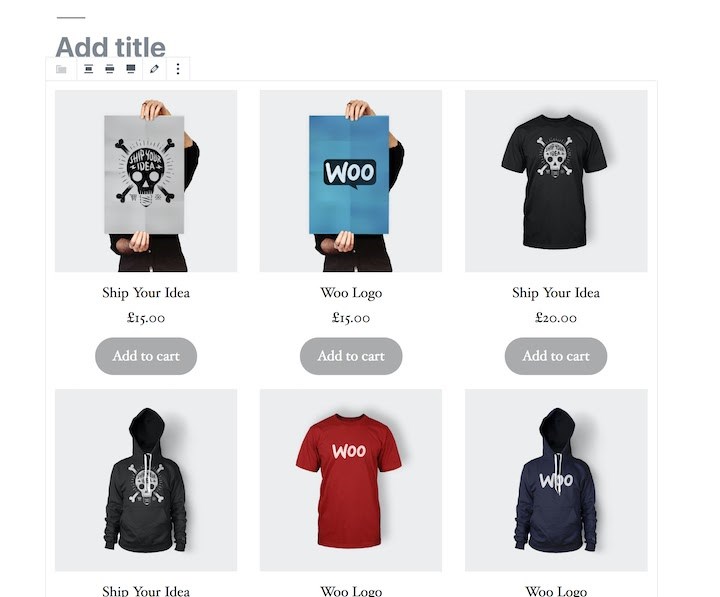 There are also many themes designed to work well with WooCommerce, including our own Astra WooCommerce theme. Thinking of using Astra for your eCommerce site?
Wix
Half of the Wix plans are designed for eCommerce. Wix has most of the features you've come to expect for eCommerce, including abandoned cart recovery, subscriptions, multiple currencies, and automated sales tax.
Is Wix or WordPress Better for eCommerce?
Both WordPress and Wix have solid eCommerce offerings. WordPress primarily relies on WooCommerce, while Wix has everything you need in-house.
Mobile Friendly and Responsiveness
Will your site work on phones and tablets? Can you maintain your site from your own mobile device? In this section, we'll talk about mobile support on each platform.
WordPress
All new WordPress themes are designed to work on mobile devices. The WordPress customizer, which is where you can make many changes to your site, also has a handy toolbar for previewing your site on a desktop, tablet, or phone.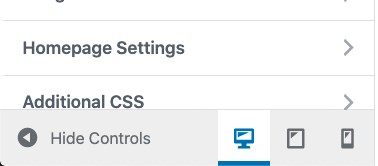 The Astra theme is mobile-ready and also enables you to enable specific features for your mobile site, like choosing a different header.
Finally, Automattic, the company that manages WordPress, also maintains a mobile app for iOS and Android.
Wix
In Wix, your site will automatically be responsive and mobile friendly. This includes both the premade templates, Wix ADI sites, and any site that you create with the drag-and-drop editor.
However, if you want to force the desktop version to display on mobile, you can choose to enable or disable the mobile-friendly view of your website in the Wix settings.
Wix also has a mobile app that lets you manage your site(s) directly from a mobile device.
Is Wix or WordPress Better for Mobile?
Wix and WordPress are both mobile-friendly and will work well on mobile phones, tablets, smaller laptops, and other devices. Both platforms also offer numerous ways to manage and maintain your site from a mobile device.
Blogging
Are you a blogger or content creator? In this section, we'll compare the two platforms in terms of their blogging capabilities.
WordPress
WordPress was originally designed to be a blogging platform and it shows. The options for blogging are vast and cover essentially any functionality you may need, from email newsletters to reader comments.
With over 50,000 plugins and thousands of themes available, you can create a blog and customize it in any way you like. Above all, WordPress itself is designed with content in mind; the user interface is designed to help you manage your blog posts and other content.
Wix
While Wix does have blogging options, they are not as powerful or flexible as WordPress. The lack of customization options can be an issue for some, especially if you have a unique brand.
The Wix interface itself is also not particularly oriented toward managing your content. Overall, Wix is better suited for businesses than bloggers.
Is Wix or WordPress Better for Blogging?
WordPress is a much better choice for bloggers. While Wix does have blogging options, they are more of an afterthought than a focus.
Long-Term Investment
Long-term costs and benefits are an important, but often overlooked, aspect of choosing which platform to use. Will Wix or WordPress still be around in a year or five? And will the knowledge of learning how to use one still be useful if you switch to the other, or to a different platform entirely?
WordPress
As we mentioned in the introduction, WordPress powers over a third of websites on the internet. That means that a huge number of organizations have an interest in keeping WordPress consistently updated and running effectively.
As a result, a lot of resources go into maintaining the software and building tools for the future.
Since WordPress is free, open-source, and installed on your own web server, there is no risk of a single company going bankrupt, getting acquired, or simply deciding to shut down your site.
As a cautionary example, this past summer, GoDaddy shut down its Virb site builder with very little notice.
Needless to say, WordPress will be around for a long, long time. Knowing how to install and use it will no doubt be a useful skill for years to come, even if your current project is only a short-term one.
When it comes to modifications, WordPress is also in a good position. While you can modify most themes inside the WordPress Customizer, more complex modifications will require you to learn basic HTML, CSS, PHP, and JavaScript. These technologies underlie most of the internet and are useful for practically any website.
Wix
Wix is also a very popular website builder and will likely be around for the foreseeable future. Although it is a company and not a nonprofit, there is very little risk of Wix going out of business and shutting down your site.
However, unlike WordPress, Wix's design editor is very specific to the platform. Learning how to use it is not particularly useful outside of Wix. While you can customize many things within the Wix Editor, you can't modify or add any CSS or PHP code.
Is Wix or WordPress a Better Long-Term Investment?
While Wix is a powerful platform, it is mostly self-contained. Learning how to use it is only useful for making sites on Wix.
WordPress, on the other hand, is open-source and built on common web technologies like HTML, CSS, and PHP. As such, knowing how to use it will always be useful for making any kind of website, even if you decide not to use WordPress in the future.
Security and Ongoing Maintenance
How much time will you need to spend maintaining your site to make sure it stays secure? In this section, we'll cover the things you'll need to do after the initial setup.
WordPress
Maintaining a WordPress site requires more effort than Wix. To avoid any security issues or exploits, you'll need to make sure that your web server, plugins, and themes are all up to date.
To help you keep your WordPress site secure, we've created a 15-point guide. Check it out!
If you have a small site, this can be an easy process and usually isn't more complicated than checking the Updates section of your WordPress Admin panel on a regular basis. You will receive notifications on the homepage of your Admin Panel, so staying informed isn't an issue.

For sites that are more complex, maintenance can become rather costly and technical. Of course, this depends on your particular site, how much traffic you get, if you're selling products, and so on.
When it comes to plugins, there are a number of security plugins that help keep your WordPress site safe.
The most popular plugins like Sucuri, Wordfence, and Cloudflare are very reliable and are just as secure as Wix.
You'll also want to install a SSL certificate to your site. SSL is the standard way of establishing a secure, encrypted connection between a user's browser and a web server. If a site has a little lock next to a domain name, it's using SSL. Most hosts offer an easy way to do this via cPanel or another simple tutorial. It should only take a few minutes.
If this all seems too complicated, many hosts offer "managed hosting" plans. These typically cost more than basic web hosting, as the host makes sure that your website is secure and protected against any exploits. If you don't want to bother with managing your web server, a managed host is a great option. SiteGround is one such host that offers a managed plan.
Wix
When it comes to security and maintenance, Wix is definitely much simpler. Wix handles everything and you don't need to do much, if anything, to keep your site secure.
You don't need to update any plugins, themes, or other software packages. The web server itself is managed directly by Wix. Wix also automatically enables SSL on all of its sites.
However, you are also somewhat at the mercy of Wix. if Wix has a problem, you have a problem, and there isn't much you can do about it on an individual level until they fix it. Compared to WordPress, you have both less control and less responsibility over any issues that arise.
Is Wix or WordPress More Secure?
Wix will automatically handle any security or maintenance issues, while WordPress requires installing a few plugins and keeping them up-to-date.
Using a managed host can be a good solution for those wanting to use WordPress without spending much time on maintenance.
Design Options and Themes
How difficult is it to create a beautiful website in Wix or WordPress? In this section, we'll compare the design options and themes available for each platform.
WordPress
WordPress has over 10,000 free and premium themes available. These cover virtually every niche and use case you can think of, from law firms to pet shops. You can purchase and download themes directly from within the WordPress admin panel or from a directory like ThemeForest.net.
The customization options are different for each theme. Some have a separate section dedicated solely to the theme, while others simply add everything to the Customize page.
All of them, however, are managed in the WordPress admin panel, which is at yoursite.com/wp-admin.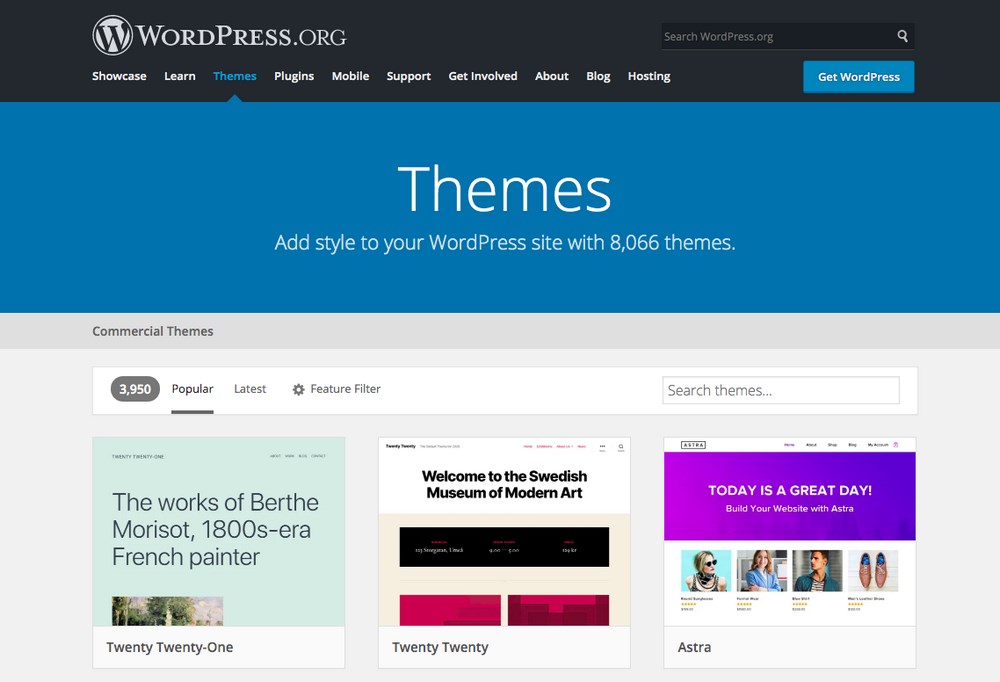 The most popular theme for WordPress, Astra, has a variety of features which you can customize to build the perfect site. Read a full list of features here. There are also many starter templates, which let you quickly choose a design that suits your project.
You can also create your own theme and upload it directly to your site. This requires some knowledge of HTML, CSS, PHP, and JavaScript. As mentioned above, these languages are widely used on the Internet and are extremely useful to know for any website project.
In most cases, you'll probably be modifying an already-existing theme, rather than creating one from scratch. To do this, you'll simply need to add some code to the appropriate file in your theme.
Since you can modify any aspect of your WordPress site, the options are quite literally endless.
Wix
Wix has over 500 premade templates, all of which are free to use for Wix customers. They are organized into categories like Business, Creative, Nonprofit, and similar specific user types.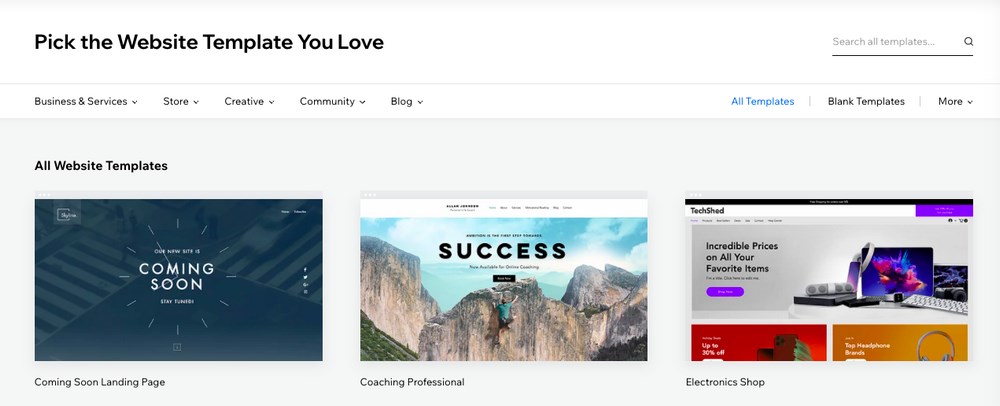 Does Wix or WordPress Have More Design Options?
While Wix has quite a few well-designed templates, WordPress has thousands of available themes. WordPress is also much easier to customize if you know CSS.
Plugins, Extensions and Add-Ons
What plugins and add-ons are available for each platform? Are they free or paid? In this section, we'll cover the different options for adding functionality to your site via external add-ons and plugins.
WordPress
WordPress has over 50,000 plugins available. They cover any functionality you may need, from collecting email addresses to creating a discussion forum.
For example, the Convert Pro plugin lets you easily collect email addresses from your readers.
Most WordPress plugins have a freemium business model. That is, they have both a free and a paid version. The free version of the plugin usually has limited functionality (for example, only a certain number of users allowed), while the paid version unlocks additional features.
Wix
The Wix App Market is a directory of free and paid integrations for your Wix site. Available integrations include MailChimp, HubSpot, Google Ads, and hundreds of other popular services.
Most apps are rented monthly, rather than purchased and downloaded as individual products. Some have free trials, but most are optimized for paid users.
While there is a fairly large variety of apps available, the total number still pales in comparison to the number of WordPress plugins.
Does Wix or WordPress Have More Plugins, Extensions, and Add-Ons?
WordPress has over 50,000 plugins, while Wix has only a few hundred. Does this matter? It depends on the functionality you need.
Support
When something goes wrong, what can you do about it? In this section, we'll compare the support options available for both Wix and WordPress.
WordPress
WordPress support can be divided into three broad categories:
Your Host
WordPress Itself
Individual Plugins/Themes
Your Host
If you have any issues with your website's performance, uptime, or loading speed, you'll need to contact your hosting provider. Every host has their own process, but most have both chat and email support options available, plus a knowledge base of frequently asked questions.
WordPress
If you're having problems with the WordPress software, there are a few places you can go to for help.
Typically, your host will also offer some standard WordPress support, especially if it is a managed hosting plan. Siteground, for example, offers a managed hosting plan and will assist you with basic WordPress issues.
WordPress.org has a ton of resources for learning about the software. There is also a support forum, where you can get answers from theme/plugin developers and other users.
Individual Plugins/Themes
Finally, if you purchase a specific plugin or theme, you can contact the developer for assistance. Here at Astra, for example, we have a variety of support options available.
If the plugin is free, most developers will also support it on the official WordPress plugin repository.
Wix
All of Wix's plans include 24/7 support. The VIP and Business VIP plans include Priority Support, which puts your support request ahead of all other Wix users. Wix also has a Help Center, with hundreds of articles on using the platform.
When it comes to add-ons in the Wix App Market, you'll need to contact the developer directly via email. You can find the developer's contact information directly on their App Market page: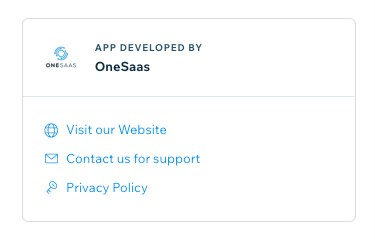 Does Wix or WordPress Have Better Support?
Both platforms have a variety of support options available. As with any product, the more you are willing to pay, the higher quality of support you will receive.
WordPress has a robust community willing to provide support totally for free, while Wix's integrated system makes asking for help easy.
Email Marketing
Sending emails to your readers is an integral part of selling products and services online. In this section, we'll analyze the various email marketing tools available for both WordPress and Wix.
WordPress
WordPress has a ton of email marketing plugins available. Popular options include MailChimp, MailPoet, ConvertKit, and AWeber.
There are also a variety of form and email capture plugins, including our own plugin ConvertPro. Most of them integrate with the email marketing plugins listed above.
Since WordPress is installed directly on your own server, you also have the ability to send emails yourself, without using a third-party service. Although this isn't recommended, it is possible for those with the technical knowledge to set it up.
Wix
Wix has a built-in email marketing program that allows you to design and send emails directly from the Wix.com dashboard.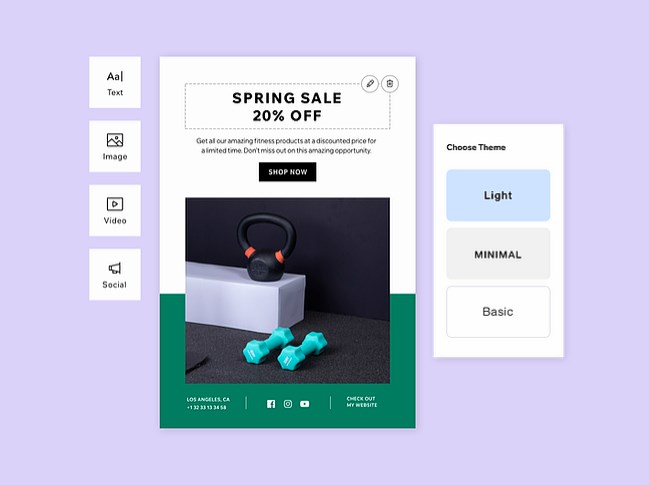 Is Wix or WordPress Better for Email Marketing?
WordPress has plugins that connect to virtually every email marketing service, while Wix handles it all in-house.
SEO (Search Engine Optimization)
SEO, or Search Engine Optimization, is the process of optimizing your website so that it appears at the top of search results. The better your SEO, the more traffic you'll get. In this section, we'll compare the available SEO options for both Wix and WordPress.
WordPress
WordPress has dozens of plugins available that help you optimize your search engine page results (SERPs). Some of the top choices available include Yoast, Schema Pro, All in One SEO Pack, and SEOPress.
There are also a number of SEO-optimized themes, including our own theme, Astra. Other top themes include Schema, Genesis, and Divi. These themes make it easy to tweak your content and pages so that your site performs well in Google and other search engines.
It is also possible to optimize WooCommerce SEO and have your products appear in shopping-related searches.
Overall, SEO is easy to manage in WordPress and mostly just requires using an effective theme and installing some plugins.
Wix
Wix has extensive built-in SEO tools that are available to all members. Features include automatic SSL, structured data to page layouts, auto-generated sitemaps, and bulk 301 redirects.
They also have a guide on their site that walks you through the entire process, from understanding how SEO works to optimizing your content.
Is Wix or WordPress Better for SEO?
Both WordPress and Wix have extensive options for optimizing your search results. WordPress relies more on third-party themes and plugins, while Wix has built-in SEO options.
Moving to Other Platforms
How easy is it to leave the platform and move to another? In this section, we'll explore what happens when you want to leave.
WordPress
Exporting your data is easy in WordPress. There are a variety of free tools available that let you export your posts, pages, images, media files, and other content.
Some example plugins include:
You can also export posts, pages, comments, categories and tags (but not uploaded files or images) directly from within WordPress itself, without any additional plugins.
Exported files are also easily imported into other website builders, such as Squarespace, Shopify, Ghost, and even Wix. For this reason alone, it may be better to start with WordPress, even if you ultimately switch to another platform.
Wix
Wix makes it nearly impossible to export your data. You can't export pages, images, or most other content from your site. You also cannot embed your site or any of its pages elsewhere.
You can export certain items, like product data and restaurant orders, but on the whole, these are a rarity. The only way to download a page from your site is to take a screenshot, which is not very useful.
While there are options for importing a Wix site directly into WordPress by using a plugin, they can be somewhat convoluted to use and require technical expertise.
If you're a Wix user and want to switch to WordPress, check out our walkthrough of Wix to WordPress.
Is It Easier to Export Your Data From Wix or WordPress?
Wix has essentially no data portability. There is no option to export your site or even a smaller section of it, like posts or images. It is a very proprietary, locked-in platform, meaning that Wix site designs and content don't transfer well to other technologies.
WordPress, unlike Wix, has an extensive number of options for exporting your data. There are no limitations or restrictions.You can even import these files directly into another website builder (like Squarespace or Wix), should you so choose to do so.
The Pros and Cons of Using WordPress
As you can see, there are pros and cons to WordPress. You get a lot more potential, but it requires more work and effort on your part.
Pros of using WordPress:
Limitless potential for building anything you like
Thousands of themes and plugins
Completely free to use (aside from domain and hosting)
Useful for much more than just eCommerce
Stores can work alongside a blog or website
Cons of using WordPress:
More work required to set up and configure
Slightly higher learning curve than Wix
Will require plugins for most extra features
The Pros and Cons of Using Wix
Wix is a very credible eCommerce solution that's ideal for many types of stores.
Pros of using Wix:
Simple setup with minimal technical knowledge required
Fully-featured platform that includes most of what you need
Easy to get to grips with and can be up and running in no time
Solid and reliable platform
Designed to scale up with your needs
Cons of using Wix:
Limited in scope compared to WordPress
Not as flexible or as limitless
Switching to other platforms is problematic
Can become expensive
Wix vs WordPress – Conclusion and Winner
For most use cases, we recommend WordPress. The flexibility, power, cost, and ability to customize your website via themes and plugins is unmatched. While it does take some time to initially learn how WordPress works, this time is best thought of as an investment, as WordPress is built upon open-source technologies that underlie the entire Internet, like HTML, CSS, and JavaScript.
Wix is a solid platform that can work for a very particular type of user. If you have a larger budget, aren't familiar with web development, and don't anticipate needing to customize your site or add new features, Wix can be a good choice.
However, using Wix is something of a one-way street; it is a locked-in platform that makes it nearly impossible to switch to another service. If you choose Wix, be absolutely sure about it.
We also compared WordPress Vs Blogger and Squarespace Vs WordPress. These might help you to decide which platform to go for.
If you've had to decide between using Wix and WordPress, which option did you ultimately choose? What has your experience been? Let us know in the comments!