Are you looking to create a website? Not sure which is the best option between two of the most popular website builders, Squarespace and WordPress? Dive in to get a clear understanding of Squarespace and WordPress, and you can decide for yourself.
While WordPress, is the world's most popular content management system (CMS), powering 39.5% of the internet in 2021, it's not the only method to create a website. Over the last few years, we've seen an increase in the number of website builders such as Wix and Squarespace.
In this article, we'll run a comparison between Squarespace and WordPress. But, before we go more in-depth into Squarespace vs WordPress, let's quickly understand each tool's approach to creating a website.
Squarespace vs WordPress
| | | |
| --- | --- | --- |
| | Squarespace | WordPress |
| How easy is it to build a website? | ⭐⭐⭐⭐⭐ | ⭐⭐⭐⭐ |
| Which platform provides better control? | ⭐⭐⭐ | ⭐⭐⭐⭐⭐ |
| Which platform handles eCommerce better? | ⭐⭐⭐⭐ | ⭐⭐⭐⭐⭐ |
| How easy is it to migrate to a new platform? | ⭐⭐ | ⭐⭐⭐⭐ |
| Which platform handles updates and maintenance better? | ⭐⭐⭐ | ⭐⭐⭐⭐ |
| How much does each platform cost? | 💲💲💲 | 💲💲 |
| Which platform offers better SEO? | ⭐⭐⭐⭐ | ⭐⭐⭐⭐ |
| Which is better for blogging? | ⭐⭐⭐ | ⭐⭐⭐⭐⭐ |
| Which provides better security? | ⭐⭐⭐⭐ | ⭐⭐⭐⭐ |
| Which provides better support? | ⭐⭐⭐⭐ | ⭐⭐⭐ |
Both WordPress and Squarespace are great tools for building your website.
For the sake of simplicity, we'd like to classify Squarespace as a complete done for you solution. It includes everything you need to create a website, right out of the box. The hosting, themes, plugins, blogs, and much more, you needn't worry about setting up your website. It's all taken care of by Squarespace.
WordPress, on the other hand, involves a little work upfront. To begin with, the hosting is not included in WordPress. You'll need to set up and install WordPress on your own. While it's pretty straightforward, there is a slight learning curve with WordPress. That being said, WordPress is an open-source CMS that is way more flexible and customizable compared to Squarespace.
Let's dive into this article and start by understanding the two platforms in depth.
Squarespace: An Overview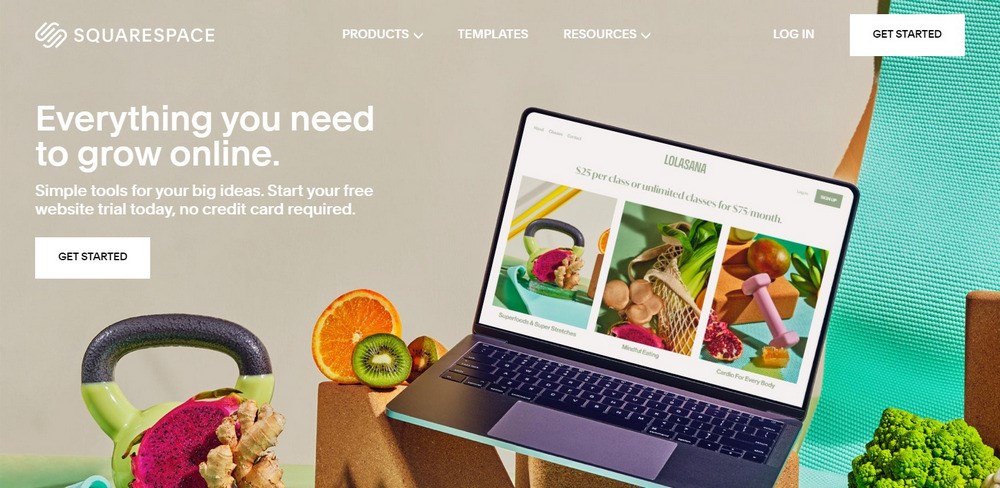 Squarespace is a drag-and-drop website builder with lots of quality designer templates.
It's a hosted solution, which means that your website is located on Squarespace servers. So you needn't worry about finding a hosting service provider or periodic website updates. And you needn't know how to code, although the option is available, just in case.
Whether you're a newbie or a tech wizard, you can create a website using Squarespace in a matter of minutes.
To create a website, head over to Squarespace and click on Get Started.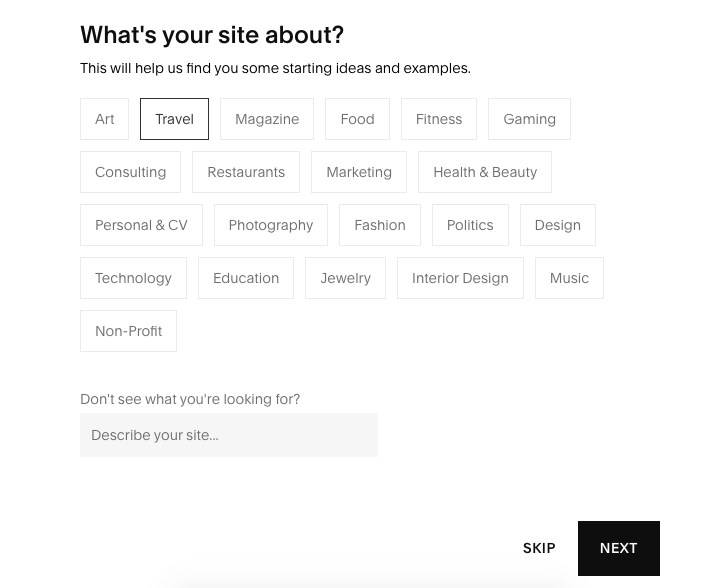 It'll take you only a couple of minutes to complete the questionnaire with a few really simple questions regarding your website. You can choose to skip it, though.
You start by choosing your industry and what your website is all about.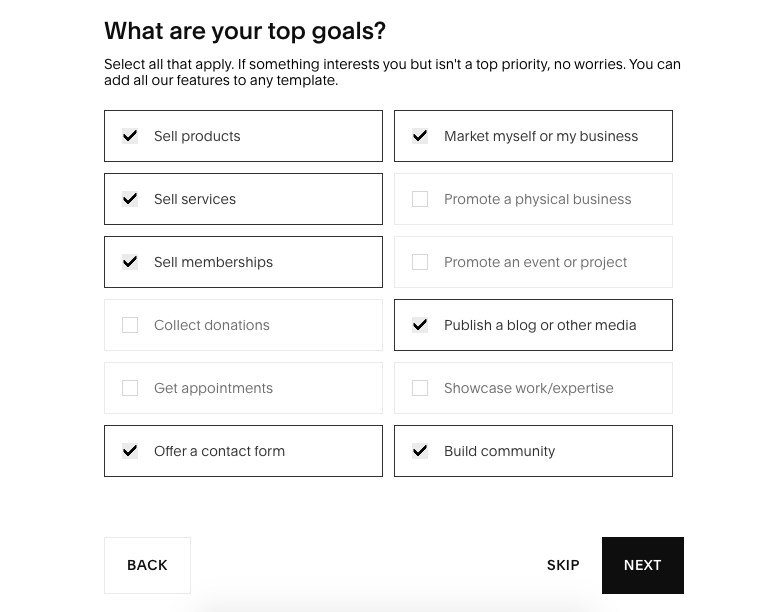 On the next screen, you can select your top website goals. Choose one or more options, depending on the plans you have for your website.
The last question is about your project or business and how far you've come.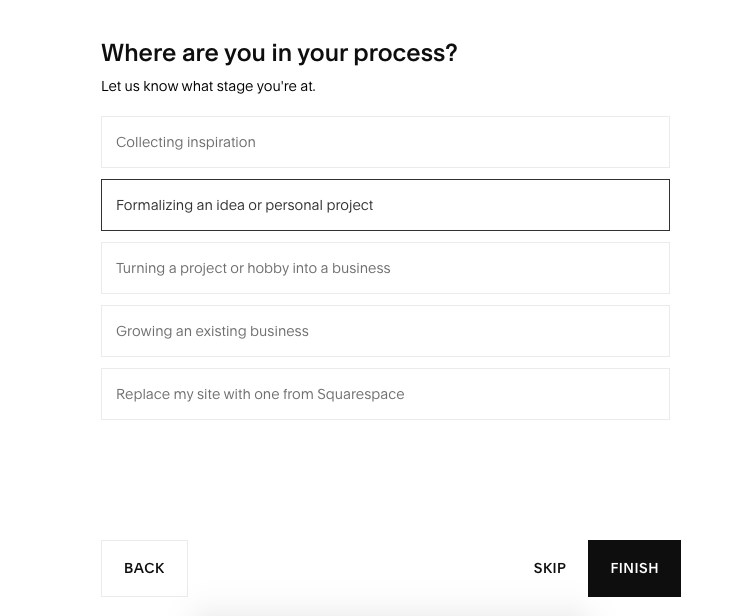 Once you've answered the above questions, click on Finish.
Based on your answers, you'll get a large selection of website templates to choose from. If you're not satisfied with the templates offered or you just feel like exploring other options, just modify the filters on the top of the results page.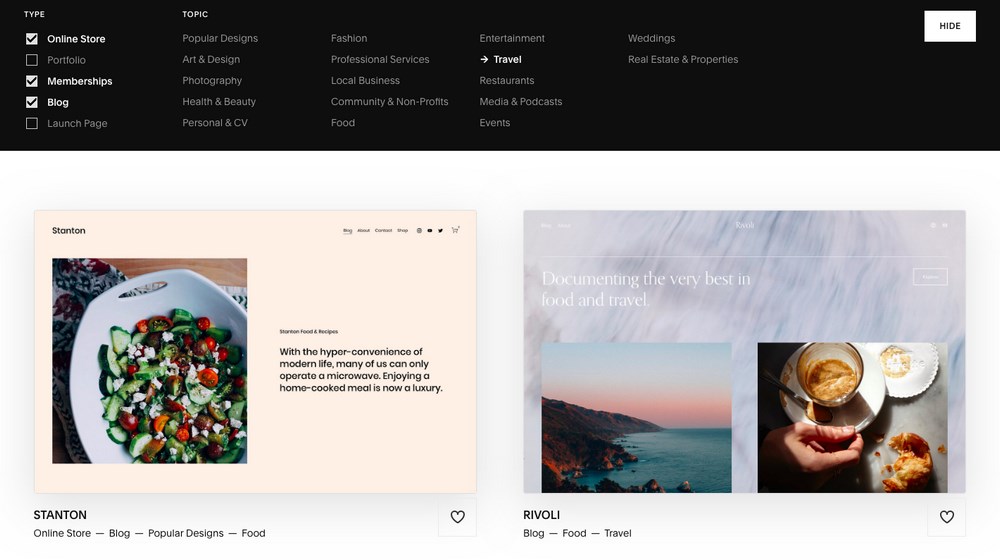 Hover on the template of your choice. You can start creating your website straight away or preview the template first.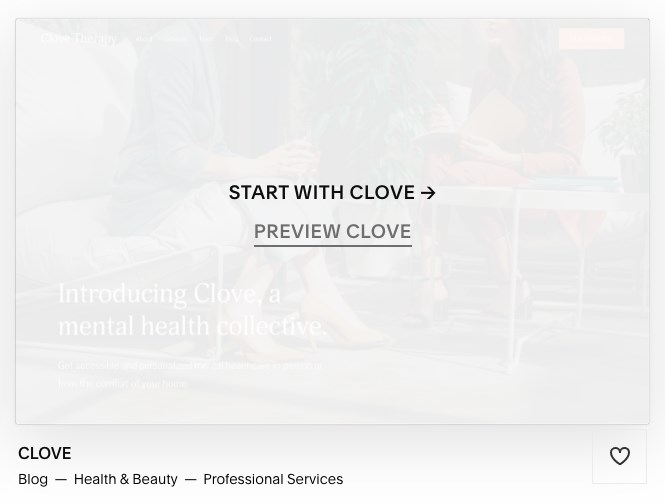 For instance, we've narrowed it down on the Clove template. Once you click on a Preview button, you get to see how the template looks across all devices, i.e., desktop/laptop, tablet, and mobile.
If you'd like to check out a live version of the template, click on View Demo Site.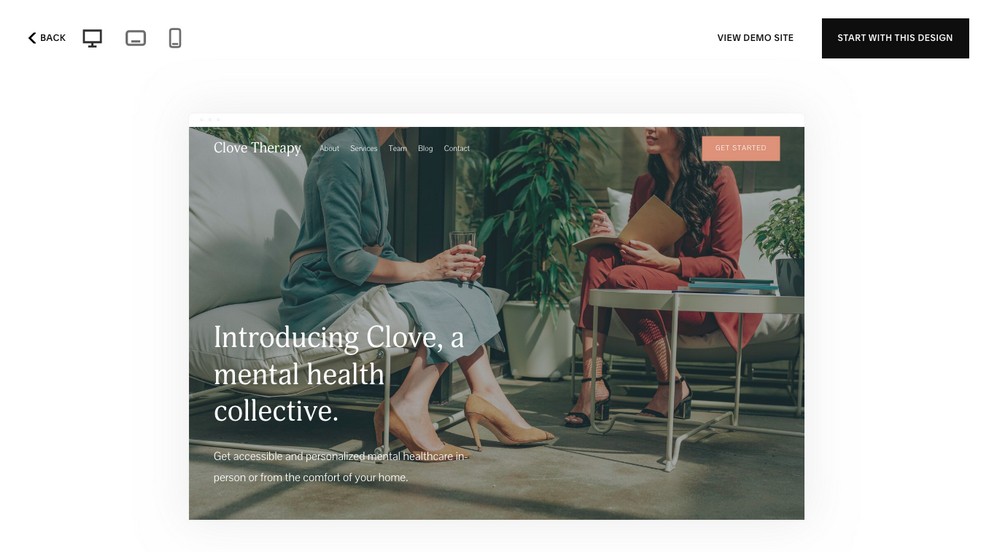 If all looks good, click on Start With This Design.
After the sign-in process, you will be directed to your Squarespace account dashboard.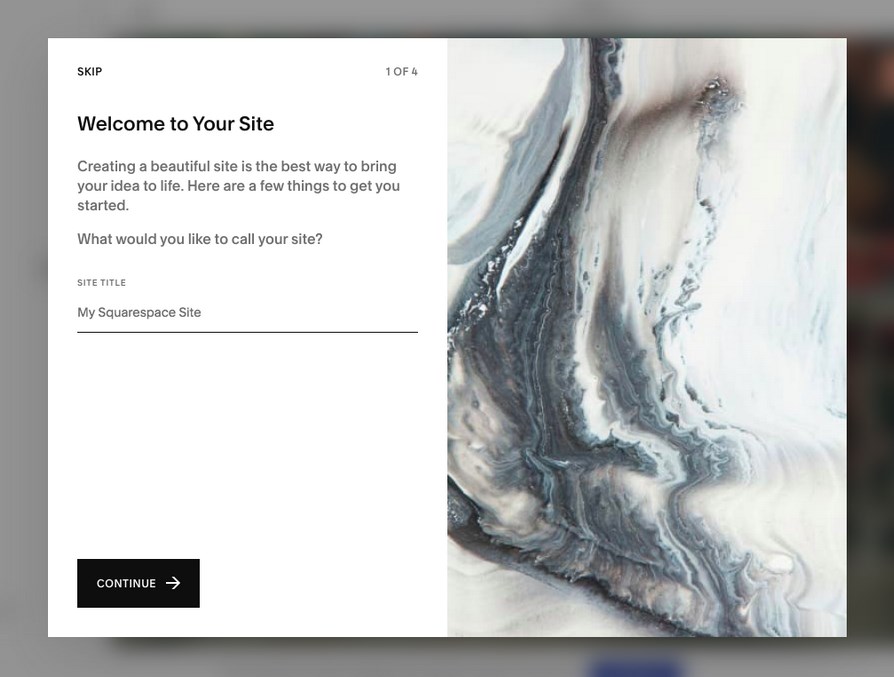 Here you'll be prompted to enter the site title, do so right away or skip this step for now. Once you've completed the welcome messages, you will see your dashboard and your website.
To edit your website content, add or modify pages, and go about customizing your website, use the various options available in the left-hand menu.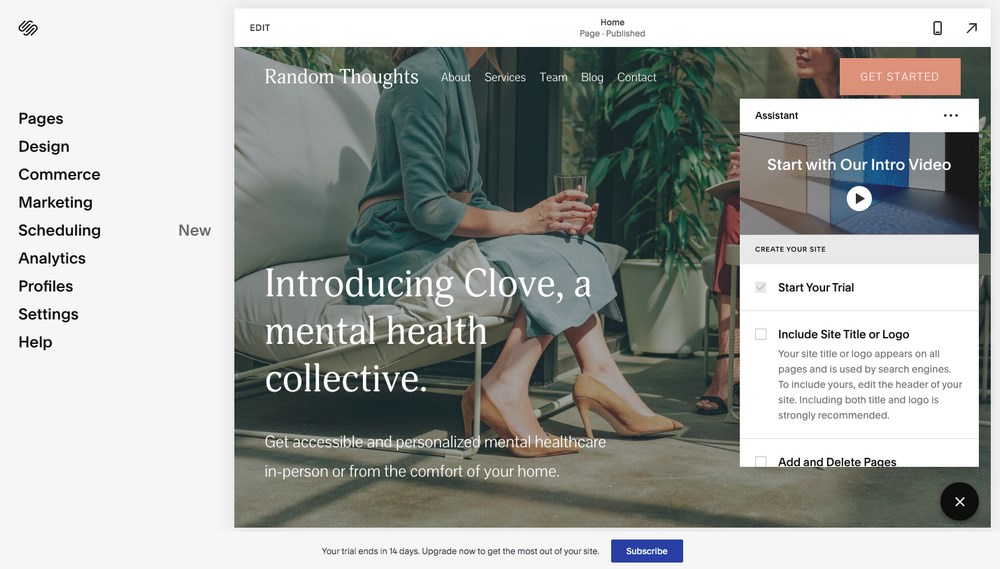 To access your website, click on the arrow on the top right-hand corner. You will notice an auto-generated '.squarespace.com' URL. To personalize this, you'd have to purchase a domain name or add an existing one.
However, if you'd like to personalize the auto-generated '.squarespace.com' URL, head over to Settings > Domains > Built-in Domain and change the Site ID.
By default, your site visibility will be set to private. This means, unless you are logged into your Squarespace account, you wouldn't be able to view your website.
The only option at this stage to showcase your website is by using the Password Protected option. If you'd like to make your website public, you'd have to consider upgrading to the premium/paid option.
Head over to Settings > Site Availability and select the Upgrade To Publish option.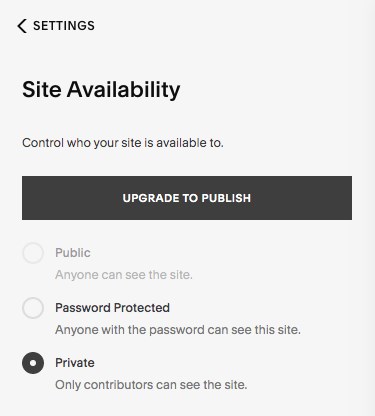 This will direct you to the billing page, where you could choose an ideal plan from the options available based on your website goals.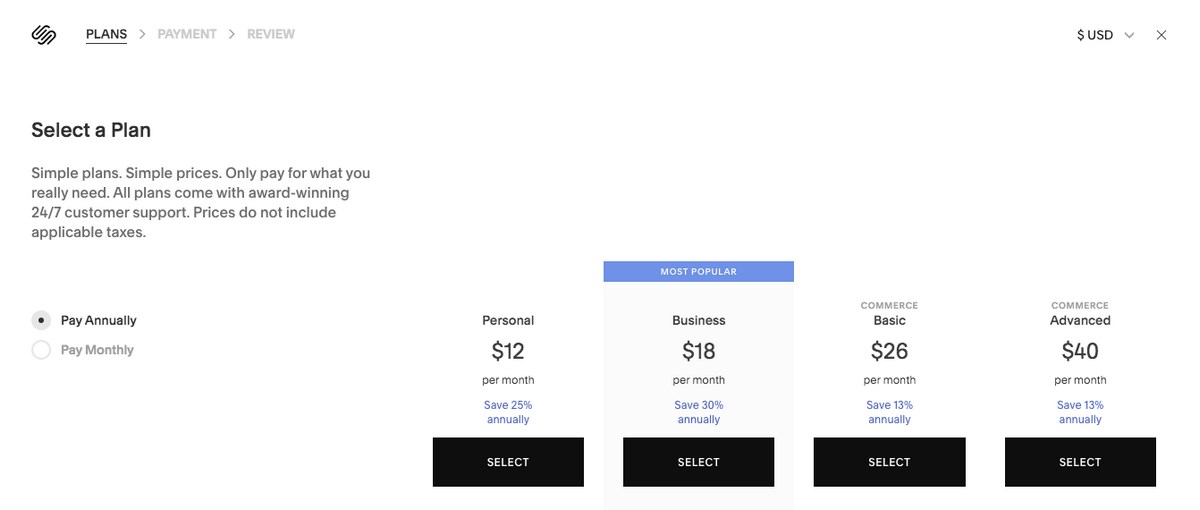 You have a 14 days trial period to decide on whether you'd like to upgrade or not.
And that's how simple it's to create your website using Squarespace.
Simply put, Squarespace takes care of all the intricate design functionalities and technical stuff for you to focus on the creative aspects of creating your website.
WordPress: An Overview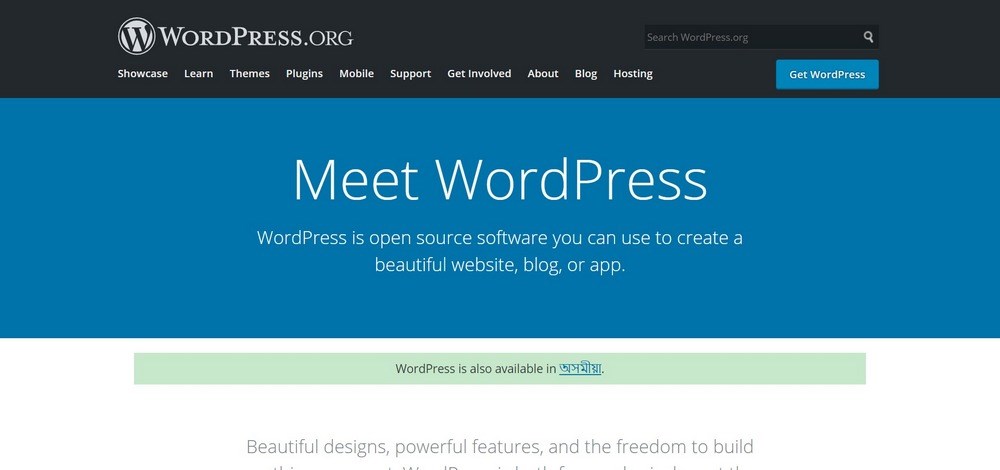 In this article, we are comparing Squarespace with WordPress.org and not WordPress.com. It's better if you know the difference between WordPress.org and WordPress.com.
Using WordPress, you can create your websites any way you want. Unlike Squarespace, WordPress is not a drag-and-drop website builder. Instead, WordPress is an open-source content management system (CMS).
A content management system (CMS) is an online software application that helps create, manage, and modify the content, images, and more on a website. You could say that CMS on your website is something like Windows or MacOS on your computer.
WordPress CMS can be downloaded from WordPress.org, same as themes and plugins that we'll be talking about a bit later.
WordPress is a self-hosted solution. That means you will have to invest in a domain and hosting to create your WordPress website.
And while you can create awesome websites without knowing how to code, to really exploit the level of customization available in WordPress, it does help if you know at least some CSS and HTML.
To explain how popular WordPress is, here are some exciting facts:
With the level of customizations possible and the 58,000+ plugins to enhance website features, the possibilities are endless to what can be created using WordPress.
If you'd like to create a website using WordPress, here's our step-by-step beginners guide on How to Create a WordPress Website.
To summarize our overview, Squarespace is a typical drag-and-drop website builder, whereas WordPress is an open-source Content Management System (CMS).
In comparison to other CMSs available, WordPress is very easy to use. That being said, if you're a beginner, WordPress sacrifices some user-friendliness (compared to Squarespace) in order to give you a higher degree of freedom over how your website looks and functions.
While Squarespace tries to make things easy and straightforward as possible for a beginner, it is at the cost of flexibility and space to grow.
Having covered an overview of the two, let's break down this comparison article on Squarespace vs WordPress based on
How Easy Is It to Build a Website?
If you're looking for a straightforward way to create a basic website, Squarespace wins. Creating websites on Squarespace is as simple as it gets. Creating websites in WordPress is still pretty simple. It's just not as easy as Squarespace.
Squarespace
We've just covered how to create a website using Squarespace in the overview above. You might have noticed that we didn't have to purchase a domain and hosting separately and then connect your Squarespace site.
Instead, all you had to do was sign up for a Squarespace account, answer a few questions related to your website and the website goals, select a template, and just like that, your website is ready in a matter of minutes.
Yes, you'd have to add actual content and images, but you get the point. It's that simple!
WordPress
Unlike Squarespace, to start using WordPress, you'll need to purchase a domain and hosting. Once you have your hosting and set your domain to point to your server, you'll need to install WordPress.
While this may sound overwhelming, most hosting service providers these days provide you a WordPress auto-installer from within their control panel. Thereby, with a few simple clicks, you've installed WordPress.
After installing WordPress, you'd have an elementary looking website.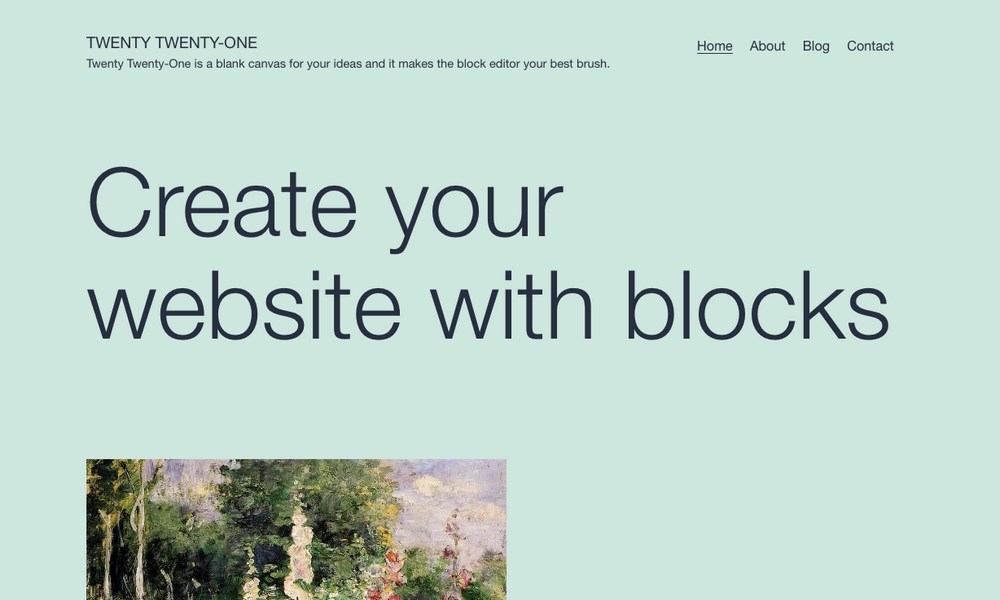 The next few steps involve installing a WordPress theme, equivalent to the Squarespace templates, and some WordPress plugins to enhance the website functionalities, such as plugins for SSL, Security, SEO, eCommerce, and so on.
No matter if you're using free or premium themes and plugins, these steps are completely beginner-friendly. But, when you start out with WordPress, these may appear a bit more confusing compared to Squarespace's 'done for you' solution.
Our winner: Squarespace
Which Platform Provides Better Control Over Website's Functionality?
When it comes to having control over website functions, thanks to its massive repository of third-party plugins and themes, WordPress is the clear winner.
WordPress has well over 58,000 plugins (58,482 plugins to be precise at the time of writing this article) that allow you to add almost any functionality to your website. In comparison, Squarespace has minimal options.
Squarespace
The changes you can make in Squarespace are limited to a single interface. Be it the content changes, tweak in design, setting up analytics, setting up eCommerce, optimizing your pages for SEO, all these can be carried out with the in-built features.
You can even create your design using Add a Section option, as shown below.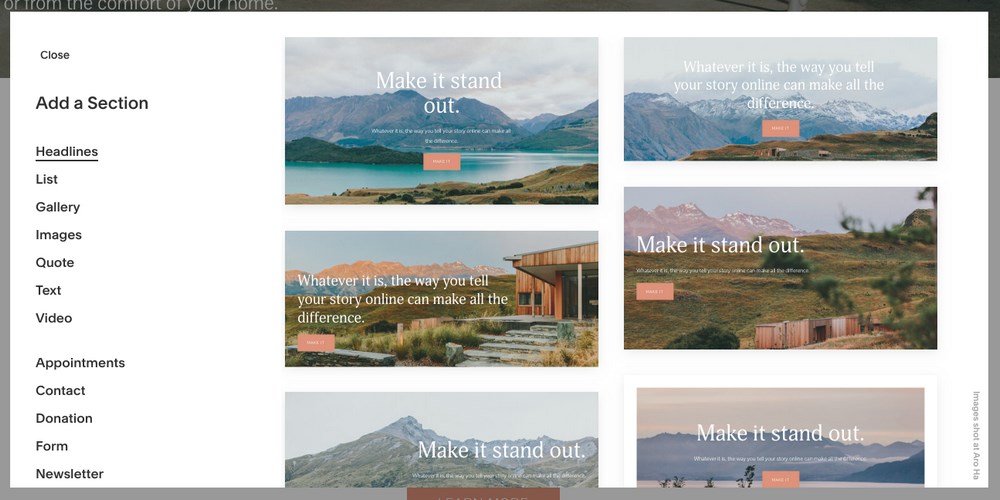 Squarespace offers apps for blogging, analytics, and portfolio, that are already integrated with your Squarespace website. You needn't download or update them. If you require additional apps and functionality, check out Squarespace Extensions. But, there aren't many to choose from.
To connect an extension, just tap or click on the extension and click Connect to Site button just under the extension title. However, you must be logged in to connect it. Carefully review the extension's permissions and terms before allowing access.
Also, be aware that often the extensions come at a price. The prices for the extensions may vary. Some have a monthly or per-use fee. Others may offer a free plan or a trial period.
All that being said, you still won't have anywhere near the control of WordPress.
WordPress
When it comes to website control and enhancing your WordPress website's functionality, Squarespace is no competition. That has a lot to do with the exhaustive list of plugins and themes available in the WordPress ecosystem.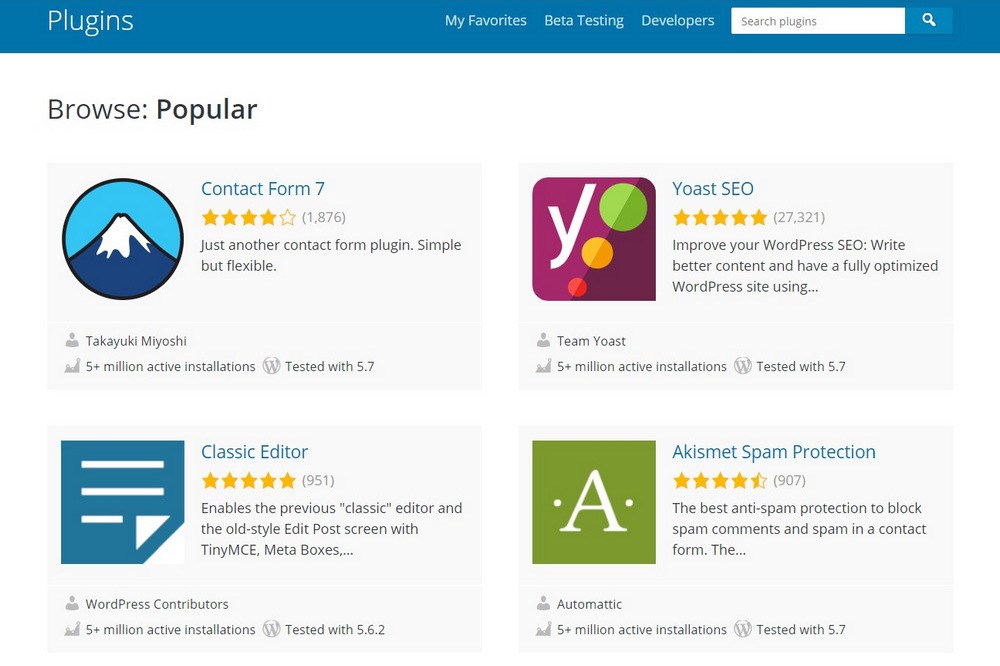 There is a plugin for just about anything in WordPress.
Do you want a drag and drop page builder similar to Squarespace to create your webpages? Try Elementor. Or how about upgrading your basic WordPress website with a learning management system (LMS) and offer online courses? Install LearnDash or LifterLMS. Want to create a full-fledged eCommerce store? Install WooCommerce.
And the best bit. The majority of the plugins are available for free. You do have premium versions as well. But the free versions should do to begin with.
Unlike Squarespace, where everything is already pre-installed, in WordPress, you'll need to search for plugins for the various features you'd like to add. But that isn't a concern, considering the massive gain in functionality and flexibility.
Our winner: WordPress
Which Platform Handles eCommerce Better?
Are you planning to create an online store and sell products on your website? In that case, you'll have way more flexibility if you go with WordPress.
Squarespace
Squarespace supports eCommerce, but it's minimal in comparison to WordPress.
Squarespace provides everything needed to start an online store, provided you're on the Business plan or above. All the sales tools are fully integrated by default.
For any additional shipping and tax functionalities, you can browse through the Squarespace Extensions marketplace. When compared to the number of eCommerce based plugins available in the WordPress ecosystem, you're surely missing out on many added features.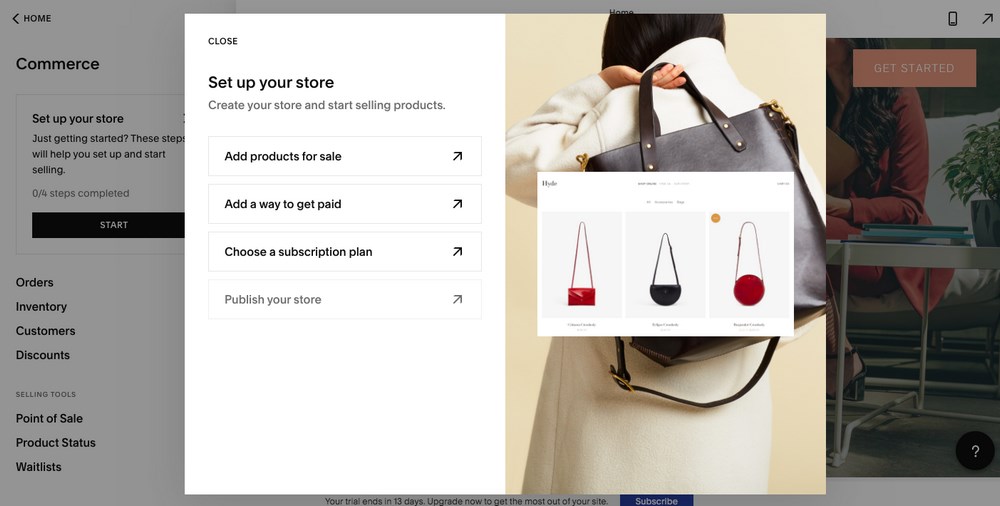 Squarespace offers only three payment gateways, Stripe, PayPal, and Apple Pay. WordPress has several payment gateways that you can integrate your online store with, giving you much more flexibility. This becomes even more important if these gateways are not available in your country.
And finally, here's the real downside while opting for Squarespace eCommerce. Unless you upgrade to the basic or advanced commerce plan, starting at $30 per month, Squarespace charges a 3% transaction fee over and above the credit card processing fees, which typically are at an average of 2.9% +$0.30.
So if you want to run an online store on Squarespace and avoid transaction fees, you're looking at a minimum investment of $312 per year, if paid upfront or $30 per month.
WordPress
What we love about WordPress is how you can transform a basic website into a full-fledged eCommerce store by just installing a plugin. The two most popular are WooCommerce and Easy Digital Downloads.
WooCommerce helps you sell various kinds of products, such as physical products, grouped products, affiliate products, and virtual products. With Easy Digital Downloads, you can sell digital products.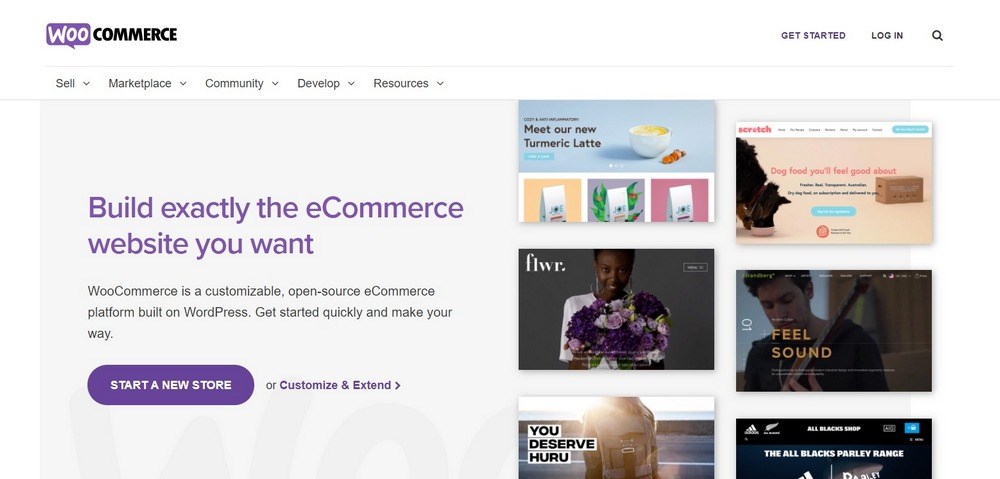 Beyond the essential eCommerce plugins, you can add tons of additional plugins to add functionality to your store and adjust it to your specific needs. And you'll never have to pay any transaction fees beyond what is charged by your payment processor.
Also, keep in mind that many developers worldwide work on plugins that might be specifically developed according to your national laws and limitations, helping you overcome these barriers.
Our winner: WordPress
How Easily Can You Migrate to a New Platform?
At some point during your online journey, you may consider migrating your website to a new hosting service or change your website builder itself.
So how easy is it to migrate to a new platform?
WordPress is a clear winner because it's open-source and gives you total control over your website if you're concerned about data migration.
Squarespace
When it comes to creating a backup or migrating your Squarespace website, there's no one-click solution and a lot of limitations too.
Considering Squarespace is a 'done for you' solution when creating a website, some of its features rely on the platform's JavaScript and CSS.
Also, Squarespace isn't optimized for importing content between Squarespace sites. When importing content from one Squarespace site into another, it may cause broken image links and other issues.
If you're planning to import your Squarespace content into your WordPress site using the WordPress Importer, your content and the images may not migrate. Instead, WordPress only pulls the reference links for the images, which means, when you deactivate your Squarespace site, the image links also deactivate.
Hence, you can only export specific content from your Squarespace site into a .xml file. The content that you can export is,
Gallery pages
Image blocks
Layout pages
One blog page, including all of its posts and comments
Project pages
Text blocks
Apart from the above, there's a whole bunch of content that you can't export, including:
Audio blocks
Content in page-specific headers, footers, and sidebars.
Cover pages
Custom CSS
Drafts
Folders
Index pages
Info pages
More than one blog page
Portfolio pages
Products pages
Product blocks
Store pages
Style changes
Video blocks
WordPress
With WordPress, you have complete ownership of all your files and data. In addition to WordPress's built-in tools, you can also always download a complete copy of your database and files using the WordPress ecosystem's plugins.
Our winner: WordPress
Which Platform Handles Updates and Maintenance Better?
Because Squarespace is a closed ecosystem, you needn't worry about the website updates and maintenance. As WordPress is an open ecosystem, you need to take a more active approach to update and maintain your website.
Squarespace
As far as Squarespace is concerned, you don't need to worry about periodic updates or maintenance. Squarespace handles all of that for you. But, when it comes to essential backups and maintenance, Squarespace leaves you high and dry. It doesn't offer you any way to back up your entire site, which is a huge letdown.
Furthermore, your website is completely dependent on Squarespace. Your option is to only sit and wait in case of any issues, hoping they will be solved quickly.
WordPress
With WordPress, you're responsible for handling WordPress updates, plugins and themes, website backups, and security.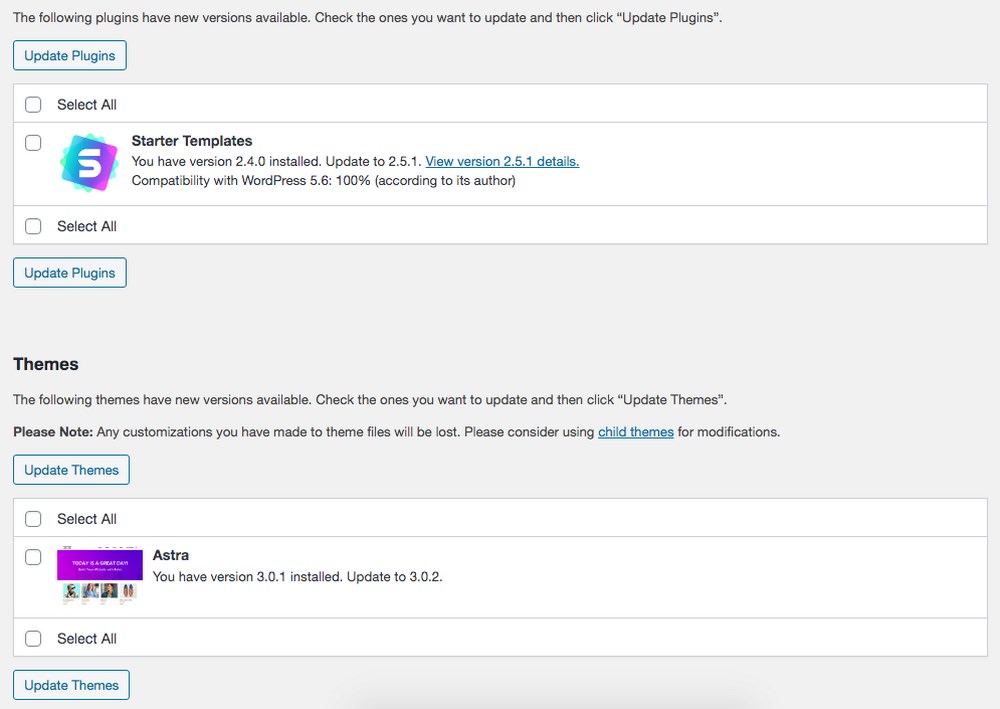 This may seem daunting, but it's way more straightforward than you might think. Most of it can be automated using plugins.
For instance, you can find plugins that take care of security for you. If there is an issue with any plugin, you can always deactivate it temporarily until the issue is solved or find a temporary replacement to keep your website fully operational.
Our winner: WordPress
How Much Does Each Platform Cost?
The answer to this depends on which Squarespace plan you choose and the hosting plan you buy for your WordPress site.
Squarespace
Squarespace has some clearly defined payment plans which makes it easy to know exactly how much you'll end up spending on your site. The cheapest plan starts at $144 per year if paid annually (or $16 per month), and the eCommerce plan costs $480 per year paid annually (or $46 per month).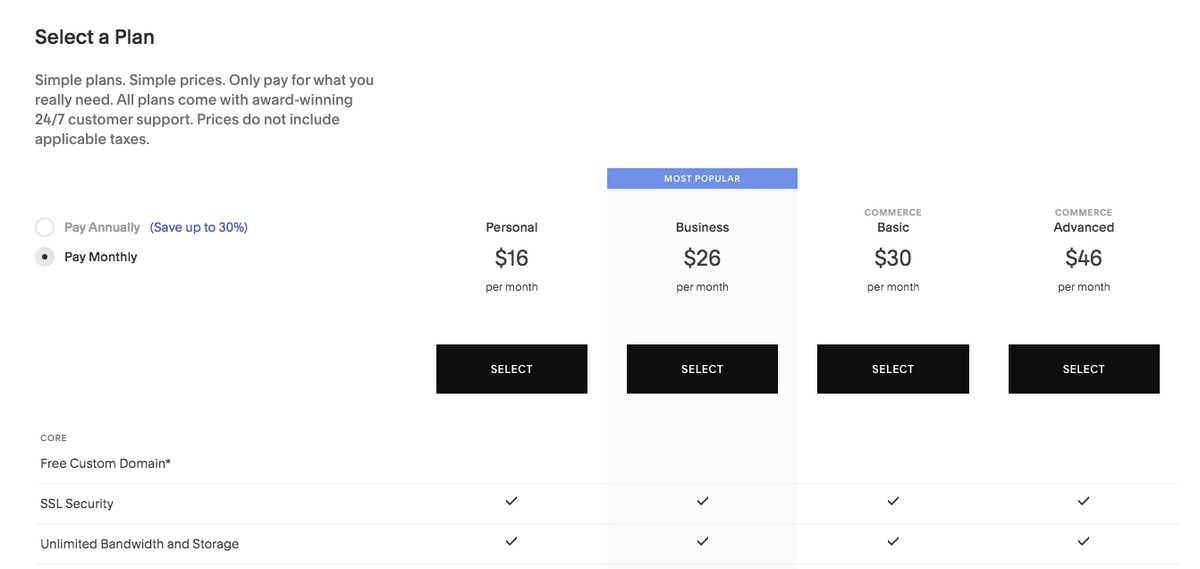 On top of this, you will have to add the cost of extensions if you're using any, as well as transaction fees if you're selling online.
Remember that all Squarespace plans purchased for an annual term will include one year of free domain registration.
WordPress
With WordPress, the only unavoidable cost is what you pay for your domain and hosting. If you're willing to consider a cheap shared hosting, you will end up paying close to $36 per year. Add an additional $15 per year for your domain. This totals to $51 per year, still less compared to Squarespace's basic plan.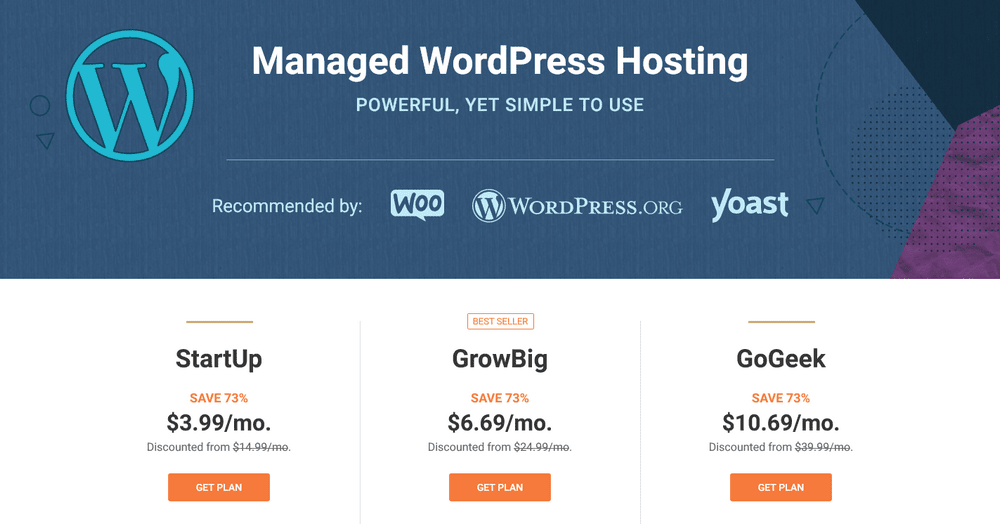 On the other hand, if you did consider our recommended managed WordPress hosting, SiteGround, you'd be looking at around $90 per year, which is way less than Squarespace's basic plan again.
Remember, you can run a full-fledged eCommerce store using this same plan and not have to pay the 3% transaction fee to Squarespace.
Apart from this mandatory cost, the only additional costs may arise if you consider purchasing premium third-party themes and plugins, which are not required unless you want to use them.
Our winner: WordPress
Which Platform Offers Better SEO?
Now that your website is ready, it's time to work on your SEO.
SEO (Search Engine Optimization) is the process of getting your website discovered by search engines such as Google. Every webmaster targets reaching page one on the SERP (Search Engine Results Page) for relevant keywords.
But, SEO is a process, and it takes time. And both Squarespace and WordPress can help you with that.
While WordPress gives you more control with the SEO plugins, Squarespace's built-in SEO features do a lot of the work for you without you having to learn much about SEO.
Squarespace
Squarespace has some built-in SEO features to help boost your website's rankings. This includes
AMP
Automatic redirects
Automatic tagging
Built-in meta tags
Built-in mobile optimization
Clean HTML markup
Clean URLs
Google rich image search for products
Search engine and page descriptions
Search keywords analytics
Site map
SSL certificates
Structured data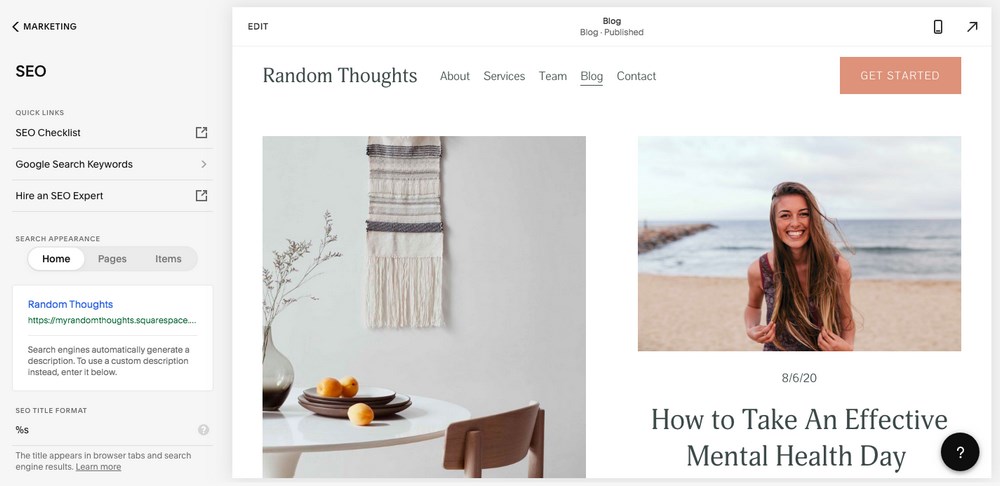 All these are built into your Squarespace website so that you needn't download any extra extensions.
WordPress
WordPress is known to create SEO-friendly websites. But as always, there's much more you can do with some of the most popular SEO plugins in the WordPress ecosystem.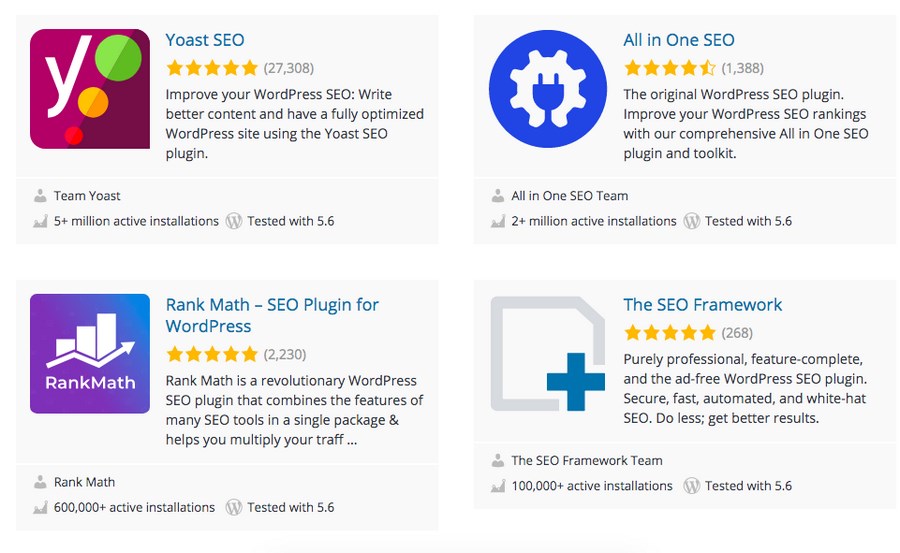 For example, as shown above, Yoast SEO has a five-star rating from over 27,308 reviews, with over 5 million active installations. Another popular SEO plugin is Rank Math having a five-star rating from over 2,230 reviews.
These plugins assist you with a checklist of best SEO practices, from adding keywords to your title and meta descriptions, including the heading tags, taking note of keyword relevance and proximity, among many more SEO ranking factors.
Our winner: WordPress
Which Is a Better Platform for Blogging?
Blogging is a great way to connect with your audience. Whether you are maintaining a personal or a professional blog, it's a great way to build authority by creating valuable content to rank your website higher in the search engines.
When it comes to blogging, both Squarespace and WordPress are up to the task of displaying a regularly updated stream of articles.
Squarespace
Squarespace allows its users to pick from various templates to display blog posts.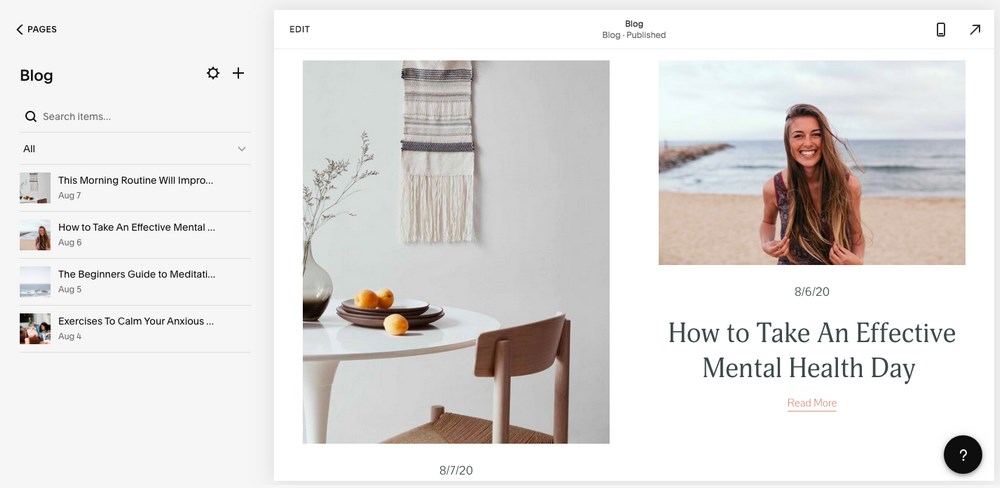 Within Squarespace, the blog can be tagged, categorized, and edited. You can also link each new article automatically to social media feeds like Facebook and Twitter.
In short, Squarespace lets you accomplish all the basics needed to operate a blog efficiently.
WordPress
Like Squarespace, WordPress has plenty of free themes aimed at bloggers. WordPress also has built-in features that include all the tagging and categorizing abilities that a blogger needs.
Using plugins, you could also share your blog posts across all your social media channels.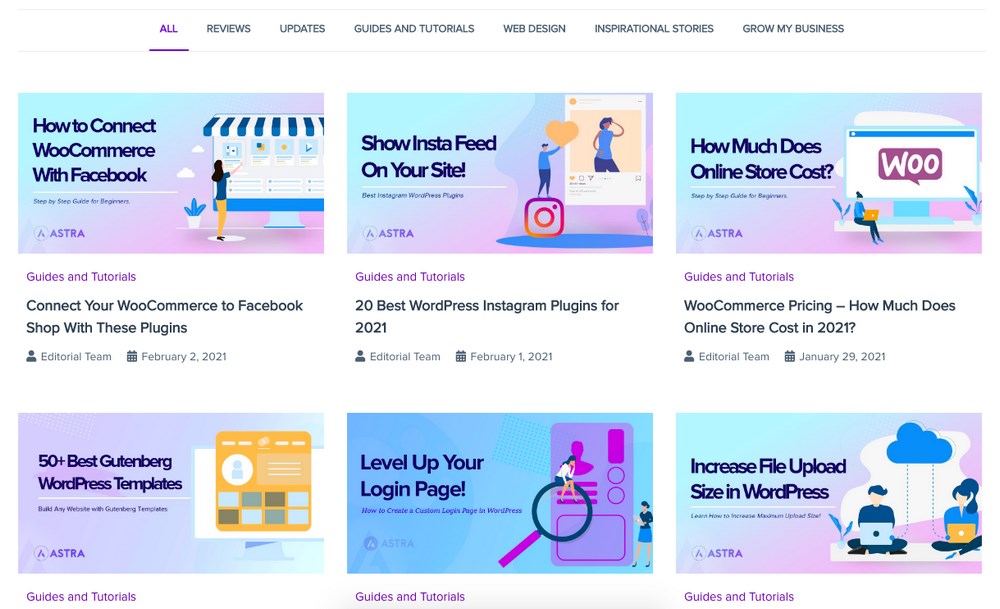 In short, if you're planning to start your personal blog and you just want to share your thoughts or ideas with your audience without some specific commercial goals, Squarespace will do just fine.
But if you're hoping to grow your blog commercially and maybe make a living as a blogger, you will most probably want to use WordPress and learn to do great SEO yourself.
Our winner: WordPress
Which Platform Provides Better Security?
Your website needs adequate security to keep it safe from hackers and phishing attacks. While your hosting service provider offers security and backup as part of your plan, it does help to add a layer of security from your end too.
Squarespace
It's Squarespace's responsibility to ensure your website is running safely and smoothly. You could also use two-factor authentication for an extra layer of security.
Whatever Squarespace plan you go ahead with, you get an SSL certificate. SSL (Secure Sockets Layer) encrypts the traffic sent between the browser and the website. Not only does adding an SSL certificate build trust amongst your visitors, but it also helps rank higher in Google. Adding an SSL certificate is all the more critical if you're creating an eCommerce store and selling online.
However, when it comes to taking a backup of your Squarespace website, you are limited in your options. Considering Squarespace is a closed system, it is less likely that anything will happen to your website. That said, it's always reassuring to know that you can take a website backup from your end.
There is no simple way to create a website backup with Squarespace. As explained earlier, you can migrate the data of your website in an XML format. There again, you do have limitations.
Barring the backup facility, overall, Squarespace does a pretty good job!
WordPress
You have complete control over your WordPress website. With great powers comes greater responsibility!
With greater control over your website, you are responsible for looking after your website's security and backup. There are plugins to help you with these, and you can also enable the auto-update feature. But it's all up to you to monitor this.
Web hosting providers, like SiteGround, provide you with free SSL certificates and automatic scheduled website backups to help you manage your WordPress website.
Another critical point is, anyone can develop a theme or plugin for WordPress. When you are installing a theme or plugin, we recommend you identify frequently updated ones, have a lot of active installations, and, most importantly, have an excellent star rating.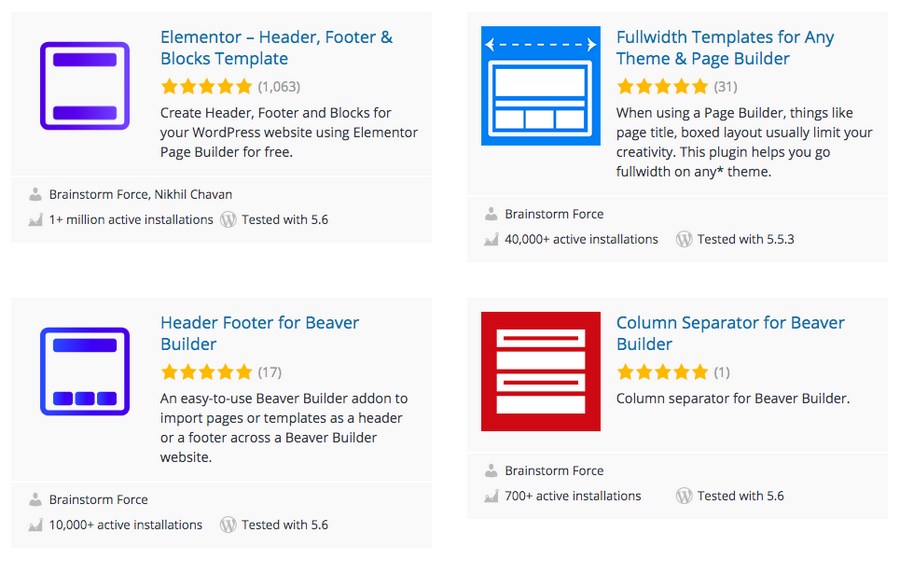 Outdated plugins may contain code that could adversely affect your website's security and, in some cases, crash your website too.
Our verdict: It's a draw!
Which Platform Provides Better Help and Support?
Which of the two platforms does better, as far as help and support are concerned? Squarespace outdoes WordPress here.
WordPress has a large community forum and support, but the knowledge base that Squarespace offers is much easier to use. With the in-house support that Squarespace provides, you're guaranteed an answer to your question.
Squarespace
Squarespace has a centralized support team dedicated to assisting their platform users. The team has developed several help guides, workshop videos, and a community forum to build your website.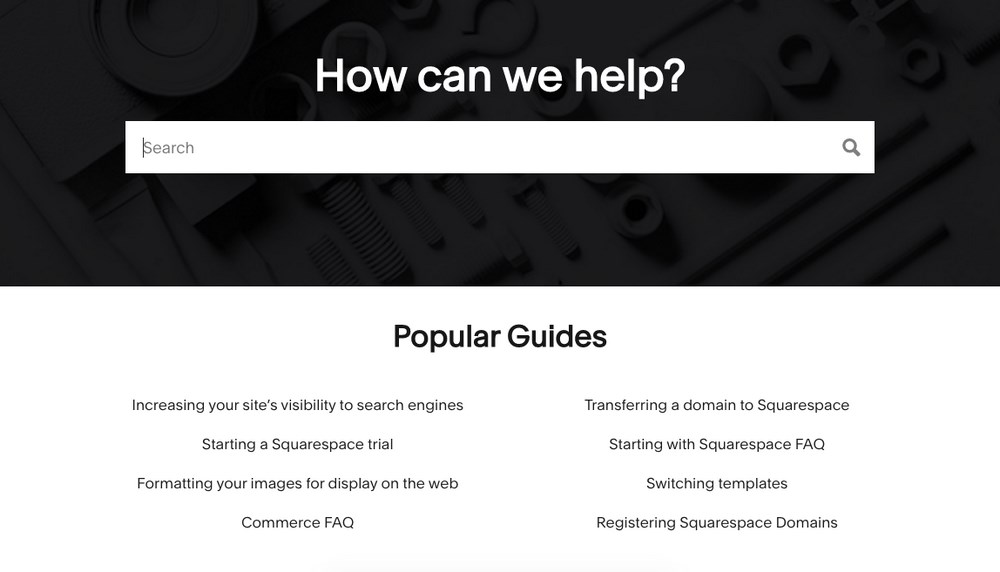 You'll also be able to interact with their support team through live chat and 24/7 email support.
WordPress
WordPress has a massive community and an exhaustive library of resources and tutorials to assist you. With the number of resources available, it can be a classic case of information overload.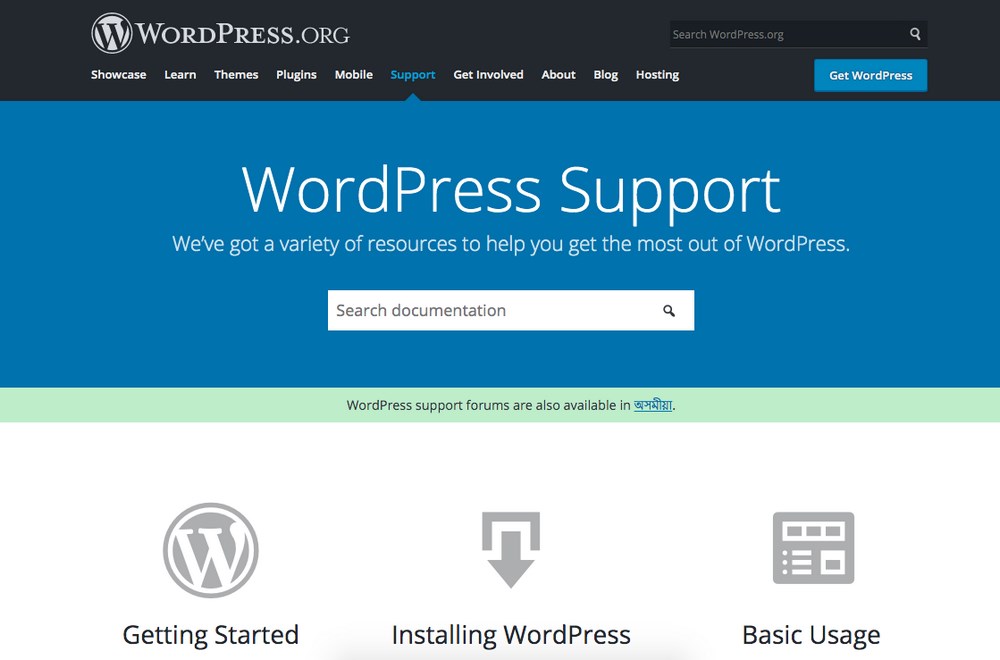 You can count on the great support for WordPress and major themes and plugins, sometimes it will take some searching even to find out whose support you need. But if you are looking for one-on-one email or chat support, you will be disappointed.
Our winner: Squarespace
The Pros and Cons of Using WordPress
As you can see, there are pros and cons to WordPress. You get a lot more potential, but it requires more work and effort on your part.
Pros of using WordPress:
WordPress offers unlimited potential
Free to use (only pay for domain and hosting)
There's a plugin for everything
Thousands of store designs to choose from
Provides much more control over your store and website
Cons of using WordPress:
It requires more work to set up and use
Requires plugins for many essential features
The Pros and Cons of Using Squarespace
As an eCommerce platform, Squarespace is excellent. It's stable, beginner-friendly and includes most tools you'll need.
Pros of using Squarespace:
Register and set up within minutes
Intuitive dashboard includes everything you need
Plugins and themes available
24/7 support
Very useful for beginners
Cons of using Squarespace:
Limited in scope
Can become very expensive
Limited flexibility compared to WordPress
Conclusion: Squarespace vs WordPress – Which Should You Choose?
If you're looking for a complete beginner-friendly platform to create a basic website as easily as possible and are not really concerned about the enhanced functionalities, Squarespace is the ideal option.
However, if you are looking for a platform that provides you much greater control over your website, content, security, performance, and functionalities, then without a doubt, WordPress is your way forward. At least, that's what 39.5% of the webmasters worldwide tend to believe.
Though there's a slightly higher learning curve when compared to Squarespace, the WordPress core team has made significant strides in turning WordPress into an accessible tool for beginners.
And in the end, you might even save money and learn valuable new skills too! Still, if you have second thoughts, you should check below comparison articles as well.
What do you think? Who do you think is better when it comes to comparing Squarespace vs WordPress? Let us know below in the comments.