Are you planning to launch an online store? Can't decide whether to choose self-hosted WooCommerce or the cloud-powered BigCommerce? You're not alone. It's a situation many have found themselves in over the years, including us!
That's why we have put this WooCommerce vs BigCommerce guide together. Putting these two eCommerce giants head to head is the only way to really decide which is best for your needs.
We ask all the questions a new online store owner might want to ask and assess which of these two platforms is best.
We'll compare them on features, pricing, ease of use, cost, payment options, performance, support, security, customization and scalability. All the primary considerations an online store owner will need to address.
We'll then tie everything up nicely with our verdict on which comes out best for each category.
Are you also considering OpenCart? Our OpenCart vs WooCommerce guide should have the answers you're looking for!
10 Features Every Online Store Should Have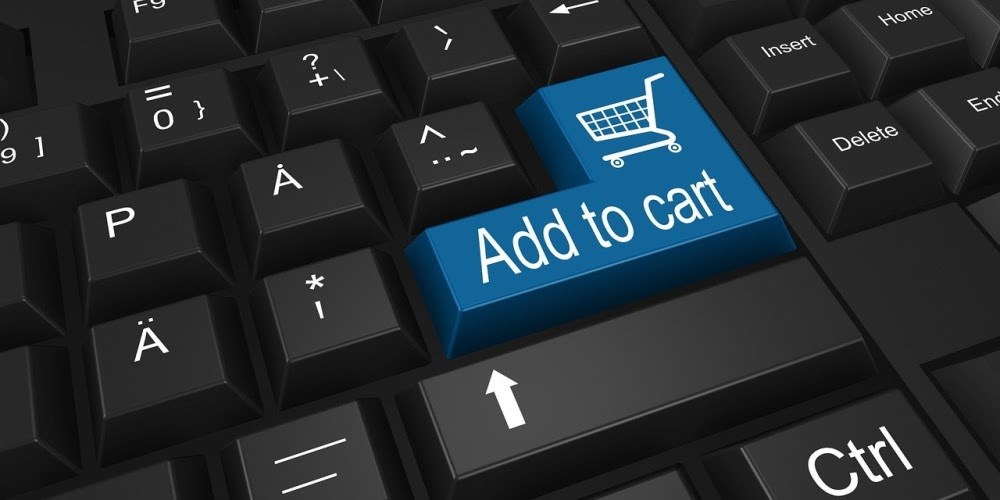 Before we get into the pros and cons of WooCommerce and BigCommerce, we thought it would be a good idea to outline those essential features every online store should have.
That way you can see exactly how these two eCommerce heavyweights compare.
User friendliness – It doesn't matter how many features an eCommerce platform might have, if it isn't easy to use, a lot of it will go to waste. We want our store to be well laid out, well categorized, have a search function and to instantly know where to go.
Fast performance – While your web host will have an influence over how fast your store performs, a lot of it is also down the platform. You need pages to load quickly, search to be fast and efficient and you want to avoid keeping customers waiting at all costs.
Frictionless checkout – Talking of keeping customers waiting, giving them the shortest path to purchase possible with multiple payment options makes good business sense. Give the customer what they want, how they want and they should repay you in kind.
Guest checkout – If customers are a little shy at first, your store should be able to work with that. Guest checkout is regarded as a vital element in any store and everyone should offer it.
Secure checkout – Once customers decide to buy, you need to reassure them their data and payment methods are safe. Use SSL, secure payment gateways, two-factor authentication and other technologies to prove you take security seriously.
Clear terms and conditions – While hardly anyone reads them, the fact a store's terms and conditions are clear and unambiguous gives buyers confidence, which can turn into trust.
Responsive store – Over half of web users now use mobile. That means your store has to be fully responsive in order to not alienate a significant portion of your customer base.
Customer reviews – Reviews are incredibly powerful inducements to purchase so including either site reviews or a review plugin to let customers read products reviews is essential.
FAQs – While often overlooked, an FAQ section is your opportunity to answer common questions before they are asked. This helps the customer journey, saves you time answering queries and gives users confidence in your store.
Upsells and cross-sells – 'Customers who bought X also bought Y', 'Items related to your purchase', both are messages you can show customers to help make extra sales. They also benefit the customer by showcasing related products they may not know exist.
Overview of WooCommerce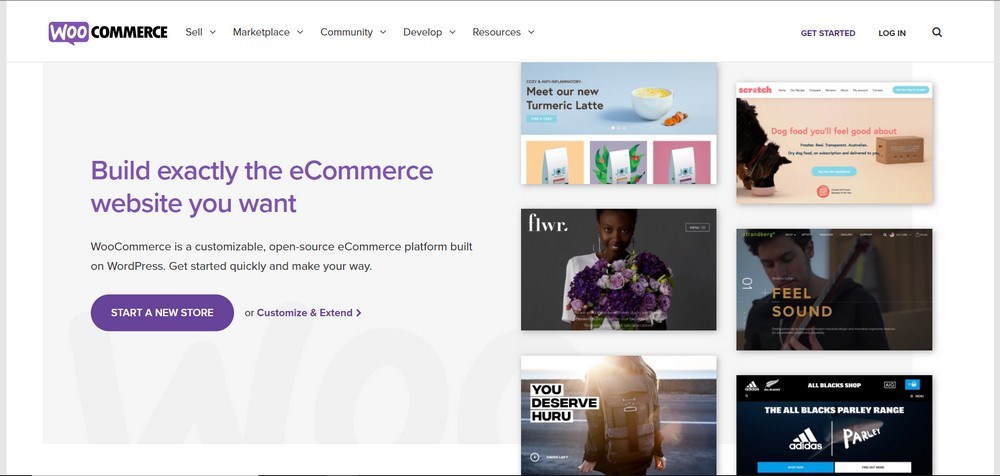 WooCommerce is a plugin that turns any WordPress website into a fully functional online store. Started in 2008, WooThemes, the company behind it began making themes. They then expanded into making WordPress plugins and finally developed WooCommerce.
WooCommerce has a huge market share, around 23.43% according to the latest data. (Source)
It's a powerful plugin that does require domain, hosting and a WordPress installation but is very easy to use.
The plugin is free to use and simple to set up. The platform can be extended significantly using extensions, either free or paid for, available on the WooCommerce Marketplace.
The marketplace has extensions covering almost every conceivable use from payment gateways to reporting.
WooCommerce also has its own themes as well as themes available from third-party providers. Many WordPress themes can also work with WooCommerce. Our very own Astra theme also has dedicated Starter Templates for WooCommerce.
Overview of BigCommerce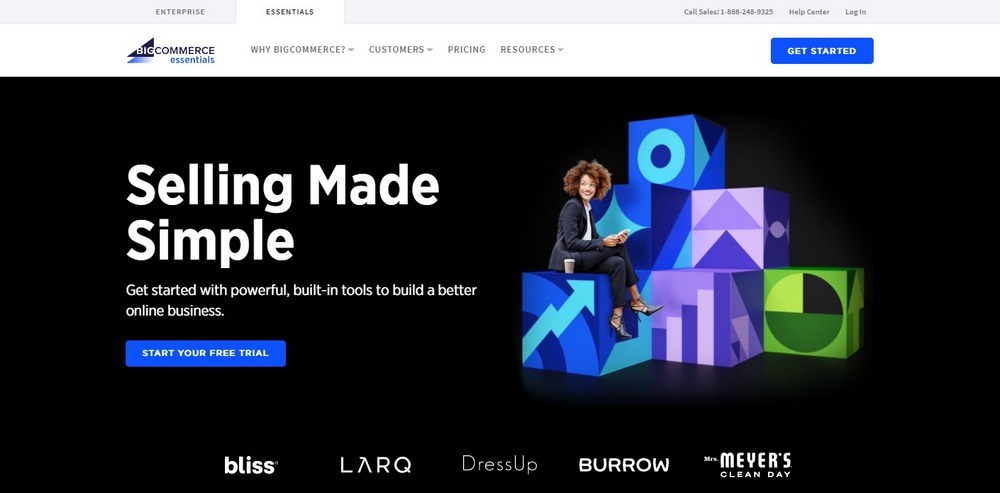 BigCommerce is a SaaS solution based in the cloud. It's a website builder hosted on BigCommerce servers and works a lot like Shopify. Launched in 2009, the company began with two people and an idea and has turned into a 600 employee corporation.
BigCommerce doesn't require hosting, has no need for installation or setup and doesn't depend on other platforms like WooCommerce does with WordPress.
BigCommerce also has an app store with hundreds of extensions covering most of what you could need. Many are free while others are paid for. There are also themes you can use with BigCommerce but nowhere near as many as for WooCommerce.
While popular, BigCommerce has a much smaller market share, around 1.27%
Below is our own summary table complete with our own scores for each platform.
| | | |
| --- | --- | --- |
| | WooCommerce | BigCommerce |
| Pricing | Free +hosting, domain and optional extensions and themes | $29.95 up to $299.95 per month + optional extensions and themes |
| Features | ⭐⭐⭐⭐ | ⭐⭐⭐ |
| Ease of use | ⭐⭐⭐ | ⭐⭐⭐⭐ |
| Payment options | ⭐⭐⭐⭐ | ⭐⭐⭐ |
| Support | ⭐⭐⭐ | ⭐⭐⭐⭐ |
| Security | ⭐⭐⭐⭐ | ⭐⭐⭐⭐ |
| Customization | ⭐⭐⭐⭐ | ⭐⭐⭐ |
| Scalability | ⭐⭐⭐⭐ | ⭐⭐⭐⭐ |
Detailed Comparison of WooCommerce vs BigCommerce
Now you have a good idea of each of the solutions we're comparing, let's get on with the actual comparison!
Features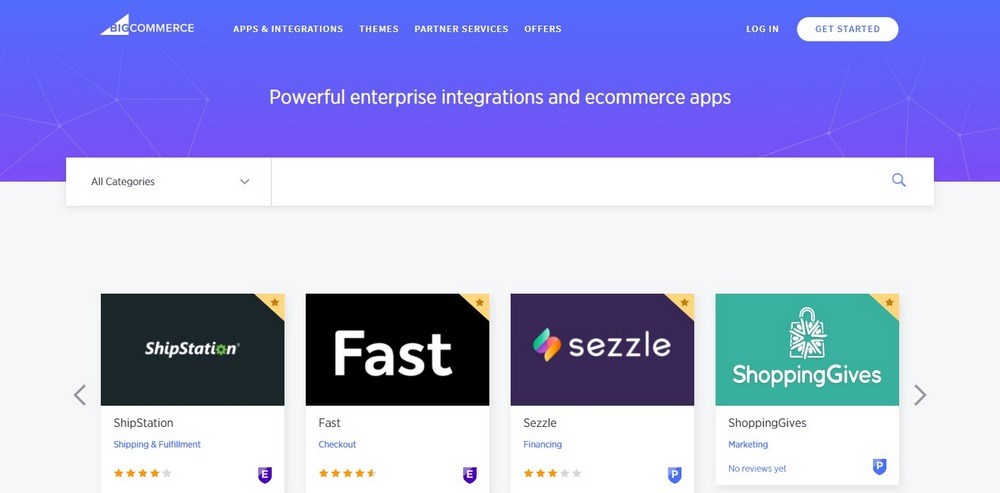 Both of these eCommerce platforms are built around features. But which offers more features? Which offers the most free features?
WooCommerce has a range of built-in features covering basic store needs. Once you begin building your store, you'll quickly find you will need some extensions. While they take seconds to install and many are free, it's an extra hurdle you have to jump to get going.
That said, the modular design of WooCommerce means it is much easier to install the features you need and ignore the ones you don't.
The WooCommerce marketplace has thousands of extensions covering every possible scenario. From payment gateways to mobile themes, schema options to email outreach tools. If you can conceive of an eCommerce function, there is probably an extension for it.
Third party WordPress plugins such as our own Convert Pro, Schema Pro and WP Portfolio offer powerful extra features to help market and promote your store. BigCommerce has nothing quite like these!
When it comes to theming, WooCommerce has more themes than you could try in a lifetime. There are 20 or so themes in the WooCommerce marketplace but then there are thousands of third party themes on WordPress theme websites.
Astra also has some top quality themes to use with WooCommerce.
BigCommerce also has a lot of built-in features. Many more than WooCommerce. It includes many more core functions in the box and depends less on extensions to provide the tools you need to run the store.
This does mean more to navigate through when running the store but also means everything is there and ready to go should you need it.
BigCommerce still has an app store for any feature not included in the core product. Many of those apps are free while others cost money.
BigCommerce also has theme options. There are a good number of them in the Theme Store covering most store types. Prices are a little high though, costing anything up to $300 for the theme alone!
Features – Verdict
The modular nature of WooCommerce means you can build your store, your way and avoid any features you don't need. It does require a little more work to find and install those features though.
Theming is easy and you have literally thousands of options to choose from. If you cannot find a theme on the marketplace, there are repositories across the internet with themes to use.
BigCommerce prefers to deliver all the tools you're likely to need and leave the app store to provide extras. It's a different approach that is easier to get to grips with early on.
Theming in BigCommerce isn't such a strong point. While there are more default themes on the marketplace, pricing is speculative. There are also few third-party developers making themes for this platform.
We think WooCommerce edges this one. BigCommerce has more default features all ready to go while WooCommerce lets you add whatever features you like with an extension. Theming is also in WooCommerce's favour.
Overall, if you don't mind setting things up yourself, WooCommerce offers a huge raft of features just waiting to be used.
Pricing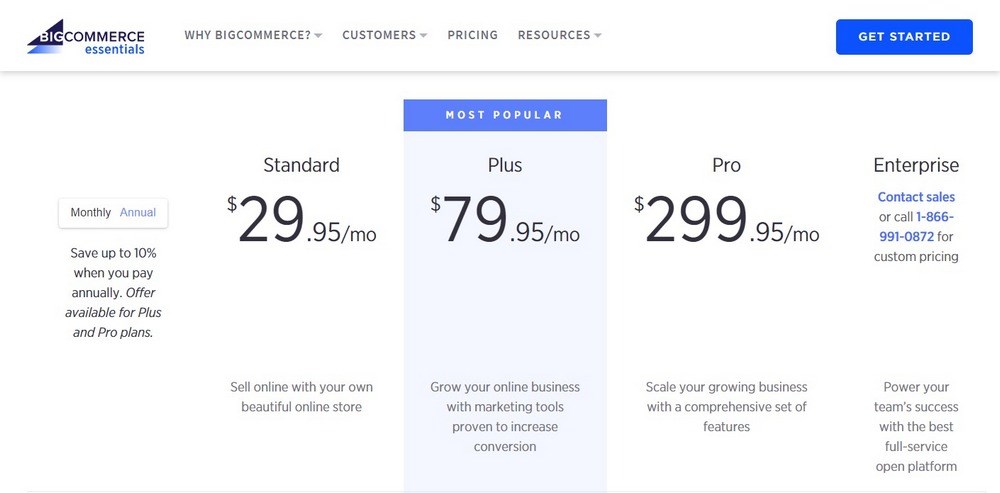 Pricing is a key element of running your store. If the platform costs too much to run, it bites into your profits. But, if the cost includes everything you could need, it might offer good value.
So how much does each store cost? How much are extensions and themes?
WooCommerce is free to use, as is WordPress. You will require hosting and a domain name but these can cost as little as $20 per year. Higher speed managed WordPress or WooCommerce hosting can cost more but is a worthwhile investment.
WooCommerce themes can cost from $20 to $200 depending on your tastes. Some Astra themes that work with WooCommerce are free!
WooCommerce extensions are a mixture of free and premium priced between $29 and $249 per year.
BigCommerce is a premium SaaS service. It has three main tiers with a separate enterprise model. The three tiers start at $29.95 per month and include a store, unlimited bandwidth and accounts, access to payment gateways, social media integration and a responsive website.
Extra plans cost $79.99 and $299.99 and add extra features depending on the size and projected revenue of the store.
BigCommerce themes are a mixture of free and premium costing between $139 and $300.
BigCommerce extensions are also a mix of the free and premium costing up to $285 per month.
Pricing – Verdict
This is an easy win for WooCommerce. It's free, extensions and WooCommerce themes are cheaper and of a comparable or higher quality to BigCommerce. WooCommerce setup costs can be minimal too depending on what type of web hosting you use.
BigCommerce does all the work for you but charges accordingly. Not only does the fee soon stack up, the prices of the themes and extensions are rather high.
Ease of Use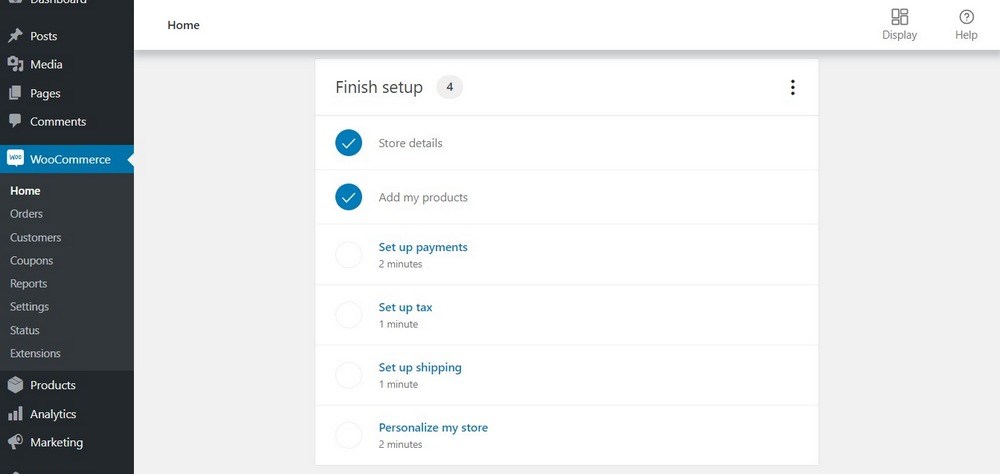 Ease of use is a key component of living with an eCommerce solution day by day. If it doesn't make it easy to add products, manage orders and generally run the store, it isn't the solution for you.
Let's break down ease of use into bite size pieces. We'll tackle setting up, adding products and managing the store.
Setup
WooCommerce takes a little more setting up than BigCommerce but once you're up and running, it's very simple to work with. It does require a working WordPress installation but use a good web host and that can be taken care of for you.
All you'll need to do is install WooCommerce and you're up and running. The WooCommerce setup wizard is excellent and will build the foundations of your store in less than 20 minutes. Once done, you can add extensions, add a theme and begin adding products.
BigCommerce is even easier to set up. As it's a cloud-based store builder, there are no setup requirements, no installation of other platforms and no setting up of the store itself.
You simply sign up, set your store type and parameters and follow the setup wizard to create the store. The setup wizards in BigCommerce aren't as intuitive as those for WooCommerce but you should have no problems following them.
Most of the key store elements are already present so no need to add extensions for essential features like you do with WooCommerce. You do have the opportunity to add more through the app store if you want to.
Adding Products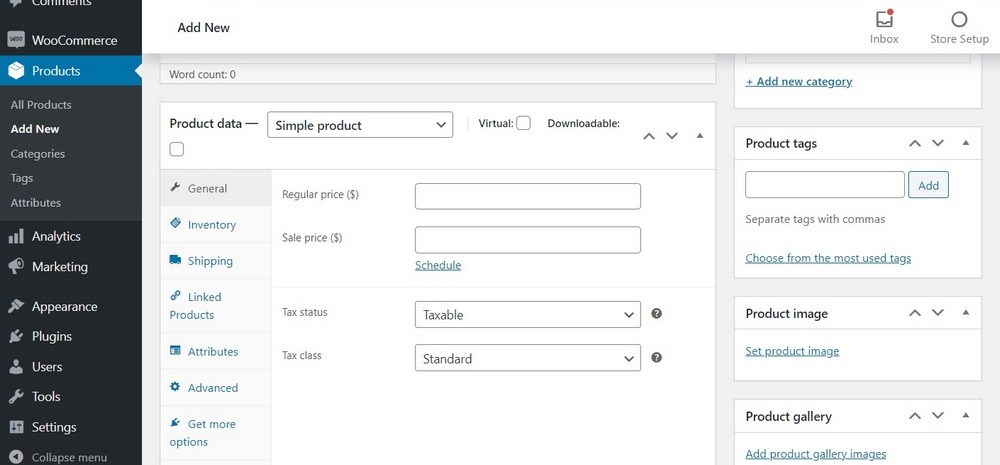 How easy is it to add products to each platform? As this is something you're going to be doing a lot, it's something we need to look at.
WooCommerce makes it very easy to add products. If you have experience with WordPress, you'll have absolutely no problems living with WooCommerce. If you're not experienced with WordPress, the system is simple enough and has great documentation to help you get your bearings.
Adding product is simply a matter of choosing Products from the menu, selecting Add New, enter the product details and images, add categories and select Publish. Once you get the hang of it you could be adding them in minutes!
BigCommerce uses a similar system. There is a specific Product menu item in the main user dashboard, select that, select Add, enter the product details and any variations, add images, set a price and select Save.
Once you have one product set up you can use the very neat 'Save & Duplicate' function in the product menu to copy the previous product. This can be ideal for adding variations of products or similar ones. Just change specifics and select Save.
Managing Your Store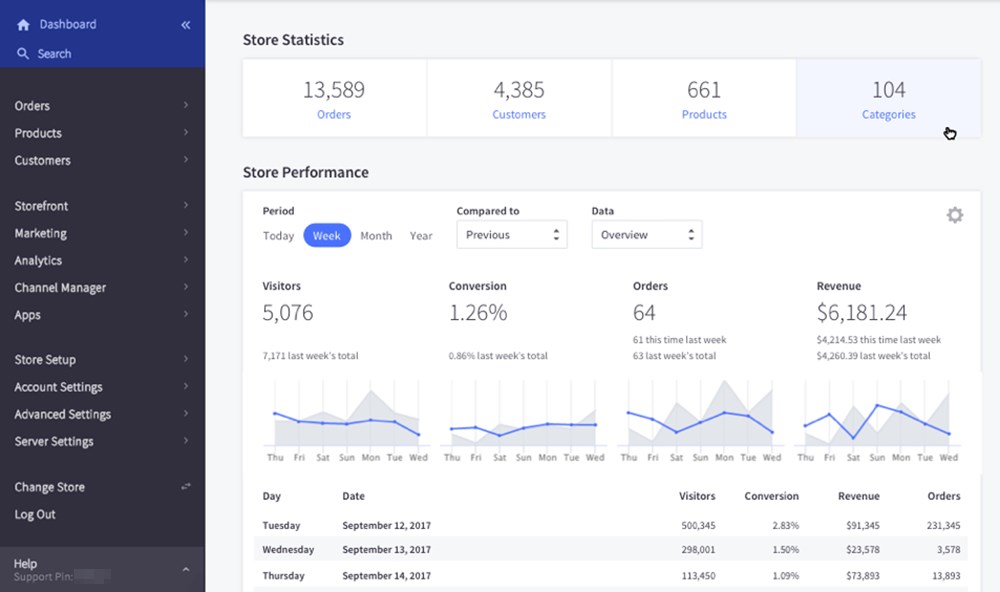 A successful eCommerce platform should be easy to use day to day. If simple tasks like managing stock or checking order status takes too long, you won't enjoy what you're doing very much at all!
WooCommerce has a very straightforward user dashboard that lives inside the WordPress menu. Everything is logically labelled and easy to find and there is an informative main screen that shows orders, activity and anything else you want it to show.
You can add widgets to the main screen so you can monitor details specific to your store. Highlights views give a very clear picture of what's going on while each widget enables you to drill down to see specifics.
BigCommerce has a similar user Store Profile dashboard with a similar side menu. You can see everything that's happening in the store and can drill down using any of the menu options on the side.
This dashboard is equally clear and unambiguous and very easy to manage. There are lots of graphs to look at if that's your thing and you can manage every aspect of your store with just a few clicks.
Ease of Use – Verdict
Both WooCommerce and BigCommerce make great efforts to be as simple to use and manage as possible. The store dashboards offer a ton of options, adding products is very easy and there is all the information you could ever need at your fingertips.
BigCommerce has the edge in ease of use. It doesn't require much setup, doesn't require WordPress and that 'Save & Duplicate' option for adding products could be a lifesaver.
Supported Payment Options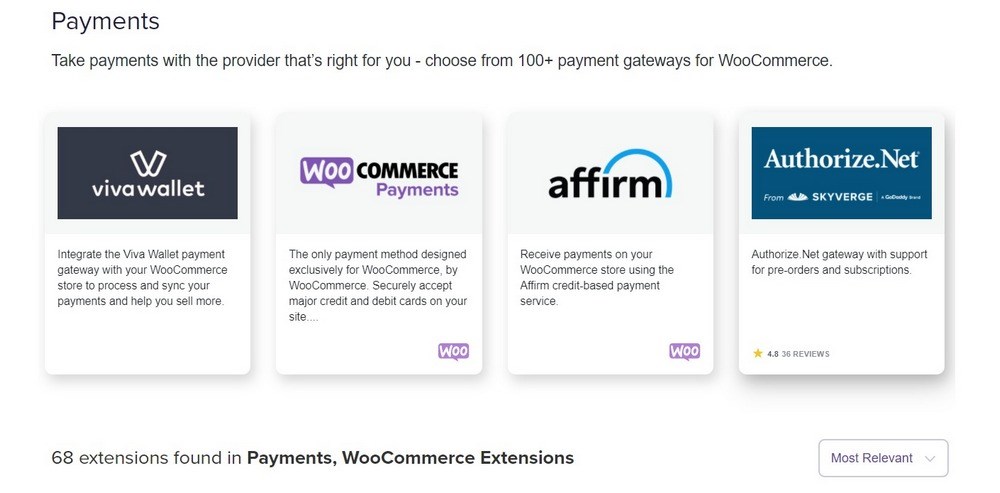 Payment options are a key component of any successful store. Customers want to use their favourite payment methods so the more you accept, the higher the chances of a purchase.
Neither WooCommerce nor BigCommerce charge fees for transactions but many payment gateways do. This is an extra cost to consider when choosing a payment gateway but shouldn't factor in to your decision on which platform to choose.
WooCommerce supports over a hundred payment gateways including popular vendors like PayPal, Amazon Payment, Stripe, Braintree, WooCommerce Payments, Authorize.net, Apple Pay, Square and many others. It can also work with credit and debit cards.
You will likely have to install a payment gateway extension to be able to work with some of these but they are most often free.
BigCommerce also has payment gateway extensions but not as many as WooCommerce. It does support the majority of payment processors and credit and debit cards but doesn't have the breadth of support that WooCommerce does.
Most additional payment extensions cover niche providers or some US-only gateways.
Supported Payment Options – Verdict
This is another easy win for WooCommerce. While BigCommerce covers all the basics with ease, if you want to extend payments to different currencies or payment providers, you may struggle.
BigCommerce does have the advantage that it supports many payment gateways natively while WooCommerce needs extensions but that doesn't offset the sheer range of options.
Support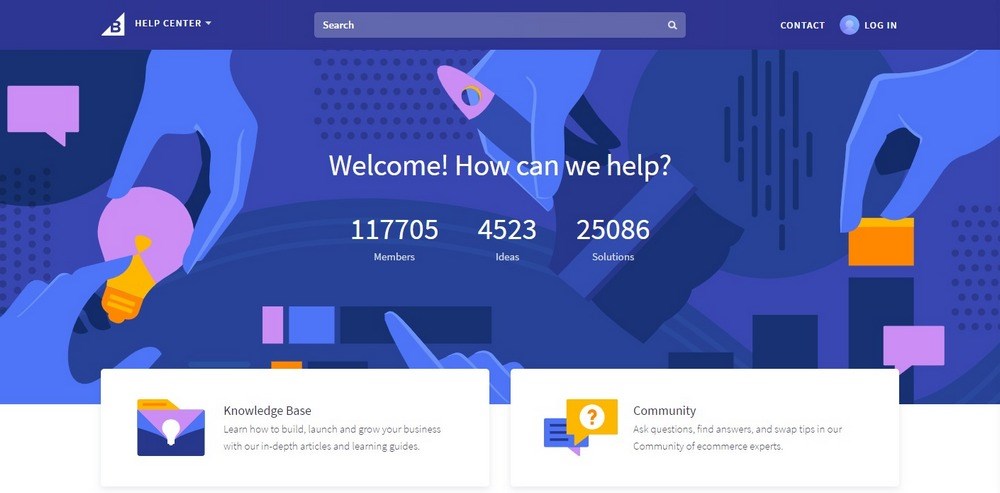 Does each platform have the support you need to keep your store running? Let's find out!
WooCommerce is self-hosted so you're largely on your own. It does provide responsive support for purchased extensions and themes though. Any support for the plugin itself is on a best endeavour basis.
There is a lot of documentation that is very easy to use, a forum and hundreds of third-party resources that can help with the vast majority of issues. That documentation is clear, easy to follow and guides you through just about everything you'll come across while using the store.
As a commercial platform, BigCommerce has better support. You can access email and web chat 24/7 from within your store dashboard and phone support is also available.
There is a high quality documentation section within the website and a lively forum of users that seem willing to help. That documentation is as good as WooCommerce, with clear, easy to follow guides covering most situations you'll find yourself in.
There aren't as many third-party resources for BigCommerce though.
Support – Verdict
This is a win for BigCommerce. It's a commercial application offering quality customer support. You can access it from your store dashboard or the website and it's there 24/7.
WooCommerce does a good job of providing the resources you'll need to resolve your own issues and there is a lively community willing to help. You are largely on your own though.
Security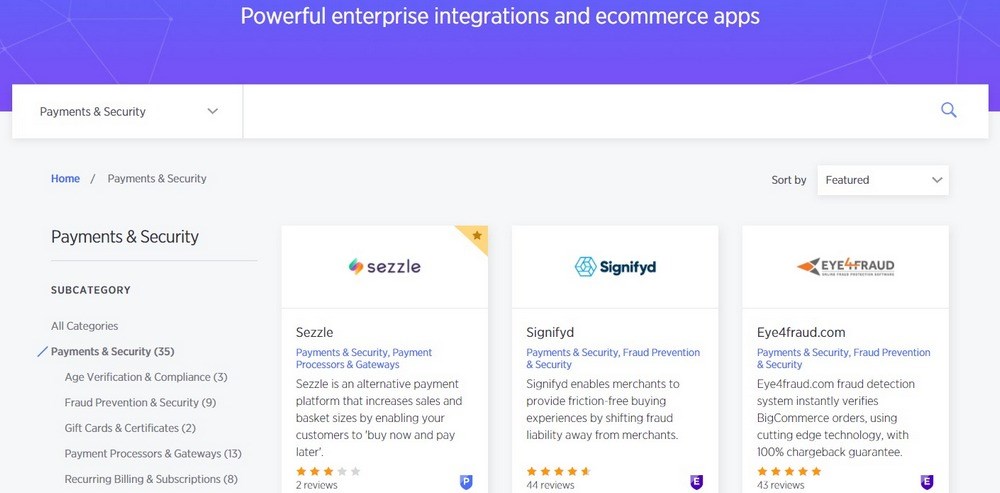 Security of one of the most important features of any online store. Not only do you need to be secure, you need to be seen to be secure.
WooCommerce works with WordPress and you will need to secure both of them. Fortunately, most good quality web hosts provide free SSL so that's one less thing to worry about.
For everything else, there is a security plugin. There are also great guides walking you through the entire process of securing WordPress.
WooCommerce payment gateways will also have their own compliant security. For example, the Stripe payment extension is PCI DSS compliant as long as you use Stripe Elements hosted input fields.
BigCommerce is certified Level 1 PCI DSS compliant and uses a hosted model to provide its services. This means less work for you but means you're more dependent on the company to secure your store.
There are also extra security extensions to fill any specific requirements you might need.
Security – Verdict
Both platforms can be very secure. You have to make WooCommerce secure while BigCommerce is made secure for you.
Depending on what you're looking for, the winner could be BigCommerce because it's secure out of the box. Or it could be WooCommerce because it lets you control what security measures you put in place. Plus, the payment gateways also provide their own security.
So, let's call this one a draw. Both can be secure platforms but go about it in a different way.
Customization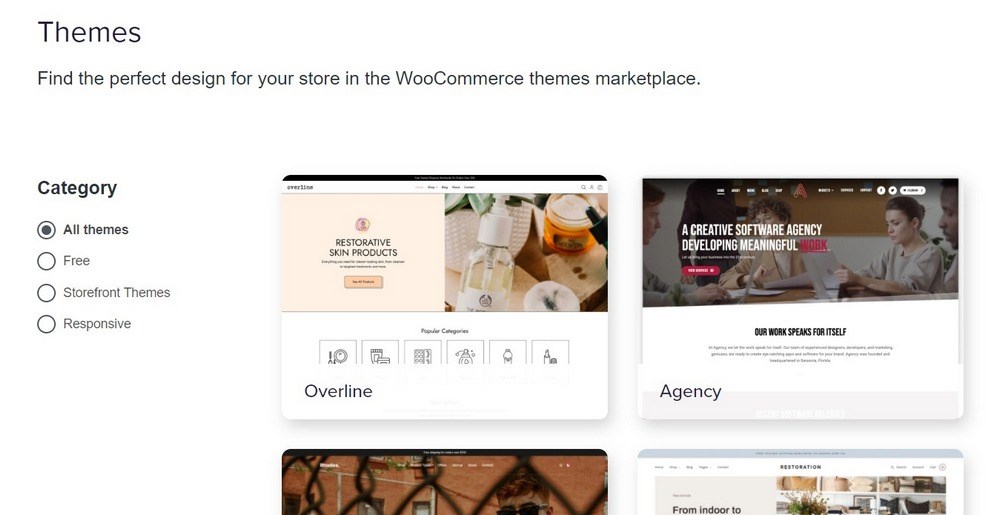 How easy is it to theme your store? Can you design your store your own way and go for a unique look?
WooCommerce has a dozen or so themes in its own marketplace. There are also thousands of other WordPress themes compatible with WooCommerce at all your favourite theme repositories.
Wherever you can find WordPress themes for sale, you'll find WooCommerce compatible themes there too. Many WordPress themes have compatibility built in but not all do, so check the theme before you buy.
Then you have companies like us, who purposely made our Astra WordPress theme fully compatible with WooCommerce.
BigCommerce has lot of themes on its own marketplace. They are expensive though. You're looking at $150 to $300 each just for the theme.
Third-party repositories such as ThemeForest also has BigCommerce themes, 88 at the time of writing. They are priced from $45 up to $139.
Customization – Verdict
This is another clear win for WooCommerce. Not only does it have more themes for customization, it also utilizes the power and the freedom of WordPress and its page builders to help design or customize something unique.
BigCommerce does have some high quality themes. Some of which can be customized. But those prices!
Scalability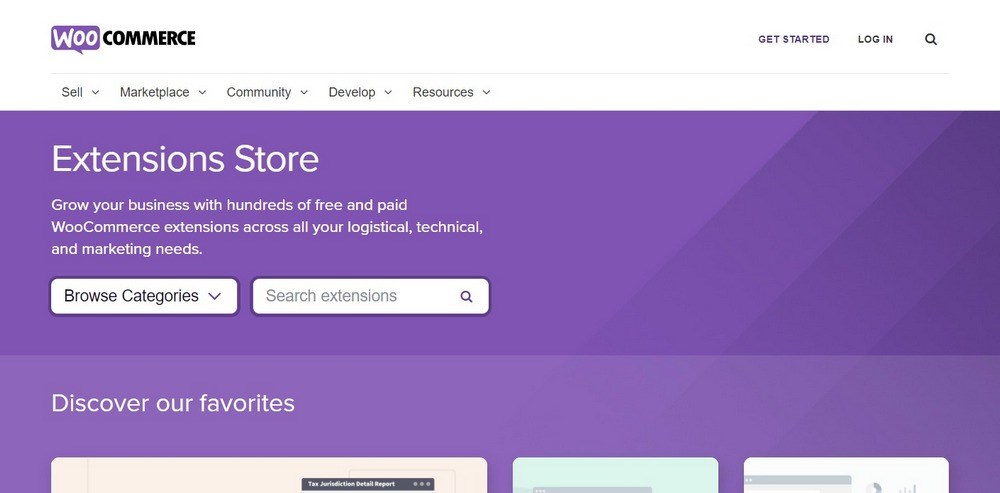 Most online stores start small but few want to stay that way. Therefore, the ability to scale your platform up as you grow is an essential feature.
WooCommerce and WordPress are both infinitely scalable if your web host supports it. As a database-driven content management system, as long as you have the server resources, you can grow as large as you like.
You will need to invest in Managed WordPress, WooCommerce or even dedicated hosting when you grow to a certain size though. Managed WooCommerce hosting from our friends at SiteGround costs from $14.99 per month.
Some hosts can handle migrating to different hosts or between hosting plans while others will leave it to you. Something to be aware of if you expect exponential growth.
BigCommerce, as a fully hosted solution, will grow alongside you. There is no requirement to change web hosting plans here as you'll use the same resources throughout.
Pricing does change as your revenue changes though. Exceed a set amount of revenue per year and you will be 'encouraged' to upgrade to a more expensive plan.
Scalability– Verdict
Both WooCommerce and BigCommerce are infinitely scalable in theory. There is more work to do scaling up WooCommerce should you need to change hosts or hosting plans but that can often be done for you by the host.
BigCommerce offers zero effort scalability but at a cost. We aren't sure what exactly happens if you exceed the recommended revenue for a membership tier but that jump can be expensive!
We think this is a draw. WooCommerce is cheaper to scale even when factoring in a hosting upgrade but requires more effort.
BigCommerce is more expensive if you have to upgrade your tier but easier.
Pros and Cons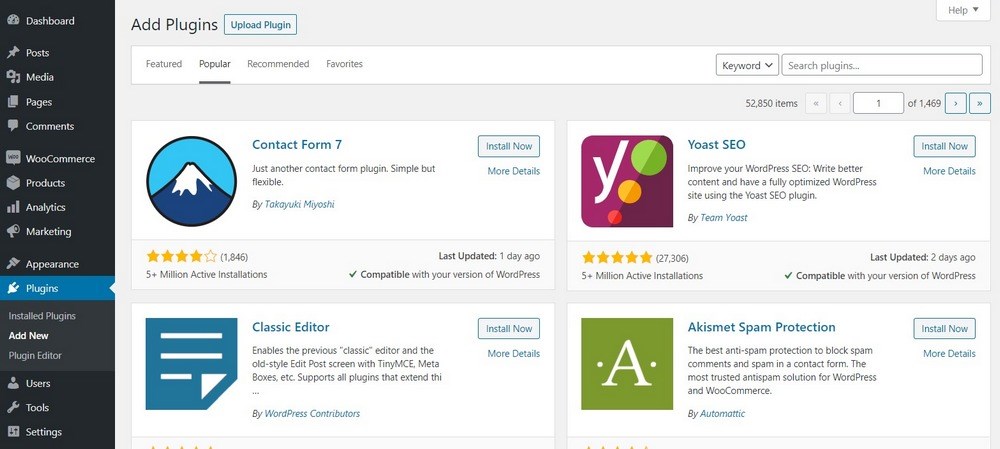 Now you have a good idea of the strengths and weaknesses of each eCommerce platform, we thought it might be useful to give you a quick overview of the pros and cons of each.
Pros of WooCommerce
Easy setup and simple store management
Instantly familiar if you know WordPress
Setup wizard is excellent
Hundreds of WooCommerce themes and extensions
Widely used throughout the world
Excellent network of forums and third party resources
Cons of WooCommerce
Requires WordPress to work
Self-hosted so you're largely on your own
Security is mainly down to you and some plugins
Will need to install extensions for most extra features
Pros of BigCommerce
Fully hosted SaaS solution with zero maintenance
Setup wizard is very good
Most core features included within the main platform
Works with multiple channels out the box (Facebook, Amazon and so on)
24/7 support via phone, email and chat
Good selection of extra extensions in the Marketplace
Cons of BigCommerce
Can work out expensive
Less freedom to theme and run your store your way
Some of the menus aren't the most intuitive
Themes are very expensive
WooCommerce vs BigCommerce – Final Thoughts
We have covered a lot of ground in this comparison, which is just as well because there is lots to take in!
Both platforms offer an excellent way to venture into eCommerce without needing any development expertise. Both provide easy to follow setup wizards and both offer the option to add features with extensions and change the look with themes.
But there are also key differences in cost, accessibility, freedom to customize and run your store how you want and the support offered.
WooCommerce is ideal for people familiar with WordPress and who don't mind getting their hands a little dirty with setup. In return for your efforts, it delivers a truly flexible eCommerce platform for very little upfront cost.
BigCommerce is ideal for those who don't want to learn new systems, set up WordPress or worry too much about hosting or security. If all you want to do is build and grow your store, this is the platform for you.
Do you use either of these for your own store? Have any advice or comments to give those considering them? Anything else to add? Tell us about it below if you do!