Are you thinking of integrating a web directory into your website? This might be a smart idea. Web directories can be used to help users find people, events, service providers and so much more.
Integrating a web directory into your website can also be a way to drive traffic or even create a new stream of income.
Whatever your goals may be, we'll show you some simple ways to build your new web directory.
Web directories can be complex but you can easily build or incorporate one into your WordPress website using a WordPress directory plugin.
These plugins make it easy for any type of website to collect, categories, and display listings of almost any kind.
One thing to remember is not all web directories look or work alike. They come in different forms, and serve different functions. They can also be built in different ways.
Keep this in mind as we guide you through the top 11 WordPress directory plugins you should consider.
Essential Features of a WordPress Business Directory Plugin
As we've said, not all web directories look or work the same. They don't need to, and should be tailored to fit specific needs.
For example, a large organization or community might wish to create a directory of its members for easy communication. A commercial business directory, on the other hand, might aim to promote businesses that operate in a given niche or geographical area.
The needs of these different types of web directories might differ, yet there are some areas of similarity too.
There are certain features that all good web directories should have.
Here's what to look for:
1. Customization
Customization is an important feature for a WordPress directory plugin. No two businesses are the same even if they might operate in the same industry. Users of your directory might want some flexibility to show different fields, and perhaps control the design of their listing.
2. Rating and Review System
The point of a directory website is usually to provide users with multiple options to choose from. One way to guide them is by integrating a user-based ratings and review system. One study shows that 88% of consumers trust online reviews as much as they would a personal recommendation. If listing owners are getting more traffic and making more sales thanks to the unique features of your directory website, you can expect more business!
3. Bookmarking Tools
Bookmarking tools allow users to view and navigate away from listings without losing them. They allow for efficient comparison between competing listings and make it more likely that users will spend longer periods on your website.
4. Multilingual Compatibility
It is considered best practice for web directory plugins to integrate well with a translation plugin like the WordPress Multilingual Plugin. This will allow diverse groups of users to use your web directory easily. If you serve a diverse market, picking a plugin that provides multi-language compatibility would be a good idea.
5. Google Maps Integration
Most good web directory plugins and themes provide some integration with Google Maps. This allows users to find directions easily, without having to navigate away from your website. For businesses with a local focus, this is particularly important.
6. Payment Support
If you intend monetizing your web directory, you'll need some way to offer different packages, as well as to collect payments. The best web directory plugins will offer support for tiered packages along with multiple payment gateway integrations such as PayPal and Stripe.
7. WooCommerce Integration
E-commerce is a smart idea to integrate into your WordPress directory website. One of the best plugins for this is WooCommerce. WooCommerce integration will allow users to display and sell products directly from your website.
Different Methods of Building a Business Directory Plugin
Using a WordPress directory plugin is one good way to build your web directory. There are a few other methods that may work just as well depending on your needs.
You could use a theme or build your directory yourself without writing any code. Depending on what you have in mind, some of these methods may be preferable.
Take a look and decide!
Using a Dedicated Theme
To build a dedicated classified ads or directory website, using a dedicated theme may be a good idea. A dedicated directory theme will typically come with the full range of features, and might be designed to look like a recognizable directory website such as Yelp.
An additional benefit of using a directory theme is that themes tend to be cheaper compared to the average cost of using a paid directory plugin. For example, the Listing Pro theme costs $69 but the full add-on pack for the Business Directory plugin costs $299.50.
If you do decide to try a WordPress directory theme, there are a few to choose from.
We recommend these:
Astra + Elementor + Custom Post Types plugin + Custom Post Types Interface
Another method of building a WordPress directory website is creating it yourself using a mix of tools. If you're a total newbie, it may be a good idea to first learn how to make a WordPress website.
To get started building your WordPress directory website, you will need to use a fast, responsive, lightweight WordPress theme like Astra, a powerful page builder like Elementor Pro, the Custom Post Types plugin, and the Custom Post Types User Interface plugin.
This method will involve a little more hands-on involvement but allows you to have complete control over what your web directory will look like.
To use this method, follow these steps:
Install and activate the Custom Post Types Plugin
Install and activate the Custom Post Type Interface plugin
Once these tools are set up, the rest of the process is intuitive.
You will be able to create new post types which will be displayed on specific archive pages. Once you have created new post types, you will be able to add listings just the same way you would add a new blog post. You may create archive pages for each taxonomic value such as category or location, business type and so on.
This method is ideal for more experienced WordPress users so if you don't feel up to it, read on to see the 9 plugins we recommend for building a WordPress directory website.
Using a Plugin
Plugins are the third option to consider when integrating a directory into your website.
Most WordPress directory plugins have free and paid versions so you can build out your directory at no extra cost.
If you need a more extensive range of features then you will always have the option of upgrading to a paid version.
The Best WordPress Directory Plugins to Consider
| | | |
| --- | --- | --- |
| Plugin | Pricing | Summary |
| Geodirectory | Free version available, paid is $199 per year | Freemium plugin with a variety of options |
| Business Directory | Free basic version with paid add-ons. All add-ons together are $299 | Powerful plugin with a free version and extra add-ons |
| Advanced Classifieds & Directory Pro | Free basic version, paid add-on for $7.99 per month | Directory and classifieds plugin |
| Connections Business Directory | Free with different paid extensions, each about $5 | Plugin aimed at creating a contact book |
| Multivendor Directory Solution from Crocoblock | $91 per year for one website, unlimited websites for $186 | Package of 4 plugins to create a directory site |
| Classified Listing and Classified Listing Pro | Free version available, paid starts at $39 per year | Powerful freemium plugin for creating a classifieds site |
| Sabai Directory | Single payment of $29 | Directory plugin aimed at community-driven listings |
| Toolset | Starts at $69 for one site | Website builder plugin for creating complex sites (including directories) |
| Directory Pro | $39 for one site | Powerful directory plugin with many features |
| Gravity Forms Directory | Free | Add-on for the Gravity Forms plugin to create a directory |
| Web 2.0 Directory | $39 | Plugin to convert a site to a directory site |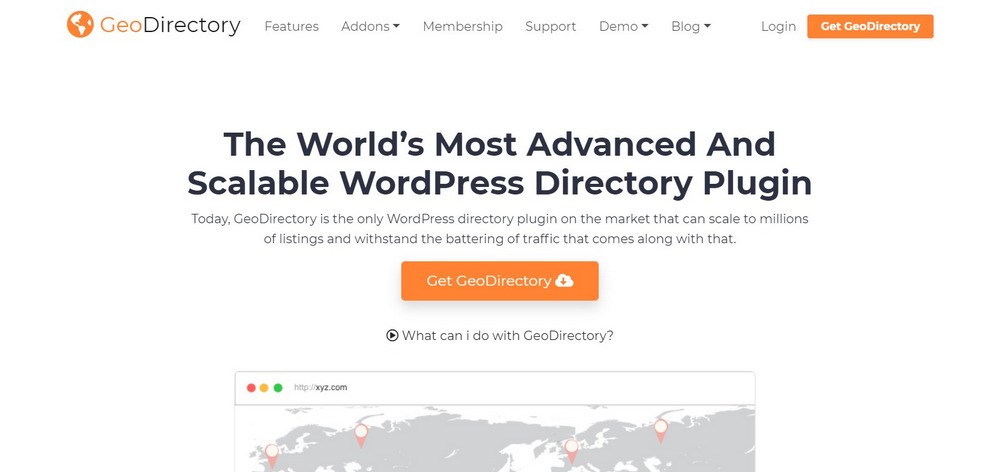 GeoDirectory is a highly functional WordPress directory plugin that has both free and paid versions. With this plugin installed, your website will be able to accept user submissions.
Submissions can be edited with 13 field types and a drag and drop builder. When using GeoDirectory, listings will be shown by geographical relevance to the user, making this plugin particularly suitable for businesses or organizations with a local focus.
The plugin also integrates seamlessly with Google Maps, providing a dynamic map integrated with each listing. This means that users won't need to navigate away from your website to find directions.
The free version of GeoDirectory offers an impressive range of functionality, however, you can upgrade by getting the GeoDirectory bundle at a cost of $199.
Pros
Great for customization
Wide range of payment options
Effective anti-spam measures
Mobile-friendly
Highly scalable
Cons
Need to upgrade to use payment integrations
Scalability is only possible with the paid add-on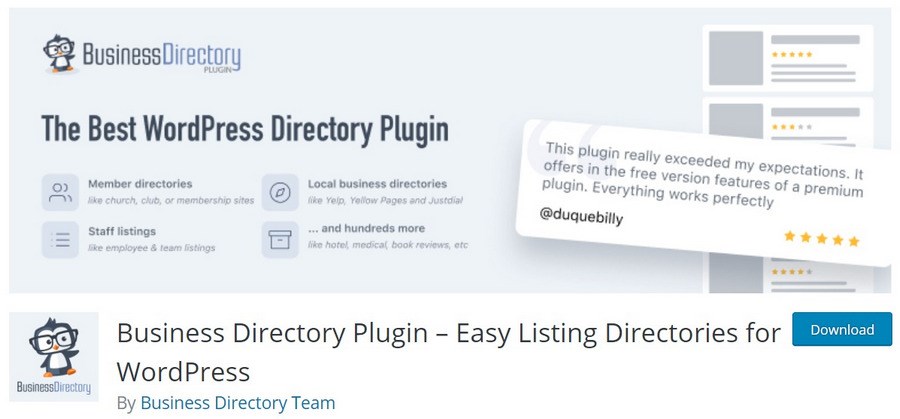 The Business Directory plugin offers a rich range of features in its free version. This includes advanced image functionality, payment support, custom fields, frontend submission, multi-language capability and more.
The plugin doesn't have a separate paid version. Rather, it offers a bunch of paid add-ons to further extend the plugin. You can purchase all of these add-ons for a one-time payment of $299.99.
Overall, the free version of this plugin works great and should be adequate for most users.
Pros
A range of options for collecting payments
Feature-rich free version
Mobile friendly/responsive
Google Maps integration
WPML support
Cons
Payment integration requires a paid add-on
Limited support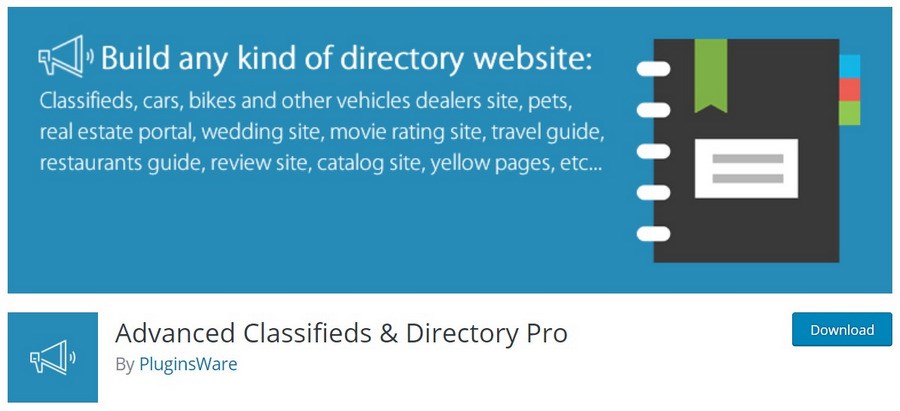 Advanced Classifieds and Directory Pro is a powerful directory plugin you can use to build pretty much any kind of classifieds or directory site. One thing that makes this plugin stand out from other directory plugins is the concentration of useful features in its free version.
Some of these features include email notifications for significant events such as the expiration of a listing, advanced payment settings, a powerful search widget that allows dynamic searches, support for both image and video, and unlimited number of custom fields.
If you require even more functionality, you can upgrade by purchasing a paid Stripe or PayPal payment processing add-on.
Pros
The free version is feature rich
Email notification system is great for marketing
Advanced search
Cons
Payment integration requires a paid add-on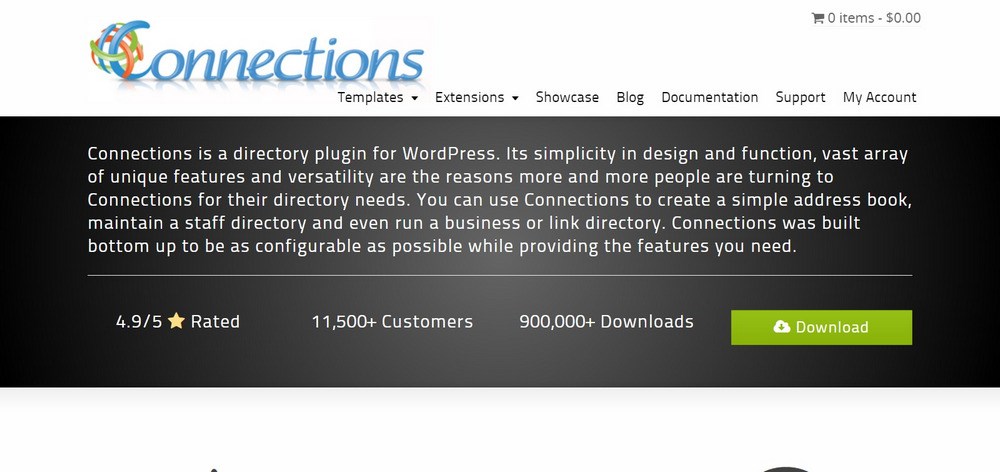 The Connections Business Directory plugin can be used for any type of listings but is particularly suited for creating a contact book. Several of its unique features are tailored towards a database of users such as employees.
For example, the plugin has a feature to support email messaging on birthdays, along with other features such as internal messaging, and a field for biographical data.
The plugin has a basic free version with the option to extend the functionality of the plugin by integrating any of its paid extensions. With Connections you will also have a range of listing templates to choose from.
Pros
Compatibility with Gutenberg
Highly accessible customer support
Customizable APIs
Unique custom fields
Cons
Limited support
Limited compatibility of template customizer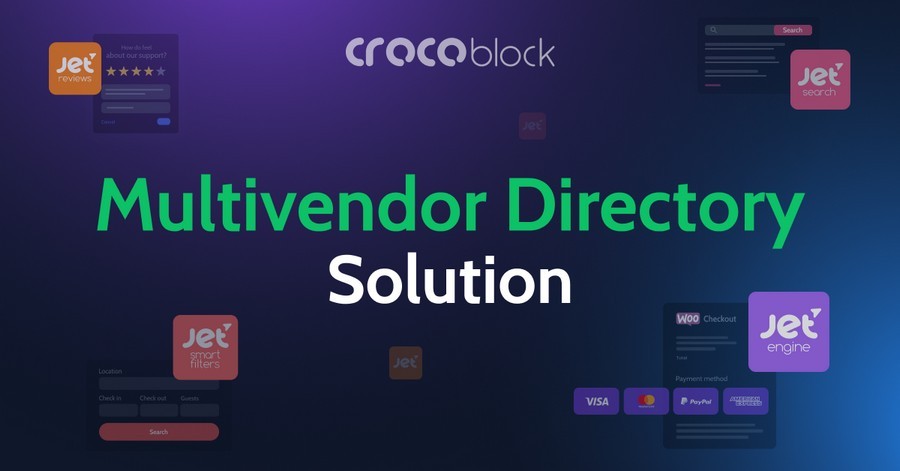 Crocoblock's Multivendor Directory Solution consists of four plugins, JetEngine, JetSearch, JetSmartFilters and JetReviews. They offer an all-in-one tool for creating a fully operational directory website.
One of the primary strengths of the plugin is that it allows you to create different post types and organize them using categories and tags. These two features help you create a defined website structure to manage content accurately.
The Multivendor Directory Solution plugin supports custom post types and taxonomies, popular payment gateways like PayPal and other payment solutions, WooCommerce, custom search queries, reviews, ratings and comments.
Total price for Multivendor Directory Solution is $91 per year for one website with the option to use on unlimited websites for $186.
Pros
Feature-rich solution enough for creating directory websites
All plugins are 100% compatible
Reasonable price
Customer support 24/7
Cons
No free version
It might be complicated for those new to WordPress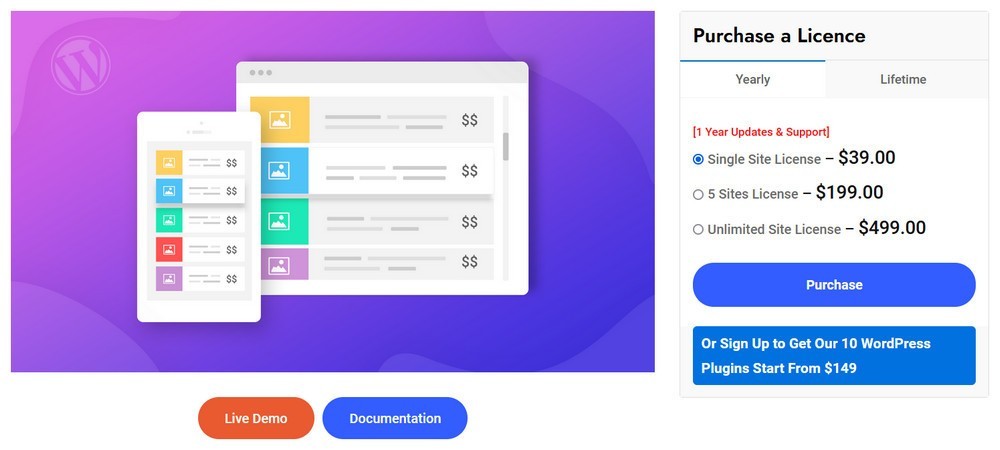 Classified Listing Pro is an excellent plugin for classified listing websites. It has many user-friendly features, including a live chat function for buyer-seller interaction.
The plugin allows you to embed videos from YouTube and Vimeo, supports Google Location, using Place API and has a radius search function to help users.
Instead of deleting sold listings from your directory, you can choose to simply mark them as sold for SEO purposes. Other outstanding features include quick view and compare ad functions.
Classified Listing Pro supports the display of social profiles and business hours for directories too.
The free version has many backend admin settings and a great frontend posting management system. This version lets you create unlimited custom fields and set them when and where required. It also supports up to 3 location levels and has several payment options.
Pros
WooCommerce payment gateway integration
Highly customizable
Ajax-enabled
Reliable premium support
Multiple income earning avenues
Cons
No social share functions in the free version
The free version has no WPML support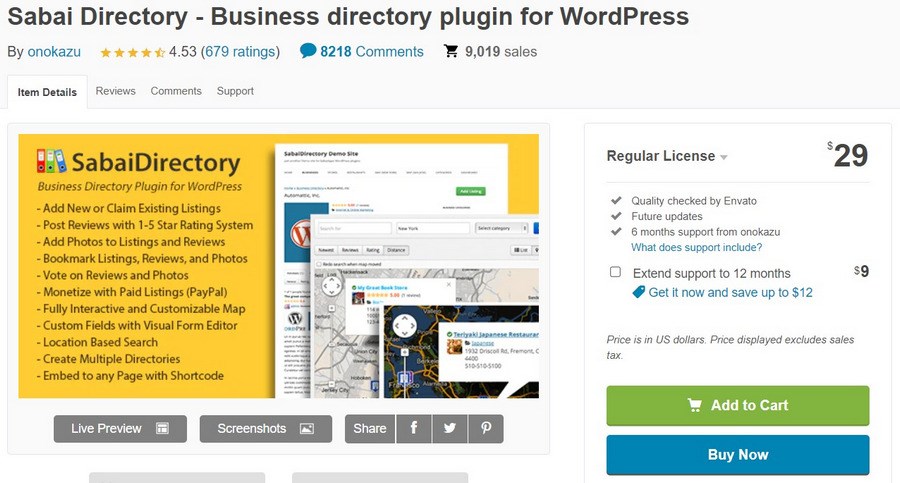 Sabai Directory is another unique directory plugin. While it can be used for pretty much any type of directory website, it has a range of features that particularly support community-driven listings.
For example, it allows users to vote on the quality of reviews, upvote photos, and make ratings along with detailed reviews.
Other interesting features of Sabai include its advanced search features that include auto-suggest functionality. It also allows users to search and find listings by category, location and proximity.
Sabai does not have a free version and is available for a one-time payment of $29.
Pros
Support for image uploads
Excellent social proof features
A range of Google Maps styles
Compatible with PayPal and Stripe
Cons
Limited customization and design features
Less accessible customer care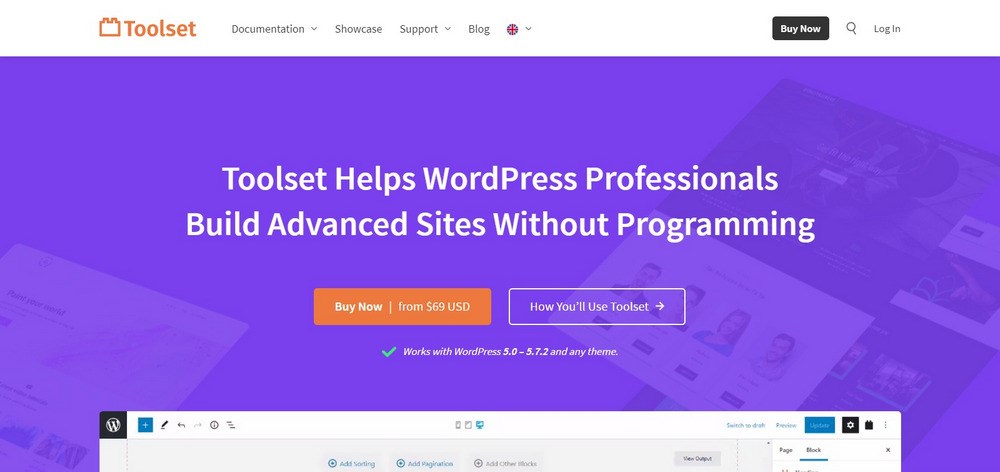 One thing that sets Toolset apart right from the start, is its emphasis on providing training. This means that no matter your skill level, you will likely be able to use Toolset effectively.
Toolset combines seamlessly with the Astra theme which makes it one plugin we're happy to recommend!
The plugin itself is feature-rich, and suitable for building most types of directories. Some notable features of Toolset include its custom post types, integration with blocks, integration with Google Maps, custom user roles, front-end form submission, and WooCommerce views.
Pros
Unlimited customization
Full support
WPML compatibility
Free trial is available
Cons
Steep learning curve compared to other plugins on this list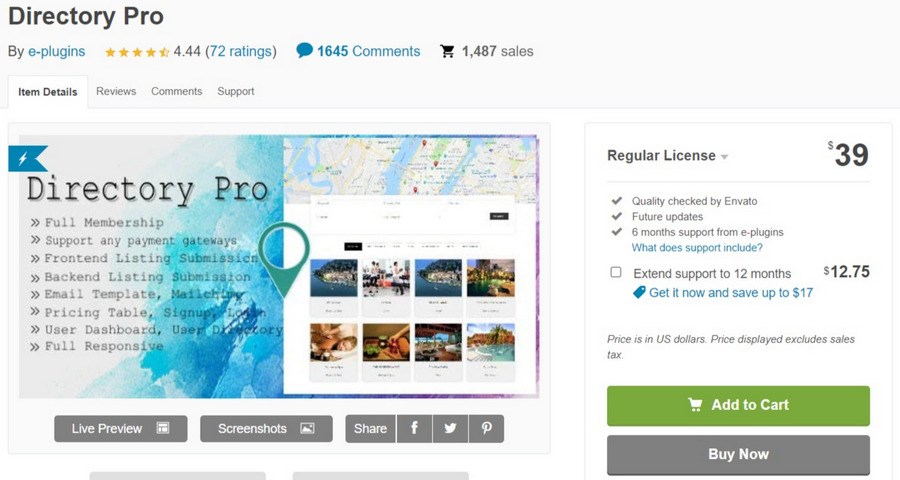 Directory Pro is a feature-rich plugin priced at $39. It does not have a free version, however, $39 is good value for money.
In addition to basic features such as PayPal and Stripe integration, rating and review functionality, contact forms and more, the plugin also offers a frontend dashboard, Ajax filter faceted search, Ajax, load more option, WPML compatibility, and other useful features.
Pros
Affordable pricing
Ease-of-use for frontend users
Highly responsive and mobile friendly
Multiple payment gateway options
13 language files built in
Integration with visual composer
Cons
No free version
Not very beginner friendly for website owners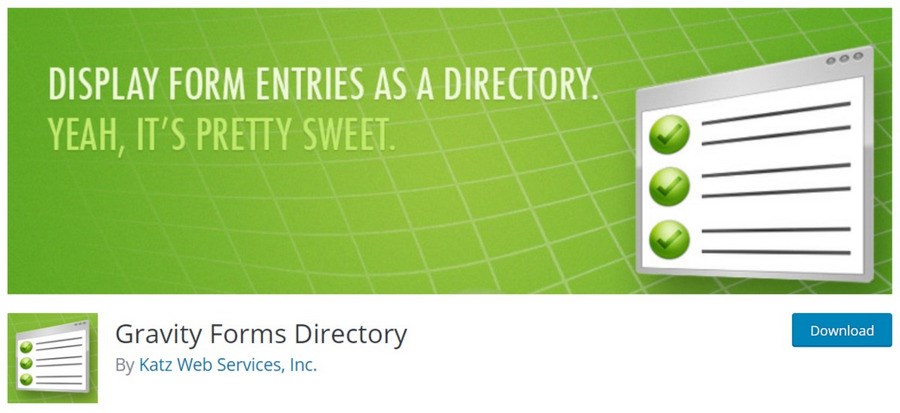 Gravity Forms Directory is another feature-rich WordPress Directory plugin to consider. The plugin is entirely free, and is made by the makers of the Gravity Forms plugin.
Gravity Forms Directory is designed to extend the functionality of Gravity Forms so you will need to have both installed.
Some features to note include built-in search, and directory features pagination.
Pros
Strong search function
Bulk approve/disapprove
Lightbox for uploaded images
Shortcode based
Fully translatable
Cons
Cannot be used without Gravity Forms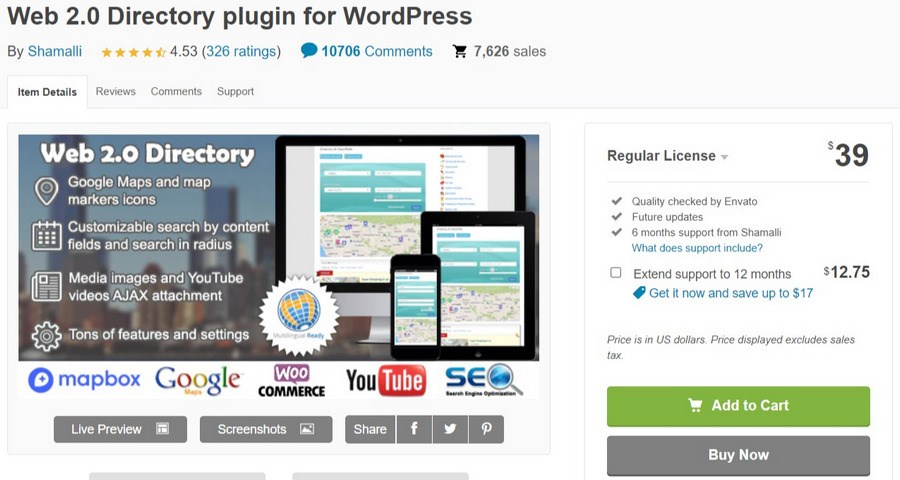 Web 2.0 is custom built to help convert any website into a directory or classified ads website. The plugin provides revenue generation options, support for user-generated listings, ability for users to claim listings from the frontend, as well as maps and maps markers functionality.
This range of features means that Web 2.0 Directory can be used to build any kind of directory or classified ads website. There is no free version, and the plugin is priced at $39.
Pros
Relatively affordable paid version
Videos can shared in listing interface
Easy-to-use
Rich revenue generation features
WooCommerce compatibility
Cons
Less accessible customer support
Issues with WPML compatibility
Final Thoughts
Website directories can perform all manner of listings covering every aspect of business, leisure, entertainment or whatever you want. Wherever information needs to be stored and ordered in logical ways, a directory can work.
We have shared a few ways to create your own WordPress directory using themes and plugins. There's sure to be something here that works for you.
As we said at the beginning, you should choose a plugin that meets your unique requirements. Whatever these are, there is a plugin or two on this list that will help you get the job done.
There are also a few other methods that you can consider in building your web directory. In making these choices, remember to always consider the needs of your end users!
Have you built a business directory plugin with a different tool from the ones described here? Perhaps you have used one of these and you loved them? Be sure to share your thoughts and tips with us in the comments!