Welcome to Chapter 7 of our ultimate guide to building a blog!
So far you have named, built, configured and designed WordPress blog. It's almost ready to rock, but there's one key element missing. Plugins.
Today we're going to cover the best WordPress plugins for blogs.
Plugins are modular applications that can integrate into WordPress. They can add new features, improve existing ones, speed up your pages, provide automatic backups, enable SEO tools and a whole lot more.
Much like apps on your phone, if you can think of a WordPress feature you want to add, there will be a plugin for that!
By the end of this article, you'll have an idea of some of the most useful plugins you can use. We'll even show you how to install them!
So without further ado, let's see just what WordPress plugins we recommend adding to your blog!
Why Use WordPress Blog Plugins on Your Blog?
WordPress is a very competent CMS (Content Management System). It can do a great many things but it cannot do everything. That's where plugins come in.
Plugins install into WordPress using a very simple process we'll walk you through in a minute. They can add new features, improve existing features and make your blog more capable and more powerful.
For example, if you want to protect your blog, you would use a firewall plugin. If you want to back up your blog, you would use a WordPress backup plugin. You get the idea.
These are features WordPress supports but is not capable of doing itself.
You can also improve key features of WordPress such as using a page builder plugin like Elementor. You can use it instead of the WordPress Live Customizer to build pages. Something WordPress is capable of but plugins can do better.
There are thousands of plugins out there for every conceivable use!
How to Install a WordPress Plugin
Installing a WordPress plugin is easy. We have covered it before in our ultimate guide to building a blog but we'll cover it again just in case.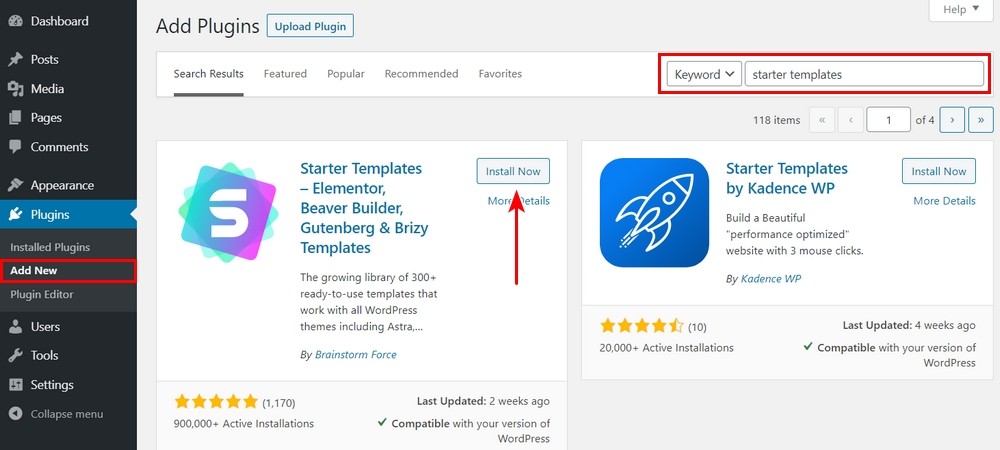 Log into your WordPress website
Select Plugins and Add New from the left menu of the WordPress dashboard
Type the name of the plugin in the top right of the screen
Select your plugin from the list that appears
Select Install and then Activate when the option becomes available
Depending on the plugin, it will either add its own menu entry on the left or add one inside Settings or Appearance. If you don't see the plugin immediately, look inside other menus.
You can also install WordPress plugins by uploading the plugin file. You will need to download the plugin to your computer first but the rest is similar to the above.
Select Plugins and Add New from the left menu of the WordPress dashboard
Select the Upload Plugin box at the top of the page
Select Browse from the centre pane and select the downloaded plugin file
Select Install Now and then Activate once the option becomes available
Best Free WordPress Plugins
The best price is always free! These are what we consider some of the best free WordPress plugins for blogs.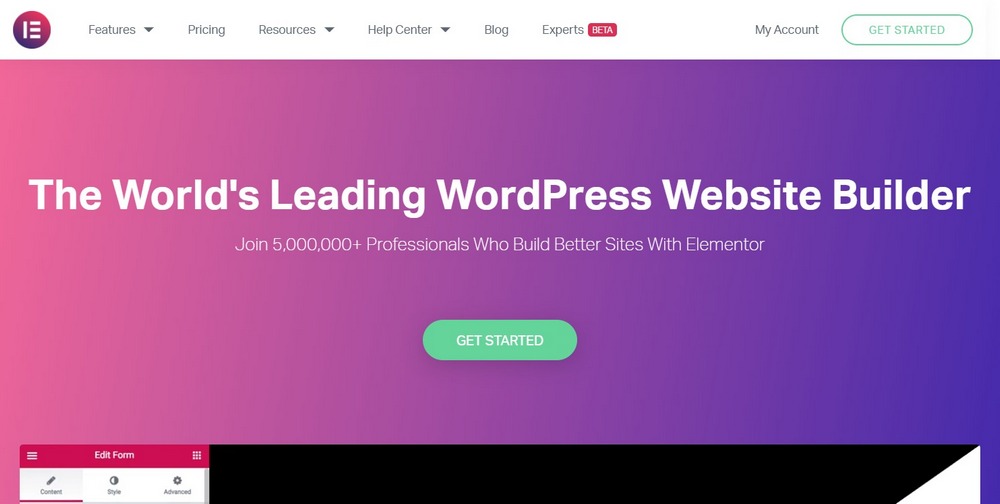 The Elementor Page Builder is a drag and drop page builder that enables anyone to create beautiful blog pages. It takes all the hard work and the coding out of building your own blog by using an attractive visual interface.
Elementor has a useful free version and a premium version that adds more features. Both offer a very straightforward way to customize your WordPress theme, add forms, create visual elements and generally improve the look of your blog theme.
Elementor is so good, we made sure all of the Astra themes are compatible with it.
Key Features of Elementor:
Intuitive drag and drop page builder
Enables anyone to create elements without touching code
Loads quickly and is compatible with many existing WordPress themes
Included with many WordPress themes including Astra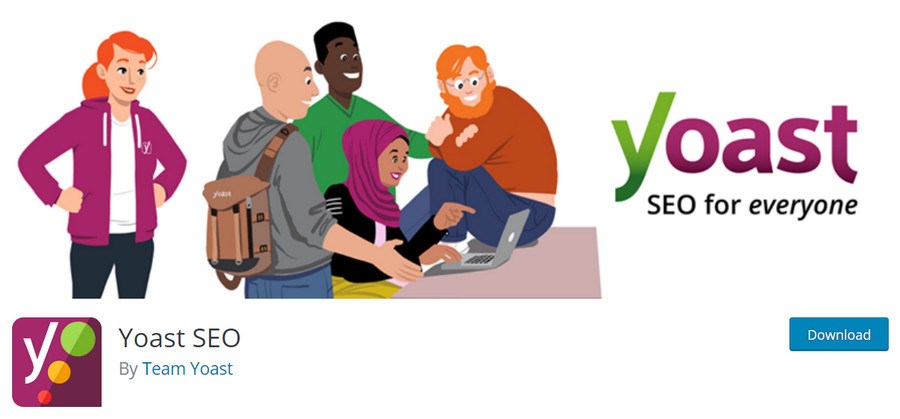 Yoast SEO is a class-leading SEO plugin ideal for blogs or small businesses. If you want to get your website off to a great start but don't want to pay for professional SEO services, this is what you use.
It's an SEO plugin that makes it easy to optimize many elements of WordPress for search engines. It helps you optimize content for keywords, optimize metadata, works with schema to ensure search engines understand your pages and performs many other SEO tasks.
Key Features of Yoast SEO:
Excellent option for WordPress blogs to get started with SEO
Makes sometimes complicated SEO requirements simple
Includes both free and a premium version
Very comprehensive suite of SEO tools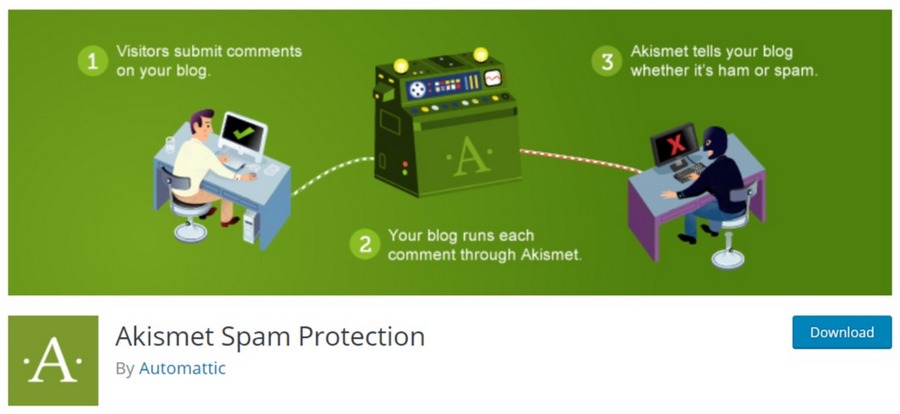 Akismet Spam Protection is so useful that it actually comes preinstalled with WordPress. It's a very useful anti-spam tool that uses a global database to help prevent spam comments, spam form submissions and other annoyances to help keep your blog as clean as possible.
Akismet Spam Protection analyzes all comments and compares them to known spam terms or contributors. If it finds something it doesn't like, it can automatically delete the comment or hold it for review. It won't capture everything as no single tool can do that, but it is very good at what it does. It's also free.
Key Features of Akismet Spam Protection:
Very effective tool for fighting spam comments and submissions
Free version is very good while premium is more powerful
Made by Automattic, the people behind WordPress so integration isn't an issue
Comes bundled with WordPress so you don't even need to install it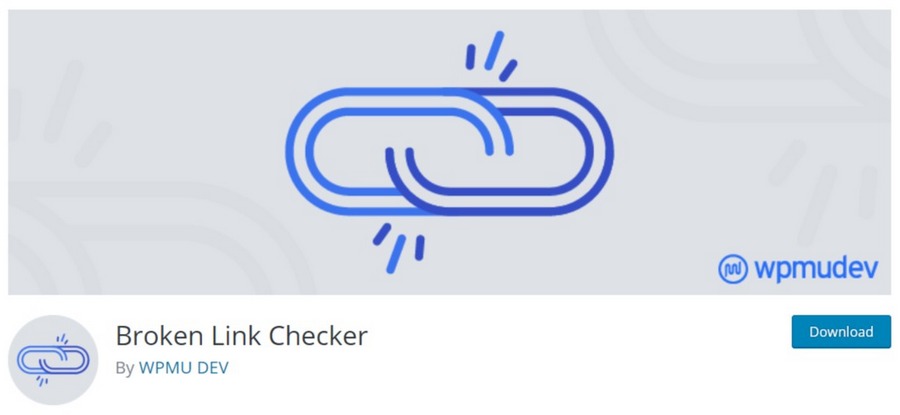 Broken Link Checker is an essential WordPress blog plugin and one we heartily recommend for every website. Broken links are the bane of SEO and can impact usability. This plugin helps avoid that.
It's a simple plugin that monitors internal and external links throughout your blog and alerts you to any broken links. It adds a widget on the WordPress dashboard to highlight anything it finds. You can fix them quickly from the same dashboard too, which is a nice touch.
Key Features of Broken Link Checker:
Automatically scans internal and external links
Adds a widget to the WordPress dashboard
Alerts you to any broken links and enables you to change them from the WordPress blog plugin dashboard
Free plugin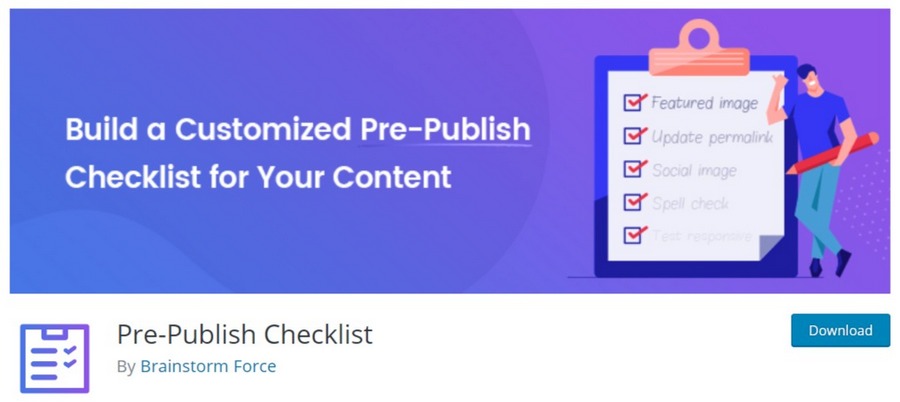 Have you ever published a post only to have to go back and make changes because you forgot to add an image or add metadata? Pre-publish Checklist is designed to prevent that happening. This is one of our own plugins and we are rightly proud of it.
It's a very useful tool for new bloggers that allows you to create a checklist of all the tasks you need to complete before you publish a post. You can configure your own checklists to include any custom post types or special tasks. It's an extra step in the publishing process but can be a real help for new bloggers!
Key Features of Pre-publish Checklist:
Configurable pre-publish checklists you can customize to suit your needs
Supports custom post types
Can support different checklists for different user types
Includes a progress bar to show how far through the checklist you are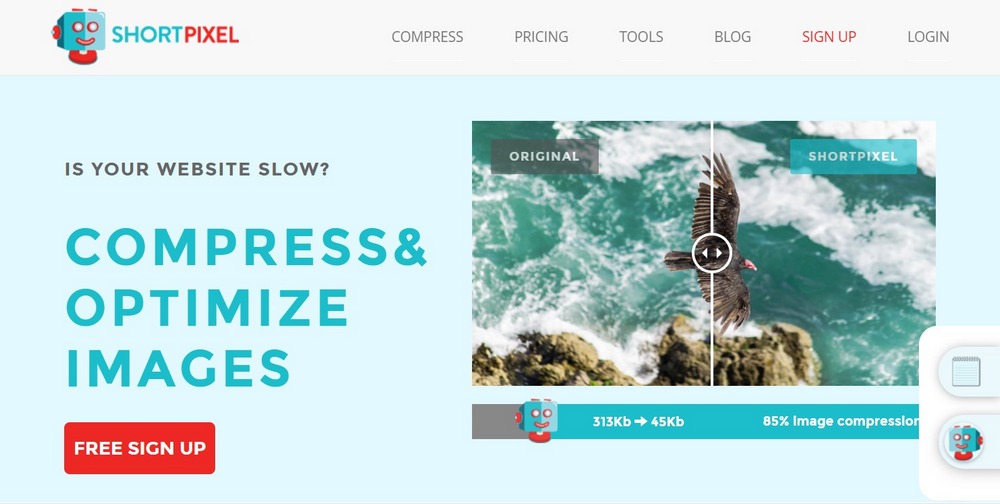 ShortPixel is an image optimization plugin that compresses images so they load faster. As page load speed is such a priority for all websites, plugins like this prove their worth immediately.
There are dozens of image optimization plugins but this is one of the better ones. It uses smart compression tools to shrink image sizes without impacting quality too much. It works quickly and can reduce image sizes by up to 90%!
Key Features of ShortPixel:
Supports most image types including JPG, PNG, GIF, PDF and WebP
Supports batch optimization
Can optimize library images as well as new ones
Optimizes on your site rather than uploading to the cloud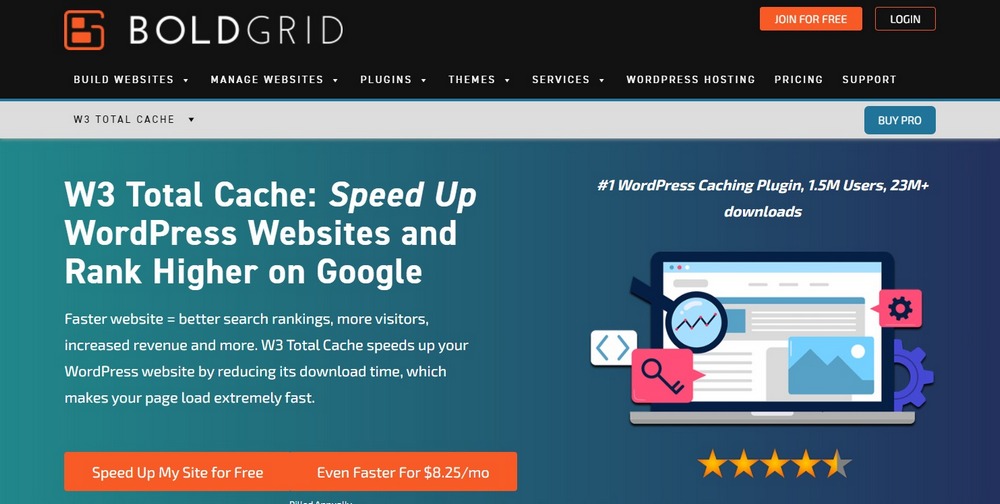 W3 Total Cache is probably one of the best ways to speed up your WordPress blog. It integrates into your website and optimizes all your files so they load faster for visitors.
W3 Total Cache can minify JavaScript and CSS so pages load quicker, cache pages so they load faster, address blocking JavaScript files, provide statistics on caching, cache mobile AMP files, use Content Delivery Networks (CDN) for even faster page loading and a whole lot more.
Key Features of W3 Total Cache:
Very simple to use
Automated configuration tool handles most tasks
Works with mobile AMP files and SSL
Free version is very good while premium adds more features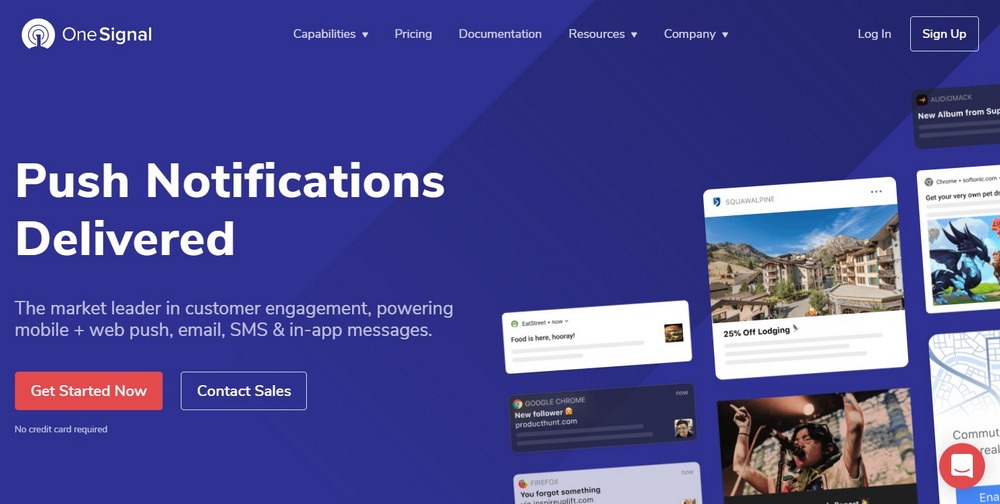 If you want to engage more with your blog visitors, Onesignal could be what you're looking for. It's a push notification plugin that enables you to reach out to visitors who accept push notifications. You can use them to alert visitors to new posts, special offers and send any meaningful alert.
Onesignal integrates seamlessly into WordPress and the free version enables you to interact with up to 30,000 visitors. It works with web browsers and mobiles, integrates with email outreach and even SMS. If you want to begin reaching out and use active engagement on your blog, this plugin will help.
Key Features of Onesignal:
Allows you to use push notifications from your blog
Compatible with web, mobile notifications, email and SMS
Includes A/B testing tools
Intelligent delivery for optimal timing of notifications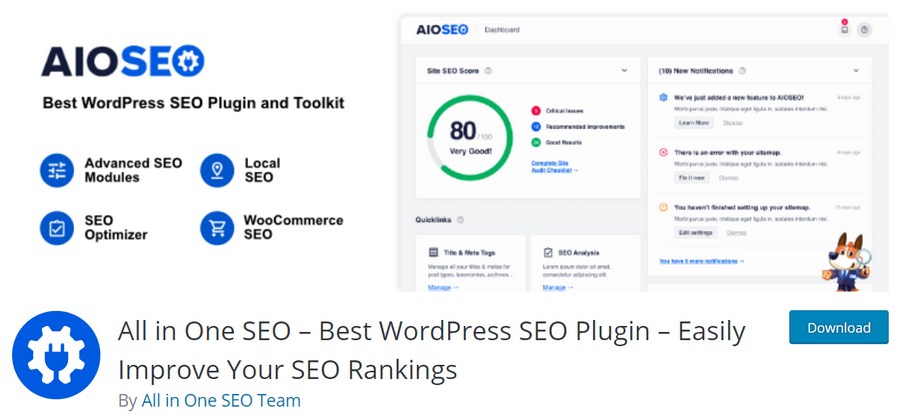 AIOSEO, All in One SEO does exactly what it says on the tin. It's a complete SEO plugin for WordPress that takes care of the majority of your SEO needs until you can afford an agency.
The plugin has a free and premium version that takes care of most of your SEO optimization needs. Features include a smart setup wizard, schema markup, TruSEO scoring, meta titles and description tools, XML sitemaps, local SEO tools, knowledge graph support and a whole lot more!
Key features of AIOSEO:
Setup wizard can take care of all basic needs
Local SEO and XML sitemap tools
TruSEO on-page scoring
Video SEO support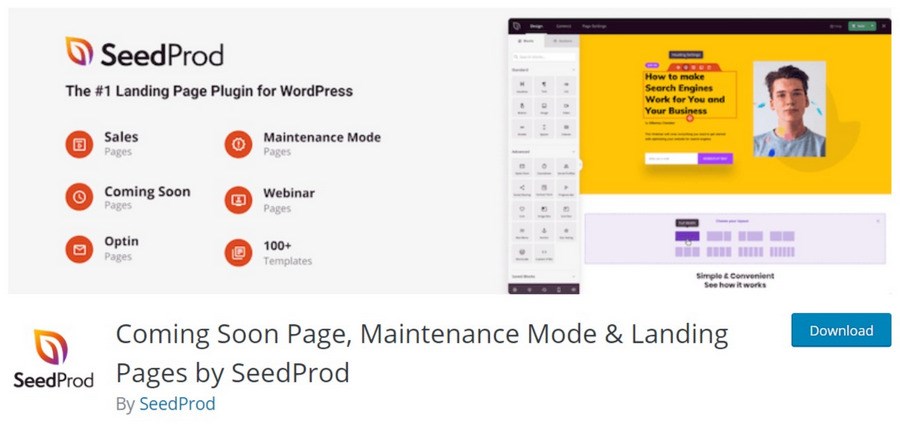 SeedProd is a landing page builder for WordPress that helps generate leads to help with your marketing efforts. While your favorite page builder can help make landing pages, having a dedicated tool for it makes life much easier.
SeedProd has a viable free version and multiple premium versions. All include a drag and drop landing page builder, multiple blocks to use within a landing page and the ability to create opt-in pages, squeeze pages, maintenance pages and a whole lot more, depending on which version you use.
Key features of SeedProd:
Drag and drop landing page builder
Premium version includes readymade templates
Option to create squeeze pages and other useful pages
Built-in spam protection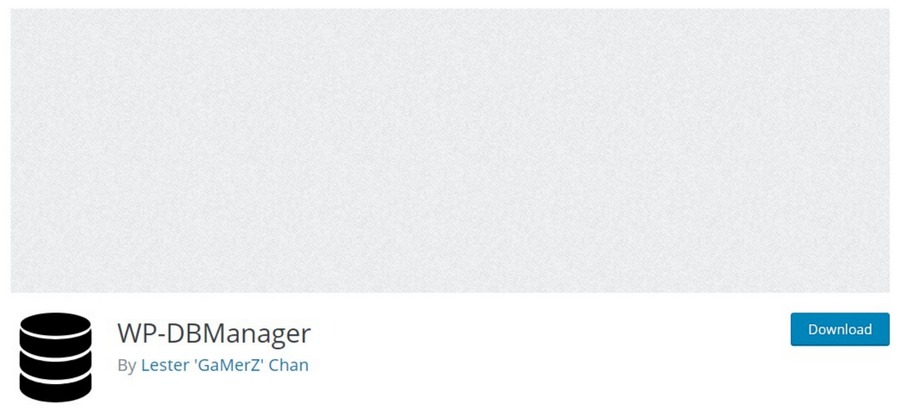 As WordPress is a database-driven content management system, effectively managing that database is key. WP-DBManager helps with that. Not many bloggers have the time or experience for manually optimizing their database or repairing it. This plugin takes care of all that.
WP-DBManager can help optimize the WordPress database, back it up, repair it when things go wrong or you lose tables, restore backups, delete backups and manage database tables. While most bloggers will never need some of these tools, database backup and restore tools are vital!
Key Features of WP-DBManager:
Optimizes the WordPress database
Includes database backup and restore tools
Can repair database and tables
Can schedule database work for quiet hours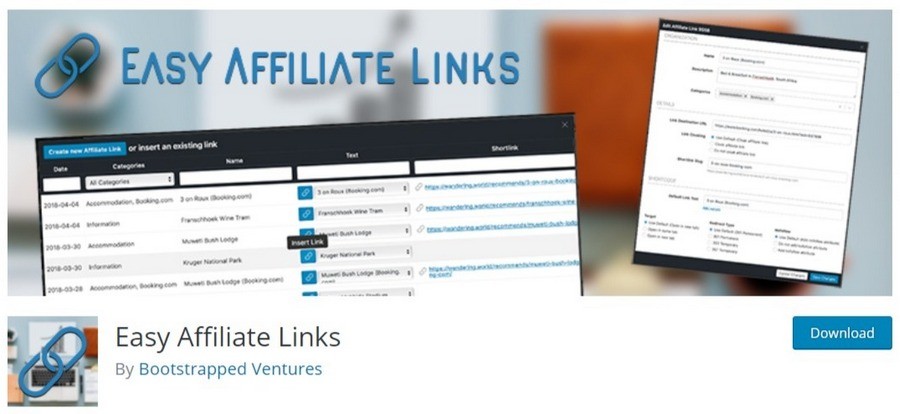 Easy Affiliate Links is one of the best WordPress plugins for blogs that want to make some affiliate income. It's a powerful link manager that makes it easy to add, remove and change links within pages and posts.
The plugin has an intuitive dashboard that lists all affiliate links on your blog. You can then add, change or remove as required, use shortlinks to hide affiliates, automatically add affiliate disclaimers and import links in bulk to your blog.
Key Features of Easy Affiliate Links:
Powerful link management dashboard
Enables bulk adding of affiliate links
Makes it easy to manage links across your blog
Includes affiliate disclaimer options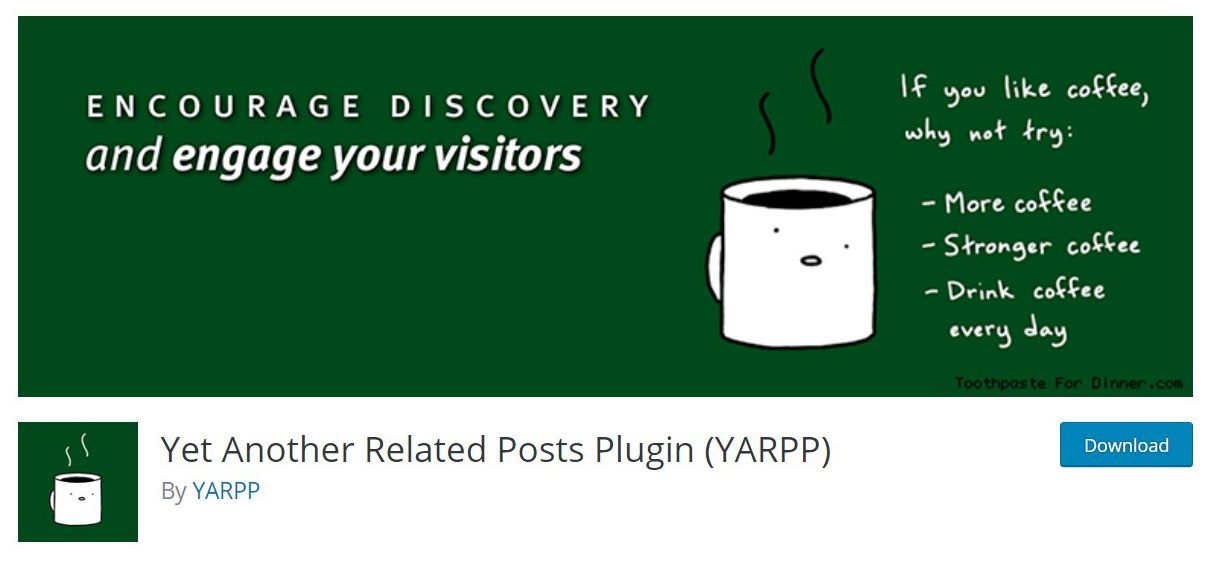 Yet Another Related Post Plugin is one of the best WordPress plugins for keeping people engaged. It enables you to display a related post element on posts and pages showing more of your content. This can be a huge help extending time on page and increasing engagement on your blog.
The Yet Another Related Post Plugin is easy to use and configure. You can customize post selecting by title, category, content or custom fields and show them anywhere on a page. It's very simple to use, can be implemented using shortcodes and can significantly increase page views. All for free!
Key Features of Yet Another Related Post Plugin:
Can help promote other blog posts and pages
Increases time on page and page views
Can be configured to suggest using title, category and other criteria
Very easy to use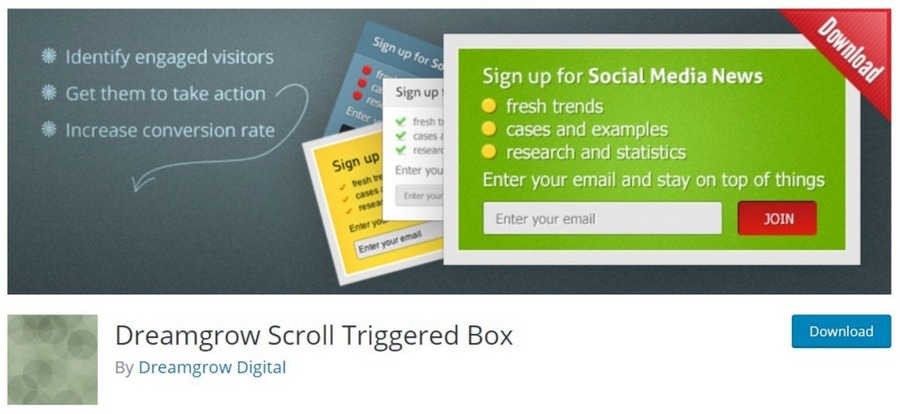 Scroll Triggered Box is another useful WordPress plugin for increasing engagement. It enables you to add popups to your posts and pages to increase engagement, sign up, follow or something else entirely. If you want to use popups, this is a very useful plugin to try.
Scroll Triggered Box allows you to build custom popups that can contain anything you like. They can be used for newsletter signups, social media follows, Facebook likes, reminders of new content or anything you like. Creation is simple and uses a visual editor for maximum accessibility.
Key Features of Scroll Triggered Box:
Configure popups for any use
Uses a visual editor to help create popups
Supports WPML
Decent premade popup templates you can use right away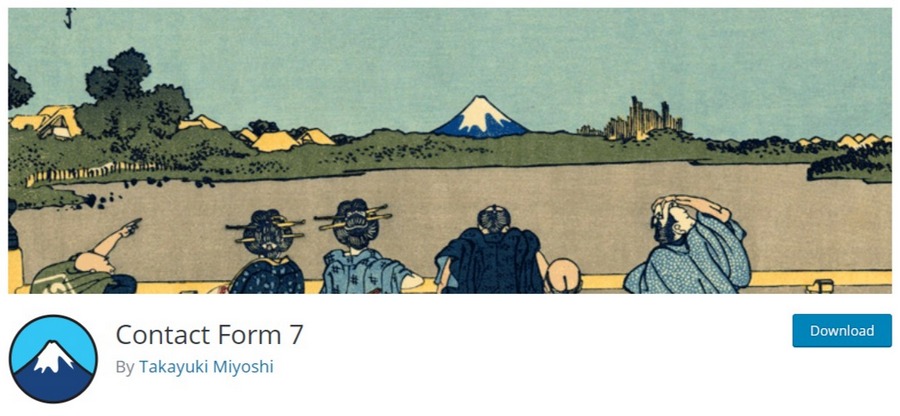 Contact Form 7 is a very useful blog plugin for WordPress if you want to use forms. It's an alternative to WPForms and is known for being very easy to use. It has a library of default forms that would be enough for many blogs and an intelligent form builder for everything else.
Contact Form 7 is simple to set up and includes a drag and drop form builder so you can customize existing forms or create your own. Forms are light, responsive, can integrate with ReCaptcha and work with most WordPress themes. They can also be implemented with a simple shortcode so you can place them anywhere on your blog.
Key Features of Contact Form 7:
Simple installation and setup
Drag and drop form builder
Useful library of predefined forms ready to go
Works with ReCaptcha to prevent form spam
Best Premium WordPress Plugins
Sometimes it's worth making an investment in your website. The following are what we consider the best premium WordPress plugins for blogs.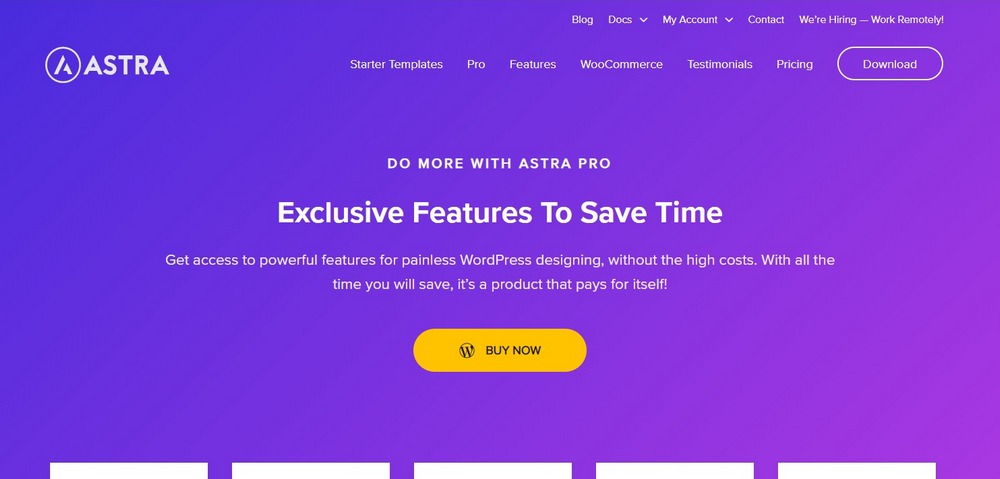 Astra Pro is our own WordPress plugin that supercharges the already awesome free version of Astra. The Pro plugin includes even more layout options, over 800 typography options, new colours and backgrounds, new blog layouts, header designs, footers and a whole lot more.
Astra Pro is ideal for any blog that uses Astra. It takes all the power of the free theme and turns them up to 11. It adds a ton of new design features as well as new integration options for LMS (Learning Management Systems) and WooCommerce. If you ever wanted to sell courses or merch from your blog, Astra Pro makes it easy!
Key Features of Astra Pro:
Adds a multitude of design and layout options to Astra themes
Includes integration for LMS and WooCommerce
Widens your colour and typography options
Adds new features such as sticky headers, advanced footers and more
Astra Pro Price
Astra Pro costs from $41 up to $199 per year.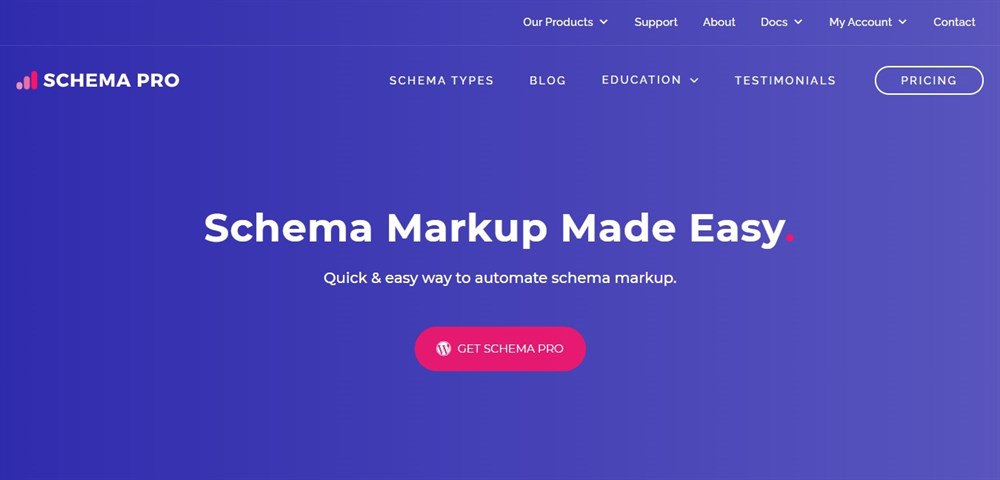 If you want to use schema to promote your blog in the search engines using structured data, you need Schema Pro. Schema is the term used to describe all those extras that now appear on Google search pages, also called rich snippets. Including those in your blog can increase engagement and increase the chances of your blog being featured on the front page of Google.
Schema Pro supports custom fields, JSON-LD and includes everything you need to make best use of structured data. While that might all sound a little complicated, the plugin automates many key tasks so you don't have to worry about them!
Key Features of Schema Pro:
Schema Pro Price
Schema Pro costs from $79 to $199 per year.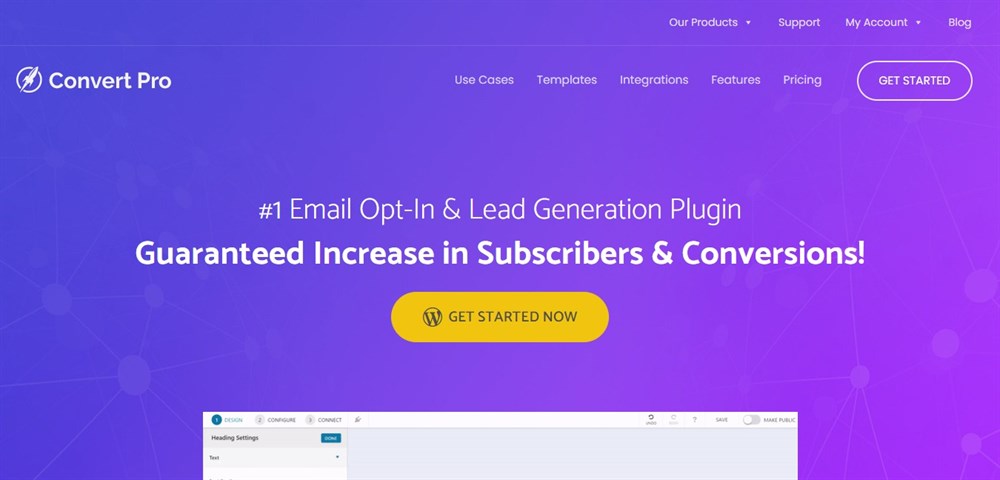 Convert Pro is one of the best WordPress plugins for blogs that want to increase subscribers and conversions. It's an intelligent engagement plugin that helps you build opt-in lists so you can engage more and grow your blog.
Convert Pro uses a well-designed drag and drop form builder to help create those opt-in forms and deploy them on your blog. There are premade designs you can use or you can create your own forms from scratch. Once done, you can specify when, where and how the form appears to users for maximum effect.
Key Features of Convert Pro:
Simple drag and drop form builder
Compatible with advanced form triggers including timers and exit triggers
A/B testing tool so you can get the best out of the plugin
Real time reporting on performance
Convert Pro Price
Convert Pro costs $99 or $249.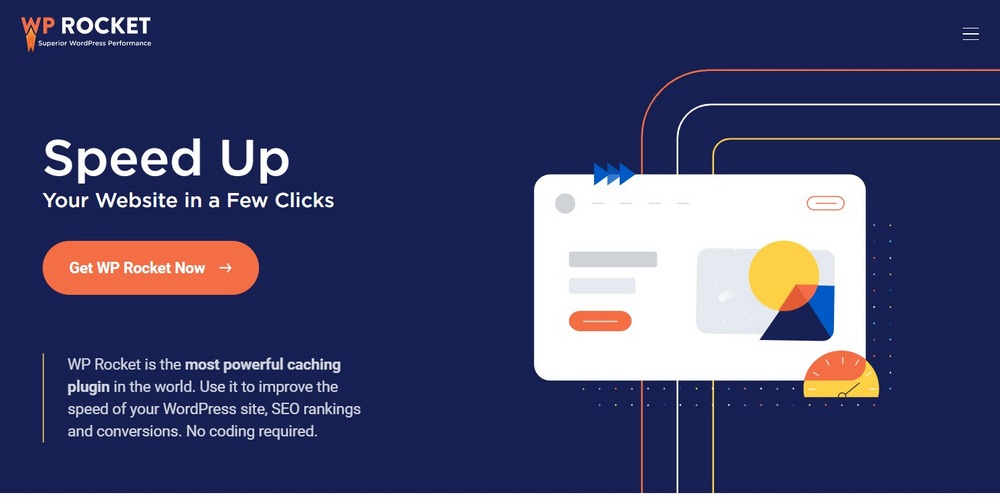 WP Rocket is a premium WordPress caching plugin. It works in a similar way to W3 Total Cache, by optimizing as much of your blog as possible so it loads as quickly as possible for users. As visitors and search engines both value page speed, every blog should use at least one caching plugin.
WP Rocket is a high performance caching plugin that automatically optimizes a large part of your blog. You can then configure optional elements as required. It uses page caching, Gzip compression, page preloading and browser caching to speed up your blog so it delivers the performance visitors are looking for. All without you having to do a thing!
Key Features of WP Rocket:
Automatically configures the majority of WordPress optimizations
Option to add extra optimizations as required
Uses multiple caching techniques to maximize page load speed
Compatible with most WordPress themes and plugins
WP Rocket Price
WP Rocket costs from $49 to $249 per year.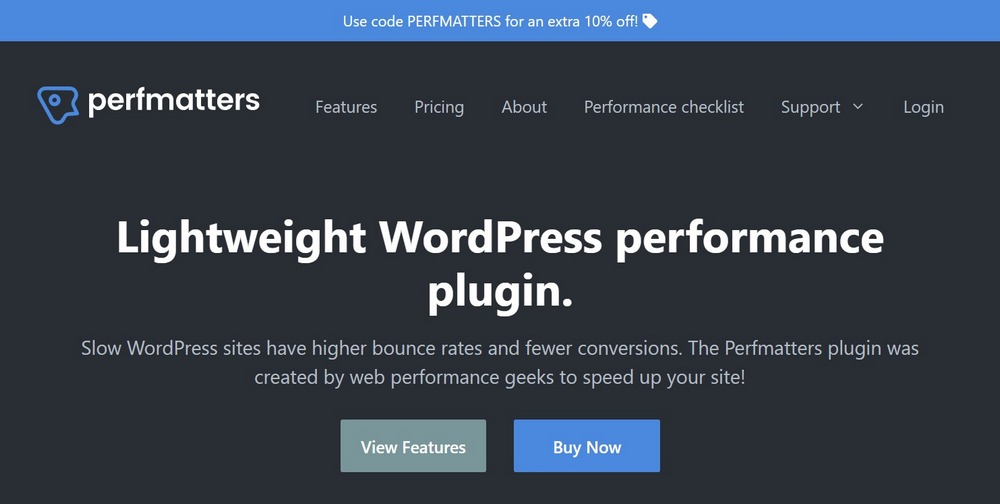 Perfmatters is concerned with a different kind of blog performance. This WordPress blog plugin makes other optimizations to help speed up your blog. They include disabling emojis, removing query strings, limiting post and page revision storage, disabling comments and a whole lot more.
This is the area or marginal gains. Some of these optimizations can speed up your website and some you will hardly notice. All can benefit WordPress and the overall health and speed of your blog.
Key Features of Perfmatters:
Long list of optional performance tweaks you can make
Controlled by a single one page dashboard with on/off toggles
Covers areas caching plugins don't
Includes a script manage to control any page or post scripts you might use
Perfmatters Price
Perfmatters costs from $24.95 to $54.95 per year.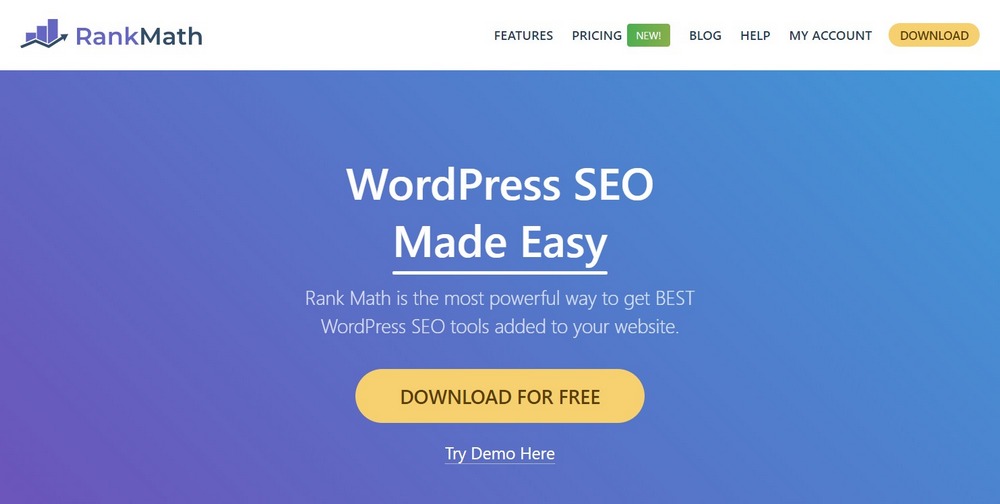 RankMath is a comprehensive SEO plugin for WordPress. It works differently than Yoast SEO but has many of the same tools. It's a one-stop shop for all your basic SEO needs until you graduate to using an SEO agency.
RankMath includes a range of modules to help optimize posts and pages, measure and track performance, analyze keywords, run an SEO analysis on existing posts and pages, integrate with Google Analytics and generate schemas ready for use in Google. It's a very powerful plugin that handles just about every SEO requirement you're likely to need.
Key Features of RankMath:
Integrates with Google Analytics
Includes a schema generator for more Google integration
Supports WooCommerce SEO
Includes very useful keyword tracker
RankMath Price
RankMath costs $59 or $199 per year.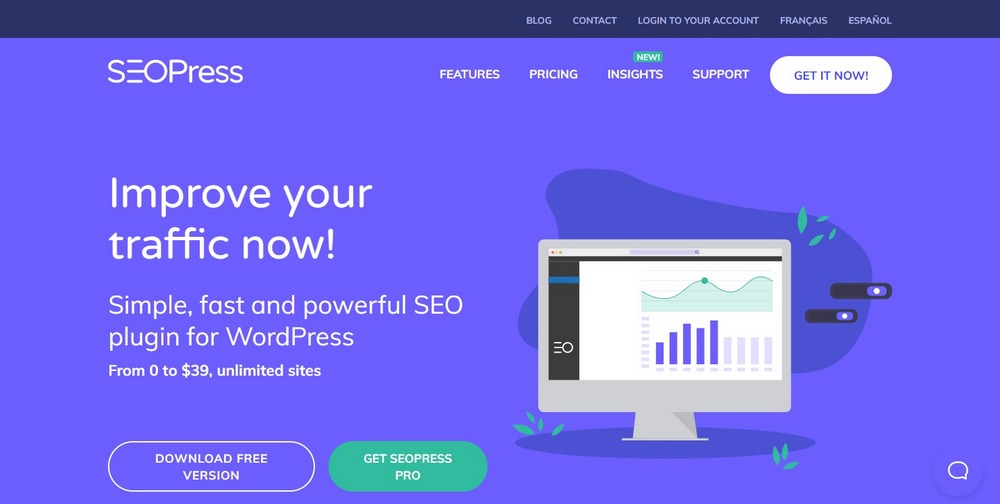 SEOPress Pro is an alternative to Yoast SEO and RankMath. It's a powerful SEO plugin that takes care of many of the core SEO requirements of a blog, including metadata, sitemaps, social media, Google Knowledge Graph entries, Google Ads, WooCommerce SEO and a lot of other common options.
SEOPress Pro installs easily and automates many key tasks. It can integrate with WooCommerce, Google Analytics and common plugins. It can also take care of 404 monitoring, structured data, redirects and more advanced SEO tasks should you need it to.
Key Features of SEOPress Pro:
Automatically manages many core SEO tasks
Integrates with Google and third party SEO services
Handles schema markup
Well designed user dashboard for new users
SEOPress Pro Price
SEOPress Pro costs $39 per year and has a free version with limited features.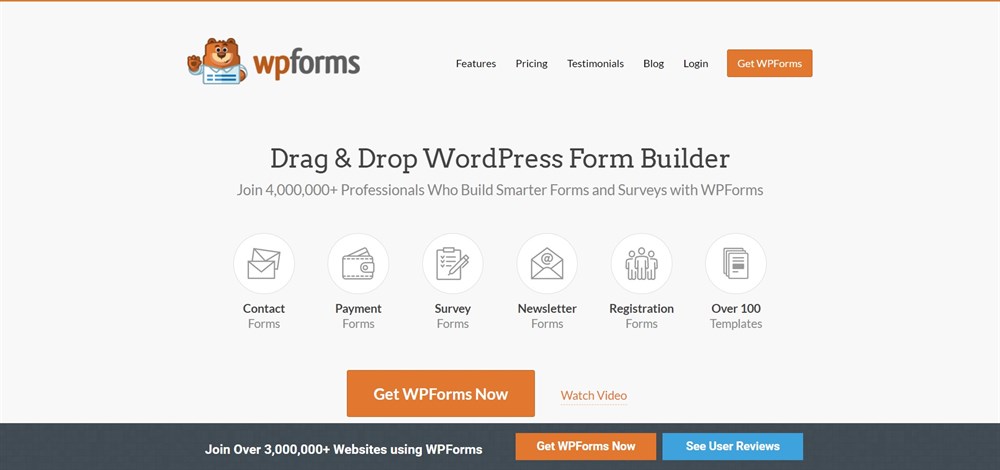 WPForms is one of the best WordPress plugins for blogs that want to use forms. It's a very straightforward plugin that has a drag and drop form builder as well as a library of predefined forms for most uses.
WPForms is very easy to use and is fully responsive, includes an instant notification tool to alert you to completed forms, supports conditional logic for more intelligent forms, and an effective anti-spam tool to help prevent the worst of the form spam you're likely to come across.
Key Features of WPForms:
Intuitive drag and drop form builder
Library of premade form templates
Supports conditional logic for responsive forms
Built-in spam protection
WPForms Price
WPForms costs from $39 up to $299 per year.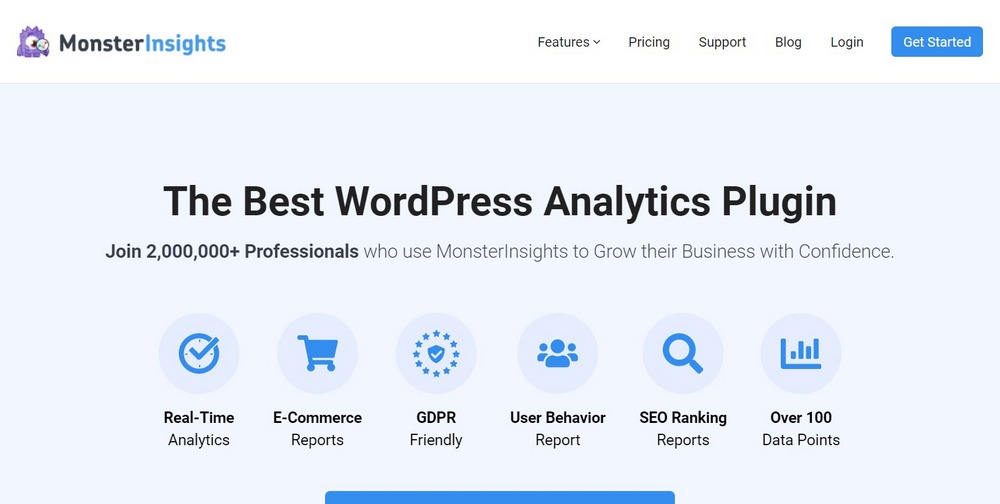 MonsterInsights is a Google Analytics plugin for WordPress. If you want a deep dive into how your blog performs on Google, this is the plugin to use. It's powerful, intuitive and can deliver more metrics than you could ever need. All wrapped up in a very accessible package.
There is no doubt that MonsterInsights will take some learning. But it will reward that effort with genuine insight into how your blog performs on Google. It will help you identify areas of improvement, provide real time stats on users and a whole lot more.
Key Features of MonsterInsights:
Very detailed metrics but very accessible
Simple setup wizard with no coding required
Real time stats on visitors and blog performance
Can report on almost every element of SEO and search engine performance
MonsterInsights Price
MonsterInsights costs from $99 to $399 per year.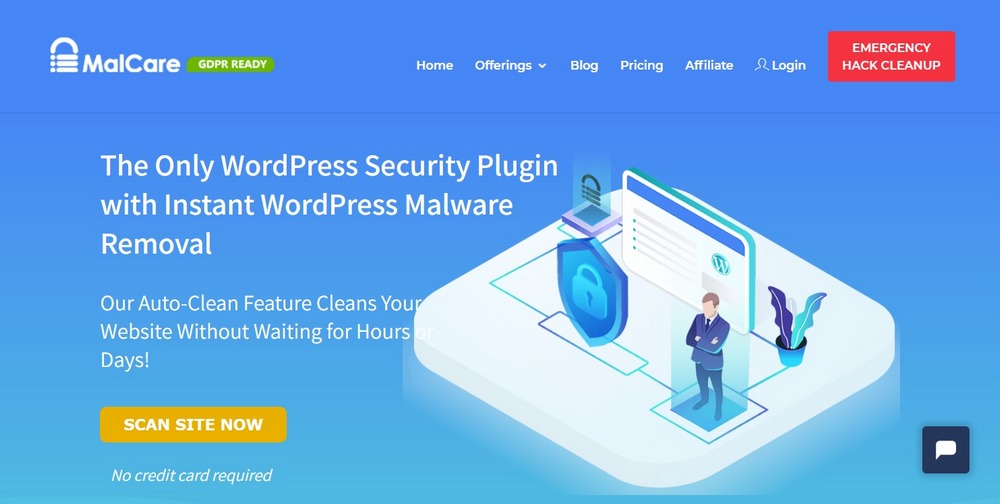 Malcare is one of the best WordPress plugins for blogs that want security. It's one of the few WordPress security plugins with a built-in malware removal tool and for that it gets our vote. That's not all it can do though.
Malcare includes a security and malware scanner, tools for removing malware, a firewall to help prevent attacks in the first place and tools to protect logins and protect your WordPress blog from attack.
Key Features of Malcare:
Effective, real time malware detection and removal
Includes a firewall
Login protections and WordPress hardening tools
Full reporting on attacks and activity
Malcare Price
Malcare costs from $99 up to $599 per year.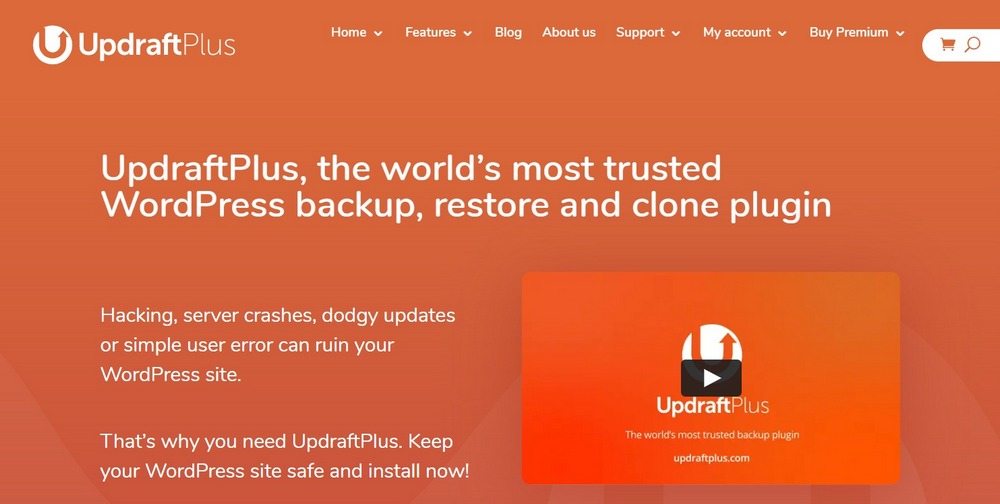 UpdraftPlus is a WordPress blog plugin that ensures you never lose all your hard work. It's a backup plugin that takes regular backups of all WordPress files, not just the database and stores them anywhere or even emails them to you.
UpdraftPlus is powerful, yet easy to use. It has a very straightforward setup wizard that enables you to set more core features right away. You can select to schedule backups or perform them on demand. You can store those backups locally, elsewhere in the cloud or have them emailed to you.
Most importantly, UpdraftPlus also has a simple restore tool so you can recover your website quickly!
Key Features of UpdraftPlus:
Powerful WordPress backup solution
Scheduled or manual backups
Can store backups in multiple locations
Simple restore process should the worst happen
UpdraftPlus Price
UpdraftPlus costs from $54 per year up to $306 per year. There is also a limited free version.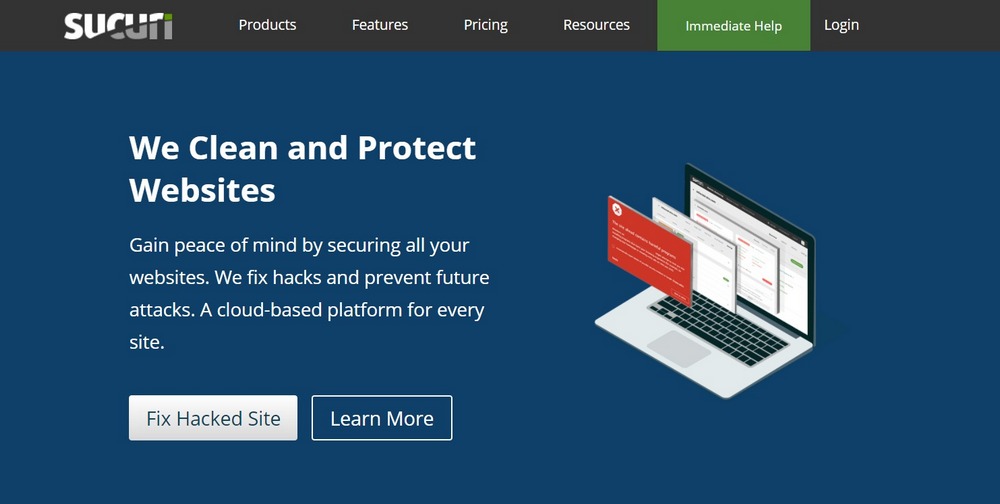 Sucuri is a WordPress security plugin and an alternative to Malcare. Sucuri will monitor your blog for malware and infection and help against zero-day exploits. It includes a firewall, intrusion monitoring tools, IP whitelists and blacklists and even speed optimization tools for good measure.
Sucuri does a lot. It monitors and protects from malware, has recovery tools should you get infected and helps speed up your website using caching and CDN technology. Despite the wide range of tools available, it's actually very easy to use!
Key Features of Sucuri:
Effective malware detection and removal tools
Reputation and blacklist monitoring
Protects against Denial of Service attacks
Firewall to help prevent intrusion
Sucuri Price
Sucuri costs from $199.99 up to $499.99 per year.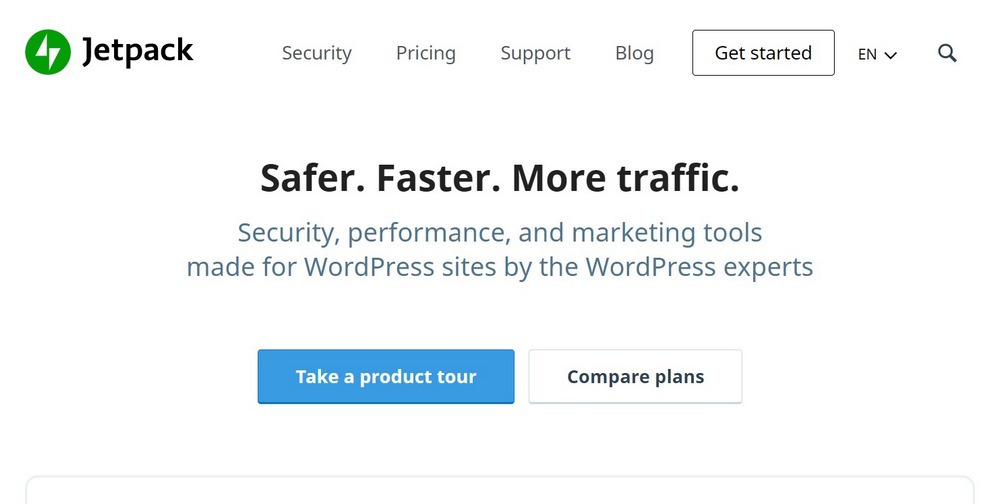 Jetpack is an incredibly powerful WordPress plugin. It integrates seamlessly and can provide everything from security and backups to page speed optimizations and forms. The list of features is long and there is a lot to get to grips with here.
Jetpack uses its own dashboard with simple on/off toggles to make it very easy to select what features you use and what you don't. As there is a lot of crossover between Jetpack and other plugins for bloggers, you will likely find you won't use all the tools at your disposal.
Key Features of Jetpack:
Very powerful WordPress plugin with lots of features
Offers security and optimizations
Backup option built-in
Very simple dashboard for full control
Jetpack Price
Jetpack costs from $6 per month up to $65 per month. There is also a free version.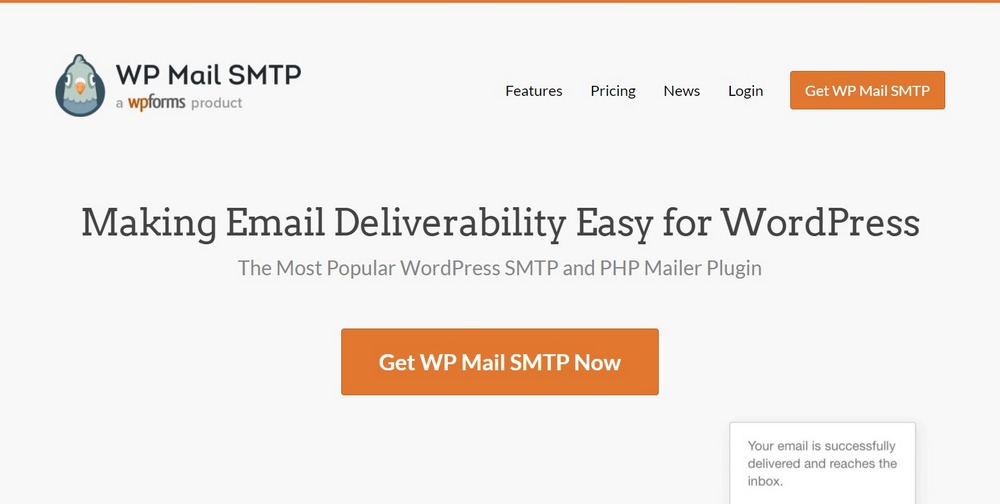 WP Mail SMTP is an emailer plugin that handles all your emailing needs from within your WordPress blog. It's a powerful plugin that can integrate with Gmail, Office365 and other apps, provides full logging of every email sent and authenticates all email so they stand the best chance of arriving at their destination.
If you use email for outreach and they don't always arrive, WP Mail SMTP can help. It works with other email tools to ensure your emails are always delivered. It's a useful plugin that helps overcome email blockers and some email client's habit of automatically blocking emails from WordPress.
Key Features of WP Mail SMTP:
Works with email outreach tools to avoid blacklisting and being assigned to junk
Can work with most email clients
Provides full logging of every email sent
Uses third-party authentication to increase chances of email delivery
WP Mail SMTP Price
WP Mail SMTP costs from $49 up to $399 per year.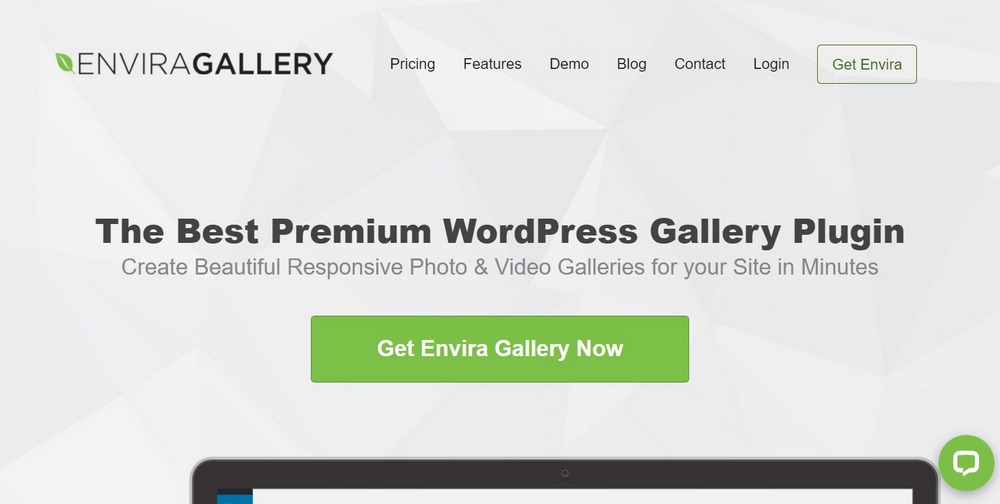 Envira Gallery is an excellent gallery plugin for WordPress. If you use a lot of images in your blog, this can help. It includes a drag and drop gallery builder, a library of predefined gallery templates, social media tools, eCommerce tools and watermarking so you can protect your work.
Envira Gallery is an excellent option if you use images on your blog. It enables easy sorting with albums and tags, includes social sharing buttons, right click protection to stop downloading and a wide range of gallery options you can use. It's one of the best WordPress plugins for blogs that use a lot of images!
Key Features of Envira Gallery:
Drag and drop gallery builder
Ready made gallery templates
Watermark and protection tools
Social media and eCommerce integration
Envira Gallery Price
Envira Gallery costs from $19 up to $269 per year.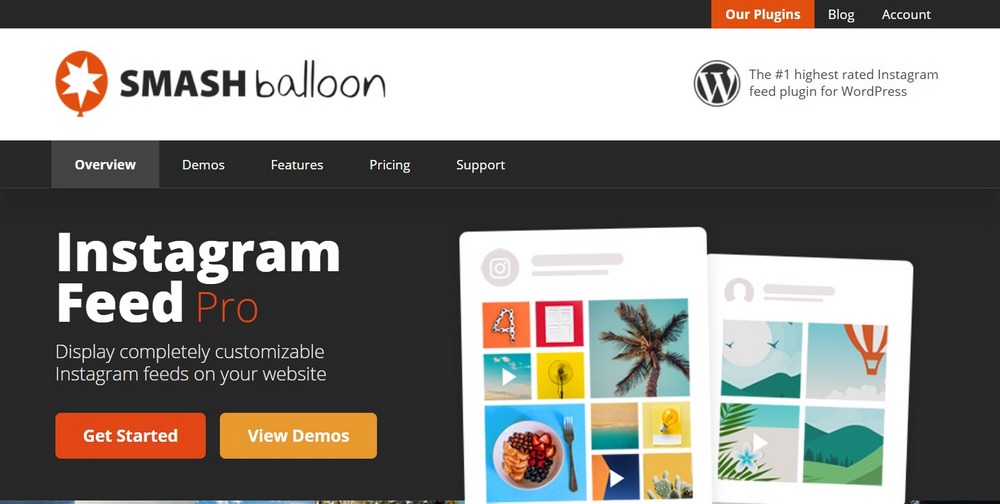 Smash Balloon Instagram Feed Pro is a plugin that's ideal if you use Instagram a lot for promotion. It links your blog to Instagram and enables you to place Instagram feeds anywhere you like. You can also add multiple feeds and control how they look and feel.
Social media integration is a key part of blog marketing and something every blog can benefit from. If you use Instagram as part of that, this plugin will automatically update your blog with feed updates and make everything look the part.
Key Features of Smash Balloon Instagram Feed Pro:
Place Instagram feeds anywhere on your blog
Automatically updates when your feed updates
Customization tools to adapt the look and feel
Designed to inherit your WordPress theme so no design required
Smash Balloon Instagram Feed Pro Price
Smash Balloon Instagram Feed Pro costs from $49 to $299 per year.
Will Plugins Slow Down Your WordPress Blog?
There is a lot of talk on the web about plugins slowing down websites and using fewer plugins is better.
There is some truth to that as the more code you ask your pages to load, the slower they will be.
But page speed is more about the quality of the WordPress plugins you use than the quantity.
You could run 80+ plugins in your WordPress blog if you chose only top quality ones and it would perform better than if you had 5 poor quality plugins.
There is no sure fire way to detect whether a plugin is one that will slow down your site or not aside from testing them.
However, the WordPress blog plugins we list here all perform well in our own testing.
How Many Plugins Should I Install on My Blog?
The short answer is to use as many plugins as you need to provide the user experience and functions you want.
Using the logic above, you can use as many as you want as long as you choose well. Select only well reviewed plugins with no reputation for slowing down your blog and you should be fine.
You can also monitor Page Speed Insights to assess whether particular plugins are slowing down your blog. Perform a speed check before you add the plugin, then perform another after you activate and set it up.
This should give you an idea of whether a plugin is slowing down your website or not.
Wrap Up
So there you have it, what we think are some of the best WordPress plugins for blogs. Some of them are free to use while others are premium. All of them add important features to websites that have real life benefits.
We recommend all of the blog plugins here but would strongly recommend a minimum of a security plugin, backup plugin and a caching plugin. Anything else you install is an added bonus!
What do you think are the best plugins for WordPress blogs? Do you use any of those mentioned here? Have any others to recommend? Tell us about it below if you do, and join us in chapter 8 to install the necessary tracking codes for your blog!