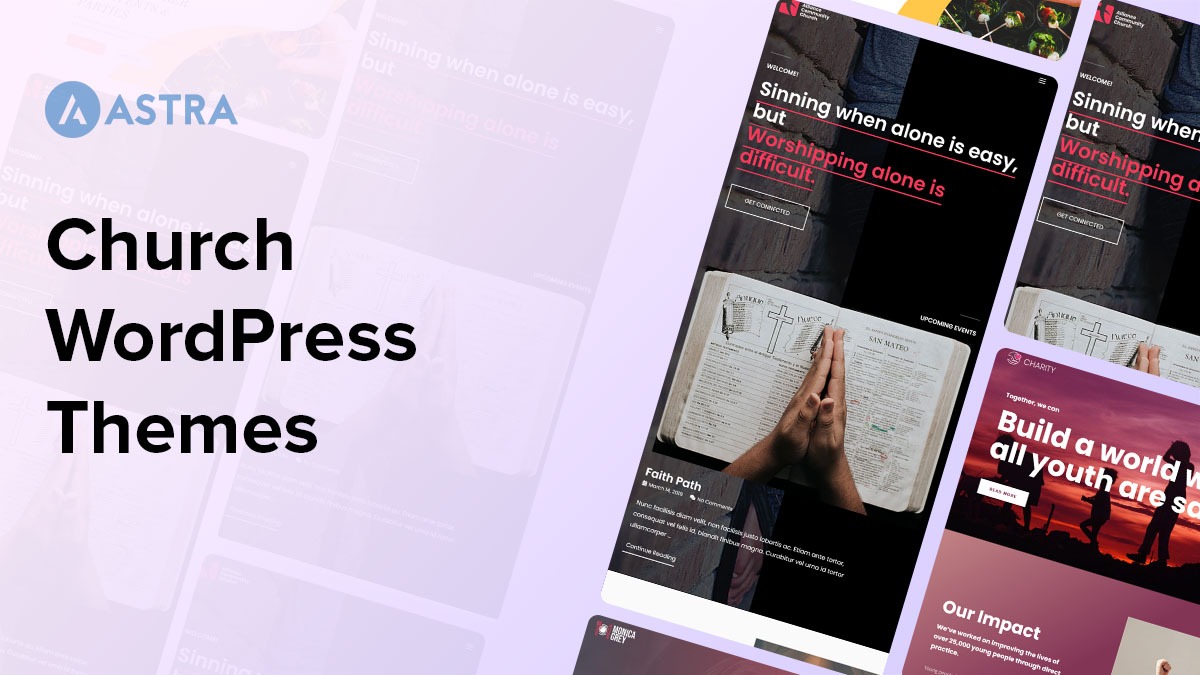 If you're looking to take your church online, this article can help. We list what we think are the best WordPress church themes in 2022.
We have scoured the internet for the most communicative WordPress themes with faith as the central characteristic. Some of the themes in this list are designed specifically for churches while others are suitable for churches, charities or general use.
Each represents approachable design, ease of use and beautiful aesthetics ready to make your church stand out.
Building a Church Website With WordPress
When it comes to building websites, it's important to choose a platform that suits the technical skills available at your disposal, the budget, and the business needs.
For most churches, the majority of your time and resources are likely to be better spent looking after the needs of your community. You probably don't want to take resources from good causes to build a website.
This is where WordPress comes in.
Here are the benefits of using WordPress to build your church website:
Powerful and easy to use – It's a free, powerful, yet beginner-friendly content management system that helps you design beautiful websites with ease. You have hundreds of thousands of themes dedicated for different purposes and includes a drag-and-drop builder to help design websites without any coding skills.
Easy to update the website – WordPress offers an intuitive backend that lets you update your website easily by simply editing text as you'd do in a Word document!
Run a church blog – Churches can easily launch their own blog with posts about their sermons, events,, and more. If your website needs to be updated regularly by multiple users, you can set up WordPress to allow you or your volunteers to post directly without having to gain access to the admin area.
Availability of plugins to add more features to the website – WordPress has many plugins that are designed specifically for churches. For example, WP Church Membership makes it easy for anyone at your church with an email address and internet browser to sign up online as members of your congregation.
WordPress can be extremely flexible. But before you get started, you need to get the perfect church theme for your website.
Let's jump right into the steps to find the best WordPress themes for churches.
It's Hard to Find a Modern WordPress Church Theme
You will likely have found that there aren't as many WordPress church themes as there are for other niches.
You have several options:
You can search further to find attractive WordPress church themes
You can customize a multipurpose theme to suit your church
You can hire a web developer to design a bespoke church website.
Or
You can select one of the 37 best WordPress church themes from this list. Each of the themes listed below represent the highest quality design for your niche. Each will be fully responsive so it will work on all screens, be approachable and be very user friendly.
Most premium themes will also likely include, or be compatible with, drag and drop WordPress page builders. Page builders such as Elementor, Brizy, Beaver Builder, Divi Builder, Gutenberg and others.
Each is designed to make it as simple as possible to create or customize a web page without having to touch a line of code.
What to Look In WordPress Church Themes
Beauty is in the eye of the beholder, so the aesthetic characteristics of a WordPress church theme will be a personal choice. However, there are some key features every church template should include.
They are:
Flexibility – Flexibility is at the heart of any website for any niche. For church websites, flexibility will benefit you because it will make it easy to add features, remove them or customize them to your specific needs.
Event management features – If you're looking to add events, showcase sermons, highlight guest speakers or performances, having an event management feature may help. You can add them using WordPress plugins but having one built-in is always easier.
SEO optimization – You want your church website to reach as many people as possible and SEO (Search Engine Optimization) will help. Inherent characteristics that help your website climb the search engine results naturally.
Responsive design – All websites have to be responsive. With over half the world accessing the web using mobile, being able to reach mobile users is essential. A responsive website ensures that can happen.
Integration with page builders – We mentioned page builders earlier. They make it so much easier to build pages or customize them that we recommend everyone but the most experienced developers use them.
Church-specific elements – The advantage of having a website for your church is about much more than spreading the word of god. It helps you list events, share sermon calendars, raise money for good causes and lots more besides.
The Best Free and Premium WordPress Church Themes
Here is the list of WordPress church themes that we think deliver on their promises. There is a mix of premium and free themes covering most design styles and tastes.
We hope you find something you'll want to use here. If you're in a rush, have a look at the below table to find the theme that best fits your budget.
| | | | |
| --- | --- | --- | --- |
| Theme Name | Active Installs? | Pricing | Our Rating |
| Astra | 1,653,898+ | Free / Starting from $49 | ⭐⭐⭐⭐⭐ |
| Neve | 300,000+ | Free / Starting from $70 | ⭐⭐⭐⭐⭐ |
| Divi | 1,120,207+ | Starting from $89/year | ⭐⭐⭐⭐⭐ |
| X theme | 78,000+ | For $59/year | ⭐⭐⭐⭐ |
| Ultra | NA | Starting from $59 | ⭐⭐⭐⭐ |
| Renew | NA | Buy for $199 | ⭐⭐⭐⭐ |
| Holy Church | NA | Starting from $59/year | ⭐⭐⭐⭐ |
| Exodus church | NA | Starts at $129/year | ⭐⭐⭐⭐ |
| Epic Theme | NA | Buy for $49 | ⭐⭐⭐⭐ |
| Charitize | 900+ | Free | ⭐⭐⭐⭐ |
Free Church WordPress Themes
Let's start this list with some of the free themes that offer features that are great for Church websites built on WordPress. If you're looking for more advanced features, scroll to the end of this list.
1. Astra (Pro version available)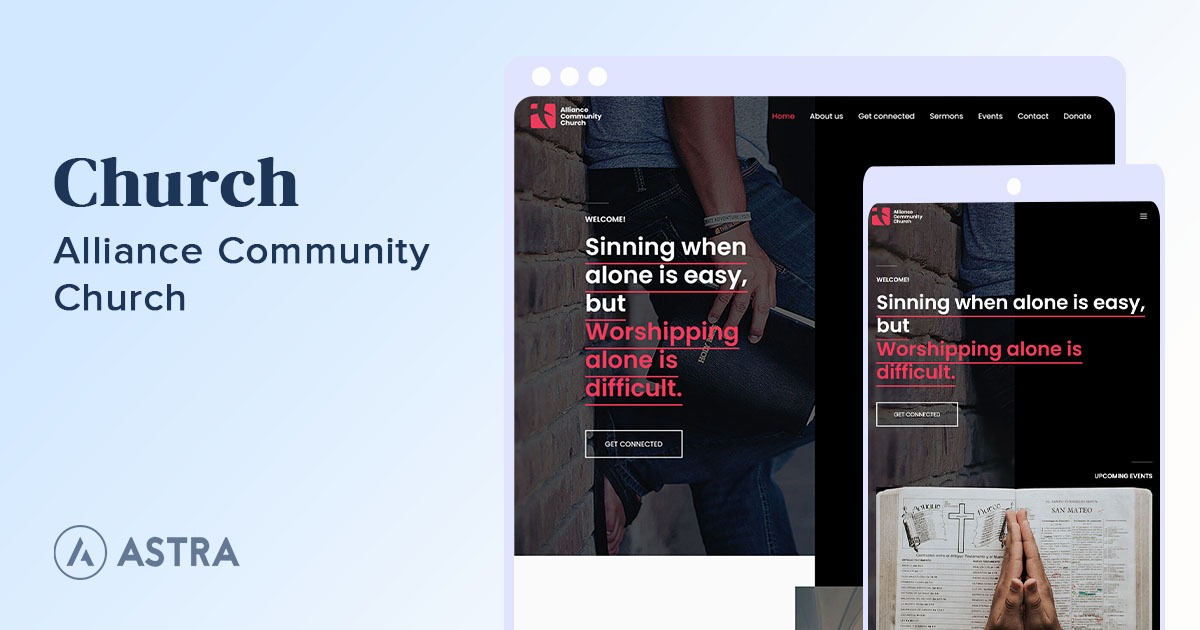 Astra is one of the world's most popular WordPress themes. It has a dedicated church theme and a wide range of multipurpose themes that could be used for taking a church online. Each has been designed to be easy to use, load quickly, work on any screen size and deliver all the features you need.
Those features include events management, calendar or booking options for weddings and events, a premade donations page with form and an attractive design that can be fully customized.
Astra supports Brizy, Elementor, Beaver Builder and Gutenberg page builders so that customization is a breeze. Astra also supports the vast majority of WordPress plugins available so you can add any feature you like to an existing design.
Those page builders make it easy to design your very own website too!
2. Flash (Pro version available)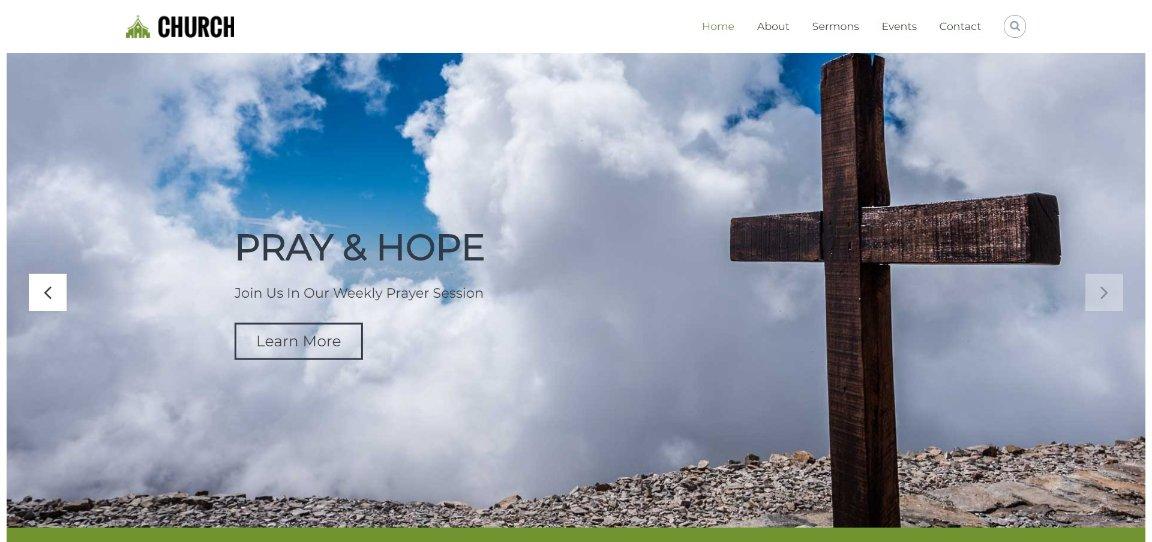 Flash is a multipurpose WordPress theme that was initially a church website theme. It has now grown into a fully customizable theme that suits a variety of requirements.
For most church websites, the free version will be more than enough. But if you require better customization and more advanced features like header and footer editing, typography choices, blog layout and more, you can opt for the Pro version.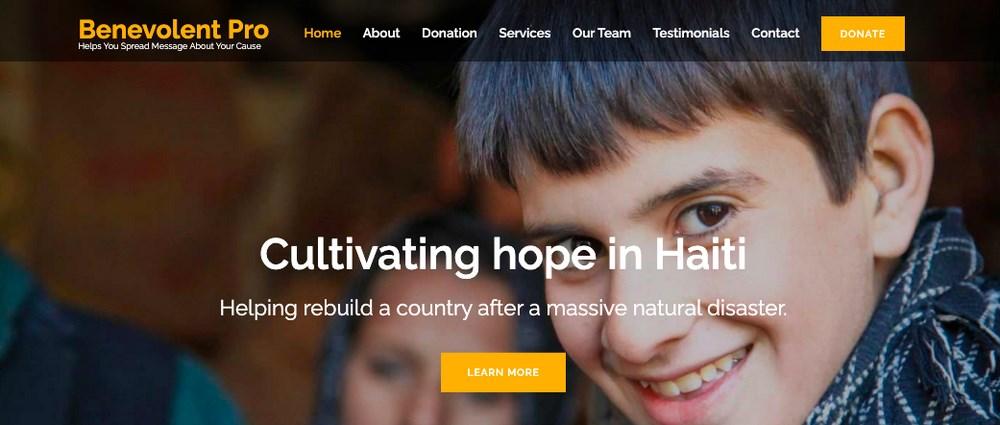 Benevolent Pro is a theme designed for raising money for your church or good cause. Used by over 2,000 nonprofits, it comes with 5 header designs, 6 custom page designs, and unlimited color and font selections.
The theme is compatible with many donation and eCommerce plugins, such as WooCommerce. The theme also comes with pages for donor listing, a community page, team members, and a contact form. This all makes it easy to quickly get things set up.
4. Punte (Pro version available)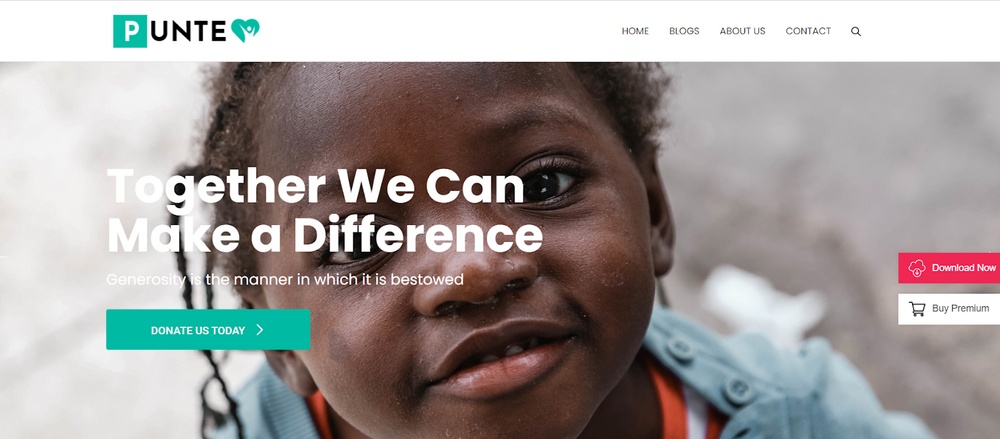 Punte is a minimalist theme that is compatible with many page builders like Elementor. It's multipurpose, which means you can use it to create any specific type of church site that you're looking for.
It comes with 12 starter templates, each of which is aimed at a particular niche like a blog or news site. It's also compatible with WooCommerce, making it a great choice if you want to raise money for your church or sell different products.
5. Neve (Pro version available)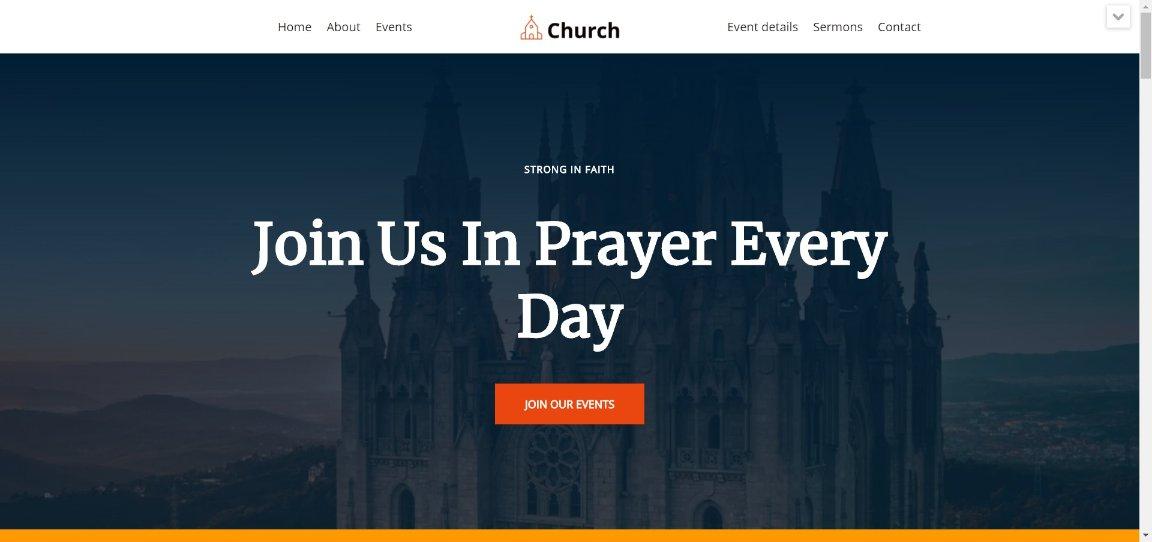 Neve is a multipurpose theme that has a selection of attractive demo websites along with a dedicated church demo. Neve uses clean, modest design with some bold elements to make an impact and this theme is no different.
Neve uses a mixture of white space, dark backgrounds, white fonts and colours to create an interesting and welcoming feel. The demo includes sections for events, prayer, services, videos and optional content blocks you could use to build your own pages.
It's a very attractive design with wide appeal, ideal for use in church or missions.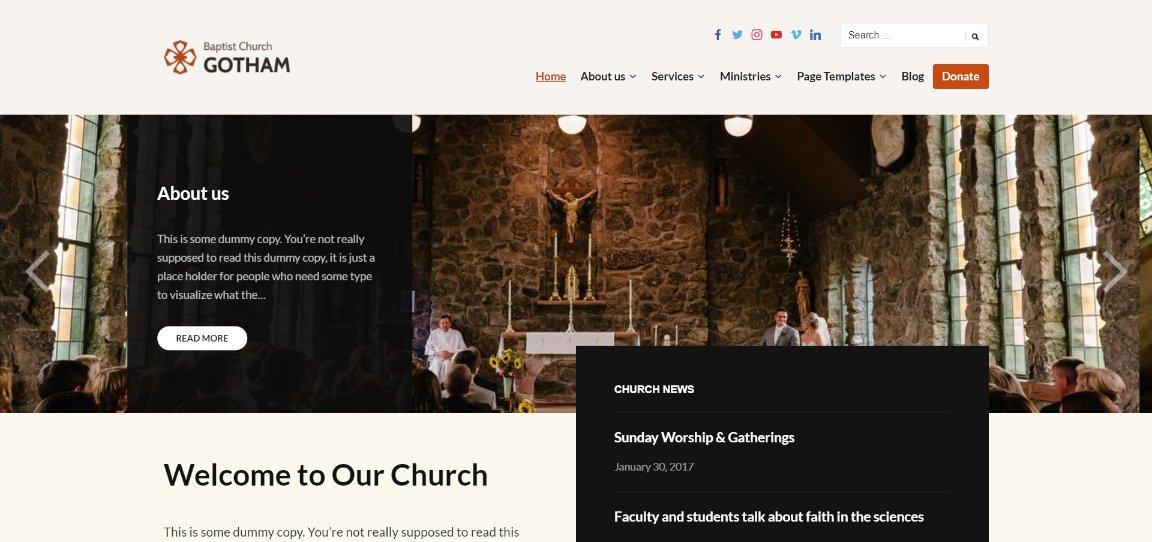 Faith is the first of our free church WordPress themes. It's a light theme with soft colors and a nice layout complete with images and contrasting content blocks. It's a very modern theme with great balance and a welcome feel that will resonate with your audience.
The demo page includes all the elements you're likely to need including donations, events, sermons, news, a blog and flexible elements you can use as you need. It's a calm design with good font and color choices and all the ingredients necessary for a workable church website.
As this is a free theme, you will have more work to do to customize it but you can still achieve a lot.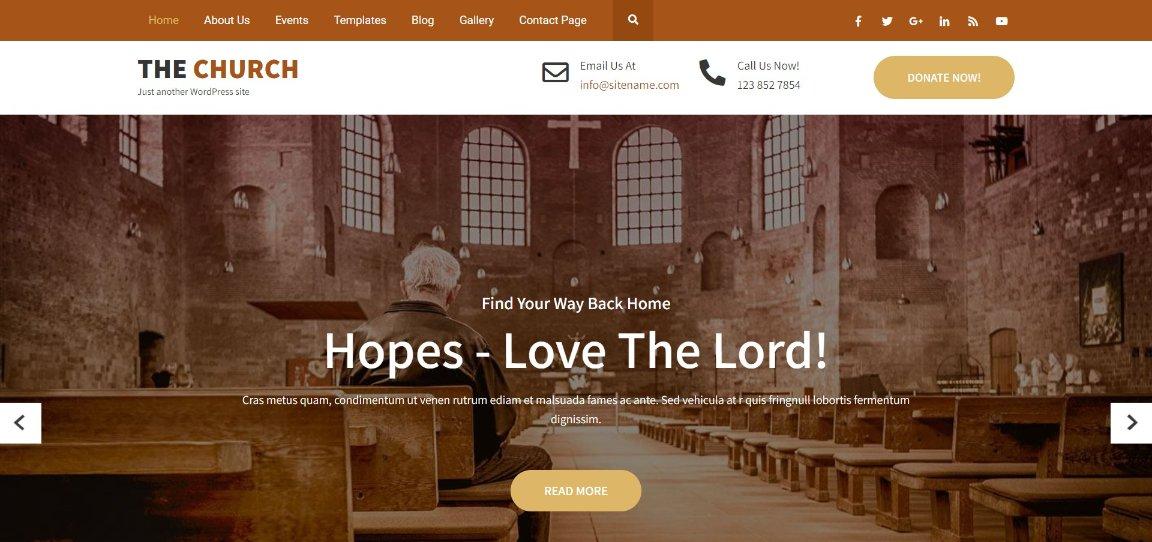 The Church Lite is another free church WordPress theme with a premium version. Like Faith, it uses calm colors and an image header to draw you in before cementing its appeal with a nice layout, modern fonts and design cues.
This is a feature-rich demo with flexible content blocks, event calendar, animations, news, blog, forms and all the elements you need to build a compelling church website.
Both the free and the premium version of The Church Lite work well and could deliver everything you need to build your site.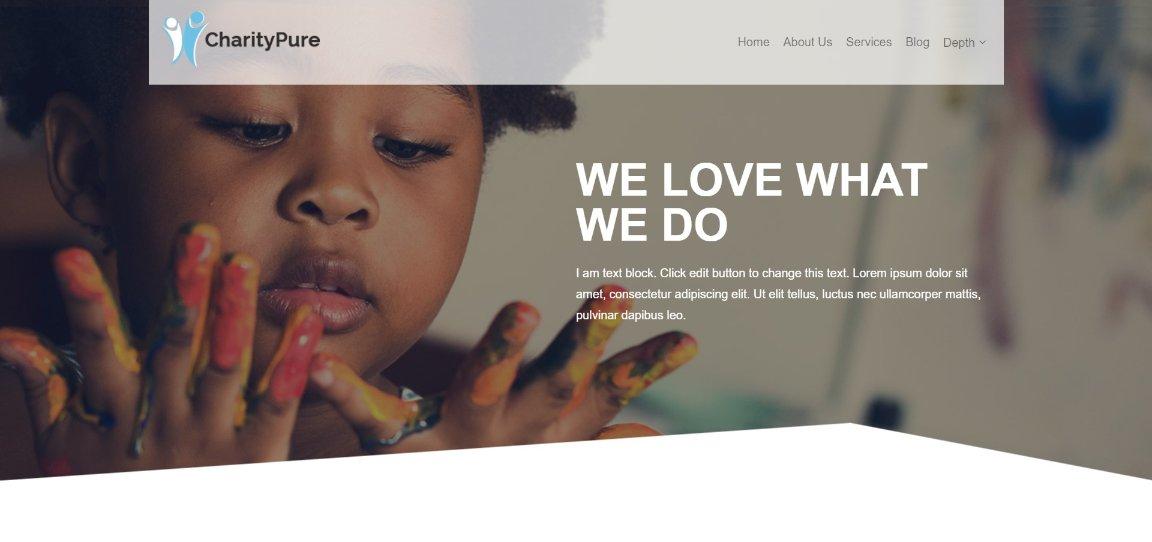 CharityPure is a charity website, as its name implies, but could easily be repurposed to suit the church. It's a light hearted design with an attractive main image, good use of white space, dark modern fonts and all the ingredients necessary to build your website.
For a free church WordPress theme, CharityPure is very good looking. It uses color and images well, has good font choices and a nice layout. You can use the Gutenberg editor to change the page around however you like and to add or remove elements as required.
Despite being free, this template includes multiple page elements including one for donations. You will need to add plugins for events or sermons though.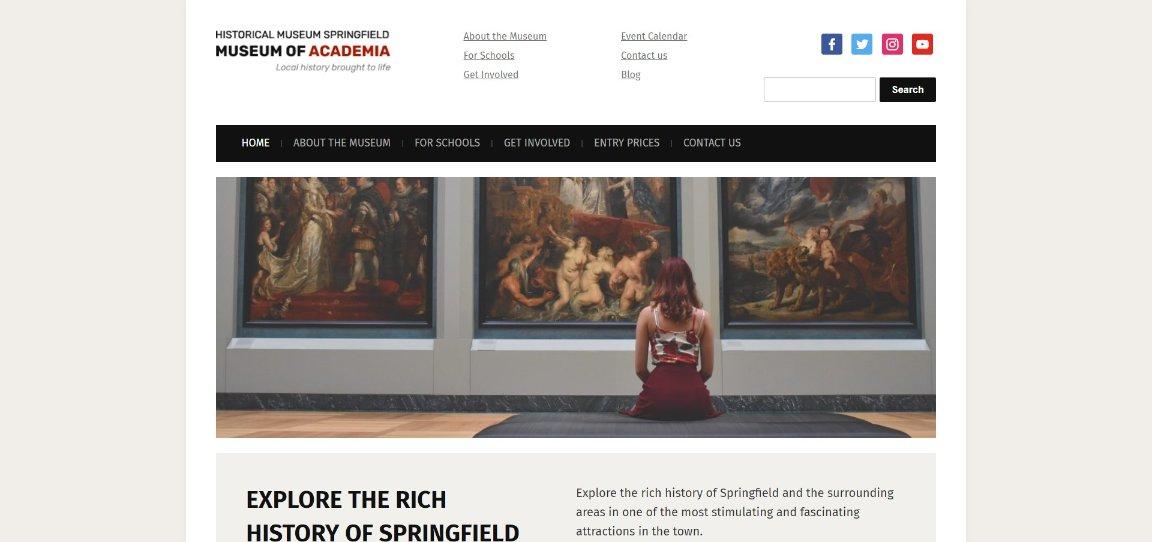 The Museo demo is actually built as a museum website but one look at the design illustrates that this could make an effective church website too. It's an approachable theme with light, complementing colors and great balance down the page.
Museo is another of those free WordPress themes that looks anything but. It's a boxed layout configured with most of what you would need for a church. It has flexible content areas, a simple sidebar, events calendar and support for most WordPress plugins.
Free church WordPress themes don't usually come with page builders but the WordPress Customizer tool allows you to customize with ease.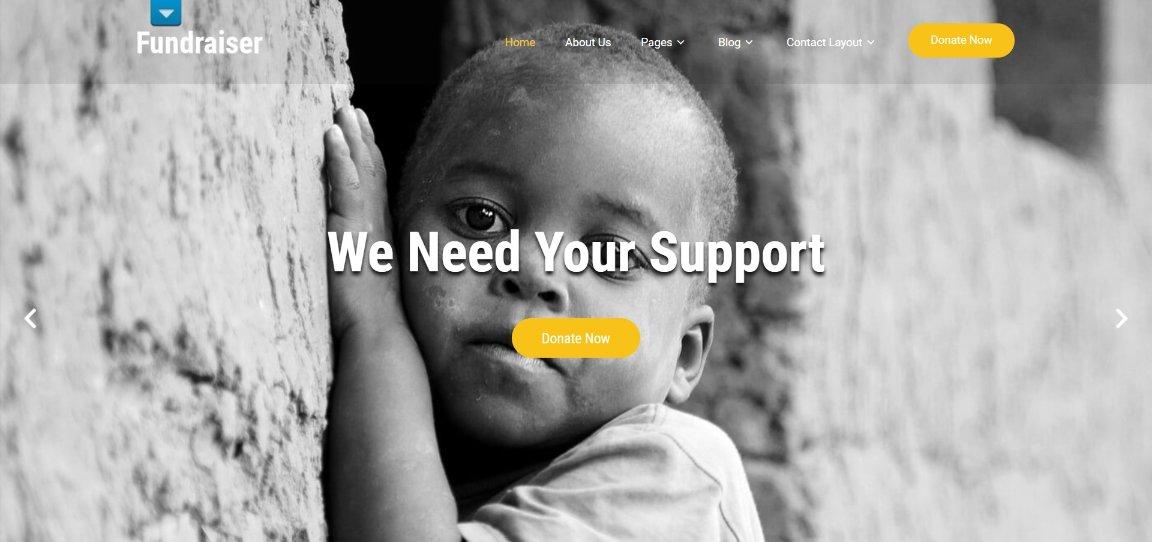 Fundraiser Lite is another free WordPress theme for a charity that could be repurposed for a church. It has an emotive image header with bold fonts and contrast color. After the header we see a lot more color and more white space that draws your attention to key areas.
The design continues with donation sections, flexible content areas, an events calendar, news, blog, volunteers and everything you need to build your very own website. Simply change the images and perhaps the colors and you're good to go.
Free WordPress themes also support most plugins so you can always add different elements to a page if you like.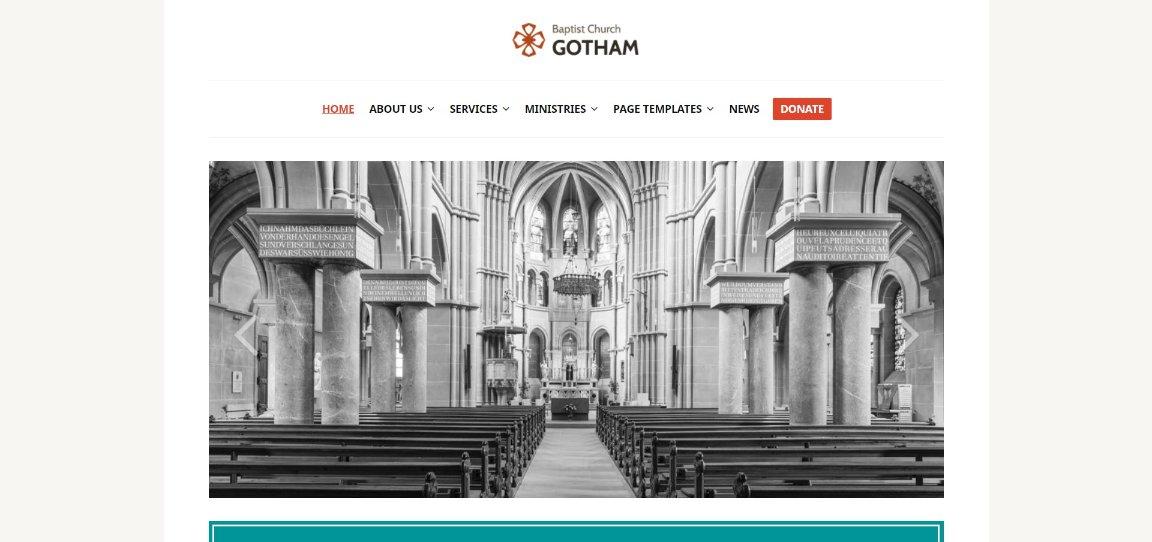 Endurance is another of our free church WordPress themes. It's also another easy going, approachable design that uses complementing colors, lots of white space and emotive imagery to set the scene.
The demo looks top quality despite being free. It's a typical boxed layout with content blocks covering most requirements within the page. You can always add, change or remove as required. The colors, balance and layout all work incredibly well and this could be a very useful theme in the right hands.
It even includes an event calendar, donation option and a whole lot more.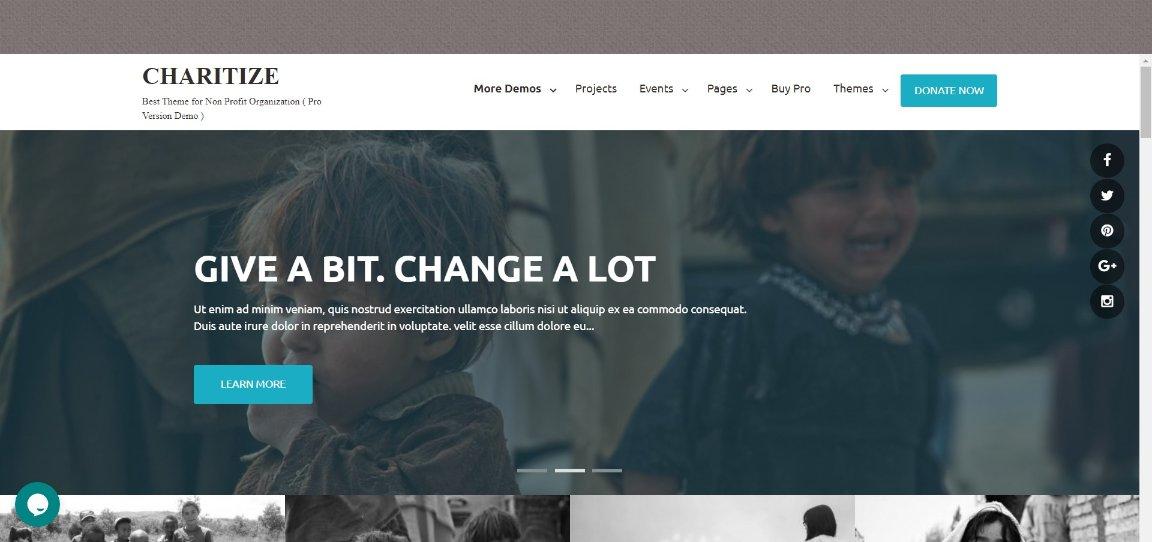 Charitize is a free WordPress theme for charities with a premium version. As with these other charity themes, the overall design and feel would lend itself well for church use too, which is why it's in our list of WordPress themes for churches.
The first impression of Charitize is quite powerful thanks to those images. There are two image sliders here configured to create different effects. Further down the page the page adds more color with images and white content blocks on a gray background. It's a very effective theme!
Despite being free, there is support for WooCommerce, events, donations and optional extra pages too.
13. Charity (Pro version available)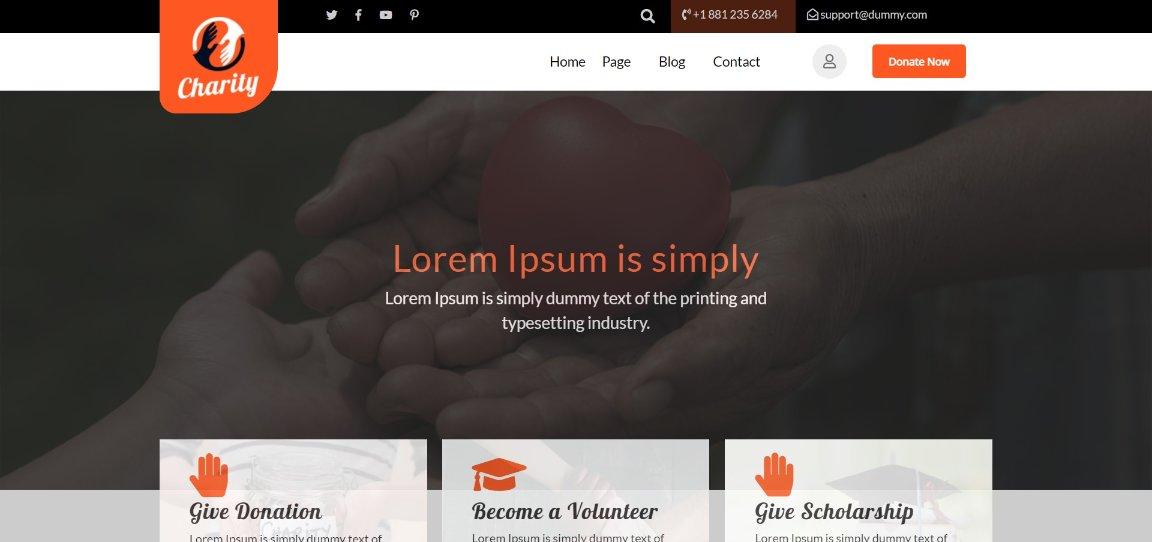 As the name implies, Charity is designed for a different purpose but like all the themes in this list, can be customized to your exact needs. It's a colorful theme with a serious side that could communicate your own message with ease.
That serious side is tempered by the light elements and friendly orange color. That can be changed of course if orange doesn't suit. The rest of the page includes a donation section, flexible content areas, lots of images and calls to action and a well-designed events calendar.
Charity is a free theme with a premium version but really doesn't look like someone would be giving it away!
Premium Church WordPress Themes
If you want more advanced features, here are some premium themes that you can look at.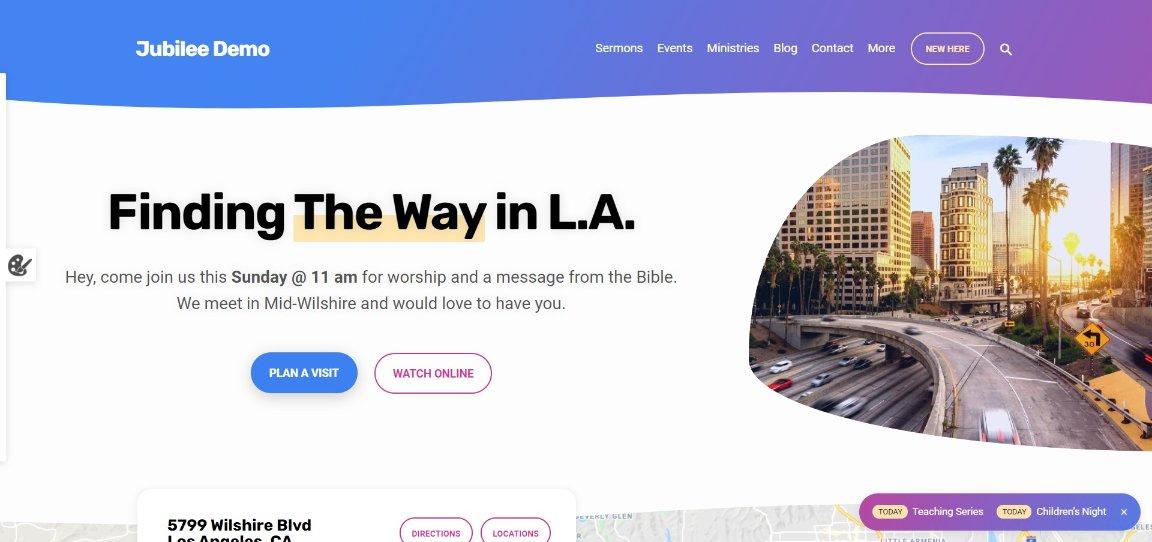 Jubilee is one of a number of WordPress church themes we feature from Churchthemes.com. This template is bright and breezy and perhaps not what you might expect for a church website. Yet it delivers all the features you need to take your church online.
The theme is light, welcoming and has attractive colors. It also includes events pages, sermons pages, a helpful map, donation features and attractive page elements to offer the information you want to communicate to a congregation.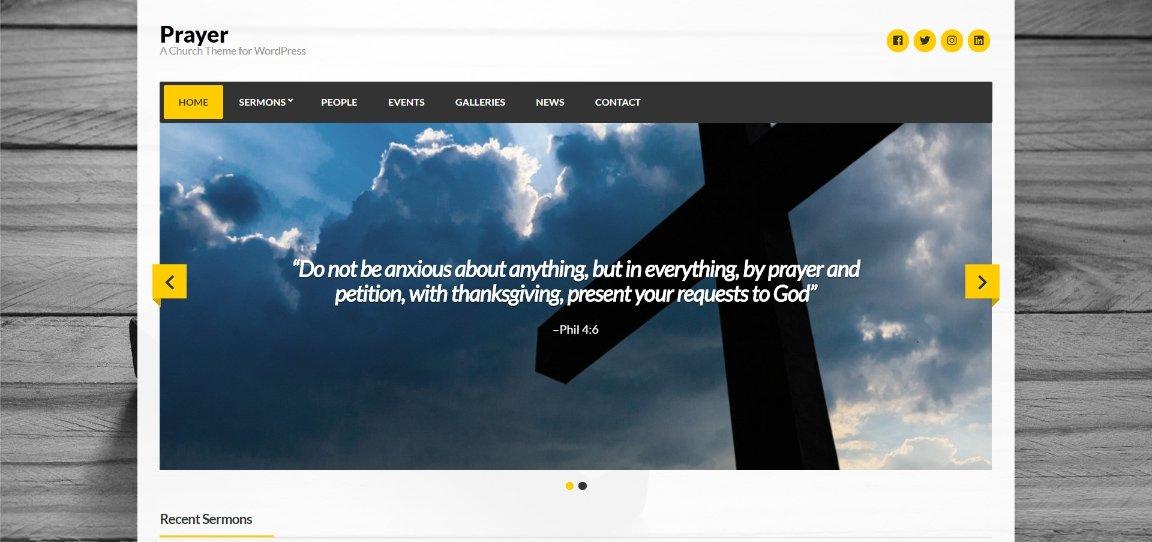 Prayer has a different look altogether. This WordPress church theme uses a boxed layout with background image and white content areas to make an impact. It still uses an image slider but this one isn't full size.
The rest of the theme looks and feels like a blog but with church-specific elements. They include sermons with audio player, news, events and forms. The template supports most WordPress plugins so you can add or remove features as required.
This is an attractive design that could work for all demographics.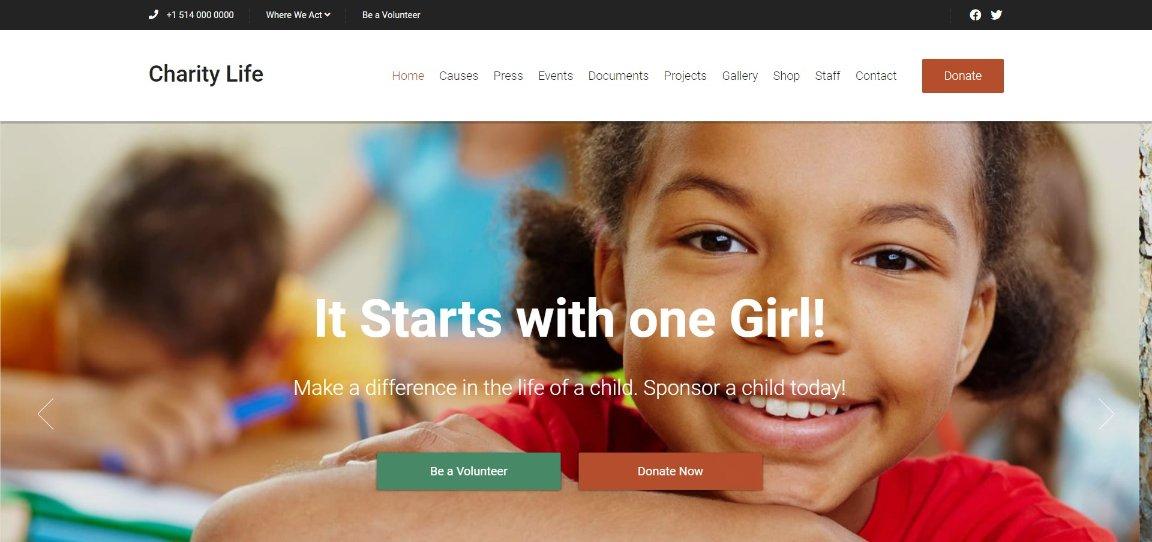 Charity Life is one of the charity themes we mentioned above that could easily be repurposed for a church. It has a similar look and feel as a church would require along with many of the same features you're looking for.
The design is light and approachable with a large image slider and menu section at the top. Further down the page are where you could add sermons, a service calendar, events, blog and news. As this is a charity website, it also has a donation section built in.
Charity Life is also compatible with other WordPress plugins so you could build in even more features if you needed to.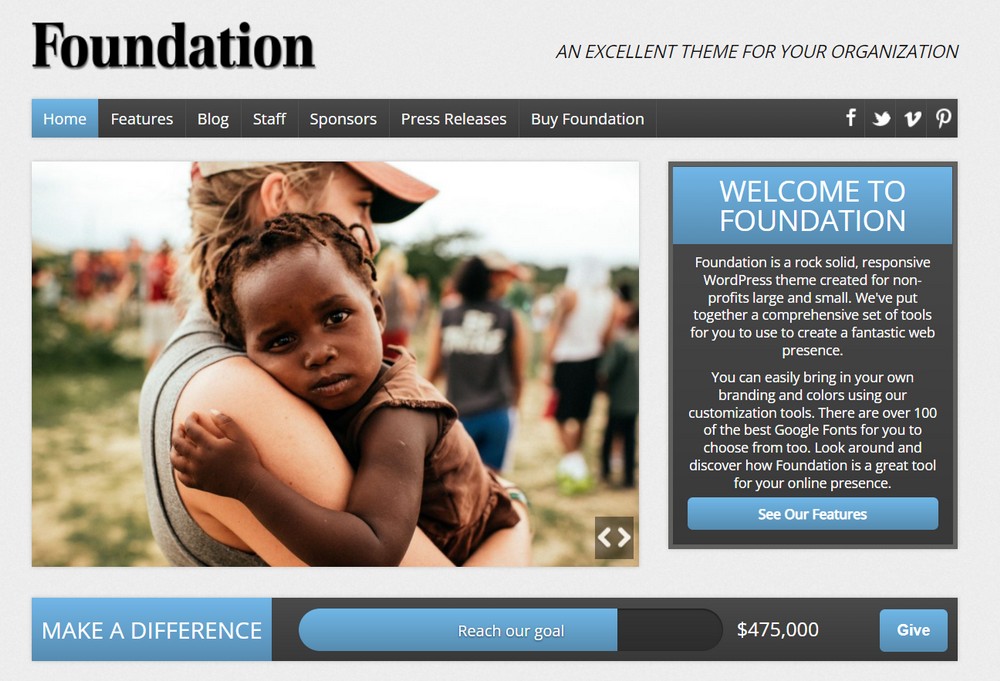 Foundation is another charity theme we think would work exceptionally well for a church. It's an understated theme with a news-style layout. It's a boxed arrangement with a small image slider and sidebar. Modest navigation up top keeps you on track while a prominent donate section should bring in much-needed support.
This theme works well with its gray background and soft blue color. The alternating light and dark backgrounds and fonts draw attention to what's happening on the page without shouting about it.
Foundation doesn't have events or a calendar built in but you could add those with a WordPress plugin.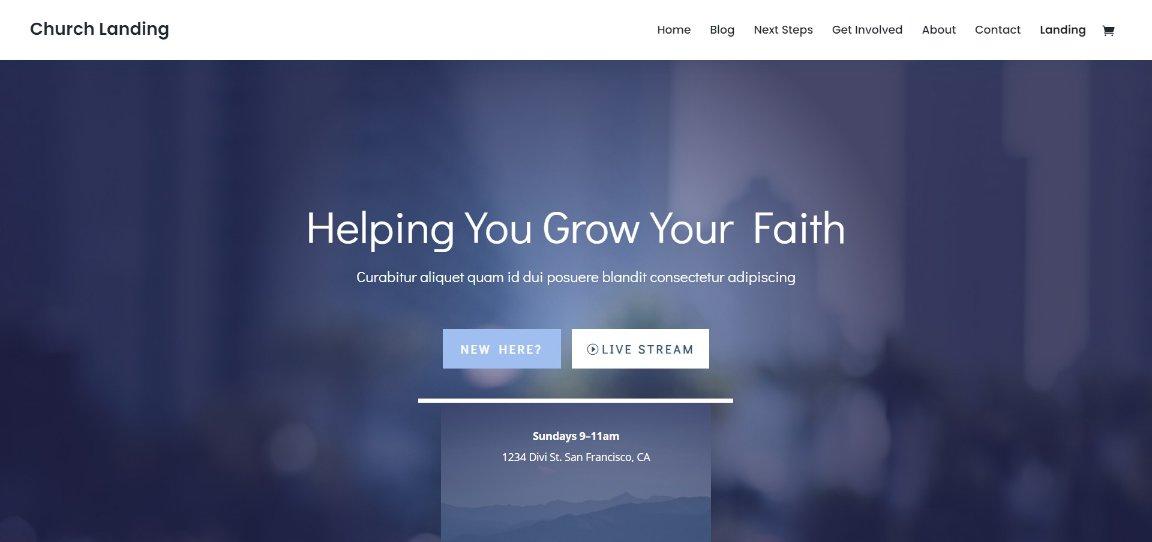 Divi has a wide range of themes available with a few for non-profits and one for a church. The church theme demo is light, easy on the eye and conveys a relaxed message to the reader. That central headline makes quite the impact so could be powerful in the right hands.
The rest of the design includes a 3D effect down the page with content blocks where you would add your sermons, calendar, events and other information. We think Divi would need a little work to make it universally appealing but the core is there to build a very attractive website that performs well.
You would have to add donation functionality but Divi is compatible with WordPress plugins so that shouldn't be an issue.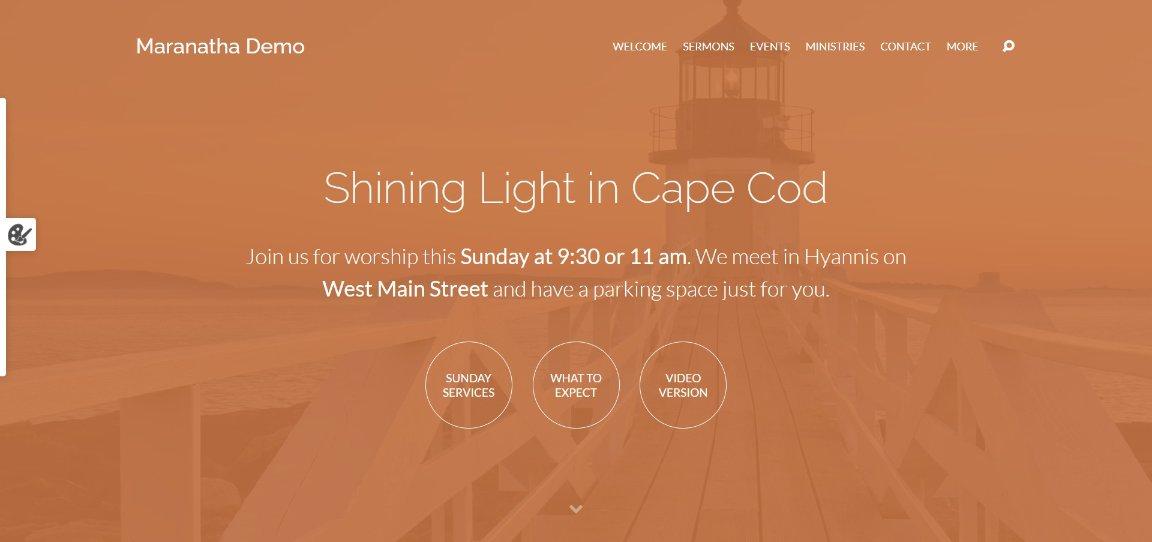 Maranatha is another WordPress church theme from Churchthemes.com. This is a clean, composed and very modern template with nice design that flows down the page. It's a theme focused on conveying your core message without being overbearing.
The theme includes a full page header with filtered image and headline message. The rest of the main page includes a map, sermon archive, calendar, events, a blog section and forms. It has just about everything your church needs to go online.
Should you want to take donations or add other features, this theme is compatible with most WordPress plugins.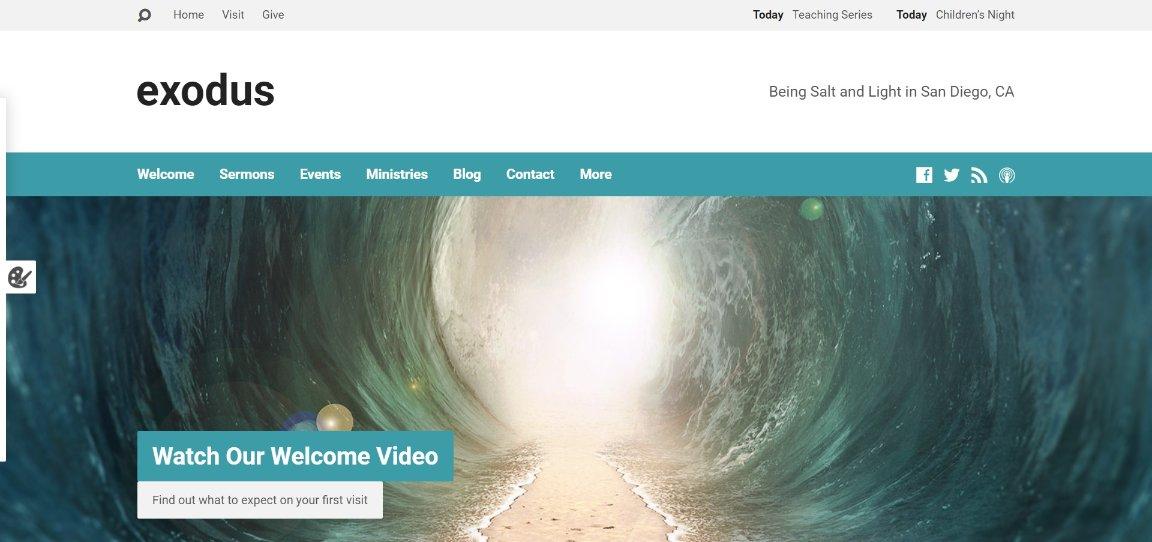 Exodus is a much lighter, breezier WordPress church theme. It uses a lot of white space and a narrow image slider to set the scene and a selection of soft colors to create atmosphere. Along with some modern fonts and nice contemporary touches, this is an effective design.
The demo theme includes events, sermons, an audio player, calendar, news, images and a map. You could change the colors and images as you needed to while adding or removing sections as required.
It's a very simple but effective church theme.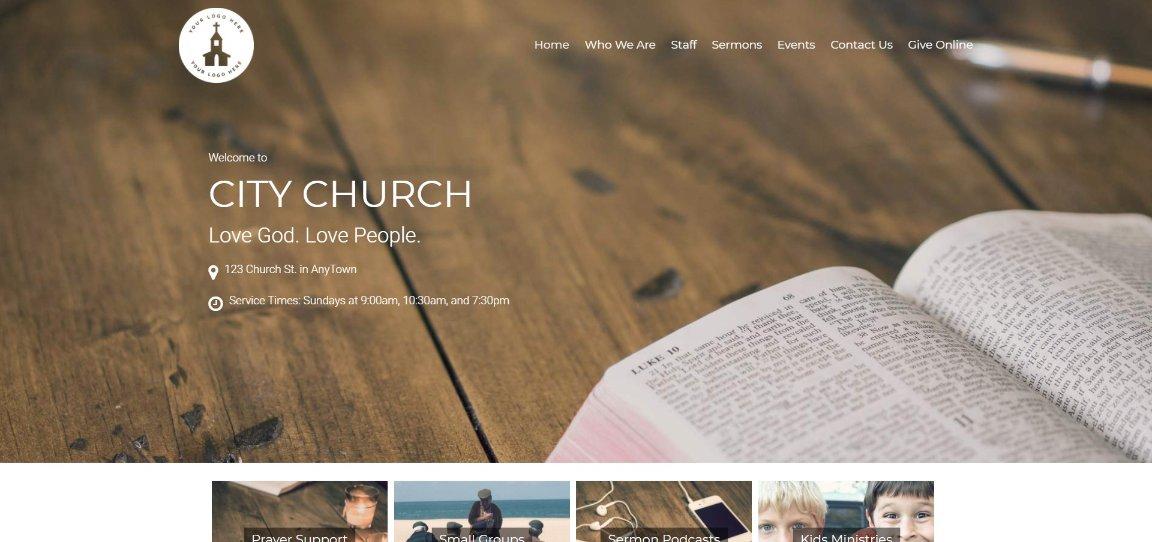 Restore goes in a different direction with warm tones, that lovely background image and white content rows down the page. It's a simple premise done very well and could make the ideal basis for your own church website.
The demo design uses a warm wood background image that is very effective. That, along with bold white backgrounds and contrasting dark fonts creates a modern aesthetic that could resonate with all audiences. It's a very nice WordPress church theme.
It also includes sermons, audio and video support, events, newsletter signup form, a map and other useful features too.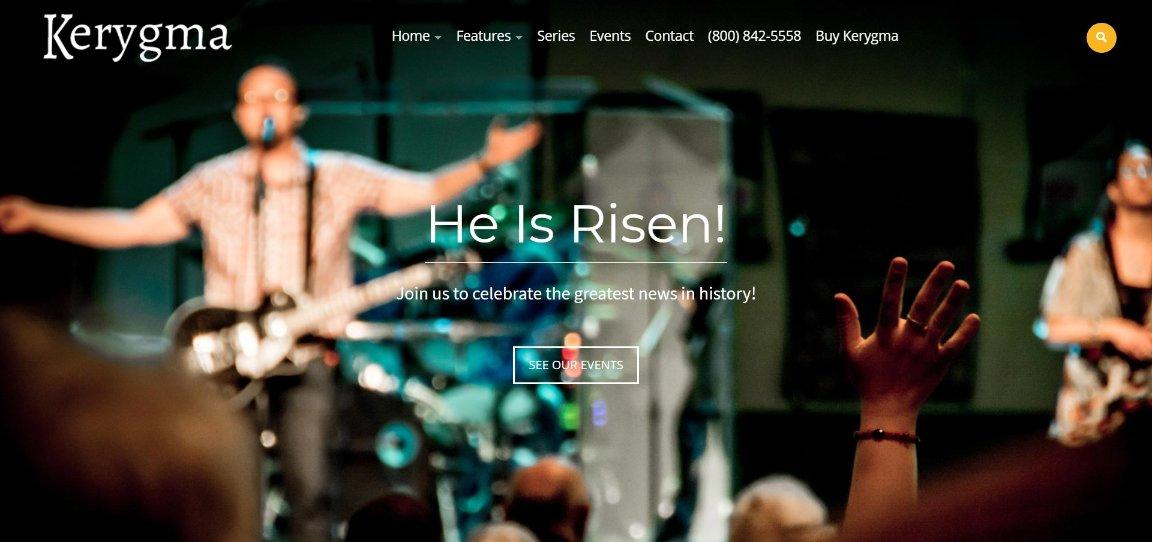 At first glance, you might think Kerygma is a theme for a country singer or band. Yet once you read the headline message and scroll down the page, you realize that this is a superb WordPress church theme with very modern appeal.
The demo page is very colorful as well as impactful. Scroll past the header and the main intent unfolds. The page includes an events calendar, sermon archive and optional content areas you could use as you needed.
There isn't a specific donations section but you could add one with ease along with any other features you might want to feature on the page.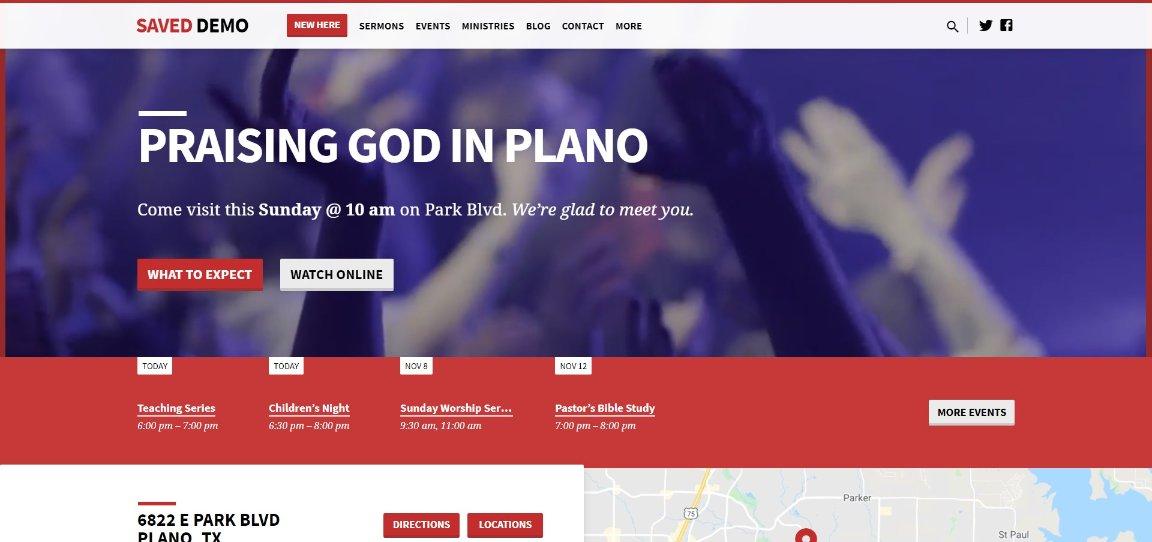 Saved is a very contemporary WordPress church theme with some distinct modern touches. Rather than imagery, Saved uses colors and content blocks to make its mark. A bold headline with a nice events element underneath, that bold red (which could easily be changed) and stark contrasting fonts makes a real impact.
Further down the demo page is a map, calendar section, sermon archive, blog and news section and a specific section for donations. The theme also includes optional content elements so you can add whatever you want your page to feature with minimal effort.
Saved uses modern design well and could work well in attracting a new audience or engaging your existing one.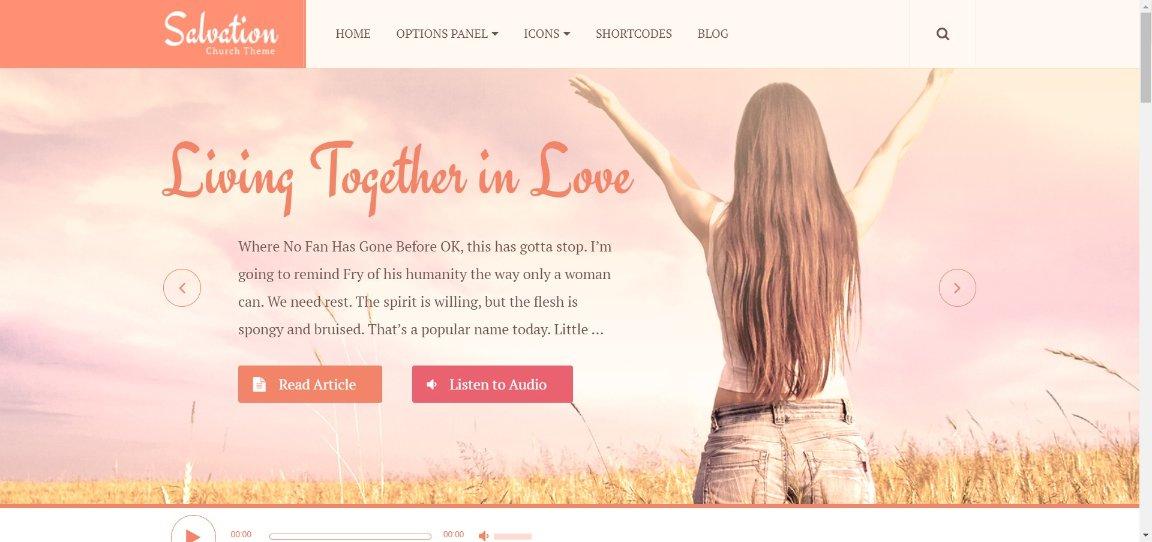 Salvation has a completely different character to Saved. This is one of those WordPress church themes that tries a softer approach with calm colors, more complementing than contrasting color scheme and softer fonts. It achieves the same goals as Saved, just in a different way.
Down the page you have flexible content blocks, a verses section, events calendar and reservation section, a donation section and optional content blocks. You can of course, add, change or remove any of these with ease.
This theme has most of the elements you need built in but supports WordPress plugins should you need to add more.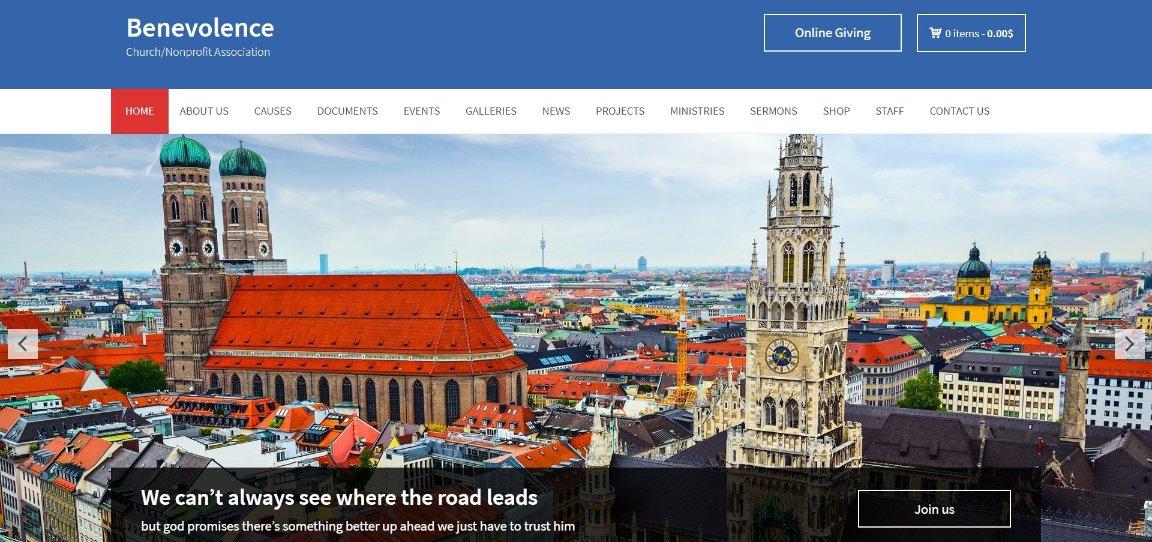 Benevolence takes a more cultural approach with a bold cityscape header image and more distinct content sections. The strong red, white and blue theme works well and can be changed, as can everything within this WP church theme.
The demo website for Benevolence transitions into a standard boxed layout under the header. It has areas for news, events, causes, donations, a blog, audio and video. There are also a range of predesigned pages for sermons, events and a whole lot more.
Benevolence would need very little work to make it a very effective church website!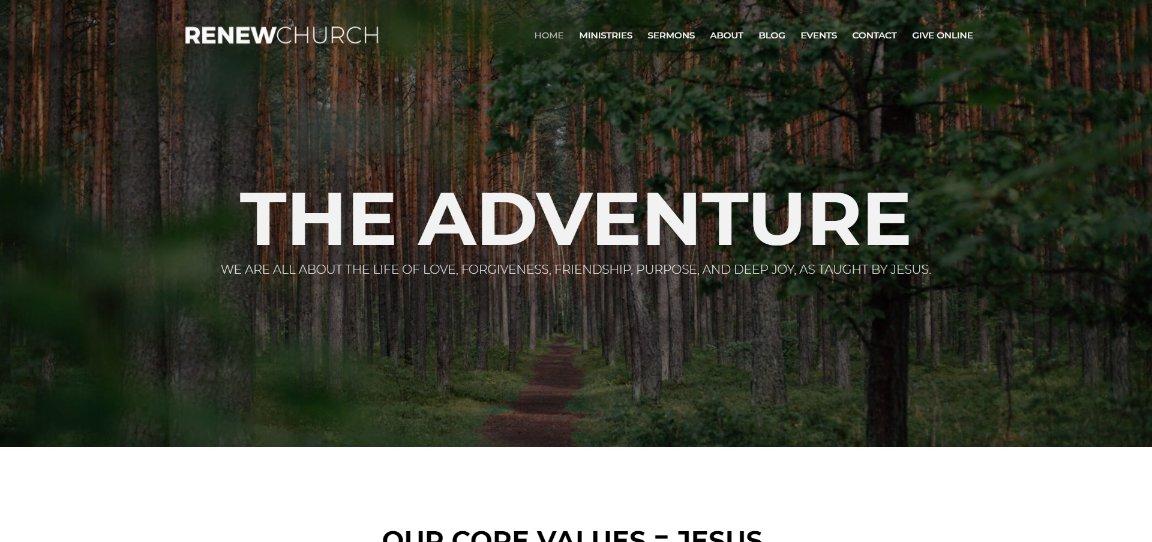 The Renew demo website is a multipurpose theme that has been built to promote a church. It uses a standard layout with typical content blocks to provide the framework from which you can build your own unique church website.
Renew is much less impactful than some of these other WordPress church themes but that could work best for some churches. The demo website includes all the content sections you will need including specific ones for sermons, events and donations.
Renew will require more work to make it stand out but makes that easy with support for page builders.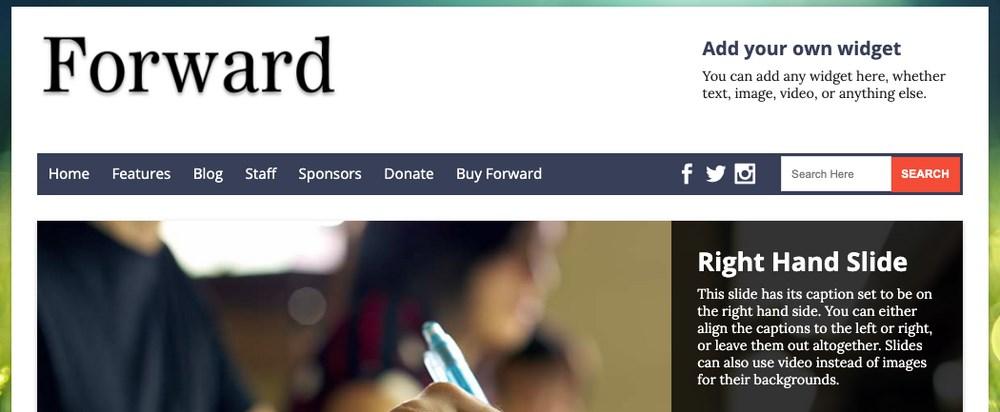 Forward is a theme designed for nonprofits and other types of organizations but can also be used for church or religious organizations. It is integrated with the WooCommerce Campaign extension, which makes it super easy to raise money on your own site.
There are many customization options, including layouts, fonts, colors, and more. You can also use the Mailchimp widget to get your users to subscribe to a newsletter.
Finally, there is a section where you can display staff and sponsors. This is an excellent way to show off your team and to potentially get more donors in the future.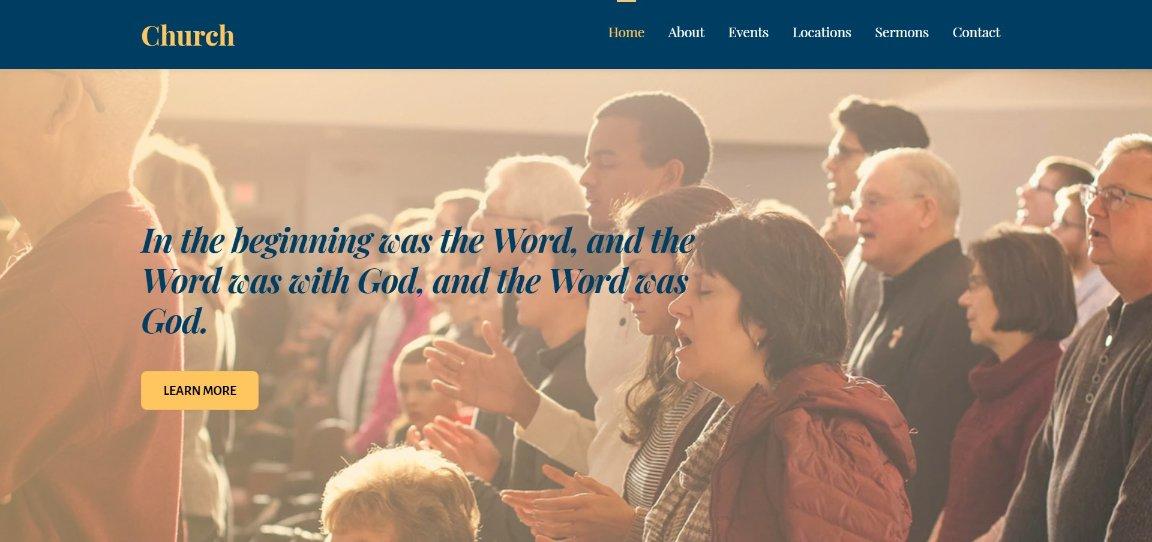 Ultra is not a church-specific theme. It's a multipurpose theme with the core elements you need to make it your own. We like Ultra because it comes with a range of demo websites you can install in seconds and customize using a page builder. While it will take more work to make it your own, it will be well worth the effort!
We chose the Ultra Church demo. The demo uses great images, colorful elements and simple layout to convey the core message. Optional content blocks for events, registration and news are all there for you to customize to your own needs.
Ultra also supports courses, WooCommerce and donation plugins so you could build whatever type of website you like with it. That's why it is in this list of WordPress church themes.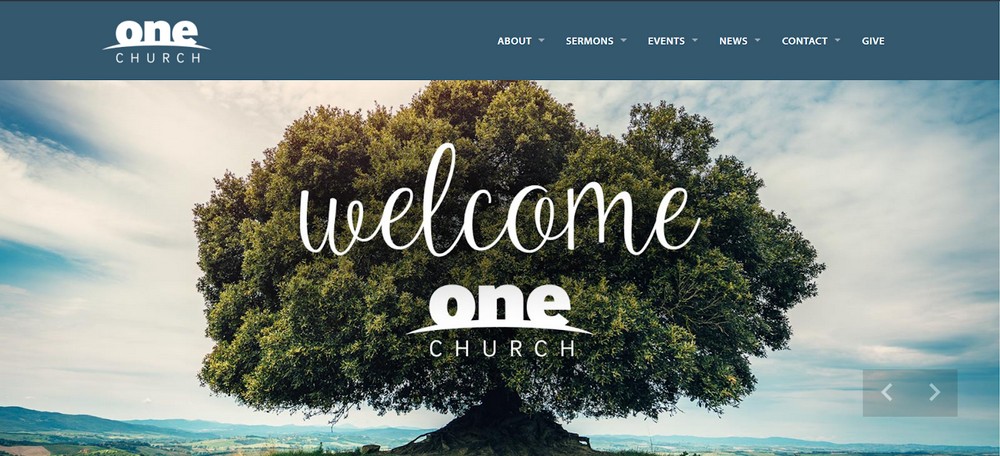 As its name indicates, this theme is aimed at churches. It's a responsive theme that can easily be edited via a drag-and-drop interface. It comes with 12 premade templates in a variety of different colors and styles.
One Church comes pre-packaged with different sections that help you create your ideal church website. These include places for sermons, church locations, events and service times, clergy and staff, and other important things you'll no doubt want to have on your site. You can also publish sermons directly via text, audio, and video.
Overall, this is a powerful theme that is a must-look for any churches creating their own WordPress website.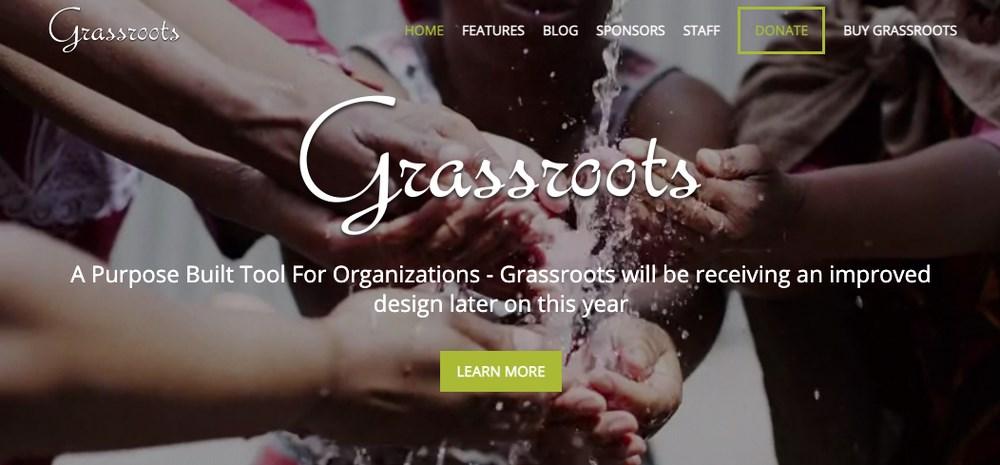 Grassroots is an awesome theme for raising money for your church or good causes, as it is well-integrated with WooCommerce. You can list as many projects as you like on your site.
The design is very attractive and allows for fullscreen background videos and images, logos and colors, Google fonts, and a drag-and-drop interface. You can also feature your sponsors, which is a great way to gather more funds for your project.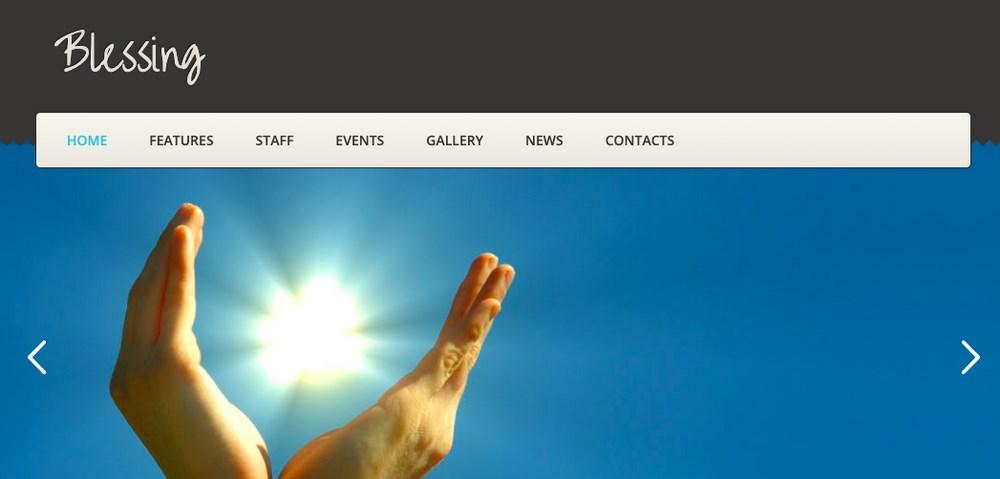 At only $59, the Blessing theme is a blessing for your wallet! This theme is designed for churches and other religious organizations. It has sections for staff, events, a photo gallery, news, and everything else you'll need.
It also has other features that you'll no doubt want to use, including an events calendar, mail subscribers, and more. You can customize and edit everything easily from within the theme's panel. It's easy to add sliders, advanced post types, and other customization options.
19. X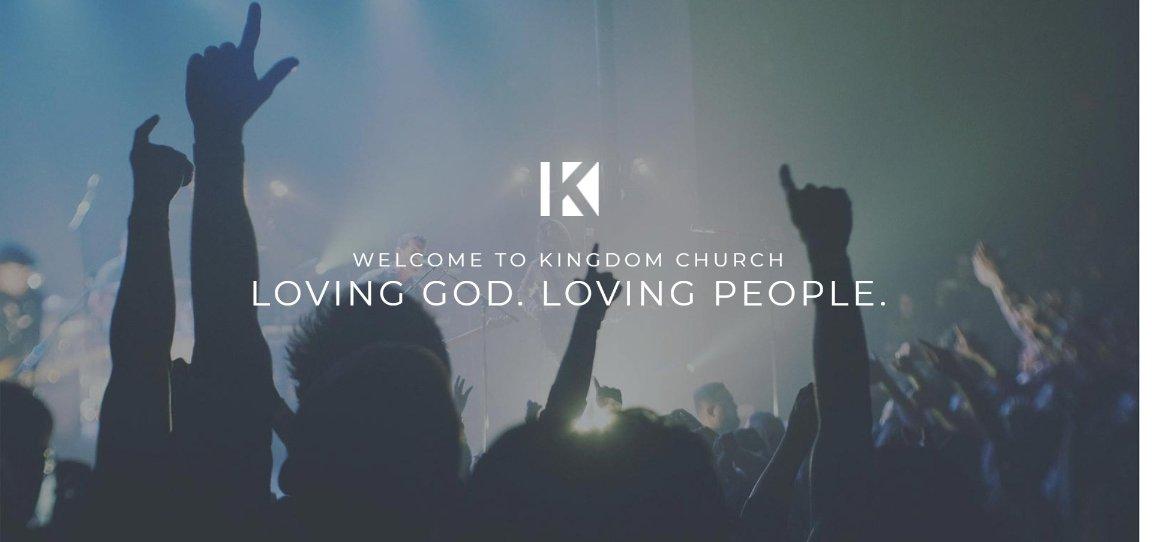 X is another multipurpose theme but this one has a church demo. That demo has a very modern take on worship and could work incredibly well attracting new, younger members to your congregation without alienating more traditional members. That's a hard balance to strike!
The design begins with a full size image header that transitions into alternating image and coloured backgrounds. A series of complementing colors, videos and modern fonts complete the page and deliver most of the functionality you'll need.
The theme supports the majority of WordPress plugins for you to add any functions not already on the page such as donations or calendars.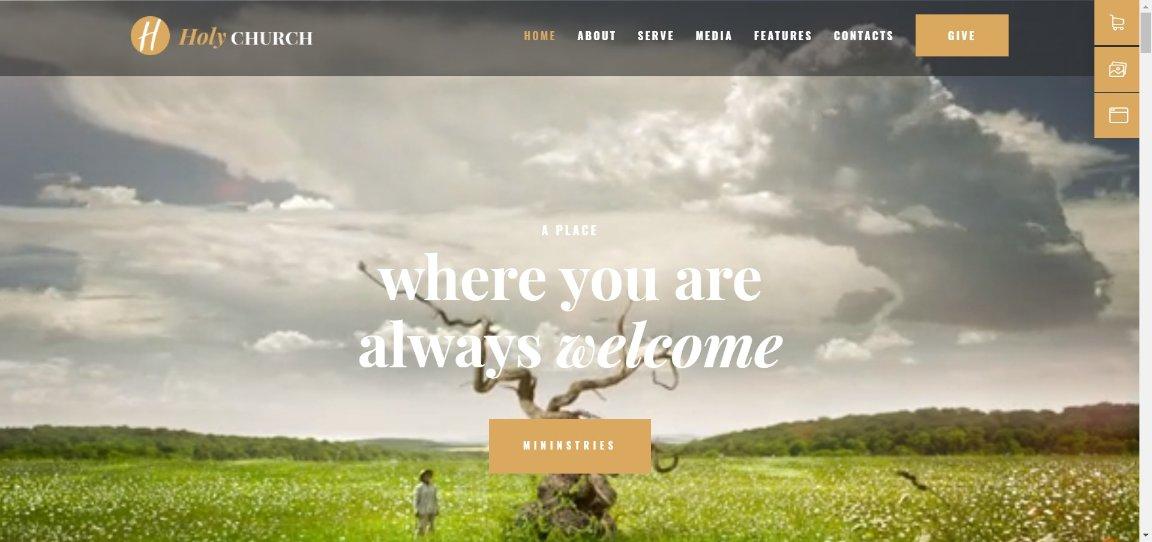 Holy Church is a very clean, modern WordPress church theme. We don't especially like the color scheme but that could be transformed in seconds. The rest of the design works exceptionally well for its niche.
A plain header and strong headline does the heavy lifting while a simple menu keeps you oriented. Further down the page we have alternating colors and content sections to build out the site including sermon archives, events area, biographies and even an online store.
For anything else you need, there's always a WordPress plugin that can add it to the page.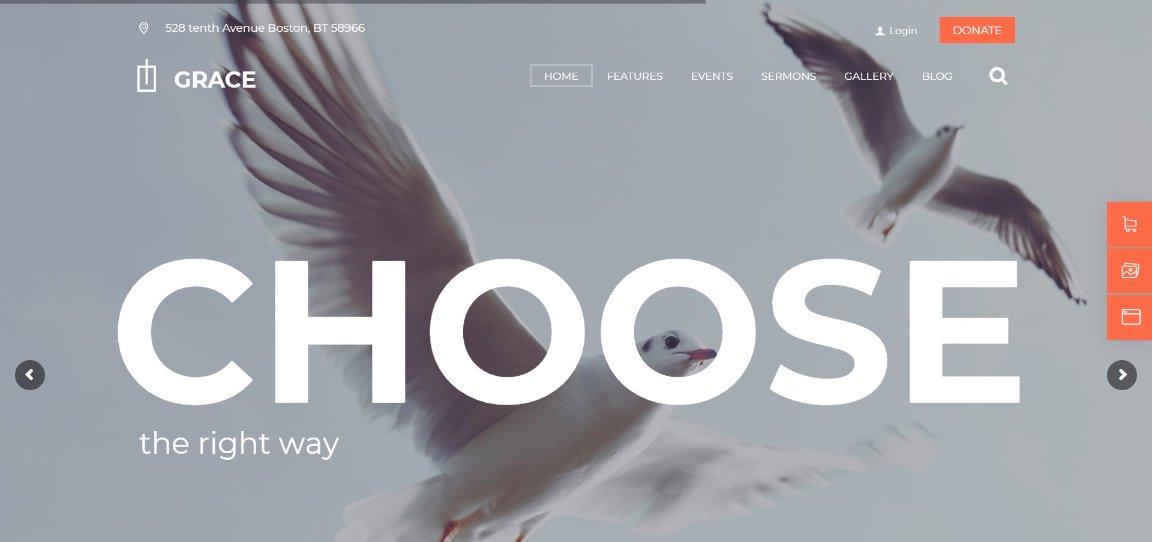 Grace is another very contemporary WordPress church theme. This has a New England feel with moody main image and complementing gray areas but the bold coral color really stands out.
Further down the demo page things brighten up with white and coral content rows, some nice images with animations, a smart events calendar, sermon archive, biography section, map and blog. It doesn't have a donation section but you could soon add one.
If you're trying to appeal to a younger demographic, this is the type of design that can do it.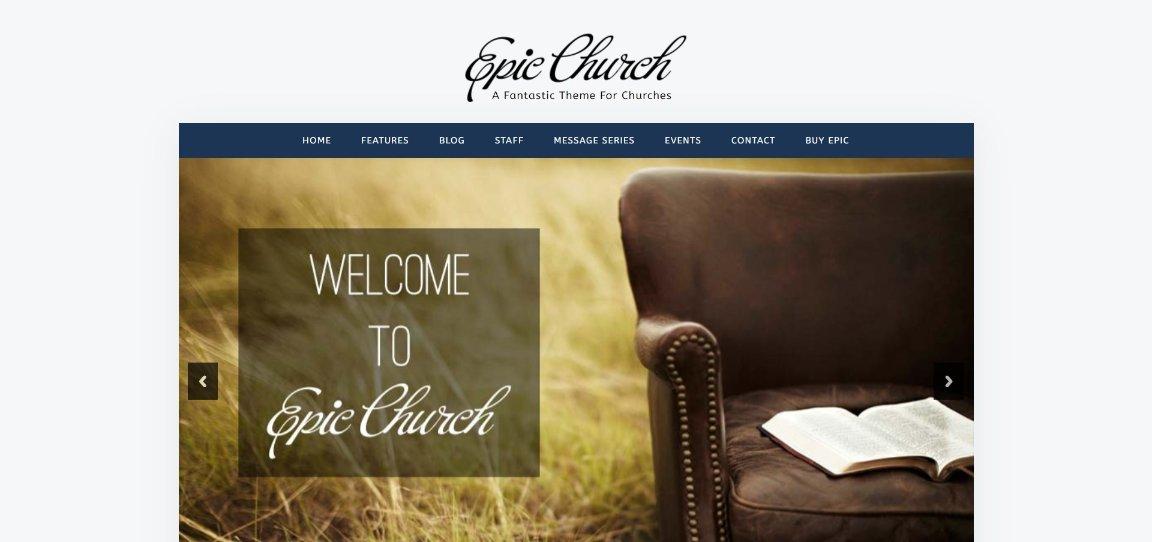 Epic is a very restrained WordPress church theme that uses a standard blog layout. It's a calm theme with lots of gray background on view and a nice dark blue color that conveys authority. Along with a boxed layout with white background, it creates a sincere feeling.
The demo website includes a selection of content areas covering most of what you'll need including sermons, events, a calendar, contact form, blog and biographies. It doesn't have built in audio or video players or a donation section but there's a plugin for those.
Epic is a friendly, welcoming theme ideal for more low key churches. It works just as well as any of these other WordPress church themes, it just goes about it in a different way.
Olsen is not a dedicated WordPress theme for churches. Instead, this is a Scandi-inspired blog theme that we think could work exceptionally well for a church. It's a very light and easy going theme with lots of white space and some great font choices.
The demo page begins with a text logo and modest navigation before switching to an image header and single column blog layout with sidebar. While the theme has a different feel than you might like, all you would need to do is change the imagery and you could build a modern, welcoming church website.
You should know by now that there are WordPress plugins for any feature you might want to add.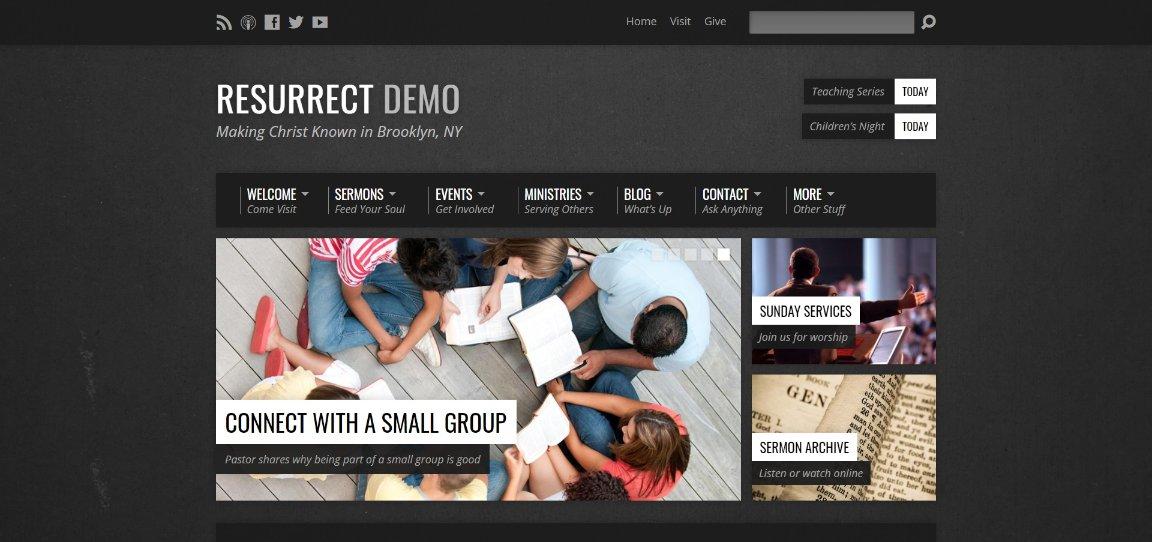 Back to WordPress church themes, we have Resurrect. It is completely different to the preceding two themes in that it's an achingly modern dark theme with a real urban feel. It could be ideal for new or city churches trying to attract a new congregation.
The demo page has a dark gray background with black content blocks and stark white fonts. A small header section includes a slider and main stories and an attractive menu sits on top. The blog-style main section includes sermons, events, news and everything you're likely to need.
This is a distinct WordPress church theme that could work very well for the right organization.
Which WordPress Church Theme Should You Use?
Every single template in this list of WordPress church themes is worth checking out. We searched high and low for the best options out there and filtered them repeatedly until we came up with 35 of the best WordPress church themes around.
Each is worth trying but a couple of them stand out.
Astra stands out for its dedicated church theme but also for the sheer number of other church demo themes that could be transformed for use by a church. The inclusion of page builder support and compatibility with most WordPress plugins makes it one of the best options out there.
We also think Divi stands out. It's attractive, flexible and includes most of the elements within the demo that the average church would need.
Finally, we think CharityPure is worthy of mention. It tops our list of free church WordPress themes because of the quality of design and support for WordPress plugins. You would never know it was free until you saw the price!
That list of WordPress church themes contains what we consider to be the best around. Each was carefully selected because of its great looks, flexibility, ease of use and perhaps all three!
We hope you found inspiration in our list. Remember, if a theme doesn't have a feature you're looking for, you may be able to add it with a WordPress plugin!