Charities and nonprofits have had to adapt to changing habits like the rest of the world. Having moved away from collecting donations on the street, nonprofits are now increasingly working online.
According to recent studies, around 55% of donors prefer to give online. If your charity or nonprofit doesn't have a compelling web presence, you're missing out.
That's what this page is all about.
It's a comprehensive collection of what we think are the best WordPress themes for nonprofits available.
Charity WordPress themes are specially designed for nonprofit organizations to help them raise funds and awareness for their causes.
These themes offer a wide range of customization options to match the unique needs of each organization, including a responsive design for optimal viewing on any device, easy navigation for visitors, and compatibility with popular plugins such as WooCommerce and PayPal for seamless donation processing.
Also, the homepage layout of these themes can be customized to showcase the organization's features, events calendar, and powerful slider, with the page builder making it easy to add and arrange content. A premium version of the theme is also available for those who want even more advanced features and options.
There are 24 high-quality WordPress themes for nonprofits in this article. If you don't have time to check them all, here are 5 of the best.
We have tried and tested each of these themes to ensure they deliver the qualities you need. We spent many hours trying, testing and filtering these WordPress nonprofit themes to ensure they deliver the ease of use and great aesthetics you look for alongside the features you need.
As well as WordPress nonprofit themes, we have also suggested some essential WordPress plugins you might like to add to your site. Each provides powerful features that can propel your website to the next level and we recommend them as much as we recommend these themes.
Why WordPress Nonprofit Themes?
Websites for nonprofits and charities have to do several jobs:
They have to look professional so a potential donor has confidence.
They have to convey a message so the reader understands the vision.
They have to evoke emotion so the reader is prompted into action.
The site then has to make it as easy as possible to make a donation, volunteer services or otherwise help the organization.
We think every single WordPress nonprofit theme in this list delivers on all those requirements!
List of the 24 Best Nonprofit WordPress Themes
Here is the detailed list of WordPress nonprofit themes that we consider the best.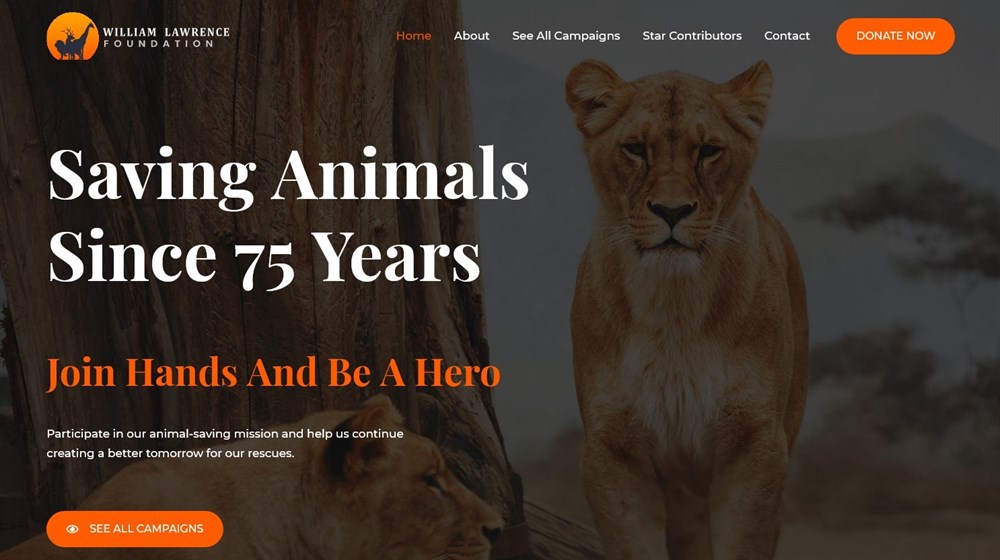 The Astra WordPress theme powers a significant portion of the internet. With over a million users and hundreds of premade website templates, it's a popular and easy to use theme.
You have two options if you use Astra. Use one of the professional demo templates and adapt it to your needs. Or, use the included drag and drop page builder to design your own. Both methods are straightforward, easy to do and require no WordPress or coding knowledge.
Astra templates are designed with usability in mind. They also load fast and contain clean code that is compatible with every browser on every device.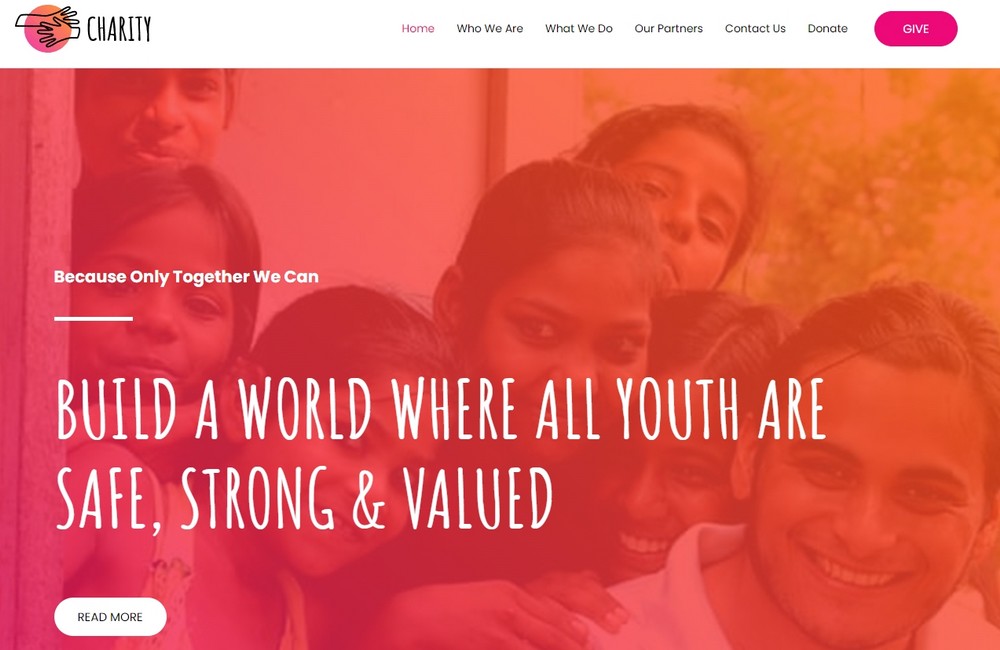 The Charity template is a light, energetic design with a logical layout and a colorful hero image. It creates a light, inclusive feeling, with a mix of handwritten fonts, simple navigation, bright colors and emotive images. Ideal for a charity.
The rest of the template opens up to include the who, what and why of your charity to help tell your story and encourage engagement.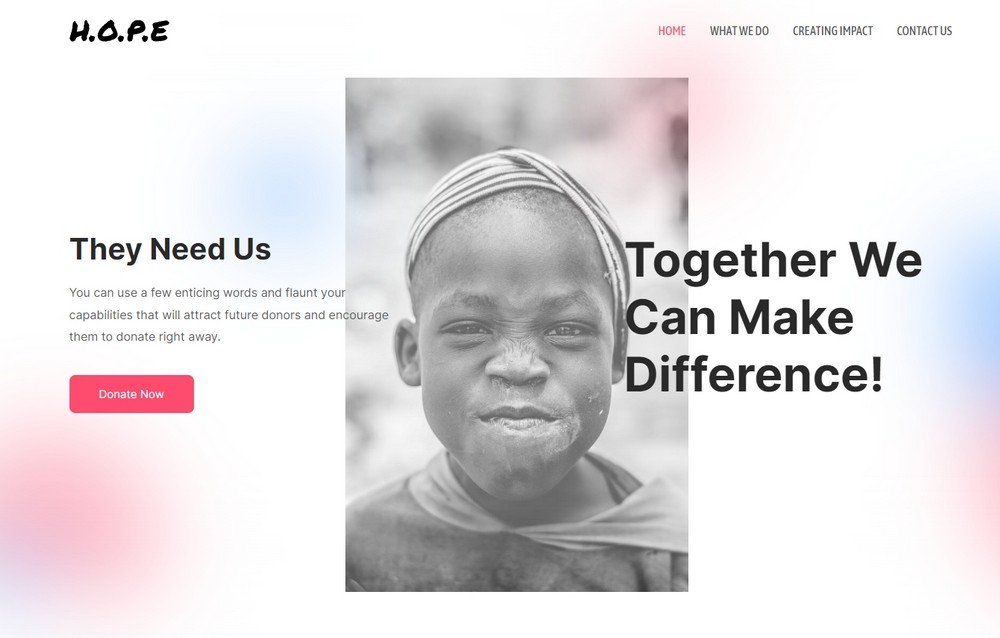 The Charity Hope template makes less of an initial impact but still delivers a friendly, engaging design. It uses a lot more white space and contrast colors, along with modern fonts and simple navigation.
The template makes good use of imagery and provides lots of content areas to tell the story of your good works and help encourage donations.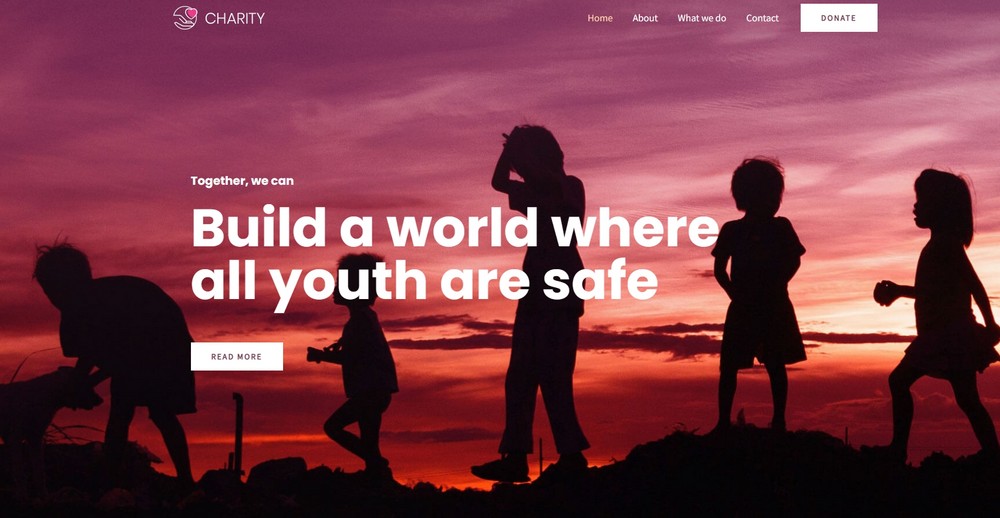 The Charity Communities template makes an instant impact with a full screen image with lovely colors and contrasting modern headline fonts. It opens out into a mix of color and white space outlining what you do and why you do it.
The template includes some nice touches, like complementing feature boxes, animated counters and a simple but effective Donate button.
Astra Pricing
Astra has a free option with premium costing from $47 €44 per year.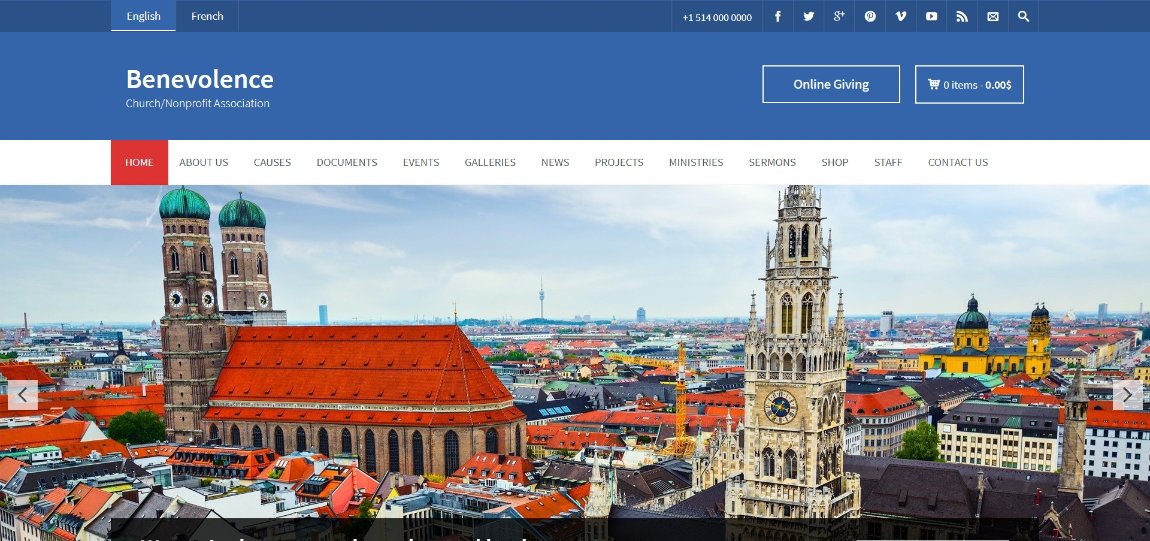 Benevolence is a more detailed nonprofit WordPress theme with a lot more going on. The demo uses a calm blue colour with strong header image, a very visible 'giving' button is up top to capture donations which is a very useful feature.
The rest of the page includes an events calendar, posts, news, causes and more. As you can see, the theme could be used for missions, charities, nonprofits and any organization where philanthropy or good work is the core message.
Benevolence even comes with an integrated PayPal payment gateway and WooCommerce compatibility.
Benevolence Pricing
Benevolence costs $85.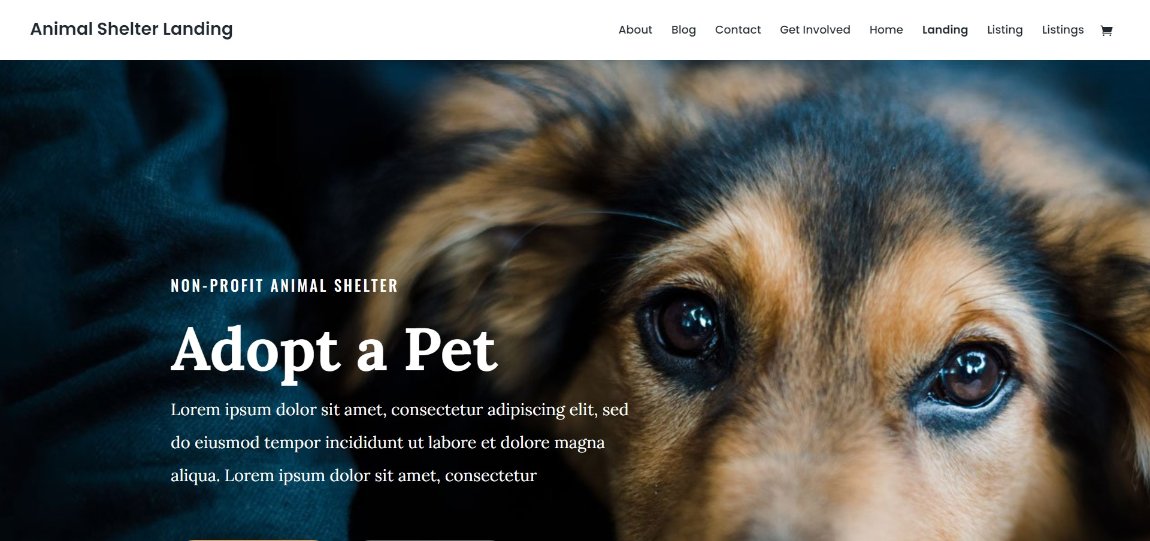 Divi is another WordPress theme with more than one nonprofit design. We particularly like Animal Shelter because it uses emotive imagery along with complementing colours and a very slick layout to perform its job.
It does miss a trick by not having a giving button or any way to donate but you could add that. Otherwise, Divi offers some very attractive designs with composed layouts, nice colours, modern fonts and the ease of use that we value in a WordPress theme.
Divi Pricing
Divi costs $89 per year.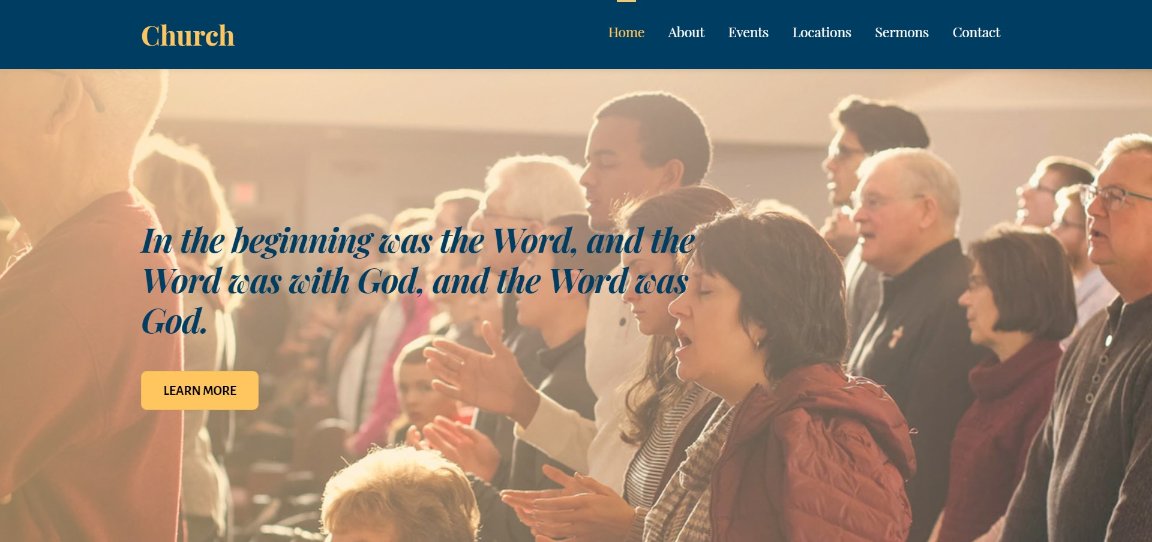 Ultra is a multipurpose theme with a few demo templates. For nonprofits, we like Church. Not only is it a sober yet still approachable design, it also includes an event manager, donation form and a selection of content blocks from which you could build whatever type of website you need.
Ultra uses a drag and drop WordPress page builder the same as Astra. It provides literally dozens of layout options, headers, footers and page elements you can use to customize a demo template or build your very own. Everything you need for your nonprofit website.
Ultra Pricing
Ultra costs $59 per year.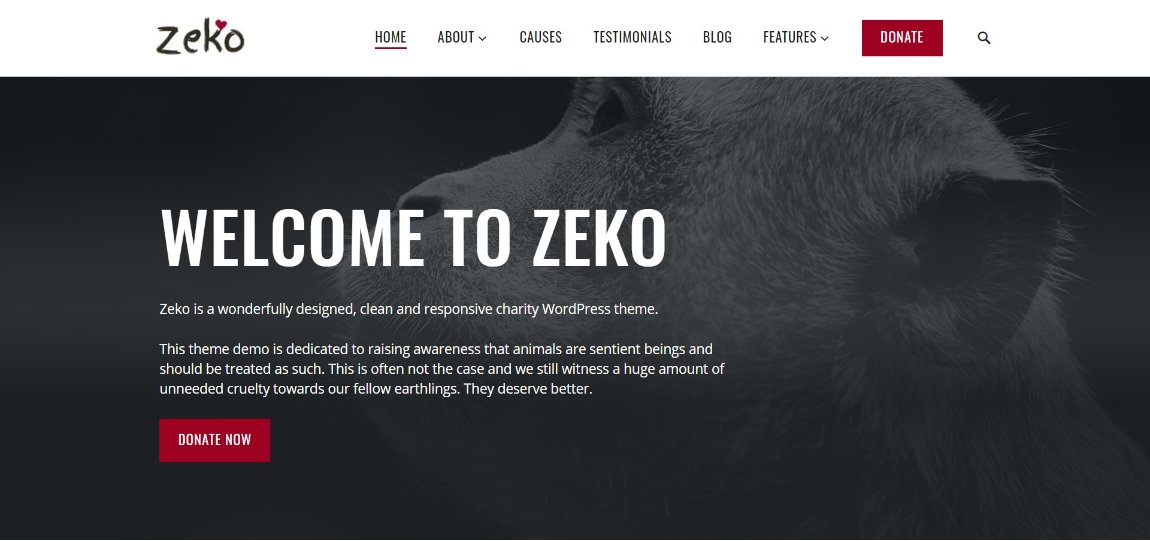 Zeko is a superb design that uses a mixture of monochrome with colour pops on buttons to make its point. This is a purpose-built nonprofit WordPress theme and it works very well indeed. It's clean, modern and would work for the widest audience. Well worth checking out.
The design uses alternating dark and light sections to keep your attention. Dark filtered images and frameless images both make an impact while the burgundy colour for the buttons works well.
The clear donate button also works, as does the inspired font choice throughout the theme.
Zeko Pricing
Zeko costs $59 per year.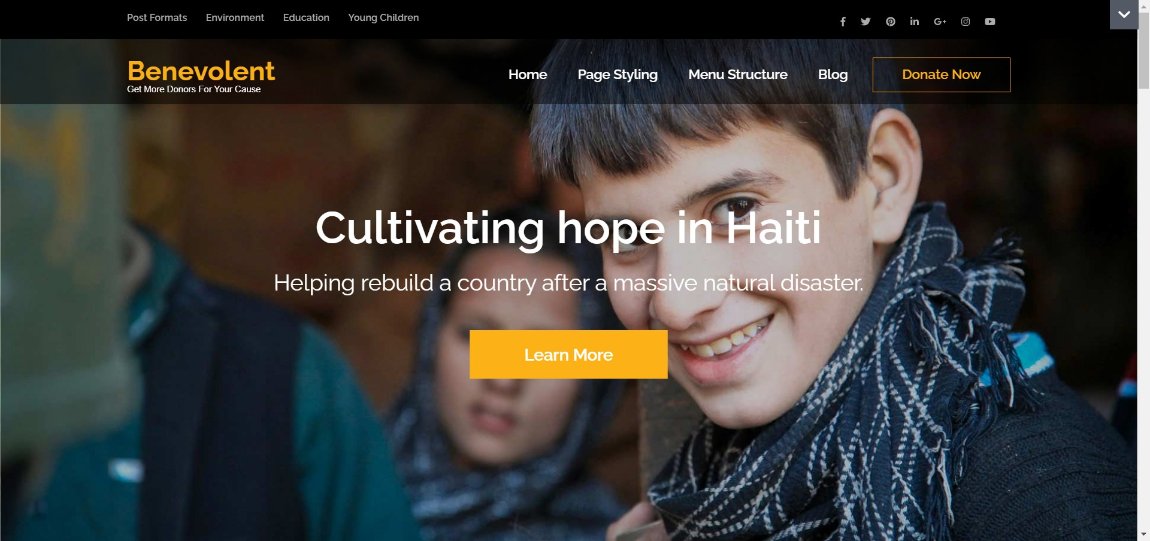 Benevolent has a free version and a premium version. Both share a very similar design with a mixture of dark and light and a series of colours down the page. A strong header image evokes emotion while a clear donation button is at the top to gain maximum attention.
The free version is restricted largely to the colours you see, unless you know CSS to change them. The premium version adds colours, Google Fonts, a custom slider, backgrounds and more.
Both versions work well and can be customized and the premium version is actually well priced so you definitely have options here.
Benevolent Pricing
Astra has a free option with premium costing from $59 per year.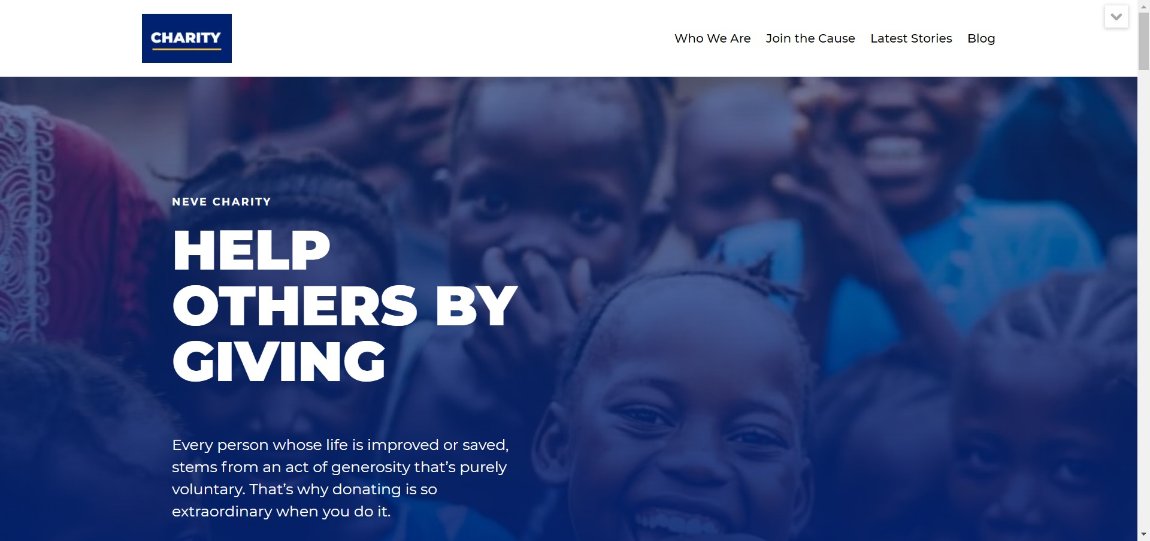 Neve is another WordPress theme we feature a lot in our 'best of' lists. It's a flexible multipurpose theme with dozens of demo templates that cover many niches. There is a dedicated nonprofit website template but it isn't the strongest in their list. It does have the features you need though.
Features such as emotive imagery, professional design, a nice mix of colours and a donation button. You can mix and match templates and add donation features if you like as Neve uses a page builder to help create designs.
Neve is a very flexible theme with a lot to recommend it. We think it's a top performer, which is why it's in our list of best WordPress themes for nonprofits.
Neve Pricing
Neve costs from €69 per year.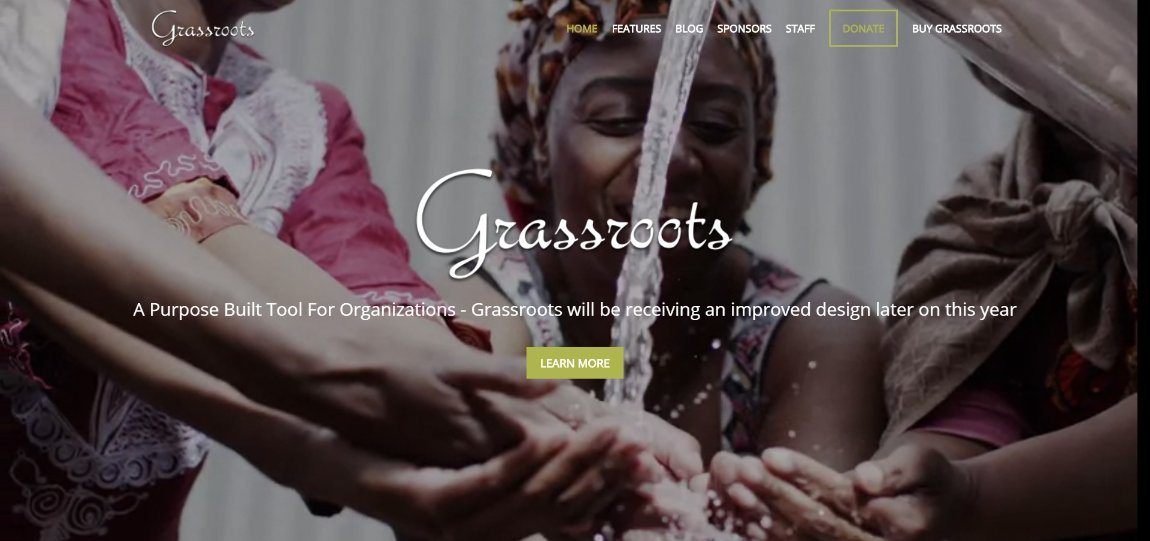 GrassRoots from Organized Themes is a compelling nonprofit WordPress theme. It opens with that emotive full screen image with a simple call to action and modest donate button in the corner.
The page unfolds with a mixture of content blocks, full width calls to action with image backgrounds and boxed areas for more content. An earthy palette suits the design nicely but can be changed according to your needs. As can everything you see on the demo.
GrassRoots stands out thanks to the design and the campaign element under the header. It is well worth considering if you think the design would work for your own organization.
GrassRoots Pricing
GrassRoots costs $55 per year.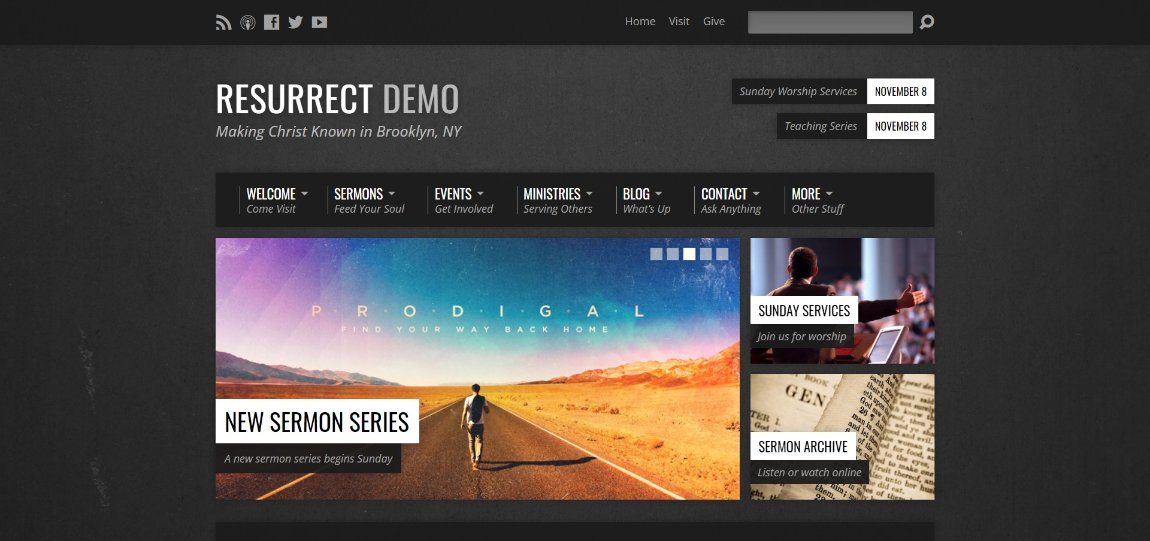 Resurrect, as the name might suggest, is a church theme that could easily be repurposed for nonprofits. It's a dark theme which would work for younger audiences with a textured background and dark on dark navigation and content areas.
It's a modern theme with a magazine-style layout, events calendar and optional content blocks. There is also a donation section at the bottom, although we would move that to the very top and make it stand out a bit more.
If you're targeting a younger or modern audience and think a dark theme could work, this is definitely one to try.
Resurrect Pricing
Resurrect costs $129 per year.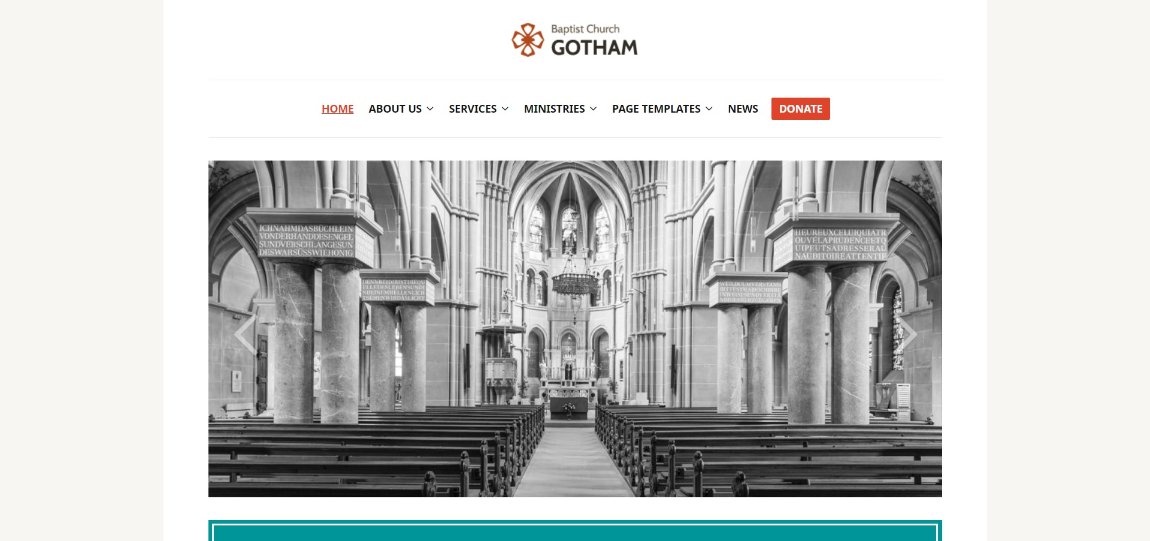 Endurance is another church theme that could be repurposed for nonprofits. It's also another free nonprofit WordPress theme that looks too good to be free. It's a very clean design with some contemporary touches and while it won't use a page builder, you can customize it with minimal skills.
Endurance uses a white boxed layout with darker background and a soft green colour. All of which could be changed of course, but they work well here. In the centre, some standard content blocks could be used for all your news, events and story.
There is a donate button at the top and on the page and an events calendar too. It offers a lot of features considering it's free.
Endurance Pricing
Endurance is a free theme.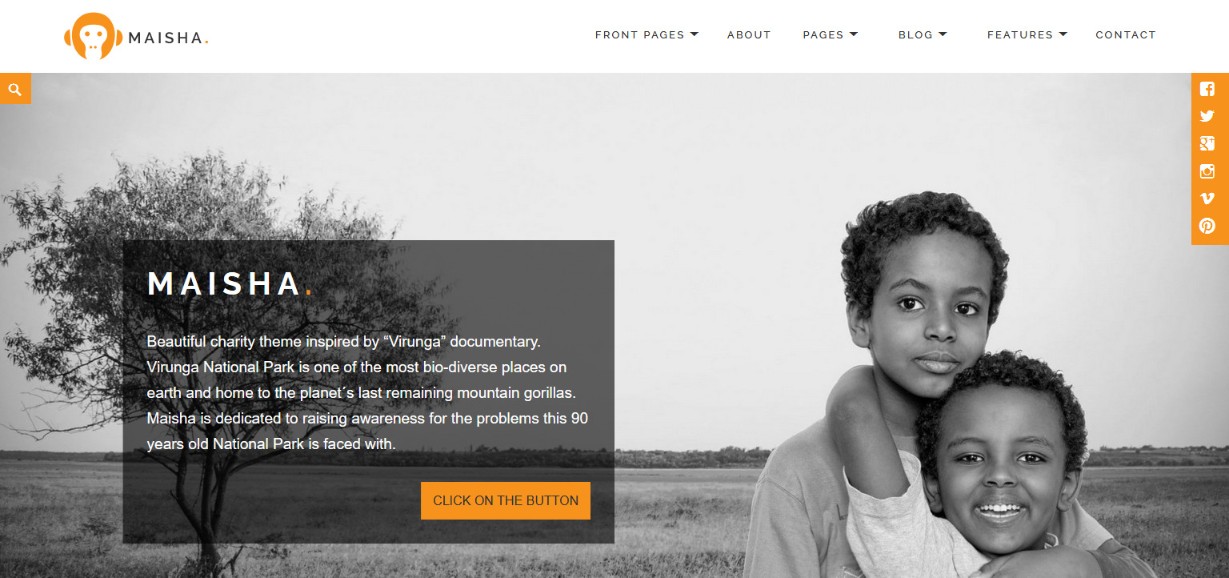 Maisha is a premium nonprofit WordPress theme. It looks like it too. It's a very polished layout with monochrome design. Those pops of colour from the orange make more of an impact because of that design.
From the emotive header to the borderless content blocks to the full width campaign monitor element, this theme screams nonprofit. It's a very stylish design with some contemporary touches and could be very powerful if handled right.
The theme integrates with payment gateways to encourage giving and is compatible with WooCommerce if you have items to sell.
Maisha Pricing
Maisha costs $59 per year.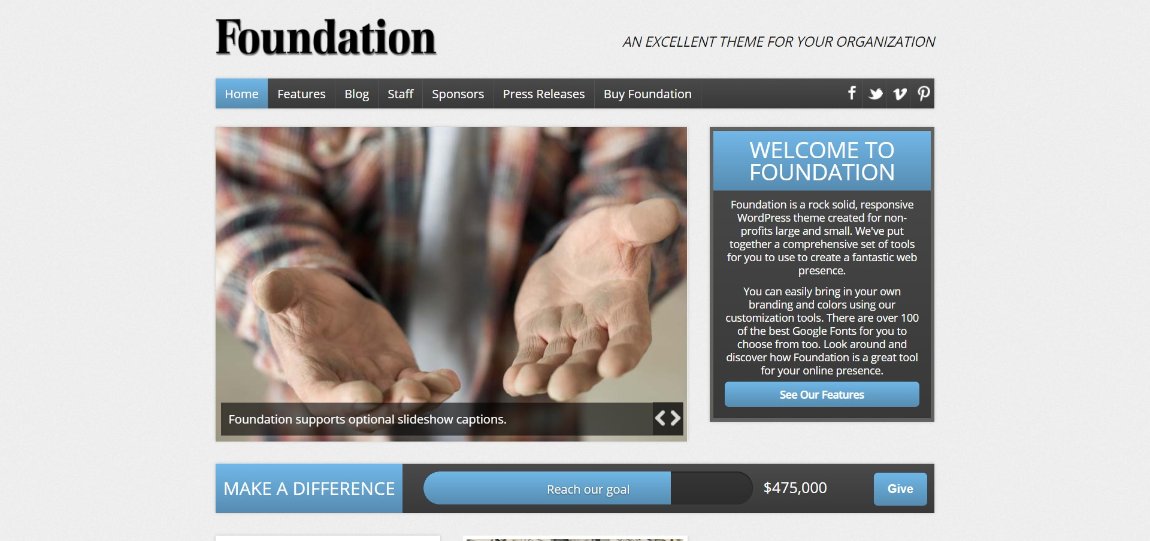 Foundation is a more restrained design with more of a news vibe. We like it because it seems effortless and has a laid back feel that would work well for certain organizations. We also like the layout and the clear and unambiguous messaging.
The theme uses a boxed layout with calm blue highlight colour with dark elements. It's a good combination that lets the blue stand out. There is a very effective campaign block under the header with a goal and give button that would work exceptionally well too.
Foundation is simple but effective and considering its low price, offers a decent option for many types of nonprofit.
Foundation Pricing
Foundation costs $30.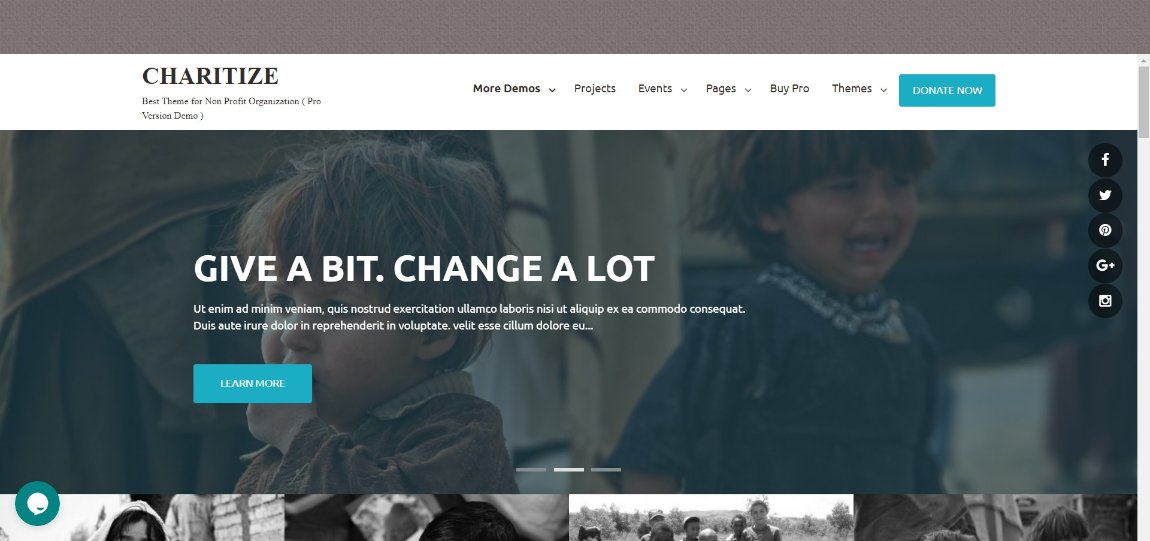 Charitize is a free nonprofit WordPress theme with a premium version. It's a very busy design with a lot going on but still manages to convey the key message. It's a great design for lively organizations or those who want to appeal to a modern audience.
The design is image-heavy so you're going to need to know how to optimize images. Otherwise, the demo page is vibrant, colourful and includes the content blocks you need along with a built-in store element, signup forms and donation section.
The free version contains all the key elements you see but has fewer customization options.
Charitize Pricing
Charitize is a free theme.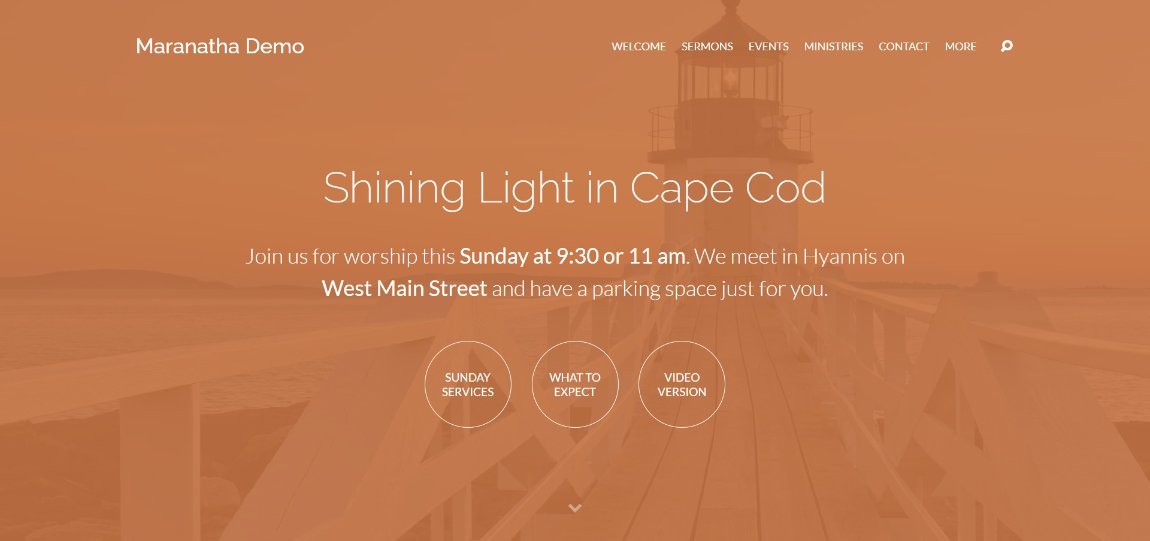 Maranatha is another church theme that could easily be repurposed as a charity website. It has a full screen header with image background with coloured overlay and headline. It's a bold start but not overbearing so could work in all kinds of situations.
Further down the page are optional content blocks with maps, archives, news, blog and so on. Spacing is good and the mixture of filter overlays covering the images is very effective. This is a sober design but works very well.
You would need to add a donate feature to this theme but that can be done in minutes with a plugin.
Maranatha Pricing
Maranatha costs $129 per year.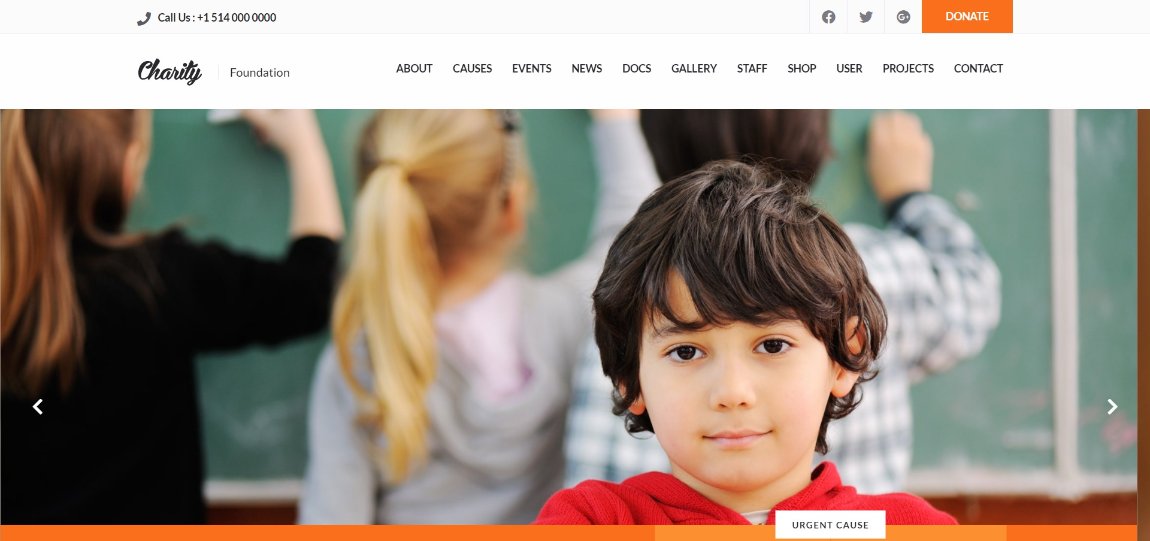 Charity by WPLook is a colourful and impactful nonprofit WordPress theme. Sure the slider could do with being softened a bit but otherwise, this is an effective design that uses an orange highlight colour to help communicate the core message. It's a compelling combination!
The theme uses white space and contrast colours well. Messages are clearly communicated and the images back them up. The white spaces gives you a moment of pause before the next content block and is partly what makes this design so successful.
Along with flexible content blocks, a donate button and signup form, this theme has all the features you need.
Charity Pricing
Charity costs $85 per year.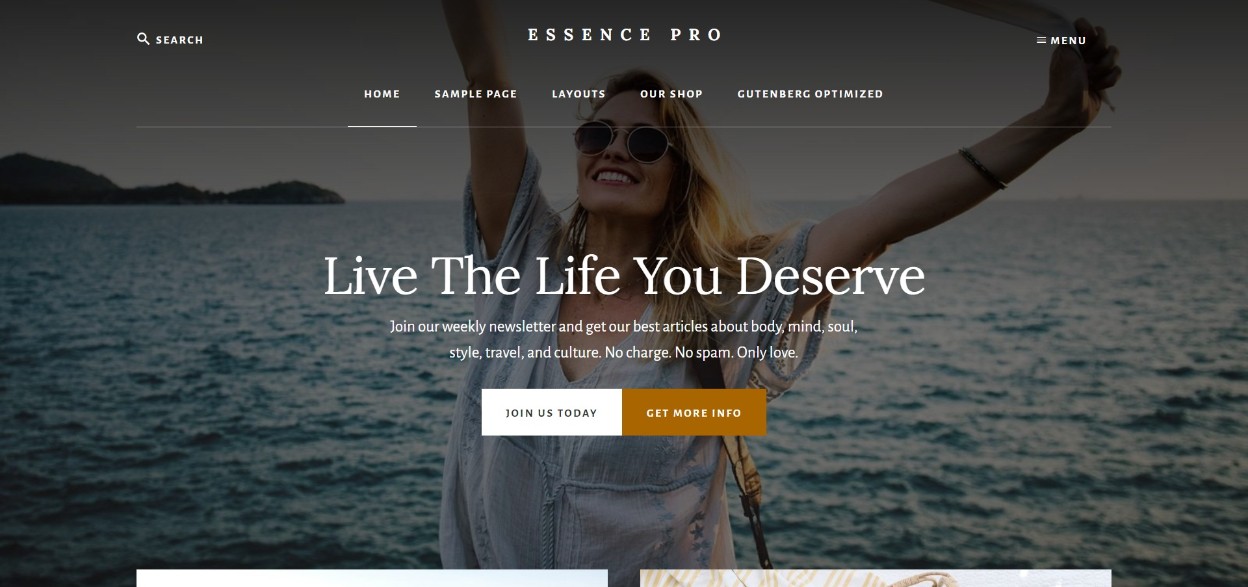 Essence Pro is another template that isn't about charity but easily could be. It's a more contemporary design with subtle header image with bold headline fonts and navigation, a series of content blocks below the fold over a great background and subtle highlight colour.
That highlight colour could do with changing right away but the rest of the theme could work well. The combination of white space, content blocks, modern and traditional fonts and overall page balance means the design could work exceptionally well in all kinds of situations.
Again, you would have to add donation and volunteer functions with plugins but otherwise the design is good to go.
Essence Pro Pricing
Essence Pro costs $360 per year including Genesis Framework.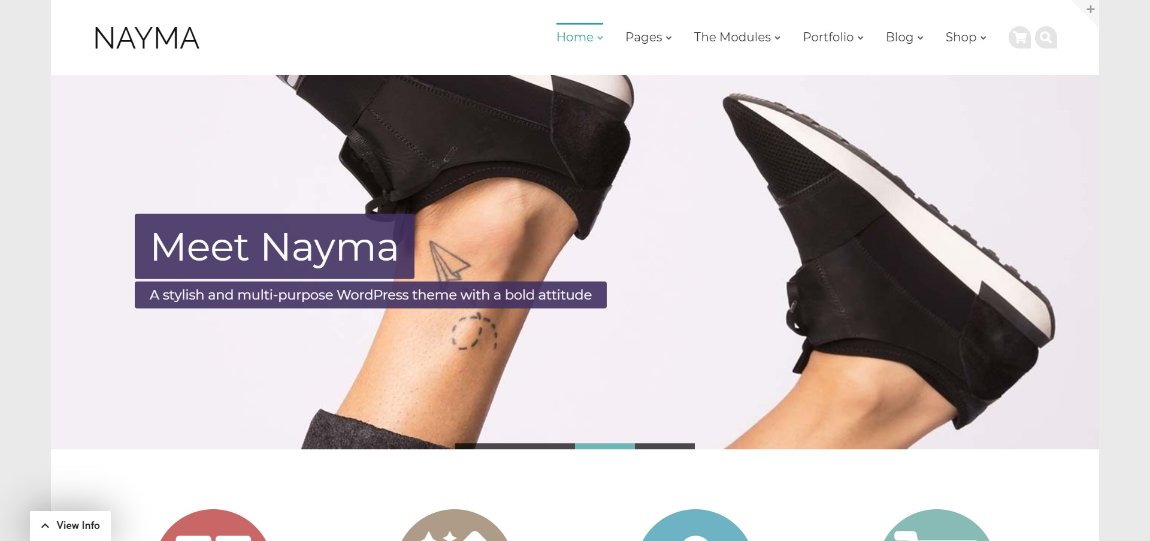 Nayma is another contemporary theme that could be repurposed for nonprofits. It's a compelling design because it is so flexible, it could genuinely become any kind of website you like. From an eCommerce store to blog, or nonprofit website.
The design has a hint of Scandi with a flat, modern feel. It uses a boxed layout with grey background and white content blocks. Along with subtle highlight colours and well-chosen images, the design portrays a feeling of comfort while also looking professional.
Nayma is compatible with Gutenberg and WooCommerce as well as other WordPress plugins, so adding functionality should be easy.
Nayma Pricing
Nayma costs $129.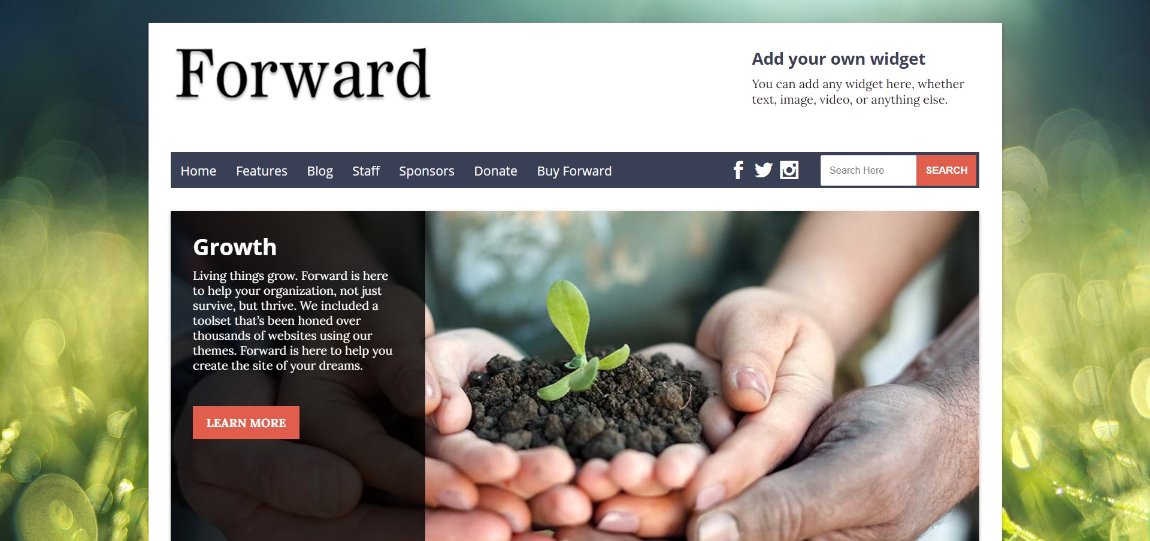 Forward is an interesting design. It looks like a newspaper or magazine theme but is designed as a WordPress theme for nonprofits. It's light, easy going and attractive, all things a good website should be.
The boxed layout sits on top of a colourful background image and contrasts that with white boxes and calm green highlight colour. A clear campaign element shows donations and includes a donate button while the rest of the design includes optional elements to cover everything else you might need.
Forward Pricing
Forward costs $52.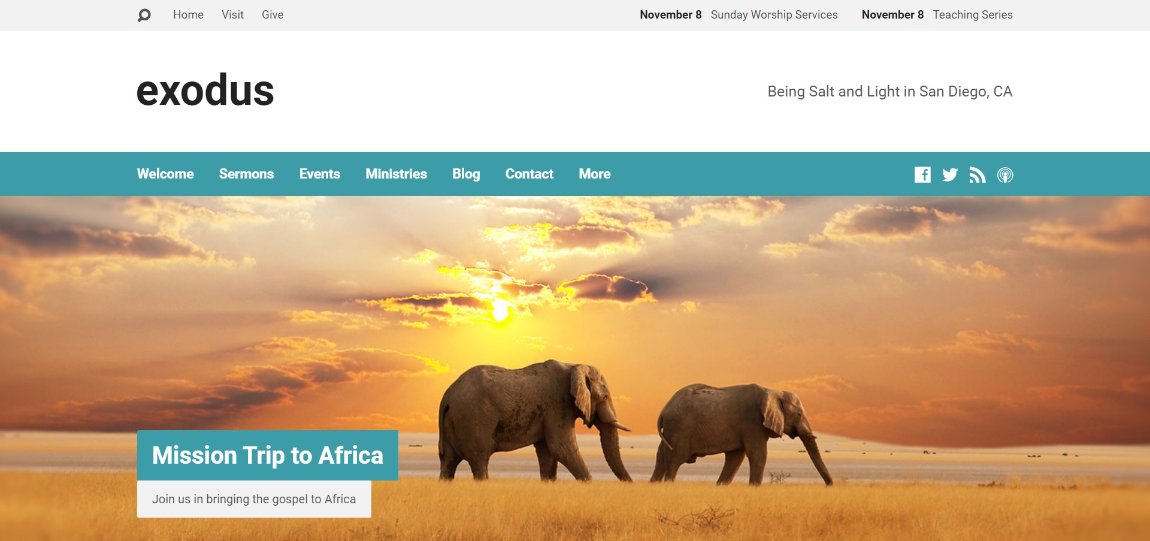 Exodus is a church theme that has all the elements you need for a nonprofit. It's a clean, crisp design with subtle colours, a restrained image slider, simple navigation and a clear message portrayed right away.
Further down the page you have a selection of content blocks covering most needs including an events calendar, news, images and donation section. We would definitely make more of that donation area but that's simple with the theme customizer.
Exodus is a very flexible theme with some very attractive elements. We think it could deliver everything you need with a little work.
Exodus Pricing
Exodus costs $129 per year.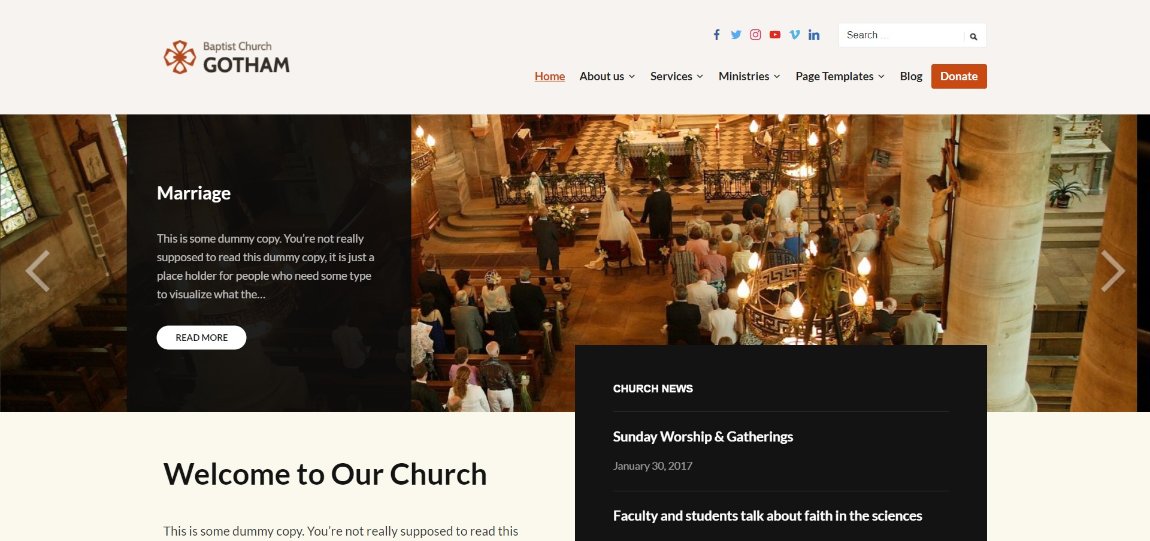 Faith is also a church template that could be turned into a non-profit WordPress theme. It shares a similar design to Endurance with a soft colour palette, subtle navigation, nice font choices and modest contrast colours.
It's also easy to see how this could be turned into a WordPress theme for nonprofits. Simply change the images and the copy, add your own logo and make more of the donate button and you would be good to go.
Faith is a free WordPress theme so will require a little work on your part to make it sing, but we think it's well worth the effort.
Faith Pricing
Faith is a free theme.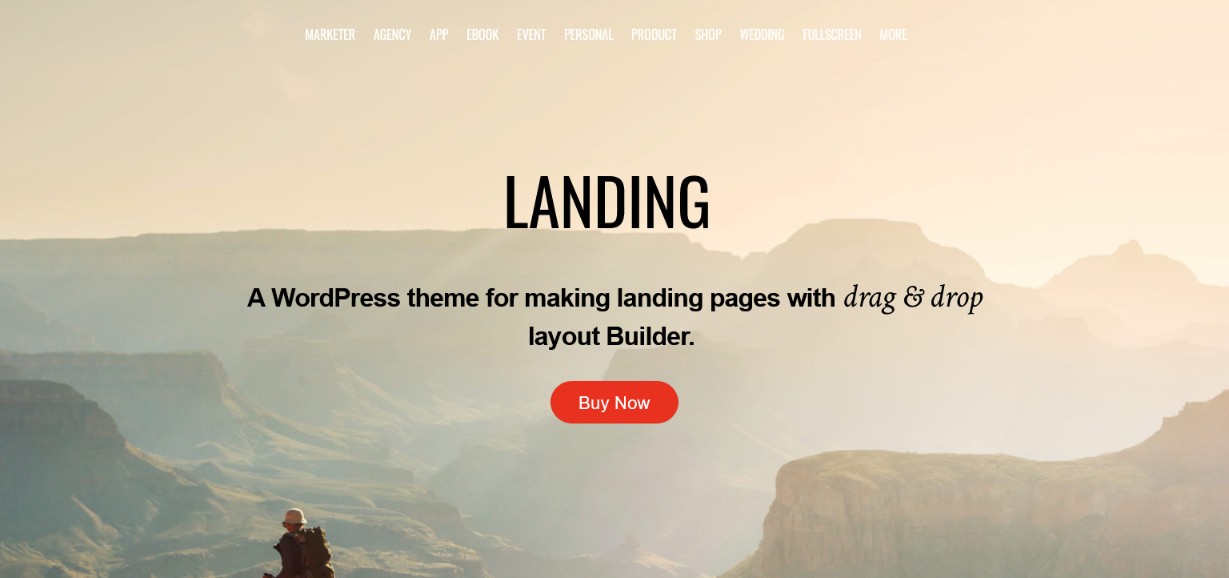 Landing is a multipurpose theme with a selection of demo templates covering many niches. There isn't a dedicated nonprofit theme here but each of the demos could be repurposed with ease.
We included Landing in our list of the best WordPress themes for nonprofits because of the quality of the designs. We like the Event demo for younger audiences as it's colourful, energetic and engages right away. All things we want a nonprofit website to do!
Landing Pricing
Landing costs $59.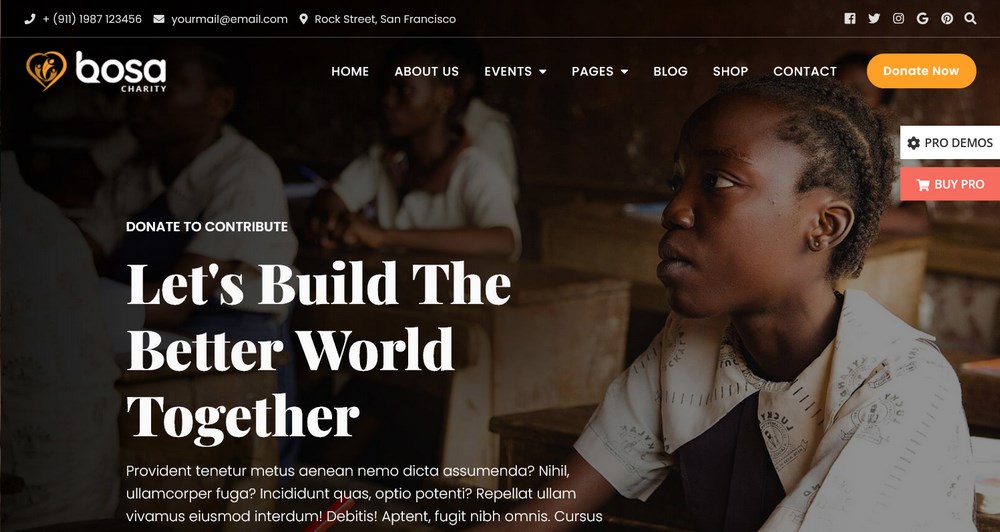 Bosa Charity is a free multipurpose theme aimed at charities. It is a child theme of the Bosa theme, which is designed with Gutenberg in mind. Certainly, one of the best theme to pair with Gutenberg.
The theme is lightweight, responsive, and can be used by charities, NGOS, nonprofits, volunteers, fundraisers, churches, and other similar types of organizations.
It is optimized for SEO, loads super quickly, and allows you to customize virtually any aspect of your site. This includes header and footer, content, widgets, fonts, and more.
Perhaps most importantly, the theme is compatible with many popular WordPress plugins like Yoast, WooCommerce, bbPress, and other tools that you'll want to use in your nonprofit organization.
Bosa Charity Pricing
Bosa Charity is a free theme.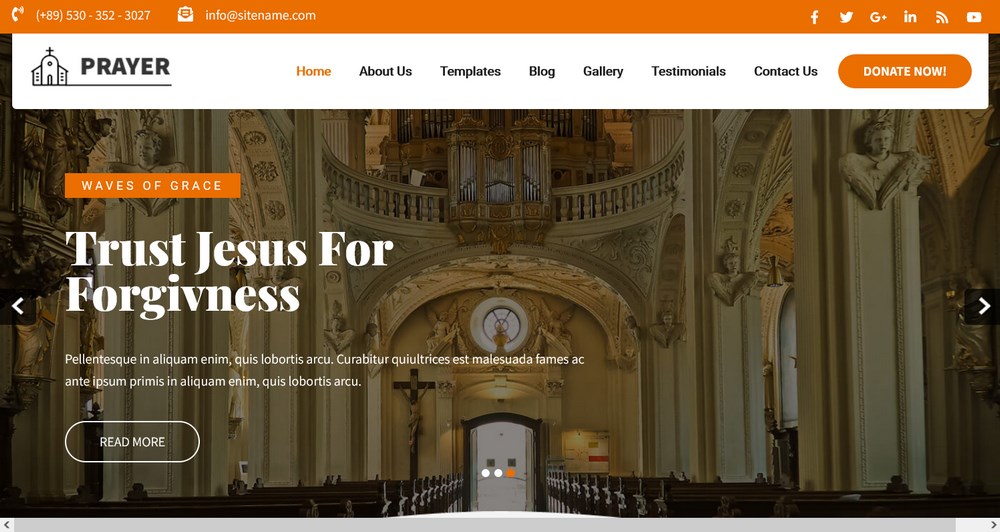 As its name indicates, this theme is aimed at religious organizations, especially Christian ones. It has a simple modern design, with a large emphasis on images. The layout and functionality is aimed at churches, charities, ministries, and similar religiously-affiliated groups. However, it is flexible and can be used for any sort of similar organization, not just religiously-affiliated ones.
It comes with a pre-designed home page template that displays your logo, contact information, social media links, services, donation page, and other items. Everything is completely customizable.
The theme is completely mobile-friendly, which is a big plus since so much internet usage now occurs on mobile. It also supports all of the major WordPress plugins like Yoast, Contact Form 7, and WooCommerce, which makes it easy to grow your nonprofit and achieve your organization's goals.
Prayer Lite Pricing
Prayer Lite is a free theme.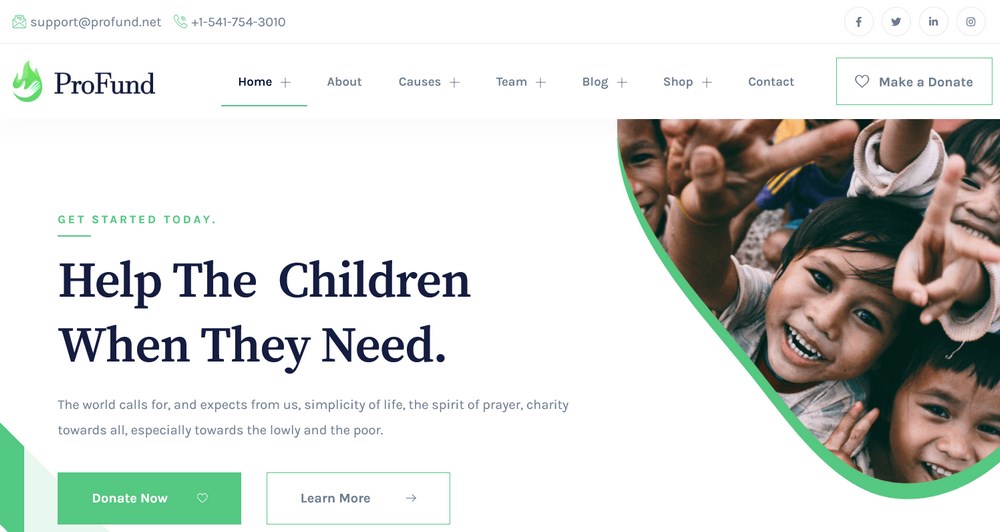 ProFund is a solid multipurpose WordPress theme aimed at nonprofits, crowdfunding, charities, donation events, and other organizations that want to fund their projects. It has a minimal, modern design and can be customized via a theme control panel.
It also comes with useful addons that help you fine-tune your site. These include a custom slider, custom icon font, and other tools. Most importantly, it's completely responsive, which is a must in today's mobile marketplace.
ProFund Pricing
ProFund costs $29.
Recommended Plugins for WordPress Nonprofit Themes
Now you have some inspiration thanks to our WordPress themes for nonprofits, now it's time to mention a few essential plugins.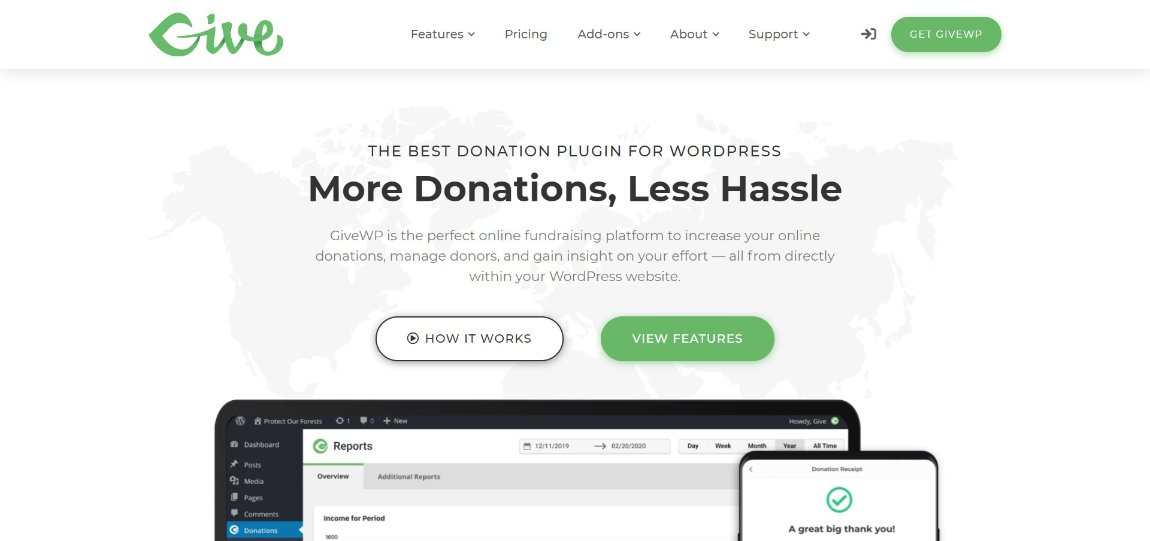 GiveWP is a donations plugin for WordPress that makes short work of collecting, managing and documenting donations on the web. It's a premium plugin but handles every step of the donations process including adding a donations section to a page.
GiveWP also tracks donations, manages recurring donations, provides insight into page visitors, adds goal sections to pages to encourage giving, manages multiple currencies and a whole lot more.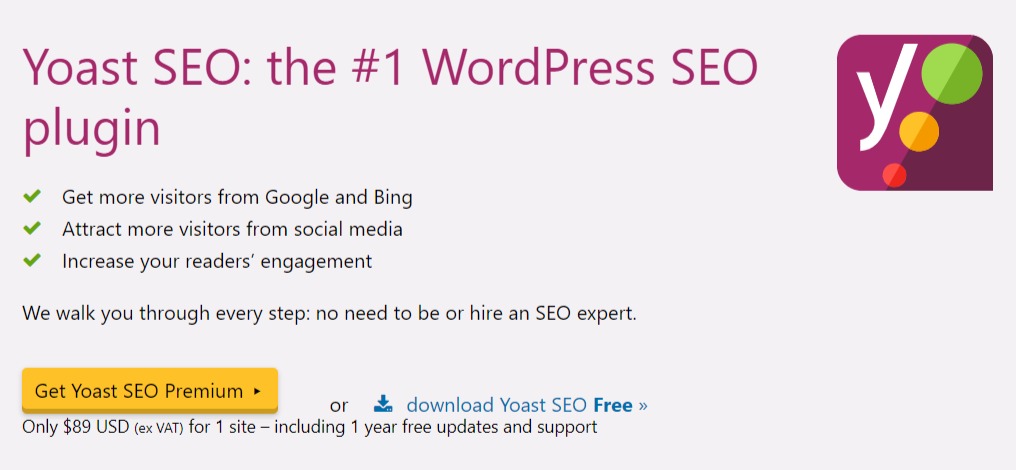 Yoast SEO is one of a few essential SEO plugins we recommend for every website. It has a free and a premium version and both handle the basic SEO requirements every website needs to begin the steady climb to the top of the search engine results page.
Yoast SEO handles most of the core SEO functions a website needs and some more advanced ones. Even the free version is worth using and comes with a wide range of powerful functions. Premium adds another level of SEO goodness and we highly recommend it.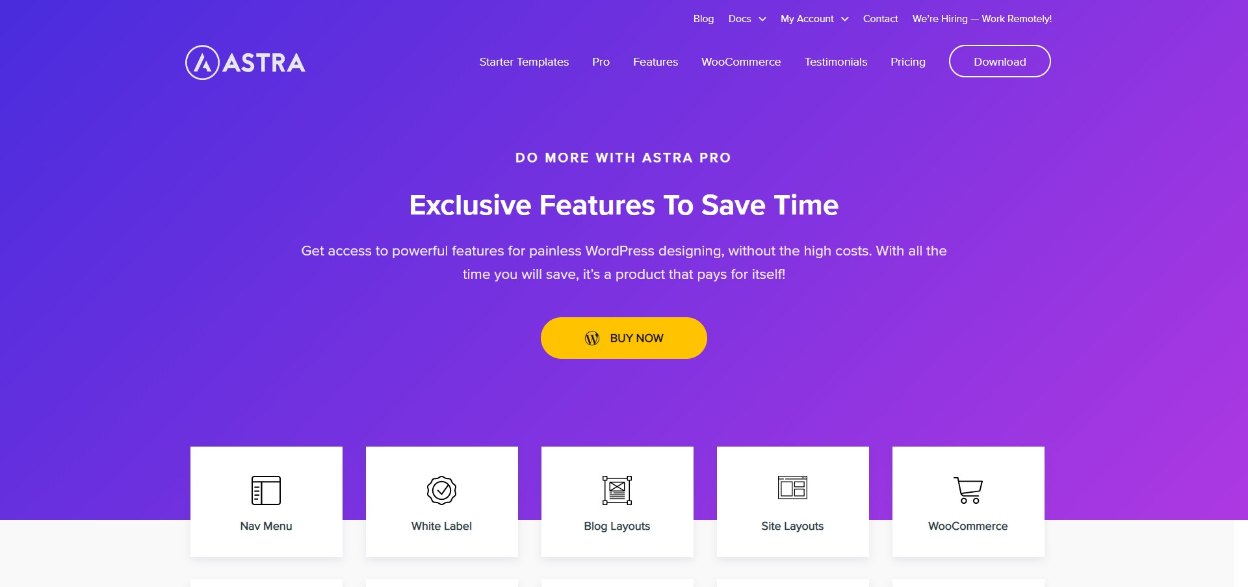 Astra Pro and Essential Bundle are both plugins for the Astra theme that make an already powerful package even more so. The two plugins are separate and offer many more customization options, more typography styles and a huge range of features that make building a website as easy as possible.
Astra Essential Bundle takes that even further by enabling access to Ultimate Addons for Elementor and Ultimate Addons for Beaver Builder. Two page builder packages that add even more functionality to an already feature-rich package.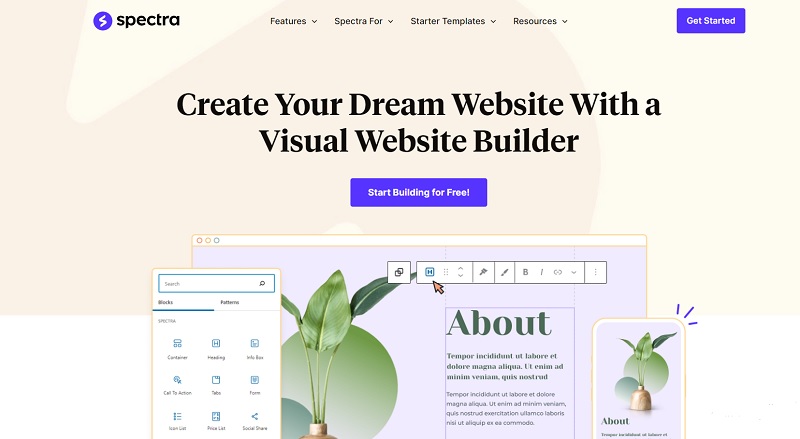 This free plugin can be used with the WordPress Gutenberg editor to create websites, customize them and enhance existing pages with ease. The plugin includes a range of page elements from info boxes to forms, post layouts to price lists, social media buttons to Google Maps.
If you like using the Gutenberg editor, this is an essential plugin. While the built in elements cover most needs, Spectra adds many more elements and improves on many others. Considering this is a free plugin, there is a lot on offer here!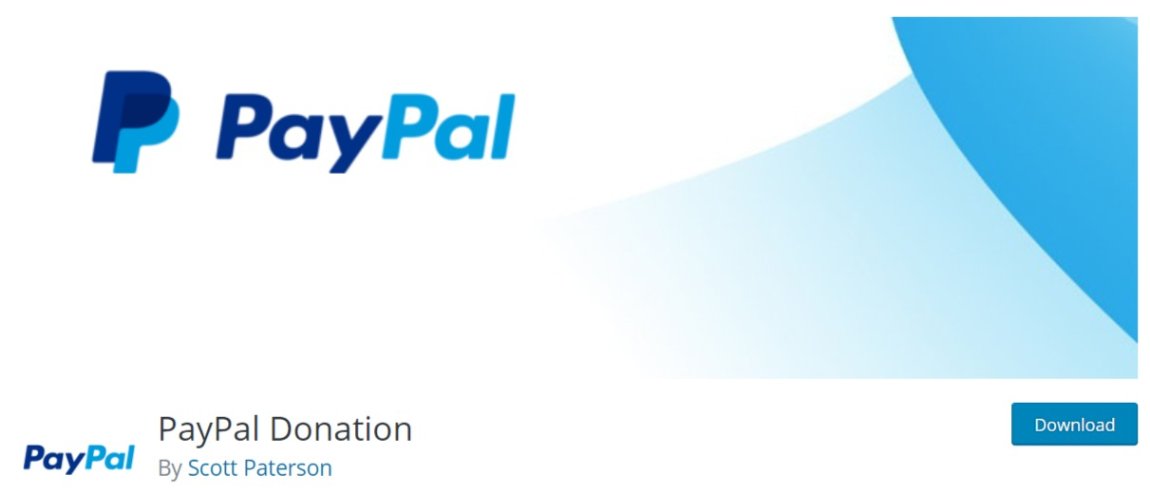 PayPal Donation is a free plugin that allows you to easily integrate a donation button onto your website. Visitors can use their own PayPal account or credit card to make a donation and both can rest easy knowing PayPal handles everything.
The plugin works well. Download, install, set up, link it to your PayPal account and you're good to go. Add the button to a page or donation element on a page and you can begin collecting donations right away.
Creating a Website for Your Nonprofit Organization
If you're new to WordPress or building websites, we've got your back. It's actually a very straightforward process made easier by these WordPress themes.
You will need:
Domain name and hosting
WordPress
A WordPress theme for nonprofits
WordPress plugins
Domain Name and Hosting
A domain name helps visitors find your website using the universal 'www.websitename.com' format. Your domain name needs to reflect your organization's name as closely as possible. We have found Namesilo to be a reliable domain name registrar.
Hosting is rented server space where you install your website so it's accessible to the world. Not all web hosts are worth the money so research web hosts thoroughly to make an informed decision.
Kinsta offers a generous 15% discount on hosting plans for nonprofit websites. Cloudways and Inmotion Hosting are also good options.
WordPress
WordPress is a content management system, (CMS), that creates the framework for your website. There is a lot to it but WordPress has been built in such a way that you don't really need to know how it all works to get it working.
Download it or install it onto your web host to begin the building process.
A WordPress Theme for Nonprofits
A WordPress theme is installed onto WordPress to make it look pretty. The CMS has its own set of basic themes but basic just won't do if you want to be successful. One of these WordPress themes for nonprofits will do the trick!
WordPress Plugins
WordPress utilizes plugins to add features. Some of those features are helpful, some are essential. We cover a couple of those essential plugins after the list.
Once you're done, work your way through this comprehensive checklist before you launch your website. It could be the difference between success or failure!
Summary of WordPress Nonprofit Themes
What do you think of our best WordPress themes for nonprofits?
We think they represent the best of what's on offer right now and cover every conceivable use.
After reading this page, you should have a good idea of how to build a WordPress website, ideas for WordPress themes for nonprofits and suggestions for additional plugins to supercharge your site.
We hope it helps launch your nonprofit to the next level!
Do you use one of these WordPress themes for nonprofits? Have any other themes to recommend? Have something to say? Tell us about it below!