Need a new website or design for your band's website? Want to see the best WordPress themes for musicians in 2023?
Being a musician in the 21st century is only partly about the music. It's also about the publicity, the profile, the social presence and the notoriety. If you're not out there and not gaining a following, you're going to find it hard to reach your audience.
A website is part of that. It ties your entire PR campaign together. It's where your social media links back to, where you publicize your shows, reach out to your fans, tell your stories and create that all-important persona required of any successful performer.
A website can also showcase your work with audio and video, tell your story with blog posts and biographies, collect audience data with email opt-ins and reach out to a global fan base with newsletters and media.
That's why your website is so important.
What Should You Look for in a Musician WordPress Theme?
We all look for different things in our web themes but there are a few common elements every theme should have.
They include:
Audio and Video Player Support
Audio and video are the lifeblood of any band or musician. Provide a positive experience on your website and it can directly impact your brand in a positive way.
One way to do that is with integrated audio and video player support. Most themes will work with a standard video player block, but some these can provide a whole lot more.
Portfolio
A portfolio section full of high quality images of performances or videos of gigs help you show as well as tell. Seeing is believing and that's especially true in the world of performance.
If your website includes a fast, effective portfolio, you can fill it full of media to help convert visitors into bookings.
Services Section
A good musician theme will have a service area where you can outline what you do, the type of performances you offer, the type of events you're willing to work with, your rider and any particular requirements.
The service elements won't be the same as a corporate website, but you definitely need space to outline what you do, how you do it and what you need in order to do it.
About and Contact Pages
About and contact pages are essential ingredients for any website. The about page helps tell your story and provides an opportunity to engage with the reader.
A contact page can help turn that engagement into action. Visitors can reach out, enquire about you or your band and perhaps even book you!
Mobile Friendly Design
Mobile friendly design, or responsive design, ensures every visitor receives an excellent experience regardless of the device they are using.
This is another essential ingredient. Users demand it and search engines will rank you higher because of it.
In a Hurry? Here Are the 5 Best WordPress Musician Themes
We recommend checking out all 24 WordPress templates for musicians, but if you don't have the time, these five themes are the best of the best.
Theme name
Pricing
Our rating
Astra
Free / From

$47

€44

per year
⭐⭐⭐⭐⭐
Sydney Pro
From $59 to $99 per year
⭐⭐⭐⭐
Divi
$89 per year
⭐⭐⭐⭐
Ultra
From $59 to $89 per year
⭐⭐⭐⭐
Rock Star
Free / From $59.99
⭐⭐⭐⭐
Astra – The Astra theme is designed to be lightweight, load fast and still deliver the exceptional experience your fans expect. There are also a wide range of musician website templates you can use along with drag and drop page builders for a painless website building experience.
Sydney Pro – Sydney Pro also exhibits a great eye for design with some excellent features that work for musicians. It includes everything you're likely to need in a very tidy package.
Divi – Divi is another strong WordPress theme for musicians with the option of using one of the many other demo designs to make yours stand out.
Ultra – Ultra has a lively appeal that will resonate well in some genres. It's also fast, fully responsive and delivers the interactive features you look for.
Rock Star – Rock Star is a real standout and second only to Astra as far as we're concerned. It has a great design, some interesting touches and very appealing colours.
24 Best WordPress Themes for Musicians
If you're looking for WordPress themes for musicians, the following are some of the best you can get right now.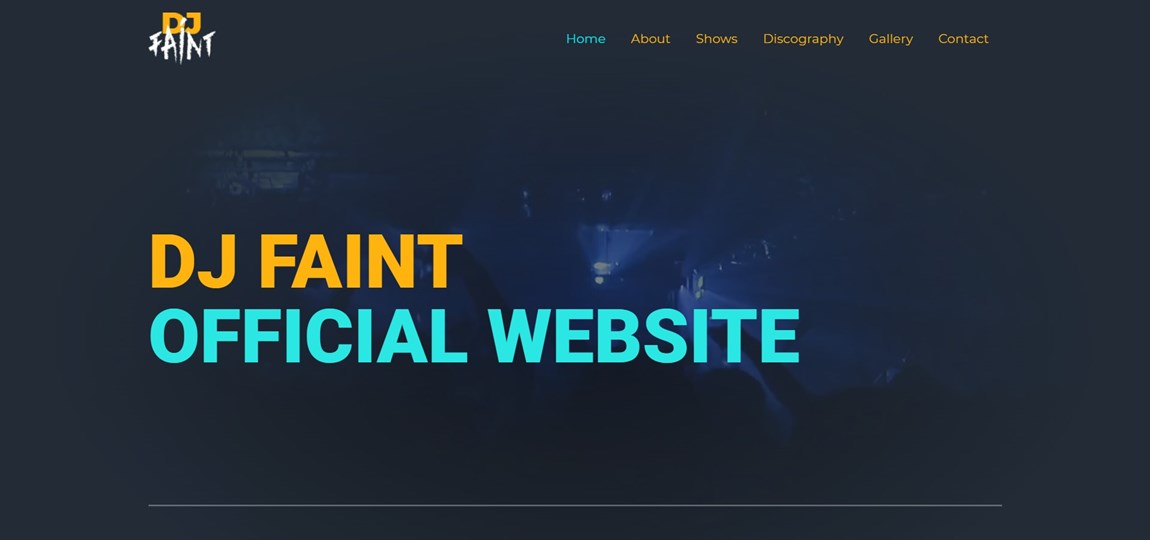 Astra has a selection of readymade website templates you can use for almost any niche. The theme is light, loads incredibly quickly and includes everything you need to build and launch a music website.
The themes look professional and are very easy to make your own. Astra works with Elementor, Brizy, Beaver Builder and Gutenberg drag and drop page builders to make page creation fast and simple. You don't need to know any code, just pick an element, drag it into place, set the colour, size and content and you're good to go!
We have a dedicated music website templates that reflects all those qualities a good music website requires. A great character, fantastic colours and fonts, lots of images, some audio and video and the opportunity to customize it to suit your own brand.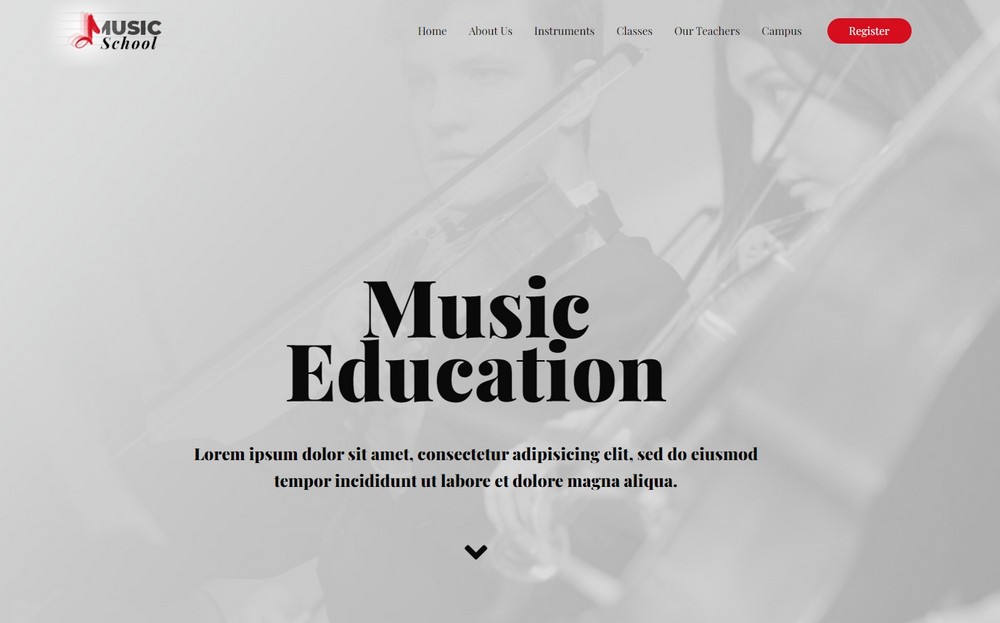 The Music School template provides a friendly theme with an engaging gray full screen image with faded background. The design unfolds to show content sections covering most of what you'll want to communicate as well as information on classes, reviews and a contact form.
This is a simple, but very effective theme that delivers everything you would expect from a music school and then some.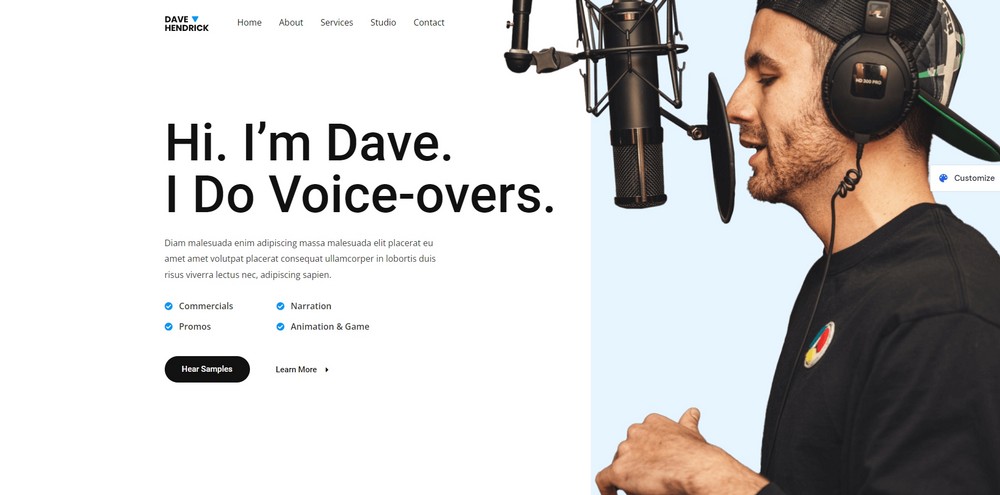 The Voiceover Artist template is bright and breezy and uses a descriptive image and description to immediately communicate what the page is all about.
After that intro are content sections to tell your story, outline your services, hear samples of your voiceovers and showcase your previous work. While designed for voiceovers, you can see how it could work for musicians too.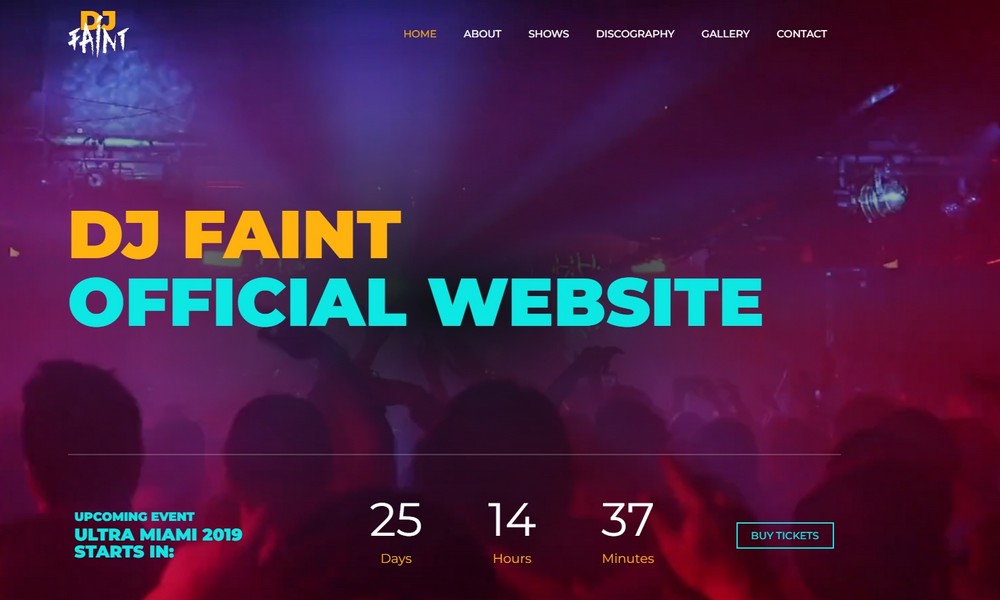 The Disc Jockey template is immediately impactful. It engages with a video background overlaid with bright colors, modern fonts and the date of your next show. It's a dark theme that reflects the industry perfectly.
The rest of the page enables you to add content, tell your story, showcase previous performances, sell merch and encourage engagement.
We think it's an awesome theme!
Pros of Astra:
Wide range of professional-looking themes for musicians
Works with drag and drop page builders
Includes everything you need to build a website
Loads fast
Is fully responsive
Cons of Astra:
Choosing between the many high quality themes may be a challenge!
Astra Pricing
There is a free version of Astra while premium plans cost from $47 €44 .
Opinion of Astra
Astra is fast, flexible and has some superb themes. It's also very easy to use and ideal for beginners as it uses those drag and drop page builders.
We may be biased, but we think it's the ultimate WordPress theme for musicians.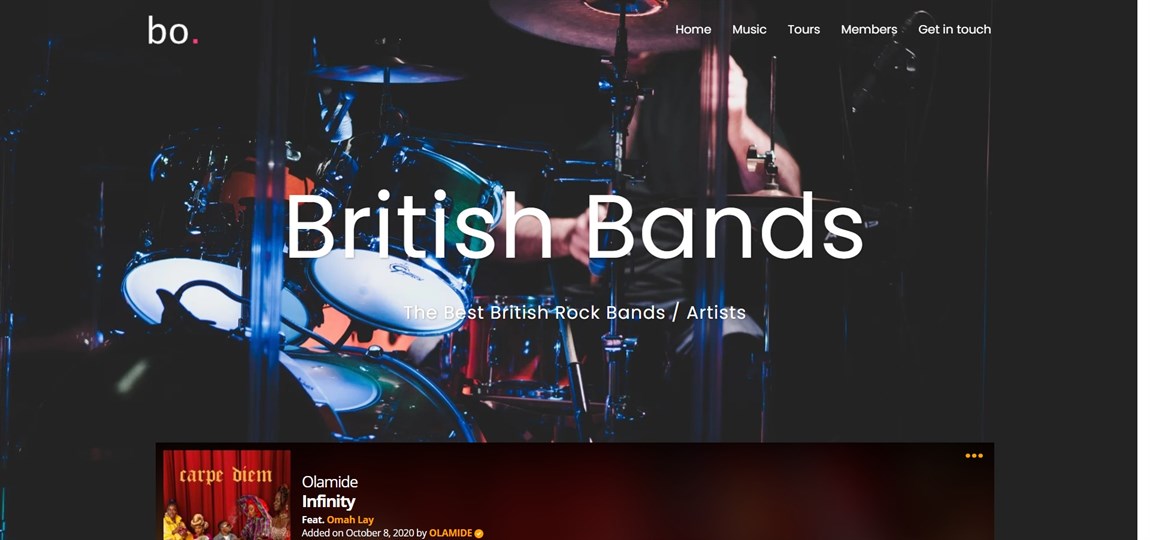 Sydney Pro is another great WordPress musician theme. It's a mixture of dark and light with alternating backgrounds. The header image tells the visitor immediately what you're about and a strong headline can seal the deal.
Further down the page you have an audio section for showcasing your work, a portfolio section to show images of your concerts, a discography, event calendar and a newsletter signup. All the ingredients you need for a music website.
Pros of Sydney Pro:
Attractive design with some edgy elements
Includes essential elements a band or musician would need
Loads quickly
Very configurable with page builder included
Fully responsive
Cons of Sydney Pro:
More expensive than Astra and others in the list
Sydney Pro Pricing
Sydney Pro costs $69 per year.
Opinion of Sydney Pro
Sydney Pro is a very accomplished WordPress theme for musicians that delivers that impact we look for. It's also very configurable, has a page builder and loads quickly. There's nothing not to like here!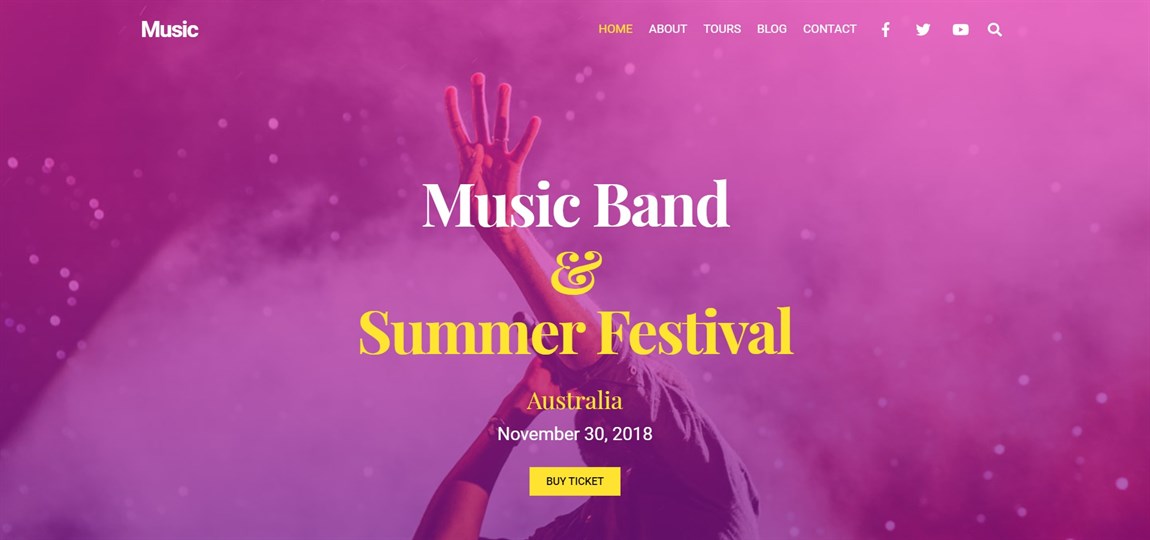 Ultra is another very accomplished WordPress theme for musicians. It's bright, impactful and portrays a lively vibe that resonates well. It can also be customized to suit your own brand very easily.
Ultra has a range of demo templates but Music is our top choice for musicians. It's modern, vibrant, includes a discography, audio elements, portfolio, event calendar, blog, news section and newsletter signup. You can add or remove features as you like too!
Pros of Ultra:
Comes with a range of predefined layouts to suit any niche
Uses modern layout and design principles ideal for music
Includes music-oriented features such as an audio player
Loads quickly
Fully responsive
Cons of Ultra:
Comes with its own page builder but isn't as intuitive as Elementor or Brizy
Ultra Pricing
Ultra costs from $59 to $89 per year to use.
Opinion of Ultra
Ultra is an excellent WordPress theme for musicians that uses great design and layout to deliver a compelling website ideal for its niche.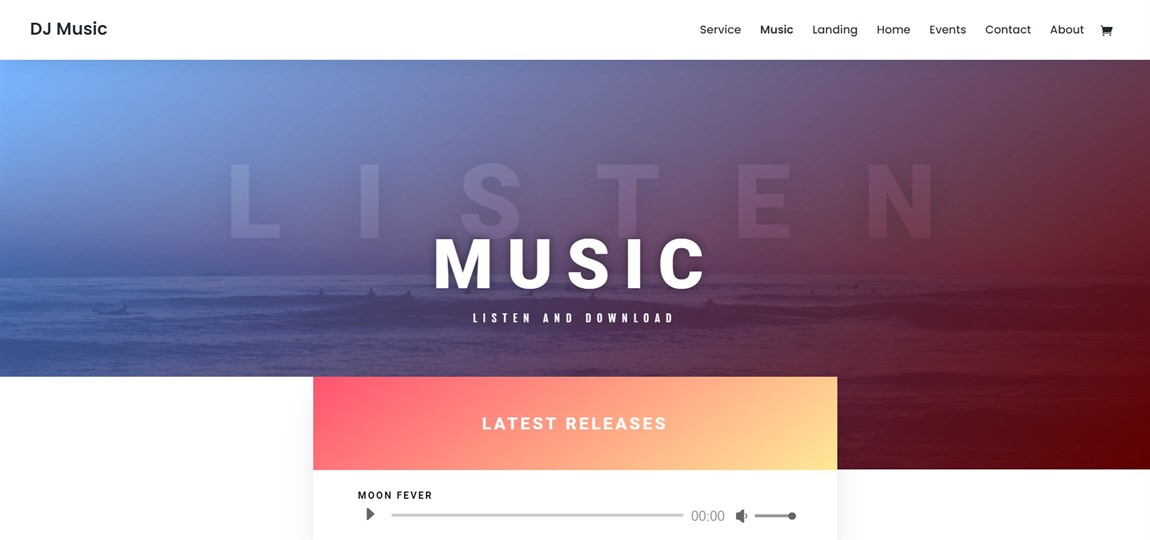 Divi is one of the best-known WordPress themes after Astra. It has thousands of users that have built all kinds of websites, including bands and musicians. We like Divi because it is easy to use, is very flexible and uses a page builder to help anyone, of any skill level, build websites.
The Divi DJ demo website is not as feature rich as some of these others but could be built to deliver the same impact. It's a clean design with lots of personality brought by bold colours and modern fonts. The requisite audio, events and portfolio elements are all present and correct too.
Pros of Divi:
Divi is a very well coded WordPress theme
Loads quickly and is reliable
Page builder makes short work of building websites
Includes all the elements you need for a music website
Fully responsive
Cons of Divi:
The music demo needs more work than others in this list
Divi is one of the more expensive WordPress themes
Divi Pricing
Divi costs $89 per year or $249 for a lifetime licence.
Opinion of Divi
Divi is a superb WordPress theme but we think music is not as well served as some other niches. That said, if you can work the page builder, you could make this theme truly unique.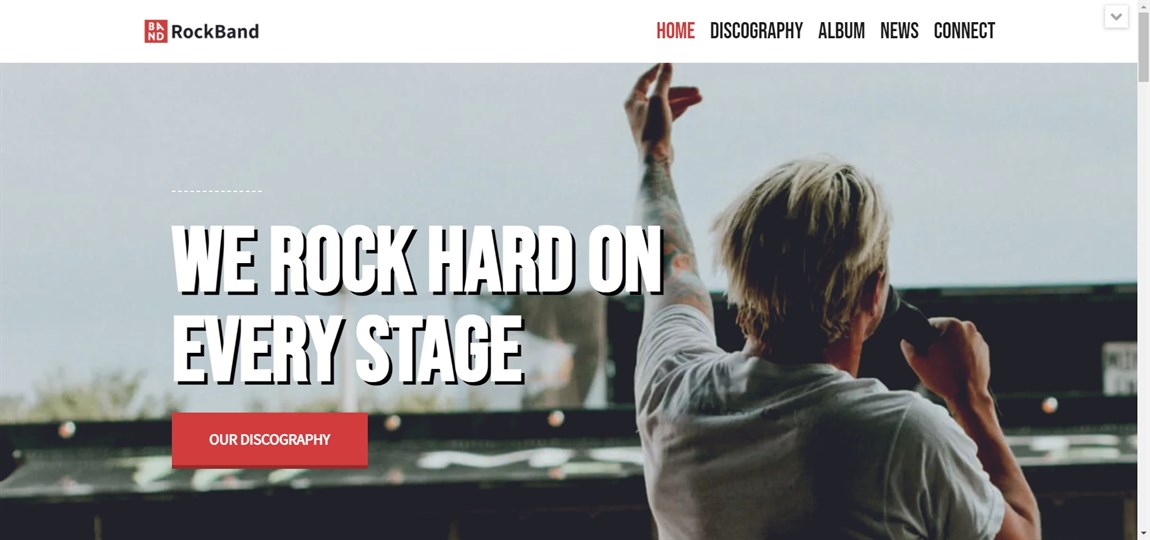 Neve is another of our favourite WordPress themes and definitely one to consider for your next website. The theme is flexible, includes a page builder and some excellent demo websites you can import and use.
The RockBand theme is our chosen WordPress template for musicians. It's light, includes an impactful header image and headline, a strong top menu, modern fonts and some great touches. We like the shadow effect on images and the event calendar in particular.
Pros of Neve:
Neve is a flexible and reliable WordPress theme
Uses a mix of modern design schemes to deliver solid websites
Easy to use and to configure
Demo site includes most of what you'll need
Fully responsive
Cons of Neve:
The demo website doesn't have universal appeal so will need work
Neve Pricing
Never has a free option and premium plans starting at $69 up to $259.
Opinion of Neve
Neve is a strong showing and definitely worth checking out. The demo website isn't amazing but the overall theme is well worth the investment of time and effort. That's why it's in this list of best WordPress themes for musicians.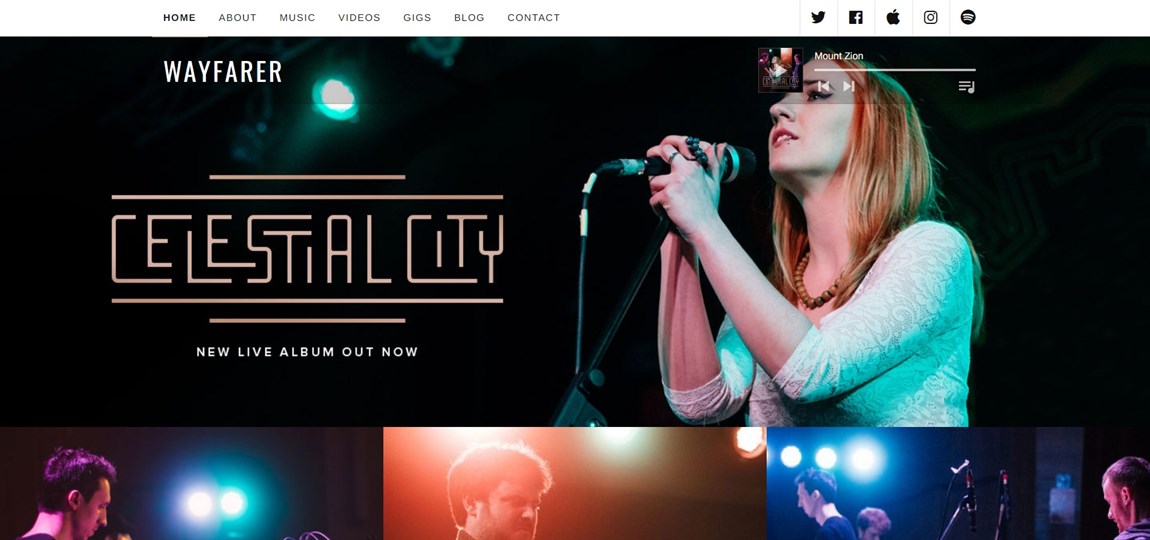 Wayfarer has a different layout than those you have already seen. Rather than using a longer landing page, this demo has a short page with extra pages to draw you in. It's an effective way to engage for some audiences.
The design is colourful with lots of images and sections with image navigation. A mixture of fonts and simple navigation keep you oriented while staying out the way and the minimal audio player at the top is a neat touch, although some people might miss it.
Pros of Wayfarer:
Dares to be different
Includes all the ingredients a band website needs, just on different pages
Attractive pages for video, audio and biography
Excellent opportunity to use images to make an impression
Fully responsive
Cons of Wayfarer:
Longer landing pages work better for mobile users
Wayfarer Pricing
Wayfarer costs $69.
Opinion of Wayfarer
Wayfarer uses good design with some strong elements but it won't work for everyone thanks to the arrangement of elements on different pages. That said, there is nothing stopping you building out your landing page much longer if you wanted to.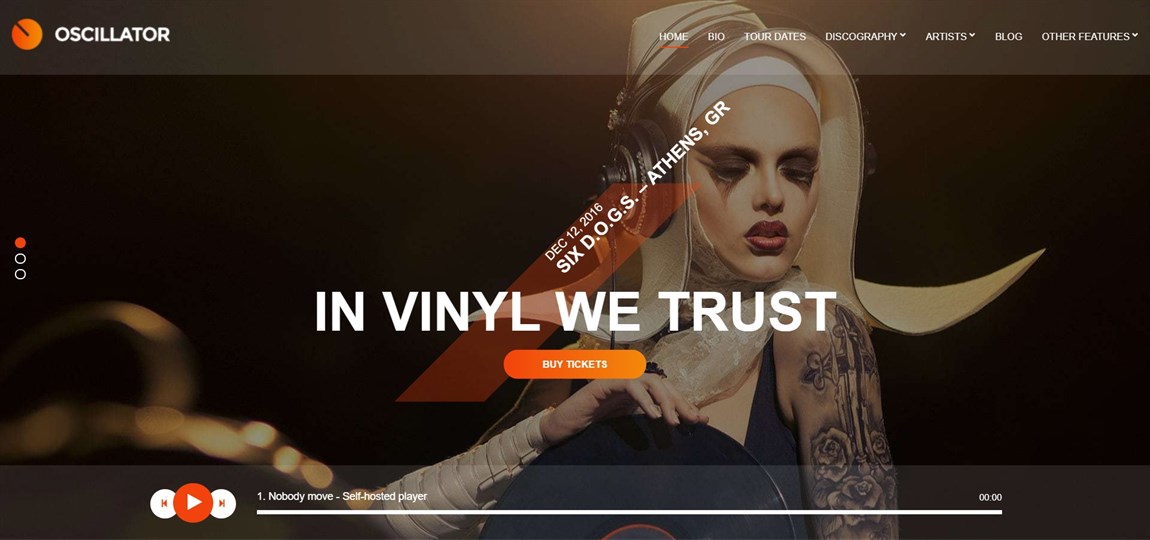 Oscillator makes an immediate impact with a full screen image, stark headline and prominent audio player. It's everything a band needs though, which works exceptionally well in this context.
Further down the demo page things lighten up a little with a discography, media gallery, event calendar and more audio. Further pages add to that impact by allowing you to tell a more complete story. There's a store too so you can also sell your work directly from your website!
Pros of Oscillator:
Great first impression with audio player within the header
Includes all those essential ingredients musicians need
Excellent use of light and dark to create atmosphere
Audio and video player
Store integration
Cons of Oscillator:
There is very little to find fault with here
Oscillator Pricing
Oscillator costs from $34 to $174.
Opinion of Oscillator
Oscillator is a superb WordPress theme for musicians. It uses images to create the brand that could be changed easily. The prominent audio player is ideal and the extra pages with video, audio and the store are all you'll need.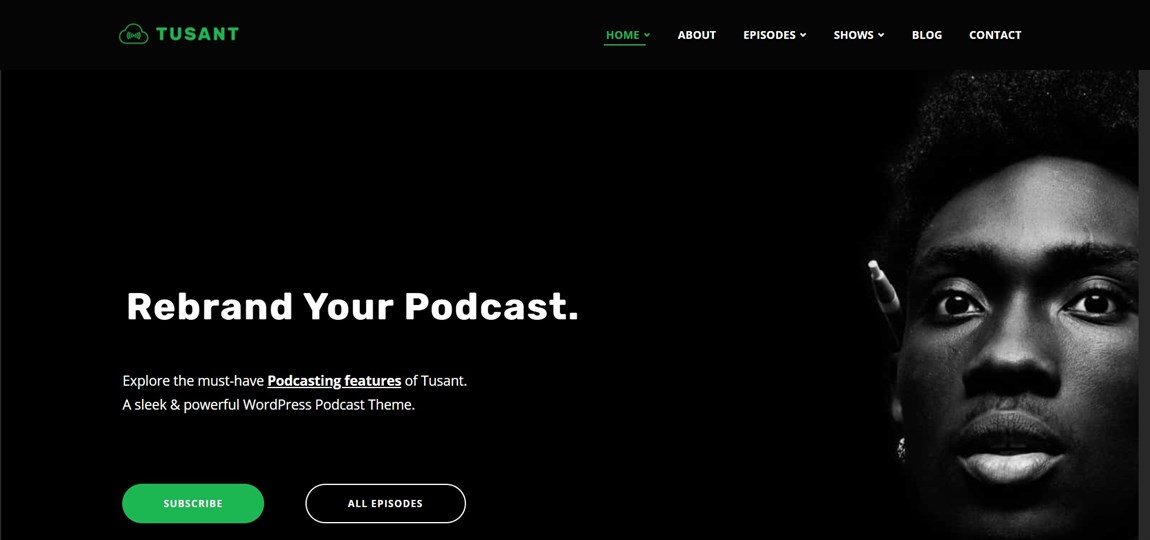 Tusant is a dark and moody theme that could work well with a little customization. It sets out its stall right away with a full screen image and headline and the simple navigation means you know immediately what's going on and where you need to go.
While the demo is for podcasts, you can easily see how it could work for musicians and bands. The audio player section is ideal and you have the opportunity to add video elements, expand the Insta section and add discographies, event calendars and anything else you like.
Pros of Tusant:
Uses dark design very well indeed
Includes everything a band or musician needs to build a site
Navigation is fast and looks good on all devices
Uses the WordPress Customizer to make changes
Built for speed
Cons of Tusant:
Dark design requires a steady hand to get right so customization needs to be done carefully
That pricing…
Tusant Pricing
Tusant costs from $69 to $139 per year or $389 for a lifetime licence
Opinion of Tusant
Tusant uses dark design exceptionally well. It's impactful, atmospheric and works perfectly, especially if you change that green colour. However, the lifetime licence is way too expensive for what it is.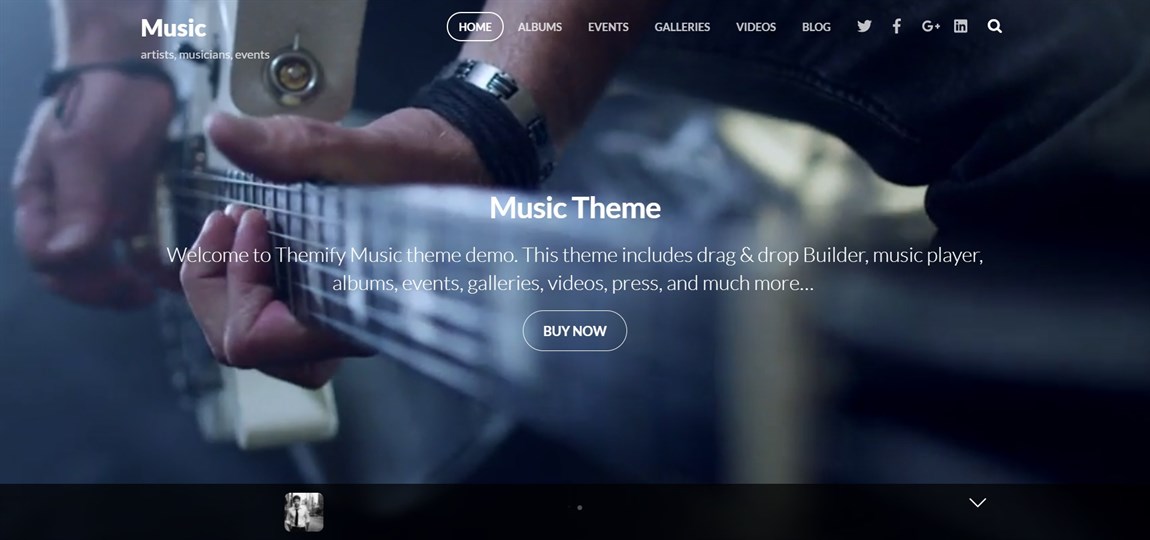 Music has a similar feel to Tusant with a dark design, full screen image header with audio player as a sticky element. It also creates a completely different atmosphere with those colours and fonts. The changing colour in the album section is definitely worthy of note.
The demo site is excellent. It displays great use of colour and images, stark fonts are very readable on the dark background, the page includes events, audio, video, a gallery, press, a blog and all the ingredients a good website needs.
Pros of Music:
Feels like it was designed by musicians for musicians
Sticky audio player and navigation work well
That changing colour element is a small very effective touch
Superb flow down the page
The demo contains all you'll need
Cons of Music:
The Themify Builder is yet another page builder to learn
Music Pricing
Music costs $59 or $69 per year.
Opinion of Music
Music gets right everything Tusant could do better. It uses colour very intelligently, has fantastic usability, works on any device and includes everything you might need for a music website.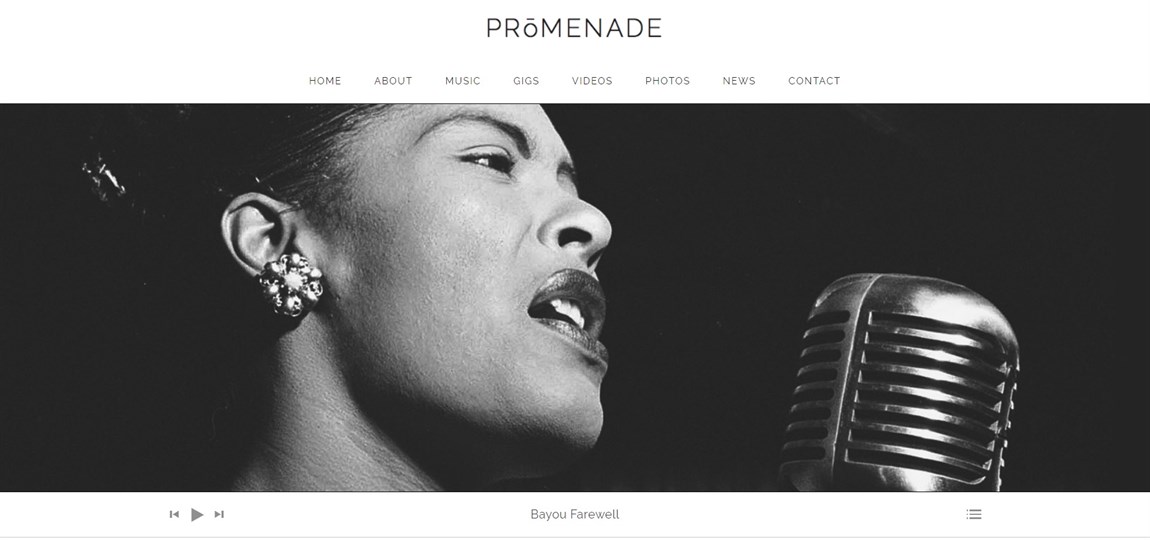 Promenade is a WordPress musician theme with a completely different look and feel. It's a light theme with modest aspirations that still delivers a lot. It could be ideal for many types of bands or musicians.
This is a light design with mainly monochrome appeal. The demo shows a lot of white space with a modest header image and scaled down headlines and font. It's a much more serene feel than some of these other music WP themes, yet still works well and delivers all the ingredients you need to build a fully functioning music website.
Pros of Promenade:
Relaxed design would work well for particular audiences
Great use of white space throughout
Subtle font is appealing
Includes all the essential ingredients for a music website
Fully responsive
Cons of Promenade:
Some of the fonts in the demo will need to be made clearer for usability
Promenade Pricing
Promenade costs $69.
Opinion of Promenade
As the header image suggests, this is more of a laid back theme ideal for some musicians over others. It's a relaxed design that could resonate particularly well for different audience types. We think it's worthy of its place in our list of the best WordPress themes for musicians.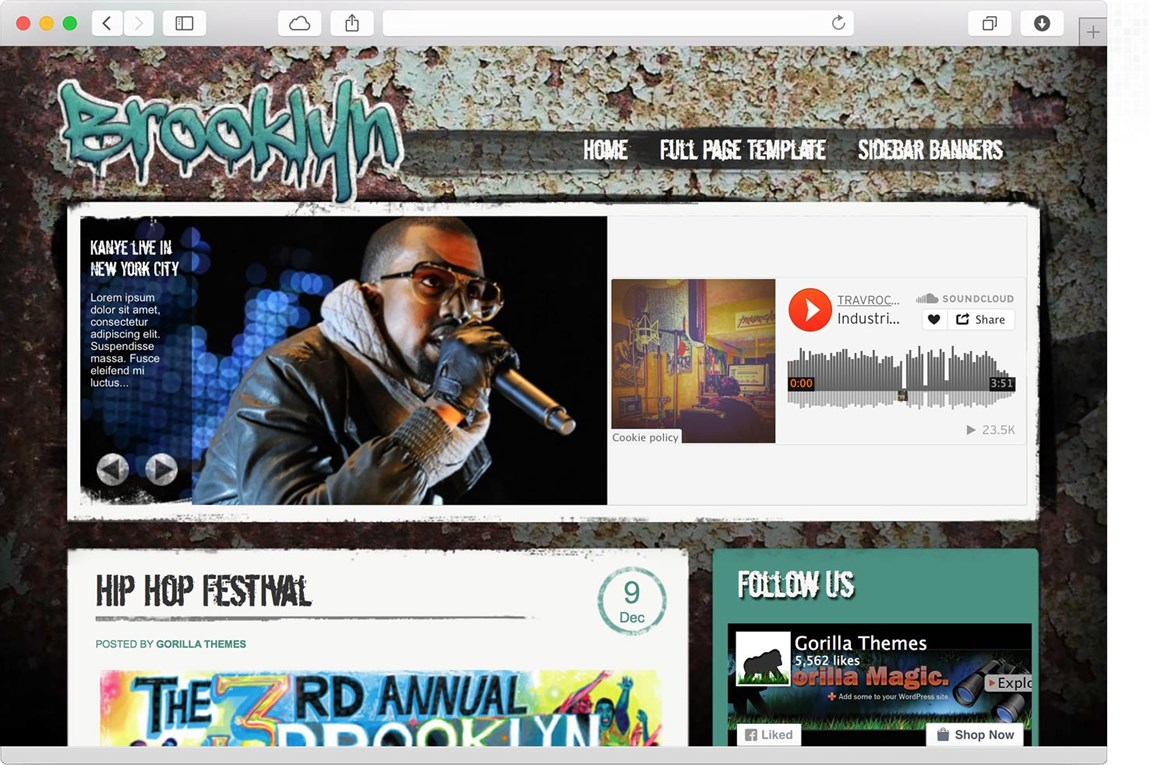 Brooklyn is an urban street theme that lives up to its name. It uses a boxed layout to deliver a characterful first impression with textured background and that strong text logo. It's a very flexible theme that could work very well in some niches.
The demo has a nice flow with everything separated into sections. The audio player is front and centre as it should be. The page unfolds to reveal an events calendar, social media sections, discography, blog and other elements. If you're more of a street or urban musician, you could do a lot with this theme!
Pros of Brooklyn:
More than covers the needs of urban musicians
Texture background makes a good impression
Audio player is easy to see and to use
All other elements are covered in the demo
Social network integration is particularly strong
Cons of Brooklyn:
The demo doesn't work so you cannot try before you buy
Brooklyn Pricing
Brooklyn costs from $39.95 up to $79.95.
Opinion of Brooklyn
Brooklyn covers the urban scene nicely. It isn't too caricatured and has genuine appeal for the type of audience it is designed for. Well worth checking out if this is your scene.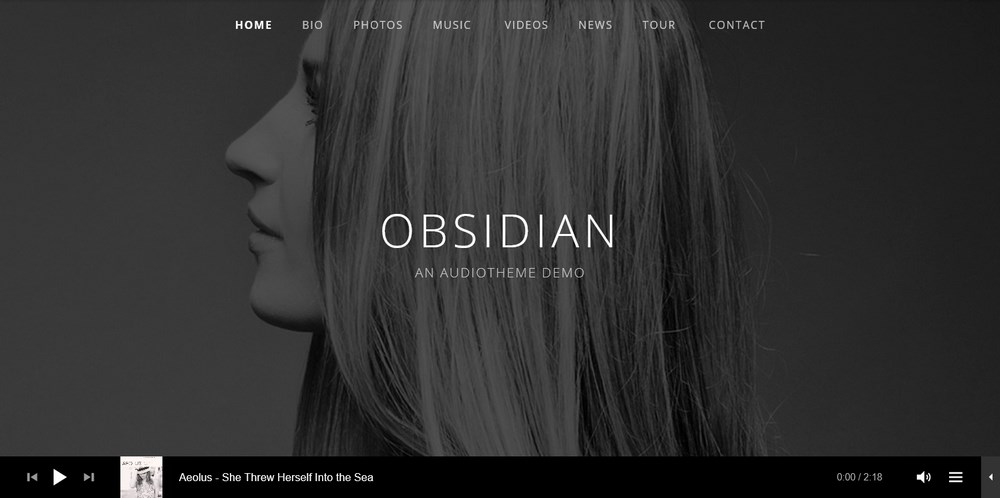 Obsidian is an elegant, minimal theme that showcases a band or musician. It has some useful features like displaying upcoming gigs with maps and other information, showing past gigs with photos, and having an archive/discography of your music.
You can also add a background color, use custom fonts, and even have a video library of your music.
Obsidian is also completely responsive and mobile-friendly, making it a great choice for showcasing your work to your fans.
Pros of Obsidian
Minimal and focused
Elegant design
Covers most things you'll need
Cons of Obsidian
Fewer options and customization than some other options
Obsidian Pricing
Opinion of Obsidian
If you want a simple minimal design without too much complexity, Obsidian is a good choice.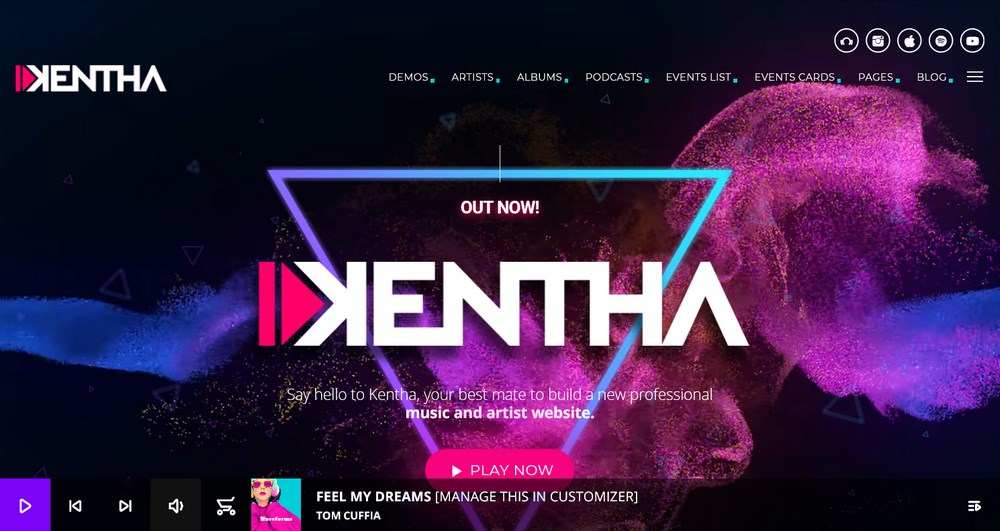 Kentha is a powerful music theme for WordPress designed for DJs, musicians, bands, and other musicians. It comes with a bunch of awesome features, including an audio visualizer, a non-stop music player, event listings, and everything else you'll need to create an awesome musical site.
It has a ton of customization and design options, including breadcrumbs, menu locations, pagination, primary and secondary colors, and dozens of other things you can change.
Kentha comes with many pre-made themes that can be installed in one click. These range from DJ profiles to band touring guides. This can definitely save you a ton of time and effort.
Pros of Kentha
Powerful and endlessly customizable
1-click install of demo templates
Cons of Kentha
May be too complex if you just want a simple site
Kentha Pricing
Opinion of Kentha
If you want to create a powerful site and customize it, Kentha is an excellent theme. If you just want a simple basic site, it might be too much.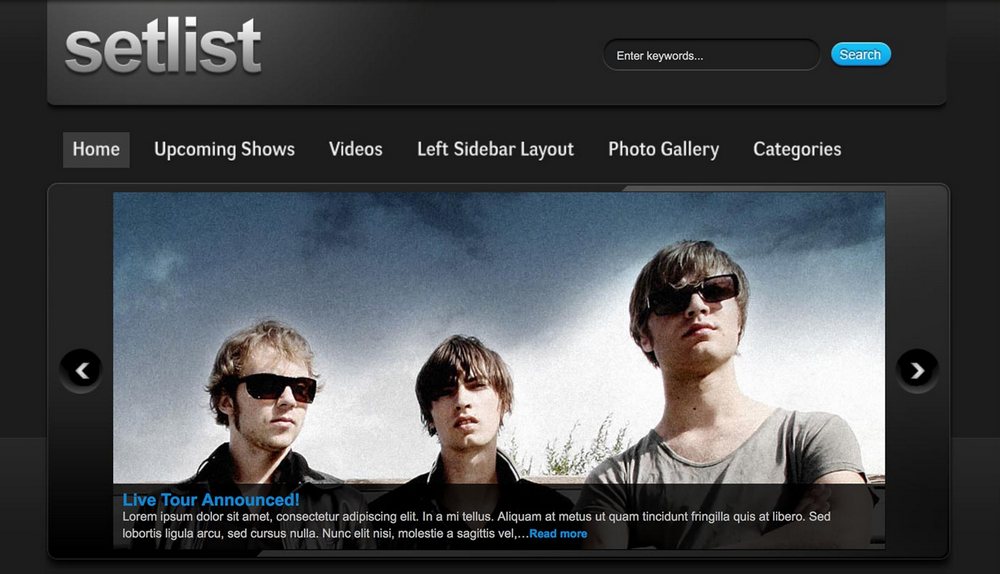 Setlist is a straightforward theme designed for bands and musicians. It comes with standard features like a photo carousel, event calendar, and featured article display. You can also embed audio or video that will work on mobile devices.
The theme itself is very easy to set up and uses the Gorilla Themes framework. With it, you can drag-and-drop elements to create your perfect design.
Pros of Setlist
Straightforward setup requires little effort to create an engaging website
Cons of Setlist
Somewhat expensive compared to other options
Less customization ability
Setlist Pricing
The plans start at $39 and range up to $79.
Opinion of Setlist
A good "middle of the road" option, Setlist is a viable choice if you just want to make a solid website and get back to creating music.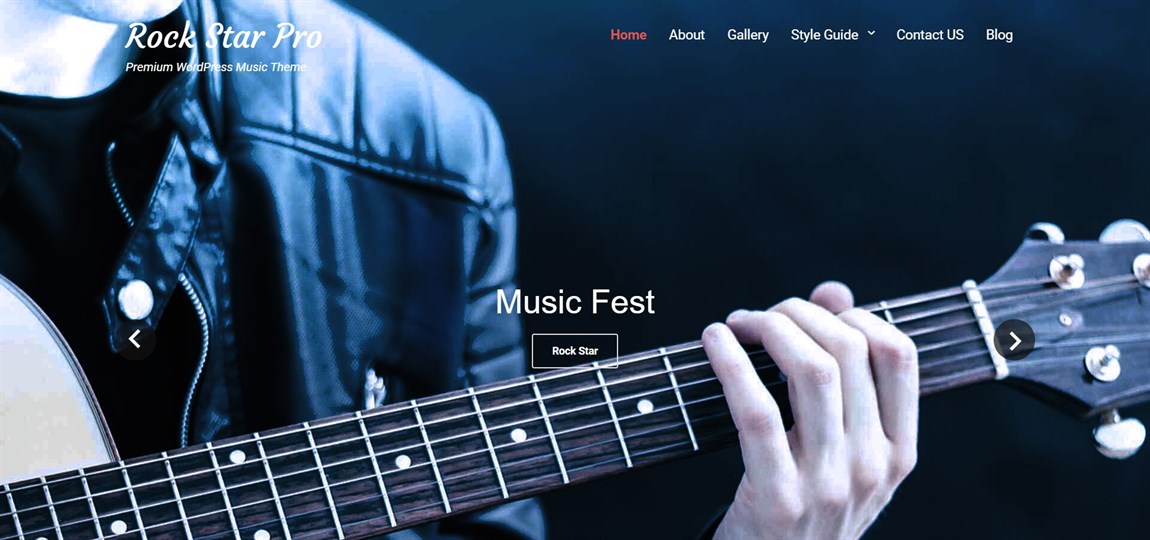 Rock Star is a standout WordPress musician theme thanks to its use of images. You are going to need to know how to get the best out of imagery for this to work but if you do, the rest will take care of itself.
The demo theme uses dark design with a parallax effect very well. It unfolds to tell the band story and includes audio, video, a gallery, tour calendar, news and social elements. Everything necessary to deliver a compelling experience to your audience. There's a free version of the theme too!
Pros of Rock Star:
Has a free and a premium version
Uses imagery exceptionally well
Superb layout with first rate audio player integration
Demo includes all the necessary ingredients
Fully responsive
Cons of Rock Star:
You will need to know how to use imagery well to get the best out of this design
Rock Star Pricing
Rock Star has a free version and a premium version that costs $59.99
Opinion of Rock Star
We rate Rock Star very highly for its overall effect and design. It does come with challenges as we mentioned but get it right and it could offer a genuinely impactful website.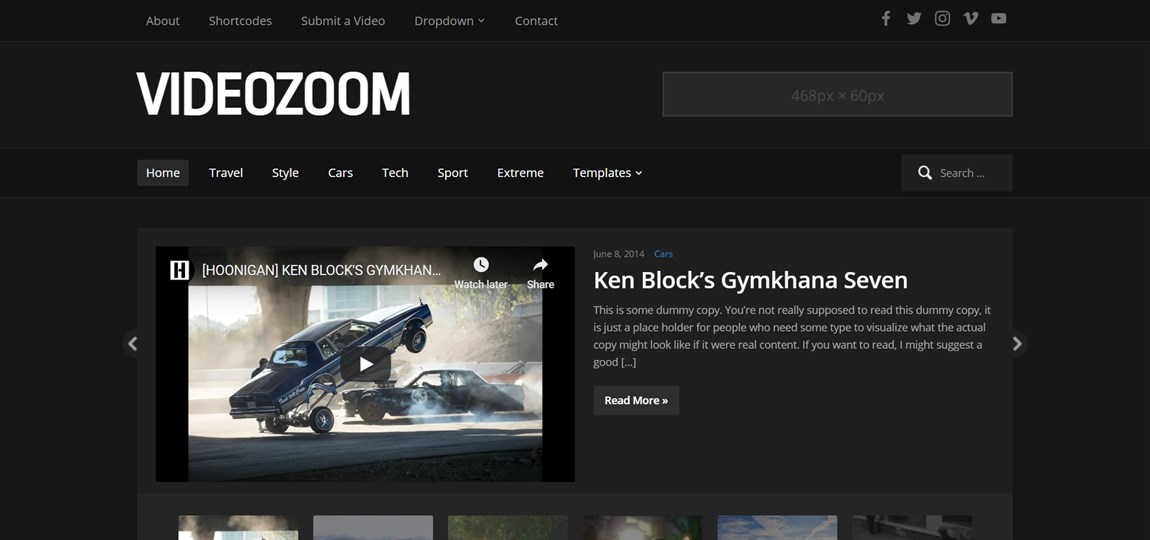 Videozoom is another WordPress theme that isn't purely for musicians but could be turned into one with ease. This is more a YouTube style theme for video that could be customized to suit a band with minimal effort.
It's a dark theme with very little colour and works well. It's largely distraction-free, leaving you to see the content placed in front of you, which is the intent. The demo includes lots of videos in a slider, two menu sections, social elements and enough freedom to build the demo out to better suit your needs.
Pros of Videozoom:
Provides the foundations for a feature-rich music website
Supports YouTube, Vimeo and other video sources
Automatic thumbnail generation for videos
Comes with a light version of the design
Fully responsive
Cons of Videozoom:
Could do with a little colour to add personality
Will need more work to make it fit a music website
Videozoom Pricing
Videozoom costs $69.
Opinion of Videozoom
This is another WordPress musician theme we feature because of its potential. It's a solid base from which to build a music website that could wow your audience.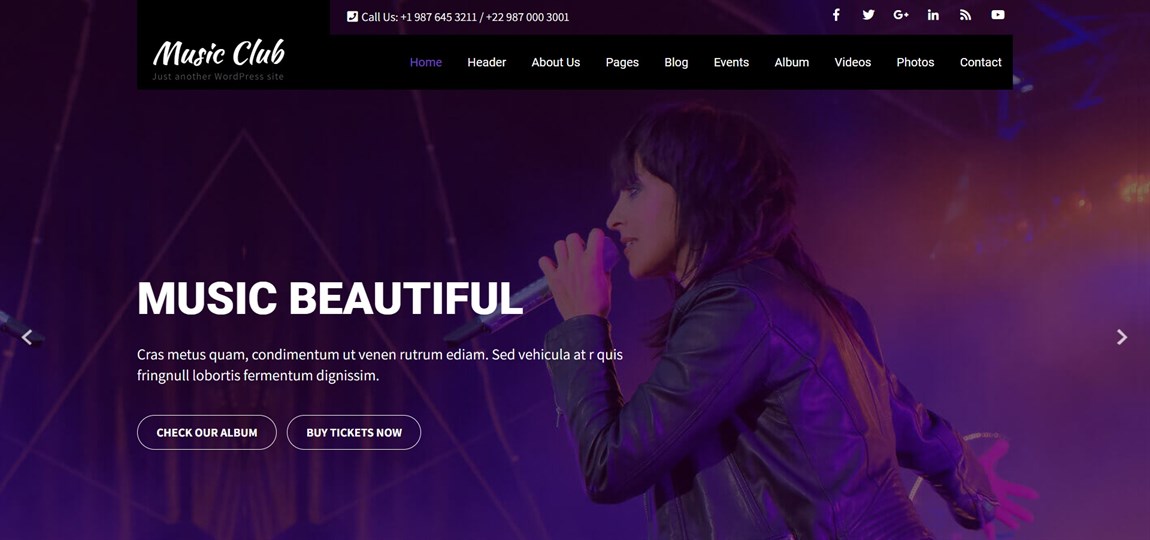 Music Club Lite is a free version of a premium WordPress template for musicians called Music Club. The design is dark and moody and could create any atmosphere you choose with the right images and fonts. It's a very flexible theme that could genuinely be anything you want.
Music Club Lite uses a simple boxed layout with a nice flow down the page, some subtle fonts and full compatibility with WordPress plugins. You only need to look at the premium demo to see just what is possible with this theme. Sure, it will take some work but could deliver a truly original website.
Pros of Music Club Lite:
Good eye for dark design
Free
Could work for any type of band, DJ or musician
Works with most current WordPress plugins
Fully responsive
Cons of Music Club Lite:
Free themes come with no support
Requires more work from you to launch
Music Club Lite Pricing
Music Club Lite is completely free.
Opinion of Music Club Lite
There are thousands of free WordPress themes out there but Music Club Lite is one of the most flexible and most stable.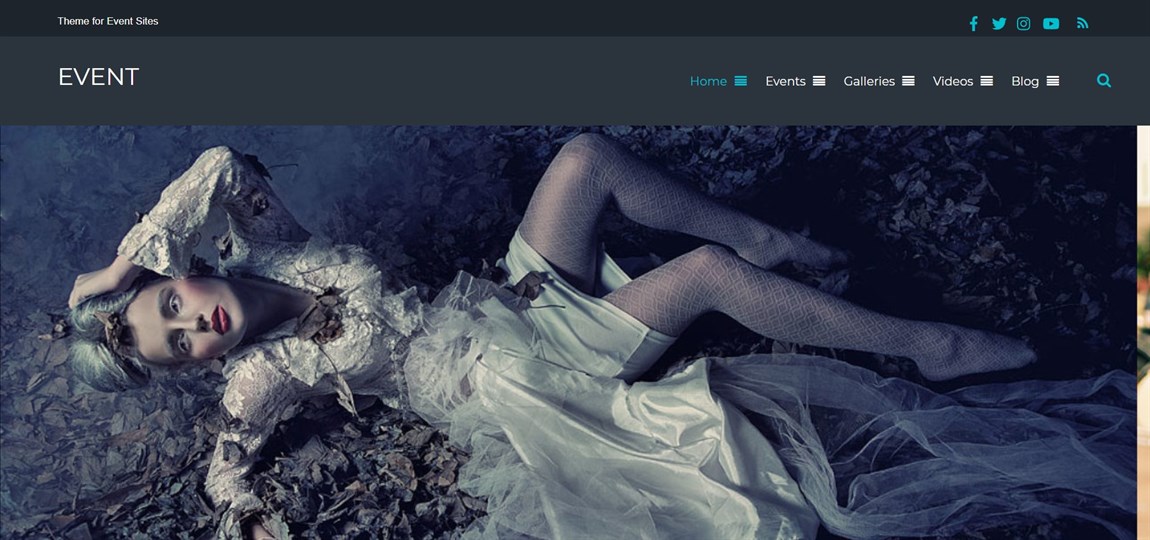 Event is another design intended for events companies but could easily be customized to work for musicians. You can see from the moment the page loads how easy it would be to change the intent and use that slider and layout to promote yourself or your band.
It's another dark design but it is made very colourful with imagery and coloured dividers. The font is simple and modern, the demo includes audio, video, a gallery, blog and an events calendar. There are also four distinct demo layouts to choose from which just adds to the appeal.
Pros of Event:
Very well executed dark design
Light options also available
Includes the opportunity to shine through images or video
Fantastic flow down the page
Fully responsive
Cons of Event:
Navigation is a little underwhelming considering the power of the rest of the design
Event Pricing
Event costs $59 or $69 per year.
Opinion of Event
We rate Event very highly despite the need for more work than a dedicated WordPress musician theme. You will need to know how to use imagery but otherwise, your site could be up and running in a couple of hours.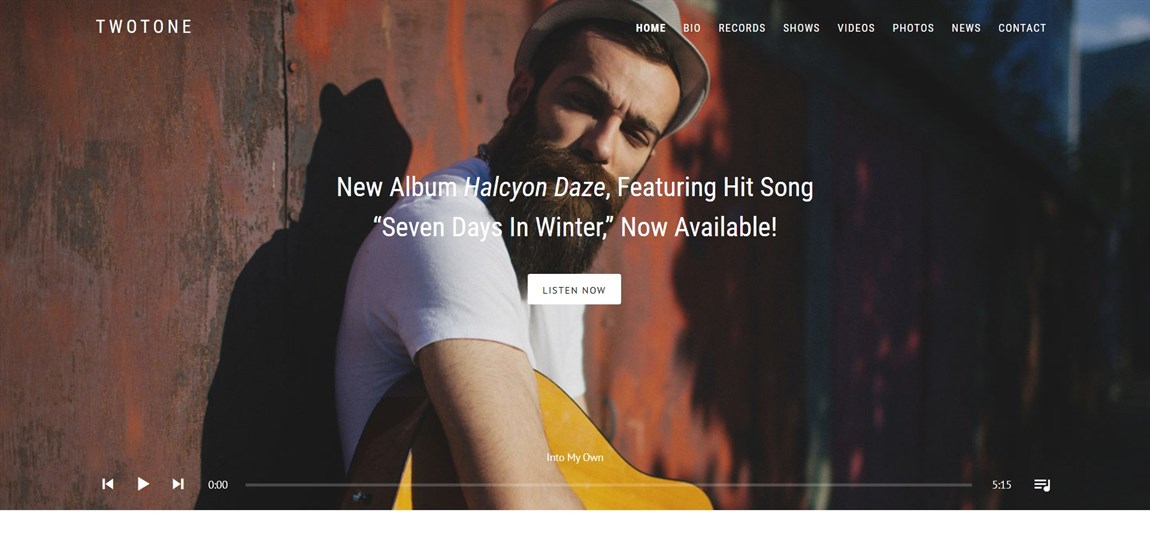 Twotone is a very flexible WordPress musician theme that could genuinely be customized to suit any genre. It's another welcome light theme with a full screen image with integrated audio player. It's a great introduction to a website.
The rest of the demo design is light and easy to read with lots of white space, simple modern fonts and pops of colour from images. It includes an events calendar, audio and video elements, a gallery, newsletter signup form and social media elements all ready to go.
Pros of Twotone:
A fantastic design with wide appeal
Genuinely flexible with minimal customization required
Nice layout with logical flow
Loads quickly
Fully responsive
Cons of Twotone:
There are no obvious downsides
Twotone Pricing
Twotone costs $69.
Opinion of Twotone
We like Twotone as it could become anything you want. No matter what music genre you inhabit, this theme could be tweaked to fit with minimal effort.
The Berliner demo is set up as a jazz or blues demo but with a little effort this could work for any genre. It's another light WordPress theme for musicians that could be customized in short order to deliver the experience you're looking for.
The demo has a laid back feel with header slider with audio player underneath, unfussy navigation and some well-chosen fonts and background colours down the page. The image styling further down also works well if you could duplicate that for your own images.
Pros of Berliner:
Relaxed, easy going vibe
Light design with nice flow down the page
Uses white space well
Includes events calendar and audio elements
Can integrate with Beaver Builder, Elementor and Divi
Cons of Berliner:
Will take some work to customize without losing the character
Berliner Pricing
Berliner costs from $34 to $55 or $174 for a lifetime licence.
Opinion of Berliner
We like the speakeasy vibe of Berliner and think it could work well for bands or musicians with certain audiences. It's a well-conceived design but will require a careful hand to maintain the unique character while making it your own.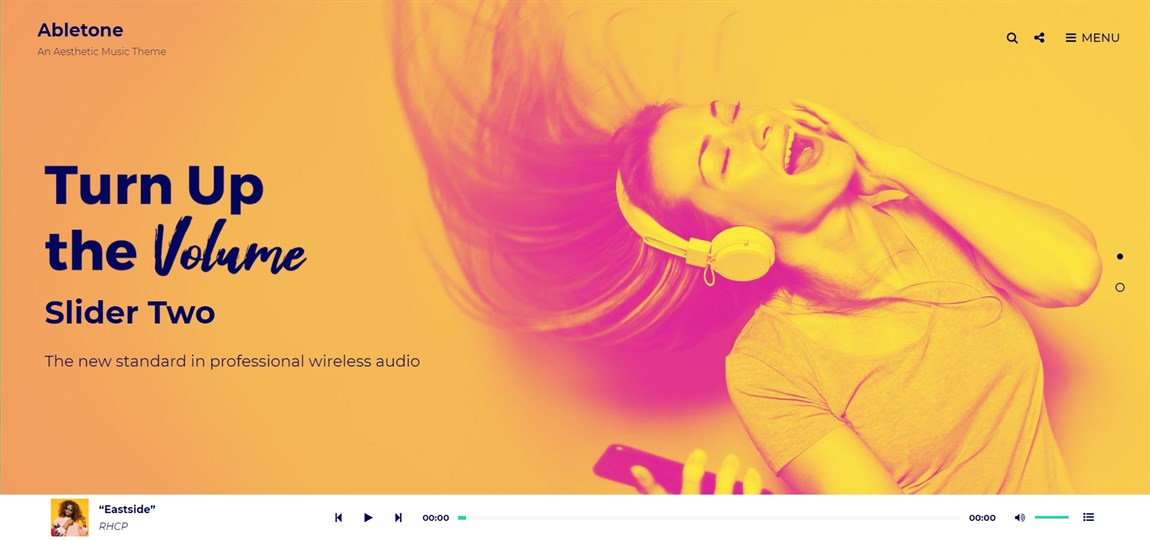 Abletone is a flexible WordPress template for musicians with several demo options. Each looks largely the same but uses different colour combinations and images to showcase what it is capable of. Each could work very effectively in the right hands.
We like Abletone for its modern flat design. It isn't afraid to use colour and bold fonts while remaining accessible. The sticky audio slider is a great touch while the mixture of dark and light down the pages keeps your interest. You would want to add events calendars, a gallery and other interactive elements but that would take just minutes with the right WordPress plugins.
Pros of Abletone:
Bold and impactful WordPress theme for musicians
Good use of colour and fonts
Nice flat layout with some borderless elements
Sticky audio player is a particularly nice touch
Free and premium version available
Cons of Abletone:
Lack of page builder may be limiting for some
Abletone Pricing
Abletone has a free option and premium version at $59.99.
Opinion of Abletone
Abletone definitely deserves its place in our list of best WordPress themes for musicians. It's bold, colourful, modern and could be customized to suit most music genres. Very little to criticize here!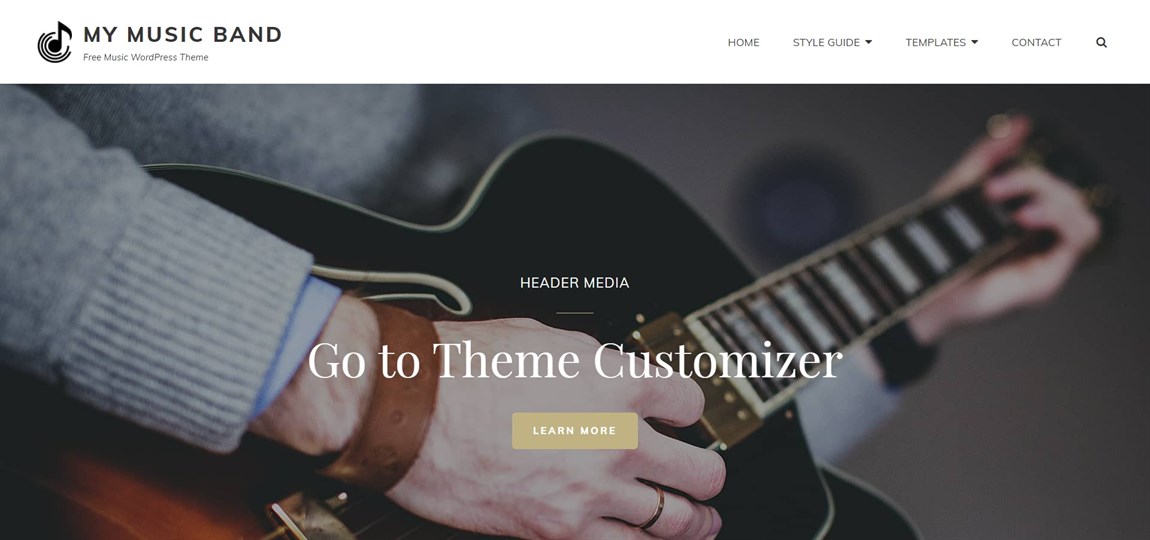 My Music Band is a very flexible WordPress musician theme with several demos covering both dark and light design. Each has been very well thought-out with some nice touches, strong imagery and thoughtful navigation.
The demos all have similar layouts with a header image with pared back navigation and a page that unfolds to lots of white space with borderless elements covering audio, imagery, discography, news and forms. You might need to add your own calendar but that's about it.
Pros of My Music Band:
Range of dark and light demo designs
Well considered design with some nice touches
Includes audio player and other relevant sections
Has a free and premium version
Cons of My Music Band:
Doesn't make the same impact as other designs in this list
My Music Band Pricing
My Music Band has a free version and a premium version priced at $59.99.
Opinion of My Music Band
We included My Music Band in this list because it's the safe option. It won't offend anyone and it won't put anyone off. While the demo isn't outstanding, it has all the ingredients to allow you to make it so. That's why it's here.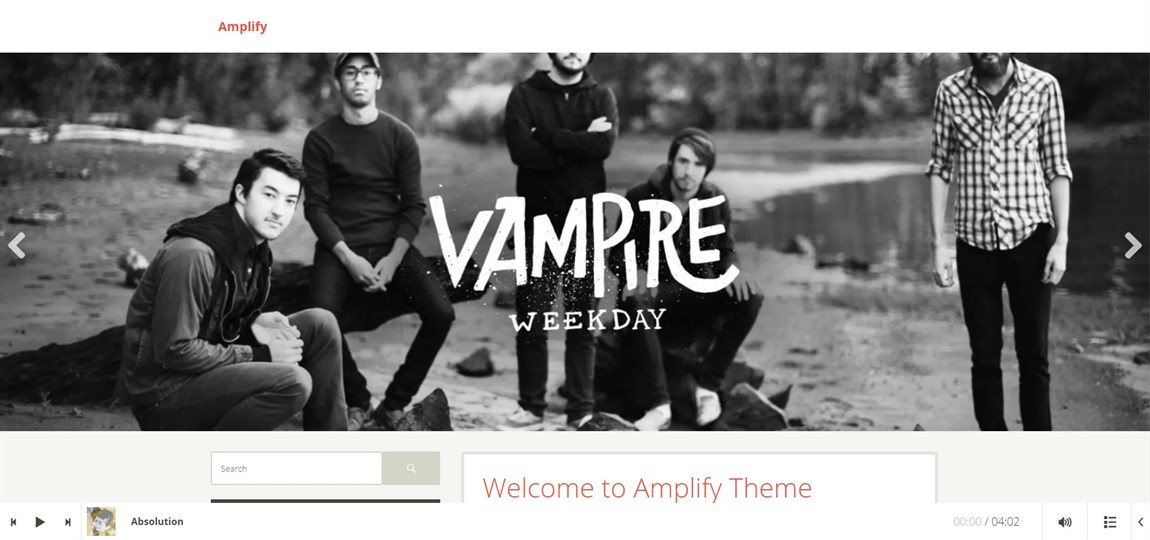 Amplify is another light, boxed WordPress theme for musicians that works well. The intensity of the first impression will depend entirely on the images you use so you can control exactly how it is received. The rest of the design provides the basis for you to build any type of site you like.
The core design of Amplify is laid back and easy to use. Colours are muted, there are no explosions of images or graphics and everything has been designed to be easy to digest. The sticky audio player is a nice touch, as is the traditional blog layout down the page.
Pros of Amplify:
Simple but very effective WordPress theme
Laid back vibe makes it very easy to spend time with
Includes most of the elements you expect from a music website
Includes support for audio, video and events
Fully responsive
Cons of Amplify:
Way too expensive for what it is
Amplify Pricing
Amplify is priced at $125.
Opinion of Amplify
If you were to ignore the price, Amplify is actually a very good design, which is why it's here. It's relaxed, easy to use and could work for almost any genre. However, it isn't good value, so if price is a deciding factor you may want to look elsewhere.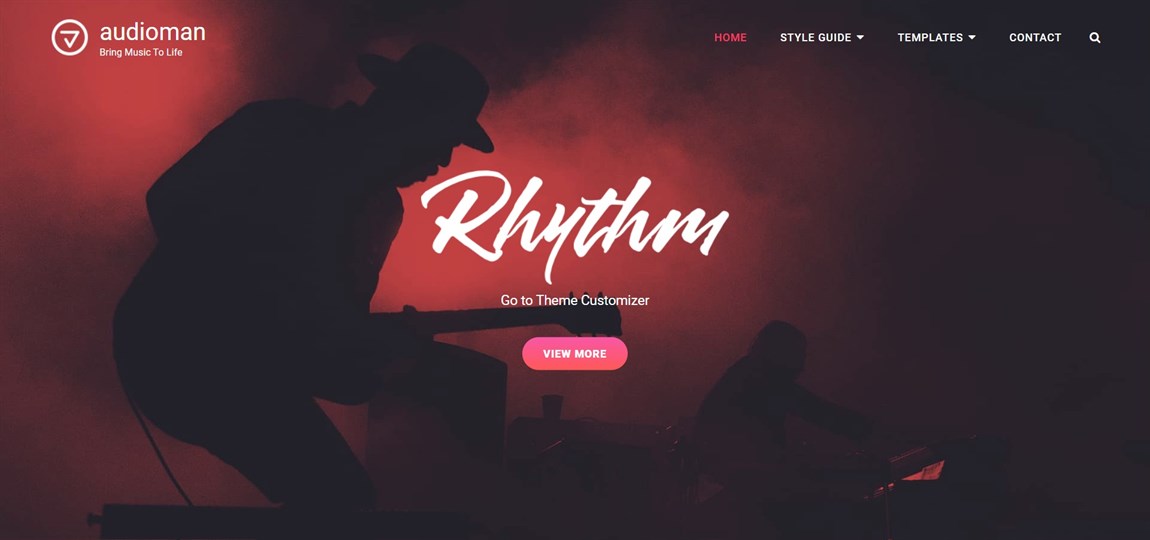 Audioman has a free and a premium version and a dark and a light demo. We think the dark demo is strongest, although both work well. It has a shaded fullscreen image with bold font and a sticky audio player that delivers exactly what we want to see.
The demo unfolds to a very well designed fullscreen layout with audio player, gallery, discography, image gallery and supporting elements. The design of the sections, the buttons, the fonts and elements is all top class and screams professional. Exactly why it's in this list!
Pros of Audioman:
A truly premium-looking WordPress musician theme
Contains everything a music website requires
Buttons and graphical flourishes are particularly good
Dark and light demos for flexibility
Has a free and premium version
Cons of Audioman:
This theme is hard to find fault with
Audioman Pricing
Audioman has a free version and a premium version at $59.99.
Opinion of Audioman
Audioman covers many genres by providing both a light and a dark version. Even the free version is worth checking out but it's in the premium where it comes alive. There is a certain something about this design that resonates very strongly with us.
Why WordPress for the Musician Website?
If you're building your first band website, you can't go wrong with WordPress. It's free, universally available, easy to get to grips with and incredibly flexible.
There are also lots of resources out there that cover building a website in WordPress, using WordPress themes, creating sales funnels and opt-ins for your website and ensuring the site is fast and mobile friendly.
Then there are WordPress templates for musicians.
You're fortunate to be in one of those industries that appreciates creativity and is more accepting of experimentation. That means you don't have to rely on the same old formulas or make sure your website looks like everyone else's.
You can do what you like, how you like as long as the website is easy to use.
WordPress Themes for Musician and Band FAQs
How Much Do Musician WordPress Themes Cost?
Musician WordPress themes can cost anywhere from nothing at all to around $300 per year. Some great WordPress themes, like Astra, are completely free and come with pro-quality musician and band templates you can use right away. Premium themes can cost from $50 upwards, with our own Astra Pro starting at just $59.
Which Is the Best Free To Use WordPress Theme for Music Websites?
We think Astra is the best free WordPress theme for music websites. We would though, because it's our theme. That said, 1.7 million people can't be wrong and 5,000+ five star reviews can't be wrong either!
Best Plugins To Set Up a Musician Website?
Summary
The music industry has more freedom than most when it comes to web design. You can dare to be different, push boundaries and use colours and features many mainstream websites would shy away from.
Some of the best WordPress themes for musicians combines all these characteristics with professional design, high quality images and imaginative layouts to deliver the experience your fans look for.
Which WordPress Musician Theme Should You Choose?
All of the WordPress musician themes in this list stand out for a multitude of reasons. If we were to choose a couple you should definitely look out for, it would be Astra and Rock Star.
Astra because of its ease of use, drag and drop page builders, professional demo designs and the ability to take it as far as your imagination allows. Rock Star delivers flexibility and impactful design ideal for music websites.
While we recommend any of the 24 best WordPress themes for musicians in our list, those two definitely stand out.
What do you think? Do you use any of these themes? Have any others to suggest? Tell us about it below if you do!