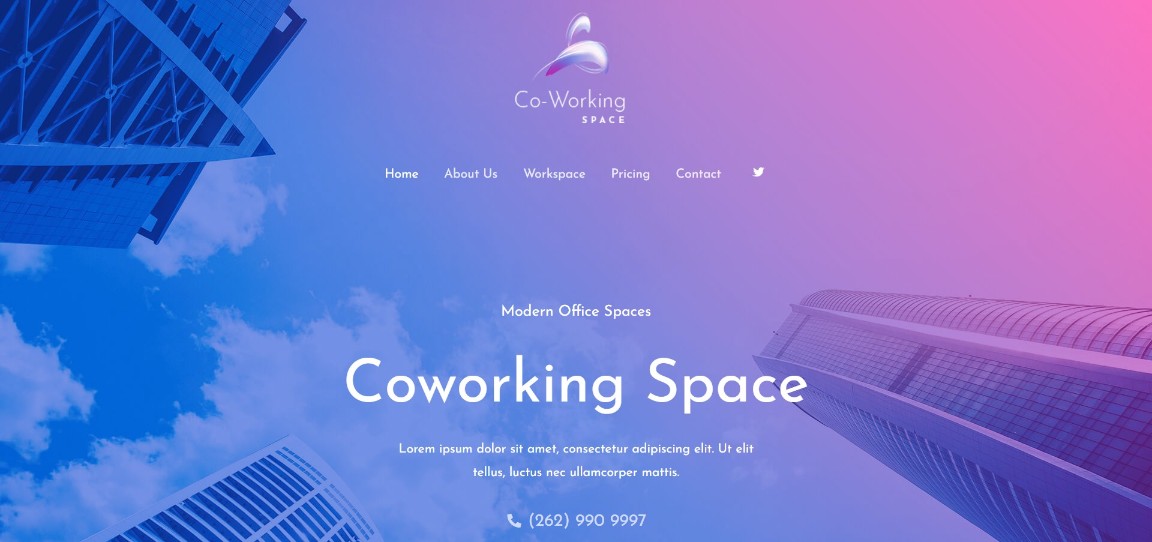 If you're setting up a new business or want to grow your existing one, your online presence is key. It's your doorway to the world and the primary way the majority of new customers will find and engage with you. That's why we put this list of the WordPress themes for business together.
Having an attractive website that is easy to use can make a huge difference to the perception of a business. A website that looks old, has missing links or navigation that doesn't work properly creates a negative impression.
Commonly, the next thought is, 'if they can't look after their website, how will they look after me?'
That's why every business of every size needs a fantastic website and why we have created this list of top performing WordPress business themes. You don't have to have an original website but you do have to look professional. These themes provide that.
Things You Need to Build Business Website
Having a professional website doesn't have to be time consuming or expensive. It can be achieved with the minimum of knowledge of WordPress or of how websites work.
There are four main components of a website:
Domain
Hosting
Themes
Plugins
Domain
The domain is the www. name of the website. The name you type into the URL box of a browser. The name is vitally important and should be the same, or very similar to, the business name to avoid confusion.
Hosting
Hosting, or web hosting, is where you install the website so it becomes available to the general public. Essentially you're renting space on a web server that will ensure your website is connected to the internet and accessible using your domain name.
Themes
WordPress themes are a skin we place over the mechanics of the system to make it look the part. WordPress is a little utilitarian and using WordPress business themes offers the freedom to make your website look and feel unique.
Plugins
WordPress plugins add features that the system doesn't include by default. WordPress can do a lot but no system can do everything. That's where plugins come in. They bolt onto WordPress to add extra features or make existing features look, feel or work better.
Best WordPress Themes for Business
If you're looking for a WordPress theme for business, you won't go far wrong if you choose any of these!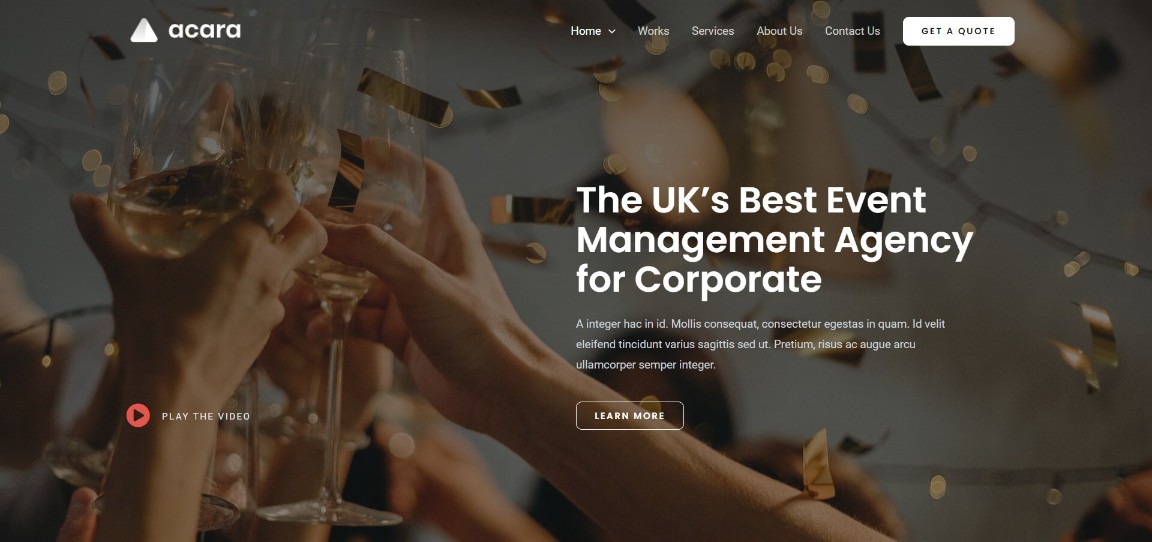 Astra has an impressive collection of WordPress themes for business. That collection includes multipurpose themes that could be customized for any type of enterprise and a range of industry-specific themes covering individual business types.
Every Astra theme looks professional, works well and is exceptionally easy to use. Astra uses drag and drop page builders to help create your website. It works with Elementor, Beaver Builder and Brizy Builder and makes short work of customizing a demo website or creating your own website from scratch.
Astra themes are designed to load quickly, offer a range of popular features and deliver the experience your customers expect. All without you needing to know anything about code or how websites work.
There are many reasons why over a million users have tried Astra. Those are just a few!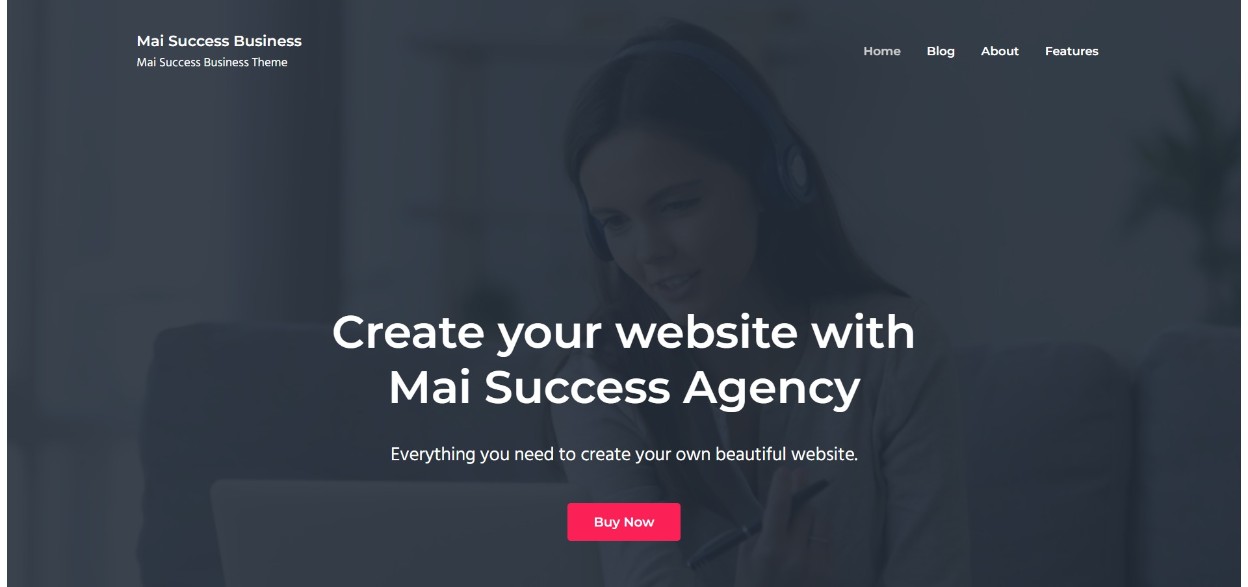 Business Pro from Studiopress is a clean, flexible WordPress theme for business. It has a corporate design that sets the scene nicely but can be customized for other industries too. It's a fast-loading theme with a range of features that could work well for your venture.
The main image header works well with the bright contrasting font and pink colour. The rest of the page is modern, easy to use, attractive and includes all the content elements a typical visitor might want to see. It's a viable option if you don't mind paying the price.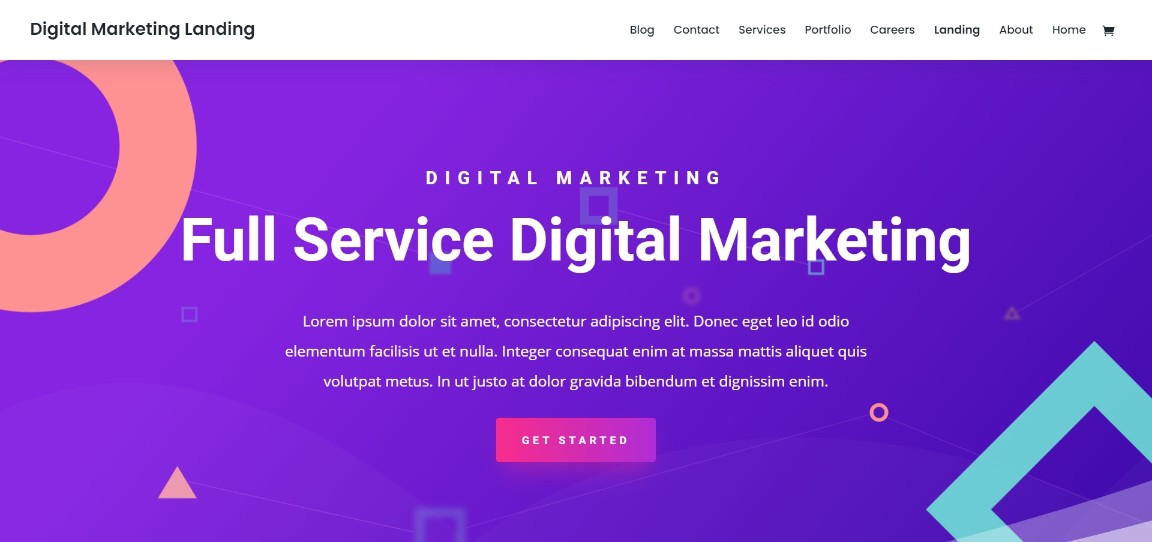 Divi is a little like Astra in that it has a range of attractive predesigned demo websites for a range of businesses and some multipurpose themes for everything else. The Divi designs are all similar to each other rather than being more unique but can be customized with ease.
Divi websites are designed using drag and drop page builders to make building simple. They come with a range of plugins built-in and are relatively straightforward to install and set up.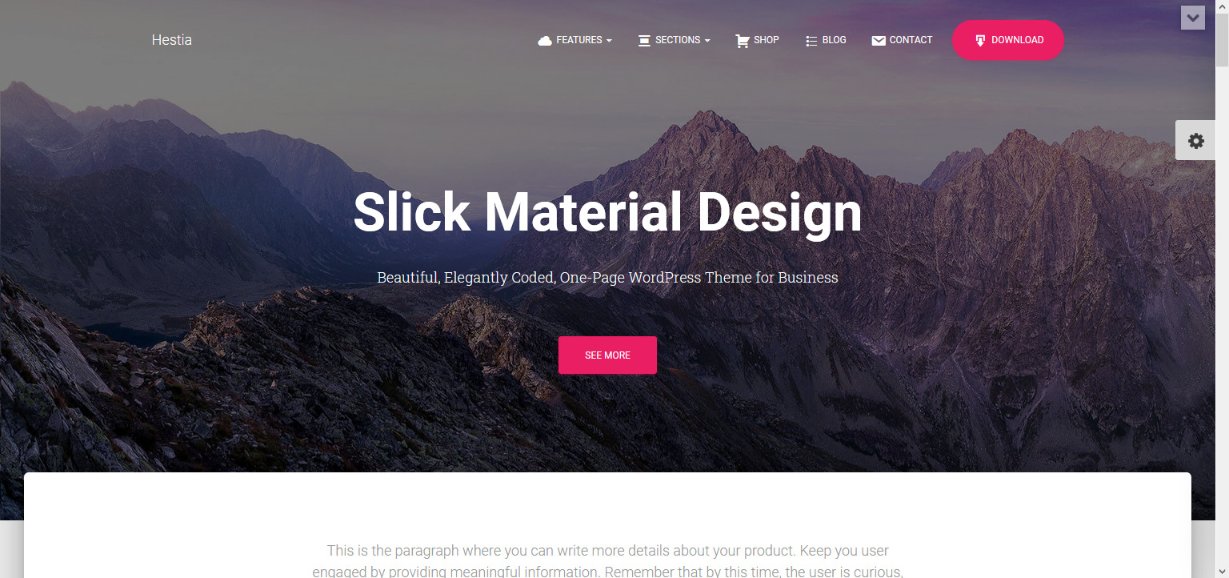 Hestia Pro from ThemeIsle is similar to Business Pro in that it's a multipurpose WordPress template for business that could be customized to suit a range of industries.
It's a flat, crisp design with large image header and start fonts that draw attention. Along with a pink contrast colour, lots of white space and minimal design flourishes down the page, it delivers a professional appearance that leaves nothing out. It's a competent design that could work for many organizations.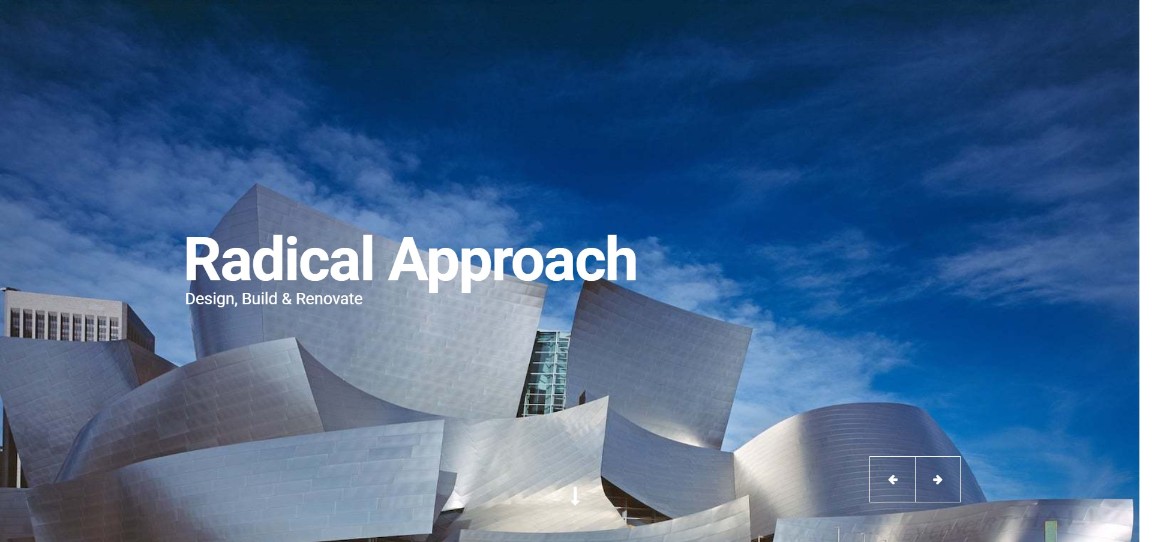 While the main Koehn demo is built around architecture, change the images and you could make it about any type of business. This is another flexible WordPress business theme that could easily be customized to suit your own venture.
The design is clean and modern with a mixture of monochrome and colour images and minimal page elements. This balance allows the page content to stand out and help you tell your story without any distractions. With optional page elements you could add, this is a minimal theme that could work well.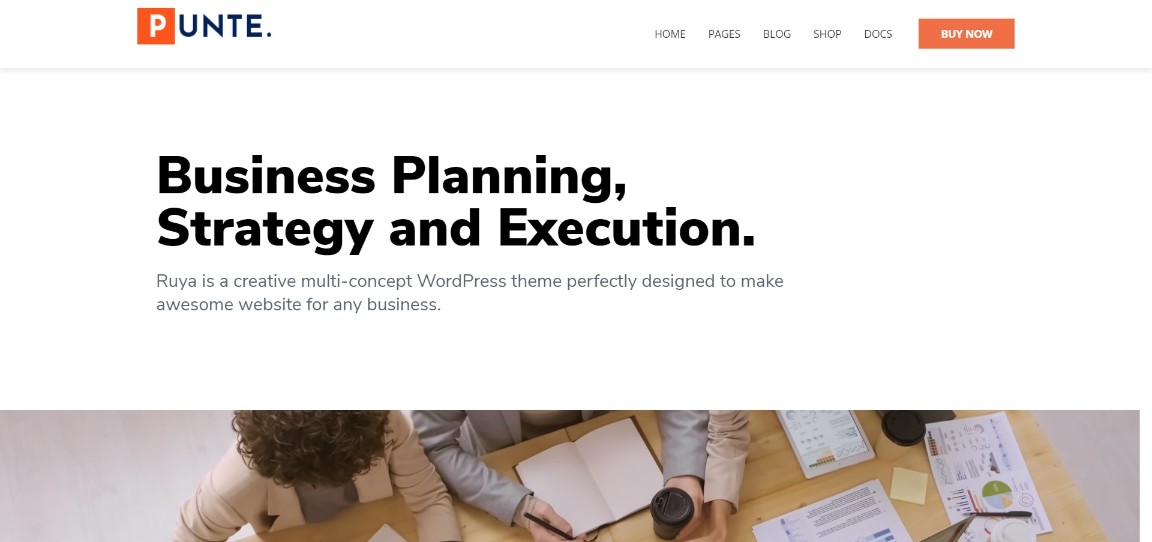 Punte Pro is an impactful multipurpose WordPress theme for business. It uses clean design, modern typography, borderless page elements and lots of white space to create a great first impression. Add those pops of colour from the images and you have a very effective design.
Punte Pro has several demo websites covering a range of requirements that could suit most organizations. Each uses the same balance of colour, page elements and white space along with different layouts to deliver a series of professional-looking websites with minimal fussiness.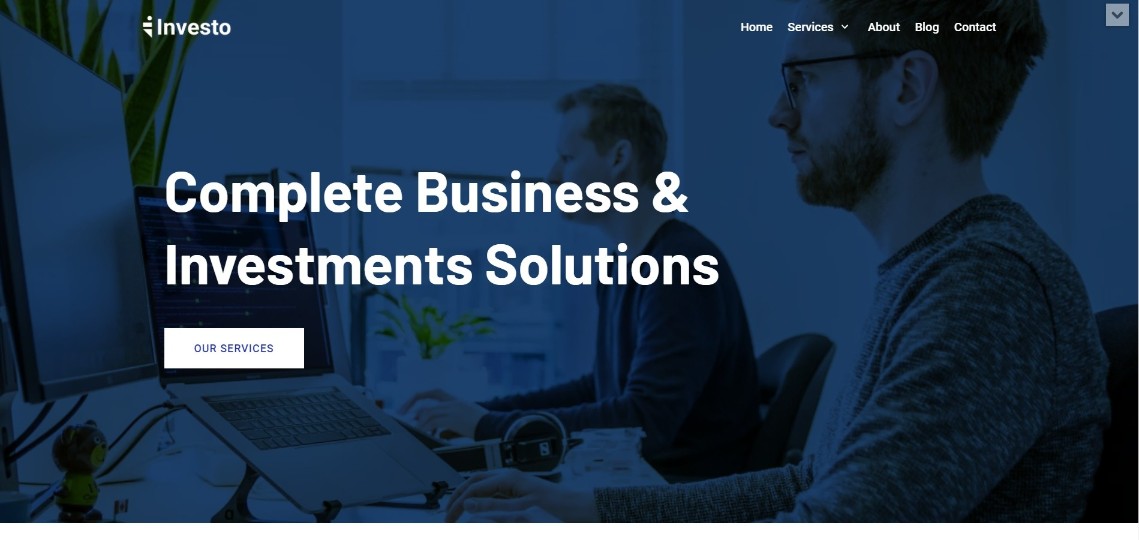 If you're looking for basic, no-nonsense WordPress themes for business, Neve is an option. There are a range of demo websites covering a range of industries and each can be customized to suit your individual brand or style.
Neve uses Elementor, Brizy, Beaver Builder, Visual Composer, SiteOrigin or Divi Builder page builders to help create the design. Each works well to help you build pages, add elements, remove features and generally create the website you want with minimal fuss.
Neve demos all look similar but offer an accessible website for new businesses.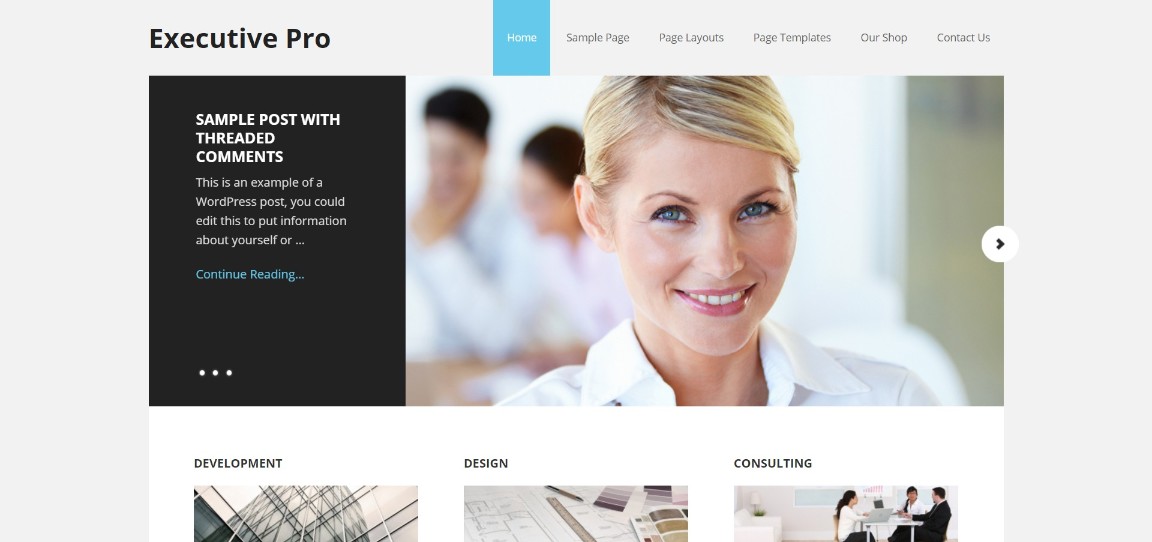 Executive Pro is something of a rarity in this list as it uses a boxed layout rather than full width. It is a good design though, with header slider, off-white background to highlight the page content and the blue accent colour. It could work very well indeed for the right business.
Executive Pro uses the Genesis Framework which is an extra plugin you install onto WordPress to add extra features. It's fast, reliable and works very well. It does come at a price though, which is why Studiopress themes are more expensive than others.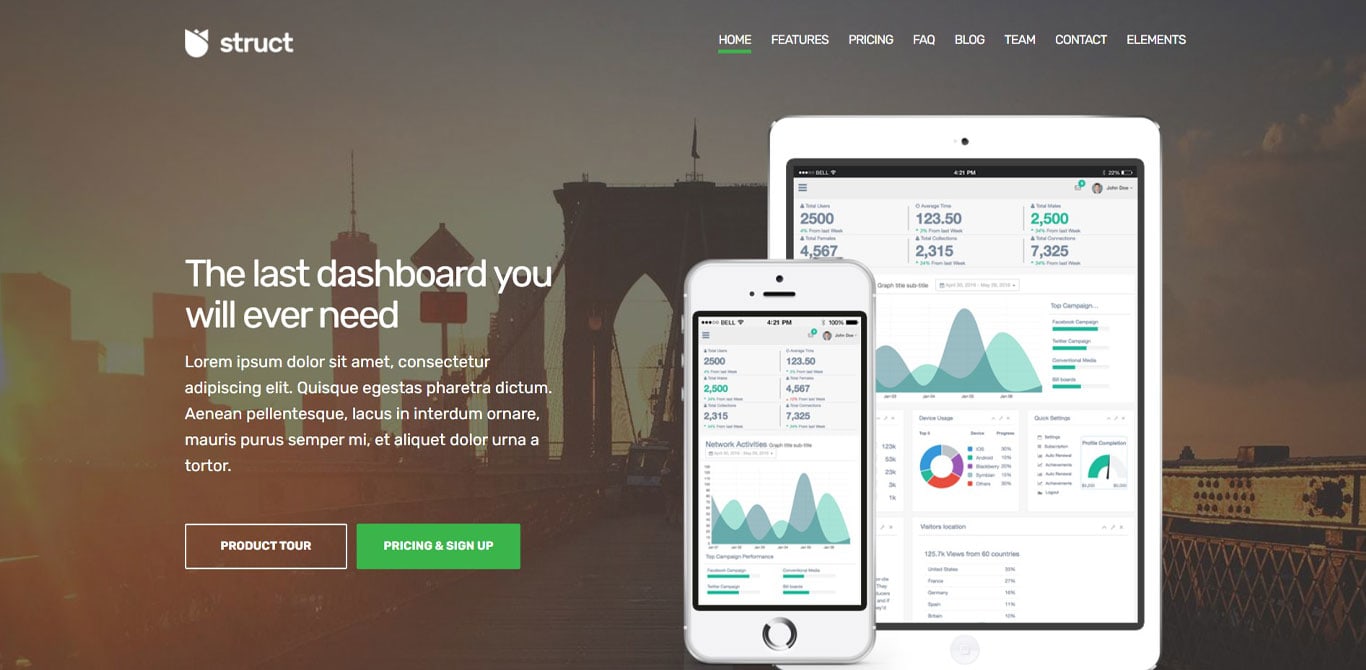 Struct makes a great first impression. It uses an image background in the header with font and tablet image overlaid. The rest of the page uses alternating white and darker image background to add contrast alongside modern typography to communicate your message.
The rest of this WordPress business theme includes the usual features we like to see including graphics, effects, animations, colour and layout options, pricing tables and forms. Overall, Struct is a strong showing and well worth checking out if it suits your brand.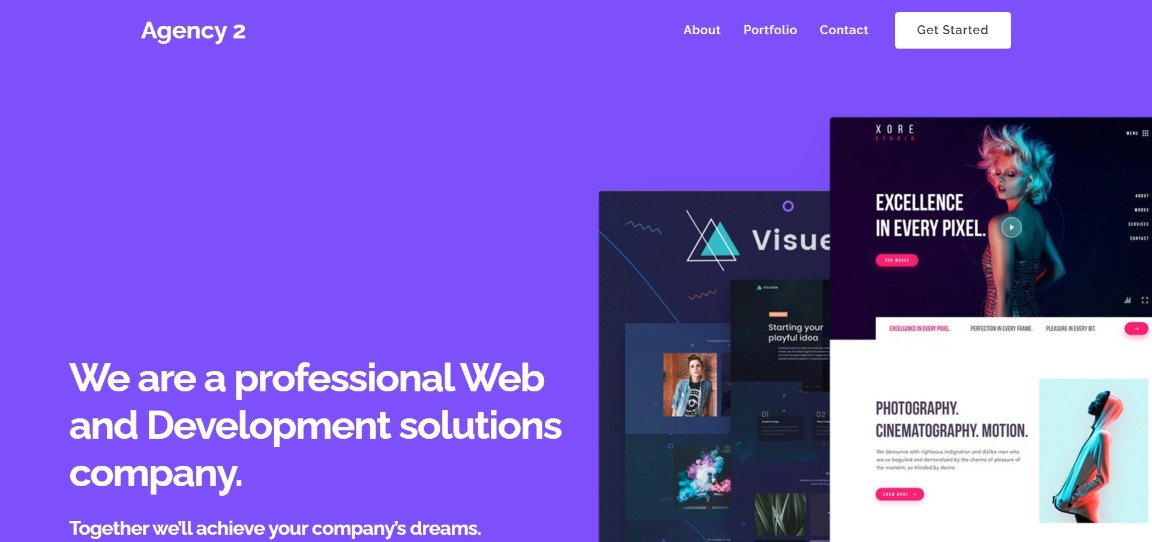 Ultra Theme is a flexible WordPress template for business with a wide range of demo websites tuned to different industries. Each offers clean design with great use of images, colours and fonts that create a professional first impression. Just what we look for in WordPress business themes.
Ultra Theme designs include a drag and drop page builder, a wide array of layout options and the opportunity to build your pages with as few or as many elements as you want. Each could represent your business in the professional manner your customers expect.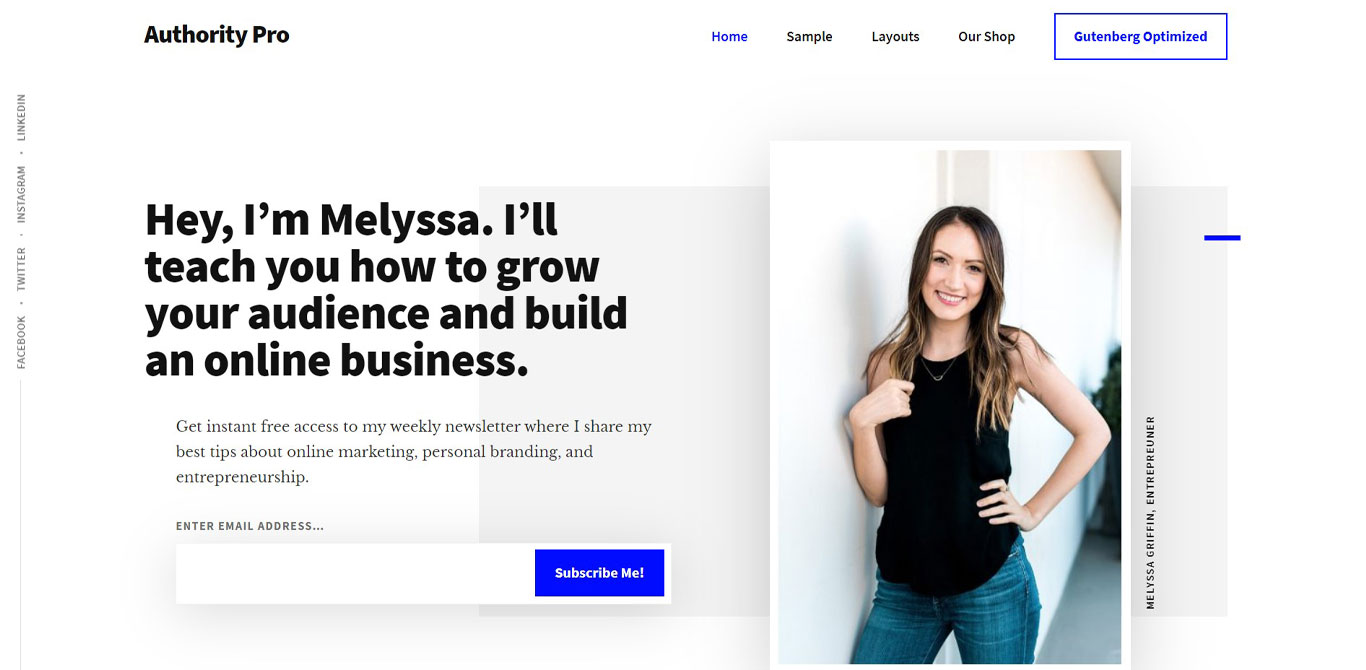 Authority Pro is an excellent WordPress theme for business. It's clean, well balanced and offers a different way of delivering a page. There is a lot of white space here with a main image and effective borderless content elements. This lack of obvious structure works in the design's favour, allowing the visitor to scroll down as they like to learn the story.
This is a minimal design with strong fonts, a striking blue contrast colour and a nice shadow effect that gives the page depth. With some well-chosen images and strong copywriting, this could make a very effective business website.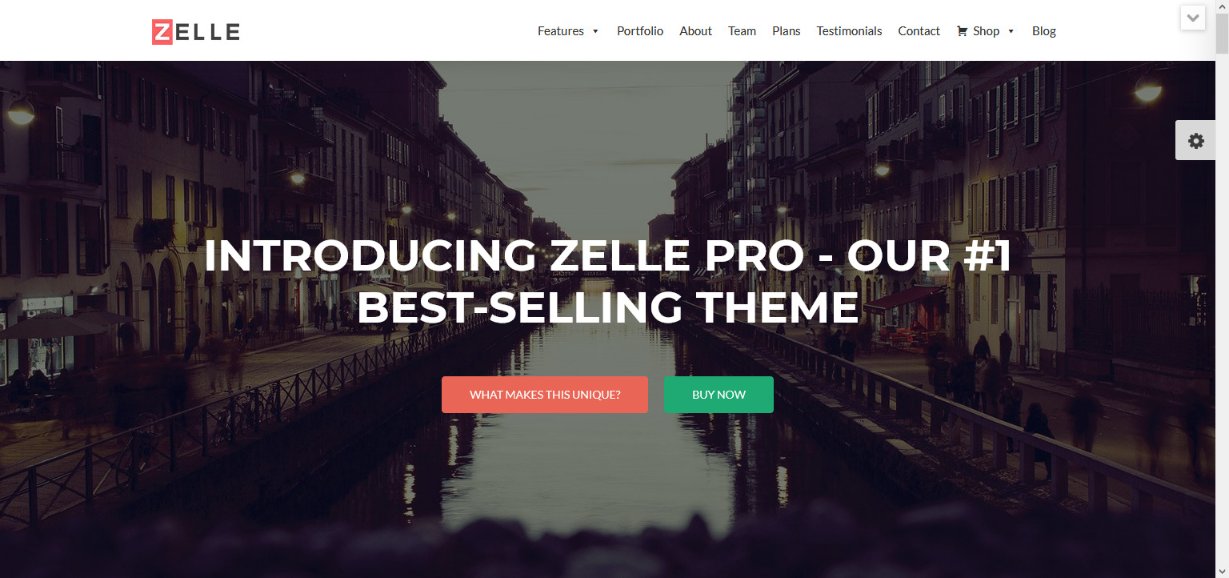 Zelle Pro from ThemeIsle is a sibling of Neve and Hestia and it shows. It has the same calm competence of those other WordPress themes for business along with the same flat design, use of colour and white space. It's another great theme that could work wonders in the right hands.
The demos are flexible and could be customized to suit any industry. Each uses filtered images and contrasting colours to create interest alongside borderless content blocks and simple fonts to convey the message. There is no truly standout feature here but everything combines to deliver a very credible experience.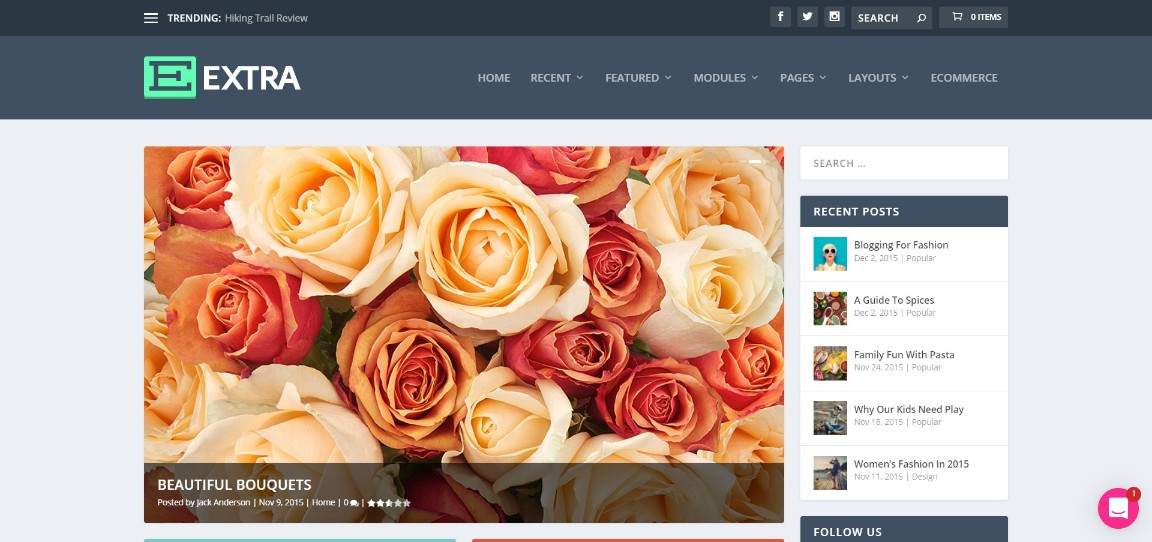 Extra is a standalone theme from the people behind Divi. This is something slightly different as it's a magazine theme. They are often used for news websites but some businesses use them too. This theme has the advantage of having an online store element which adds an extra commercial benefit.
Extra uses great page balance with simple navigation, straightforward organization and strong imagery to tell the story. While it wouldn't suit every organization, it could work amazingly well for some.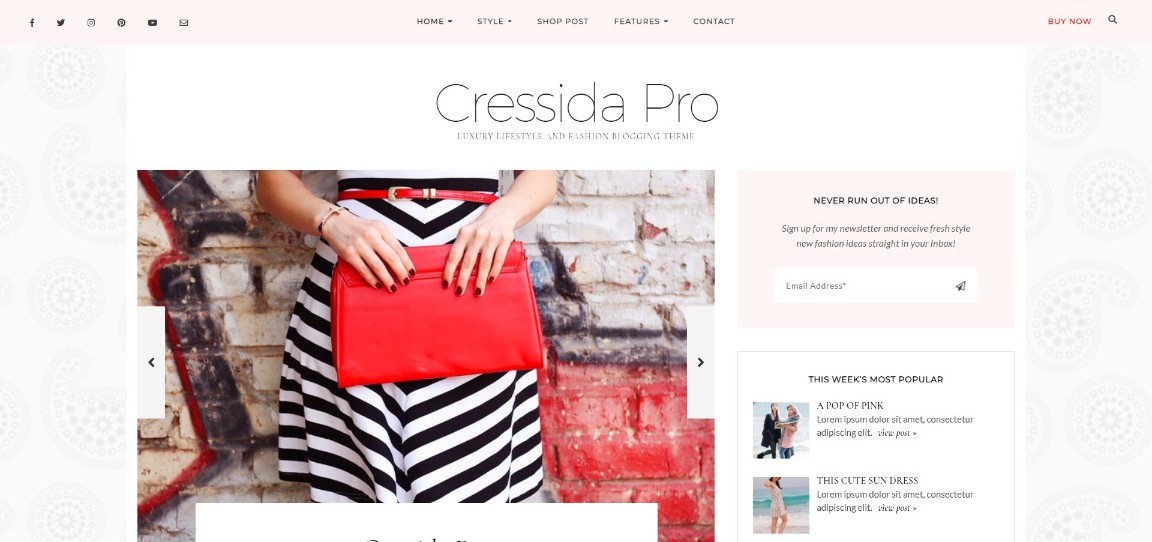 Cressida Pro is a soft feminine theme that could work well for certain industries. The demo website is a cross between a blog and an online store with content added. Either could work for certain industries and the template is flexible enough to be able to fit almost any niche.
Cressida Pro is another boxed layout with a patterned full width background. It uses soft colours, a mixture of serif and sans serif fonts, effective images, ads and all the page elements you could wish for. It's a very descriptive demo that shows exactly what this theme can do.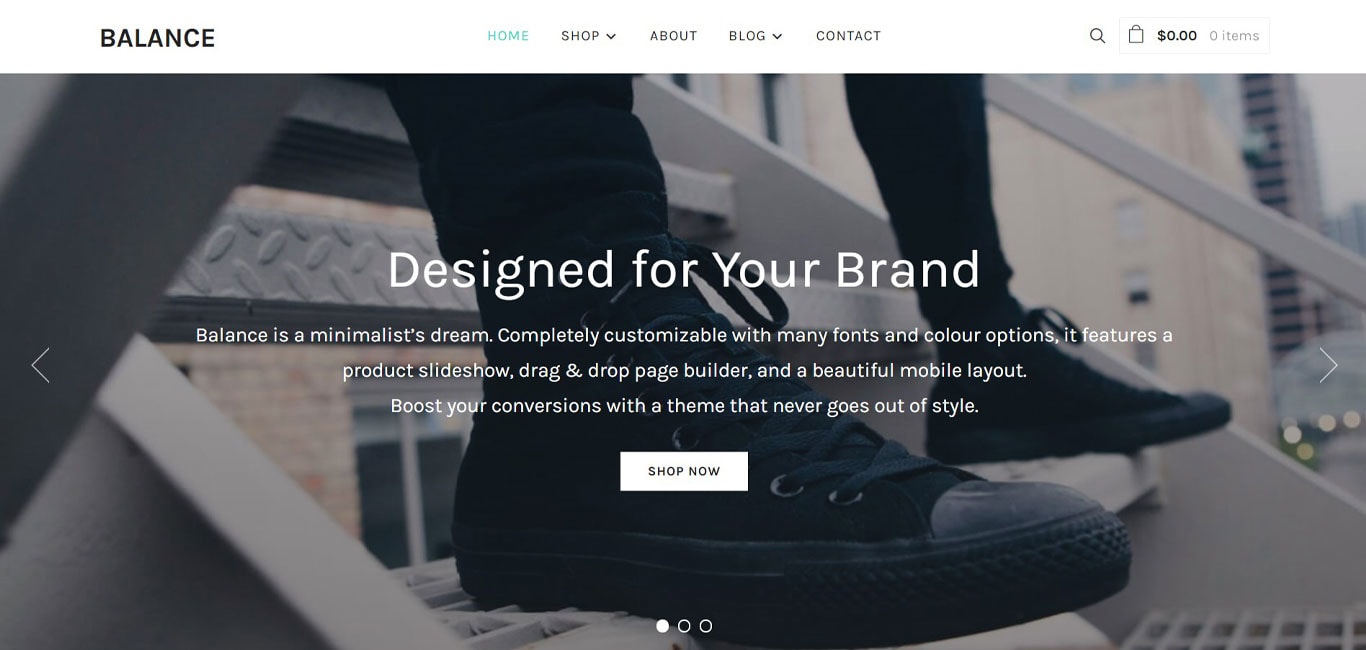 Balance from WPZoom is an eCommerce oriented WordPress theme for business but could feasibly work for any enterprise given the right attention. It's a modern theme with contemporary font, subtle use of colour and nice balance throughout the page.
It does look and feel like an online store but that could benefit a range of businesses. It can also be changed to a more traditional layout or tweaked to create something original with the included drag and drop page builder. While not as flexible as some, what Balance does, it does very well which is why it's in our list of top WordPress themes for business.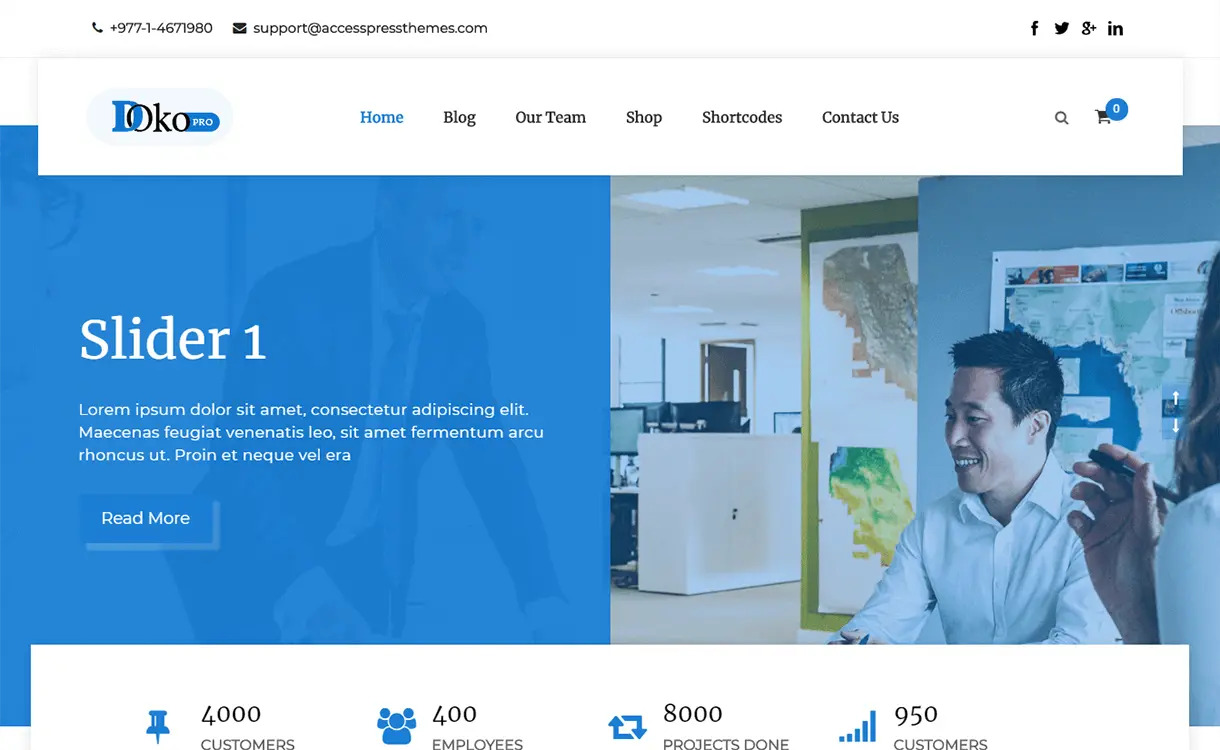 Doko Pro is a clean and minimalist WordPress theme for business. It uses a bold header slider with modern navigation and attractive social media icons on the right. The rest of the page uses a lot of white space along with content areas with contrasting backgrounds to keep your interest.
Doko Pro is an attractive design with good use of colour. The shadows are small but effective touches and along with the colour pops, create a character that few other themes in this list achieve. We think this is one of the best WordPress themes for business if you like to stand out from the crowd.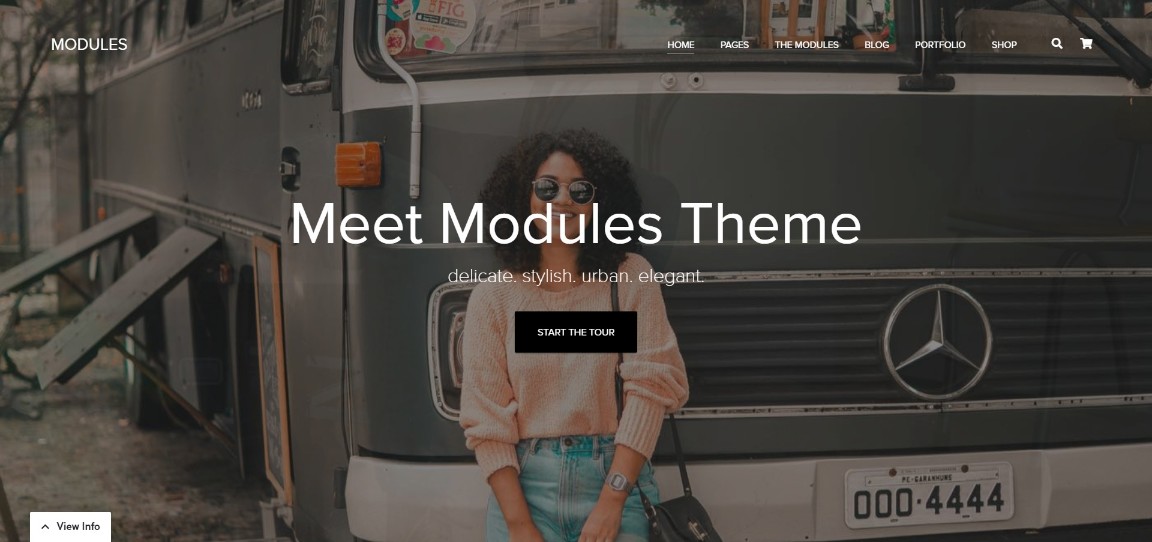 Modules is a contemporary template with a lot going on. It uses an impactful header image to grab attention along with stark contrasting fonts and minimal navigation. Further down the page, a mixture of white space and parallax effects keep your interest while the story unfolds.
Modules has a selection of demo websites covering most industries and comes with a front-end editor for simple customization. It offers all the content elements you might need and delivers that professional look we're after when representing our business online.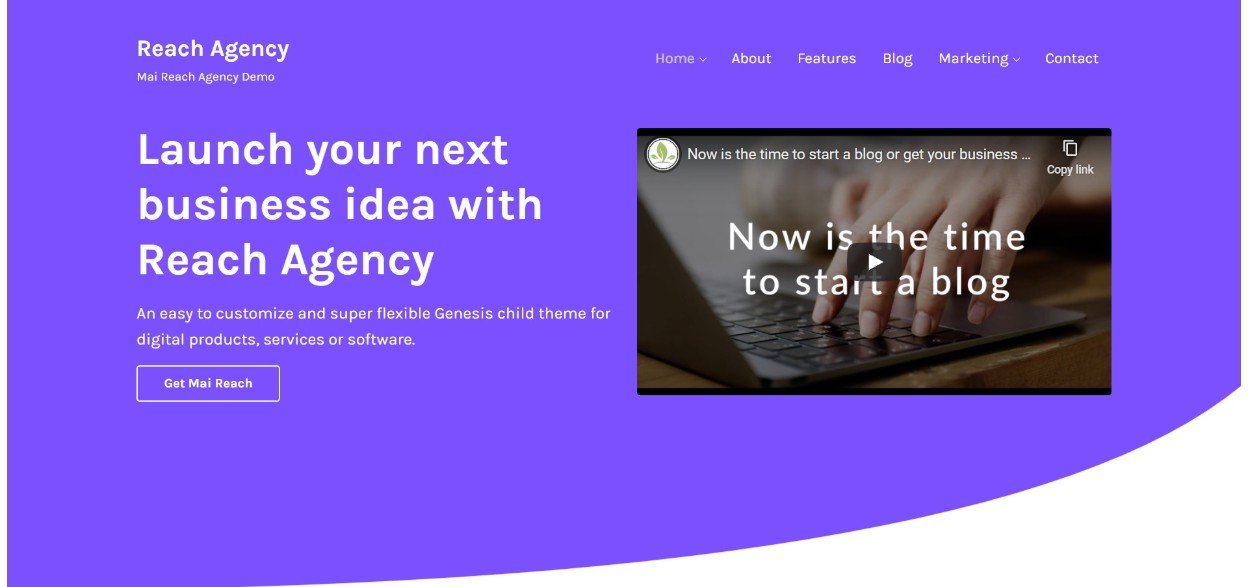 Mai Reach makes a great first impression with that pop of purple in the demo. It then calms down with a mainly off-white background, standard sans serif fonts and minimal colour pops with a complementing lilac. This is a minimal design that provides an almost blank canvas for you to build upon.
Mai Reach is in our list of WordPress themes for business because of its potential. It's another Genesis Framework theme that can be customized with ease and tweaked to suit any business. It is expensive though but seems well worth it if the design suits your brand.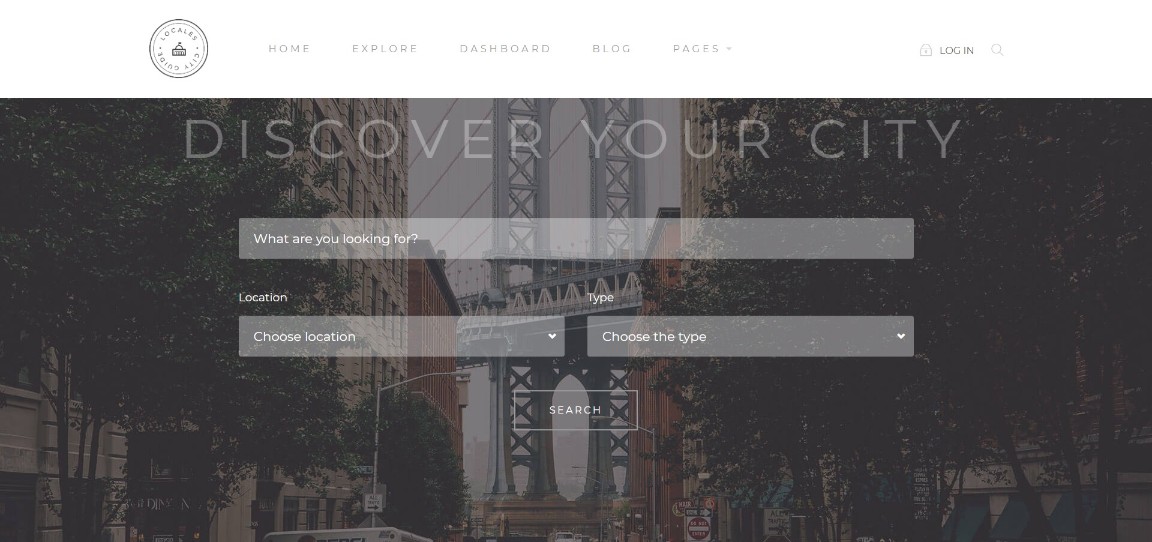 Locales is a smart, urban design built around a directory. It's a very attractive theme with fantastic use of colours and filters, modern fonts and graphics and a layout that works incredibly well. Directory layouts aren't that common so when you find a good one like this, it pays to remember it.
Locales wouldn't work for every business but if directories are part of your niche, there are few better themes than this. It is flexible enough to be tweaked to almost any type of directory and has the tools and plugins you'll need to deliver a professional experience. What more could you need?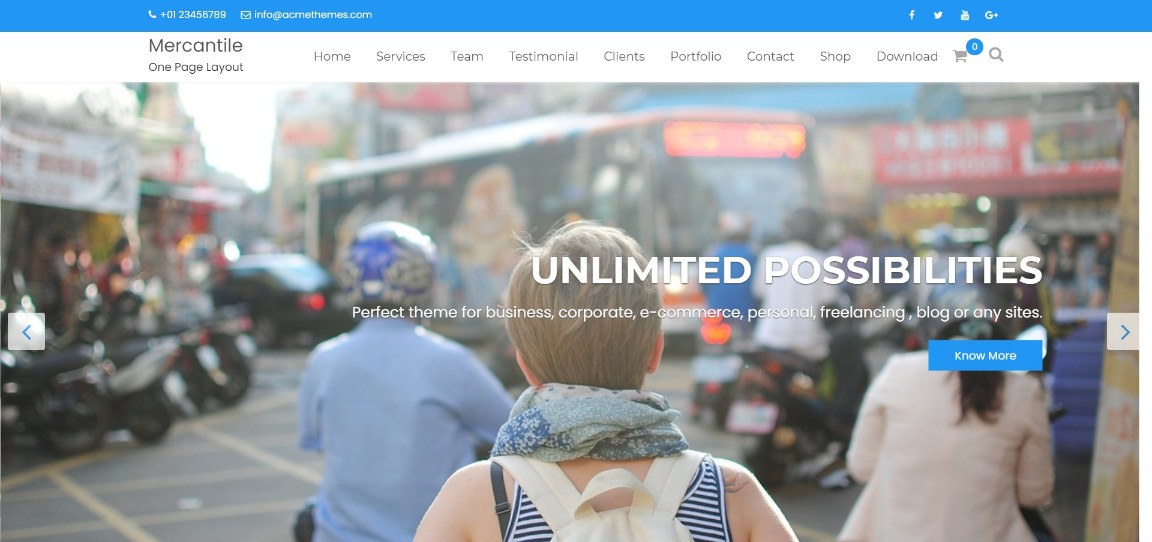 Mercantile Pro is a standard WordPress theme for business that works well. It uses an image slider with a blue filter to match the main colour. The navigation bars are small but effective and the images below the header match their niche perfectly. It's a great first impression that keeps getting better.
The rest of the theme includes the content elements, forms, images, animations and other goodies some businesses like to use. Fonts and colours are great, page balance works well and the theme includes every conceivable page element you could ever need.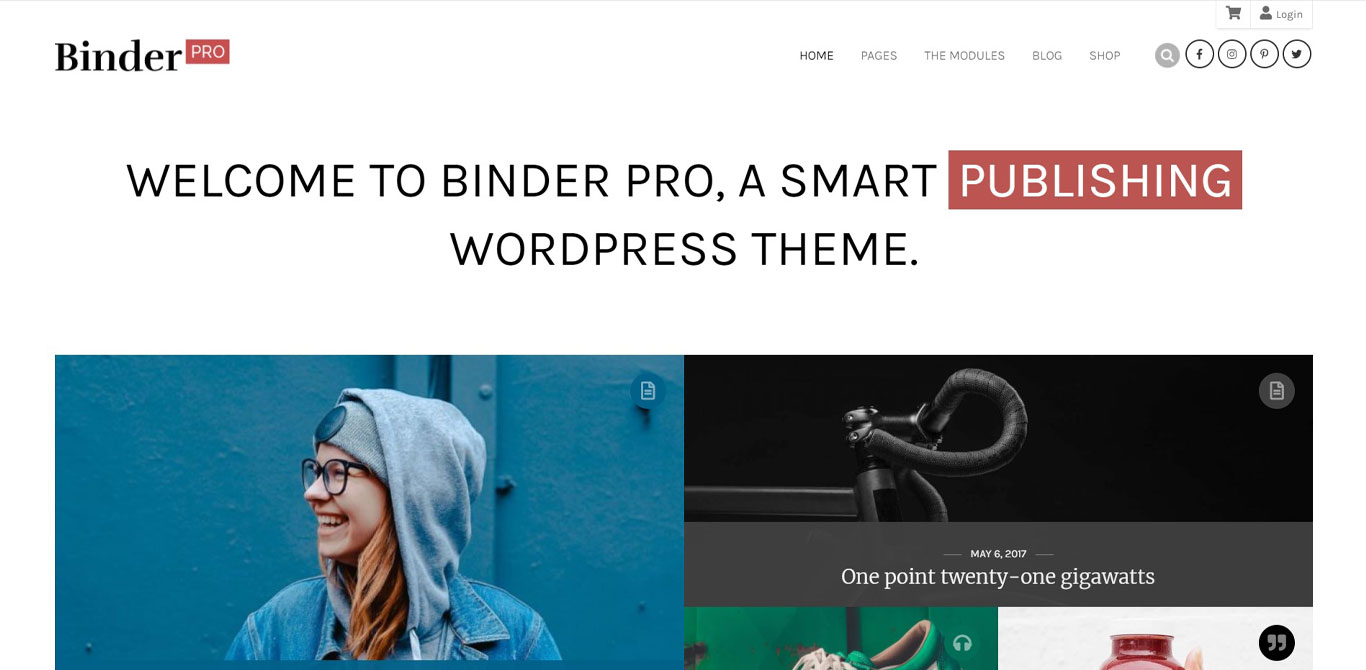 Binder Pro is another magazine-style theme that could work exceptionally well in the right hands. It's a clean, modern theme with lots of white space and great use of colour. The mixture of serif and sans serif fonts works well, as does the flow down the page.
Binder Pro includes most of the elements we look for in a WordPress theme for business. Content elements, images, graphics, animations, flexible page layouts and that certain something that draws you in and keeps your attention. Whatever that certain something is, Bonder Pro has it and then some.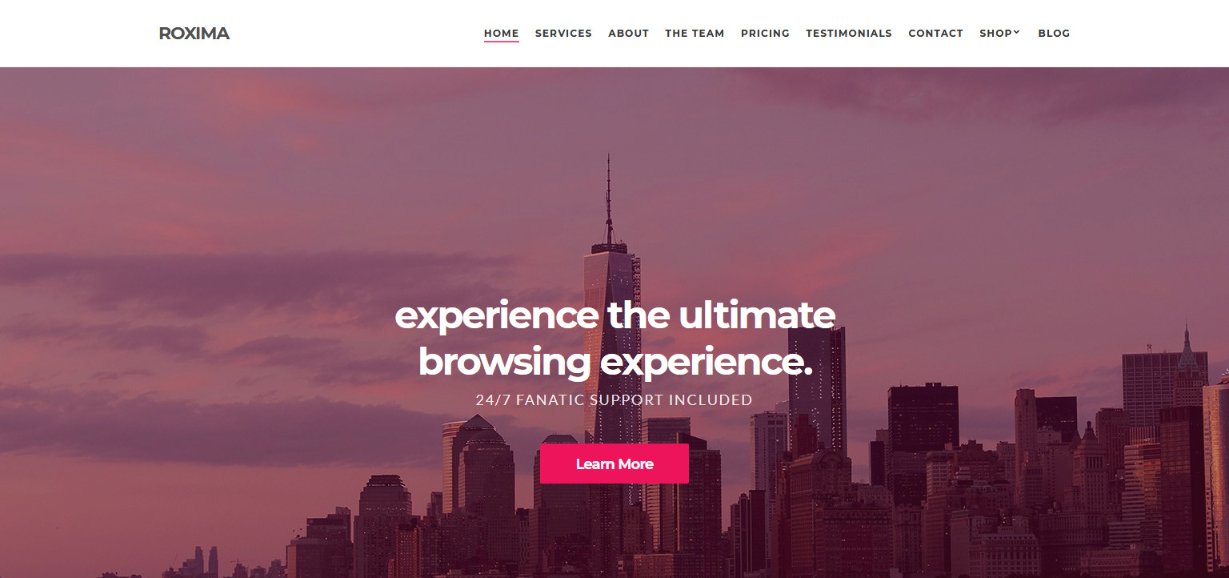 Roxima is a corporate WordPress template for business that is flexible enough to be used almost anywhere. It has a nice filtered image header with complementing button colour, stark white header and simple but effective navigation up top.
Further down the page, a selection of service elements, images, calls to action, pricing tables, biographies, testimonials, blog posts and form options provide all the functionality you're likely to need. While this theme may take some work to make it truly unique, it has all the ingredients necessary to do it.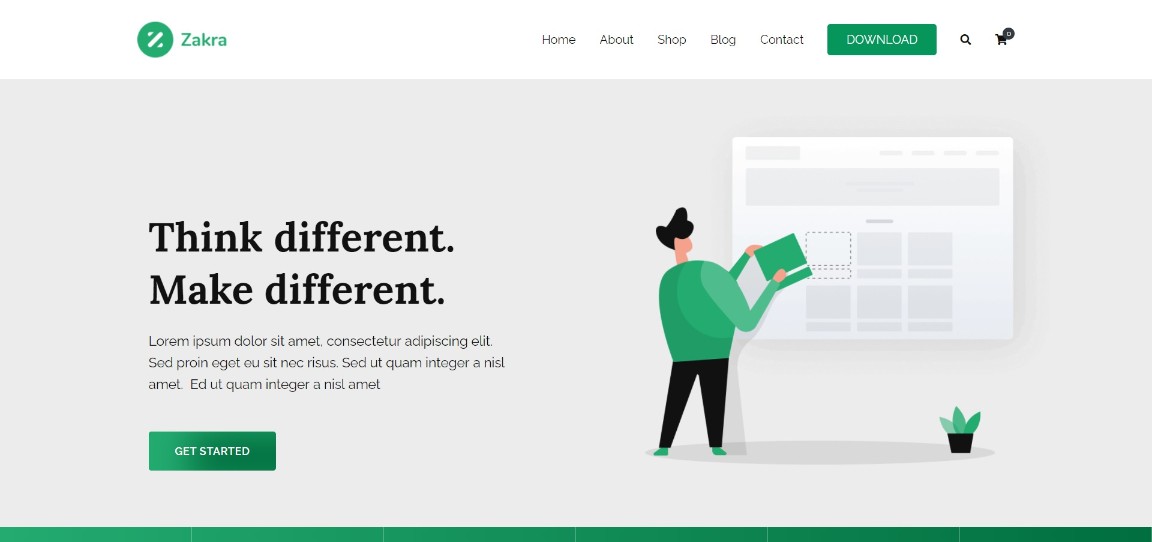 Zakra is a very clean WordPress business theme with a range of demos covering most niches. Each uses white space exceptionally well and includes good page balance, simple navigation, effective content layouts and simple effects like shadows. The overall impression of Zakra is of a simple website done well.
Depending on the demo you choose, the layouts are simple and effective or more feature rich. Colour choice is first class and the typography equally so. Pages load quickly, the use of contrasting white and coloured backgrounds works well and the range of layout options gives you the freedom to design your site as you see fit.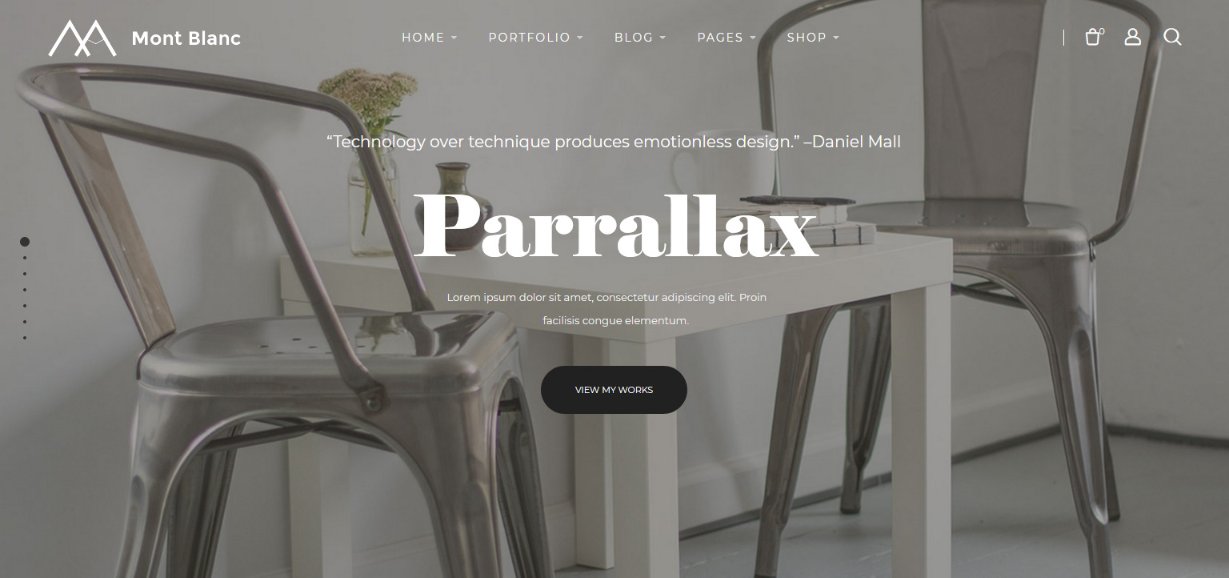 Montblanc is a different proposition altogether. It's a very stylish WordPress business theme that would suit more upscale niches. It uses imagery very well and, depending on the demo you choose, includes parallax scrolling, full-width images and colour filtering to fit in with the scheme.
Font choice is also good. A mix of old and new with contrasting white or dark colour depending on the background. Simple sticky navigation and smooth scrolling also add to the upmarket feel. Overall, Montblanc is an effective theme that could work for a range of niches.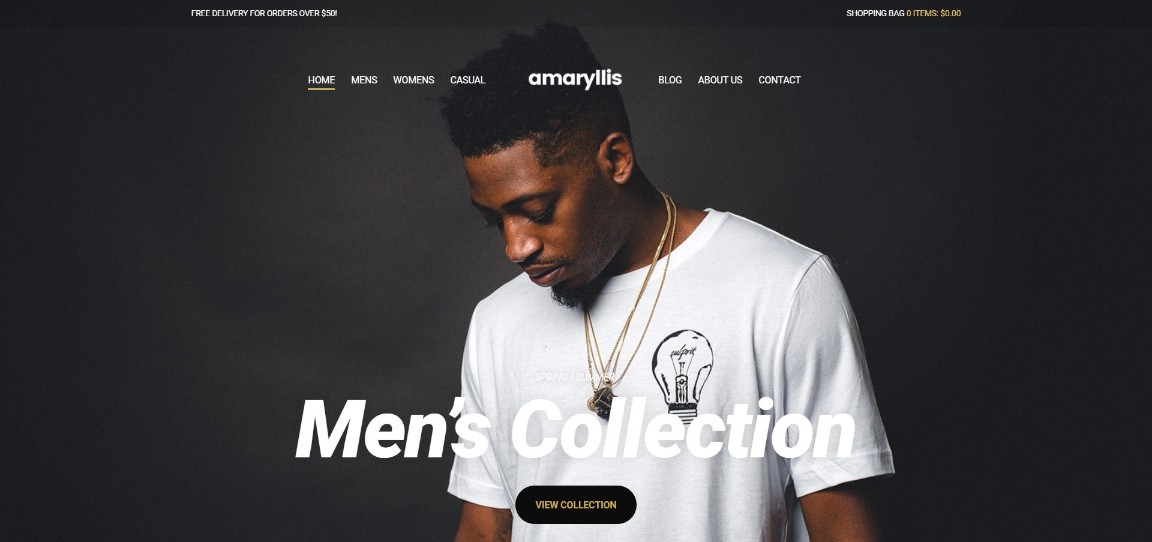 Amaryllis is a modern WordPress theme for business that makes an instant first impression before settling down. It begins with a seamless slider without any fussiness that just lets the images speak for themselves. Along with an attractive modern font and minimal navigation, it sets the scene for what's to come.
Further down the page we evolve into a standard page with logs of white space, minimal copy and simple divider elements. The demo is set up for eCommerce but the theme comes with standard content blocks so you could build out your pages however you like. We think this is a very strong theme!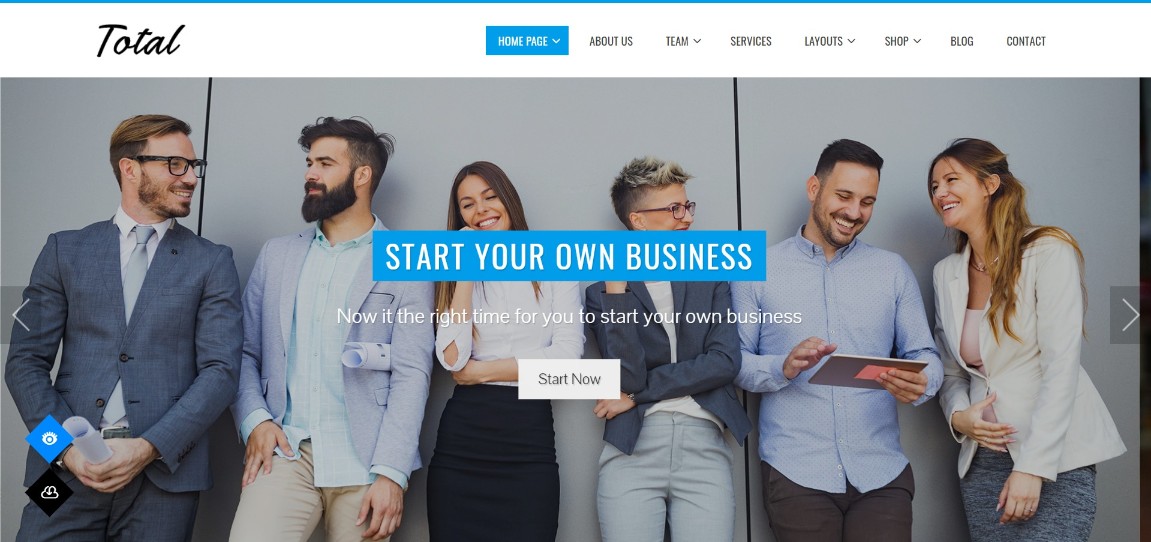 Total Plus is another impactful theme that uses a header image to make an entrance. This time accompanied by a bold orange contrast colour to add additional interest to the page. It's a very effective combination that could be easily customized to suit any niche and any brand.
The rest of the page is a combination of white and dark backgrounds and fonts with image and graphic overlays. It tells a story very effectively and while the orange colour is used sparingly, it is very effective when you see it. It can of course be changed to suit your own colour scheme if orange isn't your thing.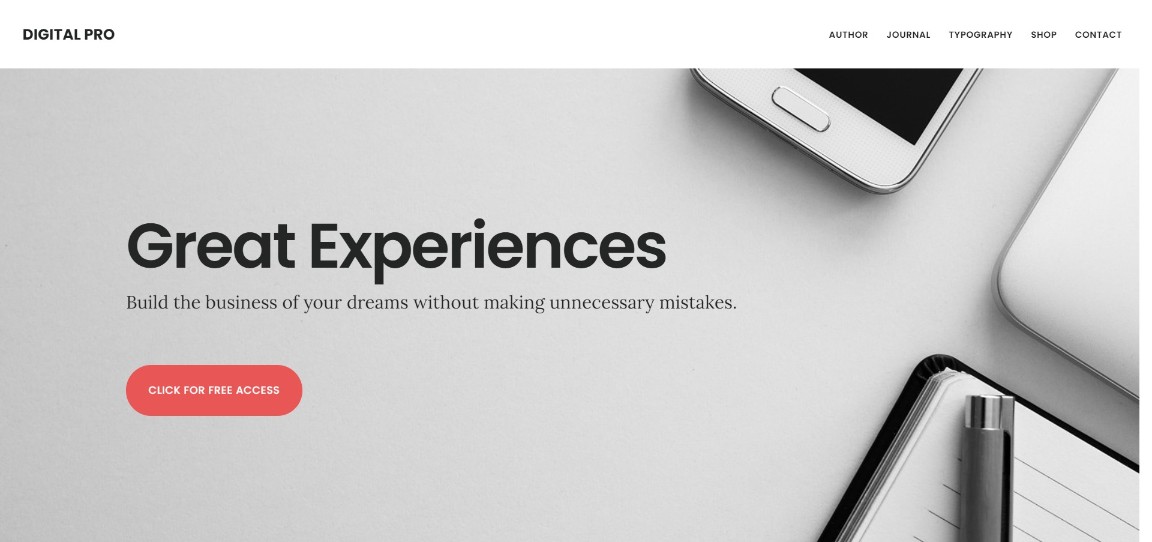 Digital Pro goes in completely the opposite direction. It's a minimalist WordPress theme for businesses who don't want to make quite the same impact. It's a subtle template with largely monochrome design and a single colour pop for buttons. It looks just as good as Total Plus, just in a different way.
This is a very flexible theme with great use of typography and white space. The pink contrast colour is also effective. Standard content blocks with a simple, no-nonsense layout works well, allowing you to tell your story with minimal distraction while not missing anything out.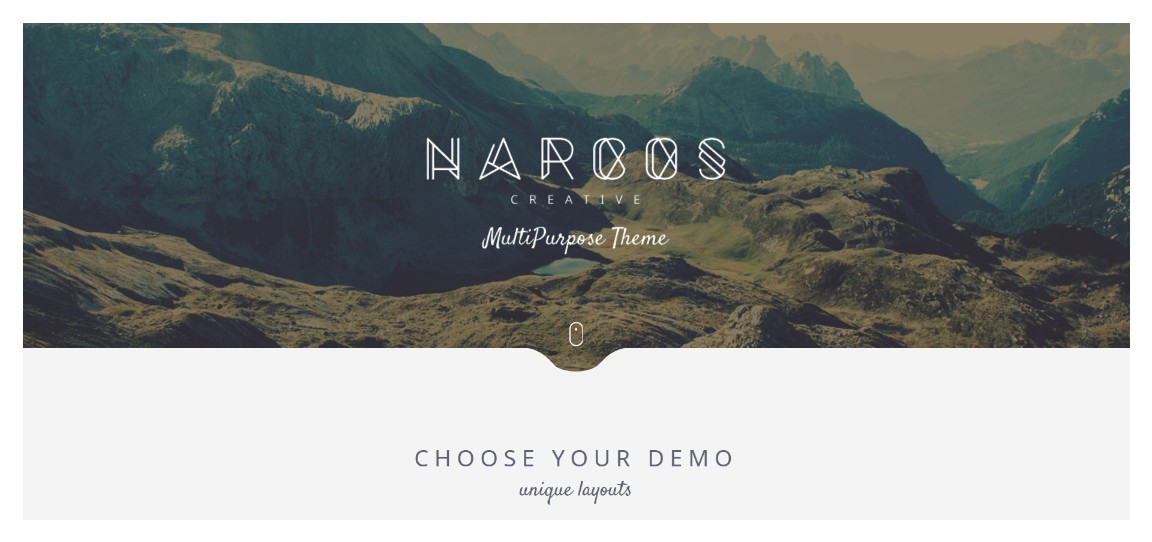 Despite what the name may imply, Narcos is a very serene WordPress template for business. It uses a heritage look with filtered images, simple navigation and a mixture of standard and handwritten fonts to create a relaxed feel with a little nostalgia attached.
The header image does a lot of the heavy lifting here but the page unfolds strongly with nice use of white space, more filtered imagery, off-black fonts and a selection of content blocks that could be customized however you like. This is a well balanced page with a lot going on but it really doesn't feel like it.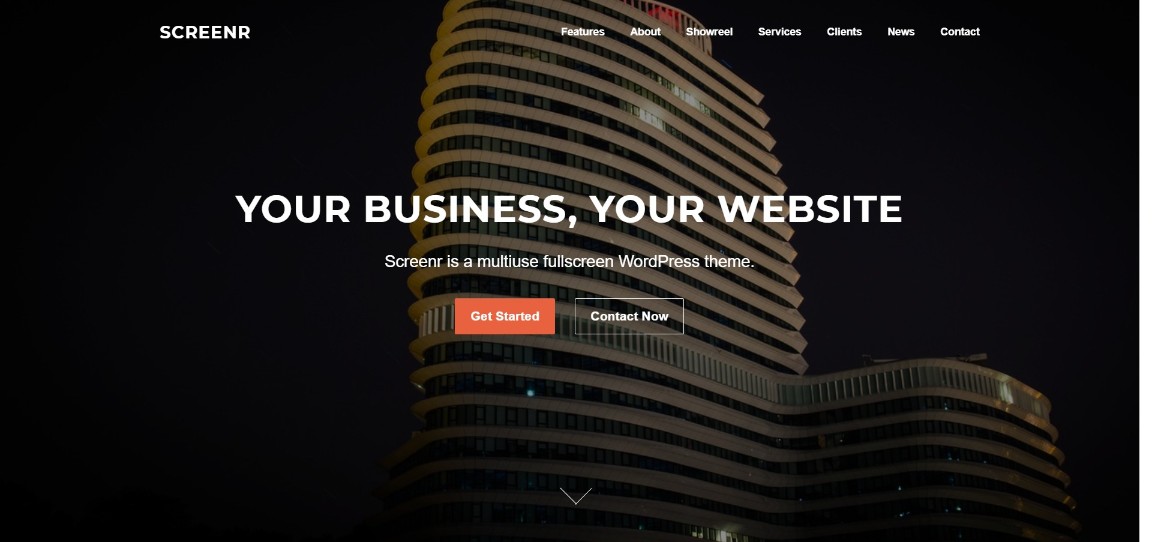 Screenr is a free WordPress theme for business but really doesn't look like it. This is a professional looking template with all the qualities you expect. It opens with a bold header image with contrasting fonts and opens out to add colour and white space as the page unfolds.
Font and colour choice is excellent and makes a great impression. The page includes a range of content blocks to cover most needs including video. Some simple animations and a very clear form concludes what is a very strong showing considering this theme is completely free.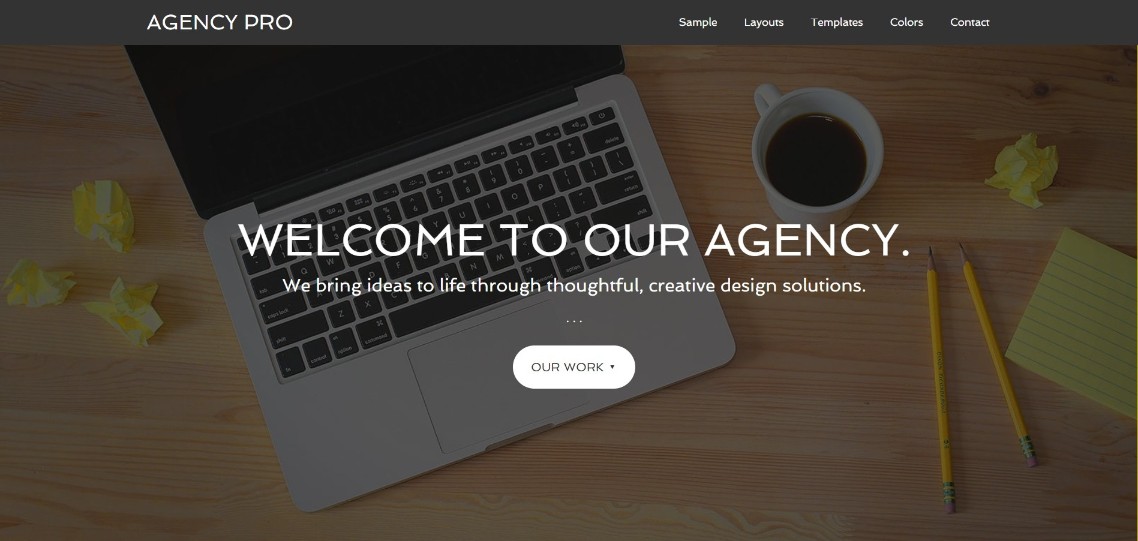 Agency Pro is another Studiopress theme that delivers on every count. The theme opens with a strong business-oriented background image and headline before switching to a parallax layout with floating content blocks down the page. It's a great design that could work very well in certain niches.
Pages unfold gradually while scrolling smoothly, which helps with that professional first impression. The floating content blocks also work well, with a mixture of imagery and copy along with the option to add more if you like. A very modest contrast colour appears in links and buttons which is a very subtle but effective trick.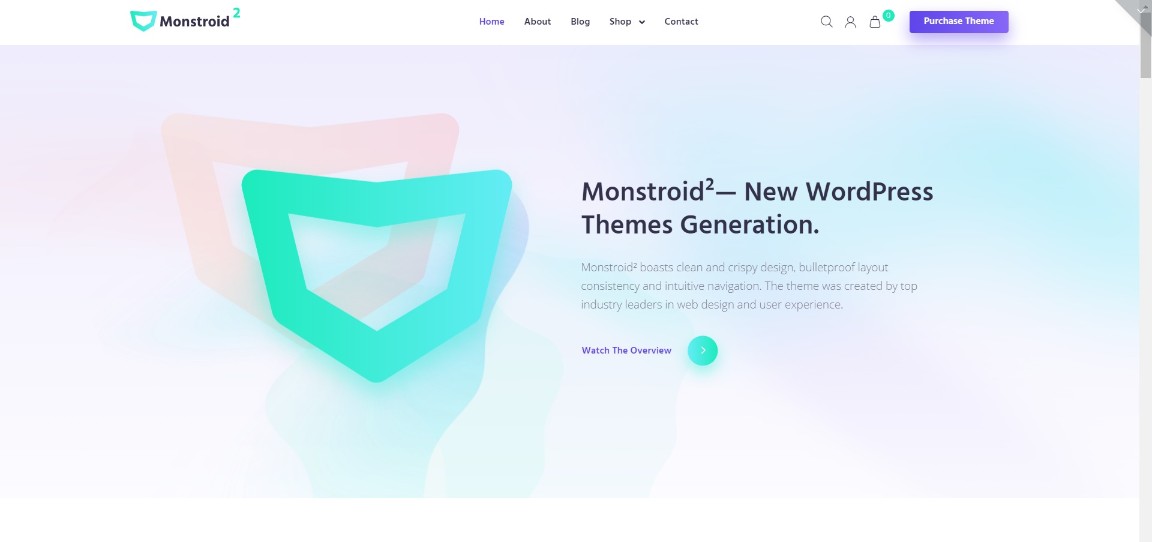 Monstroid 2 is the opposite of Agency Pro. This is a light and breezy theme that makes you relax from the moment it loads. A mixture of pastel colours with easy going fonts and nice graphics creates a friendly, welcoming impression that continues as you scroll down the page.
We don't often feature Templatemonster themes but Monstroid 2 is the exception. It's a well balanced design with a wide array of content blocks and includes the Elementor drag and drop page builder. It's a flexible theme that could genuinely be customized to suit any industry you could think of.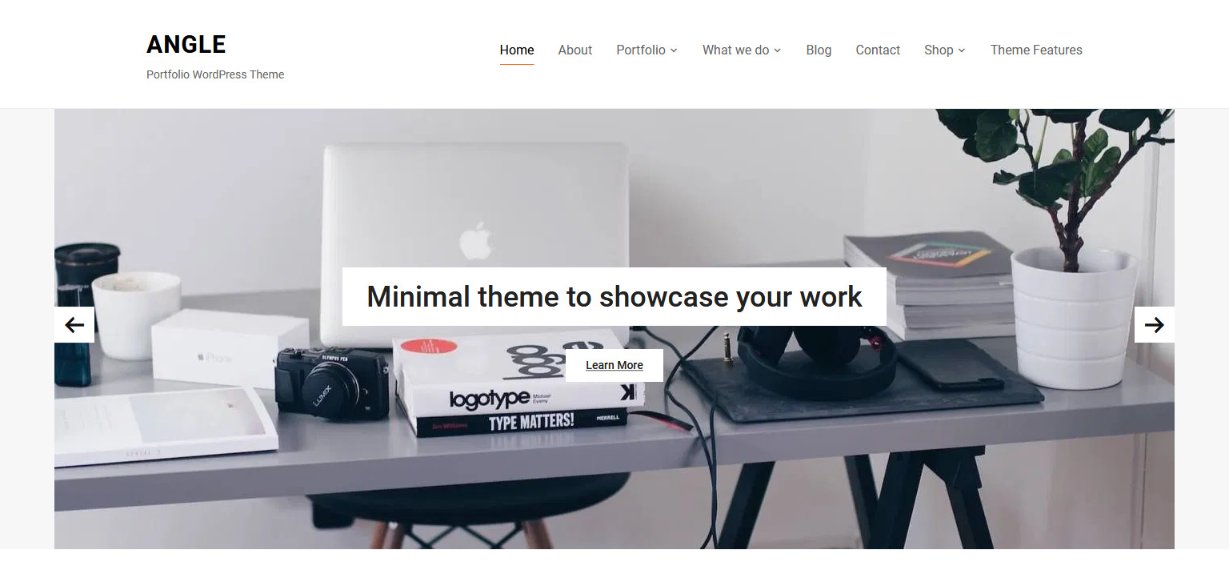 Angle is a smart, minimalist WordPress template for business. It's a well thought-out design with a monochrome header image with small colour pops. It uses contemporary typography, lots of white space and smooth flow while also including everything you want to see on a business page.
Borderless content blocks, subtle colours provided by images and an unfussy design makes this theme stronger. The inclusion of a timeline, social media, blog, forms and extra content elements means you could tweak this template to suit your brand with ease.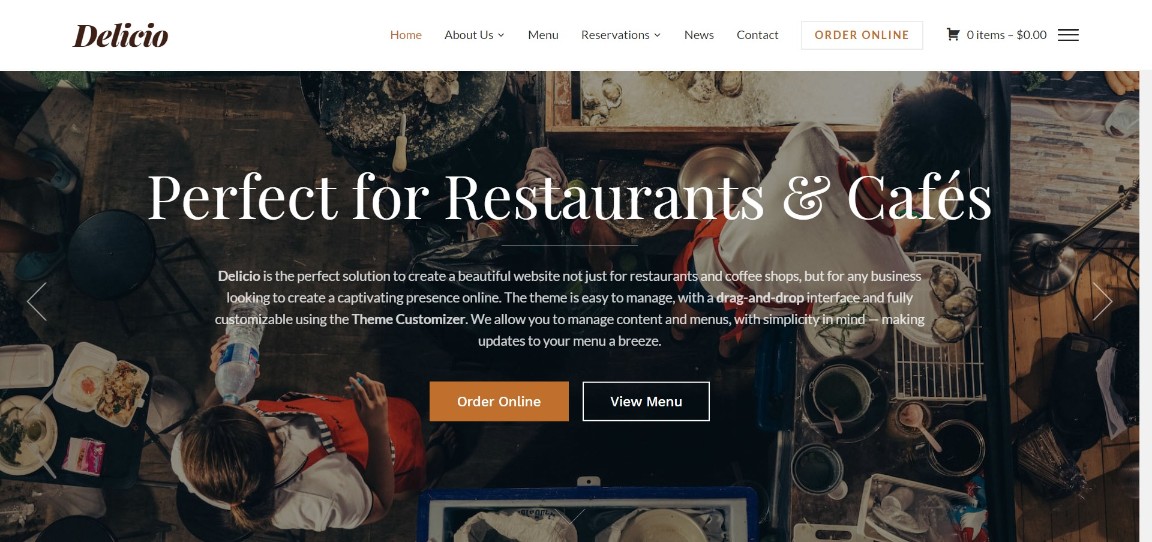 While Delicio could be used for any type of business, it has some features that make it shine for food. Those include a specific menu section, online ordering and reservations elements. All combine to create a professional website that you could build in your spare time.
The page begins with an attractive header image and parallax background. Content elements include menus, booking options, a map, block, social media and all the elements you would expect to see on a food website. The dark background and mixture of serif and sans serif fonts also makes an impact.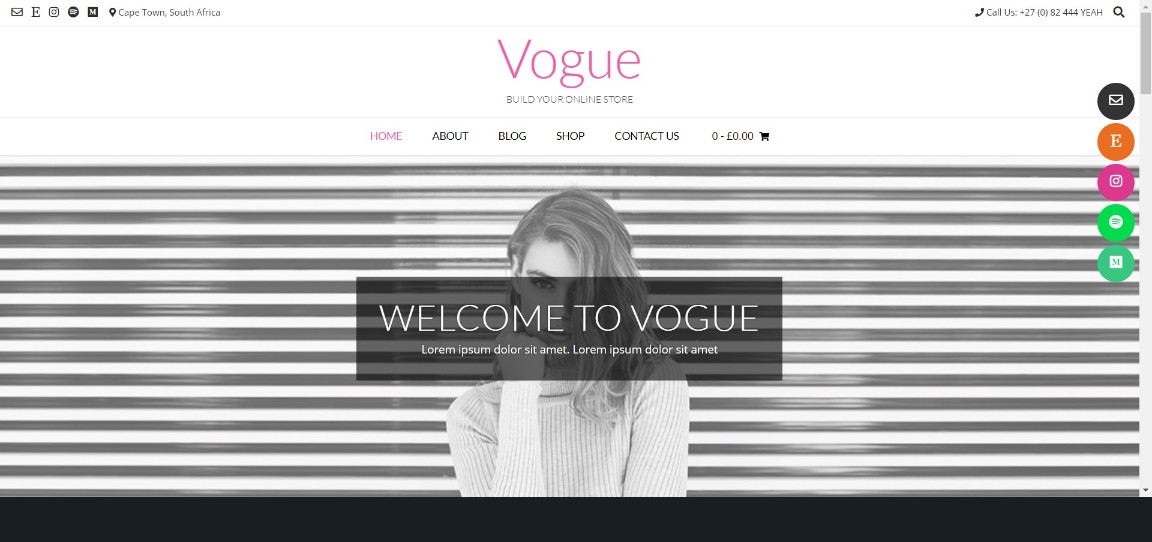 The Vogue demo is built around an online store but could easily be customized to offer a more traditional business website. It's a simple but effective theme designed to allow images to tell the story.
A nice logo and navigation area opens to an image slider before transitioning into a standard layout. Font and colour choice is excellent, as are the contrast colours on the side. Page flow is smooth and the overall impression is of calm competence. While built around a store, the template is easily flexible enough to work without it.
Summary of the Best WordPress Themes for Business
What do you think of our list of the best WordPress themes for business?
We worked tirelessly to scour the internet for the best business themes for WordPress. We think we have covered the current range of top performers and are confident you will find few better out there for WordPress!
Which WordPress Theme for Business Should You Choose?
It's always difficult to single out particular products from a list of top performers. However, there are some standout WordPress themes for business.
Astra is always a standout theme. It has enough demos to cover almost every conceivable use. It includes drag and drop page builders, works with most WordPress plugins and is very easy to use. This is of particular interest to those new to WordPress or who don't want to spend weeks building a website.
Other notable WordPress themes for business include Punte Pro for overall design, Cressida Pro for sheer number of options, Doko Pro for showing that clean design won't leave you wanting and Locales for providing a credible option for directories.
What WordPress themes for businesses stand out for you? What themes did we miss? What theme do you use and want to recommend? Tell us about it below!