2021 is here and it's now time to take your website to the next level with Astra's most significant update yet! ?
The new year also brings a new version of Astra.
Introducing Astra 3.0 with all-new visual Header Footer Builder and massive performance improvements.
This revolutionary update will truly impact your Astra experience!
What Is Astra 3.0?
Version 3.0 is another leap towards making Astra faster and better ?
Astra 3.0 has been designed to make your life easier and development faster while also providing a much more satisfying experience for your users!
Here are three ground breaking enhancements in Astra 3.0:
Improvements in the customizer loading time (over 70% faster!)
Improvements in page loading speed (over 25% faster!)
New visual Header Footer Builder – Build creative designs in minutes.
Let's take a closer look at these exciting updates.
Faster Astra Customizer Loading Times
Previous Astra updates already brought a faster customizer. We have taken it even further with this new update.
With Astra 3.0, working with the customizer is made 70% faster! ?
It loads in around 1 second, down from the already impressive 3.5 seconds from before.
A faster loading customizer means less waiting around for you and a more efficient design experience when using Astra.
How? ?
Well, with React JS!
React JS is the future. It's fast, it's scalable, and it helps to build interactive platforms.
It was introduced back in version 2.6, where Astra customizer had major code evaluation. We have taken it even further with Astra 3.0. 
Along with React JS, a lazy-loading feature is also incorporated in the customizer.
With this, customizer loading time drops considerably to just 1 second.
Here's a screenshot of the back-end loading time compared to the previous versions of Astra (4011 milliseconds ≈ 4 seconds).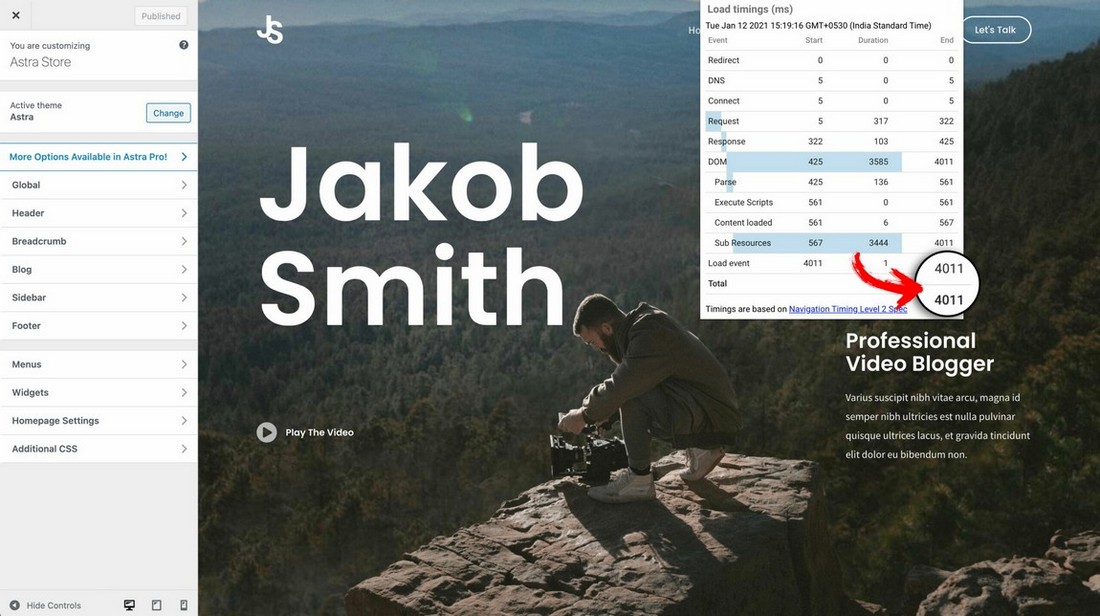 This has been reduced by more than 70% further with Astra 3.0 (1014 milliseconds ≈ 1 second).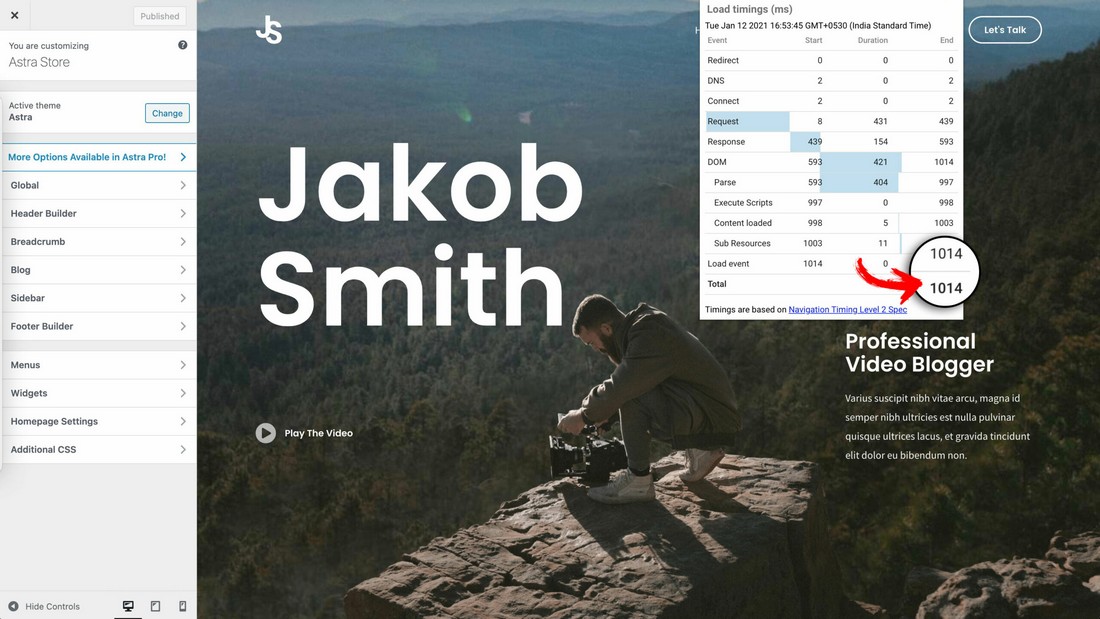 Faster Page Loading Speed
We all know from our own experiences on the web that slow loading pages don't go down well.
Faster loading websites are crucial for a positive user experience and for business growth. That's why we implemented further page speed improvements in Astra 3.0!
Pages now load in an average of 0.7 seconds with default data. That's down from an already impressive 0.9 seconds!
This will deliver an enhanced user experience and hopefully, many more conversions for you 🙂
Astra has already made over a million websites faster and the number is growing every day.
Though it has shown a blazing fast performance — we decided to take it even further.
With lots of brainstorming and testing, we optimized HTML and CSS and significantly reduced the amount of code.
With this new and improved HTML and CSS – page load times are now faster than ever. Average page load times have reduced from 0.9 seconds to 0.7 seconds!
Here are the page speed results from the previous Astra version.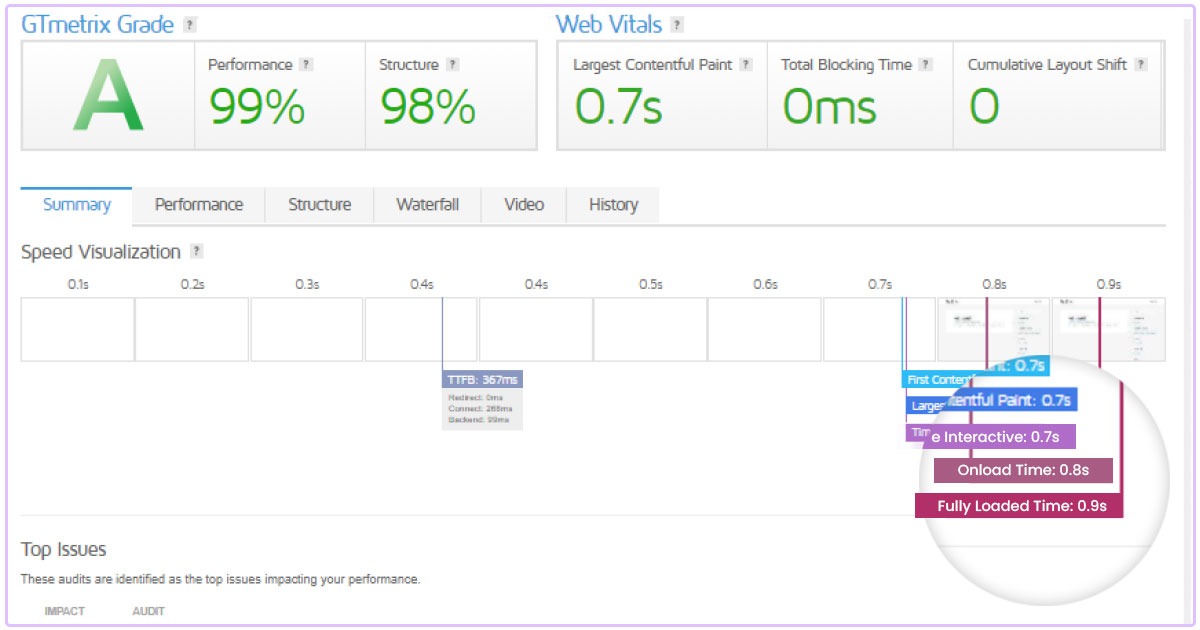 And, here is the new and improved result using Astra 3.0.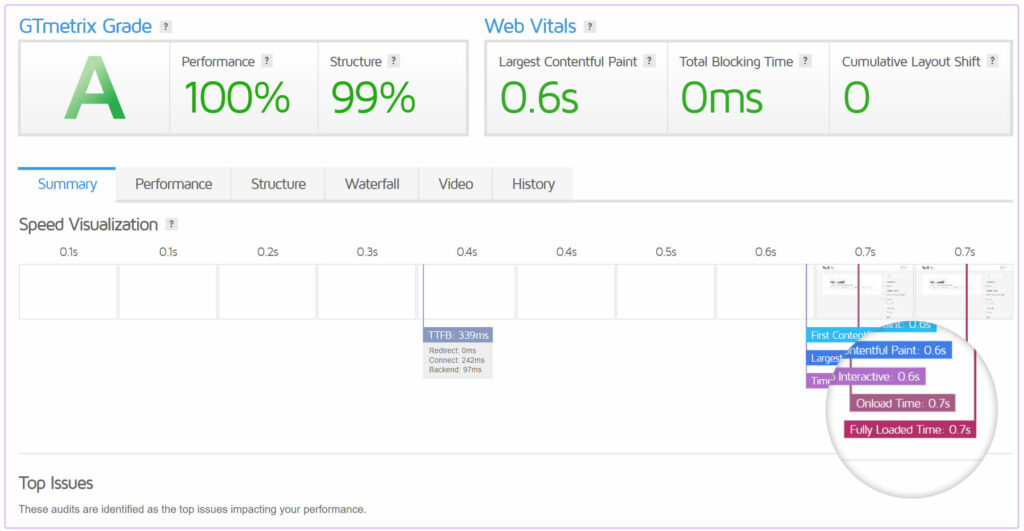 New Visual Header Footer Builder
With Astra 3.0, you can take your header and footer building experience to new levels. Now, you can benefit from a flexible Header Footer Builder right inside the customizer.
It's a drag-and-drop visual Header Footer Builder that provides all the benefits of page builders but specifically for your headers and footers.
You can now,
Build different headers and footers for different devices
Expand headers to include more elements
Use the WooCommerce cart in your header
And do much more…
Here are some new and additional excellent features that Header Footer offers:
Drag-and-Drop Builder
We are making your web-designing process easier with the drag-and-drop builder. You don't need to change any tabs in the customizer to change the position of your header or footer elements. Simply move it across using the visual builder.
Display Mobile Header Differently
A horizontal header on mobile devices and small screens won't display all your header elements.
You may like to display different headers on different screens. The mobile view editor will let users add additional elements for mobile viewing.
You can add a different menu for mobile and choose a toggle option among flyout, dropdown, or a full-screen option.
You can also further modify the height, colours, backgrounds and other design options – uniquely for mobile devices.
It gives you the freedom to design mobile-friendly headers based purely on the needs of your users.
Add Header/Footer Elements Easily
The Header Footer Builder offers a range of elements like buttons, social icons, menus, widgets, and so much more. Simply click on the required section and a list of the available elements will pop up.
Display the Cart Icon in the Header
The most common element you'll see as a part of the headers for online stores is the cart icon. It gives users a shortcut to access the cart directly from the header.
We have introduced the WooCommerce cart element and the Easy Digital Download (EDD) cart elements that you can use within your online store's headers.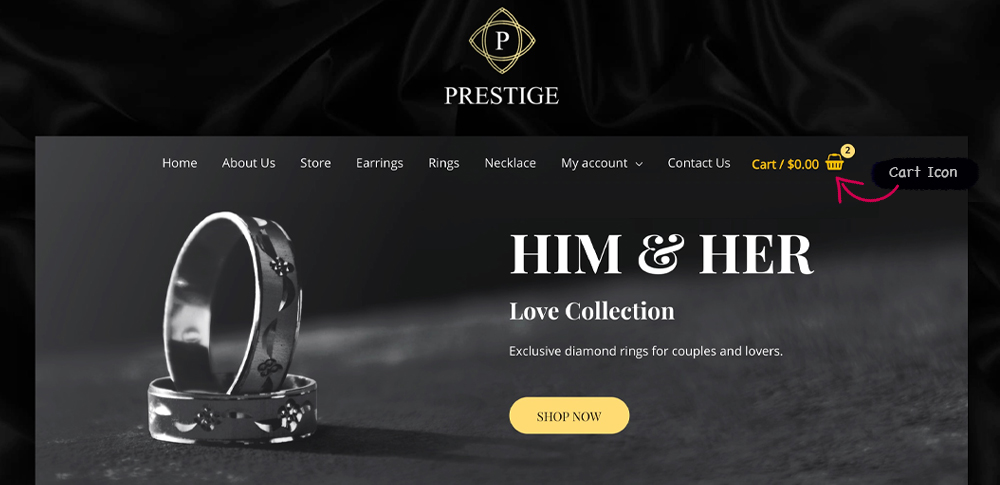 Expand the Number of Elements Easily
With the Header Footer Builder, you could add several elements straight from the provided options. You could add multiple buttons, HTML elements, widgets, menus, and more for your headers and footers.
The entire header and footer building process is made so much easier with the multiple elements option. It will help you replicate and add another element just like the one you have previously styled.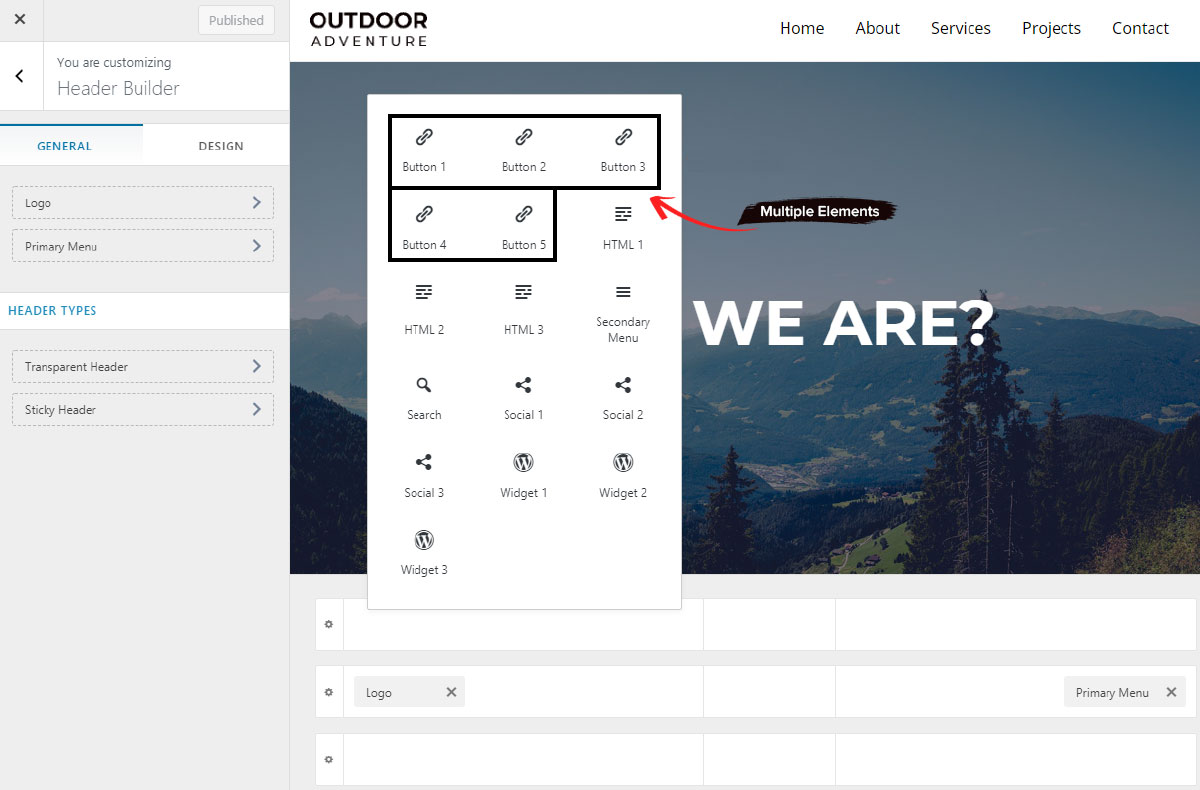 Device-Based Visibility of Elements
There's a huge difference in how your headers or footers may look on larger screens than on smaller devices. Therefore, the placement and number of elements need to be managed accordingly.
Astra 3.0 gives you complete control over what you wish to show or hide on mobile devices.
It is useful when you have many elements added to your header or footer, but you wish to manage how they show on mobile devices.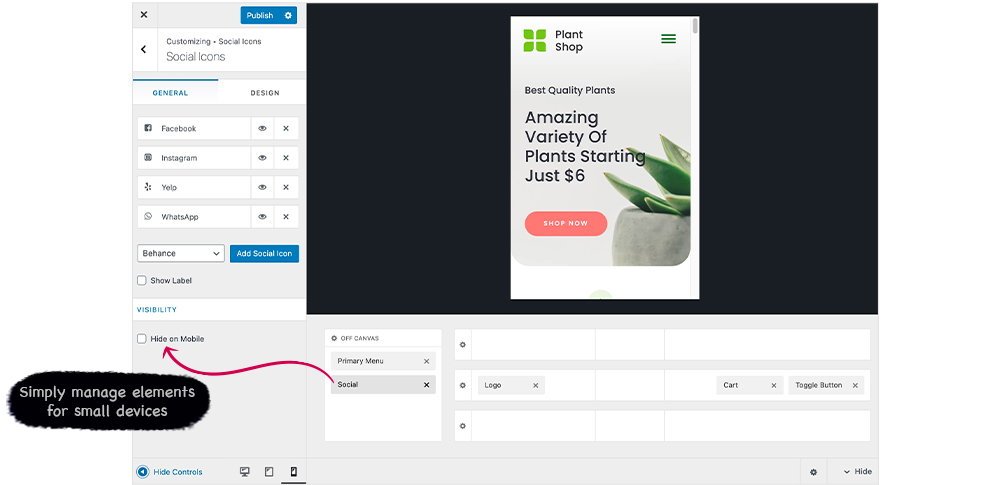 Excited To Experience Astra 3.0?
We are as excited as you are to see what you think of Astra 3.0 ✨
Update the Astra theme and Astra Pro to the latest version — 3.0, and enjoy the amazing Header Footer builder with the fastest customizer.
Since Astra 3.0 is a major update, we recommend you backup your website before updating. 
Need help to get started with Header Footer Builder? Here's a complete walkthrough. 
We have a detailed knowledge base that will help you use the Header Footer Builder to its fullest capabilities.
Get in touch with our awesome support team if you need any specific guidance. 
How We Got To Astra 3.0
Here is how we got to this awesome Astra version.
We launched Astra 2.0 back in 2020 with the aim of reducing your website development time by half. Astra 2.0 was praised and received lots of love from the WordPress community. 
Never ones to rest on our laurels, we kept making Astra faster and better, through subsequent versions – Astra 2.1, Astra 2.2 till Astra 2.6 and now Astra 3.0. 
During that time, Astra became the first WordPress theme to hit and exceed the coveted 1 Million+ active installs. It also gained over 4700 five-star ratings!
All of us here at Brainstorm Force and Astra have been overwhelmed at how it has been received over this time.
The tremendous positive responses only encourage us to do more and deliver more.
The beta version for Astra 3.0 that was launched only a few weeks back and went down very well with those that tried it. 
Thousands of users tried and tested this update and shared their valuable feedback with us. We implemented much of that feedback into the final release.
The Header Footer Builder created a strong buzz in the community and we've received a tremendous response for the beta release too.
Here is some of the fantastic feedback we received from the users who tried it: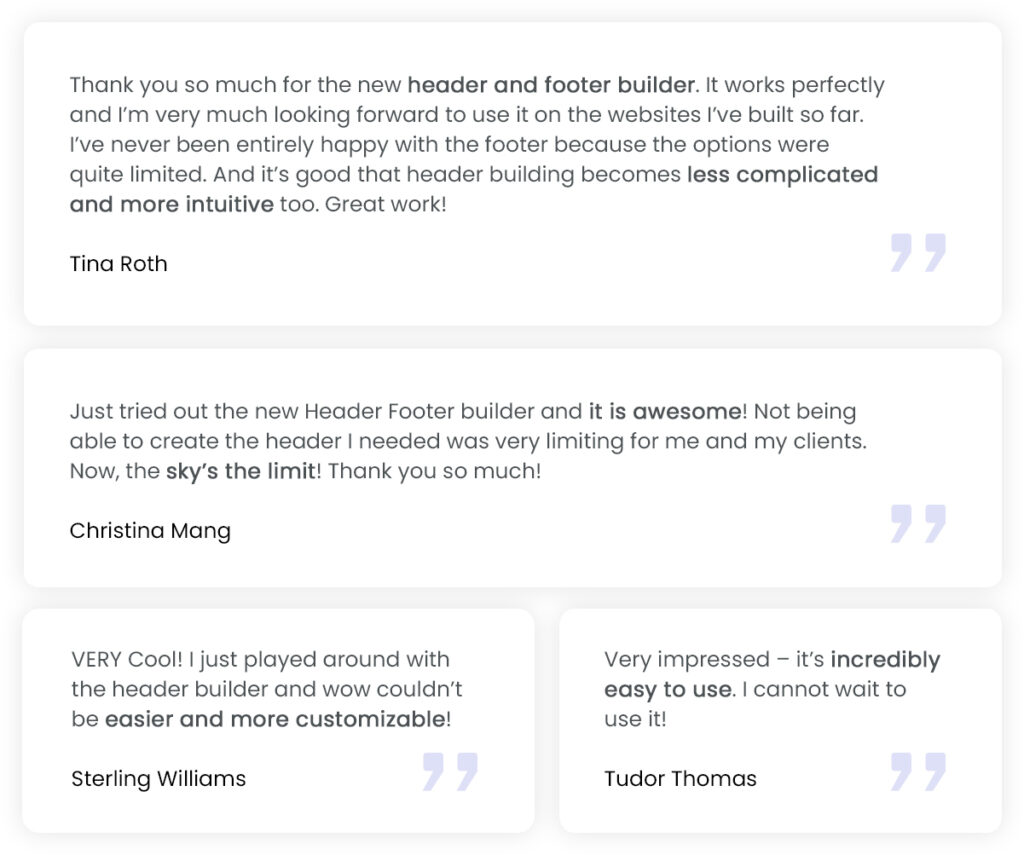 A big thank you to all beta testers and everyone who contributed. ❤️
Today we are excited to launch the next substantial update — Astra 3.0!
Other Updates We Are Working on in 2021
2021 is going to be a fantastic year for all of us. At Astra, we will make sure to deliver more and make the upcoming year an incredible one for you.
Read about our growth lessons of 2020 and what's ahead for Astra and Brainstorm Force.
Stay tuned for more similar updates throughout the year!
We wish you all a happy and prosperous 2021! ?
Astra 3.0 will give you an amazing new experience of website building. Why not upgrade to Astra Pro and make your business roar!