We are very happy to announce the arrival of Astra 3.3. One of the fastest WordPress themes in the industry is now even faster!
Before we get to the big news, let's see how Astra made last month a super exciting one.
We released some beneficial Astra updates during March. If you recall, at the beginning of 2021, we dropped a few hints about the upcoming updates.
Here's what we had released:
Astra 3.1 brought in the most beautiful customizer with impressive performance. It included more controls over the Header Footer builder elements, a new Language Switcher element, and new options in the cart, button, and search elements.
Astra Pro 3.2 brought a feature to add a custom layout inside the Gutenberg page. This gave the freedom to add attractive calls to action on the website with ease.
We teamed up with the folks behind Google Web Stories plugin and released an Astra integration with this awesome plugin.
Additionally, we were thrilled to share the fantastic news with you all:
Starter Templates, your favorite template plugin, crossed 1 Million active installs on the WordPress repository. That's right, 1 Million!
While product updates and software are all good news, we also continue bringing you world-class courses. Courses designed to help you build a successful online business.
One course we launched was Closing the Deal, a new course on our e-learning platform, SkillJet Academy. It walks you through the exact steps to close a deal, convert clients, and generate more business.
And guess what, we aren't stopping there!
Astra – Version 3.3
In our never-ending quest for high-performance websites, today, we are thrilled to announce the next step in that progression. Astra – Version 3.3!
Astra 3.3 is all about the little things that make a big difference. In this update, that means small changes to the theme that deliver significant speed improvements for your website.
With this latest version, we've pushed Astra's performance even further.
So, what's new in Astra 3.3? Here's a quick preview:
Faster Loading Websites with Improved HTML and CSS Markup
The cleaner the code, the faster the page loading time!
With every significant update, we go the extra mile in implementing advanced code, thereby reducing the page size. Any reduction in page size means your pages load faster.
With Astra 3.3, we've worked on optimizing the HTML and CSS markup in the frontend. This not only helps improve your page speed but also the overall user experience on your website.
We audited each and every line of code and made improvements in several files, which resulted in significant performance improvement.
Here is a complete list of pages that are made faster with this optimization –
Latest Blog Post
Single Post
All Archives
WooCommerce Shop Page and Single Product Page
Easy Digital Downloads (EDD) Single Product Page
LifterLMS All Courses and Single Course Page
LearnDash All Courses and Single Course Page
We're not stopping here!
Our team is already working on Astra 3.4 and 3.5 with a focus on performance and we aim to take this to the next level!
Astra Now Uses Fast and Sleek SVG Icons
Before this update, all icons being used on Astra, such as a menu, cart, account, and so on, used to load from the astra.woff font file. We have now replaced these with SVG icons.
SVG icons are much lighter and look sharper on all devices. They also provide greater scalability with smaller file size.
Switching to SVG icons will reduce the need to load any extra fonts. Ultimately, this results in faster loading pages.
Need proof?
We ran a test comparing the two versions.
Here's an example of the previous Astra version sending requests to load the default page that contains a 12.5% load for fonts.

This has now been reduced to zero in the latest updated version.

Incredible isn't it!
Fastest Customizer Ever!
The Astra customizer is now 2x faster!
Astra customizer is a lightweight theme customizer with a range of options for you to build beautiful websites quickly. It provides flexible options with an easy-to-use workflow.
With the previous Astra 3.1 version, we focused on making it attractive and easy to use. With this latest update, we've focussed on performance. We present to you our fastest customizer ever!
What did we improve in the customizer?
Optimized Customizer Controls: From switching between tabs to faster transitions, adding and customizing elements to a faster Header Footer builder, we've improved the entire experience working with the customizer.
Improved Customizer Refresh Time: Whenever you change the customizer setting, you get to see a live preview of the changes as it refreshes the respective section. This refresh time has now been significantly improved.
Optimized Database Options: The process of saving customizer values to the database has been optimized. This improves the customizer efficiency across the board.
Let's compare the two versions:
The previous customizer was loading within 486.47ms.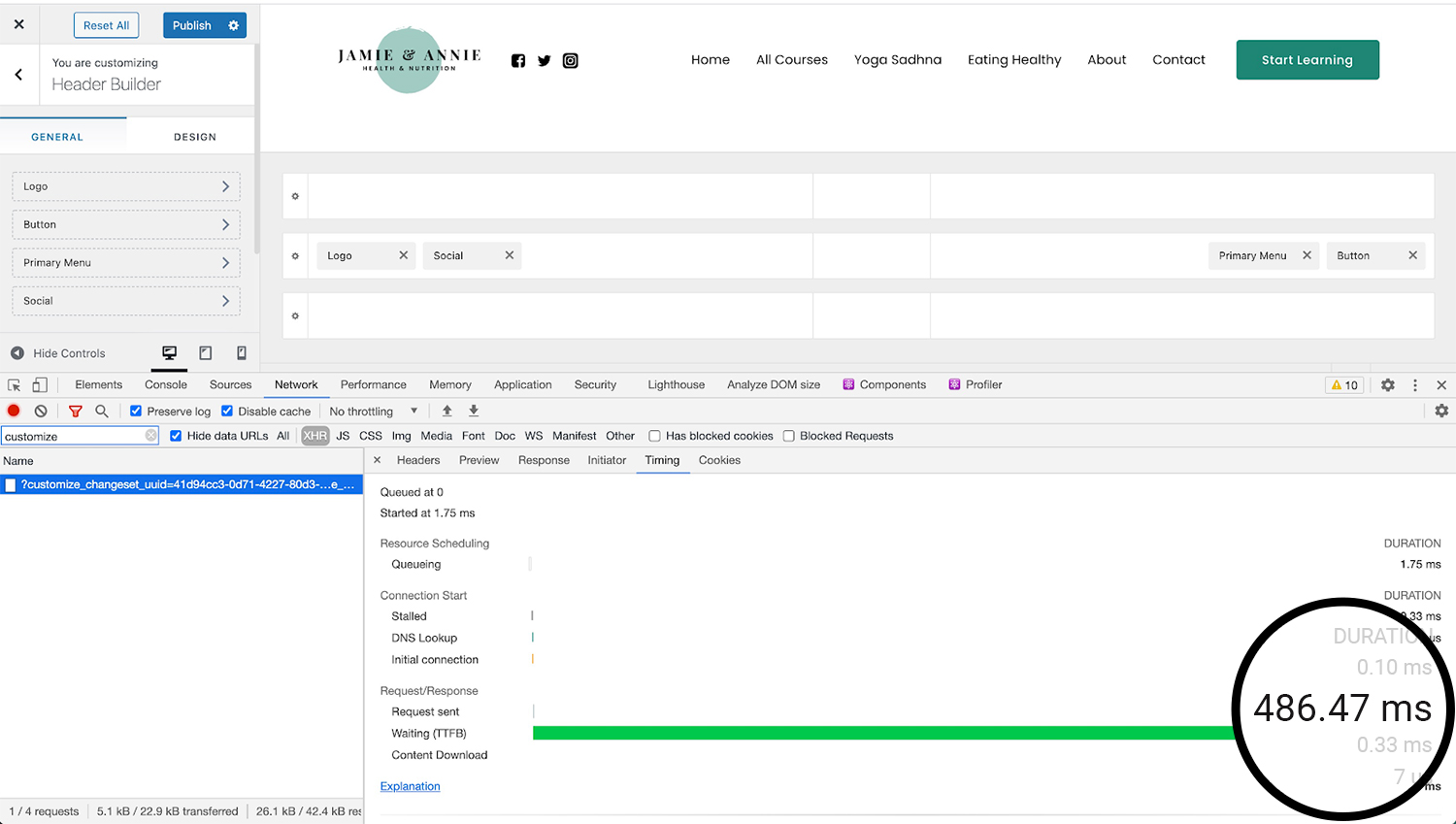 That has now improved to 277.21ms. That's almost 50% reduction in loading time!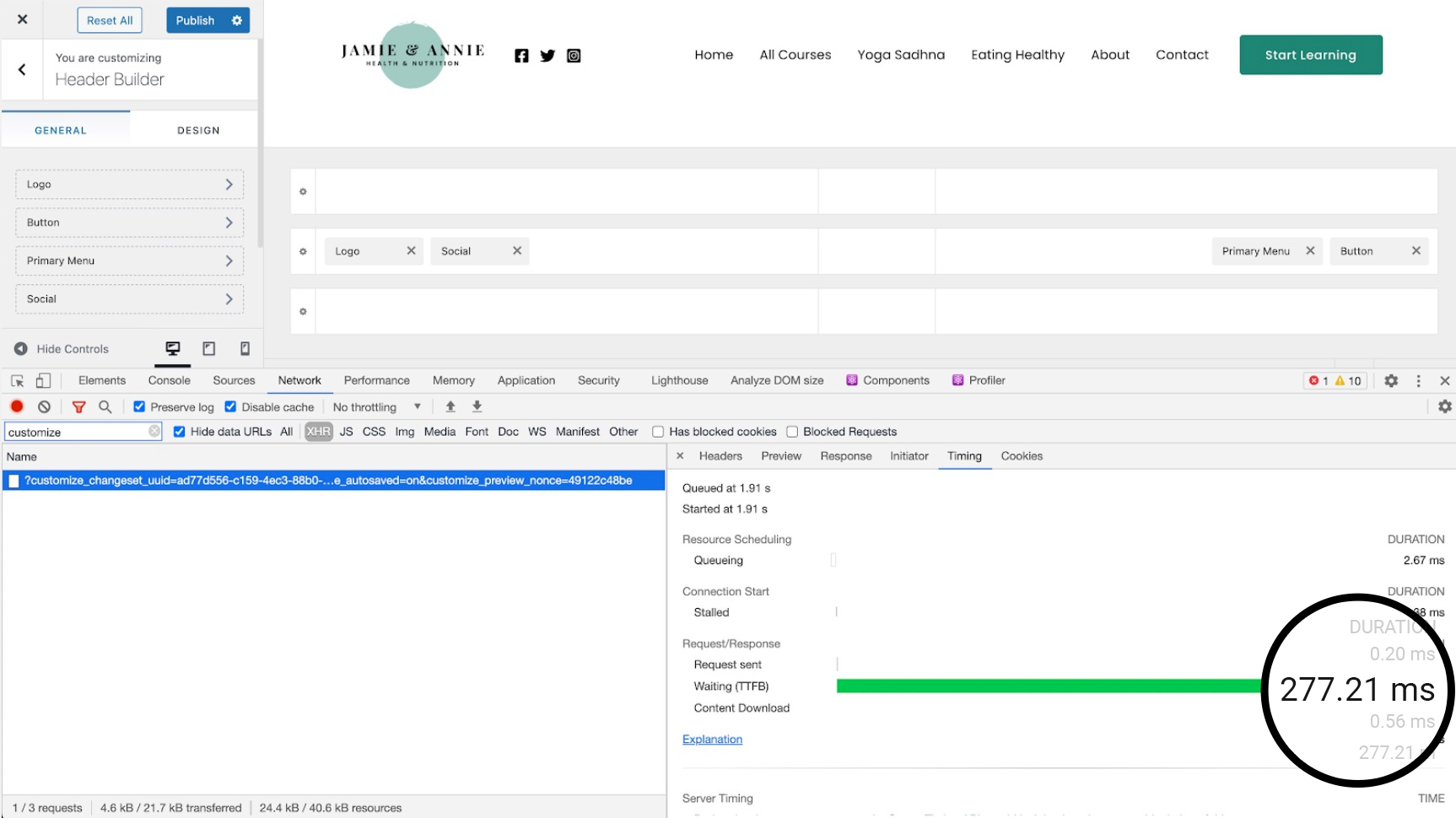 New Header Footer Element – Toggle Button for Desktop
Header Footer builder was introduced with Astra 3.0. It brought a whole new experience in building a website's header and footer.
We're now introducing the most requested element to our Header Footer builder, the Toggle Button for Desktop option.
This new element allows you to display content such as a menu, button, search, and other elements within a toggle button, popularly known as the hamburger menu. Clicking on this button can display content inside the off-canvas slide.
Using this new element, you can design a creative menu on the desktop without having to worry about positioning, placement and fitting navigation around a hero image or graphic.
You can add it to the header builder and include all the menu items you need without using up too much screen real estate.
Want to learn more about this new element?
We've included a detailed guide on how to use the Toggle Button for the desktop element.
Check out the video version too.
Get The Latest Astra Version Today!
We're thrilled with the latest Astra version, and we're hoping you will be too.
Update the Astra theme and the Astra Pro theme today to get started with our latest release.
Experience faster website loading times, faster customizer performance, scalable SVG icons, and the new Toggle element for desktop.
Astra is also fully compatible with the latest WordPress 5.7.
We'd love to hear from you and how you like this latest update. Do mention in the comments below.
As always, get in touch with us for any questions regarding this update.
Keep an eye out for future updates where we will be making even more awesome Astra improvements.
Stay tuned! ?