It's that time again when we at Astra release our latest update to help you do much more with your websites, in less time.
Astra 3.4 is here with the most powerful and most requested related posts feature. It also brings advanced controls in the Custom Layouts module and impressive performance optimizations within the Astra theme.
With every Astra update, we are trying to streamline your website-building process. With the past few updates, we have improved Astra in every aspect, including new features, design options, user experience, speed, and performance.
As promised at the beginning of the year, we will continue to bring awesome Astra updates for the foreseeable future!
In our continuous effort to provide the tools to build high-performance websites, today, we are thrilled to announce Astra version 3.4!
Let's see what's new in this update.
It brings you:
A powerful new related post feature – An innovative way to display related posts.
A start/stop timer and device visibility control for Custom Layouts – Control the display of layouts based on time and device type.
Significant performance improvements – Impressive speed improvements for Astra on a fresh install.
We are happy to share these new features and improvements in Astra with you. So let's begin!
Easily Add Related Posts for Your Blog and Get SEO Benefits
Using a related posts feature is an effective way to keep people engaged and on your website.
That's precisely why we've introduced the Related Posts feature.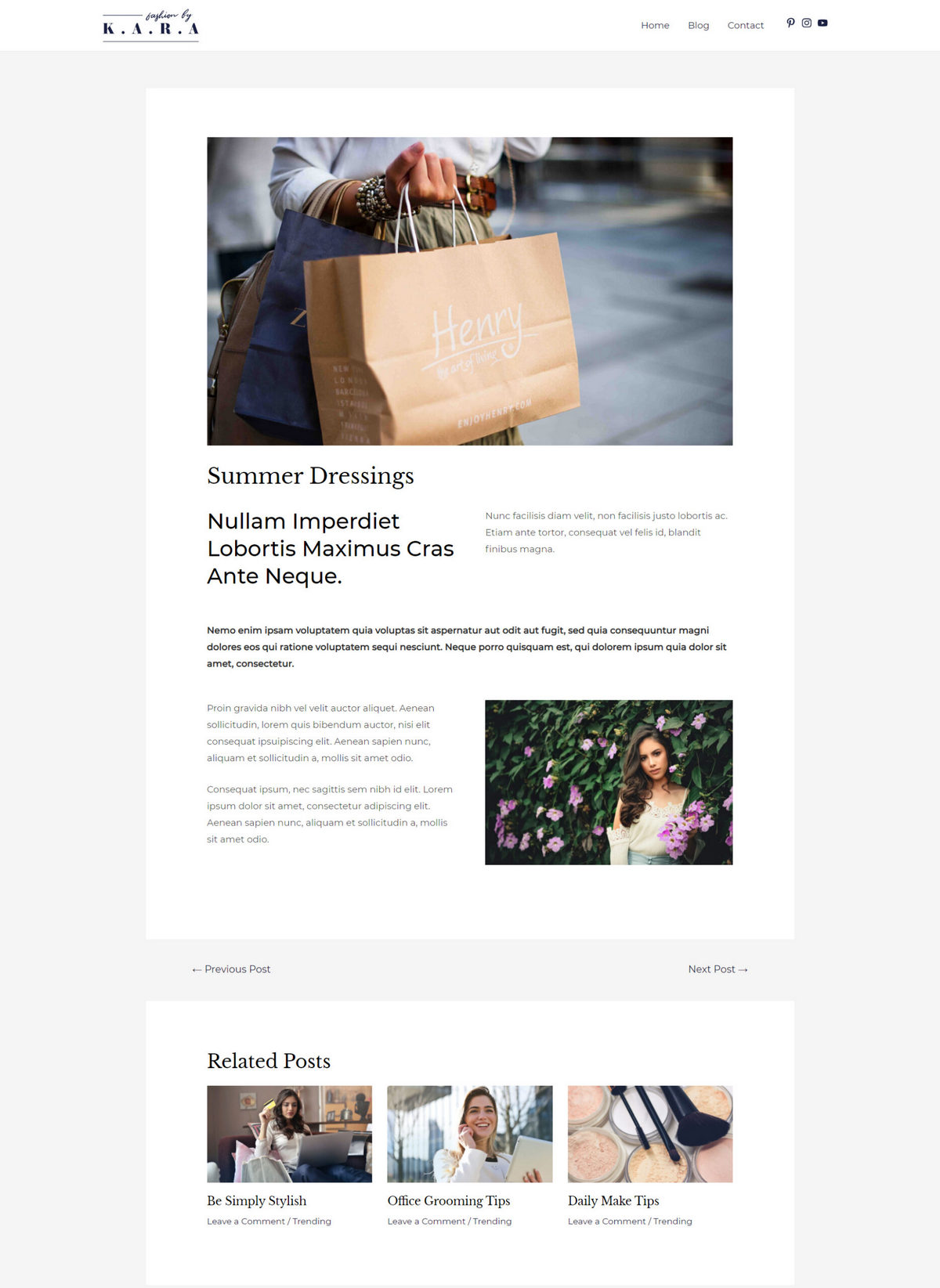 We understand how difficult it can be to generate traffic and promote your articles. While visitors are bound to leave your site at some point, the key is to keep them engaged as long as possible.
With a higher dwell time, you have more opportunity to build a relationship with your readers, which can eventually lead to higher conversion. Dwell time is also an SEO marker. The higher the dwell time, the more positive the impact, so it's a win-win for all!
So, how do you engage visitors on your site? How do you encourage them to stay longer?
The simple answer is by offering valuable content and promoting other content alongside it.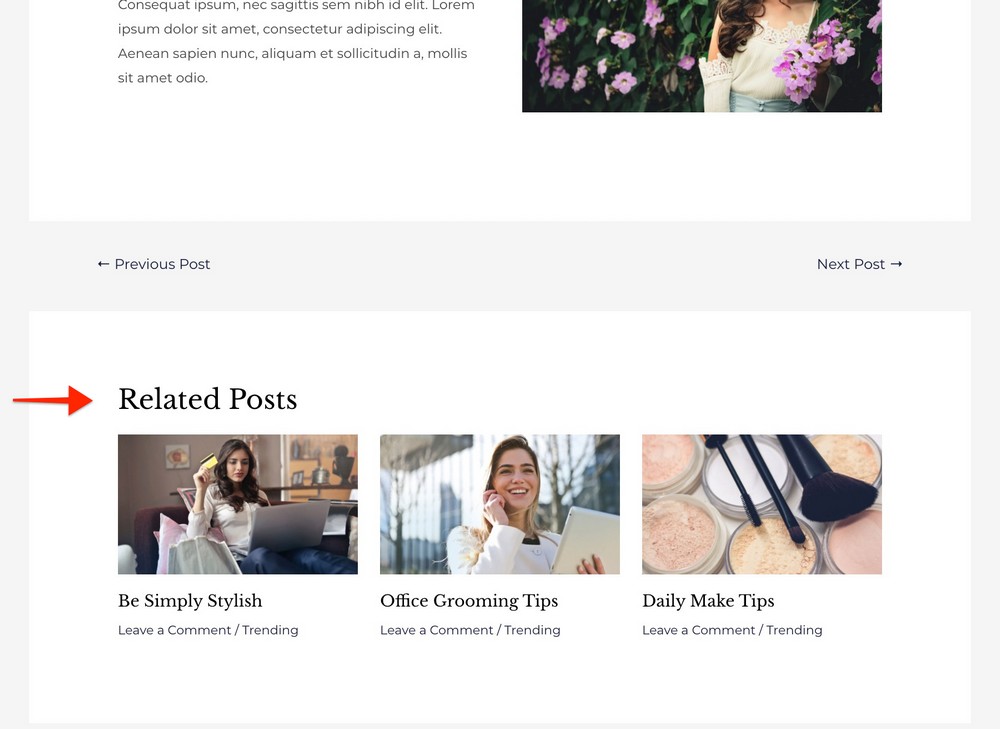 A search for related posts plugins in the WordPress repository will give you several options to choose from.
Most of them come with their share of extra lines of code and cause extra load on your website. Not to mention the learning curve to set up these plugins into action.
That's where Astra's latest Related Posts on Single Post Page feature comes into play!
Using this new feature, you can display related posts on your posts and pages from the Astra customizer. This feature is available with Astra for free!
What's So Exciting About The Astra Related Posts Feature?
No need for an extra plugin – This new feature is available right inside the Astra customizer.
No need to add any custom code – You can enable related posts from the customizer just with a click. You don't need to add any inputs to display related posts manually.
Beautiful design – Related posts are incorporated within the theme. This way, it blends well with Astra's layout structure and design.
Fully customizable – You have complete control over the number of posts to display, the number of columns, and the design.
Optimized code and logic – The feature is fully optimized and loads only where the related posts are displayed. This way, it does not add extra page load.
Scope for extending this feature – The related posts feature is developer-friendly. You can extend it easily using additional hooks/ filters and tweak it as per your requirements if needed.
Let's put this excellent feature into action with Astra.
Step 1: Visit Astra customizer. Go to Blog > Single Post.
Step 2: Scroll down a bit and turn on the 'Enable Related Posts' option. This will display more controls.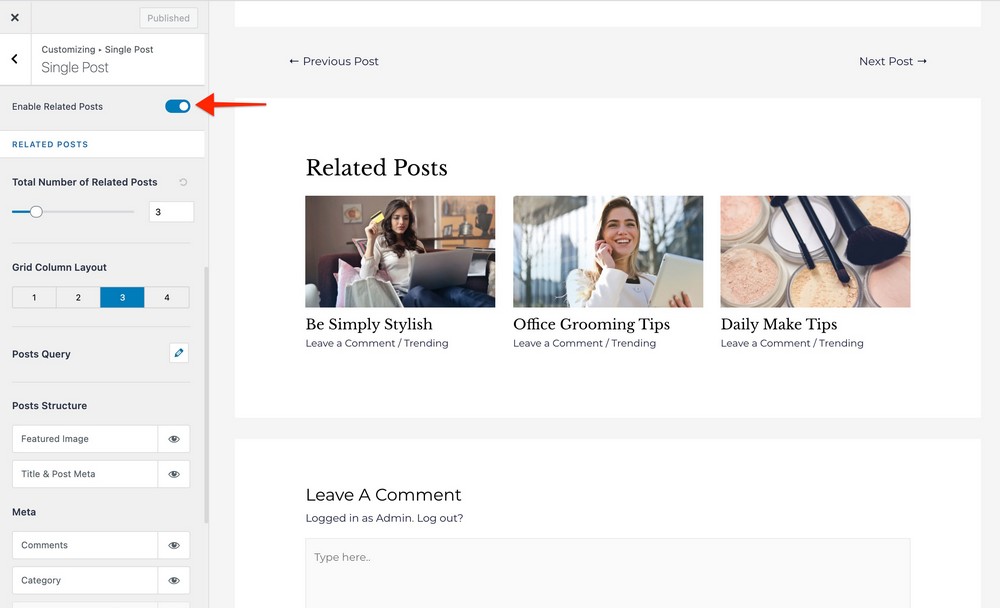 Step 3: Choose from the various options available such as: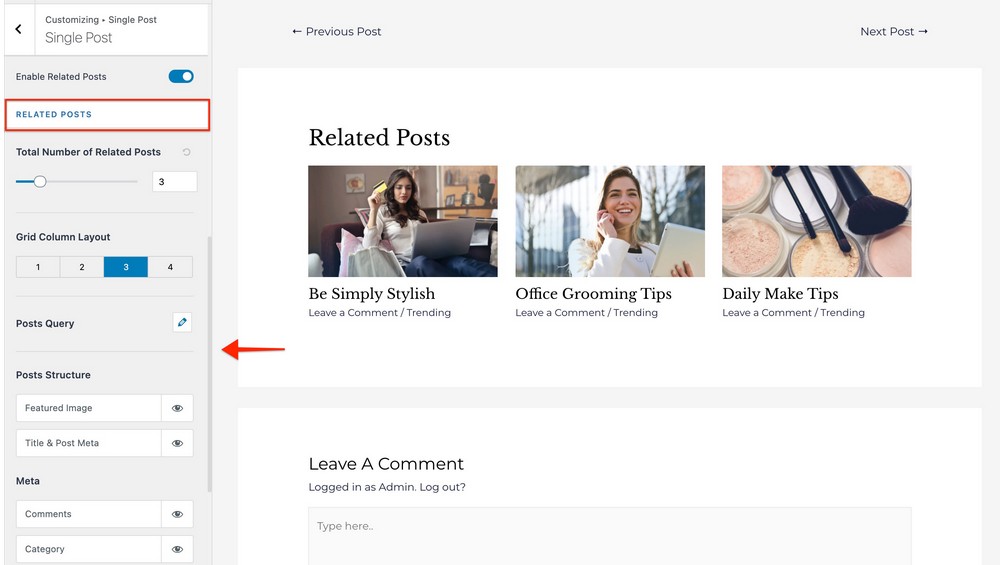 Total Number of Related Posts: Decide on the number of posts from the related category or tag you wish to display.
Grid Column Layout: Related posts will be displayed in a grid. You can set the number of columns you wish to display.
Posts Query: Set a source to fetch related posts from. You can choose from either categories or tags.
Posts Structure: Manage what you'd like to display from the post featured image, title, and post metadata options.
Step 4: Customize how your related posts appear with the various color and typography options available under the design tab.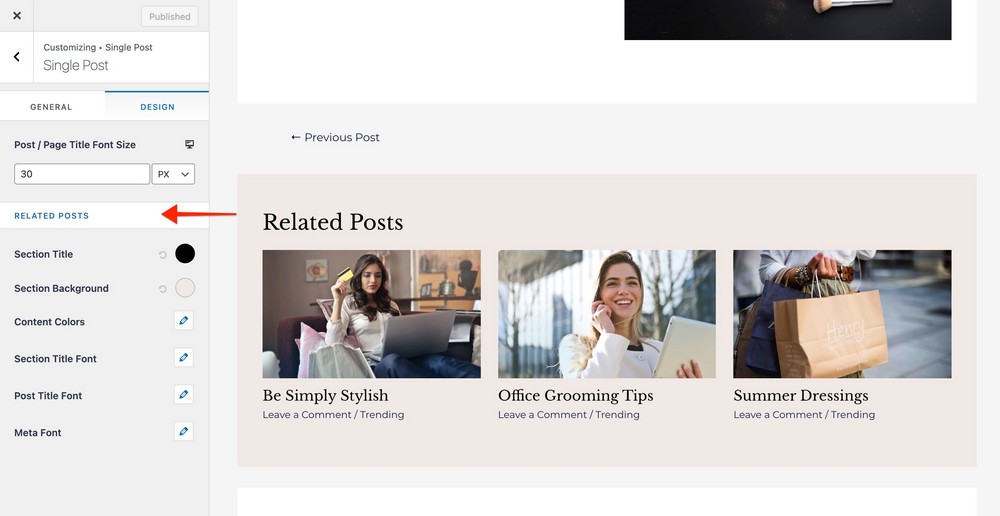 Once you've completed the above steps, click on Publish.
And you're done! The related posts will now appear on your blog posts.
Displaying related posts has never been easier. It is a lightweight feature that brings in many benefits.
To learn more, check out our detailed article on displaying related posts on a single blog post.
Enhanced Custom Layouts – Manage Time and Device to Display Layout
We introduced a brand new way to include Calls to Action (CTA) to your blog post with our Astra Pro 3.2 release.
This new feature brought a whole new way to add customized CTA inside Gutenberg pages and posts. Have you tried it yet?
Custom Layouts are more than just pretty designs on your website. A well-crafted layout can attract users and generate leads, which can eventually bring in more conversions, sales and help grow your business.
With Astra Pro 3.4 we are extending Custom Layouts further. It already provides powerful settings where you can design a custom header, footer, 404 pages, layouts using any page builder of your choice, and display it within your website using strong display rules.
With the latest Astra Pro release, we've added two new controls in the custom layouts:
Set a start and end time to display the custom layout
Mange layout visibility on different devices
Let's explore these two new controls in detail.
Time Duration for Custom Layout
Let's say you have a Christmas sale running on your website for a limited period and you've designed a CTA to promote this offer.
You might want to begin promoting your Christmas sale once Black Friday is over to maximize awareness. You may also want to end your sale before New Year to pave the way for other offers.
Before Astra 3.4 you would have to manually display the CTA when the sale starts and bring it down once the sale ends.
With Astra 3.4 you can schedule your CTA to be automatically displayed and brought down based on the dates you set.
Which of the above two options do you prefer? We're assuming it's the second option.
To help you work more efficiently, Custom Layouts introduces the Time duration option.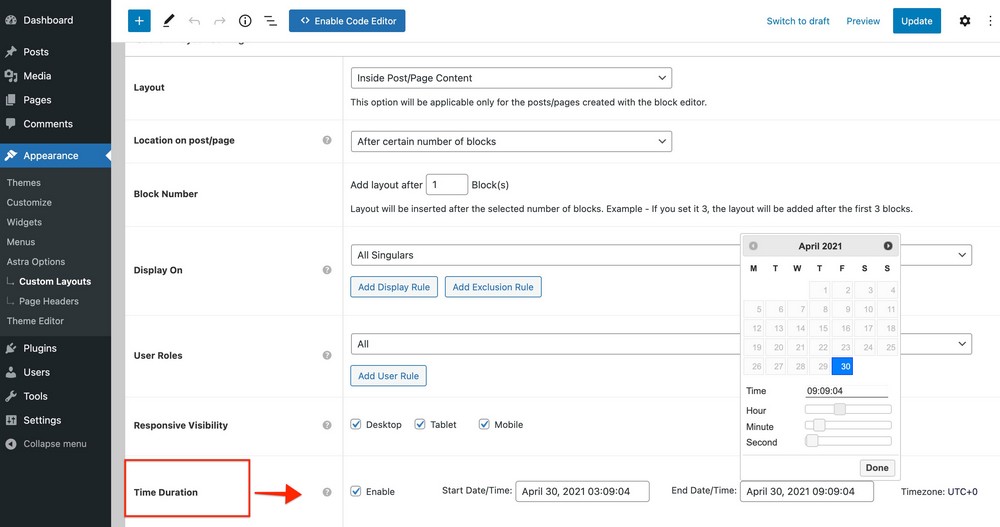 Using this new feature, you can set a date and time to enable and disable the layouts and effectively schedule your CTA visibility in advance.
In the example above, you could schedule your promotion to begin on a certain date and time after Black Friday. Your Call to Action will be displayed during your Christmas sale and will disappear once the schedule expires.
All from a single setting that takes seconds to configure!
That's one way how this new time duration feature can help. We're sure you can think of plenty of others!
Layout Visibility on Different Devices
Do you have custom layouts that you want to display only on the desktop? Or do you want to display different CTA on desktop, tablet, and mobile?
You can do this easily with the new 'Responsive Display' option.
For example, if you wanted to build an intricate or detailed Call to Action for desktop and a much simpler version for mobile, the Responsive Display tool is what you would use.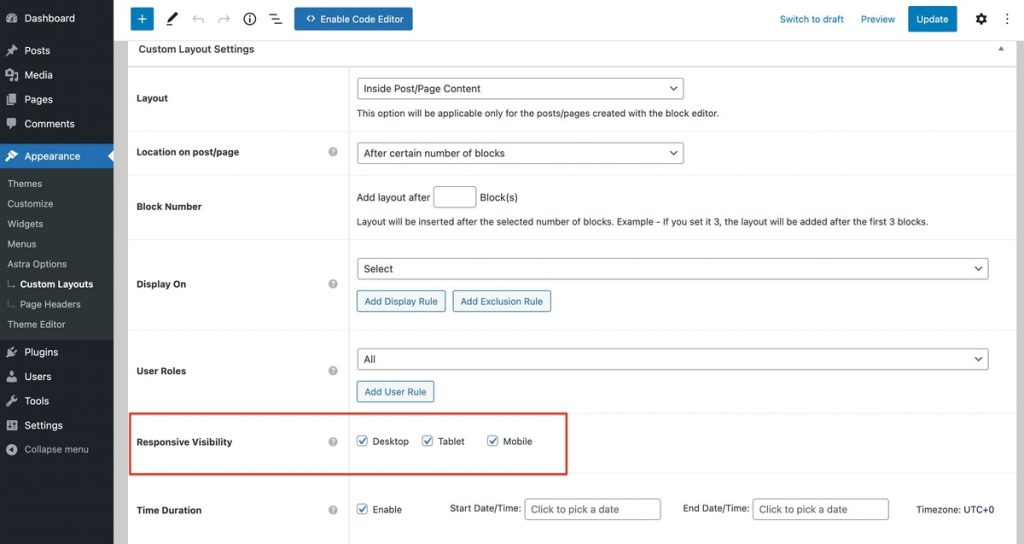 Using the 'Responsive Display' option, you can manage the visibility of your custom layout across various devices, such as desktop, tablet, and mobile.
Simply check the box next to the relevant device to enable or disable the element on that device.
The Fastest Astra Theme Ever!
Are you an agency owner or freelancer who builds websites for clients? Want more speed out of your own website? Well, we have good news for you. Now build even faster websites with Astra!
In our continuing mission to make websites faster, we have gone a step further. The Astra theme already provides the fastest speed with its lightweight framework. Now it's even faster!
We have optimized the CSS & HTML files further in Astra 3.4. This results in an even faster Astra theme on new installations.
So if you are planning to build a new website for your client or for yourself, Astra works even faster.
So, what have we improved?
Initial loading time
Size of CSS files & HTML
Reduced server requests
Astra now beats its own record and brings down page load times from 730ms to 673ms.
Here's the loading time for the Astra version prior to 3.4 – which was already impressive!

Load time with Astra 3.4 –

This gives a 100% performance score in GTmetrix.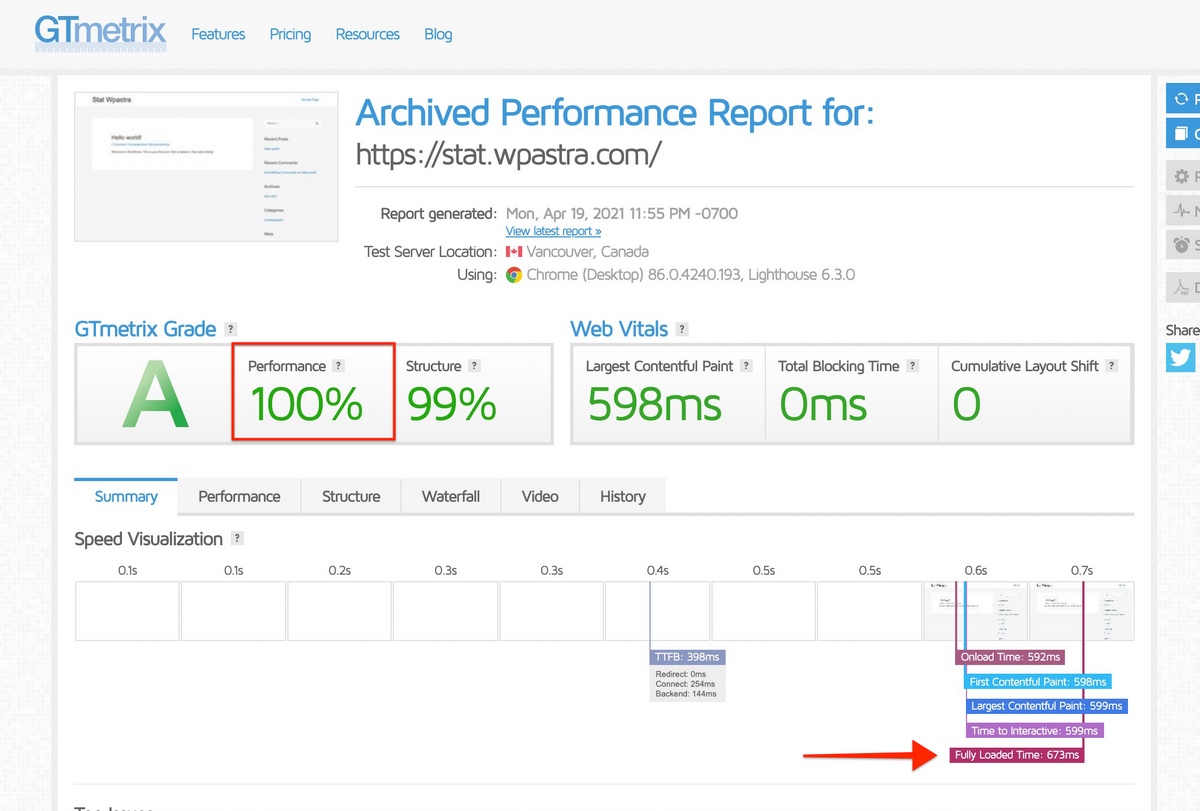 Isn't that awesome!
As this optimization changes the CSS and HTML structure of the theme it will not work for current Astra users. The speed improvements will only be seen on sites that are using Astra for the first time.
Having said that, we are working on improving Astra's performance even further for everyone. We hope to introduce more speed for users in upcoming updates.
Get Astra 3.4 For Your Website Today!
Astra 3.4 is all about powerful controls and impressive performance!
The Related posts feature helps keep visitors on your site to improve relationships and conversion. You also get additional SEO benefit and higher rankings in the search results too.
The new tools for custom layouts help you display time and device-based layouts easily. Both add a lot of flexibility in how you appear to visitors.
Last, and certainly not least, we've made Astra faster by optimizing the CSS and HTML files.
Update the Astra theme and the Astra Pro today!
If you need any help, talk to our support team.
We are working on more exciting new features that you are going to love. So stay tuned for future updates that are coming soon. 🙂
Cheers!