Looking for some help deciding between Elementor vs Divi Builder as your go-to page builder?
Both are massively popular WordPress page builders. And each has a similarly massive community of designers and enthusiasts.
So How Can You Pick Between the Two?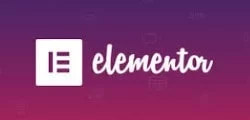 VS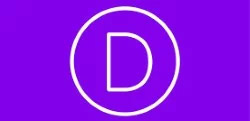 That's where we're here to help!
We've written a detailed, objective comparison of these two page builders.
We're not looking to pick sides, so don't expect a single recommendation at the end of this. But we are looking to dig in and provide a much deeper comparison than you'd get from looking at each page builder's feature list.
By the end, you should have all the information you need to make your own informed decision.
Let's jump in!
Elementor vs Divi Builder: Comparing The Interfaces
While both Elementor and Divi Builder offer front-end drag-and-drop interfaces with inline editing, each plugin's interface uses a different approach.
With Elementor, you'll do most of your work from a fixed sidebar, while Divi Builder utilizes more floating buttons.
Elementor
Elementor requires you to acquire WordPress themes, that's why when you create a new page with Elementor, you will be redirected to WordPress' default editor. You need to click the "Edit with Elementor" button to show the Elementor builder and start editing the page.

Elementor divides its interface into two core sections:
1 – a live preview of your design that you can edit with drag and drop.
2 – a sidebar where you can add new elements, apply styling, and access other functionality. You can hide this sidebar if you ever want a quick fullscreen preview.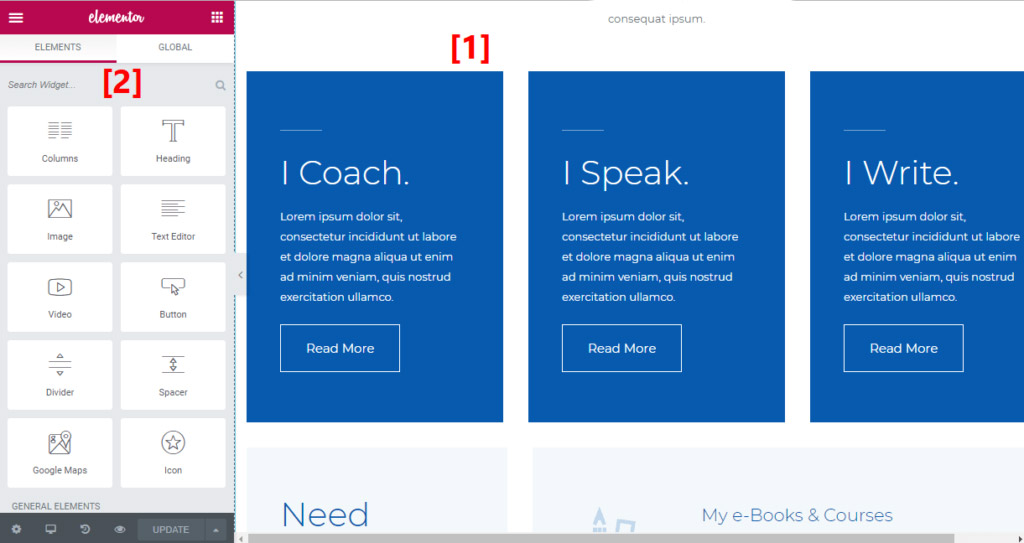 To add a new design element to your page, you just drag it over from the list in your sidebar: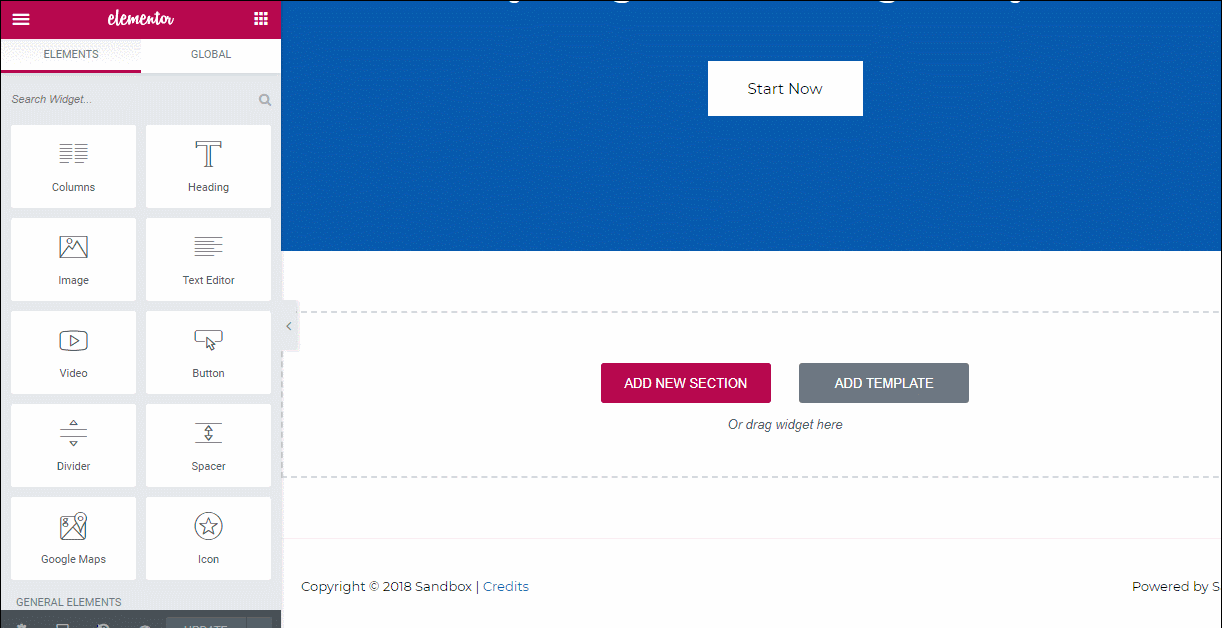 And Elementor supports inline editing for elements with text. That means to edit any of the text on your page, you just need to click and type (like you would in a Word document). You can also use the text editor in the sidebar, if desired. The two automatically sync*: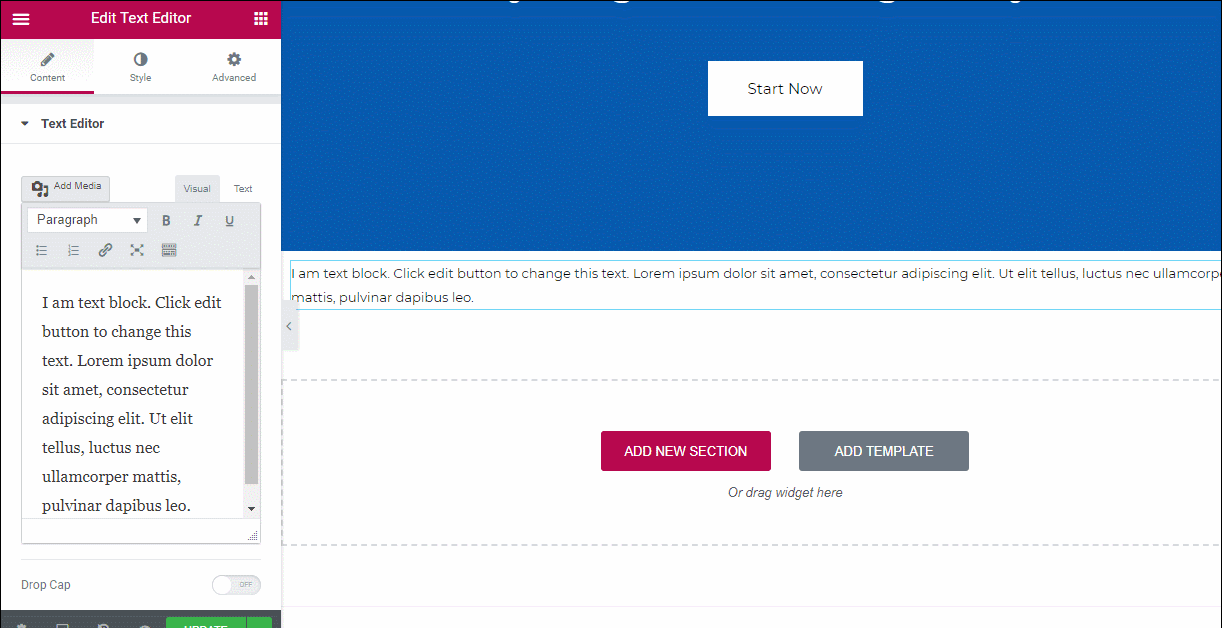 *You can see that as we type directly on the page, the text in the sidebar editor automatically updates as well.
Divi Builder
Unlike Elementor, Divi Builder gives you access to both front-end visual editing and back-end editing. Realistically, most people will probably just stick to the visual editor, so that's what we'll focus on. But if you are the type of person who likes back-end editing, you do have that option with Divi Builder.
When you create a page after installing Divi builder, you will be asked if you want to use the "Divi Builder" or a "Default Editor".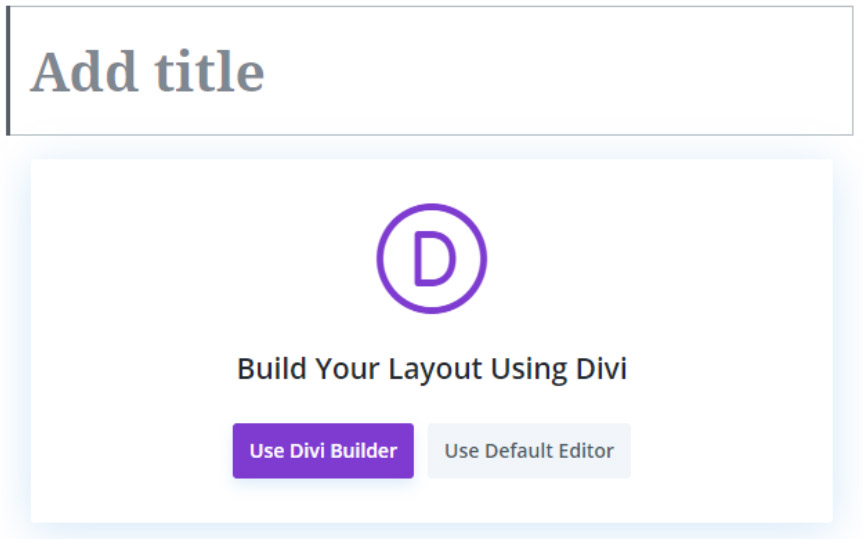 Using the "Divi Builder" option will give you three choices:
Build from scratch – start with a blank page.
Choose a premade layout – choose from pre-made templates.
Clone existing page – duplicate another page you've already built.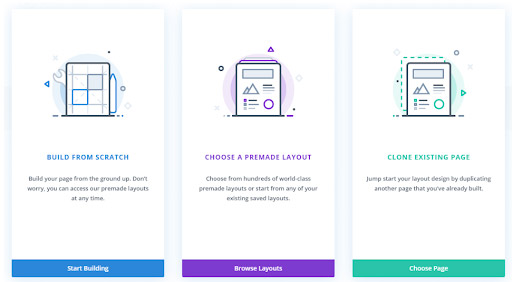 Divi builder's visual editor interface is quite a bit different than Elementor. The first thing that you'll probably notice is that there's no fixed sidebar like with Elementor. Instead, you access everything with floating buttons that open various popups: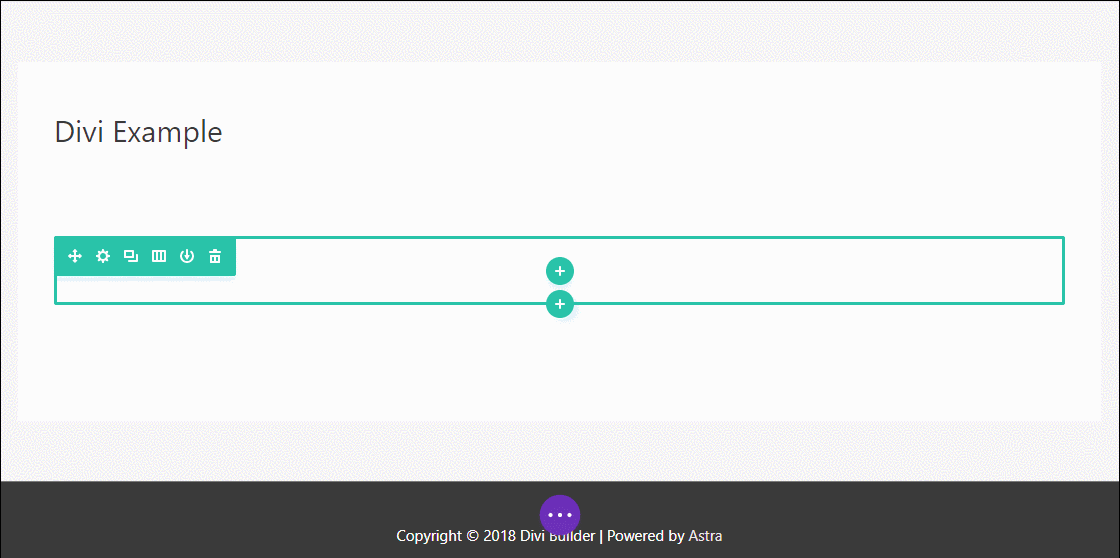 For example, if you want to insert a new module, you'll use a floating popup: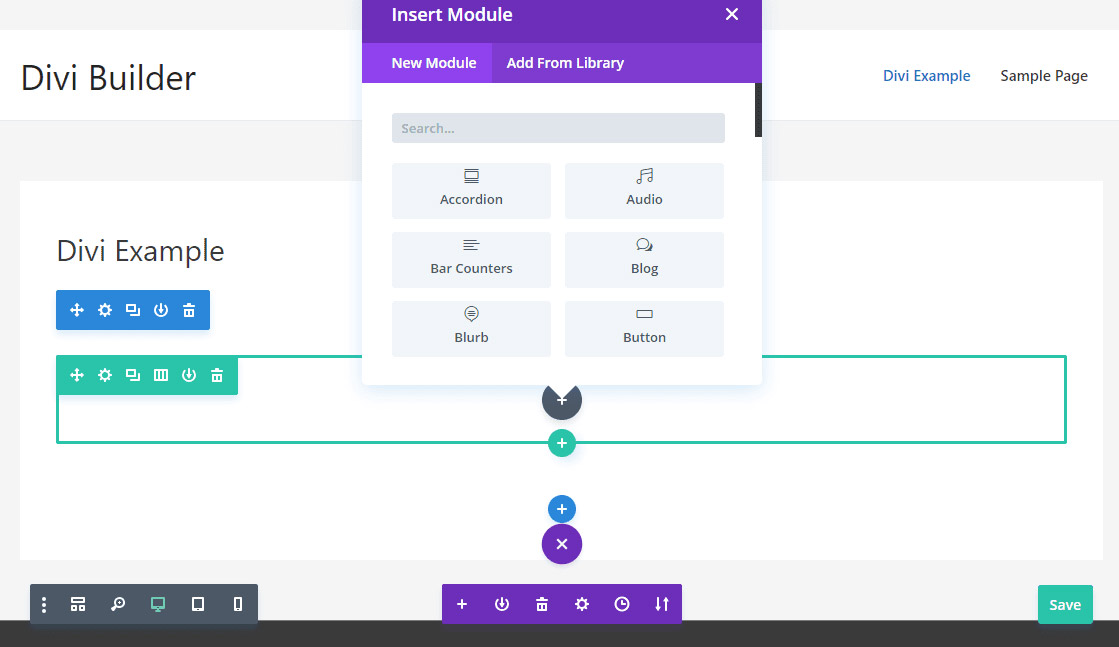 Once you get some modules on the page, you can use inline editing to directly edit text on the page just like with Elementor: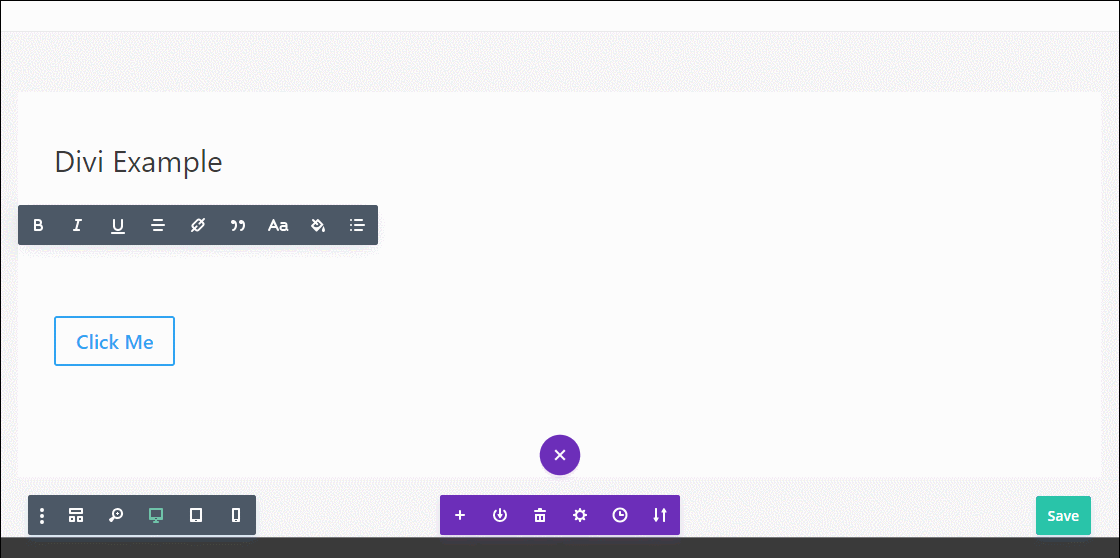 And you can use drag and drop to reposition elements on the page: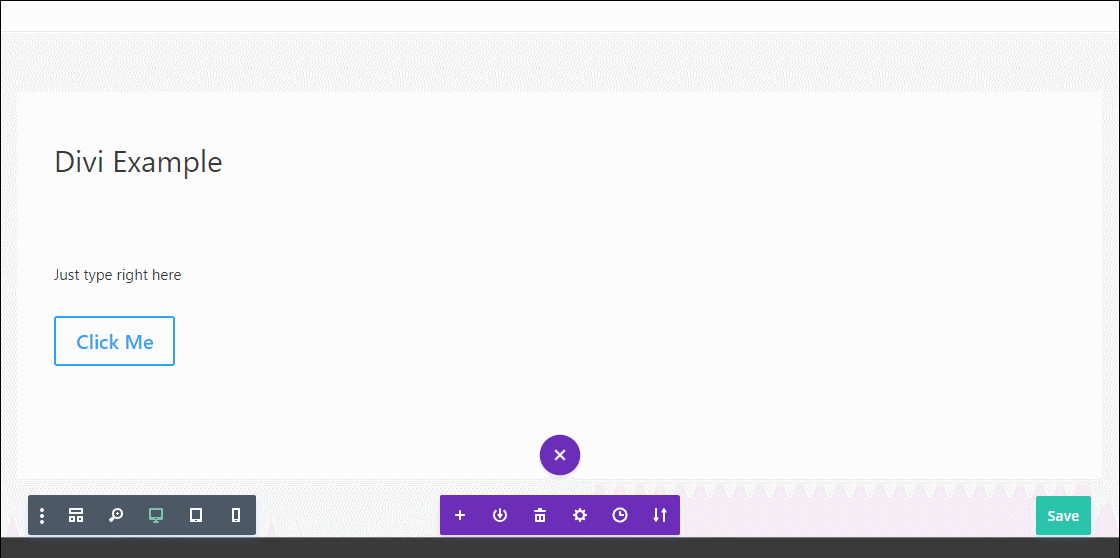 Though it's mostly personal preference, you should consider whether you prefer Elementor's more static approach to its interface versus Divi Builder's approach where you're clicking floating buttons (that can change positions depending on your design setup).
Elementor vs Divi Builder: Modules And Sections
To actually build your designs, you're going to rely on your chosen page builder's library of modules and elements. In this section, we'll compare the building blocks that both Elementor and Divi Builder offer.
Elementor
To build your designs, Elementor gives you three types of elements:
Sections – these are the largest group. You can include columns and widgets inside a section.
Columns – these help you divide your page vertically. You can resize columns using drag and drop.
Widgets – these are the actual design elements you'll use, like text, a button, etc.
In its free version, Elementor gives you 40+ basic widgets to build your designs. With Elementor Pro, you get access to 50+ Pro widgets.
You can view the full list below: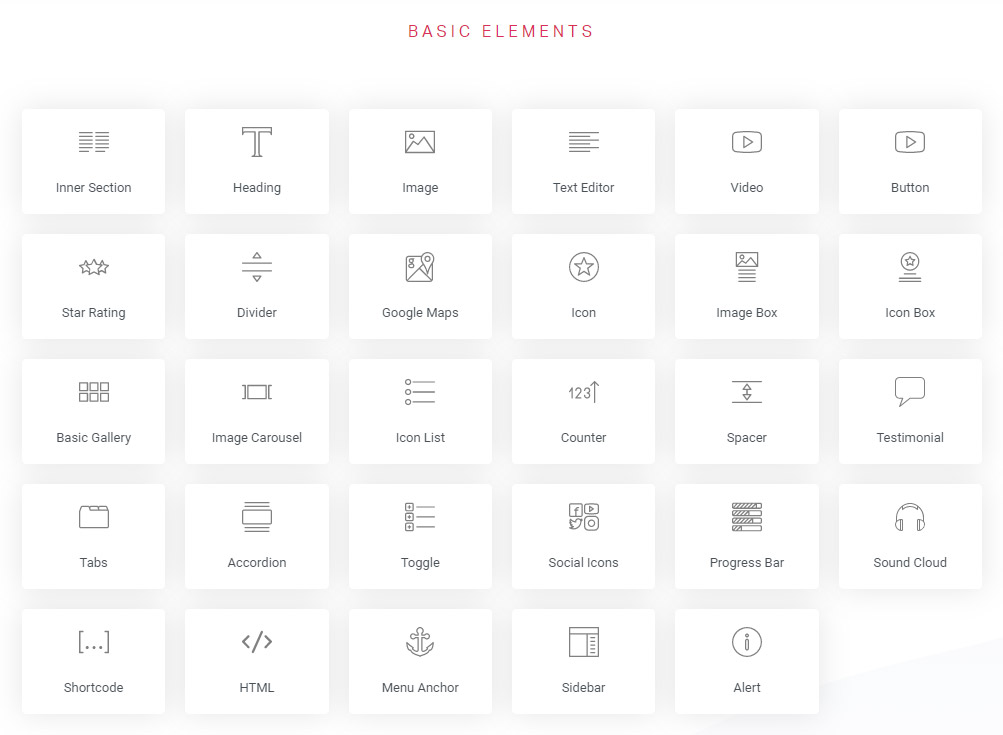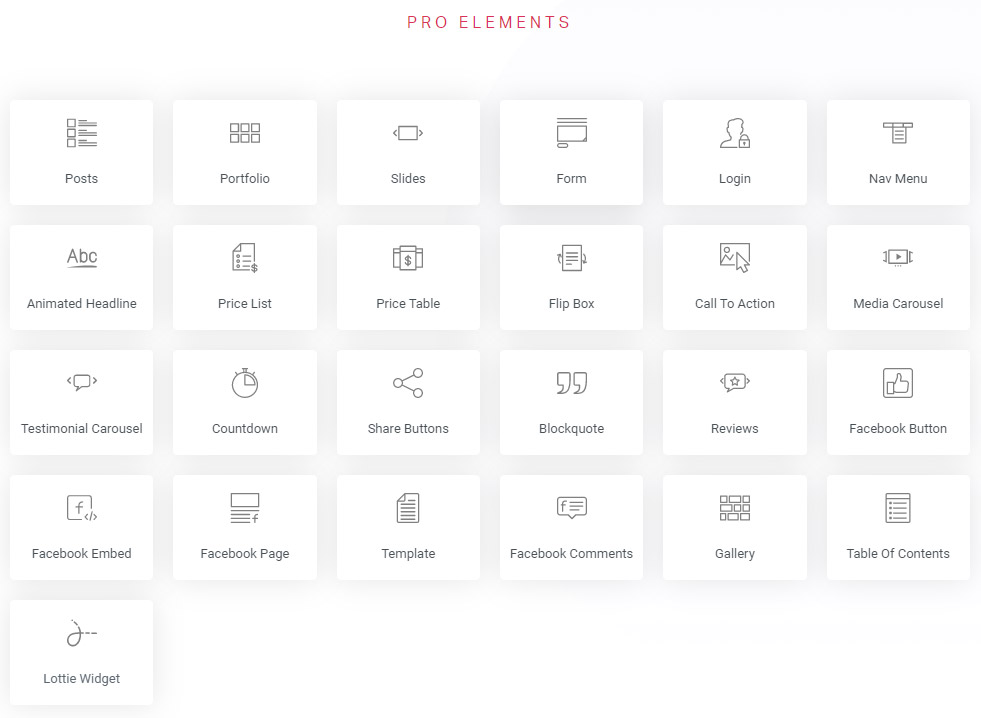 You can also add additional widgets to Elementor using third-party add-ons like Ultimate Addons for Elementor.
Divi Builder
Divi Builder similarly gives you three different building blocks, though with some different names:
Section – the largest container.
Row – rows fit inside sections and let you use different column layouts to divide your page vertically. You cannot resize these columns with drag and drop, but you can assign custom widths using CSS or choose from Divi Builder's pre-built column layouts.
Modules – these are the actual design elements that you'll use.
Divi provides a Split Test option, an A/B testing feature that is unique in Divi builder that lets you conduct split tests on any elements in your page.
There's no free version of Divi Builder, so there's only one set of 36 modules.
You can view the full list below: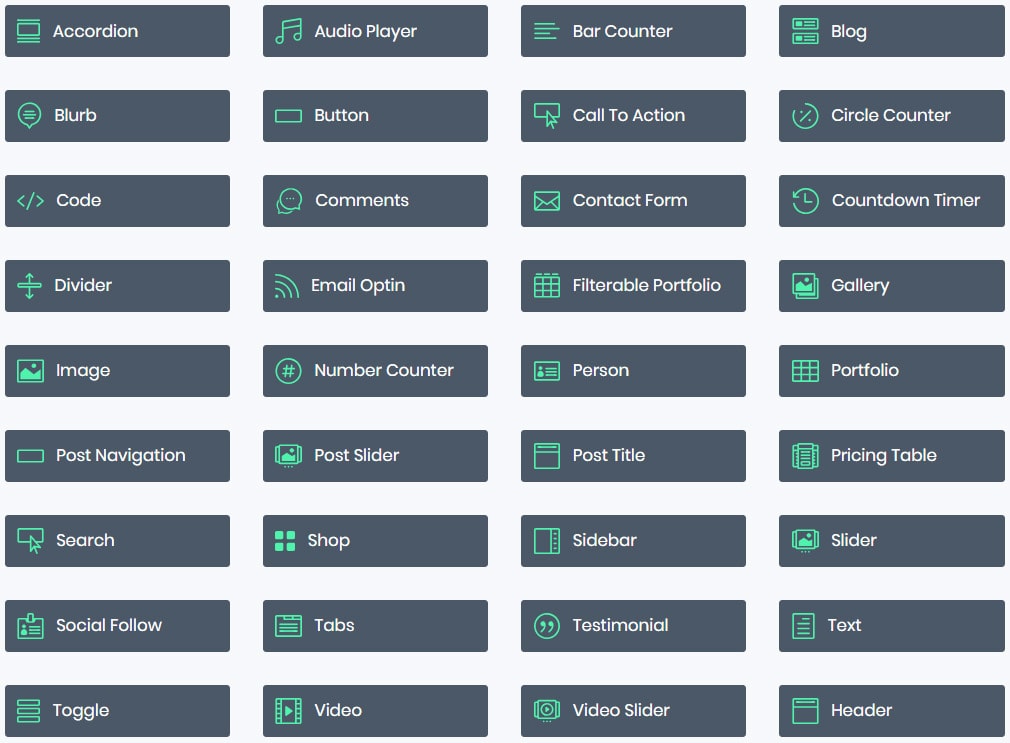 Like Elementor, you can also find third-party plugins that add additional modules to Divi Builder.
Elementor vs Divi Builder: Styling Options
Both Elementor and Divi Builder are highly praised for their styling options. So if you're a designer, you'll love all the settings you get to control how your design looks and you can be confident that these two page builders are both pushing the envelope with their styling options.
Elementor
When you first install Elementor, it will automatically apply its own styles to the content that you create. But by accessing the plugin's settings, you can turn this functionality off and use your theme's global styles instead: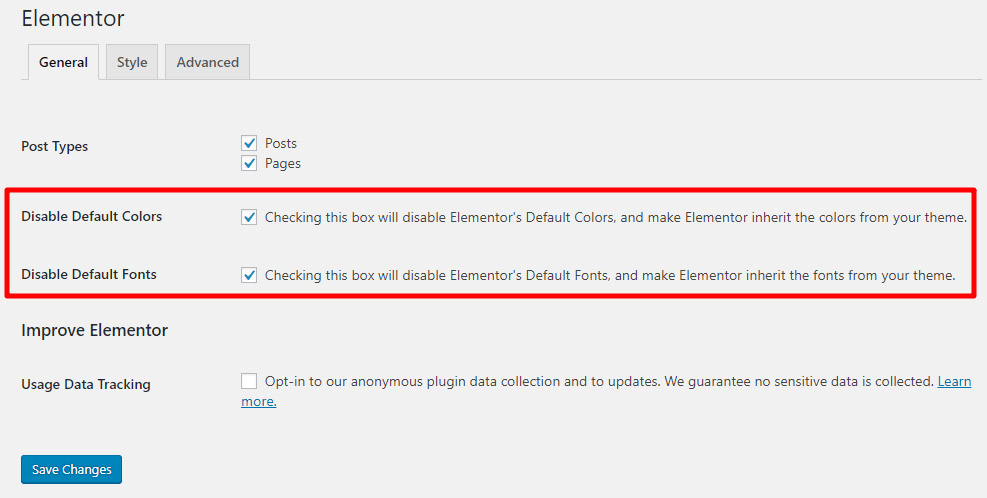 If you're using the Astra theme, this setting is helpful because it lets you use Astra's Customizer controls to set up your global styles, which will save you a lot of time in comparison to having to manually edit each individual element.
Once you dig into the actual Elementor interface, Elementor gives you three different tabs to control how every section, column, and widget looks and functions: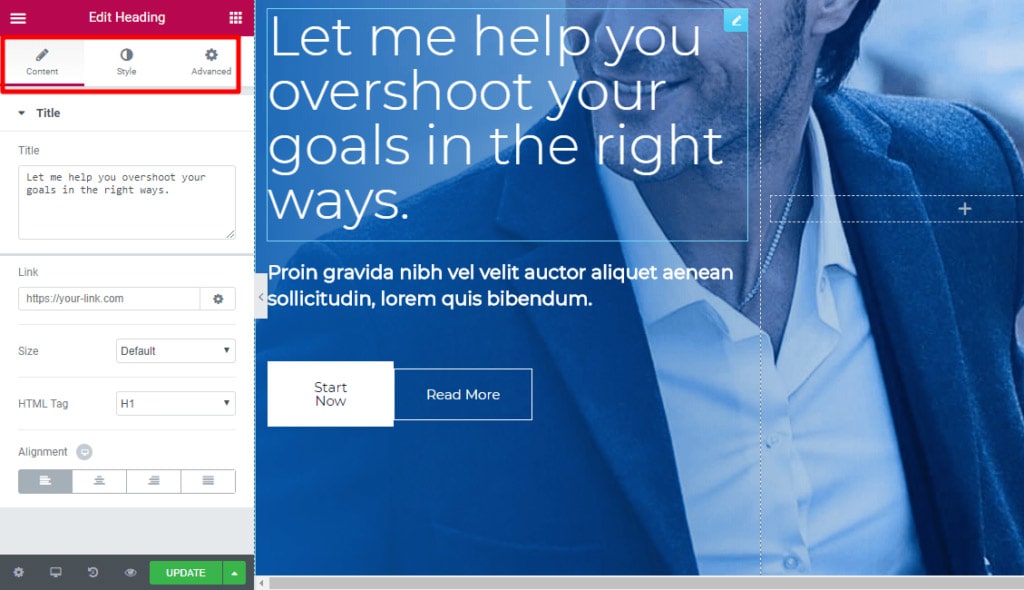 In the Content and Style tabs, you can set up basic controls like alignment, colors, and typography. These controls vary depending on the type of element that you're working with.
And in the Advanced tab, you can control settings like custom margins/padding, whether or not to hide a specific element on certain devices, and a lot more.
For many design settings, you can also set up separate styling settings depending on a user's device, which helps you create more customized responsive designs: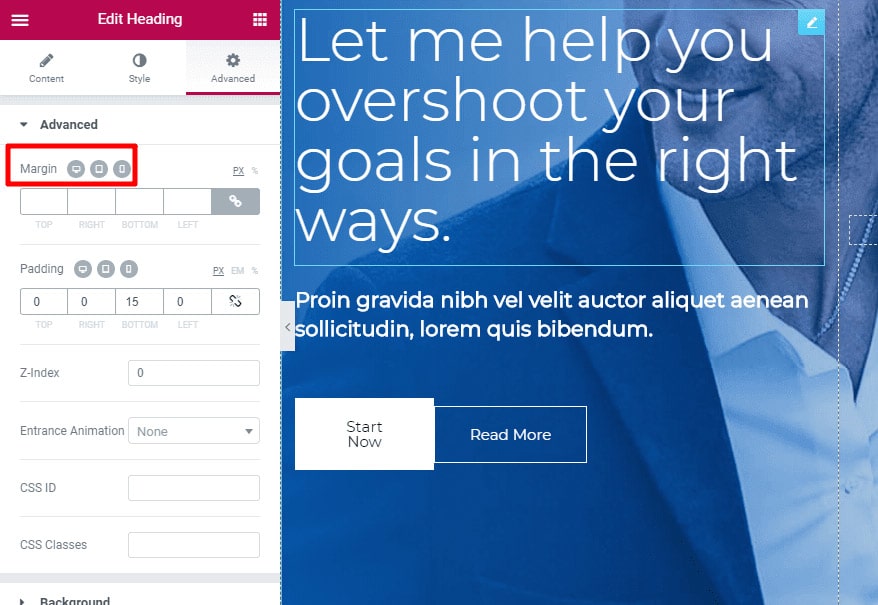 And if you have Elementor Pro, you can directly add custom CSS to individual elements for even more control: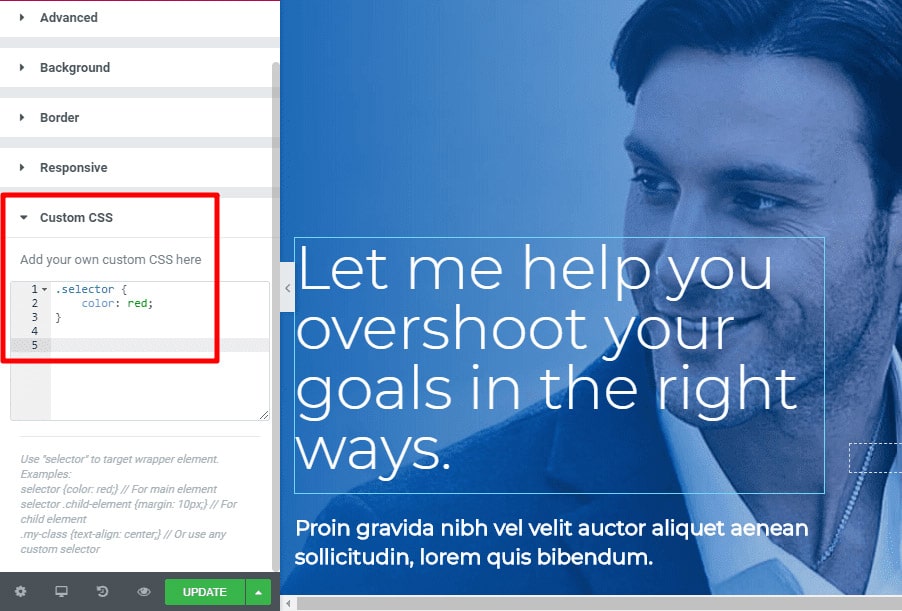 You'll see your custom CSS applied right away on the live preview.
Elementor Pro version 2.9 includes full site editing which allows you to do theme and page editing in one page. You can now edit your header and footer using the theme builder options directly in the page editor.
In 2019, Elementor introduced its Table of Contents (TOC) widget which simplifies the process of making your content accessible through the following features:
Gives you complete control over which titles got listed in your TOC.
You can put a unique style on your list and it allows flexible design customization.
A TOC that always stays in view while your visitor scrolls your site but also has a minimized setting for tablet and mobile displays.
It improves your site's ability to get rich snippets results on Google.
Elementor Pro version 2.9 also introduced Theme Style which is a set of new controls that replaces theme and code for setting global theme styles. Among the key features are:
Make style changes across your site without coding.
Change theme settings from within Elementor.
Maintain consistent design across the whole site.
Set the default style of plugin elements and Elementor widgets.
Now, in 2020, Elementor unveils its new Elementor 3.0 version with "Design System" feature that enables you to design and edit new and existing websites fast, cut through workflows and shorten time-to-market while maintaining brand and visual consistency.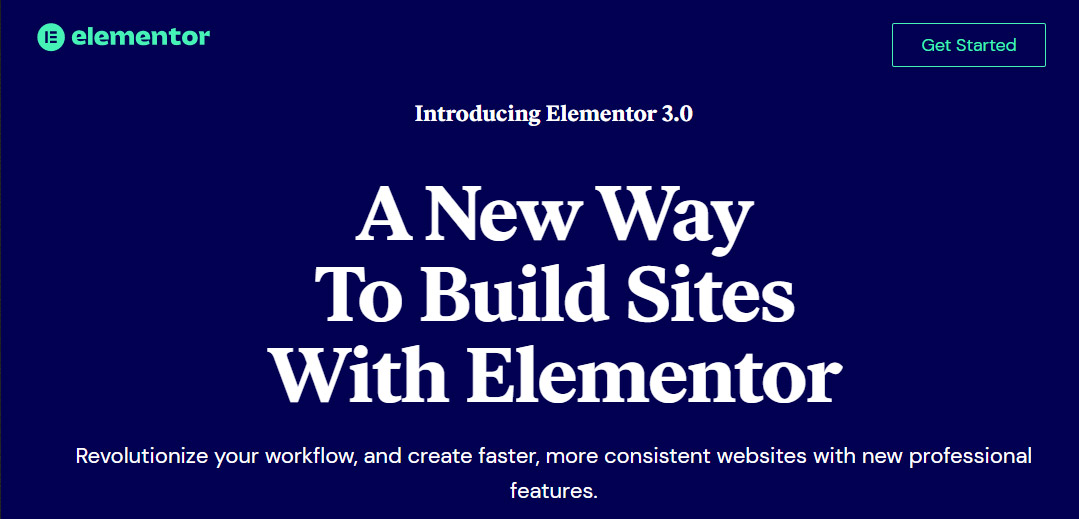 Elementor's Design System feature includes the following:
Site Settings panel – this includes site identity, lightbox settings, theme styles and more where you have one place to set all your site settings.
Global Colors – enables you to change the color in one place and have that color update everywhere you placed it.
Global Fonts – will let you configure all your site typography settings globally, like set the Font Family, font size and scale, font weight, line height, letter spacing, etc.
Divi Builder
Like Elementor, Divi Builder similarly gives you three different tabs to control your various elements:
Content – basic settings like text.
Design – covers everything from alignment to colors, shadows, animation, and more.
Advanced – lets you add custom CSS and control responsive visibility.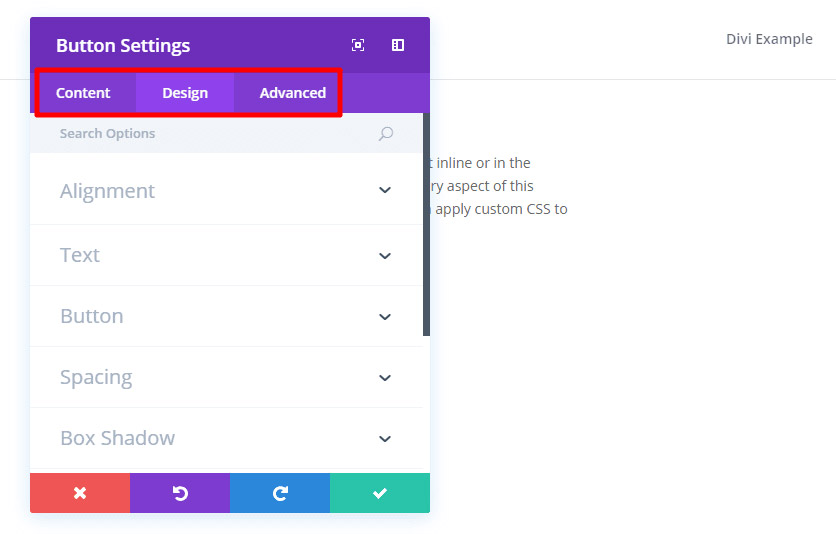 Like Elementor, you can apply many of the design settings differently depending on a user's device: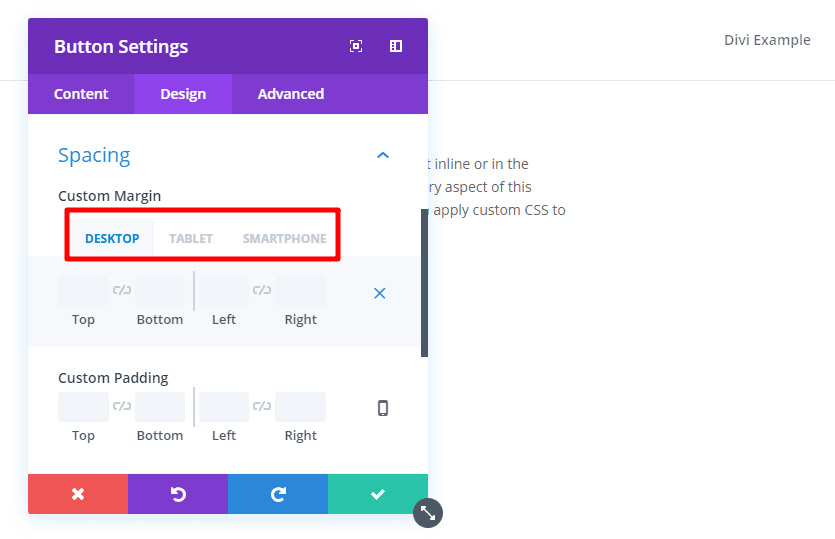 And if you like working with custom CSS, you have plenty of flexibility because Divi Builder makes it easy to add CSS both to the main element, as well as before/after the main element: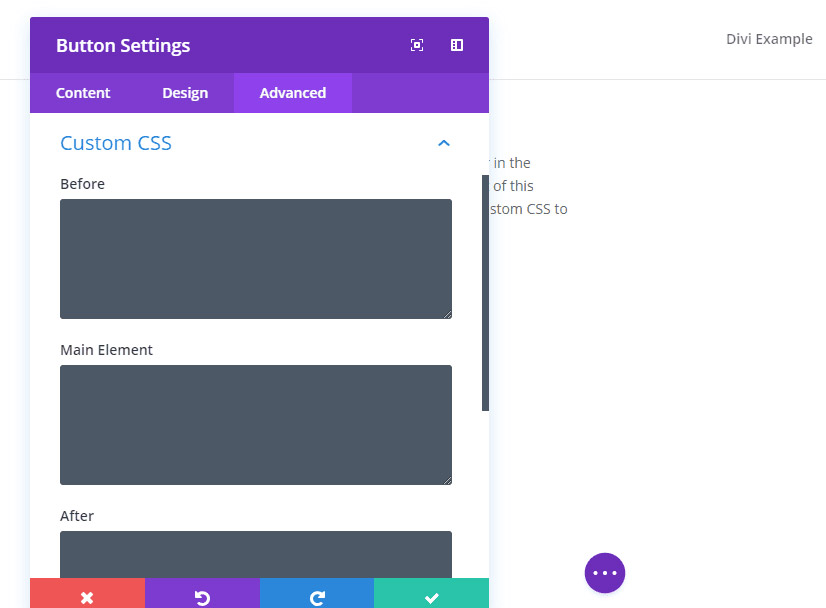 Divi builder recently introduced "Divi Preset", a system which allows you to take custom appearance and save it as a preset and you can quickly apply these saved presets when you add a new module to your page.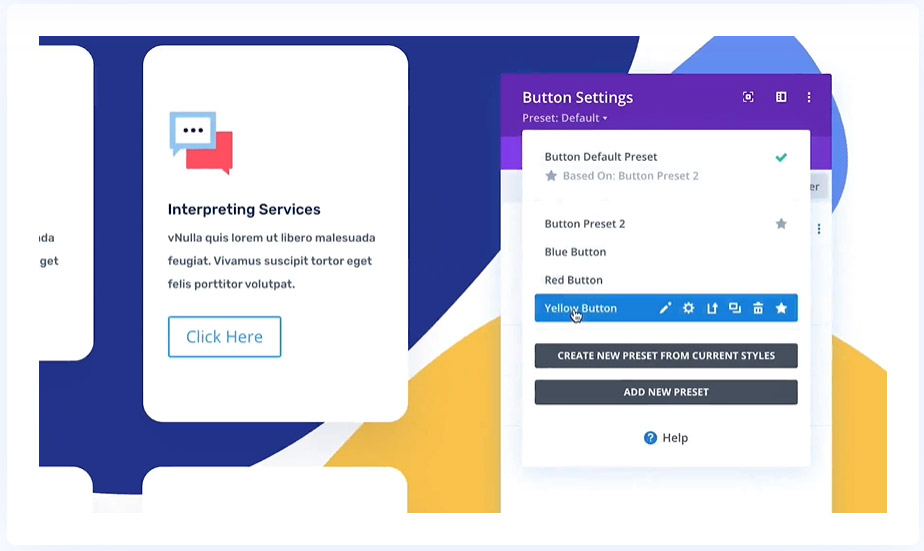 Elementor vs Divi Builder: Template Libraries
Both Elementor and Divi Builder give you large pre-made template libraries to help you quickly build out sites. In this section, we'll compare how each builder's library works and what you get.
Elementor
Since the release of Elementor 2.0, Elementor now offers two different types of templates:
Pages – these are full-page designs.
Blocks – these are designs for individual sections of a page. For example, you can find blocks for a "Contact" section.
If you're using the free version of Elementor, you get access to 40+ block templates and 30+ page templates. You can also save any of your own designs as templates to reuse them later.
And if you want access to more templates, Elementor Pro unlocks the full template library, which gives you access to 50+ Pro widgets and 300+ Pro Elementor templates: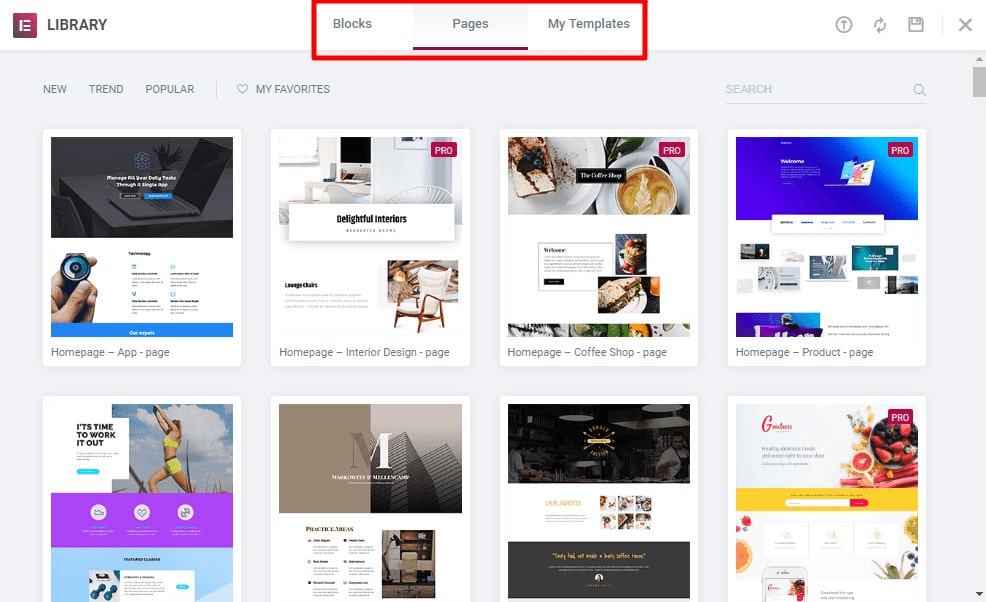 If you're using Astra, you can also get access to a variety of pre-made websites based on Elementor and Astra via Starter Templates.
Divi Builder
Elegant Themes recently redid the entire Divi Builder template library. The new system is a major upgrade, both in terms of the number of templates available and how you work with them.
You now get access to 350+ templates spread across 177 layout packs: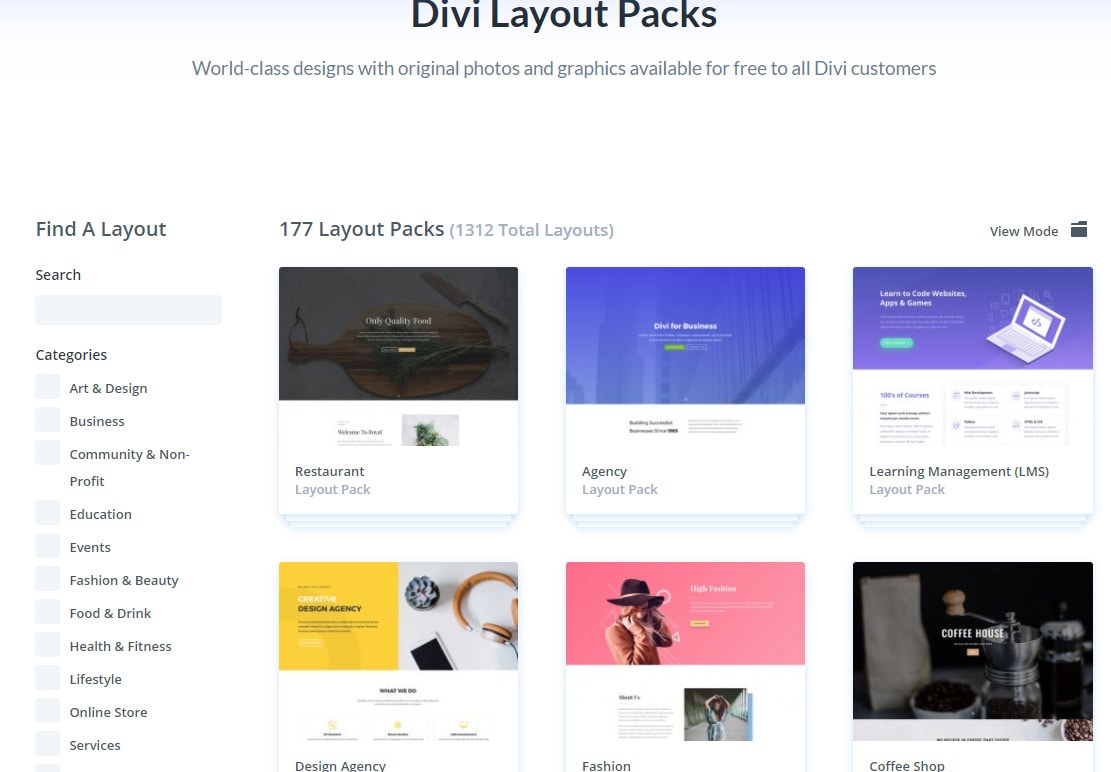 A "layout pack" is essentially a set of themed templates. For example, you might have 8 different templates that, combined, help you build an entire restaurant website.
Like Elementor, you can also save your own designs as templates to reuse them later.
Elementor vs Divi Builder: Theme Building
Elementor is the first to offer full theme building via Elementor Pro, while Divi recently added this feature last October 2019 in Divi 4.0 version.
By "full theme building", we mean that you can actually use the same Elementor interface to build every single part of your theme – including your header, footer, and template parts.
Elementor
When you utilize Elementor's theme building functionality, you first choose where you want to apply your template: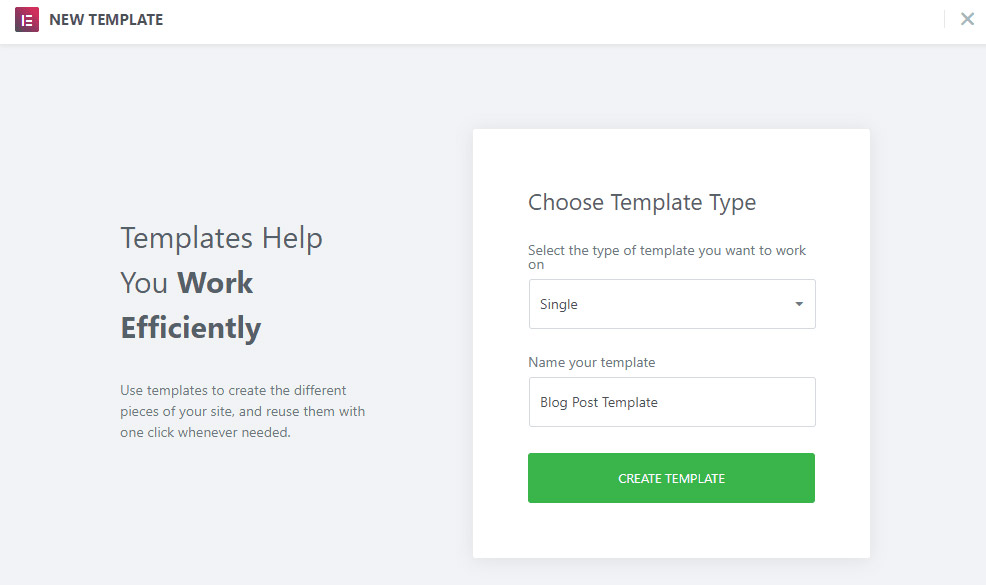 Then, you can build your template using the Elementor interface and a special set of Theme Elements. These theme elements let you bring in dynamic information from your site. For example, you can find elements for Post Title, Author Box, etc.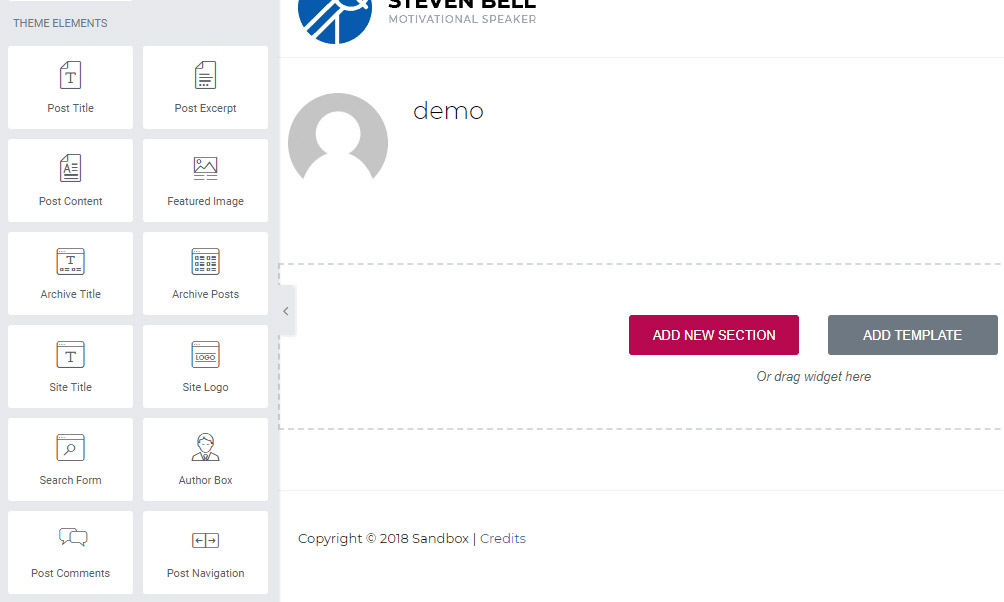 And when you publish your template, you can control exactly which content to use the template for: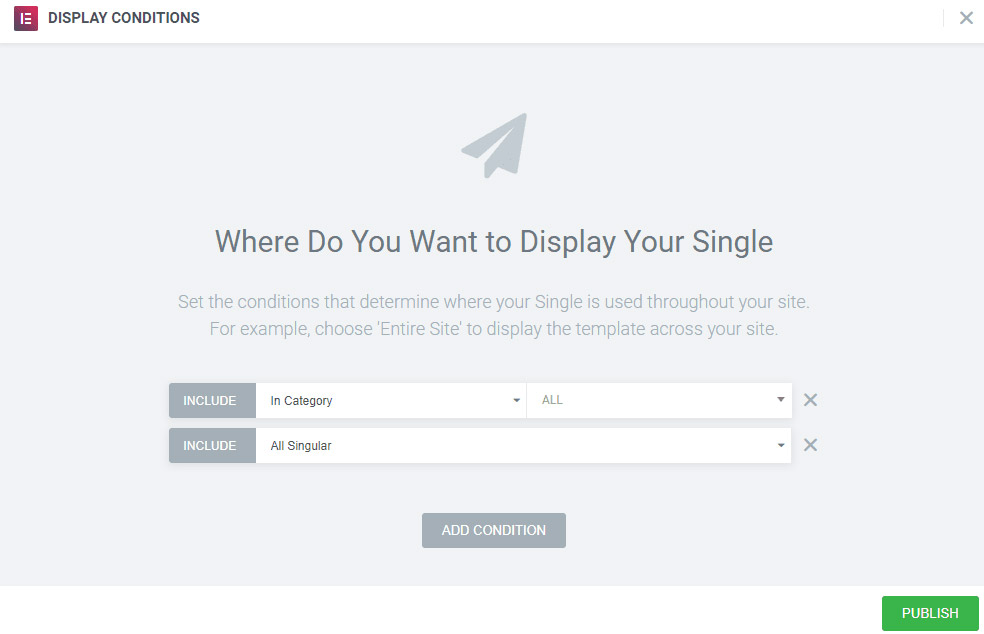 Elementor 3.0 version introduces the new Theme Builder which allows you to see your entire site structure visually. With this, you can see which parts are active and which are not, manage which template applies to different areas of your website, and have easy access to change, update, etc.
We have created a detailed guide on customizing blog with Elementor. You might want to check that out!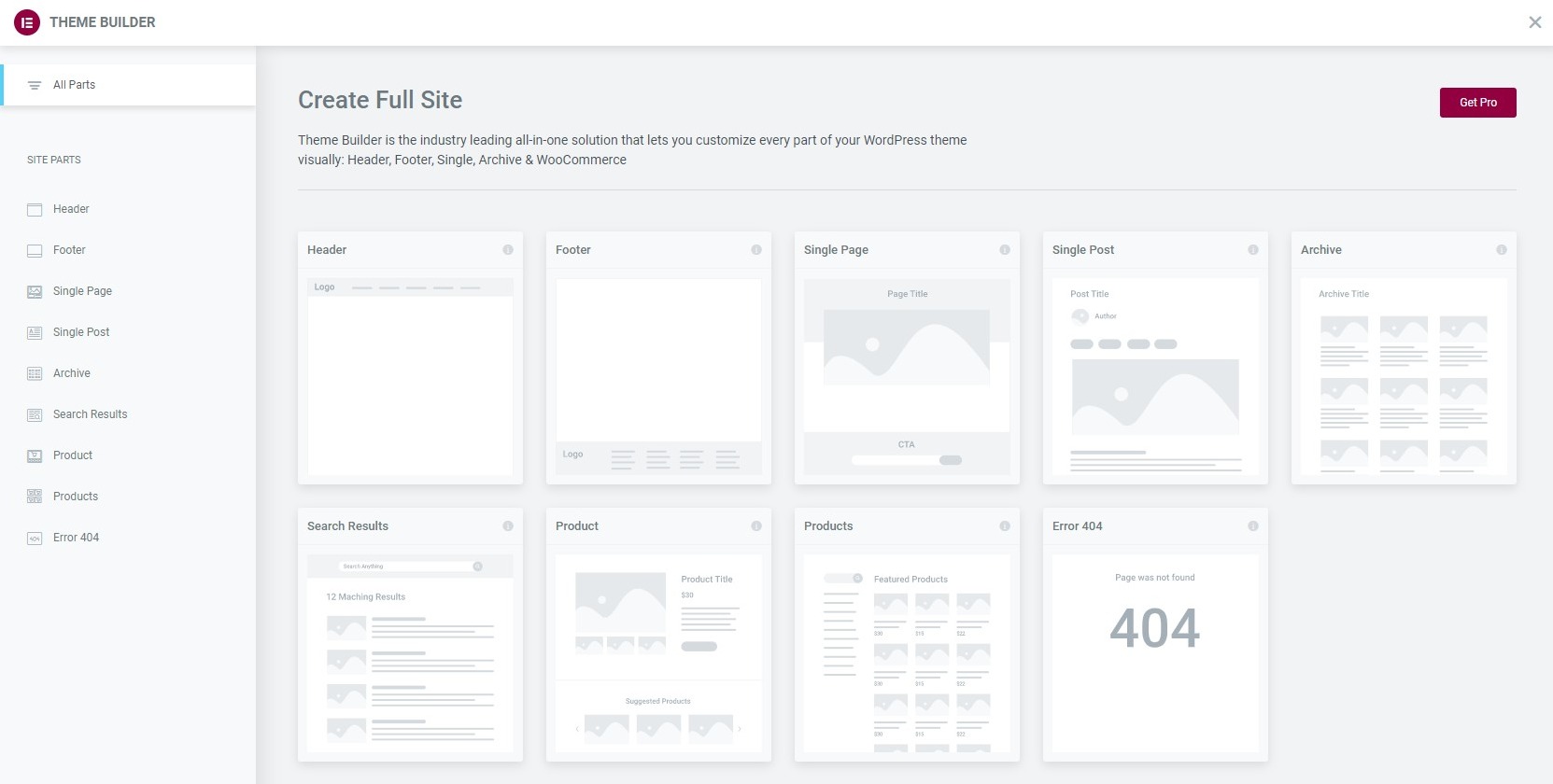 Divi Builder
When you use Divi theme builder, the different theme template parts are rearranged using a back-end interface.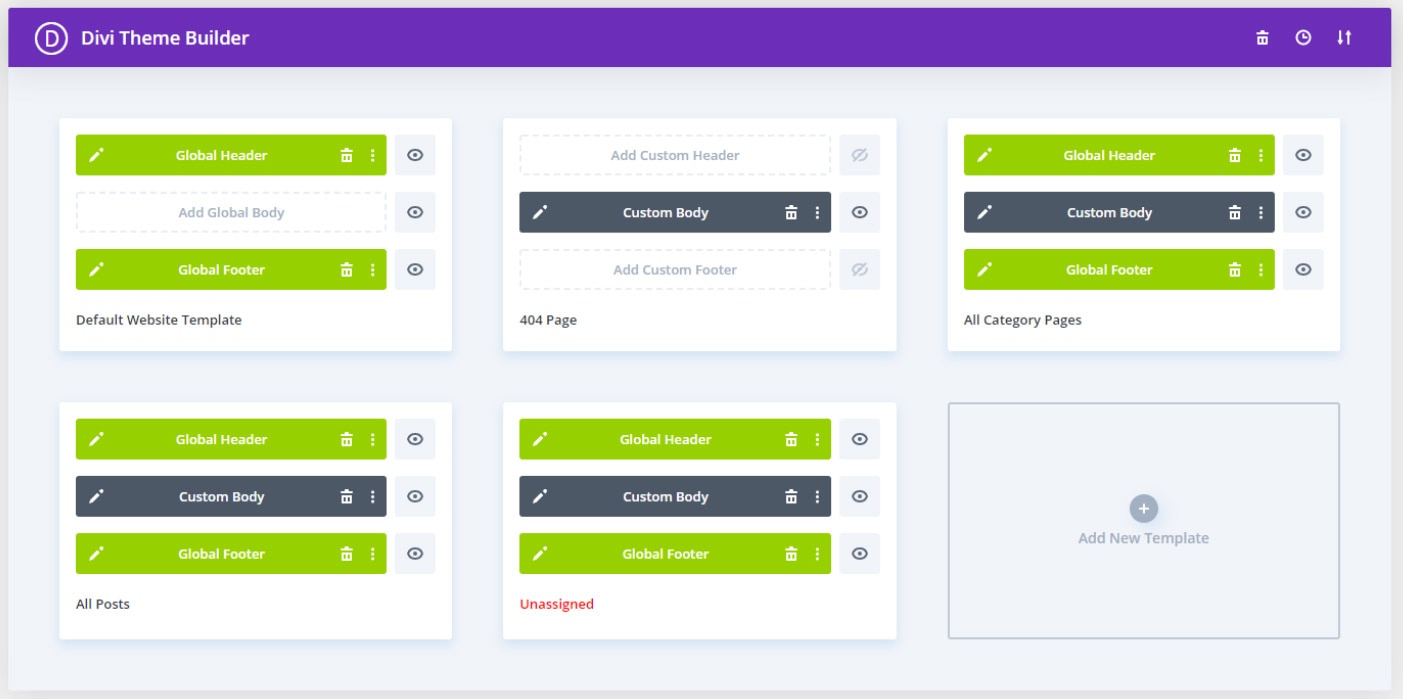 You can also use the front-end visual builder to build your theme template parts, and it's easy to insert your site title, tagline and other information.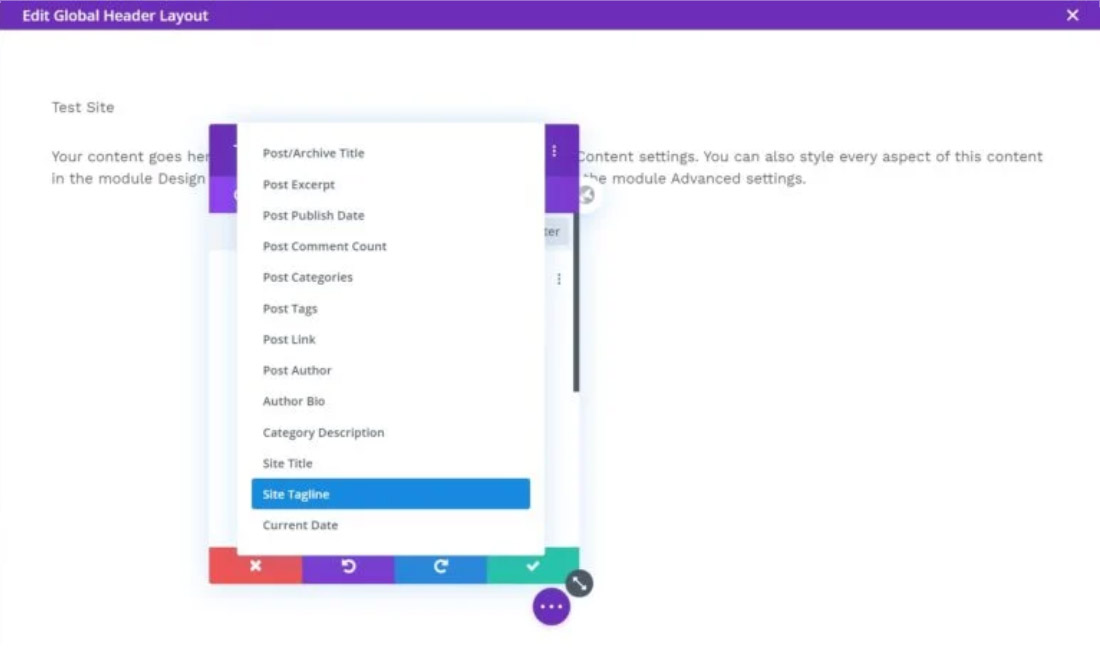 You can also build custom headers or footers with Divi Builder or Elementor using Astra Pro's Custom Layout module functionality.
Elementor vs Divi Builder: Other Smaller Considerations
Beyond the one-to-one comparisons above, each page builder offers some unique features that can't be directly compared. That's what this section is for…
Elementor
Global widgets – with global widgets, you can reuse the same widget in multiple spots on your site and then update every instance of that widget just by editing the global widget once.
Popup Builder – You can design popup like Email opt-in, login/registration, promo/CTA, etc., that can be displayed anywhere in your site.
Clear Code – Leaves behind 100% clean code once deactivated.
Maintenance Mode / Coming Soon page – you can design a maintenance mode or coming-soon page.
Shape Dividers – with this design effect, you can add SVG shapes to your design from the Elementor interface.
Embed anywhere – using shortcodes or sidebar widgets, you can embed your saved Elementor templates anywhere on your site, including your sidebar and footer.
Form widget – You can create and design advance forms with Elementor Pro.

Divi Builder
A/B Testing – Divi Builder lets you run A/B tests for different modules to see which performs better for a specific goal. This can help you optimize the content that you build with Divi Builder.
User Role Editor – Divi Builder includes a detailed Role Editor interface that lets you control exactly which actions different users can take. You can even disable individual modules for specific user roles.
Lock elements – once you're done with the design of a certain element in your page, you can put it on "lock" to avoid accidental changes while you are working on the other elements.
Global modules – like Elementor's global widgets, these let you add a single module to multiple pages and then update all of them at once.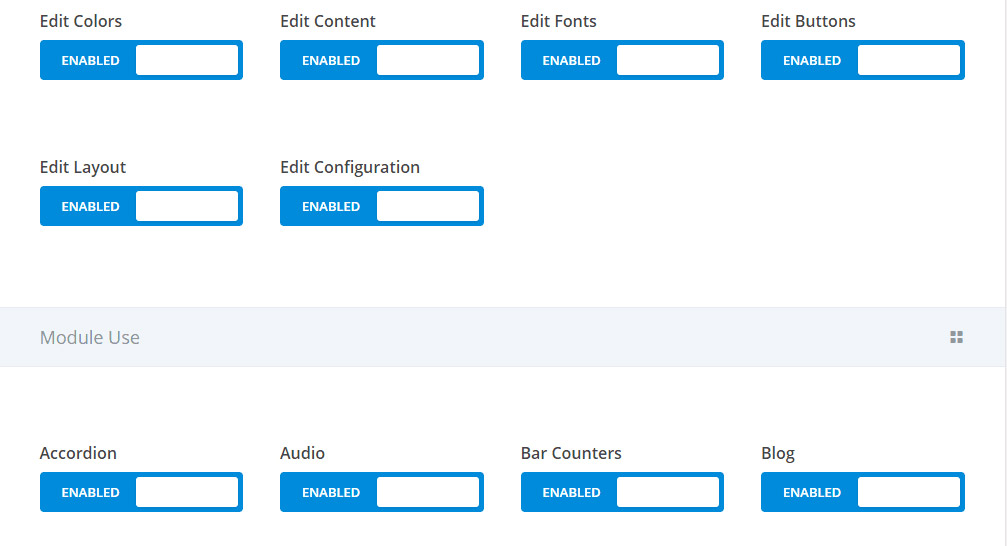 Elementor vs Divi Builder: Pricing
Of these two page builders, Elementor is the only one that offers a free version at WordPress.org. Divi Builder is exclusively premium.
If you're happy to pay, here's how pricing stacks up for Elementor Pro vs Divi Builder:
There are three Elementor Pro plans:
1 site – $49
3 sites – $99
1,000 sites – $199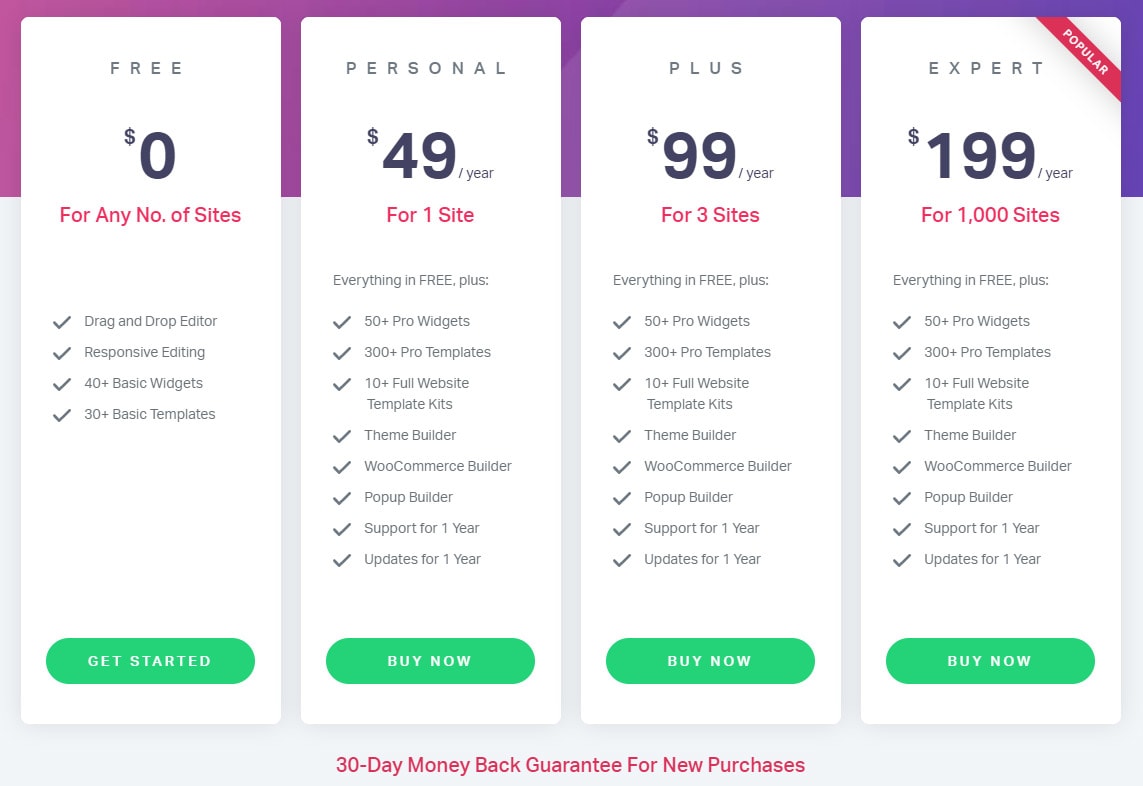 There is no lifetime option. Each plan includes one year of support and updates. After that first year, you'll need to renew if you want to continue receiving support and updates. Active customers get a 25% renewal discount to continue support/updates.
Even if you don't renew, Elementor Pro will continue to function, though.
Divi Builder is available as part of the Elegant Themes membership package. There are two different prices for this package:
$89 – use on unlimited websites with one year of support and updates.
$249 – use on unlimited websites with lifetime support and updates.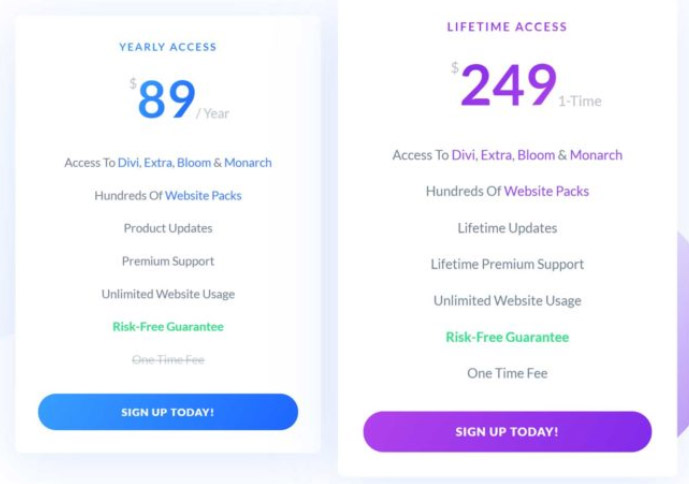 Final Thoughts On Elementor vs Divi Builder
You'll find thousands of happy users on each side of the aisle, so there's no clear winner here. To help you make your decision, though, here are some of the most key differences between Elementor vs Divi Builder.
Elementor has…
A generous free version at WordPress.org
More widgets to build your designs (if you have Elementor Pro)
Full theme building functionality (with Elementor Pro)
A static interface with a set sidebar
Divi Builder has…
Maybe a little bit deeper styling options, though it's pretty close
More templates with the new Template Library
A dynamic interface with lots of floating buttons
Back-end editing
Additionally, the teams behind both Elementor and Divi Builder do a great job of regularly pushing out quality new features, so you'll have a great development team backing you no matter which page builder you choose.
And both Elementor and Divi Builder also integrate well with the Astra theme, so you can take advantage of Astra's helpful functionality with either page builder (learn more about why Astra is the perfect theme for page builders).
Now it's your turn – which of these two page builders do you prefer and why?