If you're a graphic designer, photographer, artist, or creative of any kind, a website is the perfect medium to show off your work. It's open to the world, easy to create and a very low maintenance way to showcase what you can do.
If you use WordPress and you want to show off your work, you need a portfolio theme to do it justice.
That's what this post is all about.
We have scoured the internet for the best WordPress portfolio themes. We tried and tested dozens of themes to see which is best, which offers the qualities we look for and which can do justice to your work.
The 36 WordPress portfolio themes you'll see below deliver on that.
What Is a Portfolio Website?
A portfolio website is designed to provide information on an individual or organization and provide the opportunity to view their work.
A portfolio can be anything. It can include samples of code, of music, video, text, images or anything you create.
We look for several qualities within a portfolio website.
We look for:
Attractive theme design that draws the eye but doesn't overshadow the work
Customization opportunities to let you make the theme your own
Special effects to help show off your work at its best
Responsive design so visitors can use any device and get the same experience
Attractive image pages to let the audience delve deeper
Many of the themes in this list have all of these qualities while all have some of them.
Why Choose WordPress?
If you're building your first portfolio, WordPress is a great place to begin. We'll give you five good reasons why WordPress is the best tool for building your website.
WordPress is free – WordPress is free and open source. You can download it onto your computer, install it on your web host and do whatever you like with it.
Well-supported by web hosts – WordPress will work on the vast majority of web hosting plans. Some web hosts even offer WordPress-specific hosting, optimized for speed and reliability.
WordPress themes – There are literally thousands of WordPress themes available. Some are free, some you need to pay for. All can make your website look fantastic.
WordPress plugins – WordPress plugins install within WordPress to add functionality. If the system doesn't have a feature you're looking for, there will be a plugin for that.
WordPress is easy to work with – WordPress is designed for usability. It's easy to install, to set up, to customize and to live with on a daily basis.
These aren't the only reasons WordPress is so popular, but they should give you an idea of why you should use it!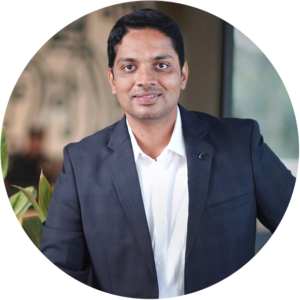 Hello! My name is Sujay and I'm CEO of Astra.
We're on a mission to help small businesses grow online with affordable software products and the education you need to succeed.
Leave a comment below if you want to join the conversation, or click here if you would like personal help or to engage with our team privately.
In a Hurry? Here Are the 4 Best WordPress Portfolio Themes for You
We recommend reading the entire list to get the best idea of the WordPress portfolio themes out there, but if you don't have time, these five stand out.
Best WordPress Portfolio Themes
This list consists of a mixture of free WordPress portfolio themes and premium options so you get the best picture of what's available. We hope you like it!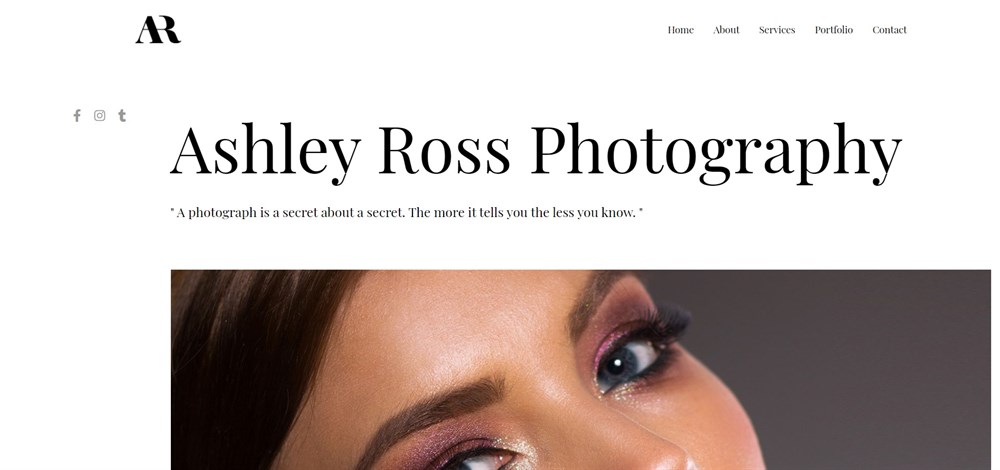 Astra is a WordPress theme that offers a selection of free templates that all look as though they cost much more than they did. Astra has a fantastic eye for design with great layouts, strong imagery, inspired use of fonts and all the qualities you would expect from a world-beating WordPress theme.
Astra is also very easy to use thanks to its compatibility with majority of WordPress drag and drop page builders. It works seamlessly with Elementor, Brizy, Beaver Builder and Gutenberg and makes website creation about as easy as it can get.
Astra is also lightweight so it loads quickly, fully responsive so it can work on any device and translation-ready. It literally has everything you need to build your portfolio website!
Pros of Astra:
Amazing free WordPress portfolio themes
Lightweight, reliable theme
SEO-friendly and fast loading
Works with leading page builders
Has dedicated portfolio themes
Cons of Astra:
Sometimes too much choice isn't a good thing!
Astra Pricing
There is a free version of Astra while premium starts at $47.
Opinion of Astra
We may be biased, but we think Astra is the most generous free WordPress theme in the world. It has lots of great themes, is very well-coded so is reliable and stable, loads incredibly quickly and has compatibility with some of the best page builders out there.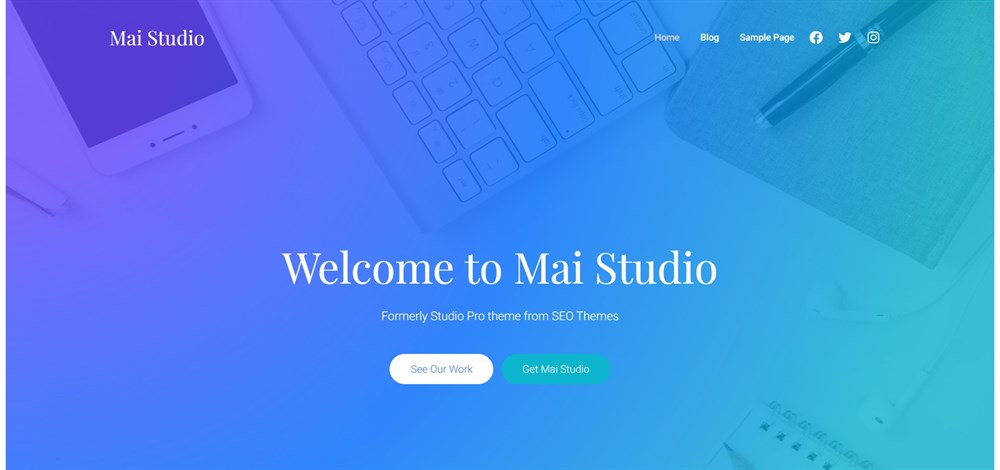 Mai Studio uses the Genesis Framework which works with WordPress to deliver some great-looking themes. This theme is no exception. It's a relatively laid back theme that could be ideal for studios or creatives in markets where being composed will work best for their audience.
The design is colourful and well balanced but doesn't exhibit some of the edgy elements we see in other themes. It's a very well designed theme with lots of white space and a series of portfolio options to showcase your work as well as your business.
Pros of Mai Studio:
Almost corporate style would work for some audiences
Loads quickly and uses Genesis
Could be customized to suit any type of medium
Responsive and translation-ready
Cons of Mai Studio:
Doesn't make the immediate impact some might look for in a portfolio
Expensive
Mai Studio Pricing
Mai Studio costs $129.
Opinion of Mai Studio
Mai Studio is just on the right side of corporate. It's clean, has nice colours and fonts and is easy to look at and to use. It could be ideal for some creatives whose target market is used to more restrained design.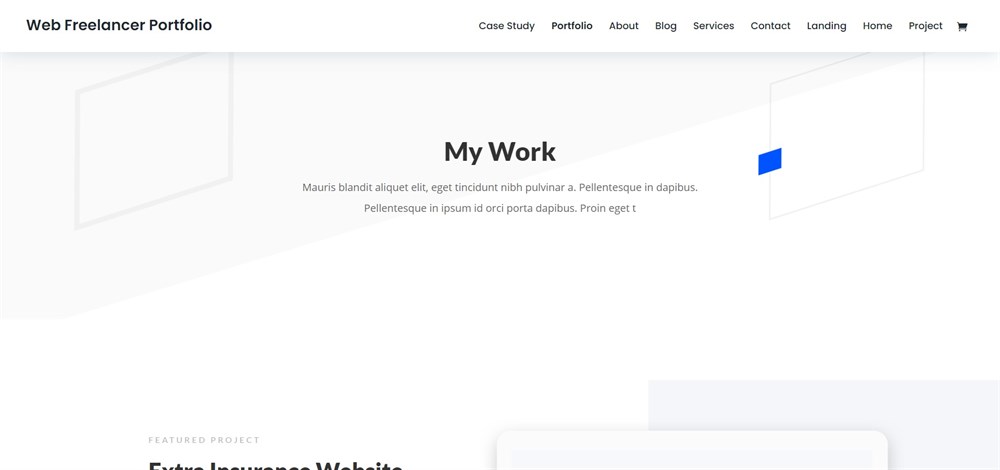 The Web Freelancer Portfolio theme from Divi is similar to Mai Studio in its design. It's light, clean and restrained but still gives a professional first impression. This theme could also be used for developers, writers and other creatives as a portfolio as it is flexible enough to handle almost anything.
The demo uses white space well with simple modern fonts and graphics down the page. A full screen section below the fold offers a pop of colour and could be the ideal place to showcase any hero pieces you might have. A standalone portfolio section could take care of the rest.
Pros of Divi:
Divi comes with a number of free themes you can use
Works with the Divi Builder for drag and drop efficiency
Clean designs that are fully customizable
Range of portfolio sections with optional effects
Cons of Divi:
Restrained design won't work for everyone
Divi Pricing
Divi costs $89 per year or $249 for lifetime access.
Opinion of Divi
Divi is an excellent WordPress theme. It's well-coded, lightweight and is flexible and customizable. The designs aren't up to the same standard of creativity as Astra but they could be ideal for some audiences.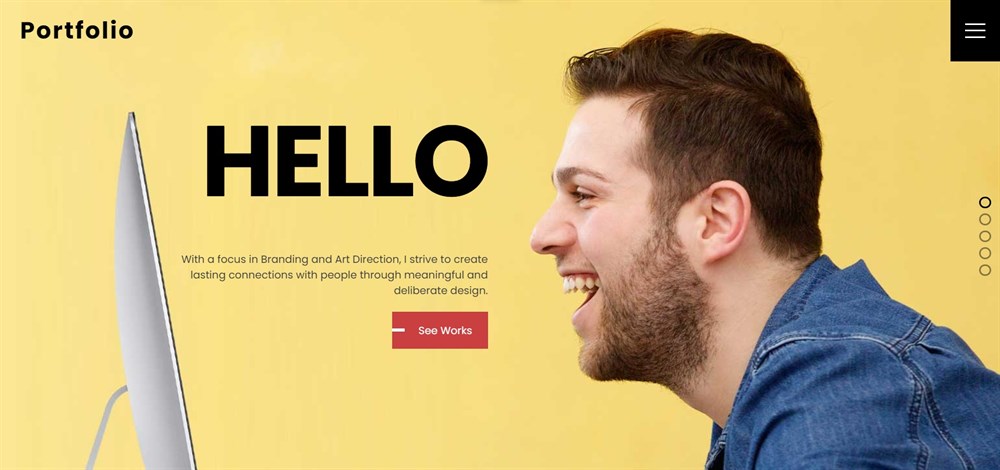 Ultra is another WordPress theme family with multiple themes covering every niche. This portfolio theme is much more vibrant than Mai Studio or Divi. It's bright, colourful, energetic and works very well indeed.
The modern design is actually very simple. Some full screen elements with images, graphics and a portfolio grid with a contact form at the bottom. Combined with great use of colour and bold fonts, the overall impression is of something much bigger than the sum of its parts.
That makes it ideal for a portfolio!
Pros of Ultra:
Vibrant and colourful design
Loads quickly and works flawlessly
The default grid portfolio works well
Option to add effects and other portfolio styles
Cons of Ultra:
There is very little to criticize about Ultra
Ultra Pricing
Ultra costs $59.
Opinion of Ultra
Ultra displays those qualities many would think of when looking for a portfolio. Lots of life, colour and an energy that's difficult to resist. All that alongside a well-designed showcase for your work. There is very little to criticize here.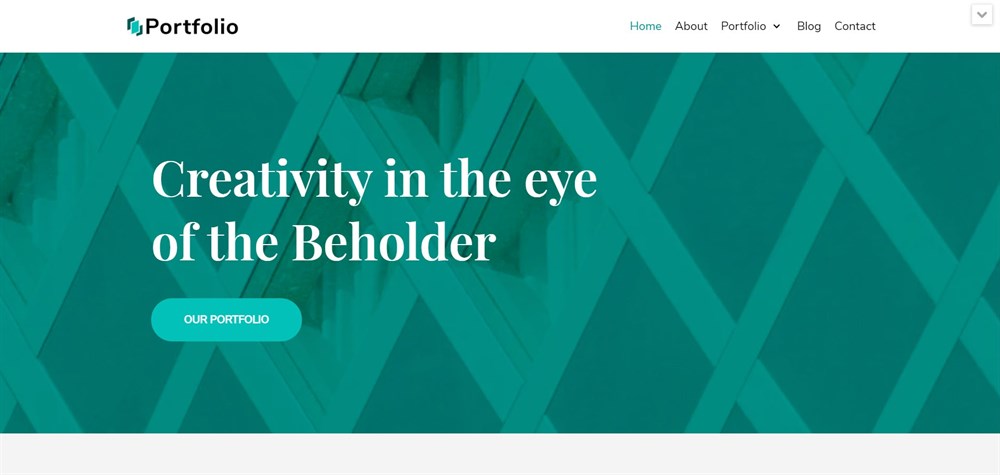 Neve has a couple of WordPress portfolio themes for different situations but we think Creative Portfolio is the best. It's another agency theme, ideal for studios or creatives with an audience who would engage best with more restrained design.
The demo features a lot of white space, some content sections to explain who you are and what you do and a clean, crisp portfolio section down the page. You have the option to change the order things appear, add or remove page sections and change fonts and colours but we think this demo would work well for some.
Pros of Neve:
Uses modern flat design
Integrates with drag and drop page builders
Works with most WordPress plugins
Has a wide range of themes to choose from
Cons of Neve:
The designs are better suited to some audiences than others
Neve Pricing
Neve has a free WordPress portfolio theme while premium plans cost from £59 up to £159.
Opinion of Neve
Neve is a very well coded WordPress theme that works well, loads quickly and is simple to customize. All themes use restrained design though, which is better suited to some audiences than others.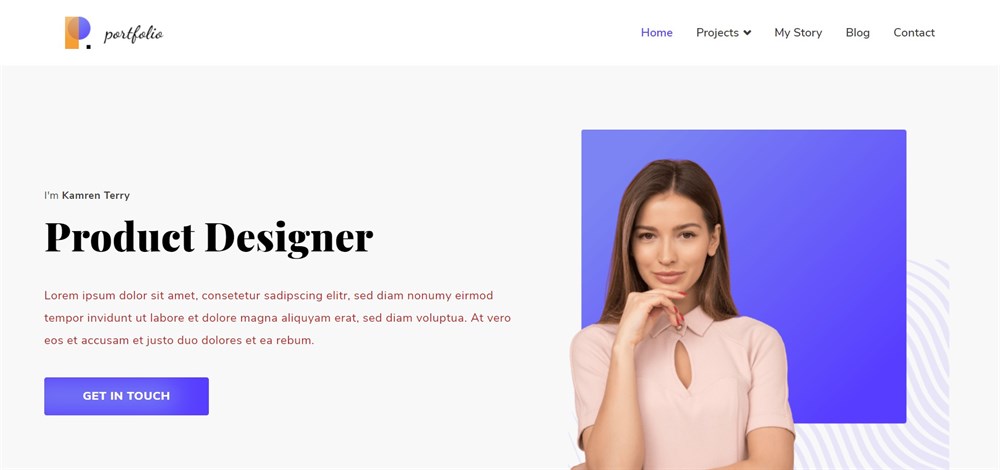 Zakra sits in the middle ground between Neve and Ultra. It's a laid back, restrained design but has pops of colour and personality throughout. It's an excellent option for creatives who need to appeal to the widest possible audience.
The portfolio demo uses a corporate-style header with a pop of colour and then unfolds into a colourful page with some graphics, lots of white space, some superb fonts and an excellent portfolio section. The combination of energy and restraint is truly excellent and makes it a firm favourite of ours.
Pros of Zakra:
Exquisite design with both restraint and energy
Well-coded and easy to use
Pages load quickly
Fully responsive
Cons of Zakra:
Care will be needed to customize without losing the character
Zakra Pricing
Zakra costs from $49 up to $199.
Opinion of Zakra
We rate Zakra very highly for its design, ease of use and overall appeal. It's a very well designed WordPress portfolio theme with some great ideas, nicely balanced pages and the combination of restraint and vibrancy.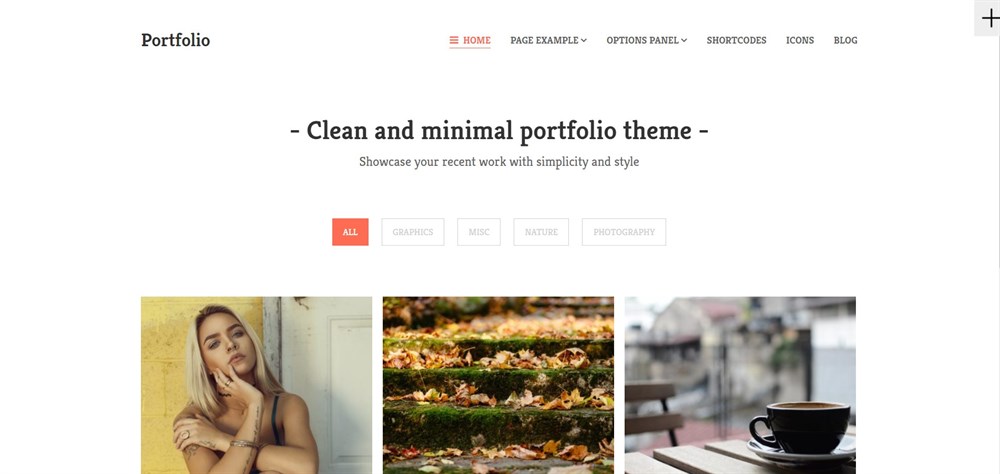 Portfolio is a clean minimalist design with a simple layout, very little content except the portfolio and modest navigation. It has clearly been designed to showcase your work and wants very little to get in the way of the audience's enjoyment of it.
We like minimalist design when it's done well, as it has been done here. The intent is clear, the portfolio very well designed and the transition effects when you select a category are smooth and add a little flourish your audience will appreciate.
Pros of Portfolio:
Clean minimalist page design
Great use of white space
Transitions between portfolio categories are nice
Lots of options to customize
Cons of Portfolio:
You will need to add content for SEO without spoiling the original design
Portfolio Pricing
Portfolio costs $59.
Opinion of Portfolio
We like Portfolio for its simplicity. It states its case immediately and makes sure nothing gets in the way of enjoying your work. That's minimalism done well.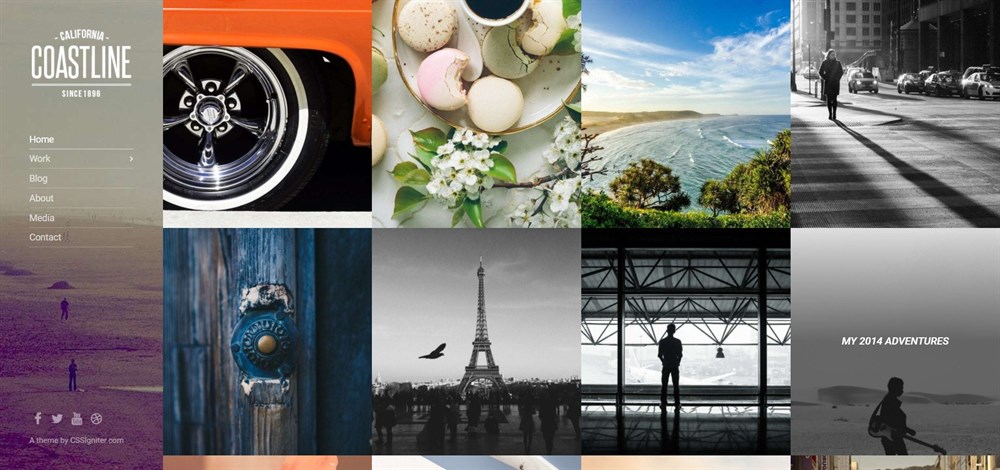 Coastline is the exact opposite of Portfolio. There is no white space to be seen and no respite from the content. It's an equally appealing design, just for very different reasons.
This WordPress portfolio theme uses a full screen portfolio section front and centre along with a side menu for navigation. There are simple hover effects over images and the overall impression is of a West Coast vibe, hence the name.
This is a very cool WordPress portfolio theme with attractive pages, inspired font choices and an array of display options for your work.
Pros of Coastline:
Very characterful design
Side menu works very well in this instance
Works with drag and drop page builder
Fully responsive
Cons of Coastline:
The character will need to be retained while also fitting your personal brand which may be difficult to achieve
Coastline Pricing
Coastline costs from $39 up to $199.
Opinion of Coastline
We really like the vibe of Coastline. It's easy going, relaxed and works for us. That said, it would be difficult to customize the design to suit a brand without losing that. If you can make it work though, this could be an exceptional WordPress portfolio theme!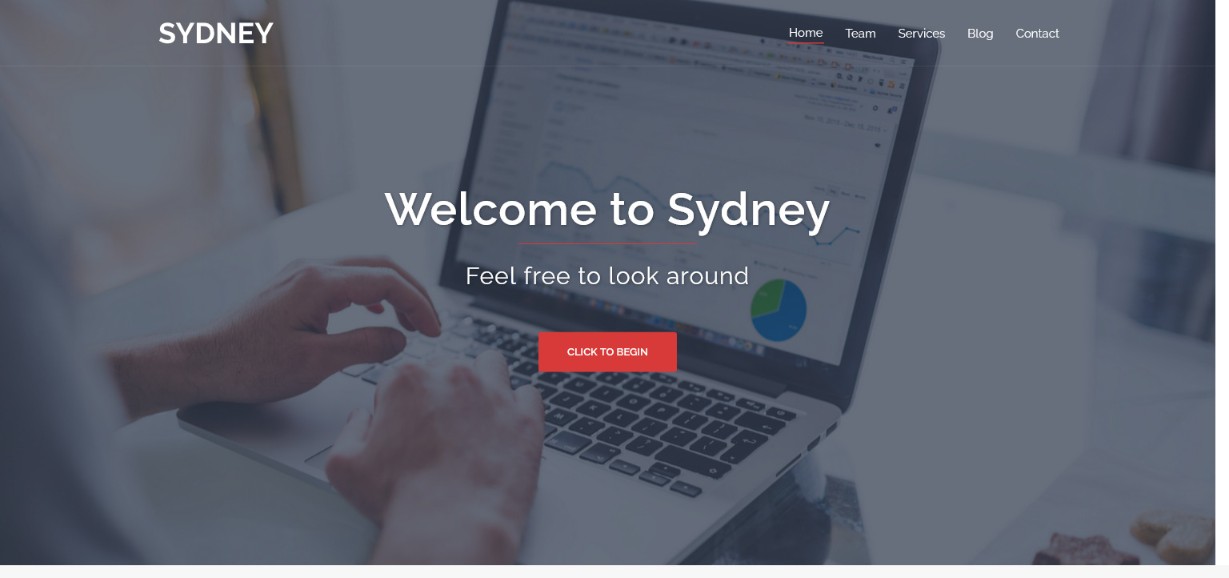 Sydney is another top class WordPress theme with a portfolio demo. There are a selection of demo websites available but we think Resume has the best portfolio. It's nothing like the previous Resume though.
This version is a lighter, easier going design with light colours, lots of white space, simple fonts and a sprinkling of personality throughout. There is a very effective portfolio section below the fold that looks modern and supports hover effects.
Overall, we rate Sydney for the quality of the code as well as the design. This demo could work for freelancers, studios or anyone with an audience who appreciates simplicity.
Pros of Sydney:
Clean, crisp design with a modern twist
Nice portfolio section
Great flow down the page with lots of white space
Works with Elementor
Cons of Sydney:
The Resume demo isn't available with the free version
Sydney Pricing
Sydney has a free version and a premium version that costs $59.
Opinion of Sydney
Sydney features frequently in our 'best of' lists. It is well-coded, well designed and well put together. The designs may be restrained but they still have plenty of character and can be customized to delight almost any audience.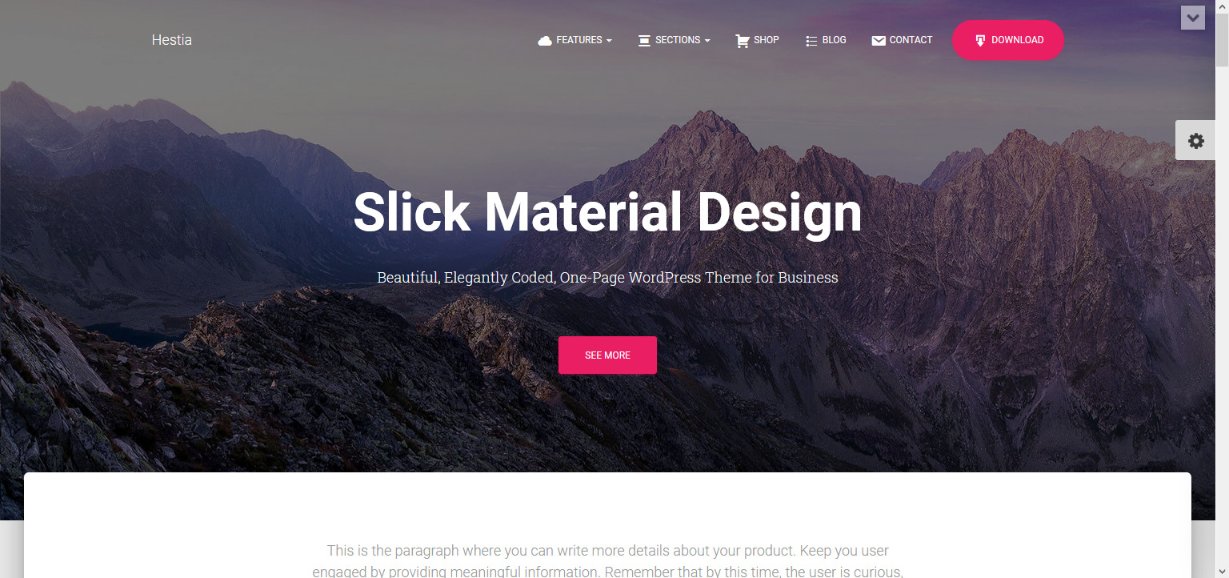 Hestia Pro is brought to you by the same studio that develops Neve. This is a different template with a similar look and feel. It uses modern flat design very well with some interesting uses of colour. It's a very flexible theme too, which could work for studios or freelancers alike.
This isn't a dedicated WordPress portfolio theme but has portfolio elements we like a lot. Scroll down the page to the store section and further to the blog and you'll see what we mean. Great typography, stylish page elements and an atmosphere of calm competence abound here, which is why we like it.
You would need to configure the portfolio and add it to the page but the theme makes that easy.
Pros of Hestia Pro:
Smart modern design
Offers personality without going overboard
Great use of colours and fonts
Stylish image and product sections could make superb portfolios
Cons of Hestia Pro:
More work to do than with a dedicated WordPress portfolio theme
Hestia Pro Pricing
Hestia Pro costs from £69 to £199.
Opinion of Hestia Pro
Hestia and Neve are both regulars in our 'best of' lists along with Sydney. Both offer a selection of great themes with real character and wide appeal. They are easy to work with, load quickly and offer almost unlimited opportunity for customization.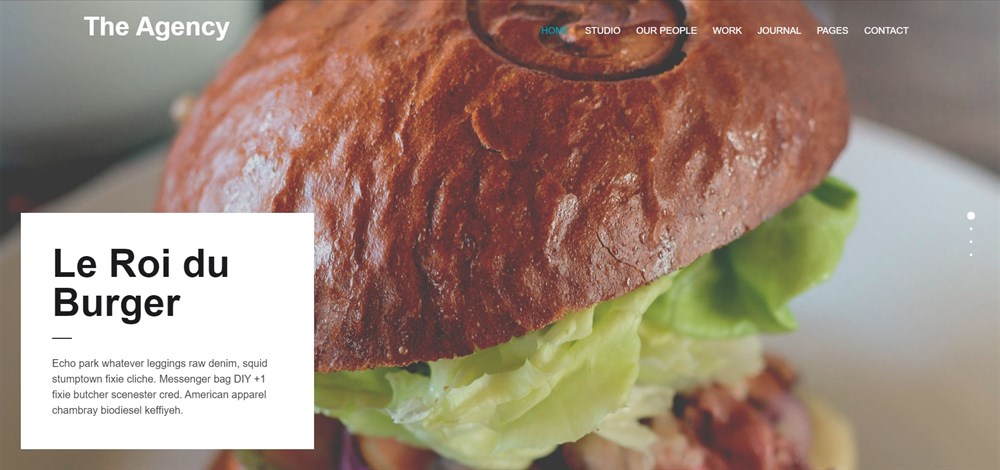 The Agency has an old school vibe that is very attractive. It's almost timeless, with an impression of times gone by with modernity woven throughout. It works exceptionally well and could be a superb WordPress portfolio theme in the right hands.
The demo makes an immediate impact with a series of full screen images with a small content box in the corner. An alternative start page is available in the top menu with a masonry grid which would make a great portfolio. Whatever page you choose, this is an achingly attractive theme that looks a million dollars.
Pros of The Agency:
Stylish with a very unique character
Loads quickly and has clean code
Lots of customization options
Multiple portfolio layout options
Cons of The Agency:
You will really need to know how to use imagery to do the design justice
The Agency Pricing
The Agency costs from $69 per year or $247 for a lifetime licence.
Opinion of The Agency
We really like The Agency. It makes a superb WordPress portfolio theme with genuine character. It's a little different while still delivering the goods and we applaud it for that.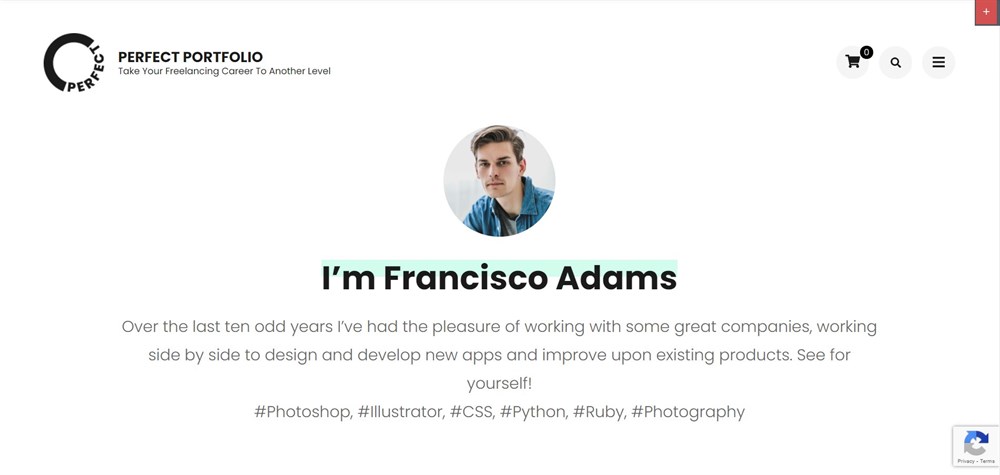 Perfect Portfolio is one of the better free WordPress portfolio themes out there. It does have a premium option but the free version is definitely worth checking out. It's clean, crisp and has similar transition effects as Portfolio.
The design is clean and mainly monochrome with the odd complementing colour and imagery. It uses modern fonts, lots of white space and a simple portfolio grid to showcase your work. There are also content areas underneath to showcase yourself which might be useful.
This may be a free WordPress portfolio theme but it certainly doesn't look or feel like one!
Pros of Perfect Portfolio:
Very competent free WordPress portfolio theme
Clean modern design
Nice transition effects for images
Fully responsive
Cons of Perfect Portfolio:
Free themes require more work to make them shine
Perfect Portfolio Pricing
Perfect Portfolio is a free WordPress portfolio theme with a premium option costing $59.
Opinion of Perfect Portfolio
Perfect Portfolio is definitely one of the better free WordPress portfolio themes. It's clean, crisp and well designed and has the flexibility and wide appeal you would expect from a premium theme.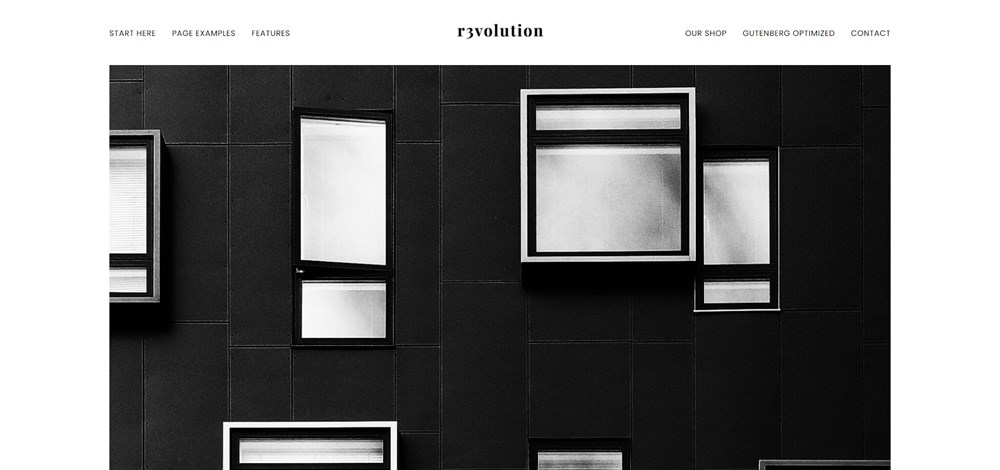 Revolution Pro is a monochrome design with minimalist tendencies yet still delivers a genuine impact. It's a thoroughly modern design with simple navigation, a large central image, extra content sections throughout and an innovative portfolio section halfway down the page.
Revolution Pro uses the Genesis Framework to great effect here and the innovative portfolio layout is particularly powerful. It will take some work to get it looking like this but everything is there for you to do it.
Pros of Revolution Pro:
Uses the reliable Genesis Framework
Clean minimalist design with a couple of flourishes
Innovative portfolio layout works exceptionally well
Supports a store and most WordPress plugins
Cons of Revolution Pro:
Getting that portfolio section to work for your own work might take some time
The price
Revolution Pro Pricing
Revolution Pro costs $129.95.
Opinion of Revolution Pro
Revolution Pro is a superior WordPress portfolio theme that keeps things simple in a good way. It's a modern showcase that could be customized for any type of work and for that we think it is well worth exploring further.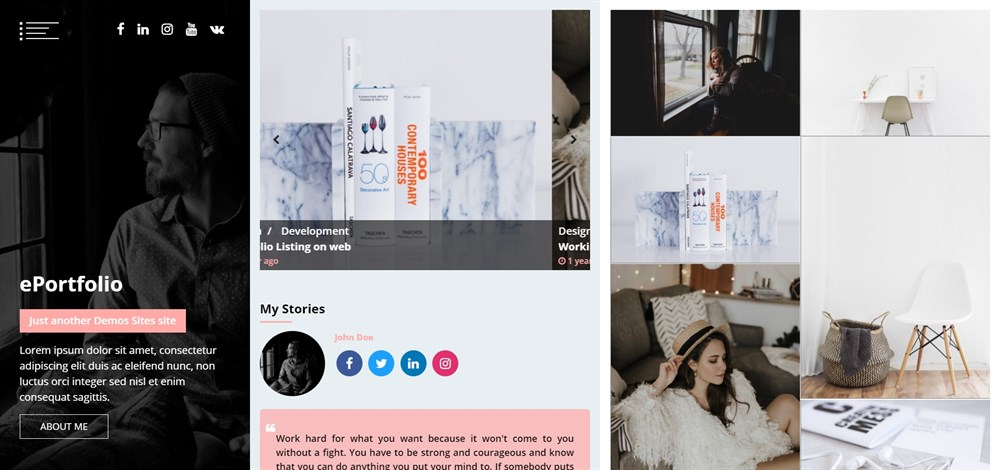 ePortfolio dares to be different and that makes it another standout free WordPress theme. It's a very innovative full page three column design where each column scrolls independently.
It's a smart design that works exceptionally well and offers a lot of potential in terms of design and layout.
The first column of the demo has the navigation while the second and third showcase the imagery. You could change this around or add whatever content you wanted to each column but we think this layout works best.
Pros of ePortfolio:
Unique three column layout with individual scrolling sections
Doesn't look like a free WordPress portfolio theme
Colourful and characterful layout
Lots of customization options
Cons of ePortfolio:
Will require more effort from you to build
ePortfolio Pricing
ePortfolio is a free WordPress portfolio theme with a premium version that costs $49.
Opinion of ePortfolio
Any free WordPress portfolio theme that delivers the same quality experience as a premium theme has to get our vote. Add that clever layout with individual scrolling columns and lots of opportunity to showcase your work and you have a winner on your hands!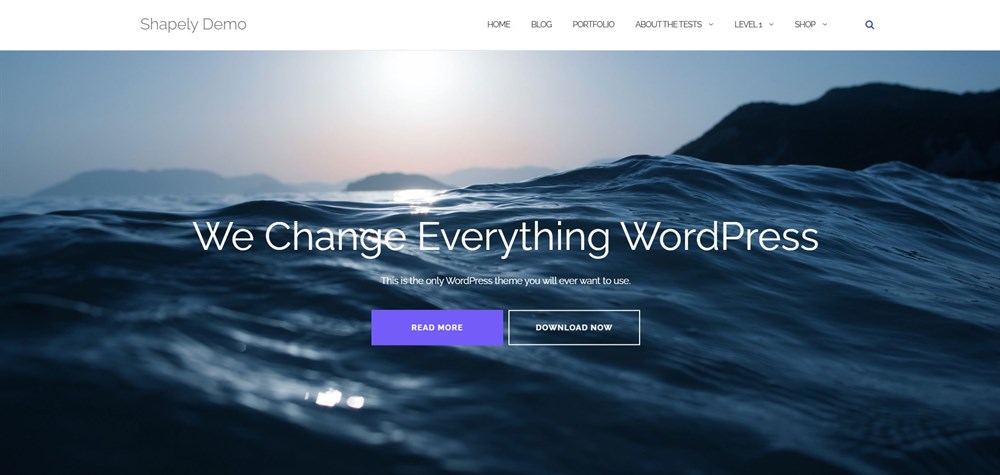 Shapely is another top class free portfolio WordPress theme. This isn't a dedicated portfolio design but does showcase imagery particularly well. It's a one page theme that makes an immediate impact with a full screen image and scrolls down to extra content sections, including those for images.
The layout of the demo is a typical blog but could be customized to work with anything you need. It's a flexible design compatible with most WordPress plugins so you could build whatever you want or add image effects or different portfolio types with a simple install.
Pros of Shapely:
Excellent use of a hero image
Opportunities to add portfolio sections down the page
Simple design that still makes an impact
It's free
Cons of Shapely:
Shapely will take work to bring it up to standard but it could be worth it
Shapely Pricing
Shapely is free.
Opinion of Shapely
Shapely is another good example of a free portfolio WordPress theme. It's clean, well-designed, has clean code and loads quickly. If you know your way around WordPress, you could do a lot with this!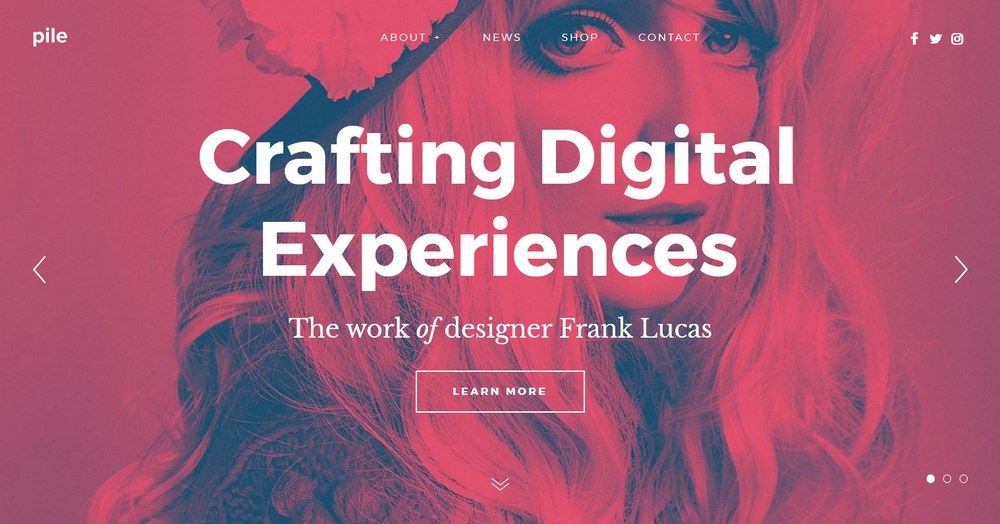 Pile is a fantastic WordPress portfolio theme, ideal for showcasing any kind of creative work. Whether you are an artist, freelancer, photographer, or architect, this theme sets you apart from your competitors with finely tuned elements and smooth parallax scrolling.
Once you've imported the theme, it's super easy to customize and change the fonts, colors and even brand the website based on your preferences. A unique grid builder makes design pages simple while plentiful design options give you complete freedom to build pages however you want.
Pros of Pile:
Mobile and responsive ready
Fast loading speeds and SEO optimized
Use parallax scrolling and unique transitions to set your site apart
WPML com­pat­i­ble
Cons of Pile:
It's more expensive than many of the other WordPress portfolio themes in this list
Pile Pricing
Pile costs $225 per year or $245 for lifetime access.
Opinion of Pile
Pile is an excellent WordPress portfolio theme. It's flexible and can be customized the way you want. However, the price it's being sold at is undoubtedly a deterrent. Especially when you have similar-looking themes for far less, if not for free, with some of our Astra Starter Templates.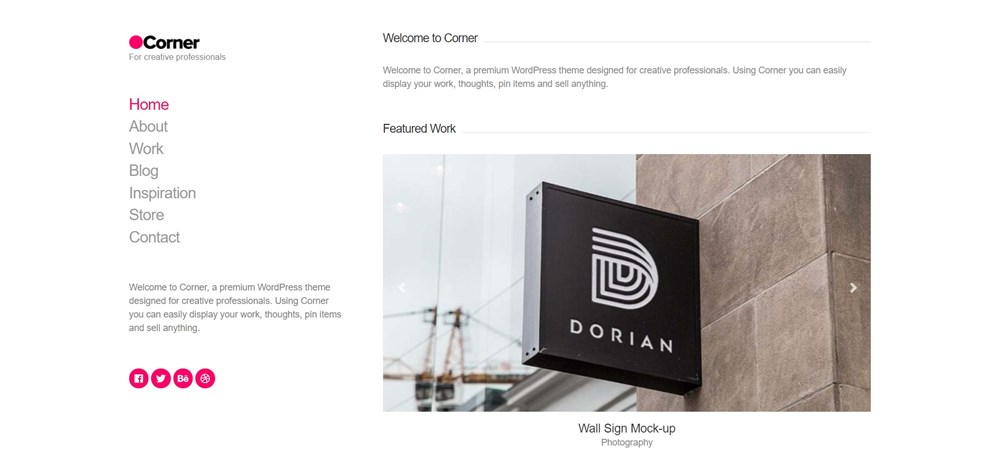 Looking for a WordPress theme that does away with all the bells and whistles and focuses on the content? The Corner theme is all that and more with a minimalist design that still has all the ingredients you look for in a design.
Corner is a simple yet elegant WordPress theme that lets users focus on your content and portfolio. The minimalist look helps cut all the background noise and helps focus on what's important.
Pros of Corner:
Minimal layout that helps visitors focus on your content
Unlimited color variations for you to play around with
Compatible with most popular page builders
SEO optimized and mobile-friendly
Cons of Corner:
Simple design may not work for everyone
Corner Pricing
Corner costs $34.30.
Opinion of Corner
The minimalist look of the Corner theme helps focus on the content of your site, be it text or images. If you are looking for a creative theme that lets your own work shine, this could be it.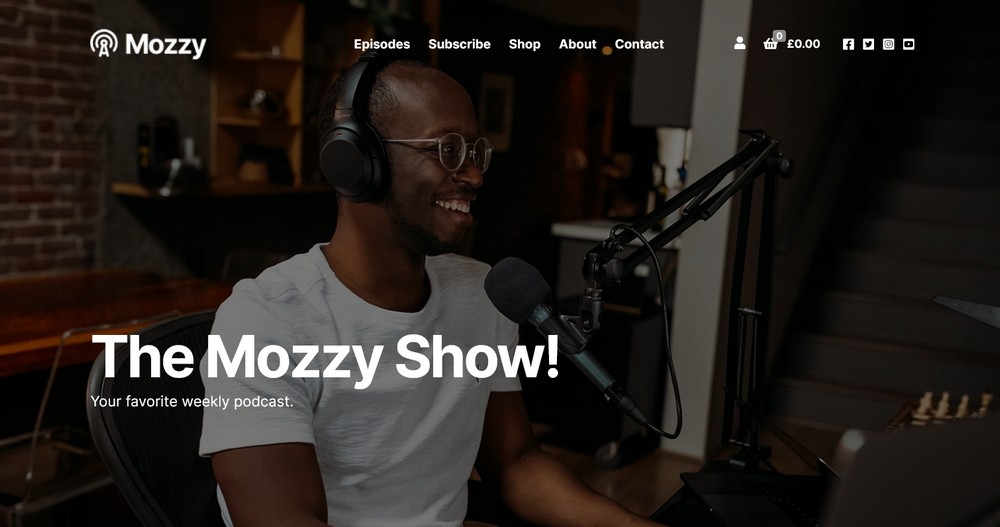 Mozzy is a good-looking WordPress theme ideally suited for podcasters, vloggers, or even bands wanting to showcase a different kind of portfolio. The impressive homepage layout allows you to showcase your latest podcasts or other media upfront. The hero image above the fold is a great way to create that first impression.
While you have the liberty to choose your own podcast player, the theme comes with its own built-in customizable player, AudioIgniter.
Pros of Mozzy:
One-click demo import to help you get started right away
Compatible with most popular page builders, such as Elementor, Beaver Builder, Divi
WooCommerce integrated to help you set up an online store
Support most popular multilingual plugins, such as WPML, Polylang, Weglot
Cons of Mozzy:
The theme is more suited to non-image portfolios which won't suit everyone
Mozzy Pricing
Mozzy costs $34.30.
Opinion of Mozzy
A clean and impressive WordPress theme that can be used to showcase your portfolio. While it's built for rich media, you can certainly use it as a portfolio website with a little bit of customization.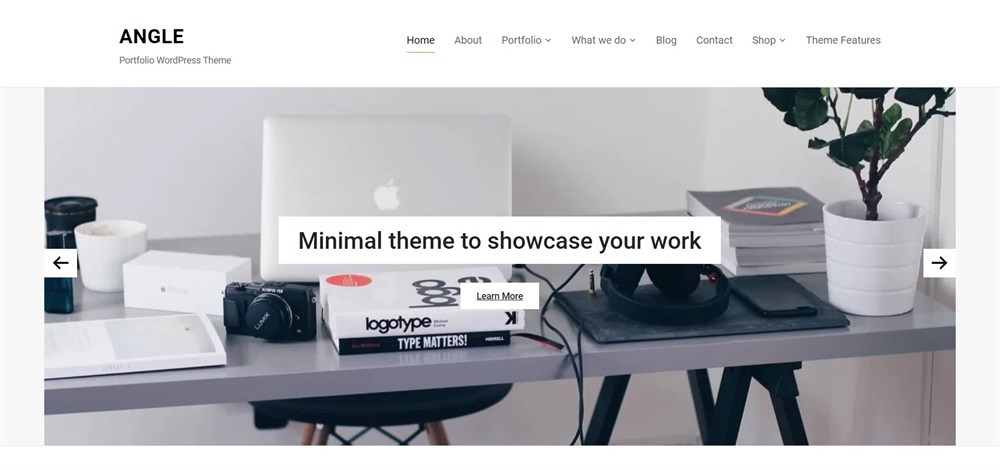 Angle is one of those thoroughly modern WordPress portfolio themes that are all the rage right now. Light, crisp and characterful while allowing the eye to rest between elements and without overwhelming you with content or colour.
The Angle demo could be ideal for all types of creative with a smart front page and a separate portfolio page with modest effects and smooth transitions between categories. The rest of the site reflects the same quality of light and space with modern fonts and a logical flow throughout the site.
Pros of Angle:
Very current design
Could work for individuals or studios
Powerful portfolio section
Fully responsive
Cons of Angle:
Very little to criticize here
Angle Pricing
Angle costs $69.
Opinion of Angle
Angle is a superb WordPress portfolio theme that doesn't do anything outstandingly well but does enough across the board to make it a compelling option when considering a new theme. It's smart, modern and very flexible and we like it for that.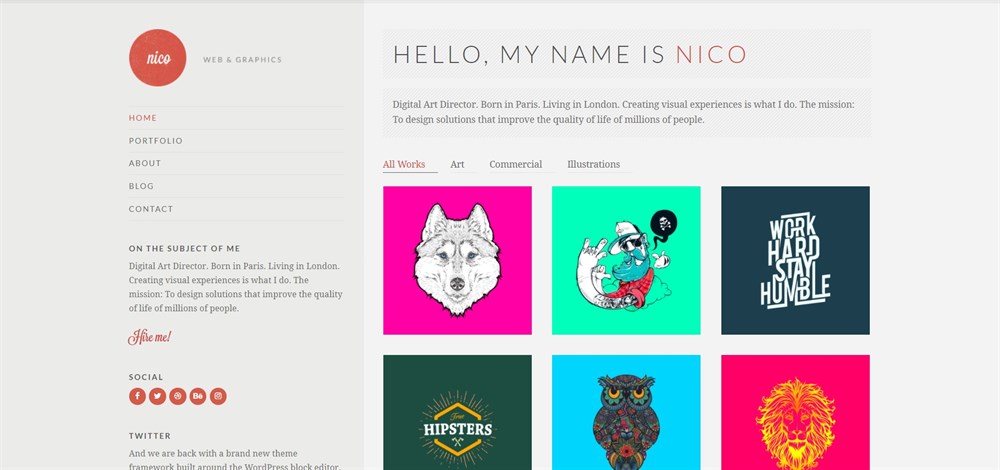 Nico is something different. It's another modern take on the WordPress portfolio theme but uses a boxed layout with a side menu to showcase your work. It's a relaxed theme with soft colours, a mix of serif and sans serif fonts and a mix of muted elements that let the portfolio stand out.
We like Nico because it's different. It's another design content to showcase the work and stand back and let you admire it. All while being there for when you need it. The colour choice, mix of fonts and feature-packed side menu make this the perfect choice for some creatives.
Pros of Nico:
Boxed layout with innovative side menu works well
Content to showcase your work without taking away from it
Includes all the elements you're likely to need
Image pages are a standout feature
Cons of Nico:
There is little to fault here
Nico Pricing
Nice costs from $39 up to $199.
Opinion of Nico
Nico is a very well designed WordPress portfolio theme. It's characterful, modern, easy to use and nice to spend time with. It's also not driven by ego and content to stay in the background and let your work shine. That alone makes it worth the investment.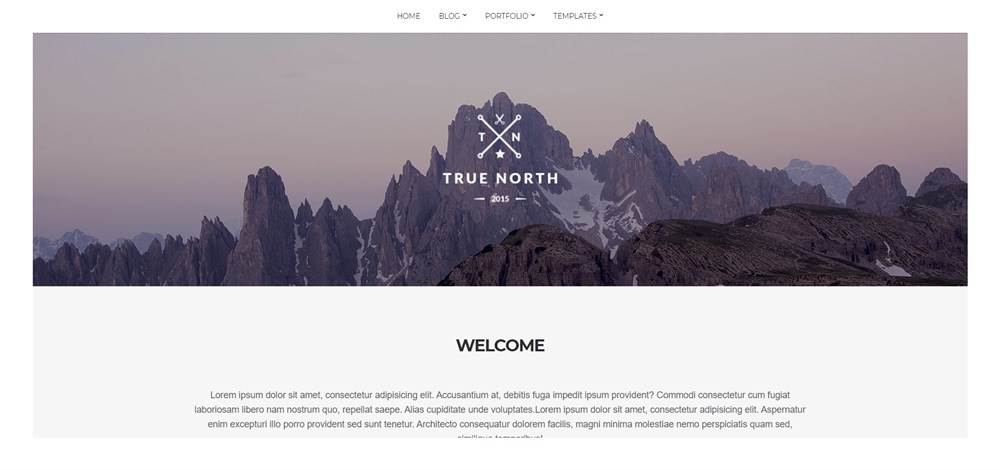 True North is another of our free WordPress portfolio themes. Designed by CSSIgniter, the same people behind Nico, this is another top class design well worth your attention.
True North is a simple, unfussy design built as a business or studio website with a modest header, simple navigation and introduction and then a smart portfolio section. It's that portfolio that makes it stand out but we're not sure why. It doesn't shout. It isn't particularly innovative but there is something about it that makes it shine.
Pros of True North:
Simple, unfussy design
Very flexible theme with the freedom to customize
Responsive and fast loading
Compatible with most WordPress plugins
Cons of True North:
Will require more work from you than many premium themes
True North Pricing
True North is a free theme.
Opinion of True North
True North is a great design done well. Simple but effective. Characterful but not overly so. We still can't decide why we like that portfolio section so much but we think you might like it too.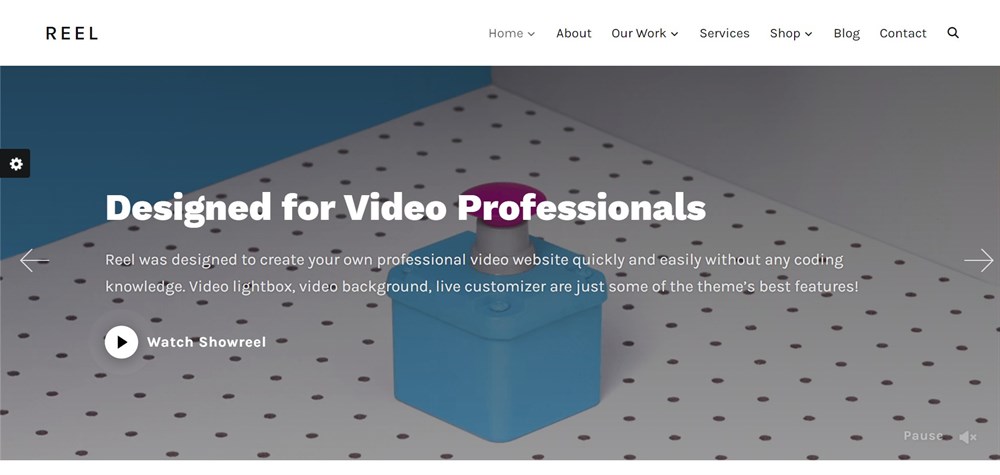 Reel is designed as a video portfolio theme but could work equally well for images or artwork too. It's a modern design with attractive aesthetics, including a full screen video header with integrated player.
The rest of the demo site is a straightforward portfolio grid of videos with a simple hover effect. Extra portfolio pages expand your options extensively.
Reel works exceptionally well because of that simplicity as it's the content that has your complete attention and nothing else. You could add more content if you wanted as the theme is flexible enough to support it.
Pros of Reel:
Interesting video WordPress portfolio theme
Lots of portfolio options included within the theme
Simple but very effective design
Flexible and responsive
Cons of Reel:
More expensive than some other WordPress portfolio themes
Reel Pricing
Reel costs $79.
Opinion of Reel
Reel is the ideal option for those of you that need a video WordPress portfolio theme. It's light, easy to use, has some nice effects and a selection of portfolio layouts to choose from. What's not to like?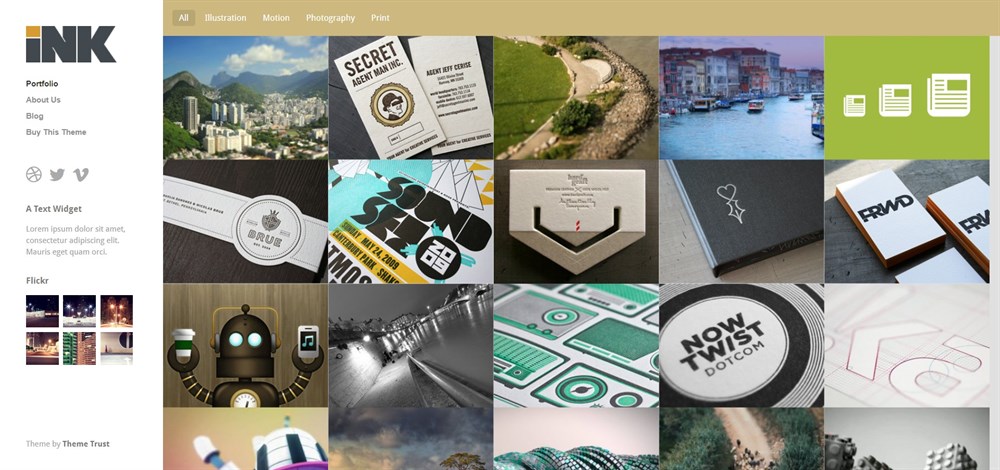 Ink is a powerful WordPress portfolio theme. It's another full screen design with a side menu that makes an immediate impact. That side menu is modest but effective and could be expanded easily to fill that side section much better than in the demo.
The main page is a grid showcase of your work with simple hover effects. Click an image and you're taken to an attractive page that expands on it and adds content to help you showcase, promote or sell your work. It's an intelligent design that deserves to be used.
Pros of Ink:
Smart design with side menu layout
Attractive portfolio grid with hover effects
Equally attractive individual image pages
Page loads quickly despite the number of images
Cons of Ink:
You're going to need an extensive portfolio to fill that page
Ink Pricing
Ink costs $49.
Opinion of Ink
If you have enough work to fill that main page, Ink is an excellent option as your next WordPress portfolio theme. It's lightweight, loads quickly and includes some modern touches that will work for many types of audiences.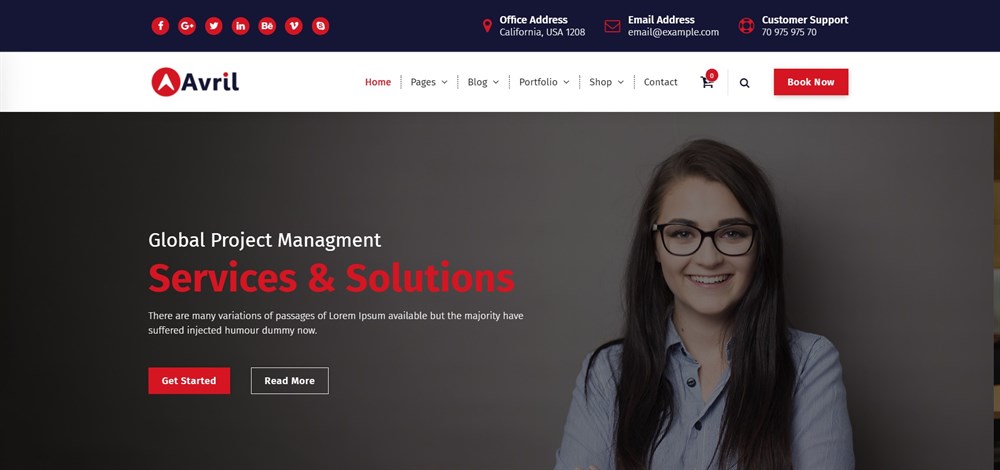 Avril is a free WordPress portfolio theme with a premium option. Either could work very well as they are equally flexible and offer similar opportunities for customization.
Avril is a corporate design with a full screen image header, bold colours, modern fonts and some very clever touches throughout the page. There isn't a dedicated portfolio section but the theme includes the opportunity to add them with similar characteristics as the rest of the design. For that we recommend it.
Pros of Avril:
Bright and attractive design
Enough flexibility to customize to your own tastes
Can be customized to add a portfolio with ease
WooCommerce compatible
Cons of Avril:
Doesn't include a portfolio section by default
Avril Pricing
Avril is a free WordPress portfolio theme with a premium option from $49.
Opinion of Avril
We like Avril because it's a corporate theme with real character. If you're looking for a portfolio for your business, combining modern design with that portfolio could be just what you're looking for.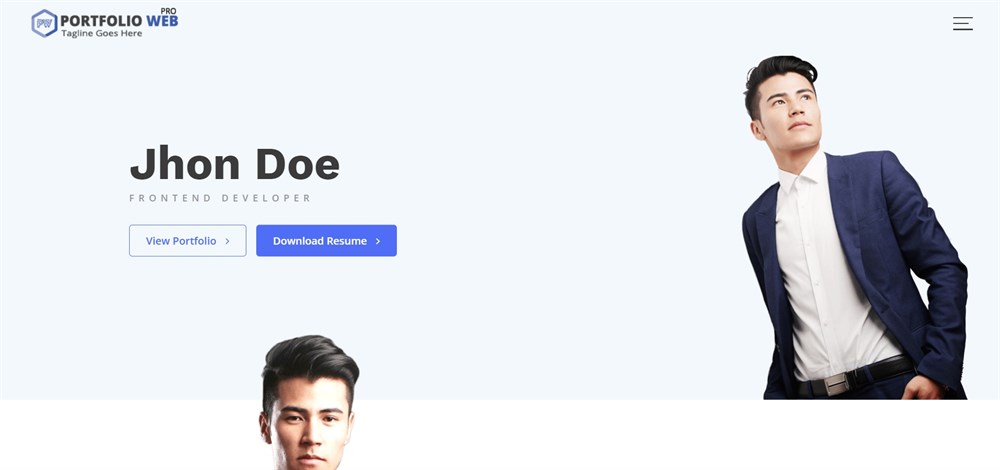 Portfolio Web Pro is a smart modern theme with some nice touches. It's part resume, part corporate and part portfolio and works for all three. It's modern, light, engaging and uses white space exceptionally well.
The demo begins with a compelling main image and buttons to take you directly to the portfolio. The page scrolls smoothly to tell your story, past a history section, services and experience and down to the portfolio. It's a flat grid layout with hover effects and is one of the best portfolio sections here. That section alone is why it's in our list.
Pros of Portfolio Web Pro:
Attractive design with wide appeal
Works for companies, studios or individuals
Smooth page flow
Very compelling portfolio section
Cons of Portfolio Web Pro:
Nothing to criticize here
Portfolio Web Pro Pricing
Portfolio Web Pro costs $55 or $99.
Opinion of Portfolio Web Pro
Portfolio Web Pro is one of the few WordPress portfolio themes that appeals equally across the entire range of creatives. That makes it well worth exploring even for the portfolio section on its own!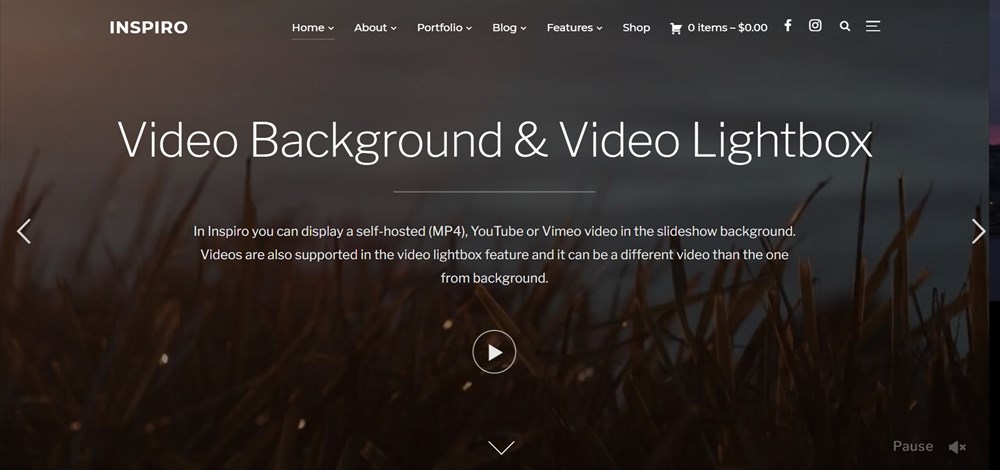 Inspiro is a little controversial but is so effective that we think you should definitely check it out if you're looking for a video portfolio theme. It's controversial because it uses autoplay video in the header. You could disable that but would it make the same impact?
There are several demos built around different portfolio types. Each is modern, well-balanced, includes modern typography and design flourishes that make it stand out. If you can create a video intro without autoplay, it could be the only video portfolio theme you ever need!
Pros of Inspiro:
Very impactful first impression
Selection of predefined demo themes all ready to go
Modern design with some nice touches
Modern typography works well
Cons of Inspiro:
Autoplay video is a definite no-no
Inspiro Pricing
Inspiro costs $79.
Opinion of Inspiro
Inspiro is a very competent WordPress portfolio theme that has both video and image demos that could suit almost any purpose. It's flexible and can be fully configured how you like. That more than makes up for the autoplay faux pas.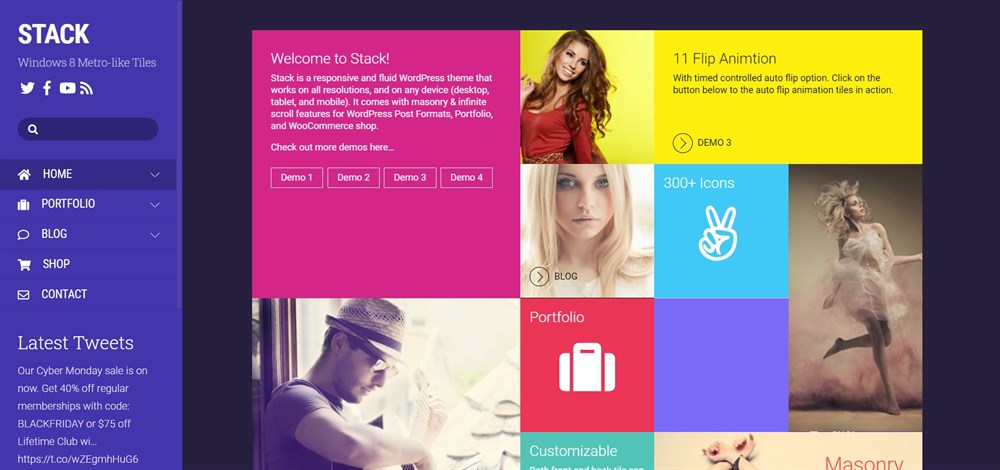 Stack is a WordPress portfolio theme that likes to make an entrance that's for sure. It's a full screen design reminiscent of the Windows desktop with a colourful sidebar and animated centre tiled sections. Those tiles would be where you showcase your work be it images, art, video or something else.
Despite looking like Windows, this is a very attractive design. Bold colours, dark background, stark fonts and the animations all work well. We would suggest changing it up so it doesn't look like your desktop but otherwise, this theme has everything you need to build a modern, attractive portfolio website.
Pros of Stack:
Colourful and impactful
Smart tile design works well with the animations
Side menu done well
Flexible and configurable
Cons of Stack:
The Windows aesthetic won't work for everyone
Stack Pricing
Stack costs $59 or $69.
Opinion of Stack
We like Stack despite its similarity to Windows, not because of it. It's colourful, characterful and makes a real statement. It also provides the perfect opportunity to showcase yourself and your work, if the aesthetic works for you that is.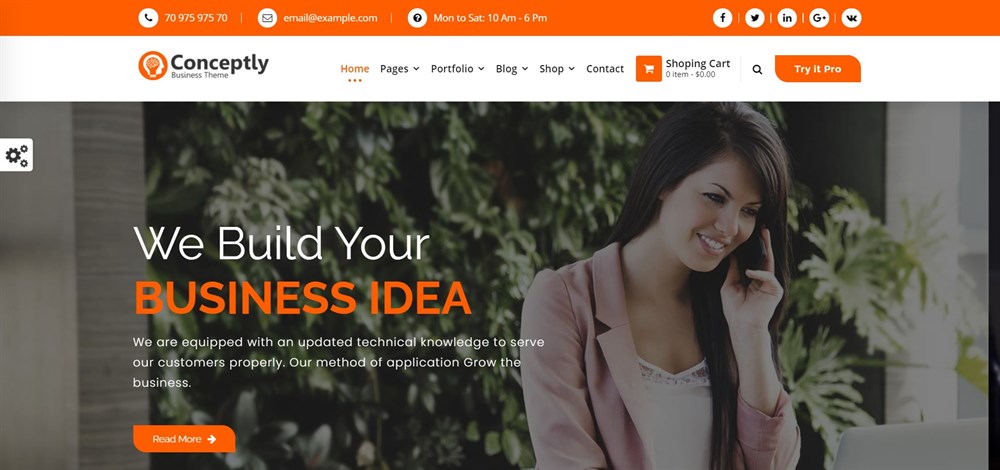 Conceptly is another non-portfolio theme that is so strong that we think it could make a superb portfolio theme. Orange always works online and this theme takes orange and runs with it.
This is a corporate design with some nice flourishes we think could work for larger studios or companies. It uses colour well, just enough to make a statement but not too much that it hurts your eyes. Plenty of white space lets the eyes rest between sections too. Even a quick look at this theme will demonstrate quite clearly why we like it!
Pros of Conceptly:
Bold design with great use of colour and white space
Flexible enough to handle any customization
The right kind of impact for a portfolio
Fully responsive
Cons of Conceptly:
Will take more work to customize than a dedicated WordPress portfolio theme
Conceptly Pricing
Conceptly has a free version and a premium option that costs from $49.
Opinion of Conceptly
Conceptly is not a WordPress portfolio theme but it could be. We think it's easily strong enough to take any kind of customization and would work well for larger studios or organizations who want to showcase their work.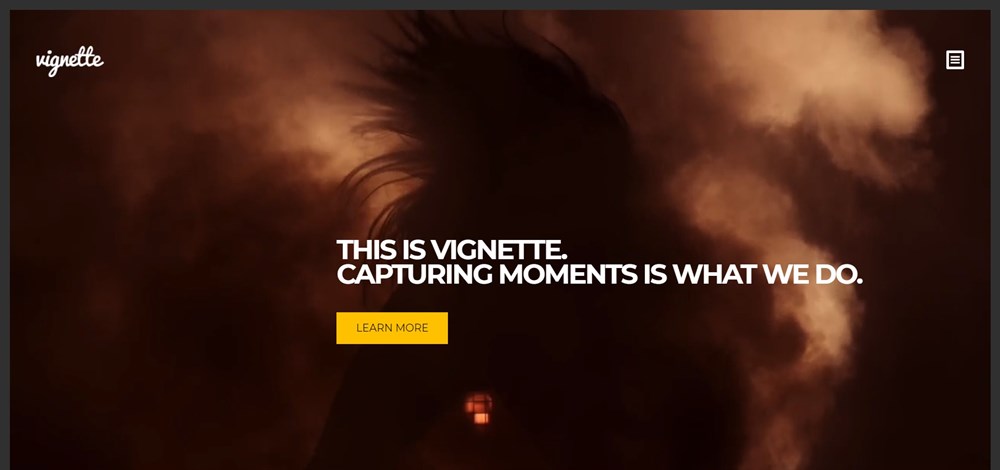 Vignette is a dark WordPress portfolio theme with a modest mustard contrast colour that works surprisingly well. Much of that is down to the quality of the images and if you can replicate that, this could be the last theme you look at today.
The demo begins with a plain black header image which is the opposite of the norm. A simple headline and button works well. Below the fold is where the action is and a portfolio grid shows you exactly why we like it. While the images are stylized, you can immediately see how well it could work for you.
Pros of Vignette:
Stylish modern design
The plain header works surprisingly well
The stylized portfolio section is superb
Can be customized anyway you like
Cons of Vignette:
Vignette Pricing
Vignette costs from $39 to $199.
Opinion of Vignette
Vignette is a particularly striking WordPress portfolio theme thanks to that design. It's modern, attractive and could span the entire range of creative work with ease. It's also responsive, fully customizable and great value too!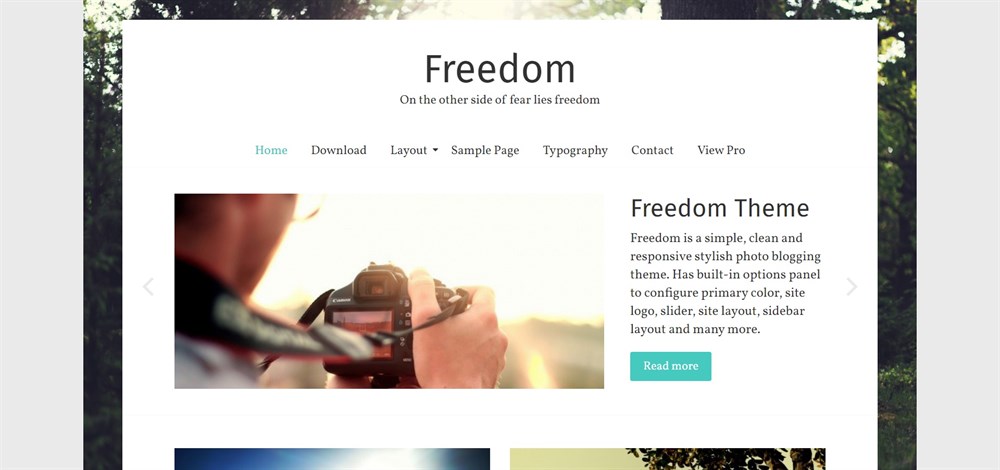 Freedom is a free WordPress portfolio theme with a premium option. Both are light and breezy designs built for portfolios with boxed layouts, attractive background image and simple typography.
Freedom doesn't look or feel like a free WordPress portfolio theme. The pro version just adds to that but the free version is perfectly usable. It uses white space well, has an integrated image slider, subtle hover effects and compatibility with drag and drop page builders.
Pros of Freedom:
Works with Elementor, Brizy, Gutenberg, Beaver Builder and SiteOrigin
Clean design with good use of white space
Lots of opportunities to showcase images and video
Fully responsive
Cons of Freedom:
The free version will require more work than the premium
Freedom Pricing
Freedom has a free option and a premium version that costs $69 or $99.
Opinion of Freedom
Freedom is a standout free WordPress portfolio theme that is simple and sophisticated at the same time. It's a clean design with lots of opportunities to showcase your work.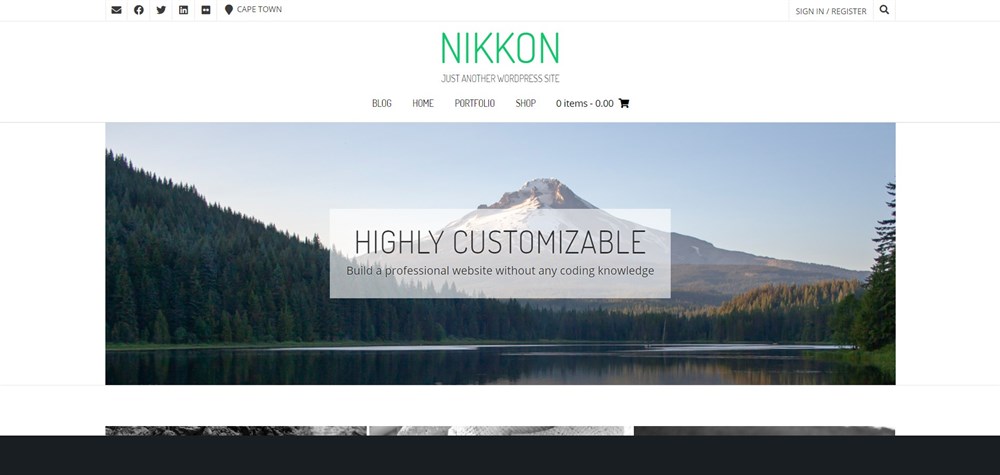 Nikkon is a multipurpose WordPress theme that lends itself well to a portfolio. There is a free and a premium version of this template and both work equally well to showcase images.
The demo template is clean with lots of white space and a portfolio grid front and centre. Images have a smart monochrome to colour transition that works well and lots of opportunities to add supporting content should you wish. Individual image pages are simple but very effective too.
Pros of Nikkon:
Clean white design with elegant simplicity
Image transition is particularly effective
Compatible with most page builders
Fully responsive
Cons of Nikkon:
You would have to add your own content elements to help with SEO
Nikkon Pricing
Nikkon is a free WordPress portfolio theme with a premium version that costs $25.
Opinion of Nikkon
Nikkon is a minimalist design that doesn't do much but provide the foundation for your portfolio. Despite that, the overall effect is very attractive. It also means this template is flexible enough to handle all kinds of art covering most tastes.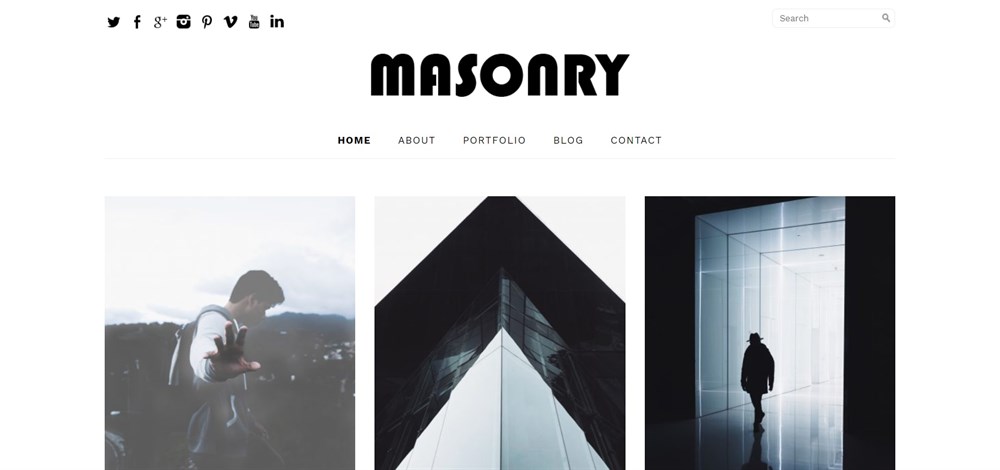 As free WordPress portfolio themes go, Masonry is about as minimal as it gets. A stark framework with a text logo, modest navigation and nothing to distract the eye from your portfolio. It works surprisingly well considering the lack of anything else on the page.
That isn't a criticism. We think Masonry works well, especially for a free theme. A large grid layout does the job nicely with a very simple hover effect. Individual image pages are equally simple but showcase the work without getting in the way.
Despite what it looks like, it takes great skill to do minimalism well and this is a great example of that.
Pros of Masonry:
Unfussy design that lets the images shine
Minimal design done well
Fully customizable to fit your own brand
It's free!
Cons of Masonry:
Very little to criticize aside from lack of page builder
Masonry Pricing
Masonry is a free WordPress portfolio theme.
Opinion of Masonry
Masonry does minimalism well. To get that kind of appeal with very little to create it takes a good eye for design. That's exactly what you get here. For free.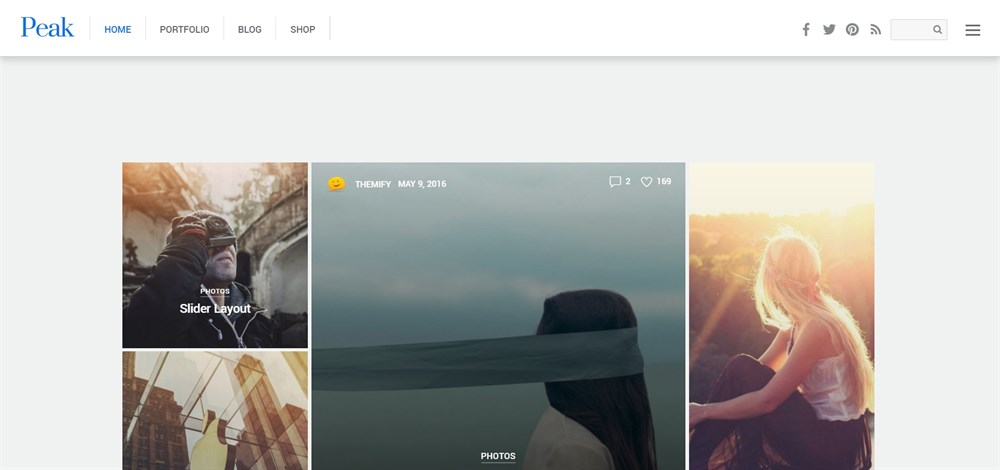 Peak is another multipurpose theme with an appealing portfolio section. The demo opens with that portfolio in a grid layout. Images have a subtle shader hover effect and open into individual image pages with a nice top section and supporting content underneath.
Peak is a well-balanced WordPress portfolio theme. Lots of images and lots of white space. Lots of colour and lots of plain areas. It's a great balance that is hard to design into a template that scrolls to the length of Peak.
Pros of Peak:
Portfolio section is very pleasing to the eye
Well-designed individual image pages
Lots of customization options
Masonry grid is very current
Cons of Peak:
Themify builder is a little simplistic
Peak Pricing
Peak costs $59 or $69.
Opinion of Peak
Peak is another of those WordPress portfolio themes that is much more than the sum of its parts. It looks simple but is complex. Looks minimal but offers a lot. It's a genuinely compelling template that could work in a range of situations.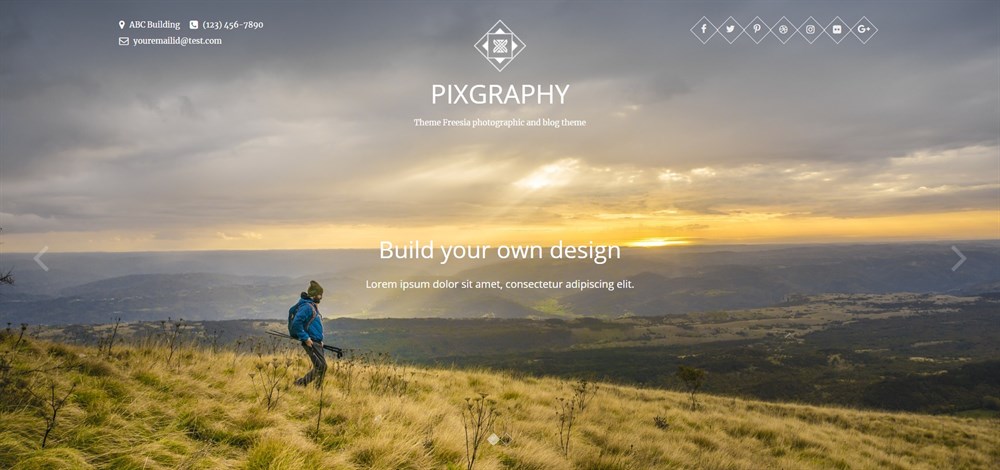 Pixgraphy is a free WordPress portfolio theme with a premium option that delivers a lot for no money. It opens with a full screen image slider and opens into a grid layout with a very colourful image gallery with hover effect that effortlessly draws you in.
The rest of the page is equally well designed with a range of styling options and content sections you can use to supplement the gallery. It's a very well designed theme with a lot to recommend it.
Pros of Pixgraphy:
Very impactful design
Strong full screen image
Stylish grid portfolio with hover effect
It's free!
Cons of Pixgraphy:
This is another theme that will require superior image handling skills
Pixgraphy Pricing
Pixgraphy is a free WordPress portfolio theme with premium versions costing from $59 to $99.
Opinion of Pixgraphy
Pixgraphy is a strong portfolio theme with everything you need to showcase your work. It's flexible, includes lots of styling options, a very strong portfolio section and some workable image pages. Plus it's free.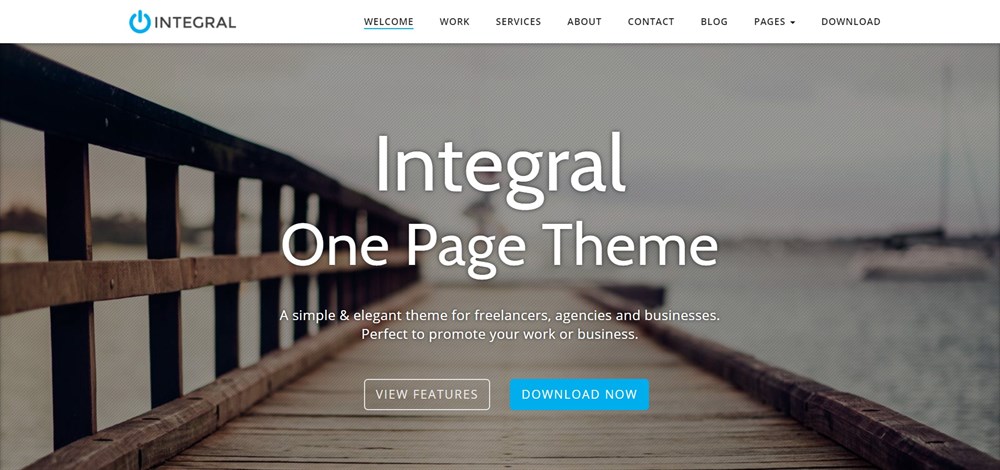 Integral is another interesting free WordPress portfolio theme with a premium option. It's another clean modern theme with some attractive design flourishes that make it worthy of note.
The demo for Integral is a standard corporate layout that could be customized to suit anyone. It opens with a large header image and includes the usual content elements until you get to the portfolio. Here you have a large single image portfolio section and a grid section. Both of which could showcase your work with minimal effort.
Pros of Integral:
Modern design with some nice touches
Great use of white space
Single image portfolio is a nice touch
It's free!
Cons of Integral:
Will require work from you to make it shine
Some useful elements are premium only
Integral Pricing
Integral is a free WordPress portfolio theme with a premium version that costs $67.
Opinion of Integral
Integral has a Euro feel brought by the font and use of white space. The portfolio sections are why the theme is here but are supported more than competently by the rest of the design.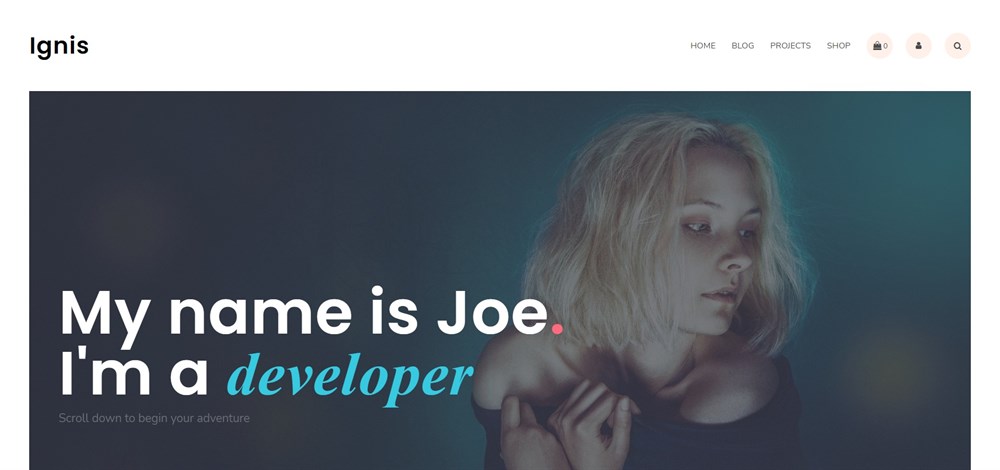 Ignis is our final free WordPress portfolio theme. It's an impactful design with a lovely header image with nice tinting. A scrolling headline attracts the eye almost as much as the image. The rest of the theme is equally compelling.
The rest of the page opens out into a minimal grid layout perfect for showcasing your work. There is nothing to distract the eye and some simple effects to make them more interesting. A series of optional pages just adds to the flexibility of this theme.
Pros of Ignis:
Striking first impression
Simple portfolio grid with no distractions
Attractive single image pages
Great use of white space and fonts
Cons of Ignis:
Ignis Pricing
Ignis is a free WordPress portfolio theme.
Opinion of Ignis
Ignis is simplicity done well. It's a little playful too, setting you up with a fullscreen image and then switching to minimalism with a simple, unadorned portfolio grid. It's well worth a look.
Recommended Plugins for Portfolio Websites
As well as a series of 36 WordPress themes, there are also three portfolio plugins we would recommend you use on your website.

WP Portfolio is a powerful plugin that helps you quickly build website, image or video portfolios. It comes with over 40 portfolio templates, provides full customization of every part of the layout and design and works seamlessly with Astra and other WordPress templates.
It's a very powerful way to build multiple portfolios and use them on a website!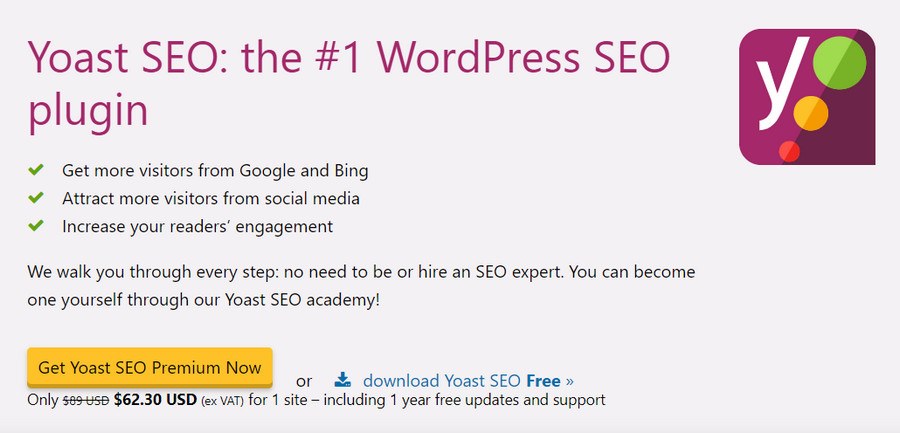 Yoast SEO is the best WordPress plugin for managing Search Engine Optimization. Once you have poured your heart and soul into your website, you want people to find it. Yoast SEO helps you with that by simplifying the many SEO tasks you need to get noticed.
It has a free or premium version that offers the opportunity to control the majority of SEO requirements you'll need to take care of.

Schema Pro is the perfect WordPress plugin for handling schema markup. Schema markup influences how your website appears in search engine results and enables them to provide more informative results. This should in turn encourage them to visit your site.
Schema Pro handles the vast majority of the work so you don't have to. If you care about how your site comes across in the search engines, you need Schema Pro.
Summary
So that's our list of the 36 best WordPress portfolio themes around. We think there is a good mix of designs covering every potential audience and taste.
Some stand out for being bold and colourful while others are notable for their simplicity. Either way, if you're looking for a new WordPress portfolio theme, you're sure to find it here! or you can always look at photography WordPress themes, which are very suitable for portfolio websites.
Which Theme Should You Choose?
As always, you won't go wrong if you choose any of the themes features on this page. However, a couple stand out from the crowd.
Astra stands out because of the quality of the designs, flexibility of the layouts and power of the page builders. It is an exceptionally flexible and fast loading theme with some very cool features.
Perfect Portfolio also stands out for being a great looking free WordPress portfolio theme. Too often, free themes are obvious due to old designs, out of date typography or lack of character. This theme avoids all that.
Do you use any of these themes? Which WordPress portfolio theme would you choose and why? Tell us your thoughts below!