Over the last few years, we at team Astra have experienced tremendous growth with our WordPress and WooCommerce themes and plugins.
The WordPress community has always wanted faster, lighter and better-performing websites. That's exactly what Astra delivers.
With community support and feedback, we have continually improved the capabilities of our flagship Astra theme (Free and Pro).
The growth has been tremendous — with over 1,000,000 downloads and growing — we are helping more & more website owners and agencies create WordPress websites.
However, with the sudden growth and popularity also comes competition.
No, we don't mean competition from other themes in the market. We welcome that!
We're talking about competition from piracy.
We're noticing an increase in pirated and nulled versions of Astra Pro.
There are many risks to downloading and using a nulled version of Astra Pro — security issues, performance issues, Google penalties, and others.
We'll cover the risks in detail in the next few sections.
To answer one of your burning questions… yes, there is a way to get Astra Pro for free.
First, I'm going to discuss the risks of using nulled WordPress themes. Then I'll outline why Astra Pro is so popular and highlight a few benefits of using Astra Pro.
Finally, I'll share a simple and totally legal way to get Astra Pro for free.
The Risks of Using Pirated Versions of Astra Pro
As the co-founder of a software company, I'm a bit biased about the risks of pirated software. So, let me start by covering the obvious.
Yes, piracy does impact our revenue, and limits our chance to re-invest and build more products for WordPress and WooCommerce.
Ok — enough about us 🙂
I want to make this article educational and useful to you, and want to focus less on the impact it has on us.
There are other risks that you can experience when you download and use pirated software.
Let's review some of the risks and hazards when you download any pirated software (not just Astra Pro).
Risk 1: Risks of Viruses and Malware
Once installed on your device it can potentially corrupt your data.
For example, hackers can log your keystrokes, hack your webcam, harvest data and worse.
Malware or spyware can also tap into your home or office network. The potential damage can expand beyond access to your personal and business information.
One of the most significant threats affecting small businesses is the rise of ransomware.
Ransomware affected 66% of organizations in 2021. That's an increase of 78% over 2020 according to The State of Ransomware 2022.
The potential personal, business and financial risks aren't worth the money you will save by getting a nulled or pirated version.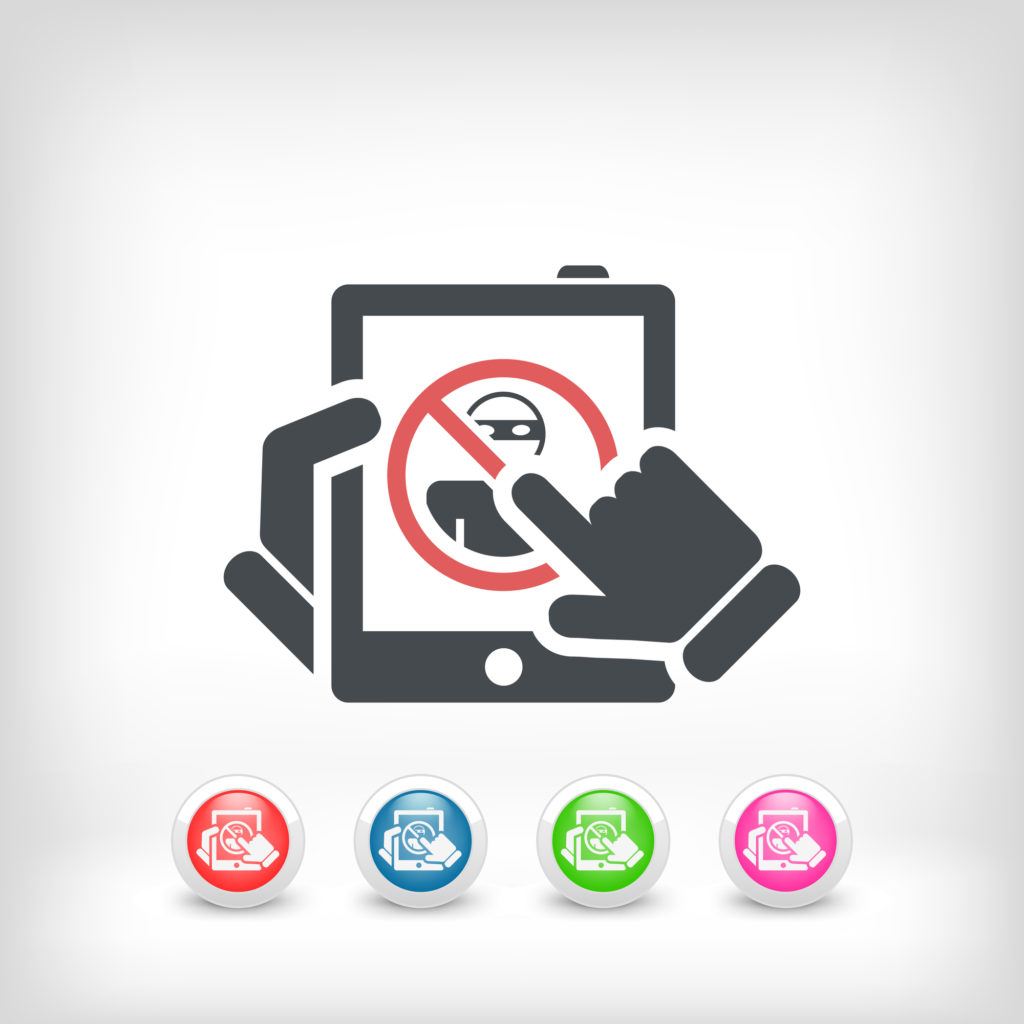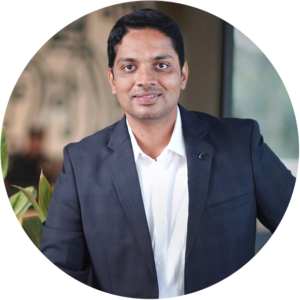 Hello! My name is Sujay and I'm CEO of Astra.
We're on a mission to help small businesses grow online with affordable software products and the education you need to succeed.
Leave a comment below if you want to join the conversation, or click here if you would like personal help or to engage with our team privately.
Risk 2: Risks of Your Website not Working Properly
If you are reading this then the chances are that your website is either using WordPress or WooCommerce.
The good news is that WordPress continues to grow as the largest CMS in the market.
The bad news — WordPress websites are also the most hacked or vulnerable to cyberattacks.
If you install any type of pirated WordPress software i.e., plugins, themes, etc. this increases the risk of your website getting hacked.
The malware usually modifies either the index.php files or functions.php files. This gives the attacker access to your WordPress site, including files, users, orders and other data.
The implications could be severe
Pirated software could hurt your SEO. After all, Google blacklists in excess of 10,000+ websites every day.
Blacklisting affects your website's user experience, and also your search results. Sites lose about 95% of their search traffic once Google blacklists them.
And it can take about 3-4 weeks or longer to get a proper response from Google, and even longer to rectify your SEO situation.
Small businesses and agencies spend months, if not years, to build their SEO traffic. The implications or risks of an SEO penalty isn't worth a few dollars you can save with pirated software.
Risk 3: Compatibility Issues With WordPress and Other Plugins
If you've used WordPress for a while you're probably already aware of the constant updates and maintenance it requires.
On average, WordPress has a major release every year and several minor updates throughout the year.
Most WordPress plugins are updated by developers to keep up. The plugins are updated to ensure that they are compatible with the latest version of WordPress.
Running a WordPress or WooCommerce website is like maintaining a car. There are many moving parts, and you have to continually maintain (or update) it to ensure a smooth ride (or smooth operation).
Themes aren't any different. Each WordPress Theme creator wants to ensure that their themes are also compatible with both the latest WordPress version, and other plugins.
Astra is no different.
In total, we've made over 122 version updates to the Astra theme, 103 version updates to Astra Pro, 55 updates to Starter Templates (formerly Astra Sites) Plugin.
It's in our and our client's best interest to continually update the theme.
When you download a pirated or nulled version, you aren't getting these updates. Pirated theme might work in the short-term, but eventually at some point it'll probably stop working.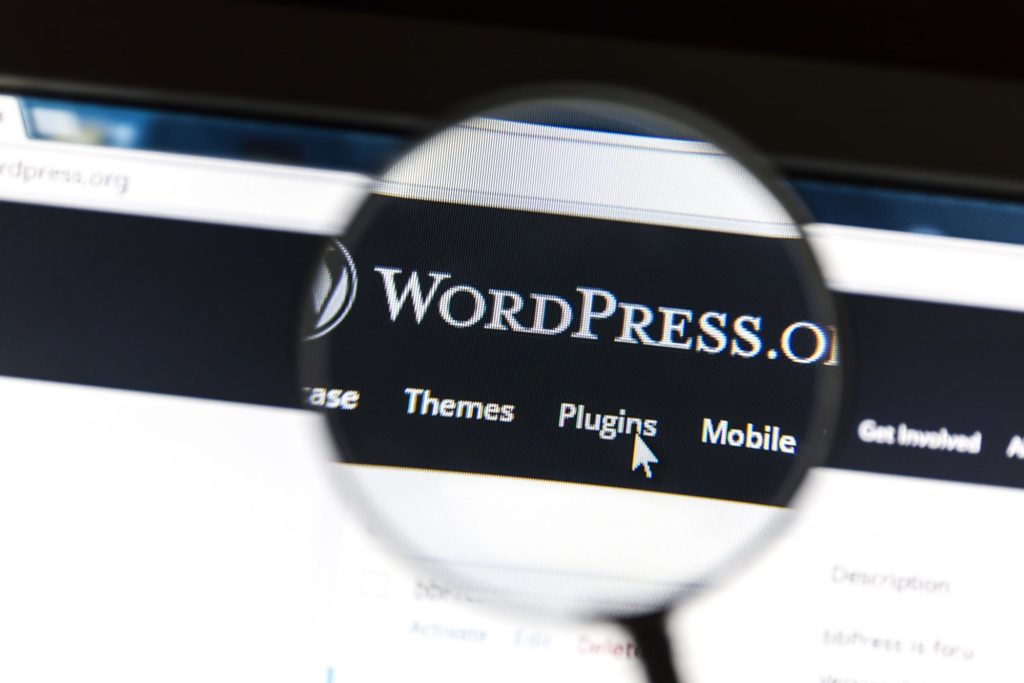 Risk 4: Support Issues
When you download pirated software, you're on your own.
If you experience any compatibility or reliability issues you don't get access to support.
Astra Pro's support isn't any different. I'll cover more in-depth about the level of support in another section below.
Let's say you rely on your website to attract users, convert customers, and sell products, the last thing you can afford is downtime.
If you do experience downtime, you want to ensure support is there to get your site back up.
That's the benefit you lose out on when using pirated or nulled version of Astra Pro.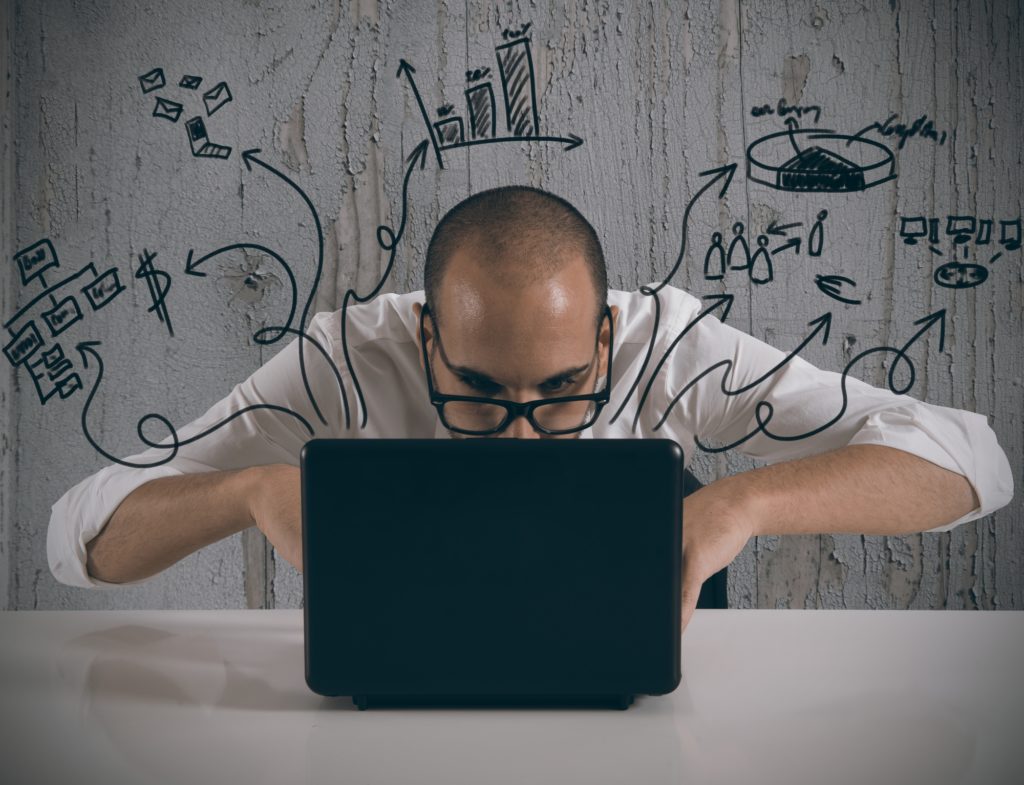 A Quick Look at Astra Free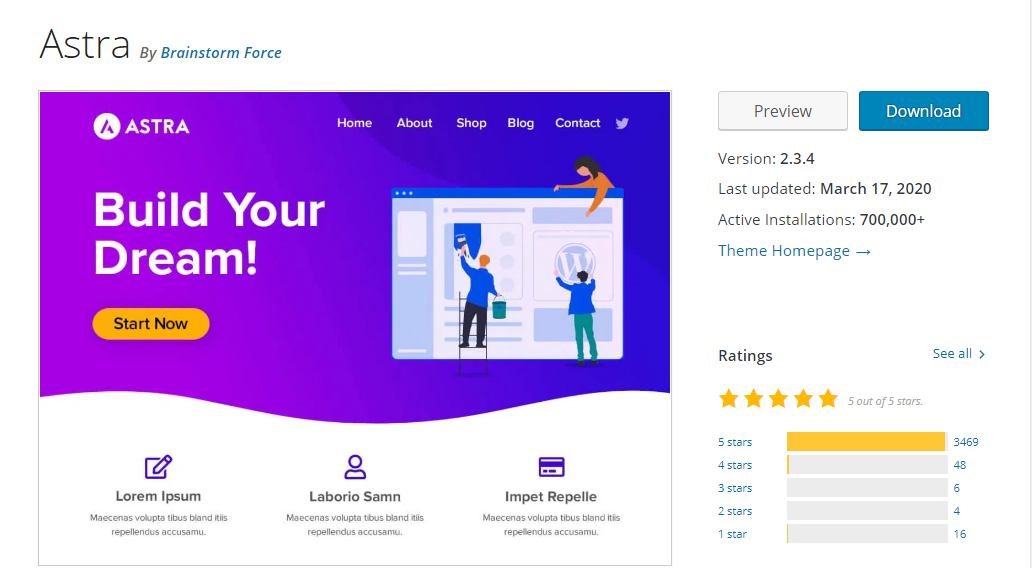 Astra has a free version that you can download to build your WordPress and WooCommerce website. The good news is it is free forever.
The free version provides you with the customizations that you need to launch your website or eCommerce business.
Astra also provides Starter Templates, a free library of readymade websites and single page templates.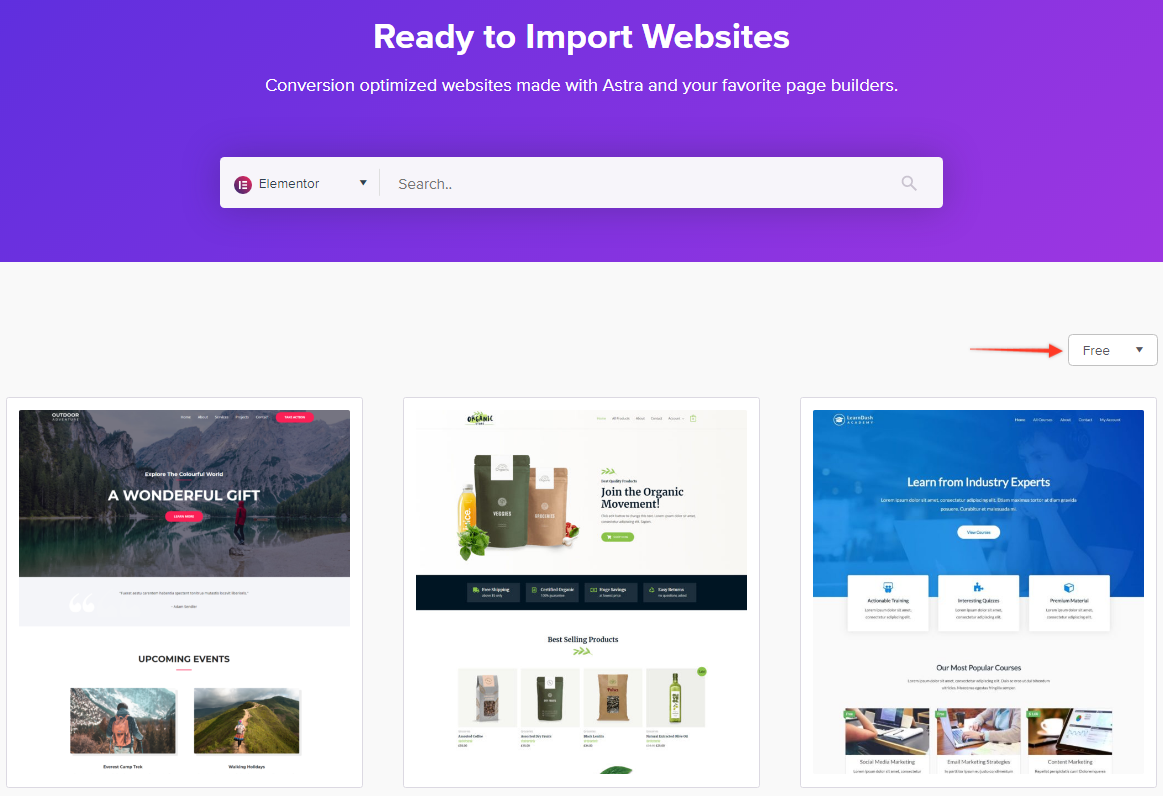 Astra Free is also compatible with the popular website builders in the market including:
You can quickly get your WordPress website up and running in less than 60 minutes using Astra.
However, we realized that many webmasters and agencies want additional customizations based on their unique needs and brand guidelines.
For those reasons, we also have a premium version – Astra Pro.
In the next few sections, we'll cover the features that are unique to Astra Pro, and we will also discuss some pricing options.
Key Features of Astra Pro
In this section, I wanted to highlight some of the main features that Astra Pro has.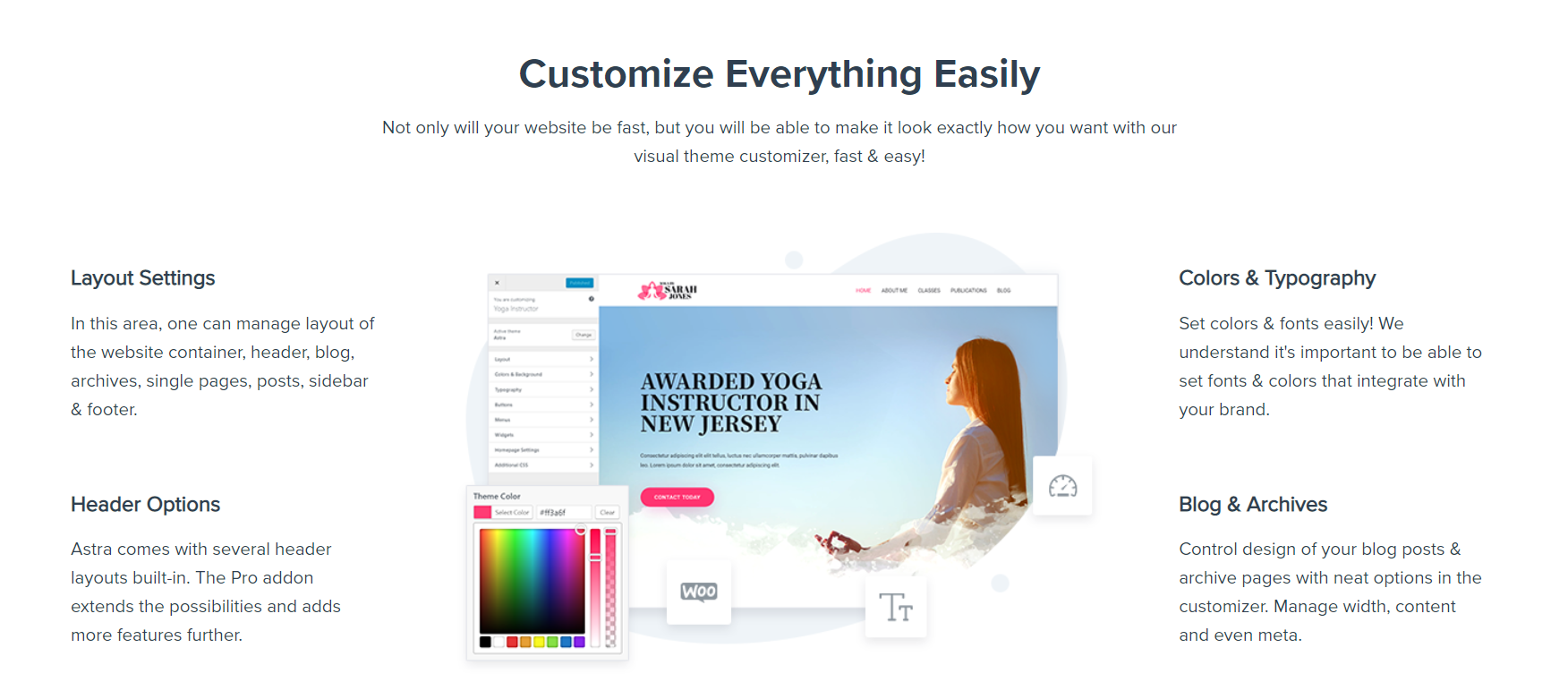 Feature 1: Additional Customization for Site Layouts
Astra Pro users like you get the benefit of multiple site layouts to build any type of website you want.
There are four site layout options you can choose from:
Full-width layout
Max width layout
Padded layout
Fluid layout
The benefit is that you can personalize the design based on your unique niche, industry, or needs.
No two websites built using Astra Pro need to look the same.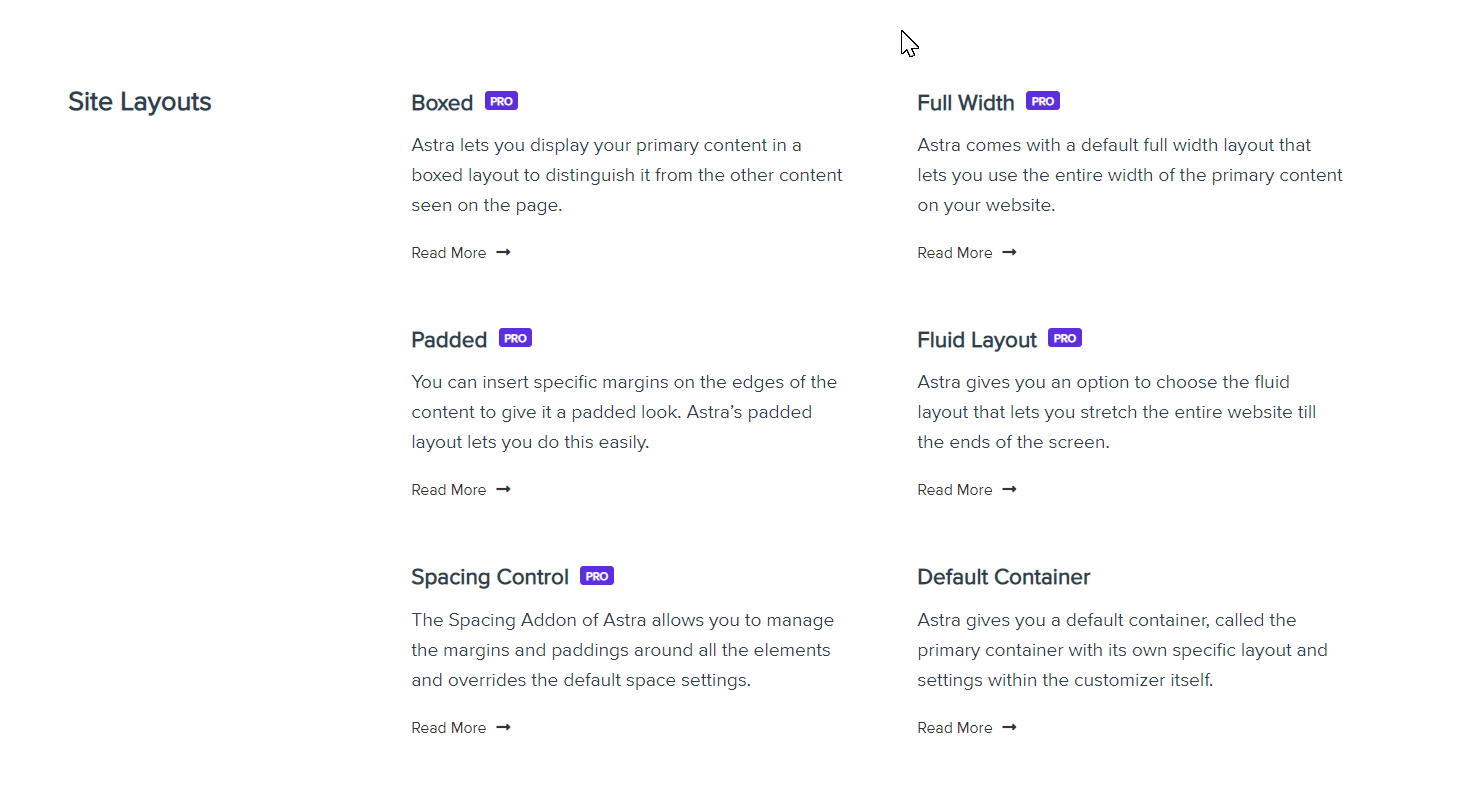 Feature 2: Additional Customization for Blog Layouts
The blog on your website makes up for an essential piece of real estate. It helps you attract new users, build loyalty, and convert them into customers.
The design and layout of your blog have an impact on how your users interact with your site.
With Astra Pro — you're no longer stuck with one-type of blog design.
You have the option to choose from 3 different variations on how to display your blog posts:
List layout
Grid Layout
Masonry
Also, you can further customize the way a single post looks using Astra Pro.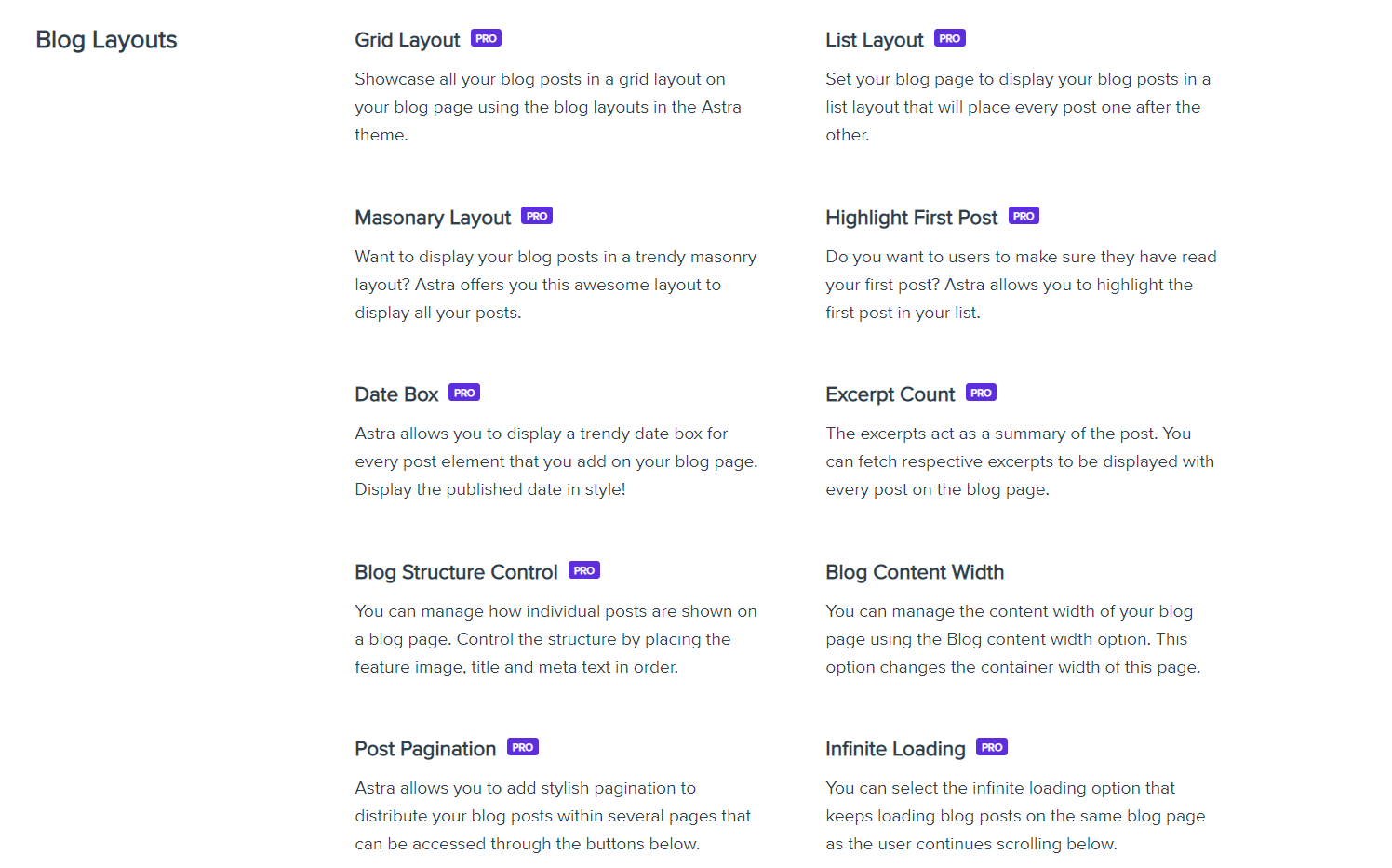 Feature 3: Enhanced Typography
Perhaps have a brand guideline that you want to use on your WordPress website. By default, the number of fonts is limited in WordPress.
However, using Astra Pro you can add and choose from up to 800+ Google fonts.
Typography is a simple way to help make your website stand out, and stay in line with your brand guidelines.
Feature 4: Additional Colors and Background customization
Speaking of brand guidelines the colors you choose to have a considerable impact on your overall branding and how people react to your design.
Astra Pro gives you the flexibility to make color changes to various aspects of your website including:
Global color changes
Header
Blog
Sidebar
Giving you complete control to manage every section of your website.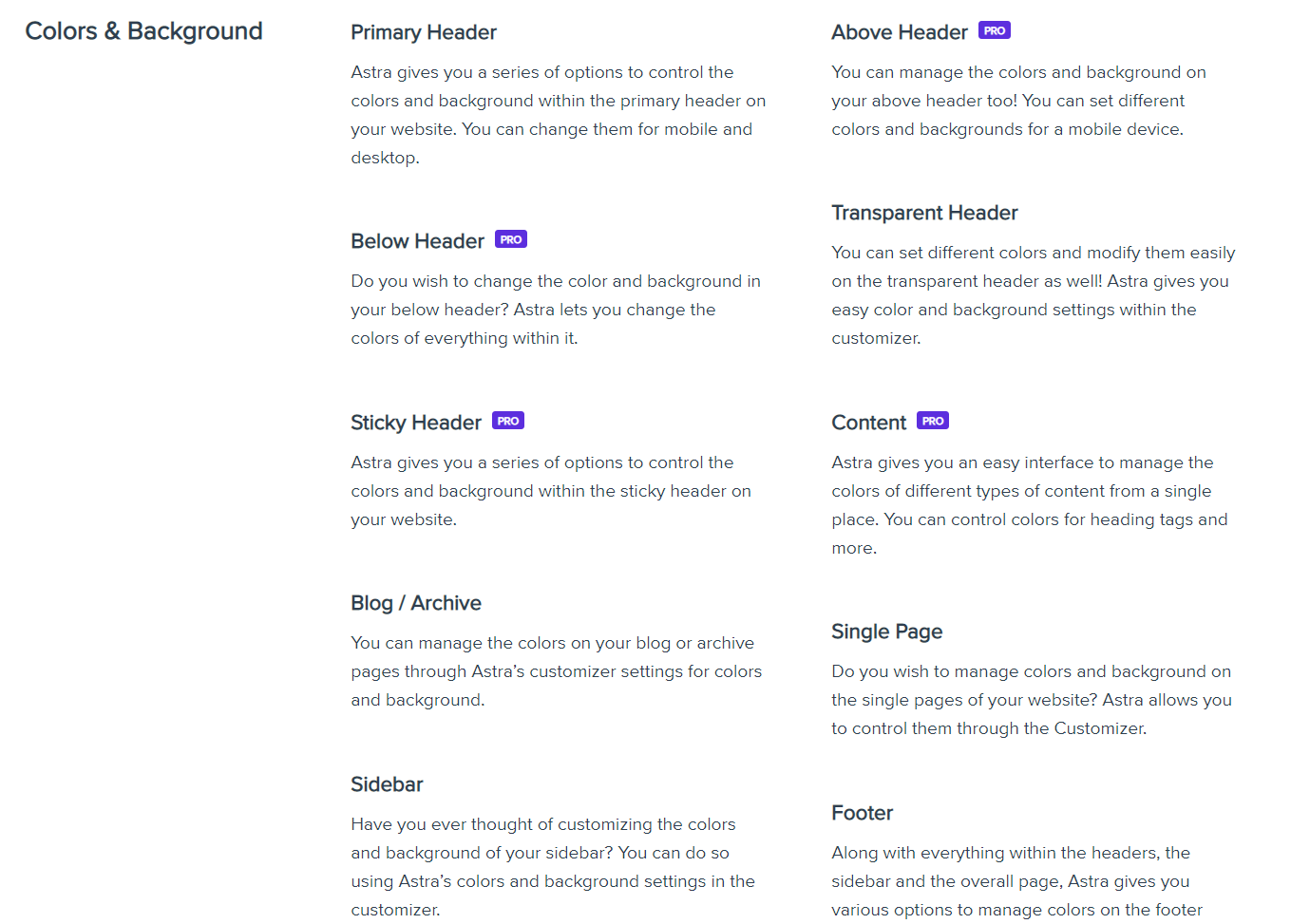 Feature 5: Multiple Header Designs
Most themes only allow you flexibility on updating the Main Header.
If you want to make any additional changes or introduce other headers, it requires some heavy-lifting (or coding) on your side.
This can prove time-consuming, and if you aren't a developer can also prove to be rather expensive.
With Astra Pro — you have the option to add additional headers either above or below the main header.
You also have the option to customize the header for each page, instead of using the universal header.
There's also the option to use a sticky header which feature on many newer websites.
Feature 6: Flexible Footers
Astra Pro allows you to customize your footer (7 different variations to choose from).
One column
Two-column
Five columns
Variable layouts
In addition, Astra Pro also gives you the option to customize the width, padding, color, background, and the typography for your website's footer.
Feature 7: Extensive WooCommerce integration
As WooCommerce gets more and more popular for eCommerce, we wanted to make sure that our customers have more customization options.
Astra already has excellent WooCommerce integration. It's as simple as downloading the plugin, setting it up and you're ready to go.
Yet with Astra Pro — the functionality has been expanded for WooCommerce including more powerful styling and customization options.
Using Astra Pro, you can customize:
Product listings and catalogs
Enhanced customization for individual products
Checkout page optimization
Optimize the colors and backgrounds
And so much more…
Feature 8: LifterLMS Integration
LifterLMS allows you to create and sell engaging courses and training-based membership websites.
Using Astra Pro along with Lifter LMS – unlocks additional capabilities and customization options:
Customize the overall appearance of the course catalog.
Customize the appearance of the membership catalog.
Customize the checkout/purchase page.
Customize the view of the individual courses for purchased students.
Customize the look of the individual courses for non-students (page visitors).
Feature 9: LearnDash Integration
Another popular WordPress LMS plugin – LearnDash is another very popular option for creating and selling online courses.
The combination of Astra Pro and LearnDash allows you to provide an enhanced user experienced for your students:
Attractive landing and course pages
Enable distraction-free learning
Customize the table of contents – border, colors, typography
Enable student Gravatars.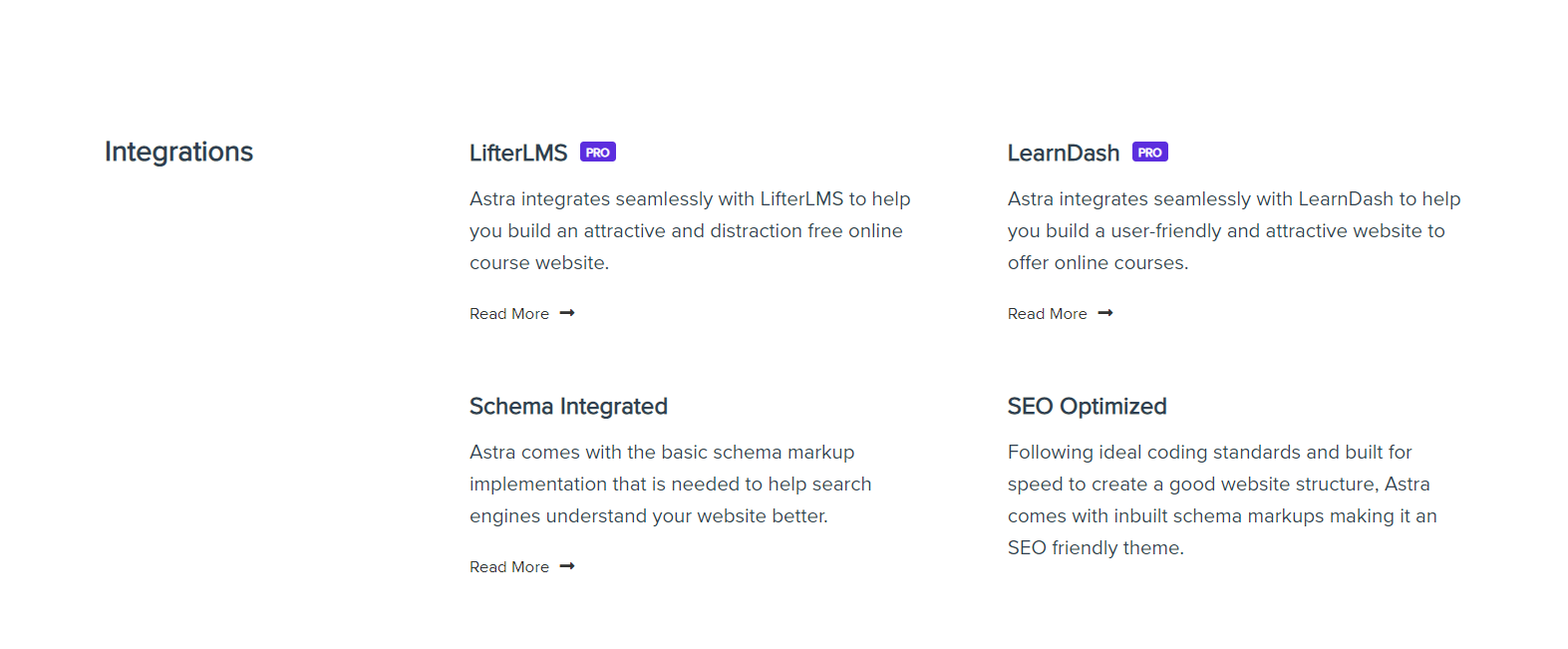 Feature 10: White Labeling
Perhaps you want to use Astra for projects delivering websites to WordPress clients.
Astra Pro helps you unlock the ability to white label the theme. This gives you the option to remove the Astra branding and use your own branding instead.
You can change almost every field and make it look like your personalized theme or website.
The Impact of Astra Pro on Page Speed
In the last section, I covered some of the customization and integration featured.
Here, I want to address page speed.
As you are probably aware, Google has started to prioritize page speed as a ranking signal both for search and ads.
Slow page speed means higher bounce rates, poor user experience, and lower conversion rates. It negatively affects your SEO and Google Ads quality score.
Page speed is a crucial factor for eCommerce sales. For example, a 1-second delay means a 7% reduction in conversions.
For a site earning $10,000/month, a 1-second improvement means an additional $700 in monthly revenue.
On the other hand, a 1-second delay means a $700 decrease in revenue.
Both Astra Free and Astra Pro have been built for speed.
Being the fastest WordPress theme in the market — websites using Astra load in less than 0.5 seconds.

Astra sites require half the resources (50KB) compared to the standard (100KB) needed by other WordPress themes. This reason makes it the most lightweight theme on the market.
Astra uses Vanilla JavaScript that prevents render blocking jQuery.
Also, we use the default WordPress data, and we follow the best coding standards to ensure all the code is optimized.
Finally, we are constantly innovating and upgrading our themes.
In less than three months, we launched both Astra 2.0 and Astra 2.1 – in our quest to further reduce speed for both website users and Astra users.
We are now up to Astra 4.0 and we aren't done yet!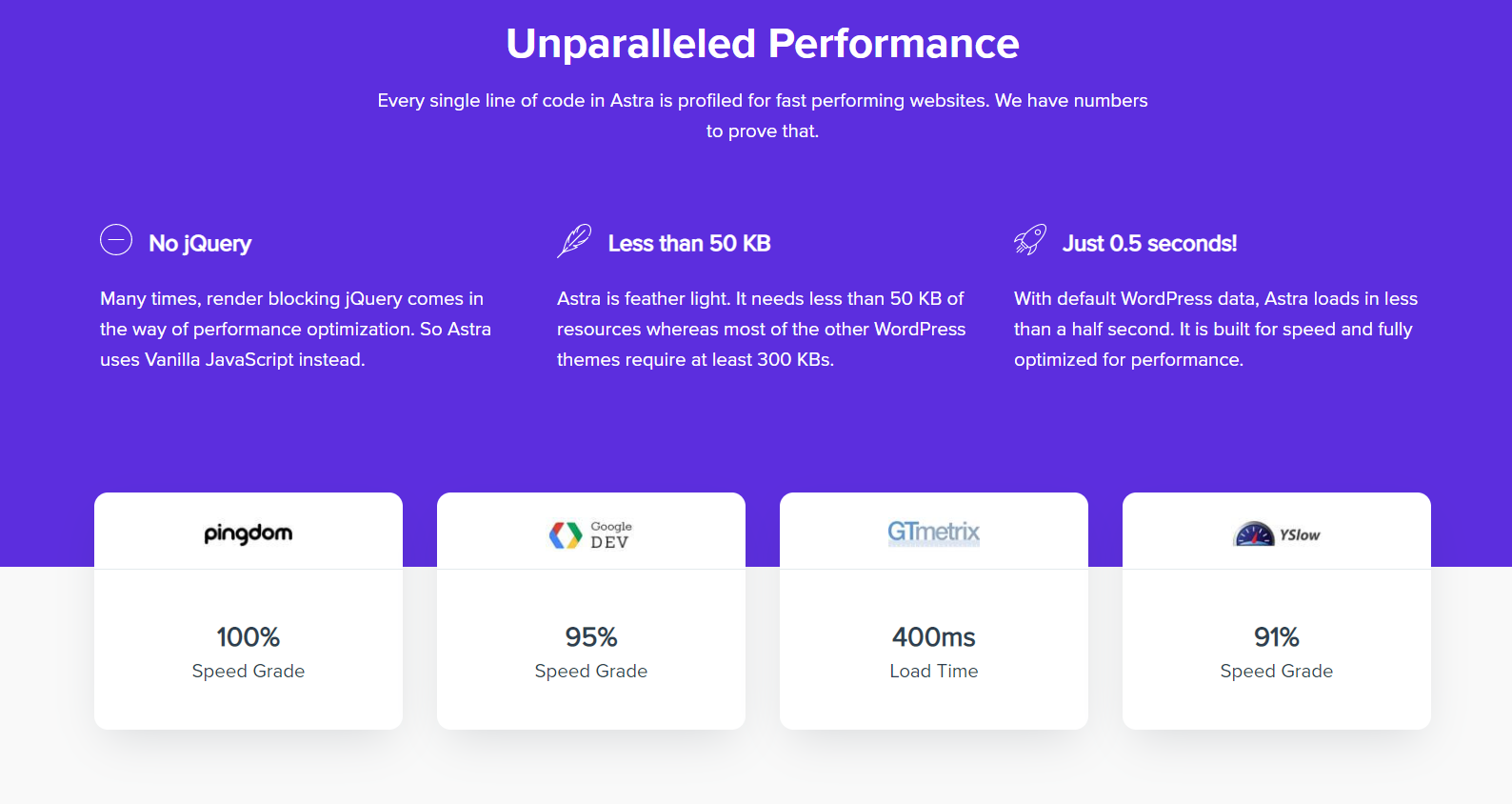 Astra Pro Features for WooCommerce Websites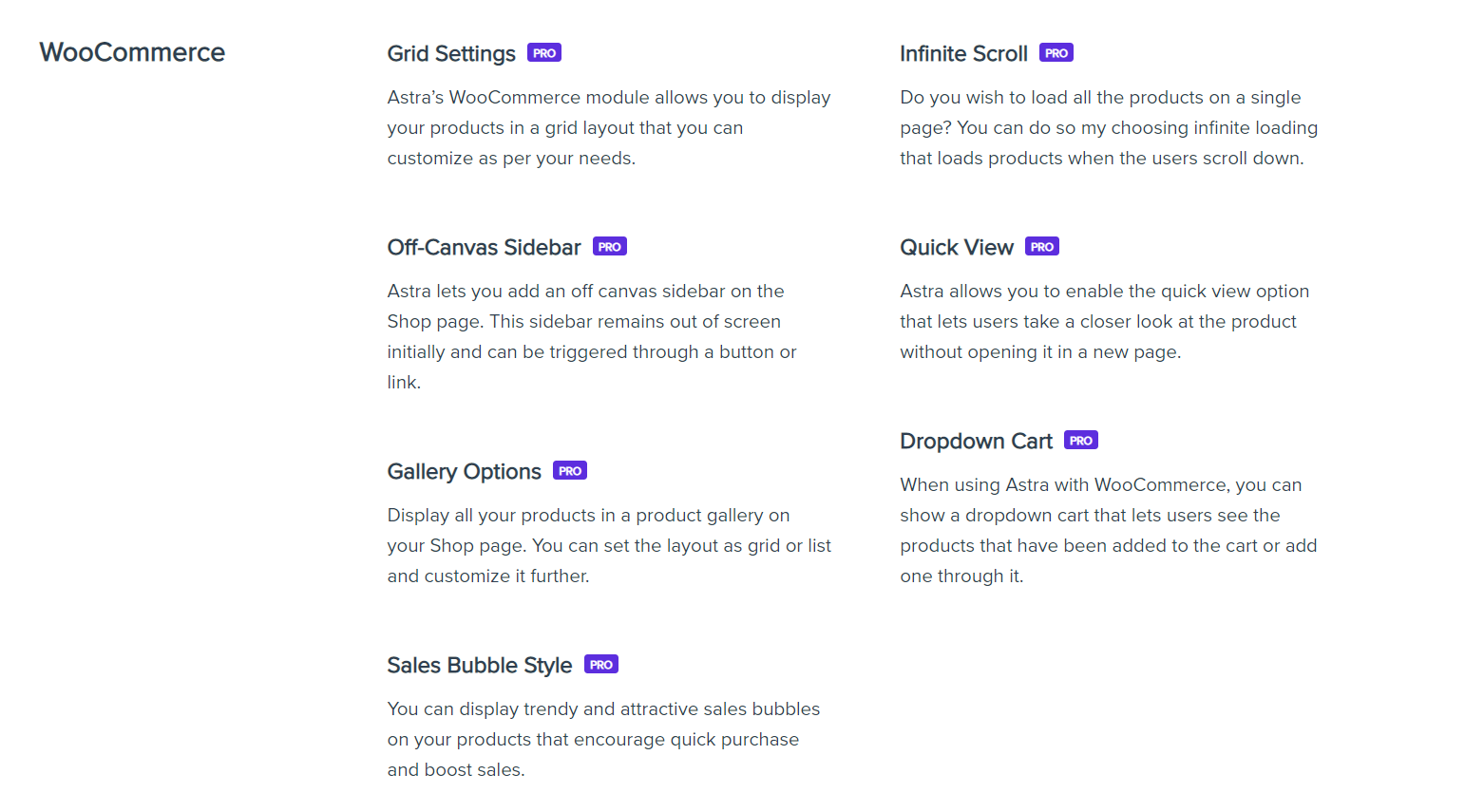 I've briefly covered Astra Pro's integration with WooCommerce in some of the above sections.
Here are some additional details about Astra Pro's integration with WooCommerce:
Once you've installed the Astra Pro Plugin on your WooCommerce site you unlock a range of exclusive customization options.
You can customize how all the products are structured and displayed on your WooCommerce site:
Display options for page title, breadcrumb and toolbar.
Update product category, title, price or short description.
Additional Styling options
Hover options for product images
Add and Customize off-canvas sidebar
Add mini cart in the site's header
Other Typography options for the product catalog
Other typography options for the individual product page.
Additional color options (change the base color, product catalog cog or individual product color)
Other Layout options.
In short, Astra Pro allows you to customize your WooCommerce store.
It can help provide an optimal experience where you will be able to unlock more conversions and sales.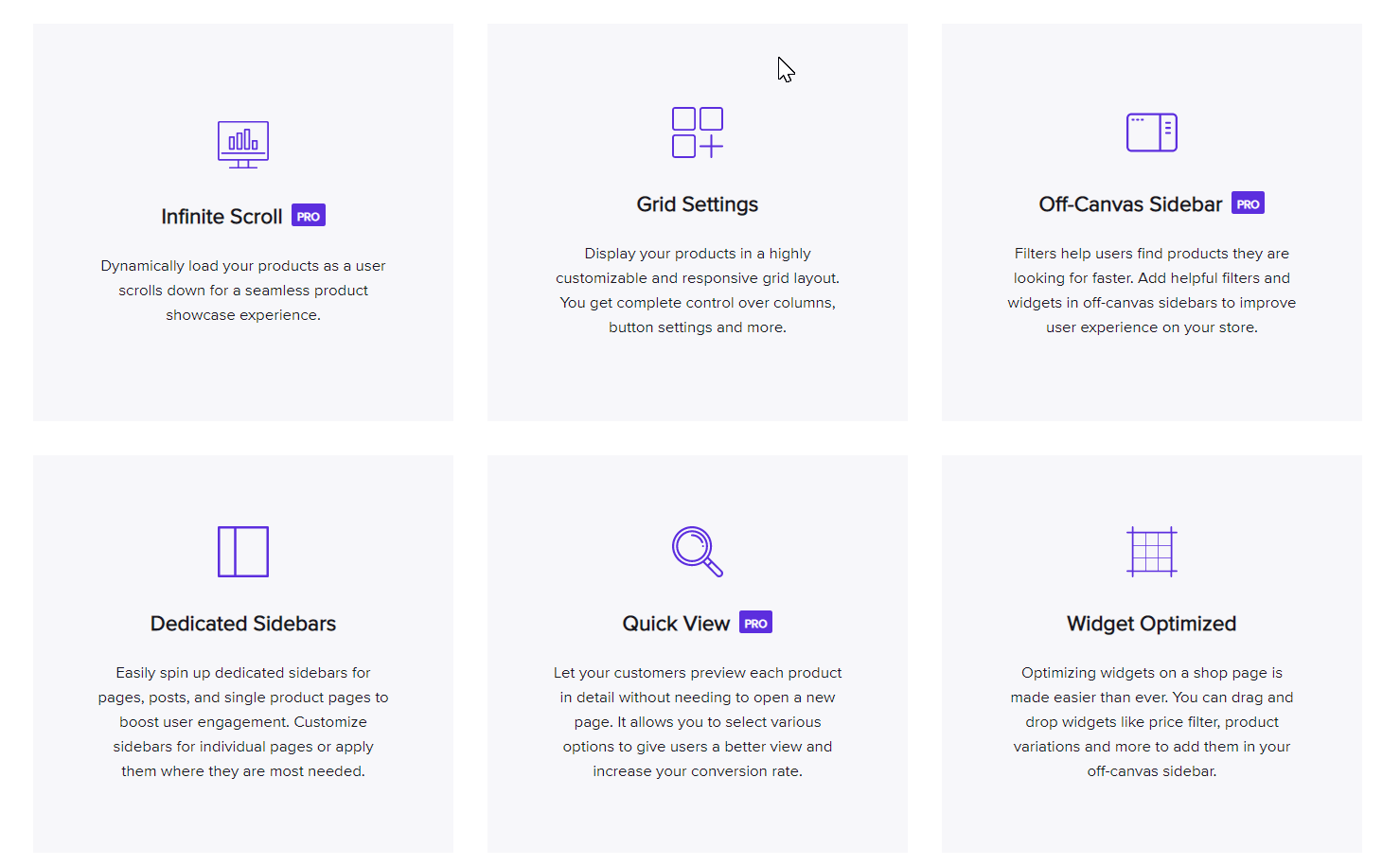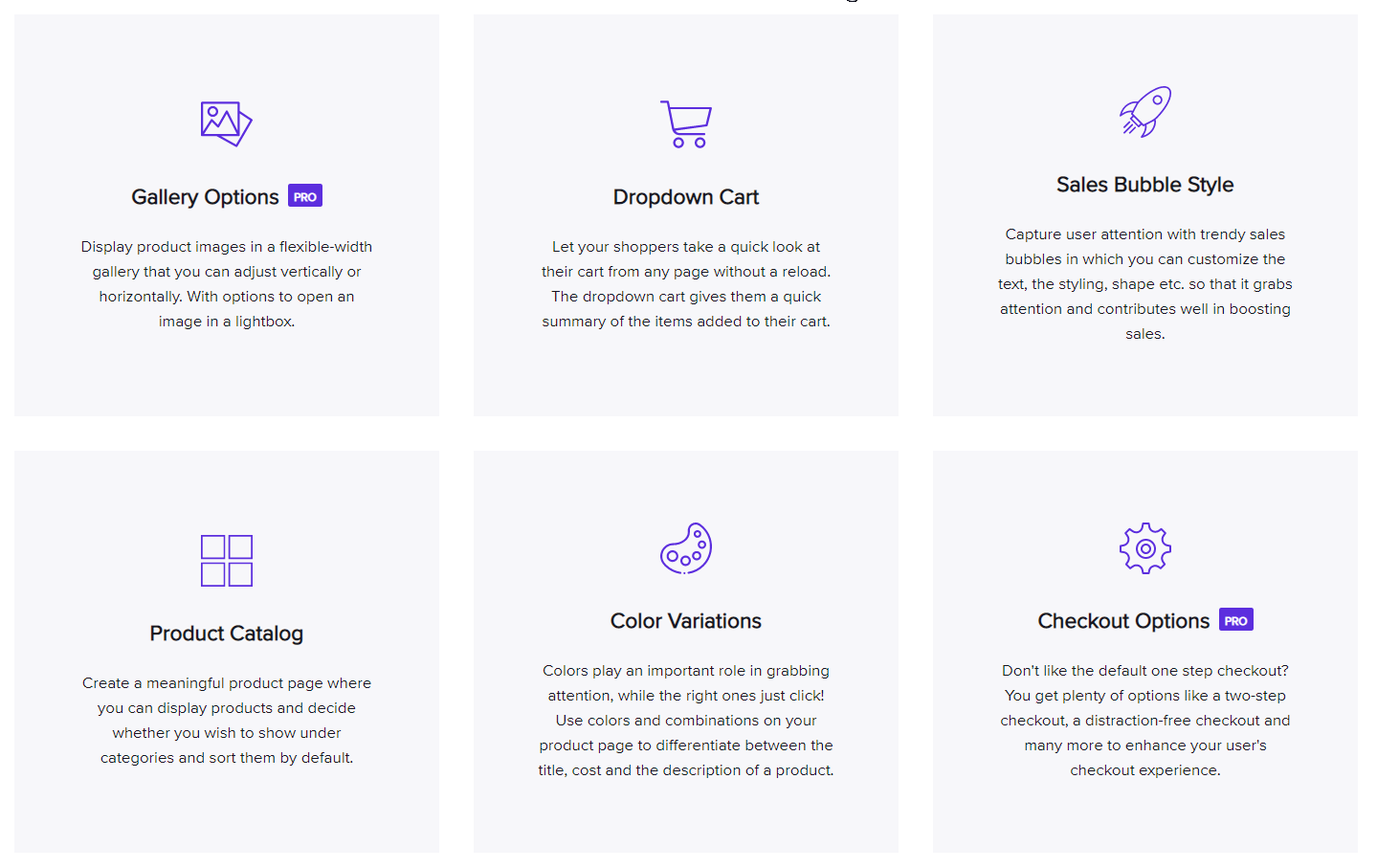 Astra Pro Support
Here, I want to briefly touch on the support you can expect from purchasing Astra Pro.
All Astra free users get access to the numerous free resources we provide including our comprehensive knowledge base.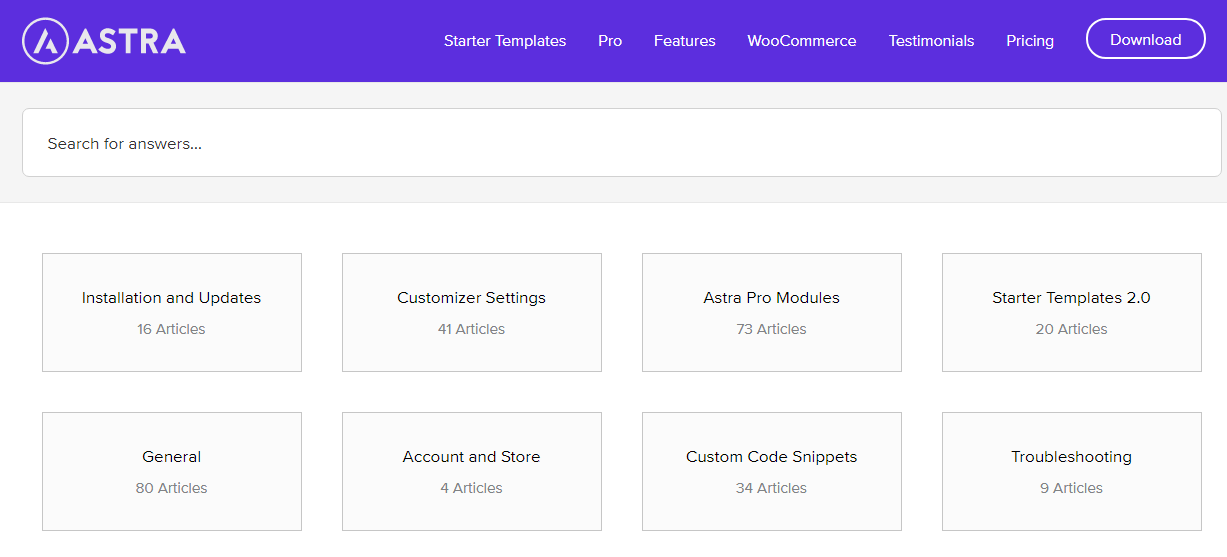 With Astra Pro, you get the ability to contact our support team that works around the clock.
You also have the option and ability to get on-call guidance for tickets that require escalation.
All Astra Pro users also can access our free Facebook Group. It provides you with the opportunity to interact with, learn from a vibrant community of 10,000+ Astra users from around the globe.
Astra WordPress Theme Community.
Astra Pro Pricing Explained
Astra Free allows you to start building WordPress and WooCommerce websites. The free version is free and will remain free forever.
Not a lot of lightweight themes in the market provide a free version.
We want to make sure everyone gets a chance to install and use Astra, which is why it's free forever.
Astra Pro includes an abundance of additional options (features, integrations, and premium support), as we have covered in the last few sections.
You can choose from 3 different packages:
Astra Pro
Essential Bundle
Growth Bundle
To get more information on what's included in each of the packages — head over to our pricing page.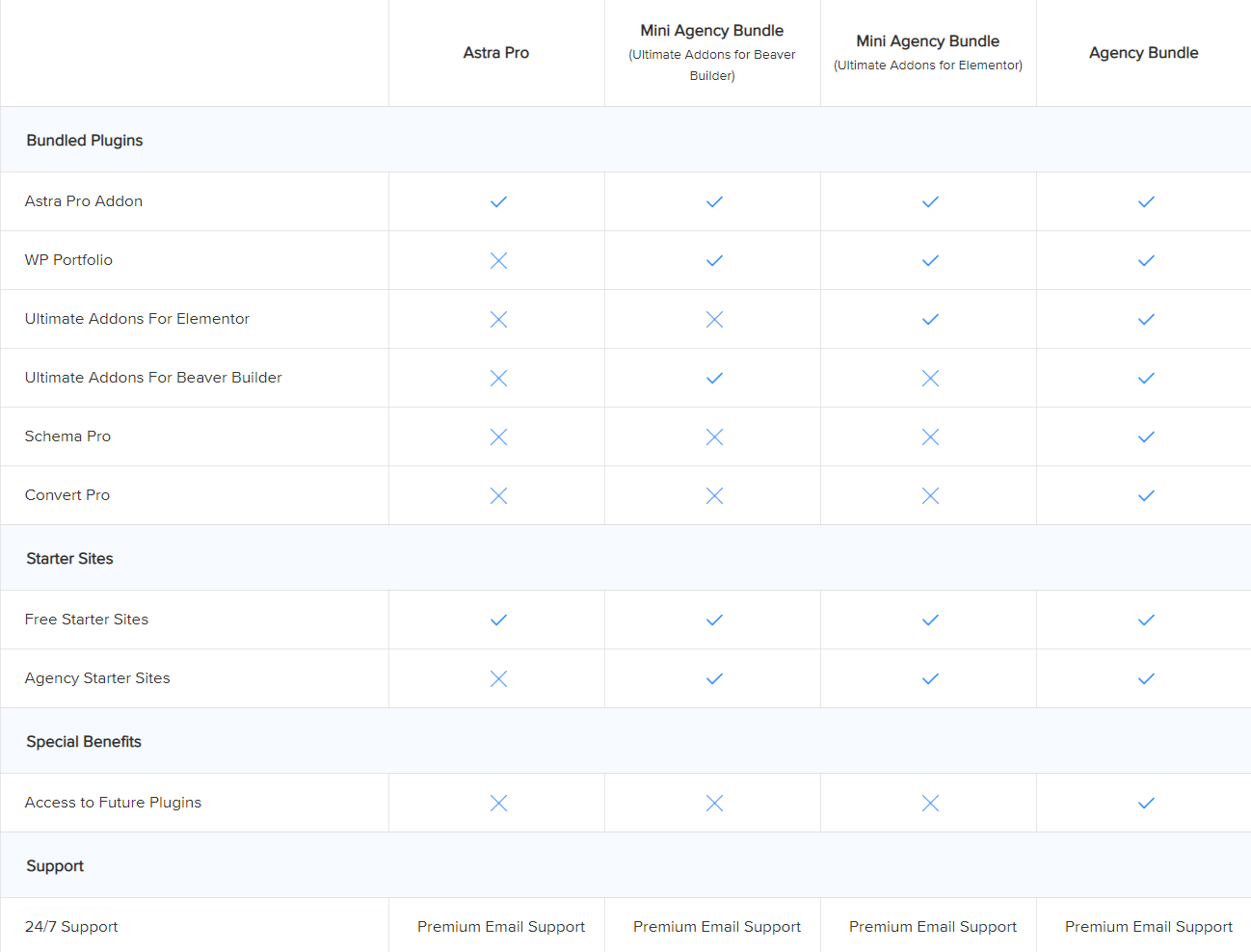 You'll get all the WordPress and WooCommerce features we've mentioned above regardless of the package you choose.
The pricing for Astra Pro starts at $47 €44 annually. There is also an option to purchase a lifetime license — starting at $187 €174 .
How To Get Astra Pro for Free
Okay, now we get to the good stuff. How can you safely (and legally) get Astra Pro for free?
There is currently only one way to get a full, legal copy of Astra Pro, complete with a 1 year license, for free.
By hosting your website with Cloudways.
We have partnered with Cloudways to offer this amazing deal to new customers.
Sign up for a relevant hosting plan and you'll get Astra Pro for free. What's more, Astra Pro will come preinstalled, so there's less work for you to do to get up and running.
That is the only safe, legal way to access all those amazing features I spend this post highlighting.
No risk of malware or unreliability and no chance of losing data or reputation through using a nulled theme.
Cloudways is already an exceptional web host. By offering Astra Pro for free, it's now even better!
Use Astra Pro Risk-free Today
For those who are considering downloading the nulled or pirated version here's something that might make you reconsider.
When you purchase Astra Pro directly from our website — you'll get a risk-free, 14-day money-back guarantee.

That means you can buy the theme, experiment with it, try it out, explore the features and you'll get your money back if you're not completely satisfied.
What's more, it's a no-quibble money back guarantee!
Whatever the reason, you'll get 100% of your money back. No questions asked.
Since you are getting it directly from the developer (us) there's no risk of malware, spyware, or viruses.
We've built up a solid reputation in the WordPress community, and we want to ensure that we keep it.
With over 1,000,000+ downloads and over 4816+ 5-star reviews — you can rest assured that your investment won't go to waste
To read more about other customers like you who have trusted us, head over to our testimonial page.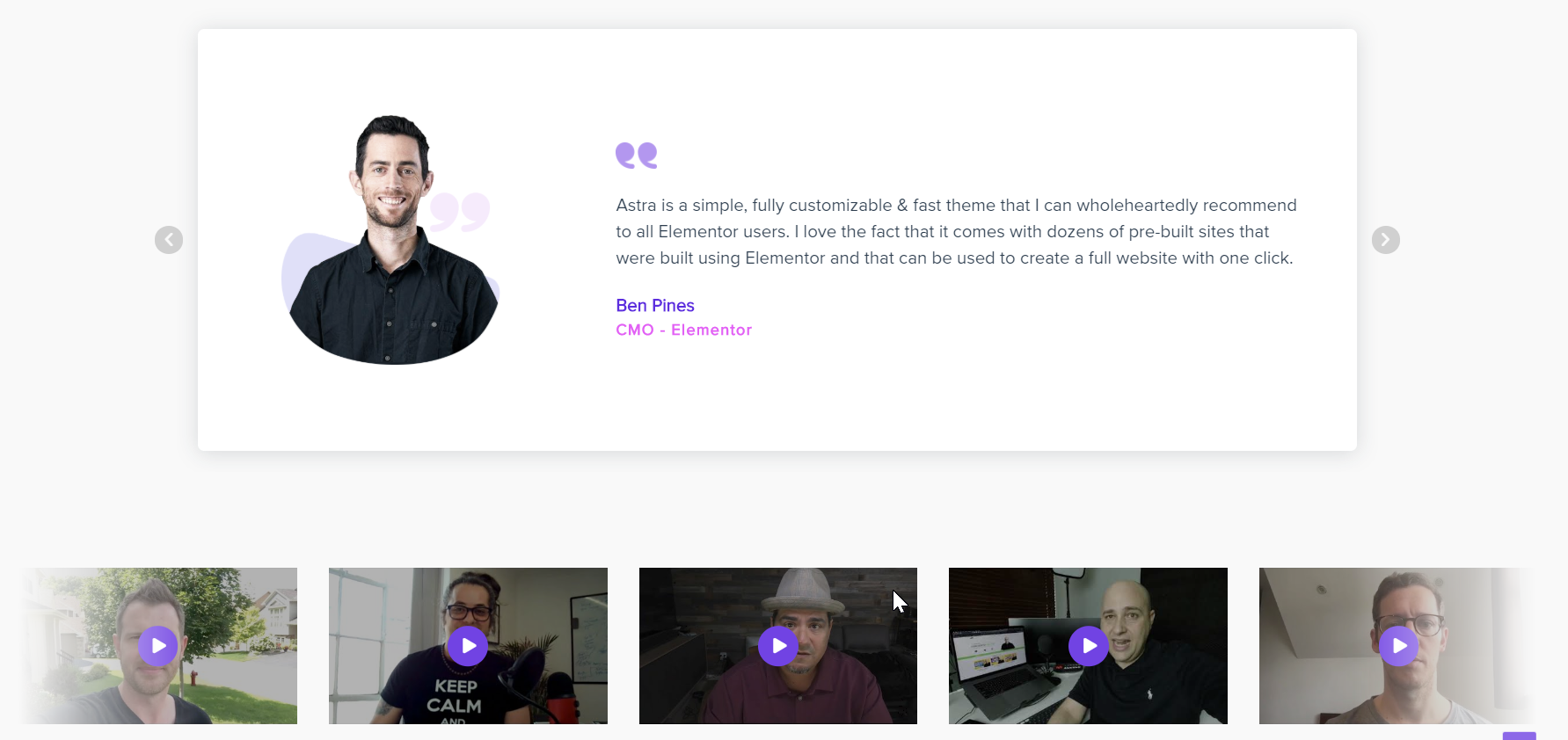 Get Started with Astra Pro for FREE
We've discussed the perils and risks of downloading pirated or nulled versions of Astra Pro.
I shed some light on the enhanced WordPress and WooComemrce customizations features that you get in Astra Pro.
Finally, I also discussed how you could get started with Astra Pro for free with no-risk.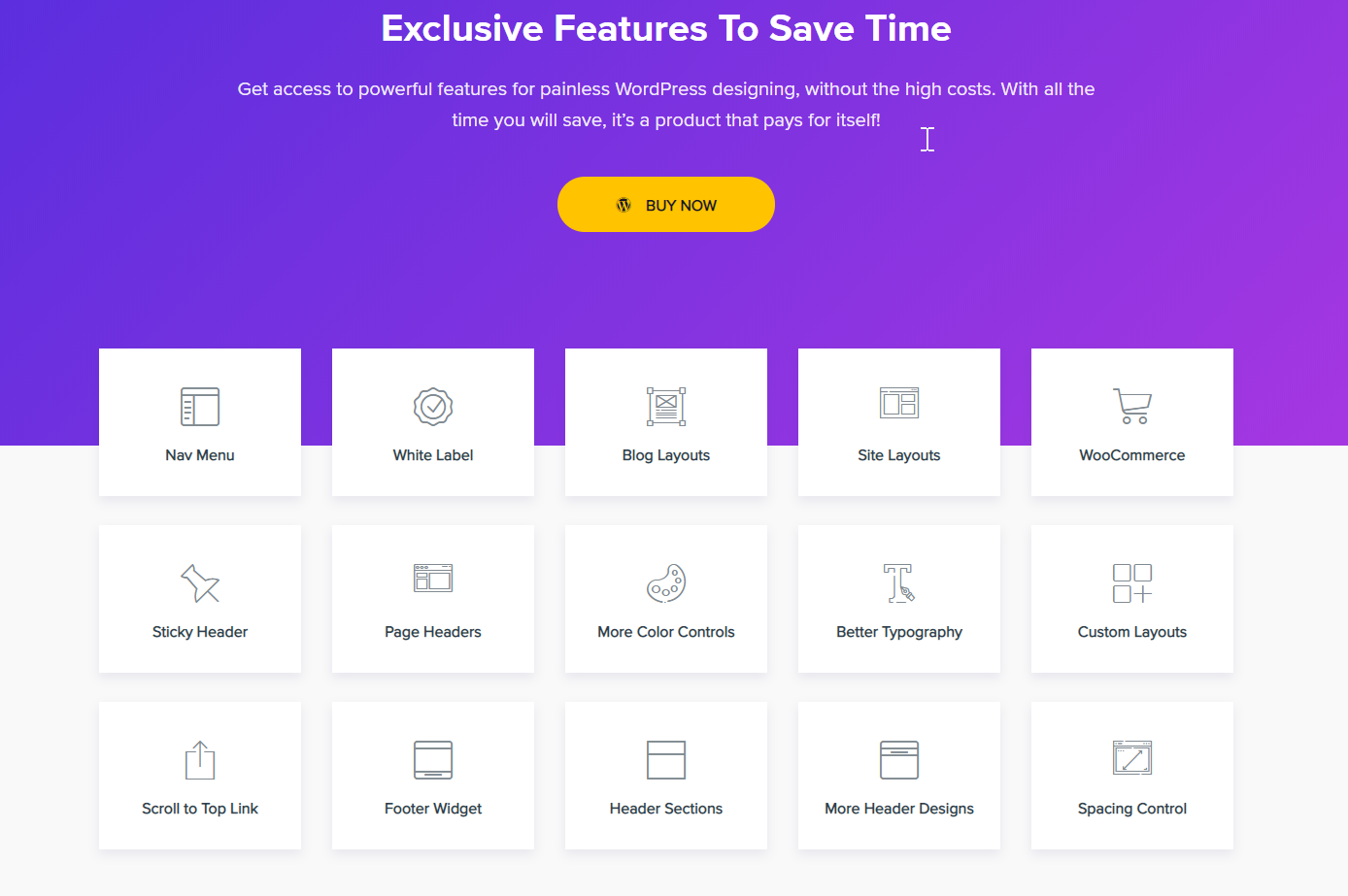 In short, the benefits outweigh your risks of purchasing & getting started with Astra or Astra Pro.
So, I invite you to go ahead and take Astra Pro for a spin and see for yourself.
Join 1000s of other WordPress website owners and agencies using Astra Pro to build fast, light-weight, and high performing websites.