If you're thinking of launching your own online store, you have two main options. You can use an eCommerce platform like Wix or Shopify. Or you could use your own WordPress installation, a couple of WordPress eCommerce plugins and a little effort.
One costs quite a lot of money per month and has very little freedom while the other costs very little per year and gives you total freedom over everything you do.
We know which we would choose!
If that sounds like something you would also choose, this list of the best WordPress eCommerce plugins is for you.
We are going to outline the basic building blocks of an online store and list the 10 best WordPress eCommerce plugins you can use to build it.
What Do You Need to Build an eCommerce Website?
It has been 26 years since the first online purchase was made back in 1994. Technology has come a long way since then. It is now possible to build your own online store and populate it with products in a single afternoon.
Running it will take longer of course but you really can build your own eCommerce store and begin selling within a few hours!
You will need:
Web Hosting
Fast, WordPress optimized web hosting can help your store perform. Visitors hate slow loading websites so host selection is key. There are hundreds of web hosts out there and some are better than others.
You would need to install WordPress once you settle on a web host but most good quality hosts will either do that for you or utilize a simple installer to set it all up.
Domain Name
Your domain name should accurately reflect your company name or your store name. If you can also include a keyword related to your store or what your store sells, all the better.
It is typical to buy web hosting and the domain name at the same time but you don't have to.
SSL Certificate
An SSL certificate is now mandatory for an online store. SSL (Secure Socket Layer) is a method of encryption that secures a session between your browser and a website. It means nobody can see what you're doing and if you're sharing personal data such as credit card information, that data is securely encrypted.
SSL isn't mandated by any law but by users. Browsers will actively warn users of any website or store that doesn't use an SSL certificate and there aren't many shoppers out there who would trust a store that didn't protect their data!
WordPress eCommerce Plugin
A WordPress eCommerce plugin installs into WordPress and turns a standard blog into an all-powerful online store. There is some configuring to do and you'll have to figure out shipping, local taxes and other details but it is very straightforward to set it all up.
Inventory
Once you have a web host, a domain name and have installed a WordPress eCommerce plugin, you need items to sell. You can sell whatever you like as long as you have a reliable supplier.
You can use dropshippers, local suppliers or even sell your own items. It's entirely up to you!
It's for precisely that freedom that we recommend a WordPress store over an eCommerce platform like Wix or Shopify anyday!
The Time to Dedicate to Your Store
The final, and perhaps most important, requirement for a successful online store is time and dedication. These WordPress eCommerce plugins can make short work of building and populating your store but running an eCommerce operation of any size takes a lot of time and effort.
You're going to need to allocate time for:
Managing sales and handling correspondence – While plugins can manage the actual sales process, you're going to have to fulfil orders, answer queries and manage stock.
Handling support requests and complaints – While you may not get many support requests or complaints, you're going to have allocate enough time for when you do. Both of these tasks can take up a significant amount of time!
Marketing and promotion – Every eCommerce store of any size requires constant marketing and promotion. That can be via content marketing, PPC advertising, social media or a combination of all of them. This is another constant task you need to handle.
Website maintenance and security – WordPress and plugins automate a lot of the typical maintenance tasks you'll face but there are some you'll need to take care of. Security and monitoring is also something you'll need to keep a close eye on.
Stock and new products – Online stores do not stay still for long. Shopping habits change as do our tastes. A successful store needs to move in time with these if it is to survive.
While it may look a lot, this is all part of running any business and you will quickly develop your own process for handling it.
What to Look for in a WordPress eCommerce Plugin
There are dozens of WordPress eCommerce plugins out there so how can you choose between them? We suggest bearing the following in mind when researching:
Payment Options
One key feature of any WordPress eCommerce plugin is the ability to use different payment solutions. This provides freedom for your customers to pay however they like and is something no online store owner should overlook.
Some WordPress eCommerce plugins offer one choice with others being optional extras while others provide addons that support different payment methods.
Freedom of Design
There's no point spending money on a WordPress theme to make your store look amazing only to find the WordPress eCommerce plugin doesn't integrate properly and won't let you customize it.
Most plugins allow you to change everything about them but make sure it will work for your branding before you buy.
Ease of Use
If you're going to be living with your WordPress eCommerce plugin every day, it should be easily accessible and easy to use. That means logical navigation, simple processes for adding and changing products and innovative touches that make working with it a breeze.
The more time you spend listing items and managing sales, the less time you have for marketing and promotion. Two tasks that are essential to the success of your store.
Integrations
We mentioned earlier that payment options can be added to a WordPress eCommerce plugin through an addon. Payments aren't the only feature such addons offer. Some plugins work with email marketing tools, CRM software, sales funnels and promotion tools and a whole lot more.
The more options your plugin has for extending it, the better prepared you'll be for growth.
Support
Depending on your skill level, you may need a lot of support or very little. Either way, working with a WordPress eCommerce plugin with excellent support means bugs are quashed quickly and any security vulnerabilities can be quickly addressed.
If there is also a supportive community of users, all the better!
What Are the Best WordPress eCommerce Plugins?
If you want to make some money off the estimated 2 billion digital buyers out there, one of these WordPress eCommerce plugins can help!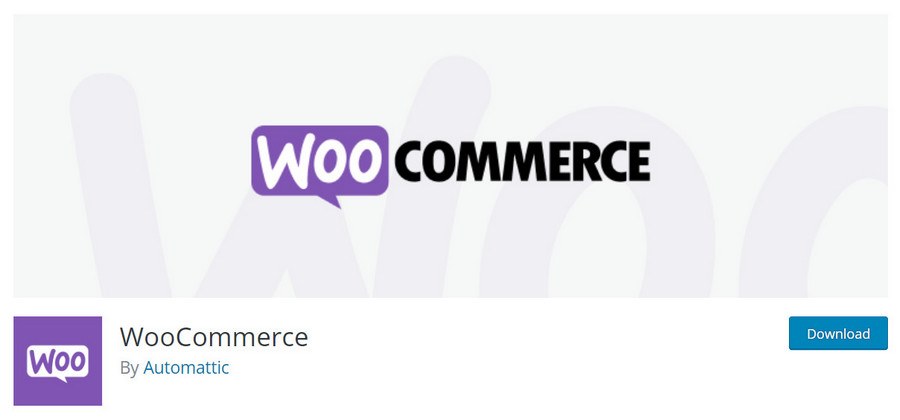 WooCommerce is a standalone eCommerce platform that offers a WordPress eCommerce plugin. The basic plugin is free and has most of the features you're going to need. You can add features quickly and easily with WooCommerce addons.
WooCommerce is the most popular eCommerce solution in the world. It integrates seamlessly into WordPress, has very streamlined processes for managing your store and works with most WordPress themes and plugins.
WooCommerce is very straightforward to use and to add products but there are hundreds of options so you'll need to learn a lot to get the best out of it!
WooCommerce features:
Very accessible WordPress eCommerce plugin
Basic plugin is free with optional premium extras
Supports digital and physical items
Works with multiple payment gateways
Superb documentation and support
WooCommerce Price
Free with optional paid addons.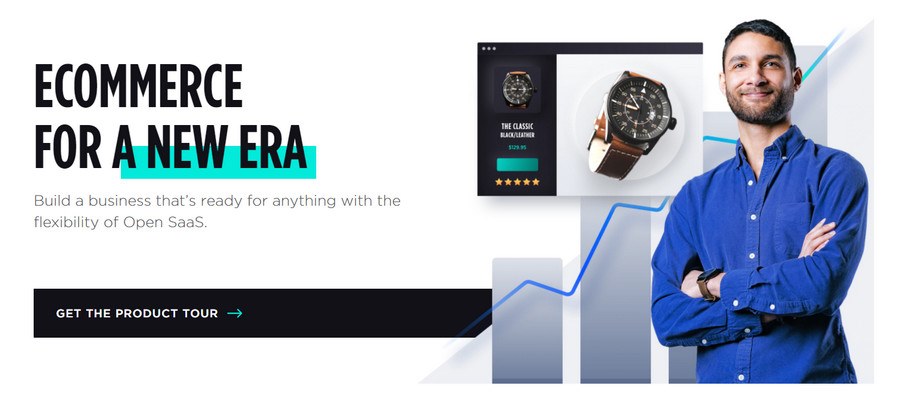 Like WooCommerce, BigCommerce is a fully-hosted eCommerce provider that also offers a very powerful WordPress plugin. The company calls it 'headless eCommerce' and refers to the fact you're using an external system as the front end but the back end processes are supported by BigCommerce.
That's where similarities end though. Where WooCommerce handles the store and everything in it, BigCommerce doesn't. Instead, BigCommerce helps you utilize your WordPress website for content marketing and lead generation while the hosted store handles everything else.
It installs and works similarly to WooCommerce. Once installed, you log into your BigCommerce account and sync your products from your store into WordPress as custom post types. From there the products will appear on WordPress but when a visitor clicks the link, they will be redirected to your BigCommerce store.
BigCommerce features:
Combines BigCommerce hosted solution with WordPress
Very straightforward to set up and use
Fewer demands placed on your web host thanks to the way BigCommerce works
Full customization options for the WordPress side of the equation
Great documentation and support
BigCommerce price
BigCommerce costs from $29.95 per month but the plugin is free to use.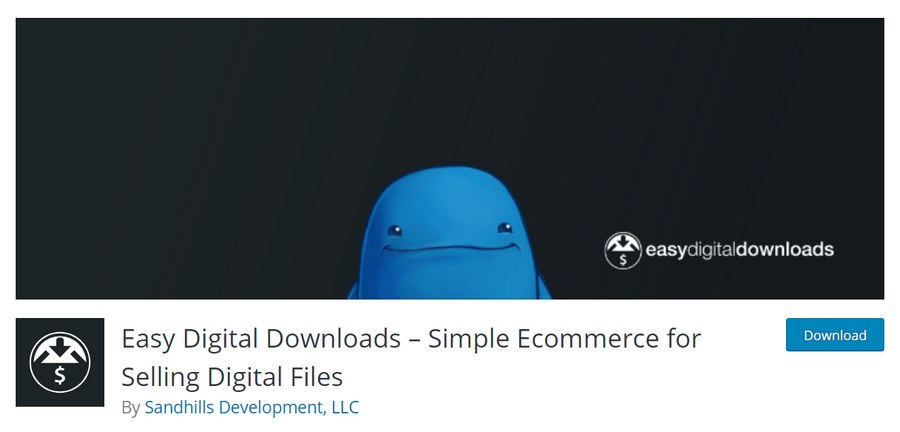 Easy Digital Downloads (EDD) is a WordPress eCommerce plugin that specializes in digital products. If you want to sell eBooks, WordPress plugins, apps, software and other digital goods, this is the plugin to use.
It's a very intuitive plugin that installs quickly and enables you to list digital items, link to them in the plugin and provide a full checkout. Once a purchase is made, the customer is emailed a download link for the item.
Other WordPress eCommerce plugins support digital items but EDD keeps things clean and tidy with an emphasis on usability and speed. It takes just a few minutes to set up, add a digital product, add imagery and a description and list it on your site. It's very straightforward to do!
Easy Digital Downloads features:
Optimized for digital products
Provides the full path to purchase including download link emails
Free with optional premium versions
Supports recurring payments and many payment options
Useful extension library for adding new features
Easy Digital Downloads price
The core Easy Digital Downloads plugin is free but there are premium plans that cost from $99 per year until $499 per year.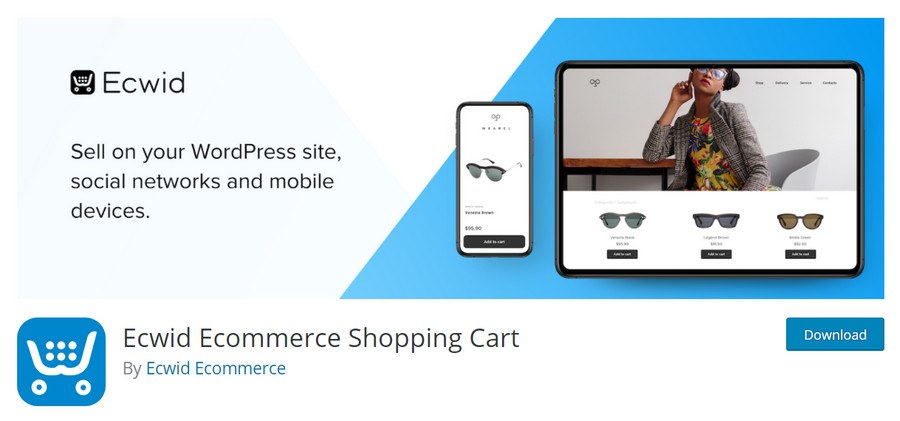 Ecwid eCommerce Shopping Cart is a very smart WordPress eCommerce plugin that can work on any website and sell anything. You can also use it to feature a store on Facebook, Instagram and other platforms too. It's a flexible and powerful plugin ideal for those who want a multi-platform store.
Ecwid uses a hosted store to support your sales and the plugin provides a front end to WordPress or wherever you install it. Clicks are referred seamlessly back to the hosted store and your customer can buy quickly and effortlessly.
Setup is equally effortless. Install, activate and import your products directly from Ecwid. They will appear in the dashboard and you can list them immediately or customize them before publishing. It's another very straightforward eCommerce solution that really delivers!
Ecwid eCommerce Shopping Cart features:
Seamless integration between Ecwid and WordPress
Plugin can work with WordPress themes and custom designs
Provides the full path to purchase by linking to your Ecwid store
Works with multiple platforms including social networks
Fully compliant and PCI-DCC certified
Ecwid eCommerce Shopping Cart price
The free version of Ecwid eCommerce Shopping Cart is limited to 10 products and premium plans begin at $18 per month up to $99 per month.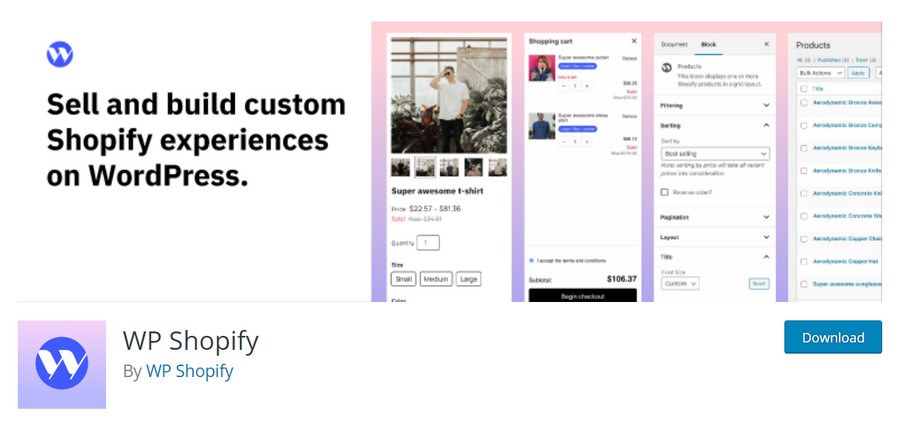 Shopify is one of the largest eCommerce platforms in the world. It's primarily a hosted platform that has a WordPress eCommerce plugin so you can sell items on your site. It works a little differently to these other plugins but is a very viable alternative.
Shopify has a WordPress eCommerce plugin that you can use to add a Buy button anywhere on your site. Once you add the button, all you need to do is link it to a product on your Shopify store and you're ready to sell.
Like many other plugins of this type, it depends on having a store already so you can link it with the plugin but the WordPress side of things is super simple. Once linked, you can customize the look and feel of the product element to suit your WordPress theme in minutes. It's about as easy as it gets!
Shopify features:
Fully hosted eCommerce platform with a WordPress eCommerce plugin
Can list unlimited products on your site
No need to set up payment, shipping or tax as Shopify does it for you
Secure checkout hosted on the Shopify platform
Infinitely scalable
Shopify price
Shopify is free but you have to pay $9 per month for the WordPress eCommerce plugin up to $299 per month for a fully-fledged online store.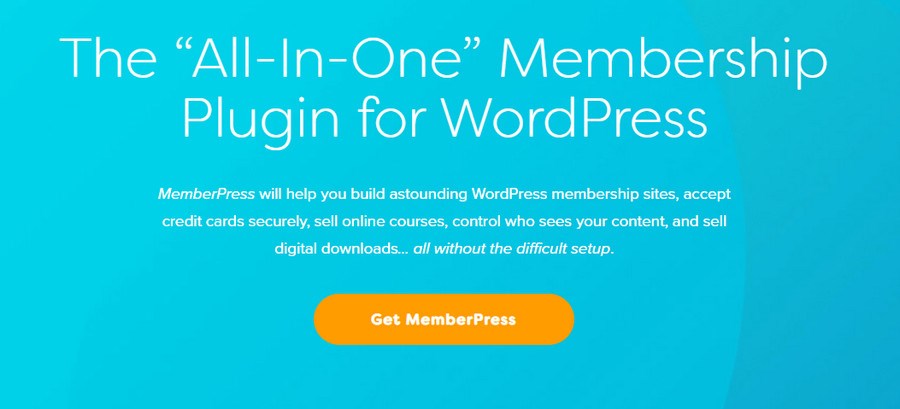 MemberPress is a WordPress eCommerce plugin that specializes in subscriptions. It's ideal for anyone selling products on a recurring basis as it handles the payments, notifications and everything aside from the shipping. You could even use it while setting up your own Learning Management System (LMS).
Many plugins can handle subscriptions but MemberPress does it better. Once installed and linked to your MemberPress account, you can begin creating membership levels and adding content, products or services to each level. Once configured, you can add payment options, coupons and other eCommerce goodies to help generate income.
MemberPress makes it absurdly easy to sell anything for a recurring payment. It works with WordPress themes, supports drip content, affiliates and most major payment gateways too.
MemberPress features:
Full-featured subscription plugin
Supports user levels, tiered pricing and drip fed content
Works with any WordPress theme
Compatible with most payment gateways
Optional extensions to add more features
MemberPress price
MemberPress costs from $149 up to $349 pe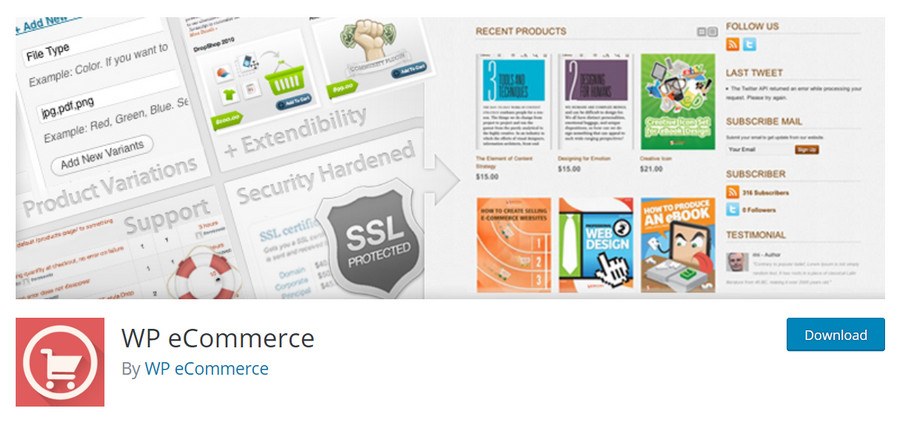 WP eCommerce is apparently the oldest WordPress eCommerce plugin around. It may not be as popular as Shopify or WooCommerce but it has a lot of support and has been steadily improved over the years.
WP eCommerce looks and feels like WooCommerce so if you are familiar with how it works, you'll feel right at home here. Installation, configuration and adding products is very similar and uses a similar dashboard layout. You can customize everything about your listings in the same way too.
WP eCommerce is a straightforward and very capable plugin with a range of optional addons to add features such as Stripe, subscriptions, add digital downloads to Amazon S3 servers, use Authorize.net and others.
WP eCommerce features:
Will be instantly familiar if you have used WooCommerce
Straightforward store building process
Supports subscriptions as well as standard purchases
Simple dashboard that handles everything
Optional premium extensions
WP eCommerce price
WP eCommerce is free to use while premium addons cost between $69 to $99.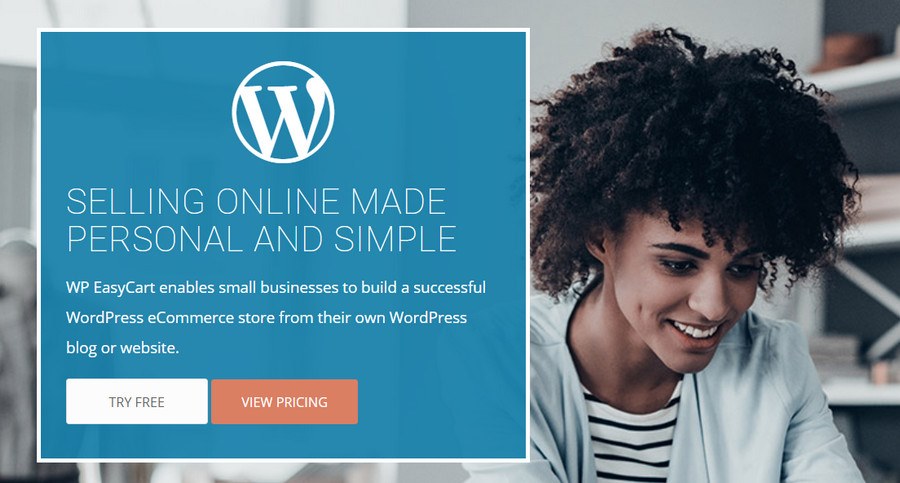 WP EasyCart is a WordPress eCommerce plugin that bought out Cart66Cloud and has integrated it into this plugin. It has a much lower profile than WooCommerce or Shopify but can do most of what either of those plugins can do. While often overlooked, we think it is well worth exploring.
WP EasyCart is designed for smaller stores and to be as simple to use as possible. It installs into WordPress and provides a very straightforward dashboard to handle products, shipping, payments and more. It also integrates with Quickbooks, MailChimp and other apps too.
Like Ecwid, WP EasyCart also enables you to sell products on social networks. It can also handle digital downloads, subscriptions, coupons, gift cards, invoicing and all those tools a modern eCommerce store requires.
WP EasyCart features:
Very easy to use and accessible for the small business
Streamline product listing process
Can work with WordPress themes and custom designs
Integrates into WordPress but is its own part of your site
Can be extended with optional addons
WP EasyCart price
WP EasyCart has a free version for small stores while premium plans cost $69 or $99 per year.
Essential Plugins to Supercharge Your eCommerce Site
Your WordPress eCommerce plugin is only part of the picture. There are also supporting plugins that can contribute to the success of your venture.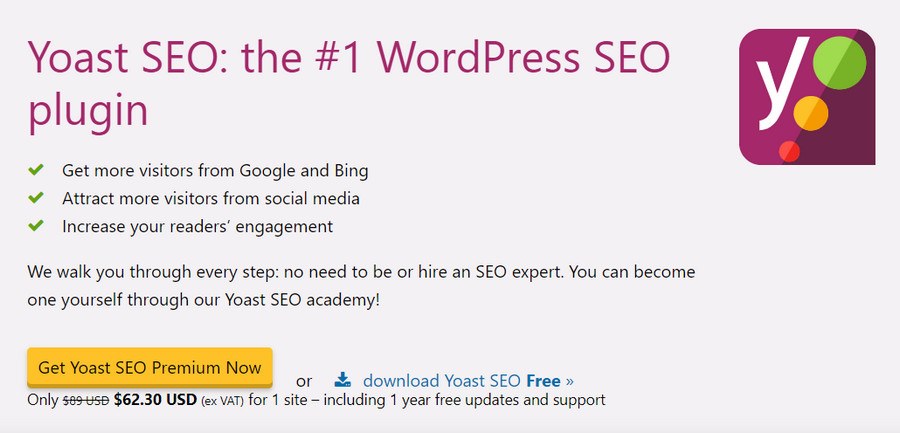 Yoast SEO is a free SEO plugin with a premium version that takes care of the majority of your early SEO needs. When you first start out, hiring an SEO specialist is likely an expense you can do without. Yoast SEO helps.
It's a fantastic plugin that helps you build proper page titles, configure page metadata to help the search engines, perform basic keyword research and build rich snippets so the search engines can describe your pages accurately.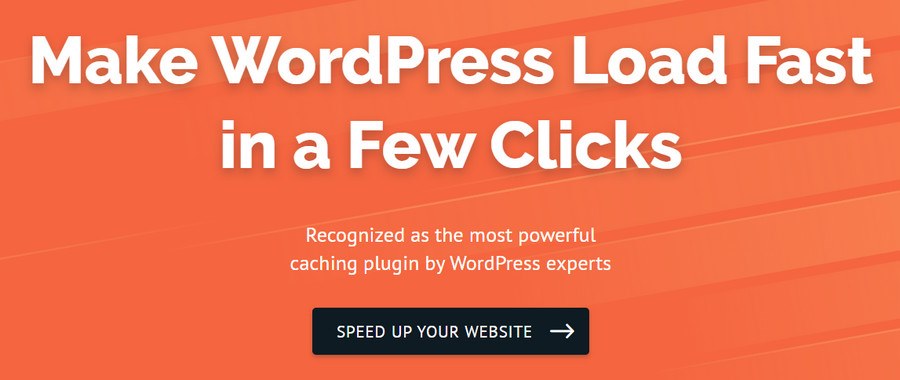 WP Rocket is a caching plugin that helps speed up WordPress. Page speed is a primary SEO indicator and something visitors pay a lot of attention to. Fast pages keep users happy while slow loading pages will cause the visitor to go elsewhere.
WP Rocket helps keep pages fast by using caching and preloading. It can also help shrink your pages and your images so they load faster.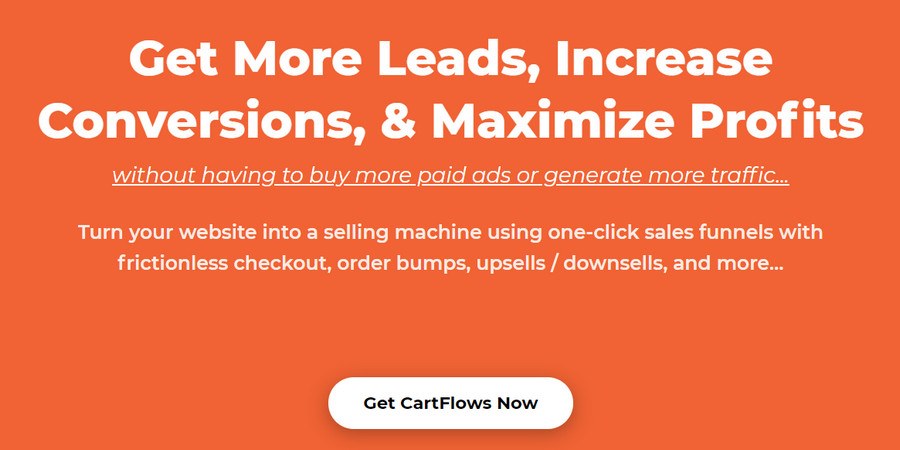 Cartflows is a masterful plugin that helps you drive sales. It's very powerful and comes with a selection of tools to help convert visitors to customers and push them towards your checkout. It uses sales funnels that few customers have a problem with and can help drive sales.
Cartflows comes with templates for all tasks, integrates with drag and drop page builders, has superb documentation and training for everything. Even the newest website owner can improve sales with this excellent plugin!

The ELEX WooCommerce Shipping Calculator plugin allows you to feature a shipping calculator platform in your WooCommerce store. It enables customers to calculate shipping costs, print labels and get tracking details in just a few clicks.
Store owners can help customers calculate shipping cost and estimated delivery times of popular carriers based on location, weight and dimensions of packages.
After calculating the shipments, customers can easily generate the label and get tracking information. The generated label and tracking information can be sent to both shipper and receiver's email automatically after the label is generated.
Store owners can use their EasyPost API to provide FedEx, USPS, UPS, and Canada Post shipping carrier services to their customers.
ELEX WooCommerce Shipping Calculator Features:
Customers can choose default package options or create custom packages
Can generate bulk packages together using a CSV file
Owners can choose the required carriers and services from the dashboard
Owners can set a handling fee and price adjustment to shipping costs
Allows access based on user roles
ELEX WooCommerce Shipping Calculator Price:
The ELEX WooCommerce Shipping Calculator costs $79 as a one-time fee for a single site license.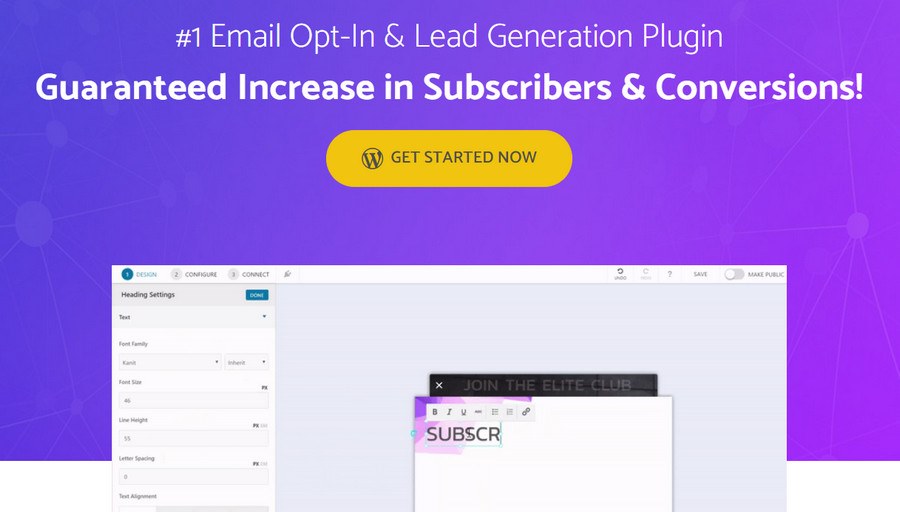 Convert Pro is a lead generation plugin. You remember we said you will eventually spend more time marketing and promoting your store than anything else? This is what you use to do that.
It includes email opt-in tools, popup builders and a drag and drop editor to help you create beautiful opt-ins and forms that fit perfectly into your store. Convert Pro is one of the best-selling lead generation plugins in the world and for good reason.
Read this for even more plugins that can take your eCommerce store even further!
Which WordPress eCommerce Plugin Works Best for You?
What do you think of our list of the best WordPress eCommerce plugins? Does one fit the bill? Like some more than others?
We think they are all worth considering but if we had to choose between them, we would choose WooCommerce and BigCommerce.
WooCommerce because of the sheer power of it and the ease of use. Thousands of stores use it and the plugin is continually refined to make it more straightforward and more powerful.
BigCommerce is a huge cloud-hosted platform that has also launched a WordPress plugin. That plugin enables you to use both the hosted solution and WordPress, or just use WordPress. It's a powerful solution with almost as much freedom and power as WooCommerce.
What do you plan to use for your eCommerce store? One of these WordPress eCommerce plugins or something else? Tell us your thoughts below!