Looking for free website templates for Elementor page builder? In this article, we'll show you how you can go beyond the one-off Elementor templates that come with the plugin and actually import a cohesive website built with Elementor.
Right from day one, you'll have an entire working website with its core pages powered by Elementor and everything else powered by the free Astra theme.
Keep reading for step-by-step instructions on where to find these free Elementor website templates and how to import them to your site.
Astra Starter Sites is Your Source For Free Website Templates For Elementor Page Builder
Astra Starter Sites is a free extension for the free Astra theme that lets you easily import complete Elementor website templates to your WordPress site.
There are two basic parts to these templates:
The core pages that are built with the Elementor page builder. Once imported, you can edit these pages as needed using the regular Elementor page builder interface.
WordPress Customizer settings for the Astra theme. These ensure that the rest of your website, including your blog and navigation, matches the Elementor templates that power your core pages.
The end result? One cohesive website based on Elementor and Astra. All for free.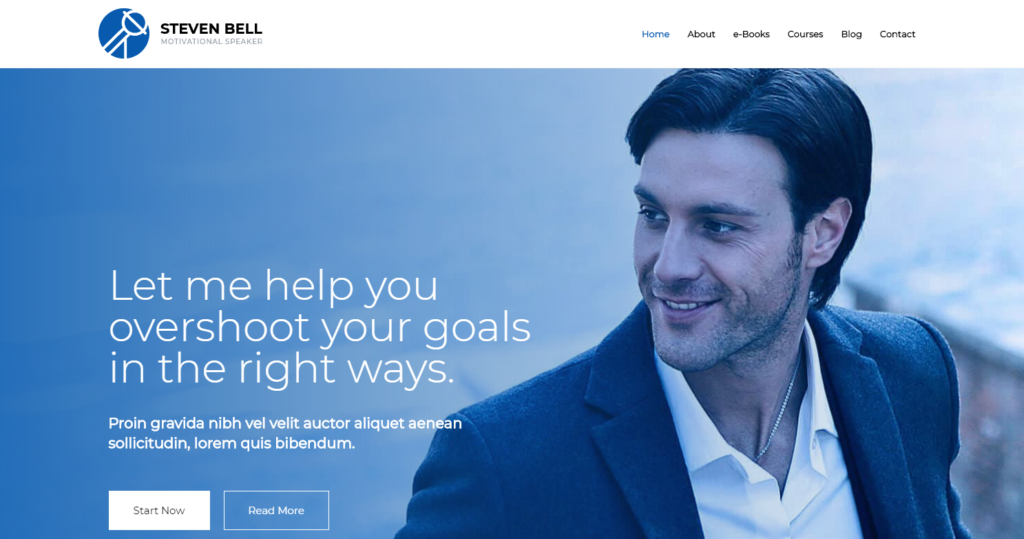 Or like this: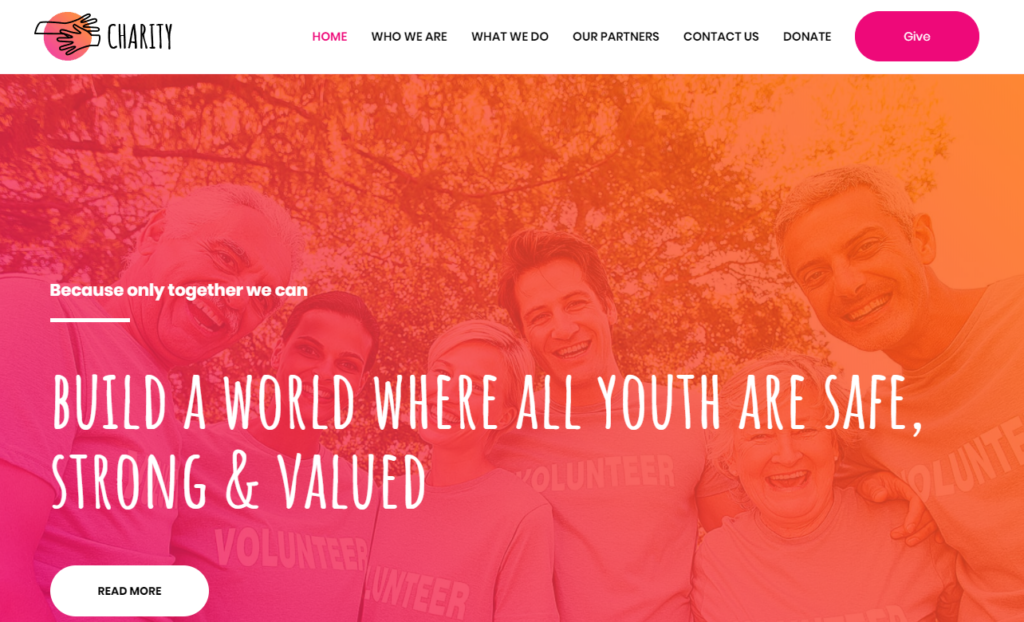 Or like any one of the other free website templates for Elementor that are available with Astra Starter Sites.
How To Start Using These Free Website Templates For Elementor
Want to get started? Here's how to import one of these free Elementor website templates to your own site.
Step 1: Install Free Astra Theme And Astra Starter Sites Plugin
To get started, you'll need to install two free tools:
Both are available at WordPress.org, which means you can install them directly from your WordPress dashboard.
Step 2: Choose Your Website Template
Once you've installed and activated the theme and plugin, go to Appearance → Astra Sites. Then, select the Elementor page builder tab: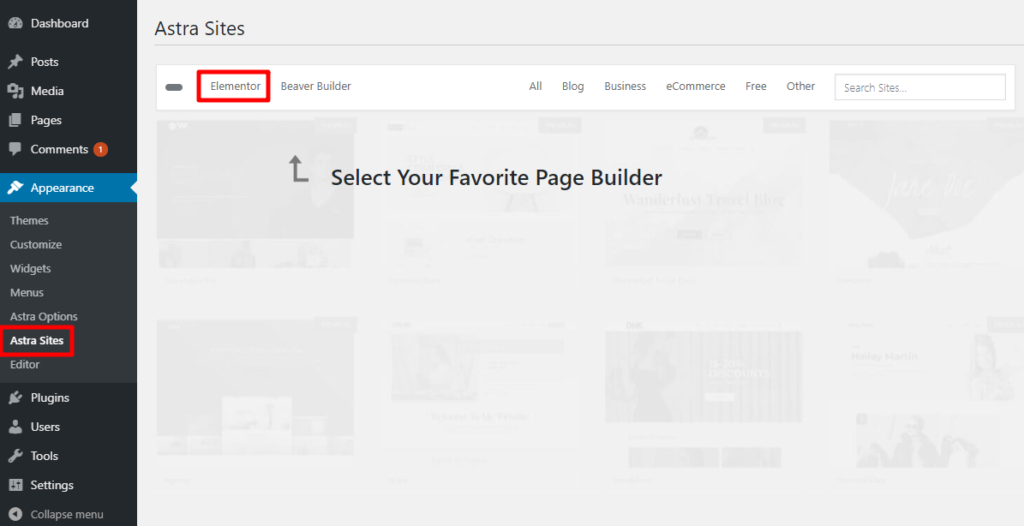 Now, you can browse the available Elementor website templates. While many of these templates are free, some of the templates do require the paid Astra Agency Bundle. These paid templates are marked with the Agency tag.
If desired, you can use the Free tab to filter out only the free Elementor website templates.
Once you've found a template that you like, click on it to view a live preview and begin the import process: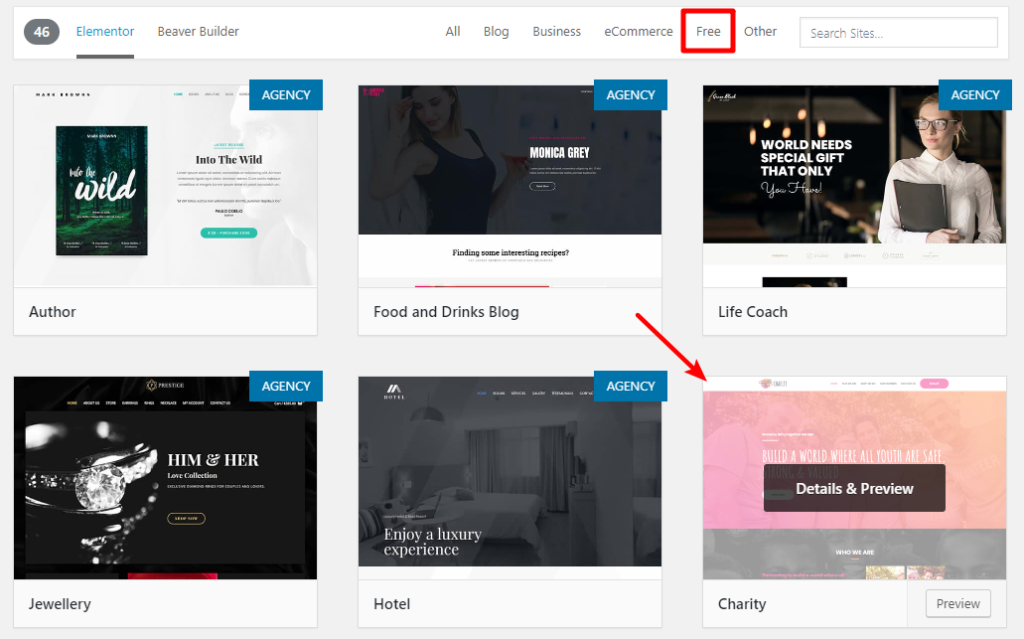 Step 3: Install Required Plugins And Import Site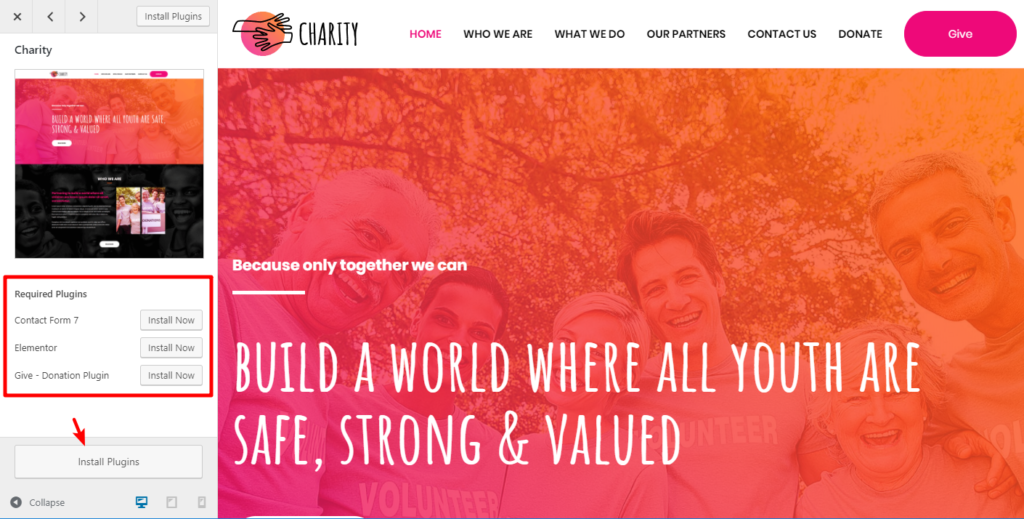 Some of the website templates require additional free plugins in order to unlock their full functionality. You can see a list of these plugins on the next screen and install them with one click:

Once you've installed the required plugins, you can import the Elementor templates and WordPress Customizer settings by clicking on Import This Site.
Be aware – this process will import new content to your site and may overwrite some existing content, so it's recommended that you do this on a fresh WordPress install whenever possible: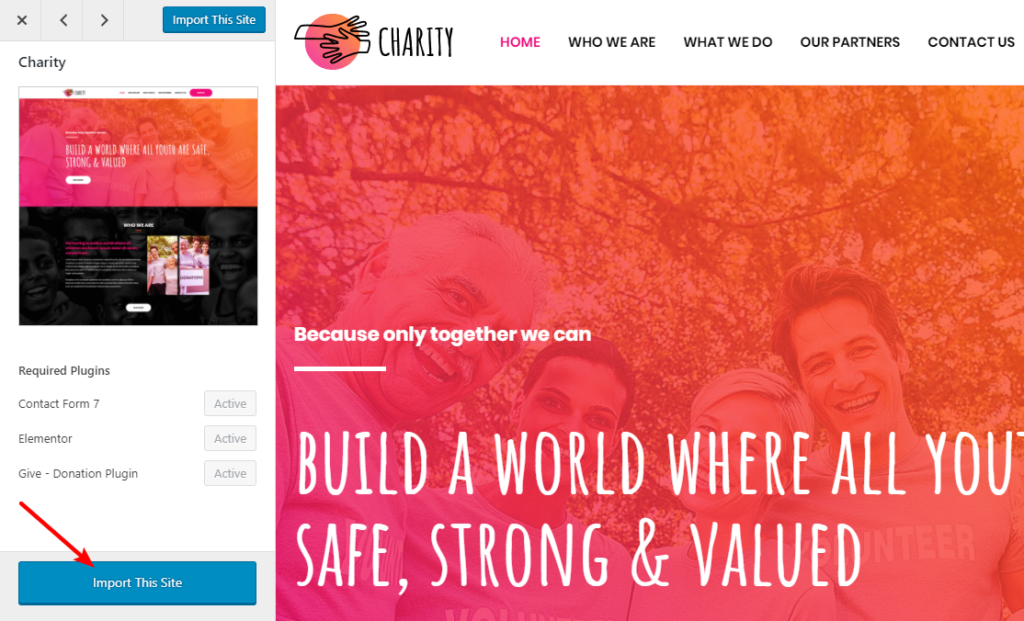 After a short period, while the import process runs, your site should look exactly like the demo site.
Step 4: Customize Site With Elementor And WordPress Customizer
All of your site's core pages are built with Elementor (WordPress will mark these pages in your dashboard).
That means if you want to customize any of your core pages, you just need to click the Edit with Elementor button: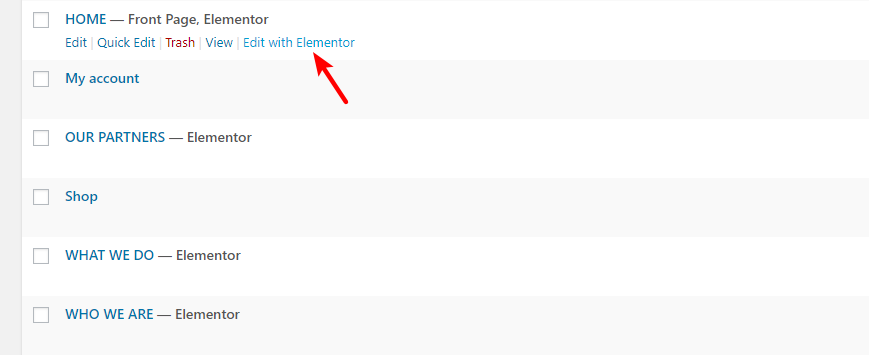 You can then edit, drag and drop, and tweak your design as needed: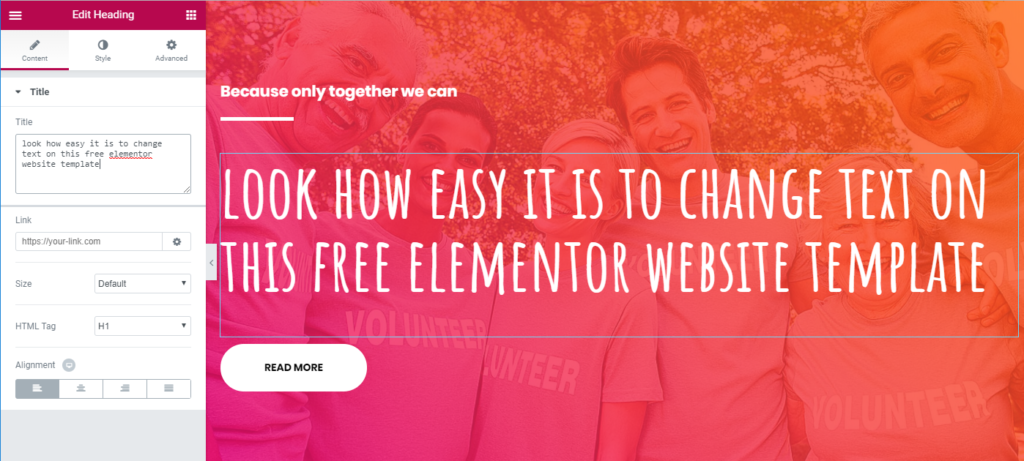 To customize other aspects of your website, like how your blog page looks or global colors and typography, you can use the Astra theme's detailed WordPress Customizer controls by going to Appearance → Customize: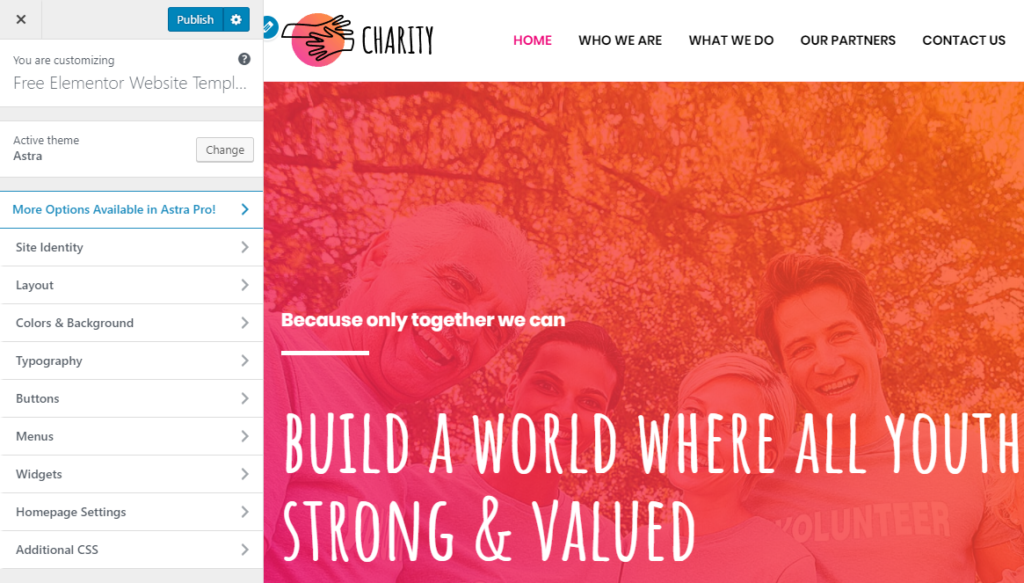 There's More With Astra Pro And Astra Agency
Up until now, everything that you've seen is 100% free!
There are some reasons to consider upgrading to one of the paid plans, though.
For $59, Astra Pro gets you:
More control over colors and typography – while the free theme gives you basic controls for color and typography, Astra Pro gives you pinpoint control over every element on your site.
More control over header and navigation – you can create transparent headers, different header sections, page headers, and mega menus for more control over your site's navigation areas.
Blog layouts – these give you deeper control over how your blog posts and archive listings look and function. Because the free Elementor plugin doesn't work with your blog, these settings are important for customizing your site.
Hooks and filters – these help you easily customize your site with your own code. Or, you can also use them to add code snippets like Google Analytics, inject ads into your site, and lots more.
White label – if you're building a site for someone else, this features lets you white label the Astra interface to offer a custom final product.
And if you want access to the premium website templates for Elementor, the Astra Agency Bundle gets you access to every single template, as well as every other plugin from Brainstorm Force, including:
You Can Even Display These Templates On Your Own Website As A Portfolio
Using the WP Portfolio plugin that you get with the Astra Agency Bundle (or which you can purchase separately), you can also showcase these website templates, or your own websites, as a portfolio.
To import the Astra Starter Sites to your own site as a portfolio, you just go to Portfolio → Settings and click Import (this help article has more information):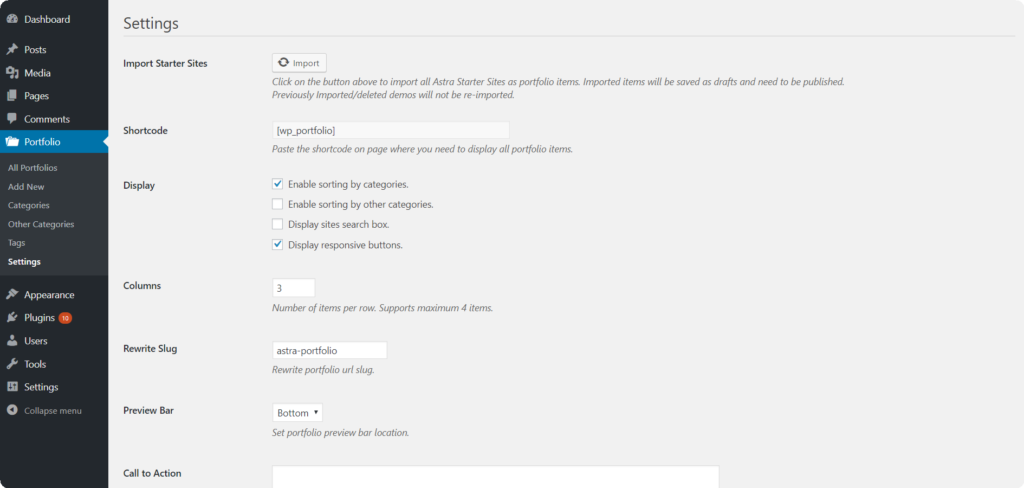 You can also add your own websites to your portfolio.
Browse The Full List Of Free Elementor Website Templates
Now that you know how to import a free Elementor website template with Astra Starter Sites, you're ready to:
Browse the full list of free templates.
Import your favorite website template.
Edit and tweak using Elementor and the WordPress Customizer.
… And enjoy your new website!