If you want your site to rank in Google, you're probably already focused on the big stuff. Keyword research, getting links…those are definitely important.
However, choosing an SEO friendly WordPress theme is an often-overlooked decision that plays a big role in making all the above-mentioned techniques successful.
With such a theme, you'll have an even more SEO-optimized WordPress website from day one. This means that your website's entire foundation will be optimized – and all you have to do is add the other tactics.
In this post, we will see some characteristics you should be looking for in an SEO optimized WordPress theme. We'll then share five WordPress themes and tell you what makes each of them great for SEO.
In a hurry? Here are the top 6 SEO themes of 2020:
| | | | |
| --- | --- | --- | --- |
| Theme | Price | Our Rating | Developer |
| Astra | Free / $59 yearly (Unlimited Sites) | 10/10 | Brainstorm Force |
| Schema | Free / $77 yearly (Unlimited Sites) | 8/10 | My Theme Shop |
| Genesis | $59.95 + Extra for Child Themes (Unlimited Sites) | 9/10 | Studio Press |
| Divi | $89 yearly | 8/10 | Elegant Themes |
| Hestia | Free / $69 yearly | 7/10 | ThemeIsle |
| Sydney | Free / $59 yearly | 7/10 | aThemes |
What Makes an SEO Friendly WordPress Theme?
Before we help you find the best SEO WordPress theme, it's important to go over what it means for a theme to be SEO friendly.
Here's what you should look for in a theme if you want your site to rank high in Google:
Schema Markup
Schema markup is nothing but the behind-the-scenes code that provides in-depth information to Google and the other search engines. Essentially, it helps Google better understand your website, which can indirectly translate into improved rankings, presentation in Google's search results and a higher CTR.
Fast Performance
Page speed is a ranking factor in both Google's mobile and desktop results, so you'll definitely want a theme that will help your site load fast. Beyond the direct SEO benefits, this is also super important for user experience and correlates with lower bounce rates and higher time on site (which can, indirectly, also have a positive effect on SEO).
Optimized Header Tags
What is the first thing you scan across a newspaper? The headlines – right? Similarly, the header tags mark the headlines in your content and attract both readers and search engines to understand what the content is all about. These header tags include the H1, H2, H3, etc. on your website. A good theme will have these optimized right out of the box.
Breadcrumbs
Beyond being helpful to human visitors, breadcrumbs help search engines understand your website structure and strengthen the internal linking too. With proper schema markup, breadcrumbs also enhance the way your website is displayed on the search engine results page. Here's an example:


Mobile-friendly and Responsive Design
In 2018, Google officially made the move to mobile-first indexing, which means that Google now uses the mobile version of your website in its crawling, indexing, and ranking systems.
This is important because, while most people put a lot of emphasis on optimizing their websites for desktop, this is no longer the only thing that Google is looking at.
Because of that, a big part of being an SEO friendly WordPress theme means a high-quality, mobile-friendly responsive design.
AMP Compatibility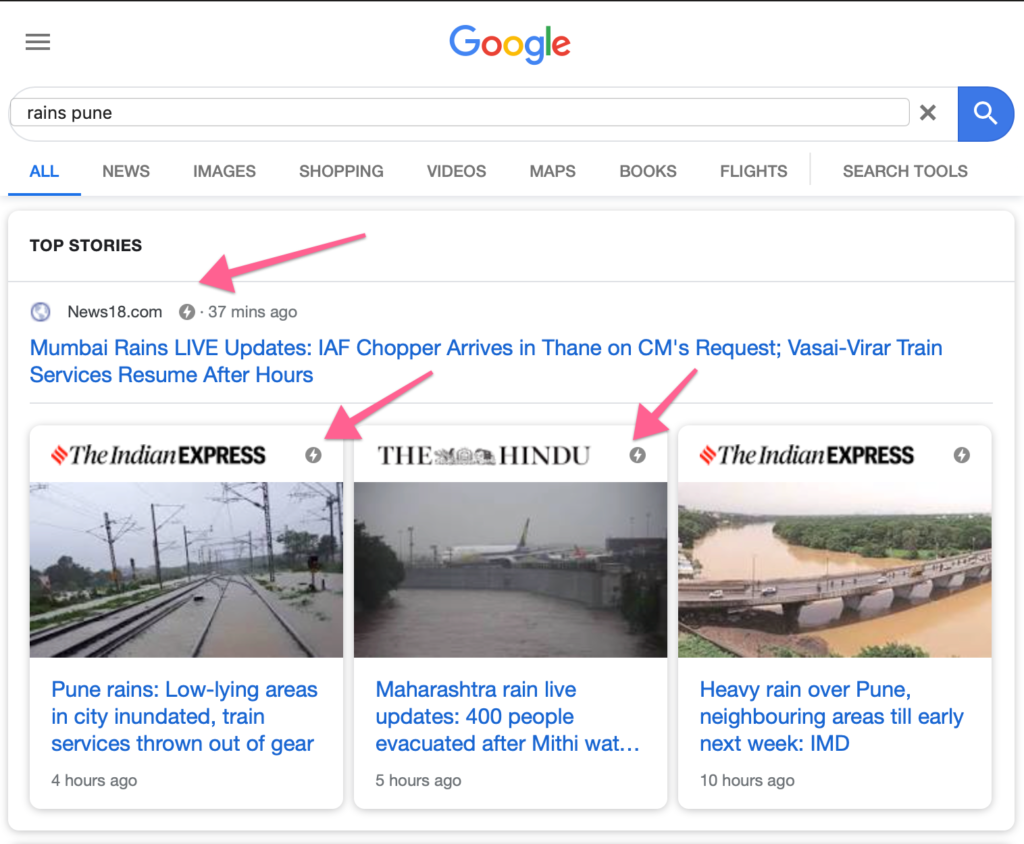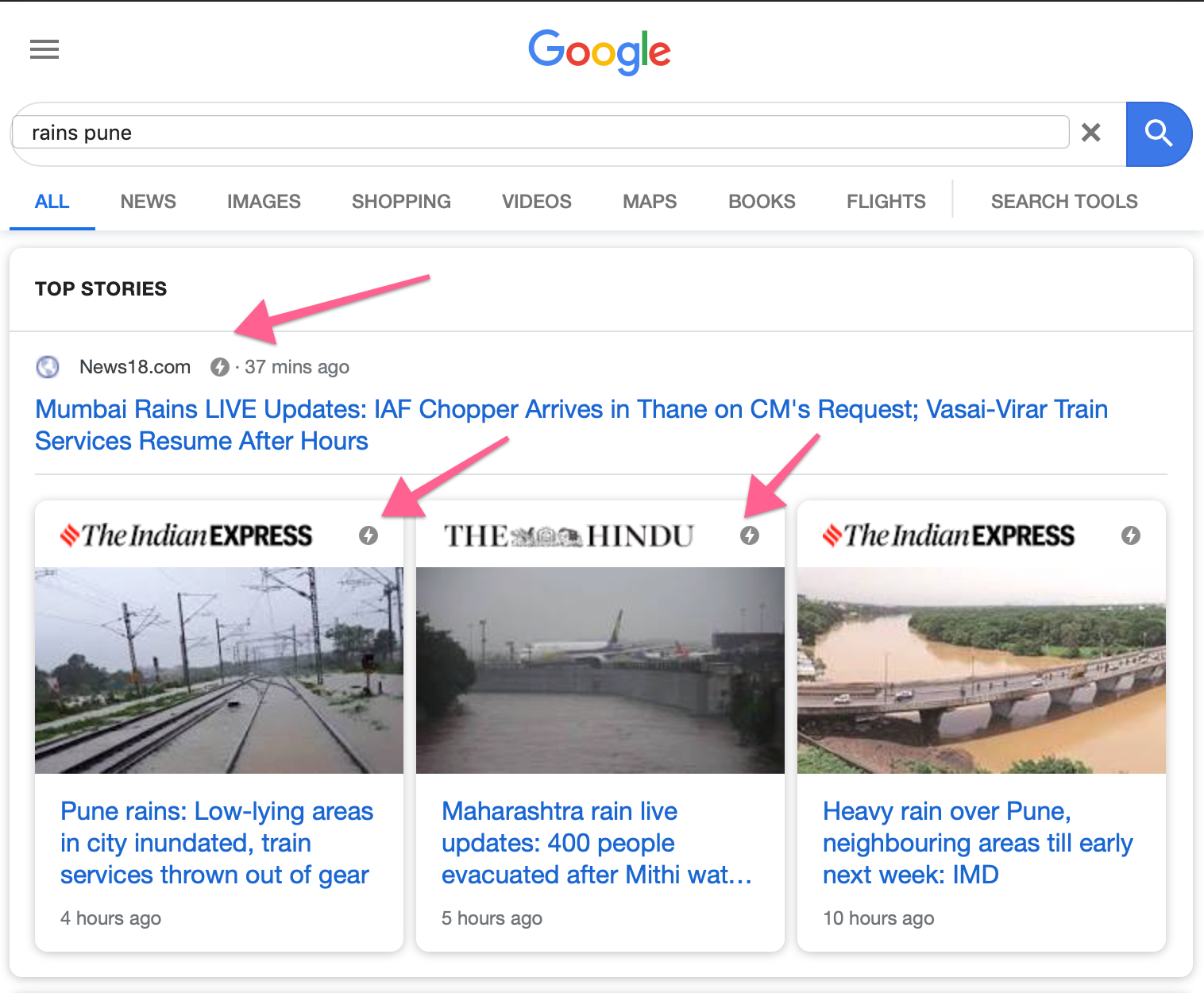 AMP, short for Accelerated Mobile Pages, is a Google-backed project that aims to speed up the mobile web by using a special framework.
With an increase in the number of mobile users, Google is focusing on improving their experience while accessing the web. This means that it isn't just important to have a website load faster on desktop – but it should be AMP ready too!
While there's a lot that goes into AMP, one of the most important SEO considerations is that AMP pages get special recognition in Google's search results.
Ability to Display Last Updated Dates
Google rewards recently updated content, so you'll want to make sure Google can tell that you're actively updating your content. A good theme will add schema markup for the last updated date, as well as give you an option to show the last updated date instead of the published date.
While helping search engines realize that you are updating content regularly, this also shows readers that they can find some fresh content on your website.
What's the Best SEO WordPress Theme? 6 Great Options Compared
Now that you know what makes a WordPress theme SEO friendly, let's dig into some of your best options.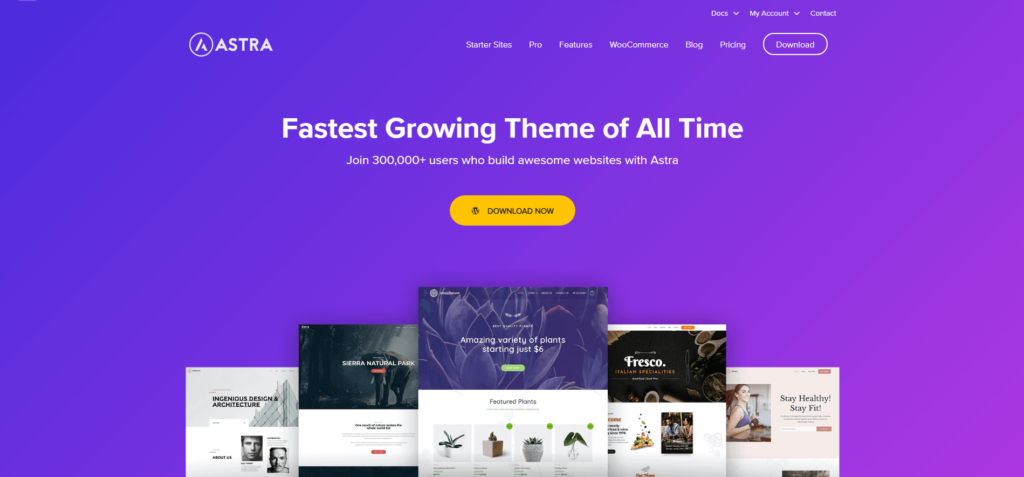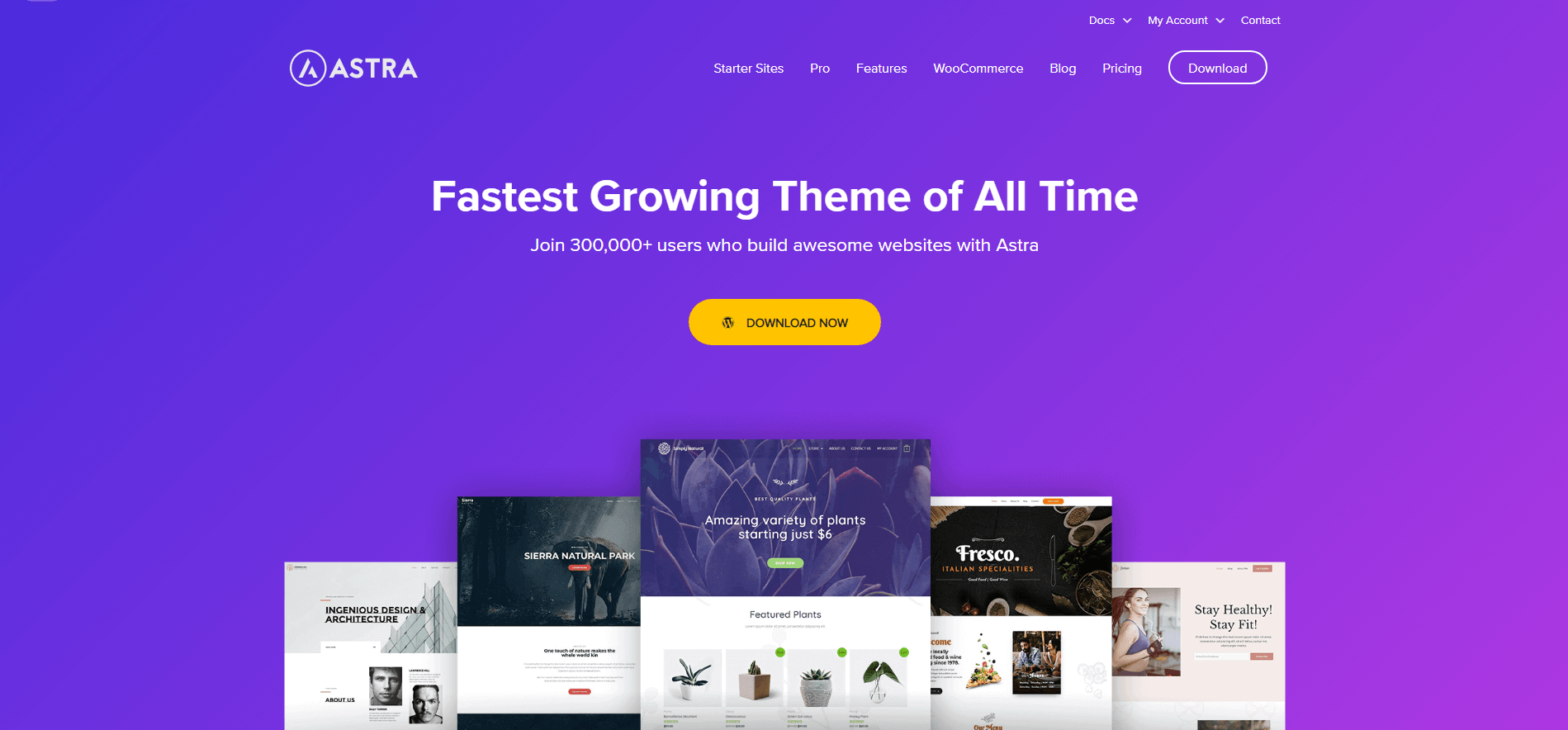 Astra is an SEO friendly WordPress theme that comes in both a free version at WordPress.org, as well as a premium version that starts at $59.
All the settings of the theme are within the customizer itself and it works great with all major page builders. This itself makes it a great theme to work with!
Even with the free version at WordPress.org, you'll get an SEO-optimized foundation that includes:
Lightweight, fast performance – the Astra theme is under 50 KB, with no dependencies on jQuery
Built-in schema markup – Astra automatically adds important schema markup, like including breadcrumbs and organization info.
An optimized header tag structure – no need to tinker – Astra's header structure is optimized right out of the box.
Built-in AMP compatibility – if you use the official AMP plugin at WordPress.org, Astra will automatically add its style to give your site a cohesive look.
Last updated functionality – Astra automatically adds schema for the last updated date, and it also makes it super easy to display the last updated date instead of the published date.
Beyond all that SEO functionality, Astra is also highly customizable, offers a bunch of free demo sites that you can import with a few clicks, and as mentioned above, it works great with WordPress page builder plugins.
---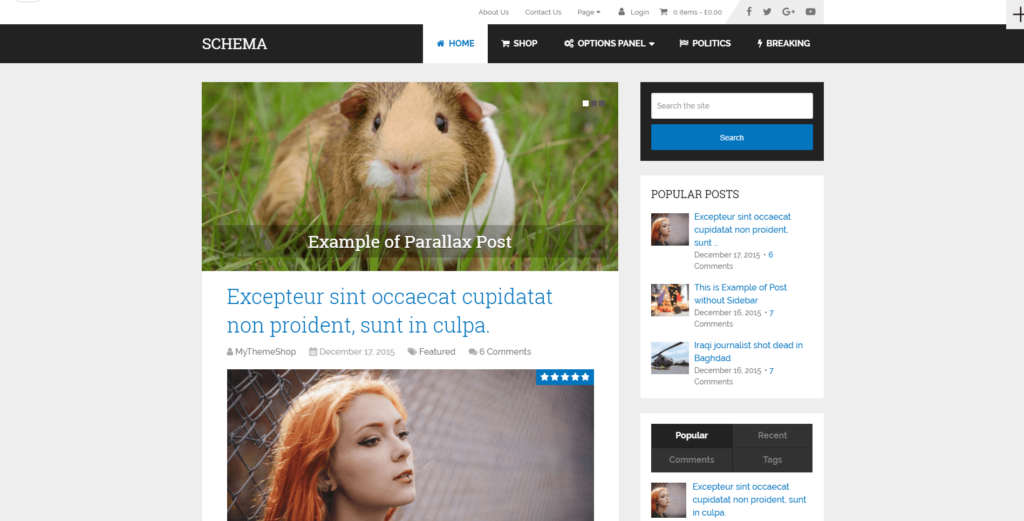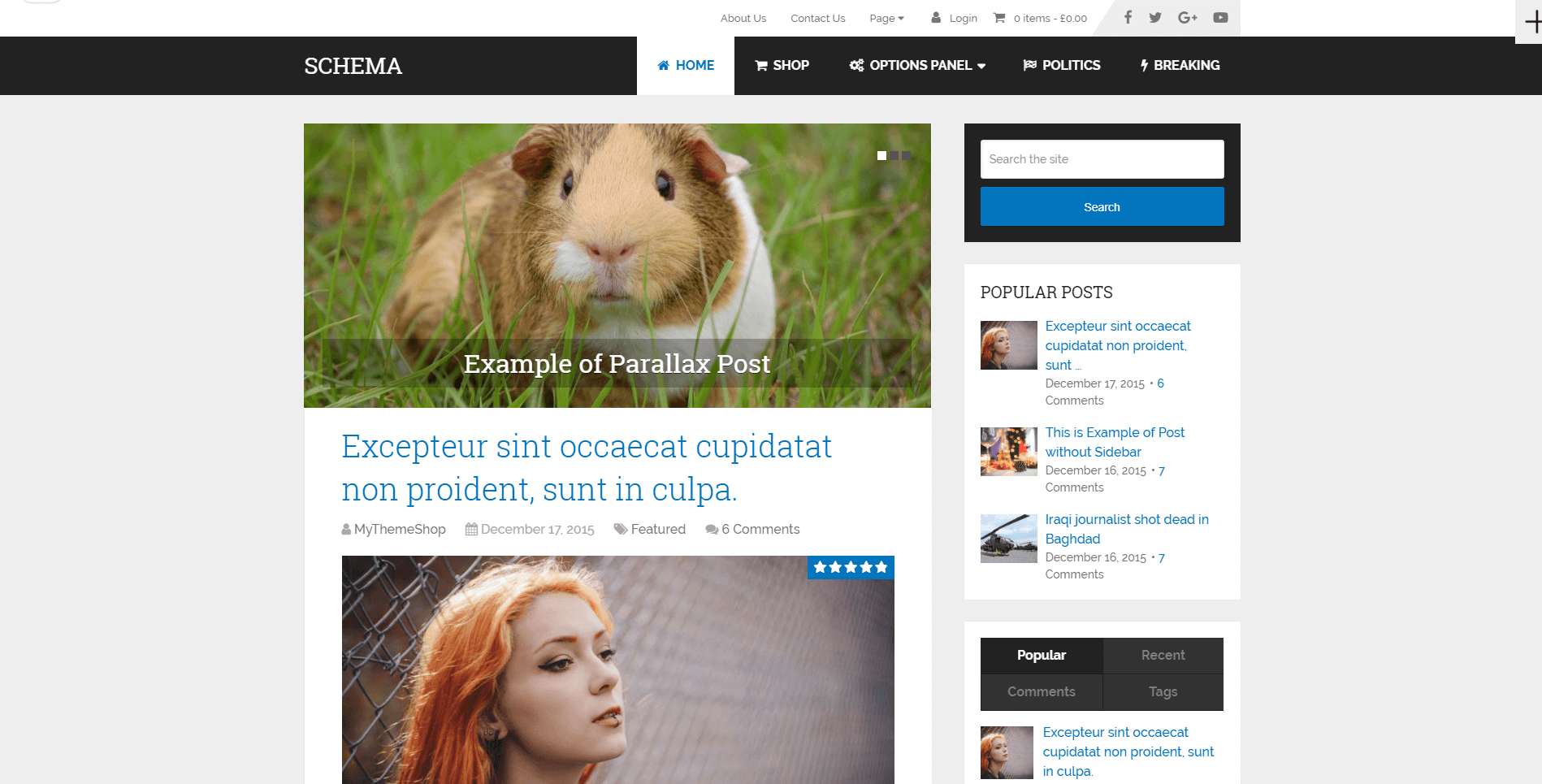 Schema is a premium SEO friendly WordPress theme from MyThemeShop. While there is no free version, the price is quite affordable at just $35.
Schema comes with multiple preset layouts, including minimal and eCommerce looks. You also get a detailed theme options area that lets you customize it to your needs. However, Schema notably does not use the real-time WordPress Customizer, so you won't be able to see the style changes you make in real-time.
On the SEO front, the name is a pretty good indicator of one part of what makes Schema an SEO theme. That is, the Schema theme automatically adds all the relevant schema markup for you.
Beyond that, it includes built-in breadcrumb support and is lightweight and quick-loading, which knocks out another two of what makes something the best SEO WordPress theme.
It's also responsive and includes an optimized heading structure.
However, Schema lacks built-in AMP support, which means you'll need to create your own custom AMP design. Beyond that, it lacks a built-in way to show the last updated date, which means you'll need to dig into the code to make that change.
---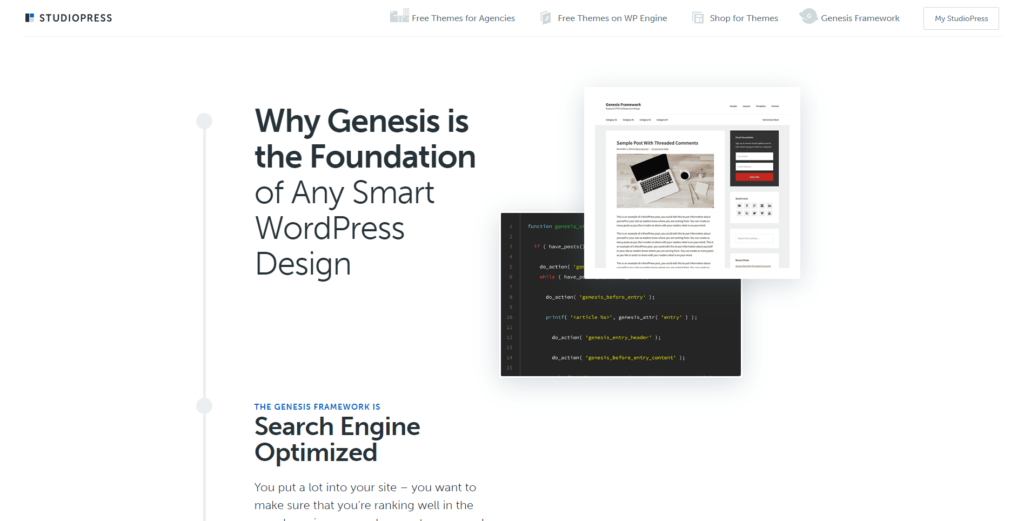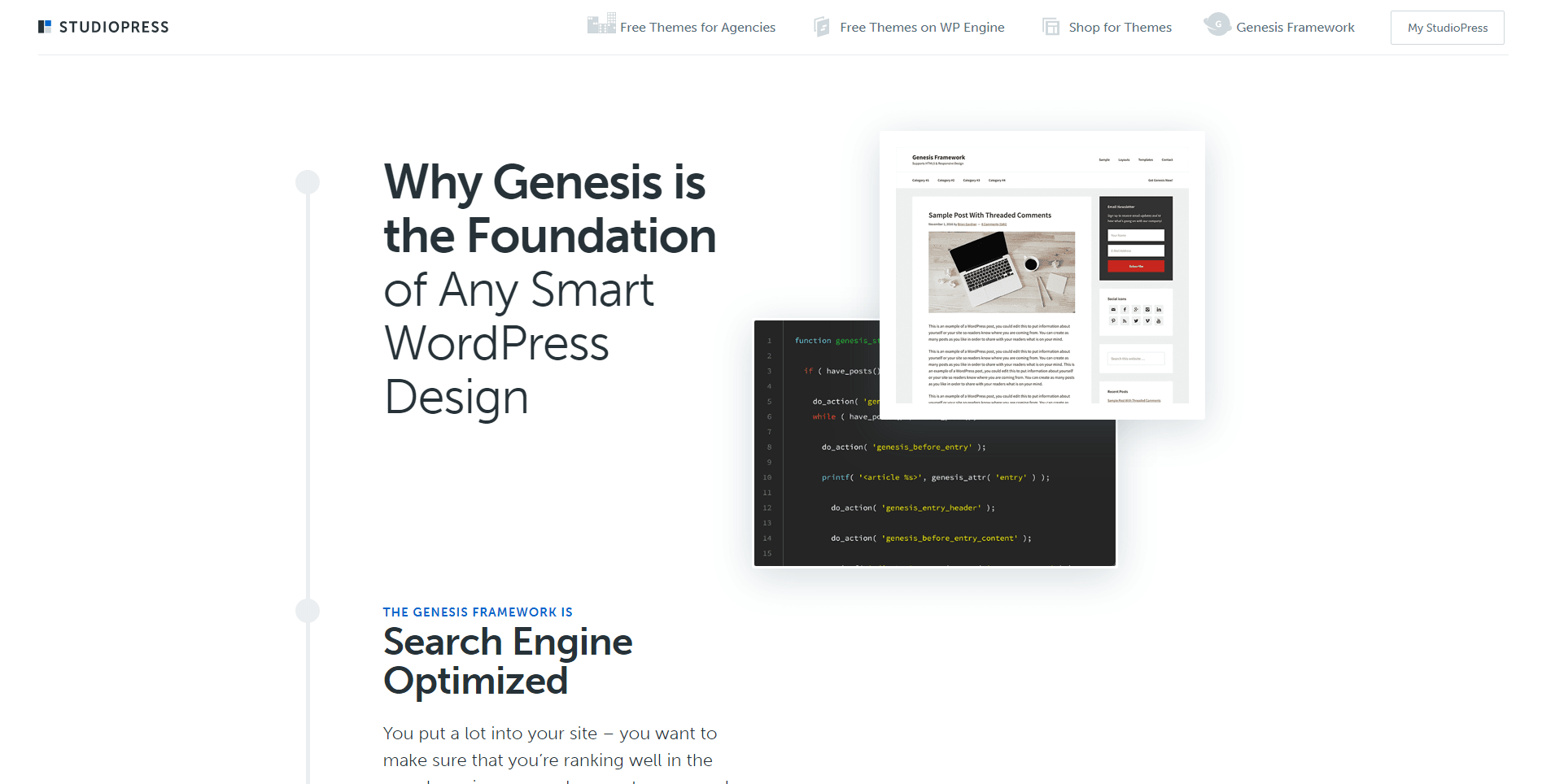 Genesis is a popular theme framework from StudioPress, a company acquired by WP Engine in October 2018.
Right off the bat, one unique thing about Genesis is that the core theme is not a standalone theme. That is, you'll never just use the Genesis theme. Instead, you'll use a Genesis child theme to control your site's style, which can get a little pricey. Typically, for both the core Genesis framework and a child theme, you can expect to pay ~$130+.
However, for that price, you do get a solid SEO-optimized foundation.
Genesis offers clean, lightweight code that will have your site loading fast. It automatically adds basic schema markup, gives you control over the heading structure, and lets you add breadcrumbs with the check of a box.
This theme goes even further, with options to control SEO titles/descriptions and add noindex tags to certain content. However, you're probably better off using a dedicated WordPress SEO plugin for this instead.
One thing to pay attention to is that there's no single responsive design – it depends completely on your child theme. So that doesn't mean it will be bad – but you'll need to pay attention. Beyond that, Genesis includes AMP support via the official AMP plugin for WordPress, just like the Astra theme.
Finally, if you want to show the last modified date of a post, you can use the free (and official) Genesis Simple Edits plugin.
---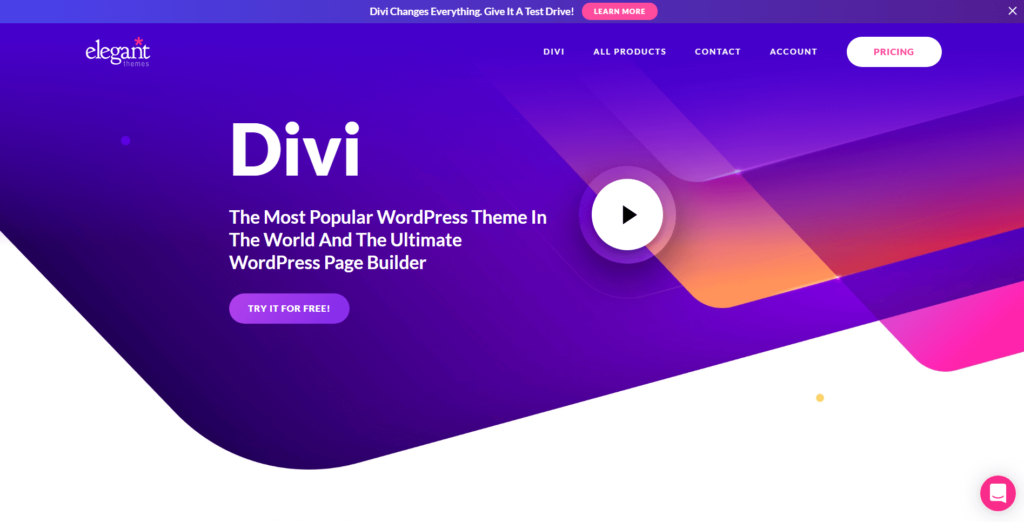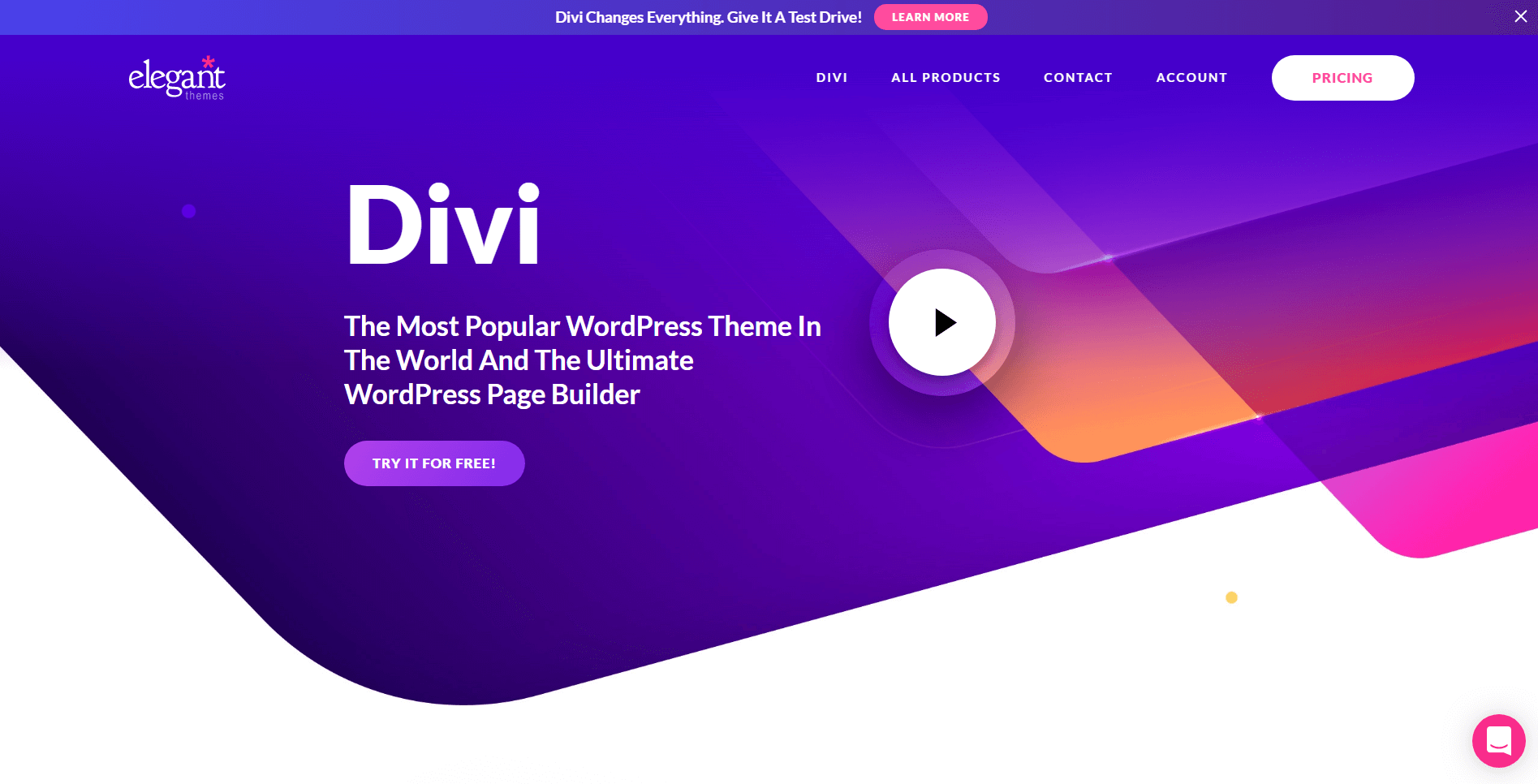 Divi is a popular premium theme from Elegant Themes that comes integrated with the Divi page builder for simple drag-and-drop editing.
This gives you a ton of flexibility over how your website looks, though you will need to put in some elbow grease to make everything look the way you want.
There's no free version of Divi. Instead, it's only available as part of the $89 Elegant Themes membership.
Beyond its flexible looks and drag-and-drop page building, Divi offers a detailed SEO options area that lets you control custom SEO titles and descriptions. Though again, you might want to use an SEO plugin instead.
It's also mobile-friendly by default, and the Divi Builder gives you lots of options for responsive design.
Divi lacks a lot of the smaller SEO benefits. That is, there's no built-in breadcrumbs or schema markup. However, because of how large the Divi community is, you can usually find guides or add-ons to help you plug these holes.
For example, the Divi Breadcrumbs Module makes it easy to add breadcrumbs to any Divi design.
---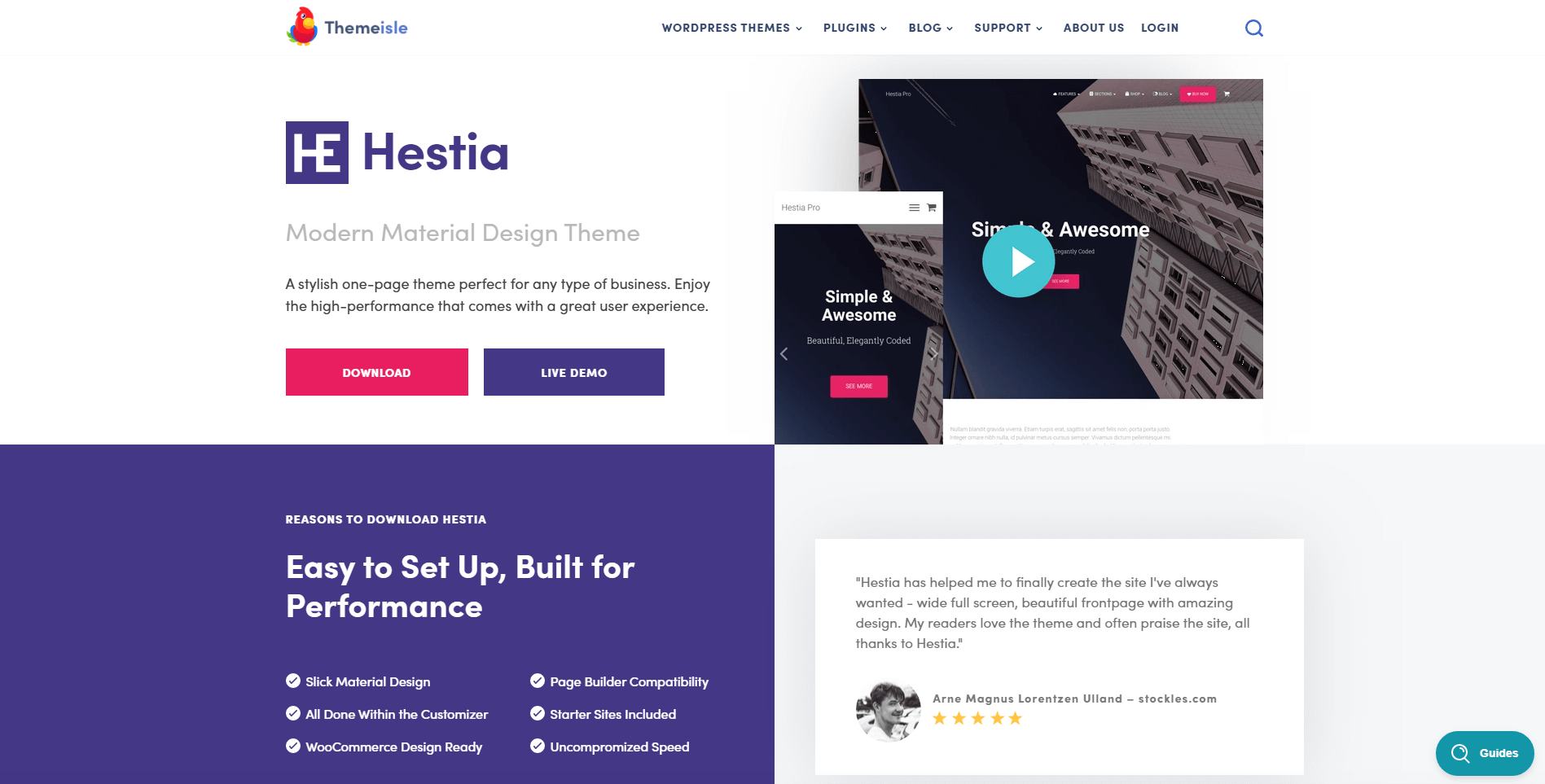 Hestia is a popular freemium WordPress theme that uses material design principles. So if you love material design, that's one reason to consider Hestia.
The free version is available at WordPress.org, and the Hestia Pro theme will cost you $89.
So what makes Hestia an SEO theme?
Hestia is optimized for speed, it has the right heading structure out of the box, and the developer includes knowledge base instructions showing you how to add breadcrumbs.
It also looks great on mobile, which is important for Google's mobile-first indexing.
However, for smaller things like styling its AMP layout or showing the last modified date, you might need to get your hands dirty in the source code.
---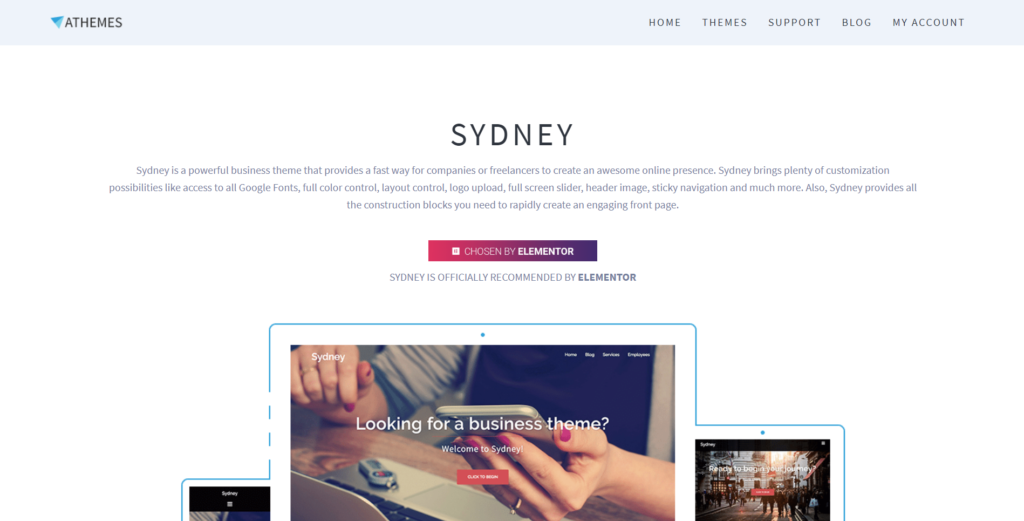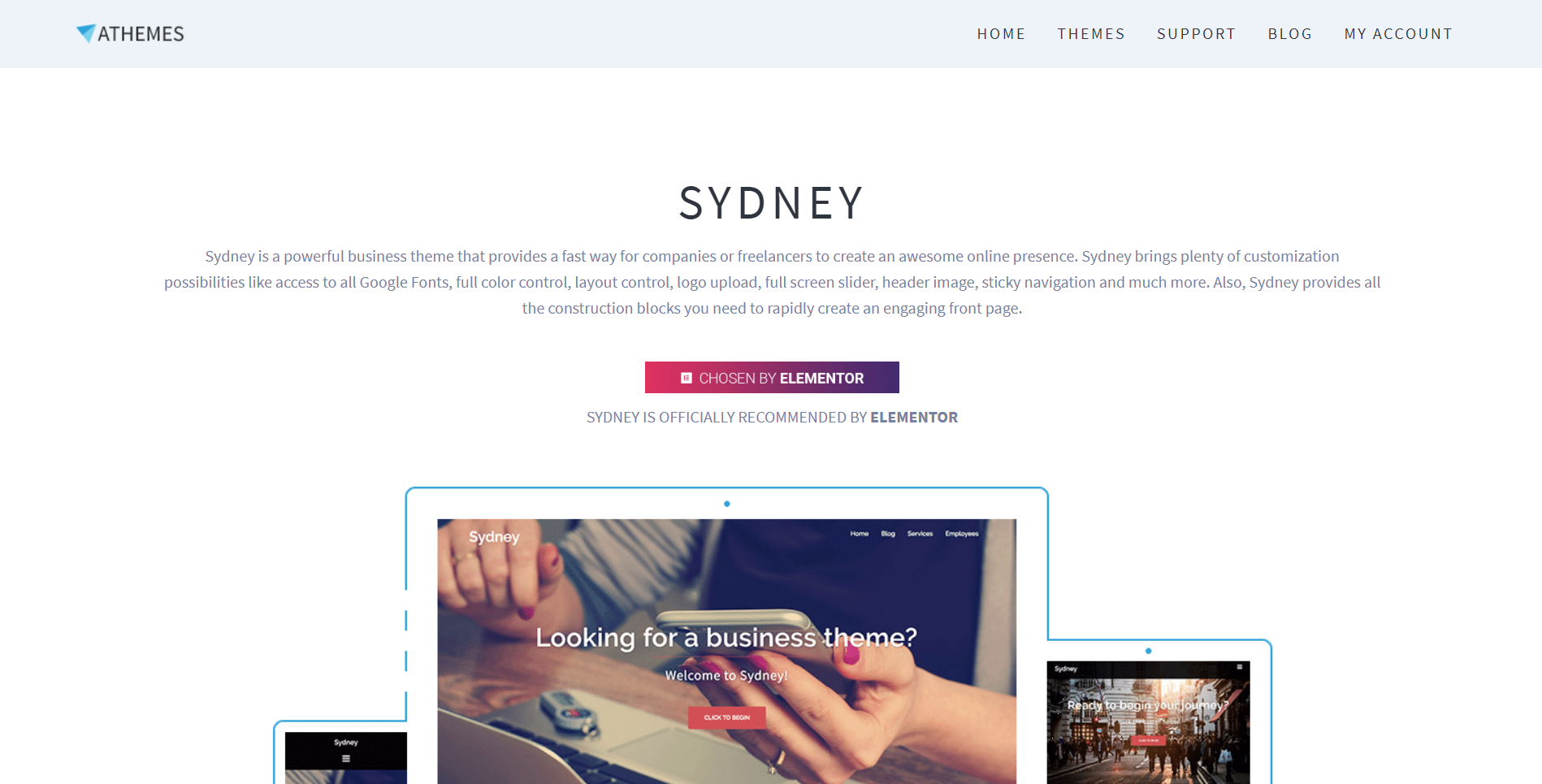 Sydney is a popular freemium WordPress theme that lets you build all kinds of websites. So, if you are a developer or a freelancer, you might want to try Sydney too!
This is a responsive theme that helps build beautiful websites with attractive sliders and features that keep users engaged a little longer. This makes sure a website looks good on all devices and reduces the bounce rate. Google does consider this!
You can get the free version on the WordPress repository while Sydney Pro costs $59 per year when purchased through their website.
Apart from being mobile-friendly, it comes with social icons that let you add your social profile links on your website to let users follow you on other platforms too!
---
Conclusion: What's the Best SEO WordPress Theme?
If you're looking for an option that ticks all the boxes, gives you flexibility, and won't break the bank, consider the Astra theme.
It handles the big stuff – like performance optimization and responsive design, as well as smaller, yet still important, SEO considerations like schema markup, breadcrumbs, AMP support, and more.
What's more? Astra is available for free at WordPress.org, whereas most of the other SEO friendly themes only come in premium versions.
If you'd like to get started, you can download the free version of Astra and start using it right away. Then, consider upgrading to Astra Pro for more styling options, tons of new layouts, better typography, and lots of other helpful features.